This Easy Vegan Basil Pesto is one of my favorite Italian preparation. Not only can you make great pasta, but you can use it to boost the flavor of other dishes.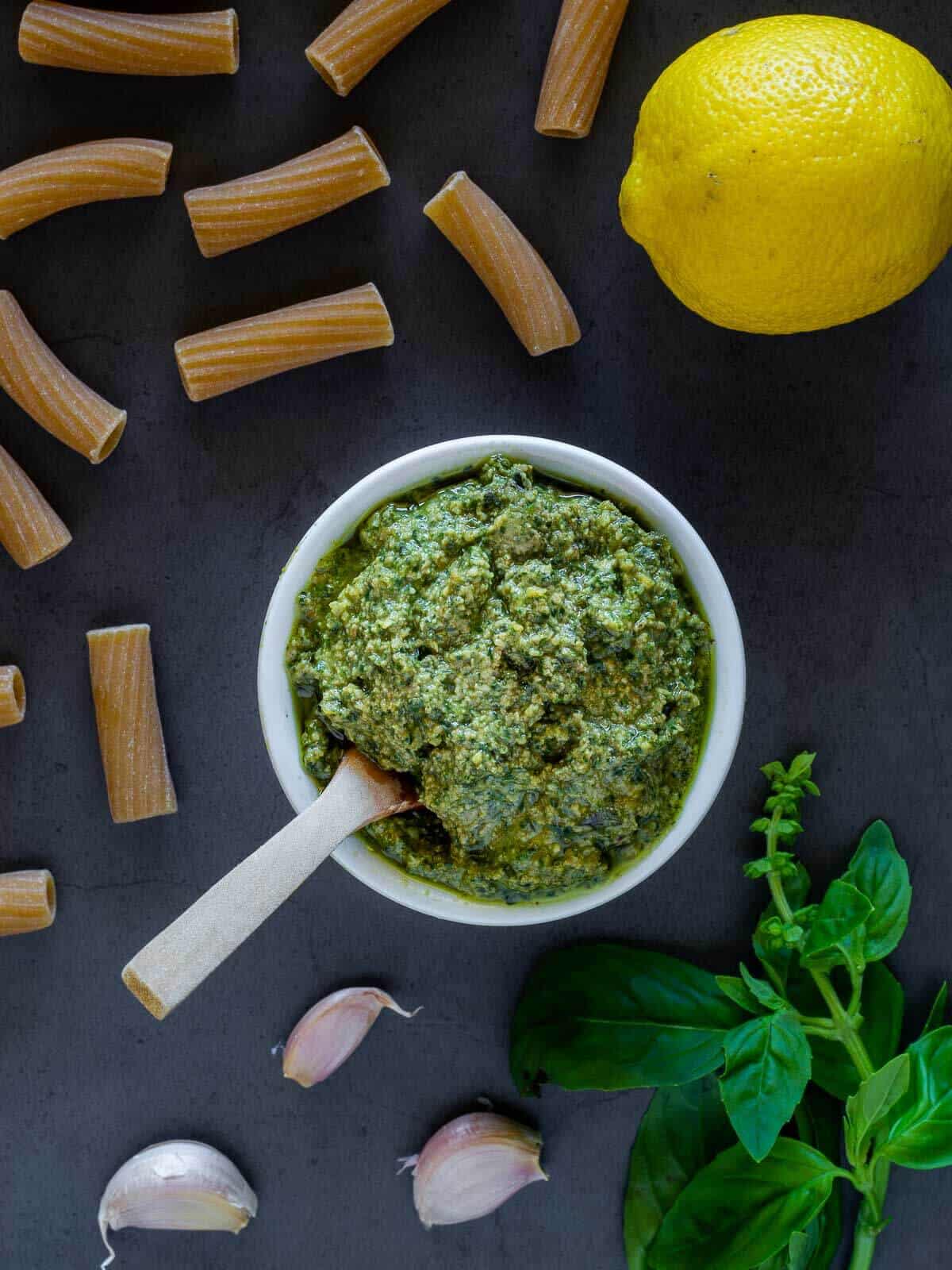 Sometimes I add it to a stew, make bruschettas or add it to pizzas. I also use pesto as a sandwich's spread to instantly boost its flavor instead of using mayonnaise.
We also love using the super-food-packed sage and kale pesto or pistachio pesto as a topping for roasted veggies like cauliflower steaks. Also, we always use carrot tops to make carrot greens pesto, which goes perfectly with cold pasta salads.
Jump to:
🧾 Ingredients
This easy vegan basil pesto calls for only a handful of ingredients!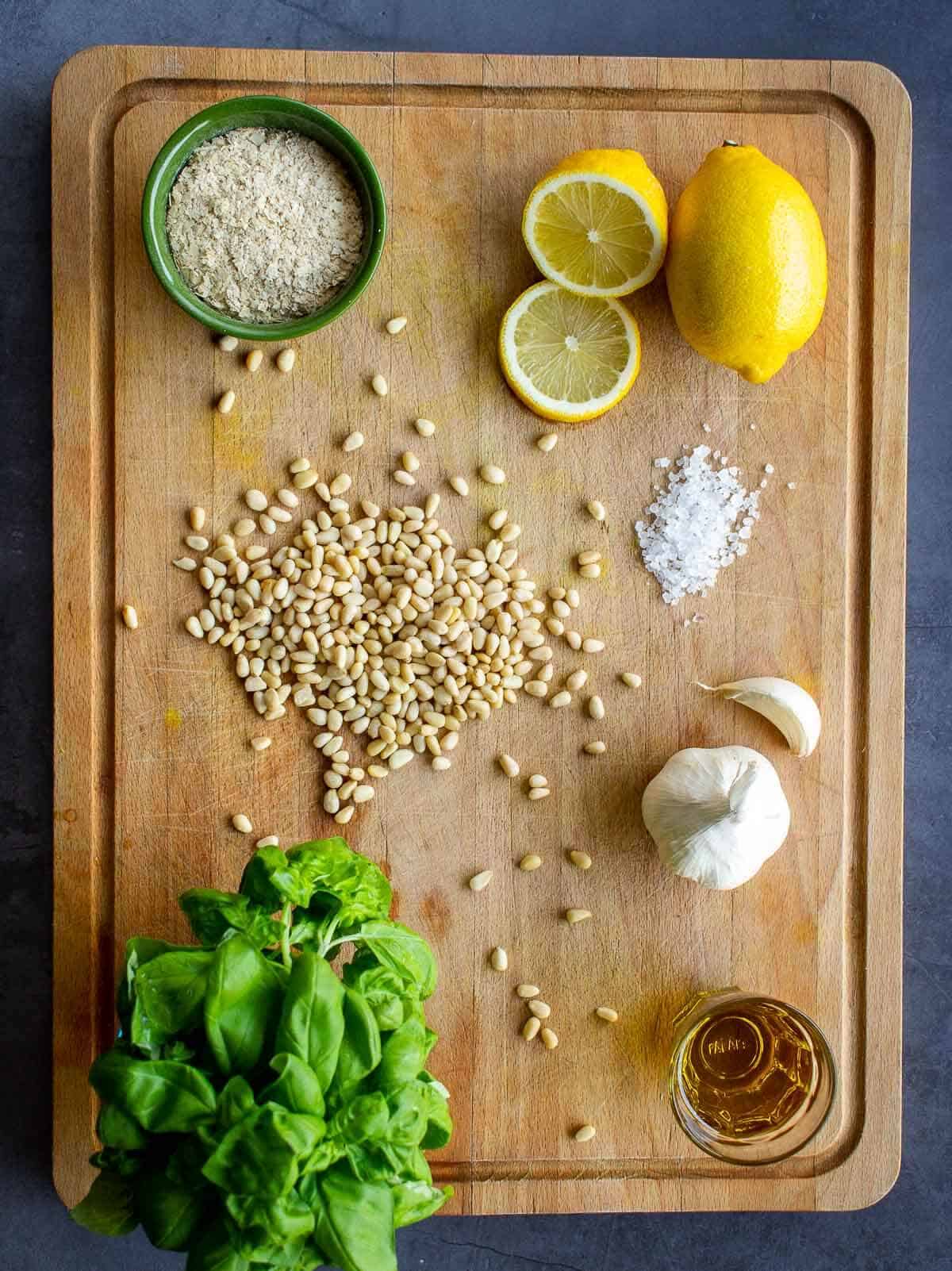 Fresh basil leaves
Extra-virgin olive oil
Pine nuts or walnuts
Garlic
Lemon juice
Nutritional yeast
Sea salt
🔪 Instructions
How to Make a Vegan Pesto?
Making a vegan pesto is very simple; just follow these two simple steps.
Toss the garlic in a skillet with a lid for a couple of minutes. That way, the garlic will lose its intense flavor. If you choose not to do this, reduce the number of garlic cloves by one.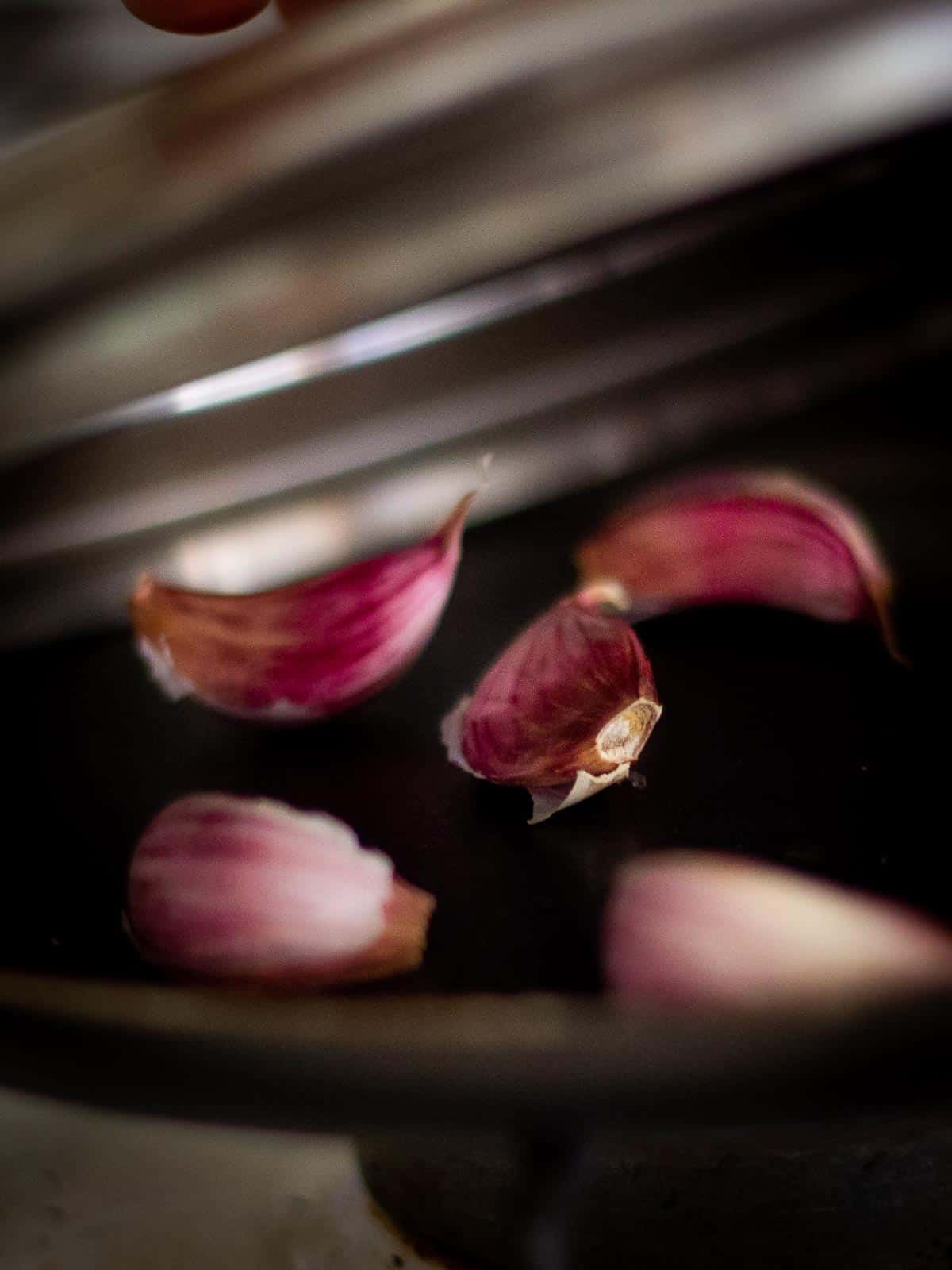 Add everything to a food processor or blender, and you have it!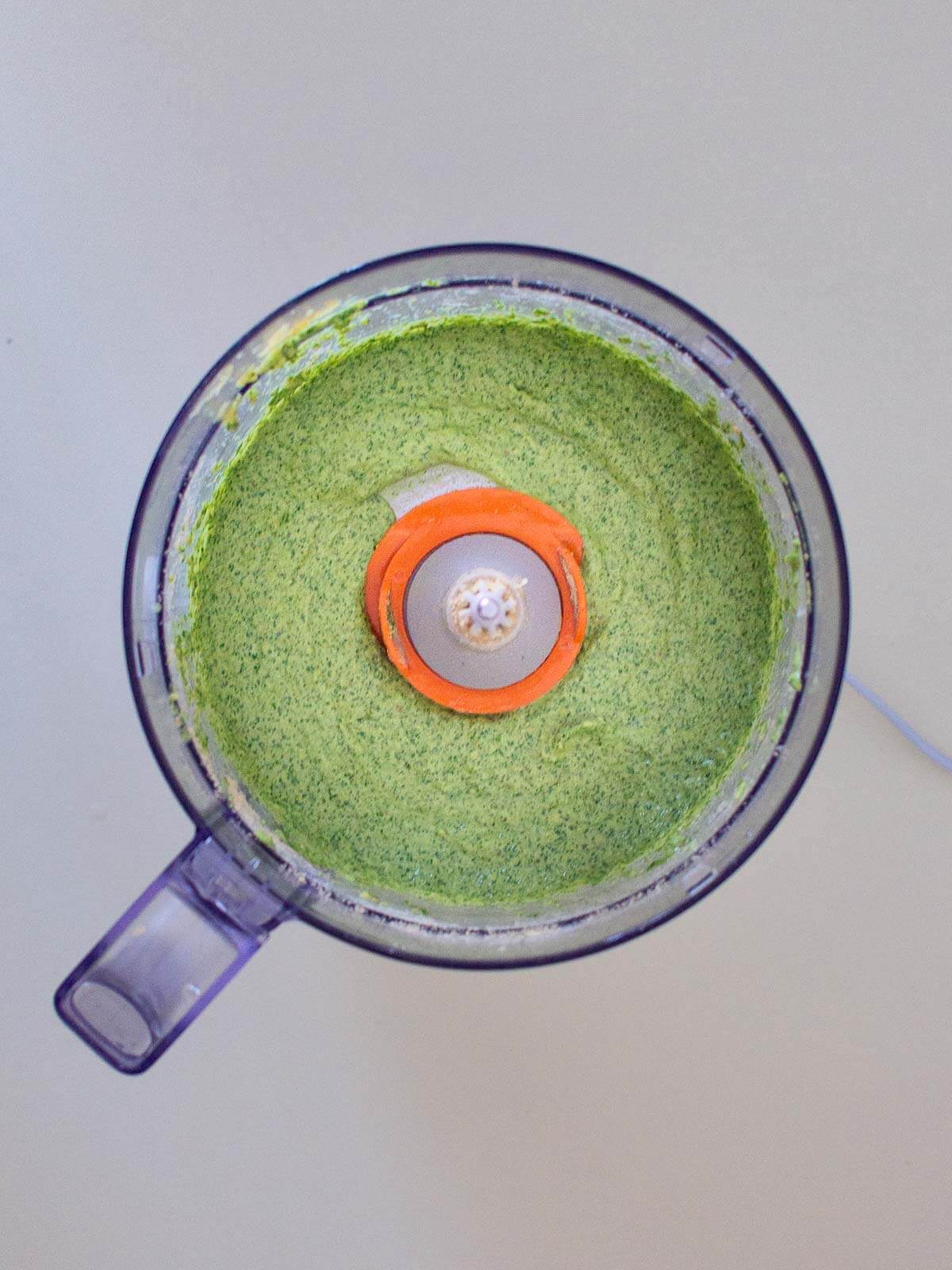 You can easily find pesto in stores worldwide as it is one of the favorite sauces everywhere because it is rich in flavor and versatile. Use it to make your favorite vegan lasagna or boost your sandwich's flavor.
🤔 5 Reasons why you should make your own
Looking at the ingredients of store-bought pesto, I realized how many preservatives and chemicals they have. You should be in complete control of what I put in your body.
They have cheese, and dairy is something my body doesn't always tolerate well. So cheese, in general, is not suitable for your body.
If you are vegan, including Nutritional Yeast in your diet is essential. This pesto replaces Cheese with Nutritional Yeast to make up for the traditional pesto cheesy flavor.
You can make a lot and save some money. For example, I used to buy a lot of pesto, as I use it at least twice a week. But making your pesto is suitable for your pocket!
Pesto has a basil base. Fresh Basil is considered a superfood, so you deliciously include it in your diet with this pesto.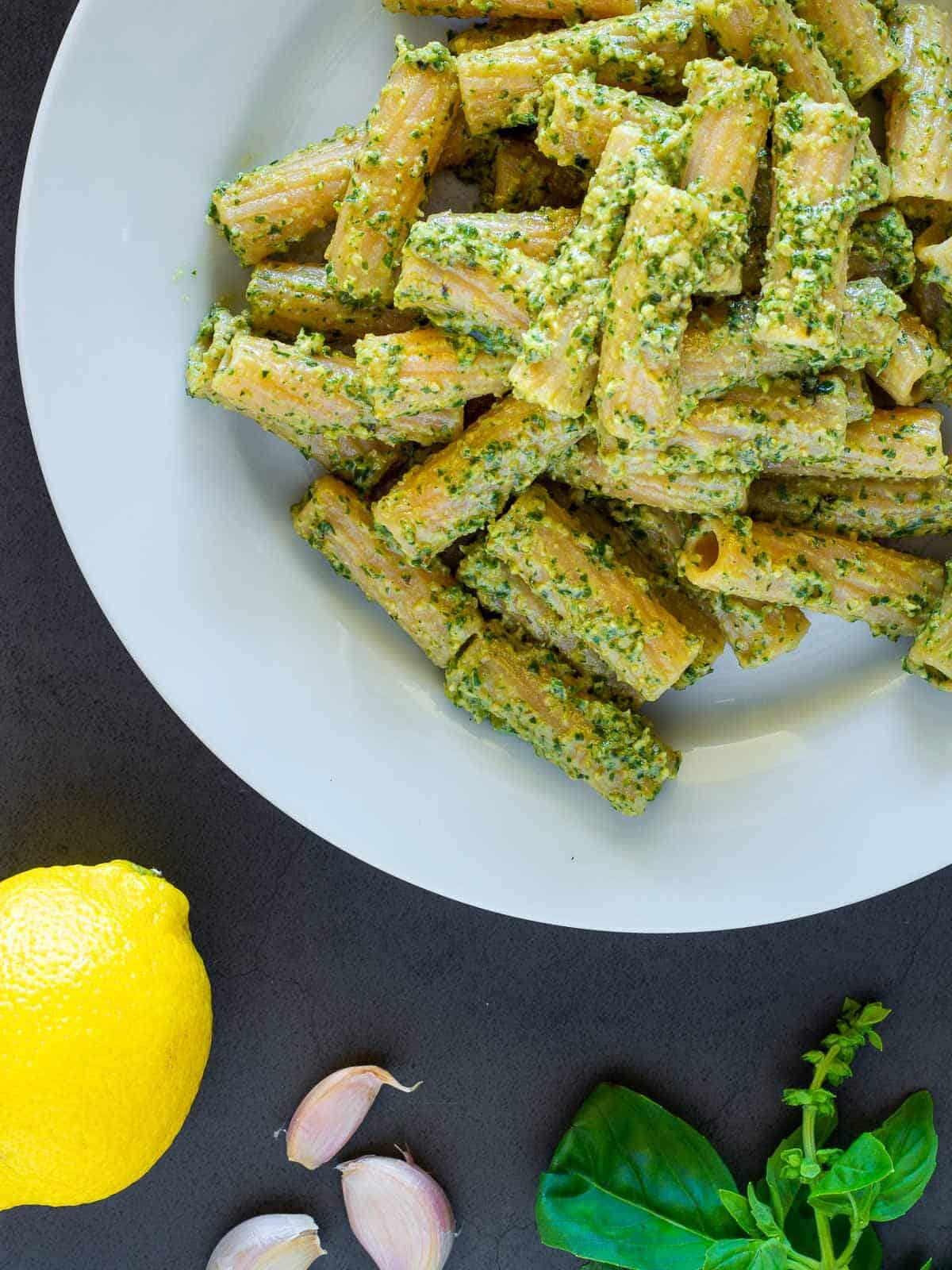 🧐 What is Pesto?
There are many kinds of pesto; Pesto Alla Genovese is the traditional one and consists of seven ingredients, according to il Consorzio del Pesto Genovese (the Academy of Pesto). These ingredients are Basil leaves, Extra Virgin Olive Oil, Parmigiano Reggiano cheese, Pecorino Cheese (Sheep's milk cheese from Sardinia), Garlic, Pine nuts, Coarse Salt.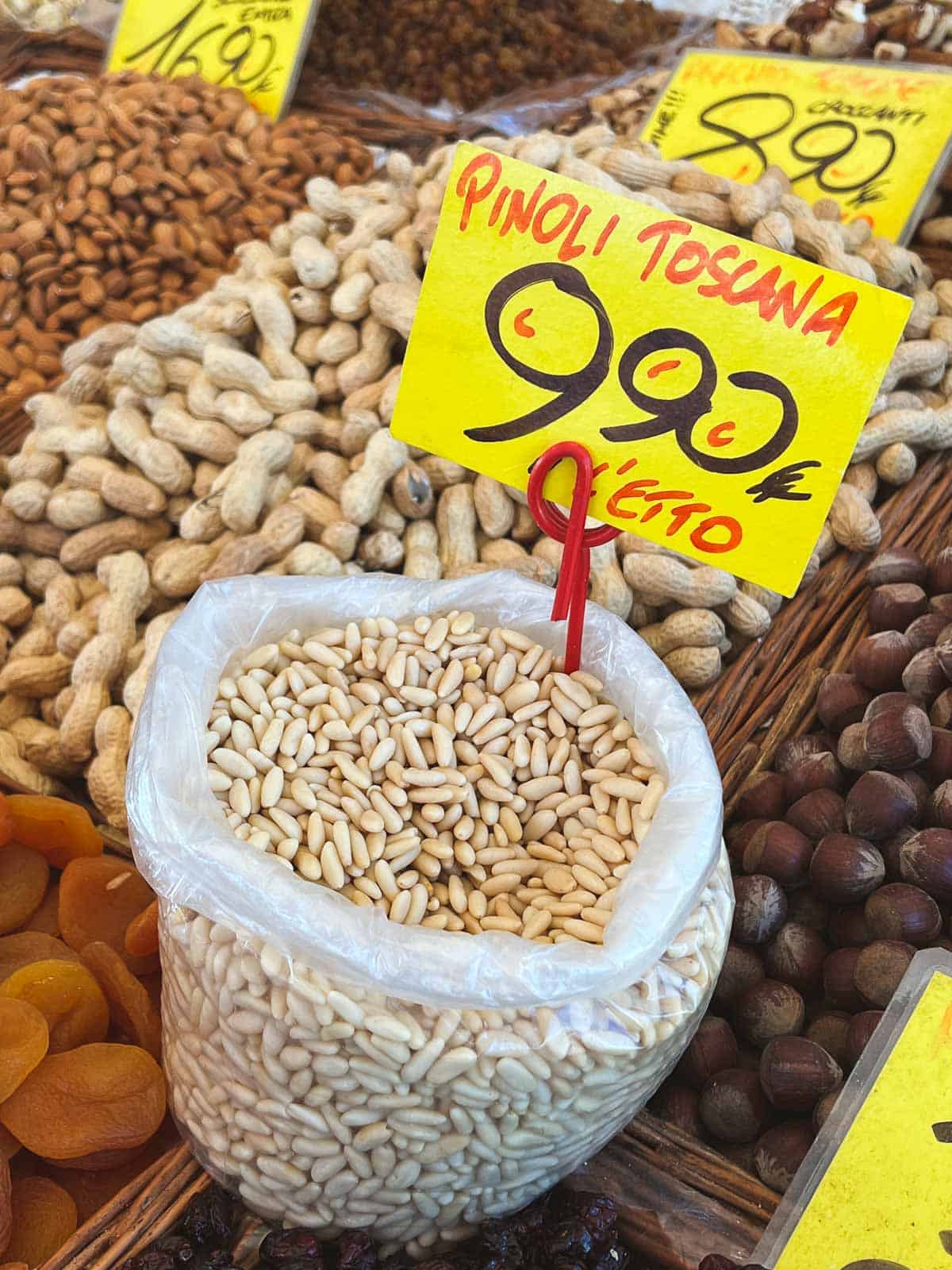 It is common to replace pine nuts with walnuts since pine nuts may be challenging to find and relatively expensive.
The standard pesto products found in Italy are Pesto Alla Calabrese (Hot Peppers), Pesto Alla Siciliane (Ricotta Cheese and Nuts), Pesto Rosso (with tomatoes). Then you have more Gourmet pestos made out of Pistachio nuts.
In a nutshell, to make a pesto, you need a Leaf or Vegetable (such as FRESH Basil or Arugula, Red Peppers, or Tomato), Cheese, Garlic, and Oil. The variations come with imagination. Check our Vegan Arugula Pesto.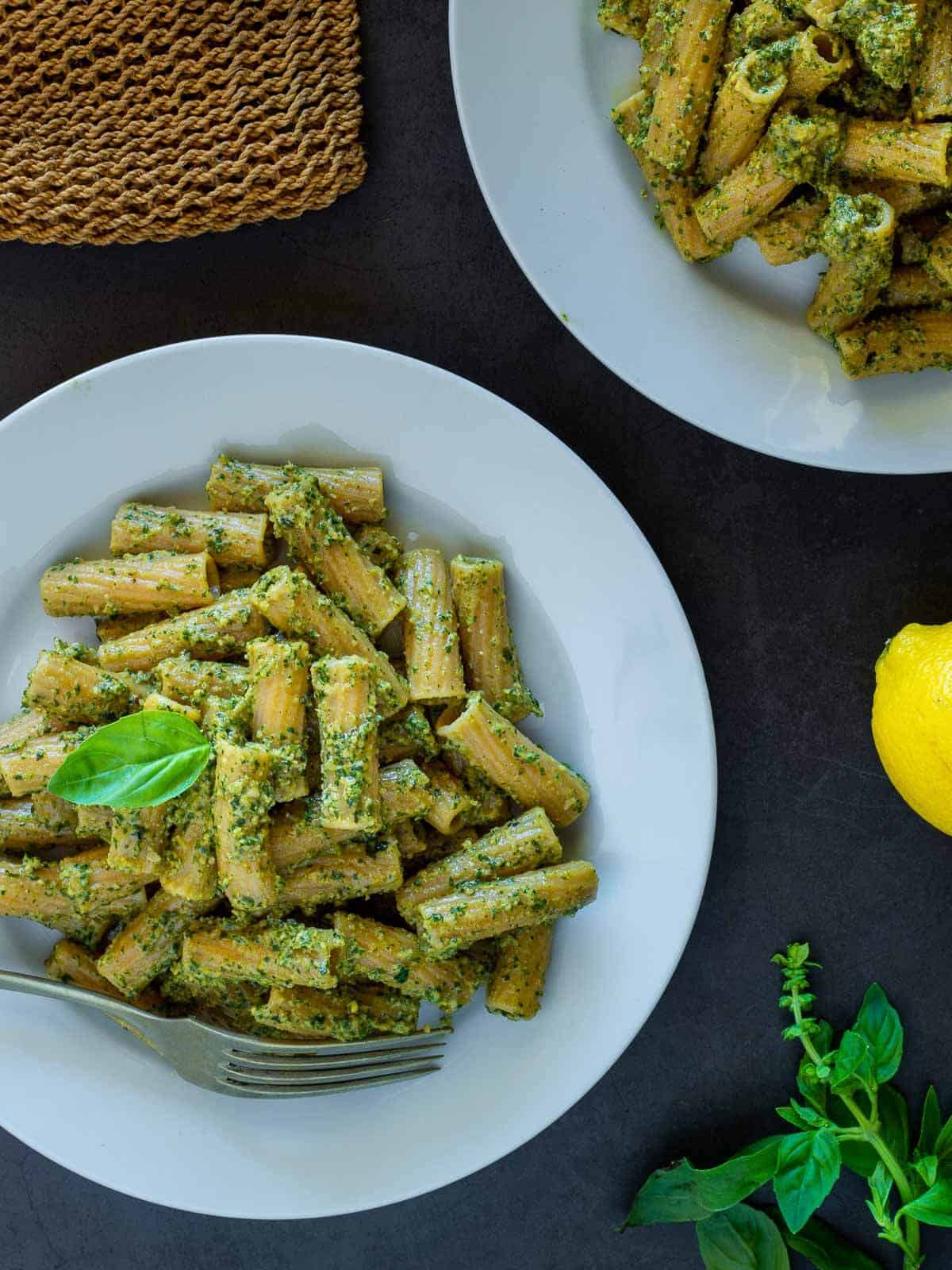 🍃 Vegan version
Here I am replacing the Cheese Component with Cheesy Nutritional Yeast. It is essential to have good quality and cheesy nutritional yeast; otherwise, it won't make it for the recipe's lack of cheese. Also, some Nutritional Yeasts are neutral or are even fruit-scented, which, of course, won't work.
Another plus of having this vegan version is that it is dairy-free. Therefore, lactose-intolerant individuals can consume it, and nutritional yeast is packed with protein and has a very low-calorie count compared to cheese.
💡Storing
You can store your pesto in the refrigerator for three days. Alternatively, you can keep it frozen in ice cubes for a couple of months and use them as needed.
Read on: how to make your own fresh vegan pasta dough and homemade noodles!
❓Health benefits of basil
Did you know that basil is considered a Superfood?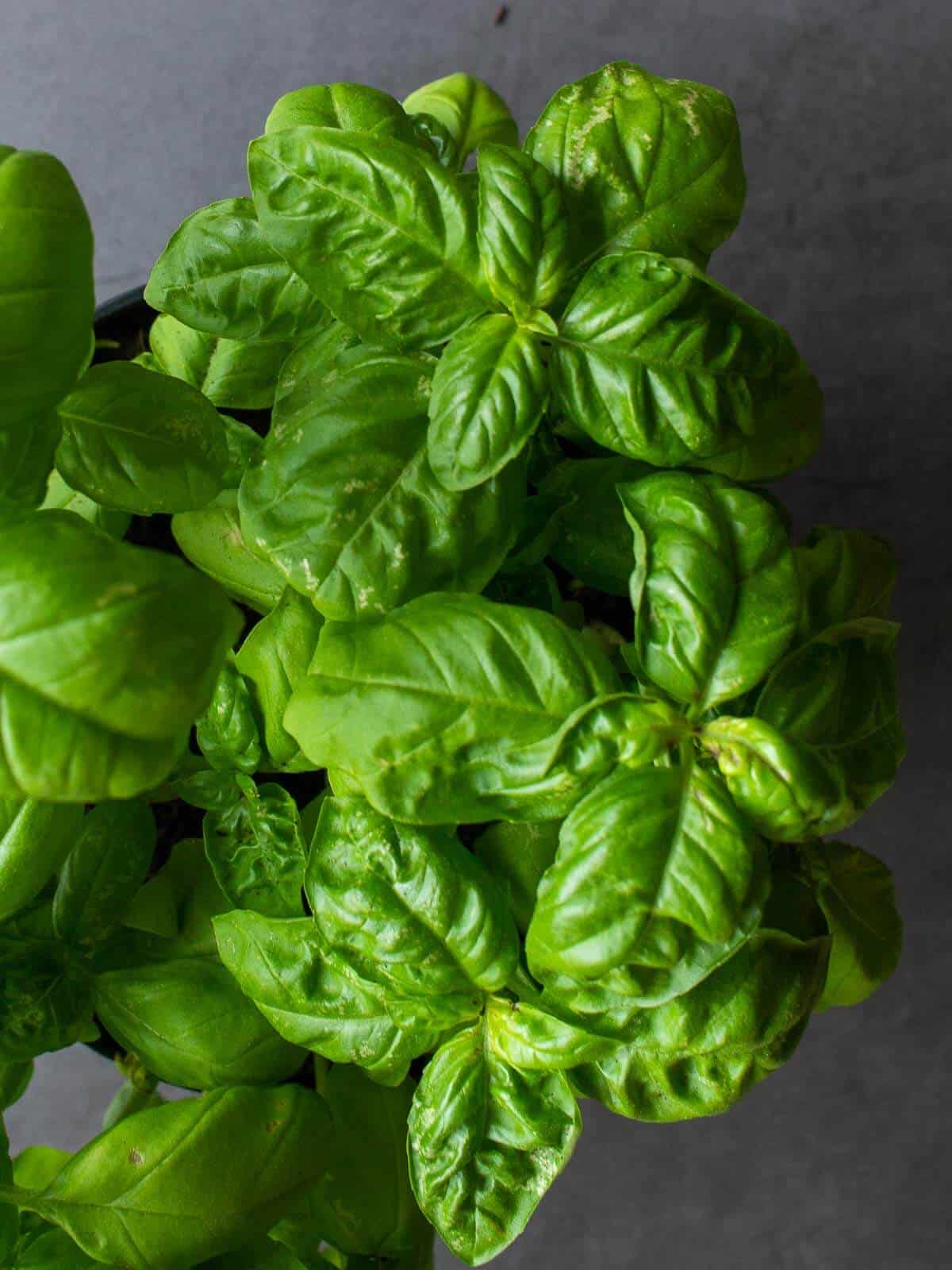 Although basil is primarily known as a flavor enhancer, studies indicate that adding this herb to your daily diet can provide anti-inflammatory, antibacterial, Immune System boosters, anti-stress, diabetes, and arthritis management properties. Thus, basil is a well-rounded fighter in the battle to improve overall health. In addition, Basil may also help control stress, aging, blood sugar, and blood pressure.
Want to know more about basil benefits?
Find out more about Nutritional Yeast benefits.
🇮🇹 More Italian recipes
We also love adding this easy vegan basil pesto to add a touch of flavor to our marinara sauce, pizza sauce, vegetarian lasagna, and eggplant parmesan's tomato sauce, when we are out of fresh basil but have stored pesto.
⭐ If you try this recipe, let us know! 💬 Leave a comment, rate it, and don't forget to tag us @ourplantbasedworld on Instagram. Cheers!
📋 Recipe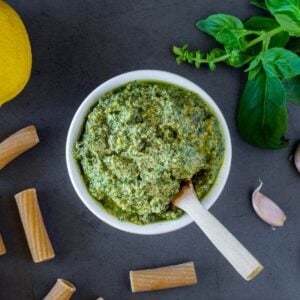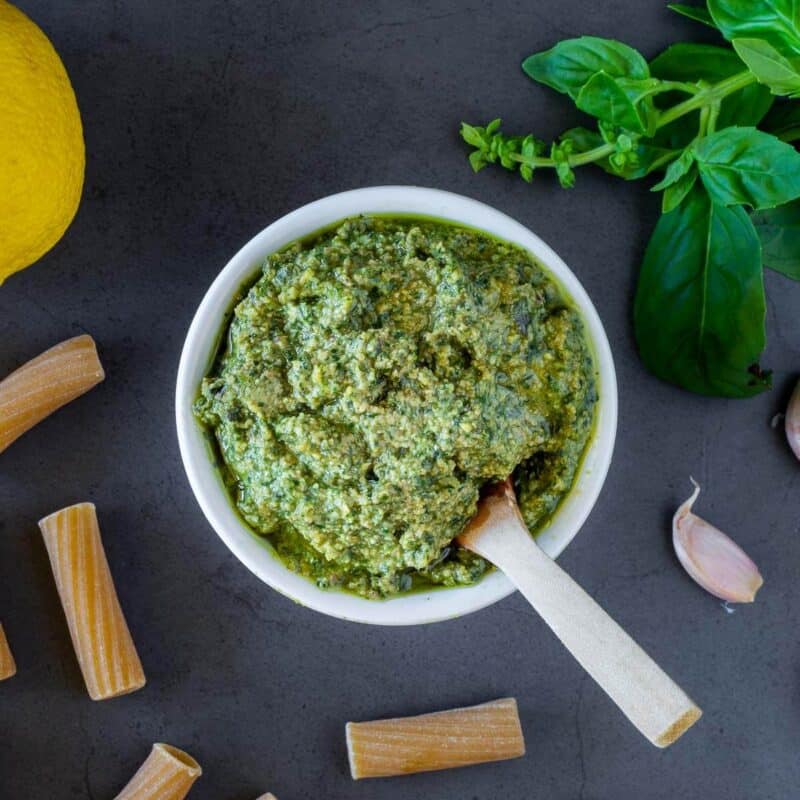 Easy Vegan Basil Pesto
Pesto is one of my favorite Italian preparation. Not only can you make great pasta, but you can use it to boost the flavor of other dishes.
Equipment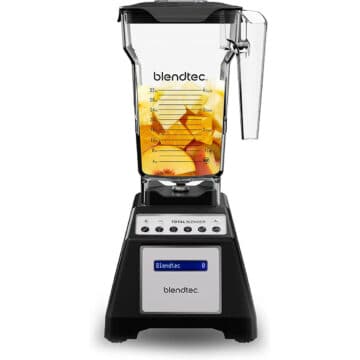 (affiliate link)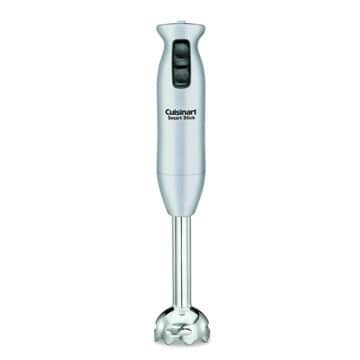 (affiliate link)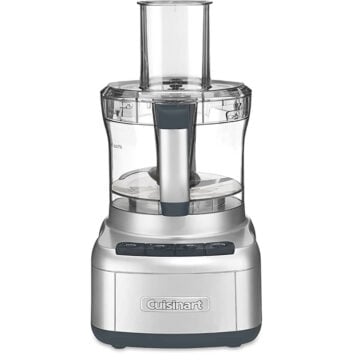 (affiliate link)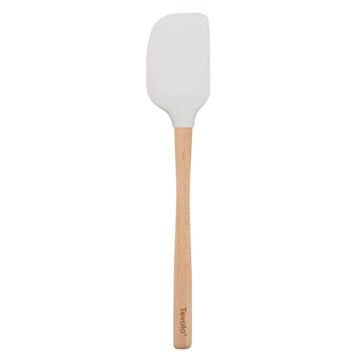 (affiliate link)
Directions
Roast the garlic. Set fire to medium-high and put the garlic cloves on a pan with a lid. Cook for 3 to 5 minutes until the skin starts to burn outside. Let them cool and peel.

Blend. Put all the ingredients in the food processor, or you can also use an immersion blender.

Adjust with water for fluidness or nutritional yeast for thickness.
Notes
I recommend saving one of the garlic cloves, so you can taste and adjust, in case you don't want it to be too garlicky.
The reason I cook the garlic clove beforehand is to avoid the strong garlic flavor. If you prefer to avoid cooking the garlic cloves, you can skip it, but make sure you take off the center greenish stem from them.
Nutrition Facts
Calories:
255
kcal
Carbohydrates:
7
g
Protein:
7
g
Fat:
23
g
Saturated Fat:
3
g
Sodium:
292
mg
Potassium:
320
mg
Fiber:
3
g
Sugar:
1
g
Vitamin A:
636
IU
Vitamin C:
5
mg
Calcium:
28
mg
Iron:
2
mg
Nutrition Facts
Easy Vegan Basil Pesto
Amount per Serving
% Daily Value*
* Percent Daily Values are based on a 2000 calorie diet.