Welcome to the world of bold and flavorful vegan cuisine! Today, we're sharing our best-kept secret - a creamy, Dairy-Free Pesto that will tantalize your taste buds and elevate your dishes to new culinary heights. This isn't just any pesto; it's a perfect fusion of lemon and basil, creating an enchanting twist on the traditional recipe. Ideal for those who follow a vegan or dairy-free diet, this lemon basil pesto not only offers an explosion of flavors but also adds a hefty dose of nutrients to your meals. Ditch the store-bought versions, and let's dive into the process of creating this simple yet incredibly delicious vegan lemon basil pesto at home!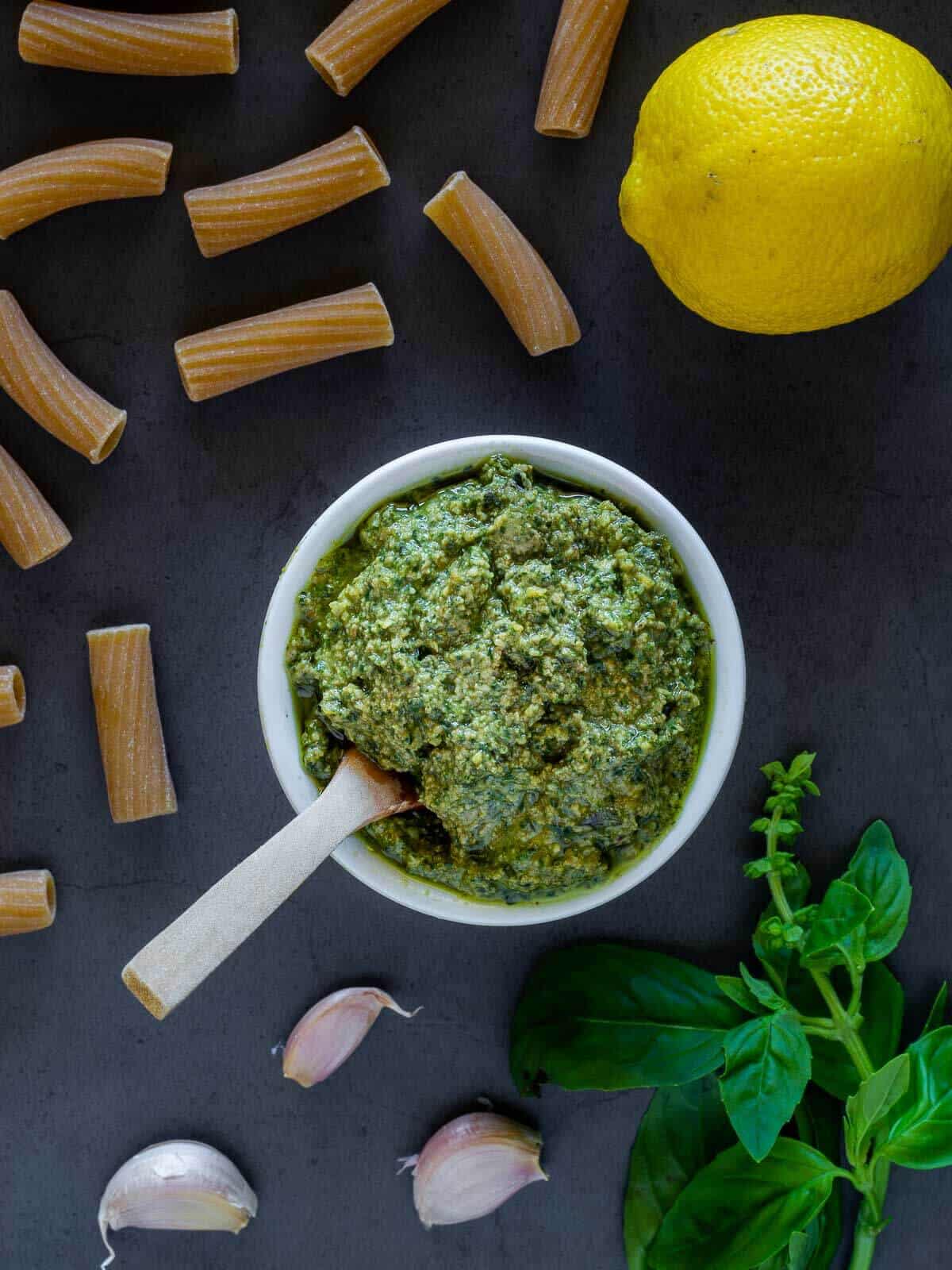 Buckle up, friends, because our exploration of plant-powered cuisine is about to take a delicious twist! Our first adventure: an aromatic, full-bodied vegan pesto. We're going to turn a simple selection of fresh, seasonal produce into a luxurious pasta sauce that can proudly stand beside any traditional counterpart. Be it a rich spread for a freshly baked bread, a delightful dip for your crunchy veggies, or a vibrant dressing for a comforting bowl of pasta, our pesto recipe has got you covered.
Get ready as we dive into our secret pesto recipe, a harmonious blend of fragrant basil leaves, rich olive oil, and crunchy pine nuts. This vibrant concoction transports your senses straight to the sun-drenched landscapes of Italy, all while staying firmly planted in the realm of dairy-free cooking.
And the icing on the cake? Not only does this pesto burst with incredible flavor, but it's also teeming with health-promoting nutrients that are good for you and our planet. So, let's add a dash of culinary magic to our kitchen adventures with this delightful vegan pesto, guaranteed to bring your pasta dishes to life!
Sometimes I add it to a stew, make bruschettas or add it to pizzas. I also use this delicious pesto sauce as sandwich's spread to instantly boost its flavor instead of using mayonnaise.
Hey, here's a little inside scoop from our kitchen - we're absolute fans of mixing things up with our pesto. Ever tried a sage & kale, or pistachio pesto? Packed with super-food goodness, they make a fantastic topping for roasted veggies, especially those juicy cauliflower steaks. And guess what? We've got a zero-waste tip for you too. Those carrot tops you usually toss away? We turn them into vibrant carrot greens pesto. It's a total game-changer with cold pasta salads. Trust us; these variations are sure to make your taste buds do a happy dance!
Jump to:
🧾 Ingredients
This delicious vegan pesto calls for only a handful of ingredients!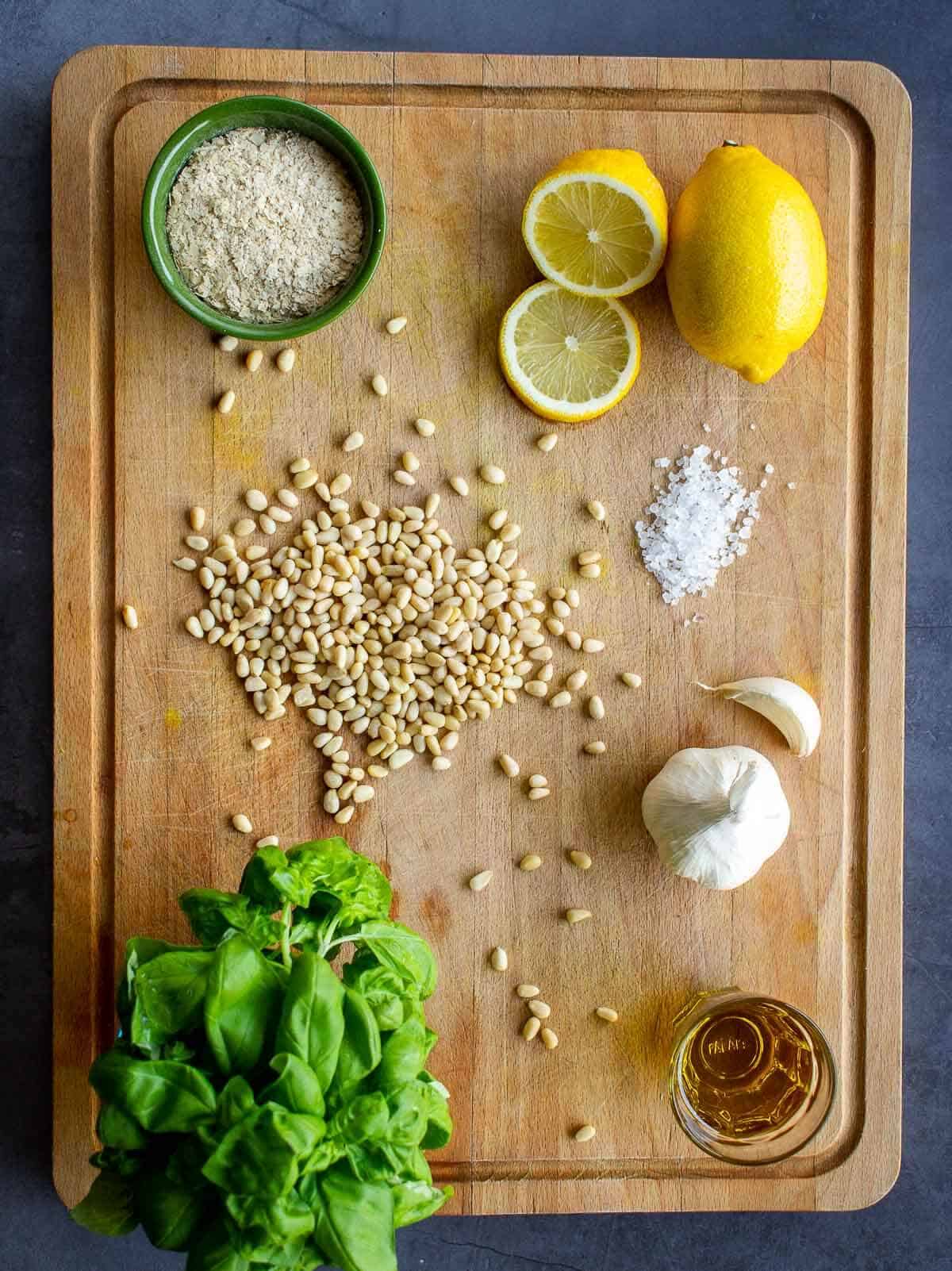 Fresh Basil Leaves: The star of any traditional pesto, basil lends a vibrant, sweet flavor and aroma that's simply irreplaceable. Plus, it's rich in antioxidants and anti-inflammatory properties, making it a healthy addition to our recipe.
Extra-Virgin Olive Oil: Not only does this liquid gold bring a silky, smooth texture to our pesto, but it's also a fantastic source of heart-healthy monounsaturated fats. Olive oil's fruity notes also enhance the overall flavor profile of our recipe.
Pine Nuts: These little gems add a lovely crunch and subtle buttery taste to our pesto. Moreover, they're a powerhouse of vitamins and minerals that support overall health.
Garlic: Garlic is our secret weapon for packing a punch of bold flavor into this pesto. Additionally, it's renowned for its antibacterial properties and potential health benefits like improved heart health.
Lemon Juice: A splash of this citrus superstar brightens the flavors and balances the richness of the oil and pine nuts. Lemon juice is also packed with Vitamin C, supporting a strong immune system.
Nutritional Yeast: This under-the-radar ingredient delivers a nutty, cheesy flavor to our pesto replacing parmesan cheese, making it a fantastic dairy-free alternative. Plus, it's a complete protein and is rich in B-vitamins.
Sea Salt: A touch of sea salt is key for enhancing all the wonderful flavors in our pesto. It also provides essential minerals that the body needs for proper function.
🔪 Instructions
How to Make this dairy-free pesto recipe?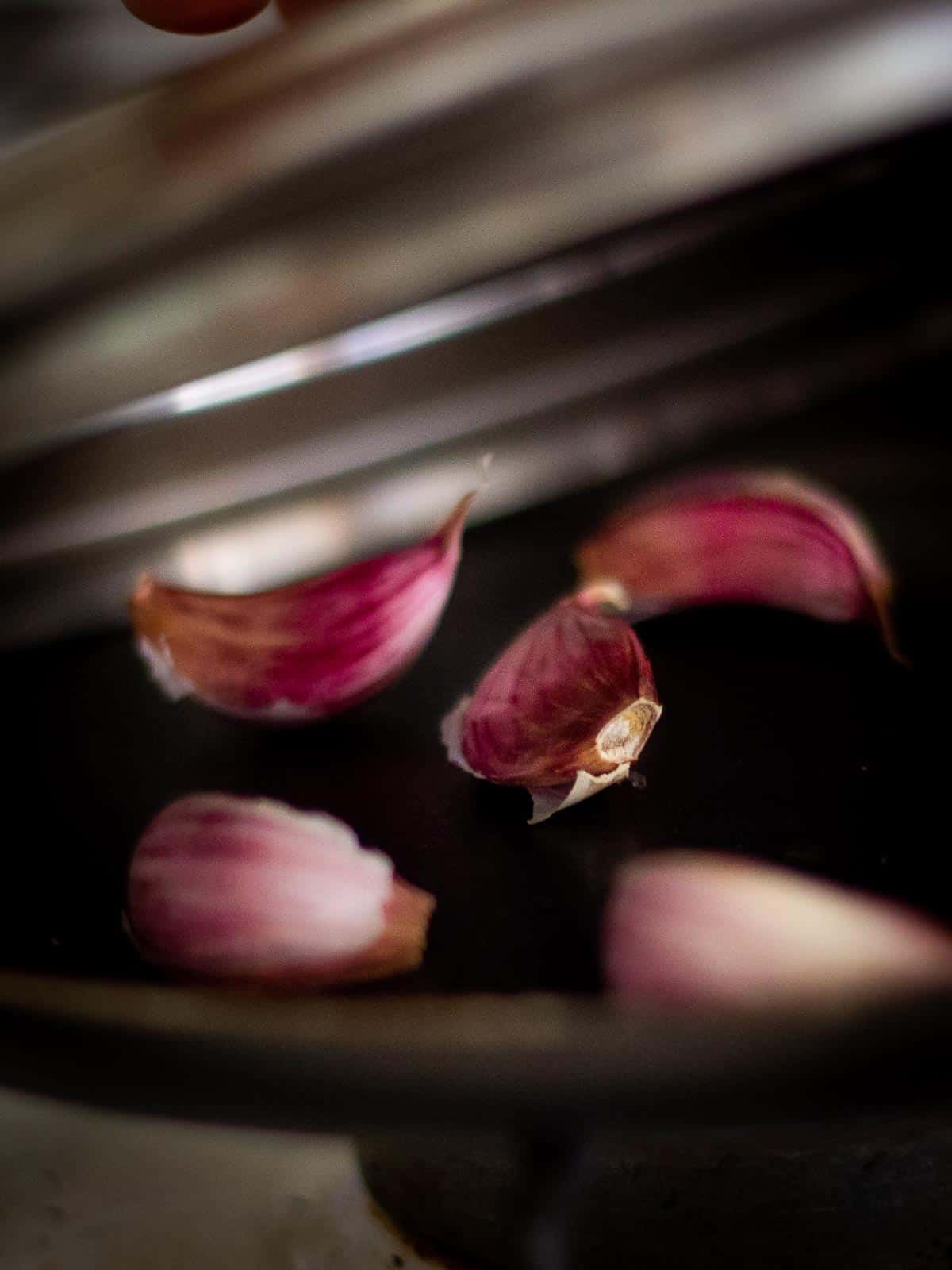 Let's start with the garlic - toss those cloves into a pan on medium-high heat, lid on, and let them get a little toasty for about 3-5 minutes until you see the skin starting to char.
Once they're nicely roasted, give them a moment to cool down before you peel them. Patience is key here!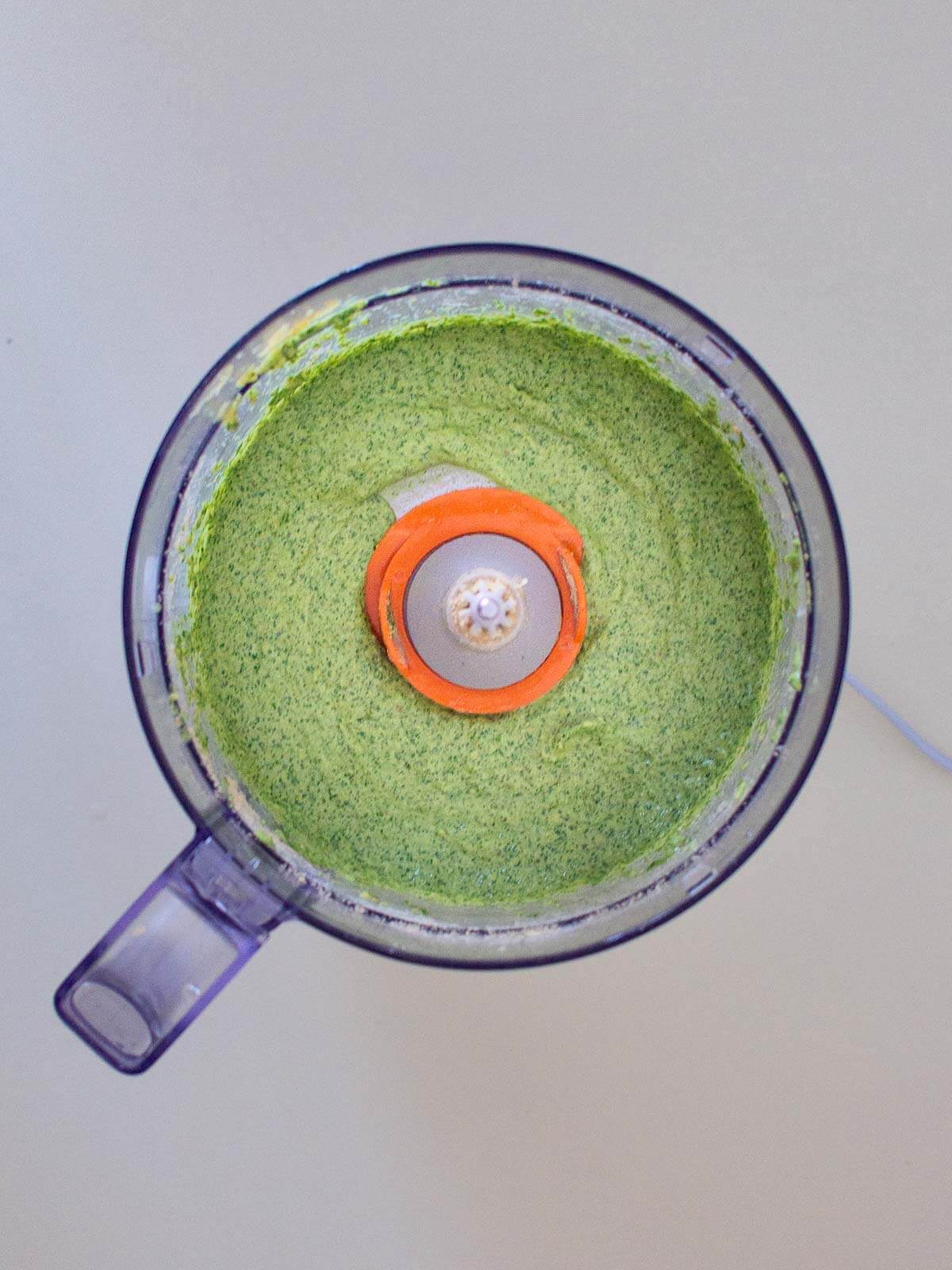 Next up, it's blending time. Gather all your ingredients and pop them into a food processor, or feel free to whip out your trusty immersion blender.
Now, it's all about finding your perfect pesto consistency. If you're looking for a smoother ride, add a splash of water; if you're a fan of a thicker journey, a sprinkle of nutritional yeast will do the trick.
You can easily find pesto in stores worldwide as it is one of the favorite sauces everywhere because it is rich in flavor and versatile. Use it to make your favorite vegan lasagna or boost your sandwich's flavor.
Substitutions
Here are some handy substitutions for our vegan pesto recipe, just in case you don't have all the original ingredients on hand:
Basil: While basil is the star in the classic recipe, you can also use other leafy greens like arugula or kale for a unique twist. The flavor profile will change, but you'll still have a delicious pesto on your hands.
Pine Nuts: If pine nuts are out of reach, feel free to replace them with sunflower seeds, walnuts, or almonds. These options will still provide a nice crunch and contribute healthy fats, though the flavor will slightly differ from the traditional version.
Extra Virgin Olive Oil: In a pinch, avocado oil can be a suitable substitute. It's still rich and velvety, though it might alter the flavor slightly.
Garlic: For those who can't tolerate garlic, a small amount of asafetida powder could work. Be careful though, as it's much stronger than garlic so you'll want to use it sparingly.
Lemon Juice: If you're out of fresh lemon juice, lime juice could be a great substitute. It will still add that tangy zing to your vegan pesto recipe, but it will introduce a slightly more tropical, zestier flavor profile to the dish. Remember, lime juice can be a bit stronger, so start with less and adjust to taste.
Nutritional Yeast: If you don't have nutritional yeast, you can try vegan cheese for a similar cheesy flavor, though it might make your pesto slightly thicker.
🤔 5 Reasons why you should make your own
Did you ever take a peek at the ingredient list on store-bought pesto? It's quite an eye-opener! We believe in knowing exactly what's going into our bodies, and we're pretty sure you do too.
Now, as much as we love the flavor of cheese, our bodies don't always share that love. We bet some of you can relate, right? So, what's a cheese lover to do? Enter Nutritional Yeast - a vegan's secret weapon to mimic that beloved cheesy flavor without the dairy. It's a crucial part of our pesto recipe, taking the place of traditional cheese.
Now, let's talk about saving some green while eating green. We were like you, buying jars of pesto every week. But guess what? Making your own pesto is not only healthier but also much kinder to your wallet!
And let's not forget about our main ingredient - fresh basil. This green gem is considered a superfood, so with this pesto, you're sneakily boosting your diet with a hefty dose of goodness, and doing it deliciously, too!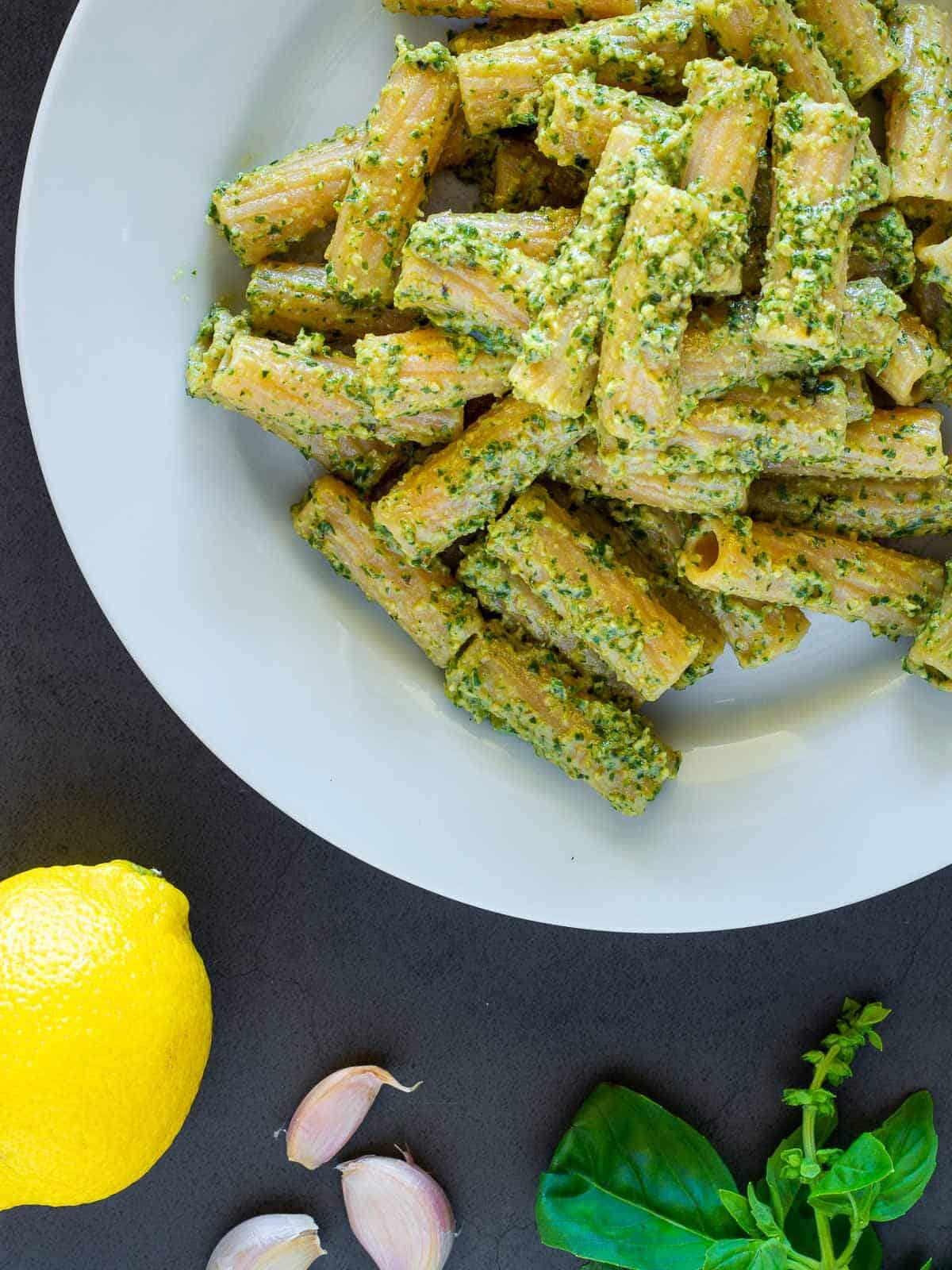 🧐 What is Pesto?
There are many kinds of pesto; Pesto Alla Genovese is the traditional one and consists of seven ingredients, according to il Consorzio del Pesto Genovese (the Academy of Pesto). These ingredients are Basil leaves, Extra Virgin Olive Oil, Parmigiano Reggiano cheese, Pecorino Cheese (Sheep's milk cheese from Sardinia), Garlic, Pine nuts, Coarse Salt.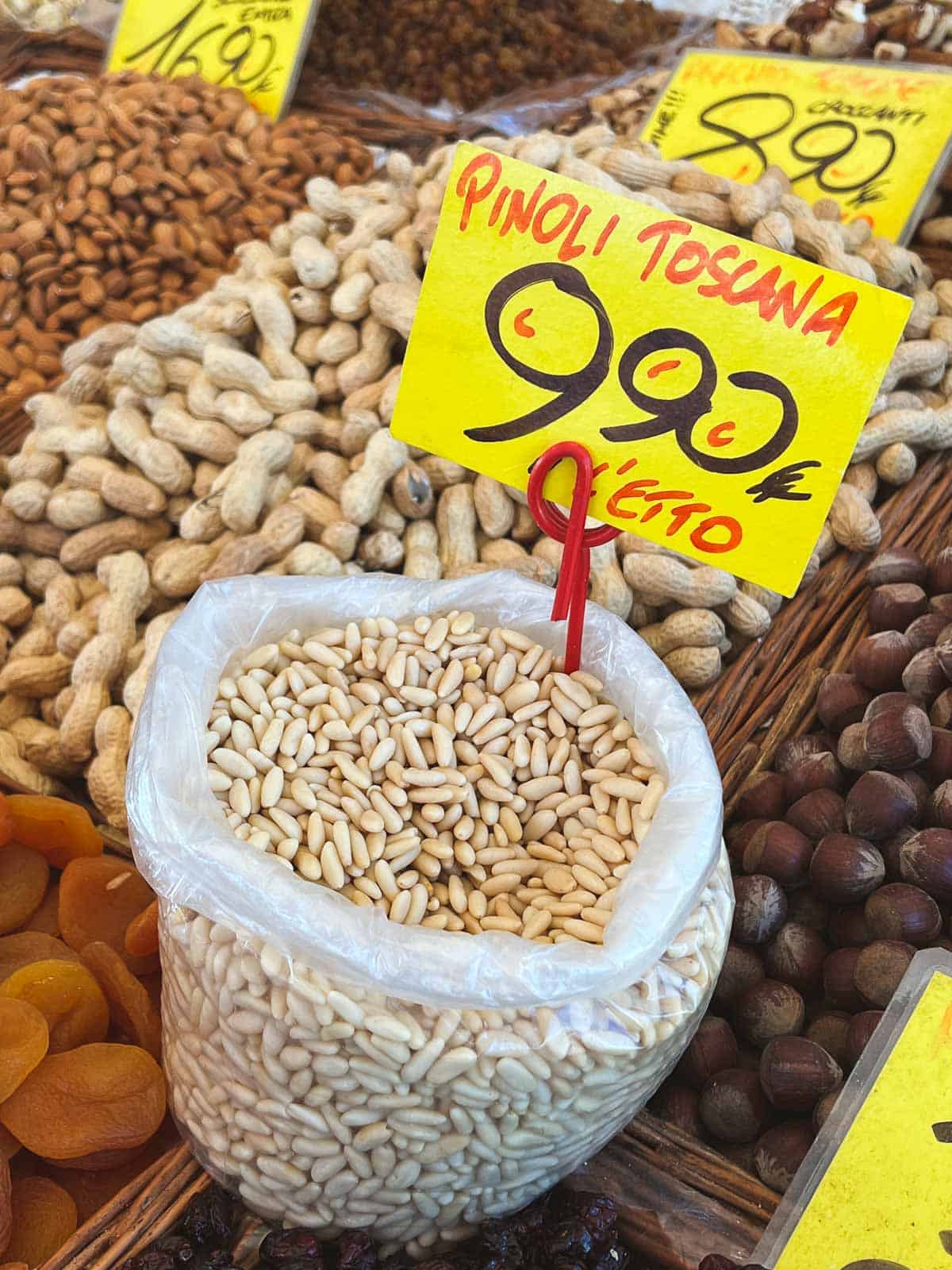 It is common to replace pine nuts with walnuts since pine nuts may be challenging to find and relatively expensive.
The standard pesto products found in Italy are Pesto Alla Calabrese (Hot Peppers), Pesto Alla Siciliane (Ricotta Cheese and Nuts), Pesto Rosso (with tomatoes). Then you have more Gourmet pestos made out of Pistachio nuts.
In a nutshell, to make a pesto, you need a Leaf or Vegetable (such as FRESH Basil or Arugula, Red Peppers, or Tomato), Cheese, Garlic, and Oil. The variations come with imagination. Check our Vegan Arugula Pesto.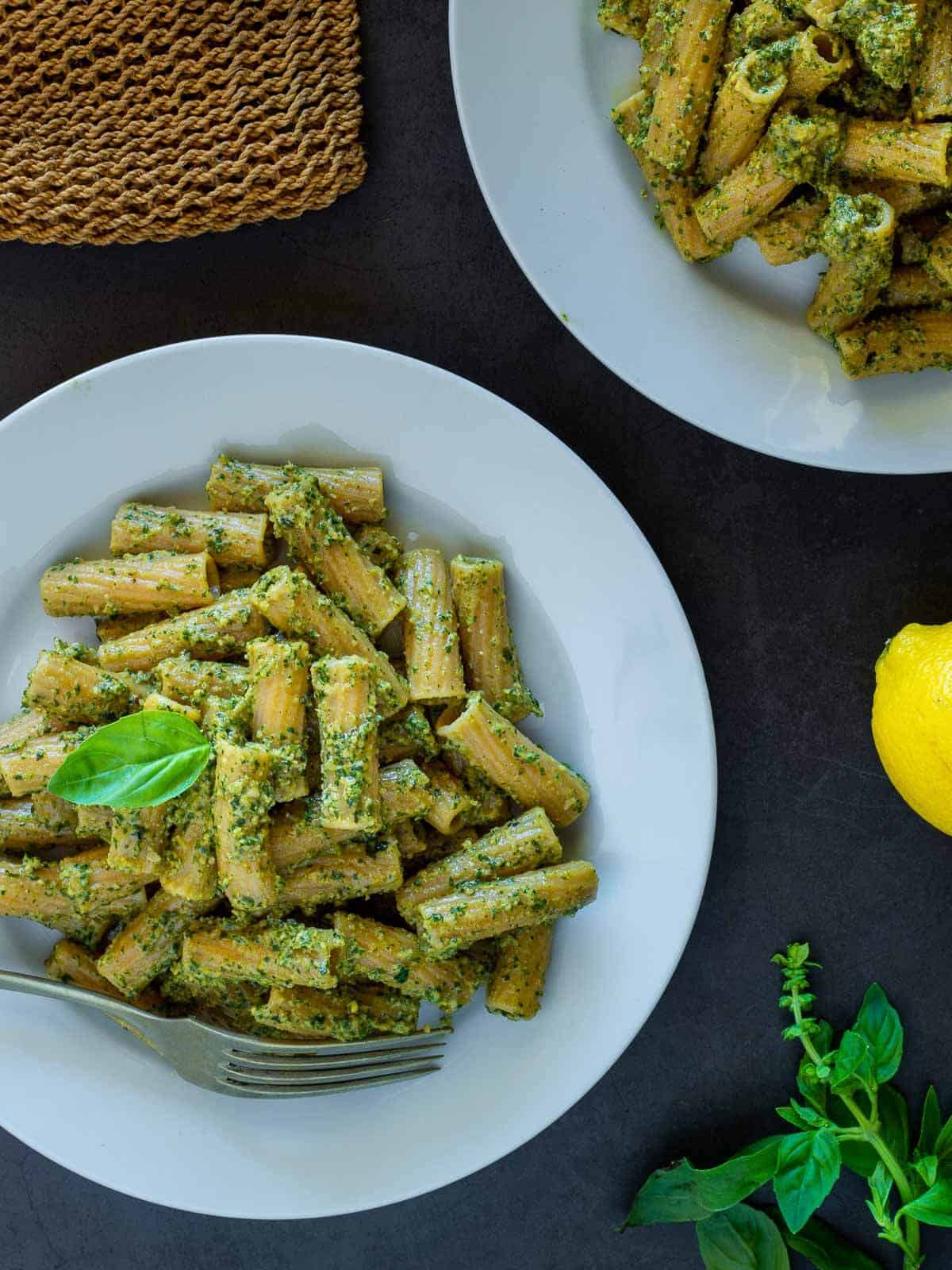 🍃 Vegan version
Guess what? We're swapping out the traditional cheese for our superstar ingredient - nutritional yeast. But keep in mind, quality is key! We need that cheesy-flavored nutritional yeast to make up for the absence of cheese. Beware of varieties with neutral or even fruity aromas, they won't do the trick here.
And hey, let's celebrate the bonuses of this vegan version. Being dairy-free, it's a total win for our lactose-intolerant friends. Plus, nutritional yeast brings its own fan club of benefits - it's protein-rich and much lower in calories compared to cheese. So, we're scoring big on flavor and health!
🍽 Equipment
High-Speed Blender or Food Processor: These kitchen powerhouses make the job quick and easy, perfectly blending all your ingredients together. However, if you're after a more authentic and rustic texture, we have another option.
Handmade Mortar and Pestle: This is our personal favorite! It's an excellent tool for those who love a hands-on approach to cooking, and it really takes the pesto's texture to another level, making each bite a unique experience.
💡Storing
For the storage section, follow these handy tips:
Fridge: Store your freshly made vegan pesto sauce in an airtight container and keep it in the fridge. It should stay fresh and vibrant for up to a week. When it's time to use it again, simply give it a good stir before serving.
Freezing and Reheating: To freeze, portion the pesto into ice cube trays for easy, single-serving sizes. Once frozen, pop the cubes out and store them in a freezer bag. When you're ready to enjoy your pesto, defrost the desired amount in the fridge overnight, then gently reheat in a pan over low heat, stirring frequently.
Meal Prep: This pesto is a fantastic meal prep ally! Prepare a large batch, then use it throughout the week to brighten up pasta dishes, sandwiches, salads, or roasted veggies. It's an easy and delicious way to add a nutritious boost to your meals.
Read on: how to make your own fresh vegan pasta dough and homemade noodles!
❓Health benefits of basil
Did you know that basil is considered a Superfood?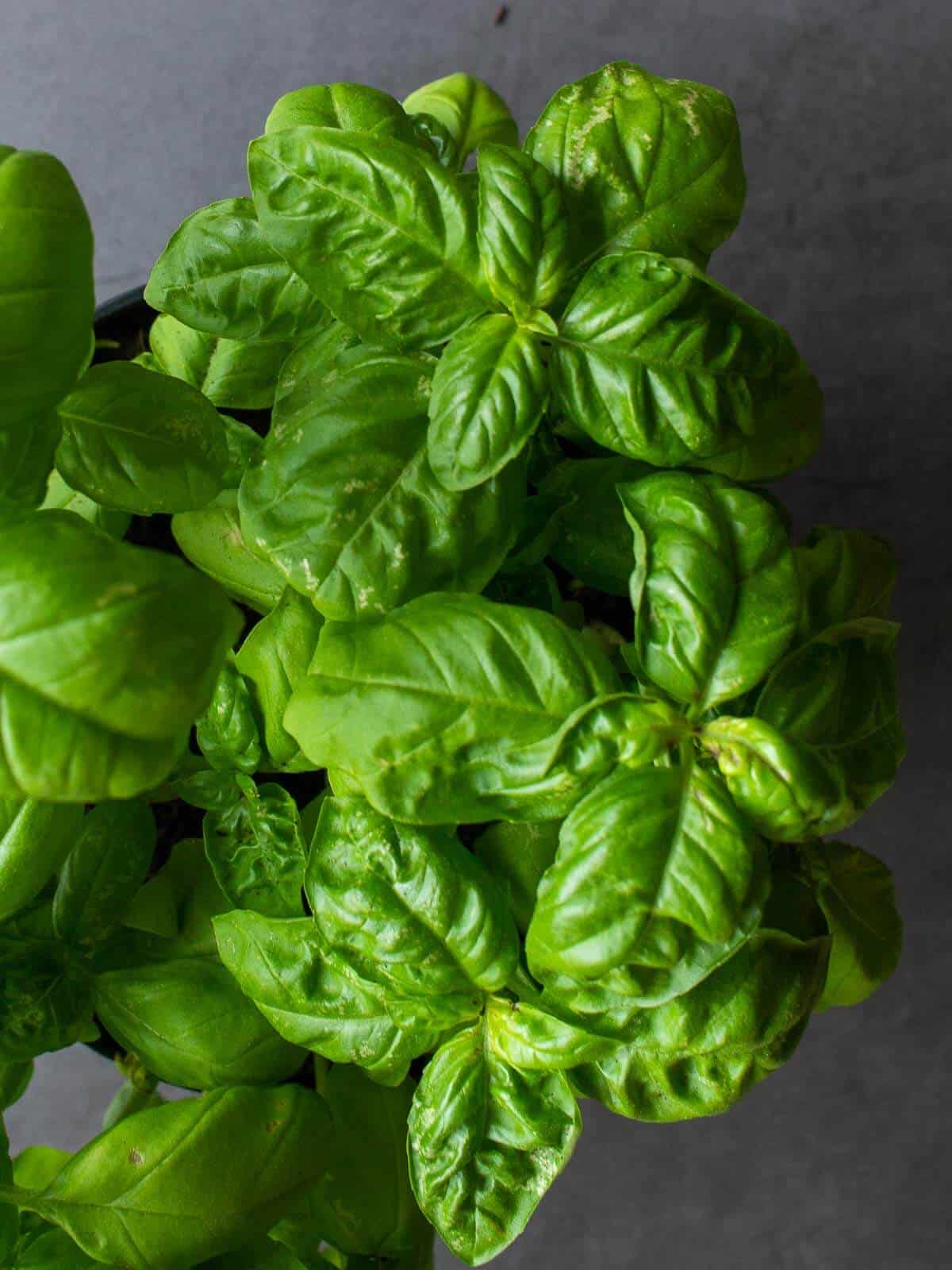 Although basil is primarily known as a flavor enhancer, studies indicate that adding this herb to your daily diet can provide anti-inflammatory, antibacterial, Immune System boosters, anti-stress, diabetes, and arthritis management properties. Thus, Basil is a well-rounded fighter in the battle to improve overall health. In addition, Basil may also help control stress, aging, blood sugar, and blood pressure.
Want to know more about basil benefits?
Find out more about Nutritional Yeast benefits.
📚 More pesto sauce recipes
🇮🇹 More Italian recipes
We also love adding this easy vegan basil pesto to add a touch of flavor to our marinara sauce, pizza sauce, vegetarian lasagna, and eggplant parmesan's tomato sauce, when we are out of fresh basil but have stored pesto.
⭐ If you try this delicious recipe, let us know! 💬 Leave a comment, rate it, and don't forget to tag us @ourplantbasedworld on Instagram. Cheers!
📋 Recipe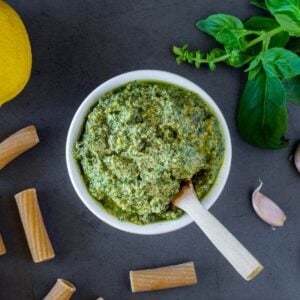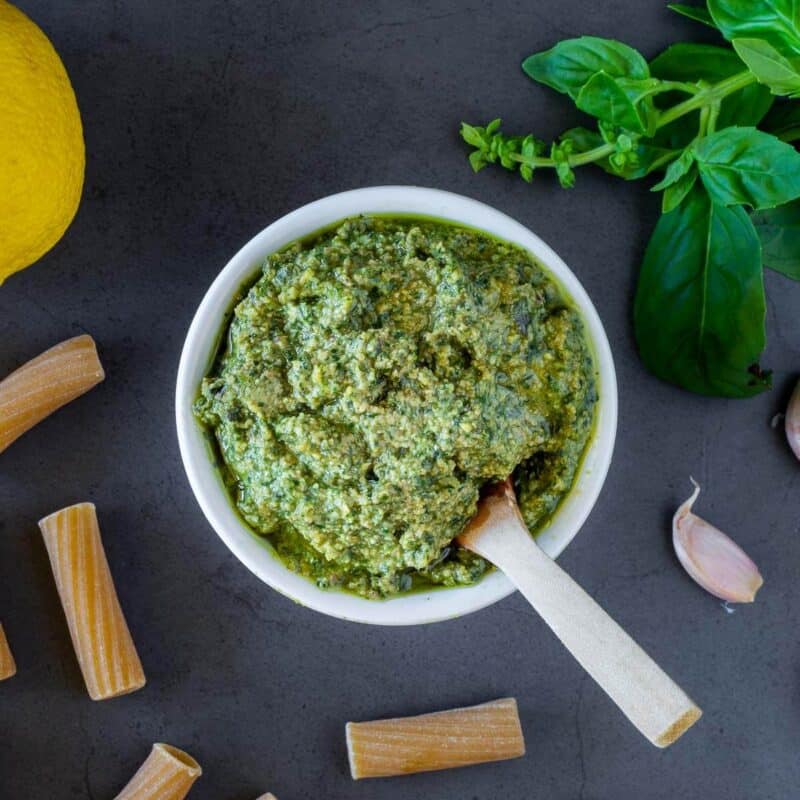 Dairy-Free Pesto (Vegan Lemon Basil Pesto)
Indulge in the taste of our best creamy, dairy-free pesto. This exceptional vegan recipe offers a tantalizing blend of fresh lemon and basil, bringing a twist to the traditional pesto. Perfect for those on a dairy-free or vegan diet, it's the ultimate choice for a healthier yet flavorful sauce. Make your meals exciting and nutrient-rich with our Lemon Basil Pesto Recipe
Equipment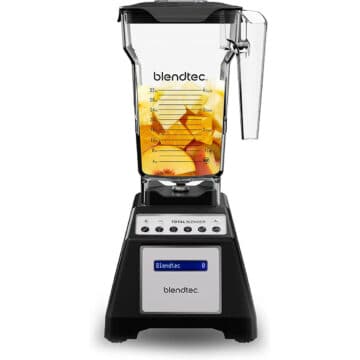 (affiliate link)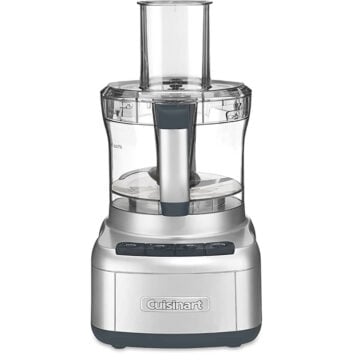 (affiliate link)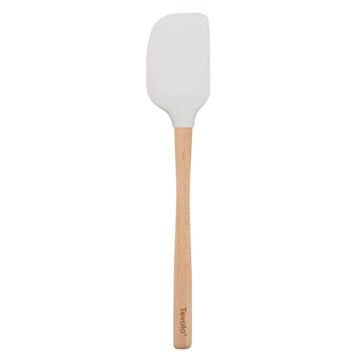 (affiliate link)
Directions
Let's start with the garlic - toss those cloves into a pan on medium-high heat, lid on, and let them get a little toasty for about 3-5 minutes until you see the skin starting to char.

Once they're nicely roasted, give them a moment to cool down before you peel them. Patience is key here!

Next up, it's blending time. Gather all your ingredients and pop them into a food processor, or feel free to whip out your trusty immersion blender.

Now, it's all about finding your perfect pesto consistency. If you're looking for a smoother ride, add a splash of water; if you're a fan of a thicker journey, a sprinkle of nutritional yeast will do the trick.
Notes
I recommend saving one of the garlic cloves, so you can taste and adjust, in case you don't want it to be too garlicky.
The reason I cook the garlic clove beforehand is to avoid the strong garlic flavor. If you prefer to avoid cooking the garlic cloves, you can skip it, but make sure you take off the center greenish stem from them.
Nutrition Facts
Calories:
255
kcal
Carbohydrates:
7
g
Protein:
7
g
Fat:
23
g
Saturated Fat:
3
g
Sodium:
292
mg
Potassium:
320
mg
Fiber:
3
g
Sugar:
1
g
Vitamin A:
636
IU
Vitamin C:
5
mg
Calcium:
28
mg
Iron:
2
mg
Nutrition Facts
Dairy-Free Pesto (Vegan Lemon Basil Pesto)
Amount per Serving
% Daily Value*
* Percent Daily Values are based on a 2000 calorie diet.
🌡️ Food safety
Cook to a minimum temperature of 165 °F (74 °C)
Do not use the same utensils on cooked food, that previously touched raw meat
Wash hands after touching raw meat
Don't leave food sitting out at room temperature for extended periods
Never leave cooking food unattended
Use oils with a high smoking point to avoid harmful compounds
Always have good ventilation when using a gas stove
See more guidelines at USDA.gov.
Nutritional Disclaimer
The information shown is an estimate provided by an online nutrition calculator. It should not be considered a substitute for a professional nutritionist's advice. See our full Nutritional Disclosure here.
Affiliate Disclaimer
Please note that some of the links here are affiliate links, and I will earn a commission if you purchase through those links. I recommend all of the products listed because they are companies I have found helpful and trustworthy.