Step into a world of delightful flavors with our latest creation - a balsamic raspberry dressing that's as flavorful as it is nutritious. This easy-to-make vinaigrette is the perfect blend of tangy, sweet, and savory elements that will take your salads to a whole new level. Bursting with the goodness of fresh, seasonal raspberries and heart-healthy balsamic, it's a surefire way to elevate your plant-based meals.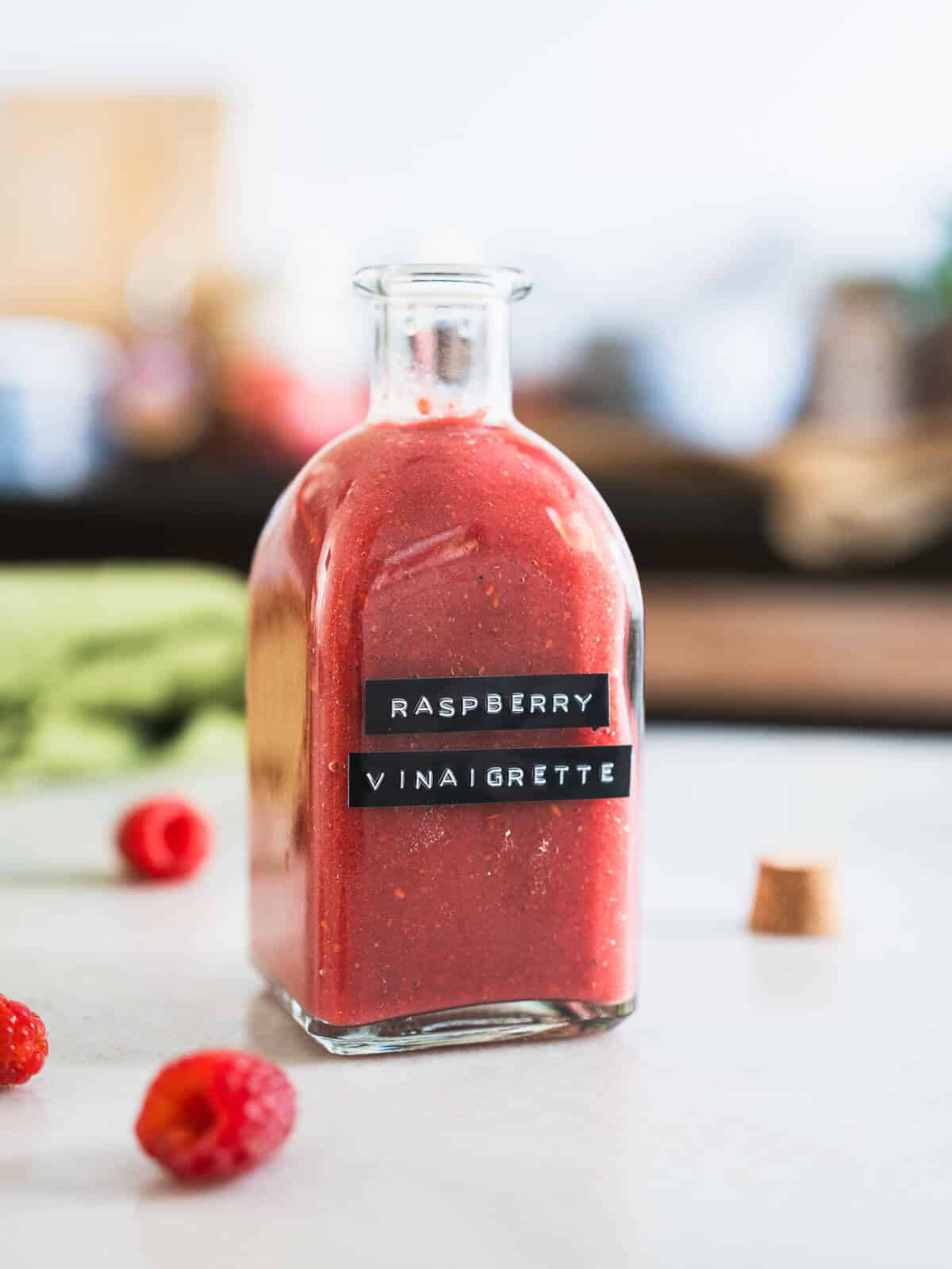 This homemade raspberry vinaigrette dressing is a winner because of its vibrant taste and effortless preparation, and incredible nutritional profile, which is way more than regular store-bought salad dressings. With frozen or fresh raspberries at its core, every spoonful is brimming with potent antioxidants and essential nutrients.
Raspberries are particularly high in fiber and vitamin C, making them an excellent addition to your diet. Their bright, slightly tart flavor profile lends a unique depth to salad dressings, adding that pop of flavor you never knew your salads needed.
Ease is another key aspect that makes this salad recipe a standout. You won't need any fancy equipment or hard-to-find ingredients. A simple blender and your chosen or fresh berries are your tickets to this gorgeous dressing.
And the beauty of this recipe lies in its versatility - drizzle it over your favorite greens, use it as a dip, or even as a marinade for your plant-based proteins. So, not only are you treating your palate to a delightful flavor, but you're also nourishing your body with every bite. Now, that's what we call a win-win!
Jump to:
🧾 Ingredients
This raspberry vinaigrette salad dressing is made with just a few delicious ingredients: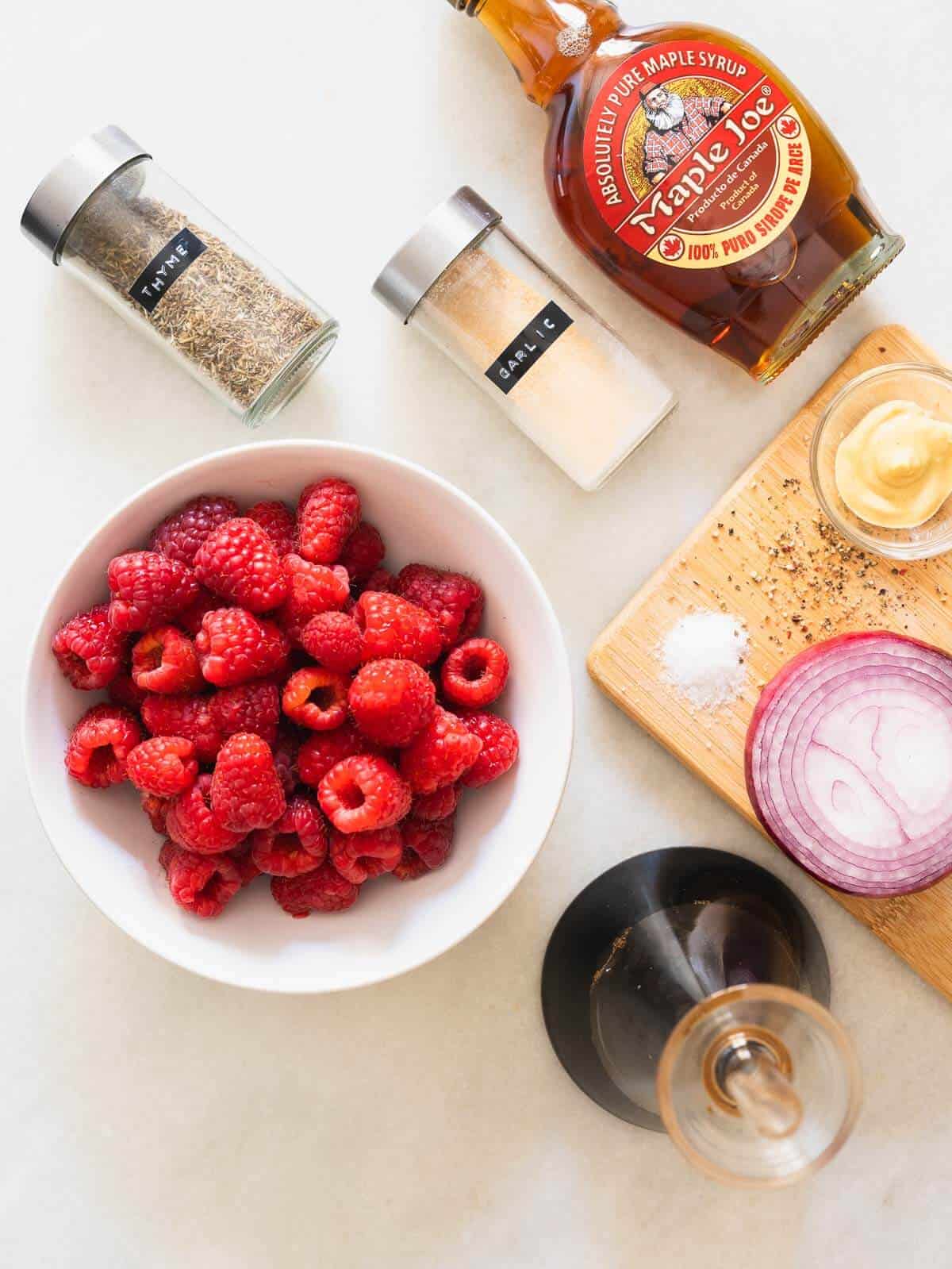 Fresh or frozen raspberries: These ruby gems are not just for their sweet-tart flavor; they're also packed with antioxidants and fiber, supporting overall health while adding a vibrant punch to the dressing.
Balsamic vinegar: Besides lending a rich, tangy undertone, this vinegar also has a hint of sweetness and is full of beneficial polyphenols, adding depth and health benefits to the mix.
Red onion: A small quantity of this pungent vegetable imparts a mild spicy kick and essential nutrients, including quercetin, which has anti-inflammatory properties.
Garlic powder: An effortless way to infuse the dressing with a warming, earthy taste, it also carries allicin, known for its immunity-boosting properties.
Dijon Mustard: This adds a beautiful hint of spice and complexity, and mustard seeds, from which it's made, are rich in selenium, which can aid in reducing inflammation.
Maple Syrup: This natural sweetener balances the acidity of vinegar and the tartness of raspberries. It's a healthier sugar alternative, rich in antioxidants and minerals like zinc and manganese.
Dried thyme: A sprinkle of this herb adds an aromatic, earthy note that complements the other flavors while also contributing a dose of beneficial antioxidants.
Salt and black pepper.
See the recipe card for quantities.
🔪 Instructions
This raspberry vinaigrette recipe involves one simple step: measuring and blending!
Place all the chopped ingredients in the blender or food processor's vase.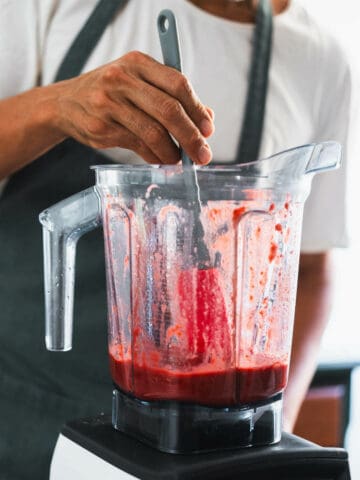 Blend and scrape with a spatula if needed.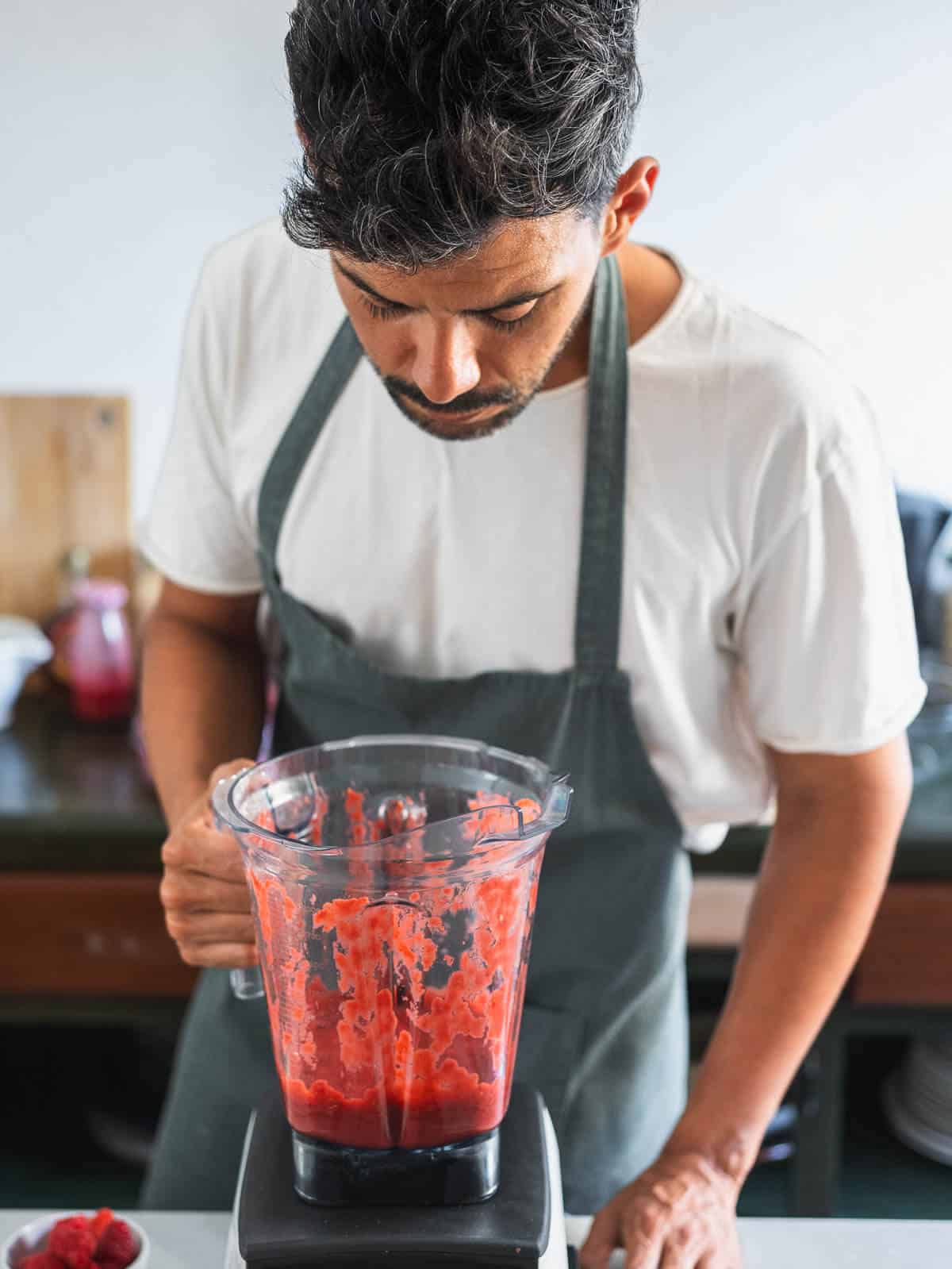 Check the texture and adjust if needed, adding more water for a more liquid dressing or raspberries for a thicker version.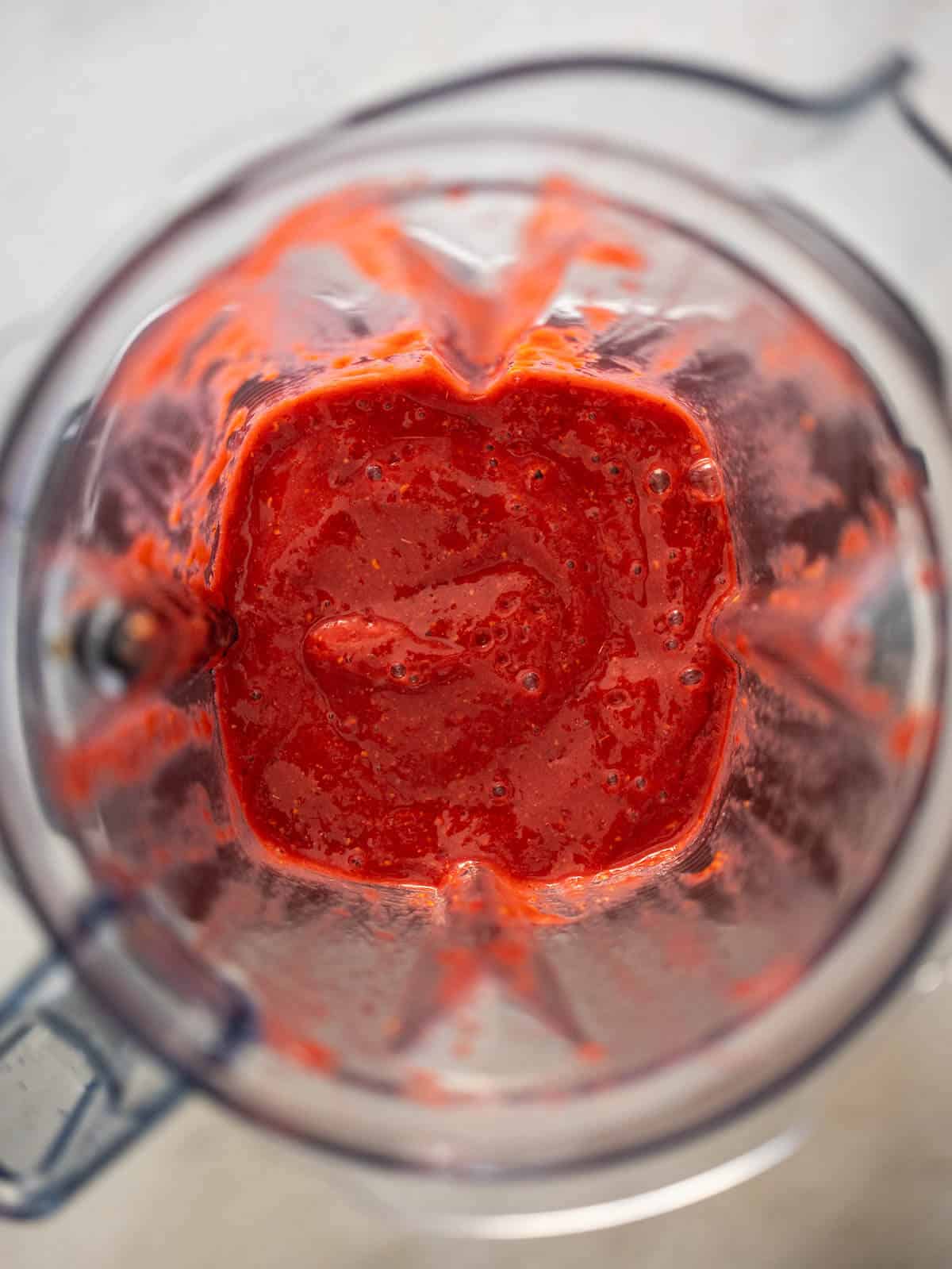 The ideal raspberry mixture is thick but still liquid enough to drizzle over your salad.
Hint: we like making our summer vinaigrettes oil-free, especially if they already have a thickening agent like blended berries. However, you can add two tablespoons of extra virgin olive oil or grapeseed oil if you want the oil's flavor to be less overpowering.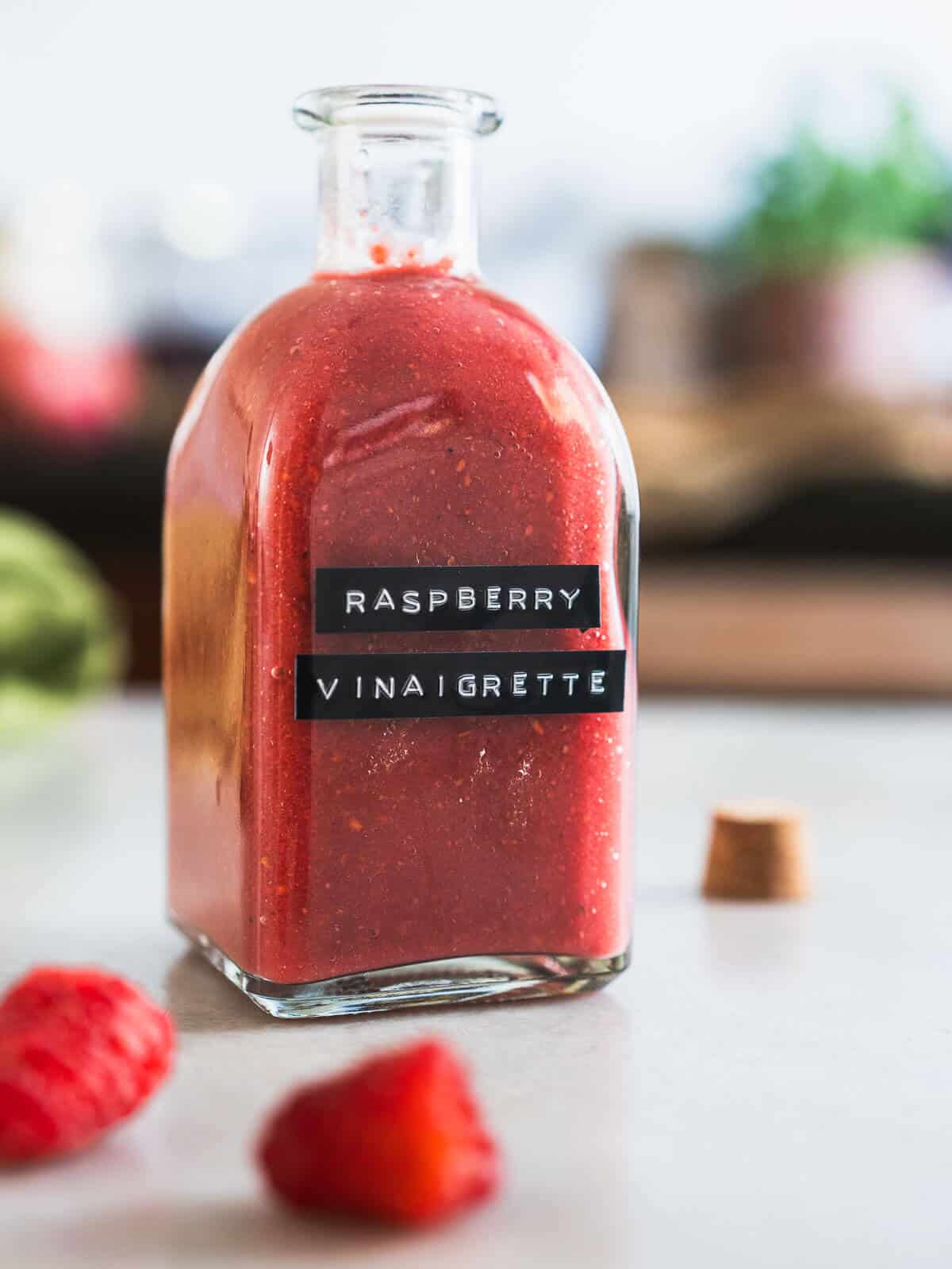 🥢 How to serve
This balsamic raspberry dressing shines in its versatility, transforming your salad recipes into something extra special with its vibrant flavor profile.
One classic way to serve it is by drizzling it over a Walnut and baby spinach Salad. The dressing brings a pleasantly sweet, tangy contrast to the nutty, crunchy walnuts, pumpkin seeds, candied pecans, and fresh, earthy spinach. Toss in some juicy sliced pears or apples for a fruity touch or vegan feta cheese to add some extra complexity, and you've got a gourmet salad!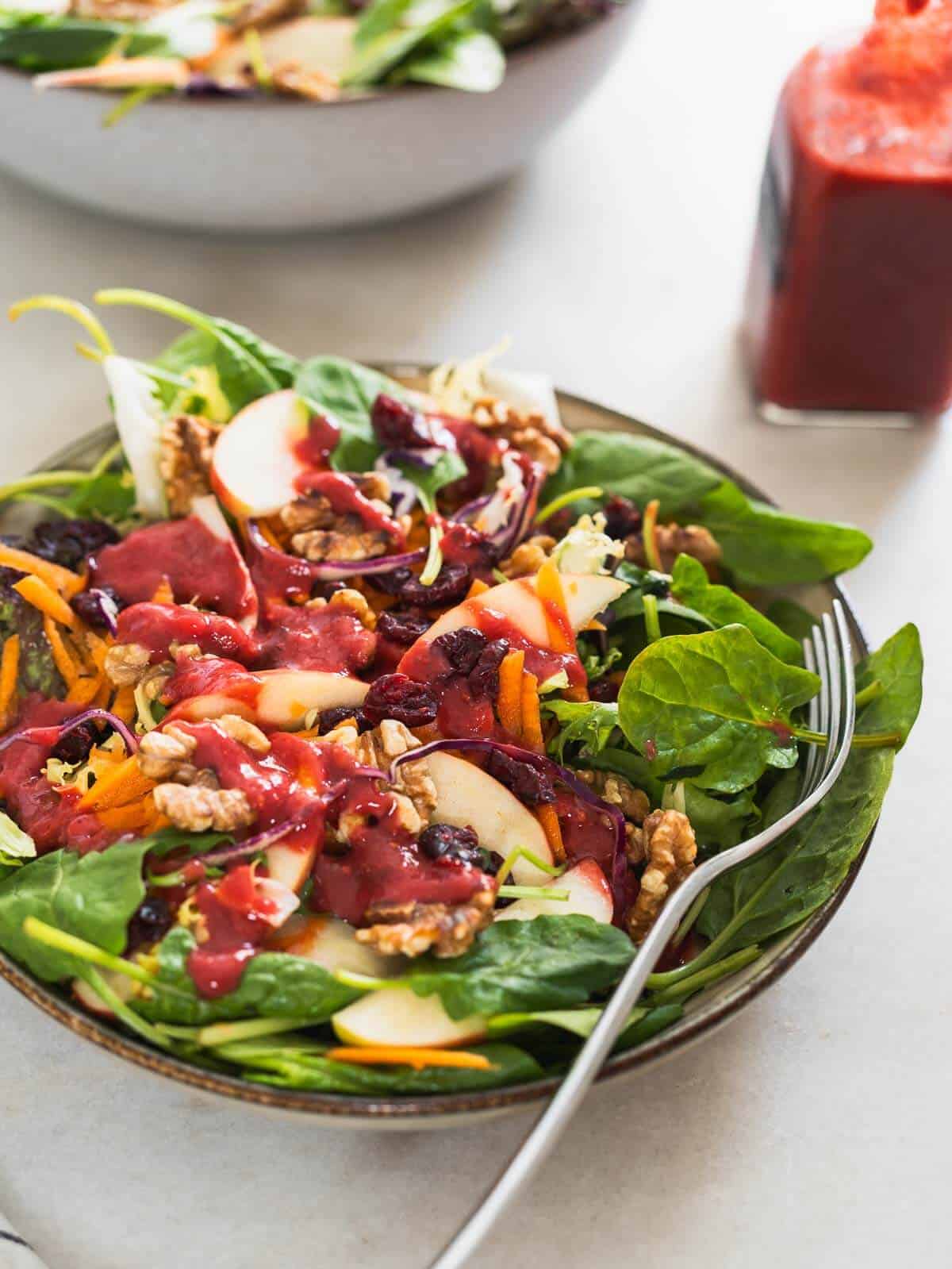 But why stop at salads? The options are only limited by your creativity. This homemade dressing is a delightful dip for freshly cut veggies or even grilled tofu skewers. The tart-sweet profile of the dressing makes it a wonderful pairing for various plant-based proteins.
You could also use it as a marinade for roasted vegetables. Picture a tray of roasted Brussels sprouts, carrots, and sweet potatoes, all caramelized and flavorful, further enhanced by this bright and zesty dressing.
And let's not forget grain bowls. A hearty bowl of quinoa or farro topped with assorted veggies, chickpeas, and a generous drizzle of this raspberry vinaigrette is a feast for the eyes and the palate.
🍶 Substitutions
Balsamic Vinegar: If you find yourself out of balsamic vinegar, don't worry! Here are some options:

White wine vinegar: This will give your dressing a sharp, clean tang. However, it's more acidic than balsamic, so you might want to add a bit more sweetener to balance it out.
Red Wine Vinegar: Another excellent option, red wine vinegar offers a fruity, tangy taste. It's less sweet than balsamic, so consider adjusting the quantity of maple syrup accordingly.
Raspberry Vinegar: For a stronger raspberry flavor, raspberry vinegar is a great choice. It also brings a lovely color to the dressing!
Lemon Juice: While this might change the flavor profile, lemon juice or other citrus juice can provide the needed acidity in a pinch. It's zesty and refreshing, adding a burst of brightness to your dressing.
Apple cider vinegar is also a great sub.

Maple Syrup: If maple syrup isn't your thing or you simply don't have it on hand, agave nectar is a fantastic substitute. It's also plant-based and has a similar level of sweetness. Another option could be date syrup which adds a rich, caramel-like sweetness but keep in mind it may darken the color of your dressing.
Dijon Mustard: Yellow mustard can work as a substitute, but it's a bit more pungent than Dijon, so adjust the quantity to your liking. You could also use a small amount of wasabi or horseradish for a spicier kick.
Dried Thyme: If you don't have dried thyme, feel free to use other dried herbs like oregano or marjoram. T
Red Onion: If red onions aren't available, you can swap them out with several other options.

Shallots: They are a great substitute as they offer a mild, slightly sweet flavor similar to red onions.
Leeks: Leeks can also work. They have a more subtle flavor than red onions and are especially delicious when they are sautéed or caramelized before adding to the dressing.

Garlic Powder: If you run out of garlic powder, fresh minced garlic is an excellent alternative. You can also sub for onion powder.
🍽 Equipment
Blender or food processor: A blender (affiliate link) is a key piece of equipment for this recipe. It's what you'll use to emulsify the ingredients into a smooth, unified dressing. The high-speed blades will ensure that your raspberries, onion, and other ingredients are thoroughly combined for a seamless taste in every bite. Depending on the power of your blender, you might not even need to chop your onion before tossing it in!
🥡 Storage
Proper storage is crucial to maintain the freshness and flavor of your homemade dressings. Follow these simple steps:
Choose the Right Container: For best results, store your dressing in an airtight container, glass jar, or bottle. This will keep your vinaigrette fresh and protect it from absorbing any odors in your fridge.
Refrigerate Immediately: After preparation, allow the dressing to cool to room temperature. Once cooled, close the container tightly and place it in the refrigerator.
Shake Before Use: As with most vinaigrettes, the ingredients may separate when stored. This is completely normal. Simply give the bottle a good shake before each use to re-emulsify the dressing.
Check the Freshness: it can be kept in the fridge for up to a week. Remember to always check for freshness before use. If it smells off, or you see any signs of mold, discard the remaining dressing.
By following these steps, you'll be able to savor this vibrant, flavorful dressing throughout the week, adding a pop of flavor to your favorite dishes!
💡 Top tip
If you want to make the raspberry vinaigrette super thin you can pass it through a fine mesh strainer before bottling it.
❓ FAQ
Is raspberry vinaigrette good for diabetics?
Yes, this raspberry vinaigrette can be a suitable choice for diabetics, especially with a small modification. Maple syrup, while a healthier sweetener, does contain natural sugars which can affect blood glucose levels. To make the dressing more diabetic-friendly, consider eliminating the maple syrup from the recipe. The natural sweetness from the raspberries should provide a subtle sweetness. As always, it's recommended that individuals with diabetes consult their healthcare provider or a dietitian when incorporating new foods into their diet.
📚 More vinaigrette recipes
⭐ If you try this raspberry vinaigrette recipe, let us know! 💬 Leave a comment, rate it, and don't forget to tag us @ourplantbasedworld on Instagram. Cheers!
📋 Recipe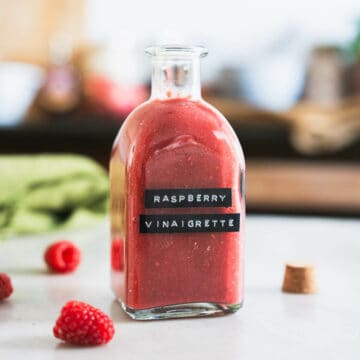 Easy Balsamic Raspberry Dressing (Salad Vinaigrette)
Discover our Easy Balsamic Raspberry Dressing recipe, a delicious, tangy, and sweet salad vinaigrette that will elevate your salads to a whole new level. Prepared with simple ingredients, this healthy, homemade dressing will add a vibrant burst of fresh berry flavor to your meals. Perfect for summer salads and ideal for those seeking a delightful gourmet twist.
Equipment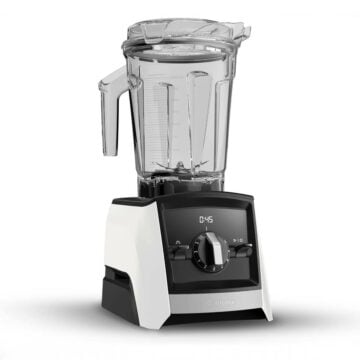 (affiliate link)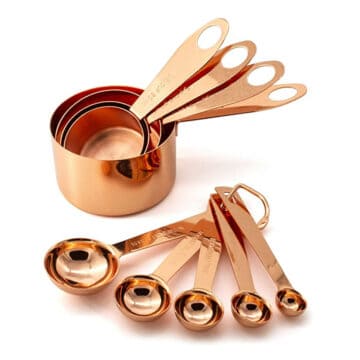 (affiliate link)
Directions
Measure your ingredients.

Add all ingredients to a blender or food processor and blend for 30 seconds.

Enjoy with your favorite salad.
Notes
You can store this raspberry vinaigrette for up to a week in the fridge. 
Nutrition Facts
Serving:
1
tablespoon
Calories:
17
kcal
Carbohydrates:
1
g
Protein:
1
g
Fat:
1
g
Saturated Fat:
1
g
Polyunsaturated Fat:
1
g
Monounsaturated Fat:
1
g
Sodium:
29
mg
Potassium:
18
mg
Fiber:
1
g
Sugar:
1
g
Vitamin A:
1
IU
Vitamin C:
7
mg
Calcium:
2
mg
Iron:
1
mg
Nutrition Facts
Easy Balsamic Raspberry Dressing (Salad Vinaigrette)
Serving Size
1 tablespoon
Amount per Serving
% Daily Value*
* Percent Daily Values are based on a 2000 calorie diet.
🌡️ Food safety
Cook to a minimum temperature of 165 °F (74 °C)
Do not use the same utensils on cooked food, that previously touched raw meat
Wash hands after touching raw meat
Don't leave food sitting out at room temperature for extended periods
Never leave cooking food unattended
Use oils with a high smoking point to avoid harmful compounds
Always have good ventilation when using a gas stove
See more guidelines at USDA.gov.
Nutritional Disclaimer
The information shown is an estimate provided by an online nutrition calculator. It should not be considered a substitute for a professional nutritionist's advice. See our full Nutritional Disclosure here.
Affiliate Disclaimer
Please note that some of the links here are affiliate links, and I will earn a commission if you purchase through those links. I recommend all of the products listed because they are companies I have found helpful and trustworthy.