Greetings, fellow food enthusiasts! If you're seeking a bold flavor twist to elevate your salad game, allow us to introduce you to an incredible creation: maple tahini dressing. With its unique combination of rich, nutty tahini and sweet, aromatic maple syrup, this delicious dressing is the superstar that your salad bowls have been waiting for.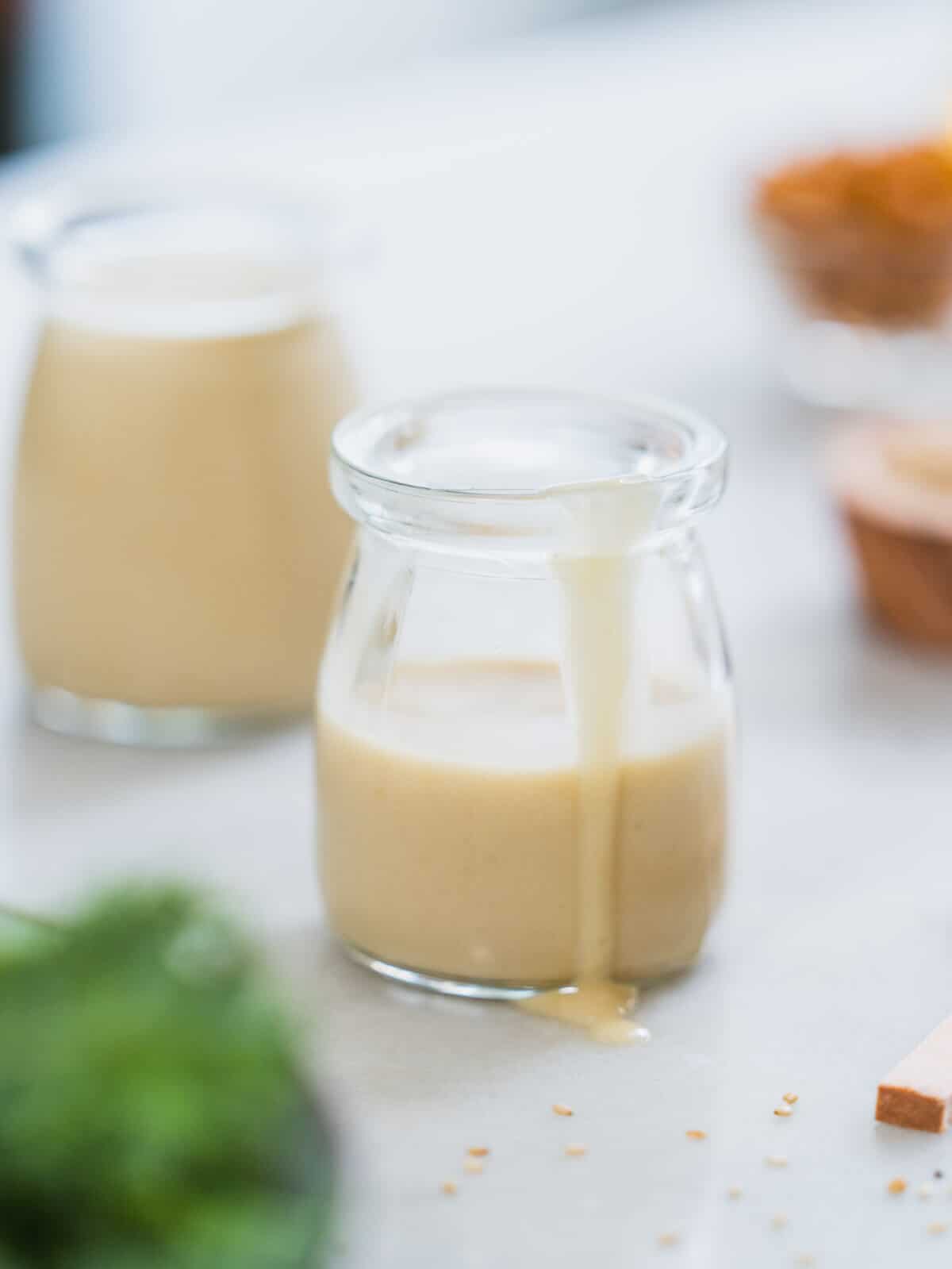 Salad dressings are the unsung heroes of the culinary world. They have the power to elevate a simple assortment of greens into a flavorful, satisfying meal. They bring together contrasting flavors, tie in various textures, and add a delightful finish to every bite. But the beauty of dressings extends beyond their taste-enhancing capabilities. They're also an opportunity to incorporate nutrient-dense ingredients into our meals, in a simple homemade vinaigrette or the luscious strawberry dressing.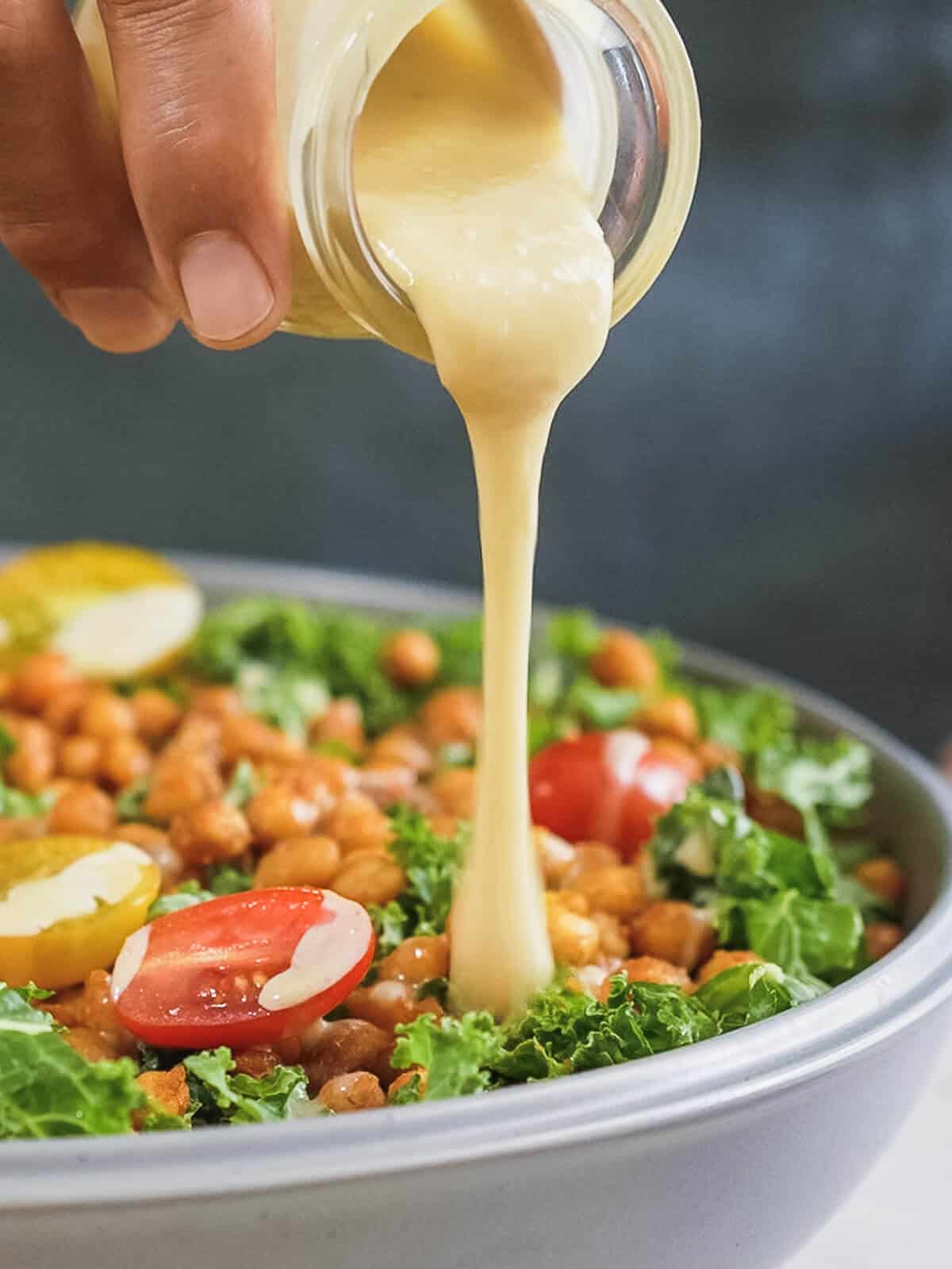 Now, imagine a drizzle of this creamy dressing melding with your fresh, crisp veggies. Each bite is an exquisite harmony of natural sweetness, tangy lemon juice, and earthy tahini undertones- a symphony of flavors dancing on your taste buds. And the best part? This sauce isn't just about taste; it's about nourishing your body with wholesome plant-based ingredients.
This is our go-to dressing, a delightful twist on the classic lemon tahini dressing that will make your salads irresistible and provide you with a rich source of nutrients. It's a celebration of the power of plant-based foods, and we can't wait to share this journey with you. Stay tuned as we delve into the recipe, the health benefits of its ingredients, and some exciting salad ideas to pair with this versatile tahini salad dressing. Happy cooking!
Jump to:
🧾 Ingredients
This lemon tahini dressing recipe is made with just a few delicious ingredients: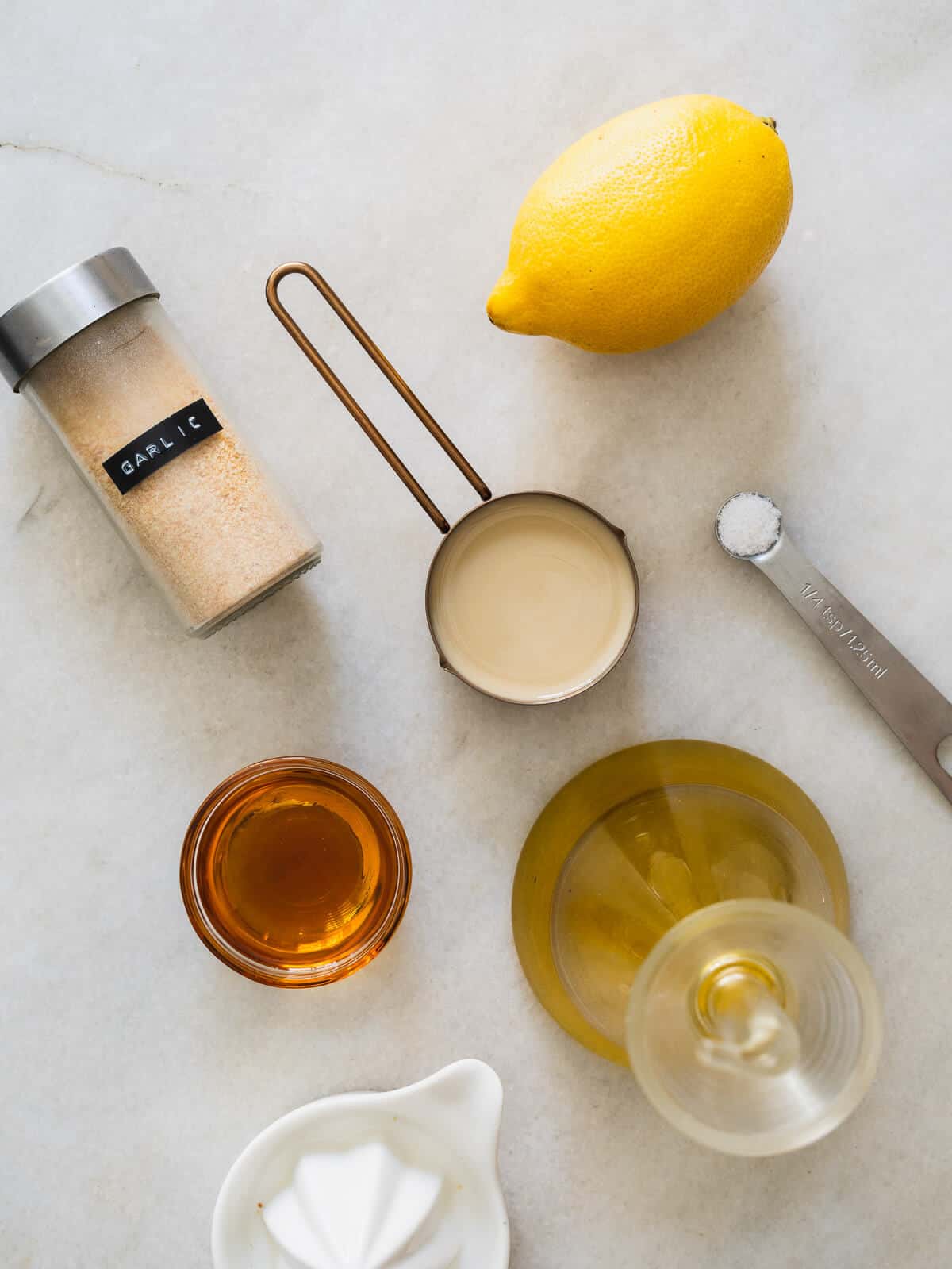 Maple Syrup: This natural sweetener lends a touch of earthy sweetness to balance the dressing's other robust flavors while providing a good dose of essential minerals like zinc and manganese.
Tahini Paste: Made from toasted ground sesame seeds, tahini adds a rich, nutty depth to our dressing and is a powerhouse of healthy fats, proteins, and vital minerals.
Lemon Juice: The tangy burst of fresh lemon juice gives our dressing a vibrant lift, cutting through the richness of the tahini and aiding in the absorption of iron from the sesame seeds.
Granulated Garlic: A pinch of this flavorful and kitchen must-have is enough to add a layer of complexity to the dressing while offering a significant dose of antioxidants and heart-healthy compounds.
Salt: Just a hint of salt is used to enhance and marry the flavors of the dressing, and it plays a key role in maintaining the body's electrolyte balance when used in moderation.
Olive Oil: Known for its heart-healthy monounsaturated fats, olive oil provides a smooth, velvety texture to the dressing, further enriching the taste while boosting the absorption of fat-soluble nutrients.
Water: A splash of water is used to adjust the consistency of the dressing, ensuring it's just right for a deliciously light coating on your salad greens.
See the recipe card for quantities.
🔪 Instructions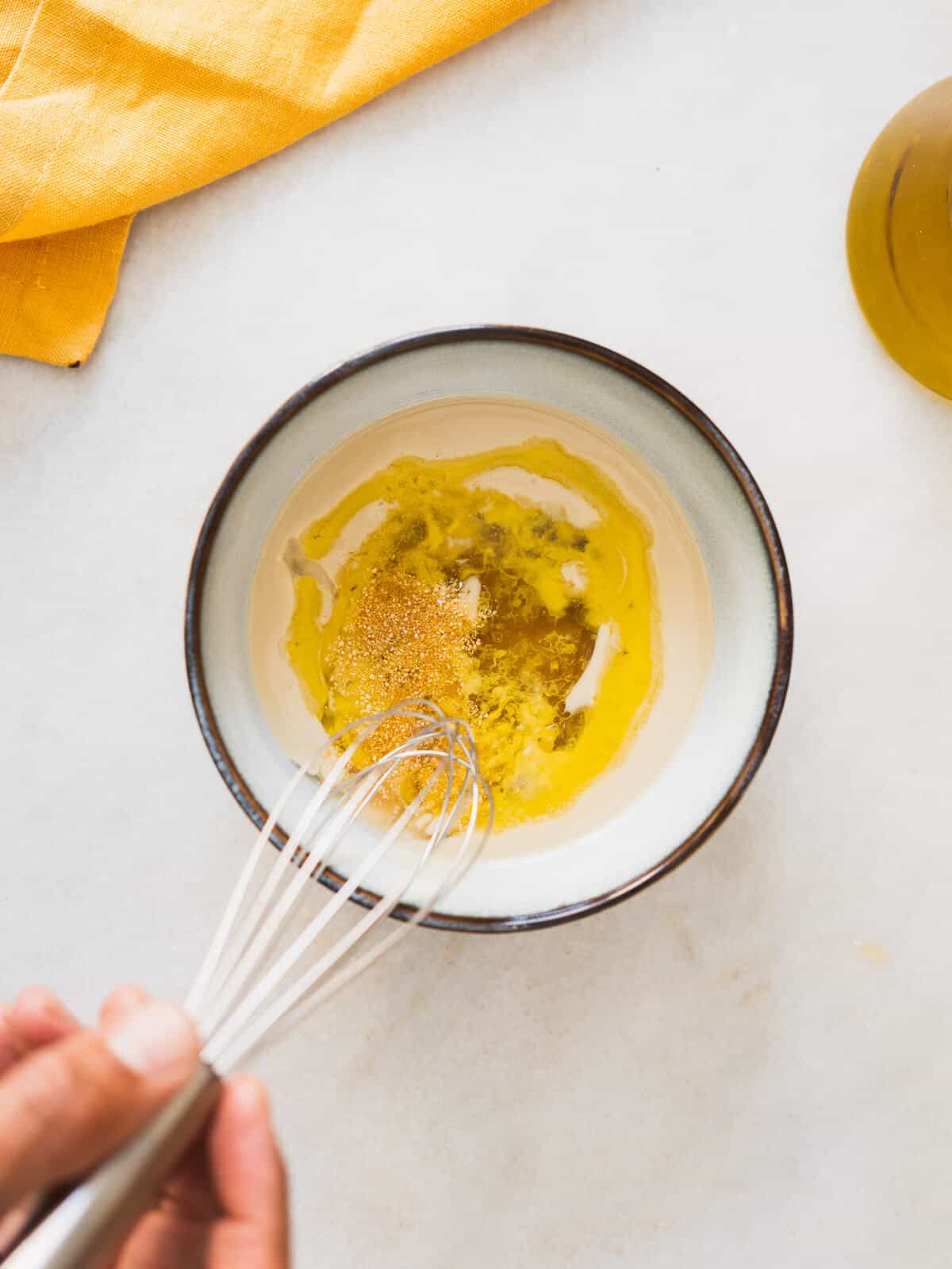 Make tahini dressing by mixing together the tahini, olive oil, lemon juice, granulated garlic, maple syrup, water, and a sprinkle of salt.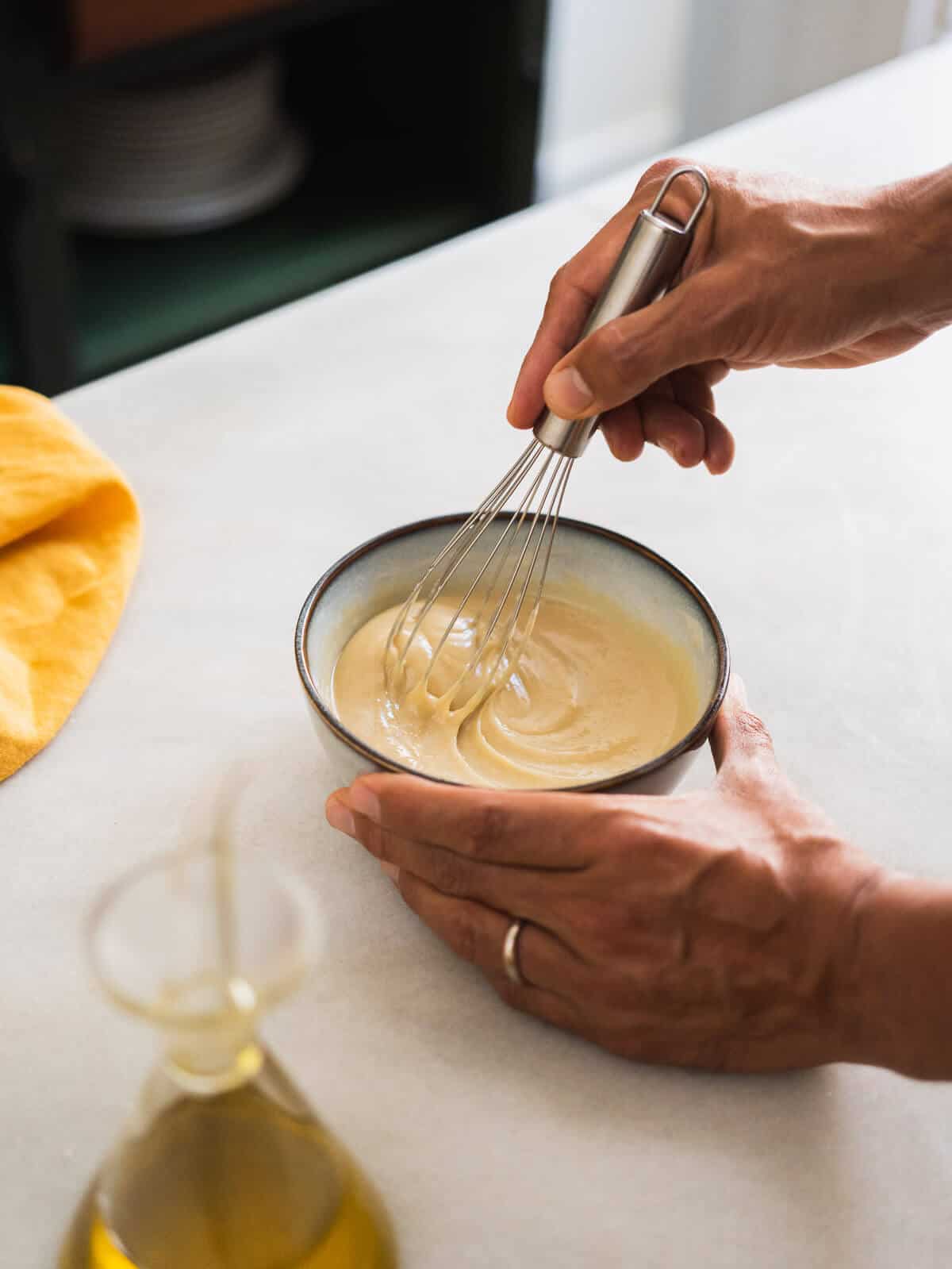 Give it a good stir until you achieve a silky-smooth consistency. Then taste and adjust; if it feels too thick, don't hesitate to add a splash of water or more lemon juice for extra acidity.
Hint: to ensure the creamiest dressing, opt for a silky, pourable, runny tahini rather than the thick, hardened variety often found lingering at the bottom of the jar. This will make all the difference in achieving that dreamy consistency.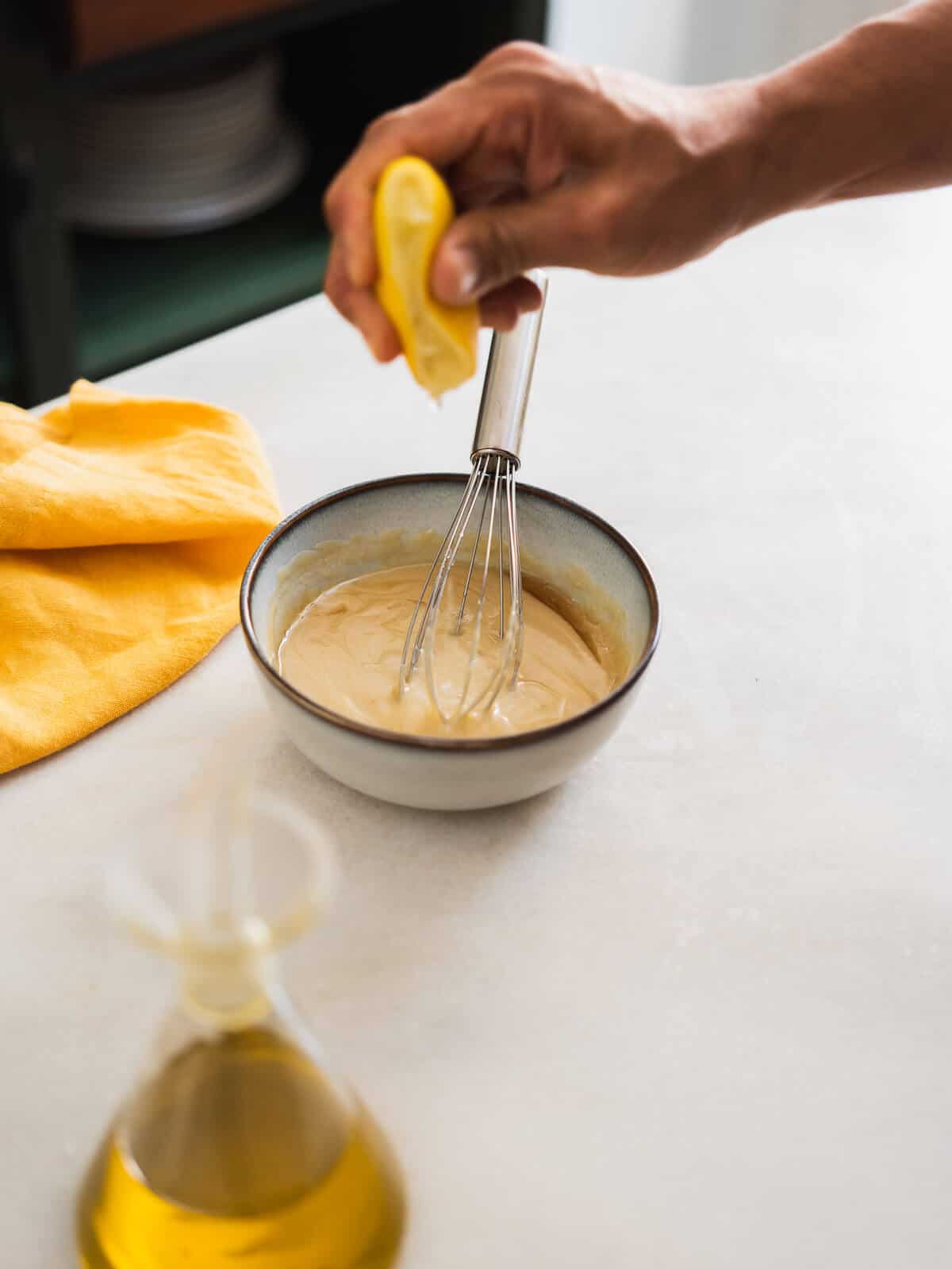 Finally, it's time to drizzle this delightful concoction over your go-to salad or hearty Buddha Bowl. Bon appétit!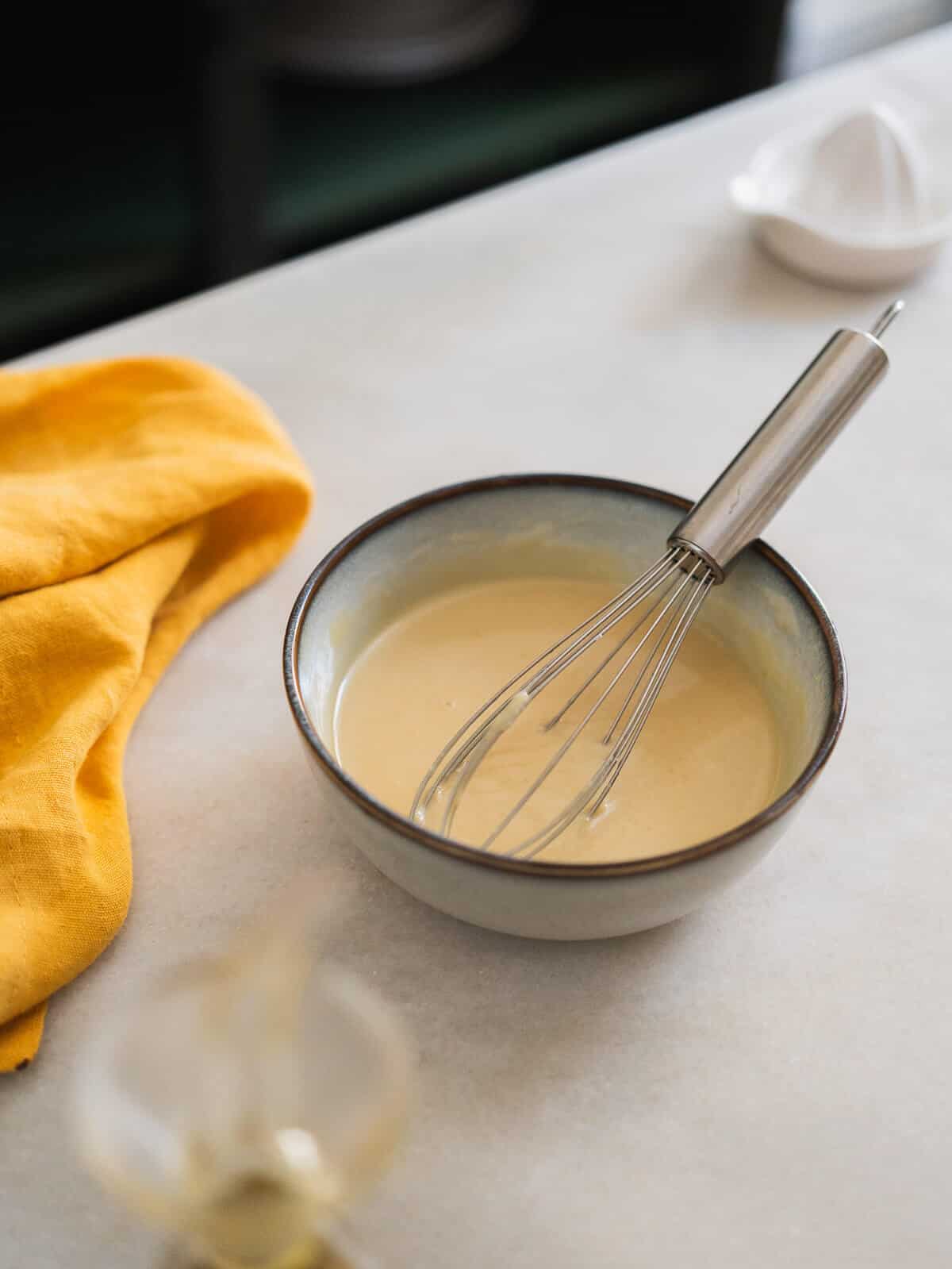 💡 Top tip
Thicker or thinner dressing: aim for your desired consistency by adjusting the amount of water you add. Use less water if you prefer a thicker dressing to cling to your veggies. If a thinner, drizzle-friendly dressing is your style, gradually add more water while whisking or blending until you reach your perfect consistency. Remember, the key to an ultra-creamy dressing is the balance of ingredients and your personal taste.
🍶 Substitutions
Peanut Butter for Tahini Paste: If you're out of tahini or just want a different taste, you can substitute it with an equal amount of peanut butter. Do keep in mind that this will give the dressing a distinct peanut flavor, which can be a delightful twist but might not pair well with all salads. You can also use your favorite nut butter instead.
Apple Cider Vinegar for Lemon Juice: You can replace lemon juice with apple cider vinegar at a one-to-one ratio. While this substitution will maintain the tanginess, it might slightly alter the flavor profile, lending a fruity and mildly sweet undertone to the dressing. Also, apple cider vinegar's health benefits make it a great addition to any dressing.
Agave Nectar for Maple Syrup: If maple syrup isn't readily available, you can use the same amount of agave nectar. It's a natural sweetener with a neutral flavor, so it won't alter the dressing's taste significantly but might make it slightly less sweet.
Garlic Powder for Granulated Garlic: You can swap granulated or minced garlic for garlic powder. Use half the amount of garlic powder as its flavor is more concentrated. Just be aware that the texture might be slightly less gritty.
Soy Sauce for Salt: To give the dressing a more umami flavor, replace the salt with a small amount of soy sauce. Keep in mind that soy sauce is quite salty and flavorful, so adjust the quantity accordingly to avoid overpowering the dressing.
Avocado Oil for Olive Oil: Avocado oil is a great alternative if you're out of olive oil. It has a mild flavor and is packed with heart-healthy fats. However, the flavor of the dressing might be slightly less fruity and aromatic; you could also opt for toasted sesame oil.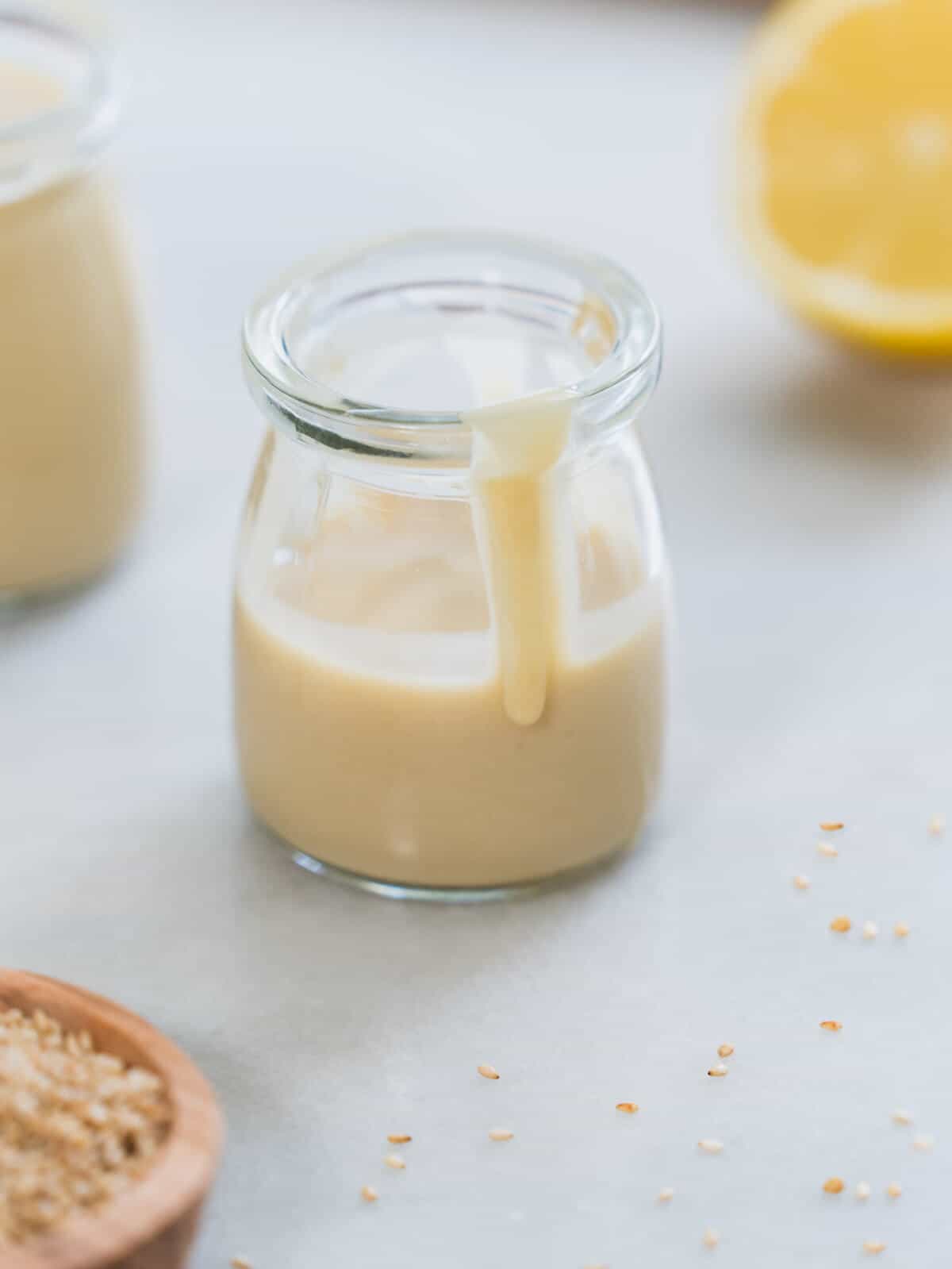 📖 Variations
Dijon Mustard Twist: Add a teaspoon of Dijon mustard to the mix. This will give your dressing a tangy kick and create an interesting depth of flavor, complementing the sweet maple and earthy tahini beautifully.
Herb-Infused Dressing: Chop up some fresh herbs like basil, parsley, or cilantro and stir them into the dressing. This will add a refreshing touch and a pop of color to your dressing, making it even more visually appealing.
Spiced Up Version: For those who like a bit of heat, add a pinch of cayenne pepper, crushed red pepper flakes, or a dash of your favorite hot sauce. This variation will bring a spicy contrast to the sweetness of the maple syrup, creating a tantalizing balance of flavors.
🥢 How to serve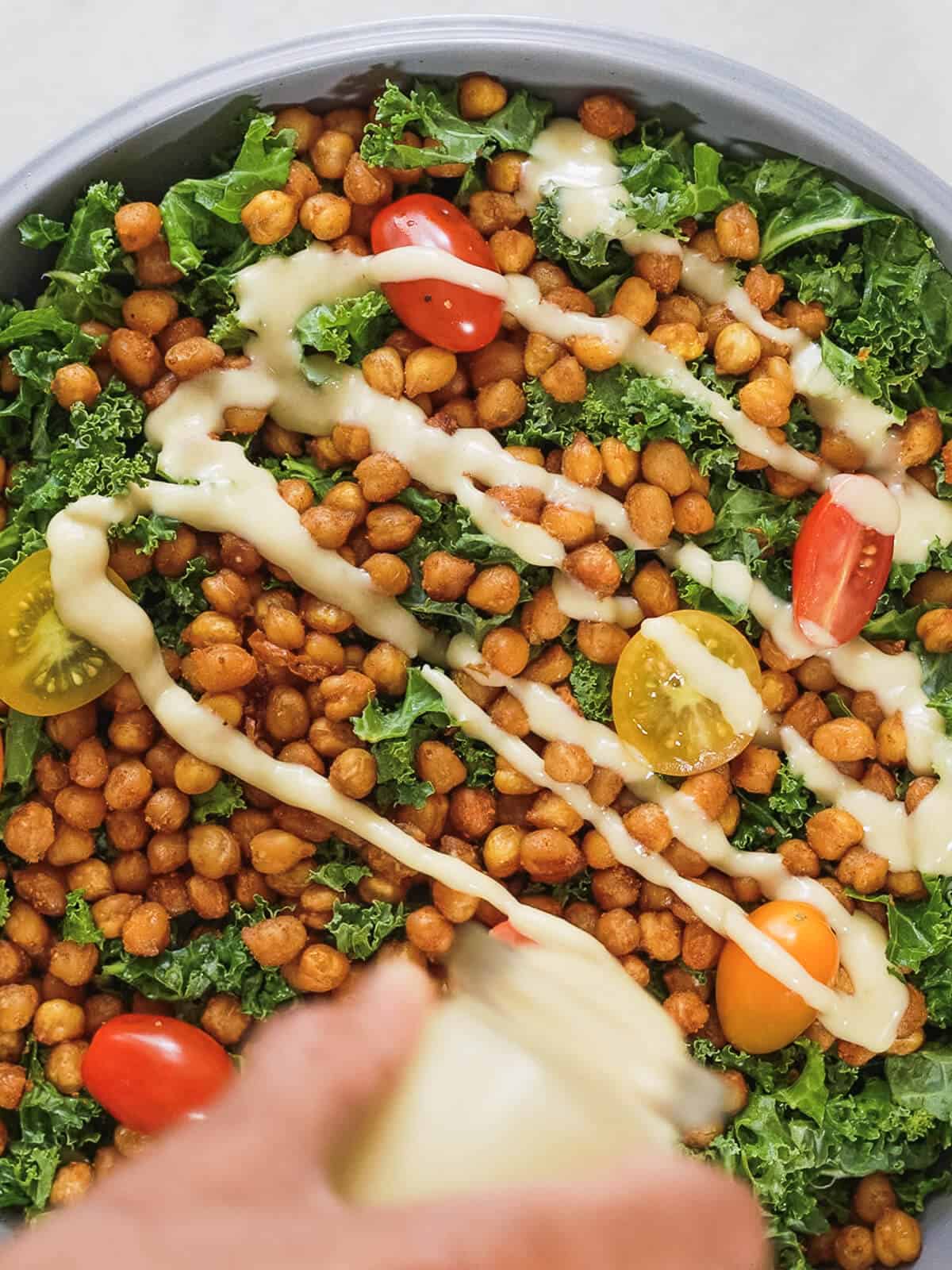 Unleash your creativity when it comes to serving this versatile dressing! Here are some exciting ideas:
Tahni dressing for Kale salad: our tahini lemon-garlic dressing is a match made in heaven for a vibrant kale salad. The earthy, slightly bitter notes of kale are beautifully balanced by the sweet and nutty flavor profile of the dressing, creating a delightful medley of tastes that will keep you coming back for more.
Brussels Sprouts: Toss roasted Brussels sprouts with this dressing for a savory-sweet twist that'll make even the most skeptical fall in love with these little green gems.
Grain Bowls: Drizzle this creamy sauce over a nourishing grain bowl full of quinoa, roasted veggies, and protein-packed crispy chickpeas or even plain garbanzo beans. The dressing's richness perfectly complements the wholesome grains.
Buddha Bowls: Amp up your favorite Buddha Bowl with a generous swirl of our tahini dressing, adding an extra layer of flavor and creaminess.
Sweet Potatoes: Try it as a delightful dip for oven-roasted sweet potato wedges - a match made in heaven!
Crisp Apples: A sliced apple with a side of this dressing makes for a refreshing and delightful snack.
Butternut Squash Salad: Tossed over a warm salad of roasted butternut squash, dried cranberries, and toasted pecans, this dressing brings a sweet nuttiness that's just perfect.
Favorite Salads: Give your favorite salads a makeover! The dressing pairs wonderfully with a variety of greens, veggies, and even fruits.
Roasted Vegetables: A drizzle of this dressing over a medley of oven-roasted veggies will take them to a whole new level of deliciousness.
Raw veggies: serve as a snack with cucumber, celery, or carrot sticks. It makes up for an absolutely delicious and healthy snack.
🍽 Equipment
Here's the essential equipment you'll need for this recipe and why they're important:
Whisk, immersion Blender, or food processor: These tools are key for achieving the creamy, well-emulsified texture that makes this dressing so delightful. You can use a whisk for a good arm workout and a chunkier, rustic texture. If you prefer a silky smooth dressing, an immersion blender will be your best friend, breaking down the tahini paste and fully integrating it with the other ingredients.
Medium Mixing Bowl: This is where all the magic happens! A medium-sized mixing bowl is the perfect size for combining our dressing ingredients without any spills. It provides ample space for vigorous whisking or blending, ensuring that all the flavors meld together beautifully.
🥡 Storage
Keeping your dressing fresh and delicious is a breeze with these simple storage tips:
Refrigerating: Store the maple tahini dressing in an airtight container or mason jar in the fridge. It will keep well for up to a week. Remember, the dressing might thicken a bit when chilled due to the olive oil and tahini.
Making It Runnier: If your dressing has thickened in the fridge, no worries! Just add a splash of water or lemon juice and give it a good stir or shake. This should bring it back to its original drizzle-friendly consistency.
Freezing and Reheating: If you want to keep the dressing for longer, you can freeze it. Pour the dressing into an ice cube tray for easy portioning, then transfer the frozen cubes to a freezer bag or container. When you're ready to use some, simply defrost the required amount in the fridge overnight. If it separates slightly, a quick whisk or blend should make it creamy again.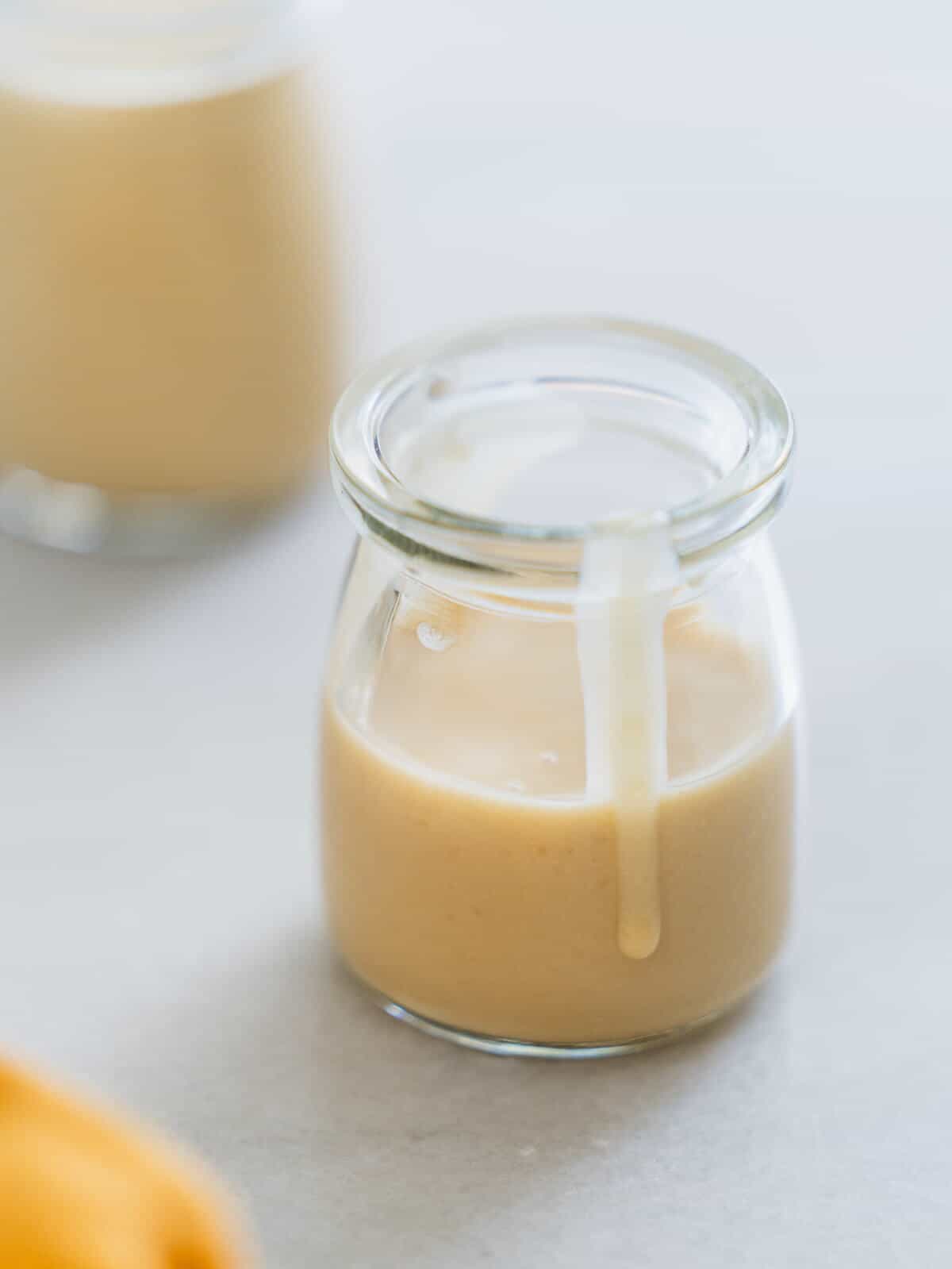 ⭐ If you try this Tahini Cesar dressing recipe, let us know! 💬 Leave a comment, rate it, and don't forget to tag us @ourplantbasedworld on Instagram. Cheers!
📋 Recipe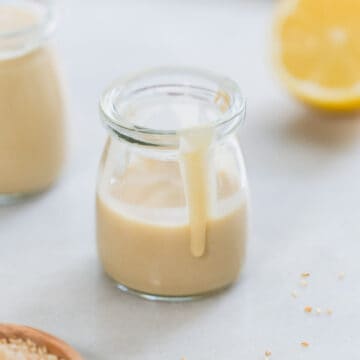 Easy Maple Tahini Dressing for Salad (5-Minute Recipe)
Discover the power of plant-based cuisine with our delicious maple tahini dressing recipe. Elevate your salads with this unique blend of sweet maple syrup, tangy lemon, and rich tahini - a perfect harmony of flavors that is both nutritious and irresistible.
Equipment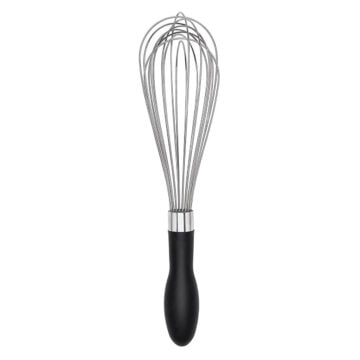 (affiliate link)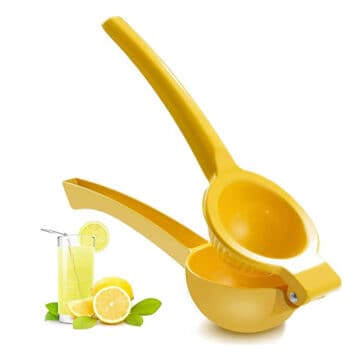 (affiliate link)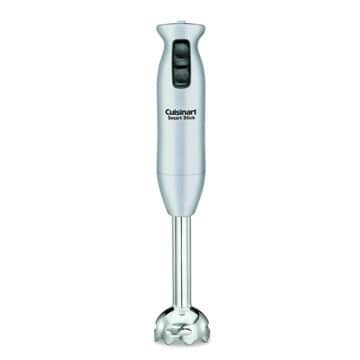 (affiliate link)
Directions
Mix the olive oil and half the lemon juice with the tahini, granulated garlic, maple syrup, water, salt, and pepper.

Stir until smooth. If the dressing is too thick, add a bit of water.

Taste and adjust. If you like the acidity, leave it as it is; if not, simply add the reserved lemon juice tablespoon.

Serve over your favorite salad or Buddha Bowl.
Notes
Add water, one tablespoon at a time to adjust the thickness of the dressing to your liking. If you want it to me more acidic, you can add lemon juice instead.
To ensure the creamiest dressing, opt for a silky, pourable, runny tahini rather than the thick, hardened variety often found lingering at the bottom of the jar. This will make all the difference in achieving that dreamy consistency.
Nutrition Facts
Calories:
828
kcal
Carbohydrates:
89
g
Protein:
28
g
Fat:
44
g
Saturated Fat:
6
g
Polyunsaturated Fat:
12
g
Monounsaturated Fat:
23
g
Sodium:
963
mg
Potassium:
1298
mg
Fiber:
23
g
Sugar:
24
g
Vitamin A:
11691
IU
Vitamin C:
130
mg
Calcium:
473
mg
Iron:
10
mg
Nutrition Facts
Easy Maple Tahini Dressing for Salad (5-Minute Recipe)
Amount per Serving
% Daily Value*
* Percent Daily Values are based on a 2000 calorie diet.
🌡️ Food safety
Cook to a minimum temperature of 165 °F (74 °C)
Do not use the same utensils on cooked food, that previously touched raw meat
Wash hands after touching raw meat
Don't leave food sitting out at room temperature for extended periods
Never leave cooking food unattended
Use oils with a high smoking point to avoid harmful compounds
Always have good ventilation when using a gas stove
See more guidelines at USDA.gov.
Nutritional Disclaimer
The information shown is an estimate provided by an online nutrition calculator. It should not be considered a substitute for a professional nutritionist's advice. See our full Nutritional Disclosure here.
Affiliate Disclaimer
Please note that some of the links here are affiliate links, and I will earn a commission if you purchase through those links. I recommend all of the products listed because they are companies I have found helpful and trustworthy.