Creamy Strawberry Balsamic Dressing is a delicious and easy-to-make salad dressing that combines fresh strawberries' sweetness with balsamic vinegar's tanginess. This dressing is perfect for drizzling over a spinach salad, roasted vegetables, or grilled stuff, and it can be whipped up in just 5 minutes. Give your meals a burst of flavor with this irresistible vegan and gluten-free dressing!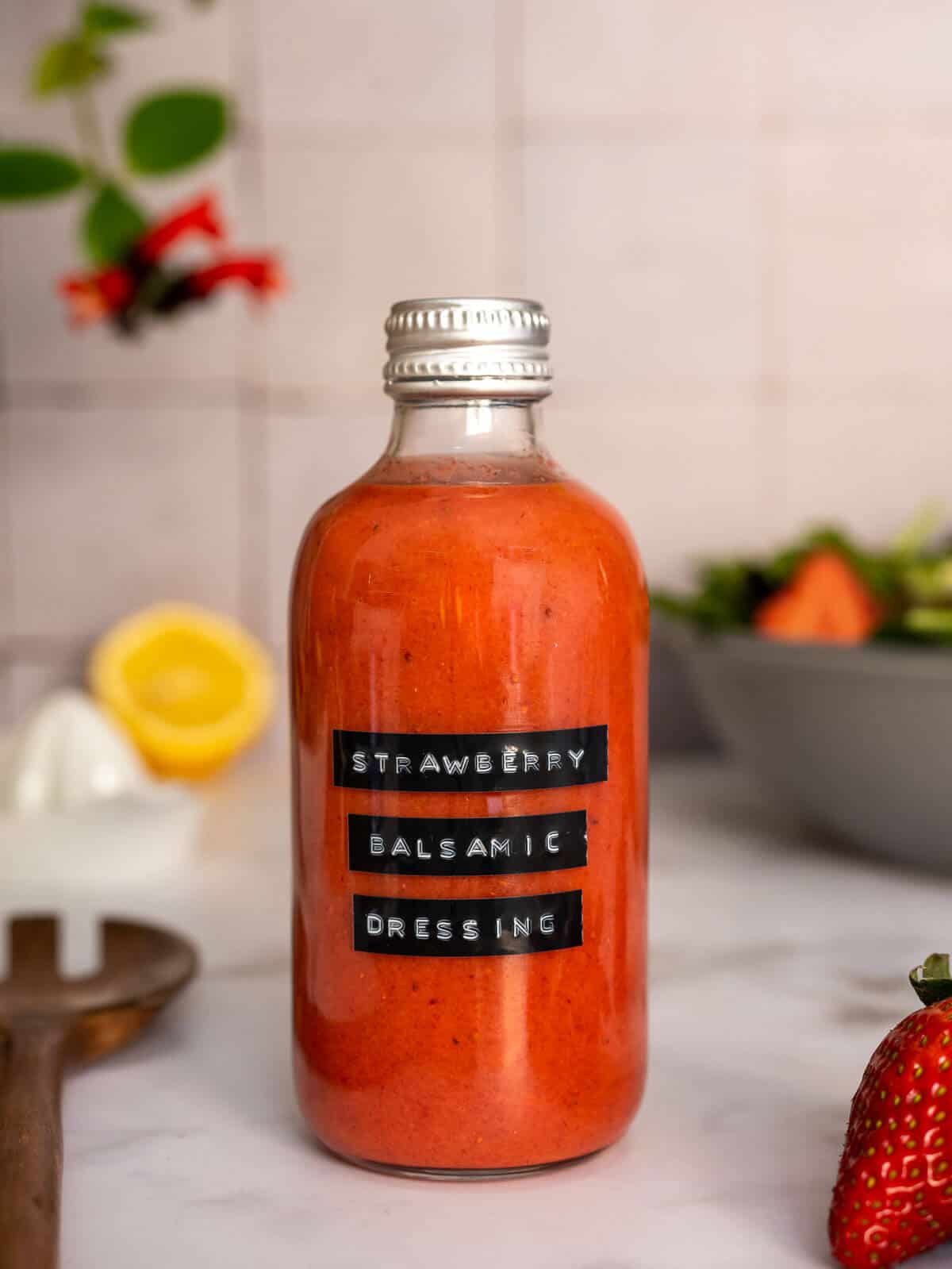 This dressing is not only delicious, but it's also healthy. Fresh strawberries provide a good source of vitamin C, fiber, and antioxidants, while balsamic vinegar and olive oil provide healthy fats and anti-inflammatory properties.
Fresh strawberries are a great dairy-free alternative that brings in creaminess, and the lemon juice and maple syrup add depth and complexity to the flavor without adding unhealthy fats or sugars.
To use this homemade salad dressing sauce, simply drizzle it over your favorite salads, roasted veggies, or grilled meats. It pairs particularly well with spinach, arugula, or mixed Spring greens, but feel free to experiment with your favorite ingredients.
Jump to:
🧾 Ingredients
This strawberry balsamic vinaigrette recipe is made with just a few delicious ingredients.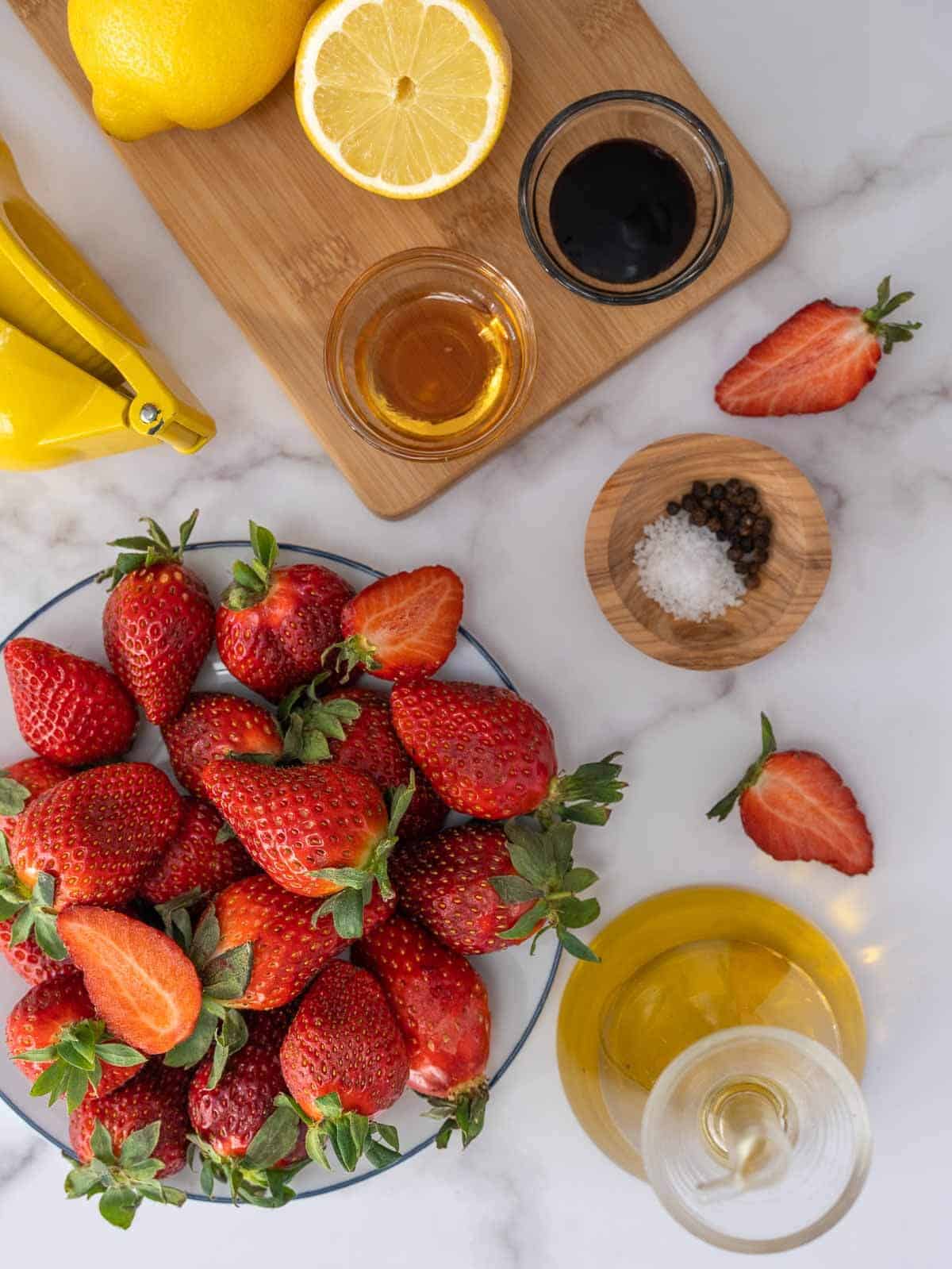 For the strawberry balsamic vinaigrette:
Ripe strawberries - the star of the recipe. Adds sweetness, creaminess, and color.
Thick balsamic vinegar - brings complexity and an Italian touch!
Freshly squeezed lemon juice - yum! Adds acidity and enhances the strawberries' flavor.
Extra virgin olive oil - adds texture and flavor.
Pure maple syrup - this is optional, in case the strawberries are just slightly sweet. This way, you can keep refined sugar away.
Fine sea salt and black pepper - to elevate all the rest of the ingredients' flavors.
For the Green Spinach Salad:
We like to make a combination of greens, including:
baby spinach
arugula
spring greens
avocado
pecan nuts
See the recipe card for quantities.
🔪 Instructions
This salad dressing involves 2 simple steps.
Washing and preparing your ingredients.
Blending everything with any type of mixer.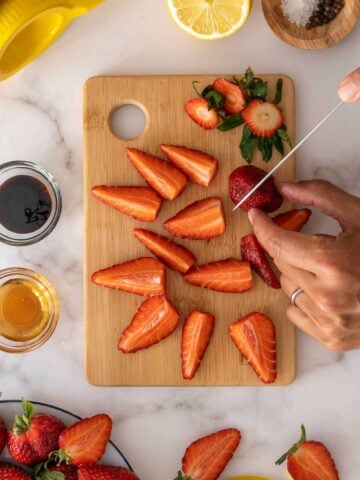 Chop strawberries into halves or quarters.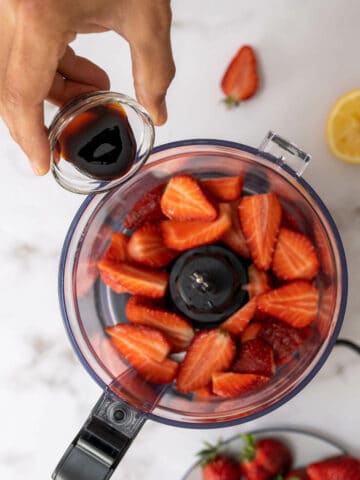 Add strawberries and the balsamic vinegar, with the rest of the ingredients, into the blender's jar.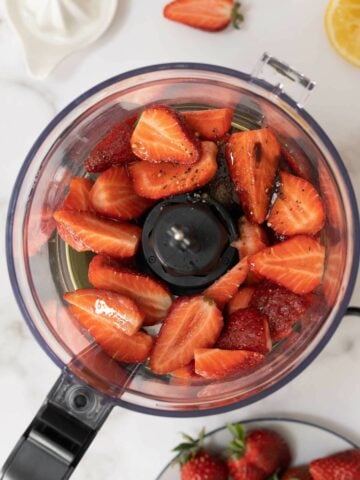 Season with salt and pepper.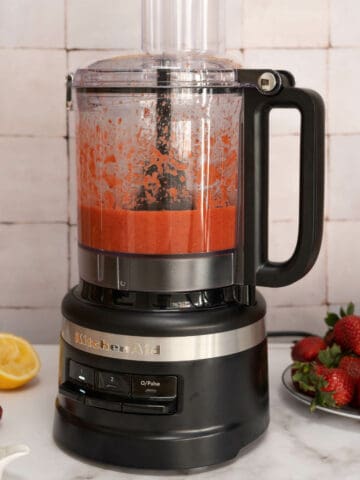 Blend until creamy.
Prepare a salad with baby spinach, arugula, your favorite greens, and any type of nuts. We also like adding fresh strawberry slices to the salad bowl.
🍓 Did you know? 🍋
Lemon juice contains citric acid, which can enhance the flavor of strawberries. When you add lemon juice to strawberries, the citric acid in the juice interacts with the strawberries' natural sugars, helping balance out their sweetness and enhancing Citrus, Sweet, and Sour Flavorsmake their flavors more pronounced.
Read on: how to make a homemade vinaigrette.
🍶 Substitutions
Strawberries - you can use leftover strawberries that have no mold on them. You can also use strawberry jam (in which case you wouldn't need the maple syrup). Frozen strawberries also work; see how below.
Thick balsamic vinegar - feel free to use regular balsamic, red wine vinegar, sherry vinegar, apple cider vinegar, or even champagne vinegar.
Extra virgin olive oil - you can substitute it for avocado oil or any other neutral oil. You can also skip oil altogether to make salad dressings compliant with a Whole Foods Plant-based diet. You will get a creamy texture by blending strawberries on this balsamic vinaigrette.
📖 Variations
If you love mustard, you can make a variation by adding Dijon mustard and removing the lemon juice.
You can also add finely chopped red onion or shallots to intensify the dressing's flavor.
🥢 How to serve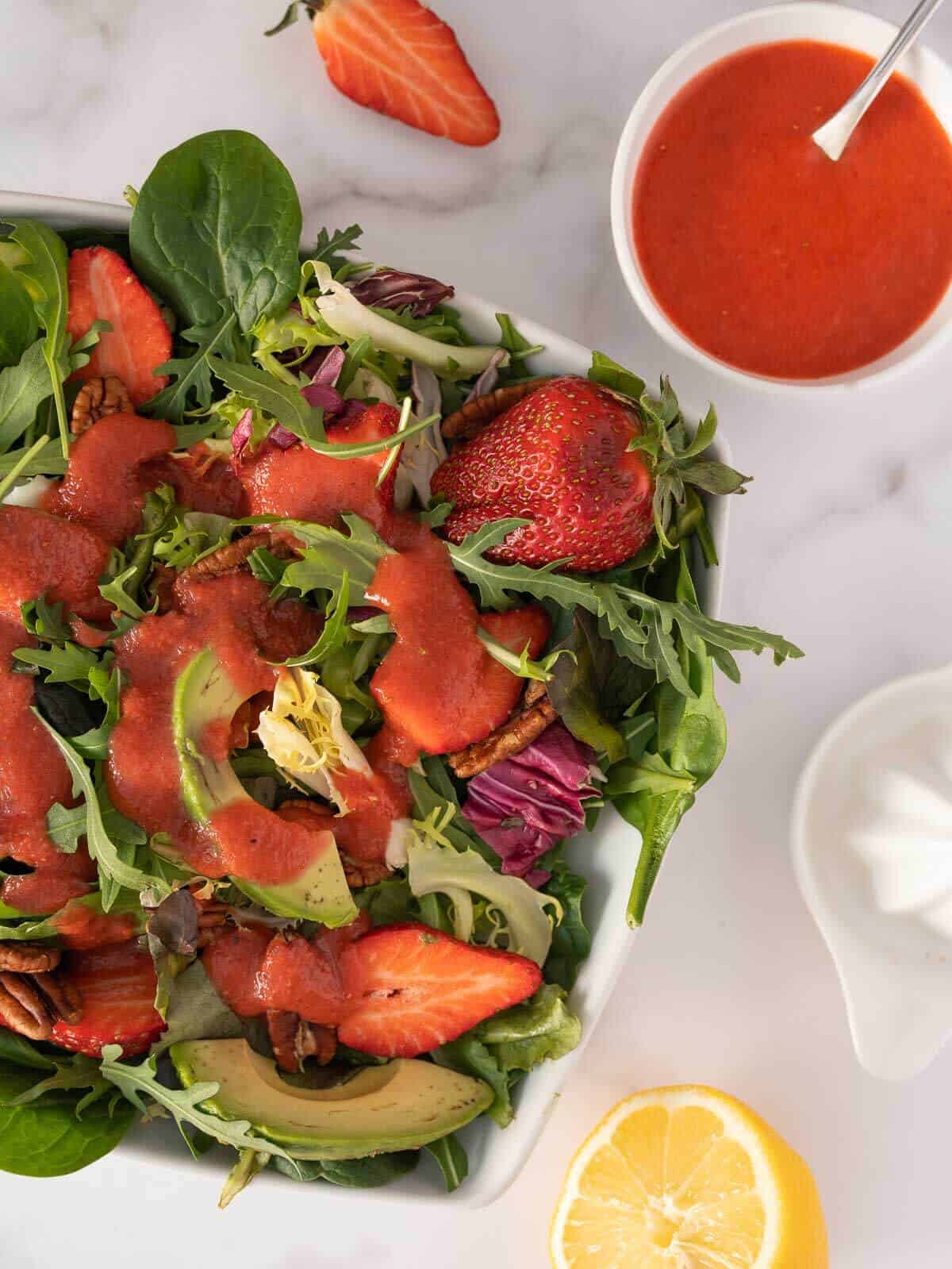 Serve this strawberry balsamic vinaigrette with your favorite greens salad. We also love adding pepitas, pecan nuts, toasted almonds, candied nuts (recipe), and sliced strawberries.
If you like fruity salads, go for peach and mandarin orange slices, they pair fantastically with this dressing.
Use this light sauce on top of grilled or roasted veggies as well.
When we used to eat dairy, we loved this strawberry salad with goat cheese, but since shifting to a plant-based diet, we have started using vegan feta cheese with this creamy balsamic dressing.
🍽 Equipment
Food processor - if you don't have a food processor (affiliate link), you can use an immersion blender (affiliate link), a nutribullet (affiliate link), or a high-speed blender (affiliate link).
🥡 Storage
Store this vinaigrette in a BPA-free (affiliate link), tightly sealed, air-tight container in the fridge for up to 3 days.
You can freeze the balsamic vinaigrette in an airtight container, but it doesn't stand up well to freezing for more than 3 months.
📚 More salad recipes
Try out our vegan kale salad for a delicious fall and winter healthy salad option that also includes a fantastic balsamic vinaigrette.
This couscous and lentil salad is fantastic when you want to have a salad but still feel like having something warm.
If you want to add big-time protein to your summer salad, go for this Chickpea and avocado salad; perfect to nurture your body after training.
❓ FAQ
Can I use frozen strawberries to make this dressing?
Yes. Frozen strawberries can be a convenient and cost-effective option for making this dressing, especially when fresh strawberries are not in season or are not readily available.
To make a strawberry dressing with frozen strawberries, you can first thaw the strawberries by leaving them at room temperature for a few hours or by placing them in the refrigerator overnight. Once the strawberries are thawed, you can blend them in a food processor with the rest of the ingredients until they are smooth.
In summary, this Creamy Strawberry Balsamic Dressing is a delicious and healthy addition to any meal. It's easy to make, versatile, and packed with nutrients and flavor. Give it a try and see how it can elevate your dishes to the next level.
⭐ If you try this strawberry balsamic vinaigrette recipe, let us know! 💬 Leave a comment, rate it, and don't forget to tag us @ourplantbasedworld on Instagram. Cheers!
📋 Recipe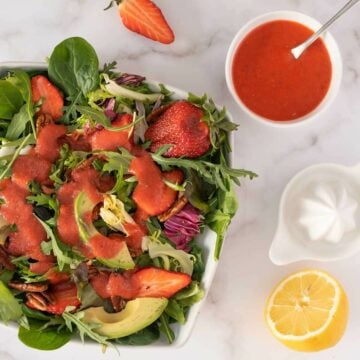 Creamy Strawberry Balsamic Dressing
Looking for a delicious and healthy dressing to add to your salads? Try this Vegan Strawberry Balsamic Dressing recipe! Made with fresh strawberries, balsamic vinegar, and a few other simple ingredients, this dressing is not only tasty but also vegan and packed with nutrients. Give it a try and take your salad game to the next level!
Equipment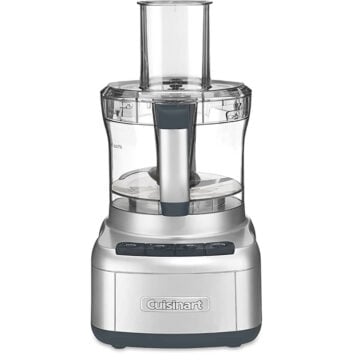 (affiliate link)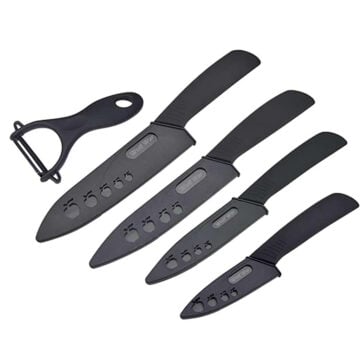 (affiliate link)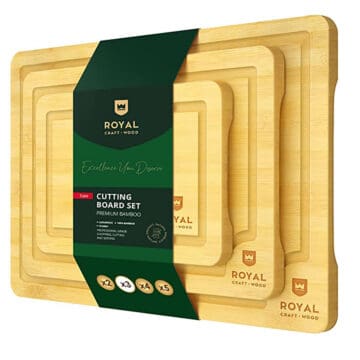 (affiliate link)
Ingredients
1 ½

cup

strawberries

fresh, whole

2

tablespoons

olive oil

extra virgin, or sub for avocado oil, flaxseed oil

1

tablespoon

balsamic glaze

thick balsamic vinegar, or red wine vinegar

1

tablespoon

maple syrup

1

tablespoon

lemon juice

¼

teaspoon

sea salt

pinch

black pepper

freshly ground
Directions
Blend. Add the balsamic glaze, olive oil, lemon juice, salt, and black pepper in a blender or food processor and blend until well combined and smooth.

Taste the dressing and adjust the seasoning if needed.

Refrigerate. Pour the dressing into a jar or container with a lid and store it in the refrigerator until ready to use.

Shake. Give the dressing a good shake before using it to ensure all ingredients are well combined.

Enjoy your delicious homemade strawberry balsamic dressing on your favorite salads or as a marinade for grilled tofu or vegetables.
Notes
If using frozen strawberries, first thaw the strawberries for a couple of hours at room temperature or overnight in the fridge.
Nutrition Facts
Calories:
17
kcal
Carbohydrates:
1
g
Protein:
1
g
Fat:
1
g
Saturated Fat:
1
g
Polyunsaturated Fat:
1
g
Monounsaturated Fat:
1
g
Sodium:
29
mg
Potassium:
18
mg
Fiber:
1
g
Sugar:
1
g
Vitamin A:
1
IU
Vitamin C:
7
mg
Calcium:
2
mg
Iron:
1
mg
Nutrition Facts
Creamy Strawberry Balsamic Dressing
Amount per Serving
% Daily Value*
* Percent Daily Values are based on a 2000 calorie diet.
Nutritional Disclaimer
The information shown is an estimate provided by an online nutrition calculator. It should not be considered a substitute for a professional nutritionist's advice. See our full Nutritional Disclosure here.
Affiliate Disclaimer
Please note that some of the links here are affiliate links, and I will earn a commission if you purchase through those links. I recommend all of the products listed because they are companies I have found helpful and trustworthy.