Embrace the crunch and freshness of our Easy Quinoa Edamame Salad with Asian Salad Dressing. This recipe combines protein-packed quinoa and edamame with crisp, colorful veggies. The kicker? A homemade Asian-inspired vinaigrette that pulls it all together. It's an easy, versatile dish that's perfect for a quick lunch or a standout side at dinner parties. With its vibrant flavors and wholesome ingredients, this salad is more than just a meal; it's a healthy culinary experience. Let's get started!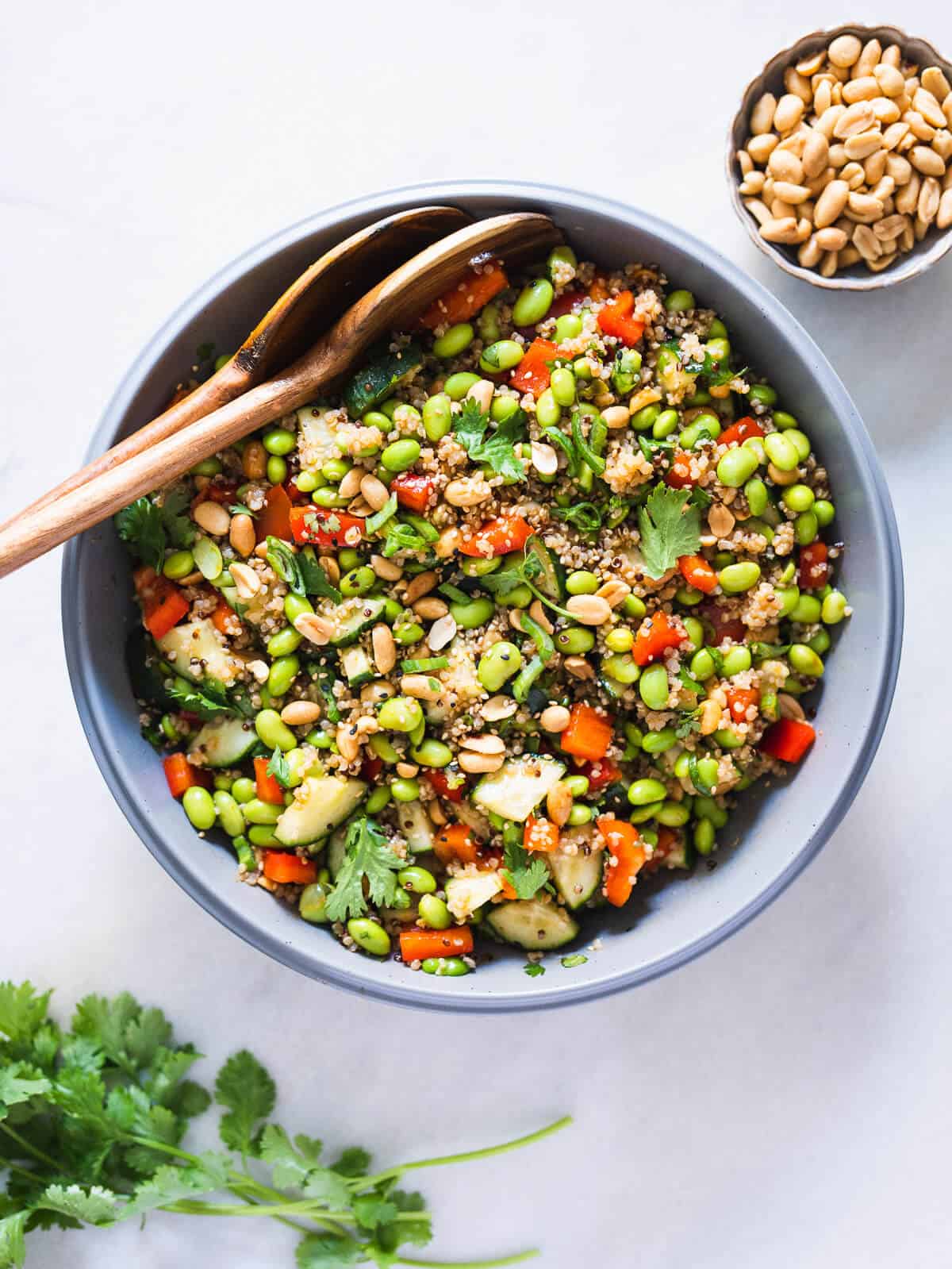 This winning recipe perfectly balances nutrition and taste, making it a delightful addition to your meal prep plan. One of the key features of our edamame cucumber salad is its high protein content, thanks to the generous inclusion of quinoa and edamame.
Both are recognized as plant-based protein powerhouses, offering an array of essential amino acids. The addition of crunchy cucumber adds hydration and freshness, making this salad a wonderfully balanced dish.
Along with these ingredients, you'll find a rainbow of other vegetables that boost the fiber content, making it a well-rounded meal or side dish that leaves you feeling satisfied without any heaviness.
But what sets this Asian salad with edamame apart is the simplicity and flexibility of the recipe. The salad requires minimal prep and cooking time, making it a go-to for those busy weekdays. Moreover, this salad is customizable, allowing you to play with the ingredients based on what you have in your fridge or what's in season.
The salad dressing, a delightful mix of tangy, sweet, and savory (inspired by our spicy edamame recipe), is quick to whip up and adds a dynamic layer of flavor that beautifully complements the earthy quinoa and the fresh crunch of the veggies.
This easy, wholesome, dairy-free, and utterly delicious salad is a testament to the fact that healthy eating doesn't have to be complicated or time-consuming. So, gear up to take your salad game to the next level with this nutritious and delightful recipe!
Jump to:
🧾 Ingredients
This Simple Asian edamame salad is made with just a few delicious ingredients: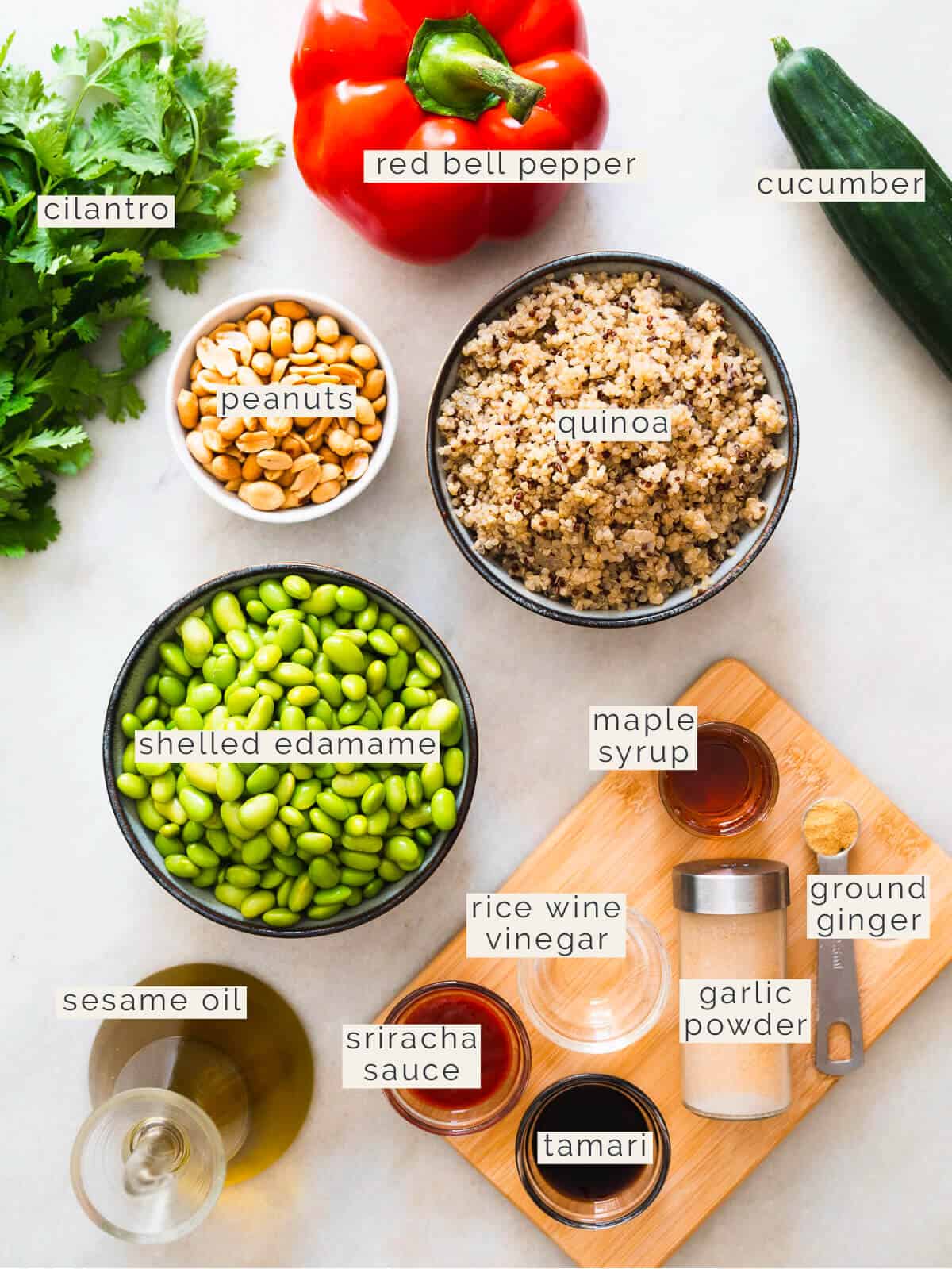 For the salad
Shelled Edamame: provides a healthy dose of protein, fiber, and plenty of health benefits, adding a hearty element to the salad, and their slightly nutty flavor complements the other ingredients well.
Red Bell Pepper: This ingredient adds a burst of vibrant color to the dish, along with a sweet, slightly tangy flavor and a crunchiness that contrasts nicely with the other textures.
English Cucumber: is included for its refreshing crispness and hydration, contributing to the salad's overall light and fresh feeling.
Quinoa: is a superfood that serves as the base of this salad, providing a subtle nutty flavor, protein, and other key nutrients.
Peanuts: Adding peanuts gives the salad an extra crunchy texture, enhancing its texture, and its slightly salty taste balances out the other flavors.
Fresh cilantro: imparts a unique, fresh taste and aroma to the salad, elevating the overall flavor profile.
Green Onions (optional): When added, green onions contribute a mild sharpness and bite, increasing the depth of flavors in the salad.
Sesame Seeds (optional): These can be sprinkled on top to add a delicate crunch and a subtle nutty flavor, as well as a visually appealing touch.
For the Vinaigrette
Toasted Sesame Oil: This forms the base of the vinaigrette, helping blend all other ingredients while also adding a smooth, rich flavor.
Tamari: to make this salad gluten-free, opt for tamari, a gluten-free alternative to soy sauce; tamari adds a deep, savory umami flavor to the dressing, enhancing the Asian-inspired taste.
Rice Wine Vinegar: rice vinegar imparts a subtle tanginess to the vinaigrette, balancing out the oil and tamari and brightening up the overall flavor.
Sriracha Sauce: adds a hint of spice to the dressing, elevating the other flavors and bringing some heat to the salad.
Maple Syrup: subtly sweetens the dressing, balancing the tangy and spicy flavors.
Garlic Powder: provides a savory depth to the dressing, giving it a fuller, richer taste.
Ground Ginger: lends a slightly spicy, sweet, and zesty note to the dressing, enhancing its complexity and complementing the Asian flavor theme.
See the recipe card for quantities.
🔪 Instructions
This edamame salad involves 4 simple steps.
Briefly cooking edamame beans and quinoa.
Chopping the fresh vegetables.
Combining the dressing ingredients.
Assembling the chopped salad ingredients with the vinaigrette.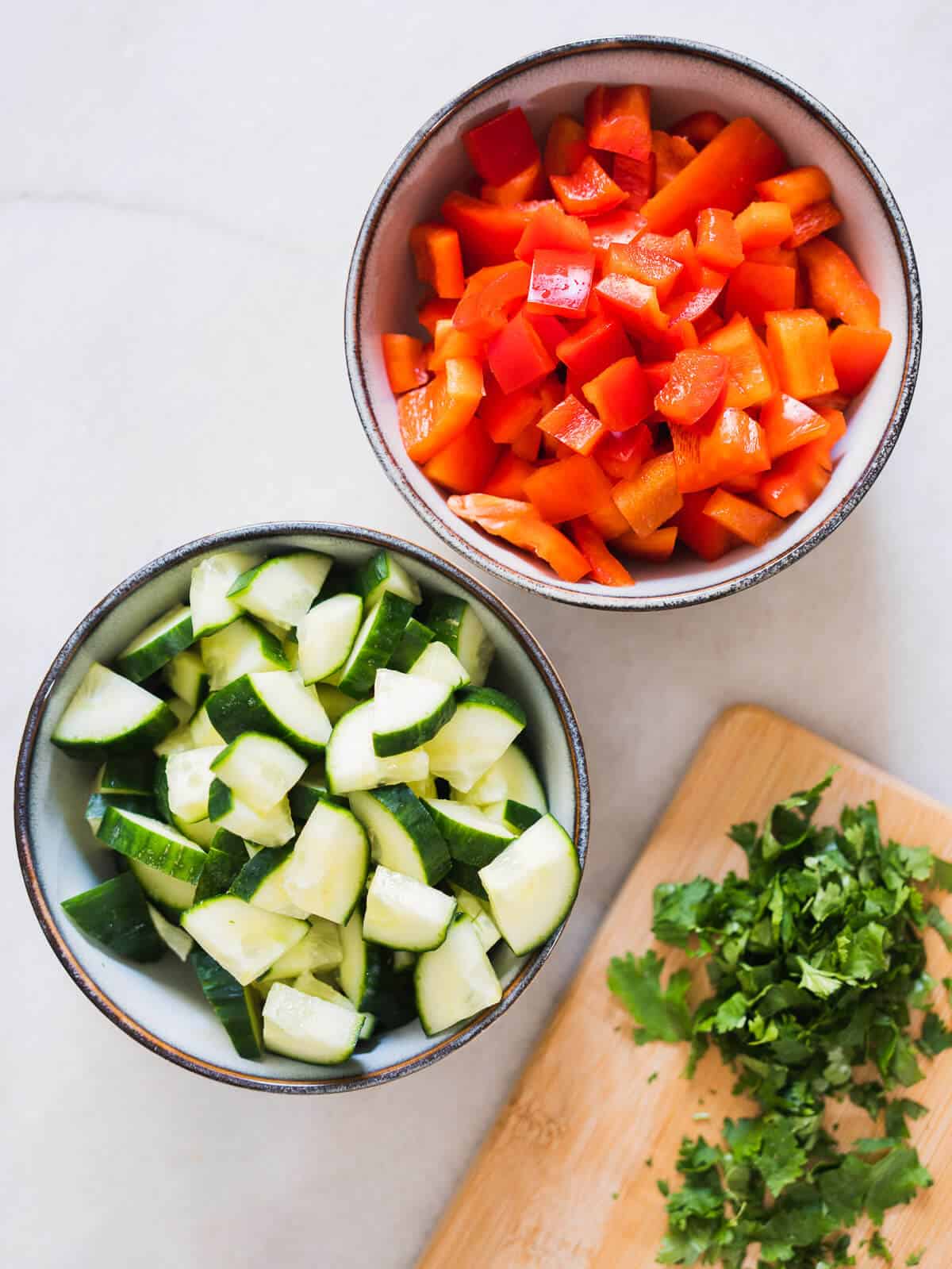 Chop the red bell pepper, cucumber, and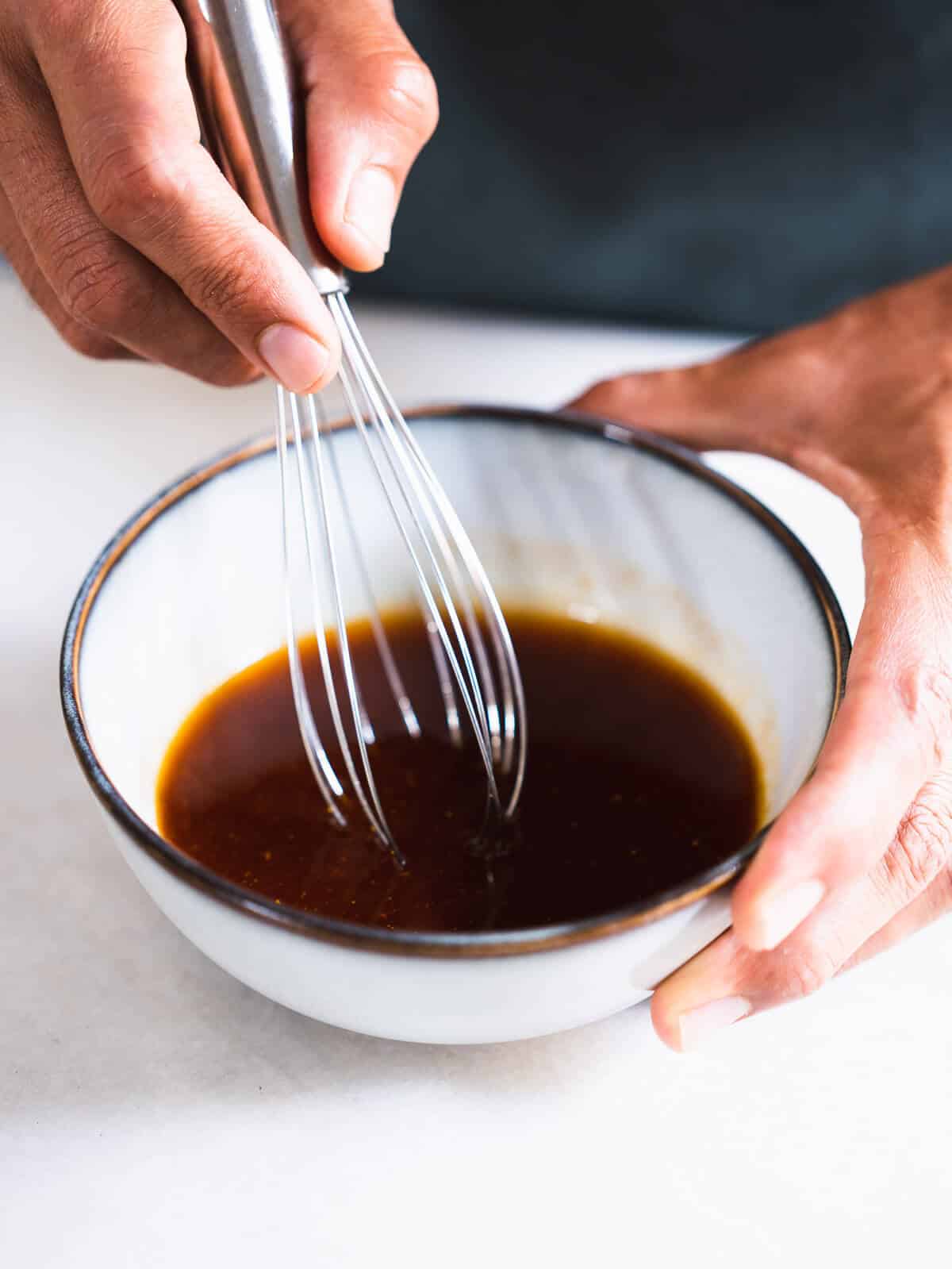 Combine all the salad dressing ingredients in a bowl.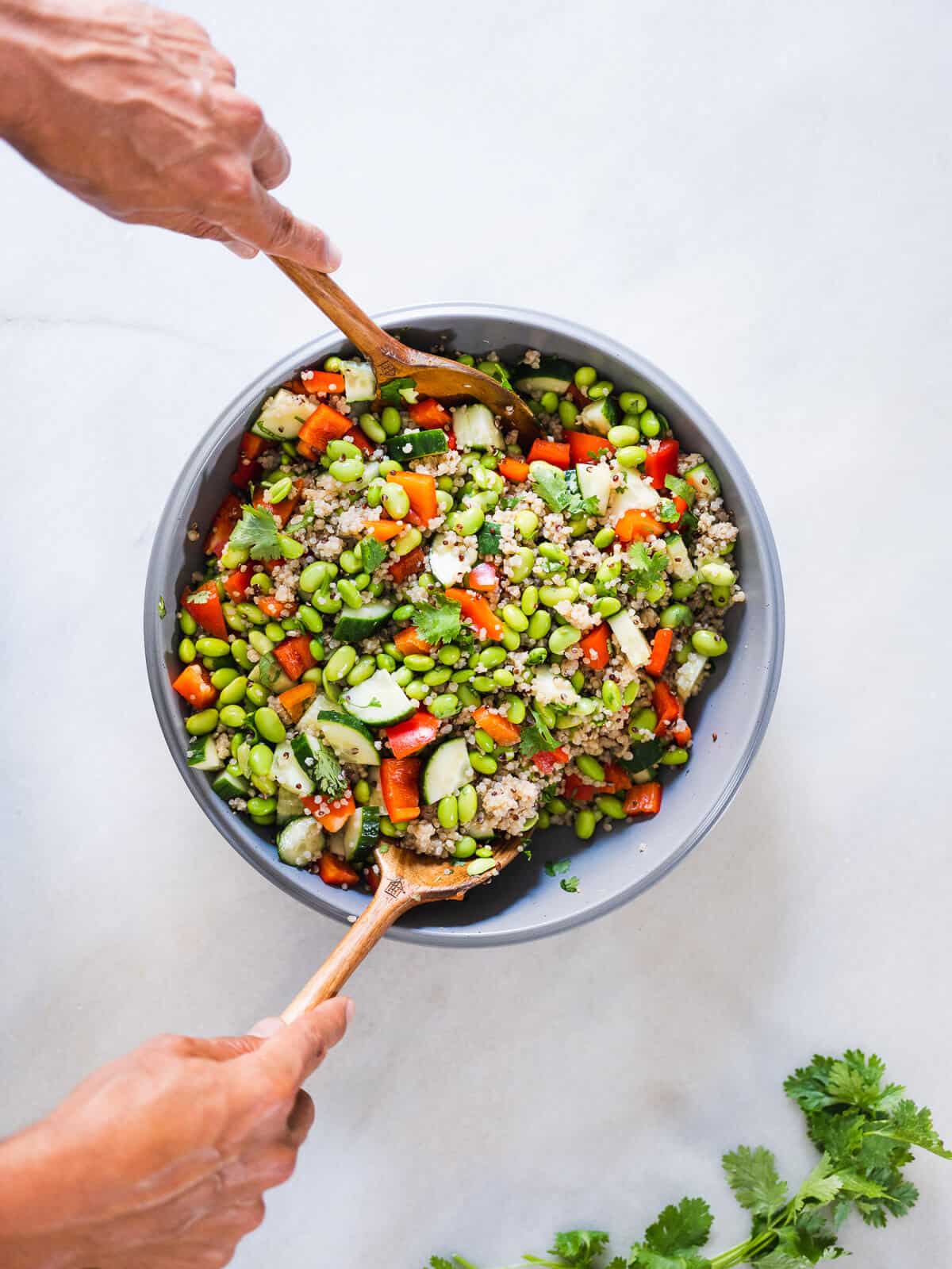 Add all the salad ingredients to a large mixing bowl or directly into your serving bowl.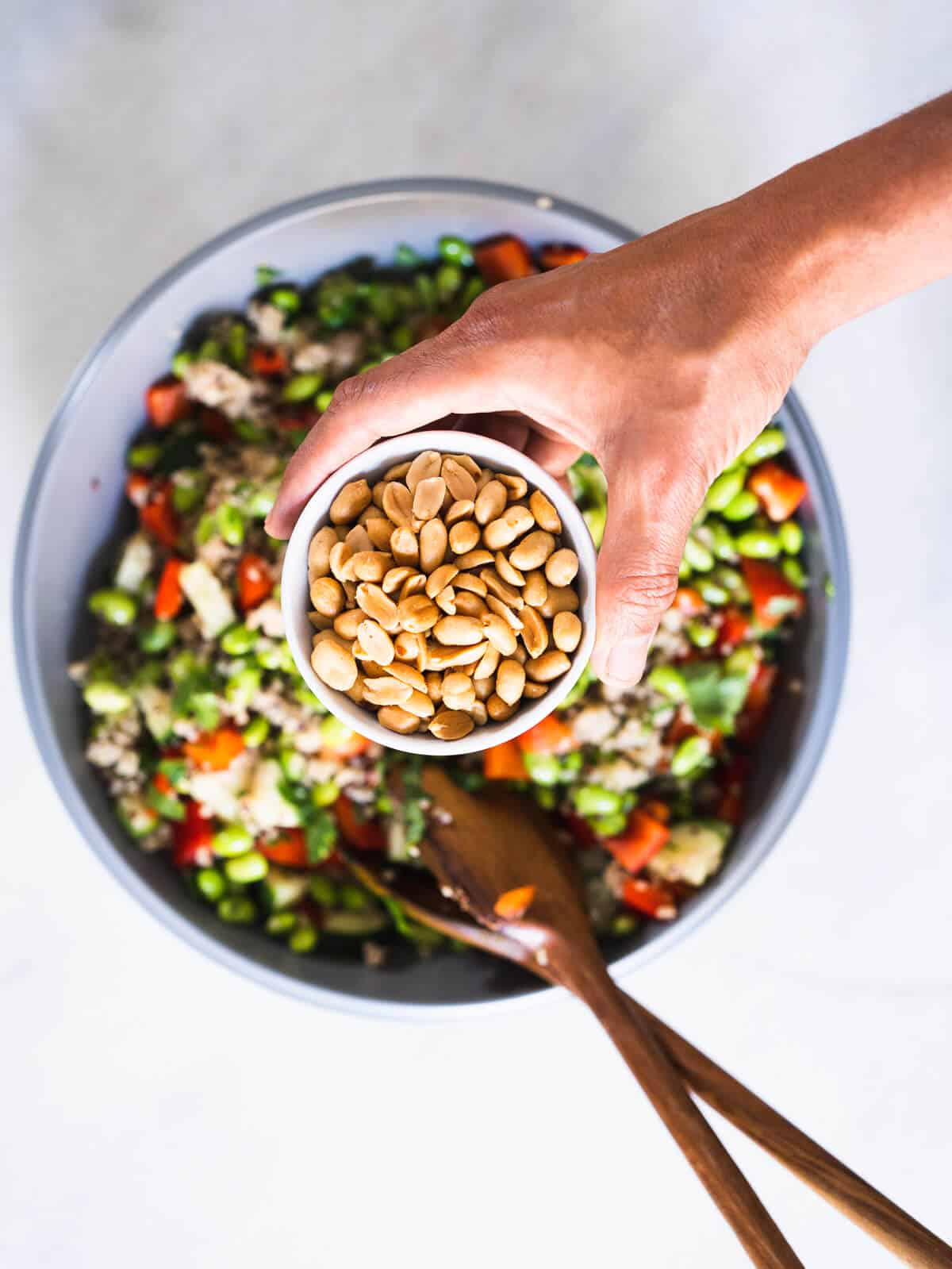 Drizzle the dressing into the salad. Garnish with fresh cilantro and toasted sesame seeds.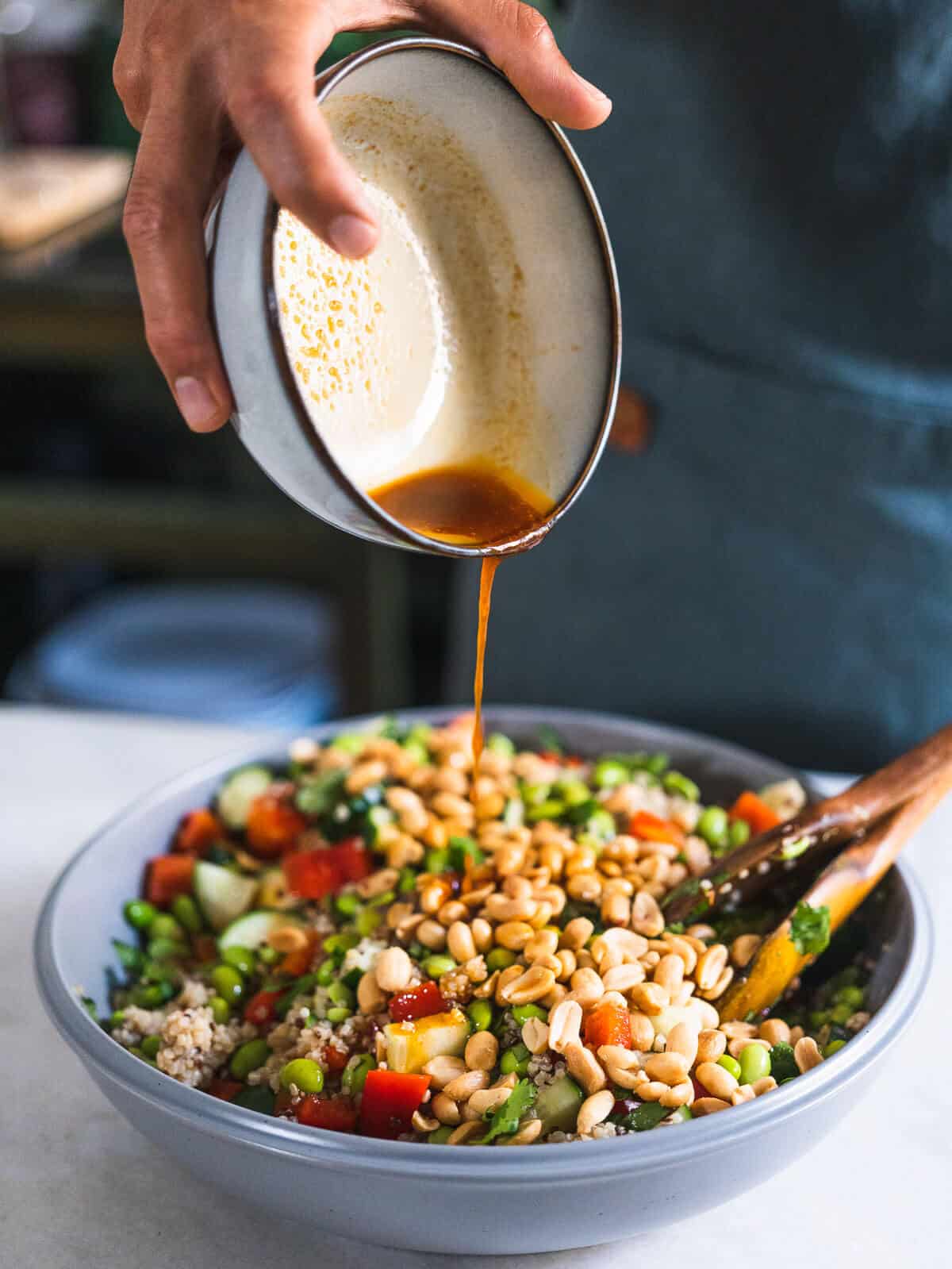 Drizzle the dressing into the salad. Garnish with fresh cilantro and toasted sesame seeds.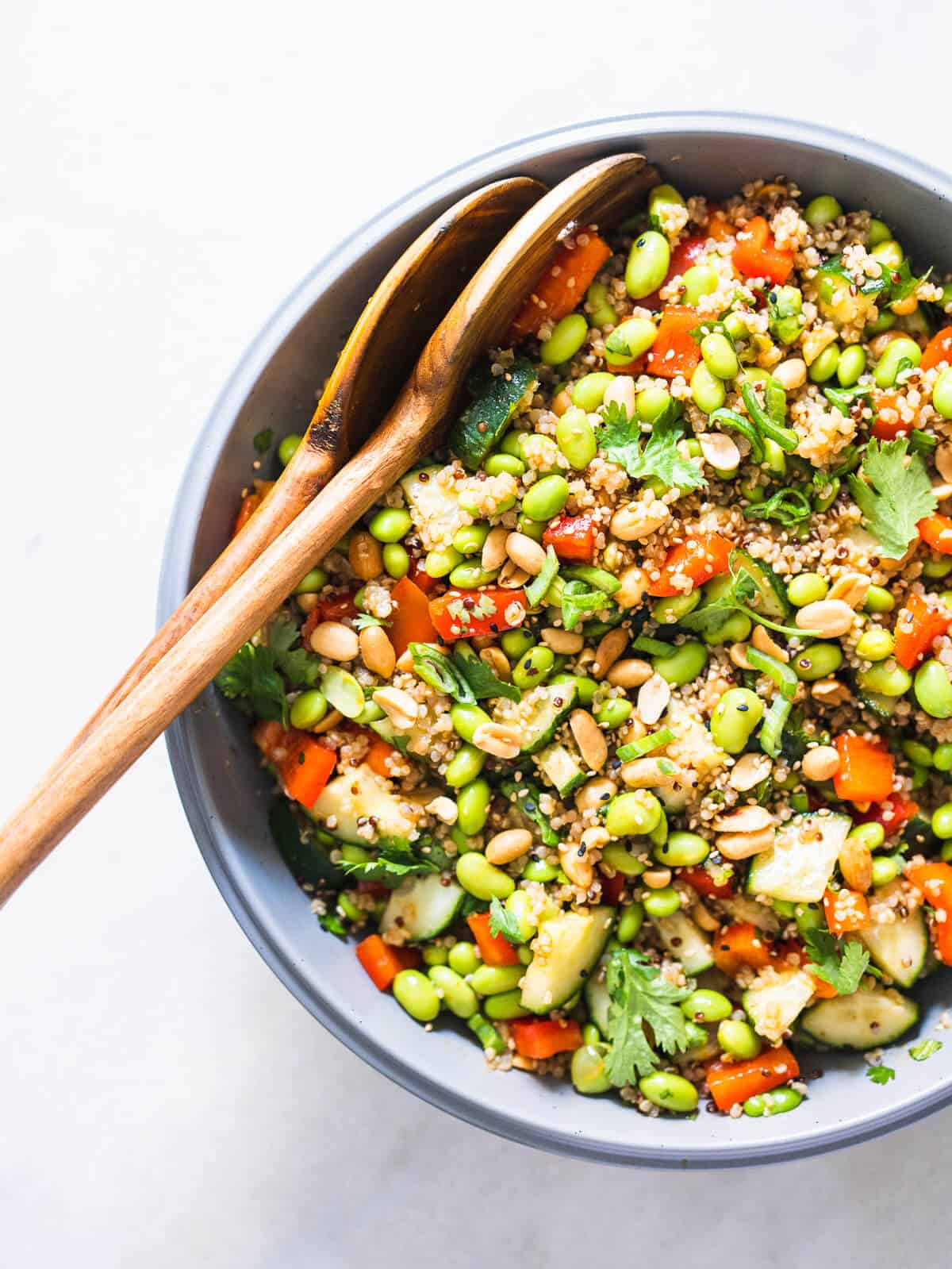 Add optional toasted sesame seeds and green onion tops to garnish.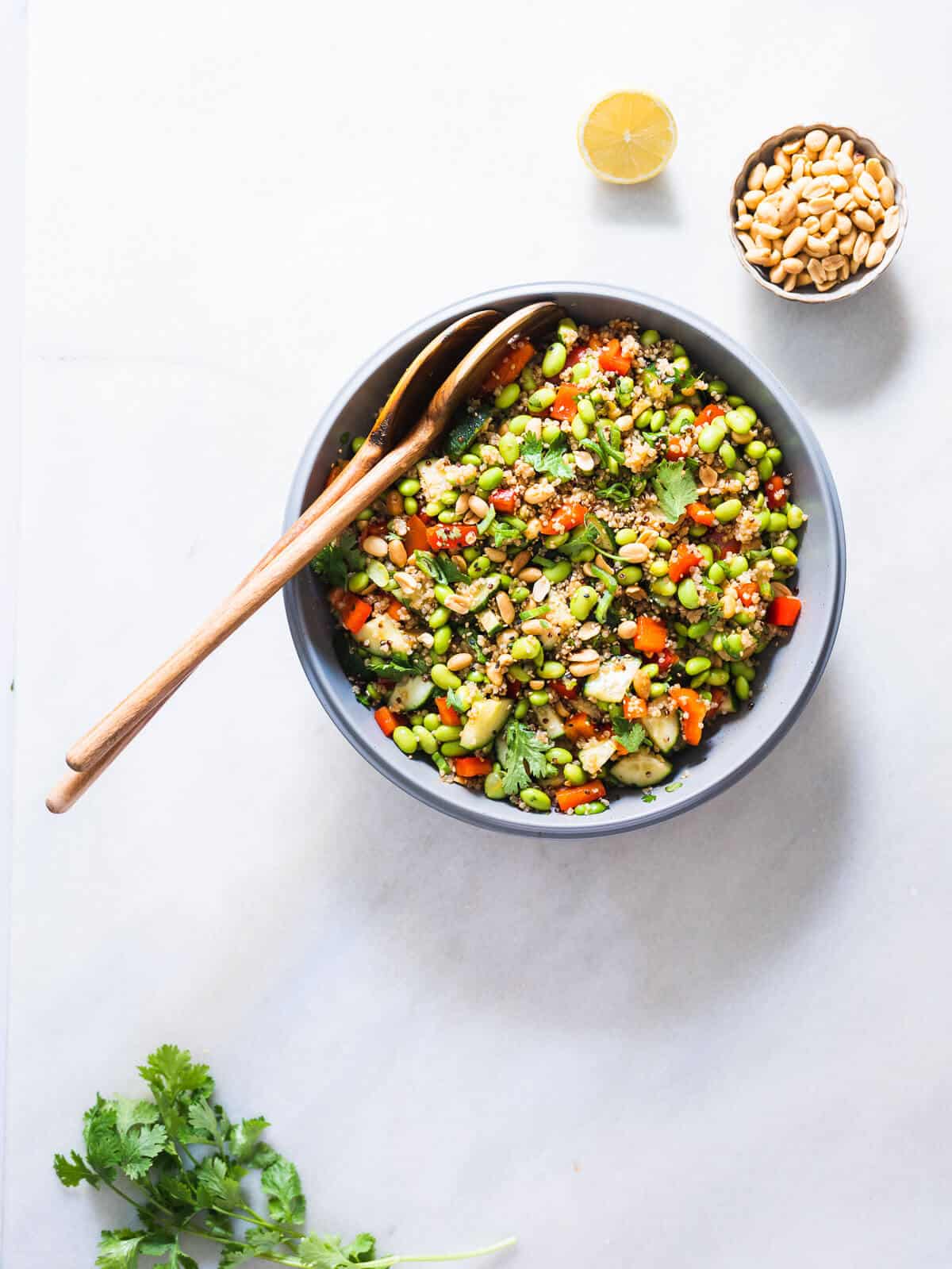 Hint: instead of cooking frozen edamame, you can put it under hot running water to have them readily available in a couple of minutes.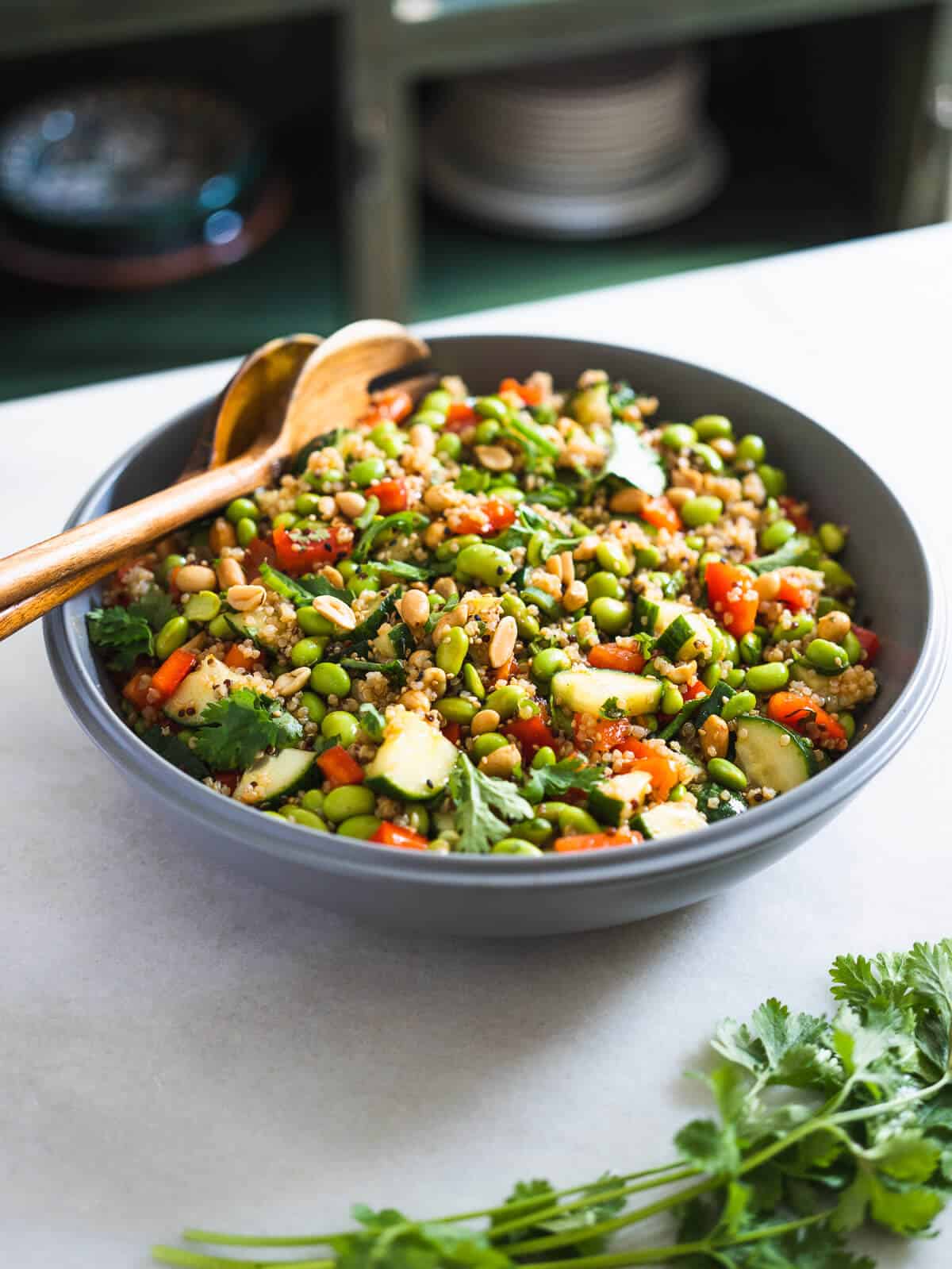 🥢 How to serve
Serve this edamame salad as a main or side dish. You just need to vary the amount per serving.
You can also use the salad dressing with other veggies or salads such as coleslaw or broccoli slaw.
🍶 Substitutions
This recipe, as it stands, is already naturally vegan. However, if you need to substitute some of the ingredients due to allergies or personal preference, here are a few options:
For the salad
Shelled Edamame: You can use chickpeas or green peas if edamame is not available. They'll add a slightly different flavor but will still provide a good source of protein.
Red Bell Pepper: Other colorful bell peppers (yellow, orange, or green) can also work well in this salad. Chopped red cabbage (AKA purple cabbage) is also a great sub. Crunchy vegetables are the trick!
Cucumber: Zucchini could be used as a substitute, although it will slightly alter the texture and flavor.
Quinoa: You can substitute quinoa with couscous or bulgur wheat. However, they are not gluten-free, if that's a concern.
Peanuts: If you have a peanut allergy, try using sliced almonds, sunflower seeds, or cashew pieces for a similar crunch.
Cilantro: If you're not a fan of cilantro, you can use other fresh herbs like parsley. It has a different flavor but can still add freshness to the salad.
Green Onion (optional): chopped red onion, shallots, and chives can be a good substitute for green onions, adding a similar but milder flavor.
Toasted Sesame Seeds (optional): Chia seeds or flax seeds can be used as a replacement, but they might slightly change the texture and flavor.
For the Vinaigrette
Toasted sesame oil: Extra Virgin Olive Oil, sunflower seed butter, canola, or sunflower oil can be used instead, but the dressing might not have as rich a flavor.
Gluten-free Tamari: You can use soy sauce without avoiding gluten or coconut aminos for a soy-free and gluten-free alternative. White miso paste is also a great sub.
Rice Vinegar: Apple cider or white wine vinegar can be an alternative.
Sriracha Sauce: Red pepper flakes or any hot sauce could be used for the spicy element, but it might change the flavor profile slightly.
Maple Syrup: Agave nectar can be used as a sweetener in the dressing, although it's a bit sweeter, so use less.
Garlic Powder: Fresh garlic can be used instead, providing a more intense flavor.
Ground Ginger: Fresh ginger could be used, but keep in mind it's more potent so use it sparingly.
📖 Variations
Try using lime juice to add a hint of extra acidity to the dish.
For a twist to the salad dressing and turn it into a peanut sauce, you can try adding a tablespoon of peanut butter to the sauce. In this case, you may want to skip the chopped peanuts so it doesn't overpower the rest of the ingredients.
Just as with the original vinaigrette, drizzle the peanut dressing into the fresh ingredients right before consuming.
🍽 Equipment
To make this edamame salad recipe, you don't need any fancy equipment. Just a saucepan to make quinoa and edamame beans, a small bowl to mix the dressing's ingredients, and a large bowl to combine everything!
🥡 Storage
Store this edamame salad in a BPA-free (affiliate link), tightly sealed, airtight container in the fridge for up to 3 days.
💡 Top tips
You can make this edamame salad ahead and leave it in the refrigerator overnight if you want to use it as a meal prep option for lunch tomorrow; add the dressing right before consuming it so the salad doesn't get soggy.
The dressing can remain consumable and stored in the refrigerator for about a week.
You can use store-bought canned edamame or cooked quinoa to reduce the steps only to chopping vegetables, combining the dressing ingredients, and mixing everything up!
❓ FAQ
Where to find edamame in grocery store?
You can typically find edamame in the frozen vegetable section of most grocery stores. You can find both shelled and whole frozen edamame beans. If your grocery store carries fresh produce, you may also find fresh edamame in the fresh produce section. If they have an Asian food section, check there too, as edamame is commonly used in Asian cuisine.

Do you need to cook edamame beans from a can?
Canned edamame beans are already cooked and ready to eat. They can be eaten straight from the can or heated up, depending on your preference and how you plan to use them. However, it's always a good idea to rinse canned beans under cold water to remove any excess sodium or preservatives before using.
What is the healthiest way to eat edamame?
Edamame, also known as soybeans, are a nutritious food packed with protein, fiber, and essential nutrients. Here are some guidelines for eating edamame in the healthiest way:
Boiling or Steaming: This is one of the most common and healthy ways to eat edamame. Avoid adding excessive salt during this process. You can also sprinkle it with a pinch of sea salt after cooking if desired.
Choose Organic or Non-GMO: Most soybeans in the market are genetically modified. For the healthiest option, opt for organic or non-GMO edamame to ensure it is free from pesticides and other chemicals.
Eat It in Moderation: While edamame is a healthy food, it is also relatively high in calories. Portion control is essential to ensure you are not consuming too many calories.
Incorporate in Balanced Meals: Edamame is a good source of protein and can be a great addition to a balanced meal with other vegetables, grains, and lean proteins.
Avoid Processed Edamame Products: There are a variety of edamame products in the market, such as edamame pasta or edamame crisps. While these might be convenient, they often contain additives and are not as healthy as whole, fresh edamame.
Remember, the key to a healthy diet is diversity, moderation, and balance. Always aim to incorporate a variety of foods in your diet to ensure you're getting a wide range of nutrients.
📚 More Asian-inspired recipes
Ignite your taste buds with our Spicy Edamame Beans recipe. This delightful, fiery snack is not only a breeze to whip up but also offers a powerful punch of flavor and nutrition that will leave you wanting more.
Venture into the heart of traditional Hawaiian cuisine with our vibrant veganized Poke Bowl recipe. Brimming with fresh, high-quality ingredients and dressed in a sensational sauce, it's a light yet satisfying dish that's perfect for a healthy lunch or dinner.
Treat your palate to the enticing contrasts in our Tofu Rice Bowl featuring Crispy Teriyaki Tofu Puffs and freshly made Jasmine rice. This bowl strikes the perfect balance of crunchy, savory, and sweet, promising a culinary experience that you'll savor to the last bite.
Last but not least, try our green edamame hummus, made without chickpeas; it is a much lighter option than the former traditional one.
Also, check our collection of 25+ Chinese Tofu Recipes!
Looking to add some zing to your meal? Give our speedy and flavorful marinated mushroom salad a whirl! It's a breeze to prepare in mere minutes, and the freshness of the ingredients will leave your taste buds dancing with delight. Don't miss out on this quick and tasty sensation!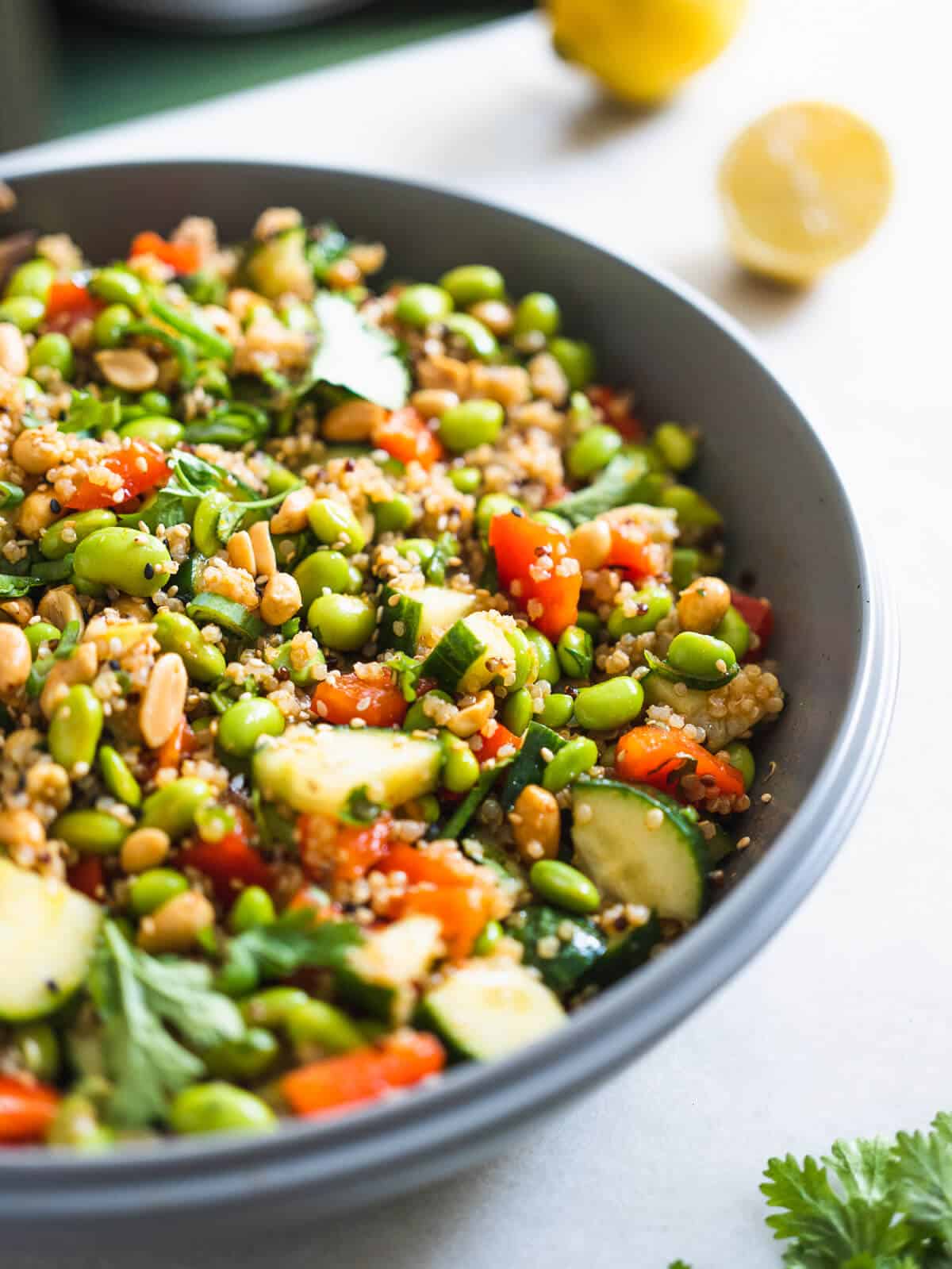 ⭐ If you try this easy edamame salad recipe, let us know! 💬 Leave a comment, rate it, and don't forget to tag us @ourplantbasedworld on Instagram. Cheers!
📋 Recipe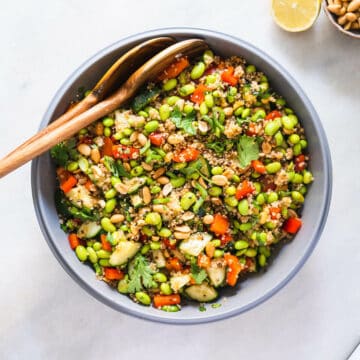 Easy Quinoa Edamame Salad with Spicy Asian Salad Dressing
Experience the refreshing crunch and vibrant flavors of our Quinoa Edamame Salad with Spicy Vinaigrette. This nutrient-packed, plant-based salad combines hearty quinoa, crisp edamame, and an array of fresh veggies with a zesty homemade vinaigrette for a wholesome, delicious meal. Perfect for summer barbecues or as a nutritious lunch option.
Equipment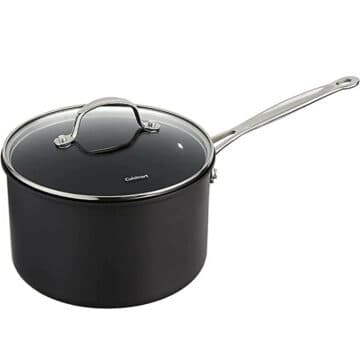 (affiliate link)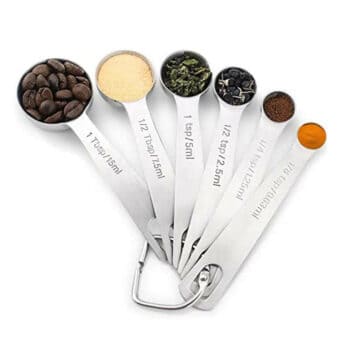 (affiliate link)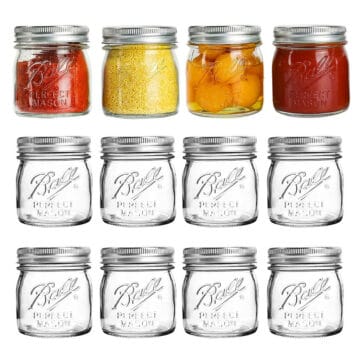 (affiliate link)
Directions
Cook the Edamame: Bring a medium pot of water to a boil. Add the edamame and cook for about 5 minutes, until they are bright green and tender. Drain and allow to cool. Once cool, remove the beans from their pods and set aside.

Cook the Quinoa: In another pot, add the quinoa and double the amount of water (1 cup). Bring to a boil, then lower the heat to a simmer, cover, and allow it to cook for about 15 minutes or until all the water is absorbed and quinoa is fluffy.

Prepare the Vinaigrette: In a small bowl, combine the oil, tamari or soy sauce, apple cider vinegar, garlic powder, ground ginger, maple syrup, and sriracha. Whisk together until well combined.

Assemble the Salad: In a large bowl, combine the cooked edamame beans, cooked quinoa, diced bell pepper, chopped peanuts, cilantro, diced cucumber, and sliced green onions. If using, add the sesame seeds as well.

Dress the Salad: Pour the prepared vinaigrette over the salad mixture. Toss well to combine, ensuring everything is well coated in the vinaigrette.

Serve: You can serve this salad immediately, or you can let it sit in the refrigerator for an hour or so to let the flavors meld together. It can be served cold or at room temperature.

Enjoy!
Notes
If you buy whole edamame beans, plan for extra 20 minutes for removing the shells.
Nutrition Facts
Calories:
434
kcal
Carbohydrates:
39
g
Protein:
18
g
Fat:
24
g
Saturated Fat:
3
g
Polyunsaturated Fat:
5
g
Monounsaturated Fat:
12
g
Sodium:
346
mg
Potassium:
845
mg
Fiber:
8
g
Sugar:
6
g
Vitamin A:
1044
IU
Vitamin C:
42
mg
Calcium:
118
mg
Iron:
5
mg
Nutrition Facts
Easy Quinoa Edamame Salad with Spicy Asian Salad Dressing
Amount per Serving
% Daily Value*
* Percent Daily Values are based on a 2000 calorie diet.
🌡️ Food safety
Cook to a minimum temperature of 165 °F (74 °C)
Do not use the same utensils on cooked food, that previously touched raw meat
Wash hands after touching raw meat
Don't leave food sitting out at room temperature for extended periods
Never leave cooking food unattended
Use oils with a high smoking point to avoid harmful compounds
Always have good ventilation when using a gas stove
See more guidelines at USDA.gov.
Nutritional Disclaimer
The information shown is an estimate provided by an online nutrition calculator. It should not be considered a substitute for a professional nutritionist's advice. See our full Nutritional Disclosure here.
Affiliate Disclaimer
Please note that some of the links here are affiliate links, and I will earn a commission if you purchase through those links. I recommend all of the products listed because they are companies I have found helpful and trustworthy.