Hey there, snack enthusiasts! 🌱 Ever find yourself rummaging through the pantry, craving something that's both delicious and good for you? Look no further—our Homemade Date Granola Bars are the answer to your munchie prayers. These bad boys are not just easy to whip up; they're also packed with natural sweetness from dates and a whole lot of nutrients. Perfect for on-the-go breakfasts or midday pick-me-ups, these granola bars are your ticket to guilt-free snacking. So, ready to elevate your snack game? 🌟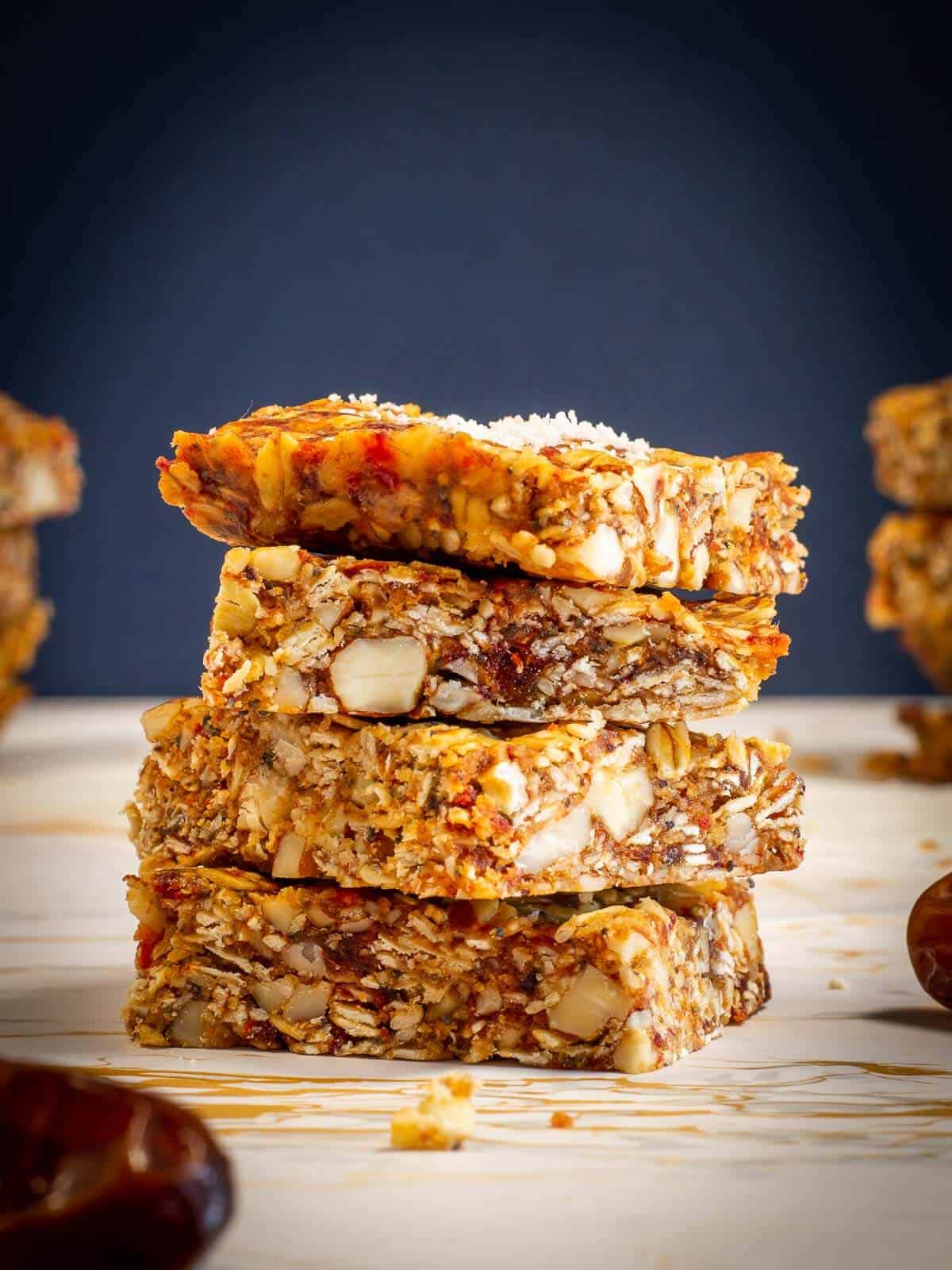 First off, let's talk about the nutritional powerhouse that this recipe is. We're not just throwing around buzzwords here; these granola bars are genuinely good for you.
Packed with fiber from the rolled oats and natural sugars from the dates, they're a delicious snack you can feel good about. Plus, the walnuts and hazelnut butter bring in those healthy fats that your body loves. So, you're not just satisfying your taste buds; you're also fueling your body with essential nutrients.
Now, onto the "easy factor." We get it; no one wants to spend hours in the kitchen for a snack. That's the beauty of this granola bar recipe—it's incredibly straightforward. You'll spend more time enjoying these bars than making them, and there's no fancy equipment needed. Just a food processor, some pantry staples, and you're good to go. It's meal prep made simple, and who doesn't love that?
Last but not least, versatility is the name of the game here. Whether you're looking for a quick breakfast option or a midday pick-me-up, these granola bars have got you covered. They're perfect as both a meal and a snack, fitting seamlessly into your busy lifestyle. And if you loved our previous recipe for homemade granola recipe, this one takes inspiration from it, adding a new twist to an already amazing dish.
This is our 5-ingredient granola bar that works beautifully 100% of the time, just as our no-bake fig bars, are equally delicious!
Jump to:
🧾 Ingredients
Only wholesome ingredients for these healthy granola bars.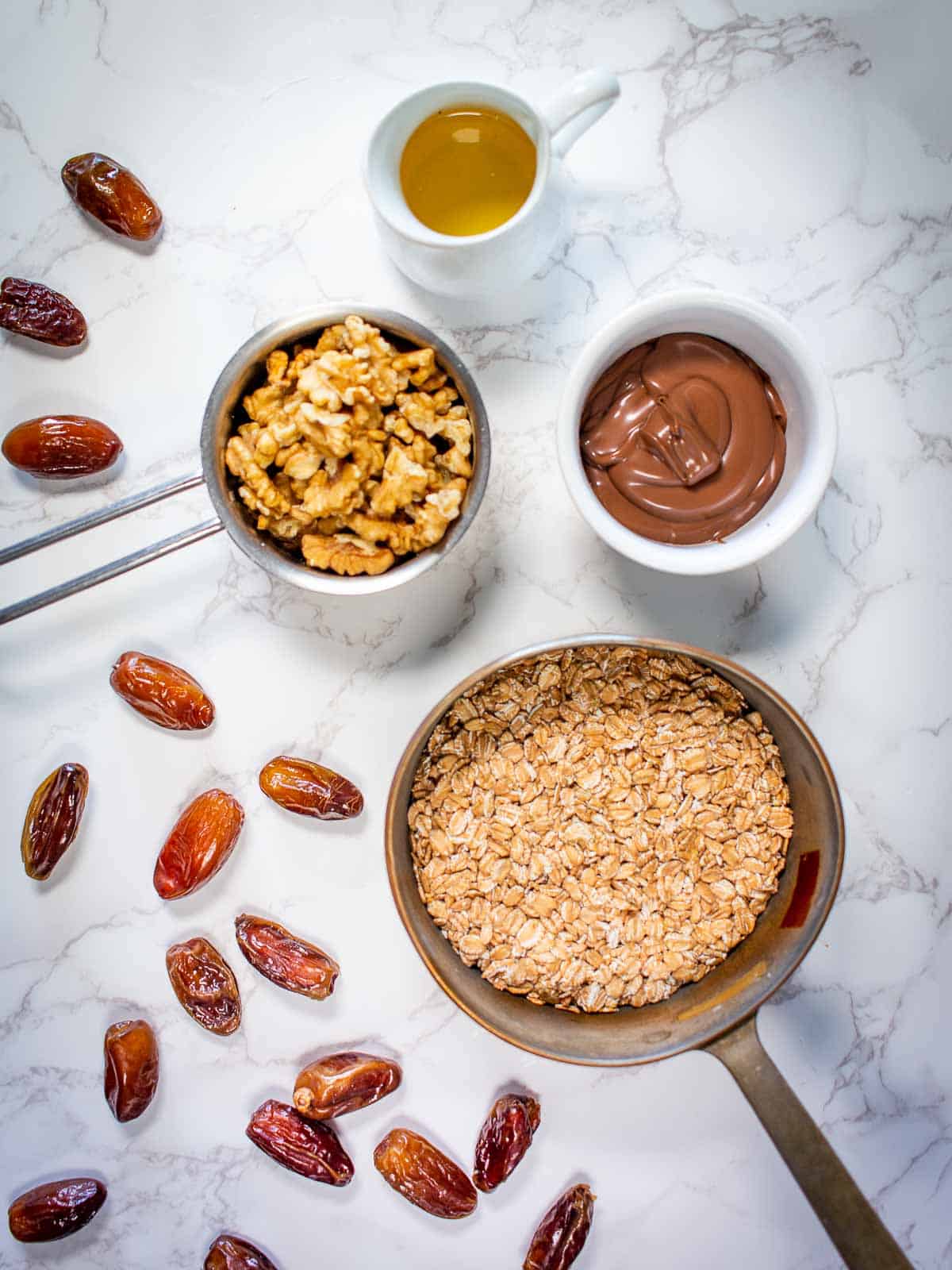 Rolled Gluten-free Oats or Spelt: These grains are the backbone of our granola bars, providing essential fiber and nutrients. Plus, they give the bars that classic, hearty texture we all love.
Dates: Nature's candy, anyone? Dates bring natural sweetness to the table, eliminating the need for refined sugars and adding a chewy texture. If you can get soft Medjool dates, even better!
Walnuts: These crunchy gems are more than just a texture play; they're loaded with omega-3 fatty acids, which are great for brain health.
Hazelnut Butter: This creamy delight not only binds the ingredients together but also adds a rich, nutty flavor that complements the sweetness of the dates. You can use any nut or seed butter you have handy.
Agave Syrup: A plant-based sweetener that's less processed than table sugar, agave syrup helps to hold the bars together while adding a touch of extra sweetness.
🔪 Instructions
To kick off this recipe, we'll start with dates as our go-to natural sweetener. Feel free to toss in some mixed dried fruits like raisins or goji berries for added flair. Next up, we've got walnuts or almonds, your choice, followed by either spelt or oats. We'll blend these with hazelnut butter and a splash of agave or maple syrup to bring it all together.
If you're in the mood for an extra crunch and a toasty flavor, consider baking your spelt and walnuts for about 15 minutes. It's an optional step, but it takes the bars to a whole new level.
And here's the cherry on top: These granola bars are freezer-friendly! So, you can make a big batch and have a quick, healthy snack ready whenever you need it. Just remember to pit your dates, or you can take a shortcut and use date paste. Ready to get started? 🌱
Oven baked version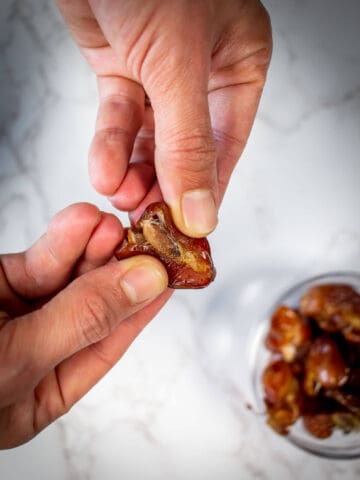 Pit the dates.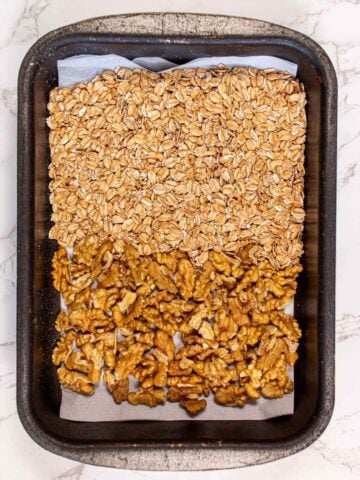 Oven bake the rolled oats and nuts.
Pit the dates; you can also use date paste instead. Blend the data and dried fruit until a thick paste forms.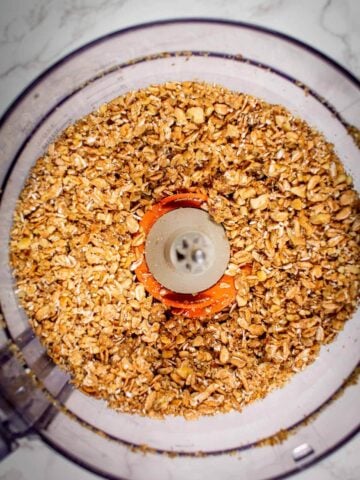 Then blend the dates in the Food Processor until a ball is formed (approx 15 seconds). Add the toasted spelt and Walnuts and blend for an additional 5 seconds.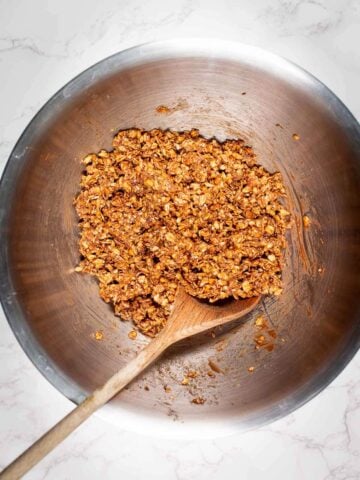 Transfer the oat mixture to a bowl and add the Agave Syrup (or Maple) and the Hazelnut butter (or Peanut/Almond butter).
Hint: add a ¼ teaspoon of pumping spice mix and vanilla extract to add some Fall season twis.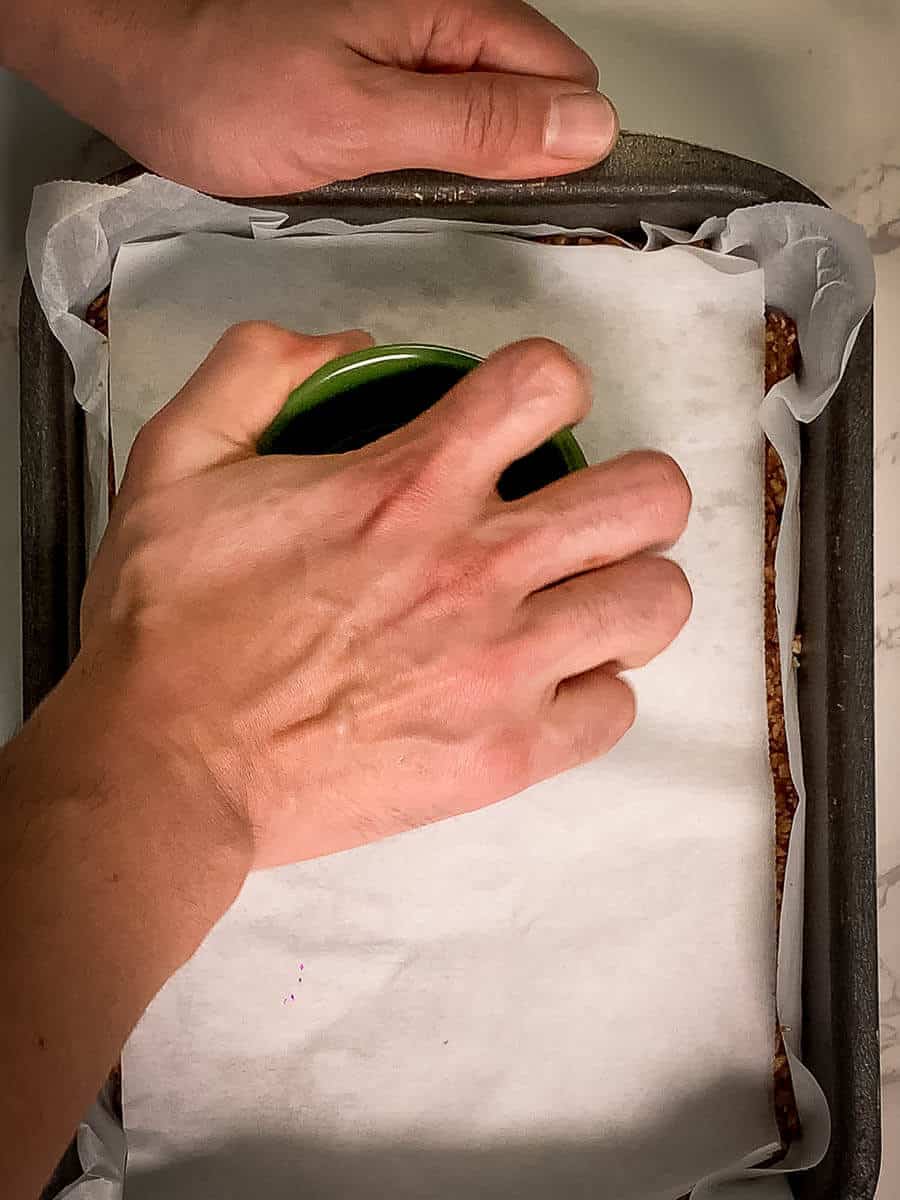 Transfer to a prepared pan with parchment paper on the same baking tray and press down the mix with a spoon. Place an additional parchment paper on top and press with a drinking glass.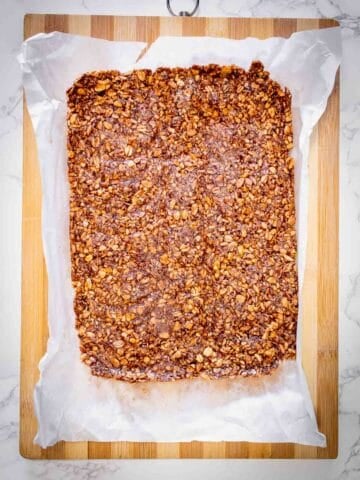 Chill in the refrigerator for 15 minutes, and then cut the bars.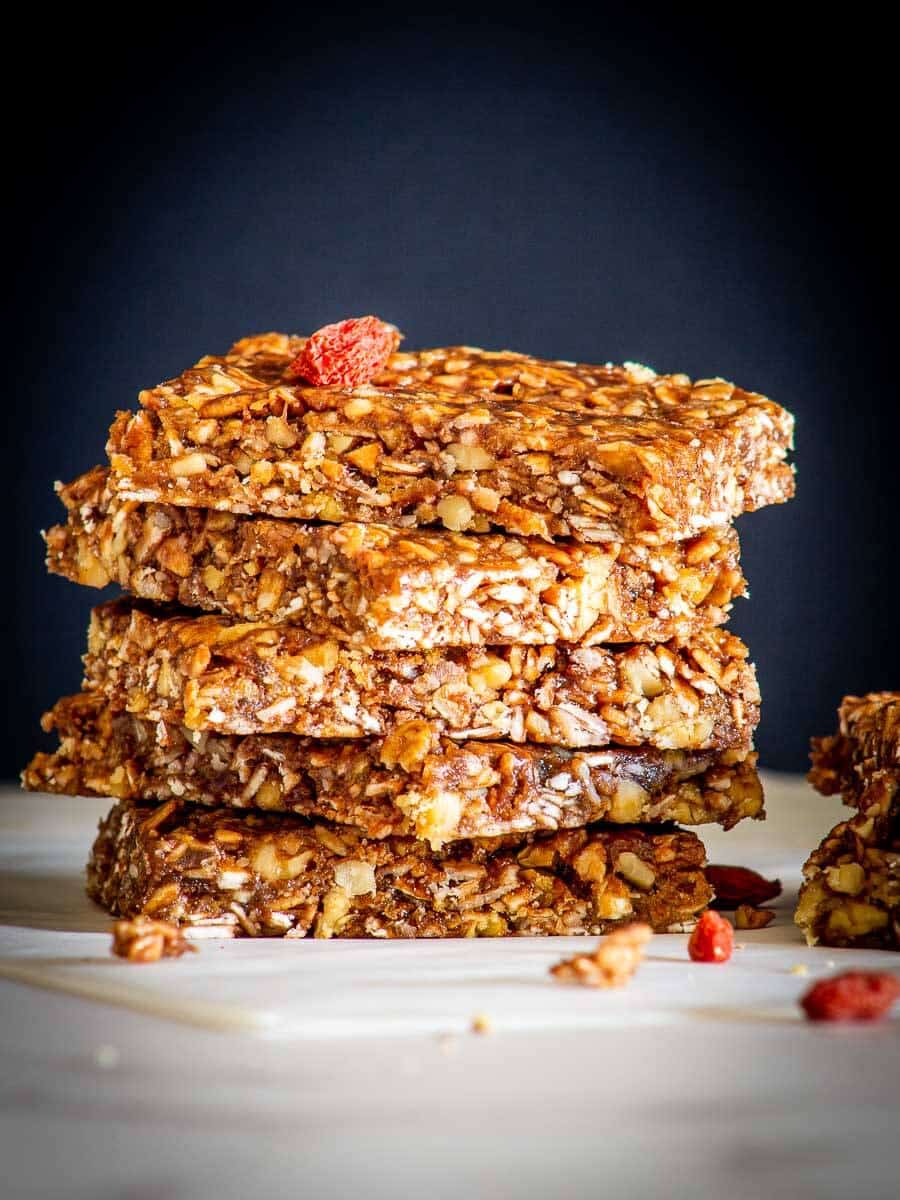 Chewy No Bake Granola Bars with Dates variation
Making healthy chewy granola bars is even easier!
Start by lining a baking dish with parchment paper. You'll want some overhang to make it easier to lift out the bars later. Next, toss your dates into a food processor and blend until a soft, sticky ball forms—this should take about 15-20 seconds.
Now, here's where the magic happens. Combine your oats (or spelt), walnuts, agave syrup, and hazelnut butter in a large mixing bowl. Add the blended dates to this granola bar mixture and stir until everything is well combined.
Transfer this heavenly mixture to your prepared baking dish and press it down firmly. Cover it with another piece of parchment paper and set it in the fridge for at least an hour.
Once it's chilled, lift the whole thing out using the parchment paper overhang and cut it into 12 glorious, chewy bars.
A Quick Note on Dates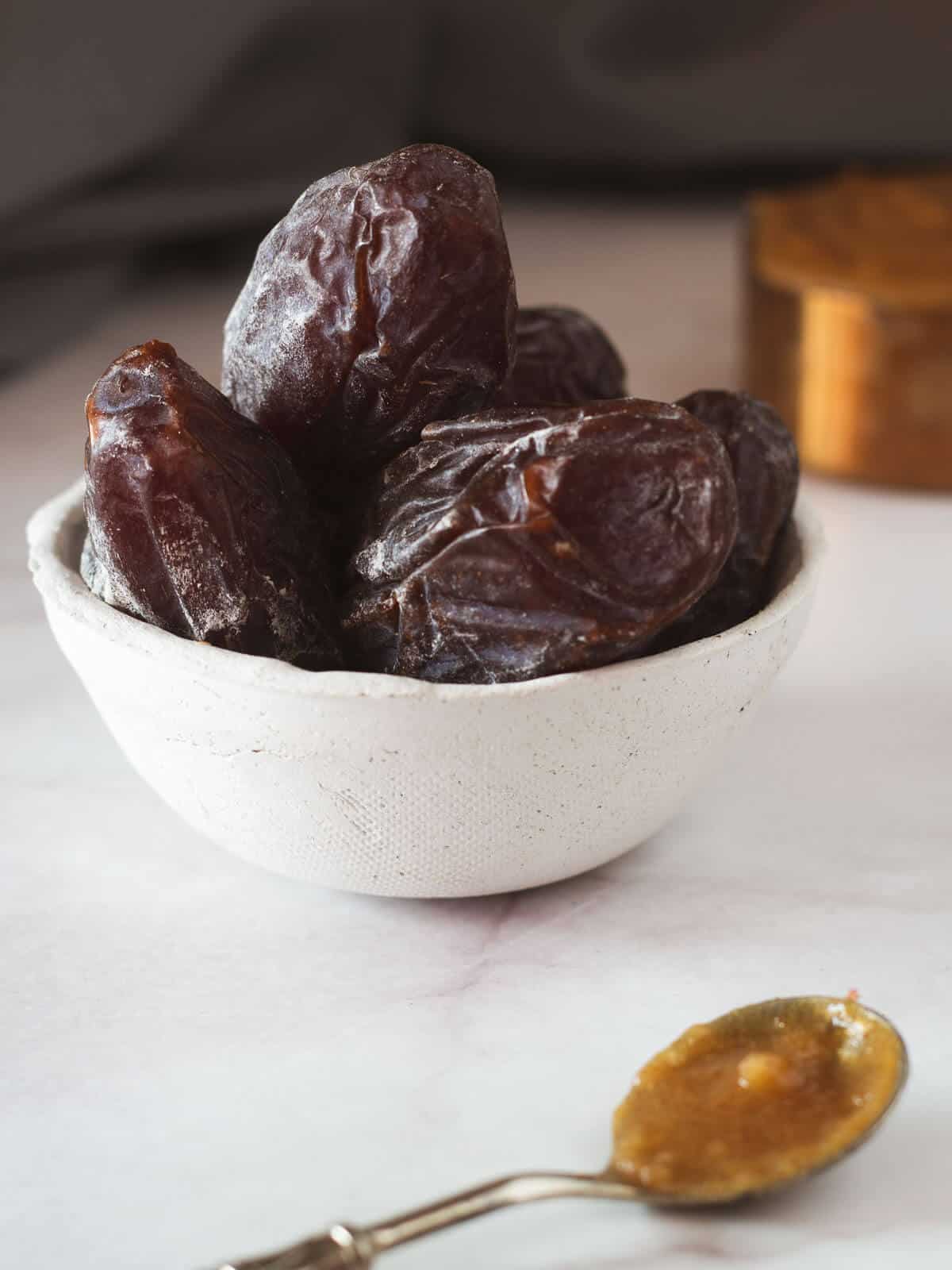 Meedjol Dates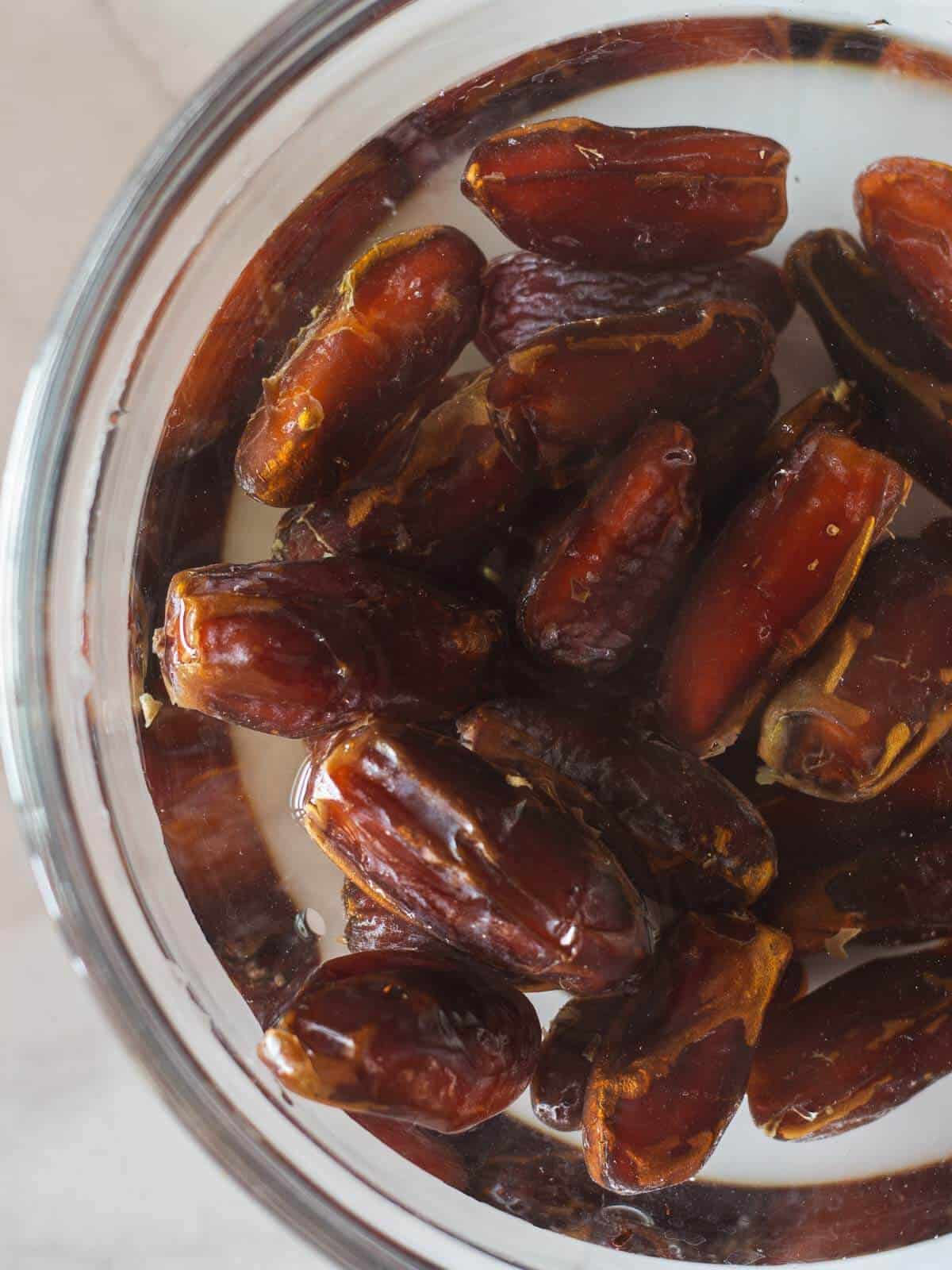 Soaking dry dates to ensure chewiness.
For the ultimate chewy texture, we highly recommend using soft Medjool dates. If you're working with drier dates, soak them in warm water for about 10 minutes before pitting. This will give them that chewy goodness we're after.
🍶 Substitutions
You can change the hazelnut butter for peanut or almond butter just swapping and using the exact quantities. Make sure to use Gluten-Free spelt and oats to keep your homemade granola bars gluten-free. It is a very easily customizable recipe. Both children and adults love them.
In addition to dates, you can make granola using other natural sweeteners such as raisins, chopped dried apricots, and other mixed dried fruit.
You could even use the almond pulp leftovers from making almond milk in your energy power balls.
Add some chia seeds or flax seeds to add extra antioxidants.
We usually make these granola bars with ingredients readily available in the pantry.
We only change the dried fruit (sweetener), nuts (any nut), creamy bonding ingredients (nut butter), and cereal (oats or spelt)—all wholesome and crunchy ingredients.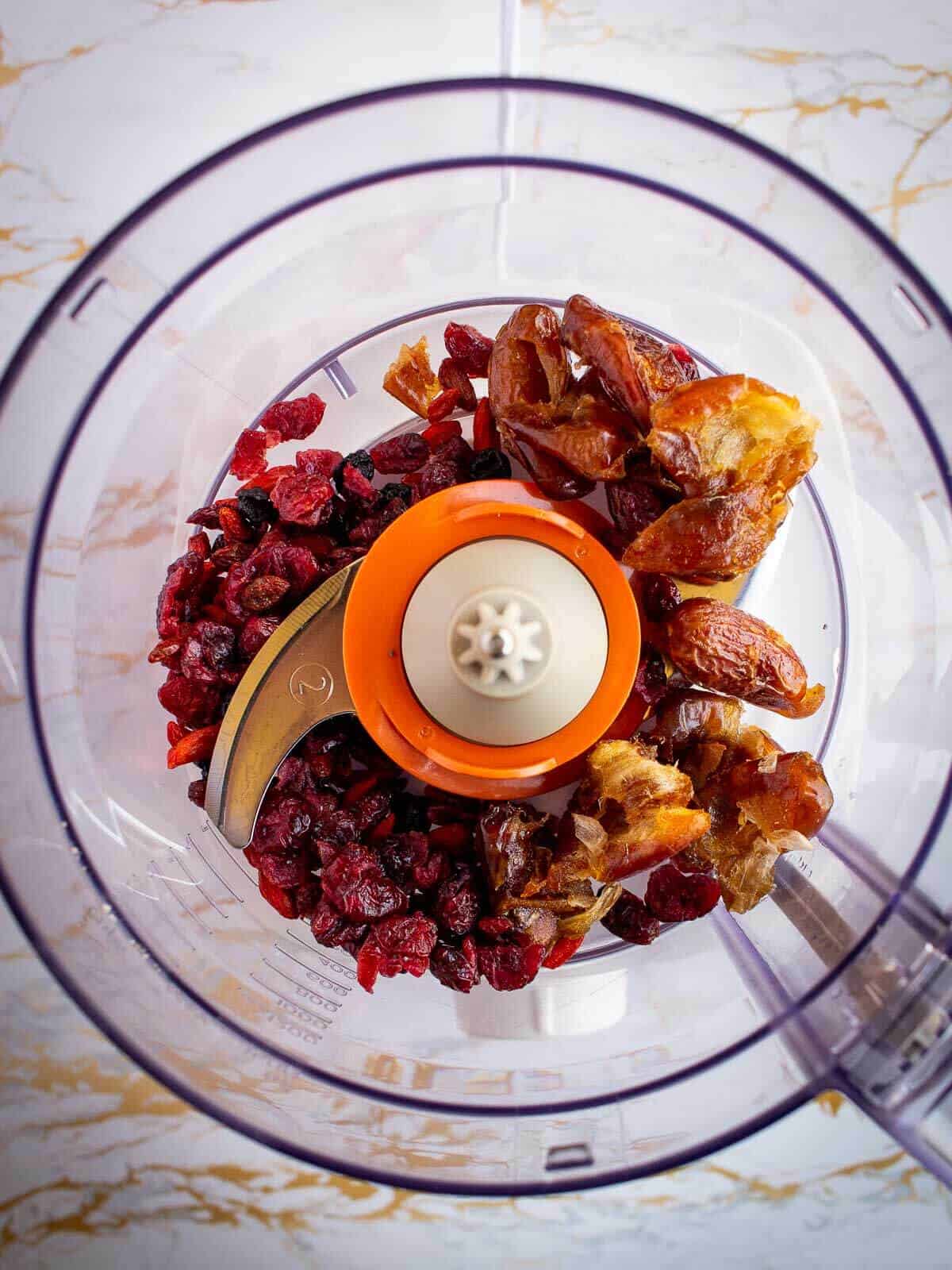 These are the perfect bars for a healthy snack because they keep you full and don't provide much sugar. They have many fiber and complex carbs, so the energy is released in your body gradually instead of giving you a sugar rush, leaving you hungry a little time later.
They also pack healthy fats and lots of fiber, and the quantities are easily adjustable to your needs.
📖 Recipe Variations to Try
Chocolate Chip Nut-Free Version: Swap out the walnuts for sunflower seeds, or pumpkin seeds, and use sunflower seed butter instead of hazelnut butter then toss some vegan mini chocolate chips. This variation is perfect for those with nut allergies but still packs a nutritional punch.
Tropical Twist: Add a handful of unsweetened shredded coconut and some dried pineapple bits to the mixture. This will give your granola bars a tropical flair that's perfect for summer snacking.
Peanut Butter Cranberry: Inspired by our Peanut Butter Granola Bars on the site, substitute hazelnut butter with natural peanut butter and toss in some dried cranberries. This combo is a classic for a reason—it's absolutely delicious!
Feel free to get creative and make these bars your own. The possibilities are endless! 🌱
💡 Top tip
Press down the mixture firmly before chilling to ensure the bars hold their shape.
So, what are you waiting for? Get your ingredients ready and let's make some chewy, no-bake granola bars that are as good for you as they are delicious. Happy snacking! 🌱
🫙 Serving and Storage Tips
These no-bake wonders are perfect as a meal replacement or a quick snack. Store homemade granola bars in an airtight container in the fridge for up to two weeks or in the freezer for up to two months. They're best enjoyed cold, straight from the fridge or freezer.
So, are you ready to elevate your snack game? Trust us, once you try these No-Bake Chewy Granola Bars with Dates, you'll never go back to the store-bought stuff. Happy snacking! 🌱
❓ FAQ
Gluten-free substitute for farro
For recipes where you plan to use rolled farro, the best substitute is Gluten-free marked Old fashioned Oats.
In other recipes like stews or salads, quinoa is a great substitute. It has a similar texture and flavor, and it can be cooked in the same way.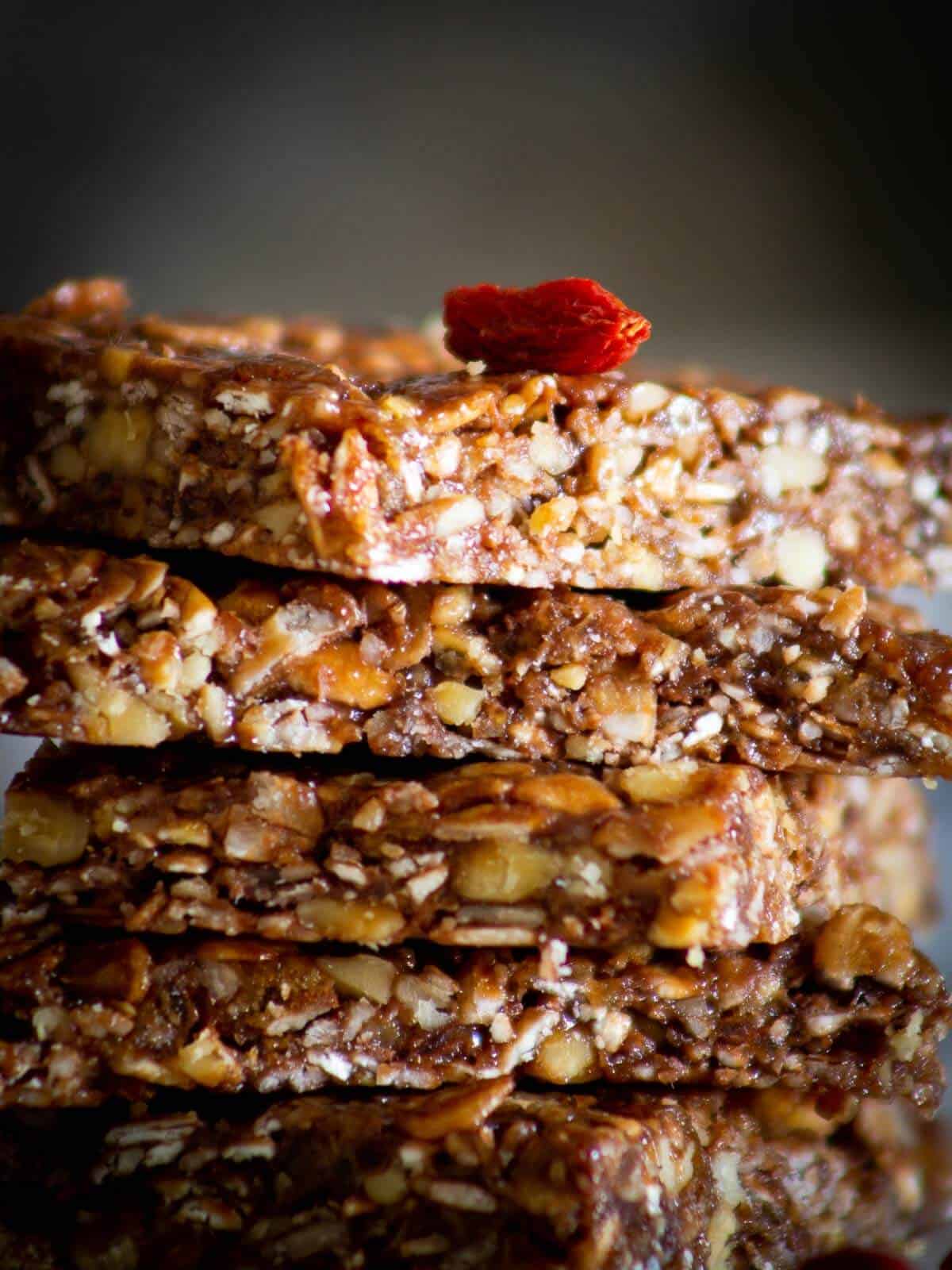 📚 More granola recipes
📚 More Healthy Snack Recipes
Try our Fall season favorite: no-bake pumpkin balls!
If you try any of these granola bars with dates, let us know! Leave a comment, rate it, and don't forget to tag a photo #ourplantbasedworld on Instagram. Cheers!
📋 Recipe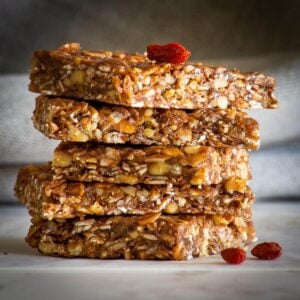 Homemade Date Granola Bars
Granola bars are great ways to keep binges in line. We like keeping healthy homemade bars close to ensure we have a healthy energy source to satisfy any craving without going after unhealthy sources.
Equipment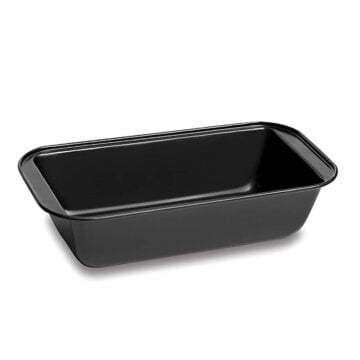 (affiliate link)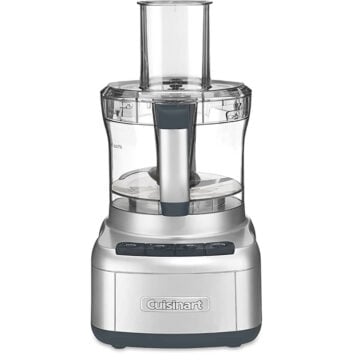 (affiliate link)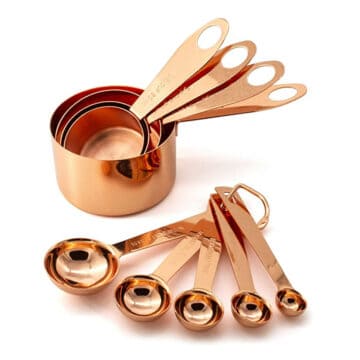 (affiliate link)
Ingredients
Optional:
¼

teaspoon

sea salt

skip if using salty nut butter
Directions
Oven Baked Version
Preheat Oven: Get that oven fired up to 350ºF (175ºC) and line your baking dish with some parchment paper.

Toast Grains & Nuts: Spread your spelt (or oats) and walnuts on a baking sheet and give them a 15-minute toasty session in the oven.

Blend Dates: Toss those dates into a food processor and blend until you've got a soft, sticky ball—should take about 15-20 seconds.

Add Toasted Goodies: Throw in your oven-toasted spelt and walnuts to the food processor and give it another quick 5-second blend.

Mix It Up: Time to transfer the blend to a mixing bowl. Add in the agave syrup, hazelnut butter, and a pinch of salt. Grab a spoon and mix until it's all good and combined.

Pack & Chill: Move the mixture to your prepped baking dish. Use a wooden spoon to spread it out evenly. Cover it with parchment paper and press down using a drinking glass to make sure it's packed tight—this keeps the bars from falling apart. Pop it in the freezer for at least 15 minutes.

Slice & Store: Take the chilled mixture out, and cut it into 12 glorious bars. Keep 'em in an airtight container in the fridge for up to two weeks or stash them in the freezer for up to two months. Pro tip: they hold their shape best when they're straight out of the cold.
Chewy Version
Prep the Dish: First things first, line a baking dish with parchment paper. Make sure to leave some overhang for easy lifting later.

Blend Dates: Drop those dates into a food processor and blend until you get a soft, sticky ball—about 15-20 seconds should do the trick.

Optional Toasting: If you're in the mood for a toasty edge, give your oats (or spelt) and walnuts a quick skillet toast over medium heat for 5 minutes. Totally your call!

Combine Ingredients: In a large mixing bowl, toss in your oats (or spelt), walnuts, and any optional add-ins like chia seeds or mini chocolate chips.

Add the Wet Stuff: Pour in the agave syrup and hazelnut butter right into the same bowl.

Blend It All Together: Add your blended date ball to the mix. Grab a sturdy spoon and stir until everything is well combined and you've got a sticky, cohesive mixture.

Press & Chill: Transfer that glorious mixture to your prepped baking dish. Use a wooden spoon or even your hands to press it into an even layer. Cover with another piece of parchment paper and use a drinking glass to press down firmly. Pop it in the fridge for at least an hour to set.

Slice & Savor: Once chilled, use the parchment overhang to lift the whole thing out. Cut into 12 chewy bars and get ready to snack like a champ!
Notes
Storage Wisdom: Keep these no-bake delights in an airtight container in the fridge for up to two weeks or freeze them for up to two months. They're at their chewy best when served cold.
About Dates: For optimal chewiness, we highly recommend using soft Medjool dates in this recipe, especially for the no-bake version. If you're working with drier dates, no worries! Just soak them in warm water for about 10 minutes before pitting. This will give them that chewy texture we're aiming for.
And there you have it! No-bake, no-fuss, all flavor. Enjoy your chewy, date-sweetened granola bars! 🌱
Nutrition Facts
Calories:
220
kcal
Carbohydrates:
33
g
Protein:
5
g
Fat:
9
g
Saturated Fat:
2
g
Sodium:
53
mg
Potassium:
253
mg
Fiber:
5
g
Sugar:
16
g
Vitamin A:
6
IU
Vitamin C:
1
mg
Calcium:
28
mg
Iron:
2
mg
Nutrition Facts
Homemade Date Granola Bars
Amount per Serving
% Daily Value*
* Percent Daily Values are based on a 2000 calorie diet.
Nutritional Disclaimer
The information shown is an estimate provided by an online nutrition calculator. It should not be considered a substitute for a professional nutritionist's advice. See our full Nutritional Disclosure here.
Affiliate Disclaimer
Please note that some of the links here are affiliate links, and I will earn a commission if you purchase through those links. I recommend all of the products listed because they are companies I have found helpful and trustworthy.