Welcome to a recipe that will fill your kitchen with the intoxicating aroma of fresh baking - our Easy & Quick Blueberry Mini Muffins! As the back-to-school season approaches, your children will need something quick and nutritious for breakfast or as a midday snack. Within minutes, you can whip up a batch of these scrumptious mini treats that are sure to be an instant hit. Let's dive into the recipe!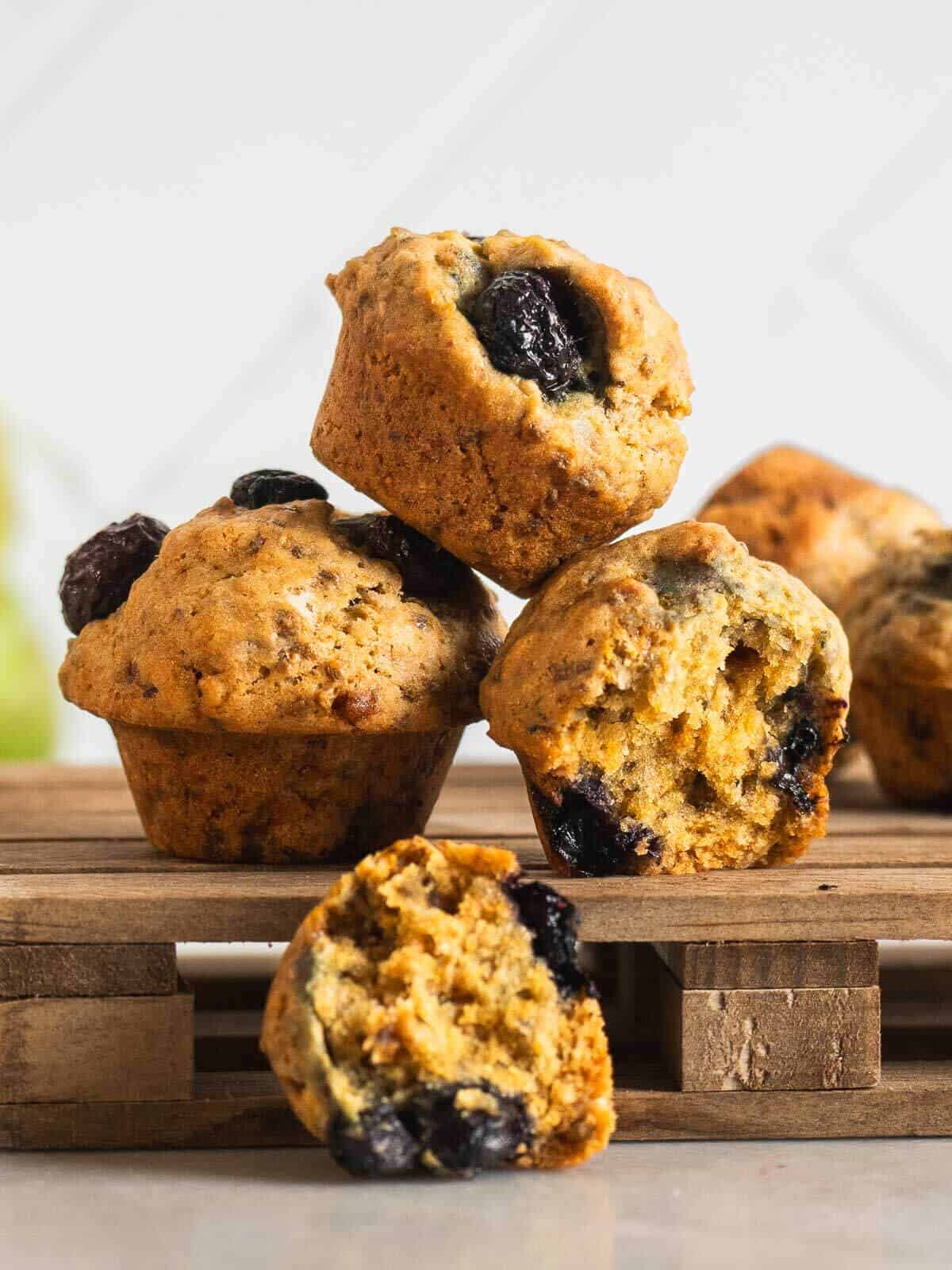 Their perfect blend of convenience, taste, and nutritional value makes our dairy-free blueberry mini muffins a real winner, especially for the back-to-school season.
Whether you opt for fresh or frozen blueberries, the burst of natural sweetness and the hefty dose of antioxidants they bring to these mini delights cannot be overstated.
They're an excellent source of Vitamin C and fiber, making these blueberry muffins delicious and a healthy option for your child's lunchbox. Packed with all the goodness of blueberries, these muffins can offer a great start to a school day or a sweet, nutritious pick-me-up in the middle of a busy afternoon.
Moreover, the beauty of muffin recipes, especially our easy blueberry muffins, lies in their simplicity and speed.
Even in the most hectic morning rush, you can whip up these muffins in no time. Plus, with the ability to make a batch ahead of time, you'll always have a quick, homemade, and tasty breakfast or snack, just like our chocolate chip zucchini muffins.
Jump to:
🧾 Ingredients
This convenient mini blueberry muffins recipe is made with just a few ingredients:
Frozen Blueberries: These add fruity flavor and color to your muffins. They also offer a variety of health benefits, including antioxidants and Vitamin C.
Gluten-Free Flour mixture or All-Purpose Flour: This is the base of your muffins, providing structure and texture. The choice between gluten-free and all-purpose flour caters to different dietary needs without compromising taste.
Baking Powder: This is a key ingredient for giving your muffins a nice rise and light, fluffy texture. It's essentially a leavening agent that helps expand the batter as it bakes.
Baking Soda: Baking soda helps enhance the color and flavor of your muffins by promoting browning and neutralizing the acidity of other ingredients.
Brown Sugar imparts a sweet taste and adds moisture to your muffins. The molasses in brown sugar also gives your treats a hint of a caramel-like flavor.
Coconut Oil: Used to grease the muffin tin and batter, coconut oil contributes to a moist, rich texture and a subtle hint of tropical flavor.
Chia Seeds: When mixed with plant milk, they create a vegan 'chia egg,' acting as a binder in the recipe. They also add a nutritional boost with fiber, omega-3 fatty acids, and protein.
Plant Milk: This is a crucial part of your dairy-free buttermilk, and it helps to make your muffins moist and soft. It also adds a slight creaminess to the texture, just as dairy-based sour cream would.
Fresh Lemon Juice: This is used to curdle the plant milk, create your dairy-free 'buttermilk,' and balance the muffins' sweetness with its acidity.
Salt: Just a pinch can elevate all the flavors of your muffins, offering a nice contrast to the sweetness.
Optional Ingredients:
Lemon Zest, Vanilla Extract, or Orange Flower Water: These are optional but can add an extra layer of flavor to your muffins. They make your treats more aromatic and can complement the blueberries beautifully.
See the recipe card for quantities.
🔪 Instructions
To make mini blueberry muffins follow these simple steps.
Making chia eggs and dairy-free buttermilk in one bowl.
Combining wet ingredients followed by dry ones.
Baking.
First off, get your oven warming up to 375°F (175 ºC) - it's always best to start with a hot oven and use a measuring cup to get all the ingredients proportions right.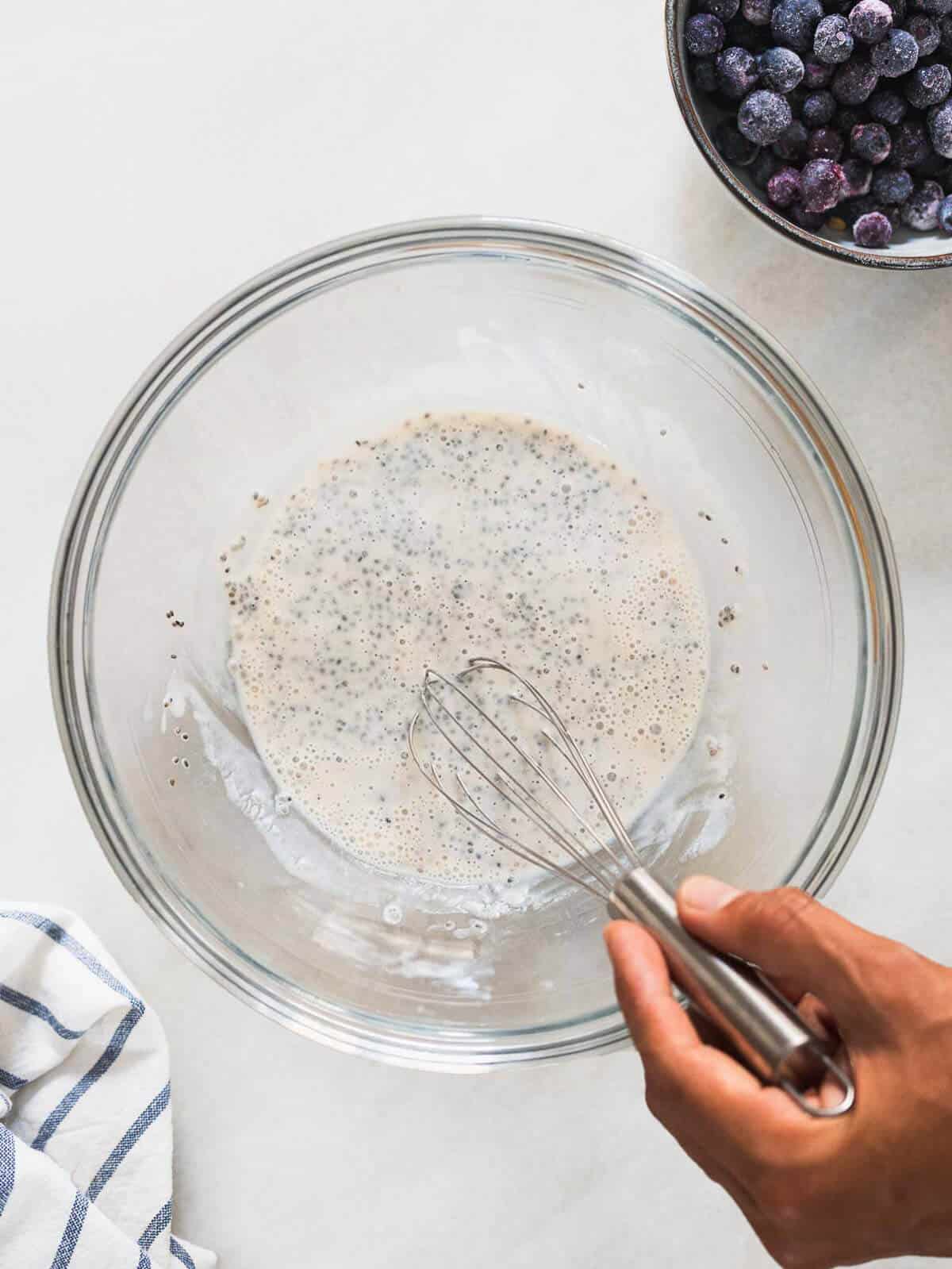 Combine the chia seeds with soy milk and lemon juice in a medium bowl and let curdle.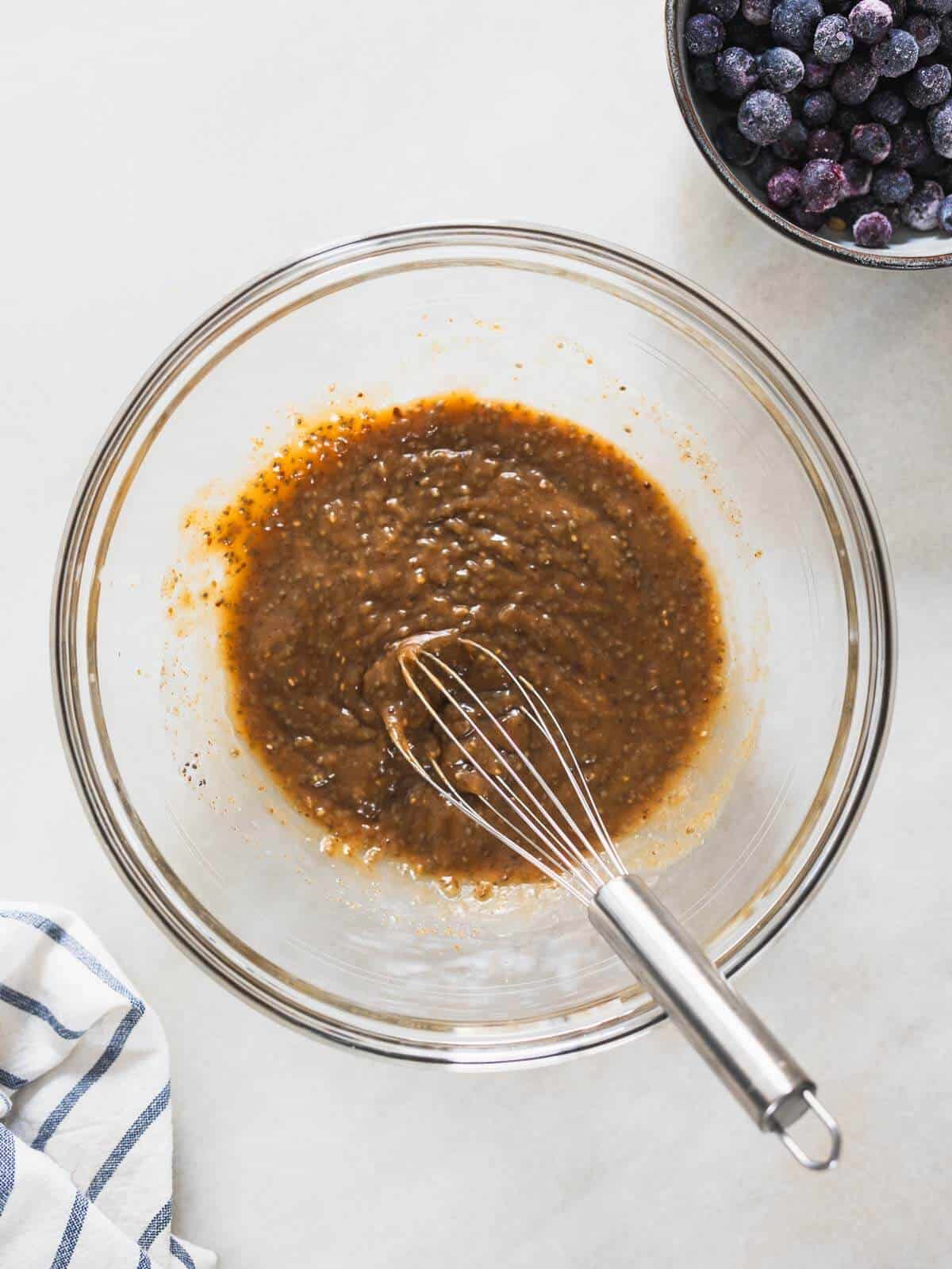 Add the rest of the wet ingredients, plus brown sugar. Combine well.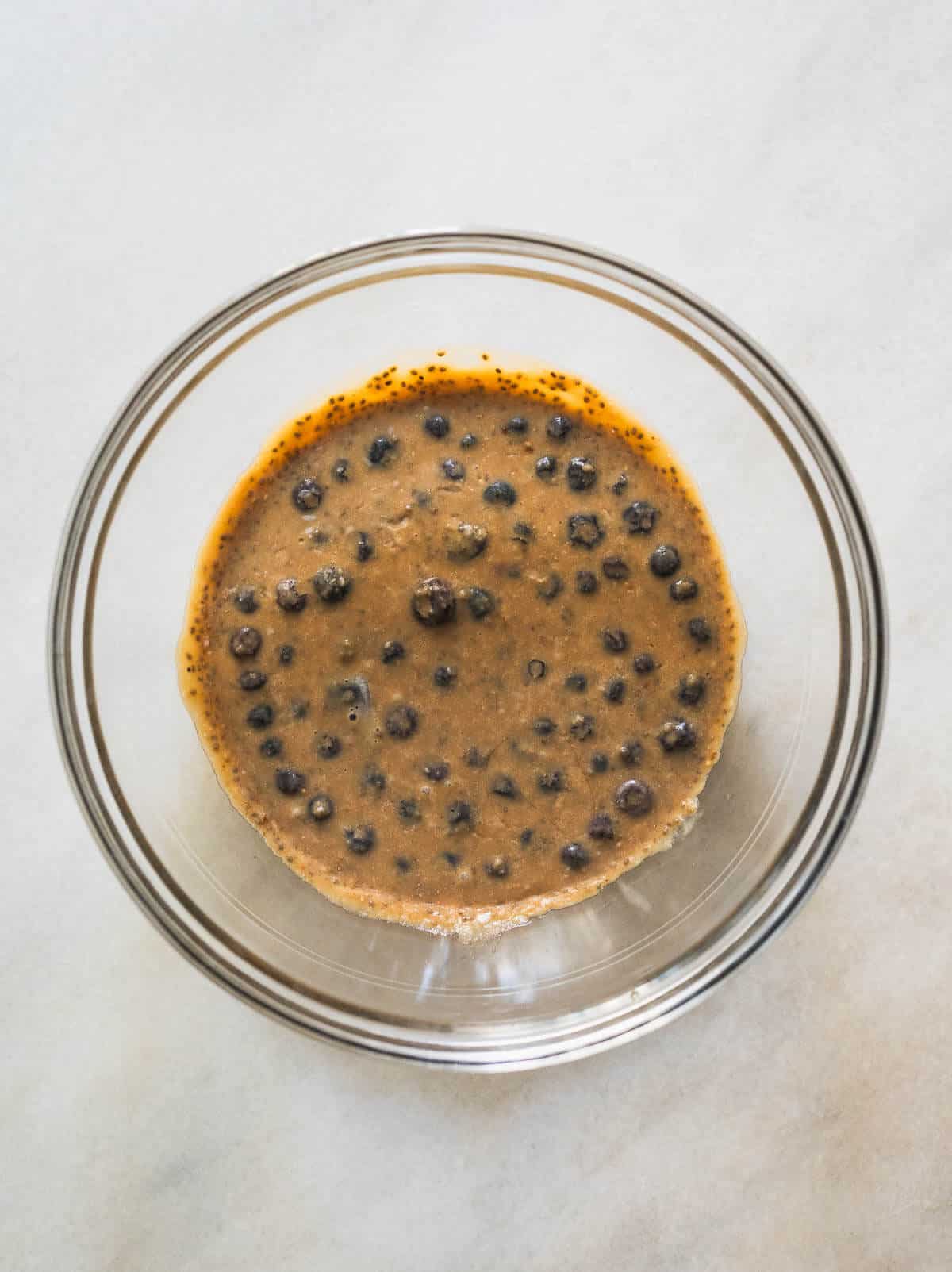 Add the frozen blueberries so they combine well with the wet ingredients.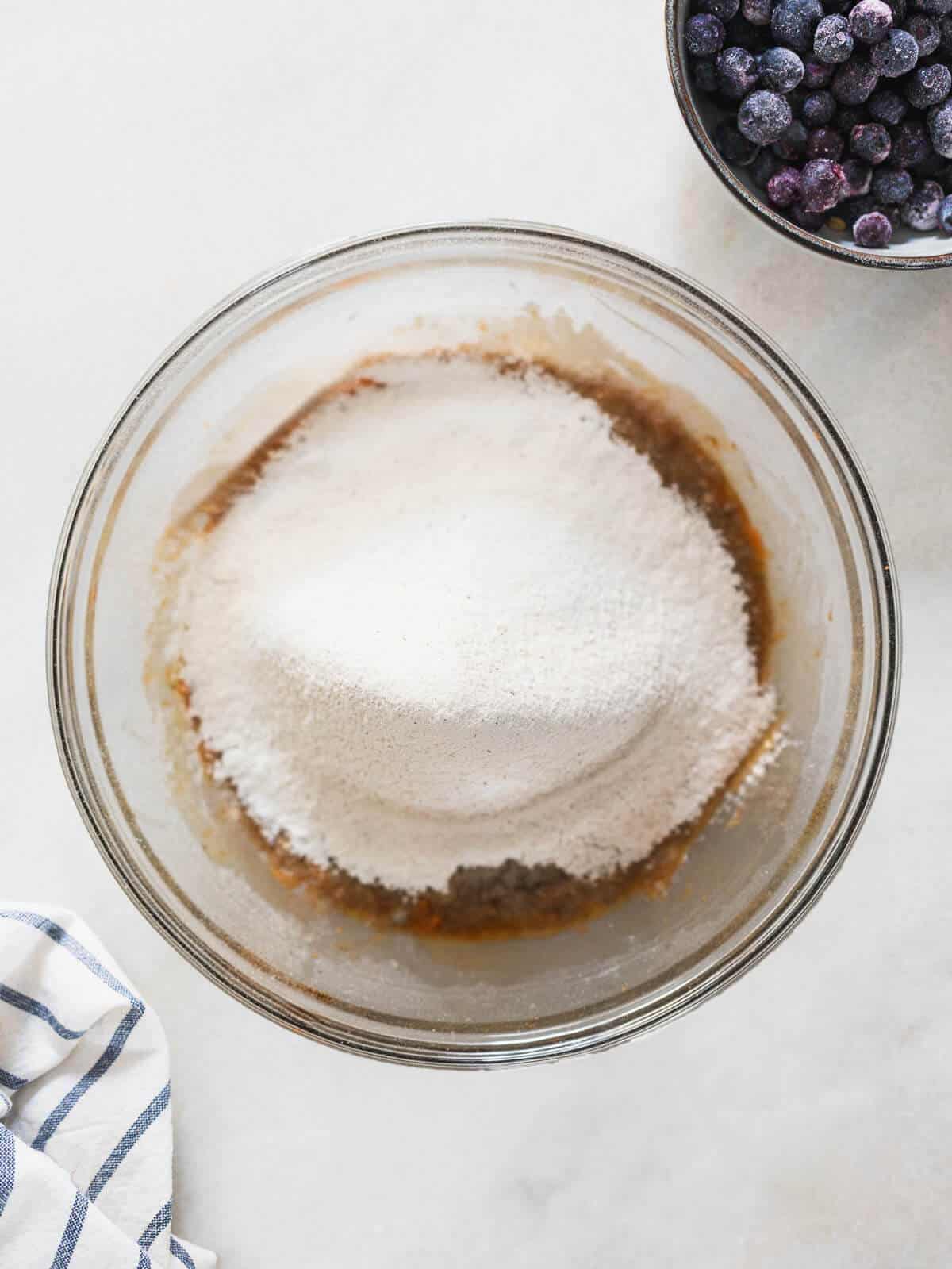 In the same large mixing bowl, sift in your dry ingredients, including baking soda, flour, baking powder, and salt.
Fold all the wet and dry ingredients into one uniform dough. You should end up with a cookie-dough batter consistency, easily shaped into small balls.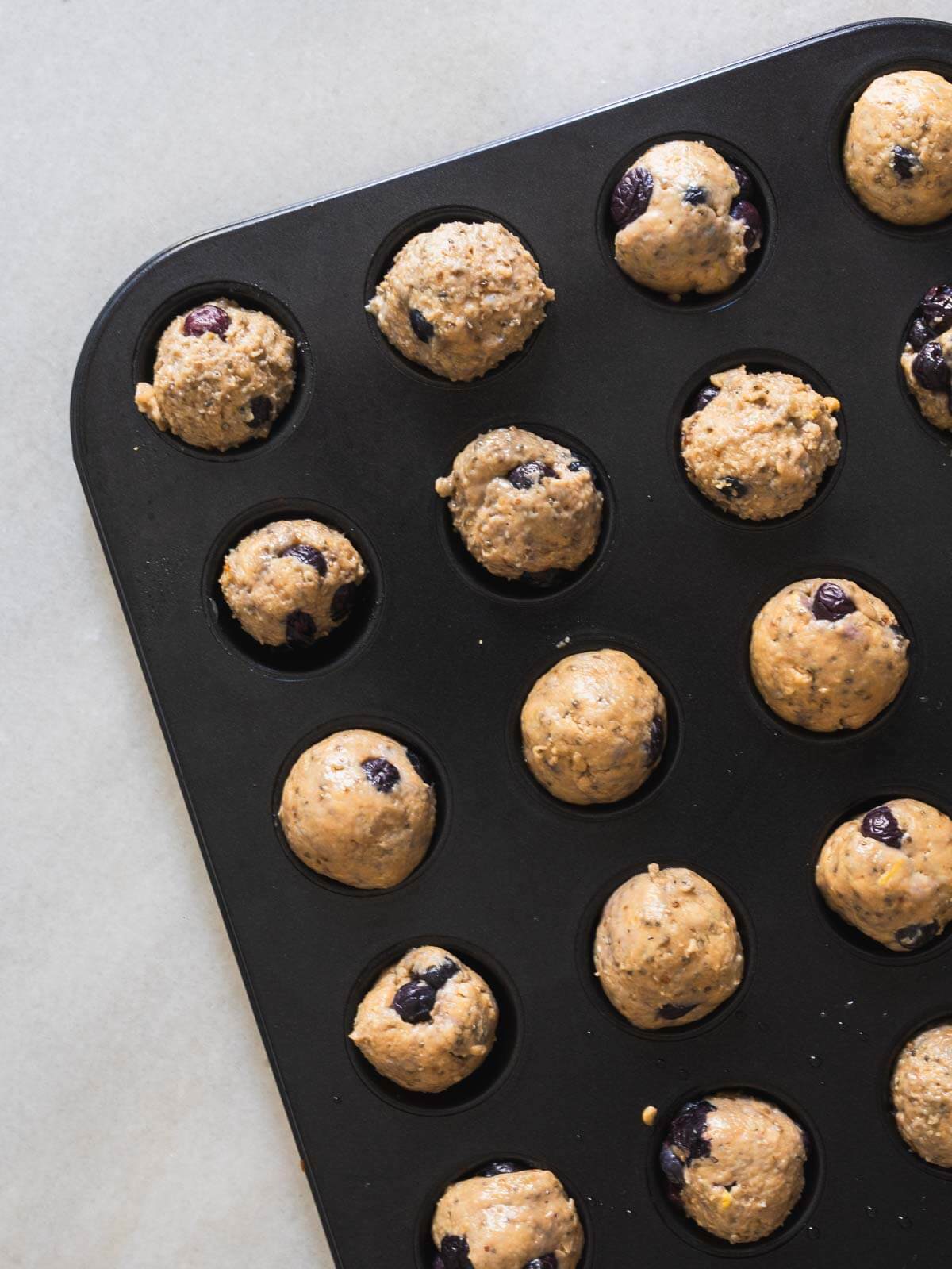 Divide the blueberry muffin batter evenly into the mini muffin pan or mini muffin cups; aim to fill muffin tins about two-thirds full, giving them space to rise. You will need about one heaping teaspoon for each muffin. You can also make small balls with your hands.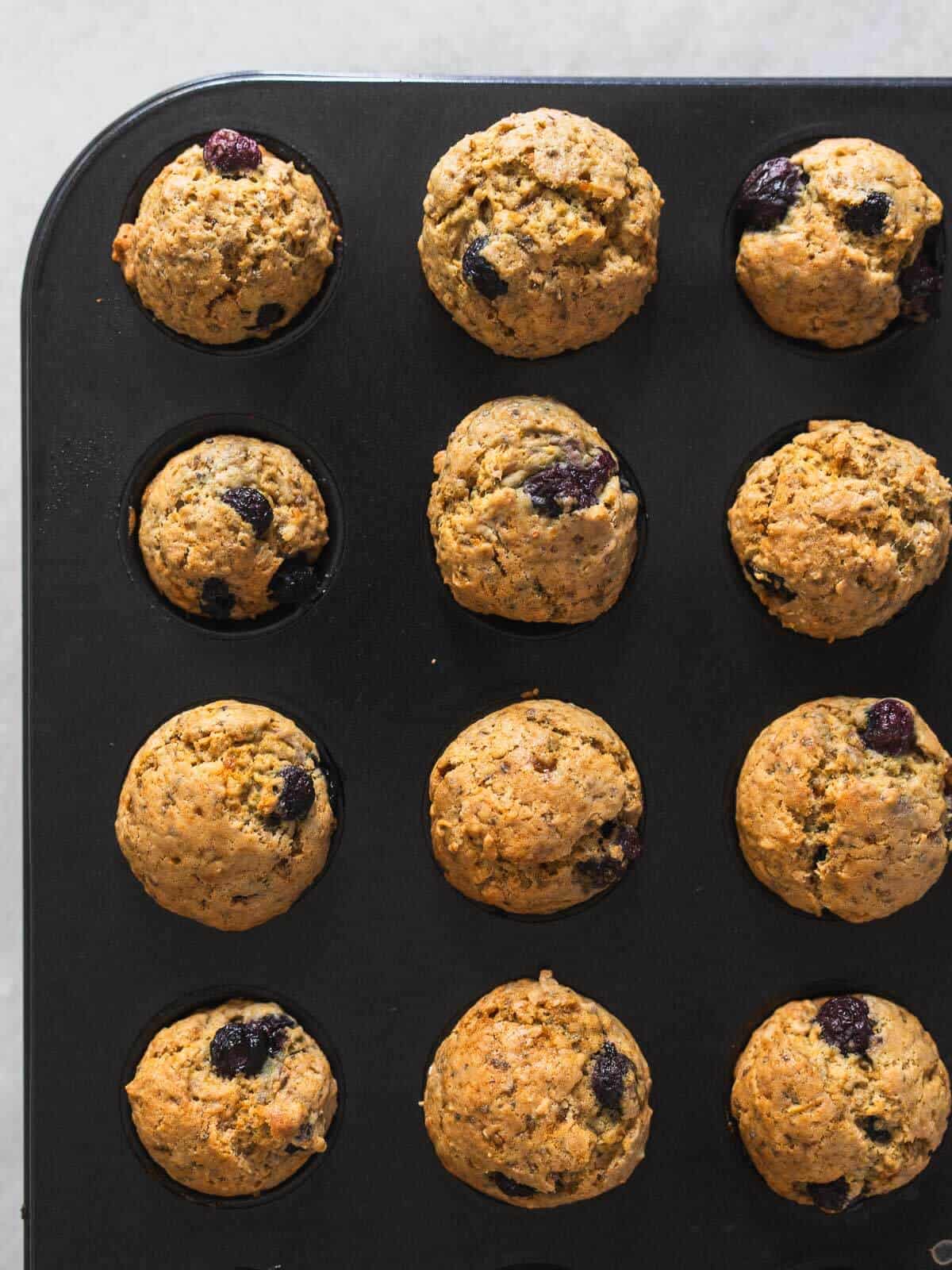 You're looking for a beautiful golden brown color and a clean toothpick after poking it in the middle. All in all, they'll need about 15-17 in the oven.
Hint: Using a knife, gently ease the mini muffins out of the tin and transfer them to a cooling rack. Let them cool completely, at least 10 minutes before munching on them.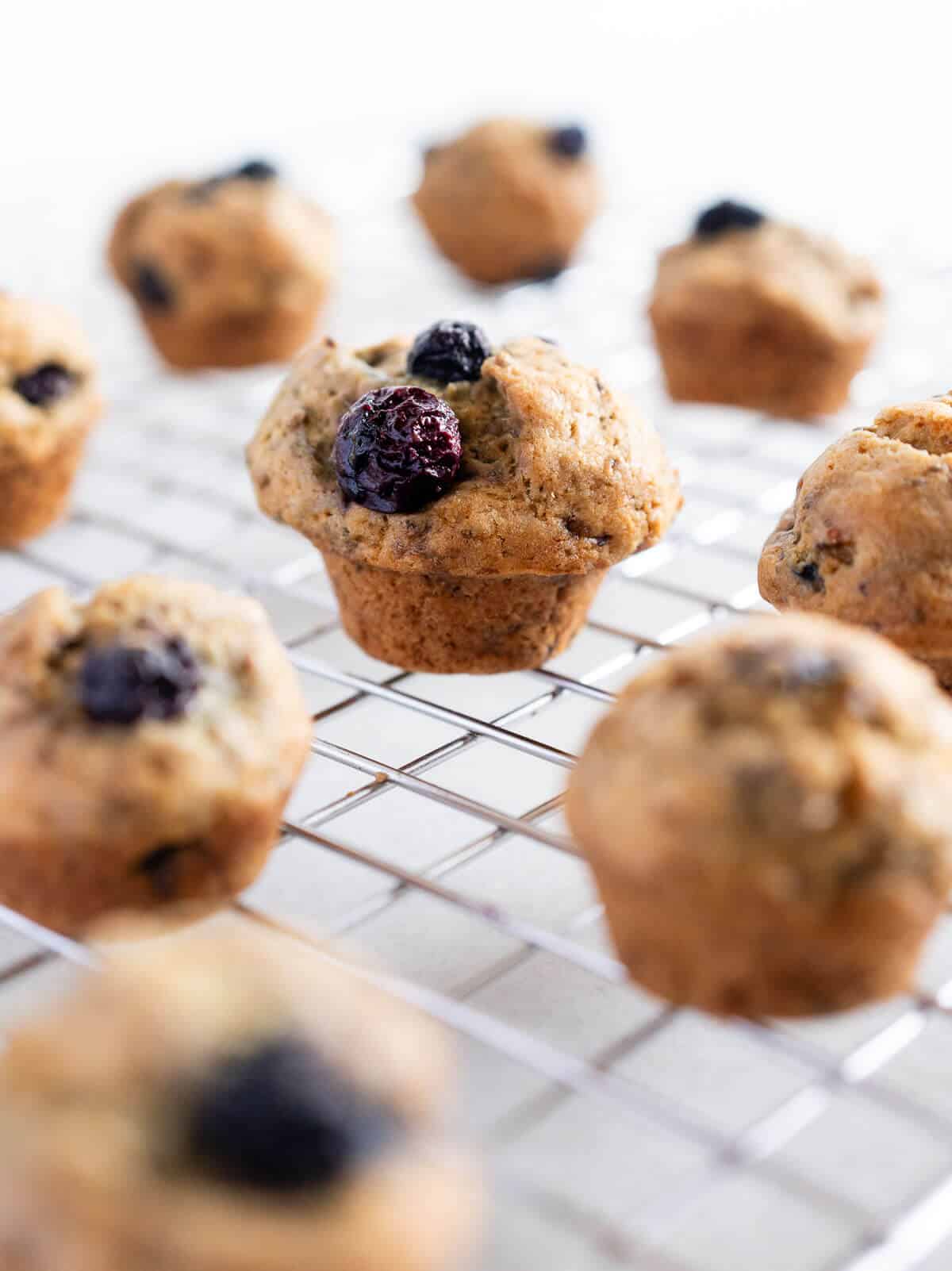 Pro Tip: This versatile batter can also be used to whip up regular-sized blueberry muffins. However, keep in mind that due to the increased size - a full tablespoon of batter instead of a teaspoon - you'll need to extend the baking time slightly to around 20-22 minutes. Adjustments like these ensure that your muffins come out perfectly, regardless of their size.
Read on: vegan protein chocolate chip cookies, vegan zucchini muffins, and almond flour protein balls.
🥢 How to serve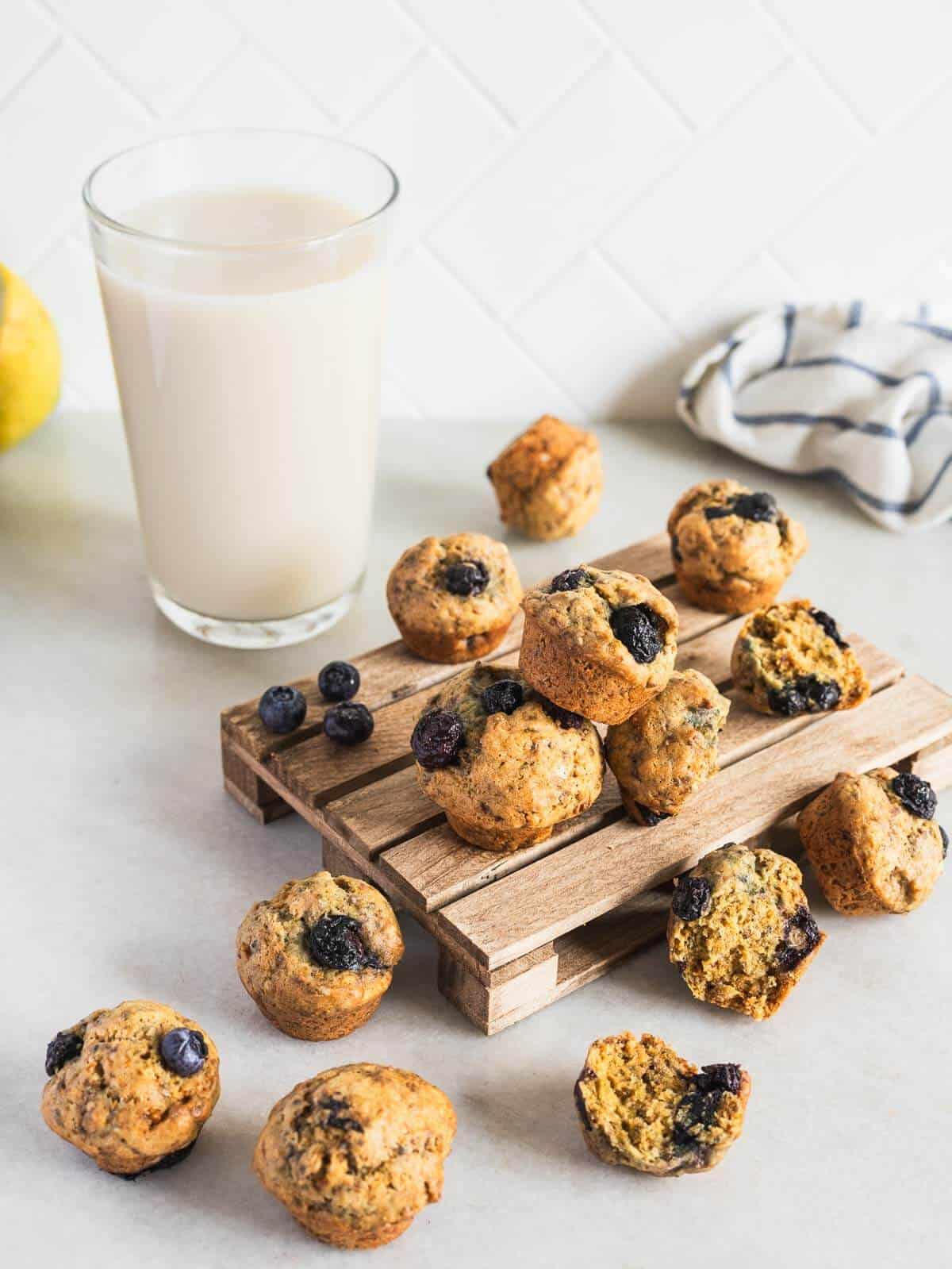 Enjoying this recipe for blueberry mini muffins can go beyond just a simple grab-and-go breakfast or snack. Here are some creative serving options for you to try:
Wholesome Breakfast: Pair a muffin with a glass of your favorite non-dairy milk - oat or almond milk would work beautifully. Add some fresh fruits on the side to create a balanced, hearty breakfast.
Picnic Snacks: These muffins make perfect portable picnic snacks. Pack them with fresh-cut fruit, dark chocolate hummus, oatmeal bars, and iced tea for a refreshing outdoor meal.
Afternoon Tea Pairing: These muffins can also be served as a delightful accompaniment to your afternoon tea or coffee. A great pick-me-up for that mid-afternoon slump!
Lunchbox Addition: Pop a muffin into your (or your kid's) lunchbox along with a veggie wrap or salad.
🍶 Substitutions
Gluten-free blueberry muffins:

Oat Flour: Swapping All-Purpose wheat flour with oat flour will create a slightly denser muffin with a mild, slightly sweet, and nutty flavor.

Almond Flour: this will create a rich, moist muffin with a nutty flavor. However, these muffins may not rise as much as those made with all-purpose flour.
Gluten-Free Flour Mix: Our quality gluten-free flour blend can offer a similar texture to all-purpose flour, but the flavor can vary based on the ingredients of the blend.

Chia Egg: flax eggs work similarly to chia eggs as a binder. The texture of your muffins will remain largely the same, but they might have a slightly nuttier flavor.
Coconut Oil:

Canola Oil: Canola oil is a neutral oil, like coconut oil, and can be used without greatly affecting the flavor or texture of your muffins.
Vegan unsalted Butter: melted butter can also be used as a substitute for coconut oil. It could make your muffins a bit richer and may slightly alter the flavor depending on the type of vegan butter used.

Brown sugar: any other type of sugar, such as coconut palm sugar or granulated sugar, works.
📖 Variations
Blueberry Lemon Muffins: For a subtle citrus twist, mix in one tablespoon of lemon zest, or for a more pronounced lemon flavor, add two tablespoons to your batter, creating a zesty blueberry muffin variant.
Seed and Nut Variation: add pumpkin seeds, chopped nuts, chopped walnuts, or pecans for a delightful crunch and added nutrition.
Fruit Puree Variation: Add a touch of apple sauce or mashed banana to the batter. This brings additional sweetness and enhances the moisture content of your muffins.
Chocolate lovers: add a handful of mini chocolate chips to the batter for an extra chocolatey version of this mini blueberry muffin recipe, as we do with our zucchini and banana chocolate chip muffins.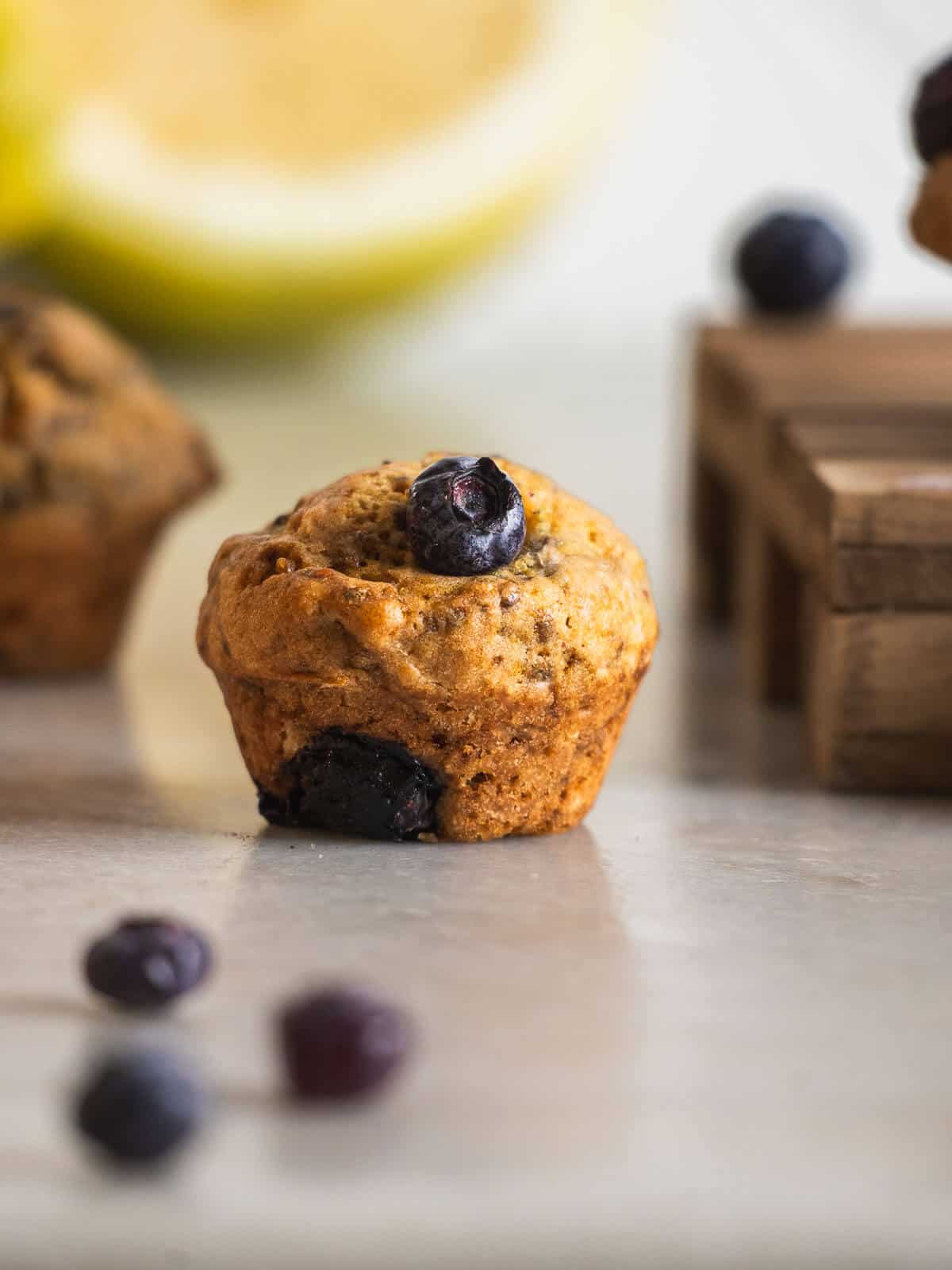 🍽 Equipment
🥡 How to store muffins?
Properly storing muffins can help retain their freshness and taste for longer. Here's how you do it and the answer to the common query, how long do muffins last?
Room Temperature: After completely cooling them, store leftover muffins at room temperature for 2-3 days. Place them in an airtight container at room temperature or a ziplock bag. Try to separate layers with parchment paper to prevent them from becoming soggy.
Refrigerator: If you'd like to extend their freshness, muffins can be refrigerated. Ensure they're fully cooled, then store them in an airtight container. They should last for up to a week in the refrigerator.
Freezer: For longer storage, cooled muffins can be frozen for up to 3 months. After they've cooled completely, wrap each muffin in plastic wrap and place them in a freezer-safe bag or container. To enjoy, thaw at room temperature or warm in the oven or microwave.
Always remember, no matter how you're storing them, make sure your muffins are completely cooled before you pack them away. Storing warm muffins can lead to condensation, making them soggy.
❓ FAQ
How long to bake mini blueberry muffins?
When baking mini muffins at 350 ºF (175ºC), position them on the middle rack and let them bake for approximately 15-17 minutes. Remember, all ovens are different, so it's smart to keep an eye on them a little ahead of time. Your muffins are ready to come out when they've achieved a beautiful golden brown color and a toothpick inserted into the middle emerges clean.
Can I use fresh blueberries for this recipe?
Absolutely! You can definitely use fresh blueberries in this recipe. Fresh blueberries will give a delightful burst of flavor and add a beautiful color to your muffins. Just keep in mind that fresh berries might not hold up as well as frozen ones during the baking process, leading to a more "burst" look in your finished muffins - but they'll still taste delicious. Whether you use fresh or frozen blueberries, these muffins are sure to be a hit!
📚 More healthy sweet recipes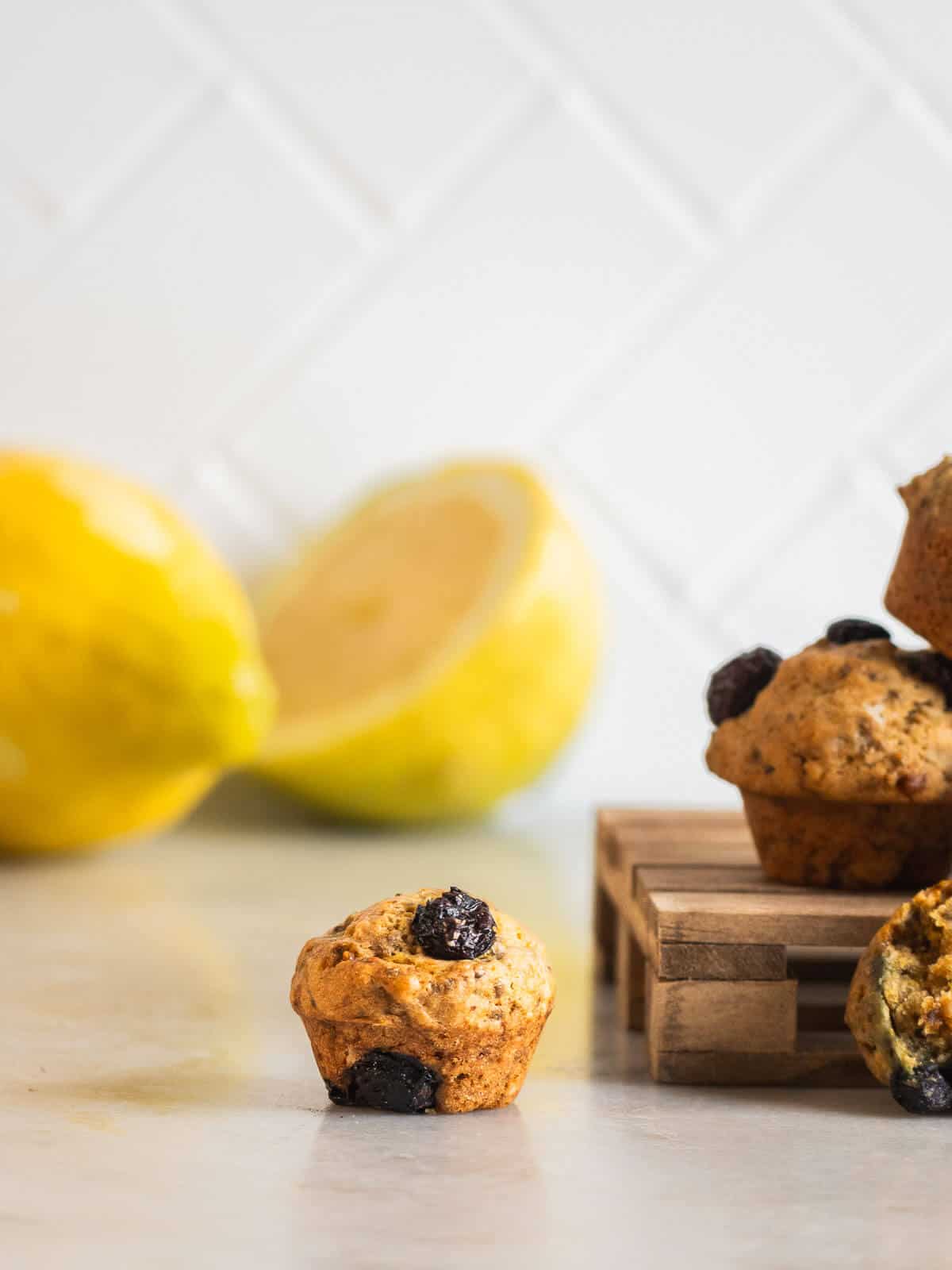 ⭐ If you try this blueberry muffins recipe, let us know! 💬 Leave a comment, rate it, and don't forget to tag us @ourplantbasedworld on Instagram. Cheers!
📋 Recipe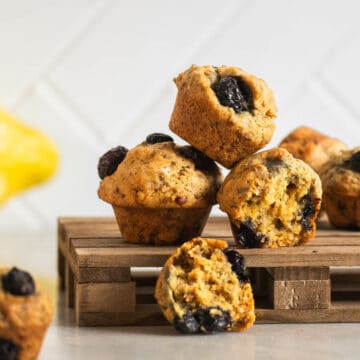 Easy & Quick Mini Blueberry Muffins (Back to School, Dairy-Free)
Discover our simple and quick Mini Blueberry Muffins recipe, perfect for back-to-school snacks or breakfast on-the-go. Enjoy this dairy-free option that everyone can indulge in. Healthy, delicious, and ready in minutes, it's baking made easy!
Equipment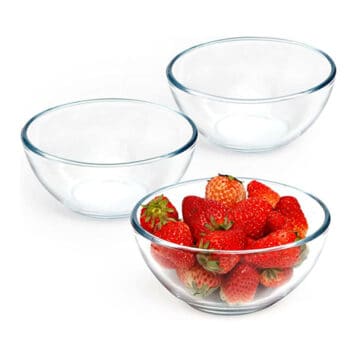 (affiliate link)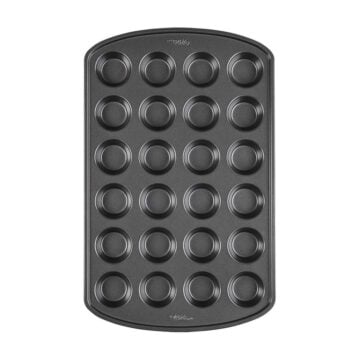 (affiliate link)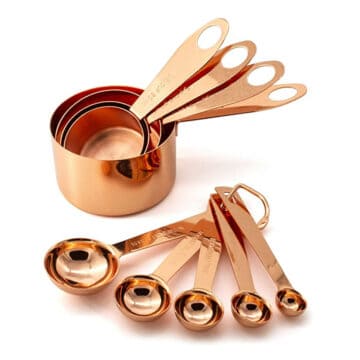 (affiliate link)
Ingredients
Optional
1

tablespoon

lemon zest

or vanilla extract, orange flower water
Directions
Let's begin by preheating your oven to 375 °F (180 ºC).

First off, create a mixture of chia eggs and dairy-free buttermilk. In a large bowl, combine chia seeds, lemon juice or vinegar, and soy milk, then give it a good stir and let it sit for a bit to curdle. This mix will serve as our egg replacement, the perfect binder for our muffins.

Next, let's sweeten things up. In the same bowl, your brown sugar and the rest of your wet ingredients, and if you like, a hint of lemon zest or vanilla extract. Mix everything well for a unified blend. Then add the frozen blueberries and fold.

Now, it's time to add the dry ingredients. Over your bowl, place a fine-mesh sieve, and in it, pour your flour, baking powder, baking soda, and a pinch of salt.

Give it all a nice stir to combine everything- without over-folding.

Moving on, portion out your muffin batter into the tins, filling each about ⅔ full. Fold all the wet and dry ingredients into one uniform dough. You should end up with a cookie-dough batter consistency, easily shaped into small balls.

Slide in your muffins on the middle rack. Let them bake for 15-17 minutes or until they've turned a beautiful golden brown and a toothpick inserted into the center comes out clean.

Lastly, gently remove the muffins from the tin, perhaps with the aid of a knife, and let them cool off on a cooling wire rack. Patience is key here - wait for them to cool completely before digging in. Enjoy your homemade mini blueberry muffins!
Notes
Blueberry Mini muffins will last 3 days stored in an airtight container at room temperature- or up to 3 months if stored in the freezer.
Nutrition Facts
Calories:
69
kcal
Carbohydrates:
10
g
Protein:
1
g
Fat:
3
g
Saturated Fat:
3
g
Polyunsaturated Fat:
0.1
g
Monounsaturated Fat:
0.2
g
Sodium:
68
mg
Potassium:
16
mg
Fiber:
1
g
Sugar:
5
g
Vitamin A:
16
IU
Vitamin C:
1
mg
Calcium:
23
mg
Iron:
0.3
mg
Nutrition Facts
Easy & Quick Mini Blueberry Muffins (Back to School, Dairy-Free)
Amount per Serving
% Daily Value*
* Percent Daily Values are based on a 2000 calorie diet.
🌡️ Food safety
Cook to a minimum temperature of 165 °F (74 °C)
Do not use the same utensils on cooked food, that previously touched raw meat
Wash hands after touching raw meat
Don't leave food sitting out at room temperature for extended periods
Never leave cooking food unattended
Use oils with a high smoking point to avoid harmful compounds
Always have good ventilation when using a gas stove
See more guidelines at USDA.gov.
Nutritional Disclaimer
The information shown is an estimate provided by an online nutrition calculator. It should not be considered a substitute for a professional nutritionist's advice. See our full Nutritional Disclosure here.
Affiliate Disclaimer
Please note that some of the links here are affiliate links, and I will earn a commission if you purchase through those links. I recommend all of the products listed because they are companies I have found helpful and trustworthy.