You crave something sweet but healthy, fast and grabbable, something that is so good that you can have a reward after going to the gym, still getting your protein out of it. These vegan protein cookies are made in 13 minutes, with only 3 minutes hands-on, without making a mess in the kitchen. Still with me?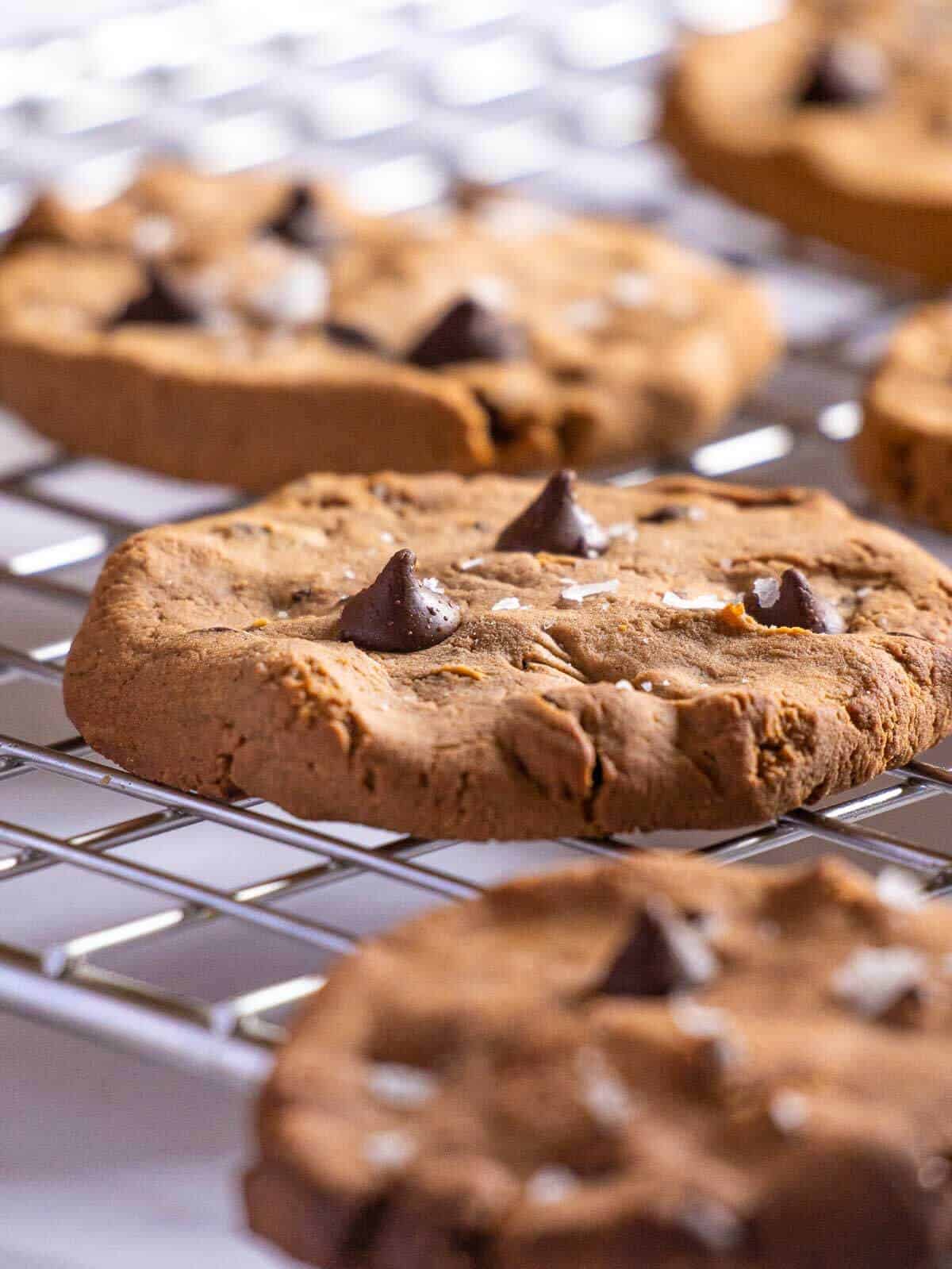 These chocolate protein cookies are an easy snack, holiday treat, or healthy dessert made with vegan chocolate chips, nut butter, protein powder, and your favorite sweetener. Easy peasy! Take them to the gym, the office, or a picnic.
Jump to:
🧾 Ingredients
Here's what you need to make the protein cookies: protein powder, nut butter, sweetener, and a pinch of salt to add depth of flavor.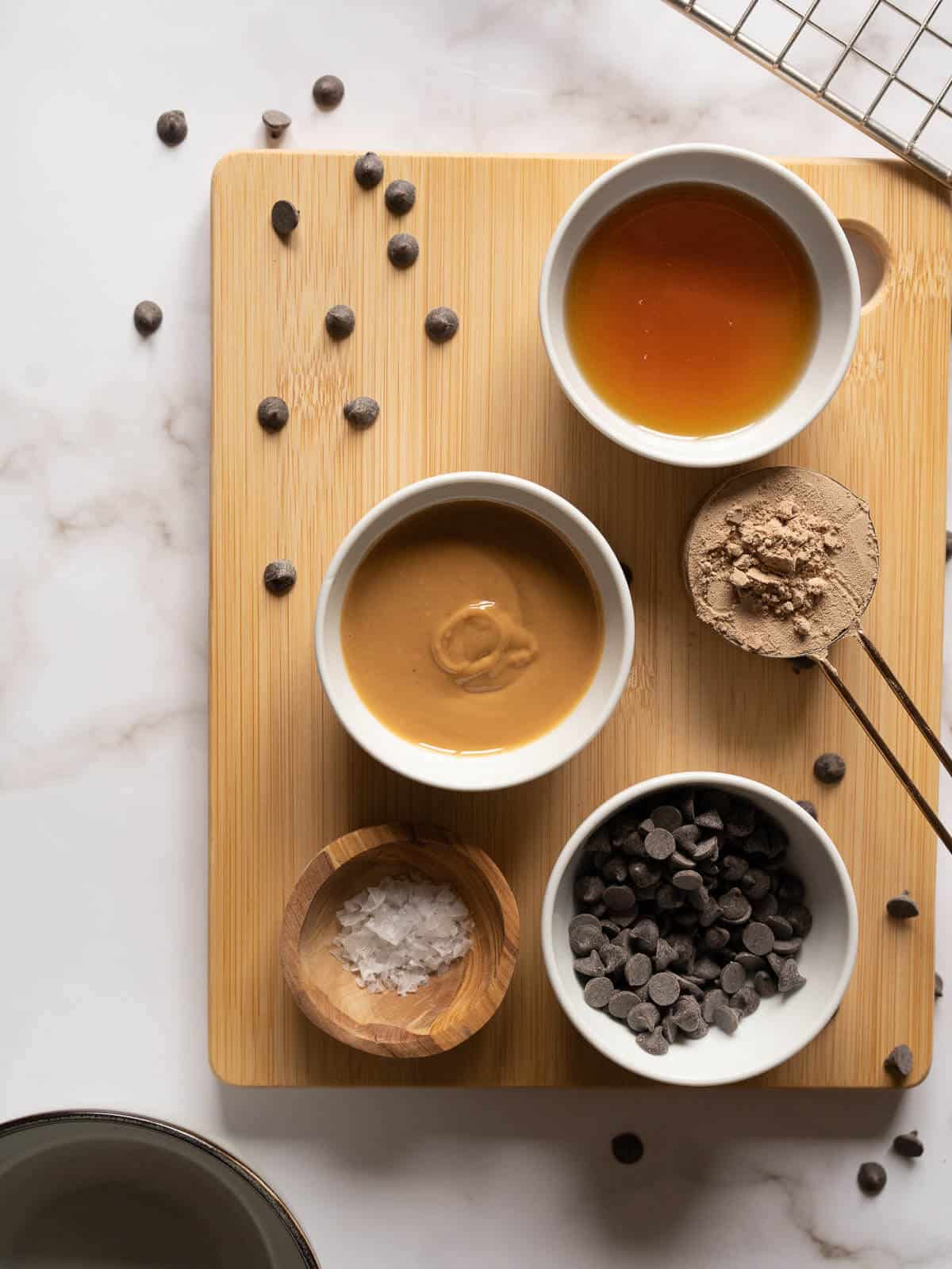 Protein powder - we chose chocolate protein powder to make these cookies double chocolatey. It will work if you use plain or vanilla-flavored protein powder, but you can add a teaspoon of raw cocoa powder to reach the same result.
Natural peanut butter - we love using creamy peanut butter and chocolate; who doesn't? This ingredient helps to bring the cookie dough together. You won't even need vegan butter, as the fat content of nut butter is enough.
Sweetener - we used maple syrup; we love the delicate and characteristic flavor it adds to desserts. Also, they help to add humidity, so the cookie dough is easy to shape.
Chocolate chips are optional, but we think these cookies rock with chocolate chips. Get the small ones and make sure they are marked vegan.
Maldon salt - completely optional. We love the combination of salt and chocolate. In a candy bar, ice cream always goes well. You can add it directly to the dough, crush it, or use fine sea salt. We like adding Maldon flakes on top of the cookies. Both methods work.
See the recipe card for quantities.
We use Complement's Organic and 100% Naturally Sourced Chocolate Protein Powder for these cookies and our smoothies. If you'd like to try it, use the promo code PBWORLD10 at check-out to enjoy a 10% discount.
🔪 Instructions
This gluten-free, vegan cookie recipe involves just a couple of simple steps.
Hint: If the peanut butter is not easily stir-able (ubiquitous if you are using natural nut butter, almond, or cashew butter), gently warm it on the microwave or Bain Marie to soften.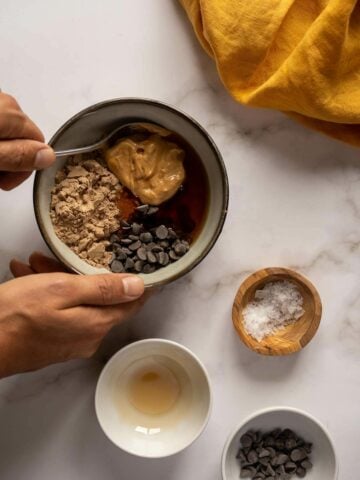 Step 1: Combine the peanut butter with the remaining ingredients and stir to form a cookie dough texture.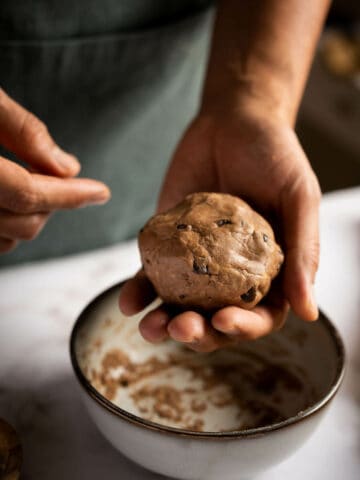 Step 2: Form a ball with the cookie dough.
Hint: Preheat the oven before getting started to have it ready as soon as you finish up shaping the balls.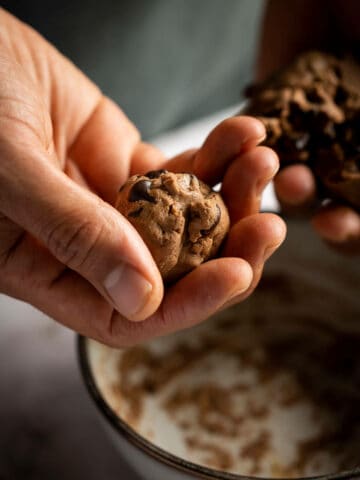 Step 3: Divide the cookie dough into four to six pieces and make cookie dough balls. You can use your hand or a cookie scoop.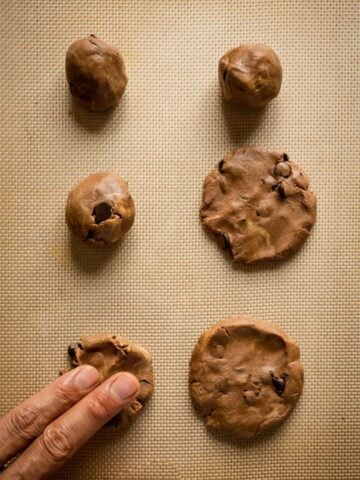 Step 4: Put the cookie dough balls separated on a lined baking sheet with parchment paper. Then gently press into cookie shapes with your fingers or the bottom of a spoon.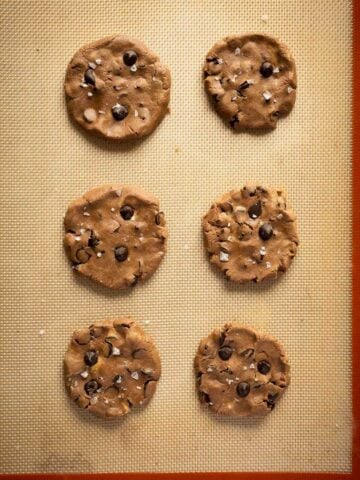 Step 5: Separate the cookies so they can cook evenly.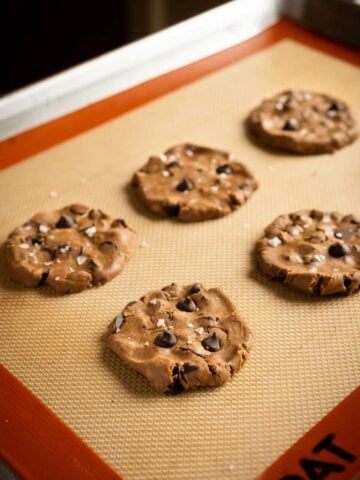 Step 6: Add extra chocolate chips if you like, and bake the cookies in a preheated oven for 8-10 minutes.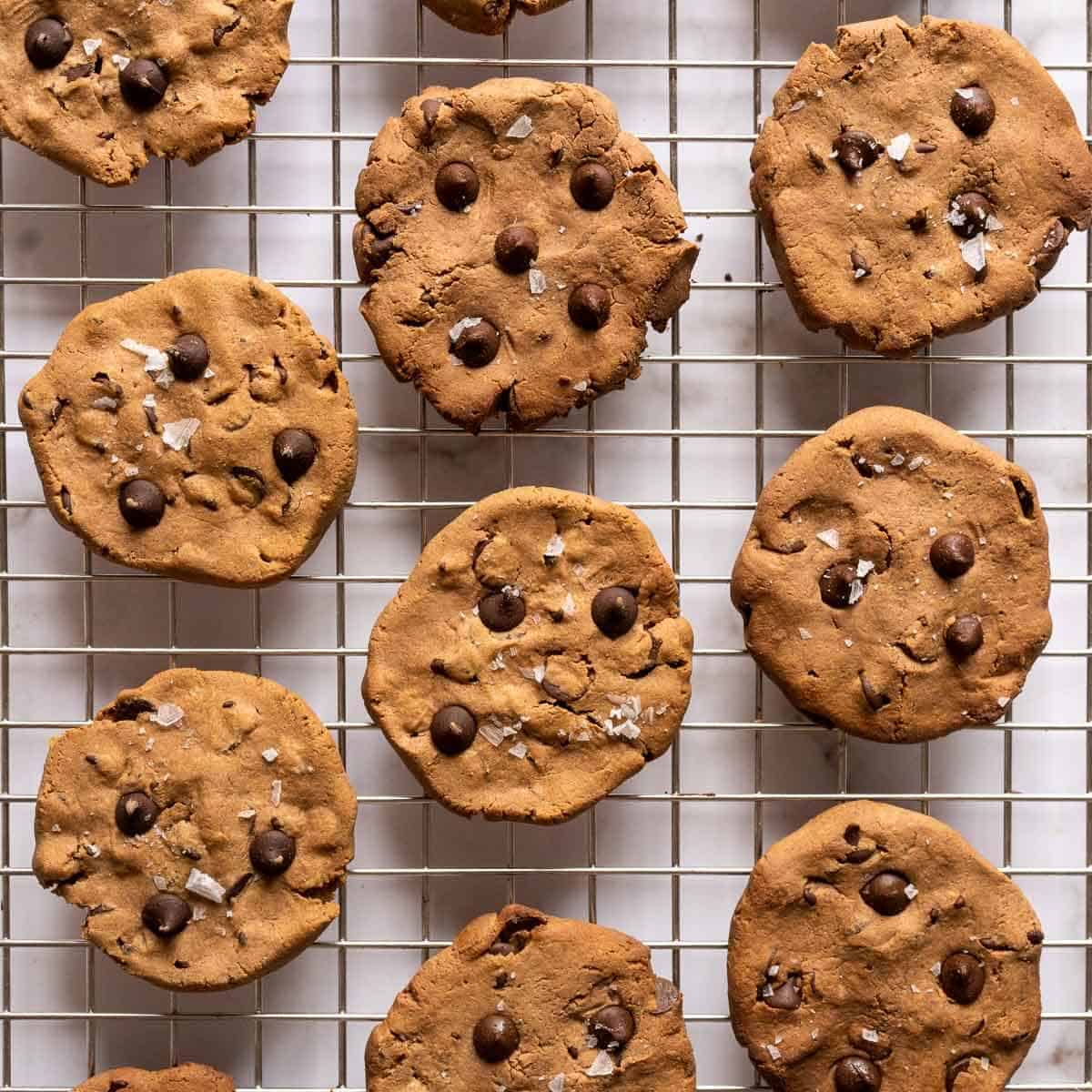 Step 7: Transfer the cookies to a cooling rack so they don't continue cooking. Let them cool completely.
Hint: you can have no-bake cookies as-is or bake them; I prefer to bake them briefly to harden them up.
🍪 Substitutions
To make peanut butter chocolate chip cookies vegan, you only need to make sure you get both protein powder and chocolate chips that are vegan since nut butter and sweeteners are naturally vegan.
Unsalted Peanut butter: almond butter, cashew butter, sunflower butter, macadamia nut butter, pumpkin seed butter, or another allergy-friendly nut-free option. I like to make peanut butter protein cookies.
Chocolate chips - are optional, but I think they make a fantastic addition; you can also replace them with vegan chocolate chunks. It's also OK to substitute an equal amount of raisins, sultanas, or dried cranberries.
Maple syrup - we like keeping things as natural as possible, so we avoid white sugar and use either maple syrup, agave nectar, or date paste. For sugar-free protein cookies, you can also use brown sugar, coconut sugar, or erythritol monk fruit.
Protein powder - instead of protein powder, you can use any other flour, even all-purpose flour. Remember that to make vegan, gluten-free peanut butter cookies, you need to use gluten-free flour such as almond flour.
Also, these are dairy-free peanut butter cookies because we don't use whey protein, a derivative of dairy products. Always use a plant-based protein powder to ensure your protein cookies are lactose-free.
Hint: If you use liquid sweeteners, you may need to add more protein powder, so the cookie dough is firm enough.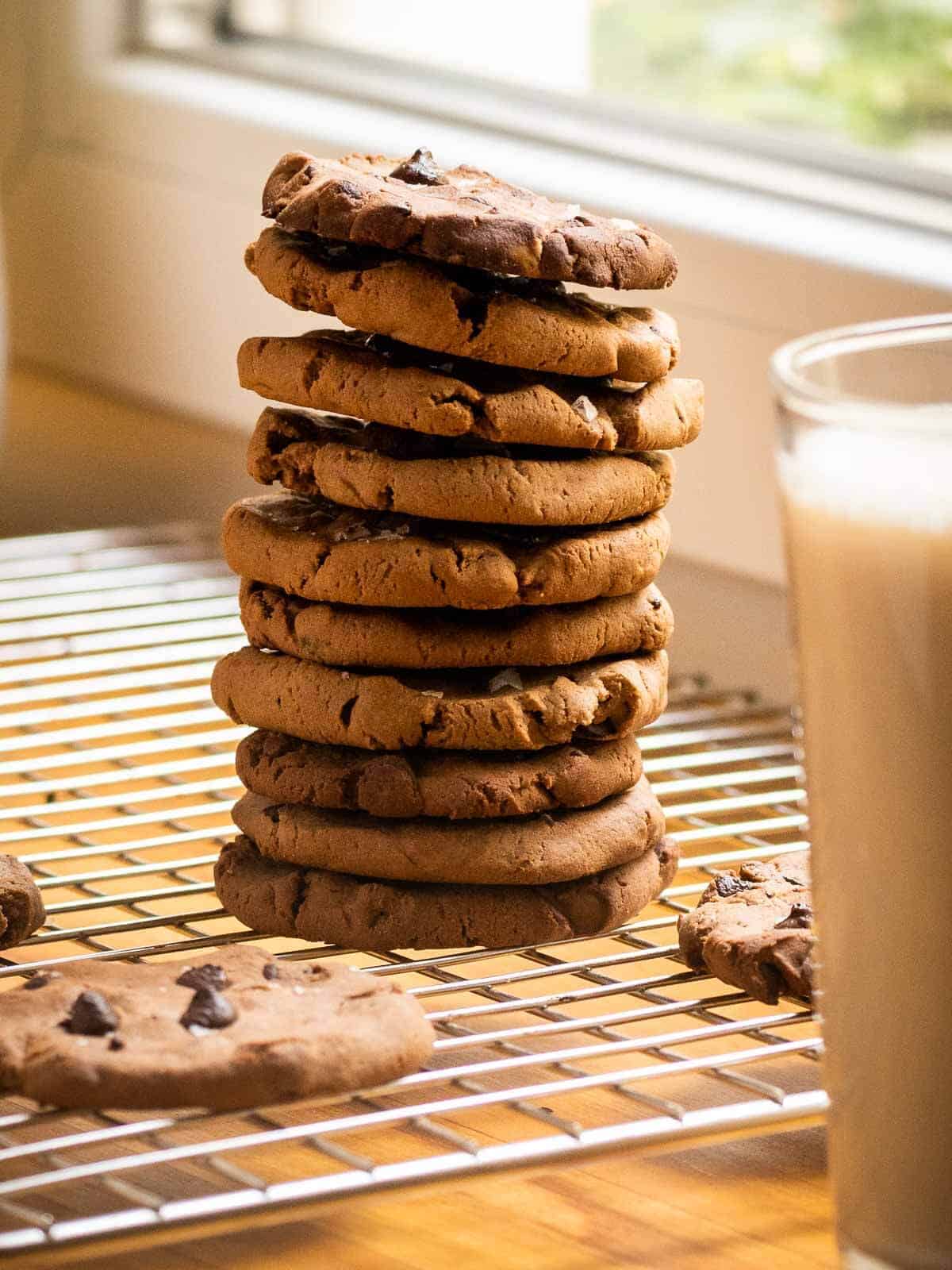 📖 Variations
Peanut butter - We like using creamy peanut butter, but you can use crunchy peanut butter to have a bite.
Vanilla extract - add ¼ teaspoon if you love vanilla.
Extra antioxidants - you can add a flax egg
Chopped peanuts - add some if you like some crunchy texture on your vegan peanut butter chocolate chip cookies.
🍽 Equipment
Bowl - to mix your ingredients.
Baking dish - any oven-resistant tray will work.
Parchment paper - to place the cookies before baking them. We prefer using a baking silicone mat

(affiliate link)

, to limit waste.
🥡 Storage
Store these peanut butter chocolate chip cookies in a BPA-free airtight container or cookie jar (affiliate link) at room temperature for up to 3 days. You might notice that they will harden a little but are still delicious.
You can freeze your peanut butter chocolate cookies in an airtight container, but it doesn't stand up well to freezing for more than 3 months.
💡 Top tips
Because there are a substantial amount of vegan protein powders, and they do not all act the same way in recipes, some kinds of protein powder may require more peanut butter if your dough is too dry or more protein powder if it's too wet. Adjust a little at a time to achieve a cookie dough texture.
Always use dark chocolate to make your recipes healthier.
🥛 How to serve
Have these chocolate chip protein cookies with a glass of your favorite dairy-free milk, such as homemade almond milk, soy milk, cashew milk, or oat milk.
This hot chocolate almond milk will do the job if you are all about chocolate.
We also enjoy having these cookies with vegan golden milk as a cozy fall season mid-afternoon snack.
❓ FAQ
Are protein cookies healthy?
This comes back to the ingredients. Most store-bought protein bars have unspeakable ingredients; that's one of the reasons to make your own. We carefully choose organic sources like nut butter, protein powder, pure maple syrup, and minimally processed vegan chocolate chips to make the most healthy protein cookie.
Also, the smaller they are, the fewer calories and less protein. Adjust the cookie size to your health goals.
What type of protein powder??
You can use your favorite protein powder. We like using either plain or chocolate flavored 100% organic and vegan protein sources, made with chickpeas, peas, almonds, and seeds.
We like complement's plain and chocolate flavors.
Use the promo code in the Recipe Card notes for a 10% discount on your chocolate protein powder (affiliate link).
📚 More healthy snacks recipes
Try our healthy truffle balls, no-bake pumpkin protein balls, chocolate protein balls made with the almond pulp, no-bake fig bars, homemade vegan granola bars, 3-ingredient oat milk chia pudding, and hazelnut-flavored bars.
Savor a tasty, 69-calorie mini blueberry muffin that you can prepare in under 25 minutes!
Try our pre-workout smoothie, which is also an excellent snack before exercising!
🍫 More chocolate recipes
Try out our vegan chocolate milk made with almond milk, dark chocolate chia pudding, 3-ingredient low-calorie protein balls, and vegan lava cake.
⭐ If you try these vegan chocolate chip peanut butter cookies, let us know! 💬 Leave a comment, rate it, and don't forget to tag us @ourplantbasedworld on Instagram. Cheers!
📋 Recipe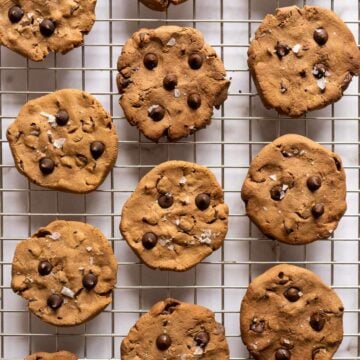 Easy 4 ingredient Vegan Protein Cookies (Gluten-Free)
You just need four ingredients and a few minutes to whip up these delicious protein cookies! They're vegan, gluten-free, and delicious!
Equipment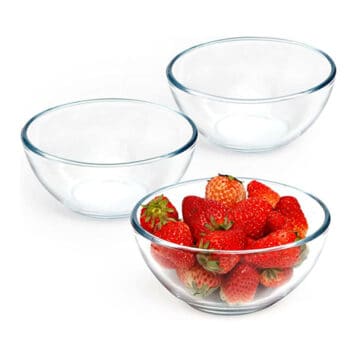 (affiliate link)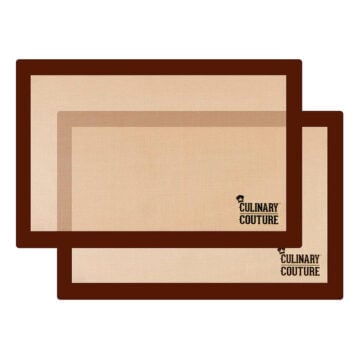 (affiliate link)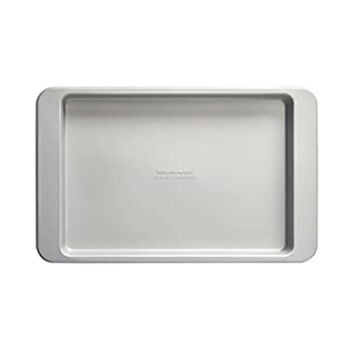 (affiliate link)
Directions
Preheat the oven to 350 F (175 C). Stir all ingredients in a mixing bowl to form a cookie dough texture.

Break into four to six pieces (depending on how big you want your cookies), roll into balls, then press into cookie shapes with your hands or a cookie scoop.

Bake the cookies on a cookie sheet lined with parchment or a silicone mat for 8 minutes.

Cool down before handling, as the firm up while cooling.
Notes
Nutrition was Calculated for 4 cookies.
If you divide the dough into 6 cookies, the nutrition changes as follows:
150 Kcals, 16 g Carbs,  5 g protein, and 8 g fat.
Chocolate Protein Powder
(affiliate link)
OURPBWORLD10 at check-out to enjoy the benefit. 
Nutrition Facts
Calories:
231
kcal
Carbohydrates:
24
g
Protein:
9
g
Fat:
13
g
Saturated Fat:
4
g
Polyunsaturated Fat:
2
g
Monounsaturated Fat:
4
g
Sodium:
88
mg
Potassium:
142
mg
Fiber:
2
g
Sugar:
18
g
Vitamin C:
3
mg
Calcium:
36
mg
Iron:
2
mg
Nutrition Facts
Easy 4 ingredient Vegan Protein Cookies (Gluten-Free)
Amount per Serving
% Daily Value*
* Percent Daily Values are based on a 2000 calorie diet.
Nutritional Disclaimer
The information shown is an estimate provided by an online nutrition calculator. It should not be considered a substitute for a professional nutritionist's advice. See our full Nutritional Disclosure here.
Affiliate Disclaimer
Please note that some of the links here are affiliate links, and I will earn a commission if you purchase through those links. I recommend all of the products listed because they are companies I have found helpful and trustworthy.