Who doesn't like to have healthy snacks around? There's nothing wrong with snacking as long as you have Homemade Vegan Granola Bars around! These are easy to make and with only a few ingredients!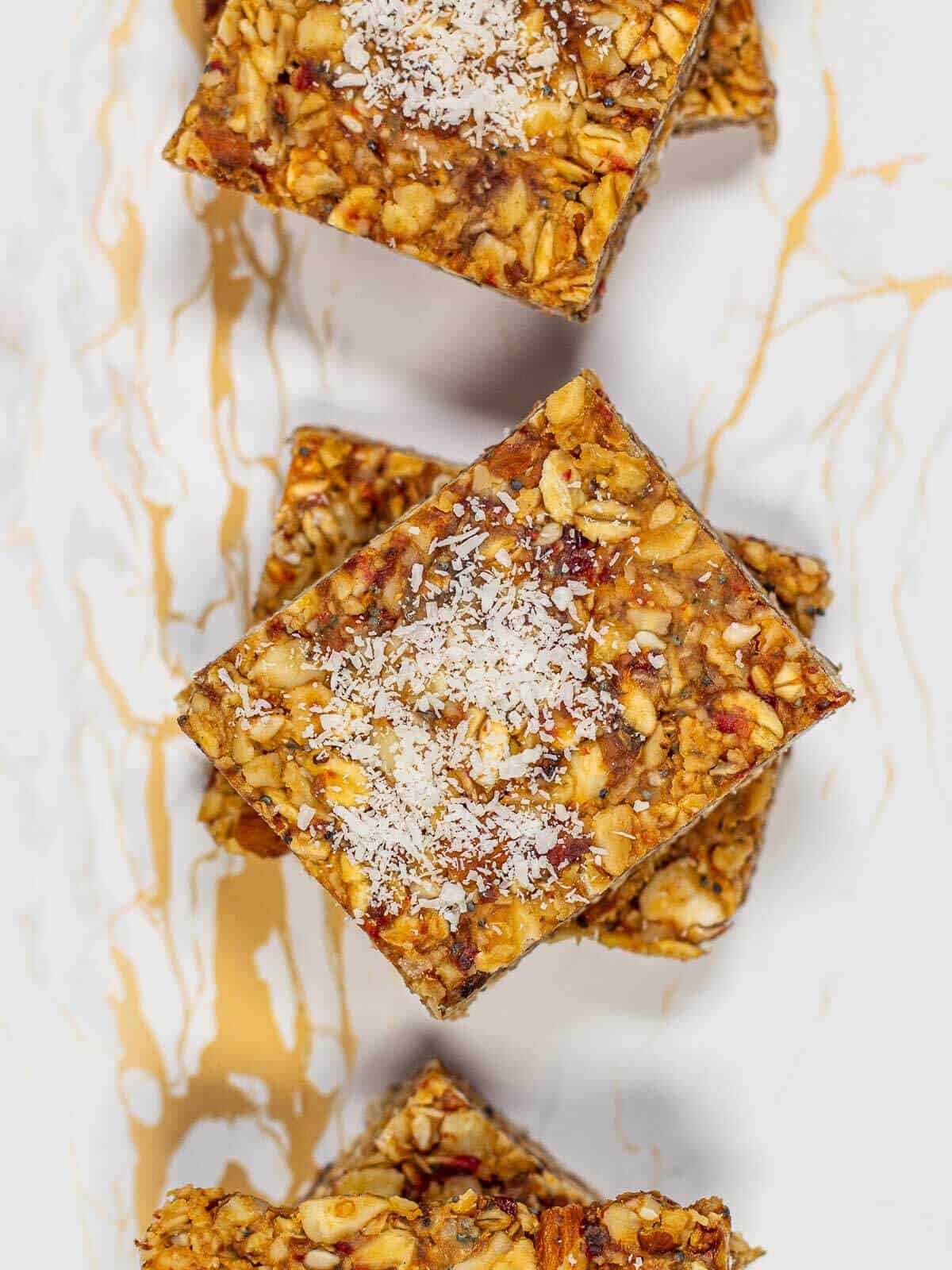 We all should be very conscious of planning our snacks to avoid succumbing to unhealthy cravings.
We have followed a plant-based diet for six years now and learned that it's not hard to find plant-based replacements for meat and dairy products.
But one area where we've found it difficult to be vegan is in our snacks.
Most store-bought granola bars are not vegan; even the vegan ones are usually high in sugar or unhealthy fats.
So we decided to make our granola bars at home, using only whole plant-based ingredients. And they turned out great!
These homemade vegan granola bars are healthy, delicious, and very easy to make. Check out the recipe below!
This vegan granola bar recipe was inspired by the recipe featured in our How to Make Granola Bars post, also on this site.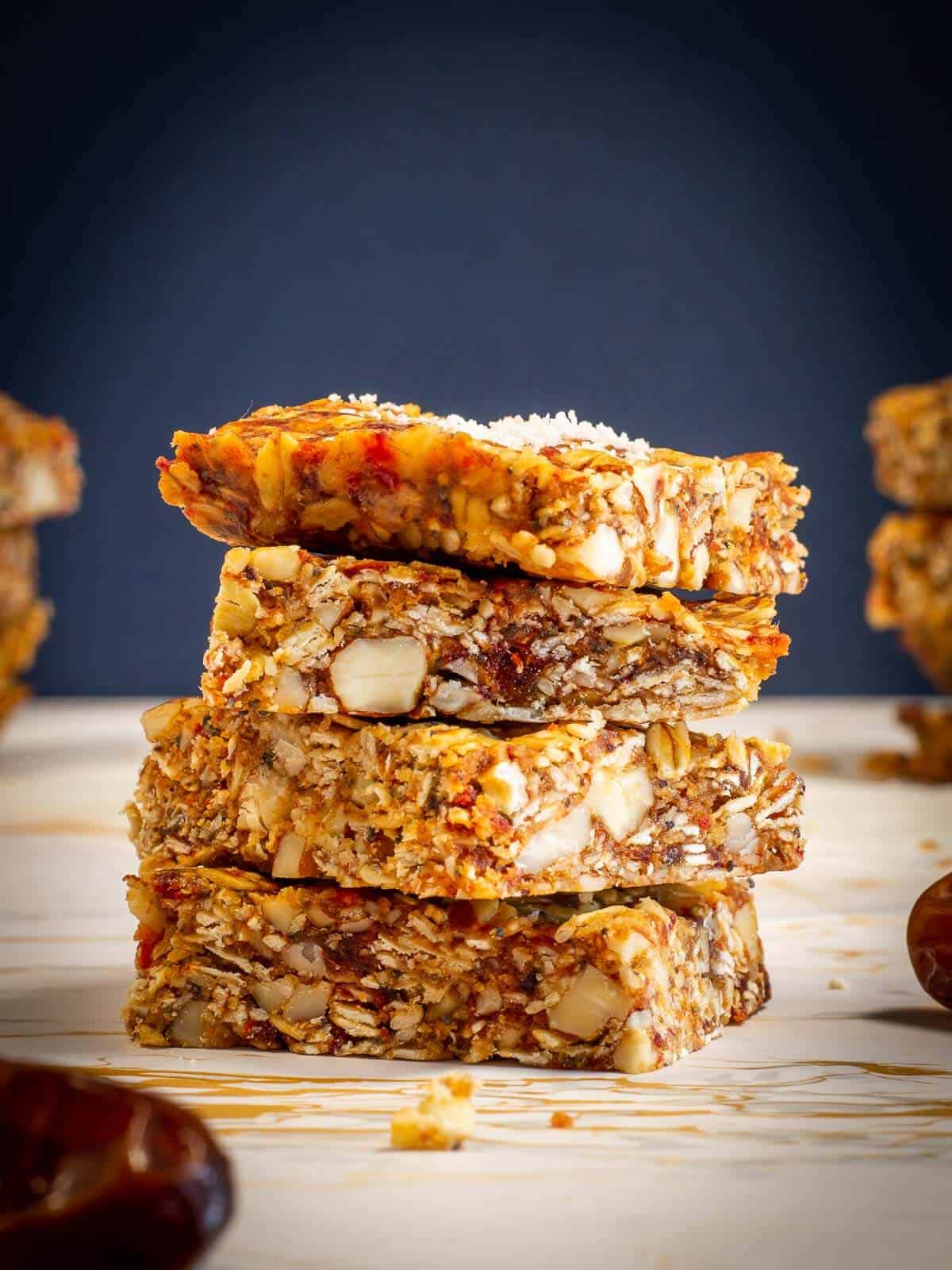 These homemade oatmeal bars make great quick vegan snacks, just like our healthy power balls, vegan protein cookies, and our no-bake homemade fig bars.
This time we made a 9-ingredient baked granola bar recipe, but you can fine-tune the ingredients based on what you readily have in your pantry. We offer many tested and tried substitutions and variations.
Jump to:
🧾 Ingredients
To make your homemade granola bars, we suggest always having some oats (rolled, gluten-free), nuts and seeds, dates or raisins, and healthy sweeteners (date paste, agave or maple syrup).
That way, you can make variations with whatever you have in your pantry and these staple ingredients.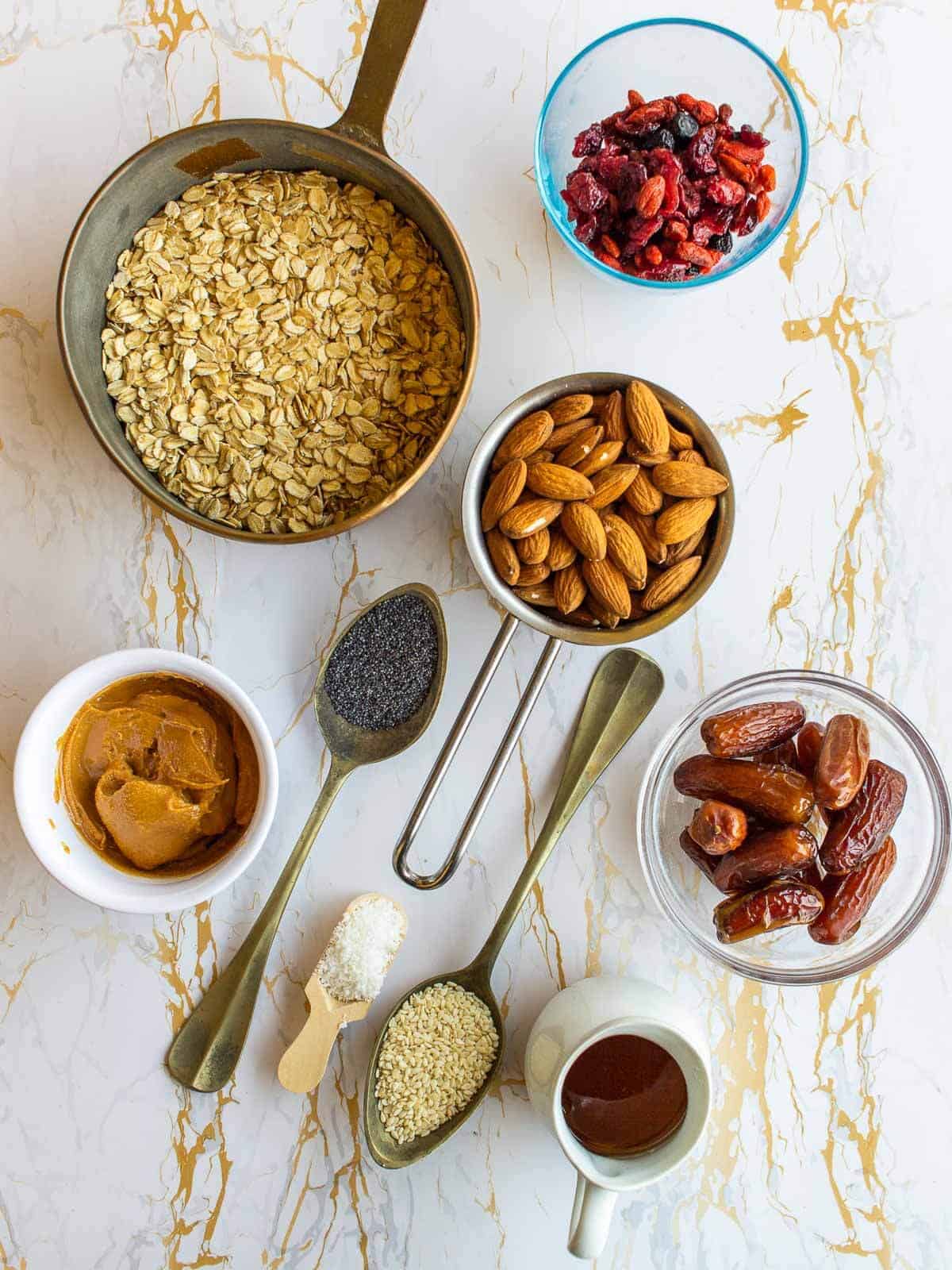 For this recipe, you will need the following:
Dates and dried fruit are great natural sweeteners, and dried red fruit also provides an acidity kick.
Almonds (easily switched for walnuts)
Rolled oats (or spelt)
Salted peanut butter (or almond butter)
Seeds (we used sesame and poppy seeds, feel free to use flax seeds or chia seeds)
Coconut flakes (or shredded coconut).
Maple syrup (or agave or coconut nectar).
See the recipe card for quantities.
🔪 How to Make Vegan Granola Bars
There are many granola bars on the market specifically made for vegans.
Unfortunately, they can be pretty expensive. It's easy to make your own vegan granola bars that taste just as great if not better than over-priced store-bought bars.
As a cherry on top, these are WFPB granola bars! (Whole Foods Plant-Based compliant).
Follow these simple steps to make this homemade oatmeal bars recipe.
Bake
Optional step. Line the baking pan with parchment paper and bake rolled oats and almonds for 15 minutes.
This will add an extra crunch and toasted flavor note, but it is unnecessary. If you are looking for no-bake granola bars, this recipe also works; simply skip this step.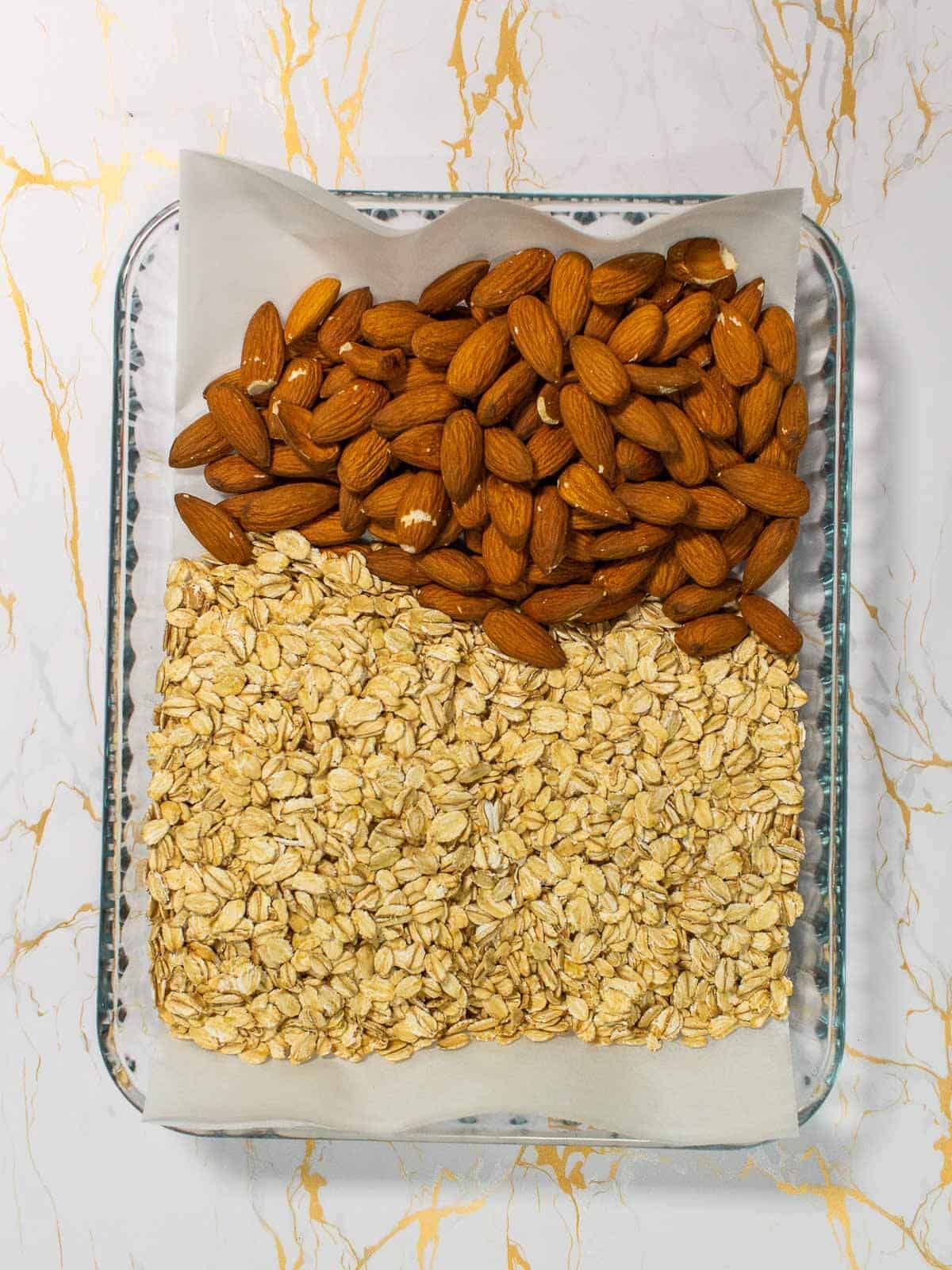 Blend
Pit the dates and blend them with the dried cranberries in a food processor. You will end up with a thick ball.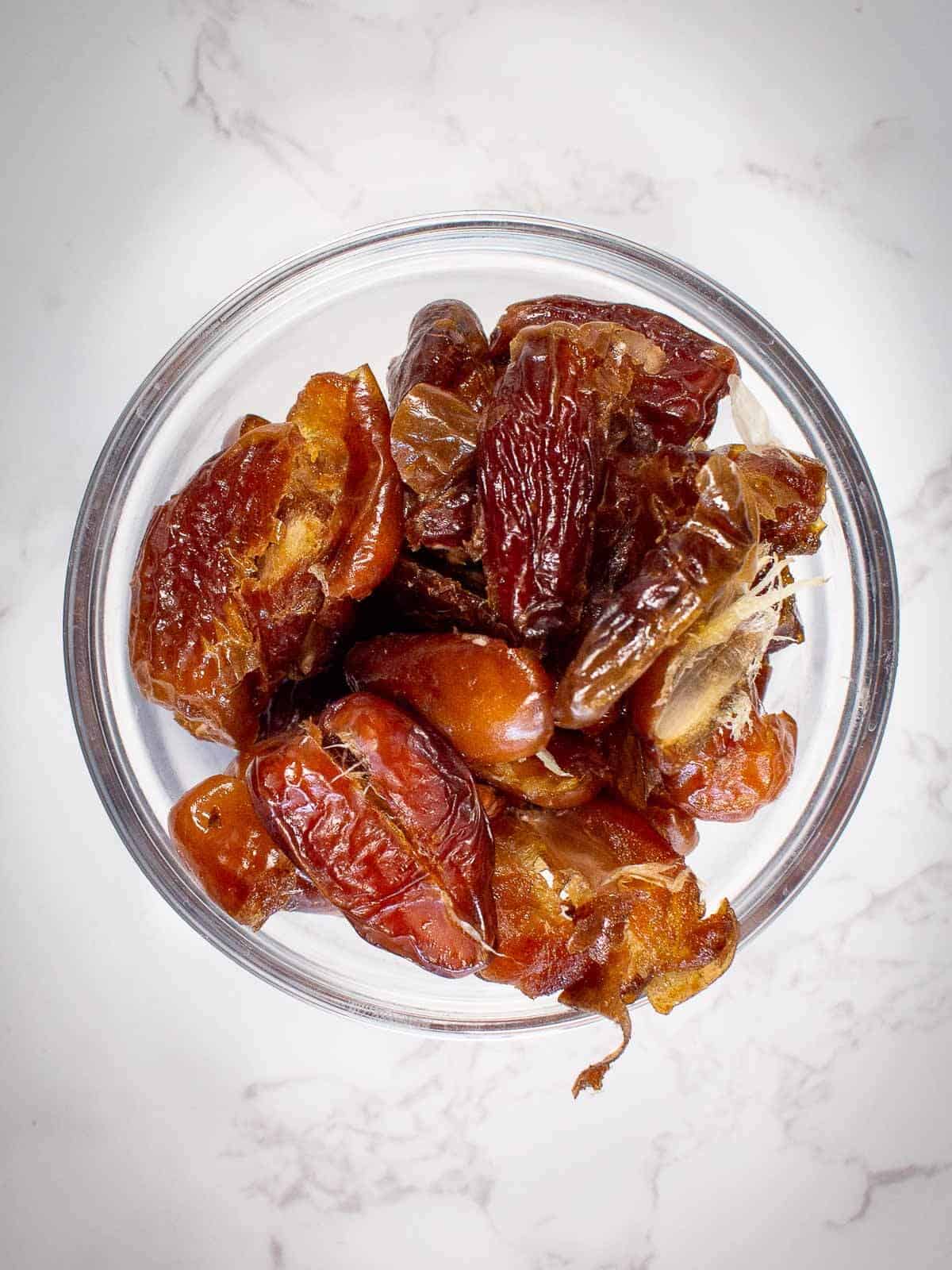 Then mix in and blend the toasted oats and almonds for a couple of seconds. You will end up with a mix of chopped almonds and oats that will become the base of your gluten-free homemade granola bars.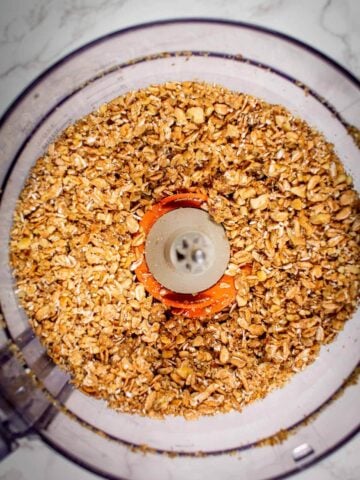 Mix all ingredients
Transfer to a large mixing bowl and add wet ingredients like maple syrup and peanut butter (or almond butter), and then add the poppy seeds, sesame seeds, and coconut flakes. Use a wooden spoon to fold the granola mixture thoroughly.
Chill
Lay the granola bar mixture back in the baking tray over parchment paper. Then place another sheet of parchment paper on top and press with the bottom of a glass.
Note: parchment paper is great here because it easily unmolds the bars.
Chill in the freezer for 20 minutes.
Cut
Time to cut your own granola bars into your desired shape.
Unmold the large granola mixture from the baking dish, pulling the edges of the parchment paper.
Place on a cutting board. I like marking the mixture with the tip of a knife before cutting to ensure I have similar-sized granola bars.
Keep in mind that the nutrition serving in this recipe is calculated on a base of 12 granola bars.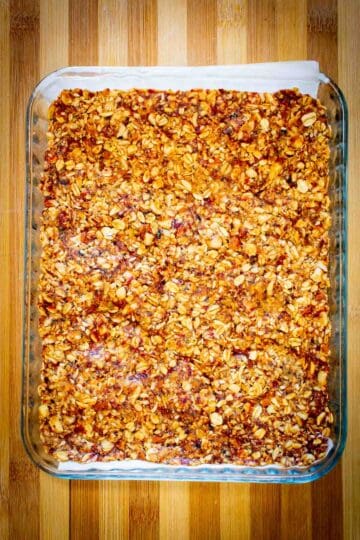 🍶 Substitutions
Gluten-free
Oats are naturally gluten-free but are usually processed in factories where other gluten-containing cereals are handled.
This is why you need to make sure to use certified Gluten-Free oats to keep your healthy cereal bar gluten-free.
There is nothing wrong with gluten unless you have celiac disease, gluten intolerance, or allergy. If that is not the case, don't go crazy about it, there is no reason to overpay for your healthy granola bars.
Nut-free
To make nut-free bars, use pepitas, pumpkin seeds, or sunflower seeds instead of almonds. Replace with the same quantities. In this case, you can either skip the baking step or bake for only 5 minutes to avoid burning them.
Change the peanut butter for unsweetened coconut flakes and/or chocolate chips to make up for the sticky nut butter and make the bars hold.
You can also add rice cereal to add volume.
📖 Variations
Sweetening component
In addition to dates, you can make granola using other natural sweeteners such as raisins, dried apricots, and other mixed dried fruit.
You can also add apple sauce if you prefer to make your granola bars even healthier. Check our unsweetened applesauce recipe.
Maple syrup is already included in this recipe, and you can adjust it to your liking. Our goal is to keep these granola bars refined and sugar-free.
Remember that maple syrup is one of the ingredients that help hold bars together, so try to keep the ratios of the wet ingredients similar.
Chocolate chips
If you want to add chocolate to your granola bars, you can go for vegan mini chocolate chips. Add ½ cup to adjust to your liking.
When adding vegan chocolate chips, remember that they come with extra calories. Try to use vegan, dairy-free dark chocolate chips.
We like keeping our homemade granola bars as healthy as possible, so we try using the least amount of processed products.
Nuts
All kinds of nuts work. You can change the peanut butter for almond or hazelnut butter just swapping and using the exact quantities.
Our preferred options are walnuts and almonds. You can also use macadamia nuts, but be sure to keep them raw instead of baking them or baking them very lightly.
We have found that toasting macadamia nuts results in a funny flavor that we didn't necessarily like.
You could even use the almond pulp leftovers from making almond milk in your energy power balls.
Nut butter
My nut butter of choice when looking for a salty flavor profile is peanut butter; cashew butter also works. When I want to make granola bars that are on the sweeter side, I go for either almond butter or macadamia butter.
We only change the dried fruit (sweetener), nuts (any nut), creamy bonding ingredients (nut butter), and cereal (oats or spelt)—all wholesome and crunchy ingredients.
If you like chewy granola bars, you can add an extra ⅛ cup of nut butter or melted chocolate chips.
Seed butter
You can replace nut butter with a seed butter, such as sunflower seed butter or hemp seeds butter.
Seeds
We always add some type of seeds to bring the antioxidant and nutritional value of our own granola bars up. Our seeds of choice are pumpkin seeds, flax seeds, chia seeds, and poppy seeds.
Always use wholesome ingredients and a measuring cup to ensure you keep calories in line.
Flavor
Vanilla extract - We love playing with different notes when making these granola bars. One easy way to do it is by adding a teaspoon of vanilla extract.
Spices - use ½ teaspoon of ground cinnamon or pumpkin pie spice mix, for a quick and delicious twist.
These Homemade Vegan Granola Bars make the perfect healthy snack because they keep you full and don't provide much sugar.
Instead, they have many fiber and complex carbs, so the energy is released in your body gradually instead of giving you a sugar rush leaving you hungry a little time later.
They also pack healthy fats and lots of fiber, and the quantities are easily adjustable to your needs.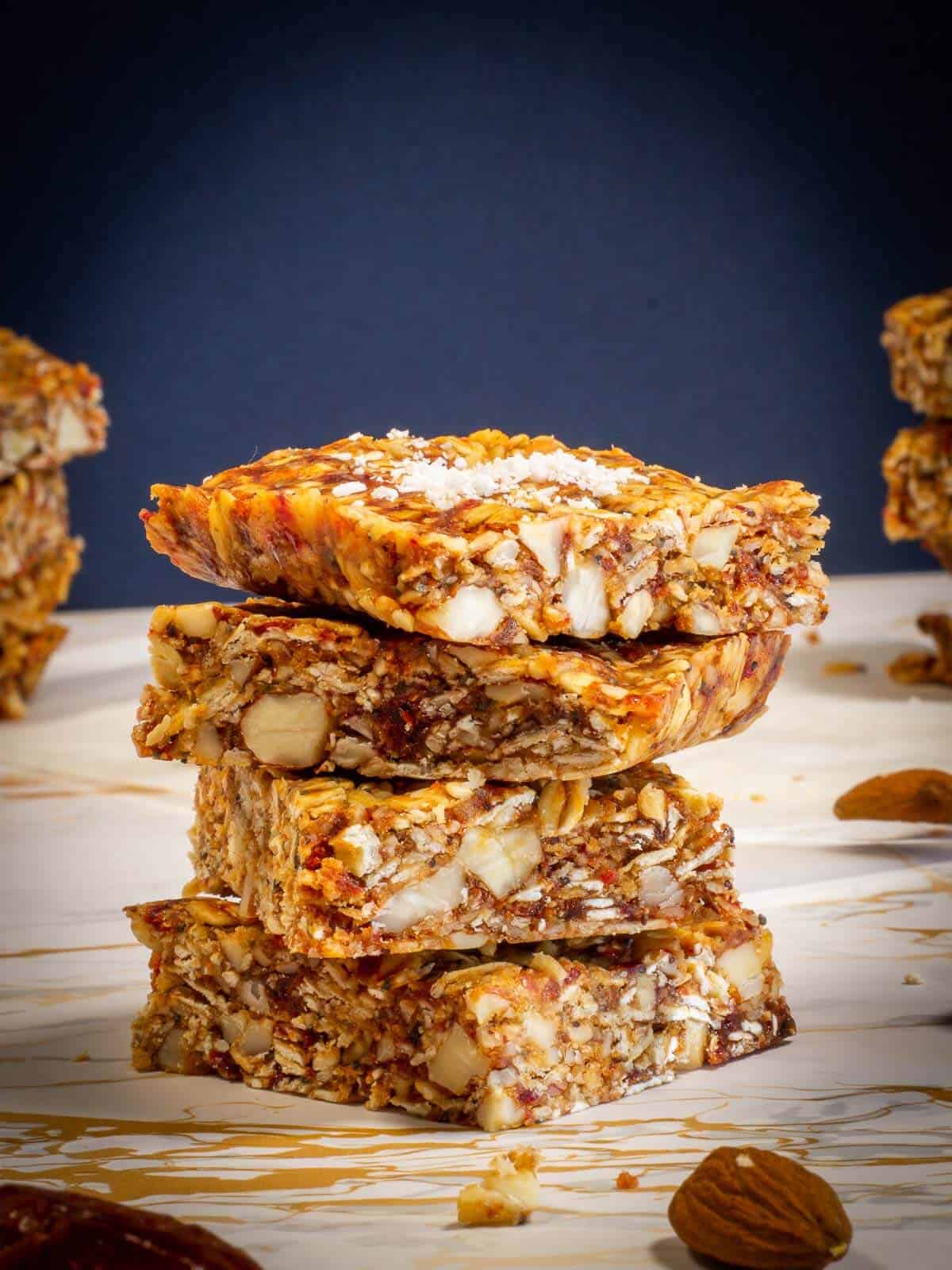 🥡 Storing
Store your homemade vegan granola bars for up to a week in the refrigerator or up to 6 months in the freezer.
I like to freeze them in an airtight container, divided using parchment paper to avoid them from sticking.
Unthaw the bars either in the fridge overnight or at room temperature for 15-30 minutes.
✅ 11 reasons for making your homemade granola bars
This baked granola bar recipe works perfectly if you want to make it in batches because they keep well in the freezer for two months.
Easily make your own and play with fun flavors.
Take complete control of what comes into your mouth instead of trusting what comes in that packaging—something that is hard to control with store bars.
Keep binges in line.
Customize your flavors easily.
Make them even if you are missing any types of ingredients.
Use readily available mainstream ingredients.
Adjust your budget accordingly.
Make different kinds depending on your needs (i.e., morning energy, post-workout protein)
Make them without failing (it's tough to have them wrong)
Quickly make them.
Easily to store.
Should I continue?
We love making our own granola for breakfast along with plant milk at home.
Eat your granola with homemade and easy-to-make dairy-free milk; I assure you that once you start making your own almond milk, oat milk, and soy milk at home, you will never look back!
They make the perfect match for your homemade basic granola and pumpkin-maple granola.
📚 More healthy snack ideas
If you like your oats packed in a yummy banana oatmeal smoothie, you should check out our version!
Relish the zing of a tempting mini blueberry muffin, a mere 69 calories, and ready to serve in less than 25 minutes!
If you like nutty, dried fruit, and wholesome desserts, we suggest giving a try to these Italian Traditional Pangiallo and Healthier Pangiallo Romano Recipes. You will love them!
If you try any of these recipes, let us know! Leave a comment, rate it, and don't forget to tag a photo #ourplantbasedworld on Instagram. Cheers!
📋 Recipe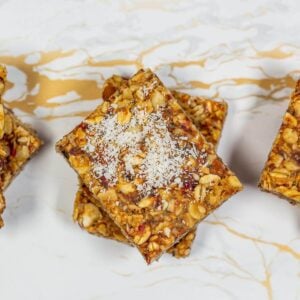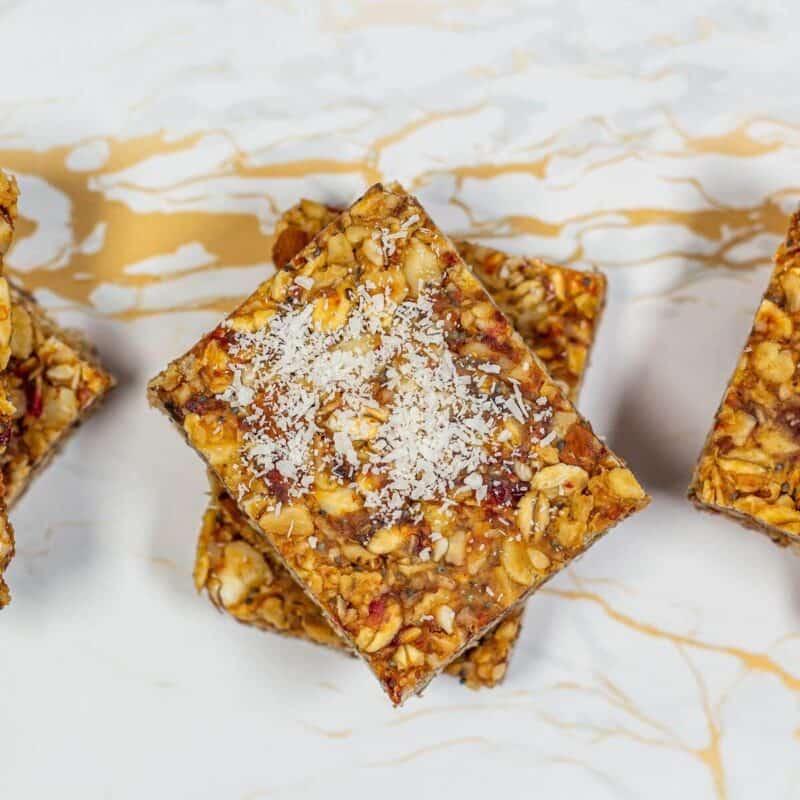 Healthy Vegan Granola Bar Recipe
Who doesn't like to have healthy snacks around? There's nothing wrong with snacking as long as you have Healthy Vegan Granola Bars around!
Equipment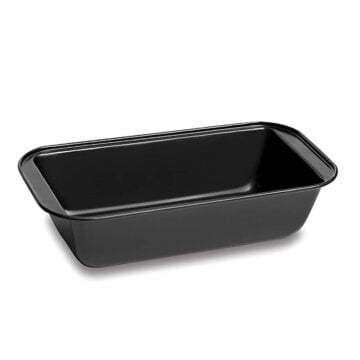 (affiliate link)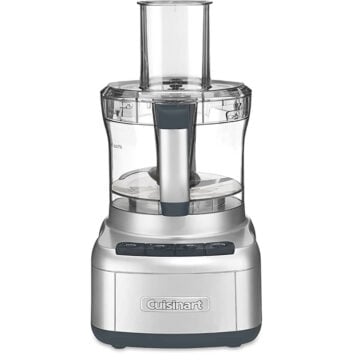 (affiliate link)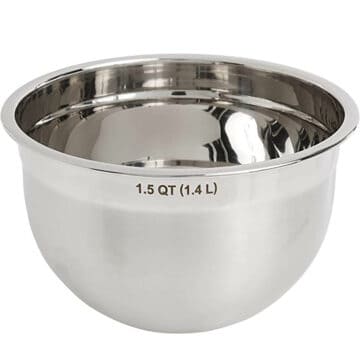 (affiliate link)
Directions
Heat oven to 350 ºF (175º C) and line a baking dish with parchment paper.

Add your oats and almonds to a bare baking sheet and bake for 15 minutes.

Add dates and dried fruit to a food processor and blend until a ball is formed — ~15-20 seconds. It should be sticky.

Add the toasted oats and almonds blend for 5 additional seconds

Transfer to a mixing bowl and add the maple syrup, peanut butter, poppy and sesame seeds, and coconut flakes. Use a spoon to mix thoroughly.

Transfer to the same parchment paper prepared baking pan used for baking and use a wooden spoon to disperse into an even layer. Cover with parchment paper and press down with a drinking glass to get the mixture packed tightly, preventing the granola bars from crumbling. Chill in the freezer for 20 minutes.

Remove from the dish and chop into 12 bars. Store in a container in the refrigerator for up to 2 weeks or in the freezer for up to 2 months. They keep their shape best right out of the freezer or refrigerator.
Notes
You can change the peanut butter for hazelnut or almond butter, just swapping and using the exact quantities. Make sure to use Gluten-Free oats to keep your homemade granola bars gluten-free. It is a very easily customizable recipe.
See substitutions notes in the post for making any variations.
Nutrition Facts
Calories:
213
kcal
Carbohydrates:
28
g
Protein:
6
g
Fat:
10
g
Saturated Fat:
1
g
Trans Fat:
1
g
Sodium:
3
mg
Potassium:
294
mg
Fiber:
5
g
Sugar:
15
g
Vitamin A:
2
IU
Vitamin C:
1
mg
Calcium:
76
mg
Iron:
1
mg
Nutrition Facts
Healthy Vegan Granola Bar Recipe
Amount per Serving
% Daily Value*
* Percent Daily Values are based on a 2000 calorie diet.
Nutritional Disclaimer
The information shown is an estimate provided by an online nutrition calculator. It should not be considered a substitute for a professional nutritionist's advice. See our full Nutritional Disclosure here.
Affiliate Disclaimer
Please note that some of the links here are affiliate links, and I will earn a commission if you purchase through those links. I recommend all of the products listed because they are companies I have found helpful and trustworthy.