Dive into the delightful world of plant-based cooking with our speedy Italian Green Peas and Pasta Recipe! Packed with fresh ingredients and bursting with flavors, this dish is not just a treat for the taste buds but also a nod to the benefits of seasonal, vegan produce. Whether you're a seasoned vegan chef or just exploring, this easy recipe promises an effortless culinary journey.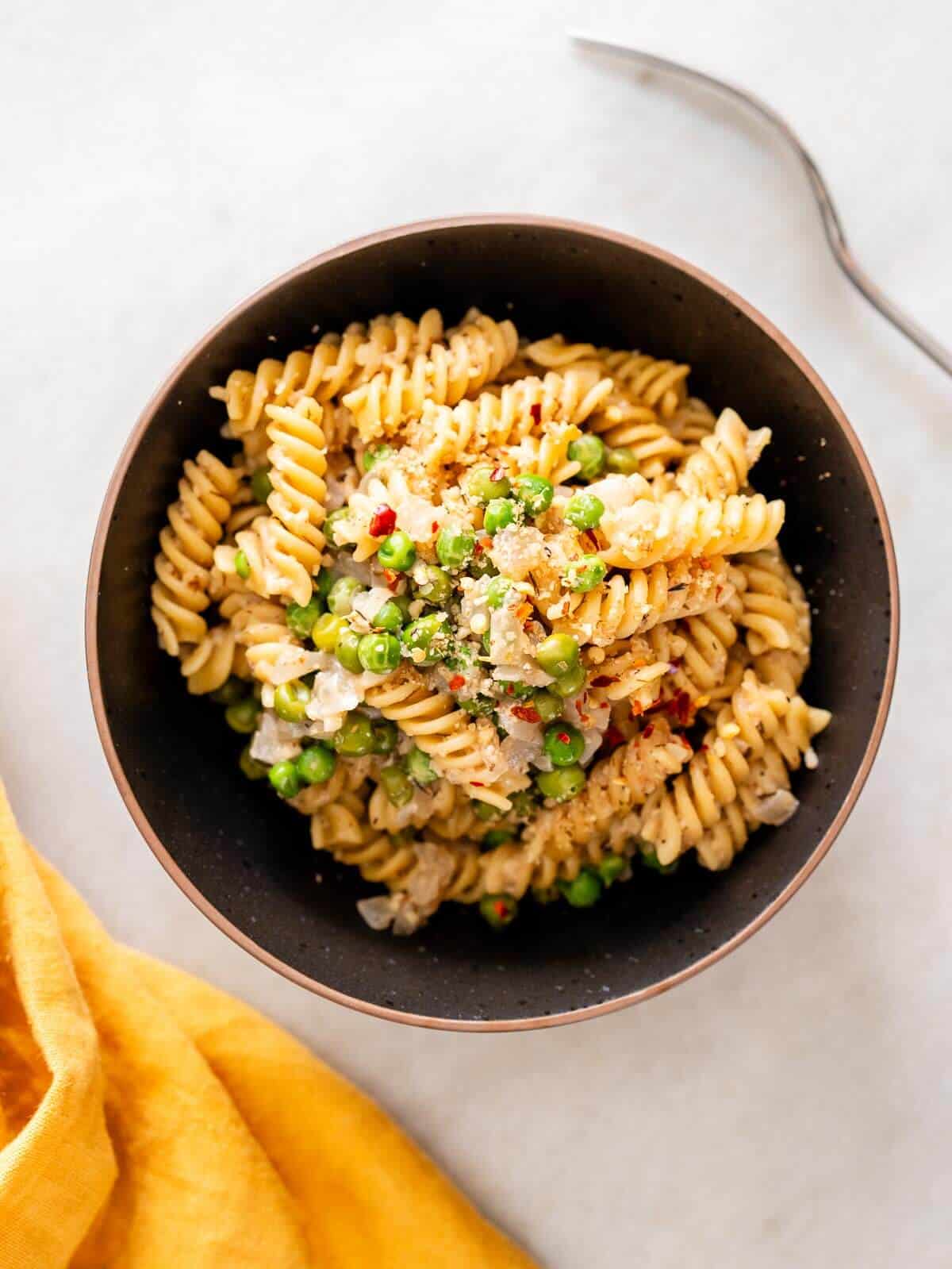 Why is this pasta and peas recipe a total winner? First off, let's talk nutrition. The frozen peas are not just a vibrant green addition; they're a powerhouse of nutrients like fiber, protein, and vitamins. Pair that with gluten-free pasta, and you've got a dish that's as wholesome as delicious.
The homemade vegan parmesan cheese adds a nutty richness without the dairy, and if you opt for a drizzle of extra-virgin olive oil, you're also getting a dose of healthy fats. Fresh garlic and thyme bring in antioxidants and a burst of flavor, making this dish a nutritional slam dunk.
Now, let's get into the "easy factor." This is a one-pot dish, people! That means less cleanup and more time to enjoy your meal. Cooking the pasta with peas in the same pot not only saves time but also allows the flavors to meld beautifully.
The vegetable broth creates a creamy sauce that coats the pasta perfectly, and the whole thing comes together on medium heat in no time. If you're looking for an easy pasta recipe that doesn't skimp on flavor or nutrition, this pasta e piselli dish is your go-to. Trust us; it's a game-changer, just like our 3-ingredient pasta recipe.
Jump to:
🧾 Ingredients
This pasta e piselli recipe is made with just a few delicious ingredients: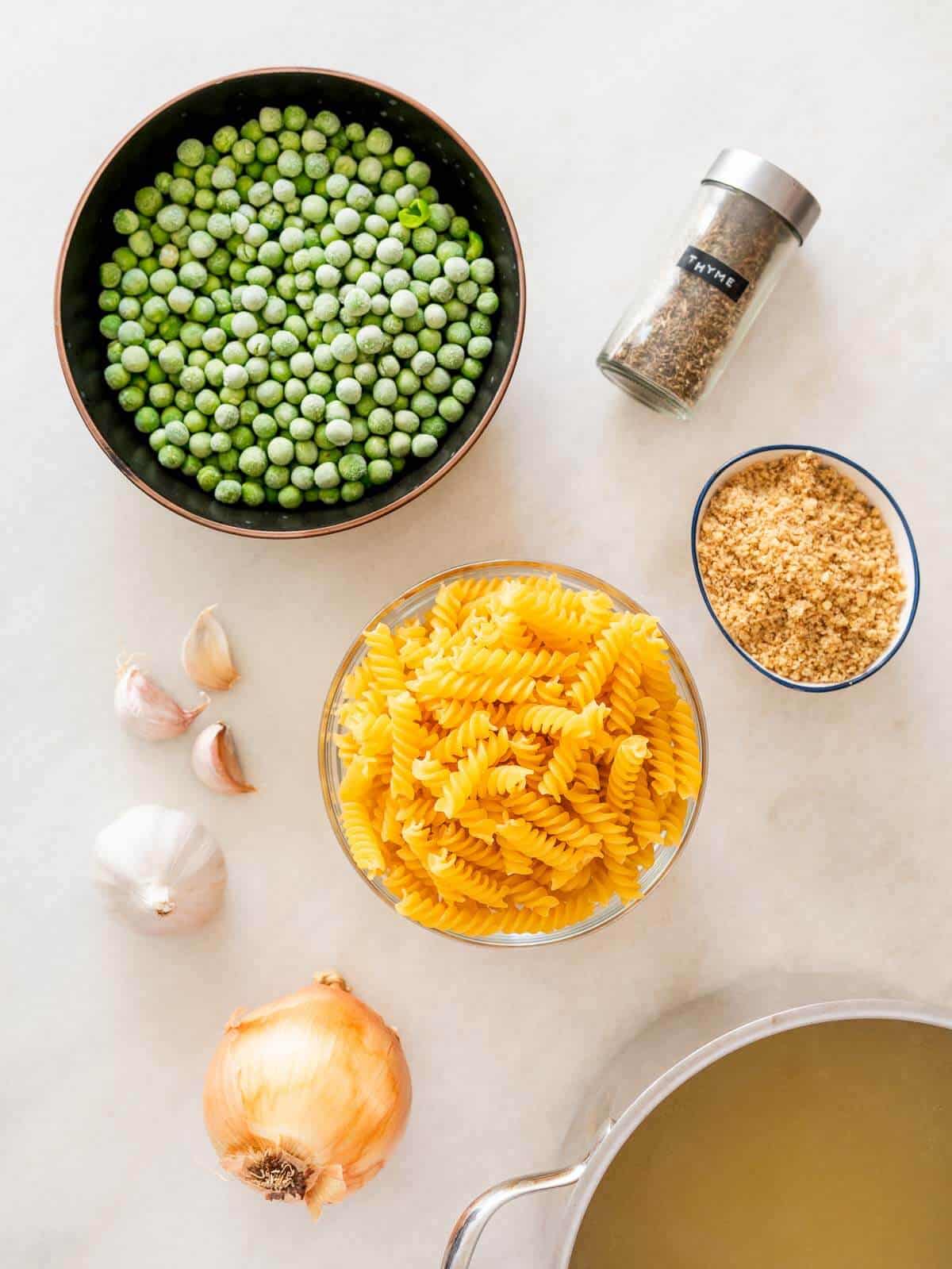 Gluten-free short pasta: We opt for gluten-free pasta to make this dish accessible to everyone, including those with gluten sensitivities. Plus, its short shape perfectly captures the creamy sauce.
Frozen peas: A convenient and nutritious option, frozen peas add a pop of color and a dose of plant-based protein to the dish. You can also use fresh peas, the key here is to get sweet peas.
Onion: The chopped onion serves as the aromatic base, adding depth and sweetness to the overall flavor profile.
Fresh garlic: Finely chopped garlic infuses the dish with its pungent aroma and health-boosting properties, like natural antioxidants.
Vegetable broth or vegetable bouillon cubes: These add a rich, savory backbone to the pasta and help in cooking it to perfection.
Thyme: Dried thyme elevates the dish with its earthy and slightly minty notes, complementing the sweetness of the peas. You can also use any fresh herbs you like.
Homemade Vegan Parmesan cheese: This dairy-free alternative brings a cheesy, nutty finish to the dish, and it's super easy to make at home!
Optional to serve:
Extra-virgin Olive oil: A drizzle of this enhances the dish's richness and adds a layer of fruity complexity.
Red pepper flakes: For those who like a little heat, red pepper flakes can be sprinkled on top to kick things up a notch.
See the recipe card for quantities.
🔪 Instructions
This Italian pasta dish involves 3 simple steps.
Washing and preparing your ingredients.
Chopping in sizable chunks.
Cooking everything in one pot.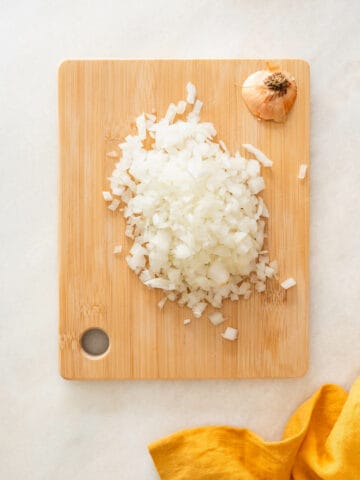 Finely chop the onion.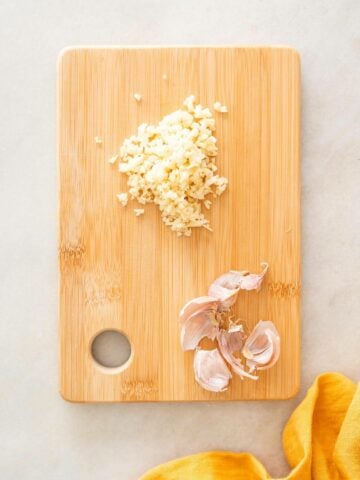 Mince garlic.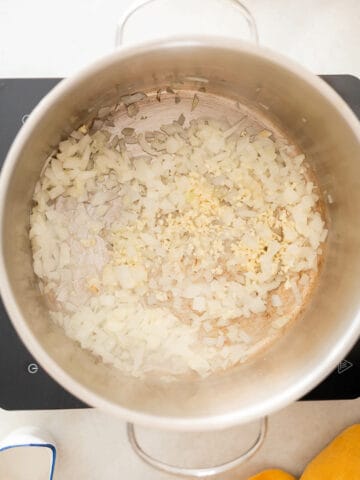 Add onion to a large pot and stir fry. As soon as the diced onion is translucent, add the garlic.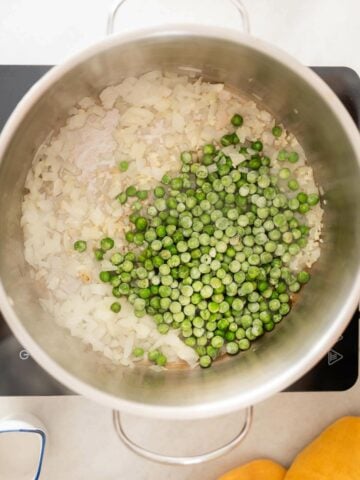 Add half of the frozen peas.
Hint: Tip: If you're not into cooking with oil, feel free to add a splash of regular olive oil. However, if you prefer to skip the oil, you can sauté the onions without it. Should the onions start to stick, simply add a tablespoon of water as needed to prevent sticking.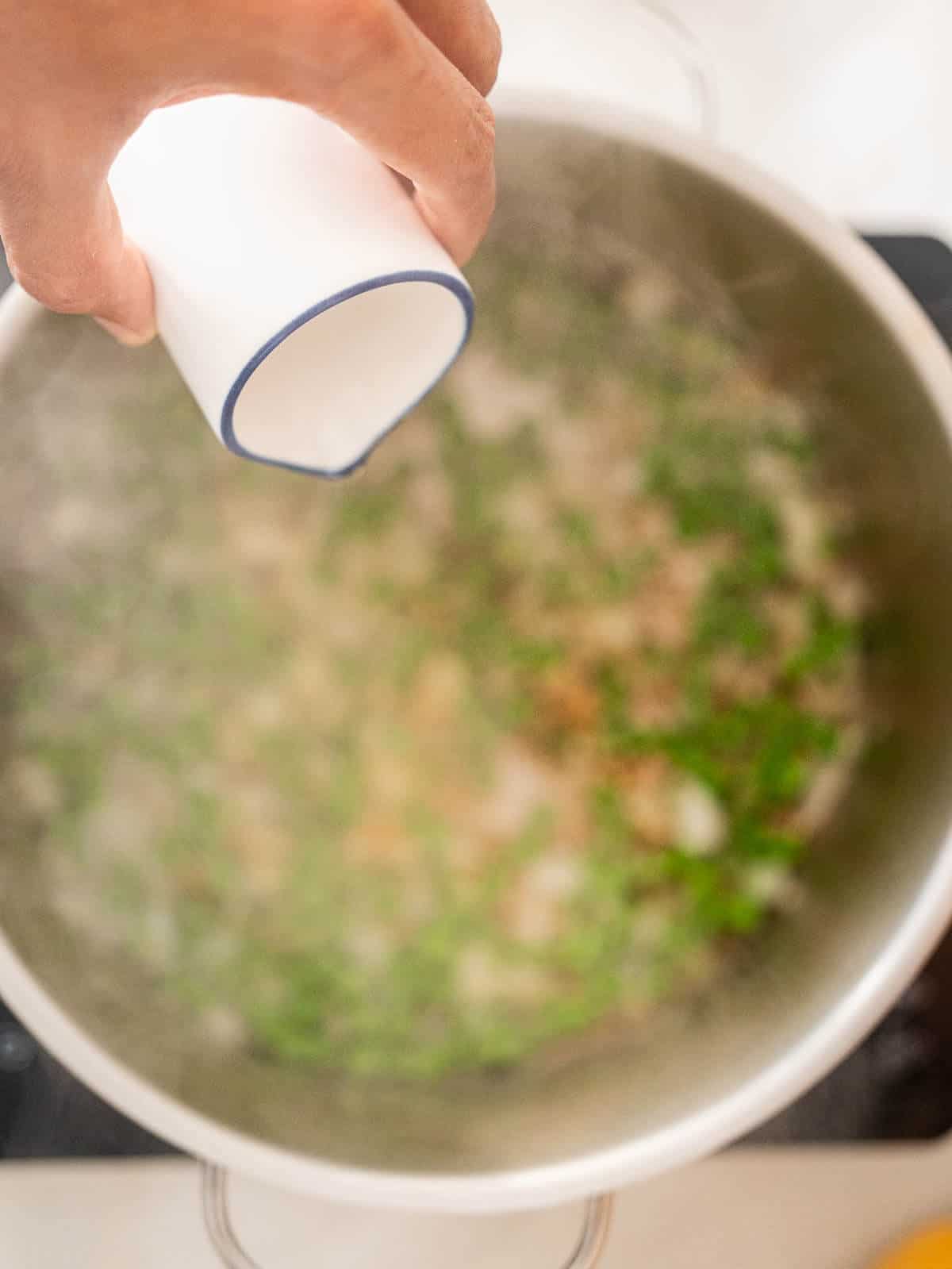 Add some water if it sticks.
Add vegetable broth.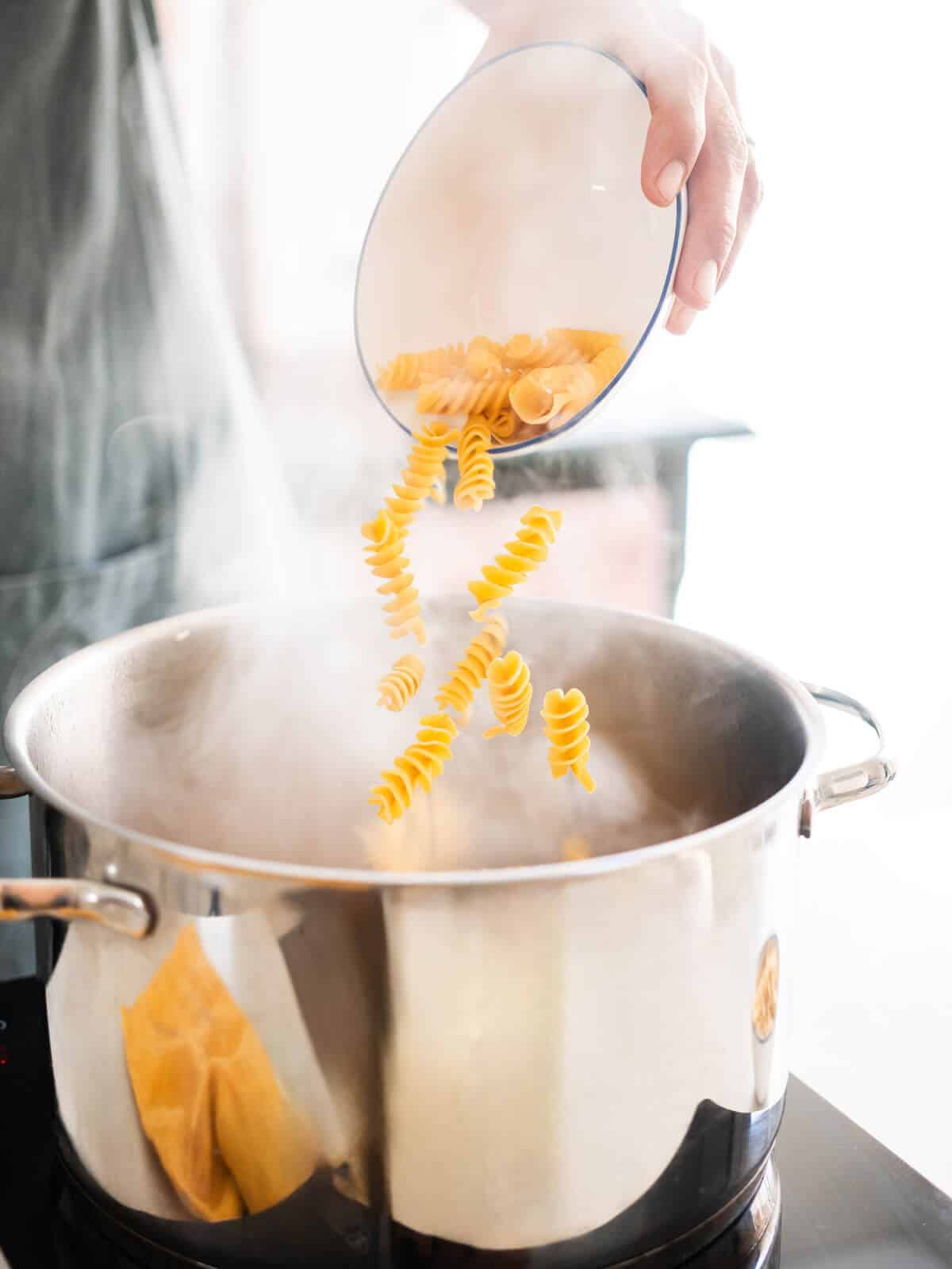 Followed by your choice of short pasta.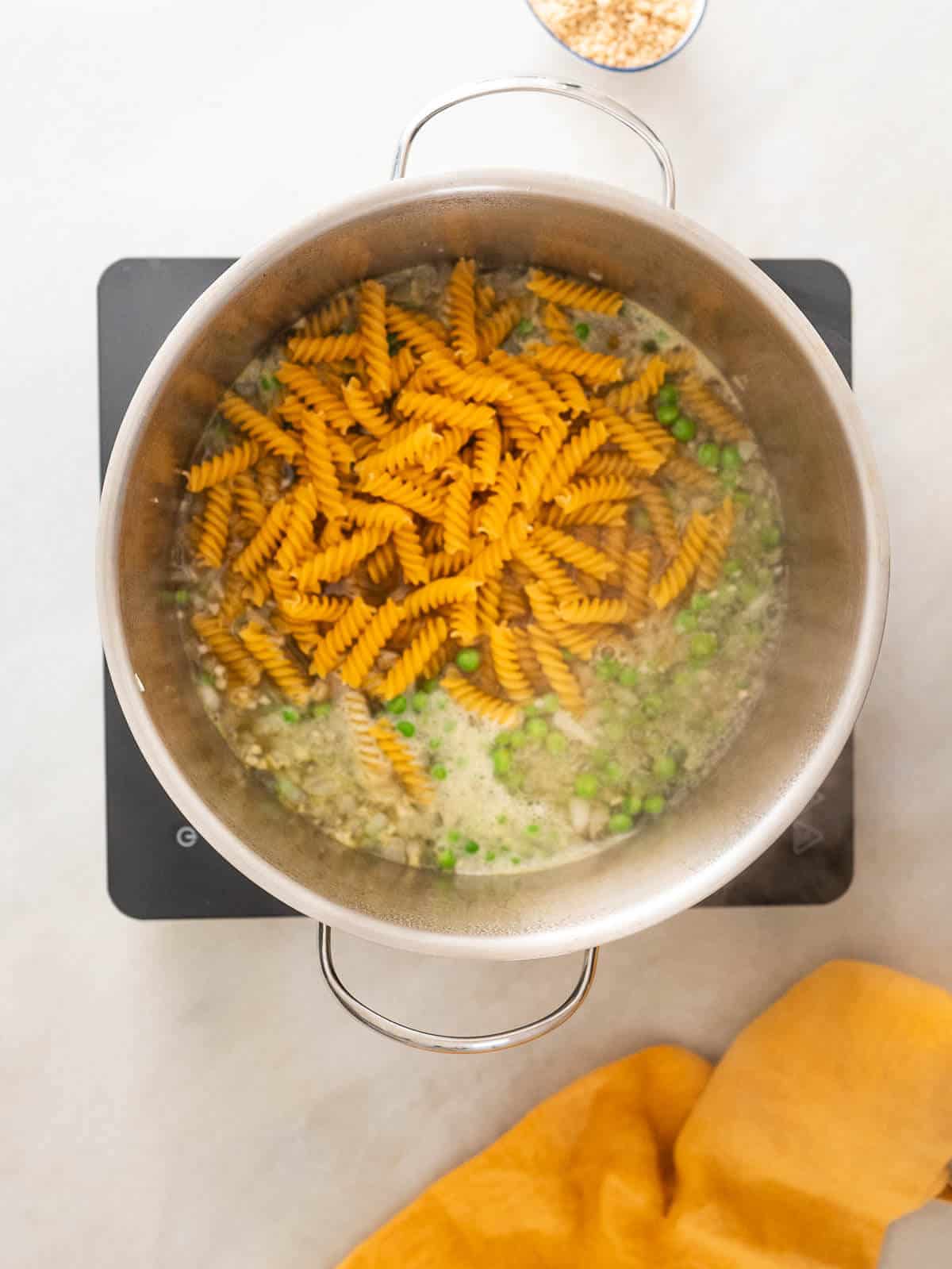 Stir and let the pasta cook, following the package directions.
Hint: Add the vegan parmesan and the second portion of frozen peas two minutes before the pasta's suggested cooking time is up. This allows the flavors of teh pasta and peas to beautifully blend together during the final moments of cooking the pasta.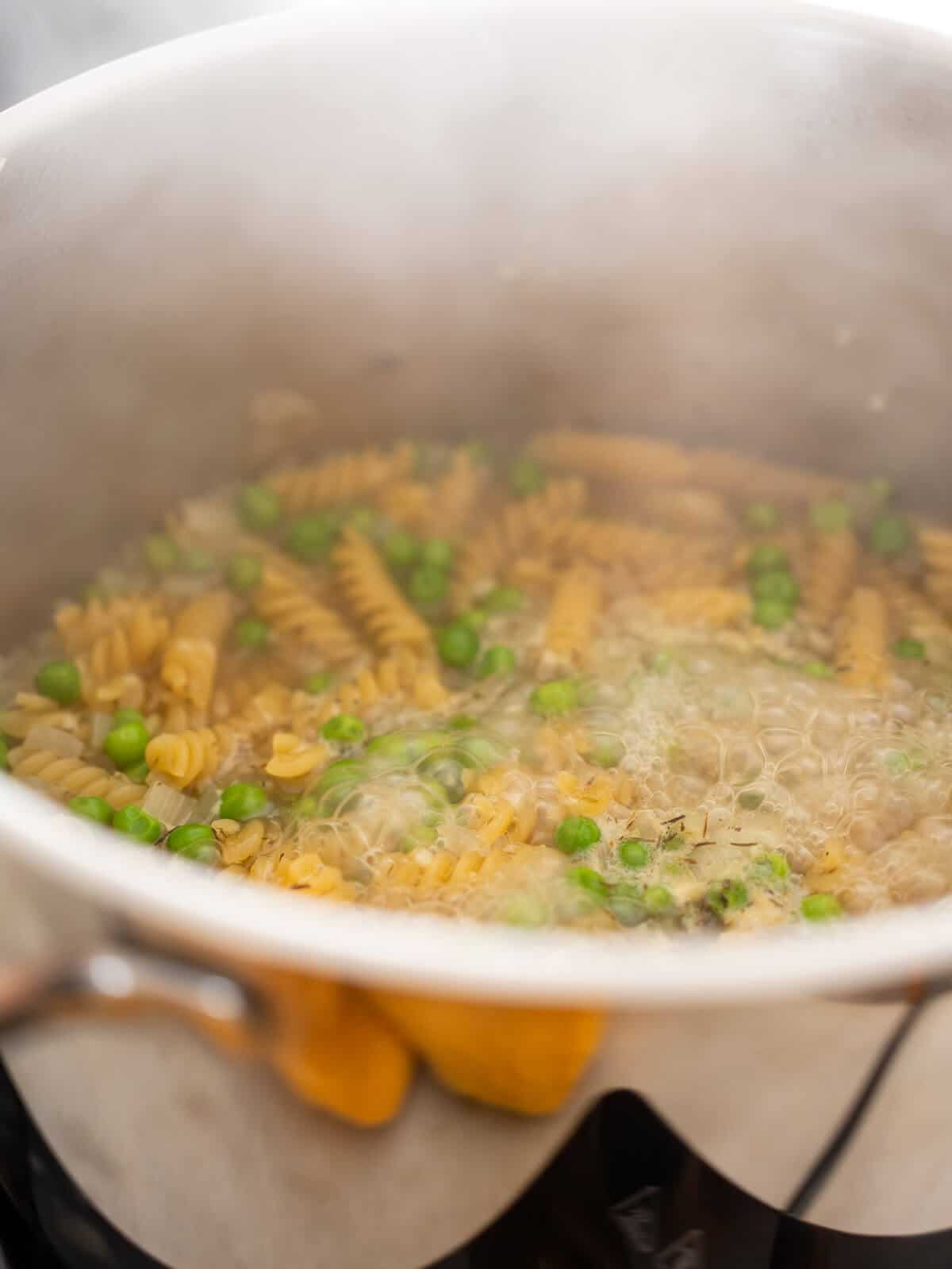 Cook pasta stirring frequently with a wooden spoon to ensure pasta doesn't stick in the bottom of the saucepan.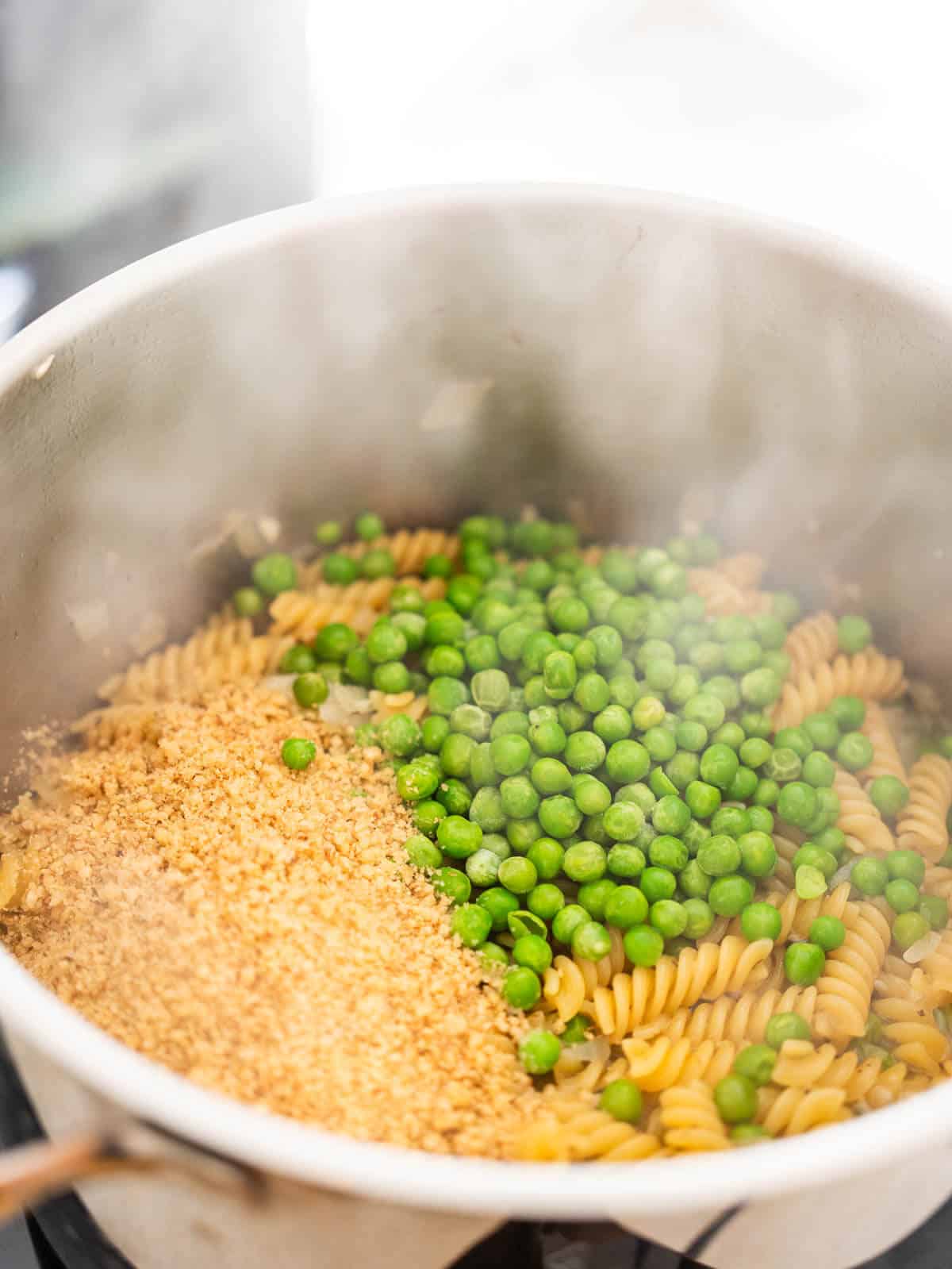 When the pasta water is almost consumed and the pasta is almost cooked, add the parmesan cheese and remaining peas.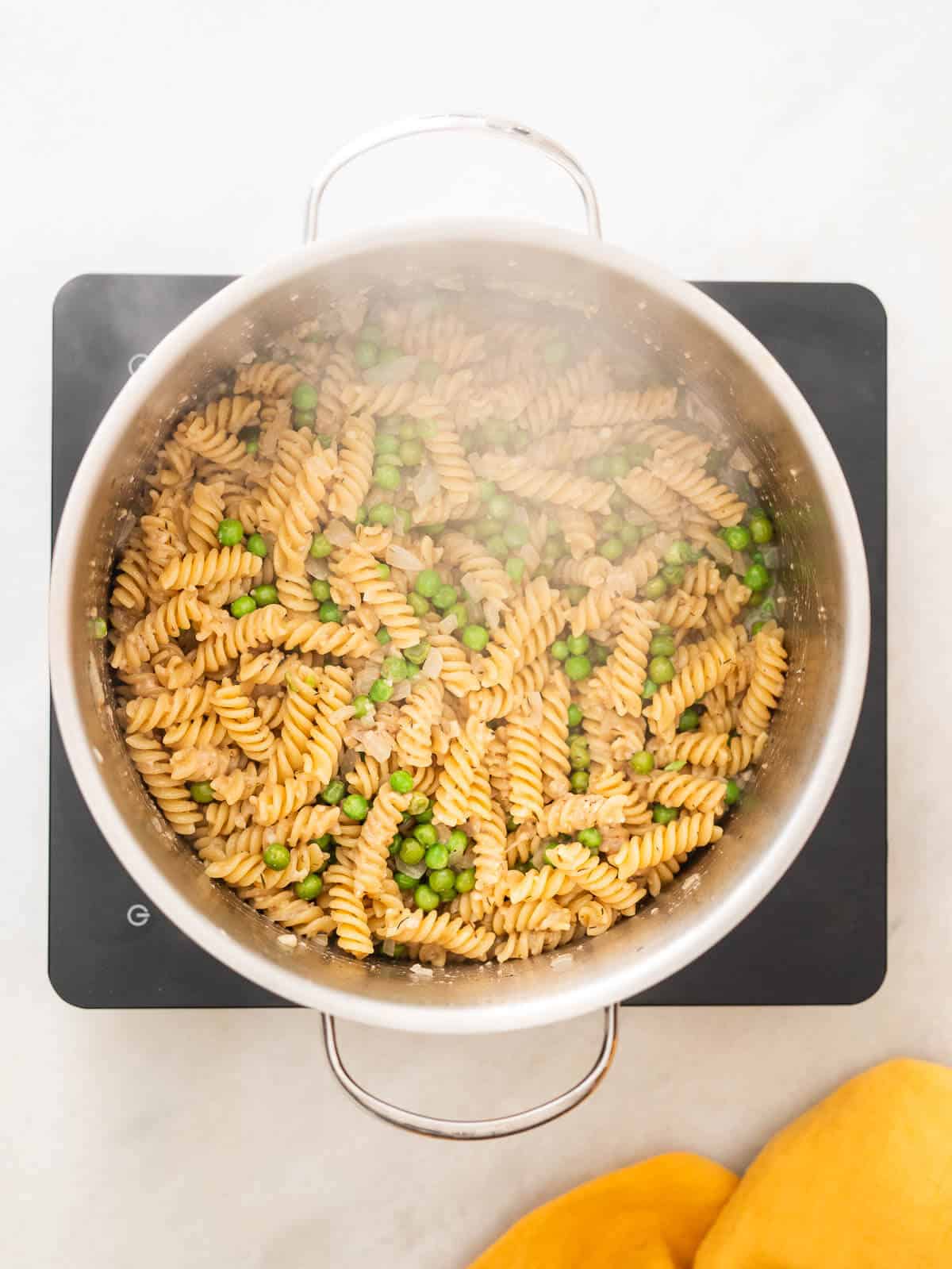 Add optional red pepper flakes.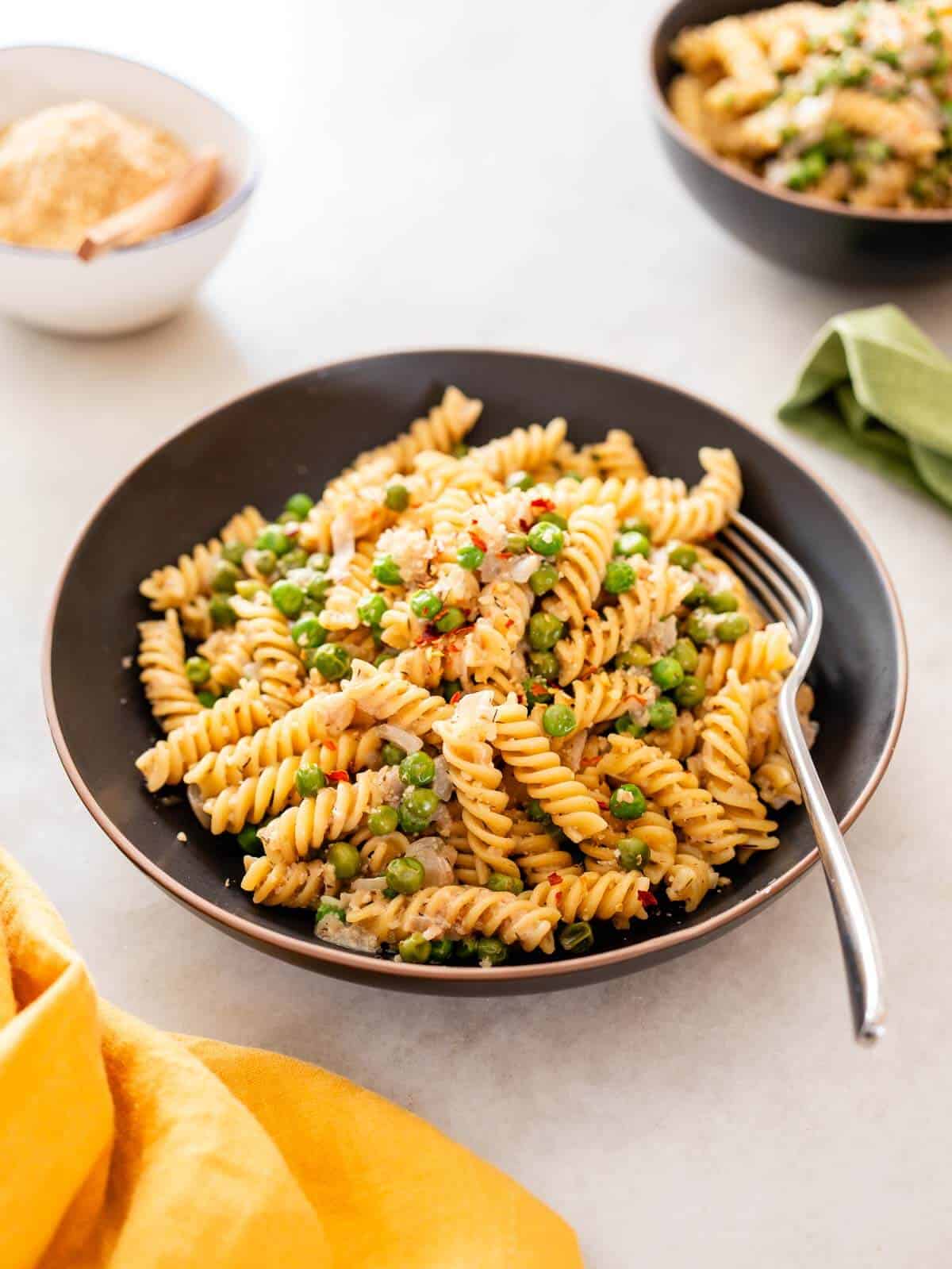 Read on: Butternut Squash pasta with peas
🍶 Substitutions
Gluten-free short pasta: If you're not concerned about gluten, you can use regular wheat pasta or whole wheat pasta for a fiber boost. Orzo or small shells work well, too.
Frozen peas: Fresh peas can be used if you have them. Just adjust the cooking time, as fresh peas may cook faster.
Onion: Shallots or leeks can be a milder alternative to onions.
Fresh garlic: Garlic powder or minced garlic from a jar can be used in a pinch, though fresh is best for flavor.
Vegetable broth or vegetable bouillon cubes: You can substitute with mushroom broth for a deeper, earthier flavor or even a light miso broth for an umami kick.
Thyme: Fresh or dried rosemary, oregano, or even Italian seasoning can be used as an alternative to thyme.
Homemade Vegan Parmesan: Nutritional yeast can be used for a cheesy flavor, or you can opt for store-bought vegan parmesan.
📖 Variations
Mediterranean Twist: Swap out the thyme for a combination of fresh oregano and rosemary. Add some Kalamata olives and sun-dried tomatoes to the mix for a Mediterranean flair. Finish with a sprinkle of vegan feta cheese.
Asian Fusion: Replace the thyme and parmesan with a splash of coconut milk and a spoonful of green curry paste. Add some sliced bell peppers and baby corn for added texture and color. Top it off with some fresh cilantro and a squeeze of lime.
Mexican Fiesta: Use cumin and paprika instead of thyme, and add some black beans and corn to the pasta and peas. Drizzle with a vegan avocado crema and garnish with chopped cilantro and a wedge of lime.
🥢 How to serve
Herbaceous Delight: Elevate your pasta and peas dish by garnishing it with a medley of fresh herbs like basil, parsley, and chives. A sprinkle of lemon zest can add a citrusy kick that brightens up the flavors.
Spice It Up: If you're a fan of heat, consider adding a dollop of spicy vegan pesto or a sprinkle of red pepper flakes. You can even swirl in some sriracha for an unexpected twist.
Cheese Please: Go all out on the vegan cheese front. Apart from the homemade vegan parmesan, consider adding dollops of vegan ricotta or a sprinkle of vegan mozzarella for extra creamy consistency.
Bread Pairing: Serve this delicious dish with a side of garlic bread made from Italian Artisan bread with olive oil, vegan butter, and freshly minced garlic. Toast it until it's golden and crispy.
Salad Side: A crisp, refreshing salad can be a great companion to this hearty dish. Think arugula, cherry tomatoes, and a light vinaigrette to balance out the richness of the pasta.
Wine and Dine: Pair your pasta e piselli with a glass of vegan white wine, like a Pinot Grigio or Sauvignon Blanc, to complement the dish's creamy and herbaceous notes.
Bowl It: For a casual, cozy meal, serve the pasta in individual bowls, topped with freshly ground black pepper and a drizzle of extra virgin olive oil. Add a spoonful of vegan sour cream for an extra layer of indulgence.
Family Style: If you're serving a crowd, consider laying out the pasta and peas in a large serving dish garnished with fresh basil and a generous drizzle of extra virgin olive oil. Let everyone dig in and serve themselves for a communal dining experience.
Lunchbox Leftovers: This dish reheats beautifully, making it a perfect candidate for next-day lunches. Just pack it in an airtight container and you're good to go!
Feel free to mix and match these serving options to create your own perfect pasta meal experience!
🍽 Equipment
Large Saucepan: A large saucepan is essential for this one-pot dish, providing ample space for all the ingredients to cook evenly. It also allows for better heat distribution, ensuring that your pasta cooks to al dente perfection.
Knives: A good set of sharp knives is crucial for chopping the onion and garlic, which helps them cook quickly and evenly, releasing their flavors into the dish.
Garlic Press: If you're looking to save some time and effort, a garlic press comes in handy. It minces the garlic in seconds, making it easier to distribute its flavor throughout the dish.
Having the right equipment can make your cooking experience smoother and more enjoyable, so ensure you've got these tools ready!
🥡 Storage and Reheating
In the Fridge:
Storing: Place any leftover pasta and peas in an airtight container and store them in the fridge for 3-4 days.
Reheating: To reheat, you can either use a microwave or stovetop. If using a microwave, heat in 30-second intervals, stirring in between until warmed. On the stovetop, reheat the dish over medium heat, adding a splash of vegetable broth or water to prevent drying.
Freezing and Reheating:
Freezing: This dish can be frozen for up to 2 months. Portion the cooked pasta and peas into freezer-safe containers, leaving some space at the top for expansion.
Reheating from Frozen: When you're ready to enjoy it again, you can either thaw it in the fridge overnight and then reheat it as above or reheat it directly from frozen over low heat on the stovetop, stirring occasionally.
Meal Prep Option:
Batch Cooking: You can easily double or triple this recipe for meal prep. Once cooked, portion it into individual serving containers and store them in the fridge or freezer. Just grab, reheat, and eat a quick and nutritious meal anytime!
Following these storage and reheating guidelines, you can enjoy your delicious pasta and peas dish whenever the craving strikes!
💡 Recipe tips
Master the Pasta Timing: The key to nailing this recipe every single time lies in cooking the pasta. To ensure that your pasta is perfectly al dente, start testing it a minute or two before the package's suggested cooking time is up. Remember, the pasta will continue to cook a bit even after you've taken it off the heat, especially since it's a one-pot dish. This way, you'll avoid overcooked, mushy pasta and achieve that ideal texture that makes this dish a standout.
By keeping an eye on your pasta's cooking time, you're setting yourself up for a flawless pasta and peas experience every time!
❓ FAQ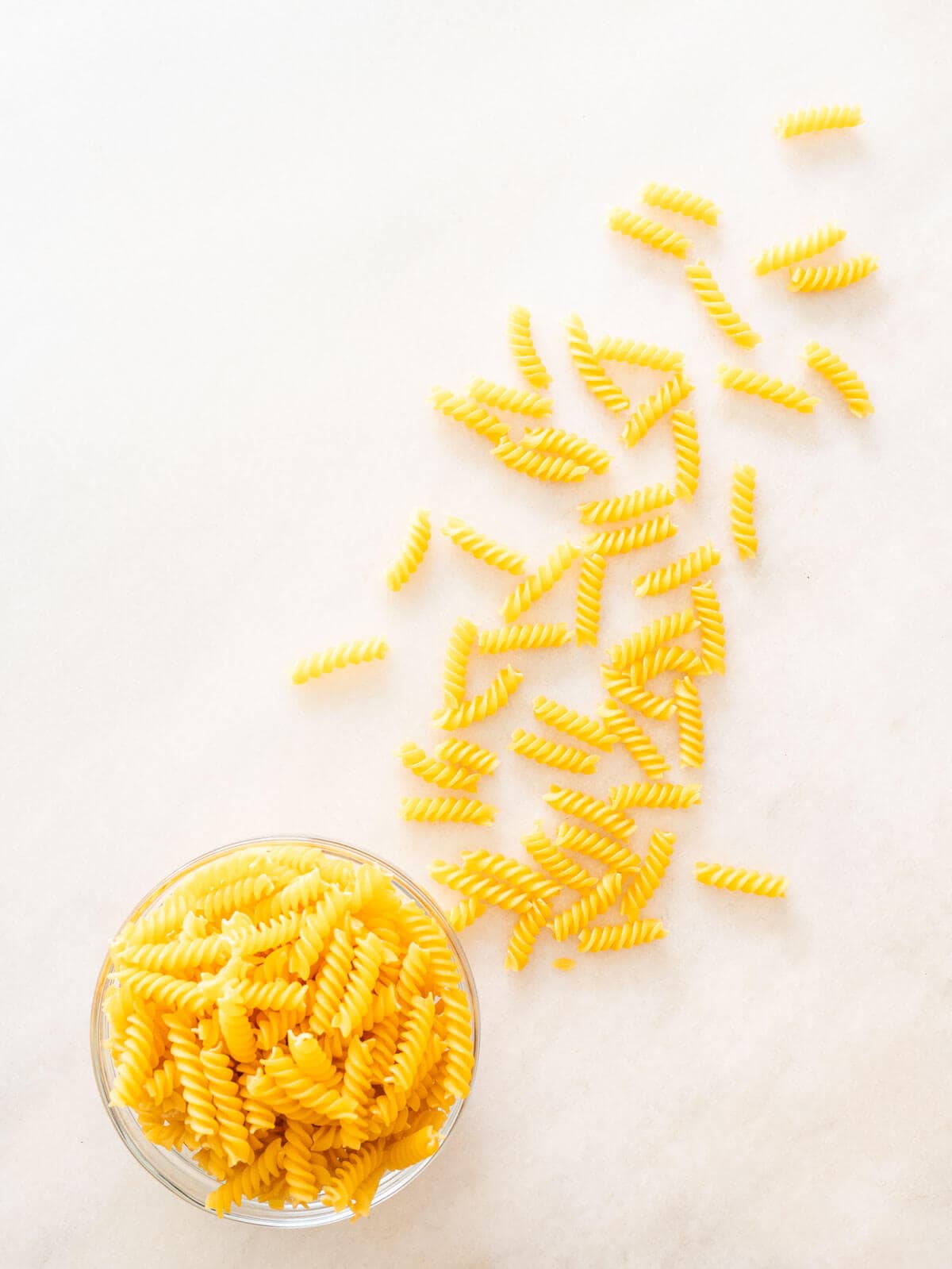 What type of pasta should you use for achieving pasta al dente in pasta e piselli?
When aiming for pasta al dente in your pasta e piselli dish, it's best to opt for short pasta shapes like fusilli, ditalini, or small shells (small pasta). These types of pasta are excellent for capturing the creamy sauce and peas, ensuring that each bite is a harmonious blend of flavors and textures. Gluten-free options are also available if you're looking to make the dish accessible to those with dietary restrictions.
How to ensure al dente pasta in your pasta e piselli?
To guarantee al dente pasta in your pasta e piselli, it's crucial to choose a high-quality pasta. Premium pasta tends to hold its shape and texture better during the cooking process. Make sure to start testing the pasta a minute or two before the package's suggested cooking time is up, as this will help you achieve that perfect al dente texture that elevates the entire dish.
Do I need to thaw frozen peas?
No, you don't need to thaw the frozen peas before adding them to the dish. Frozen peas can go directly into the pot and will thaw quickly as they cook, making them a convenient and time-saving option. This also helps to retain their vibrant color and nutritional value.
📚 More quick, comforting pasta recipes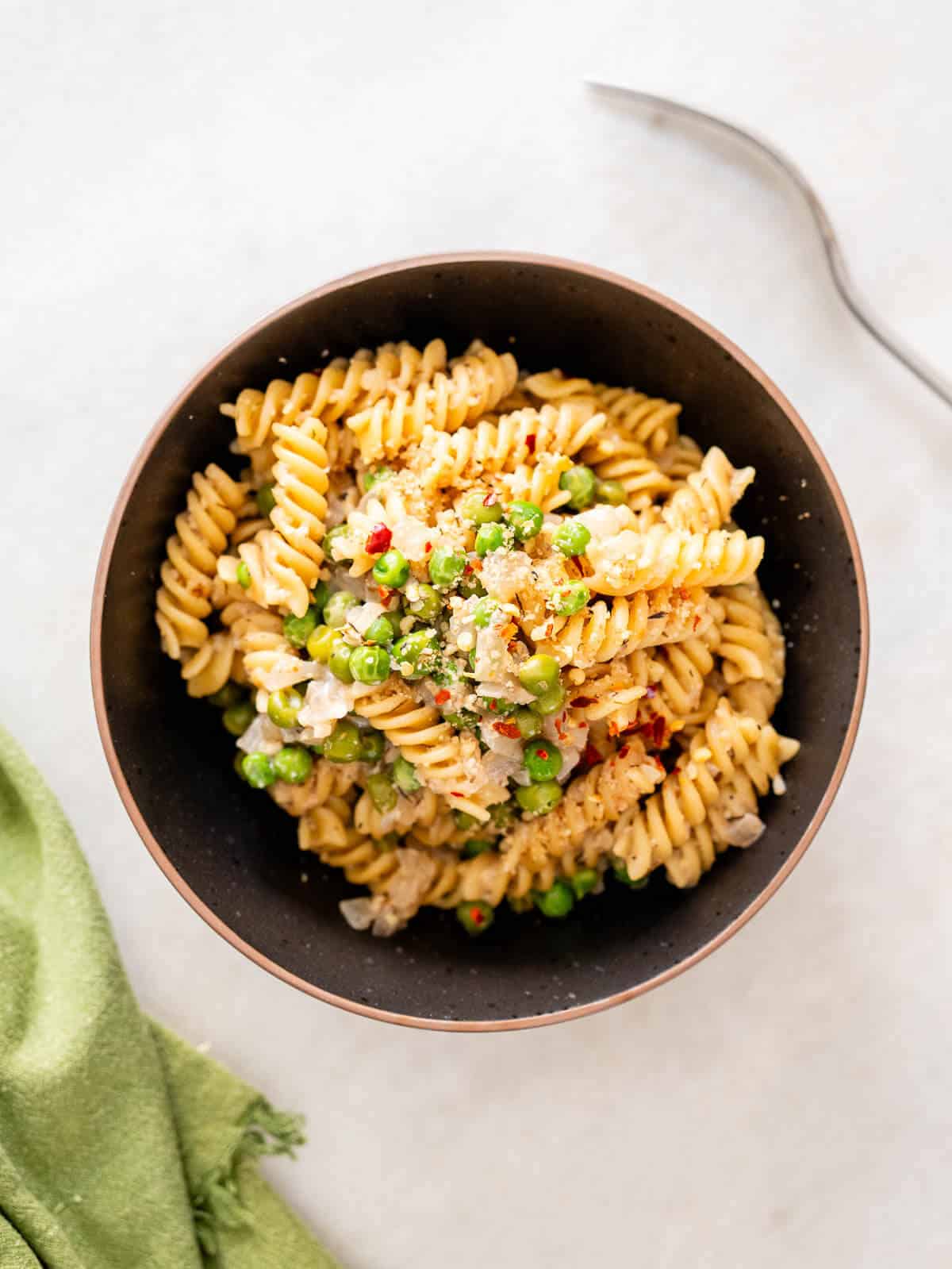 ⭐ If you try this Italian pea pasta recipe, let us know! 💬 Leave a comment, rate it, and don't forget to tag us @ourplantbasedworld on Instagram. Cheers!
📋 Recipe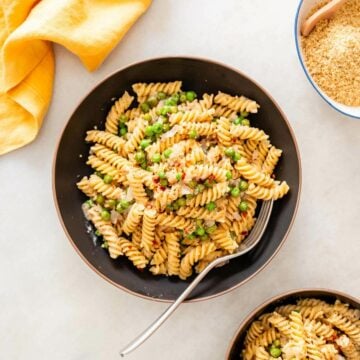 One-Pot Italian Peas and Pasta Recipe (Pasta e Piselli, Quick & Easy)
Discover the joys of plant-based cooking with our Pasta and Pea Recipe. Packed with fresh ingredients, it's a speedy, flavorful vegan delight! Oil-Free and Gluten-Free!
Equipment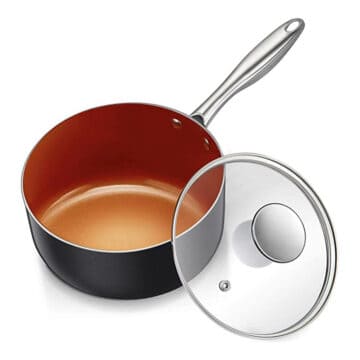 (affiliate link)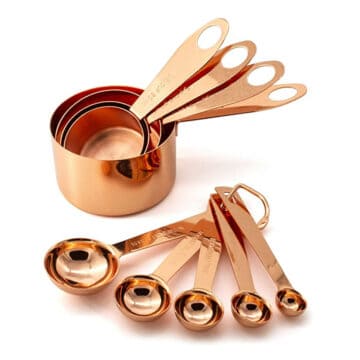 (affiliate link)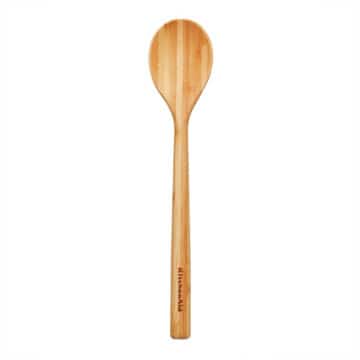 (affiliate link)
Directions
Start with the Basics: Place your medium pot on the stove and turn the heat to medium.

Onions First: Toss in the diced onions. Give them a good stir and cook until they're soft and have that lovely translucent look. This should take about 2 minutes.

Garlic and Thyme Time: Now, introduce the chopped garlic and thyme to the pot.A Little Tip: Since we're going oil-free, splash in 3-4 tablespoons of water to keep things from sticking. But hey, if you're feeling a bit indulgent, a drizzle of olive oil works too!

Peas Please: Add half of the peas next. Stir them around and let them cook for about a minute.

Broth and Pasta: Pour in that hot vegetable stock (or water with 2 bouillon cubes if that's your jam). Crank up the heat to get it boiling. Once it's bubbling, in goes the pasta and a teaspoon of salt. Remember, you can always add more salt later to get it just right.

Pasta Perfection: Lower the heat to medium-high. Let the pasta cook in that flavorful broth. Keep an eye on it and stir often to prevent any sneaky sticking. If the water isn't quite covering the pasta, no stress! Just add a bit more water as needed.Almost There: Once the pasta is perfectly al dente and there's just a smidge of liquid left, it's time to turn off the heat.

Cheesy Goodness: Sprinkle in the vegan parmesan cheese, remaining peas, and give it a good mix until it's beautifully blended.

Adjust: Give it a taste. Need more seasoning? Go for it!Serve it Up: Dish it out while it's hot. If you're in the mood, drizzle a bit of olive oil on top. And for that extra kick, a sprinkle of black pepper, red pepper flakes, or even more vegan parmesan cheese will do the trick.
Notes
The suggested amount of liquid, 3.5 cups of water, is an estimate. The quantity of water needed may vary depending on the type of pasta used. However, the pasta should be partially submerged in water. In this method, the liquid is kept to a minimum and gradually added to the pasta, allowing it to absorb the liquid completely and release its starch.
Nutrition Facts
Calories:
412
kcal
Carbohydrates:
82
g
Protein:
16
g
Fat:
2
g
Saturated Fat:
0.3
g
Polyunsaturated Fat:
1
g
Monounsaturated Fat:
0.2
g
Sodium:
834
mg
Potassium:
460
mg
Fiber:
8
g
Sugar:
10
g
Vitamin A:
1173
IU
Vitamin C:
40
mg
Calcium:
58
mg
Iron:
3
mg
Nutrition Facts
One-Pot Italian Peas and Pasta Recipe (Pasta e Piselli, Quick & Easy)
Amount per Serving
% Daily Value*
* Percent Daily Values are based on a 2000 calorie diet.
🌡️ Food safety
Cook to a minimum temperature of 165 °F (74 °C)
Do not use the same utensils on cooked food, that previously touched raw meat
Wash hands after touching raw meat
Don't leave food sitting out at room temperature for extended periods
Never leave cooking food unattended
Use oils with a high smoking point to avoid harmful compounds
Always have good ventilation when using a gas stove
See more guidelines at USDA.gov.
Nutritional Disclaimer
The information shown is an estimate provided by an online nutrition calculator. It should not be considered a substitute for a professional nutritionist's advice. See our full Nutritional Disclosure here.
Affiliate Disclaimer
Please note that some of the links here are affiliate links, and I will earn a commission if you purchase through those links. I recommend all of the products listed because they are companies I have found helpful and trustworthy.