Parmesan cheese is a classic Italian cheese that is used in many dishes. It's a flavorful and salty cheese perfect for sprinkling on pasta, pizza, or salad. But, if you're vegan, you might not be able to enjoy this cheesy dish. Until now! This Homemade Vegan Parmesan cheese recipe is easy to make and tastes great. You need just four ingredients.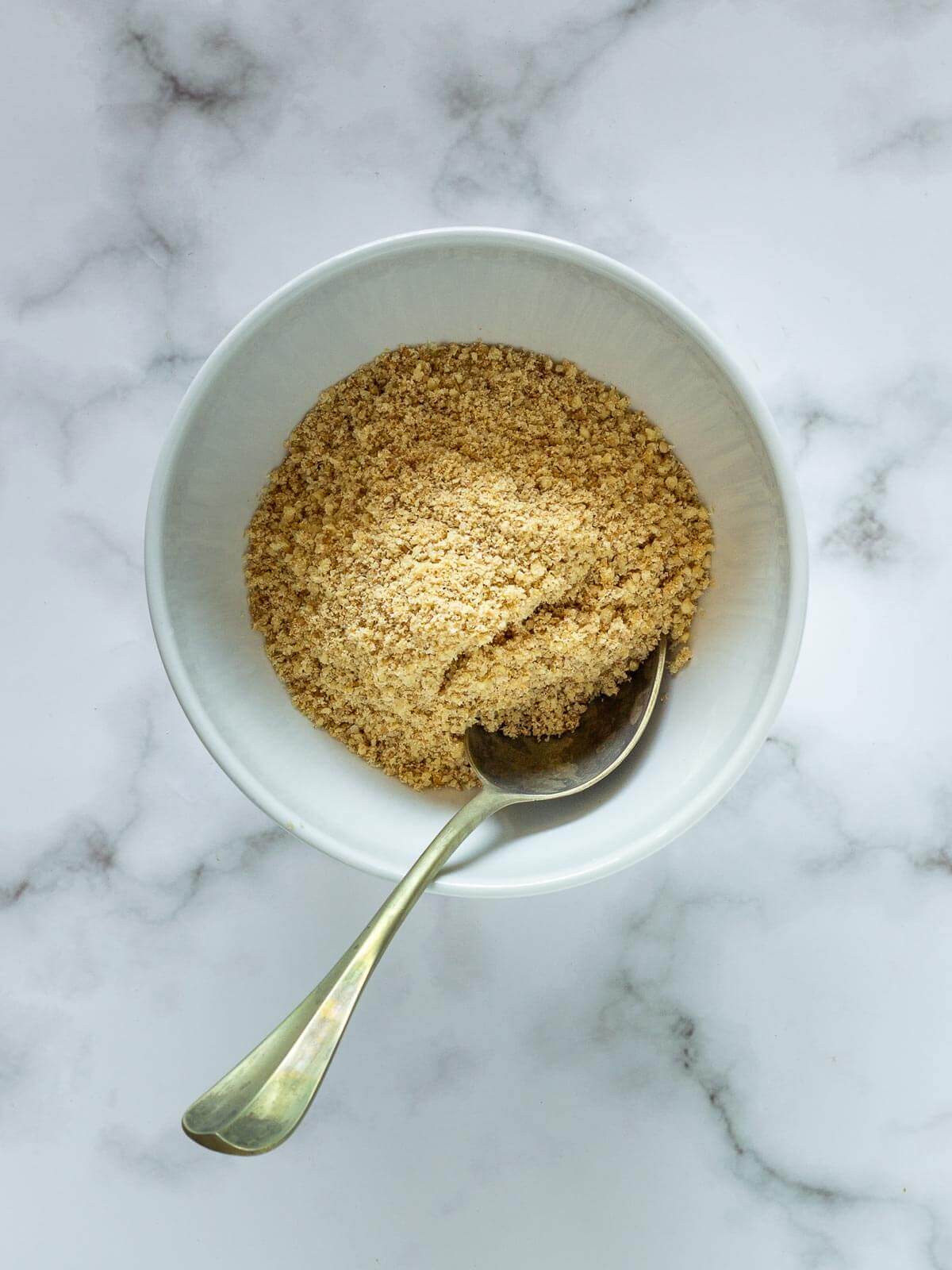 This vegetarian alternative to Parmesan cheese tastes pretty much like real cheese. It's hard to tell the difference. It is a fantastic recipe calling for parmesan cheese, like eggplant parmesan, asparagus pasta, or mushroom risotto.
Another plus of making this plant-based parmesan recipe yourself is that it is usually cheaper than buying it at the store. I make this version with walnuts, nutritional yeast, salt, and garlic powder, making it preservative and additive-free.
You can make this cheese with any nuts. Try to use raw unsalted one, but if you can't, ensure you fine-tune the amount of salt suggested in the recipe.
This recipe is one of those preparations that are always available in our kitchen since we use it almost every day, and as soon as we run out of it, we can make it in less than 5 minutes.
Jump to:
🧾 Ingredients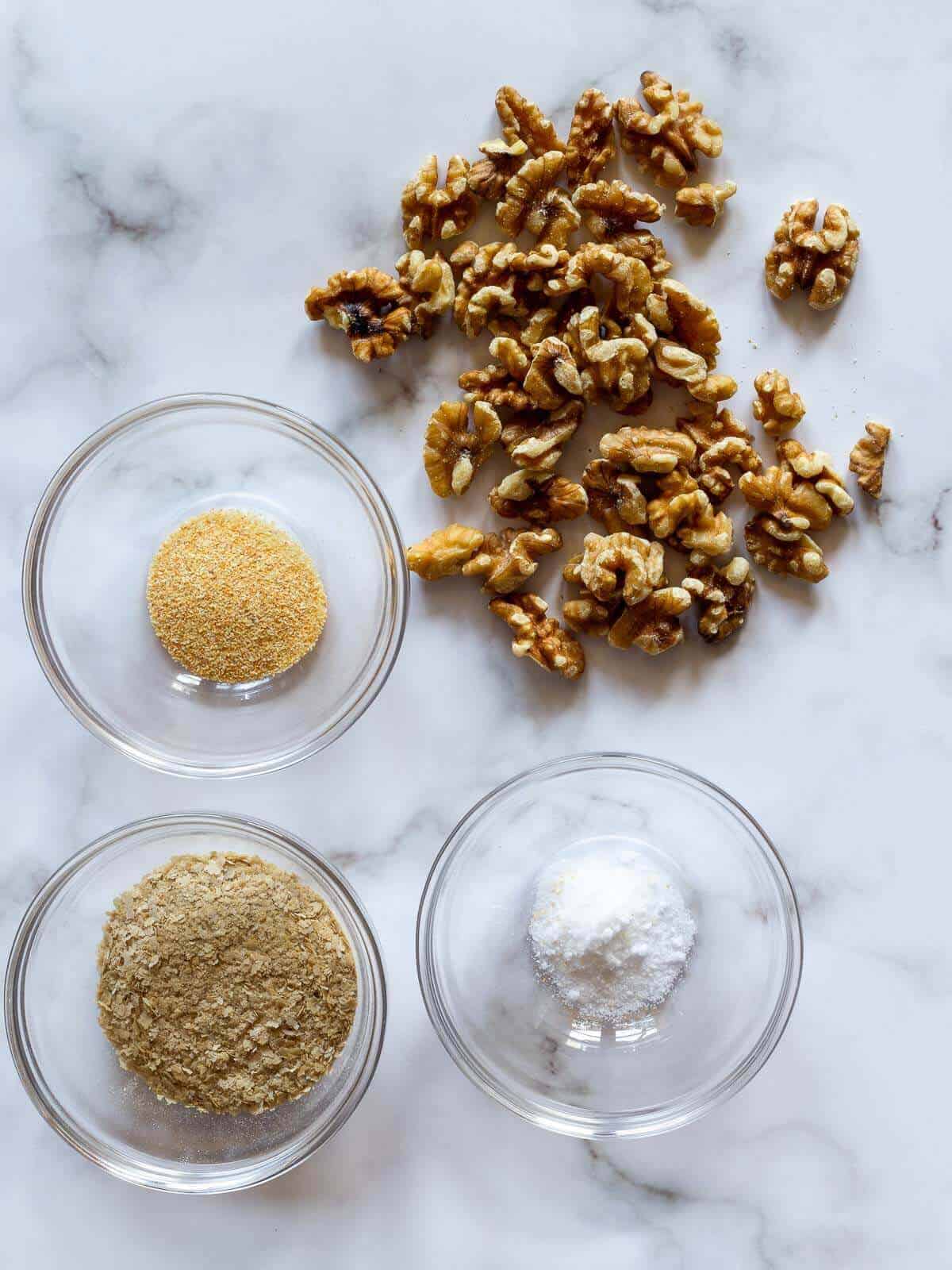 Raw walnuts
Nutritional Yeast (see substitutions)
Garlic Powder (can be replaced with onion powder)
Sea salt (skip to reduce sodium content)
See quantities and complete instructions in the recipe card.
🔪 Instructions
This is How to make vegan parmesan cheese: you just need to throw all the ingredients in an immersion blender or a food processor and blend for 30 seconds.
To get an even texture, I pulse and shake the food processor low-speed button and repeat. Otherwise, it can turn into oily clumps. It will not affect the flavor, but you may not achieve the powdery texture we are looking for.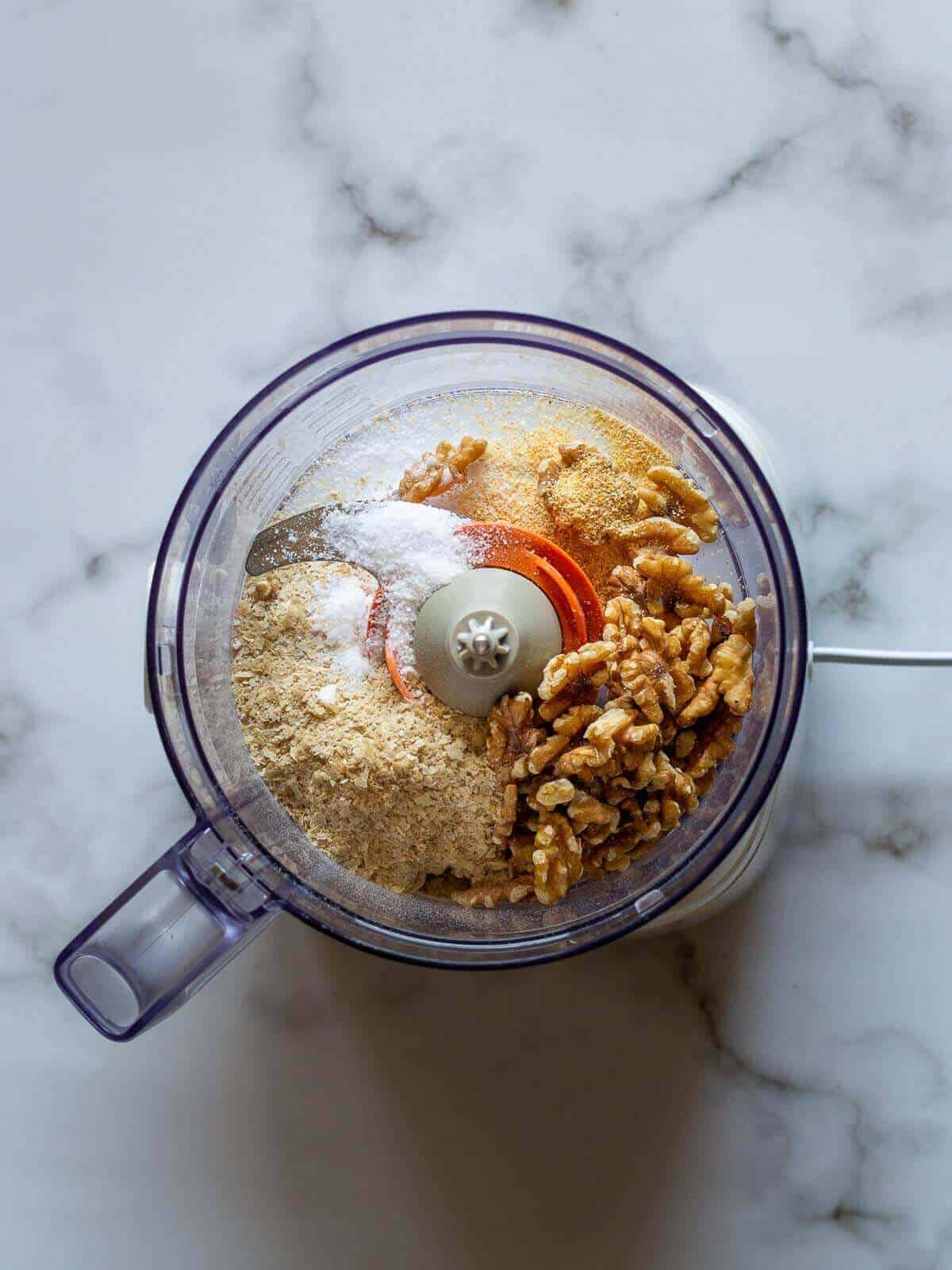 Place all the ingredients in a food processor.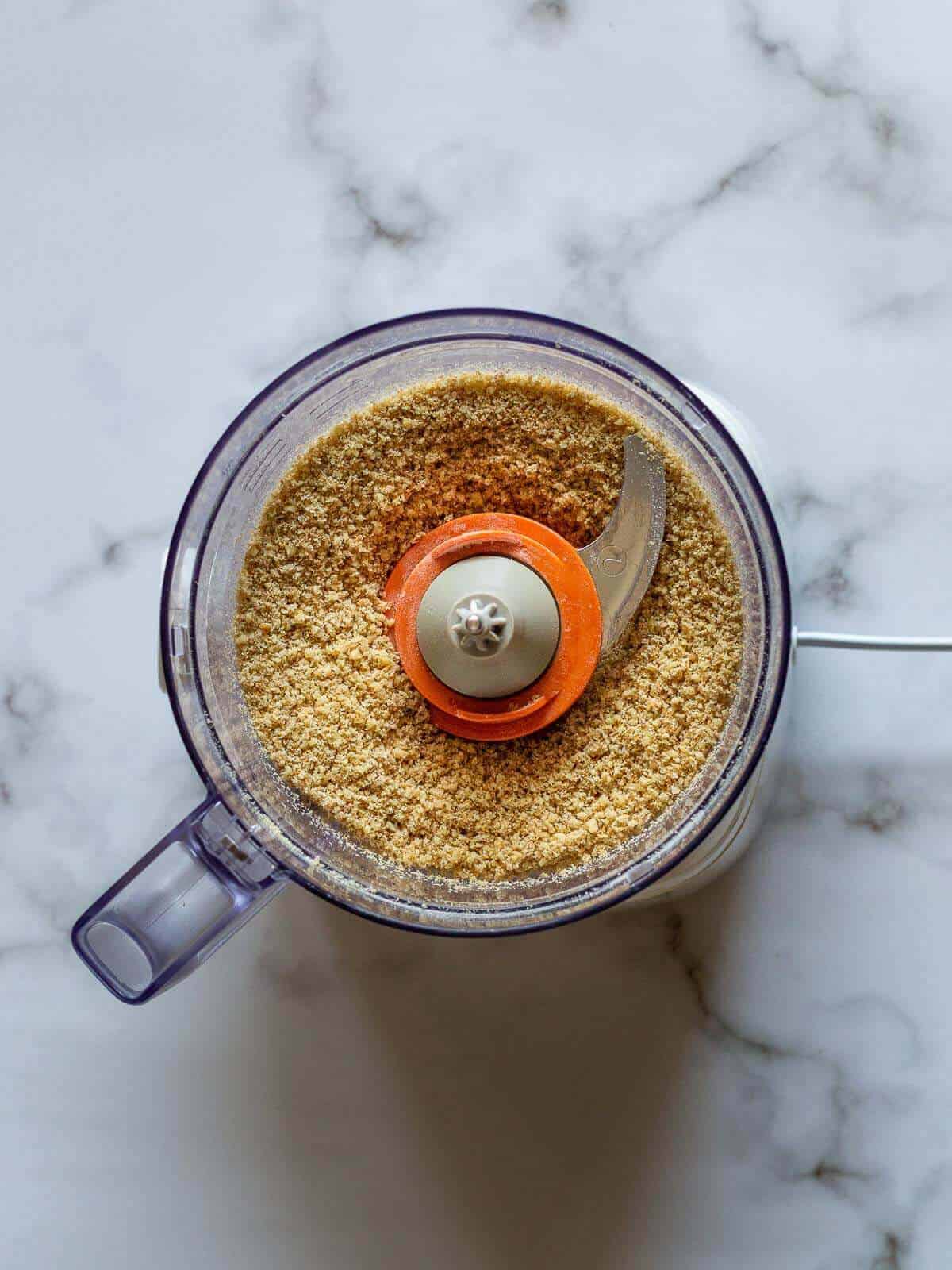 Pulse until it reaches the desired consistency.
Although this non-dairy Parmesan cheese doesn't melt, it goes very well with any dish that calls for regular parmesan cheese.
🥢 How to serve
It goes well over pasta dishes like our 3-ingredient pasta, homemade pizza (recipe), dinner recipes, and baked goods. I regularly use this mixture on salads to replace oil-based vinaigrettes, and to make whole foods seasoning.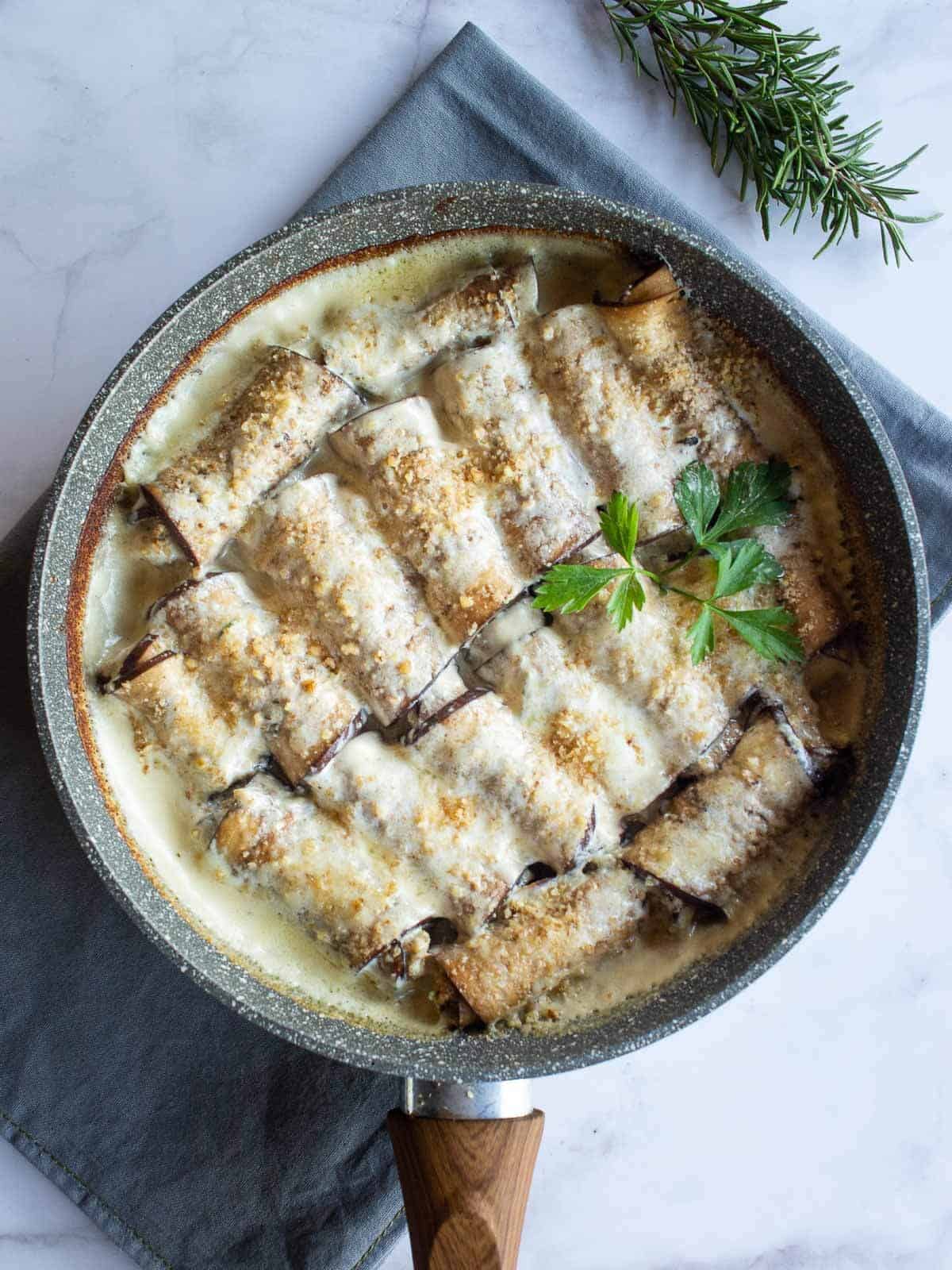 This recipe is tasty and so good. You only need a few ingredients usually available in any plant-based kitchen and a blender to make it. The result will be a versatile and delicious plant-based cheese that will boost the flavor of any pasta dish in place of grated parmesan cheese or sprinkle on top of a baked potato, zucchini noodles, roasted vegetables, or salad.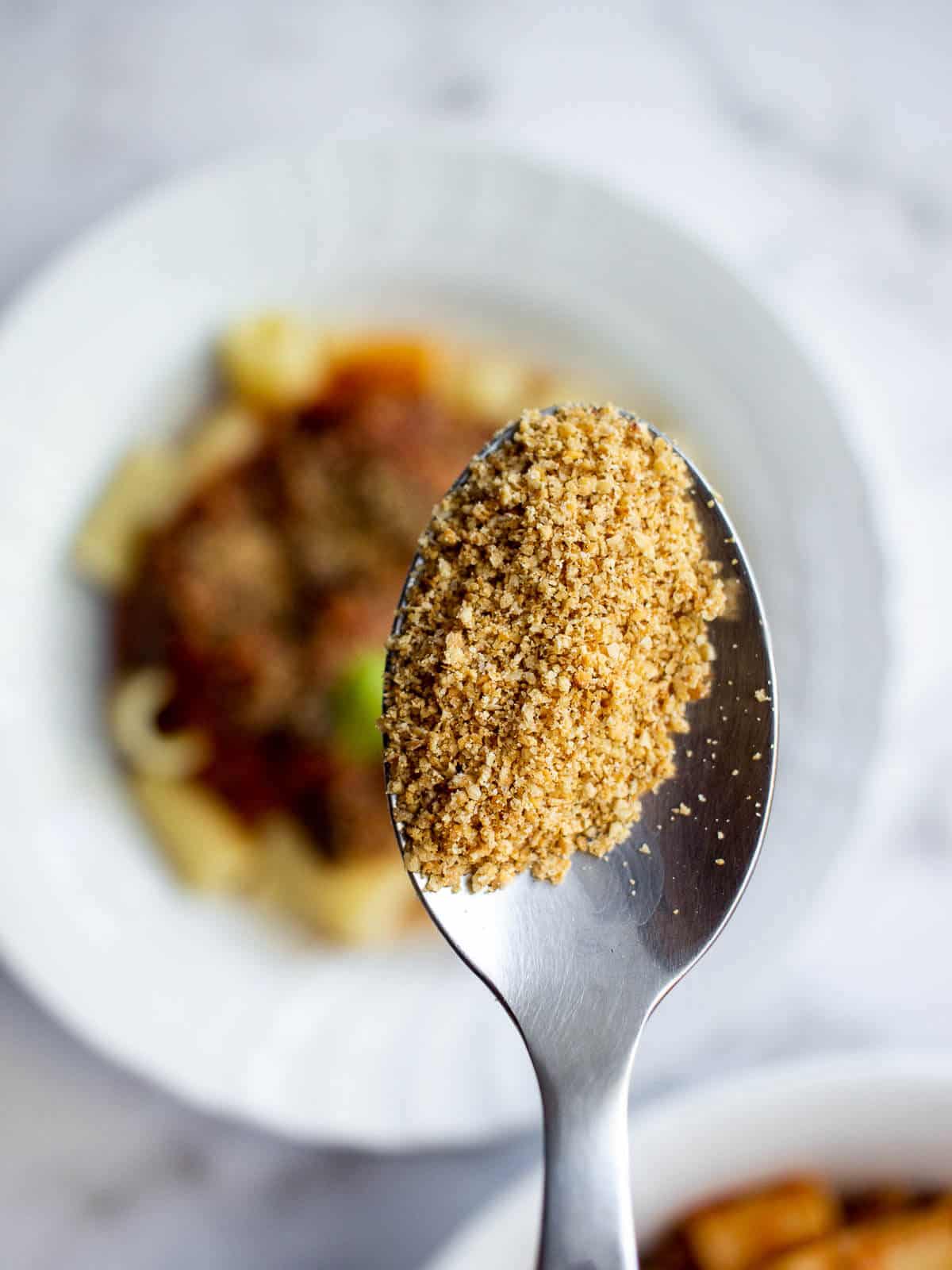 🫙 Storage
This recipe is not made with fresh ingredients, so it lasts if properly stored in an airtight container in the fridge. I can't tell you exactly how much as I always use it within a couple of weeks, but I am sure it will last at least a month.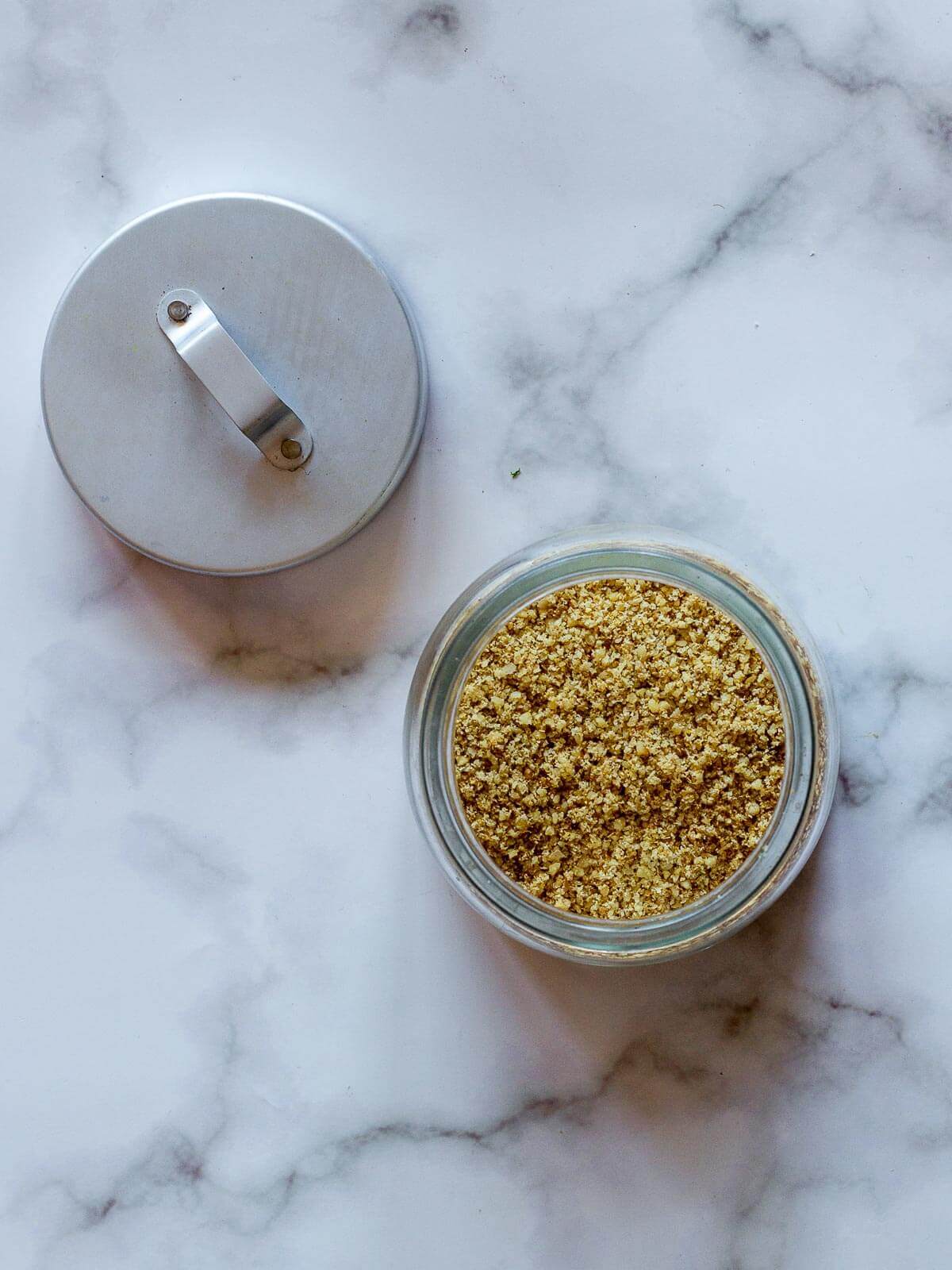 🍶 Substitutions
Nuts - instead of walnuts, you could use Brazil nuts, toasted raw cashews, roasted cashews, or almonds and still have that nutty flavor. We even make another variant of this vegan parm cheese with raw sunflower seeds and sesame seeds; check out the seeds parm recipe and seeds parm recipe avoiding nuts.
Organic Nutritional yeast - a good substitute for nutritional yeast in this recipe is finely group dried shiitake mushroom or powder miso soup.
Garlic powder - sub for onion powder.
🤔 About Nutritional yeast
In vegan cooking, where we look at dairy-free ingredients, nutritional yeast is a very important ingredient. It is a staple of vegan cooking, so ensure you get a good quality brand; it will add a distinctly cheesy taste and savory flavor to your meals.
You can use it in many vegan Italian dishes, especially vegan parmesan recipes, pesto sauces and risottos, and vegan cheese recipes like vegan bechamel sauce.
According to WebMed, nutritional yeast is rich in nutrients, often lacking in vegetarian and vegan diets. It's also free of gluten, soy, and sugar, making it an excellent dietary addition for people with food sensitivities.
However, research shows that its nutritional content can benefit any diet since it also has protein and B vitamins, which are very important to supplement in a vegan diet.
Adding Nutritional Yeast to your diet is a good idea.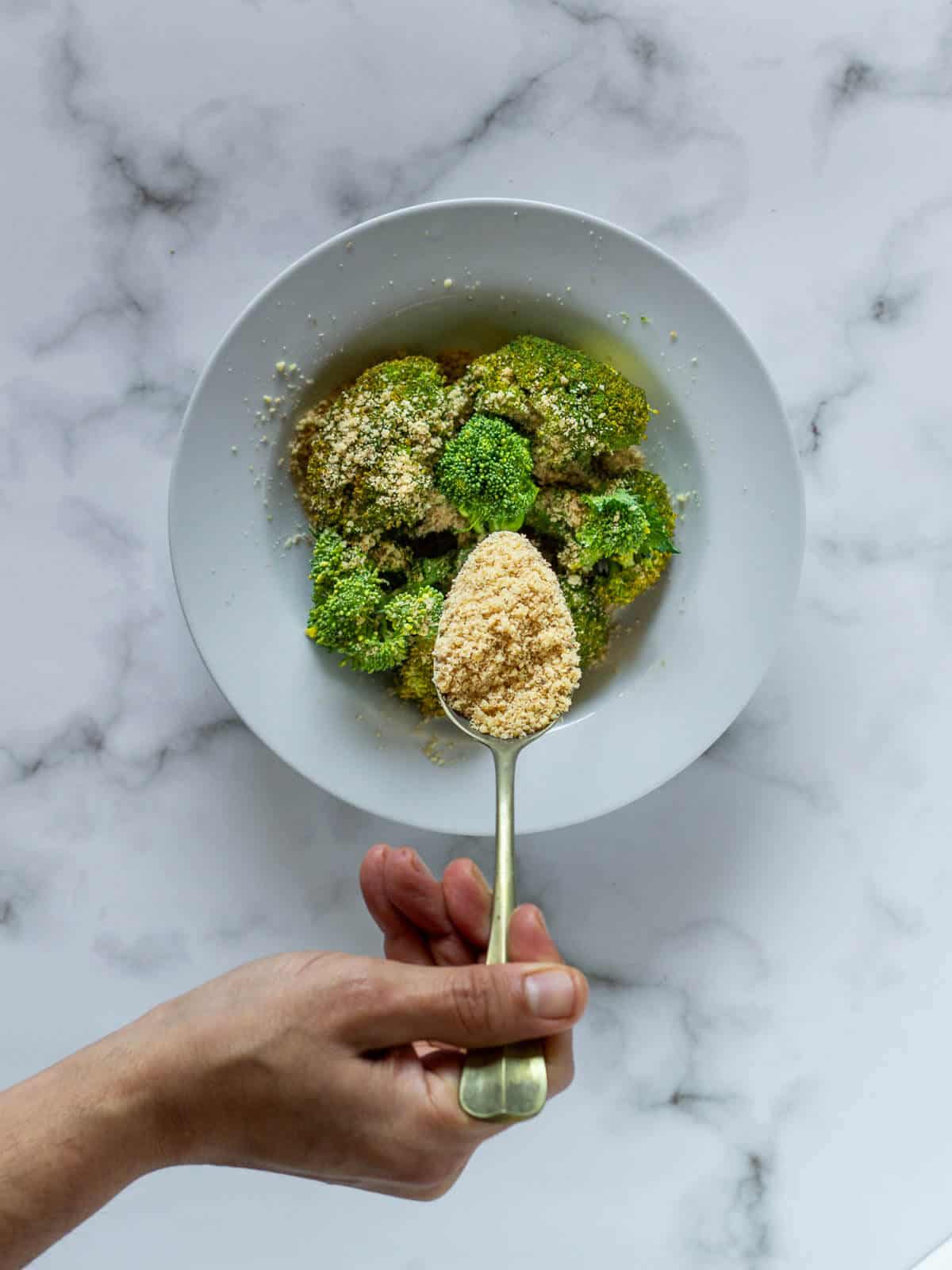 💡 Nutritional yeast substitute
If you're looking for an alternative to nutritional yeast, there are plenty of options depending on your needs.
For example, if you're looking into a nutritional yeast replacement for:
Adding umami and cheesy flavor to your dishes: use dairy-free cheese shreds such as vegan shredded mozzarella, finely chopped dried shiitake mushrooms for the nutritional yeast, and powdered miso soup. You could also use white miso, miso paste, or coconut aminos if you plan to add or replace nutritional yeast on stews or risottos.
To boost the vitamins and minerals content of a meal or a similar texture, consider ground flaxseeds or almond meal (recipe) to your dish, salads, or these vegan parm cheese.
Looking for a nutritional yeast alternative can be tricky; just like substituting eggs, you need to consider what you are substituting. Is it flavor, texture, consistency, or nutritional aspects... the answer will be different depending on your aim.
📚 More recipes using nutritional yeast
Some Recipes where you can use this Nutritional Yeast Parmesan
If you want to try another vegan parm recipe using sunflower seeds, look at our recipe.
We also use this recipe for recipes like Ribollita Tuscan soup to give it a final touch, which works wonderfully!
🧀 More vegan cheese recipes
If you try this vegan parmesan, let us know! Leave a comment, rate it, and don't forget to tag a photo #ourplantbasedworld on Instagram. Cheers!
📋 Recipe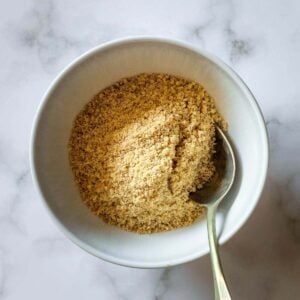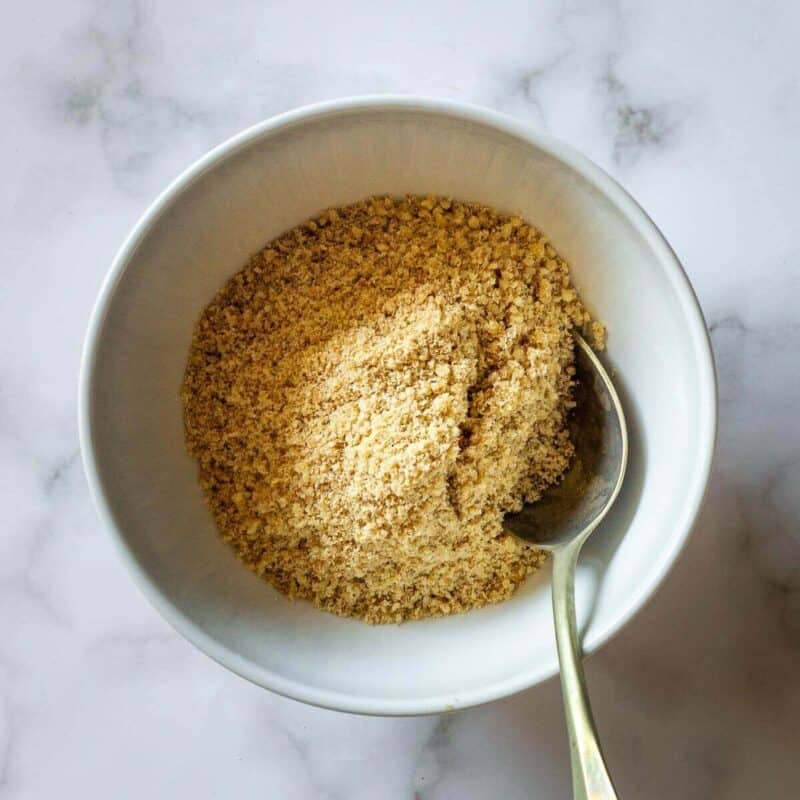 Homemade Vegan Parmesan Recipe + Substitute for Nutritional Yeast
With 4 ingredients, this homemade vegan Parm cheese is flavorful, cheesy, and ready in minutes.
Equipment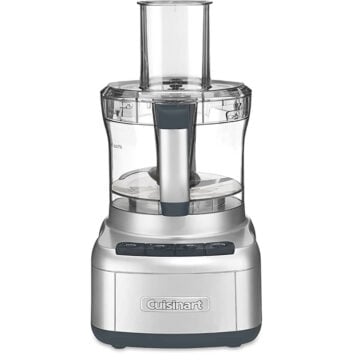 (affiliate link)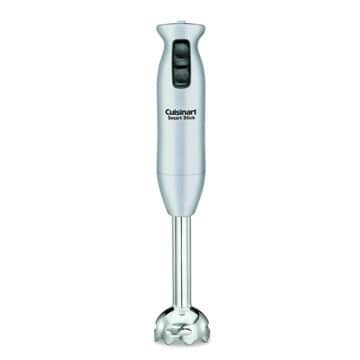 (affiliate link)
Directions
Add unsalted walnuts, nutritional yeast, garlic powder, and salt to a blender or a food processor and pulse for 30 seconds. Pulse, open or shake and repeat. Stop before you think you should; otherwise, it can turn into oily clumps.

Taste and adjust flavor. Add more nutritional yeast for "cheesiness" and extra garlic powder for a more intense note.
Notes
It's essential to stop, stir (or shake) and repeat; otherwise, it can turn into clumps and may not have the powdery texture we are looking for.
If using a nutribullet

(affiliate link)

, stop when I have mostly powder with a couple of walnut pieces left. A couple of walnut pieces are great. 🙂
Nutrition Facts
Calories:
55
kcal
Carbohydrates:
2
g
Protein:
2
g
Fat:
5
g
Saturated Fat:
1
g
Sodium:
146
mg
Potassium:
72
mg
Fiber:
1
g
Sugar:
1
g
Vitamin A:
1
IU
Vitamin C:
1
mg
Calcium:
7
mg
Iron:
1
mg
Nutrition Facts
Homemade Vegan Parmesan Recipe + Substitute for Nutritional Yeast
Amount per Serving
% Daily Value*
* Percent Daily Values are based on a 2000 calorie diet.
🌡️ Food safety
Cook to a minimum temperature of 165 °F (74 °C)
Do not use the same utensils on cooked food that previously touched raw meat
Wash hands after touching raw meat
Don't leave food sitting out at room temperature for extended periods
Never leave cooking food unattended
Use oils with high smoking points to avoid harmful compounds
Always have good ventilation when using a gas stove
See more guidelines at USDA.gov.
The information shown is an estimate provided by an online nutrition calculator. It should not be considered a substitute for a professional nutritionist's advice. See our full Nutritional Disclosure here.
Please note that some of the links here are affiliate links, and I will earn a commission if you purchase through those links. I recommend all of the products listed because they are companies I have found helpful and trustworthy.