Cooking can be therapeutic, especially when you're cooking something you love and enjoying the process as well. Today, I'm going to share one of my favorite recipes with you all: sweet potato crunch casserole! This dish is so simple to make, but it's loaded with flavor and happiness.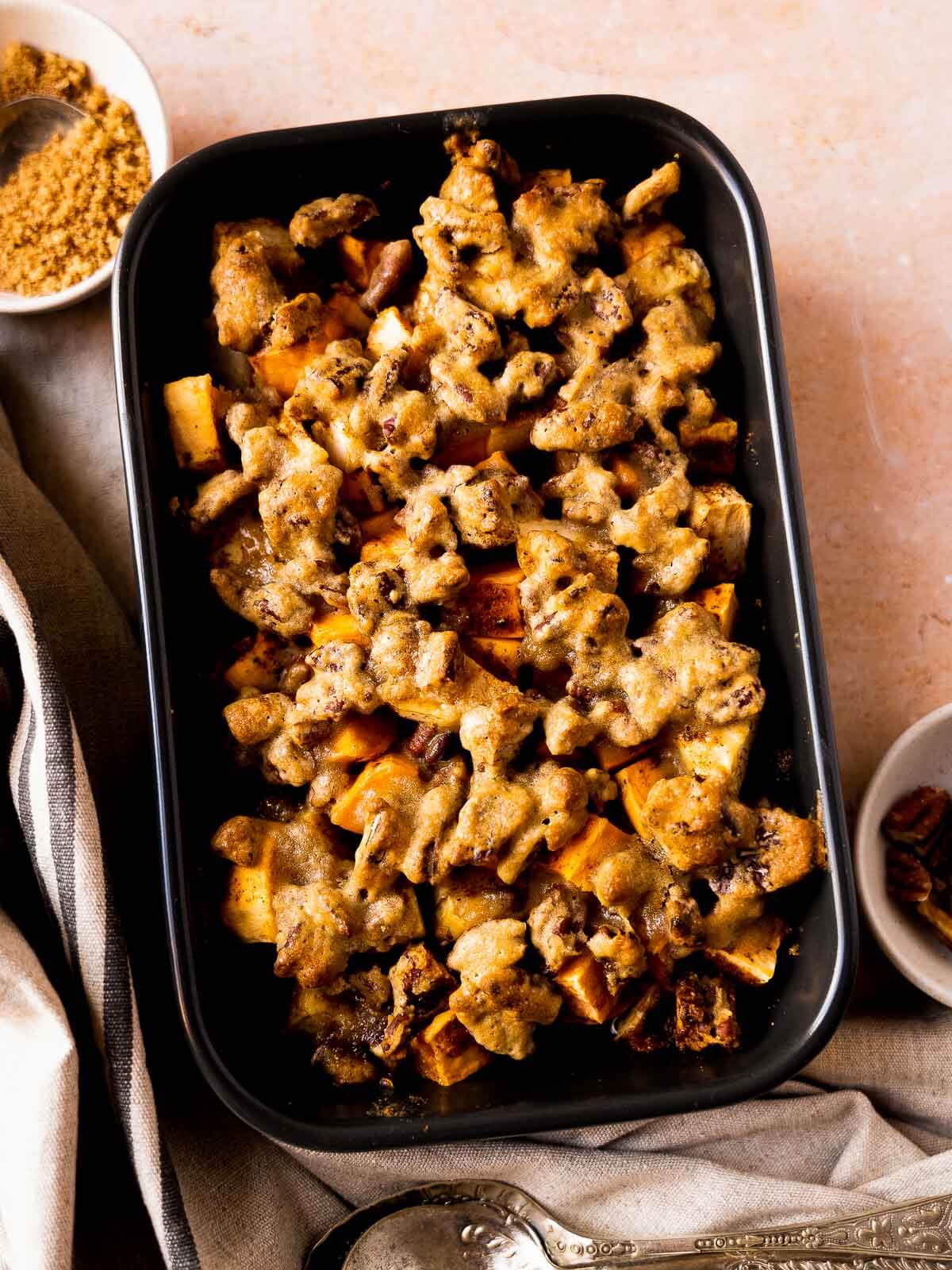 This gluten-free sweet potato casserole is a Holiday and Fall season dish filled with Autumn flavors and finished with a delicious crunchy pecan topping. I love how versatile it can be; however, it was initially conceived as a Christmas dinner or Thanksgiving side dish; it can also work as a breakfast treat and even as a dessert with a scoop of vegan ice cream and maple syrup.
This was inspired by a combination of flavors of a traditional sweet potato casserole, our savory sweet potato, and my sweet temptation plantains recipe; a traditional Panamanian sweet side dish is always present in every special celebration but can also be served as a warm sweet to end a meal.
Jump to:
🧾 Ingredients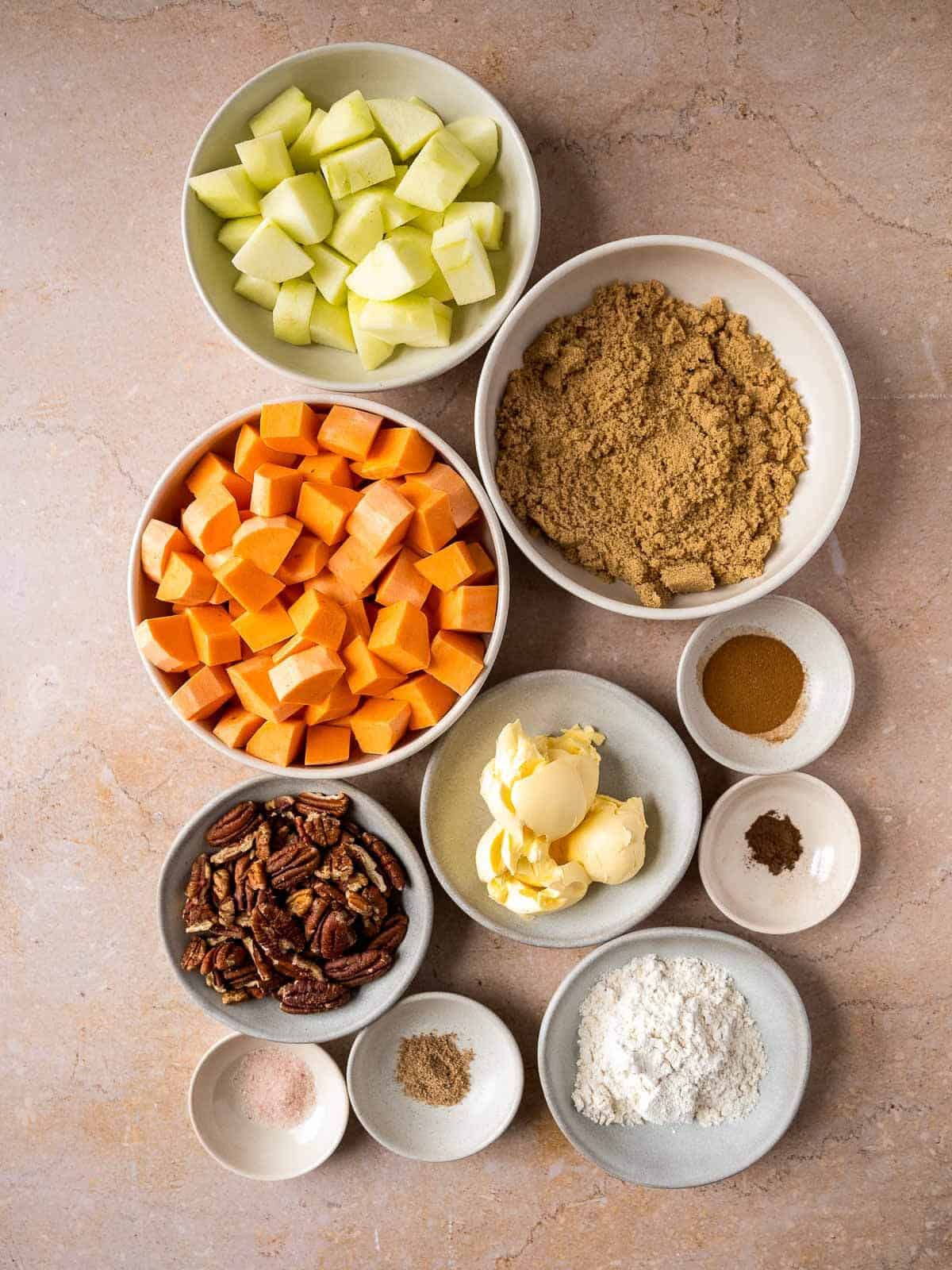 Sweet Potatoes: These orange beauties are packed with vitamins and fiber, offering a natural sweetness that pairs well with our other ingredients.
Apples: They add a tart crunch, balancing the sweetness of the dish while also providing a dose of antioxidants.
Brown Sugar: It caramelizes beautifully, giving the casserole that irresistible, gooey texture we all crave.
Cinnamon: This spice is a flavor powerhouse that also has anti-inflammatory properties, making the dish not just tasty but also a bit healthier.
Nutmeg: It adds a warm, nutty aroma that complements the sweetness of the casserole, elevating its flavor profile.
Allspice: This is your one-stop-shop for a blend of cinnamon, nutmeg, and cloves, adding complexity to the dish without overwhelming it.
Pecans: These nuts bring in a delightful crunch and are also rich in healthy fats and protein.
Gluten-Free Flour Mix: It helps bind the ingredients together while keeping the dish accessible for those with gluten sensitivities.
Vegan Butter: This plant-based alternative offers the creamy, rich texture you'd expect from regular butter but without the dairy.
Salt: A pinch enhances all the other flavors, making them pop without making the dish overly salty.
See the recipe card for quantities.
🔪 Instructions
Preheat oven and peel sweet potatoes and apples.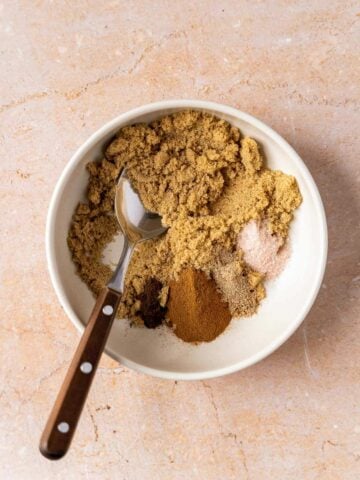 Measure all your dry ingredients and place them in a bowl.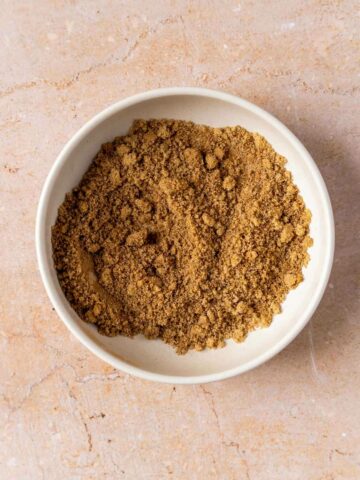 Combine all spices plus salt and sugar in a mixing bowl.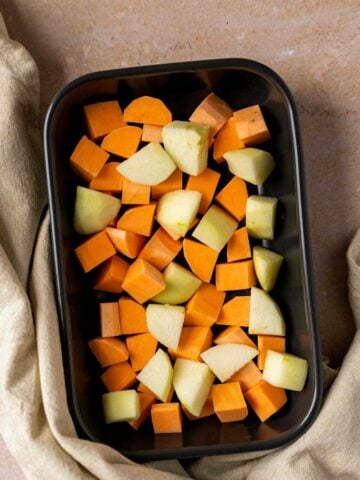 Place the peeled and cubed sweet potatoes and apples in a greased baking dish.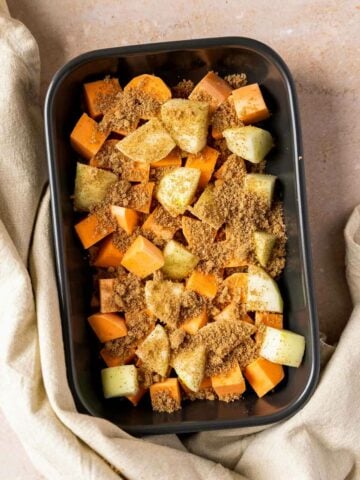 Add crumble mix on top and bake sweet potatoes and apples.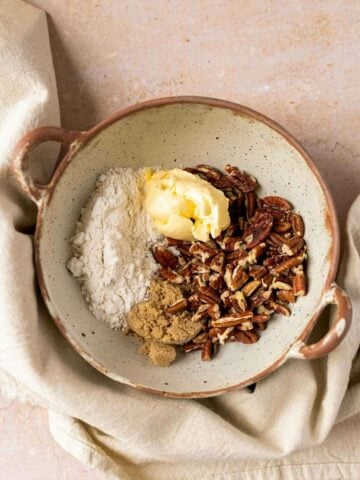 Add the pecan crumble ingredients into a bowl.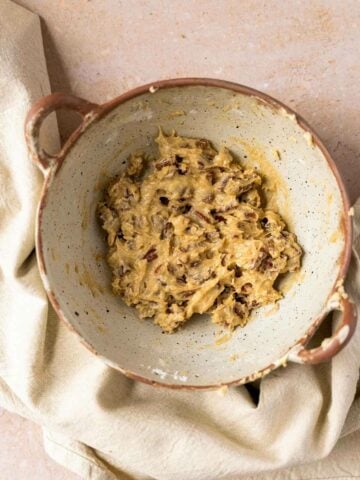 Combine melted butter with the flour and chopped pecans.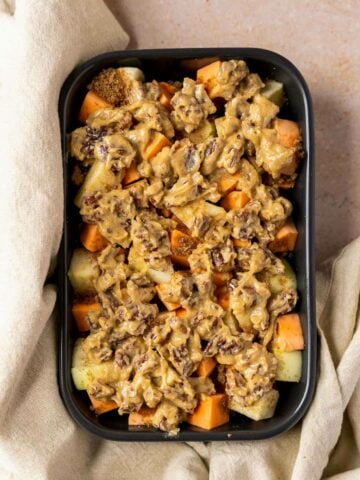 Add the pecan mixture and cook sweet potatoes in the oven for another 30 minutes.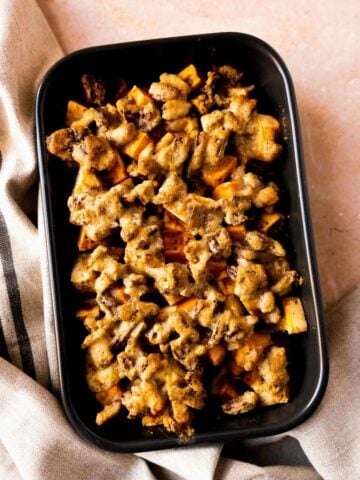 Remove the creamy sweet potatoes from the oven as soon as they look golden brown.
Hint: for this sweet potato casserole, choose fresh over canned sweet potatoes, as they will better keep their shape and texture.
If you love healthy apple recipes, don´t forget to give a go to our delicious brown sugar and apple oatmeal and our cinnamon apple smoothie, which is low in calories and high in protein.
🍶 Substitutions
Although this casserole requires simple ingredients, you can make some replacements getting virtually the same results.
Apples – granny smiths have a deliciously tart edge that works well with the sweetness of the potatoes and the sugar. An alternative tart-cooking apple can be used as a substitute.
Sweet potatoes - use yams instead.
Flour - if you don't follow a gluten-free diet, you can substitute with all-purpose flour instead of store-bought or our gluten-free homemade mix.
Coconut sugar - brown sugar works perfectly.
Spices - if you have pumpkin pie spice mix, for convenience, you can replace the addition of the spices its correspondence. i.e., a total of 1 ¾
Crunchy pecan praline topping – have this sweet potato casserole with walnuts or almonds instead of pecans. Check out these brown sugar candied walnuts, made in 10 minutes with 4 ingredients.
📖 Variations
Fruit twist - we have tried this sweet potato and apple casserole with pears, and we loved it. I recommend using firm pears and tossing a lemon on them to make up for the apple's tartness.
Extra cozy - add half a teaspoon of vanilla extract into the pecan mixture.
Hint: If you make this crunch recipe omitting the apples, you could boil sweet potatoes just until slightly tender and only bake the buttery sweet potato mixture for the last 30 minutes.
🥢 How to serve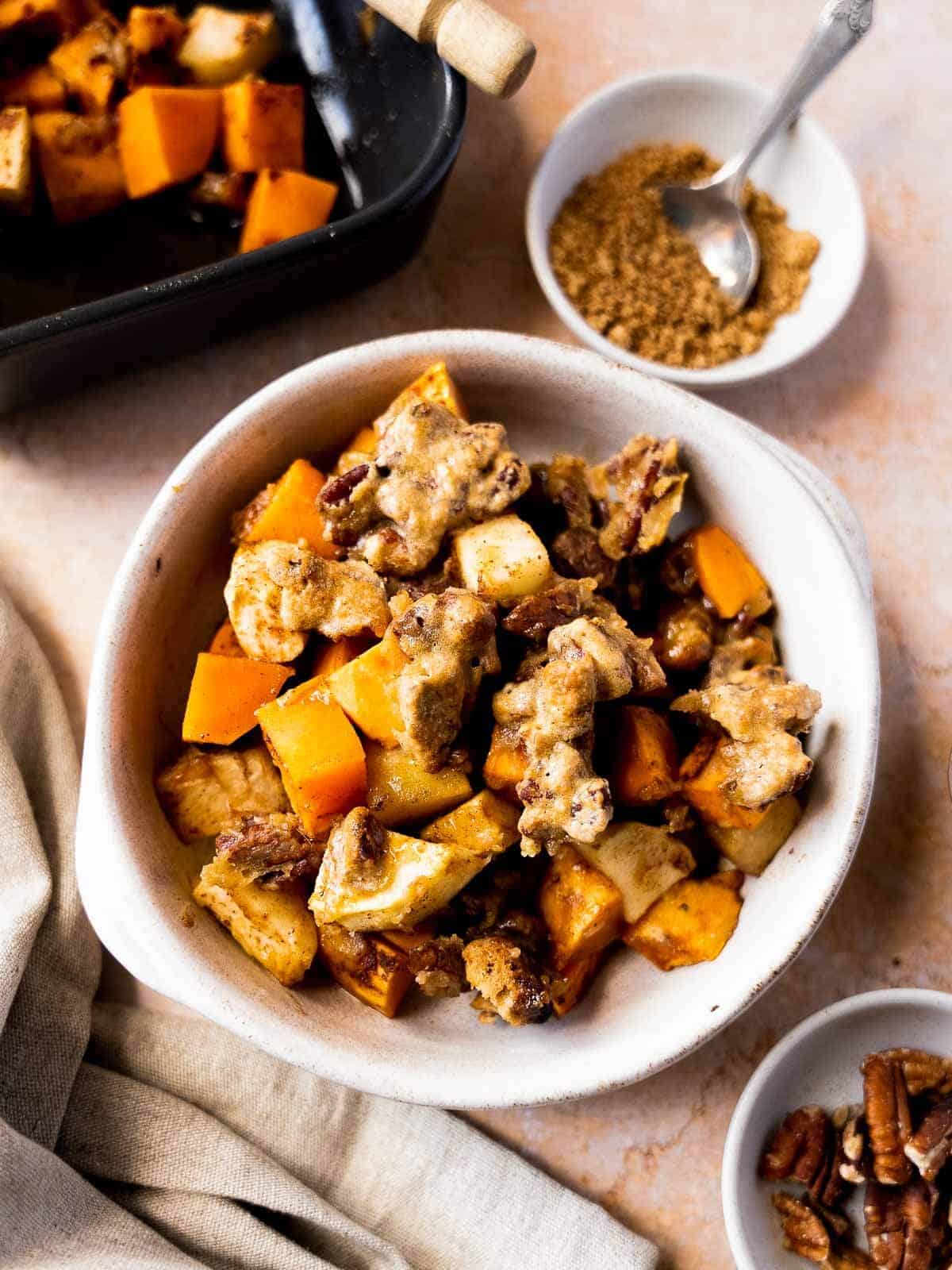 Serve on your holidays table next to spiced cranberry sauce, cornbread, and a nut roast.
If you plan to have it as dessert, toss in a dollop of vegan vanilla ice cream or peanut nicecream.
Having this dairy-free sweet potato casserole for breakfast with fresh fruit and dairy-free yogurt for a delicious fall morning treat.
🍽 Equipment
Mixing Bowl

(affiliate link)

: This is where the magic starts. You'll need it to combine your sweet potatoes, apples, and all those delicious spices evenly.
Baking Dish: The MVP for getting that perfect bake. It ensures even heat distribution, so every bite of your casserole is a little piece of heaven.
Measuring Spoons: Precision is key, folks! These help you add just the right amount of spices and salt, making sure your casserole is flavorful but not overwhelming.
🥡 Storage and Reheating Instructions
In the Fridge
Storing: Once your casserole has cooled down, transfer it to an airtight container and pop it in the fridge. It'll stay fresh for up to 5 days.
Reheating: When you're ready to dive back in, preheat your oven to 350°F. Cover the casserole with aluminum foil and bake for about 15-20 minutes, or until it's heated through.
Freezing and Reheating
Freezing: If you're playing the long game, you can freeze this bad boy. Just make sure it's in an airtight, freezer-safe container. It'll keep for up to 3 months.
Reheating: No need to thaw! Preheat your oven to 350°F, cover the frozen casserole with aluminum foil, and bake for 30-40 minutes. Check to make sure it's heated through before serving.
Meal Prep Option
Prep Ahead: You can prep all your ingredients and store them separately in airtight containers in the fridge. When you're ready to cook, just assemble and bake. This way, you can have a fresh casserole in a jiffy, any day of the week.
❓ FAQ
Can I use frozen sweet potatoes to make sweet potato casserole?
Yes, it will save you some prep time for peeling and chopping. But they may take a bit less or more time to tender in the first cooking step, so check them after 20 minutes and then regularly check them until fork tender.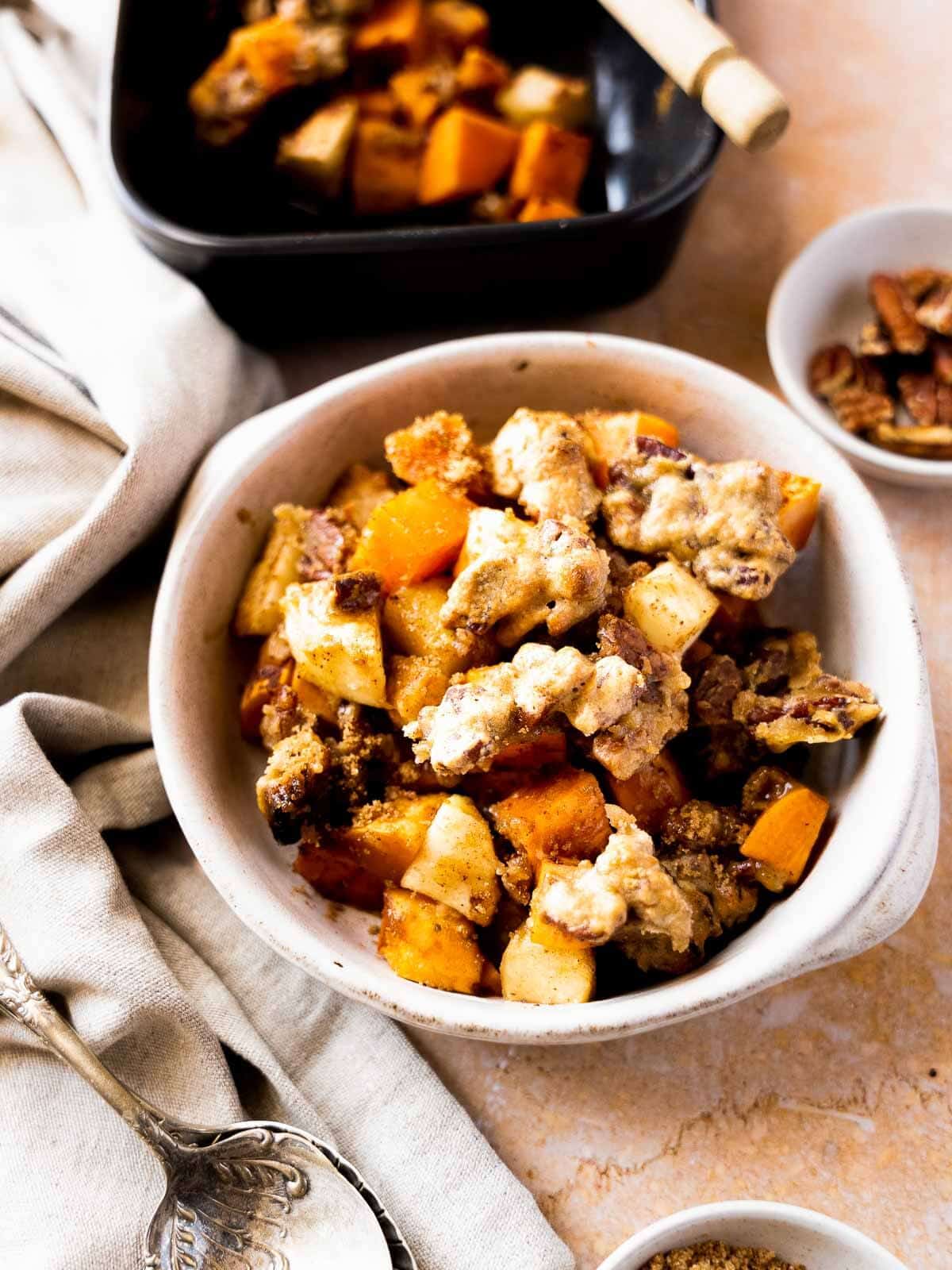 📚 More Holiday Recipes
Try these mashed sweet potatoes, infused with coconut oil and rosemary flavor, or simply make perfect vegan mashed potatoes.
Try out these oven-baked sweet potatoes, a fantastic side dish.
Our cornbread stuffing with cranberries and pecans is another perfect side dish for your Thanksgiving dinner, served with a savory vegan vegetable casserole and the hashbrown breakfast casserole.
Add some veggies to your table with our maple-glazed carrots, a green kale and pecan salad, or roasted healthy Brussels sprouts.
Check out our vegan pumpkin pie, sweet potato cake, and sweet potato pudding for a complete Thanksgiving treat.
⭐ If you try this gluten-free sweet potato casserole recipe, let us know! 💬 Leave a comment, rate it, and don't forget to tag us @ourplantbasedworld on Instagram. Cheers!
📋 Recipe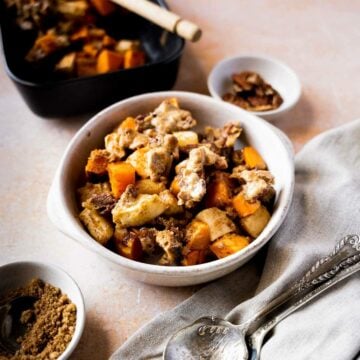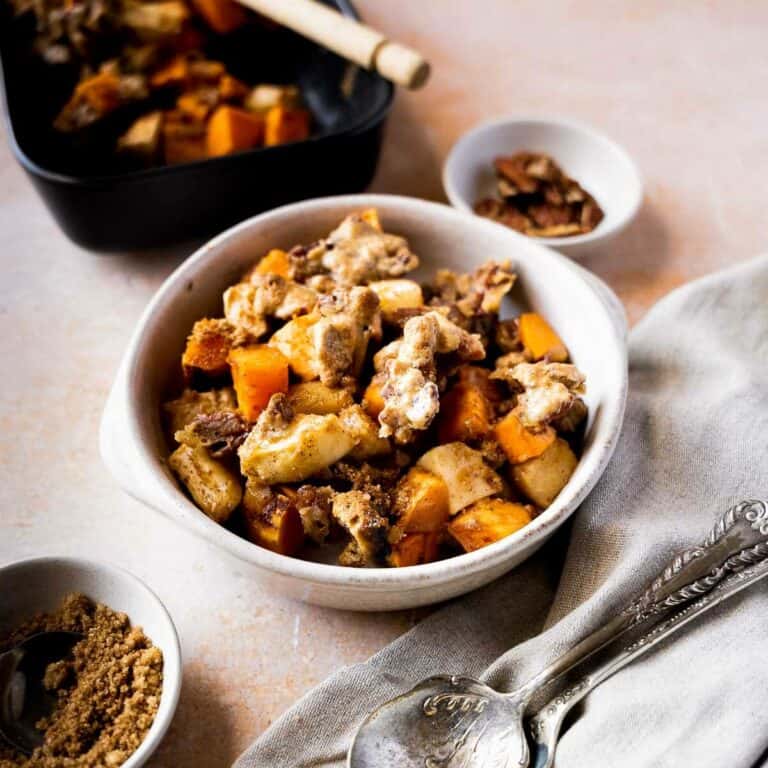 Sweet Potato Crunch (Gluten-Free Casserole)
This sweet potato casserole uses apples and Autumnal spices to pack in the seasonal flavours, and is finished with a delicious crunchy pecan topping.
Equipment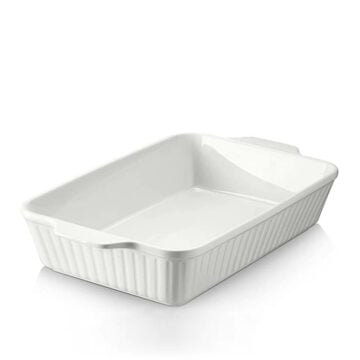 (affiliate link)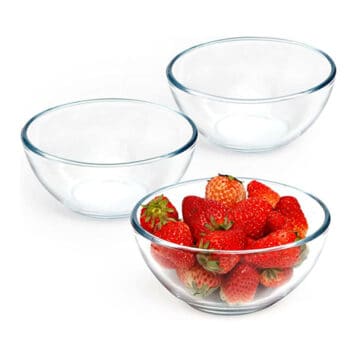 (affiliate link)
Ingredients
18

oz

sweet potatoes

~2 – peeled and cut into 1" (2.5 cm) pieces

9

oz

granny smith apples

~2 – peeled and cut into 1" (2.5 cm) pieces

¼

cup

coconut sugar

or brown sugar

1

teaspoon

cinnamon

see notes

½

teaspoon

nutmeg

⅛

teaspoon

allspice

¼

teaspoon

salt
For the crumble topping:
½

cup

pecans

roughly chopped

¼

cup

gluten-free flour mix

or all-purpose flour

¼

cup

coconut sugar

or brown sugar

¼

cup

vegan butter

or margarine
Directions
Preheat the oven to 400 °F (200 °C) / gas mark 6.

Toss the sweet potato pieces in a small amount of oil, or use oil spray, and bake in the oven in a casserole dish for 30 minutes or until fork tender.

Mix spices. While the sweet potatoes are cooking, mix the ¼ cup of brown sugar, cinnamon, nutmeg, allspice, and salt in a small bowl.

Make topping. In a separate larger bowl, mix the pecans, flour, butter/margarine, and the other ¼ cup of brown sugar. It helps to use your hand to rub the ingredients together between your fingers, as the butter may stay clumped up and not mix well with just a spoon.

Add apples. Once the sweet potatoes are done, add the apples to the casserole dish and mix until fairly evenly distributed. Then sprinkle over the sugar and spice mix.

Top with the crumble mix as evenly as possible, then put in the oven for 30 minutes until the topping is golden-brown and has a nice crunch.
Nutrition Facts
Calories:
456
kcal
Carbohydrates:
69
g
Protein:
4
g
Fat:
20
g
Saturated Fat:
3
g
Polyunsaturated Fat:
6
g
Monounsaturated Fat:
10
g
Trans Fat:
2
g
Sodium:
311
mg
Potassium:
592
mg
Fiber:
8
g
Sugar:
39
g
Vitamin A:
18142
IU
Vitamin C:
6
mg
Calcium:
85
mg
Iron:
2
mg
Nutrition Facts
Sweet Potato Crunch (Gluten-Free Casserole)
Amount per Serving
% Daily Value*
* Percent Daily Values are based on a 2000 calorie diet.
🌡️ Food safety
Cook to a minimum temperature of 165 °F (74 °C)
Do not use the same utensils on cooked food, that previously touched raw meat
Wash hands after touching raw meat
Don't leave food sitting out at room temperature for extended periods
Never leave cooking food unattended
Use oils with a high smoking point to avoid harmful compounds
Always have good ventilation when using a gas stove
See more guidelines at USDA.gov.
Nutritional Disclaimer
The information shown is an estimate provided by an online nutrition calculator. It should not be considered a substitute for a professional nutritionist's advice. See our full Nutritional Disclosure here.
Affiliate Disclaimer
Please note that some of the links here are affiliate links, and I will earn a commission if you purchase through those links. I recommend all of the products listed because they are companies I have found helpful and trustworthy.