Have you ever had Roman-style artichokes? They're amazing! They have a delicate, almost nutty flavor, and they're so fun to eat. You start by peeling away the leaves until you get to the soft, delicious artichoke buds.
The method for this Roman artichoke recipe uses garlic, salt, and olive oil to give the artichokes a delicious flavor. Best of all, it's easy to make! So why not give it a try?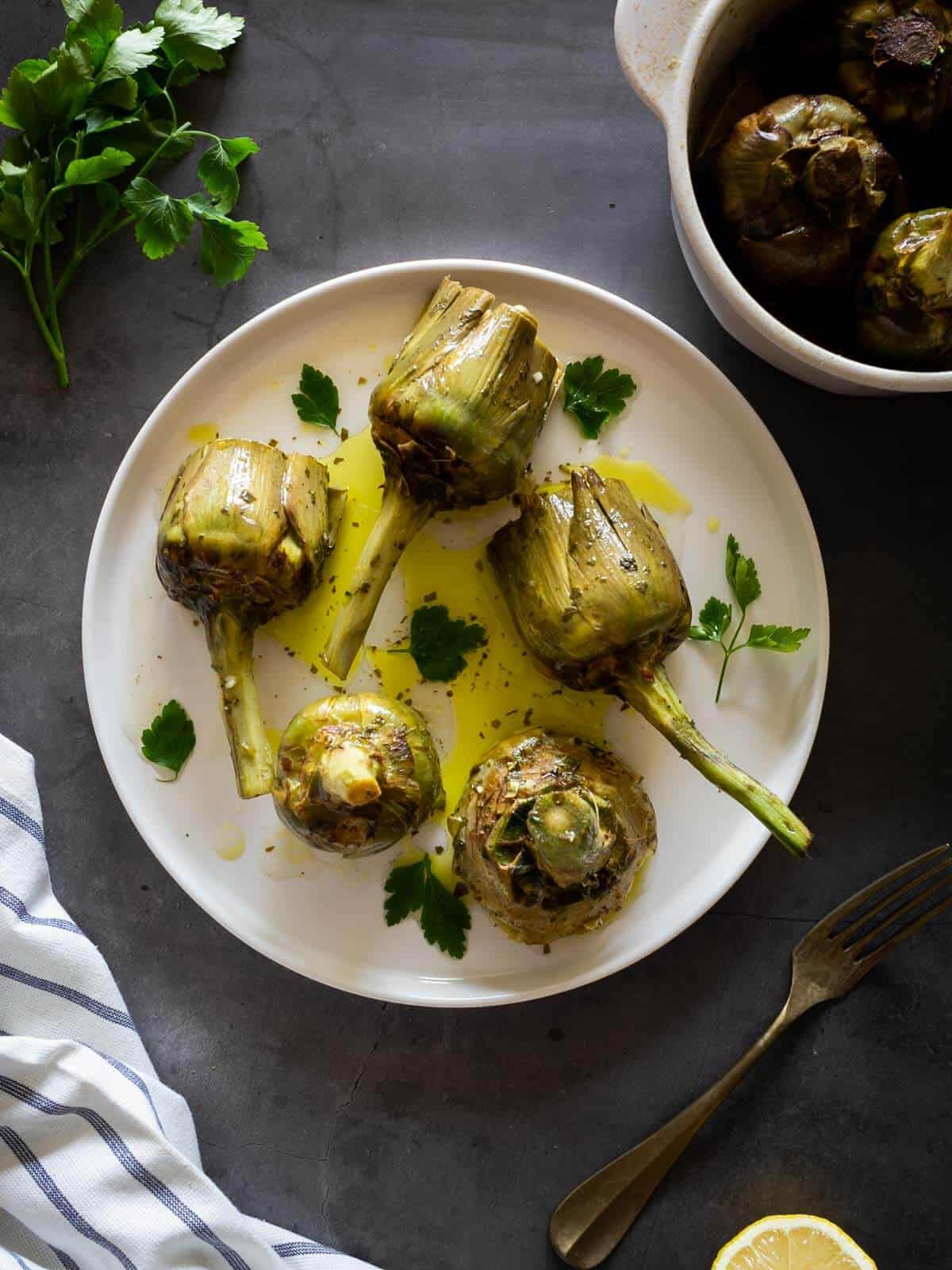 Once you've eaten artichoke hearts within the artichoke buds, you're left with a tasty little morsel in the bottom of the bowl. If you've never had one before, I highly recommend giving them a try. You can find them at most grocery stores or specialty food stores. Enjoy!
In this recipe, we tell you about the artichoke's beauty with a traditional dish from Lazio, the "Carciofi alla Romana" (Roman Style artichokes).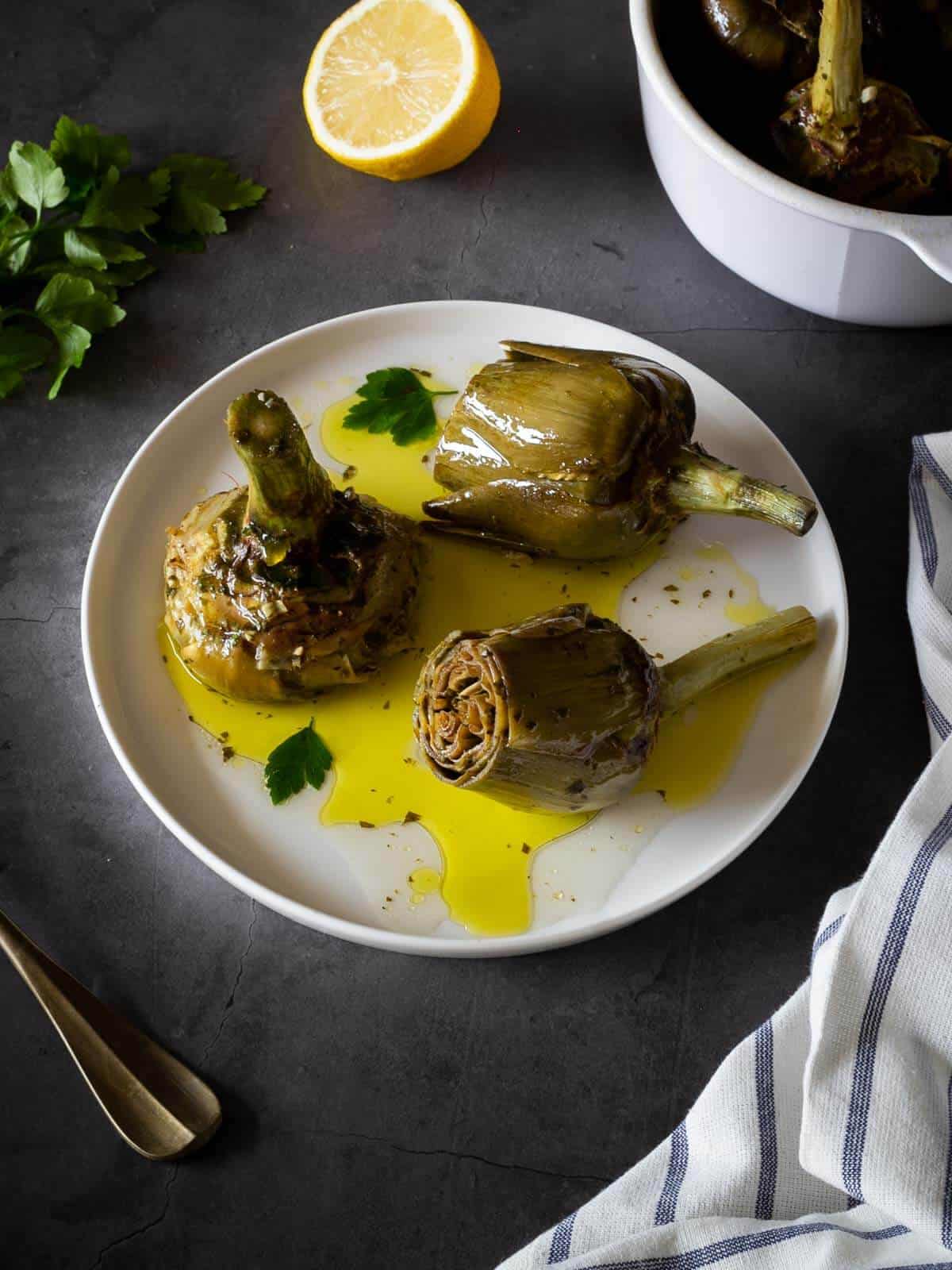 Whether you are from Rome or not, serving "Carciofi alla Romana" will always be a success!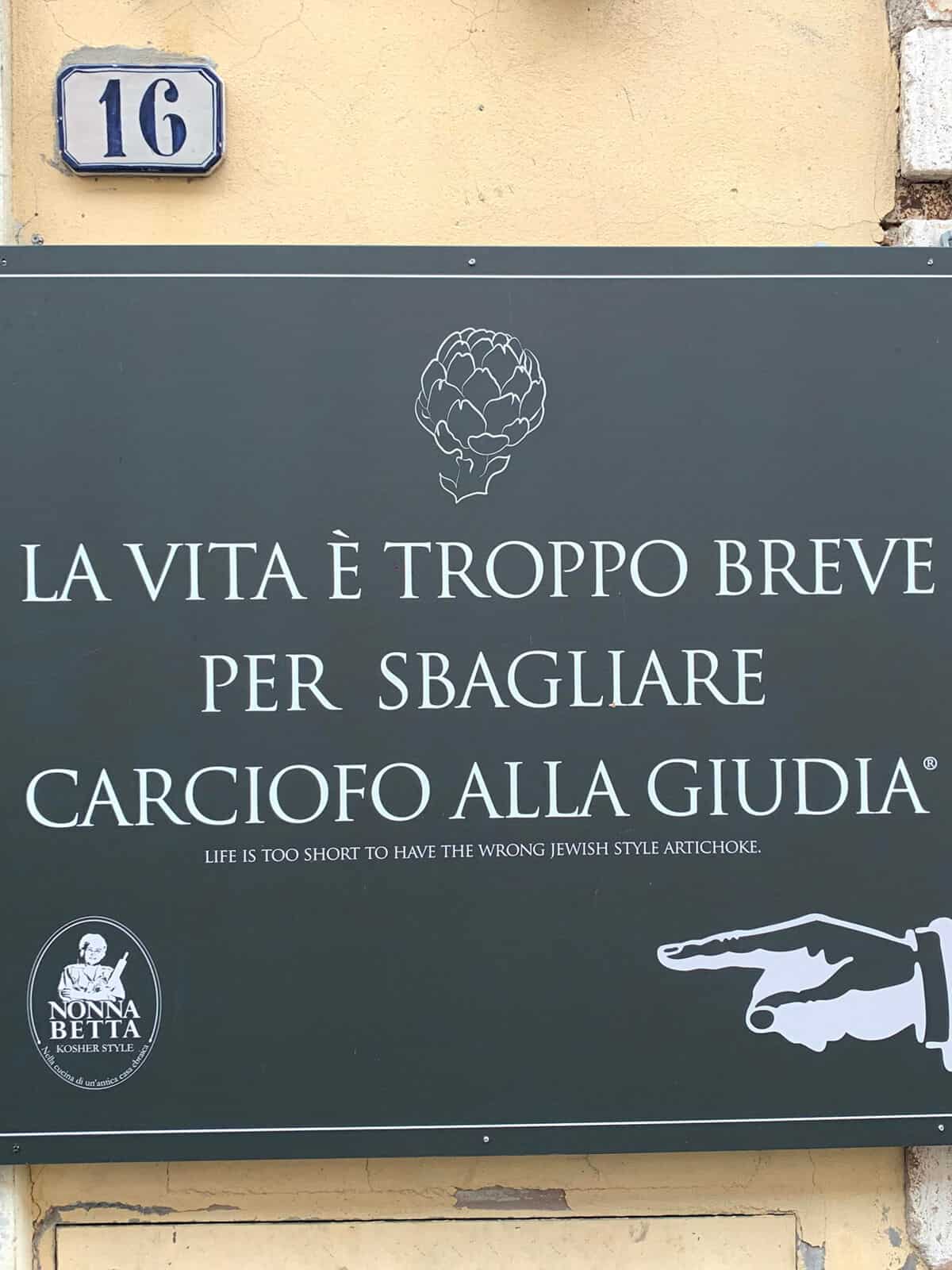 Jump to:
🤔 The Origins of the Roman Artichokes
Artichokes are thought to be a domesticated version of the cardoon and have their root in Southern Italy.
At some point, locals developed a local artichoke variety in the coastal area near Rome. This cultivar is known as the carciofo romanesco (Roman artichoke) in recognition of its origins.
The romanesco artichoke is rounder than other cultivars and is a little bigger than a tennis ball.
You will find that the outer leaves are softer than those of the green ones meaning that we can eat most of the artichoke with little thrown away. Luckily, this has led to them being cooked and eaten whole.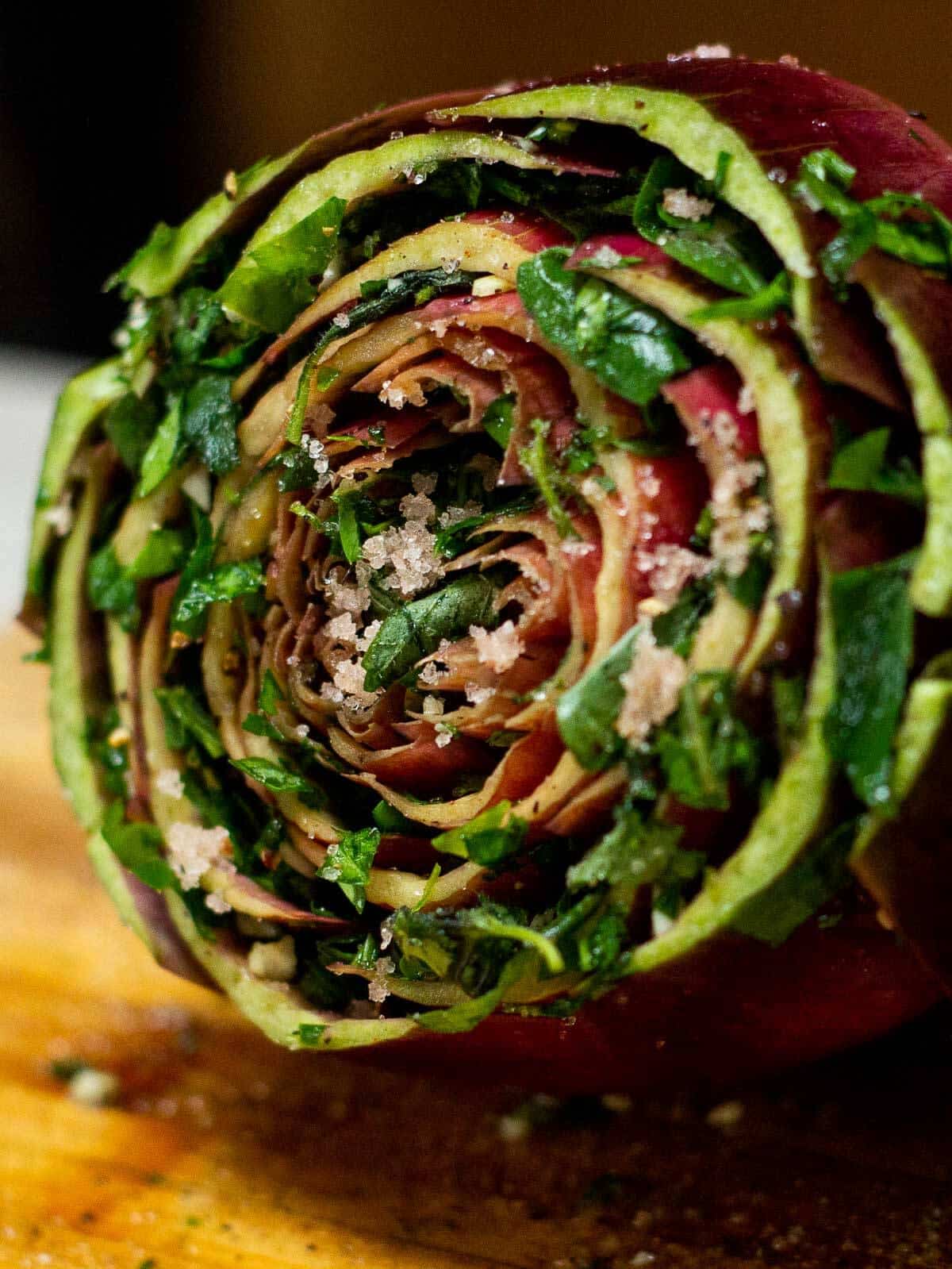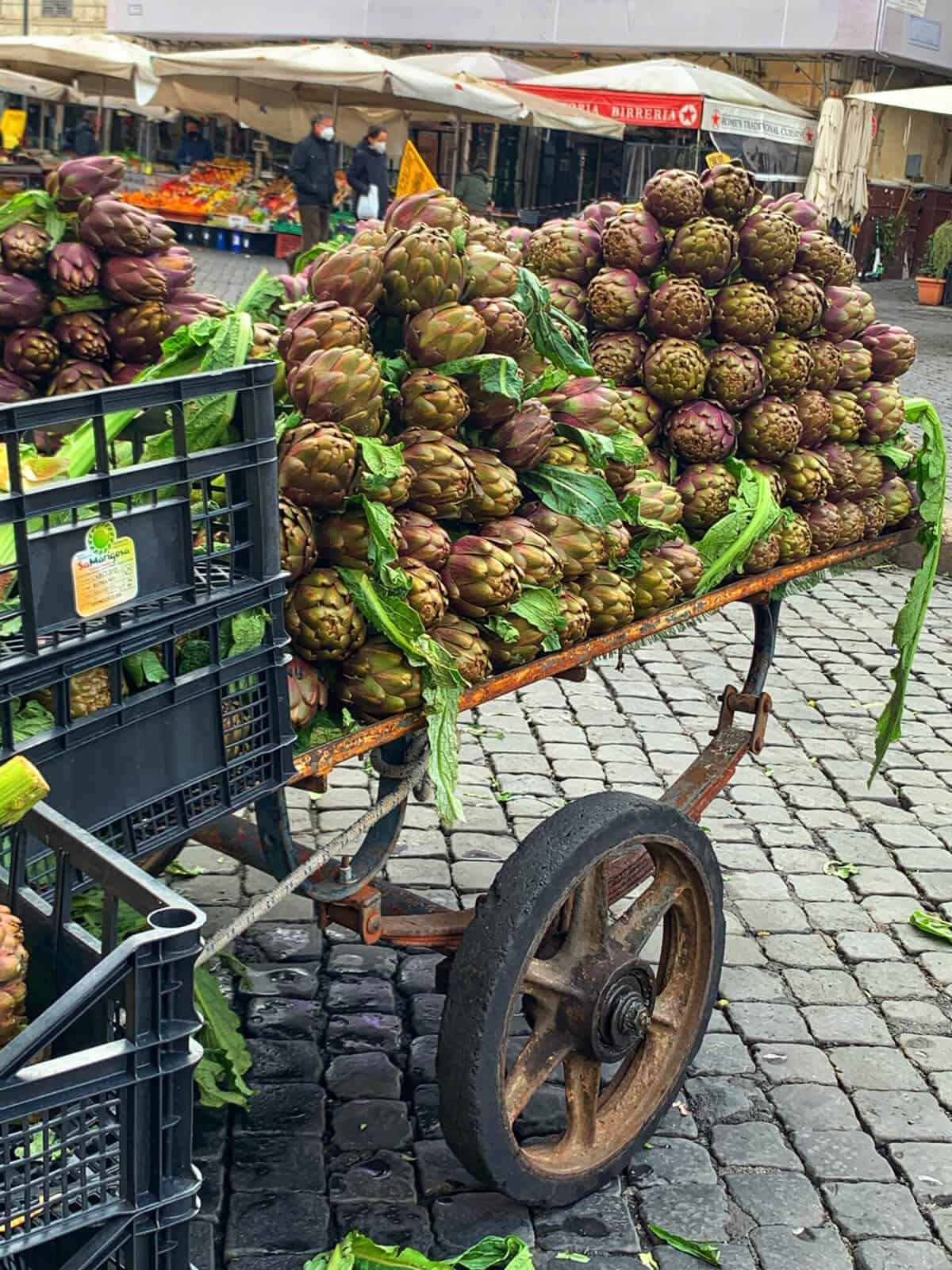 🧾 Ingredients
Nothing is left to chance in preparing this fragrant and straightforward side dish:
Choose a suitable variety of artichokes (the violet one AKA Romanesco artichoke). This variety is distinguished from the others by its rounder shape its thornless leaves.
Picking fresh parsley and mint (or even better: mentuccia), and using the right amount of garlic to flavor the inside.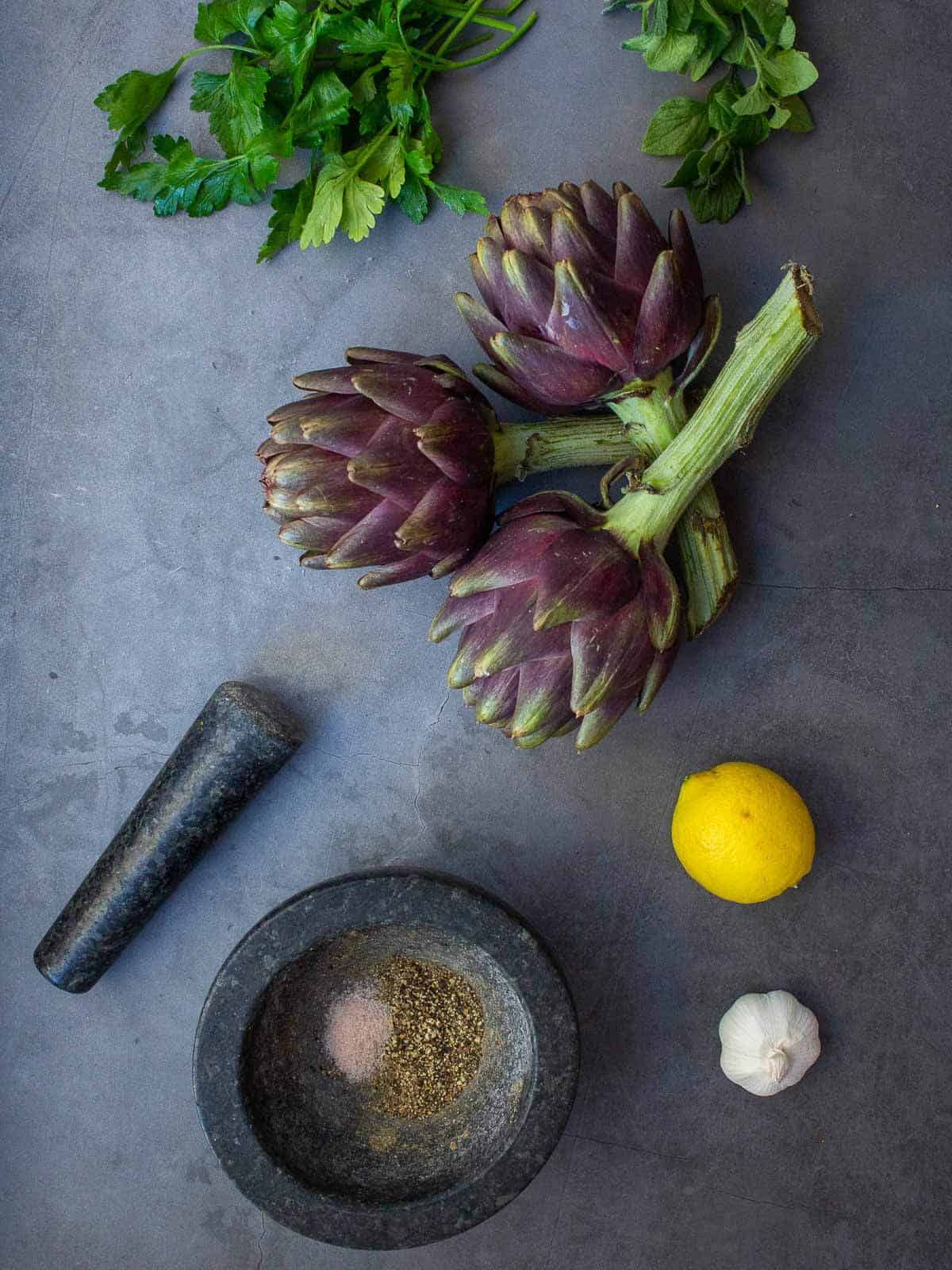 Artichokes
Mint (mentuccia)
Parsley, a bunch
Garlic cloves
Extra virgin olive oil
Lemon
Salt and pepper
See quantities and complete instructions in the recipe card.
🔪 Instructions
Cut off the end of the stem and the tip of your artichoke's outer leaves. Sometimes you can find artichokes without the outer leaves. Here in Italy, in the farmer's market, they even take them out for you.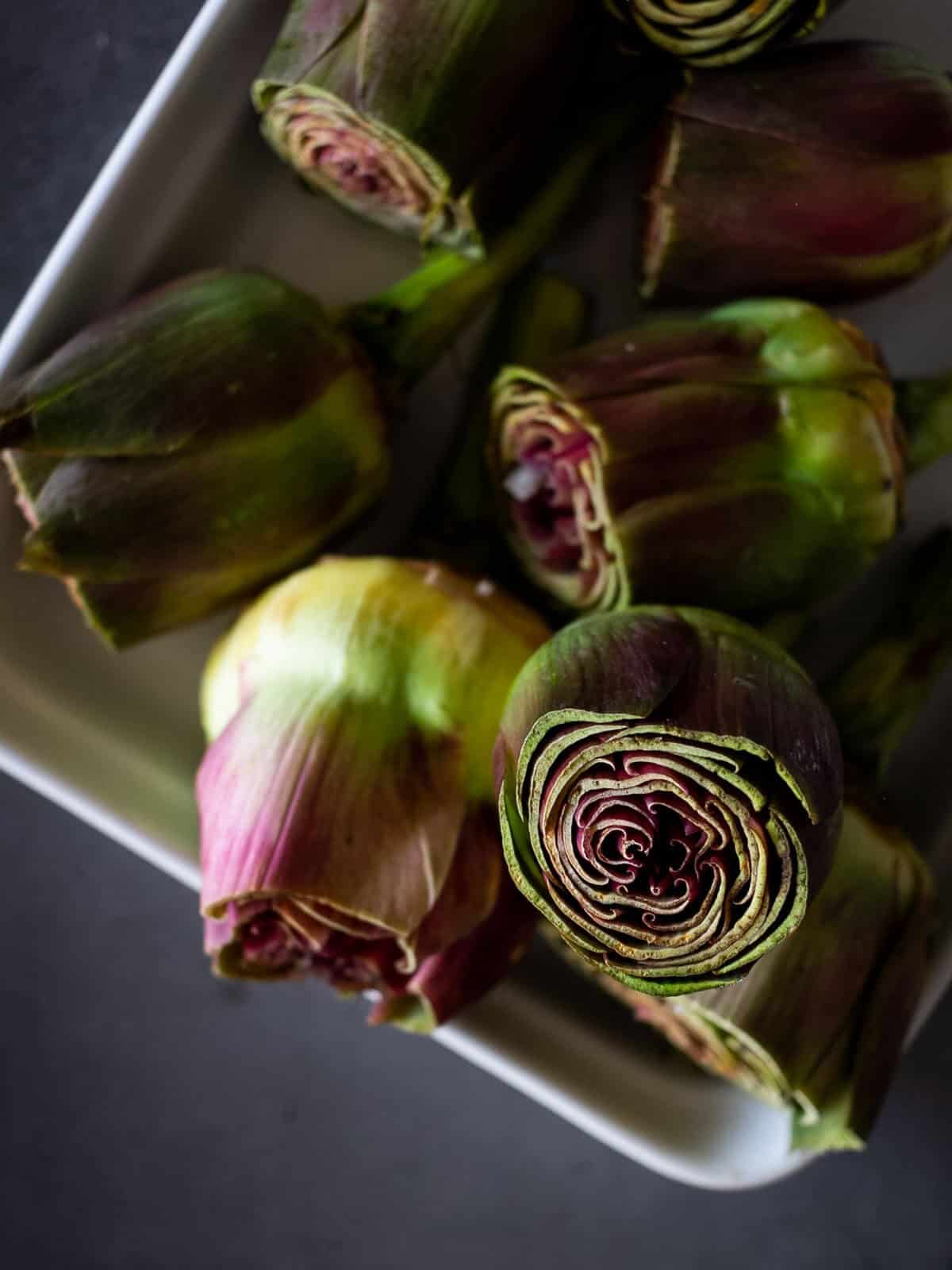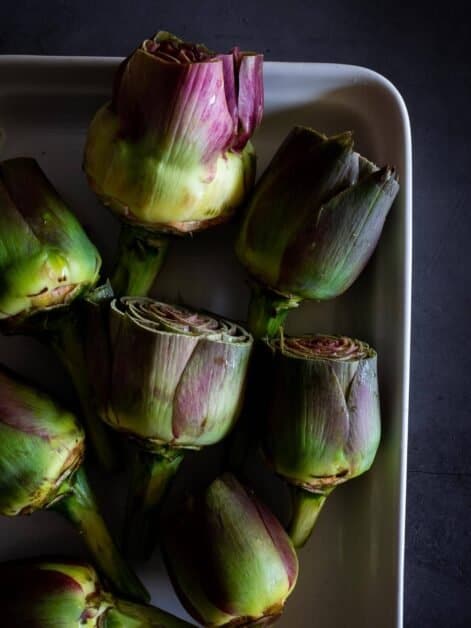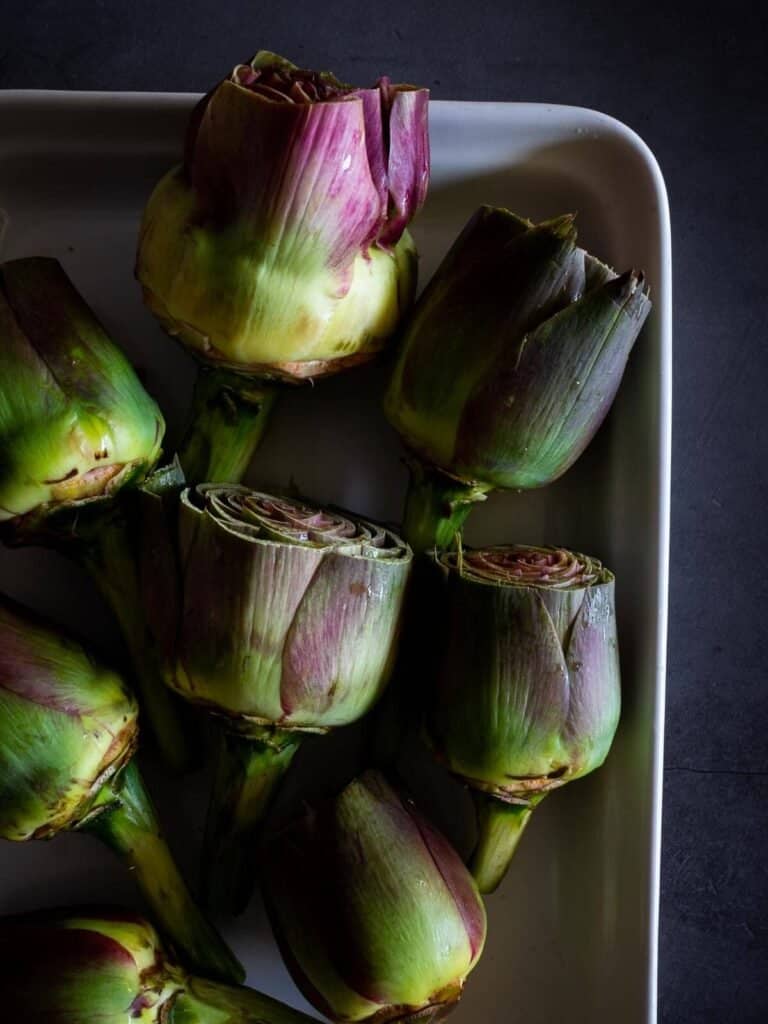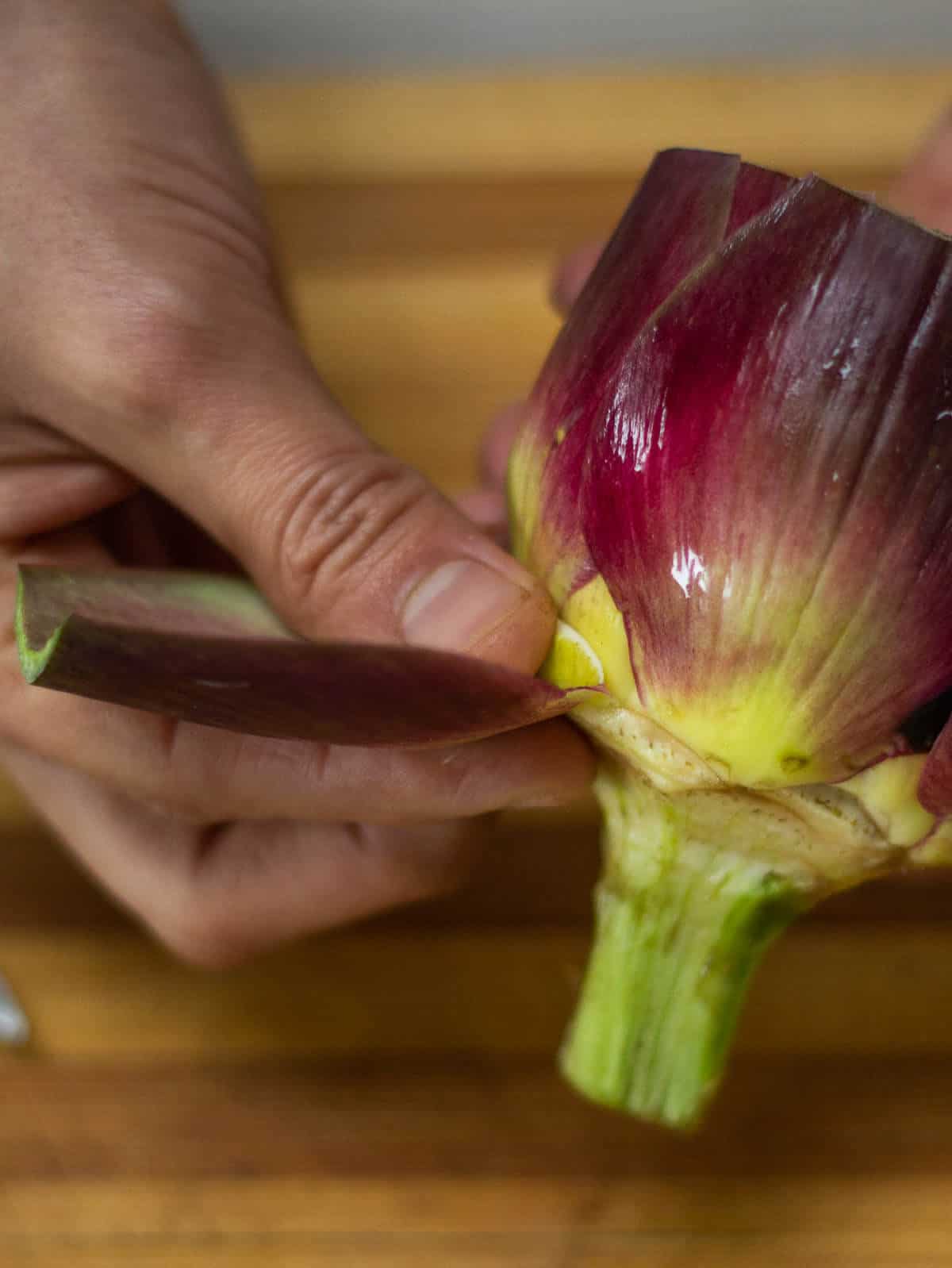 Spread apart the leaves of the artichoke.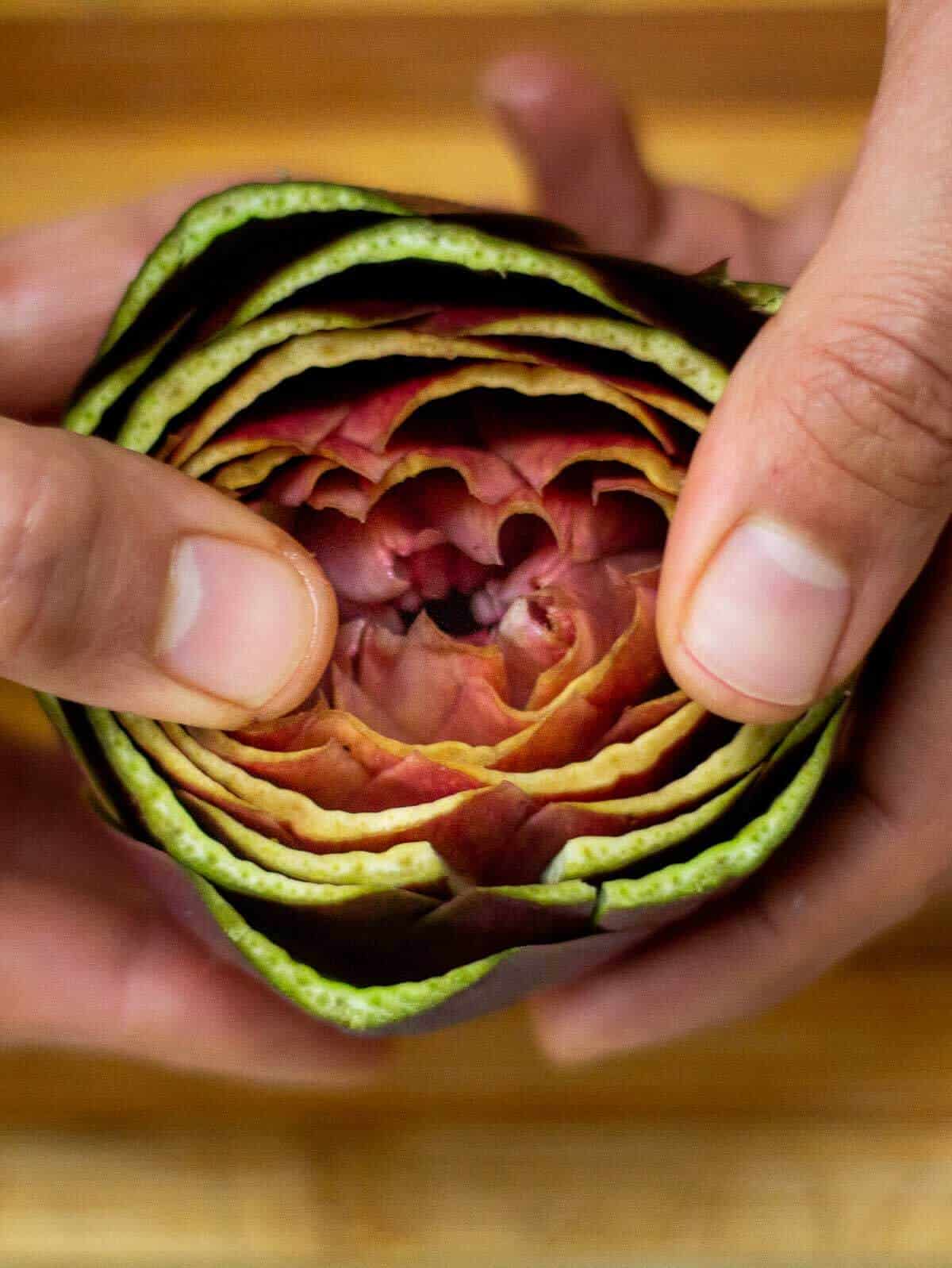 Taking off the center hair-like inside that can pinch.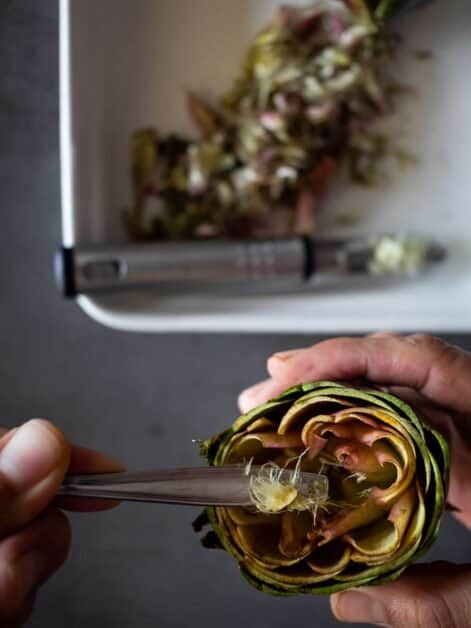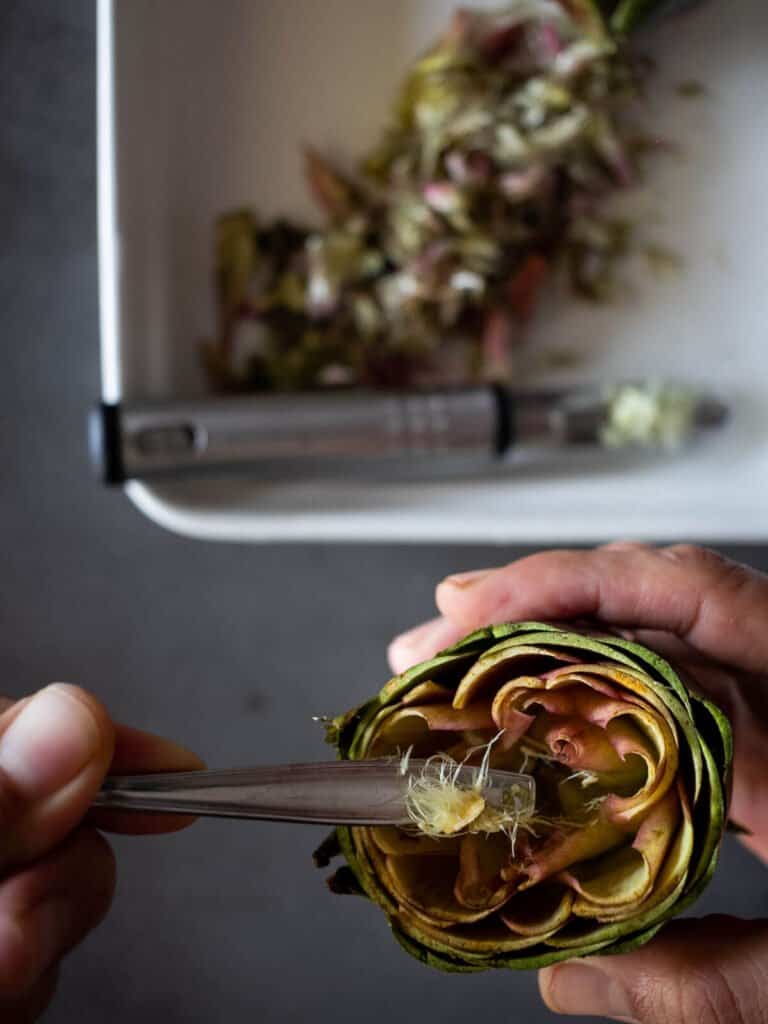 Place the artichokes inside a bowl with water and lemon.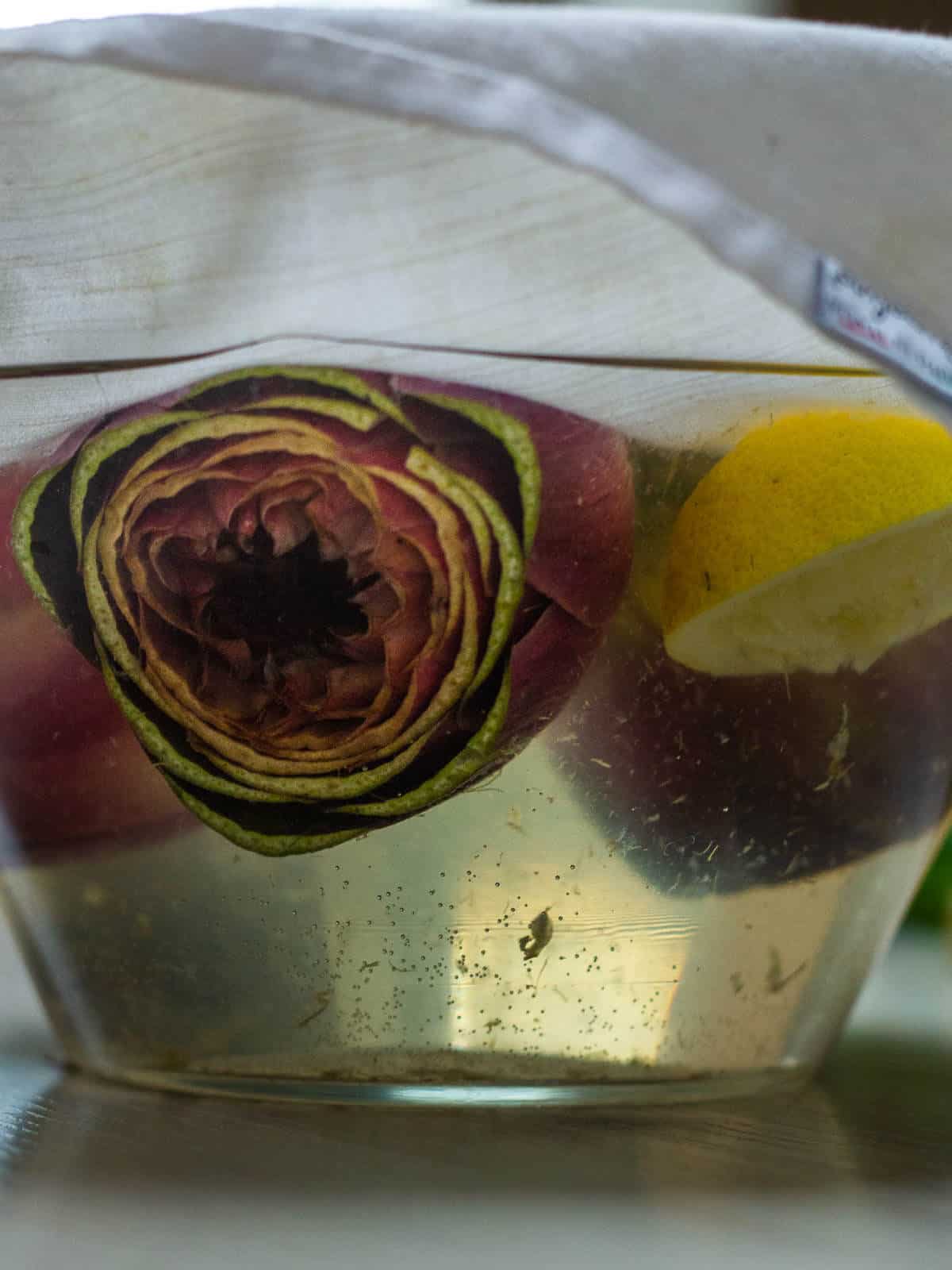 Prepare the filling (chop the herbs, and mix with the minced garlic, salt, and pepper).
Fill the Artichokes with the Herbs Mix.
Transfer the artichokes upside down into a small-medium pan and pour the olive oil and water. Let it cook.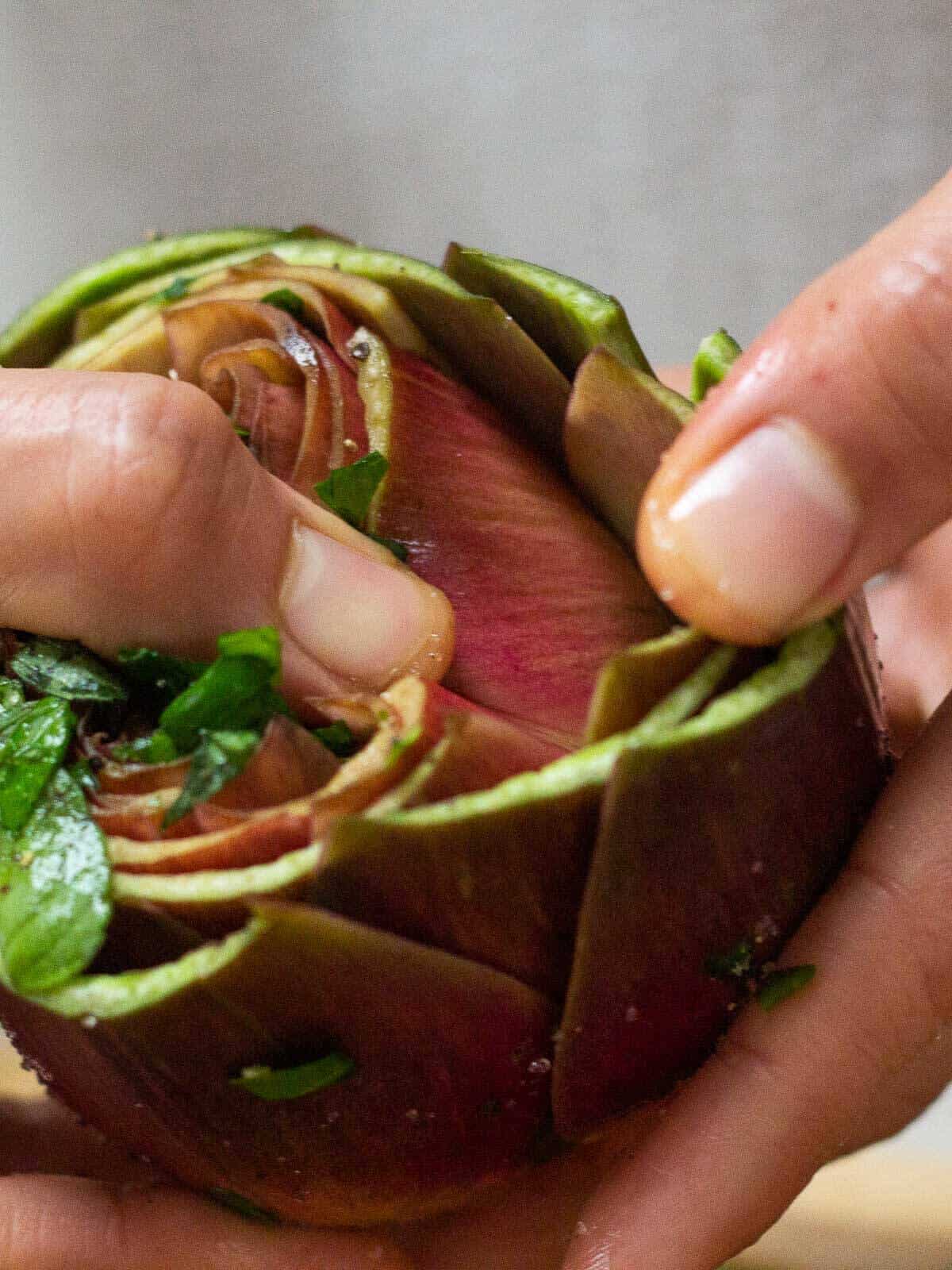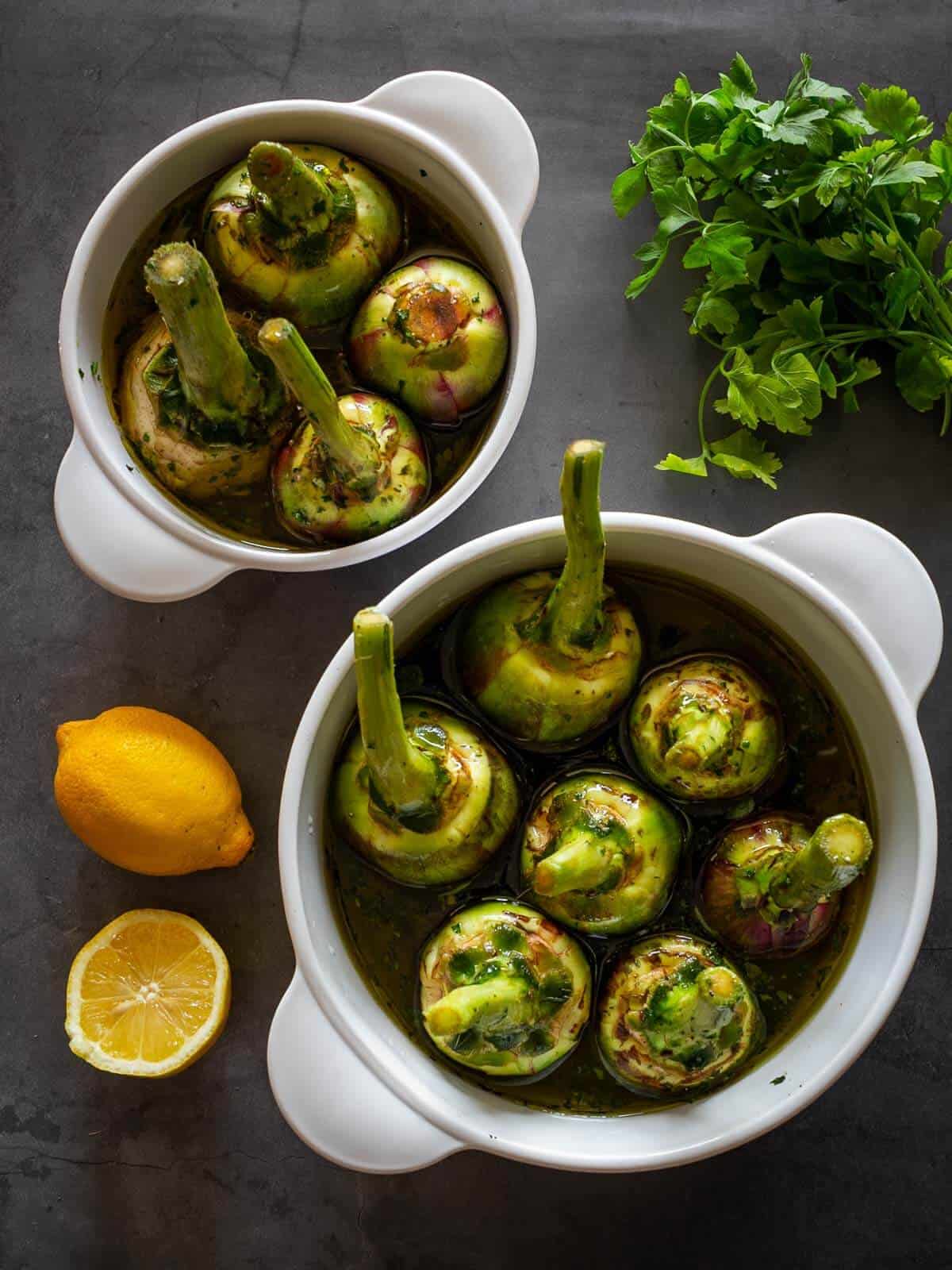 Slow cooking. Boil for 20-25 minutes over low heat.
When ready, take them out and serve. Carchiofi alla Romana can be served warm or at room temperature.
🥡 Storage
Roman-Style Artichoke's leftover oil is excellent. Enjoy it eating with plain bread or using it as a simple, delicious sauce for your next pasta.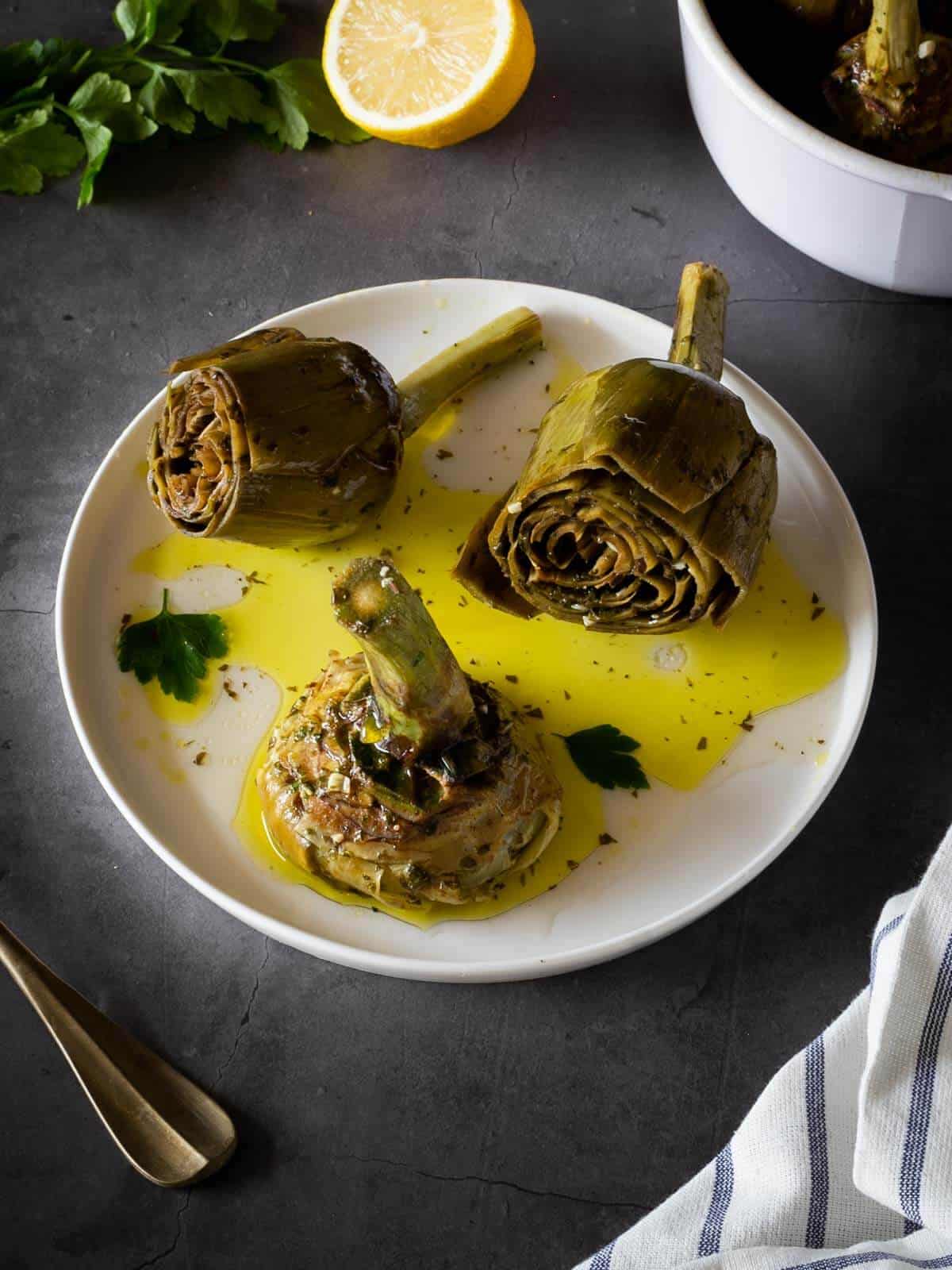 Also, Artichokes are healthy. Find more about the benefits of eating artichokes.
Don't forget to have some good Italian Bread close. The garlicky olive oil mix left deserves all the sweeping honor! It has some SERIOUS flavor embedded!
Try this Italian Pagnotta Bread or Focaccia if you feel like impressing your guests! It is pretty easy to make!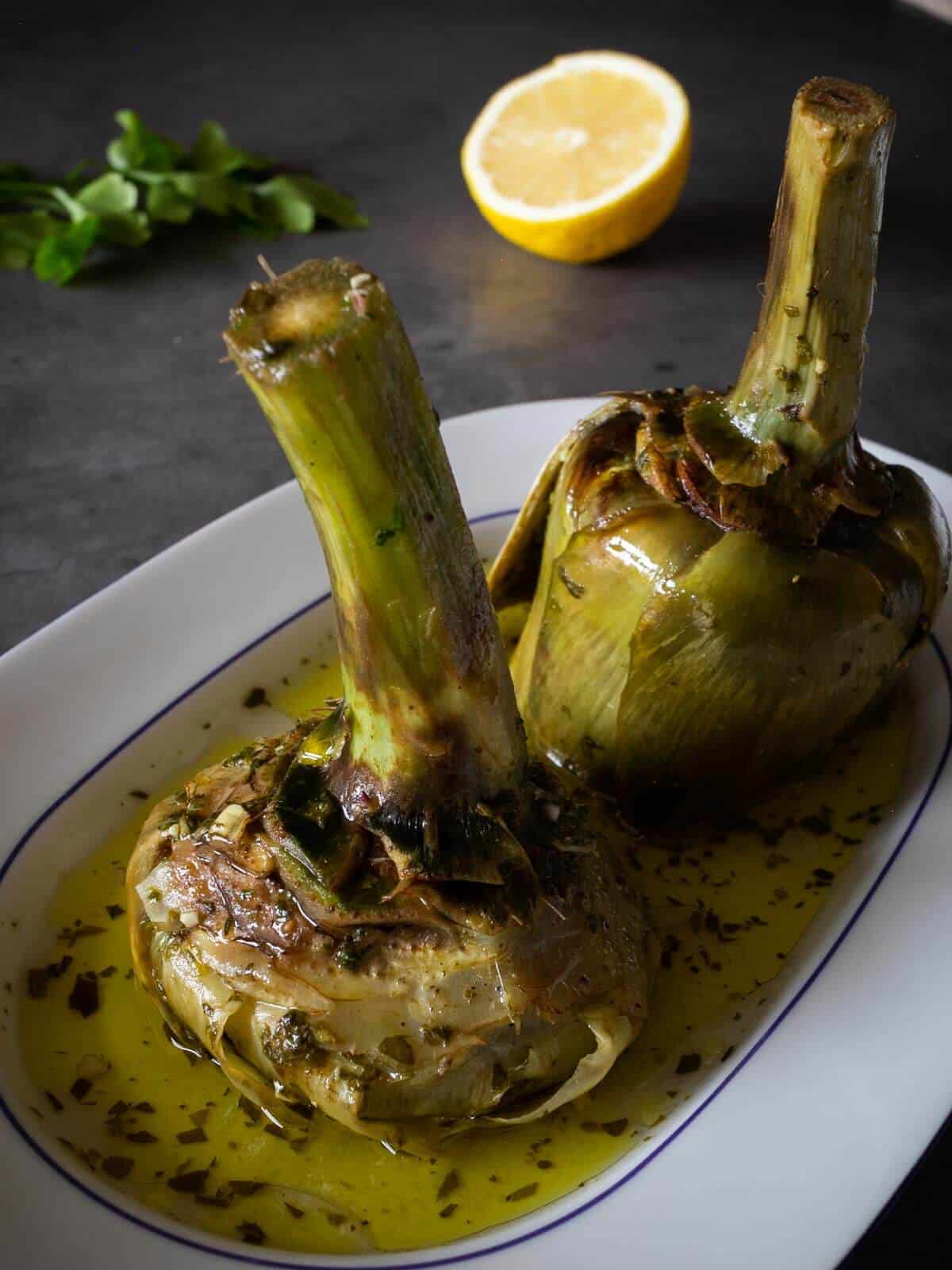 Try this Romanesco Broccoli recipe that pairs very well with the Carciofi (artichokes).
We had a full meal with some pasta with this delicious and creamy vegan sauce.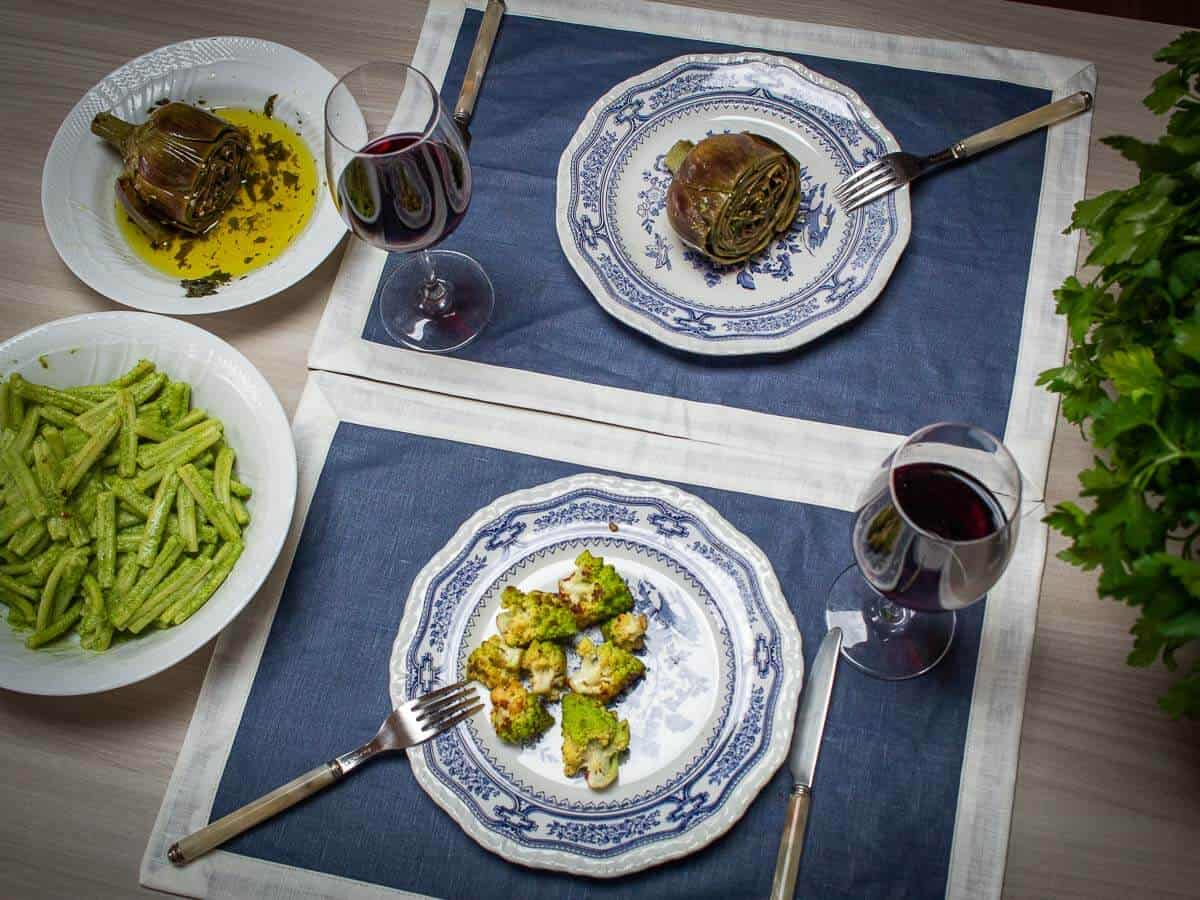 If you are like us and LOVE artichokes, you should try these Artichokes with a Dipping sauce recipe. An excellent side dish or appetizer.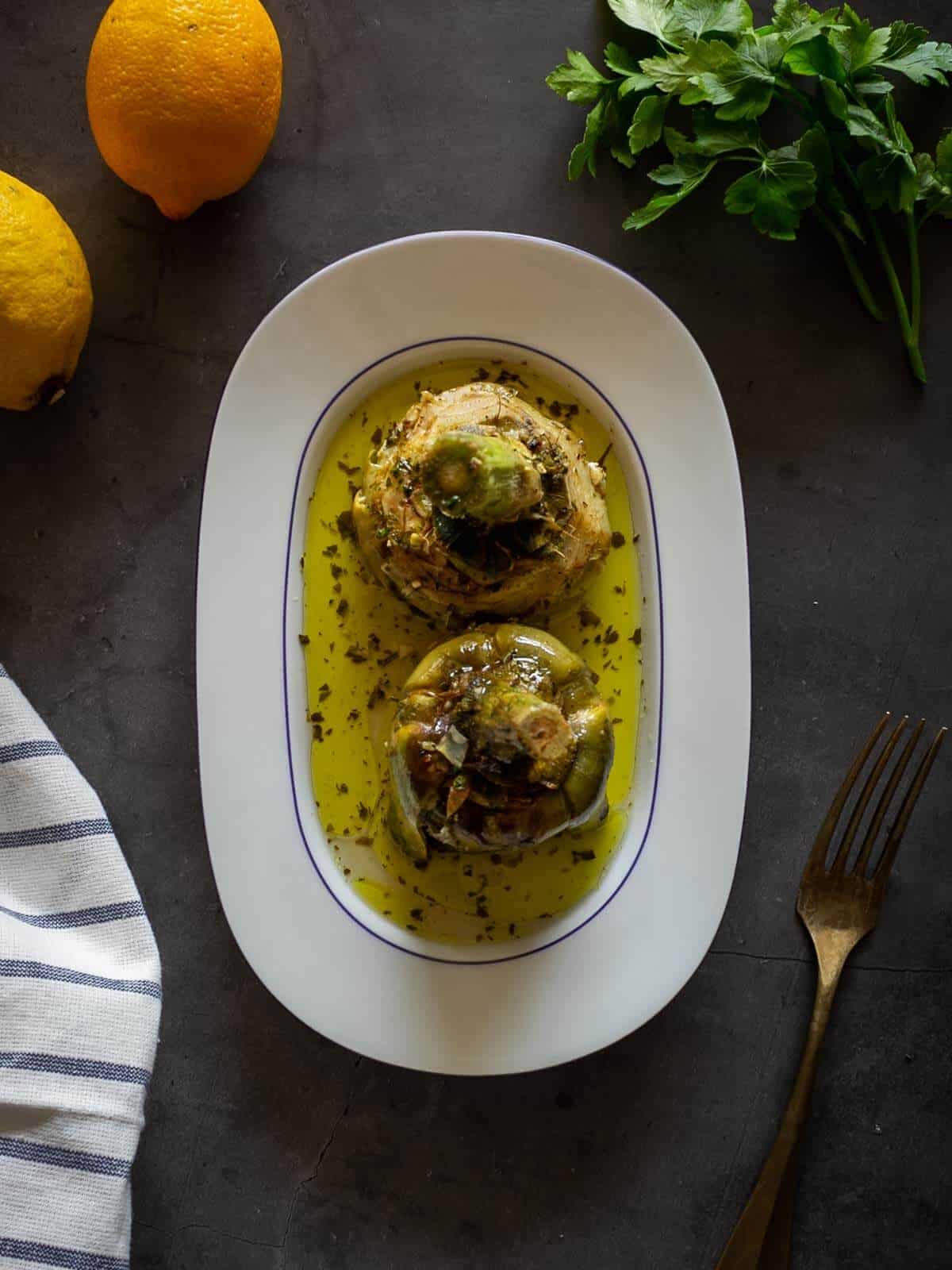 ❓FAQ
When is artichoke season?
In the Northern Hemisphere, artichokes are in season from March through May (spring season). They can be found in most grocery stores and farmer's markets during this time, but they peak over the month of April.
We eat artichokes as often as possible throughout the spring and summer months when they're at their peak of freshness, affordability, and deliciousness.  
🇮🇹 Craving more simple Italian dishes
⭐ If you try this recipe, let us know! 💬 Leave a comment, rate it, and don't forget to tag us @ourplantbasedworld on Instagram. Cheers!
📋 Recipe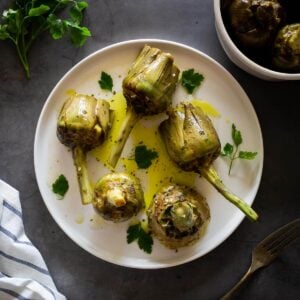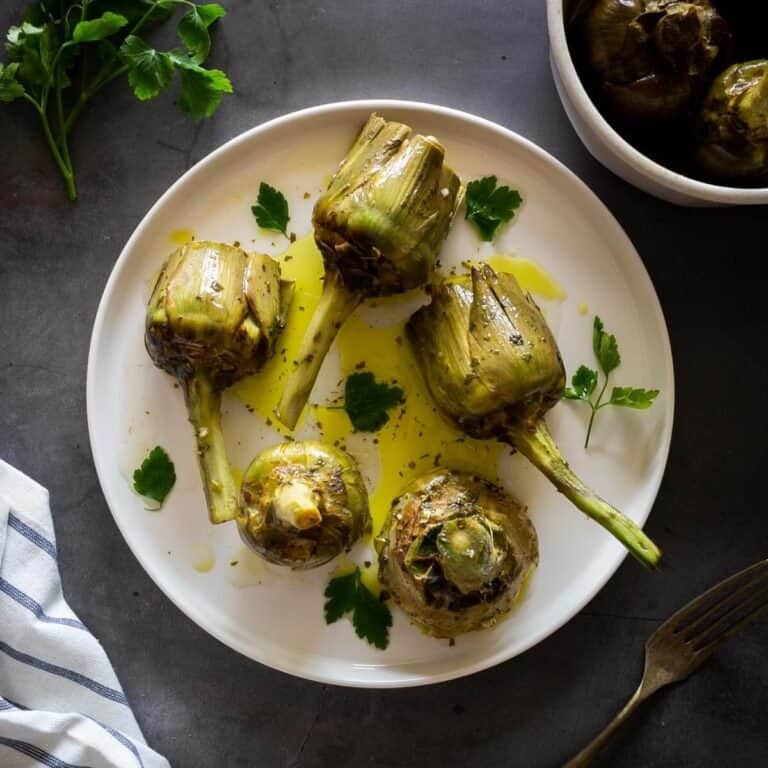 Roman-Style Artichokes (Carciofi alla Romana)
The simplicity of the ingredients and how they dance together in perfect tune in your palate makes you realize that yes! Less is more!
Equipment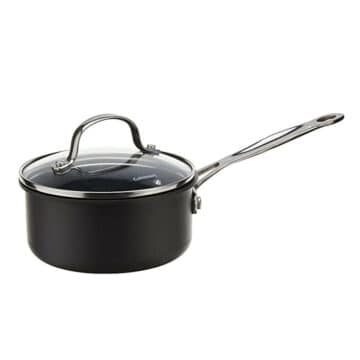 (affiliate link)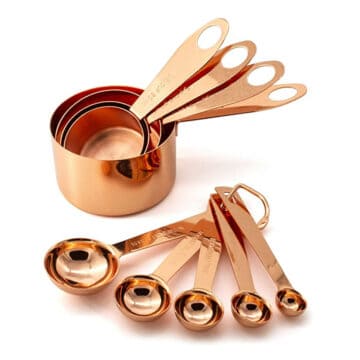 (affiliate link)
Ingredients
4

artichokes

purple roman artichokes are better but others work as well

1

cup

mint

a bunch, preferably mentuccia romana the traditional roman variety

1

cup

parsley

a bunch

2

cloves

garlic

½

cup

olive oil

extra virgin, pick good fragrant one

1

lemon

1

cup

water

1

tablespoon

salt

adjust at the end

1

tablespoon

black pepper
Directions
To prepare the Roman-style artichokes, start by cutting the lemon in half, filling a rather large bowl with water, and squeezing in the half lemon.

Cut off the end of the stem and the tip of your artichoke.

With your hands, spread the artichoke, to reveal its inner part.

Peel the stem and round off the end using a sharp knife. Taking off the center hair-like inside that can pinch. Use a small knife or a corer, and cut out the central part to eliminate the inner white beard. Use a potato peeler or the top of a small spoon.

Soak the artichokes inside the lemon water.

Cover with absorbent paper or a clean towel to keep the artichokes soaked in water and prevent them from flipping.

Prepare the filling, chopping the mint and parsley coarsely. Mince the garlic and mix it with the parsley and mint, along with a pinch of salt and pepper.

Roll the leaves and cut them with a knife without chopping them too much.

Drain the artichokes, shake them slightly to remove the excess water, and then use the herb mix to stuff them. Place some mix in the core and also between the flower leaves.

Transfer the artichokes upside down into a small-medium pan, keeping them fairly close together.

Pour in the olive oil followed by the water so that the artichokes are covered up to the stem's top.

Cook for about 20-25 minutes over low heat.
Notes
Keep the oil left to sweep up with bread or other preparations such as simple pasta with garlicky olive oil.
Nutrition Facts
Calories:
326
kcal
Carbohydrates:
20
g
Protein:
6
g
Fat:
28
g
Saturated Fat:
4
g
Sodium:
1881
mg
Potassium:
685
mg
Fiber:
9
g
Sugar:
2
g
Vitamin A:
1772
IU
Vitamin C:
53
mg
Calcium:
124
mg
Iron:
4
mg
Nutrition Facts
Roman-Style Artichokes (Carciofi alla Romana)
Amount per Serving
% Daily Value*
* Percent Daily Values are based on a 2000 calorie diet.
🌡️ Food safety
Cook to a minimum temperature of 165 °F (74 °C)
Do not use the same utensils on cooked food, that previously touched raw meat
Wash hands after touching raw meat
Don't leave food sitting out at room temperature for extended periods
Never leave cooking food unattended
Use oils with a high smoking point to avoid harmful compounds
Always have good ventilation when using a gas stove
See more guidelines at USDA.gov.
Nutritional Disclaimer
The information shown is an estimate provided by an online nutrition calculator. It should not be considered a substitute for a professional nutritionist's advice. See our full Nutritional Disclosure here.
Affiliate Disclaimer
Please note that some of the links here are affiliate links, and I will earn a commission if you purchase through those links. I recommend all of the products listed because they are companies I have found helpful and trustworthy.