Melanzane in Potacchio (Italian Eggplant stew) is a simple but surprisingly tasty recipe from the Marche region in Italy. It is a side dish that can be prepared in advance and can be enjoyed cold or warm. If you are looking for delicious vegan eggplant recipes, you have arrived my friend!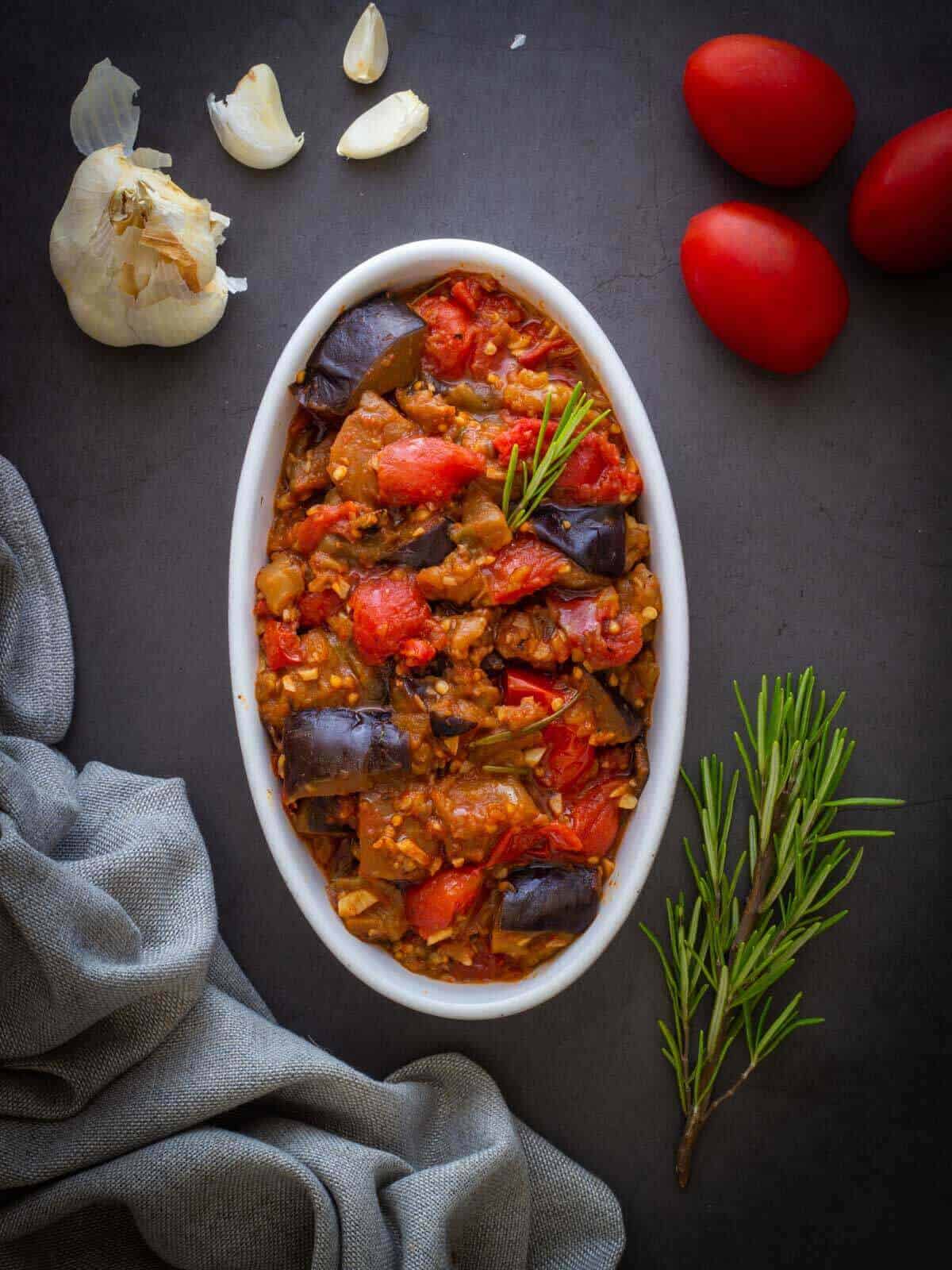 Melanzane (eggplant in Italian), is one of the most beloved vegetables in the Italian Peninsula. There are many reasons to love it: it is cheap, is versatile, has a great texture, plays along with virtually any flavor, and provides a delicate and distinctive texture to dishes.
When you plan to eat your way through Italy you can't leave Appetizers like Eggplant Parmesan and Eggplant Involtinis behind! There are so many eggplant widely known dishes, but these are the must-haves.
For this Eggplant Stew recipe (you only need very simple ingredients, three vegetables, and one herb! That's it!
The stewed eggplant reminds us of a lot of the Catalonian Escalivada recipe, also on this site. But this dish is made quicker and doesn't require an oven, just a saucepan!
This Italian eggplant recipe is very similar to our 3-ingredient pasta sauce, but this dish is less "saucy," and you can serve it in various ways. It is one of those vegan eggplant dishes that was born this way! If you are into simple delicious treats, don't forget to have a look at our Pasta alla Puttanesca.
Two years ago, when Joaquin came to Italy to do his citizenship paperwork, he lived in Le Marche. A region that is best known for its beaches in cities like Rimini and Ancona. But Le Marche also has a great Enogastronomy (food and wine tourism).
This is how we first got to taste this dish, another queen in the realm of Italian Cuisine's simplicity.
Ingredients
You need just a handful of ingredients for this vegan stew recipe. It is undoubtedly the simplest of all Italian eggplant dishes.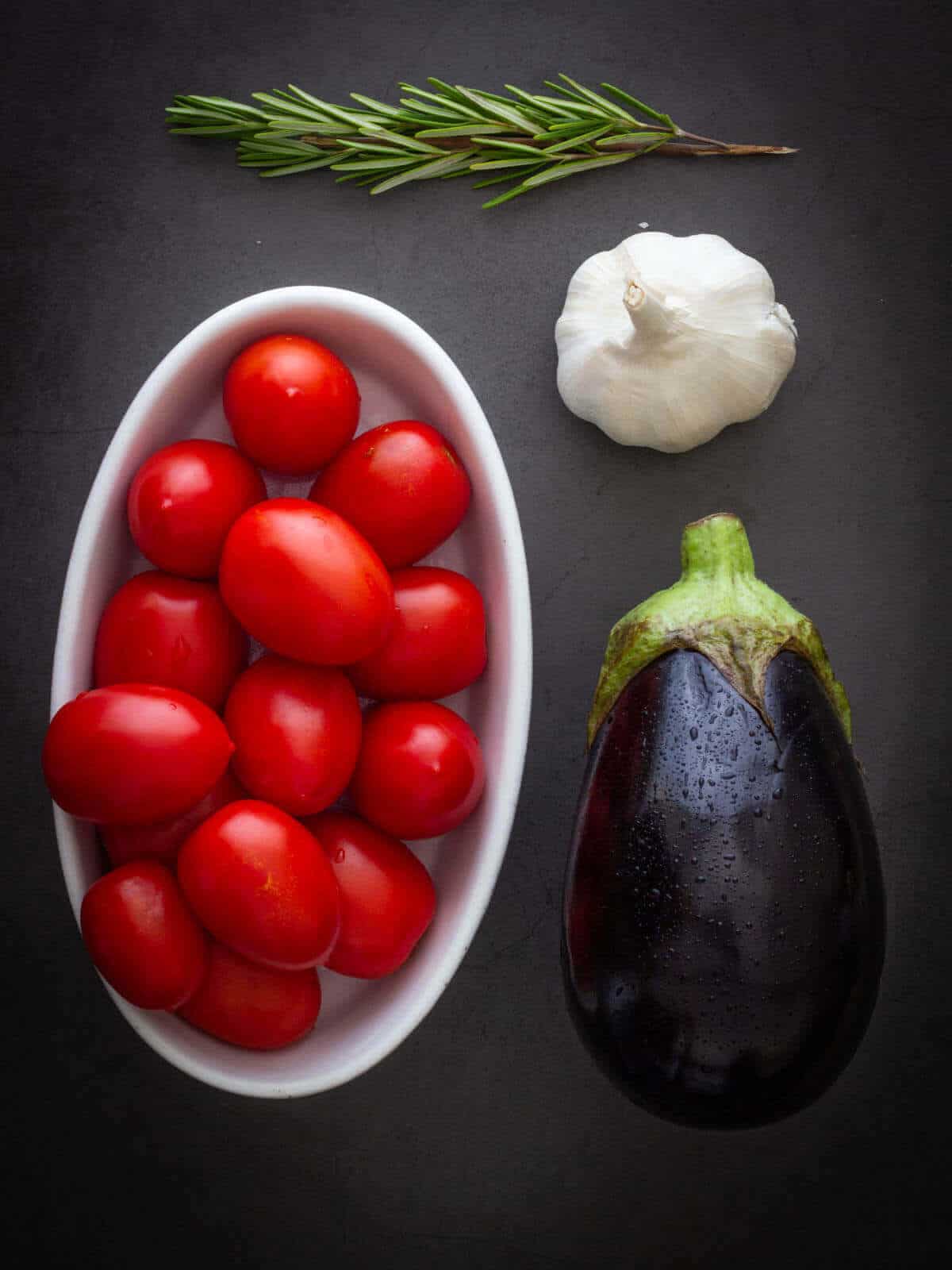 Italian Eggplant (or any purple variety)
Tomatoes
Garlic
Rosemary
Optional:
Extra virgin olive oil and salt.
See the recipe card for quantities.
Instructions
The cooking method is mind-blowing simple, and very few ingredients are enough. Let's explore this vegan eggplant recipe together.
Chop the eggplant, tomatoes and mince the garlic. You can make it eggplant slices or dice.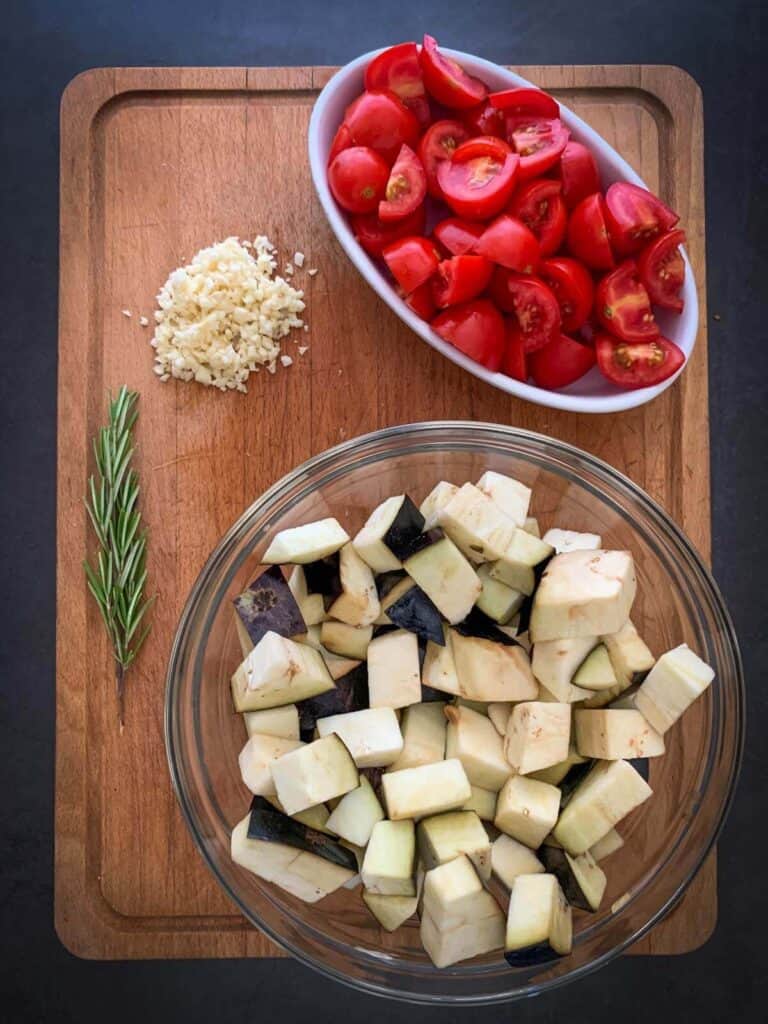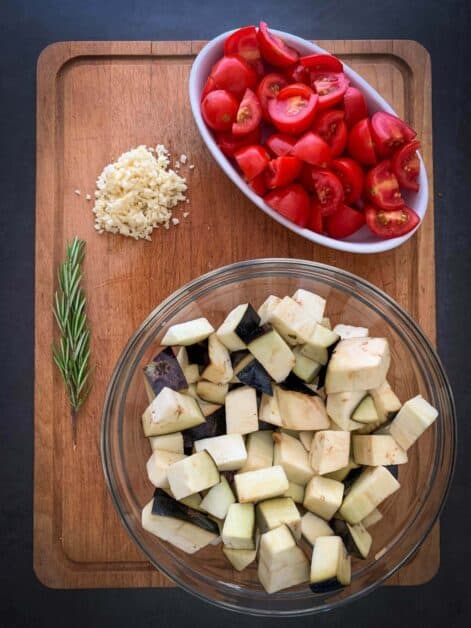 Slightly cook the eggplant until golden brown.
Add the rest of the ingredients. Garlic, tomatoes,rosemary, and optionally olive oil and salt.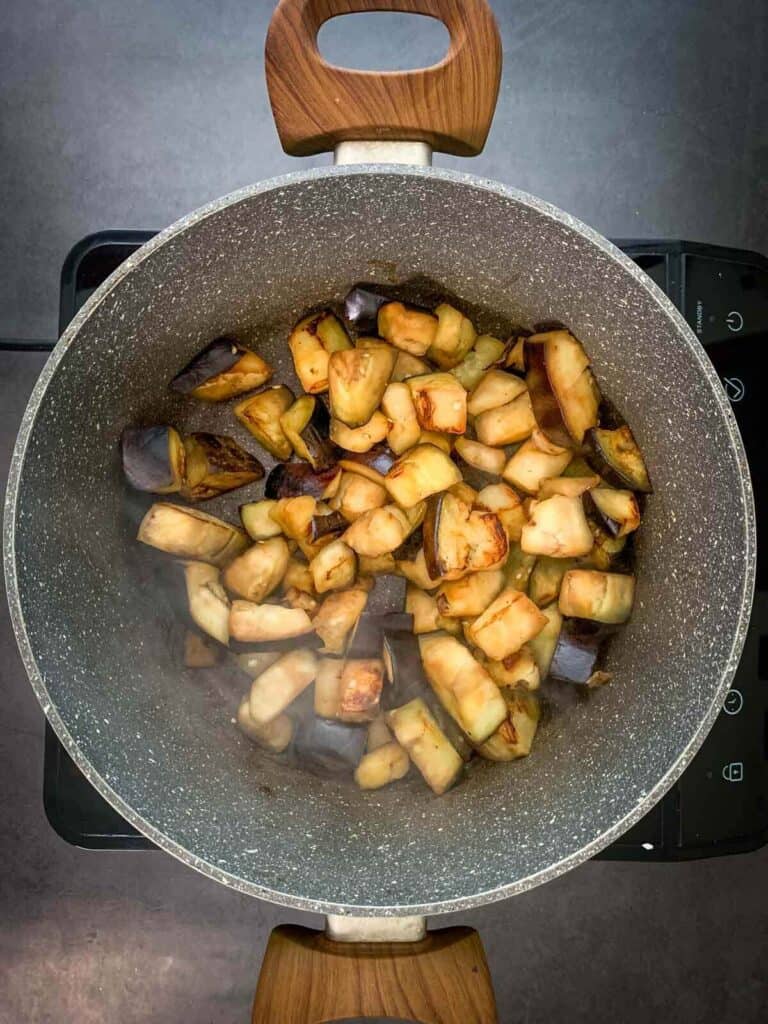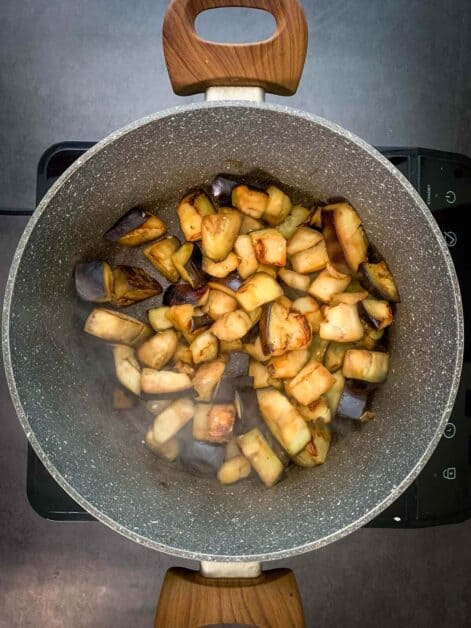 Stir once or twice and let the stew cook for 20 minutes over low heat, with the lid on.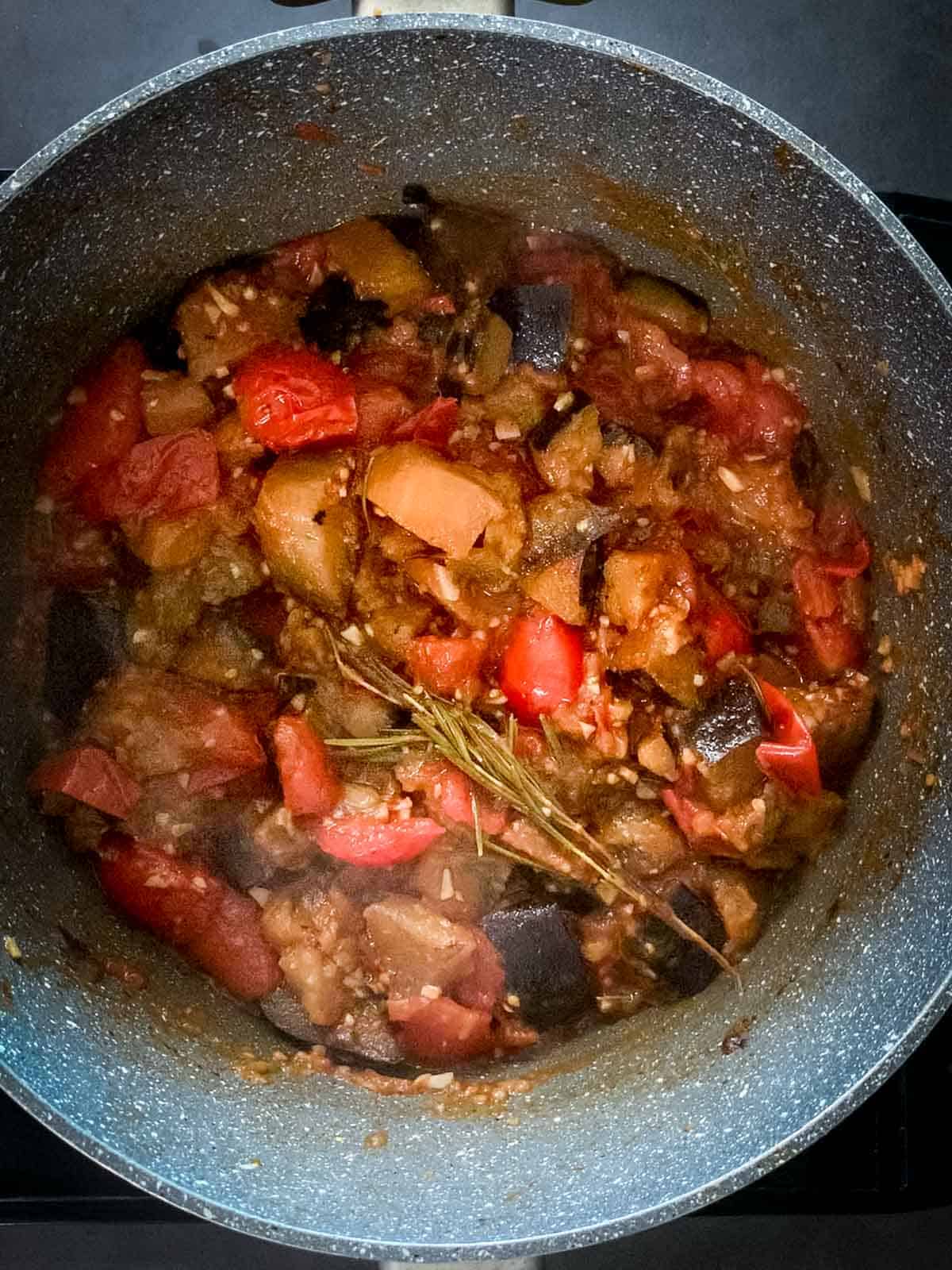 Remove from the heat, and let it sit for a couple of minutes before serving.
This is probably the simplest Vegan Vegetable Stew you will find out there! And probably also the most authentic!
How to Serve
You can serve this Italian Eggplant Stew in several ways. Most Italian eggplant recipes call for cheese, not this one, as it packs lots of flavor on its own!
Main dish – serve a larger portion along with baked potatoes or steamed rice.
Side – next to your dish of choice, such as this simple Romanesco Broccoli.
Top with fresh parsley.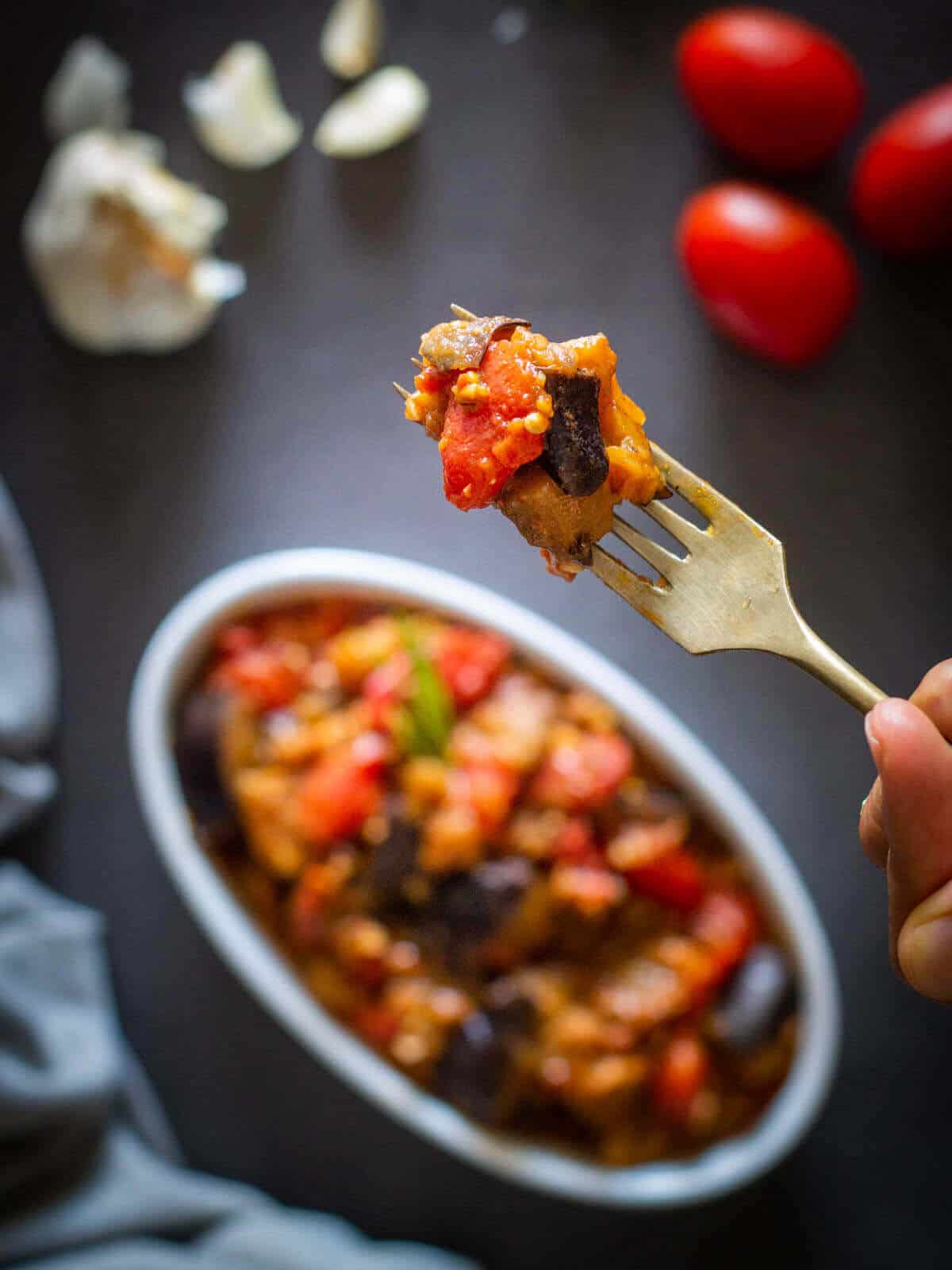 Variations
Whole Foods Plant-Based Diet – omit olive oil and salt. The method doesn't change.
Herbs – use fresh basil or oregano instead of rosemary.
Garlic – if you are not a fan of garlic, you can choose to use onions instead.
White wine – to add more complexity and richness to the dish's flavor, add ½ cup of dry white wine as soon as the eggplants are slightly roasted before you stir in the rest of the ingredients.
Spicy - you can optionally add black pepper or red pepper flakes during the last minutes of cooking.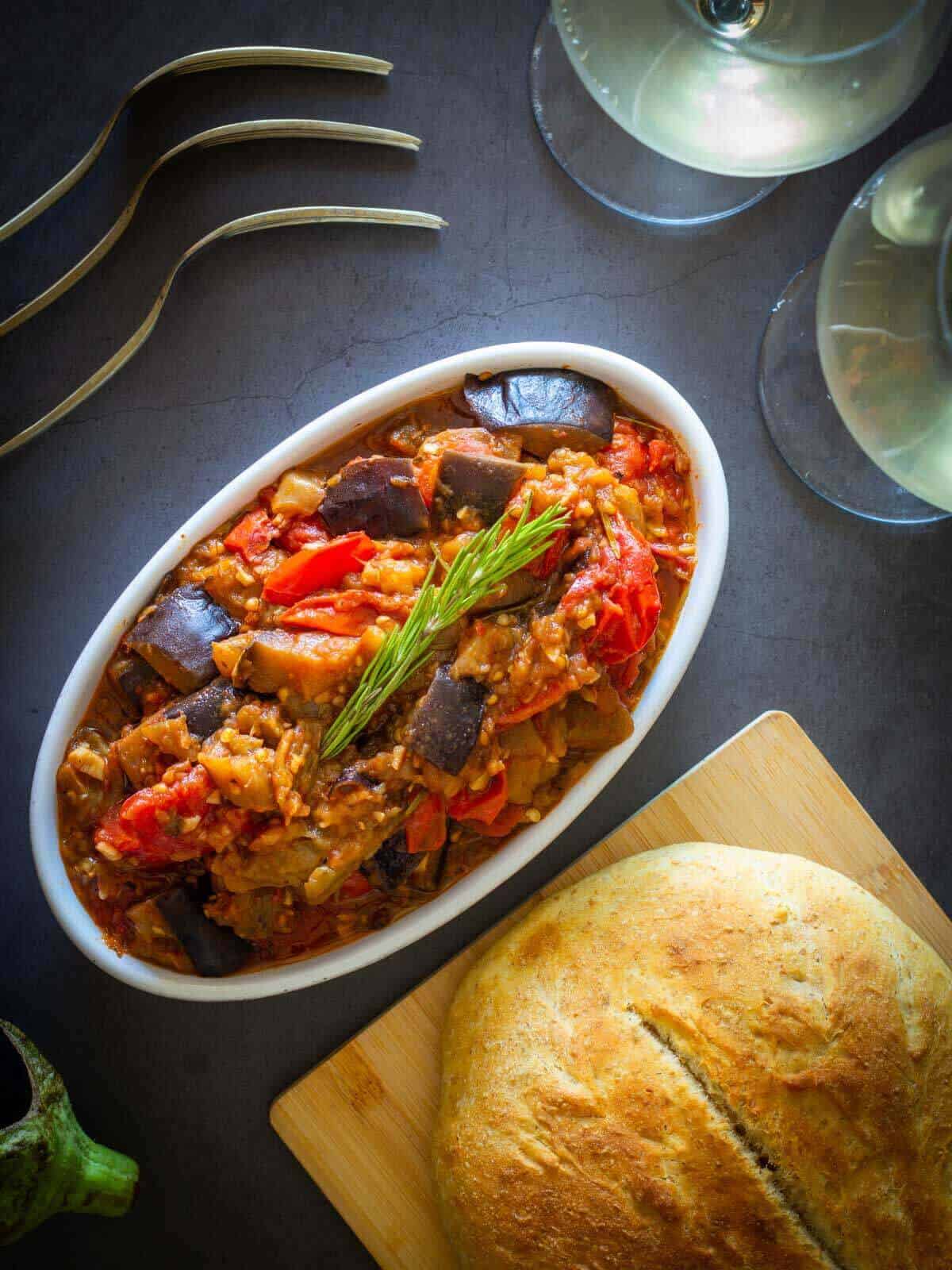 Italian Eggplant
Italian eggplants are a common type of eggplant that can be found in home gardens and farmers' markets across North America. This variety of eggplant is more commonly known as "Italian" or "sweet" eggplants, contrary to their relative species, which are usually more bitter and sour than they are sweet.
Italian eggplants can be harvested by cutting them from the vine near the stem, leaving about 2 inches of stem still attached to each fruit.
The main characteristic that separates Italian eggplants from other types of eggplant is the lack of a gel around their seeds, which can be found in its relative species along with a large amount of bitter taste.
Since the gel contains most of the water content in the eggplant fruit, lacking this gel means that Italian eggs will be more succulent and less bitter.
Italian eggplants can be found at local farmers' markets and some grocery stores from June to September each year, depending on regional climates. They are very simple to harvest - about 2 inches should be cut from the stem of the eggplant to harvest, leaving 2 inches still attached.
This bit of stem provides a place for nutrients to travel from the roots into the fruit, which will continue ripening afterward.
Eggplants are a great addition to one's diet, as they have surprising health benefits.
Tips for using your Italian Eggplants
Eggplants are great for cooking in stews, spreads, or frying
Do not store uncooked eggplants in the refrigerator unless they are less than half of their original size
They can be prepared by roasting or steaming to be used in salads or recipes such as baba ganoush and ratatouille.
They tend to last only 4 days after harvest if refrigerated.
FAQ
Can I use tomato sauce or tomato paste?
I don't recommend replacing the chopped tomatoes with tomato paste, homemade tomato sauce, or marinara sauce because we have very few ingredients in this dish, and tomatoes contribute to the final result of the dish with their texture. If you don't have fresh tomatoes, you could use them instead of canned or crushed tomatoes.
You can still use a homemade tomato sauce, marinara sauce, tomato paste, or even vegetable broth in case you have leftovers and the stew has dried up; this way, you can still add some moisture while adding flavor. Remember that you may need to adjust the flavors with some garlic powder, salt, and maybe some extra virgin olive oil.
What about fire-roasted tomatoes?
You can use fire-roasted tomatoes; just make sure they have not turned into purée, so keep some of the texture.
Can I add bell pepper?
You can always work on variations, like adding bell pepper it any other favorite vegetable. Just keep in mind that it can vary the flavor profile. If you choose to add bell peppers, choose red and only a small one.
More Simple Vegan Eggplant Recipes
This vegan version of the famous Pasta alla Norma is delicious, and you won't believe it is made with only 3 ingredients.
I am sure you love the Eggplant Parmigiana but sometimes refrain from indulging given its high-calorie content; well, you may not have tried our No-fry eggplant parmesan, but you won't miss any frying on this healthy recipe!
Our Eggplant Green Thai Curry will gain your heart if you are into Thai Curries with freshly steamed Jasmine Rice.
Eggplants not only do well with Thai Curries, but Indian Eggplant curries are delicious. This Mild Indian Curry has tomato and coconut milk that is hard to resist.
If you are in love with Eggplants as we are, don't forget to check our 9 Vegan Eggplant Recipes post.
More Vegan Italian recipes
Make sure to try a delicious authentic Tuscan Ribollita soup, made with simple ingredients that make a completely delicious, vegan, and balanced main dish.
Or simply hop into our Round-up post with Our Favorite Vegan Italian Recipes you should try!
Another Vegan Vegetable Stew that is super easy and quick to make is our Protein-Packed Chickpea Stew. We are sure you will love it.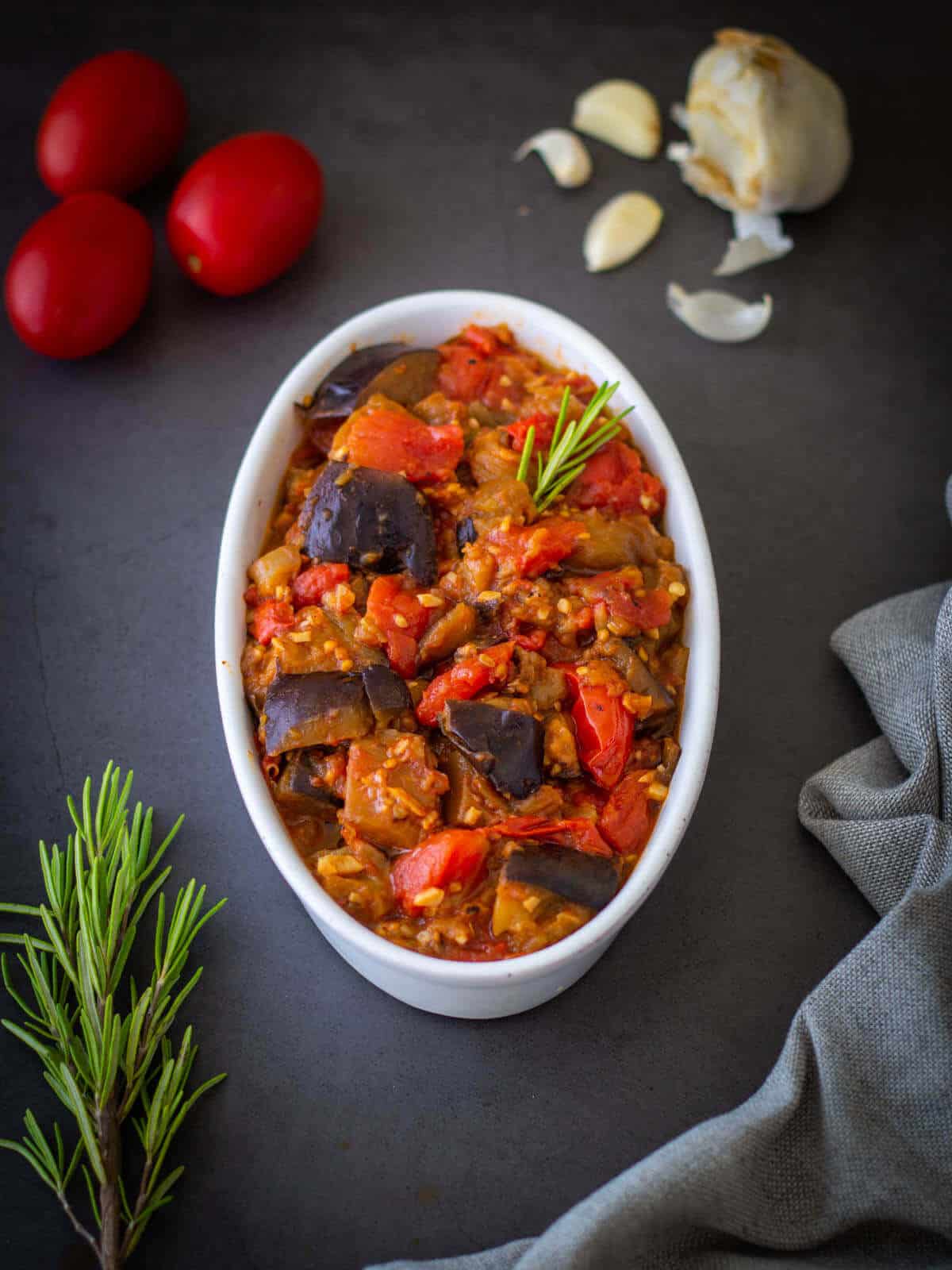 ⭐ If you try this recipe, let us know! 💬 Leave a comment, rate it, and don't forget to tag us @ourplantbasedworld on Instagram. Cheers!
Recipe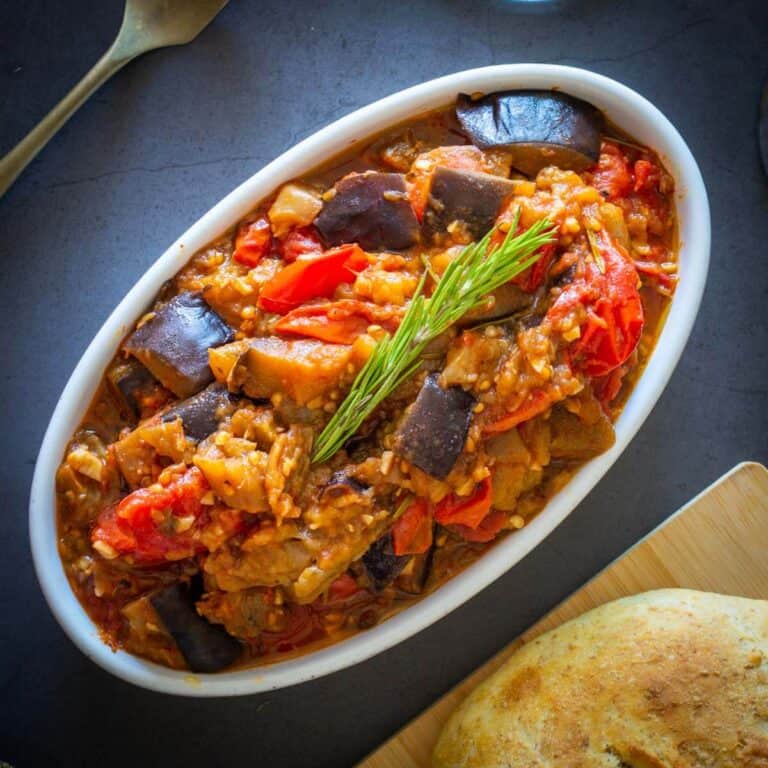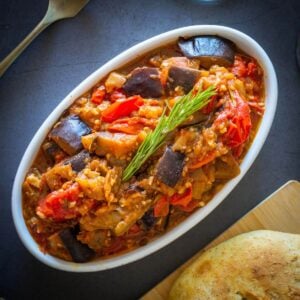 Italian Eggplant Stew - 4 Ingredients
Melanzane in Potacchio (Eggplant stew) is a simple but surprisingly tasty recipe from the Marche region in Italy. It is a side dish that can be prepared in advance and can be enjoyed cold or warm.
Equipment
Directions
Wash and chop the eggplant and tomatoes under running water and cut them into medium chunks.

18 oz eggplant,

18 oz tomatoes

Chop or mince the garlic finely.

Cook the eggplant until it is golden.

Add the rest of the ingredients. As soon as the eggplant chunks are golden, add garlic, the diced tomatoes, and the rosemary sprig. Optionally add extra virgin olive oil and salt. Stir thoroughly and close the lid.

18 oz tomatoes,

4 garlic cloves,

1 rosemary,

2 tablespoons olive oil,

sea salt

Stir once or twice and let the stew cook for 20 minutes over low heat, with the lid on.

Let it cool for a couple of minutes before serving.
Nutrition Facts
Calories:
122
kcal
Carbohydrates:
14
g
Protein:
3
g
Fat:
8
g
Saturated Fat:
1
g
Polyunsaturated Fat:
1
g
Monounsaturated Fat:
5
g
Sodium:
10
mg
Potassium:
608
mg
Fiber:
5
g
Sugar:
8
g
Vitamin A:
1100
IU
Vitamin C:
21
mg
Calcium:
31
mg
Iron:
1
mg
Nutrition Facts
Italian Eggplant Stew - 4 Ingredients
Amount per Serving
% Daily Value*
* Percent Daily Values are based on a 2000 calorie diet.
How do you say eggplant in Italian?
Melanzane. That's why one of the most emblematic Italian eggplant recipes, the Eggplant Parmesan, is called Parmigiana di Melanzane.
What is the difference between Italian eggplants and regular eggplants?
You can find more than one variety of eggplants in Italy, some have a pear shape and others are elongated, like cucumbers. Italian eggplants flavor is more delicate than the regular varieties, thus may be less bitter. As a result, you might not have to treat them with salt for some dishes as it is regularly done with mainstream varieties.
🌡️ Food safety
Cook to a minimum temperature of 165 °F (74 °C)
Do not use the same utensils on cooked food that previously touched raw meat
Wash hands after touching raw meat
Don't leave food sitting out at room temperature for extended periods
Never leave cooking food unattended
Use oils with high smoking points to avoid harmful compounds
Always have good ventilation when using a gas stove
See more guidelines at USDA.gov.
The information shown is an estimate provided by an online nutrition calculator. It should not be considered a substitute for a professional nutritionist's advice. See our full Nutritional Disclosure here.