Artichokes can be intimidating vegetables to prepare. But it is a lot easier than you might think. These Artichokes with Dipping Sauce are mouth-watering.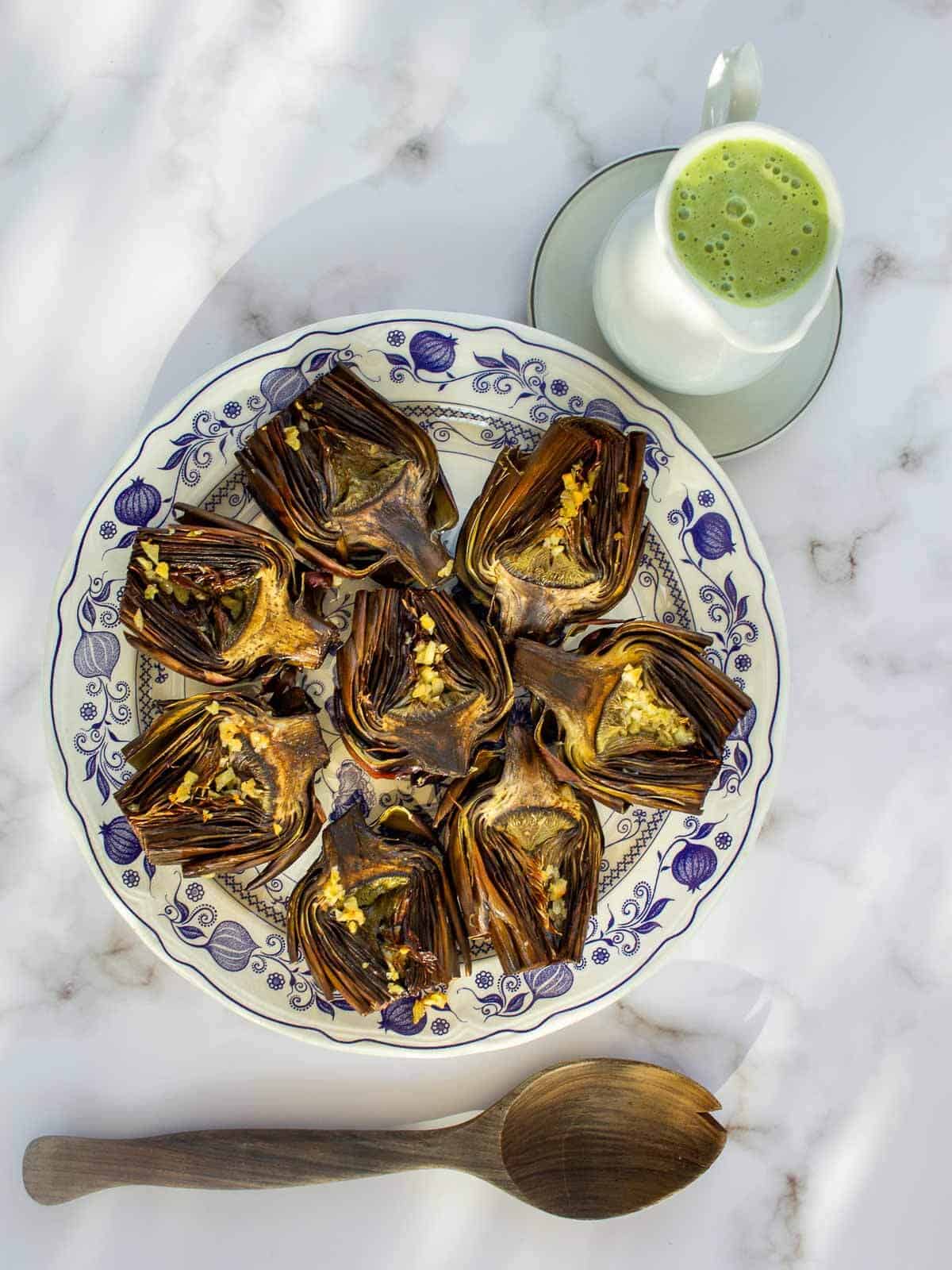 I used to consume artichokes in restaurants, given the preconception of the complexity of their preparation. But arriving in Italy and seeing them everywhere made me rethink my relationship with artichokes and declared I would master their preparation.
Artichokes are at their best during the spring season, as they are flowers, so don't forget to take advantage of their seasonality!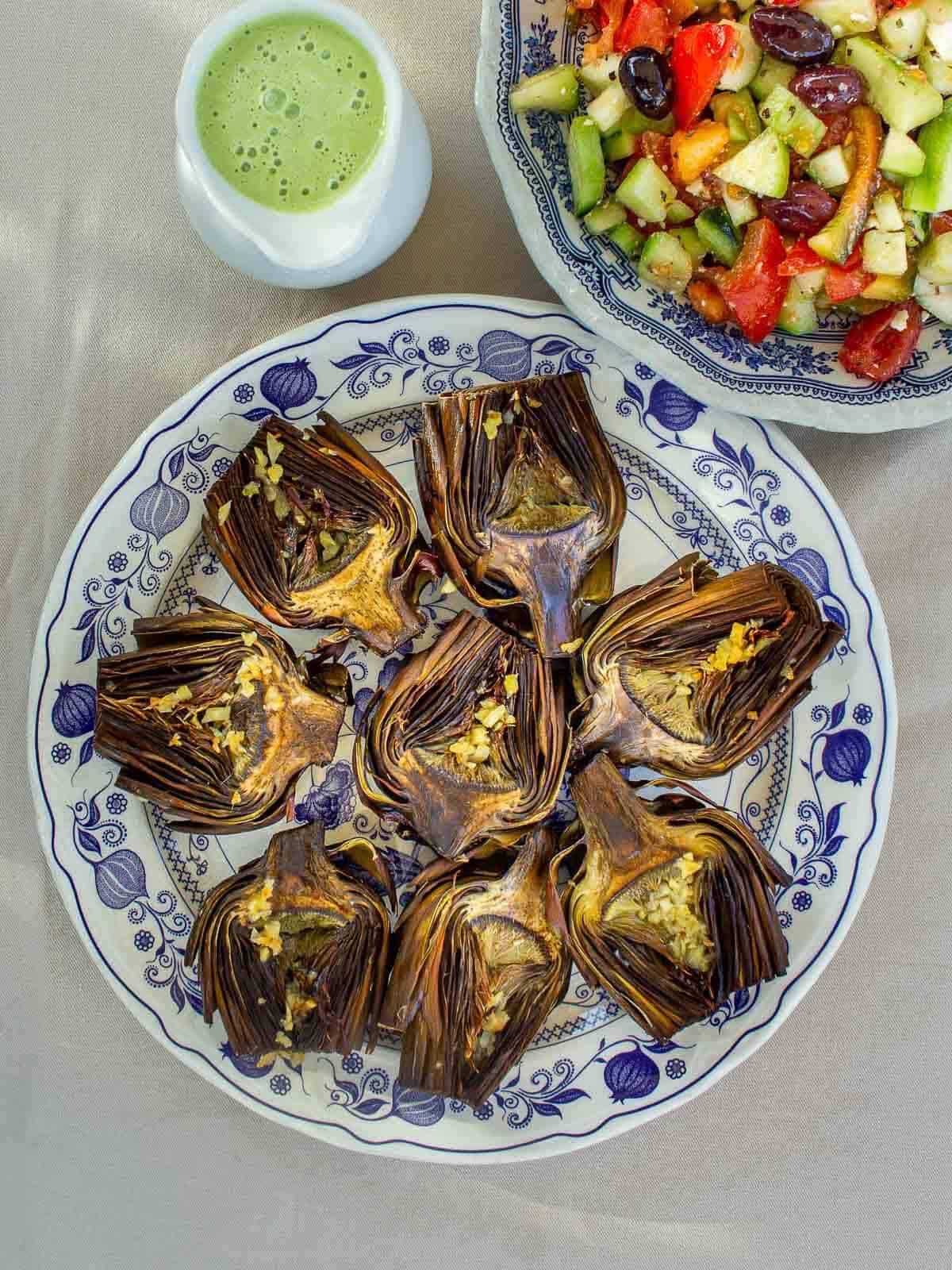 I became pretty surprised when I started making traditional recipes like these Carciofi alla Romana (Roman-Style Artichokes) and finding out how relatively easy they were. So little by little started to make my recipes, like this one.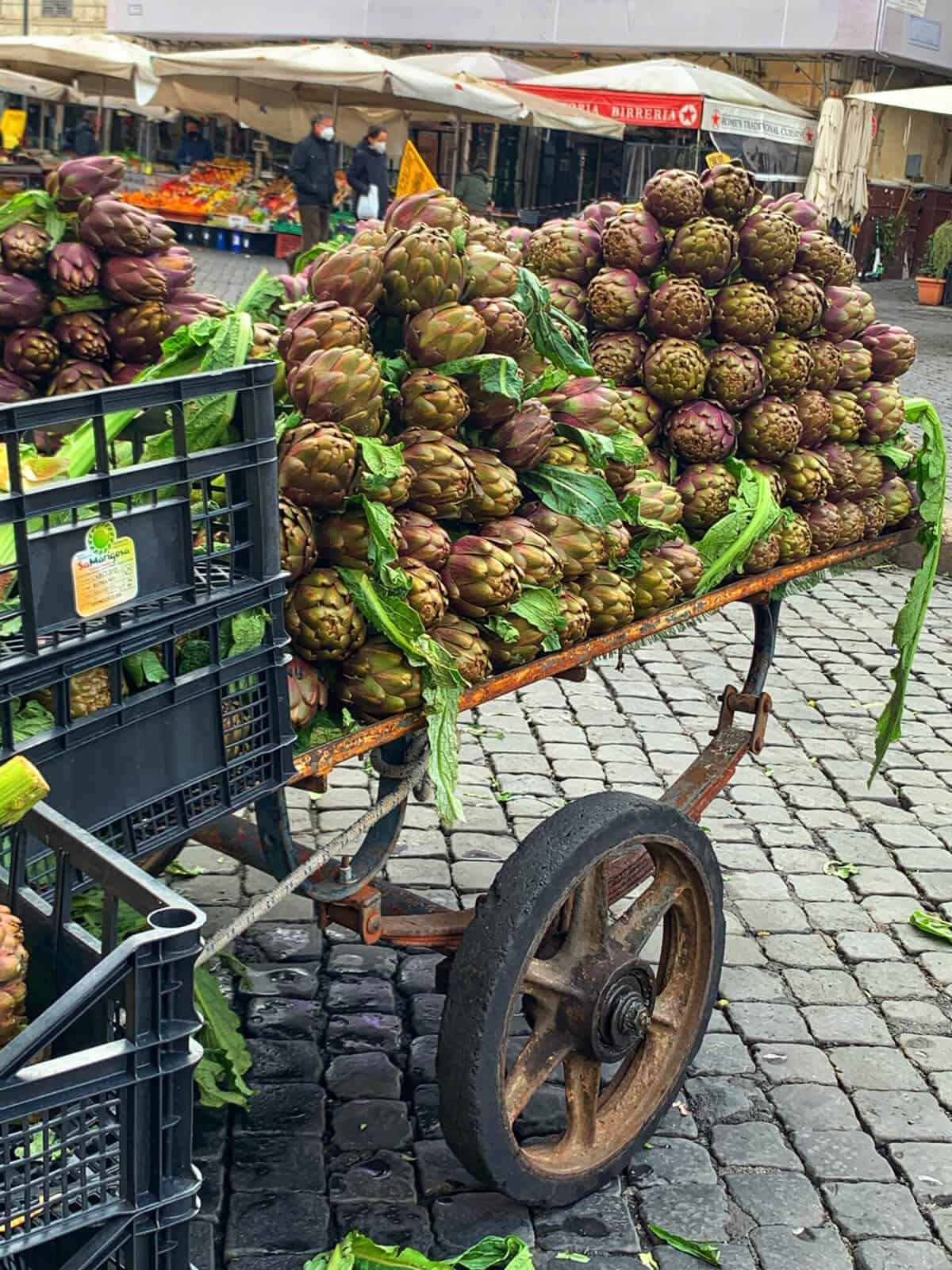 We love our easy and hassle-free roasted veggies, such as roasted Brussels sprouts, butternut squash, and the famous Spanish Escalivada. Each veggie has its own trick; here is how to roast artichokes like a pro!
Jump to:
🧾 Ingredients
It is the perfect time of the year for this dish. In Spring, Artichokes are at their best.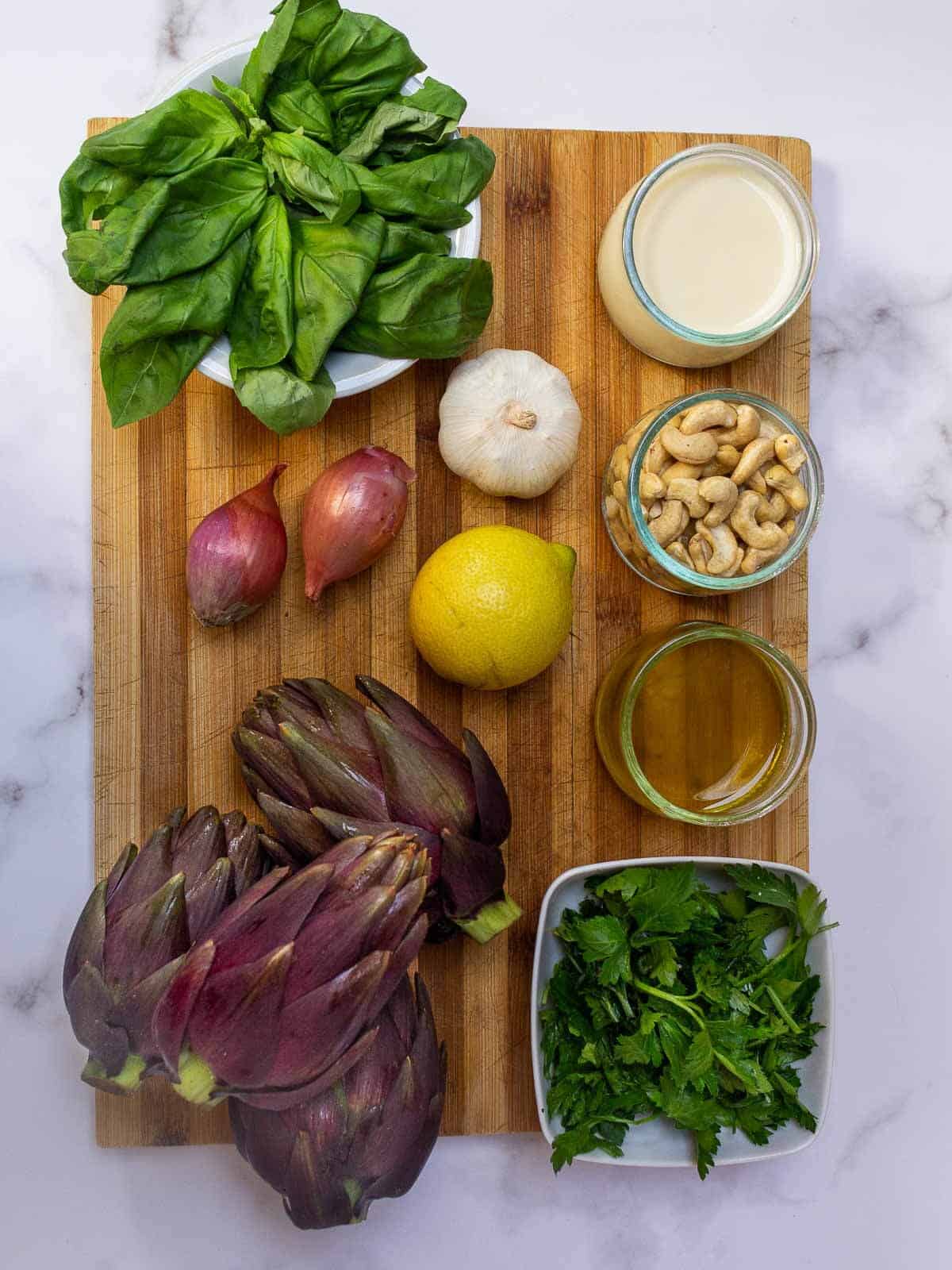 For the Roasted Artichokes, you need
Extra-Virgin Olive Oil
Garlic
Salt and Pepper.
The Creamy Vegan Sauce also includes
Basil
Parsley
Garlic
Plant milk (such as this homemade almond milk)
Lemon
Cashews (or peanuts)
Shallots (or green onions)
Extra-virgin olive oil
🔪 Instructions
The first step in making artichokes is cleaning them. Artichokes tend to trap a lot of dirt, and insects in between their thick leaves, so make sure you don't forget this critical step.
Wash the artichokes, massage them, and let them soak for ten minutes with the juice of a lemon (optional). Thus, losing any particles also helps to plump them up with moisture.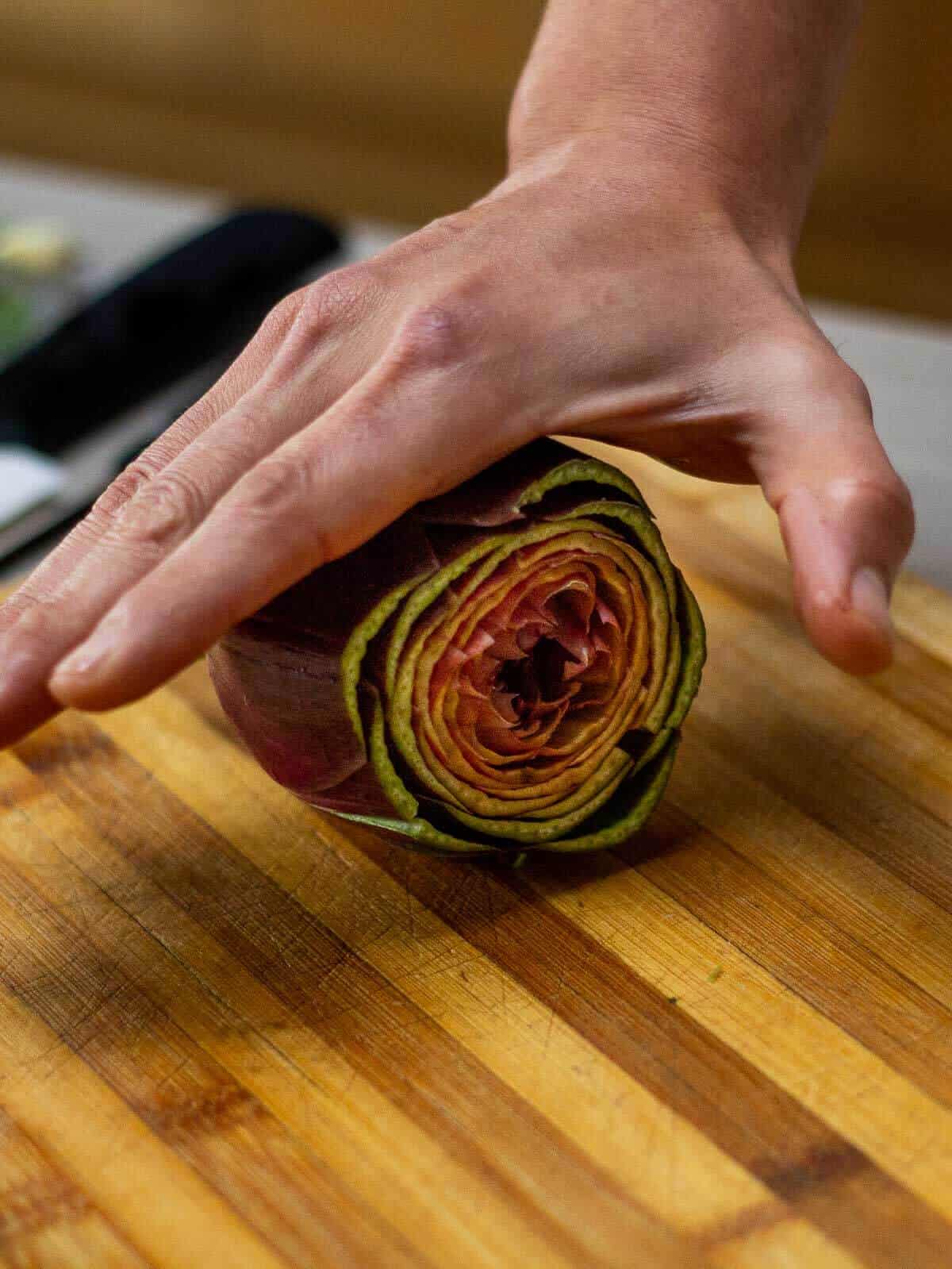 Then trim the stem and leaves and halve it lengthwise. Next, pull out the inner petals and the center choke just above the artichoke's heart line.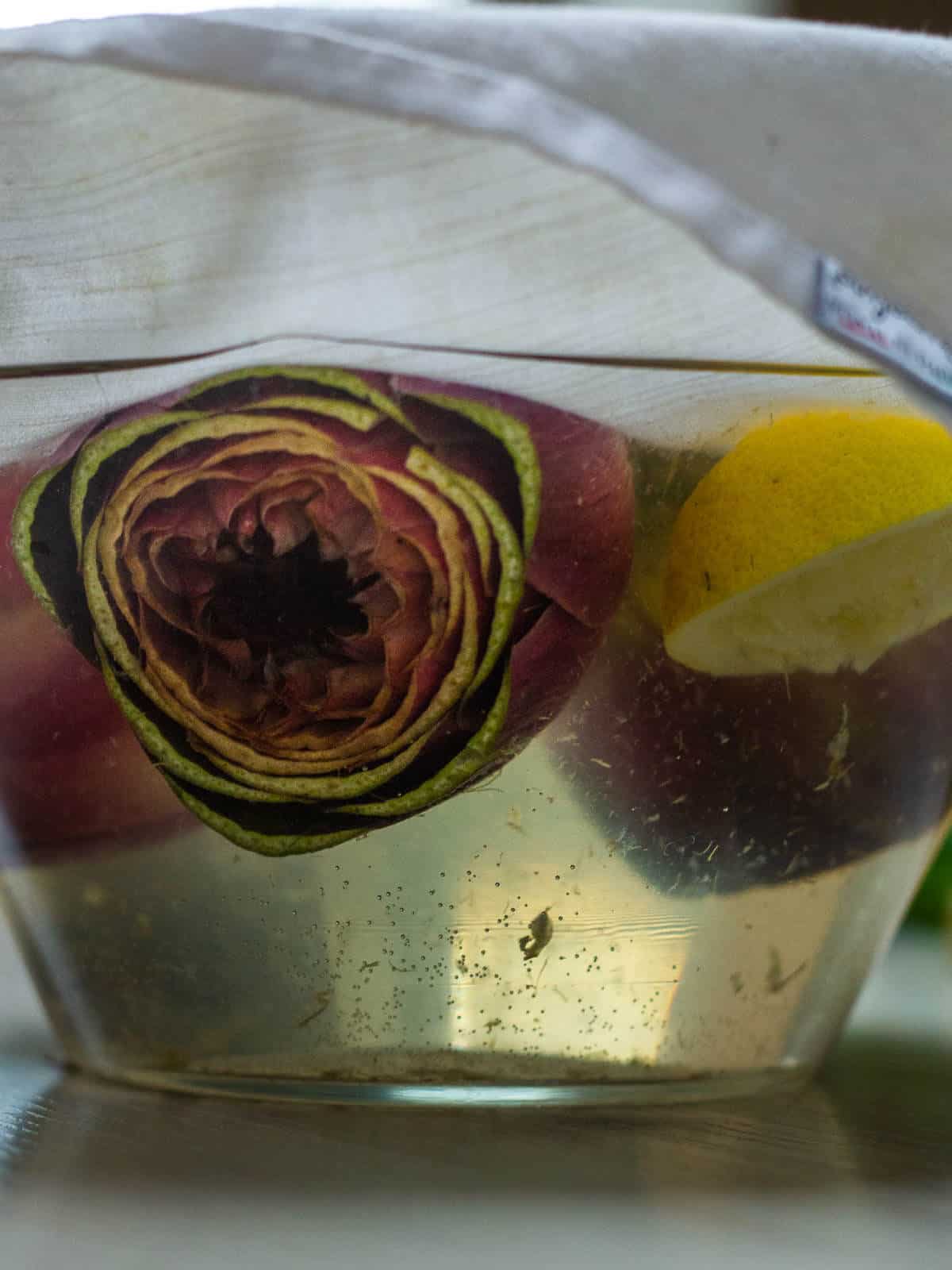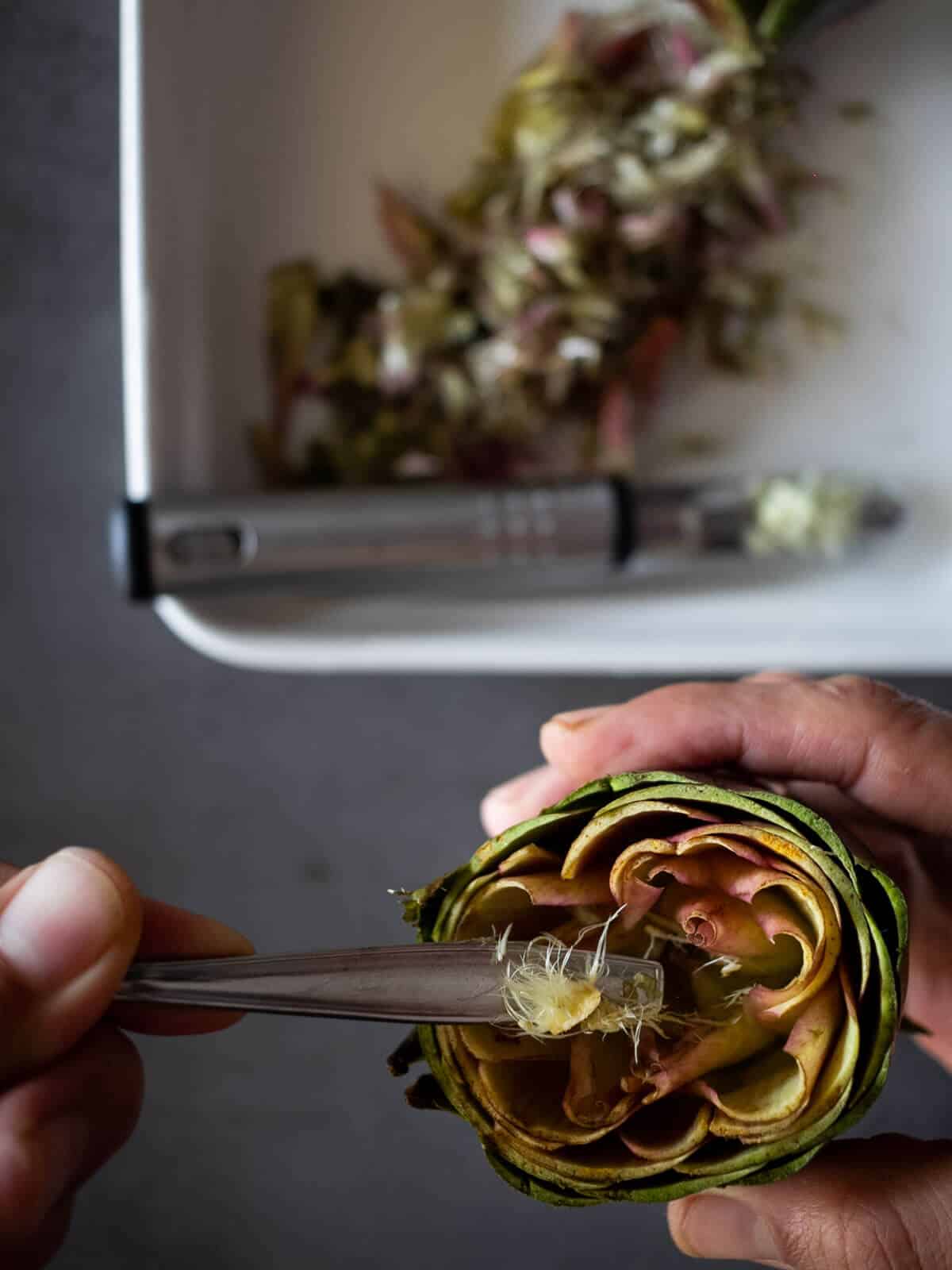 Once you have cleaned the artichokes and cut and prepared them, all you need to do is place them in the oven.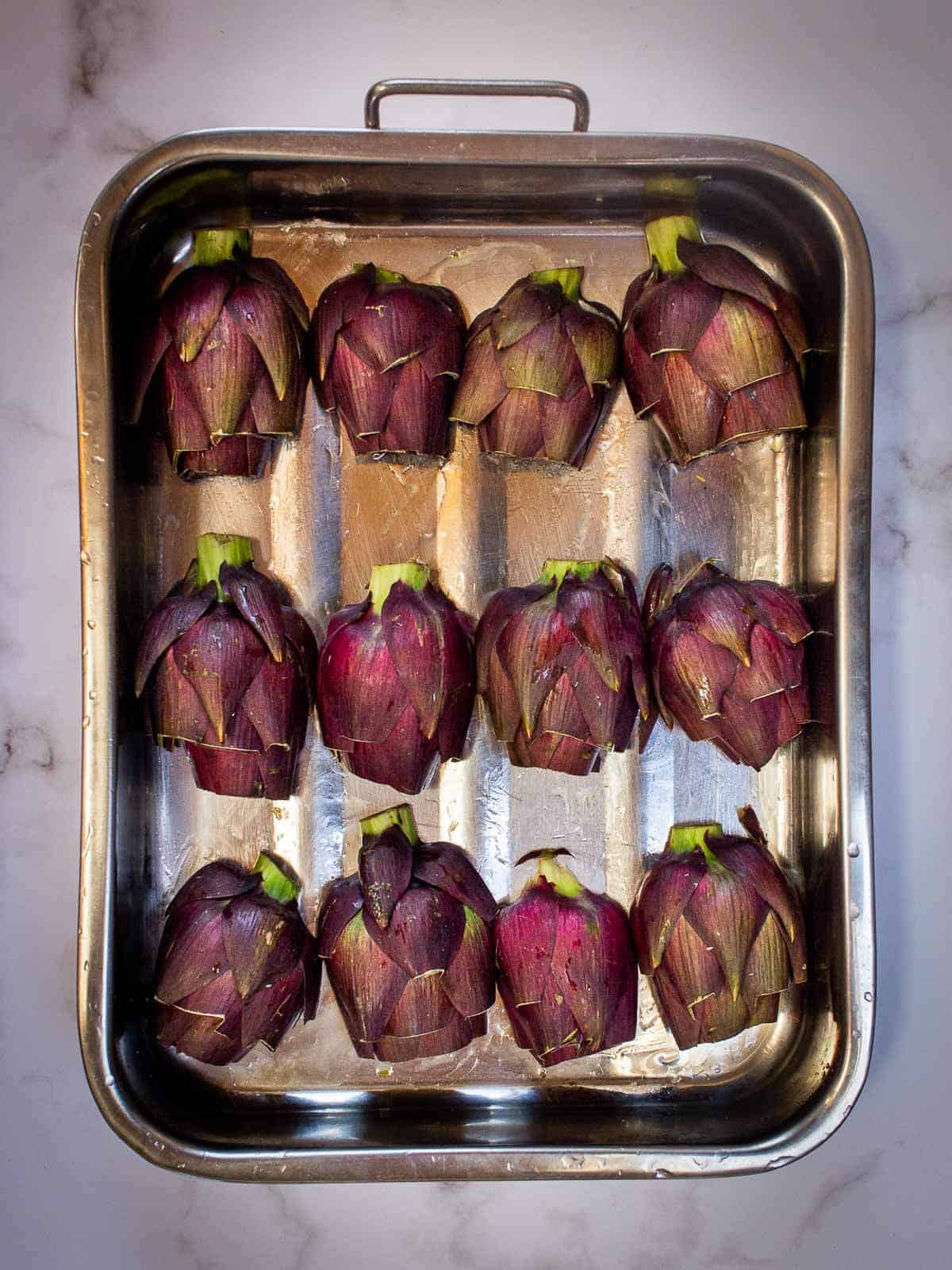 These roasted artichokes are smeared in extra-virgin olive oil and garlic. Then, you pair them with a rich Green Creamy Vegan Sauce, and voilà!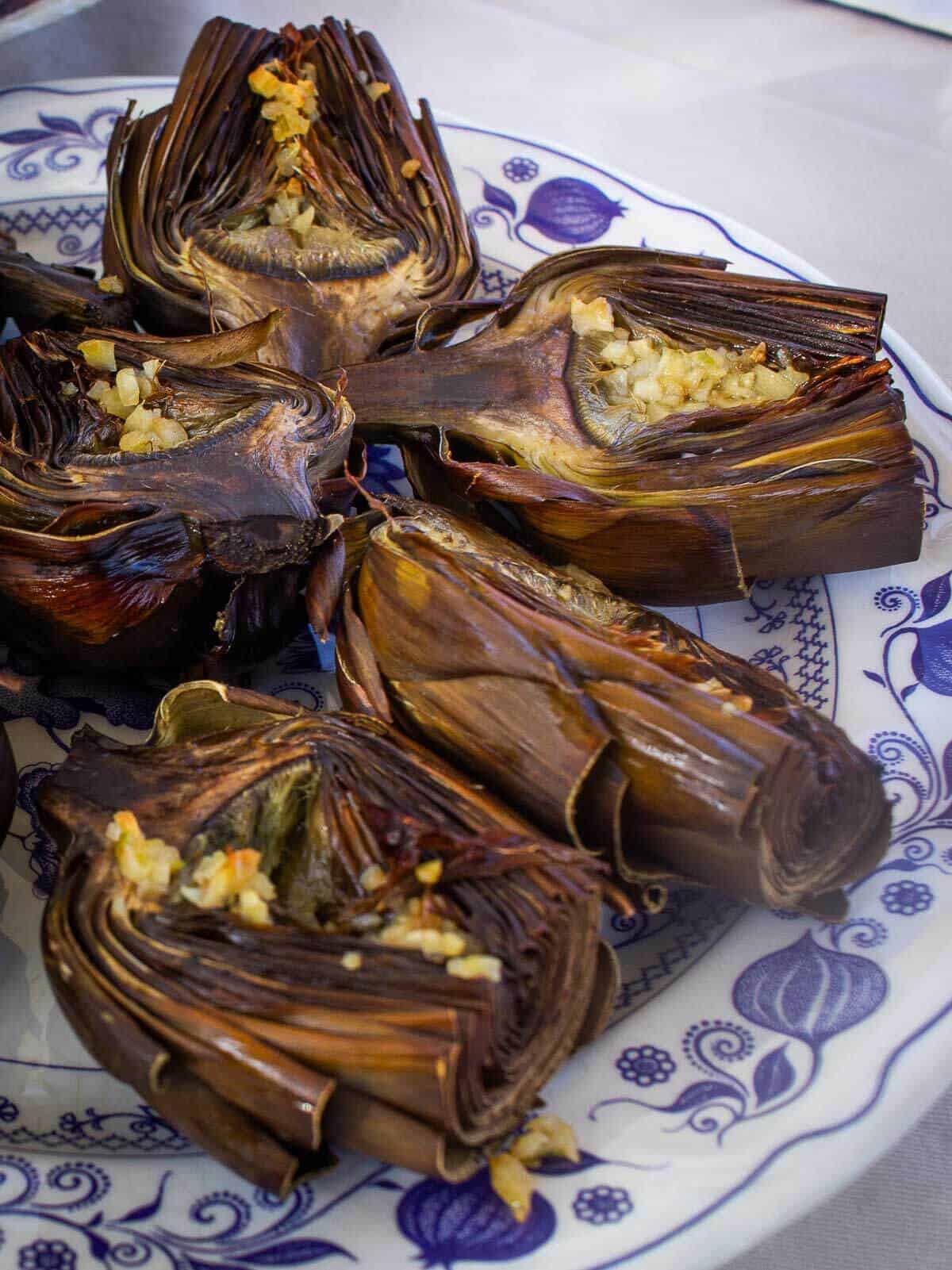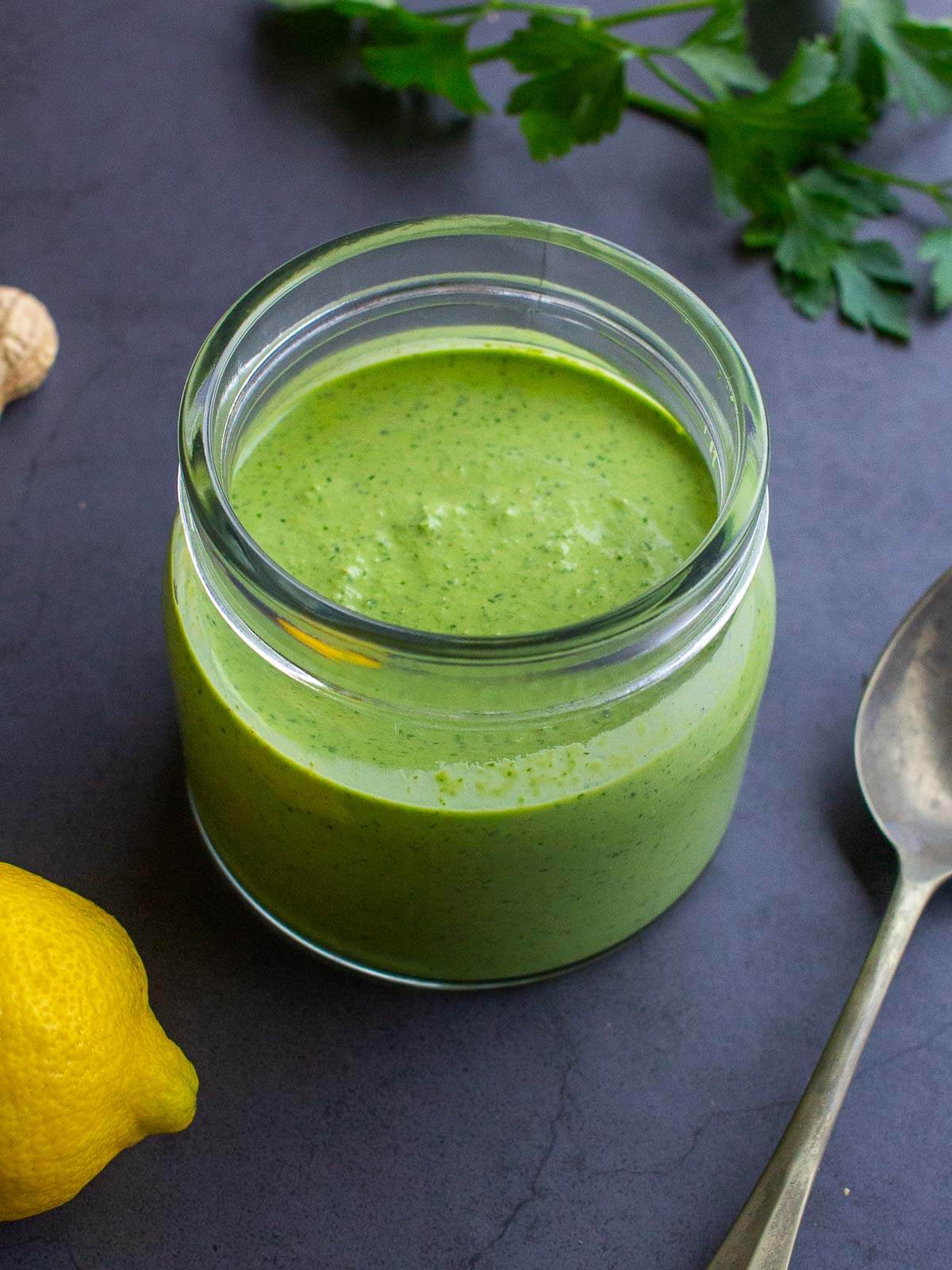 These Roasted Artichokes make a great side or appetizer.
I also like eating many small fresh dishes like we did last December while in Rome with Friends.
We paired these Artichokes with a Classic Greek Salad and Romanesco Broccoli in Padella.
✅ 7 health benefits of artichokes
Artichokes are flowers, not vegetables, as most of us may have first. However, these beautiful edible flowers are packed with nutrients and have significant health benefits.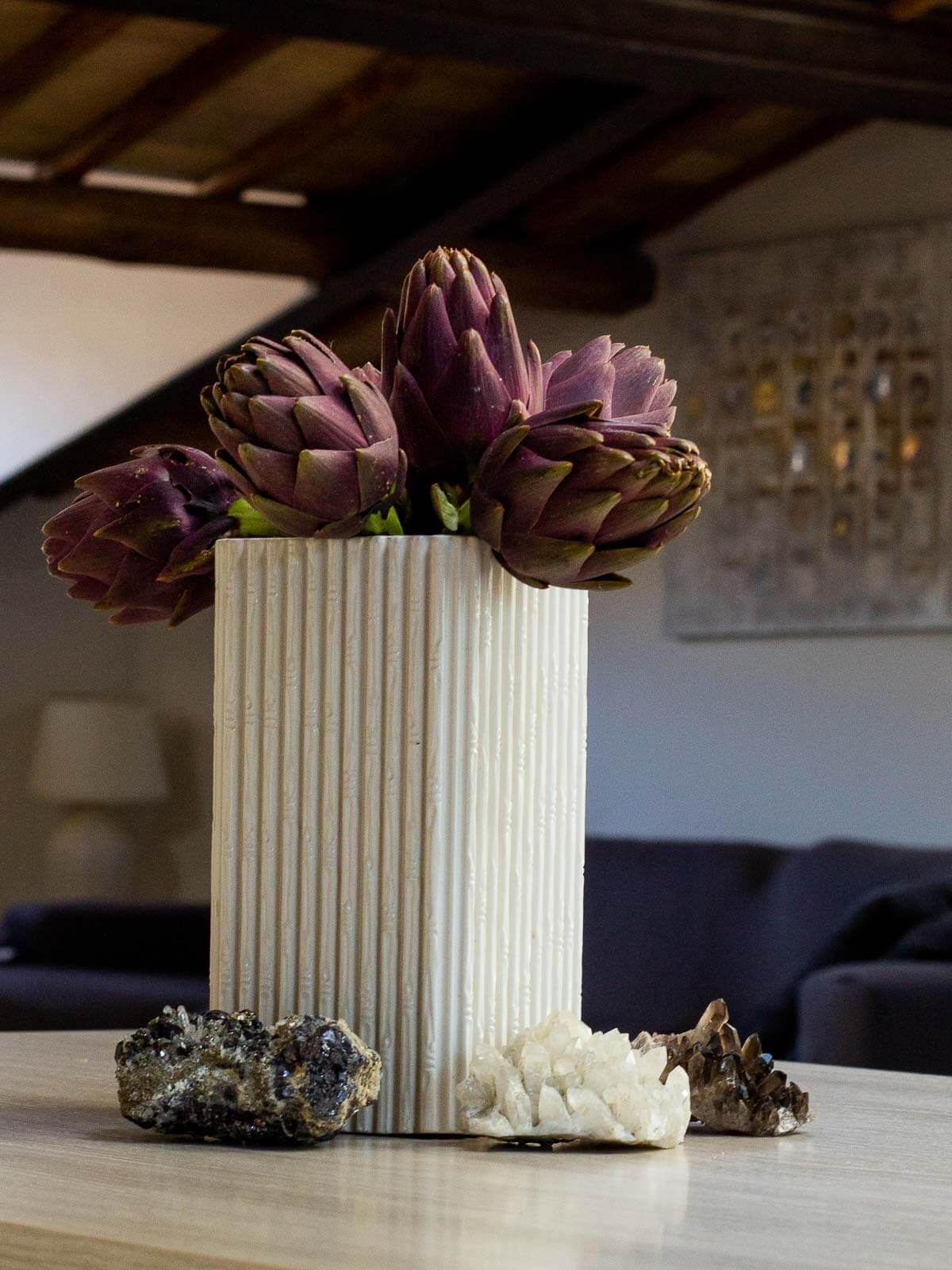 Certain antioxidants in artichokes may have anticancer effects.
In addition, artichokes help lower blood sugar.
They may help regulate blood pressure.
May Improve Liver Health.
Artichokes lower 'Bad' LDL cholesterol and increase 'Good' HDL cholesterol.
May ease Symptoms of Irritable Bowel Syndrome.
They may improve digestive health.
If you want to know more about the benefits of artichokes read them in Health Line.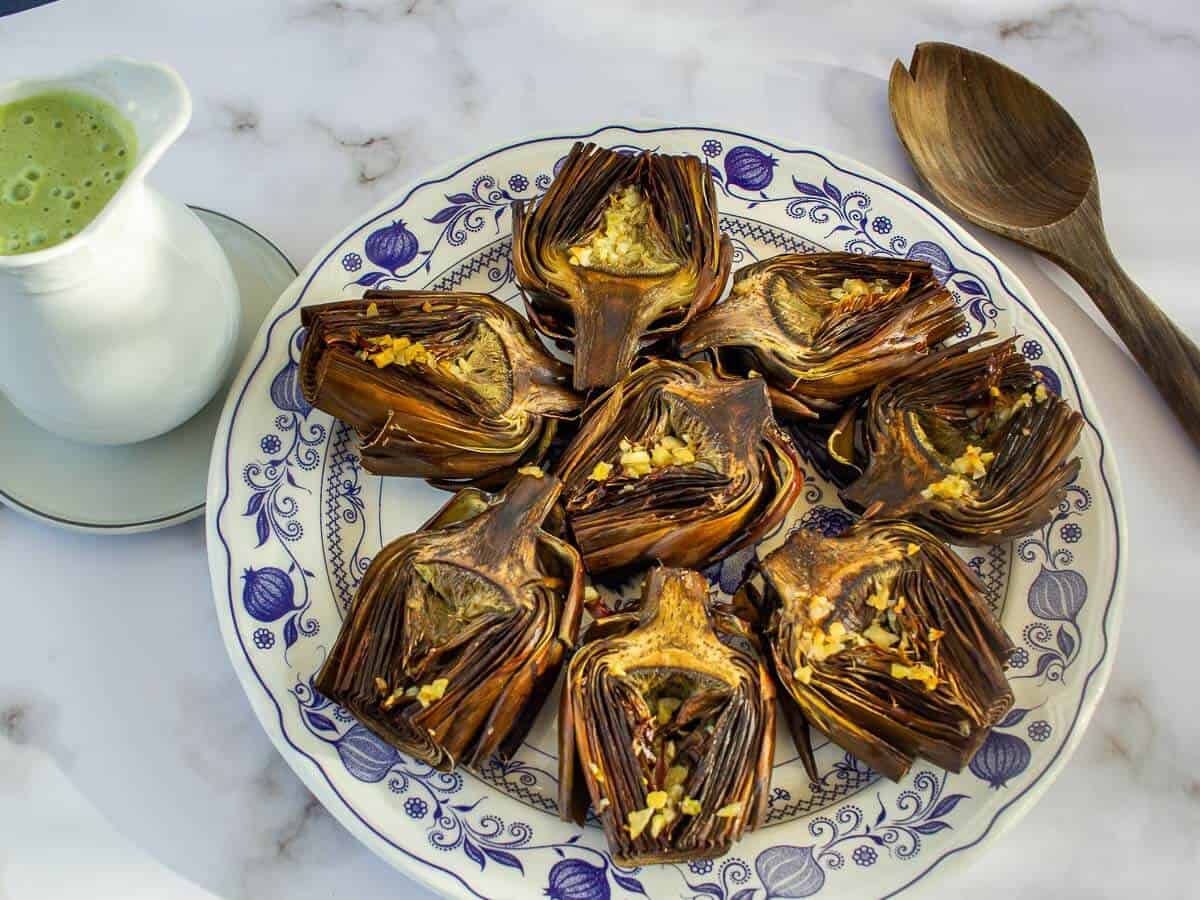 🇮🇹 More Italian vegetable sides and appetizers
⭐ If you try this recipe, let us know! 💬 Leave a comment, rate it, and don't forget to tag us @ourplantbasedworld on Instagram. Cheers!
📋 Recipe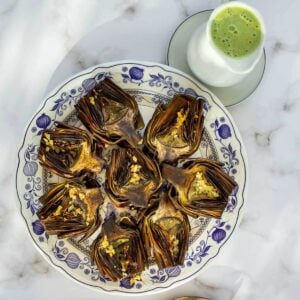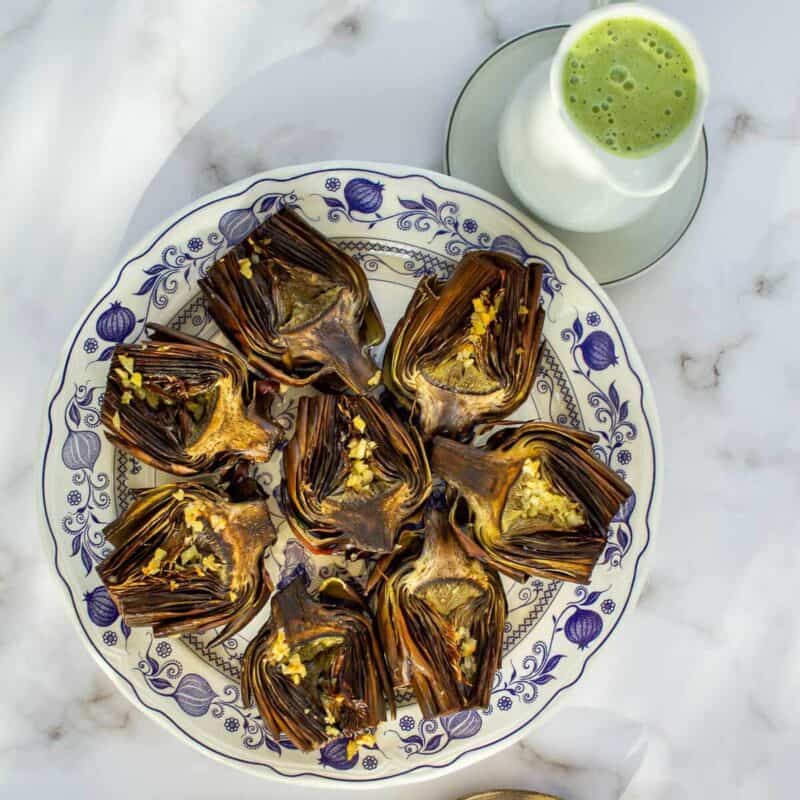 Artichokes with Dipping Sauce
Artichokes can be intimidating vegetables to prepare. But it is a lot easier than you might think. These Artichokes with Dipping Sauce are mouth-watering.
Equipment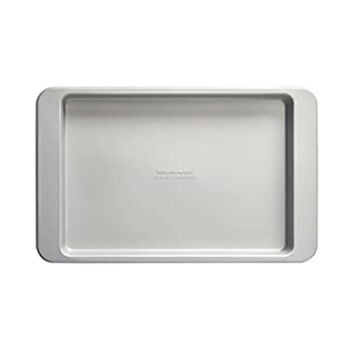 (affiliate link)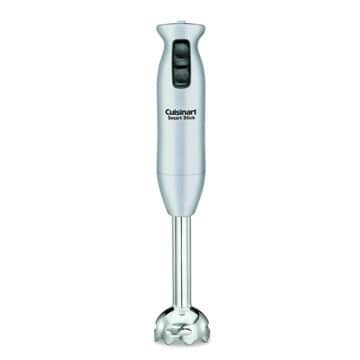 (affiliate link)
Directions
Preheat the oven to 375ºF (170ºC).

Peel the garlic cloves and removes green cores.

Wash the artichokes, massage them and let them soak in water and lemon for ten minutes. Thus, losing any particles and also helps to plump them up with moisture.

Slice off the stems. Then peel off the outer leaves around the base.

Cut the top quarter of the artichokes off, trimming the sharp points off each leaf.

Then slice the artichokes in half lengthwise.

Remove the sharp inner petals pulling them down and out. Then gently scoop out the center choke while leaving the heart, which is the most precious part.

Place the artichokes on tray and massage and coat the artichokes with half of the olive oil, salt and pepper inside and out.

2 tablespoons olive oil,

½ teaspoon sea salt,

¼ teaspoon black pepper

Turn the artichokes over, cut side down, and cover the sheet pan with foil—roast for 30 minutes.

Mix. Meanwhile, whisk together the minced garlic and the remaining tablespoon of olive oil.

3 cloves garlic,

2 tablespoons olive oil

Remove the artichokes from the oven. Flip the artichokes over and brush on the olive oil and garlic mixture. Return them to the oven and roast until the artichokes are golden brown (about 10 mins).

2 tablespoons olive oil,

3 cloves garlic

1 batch Creamy Vegan Sauce
Notes
Creamy Vegan Sauce Recipe
Note: You may want to make the creamy sauce a little more liquid for this recipe; add ¼ cup more of your chosen plant milk.
Nutrition Facts
Calories:
156
kcal
Carbohydrates:
14
g
Protein:
4
g
Fat:
11
g
Saturated Fat:
1
g
Sodium:
412
mg
Potassium:
483
mg
Fiber:
7
g
Sugar:
1
g
Vitamin A:
17
IU
Vitamin C:
16
mg
Calcium:
61
mg
Iron:
2
mg
Nutrition Facts
Artichokes with Dipping Sauce
Amount per Serving
% Daily Value*
* Percent Daily Values are based on a 2000 calorie diet.
🌡️ Food safety
Cook to a minimum temperature of 165 °F (74 °C)
Do not use the same utensils on cooked food, that previously touched raw meat
Wash hands after touching raw meat
Don't leave food sitting out at room temperature for extended periods
Never leave cooking food unattended
Use oils with a high smoking point to avoid harmful compounds
Always have good ventilation when using a gas stove
See more guidelines at USDA.gov.
Nutritional Disclaimer
The information shown is an estimate provided by an online nutrition calculator. It should not be considered a substitute for a professional nutritionist's advice. See our full Nutritional Disclosure here.
Affiliate Disclaimer
Please note that some of the links here are affiliate links, and I will earn a commission if you purchase through those links. I recommend all of the products listed because they are companies I have found helpful and trustworthy.