This Green Juice for Weight Loss features pineapple, cucumber, protein-rich spinach, lime, and anti-inflammatory ginger. High in antioxidants and hydrating components, it will be your perfect partner on your slimming-out journey.
We are constantly making new functional juices to fit the needs, moments, and season of the year. We naturally tend to come back from vacation with a tiny little extra something we forgot to leave back there at the beach.
Worry not! Those extra pounds will go away. You need a good action plan, encompassing regular exercising and nurturing your body, with just what it needs before starting your day.
This pineapple and cucumber juice has been made to help us right there during the coming back months or just as part of a regular cleansing or detox.
We do juice cleanses every month and sometimes use them as a meal replacement. We also love making a veggie-packed juice to enjoy with our made-at-home granola, tofu vegan scramble or, chia and oats pudding.
As you can see, for this weight-loss juice, we mainly use veggies and try to keep the sugars low, and that's exactly what this pineapple cucumber lemon ginger juice weight loss recipe does!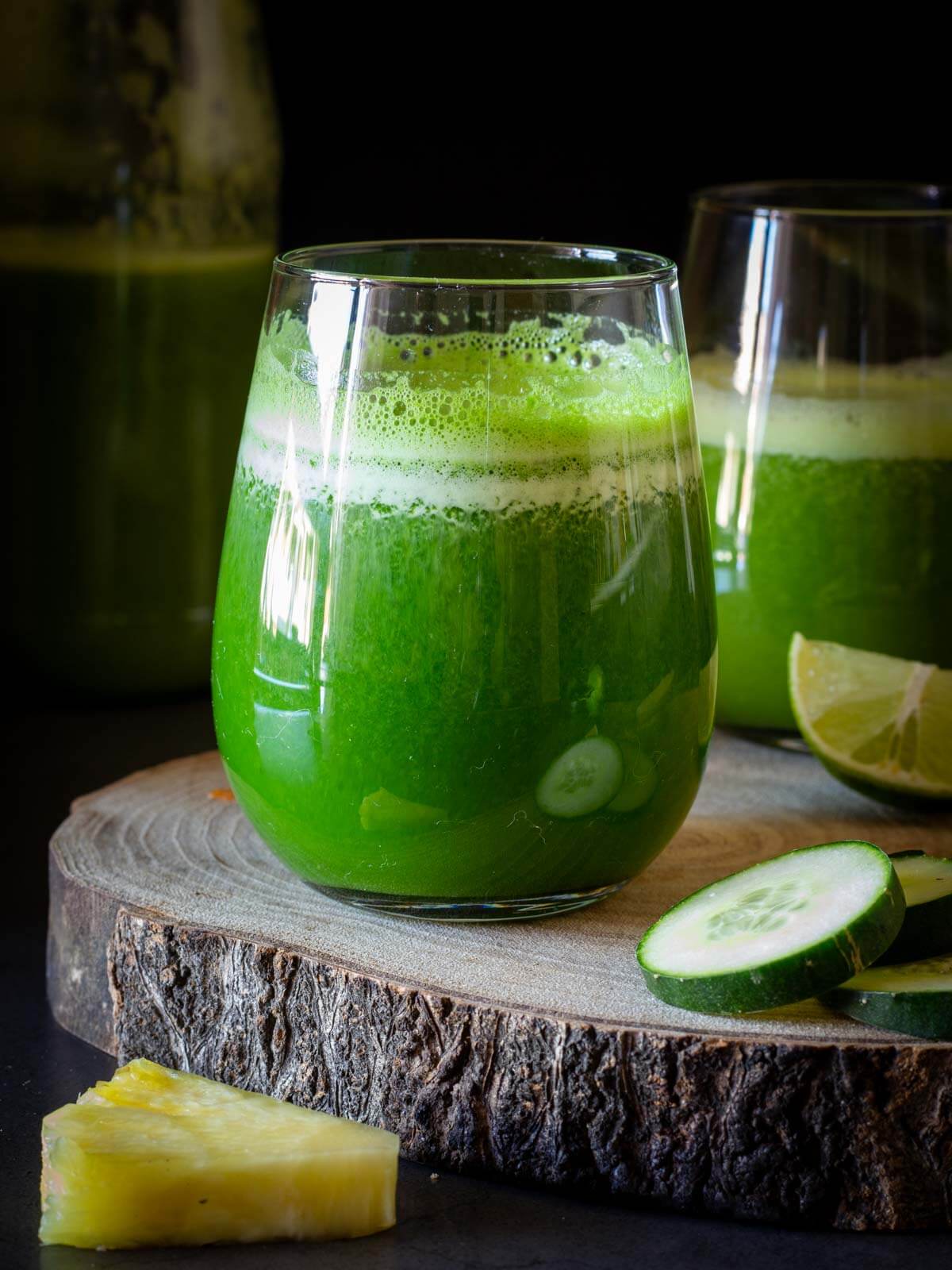 We combine highly alkalizing pineapple, super hydrating cucumbers; antioxidants packed parsley, protein-packed spinach, tangy immune system booster, and anti-inflammatory ginger and lemon for this weight loss companion.
Cucumbers that aid in weight loss, parsley as a diuretic that also helps reduce bloating. Pineapple adds lots of tropical flavor, sweetness, and water, while lemon and ginger add zing.
Don't forget to check out our grapefruit smoothie for weight loss, for those days where you want to have a smoothie that can fully replace breakfast.
Ingredients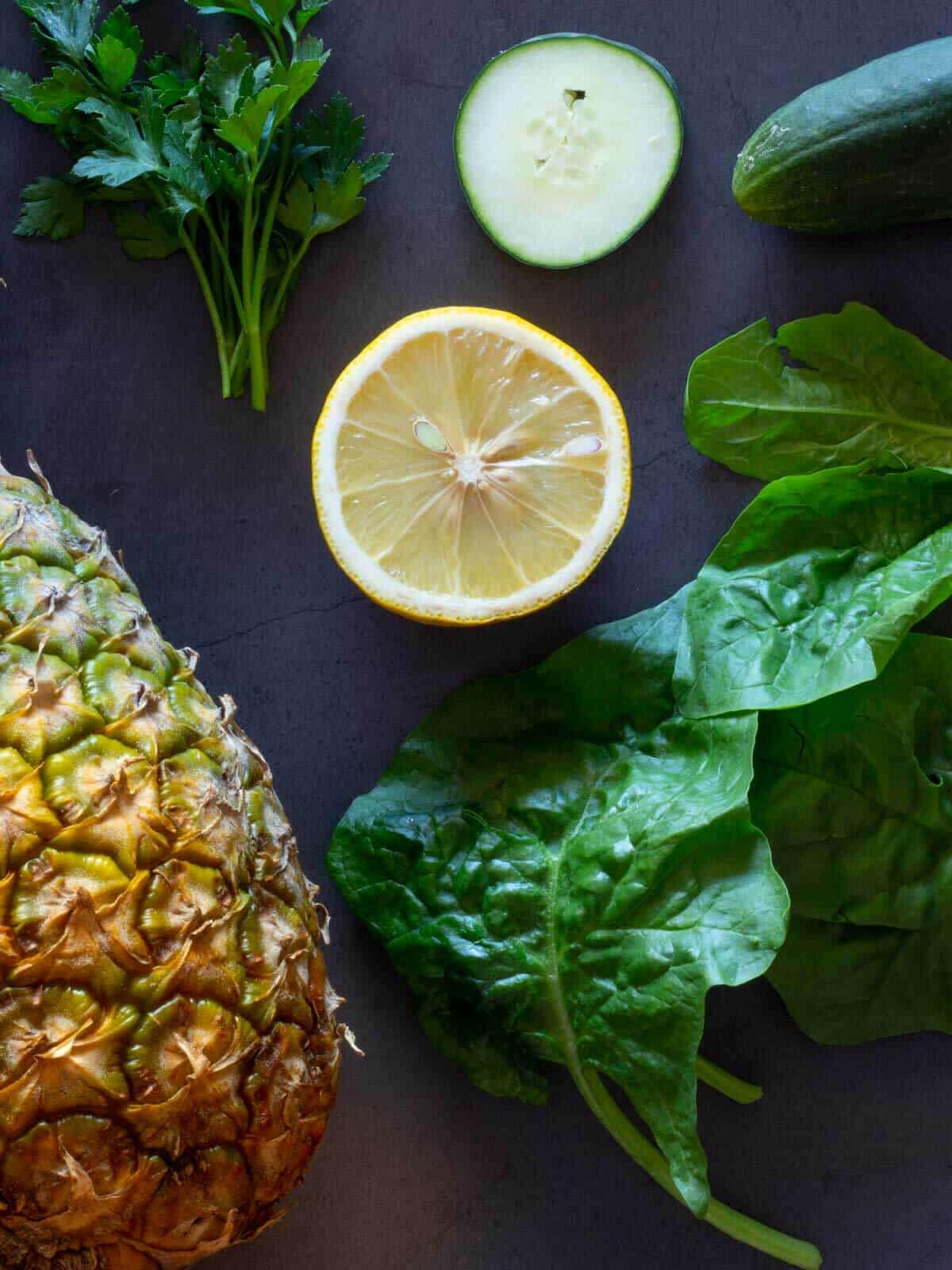 Cucumber
Pineapple
Lemon or lime
Parsley
Spinach
Optional: ginger
See quantities and full instructions in the recipe card.
How to Make best Juice for Weight Loss
We use a Slow Masticating Juicer that has become or juicing companion. You will find two camps of juicers— cold-pressed (also called slow masticating) and centrifugal juicers.
The cold-pressed juicers slowly press down the produce until and the dry fiber falls into a separate container.
Get an excellent Cold-Pressed juicer; it will be one of the best investments you have made in the year! Trust me! Make sure you check the juicer's instructions before starting, as many juicers have different working mechanisms.
Centrifugal juicers extract juice fast, spinning cut-down veggies and fruits around until the fiber and liquid separate.
They are also typically cheaper as the slow-masticating juicers are more efficient at getting more juice from your veggies and fruits.
Our juicer is a slow cold-pressed juicer, and we love it.
Coarsely chop the ingredients so they fit the Juicer's shut, and then slowly start adding the chunks and pressing down the shut with the tamper.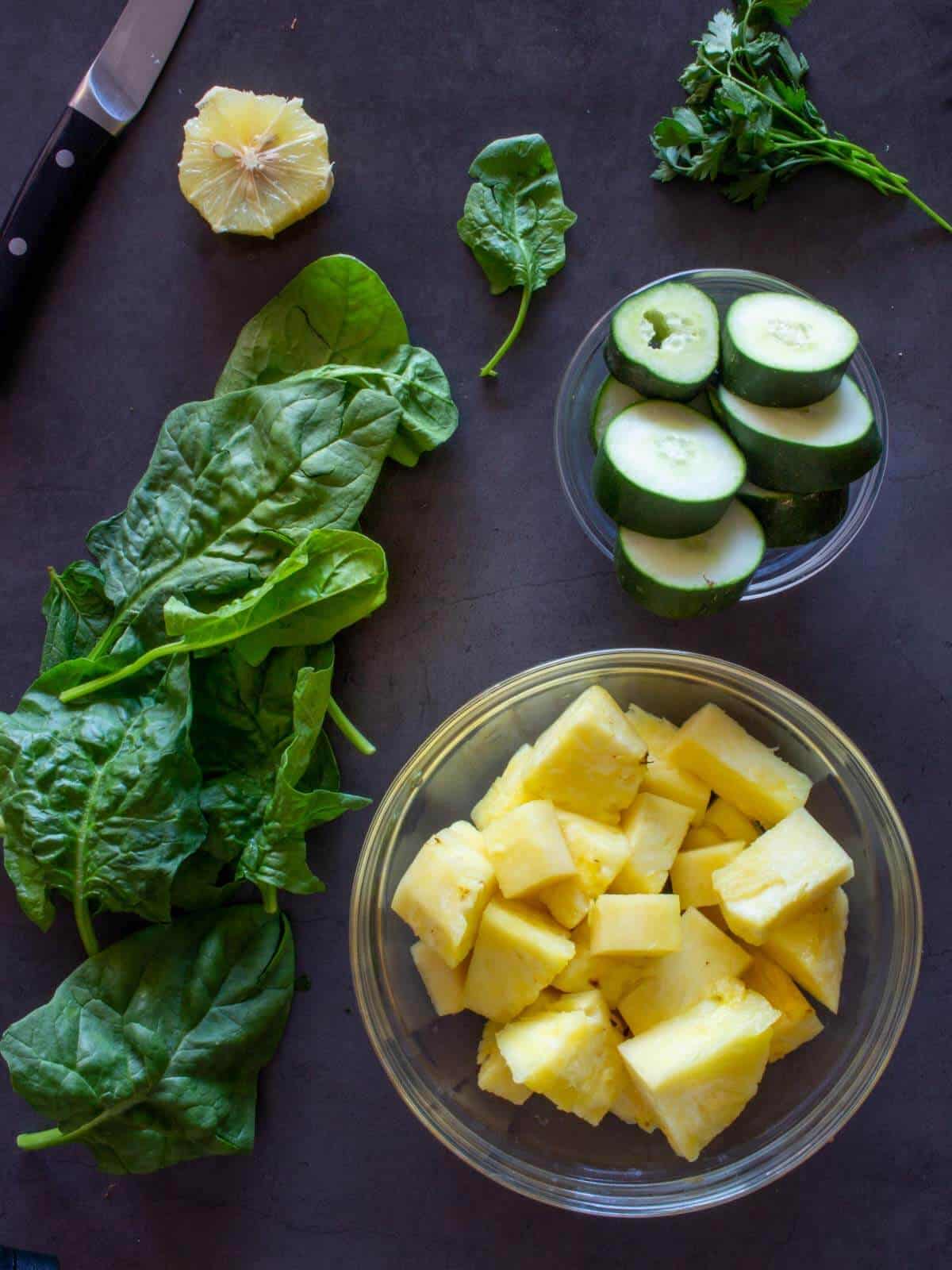 YOU MAY ALSO LIKE these delicious detox juice.
If you are into tropical flavors, you will surely like this low-calories passion fruit and watermelon juice, which can also be turned into a delicious smoothie, simply adding ice.
If you don't have a juicer, you can also make juices, following these simple tips on juicing without a juicer plus three delicious recipes.
Pineapple and cucumber juice for belly fat
We are passionate about knowing the properties we put inside our juice, so let's take a dive!
Pineapples – are linked to significant health benefits, including aiding digestion, improved immunity, and recovery after exercise. It also contains soluble and insoluble fiber, which helps us lose weight because fiber keeps us full for a long time and helps to induce satiety.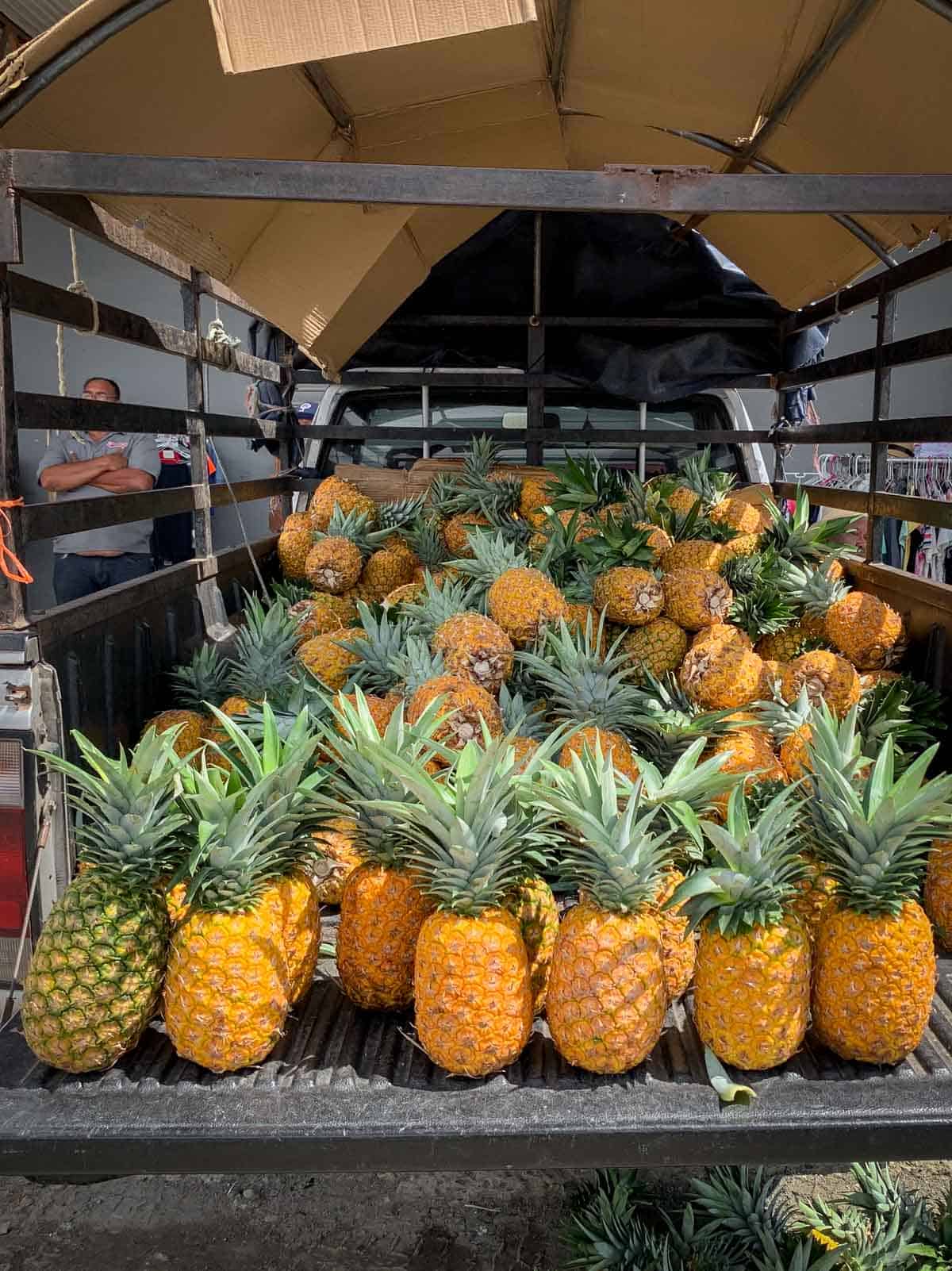 Cucumbers are great hydration partners, and they have zero fat and are very low in calories.
Parsley is very low in calories and, when combined with the detoxifier lemons (or limes), can help those on a weight loss regime while helping in losing belly fat.
Spinach – packs lots of insoluble fiber, the critical element helping in weight loss. It also has a reasonable amount of protein, so it is a good idea to consume it before or after your exercise routine as part of your regime.
Lemons and limes are potent antioxidants (Vitamin C, the more prominent) and immune-boosting nutrients. They are highly alkalizing and are known for their detoxifying properties.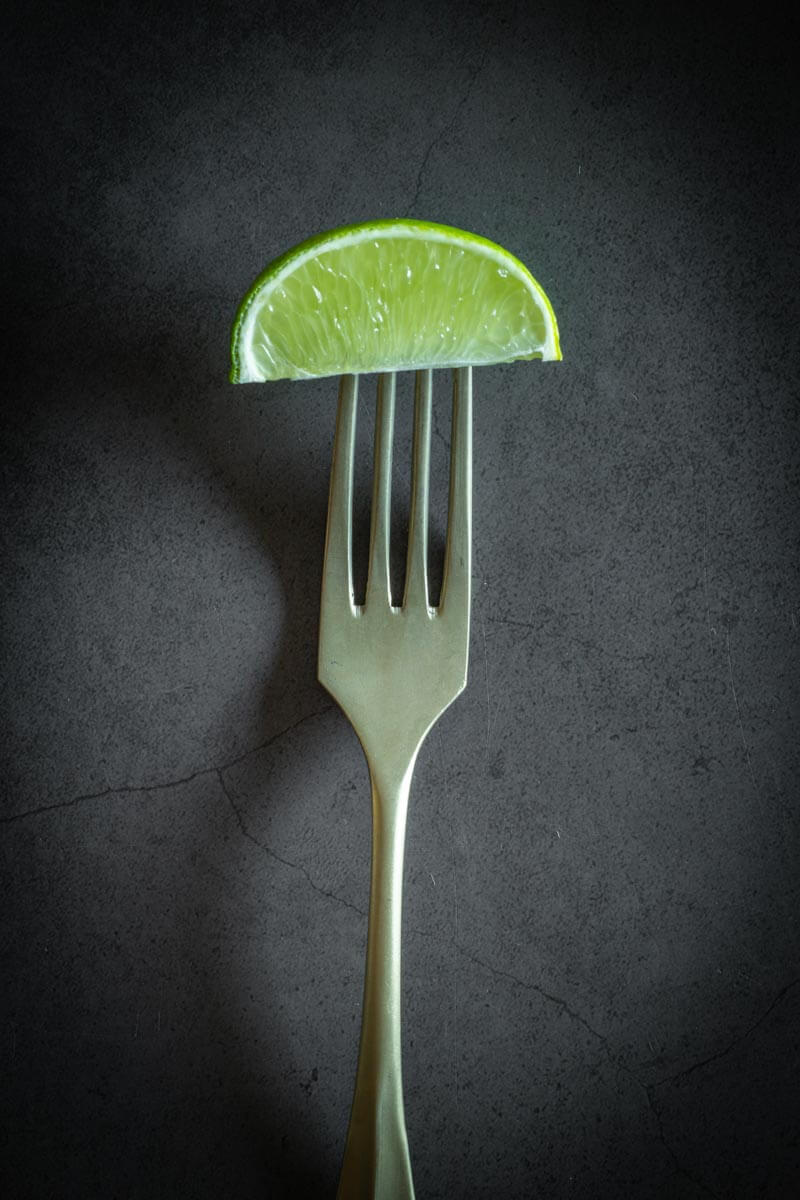 Ginger aids in digestion, has powerful anti-inflammatory effects and relieves bloating. If you're sensitive to ginger's spiciness, add it little by little.
So, this pineapple cucumber lemon ginger juice weight loss recipe has everything you can think of to be the perfect and Best juice for weight loss.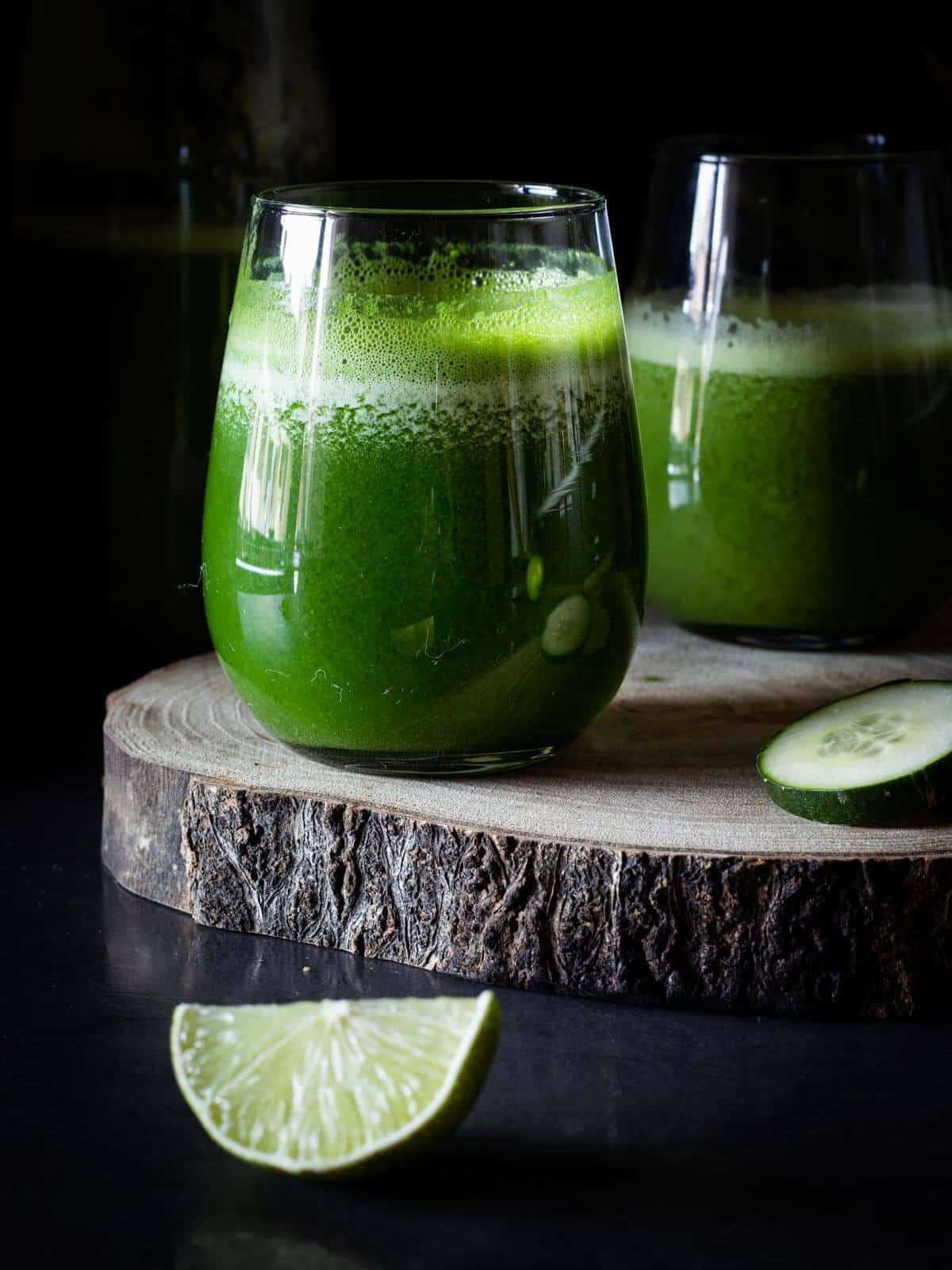 More Easy and Healthy Juice Recipes
If you try this recipe, let us know! Leave a comment, rate it, and don't forget to tag a photo #ourplantbasedworld on Instagram. Cheers!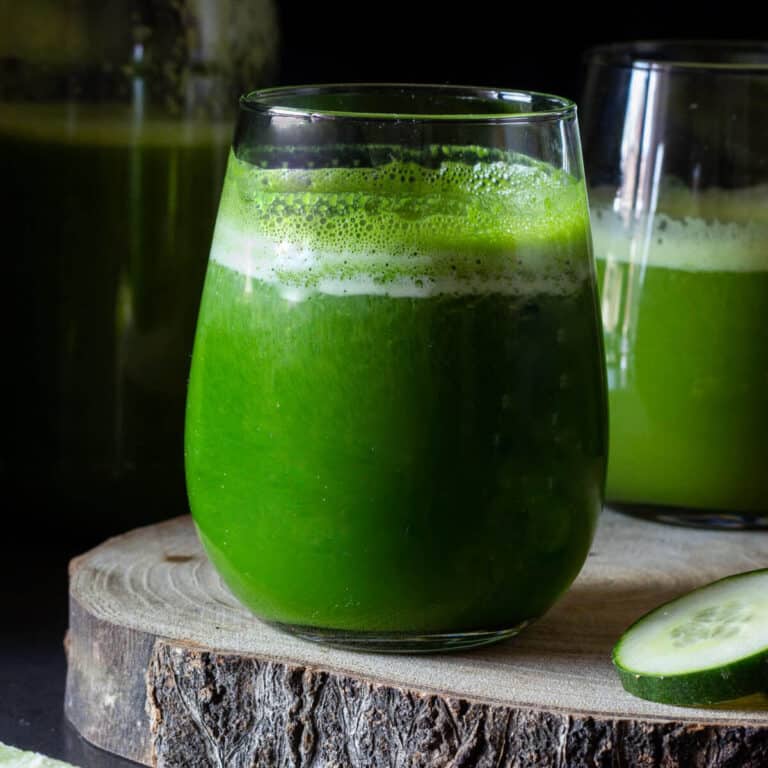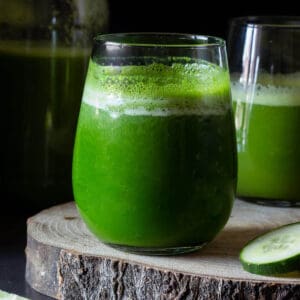 Pineapple Cucumber Ginger Lemon Weight Loss Juice
Pineapple, cucumber, parsley, spinach, lime, and soothing ginger. High in antioxidants and hydrating components, it will be your perfect partner on your slimming-out journey.
Equipment
Ingredients
1

cucumber

large

1

cup

pineapple

in chunks

1

bunch

spinach

1

bunch

parsley

1

inch

ginger

length piece fresh, scrubbed clean

1

lime

or lemon, without the rind
Directions
PREPARE THE VEGETABLES and FRUITS
Wash all your vegetables and fruits thoroughly.

Coarsley chop the parsley and spinach leaves.

1 bunch spinach,

1 bunch parsley

Chop the cucumber, pineapple, and ginger into thin pieces small enough to go through the juicer easily.

1 cucumber,

1 cup pineapple,

1 inch ginger

Cutaway the peel from the lime or lemon, leaving most of the white pith and lemon flesh. Cut into slices.
MAKE JUICE
Reserve about half of the lime.

Turn the juicer on and push everything through, alternating between the pineapple chunks and the firmer cucumbers,pieces, and lemon.

1 cucumber,

1 cup pineapple

When everything but the reserved lemon has been juiced, stir the juice and taste for tartness. Add the remaining lemon if you feel it can take it.
Notes
Gus TIPS
Make-ahead: Fresh fruit and vegetable juice is best enjoyed soon after juicing, but you can make it a day or two in advance. Make sure to store in glass, airtight containers. In case you have used a cold-pressed juicer, you are cashing up the expense! It should last a little longer.
Nutrition Facts
Calories:
85
kcal
Carbohydrates:
21
g
Protein:
2
g
Fat:
1
g
Saturated Fat:
1
g
Polyunsaturated Fat:
1
g
Monounsaturated Fat:
1
g
Sodium:
70
mg
Potassium:
416
mg
Fiber:
4
g
Sugar:
13
g
Vitamin A:
12797
IU
Vitamin C:
47
mg
Calcium:
42
mg
Iron:
1
mg
Nutrition Facts
Pineapple Cucumber Ginger Lemon Weight Loss Juice
Amount per Serving
% Daily Value*
* Percent Daily Values are based on a 2000 calorie diet.
Pin for Later!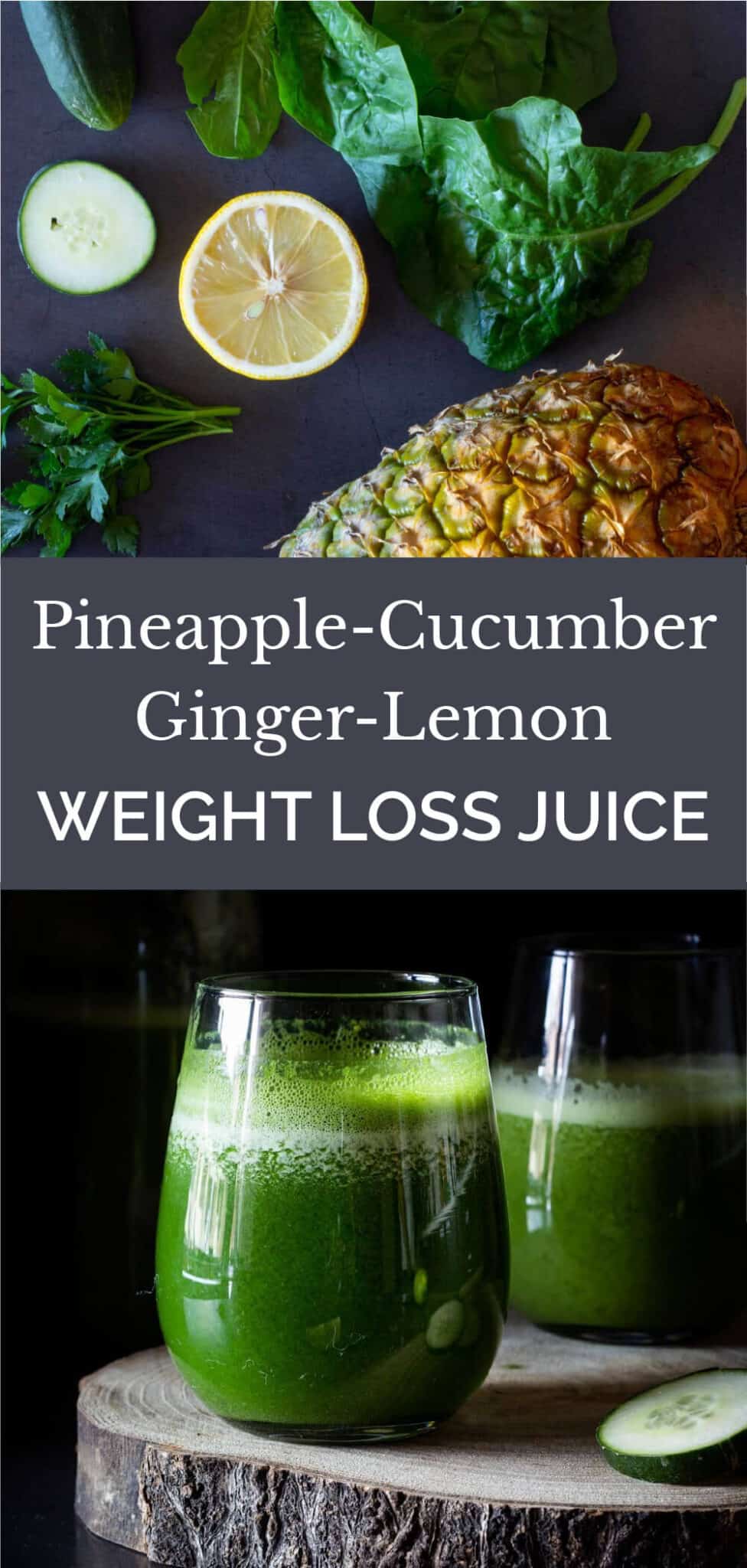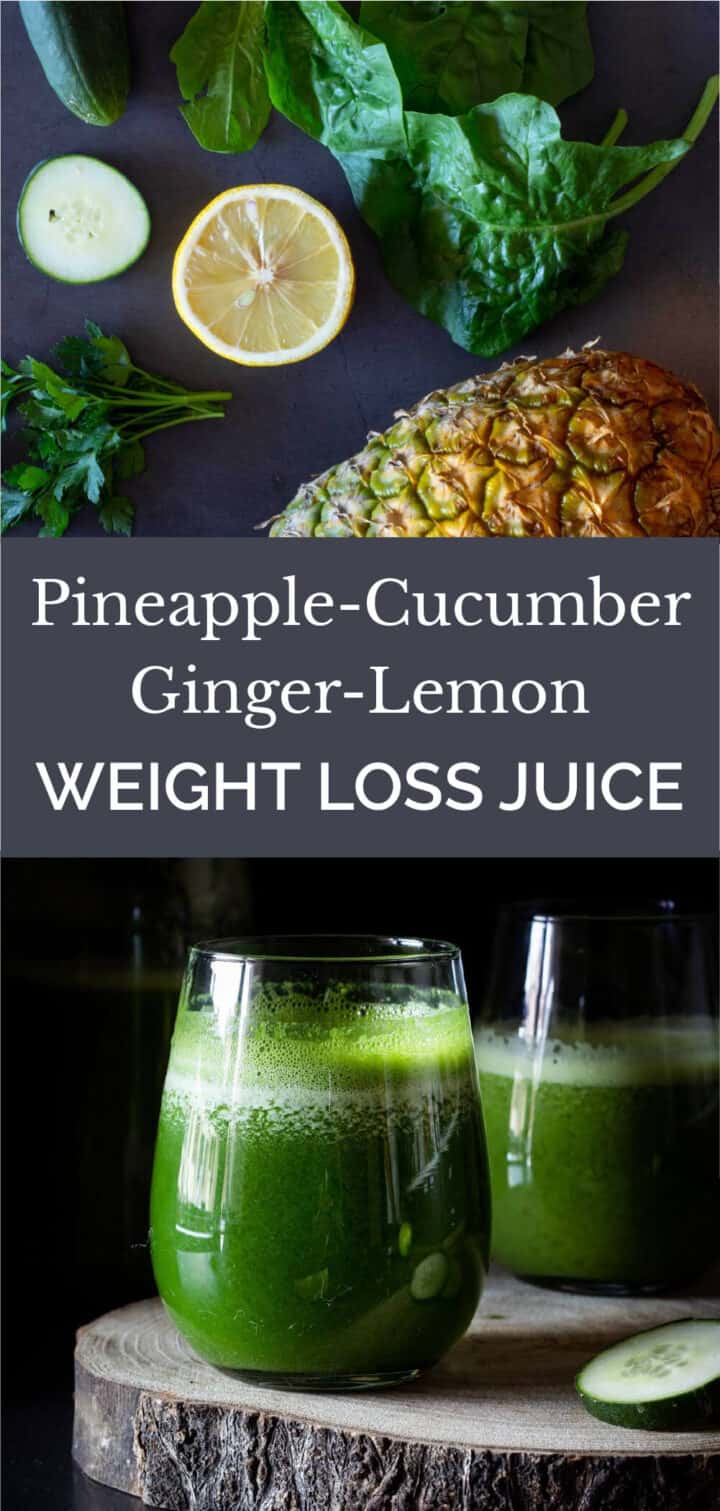 Food safety
We sometimes take for granted that we have years (or decades) of cooking experience that the average visitor may not. Add to, or remove from, the list below with health and safety tips.
Cook to a minimum temperature of 165 °F (74 °C)
Do not use the same utensils on cooked food, that previously touched raw meat
Wash hands after touching raw meat
Don't leave food sitting out at room temperature for extended periods
Never leave cooking food unattended
Use oils with high smoking point to avoid harmful compounds
Always have good ventilation when using a gas stove