This Green Juice for Weight Loss features pineapple, cucumber, protein-rich spinach, lime, and anti-inflammatory ginger. High in antioxidants and hydrating components will be your perfect partner on your slimming-out journey.
If you're looking to shed a few pounds, this juice is perfect for you. Made with fresh pineapple, cucumber, ginger, and lemon, pineapple cucumber detox juice is packed with nutrients that will help boost your metabolism and aid in weight loss.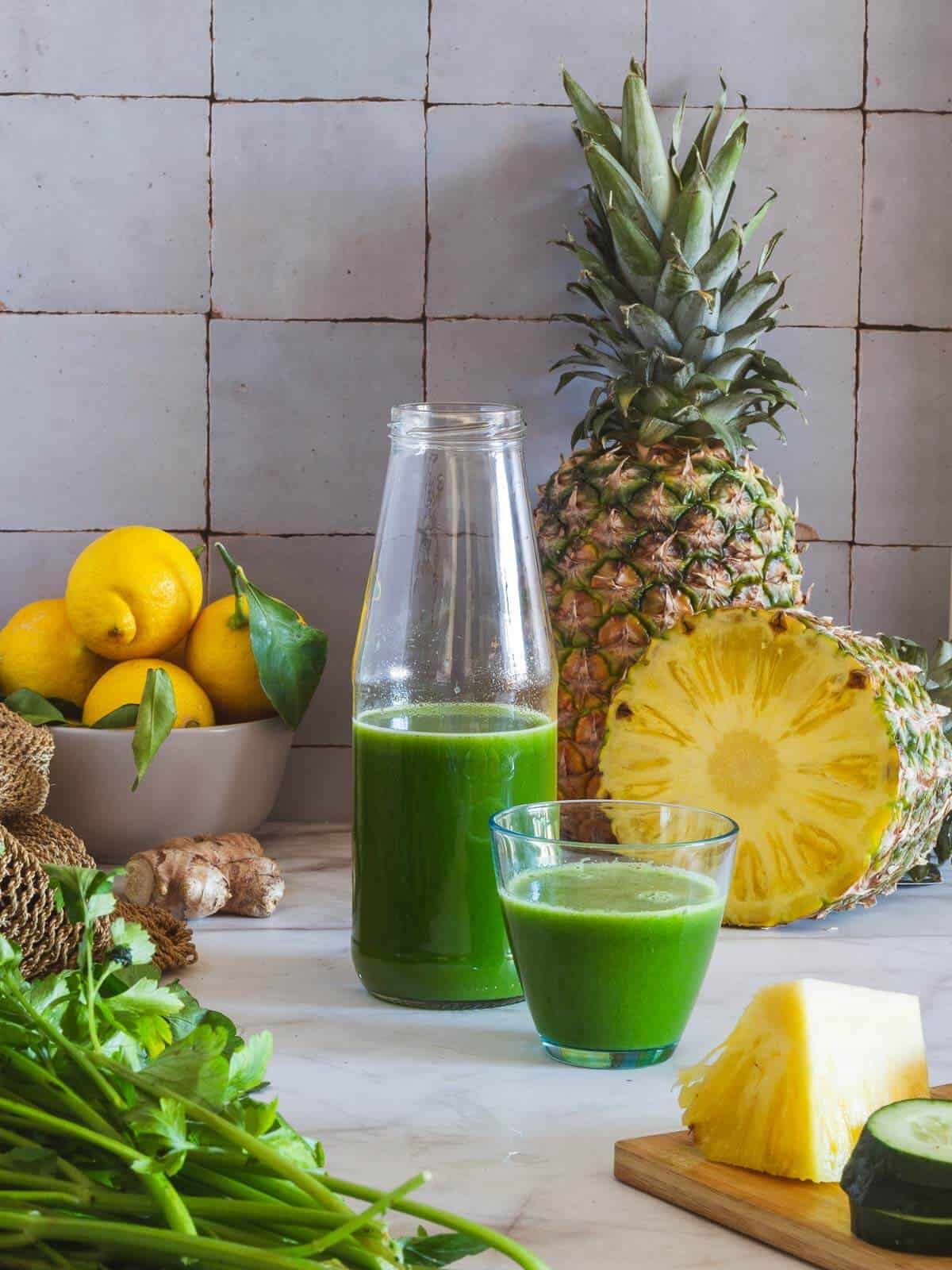 We constantly make new functional juices to fit the year's needs, moments, and seasons. We naturally tend to come back from vacation with a tiny little extra something we forgot to leave back there at the beach.
Worry not! Those extra pounds will go away. You need a good action plan encompassing regular exercising and nurturing your body with just what it needs before starting your day.
This pineapple and cucumber juice has been made to help us in the coming months or just as part of a regular cleansing or detox.
We do juice cleanses monthly and sometimes use them as a meal replacement. We also love making a veggie-packed juice to enjoy with our made-at-home granola, tofu vegan scramble, or chia and oats pudding.
As you can see, for this weight-loss juice, we mainly use veggies and try to keep the sugars low, and that's precisely what this pineapple cucumber, lemon ginger juice weight-loss recipe does!
Read on: Vegetable Juice for Diabetics », Low-sugar Strawberry Juice »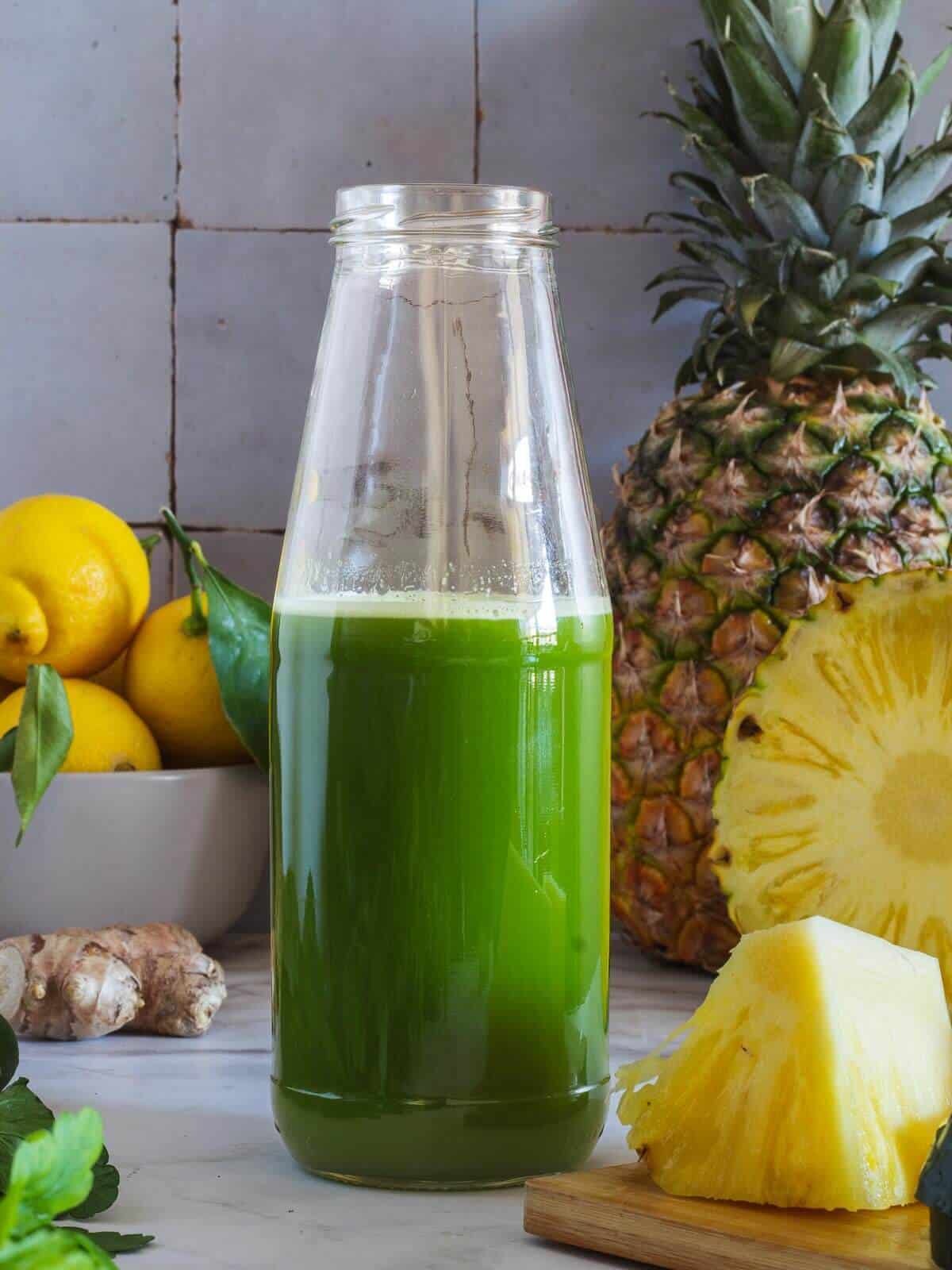 We combine highly alkalizing pineapple, super hydrating cucumbers, antioxidants-packed parsley, protein-packed spinach, tangy immune system booster, and anti-inflammatory ginger and lemon for this weight loss companion.
Cucumbers aid in weight loss, and parsley is a diuretic that also helps reduce bloating. Pineapple adds lots of tropical flavor, sweetness, and water, while lemon and ginger add zing.
Don't forget to check out our grapefruit smoothie for weight loss for those days when you want to have a smoothie that can fully replace breakfast.
Frozen pineapple makes great smoothies like this healthy strawberry and pineapple smoothie, and kiwi strawberry smoothie; both have a small calorie count and make the perfect healthy breakfast.
Jump to:
🧾 Ingredients
This pineapple and cucumber cleanse juice is made with just a few delicious ingredients.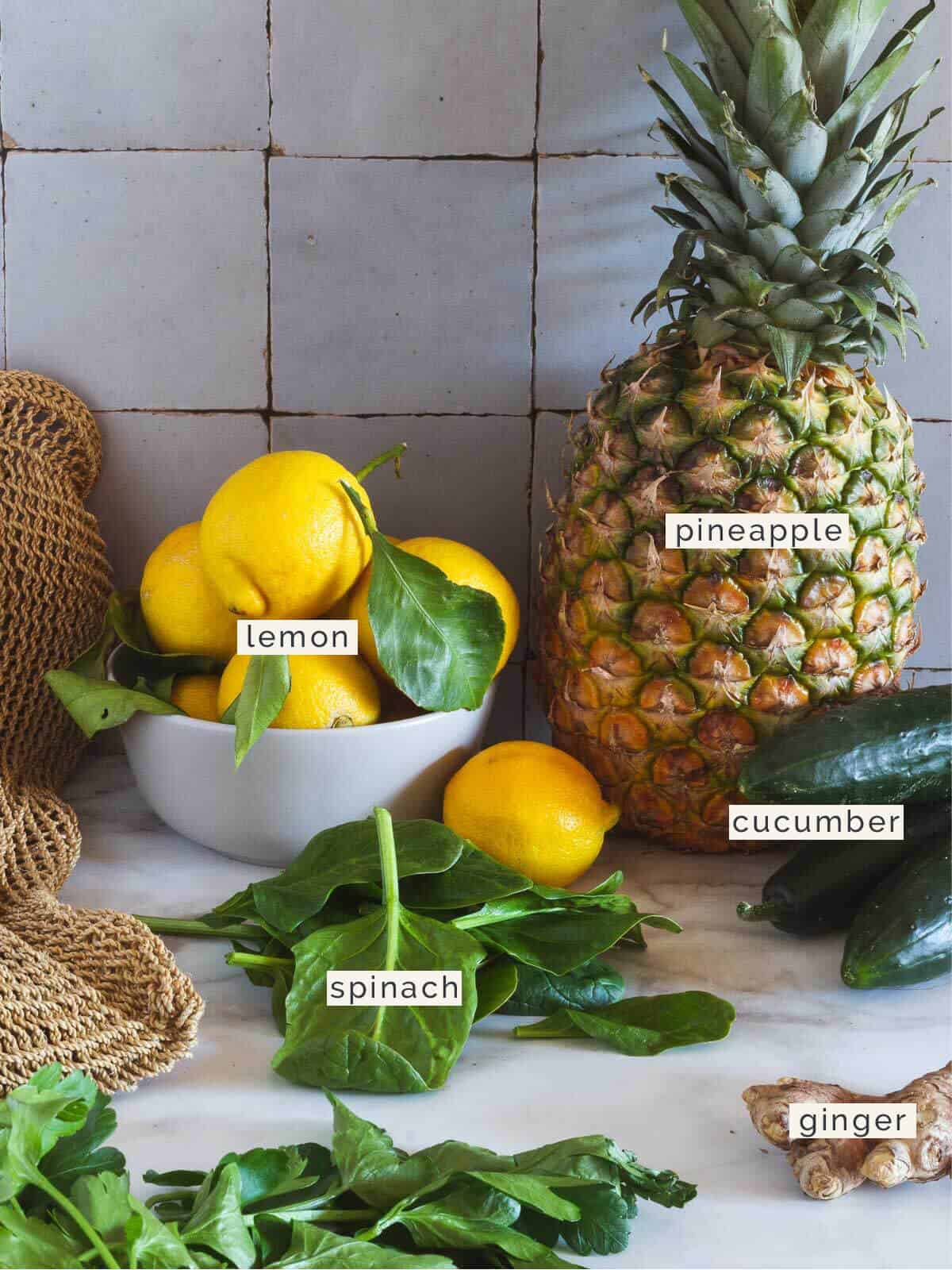 Cucumber
Fresh pineapple
Lemon or lime
Parsley
Spinach
Optional: ginger
See quantities and complete instructions in the recipe card.
🔪 How to Make the best Juice for Weight Loss
Wash and chop
Coarsely chop the ingredients with a sharp knife so they fit the Juicer's shut, and then slowly start adding the chunks and pressing down the shut with the tamper.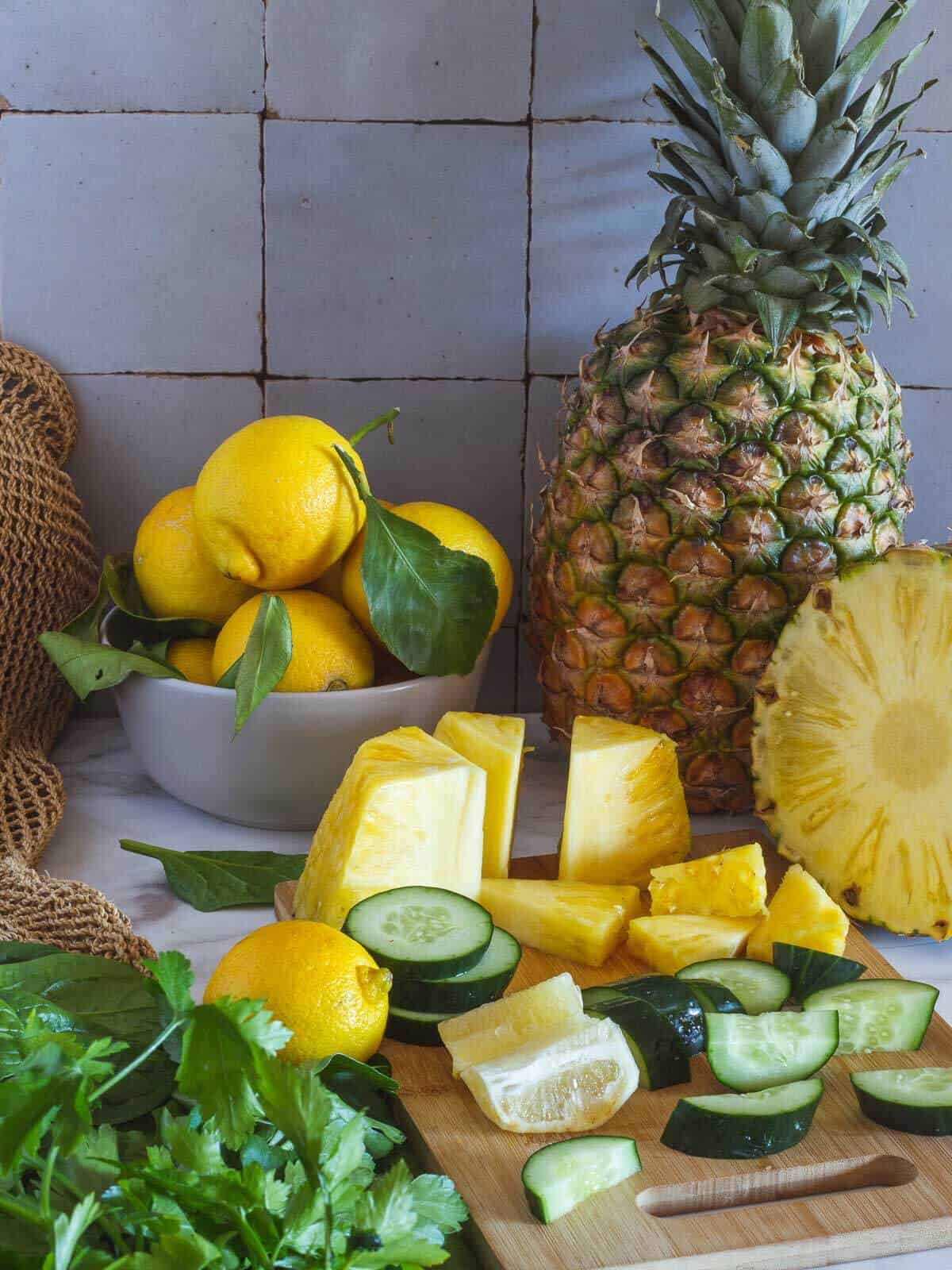 Juice
Remove the skin from half of the lemon, which will go to the juicer, and juice the other half.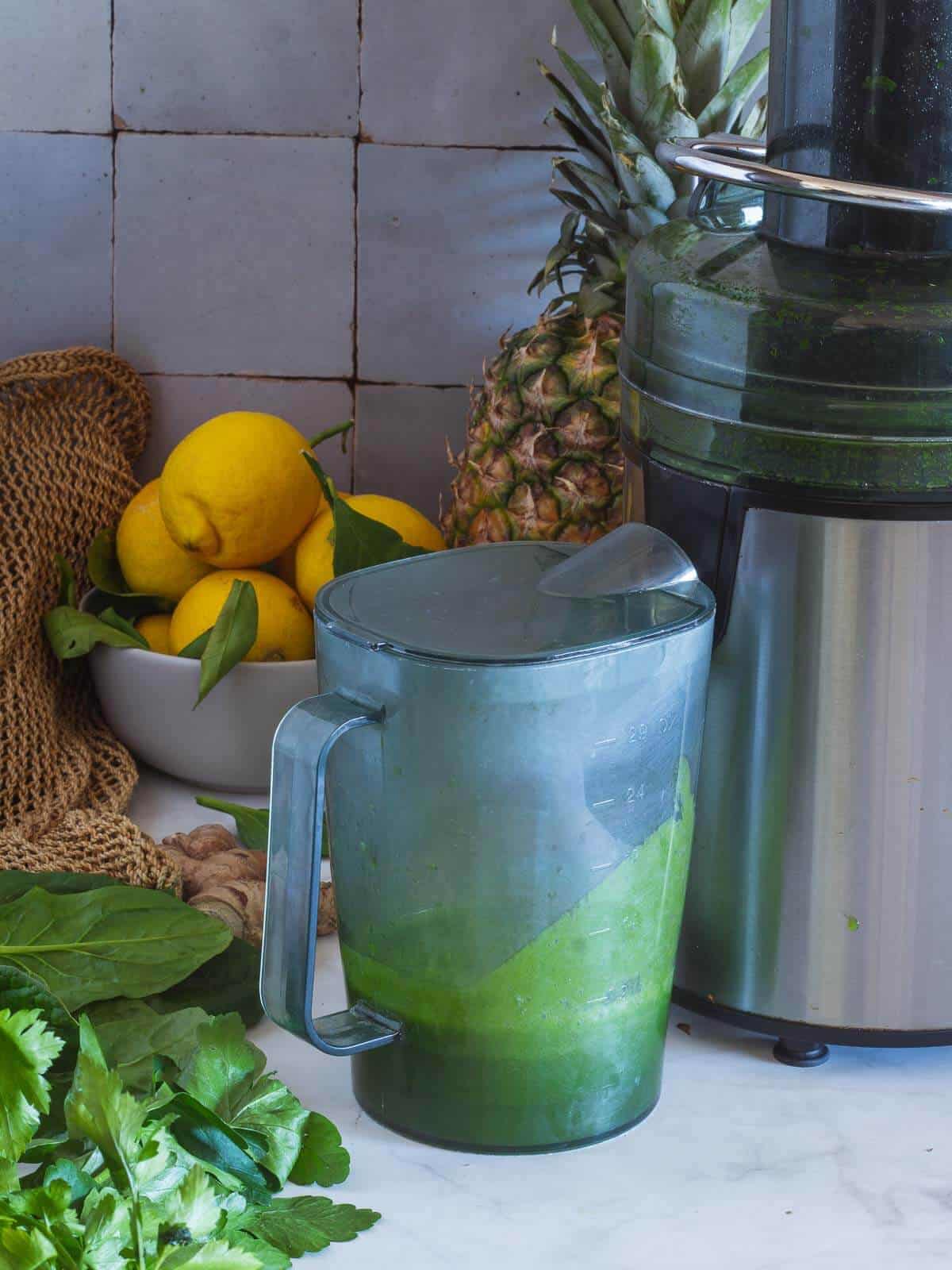 After turning on the juicer, start pushing everything through, alternating between peeled lemon, pineapple, cucumber fruits, parsley, spinach leaves, and pealed half-lemon.
Adjust
After juicing everything but the reserved, stir the pineapple cucumber juice and taste for tartness. Add the remaining lemon if you feel like you can take more acidity.
I suggest this to have just the right amount of tartness in your pineapple cucumber juice recipe.
And that's it! You have the Best Morning Juice for Weight Loss, simply made with fresh and easy-to-get ingredients, plus is soooo delicious!
If you are asking yourself when to drink pineapple and cucumber juice for weight loss? The answer is first thing in the morning.
The best time to drink pineapple and cucumber juice for weight loss would typically be in the morning on an empty stomach or before meals.
Consuming in the morning can help kickstart your metabolism for the day. Having it before meals can help fill you up, so you might eat less during the meal, contributing to a calorie deficit necessary for weight loss.
Read on: Spinach Apple and Kiwi Smoothie for Weight Loss » , Carrot and Green Cabbage Juice, and Red cabbage juicing »
💡 Expert tips
Infuse Before Juicing! Here's a nifty trick before you dive into making this vibrant juice. Start by creating a refreshing pineapple ginger cucumber lemon water. Just let chunks of these ingredients mingle and infuse in water for a while.
When you're ready, simply pass this flavor-packed produce through a juicer. Voilà! You've just upped your juice game with minimal effort and maximum taste!
Don't throw away your pineapple peels, which make fantastic pineapple water, a tremendous zero-calorie drink, perfect for helping you deliciously achieve your daily water intake! Also, you can make a pineapple horchata drink.
🍍 Pineapple and cucumber juice for belly fat
We are passionate about knowing the properties we put inside our juice, so let's dive into all these fabulous ingredients and their health benefits!
This is important to understand their mechanism of action.
Pineapples
These tropical fruits are linked to significant health benefits, including aiding digestion, improved immunity, and recovery after exercise. (1)
Pineapple juice also contains soluble and insoluble fiber, which helps us lose weight because fiber keeps us full for a long time and helps to induce satiety.
No wonder why the pineapple and cucumber detox drinks work so well!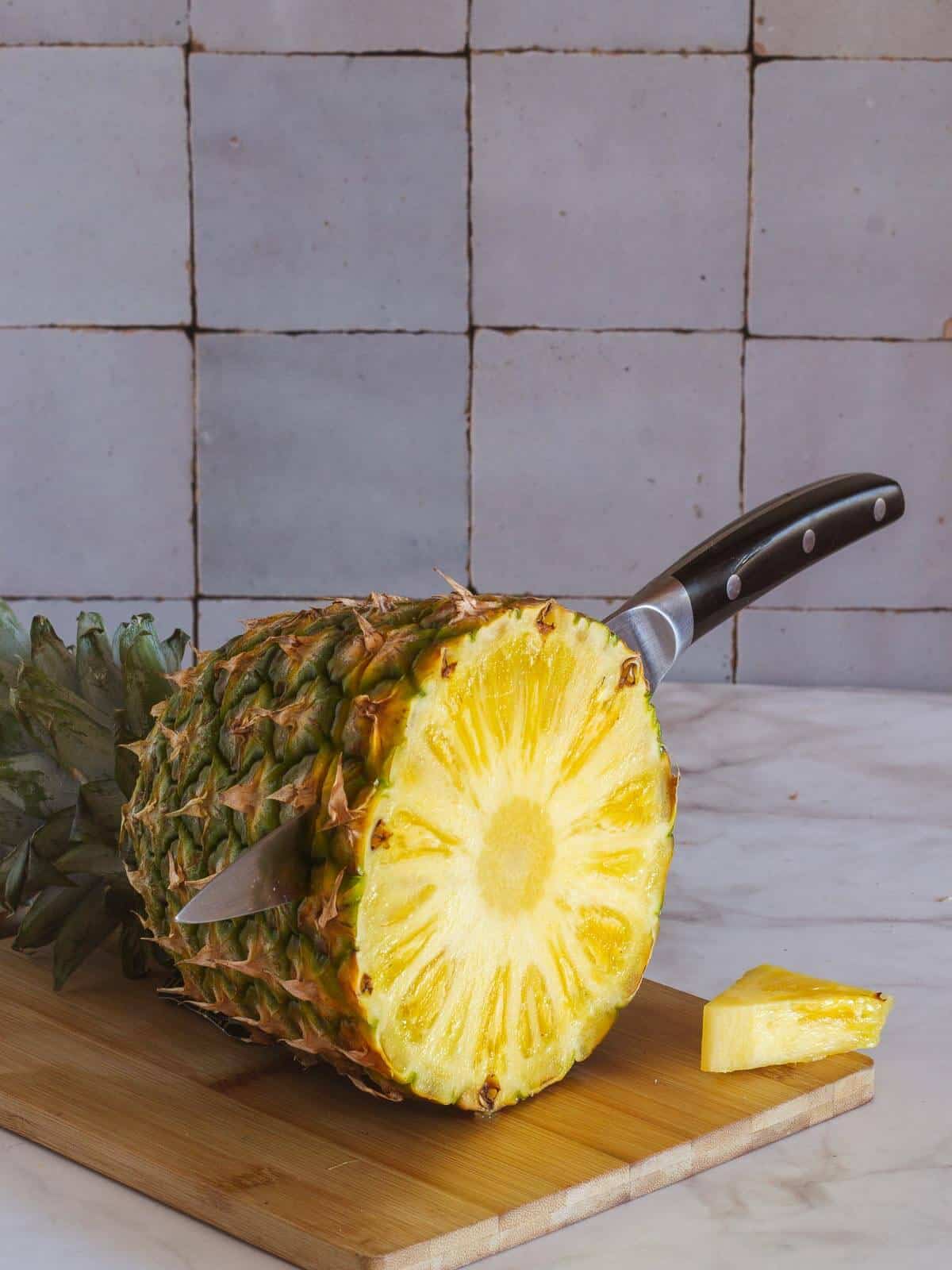 Always try to consume fresh pineapples when juicing. Sweet pineapple with help make your juice sweeter, of course, but you can also use not-so-sweet pineapple without a problem.
Just remember that the fresh pineapple is the only sweet component of this pineapple cucumber juice recipe, thus having a direct effect on the final result.
I avoid canned pineapples as they usually have added sugars and don't have all the Vitamin C antioxidant effect that fresh pineapple can offer.
If you love pineapples, don't forget to check out our pineapple and coconut smoothie.
Cucumber lose weight
This vegetable is a great hydration partner; they have zero fat and are very low in calories. (2)
Cucumber juice is very hydrating and has diuretic effects.
No wonder why a cucumber cleanse, might be very useful when starting a weight loss program.
Cucumber juice recipes are usually very light and refreshing. It is as simple as making a Cucumber Lemon Ginger Water by adding:
Sliced small cucumber and ginger
One Squeezed or sliced lemon
5 cups of water
Into a pitcher and let it infuse at least 3 hours. And letting the drink chill in the fridge for at least 3 hours so it gets infused. Then have this drink it througout your day.
Include cucumbers in your salads to add volume which will help you saciate faster. Try out a no oil version of the famous Lebanese Tabbouleh salad.
Parsley
This fantastic herb is very low in calories and, when combined with the detoxifier lemons (or limes), can help those on a weight loss regime while helping in losing belly fat.
Parsley also helps to reduce water retention and bloating.
Spinach
It packs lots of insoluble fiber, the critical element helping in weight loss. It also has a reasonable amount of protein, so it is a good idea to consume it before or after your exercise routine as part of your regime.
Studies have shown that the membrane proteins extracted from green leaves, like spinach, can induce satiety, thus helping to consume fewer calories. (3)
Lemons and limes
These citrus fruits are potent antioxidants (more prominent Vitamin C) and immune-boosting nutrients. They are highly alkalizing and are known for their detoxifying properties.
As a study suggests feeding with lemon polyphenols suppresses body fat accumulation and body weight gain. (4)
Ginger for weight loss
Aids in digestion have powerful anti-inflammatory effects and relieve bloating. If you're sensitive to ginger's spiciness, add it little by little.
As study results indicated that the consumption of ginger significantly decreased body weight. (5)
So, this pineapple cucumber lemon ginger juice weight loss recipe has everything you can think of to be the perfect and Best juice for weight loss.
Drink pineapple cucumber juice once a day, or every other day, alternating it with anti-inflammatory and detoxifying celery juice, for better results.
Read on: Spinach Ginger Smoothie » and Grapefruit Ginger Smoothie »
Remember! Lemon and Ginger for Weight Loss! Try adding them in all of your juices, both flavors bind very well with almost eveything!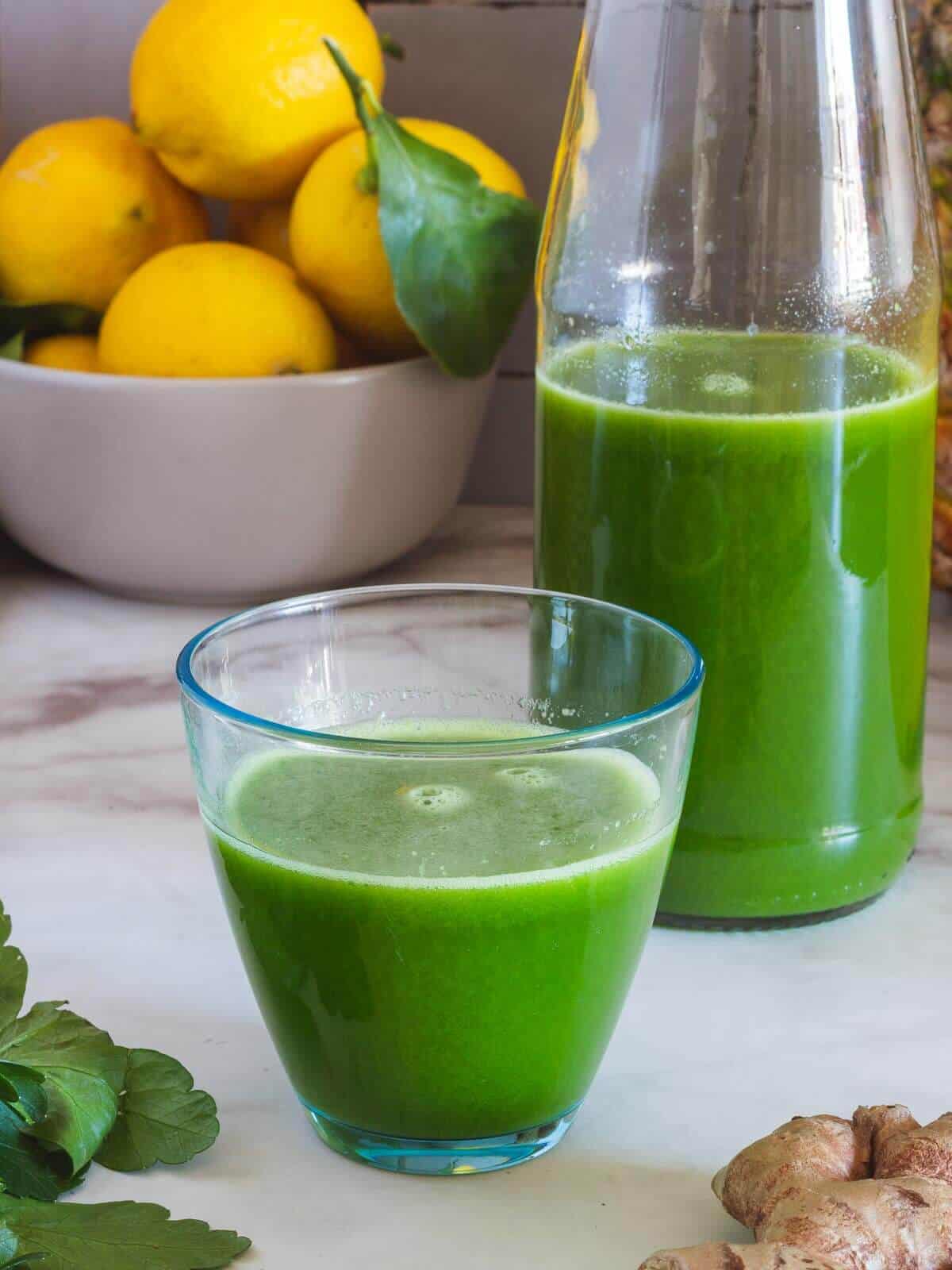 📖 Variation
Suppose you feel like enjoying this juice's flavors in a smoothie. In that case, you can easily enjoy the pineapple cucumber ginger smoothie benefits by blending all the ingredients in a high-speed blender.
As a cherry on top, you will consume all the fiber and keep the satiety for longer.
Add mint leaves to your healthy recipes; it is an easy way to add some extra chlorophyll to our diets.
A study suggests that consuming chlorophyll in early life prevents diet-induced obesity. (6)
🤔 Can juicing help you lose weight?
Eating healthy foods, mostly plants, is the best way to lose weight. Pay attention when you are hungry, and drink plenty of water. Get enough sleep and move your body to feel good.
This juice is designed with primarily low-calorie vegetables and fruits that are low in sugar. Each ingredient was carefully chosen, given their weight-loss properties, backed by clinical studies.
The fresh juice of pineapple, cucumber, ginger, and lemon contains antioxidants. Freshly squeezed juices improve our digestive system's functionality and help dissolve fatty acids to reduce our weight. Moreover, we recommend you use a free weight loss calculator to track your weight loss performance.
🧐 Choosing a juicer
We use a Slow Masticating Juicer that has become our juicing companion. You will find two camps of juicers— cold-pressed (also called slow masticating) and centrifugal juicers.
The cold-pressed juicers slowly press down the produce until the dry fiber falls into a separate container.
Get an excellent Cold-Pressed juicer, also known as a slow-masticating juicer.
It will be one of the best investments you have made this year! Trust me! Make sure you check the juicer's instructions before starting, as many juicers have different working mechanisms.
Use our Discount Code OPBW10 for 10% off (affiliate link)
Centrifugal juicers extract juice fast, spinning cut-down veggies and fruits around until the fiber and liquid separate.
They are also typically cheaper as the slow-masticating juicers are more efficient at getting more juice from your veggies and fruits.
Our juicer is a slow cold-pressed juicer, and we love it.
If you don't have a juicer, you can also make juices, following these simple tips on juicing without a juicer plus three delicious recipes.
❓ FAQ
Can I use canned pineapple for this recipe?
Yes, but fresh pineapple is always best, especially because they don't come in sugary syrup and fresh pineapple is better for optimal nutrition and distinctive flavor.
Do I need to peel the cucumber?
No, you don't! Most of the cucumber's skin is thin, and the machine will process it without a problem.
If you want to make it less bitter, you can peel the cucumber, totally up to you.
🧃 More Easy and Healthy Juice Recipes
If you liked this cucumber pineapple juice you will surely love our juice collection.
Having a refreshing juice in the morning is the best way to start the day fueled with vitamins and minerals. Here is a list of our go-to fruit and vegetable juice recipes.
Include more weight loss-promoting juices and smoothies to your diet by adding a carrot, cucumber, and celery juice, red cabbage juice, pineapple strawberry smoothie, pineapple and ginger juice, strawberry banana spinach smoothie, spinach ginger smoothie, or banana spinach smoothie to your weekly smoothies and juices weekly line-up for breakfast or pre-work-out snacks.
YOU MAY ALSO LIKE these delicious detox juice and carrot and spinach health shots.
If you like functional making juices your natural remedies for your everyday struggles, you might want to check also, our juice for hangovers, with all the data about how it works!
If you are into tropical flavors, you will surely like this low-calorie passion fruit and watermelon juice, which can also be turned into a delicious smoothie, by simply adding ice.
Get to know more about juicing, in our blog post with all you need to know about juicing.
If you'd like to check out our smoothie version of this juice, check it out also on this site. It's delicious!
⭐ If you try this recipe, let us know! 💬 Leave a comment, rate it, and don't forget to tag us @ourplantbasedworld on Instagram. Cheers!
🎥 Video
📋 Recipe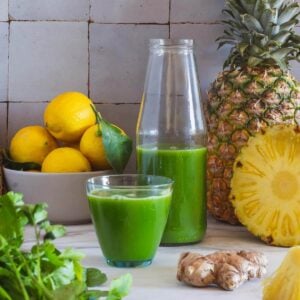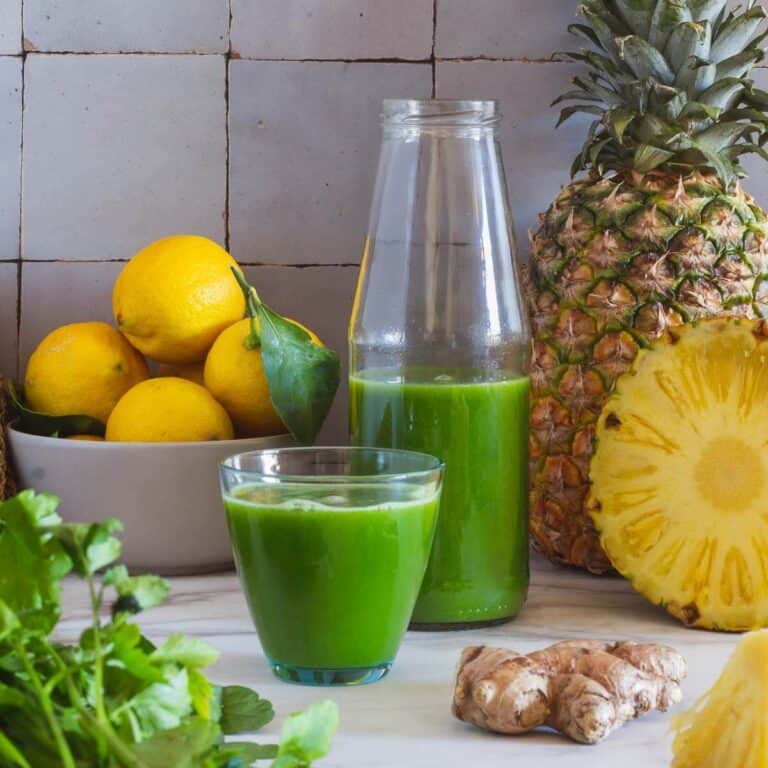 Pineapple Cucumber Ginger Lemon Weight Loss Juice
Pineapple, cucumber, parsley, spinach, lime, and soothing ginger. High in antioxidants and hydrating components. This pineapple cucumber detox juice will be your perfect partner on your slimming-out journey.
Equipment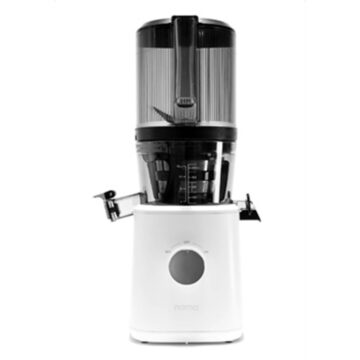 (affiliate link)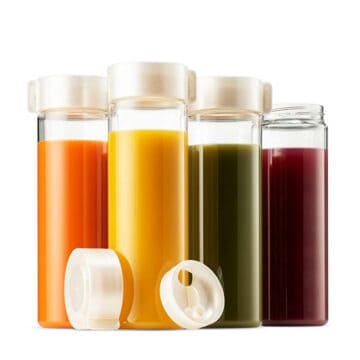 (affiliate link)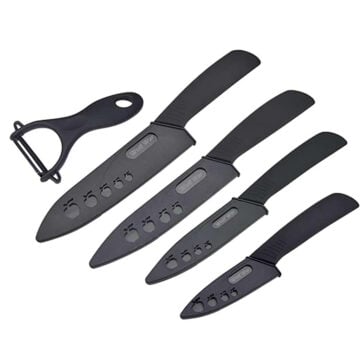 (affiliate link)
Ingredients
1

cucumber

large

1

cup

pineapple

in chunks

1

bunch

spinach

1

bunch

parsley

1

inch

ginger

length piece fresh, scrubbed clean

1

lime

or lemon, without the rind
Directions
PREPARE THE VEGETABLES and FRUITS
Wash all your vegetables and fruits thoroughly.

Coarsley chop the parsley and spinach leaves.

Chop the cucumber, pineapple, and ginger into thin pieces small enough to go through the juicer easily.

Cutaway the peel from the lime or lemon, leaving most of the white pith and lemon flesh. Cut into slices.

Reserve about half of the lime or lemon.
MAKE JUICE
Turn the juicer on and push everything through, alternating between the pineapple chunks and the firmer cucumbers, pieces, and pealed half-lemon.

When everything but the reserved lemon has been juiced, stir the juice and taste for tartness. Add the remaining lemon if you feel it can take it.
Notes
Make-ahead: fresh fruit and vegetable juice is best enjoyed soon after juicing, but you can make it a day or two in advance.
Make sure to store in glass, airtight containers. In case you have used a cold-pressed juicer, you are cashing up the expense! It should last a little longer.
Nutrition Facts
Calories:
85
kcal
Carbohydrates:
21
g
Protein:
2
g
Fat:
1
g
Saturated Fat:
1
g
Polyunsaturated Fat:
1
g
Monounsaturated Fat:
1
g
Sodium:
70
mg
Potassium:
416
mg
Fiber:
4
g
Sugar:
13
g
Vitamin A:
12797
IU
Vitamin C:
47
mg
Calcium:
42
mg
Iron:
1
mg
Nutritional Disclaimer
The information shown is an estimate provided by an online nutrition calculator. It should not be considered a substitute for a professional nutritionist's advice. See our full Nutritional Disclosure here.
Affiliate Disclaimer
Please note that some of the links here are affiliate links, and I will earn a commission if you purchase through those links. I recommend all of the products listed because they are companies I have found helpful and trustworthy.