Aloha, foodies! Today, we're excited to share our take on a tropical classic: the tofu rice bowl. Bursting with flavor and inspired by the beautiful Hawaiian Islands, our dish brings together scrumptious teriyaki-glazed tofu, vibrant veggies, and a heap of fluffy rice. Follow along as we guide you through this delectable journey, where you'll learn about the nutritional benefits of this plant-based feast while enjoying a gastronomic adventure. So grab your apron, and let's dive into paradise!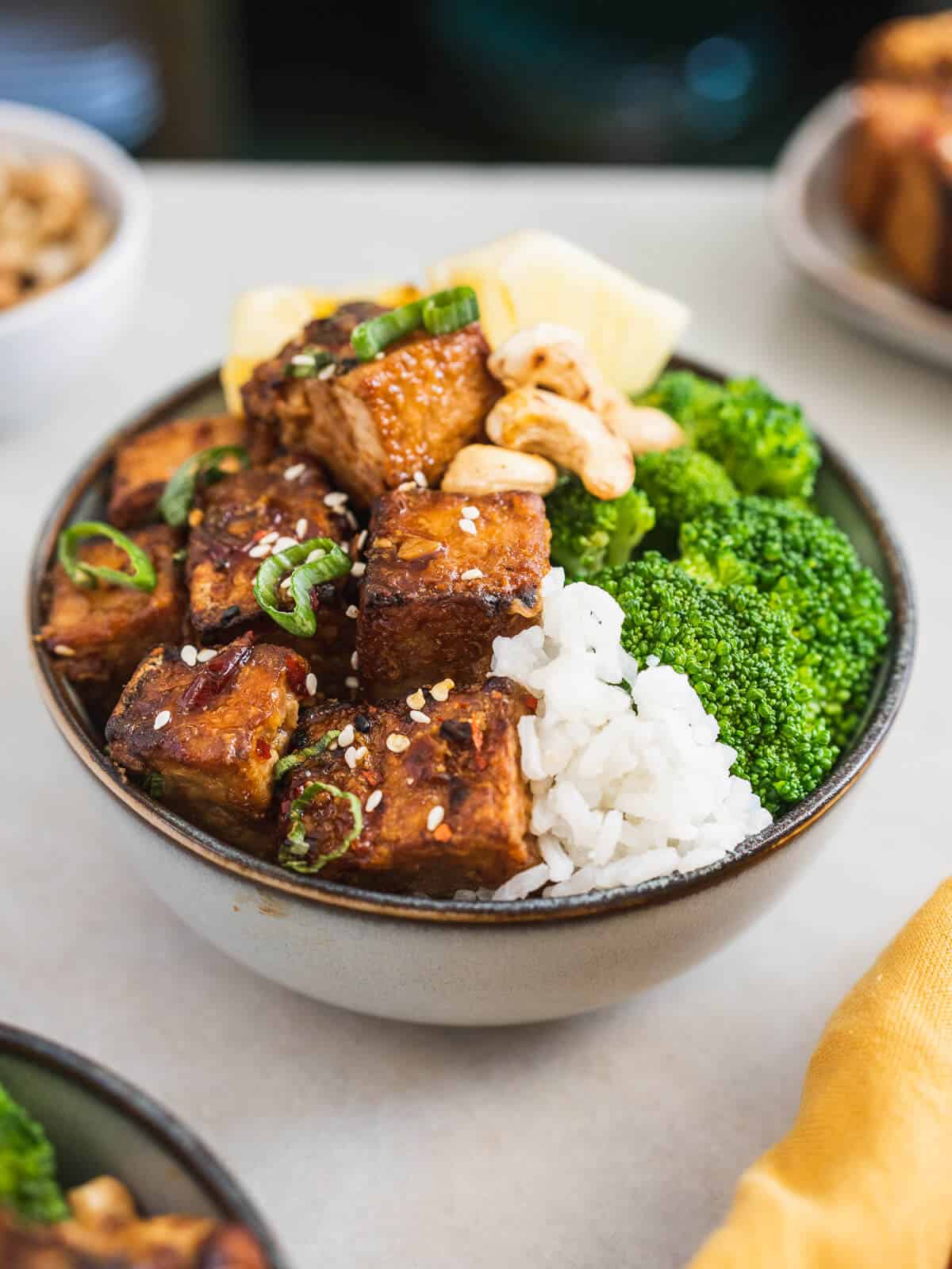 This teriyaki tofu recipe is a total winner, blending the savory richness of our homemade teriyaki sauce with the health benefits of tofu. A super source of plant-based protein, tofu also brings a calcium and magnesium bonus to the table, elements that are essential for robust bone health.
Drenched in our teriyaki sauce - an irresistible mix of soy sauce, ginger, and a hint of sweetness - tofu transforms into an explosion of umami goodness. As an extra perk, our sauce is significantly lower in sugar than store-bought versions, making it a healthier choice.
In a fast-paced world, who wouldn't love an easy, nutrient-packed meal that's a breeze to prepare? You'll fall head over heels for the simplicity of our teriyaki tofu, a straightforward yet impressive dish that works beautifully for meal prep.
Making these bowls is like taking a culinary shortcut to paradise - a richly flavored, nutritionally balanced meal that's as easy to make as it is to love. Now, let's get cooking!
Jump to:
🧾 Ingredients
This bowl is made with just a few delicious ingredients: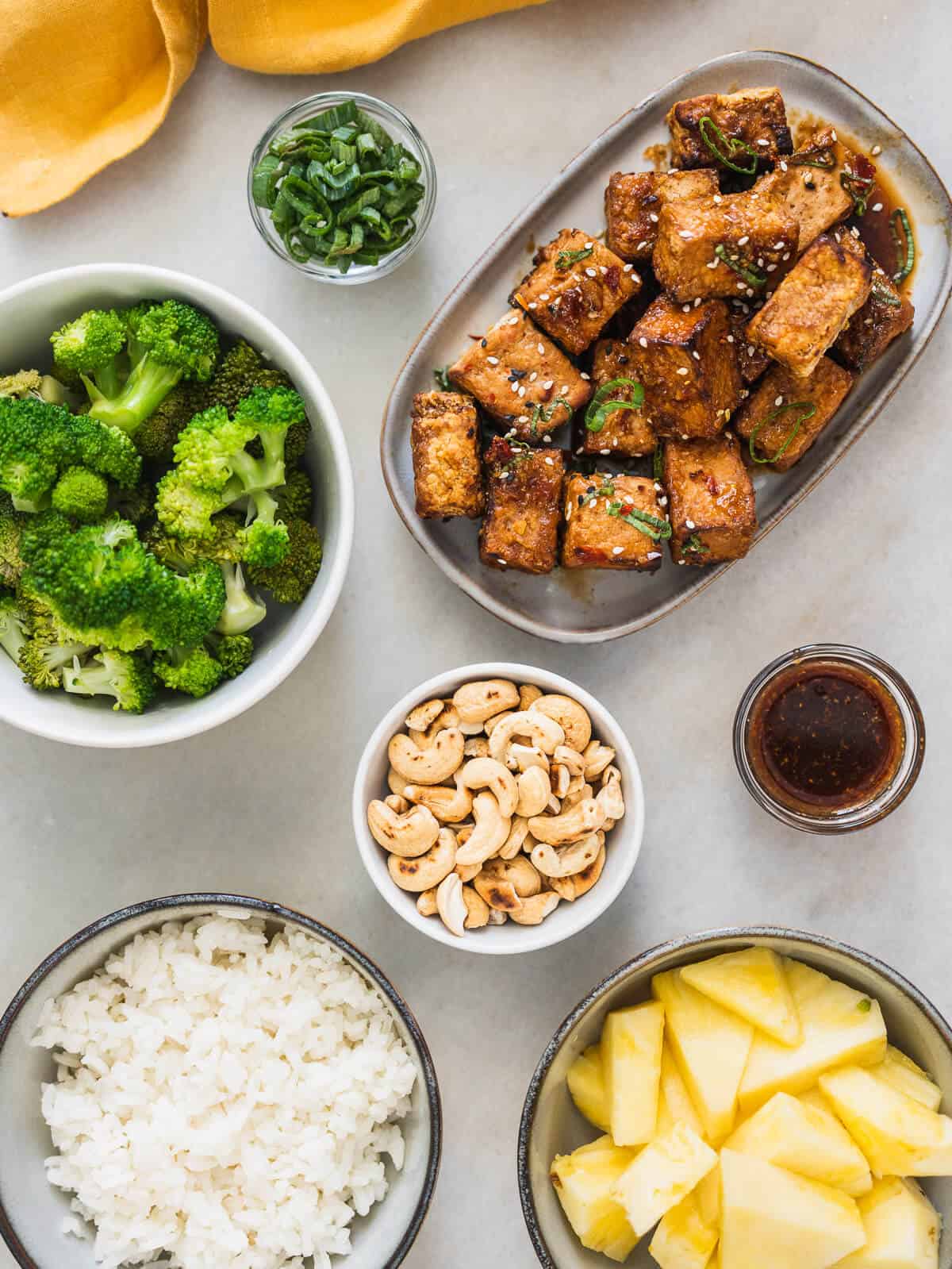 Tofu: We opt for organic tofu to ensure the highest quality and to support sustainable farming practices while adding a protein-packed and flavorful base to the dish.
Rice serves as the hearty foundation of our rice bowl, providing a satisfying and filling element that complements the other ingredients perfectly.
Teriyaki sauce: Our homemade teriyaki sauce is the star of the show, infusing the tofu and other ingredients with its irresistible umami flavor, featuring a perfect balance of savory, sweet, and tangy notes from tamari (or low-sodium soy sauce), brown sugar, mirin (rice vinegar AKA rice wine), ginger, toasted sesame oil, and garlic. It is also used to drizzle the bowl right before serving.
Green onions: With their fresh and slightly tangy flavor, green onions add a delightful pop of color and a subtle oniony kick that enhances the dish's overall taste and visual appeal.
Cashews: Adds a delightful crunch and nutty flavor to the dish, complementing the other ingredients.
Fresh pineapple: Adding a burst of sweetness and tropical flair, fresh pineapple not only imparts a refreshing taste but also brings its abundance of vitamin C, fiber, and bromelain, an enzyme known for its digestion-aiding properties.
Fresh broccoli: Packed with nutrients and fiber, broccoli adds a vibrant touch of green to the bowl while contributing valuable antioxidants and essential vitamins to support overall health. You can also use frozen broccoli.
Optional sesame seeds: These tiny powerhouses of flavor and texture bring a delightful crunch to each bite while also providing a rich source of healthy fats, protein, and essential minerals.
🥣 Ingredients for homemade teriyaki sauce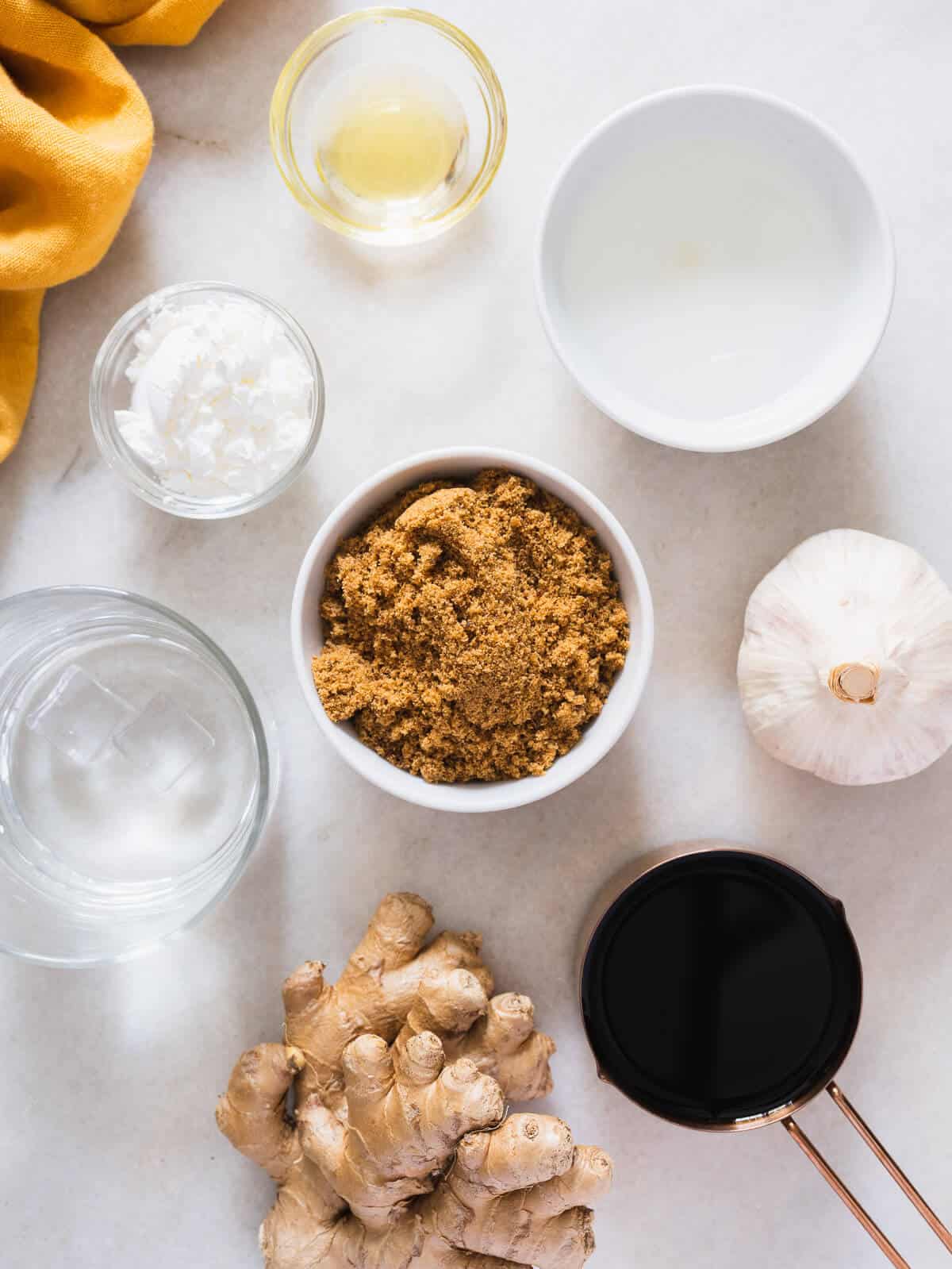 Tamari: It is used as a gluten-free alternative to regular soy sauce, providing a savory and umami flavor to the teriyaki sauce.
Rice wine: Adds a mild acidity and depth of flavor to the sauce, enhancing the overall taste.
Brown sugar: Provides sweetness and helps balance the flavors in the teriyaki sauce.
Fresh Garlic: Adds a pungent and aromatic flavor to the sauce, enhancing its savory profile. You can also use garlic powder.
Fresh ginger: Offers a warm and spicy flavor that complements the other ingredients, adding a zing to the teriyaki sauce. You can use ground ginger as well.
Toasted sesame oil: Imparts the sauce's nutty and rich taste, enhancing its complexity.
Cornstarch: Serves as a thickening agent, helping to give the sauce a desirable consistency and texture.
Iced water: Used to create a slurry with cornstarch, which aids in thickening the sauce and prevents clumping.
See the recipe card for quantities.
🔪 Instructions
Optionally make your own teriyaki sauce. Otherwise, you can use store-bought.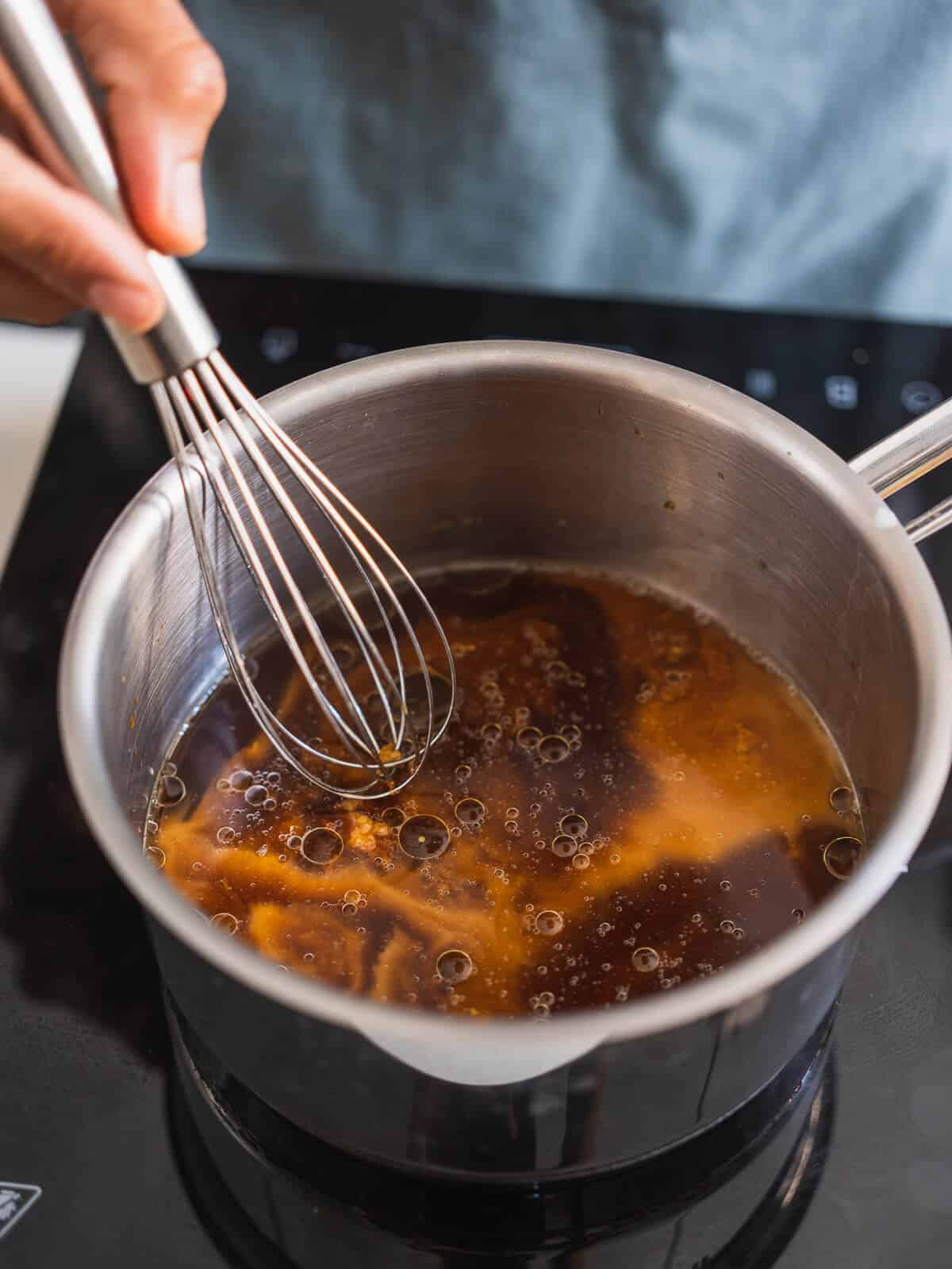 Make the teriyaki sauce recipe by simulating the mixture over medium heat.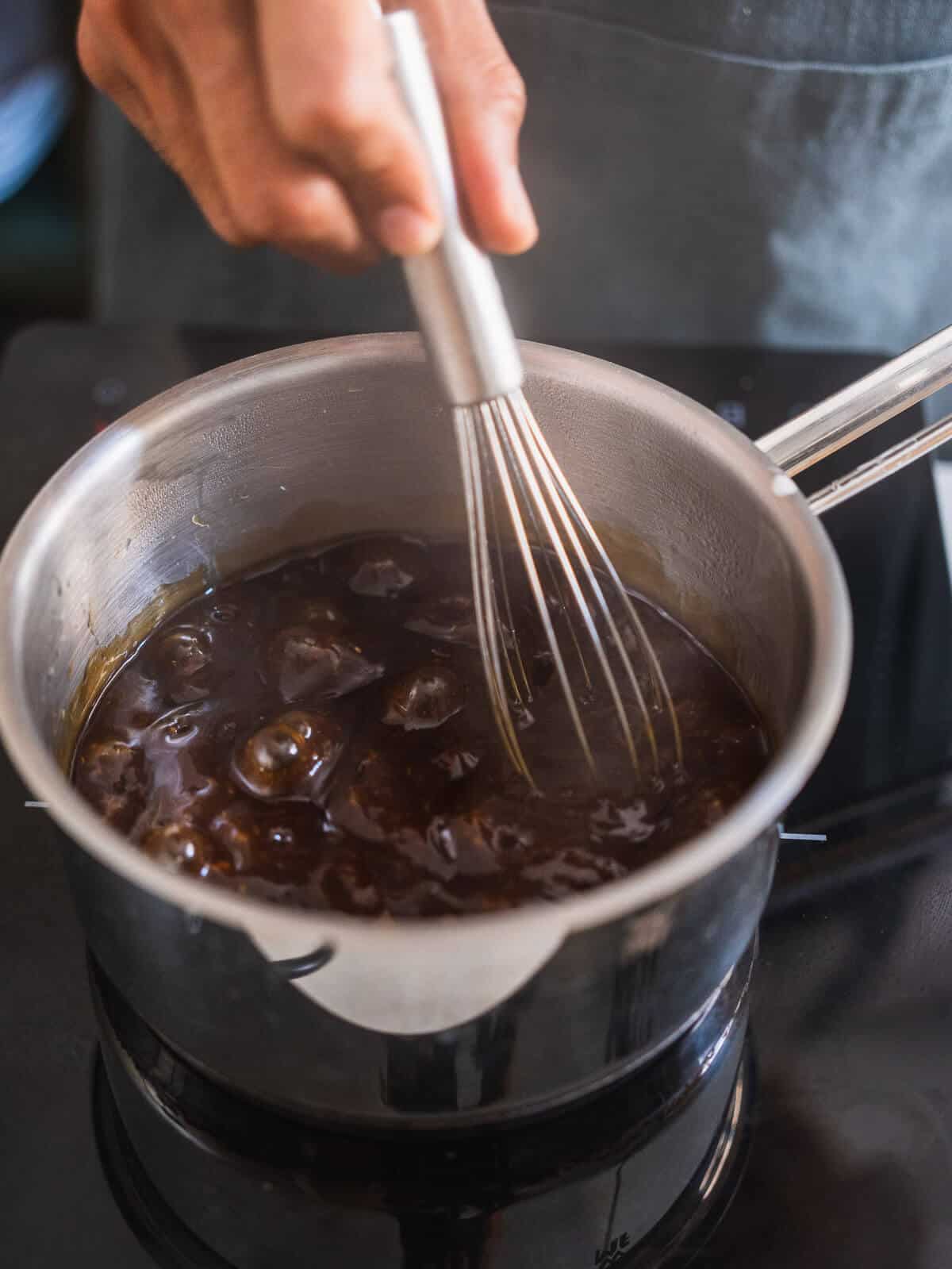 Stir until the sauce thickens slightly.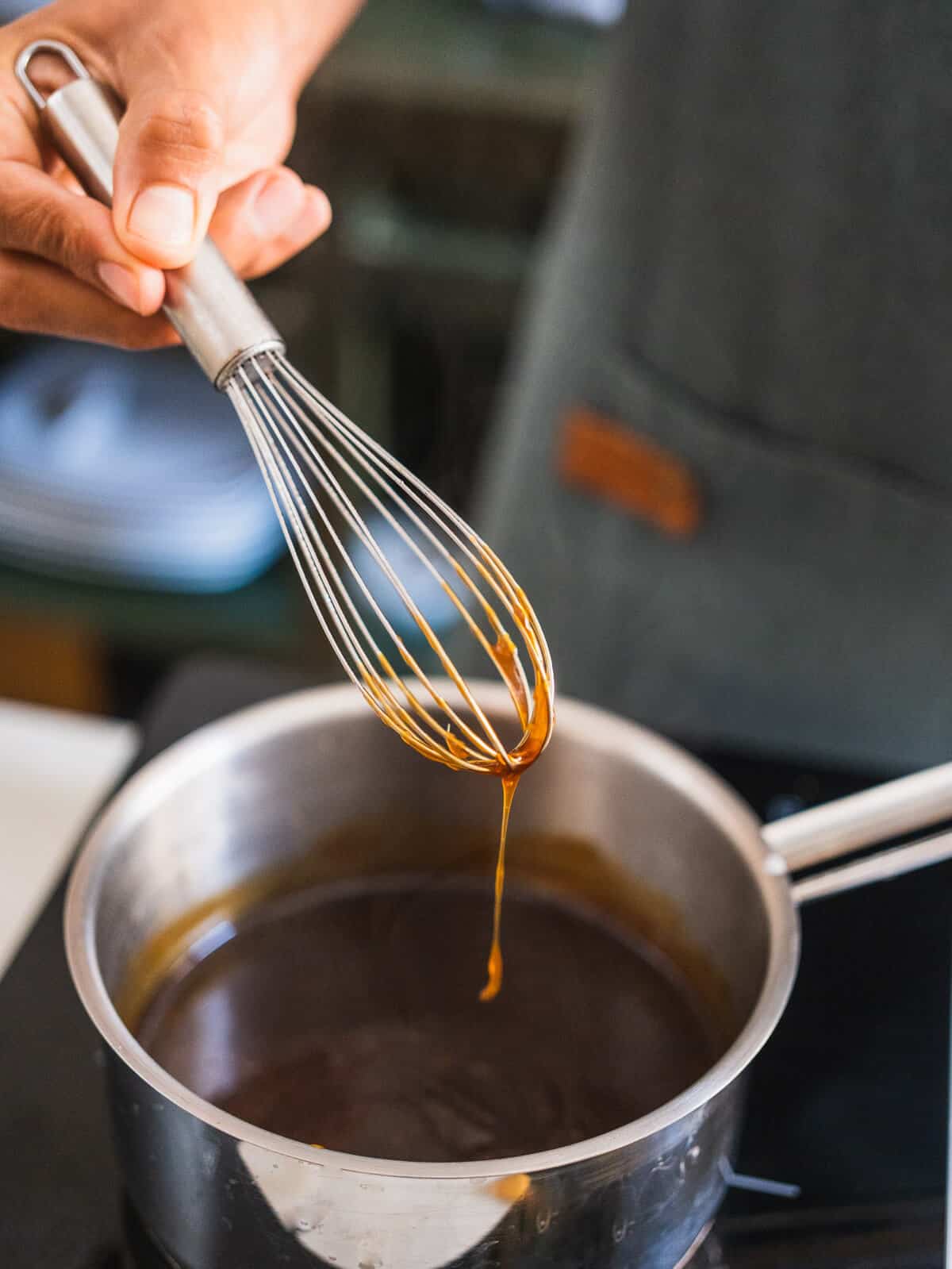 Remove it from the heat when the sauce gets as thick as you want.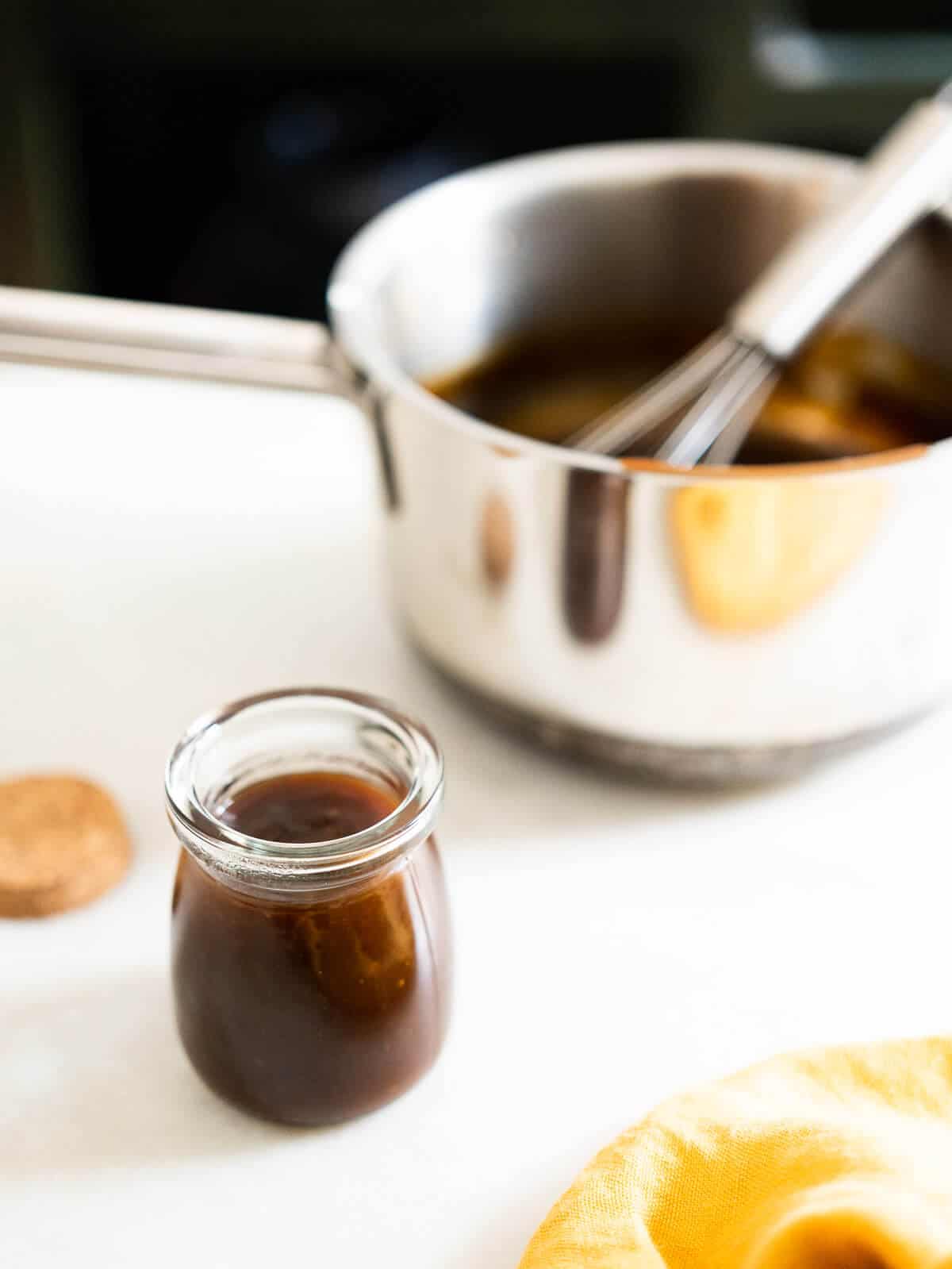 Marinate tofu with the sauce and reserve a portion to drizzle the bowl.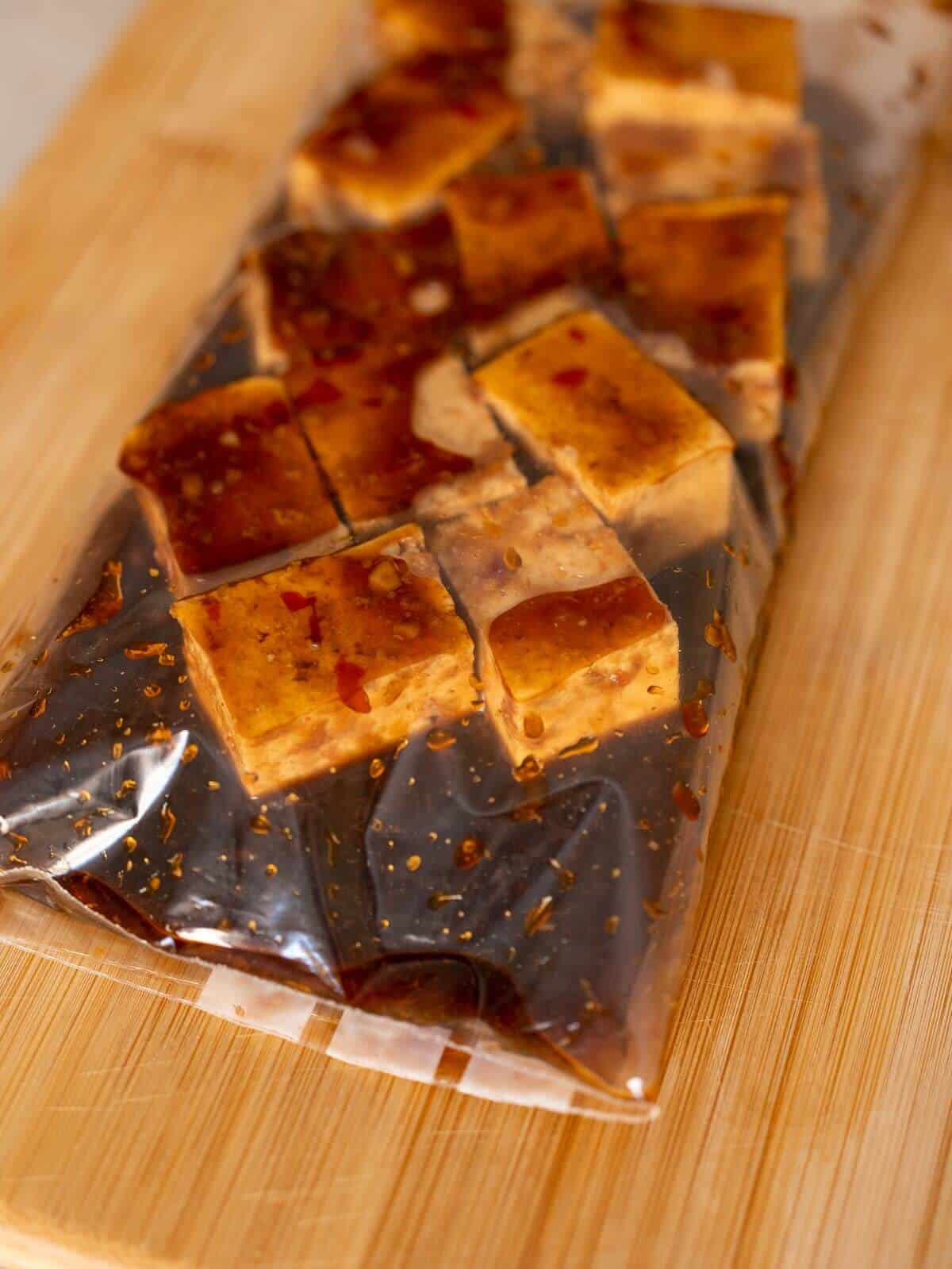 Marinate the pressed tofu overnight or for at least 15 minutes.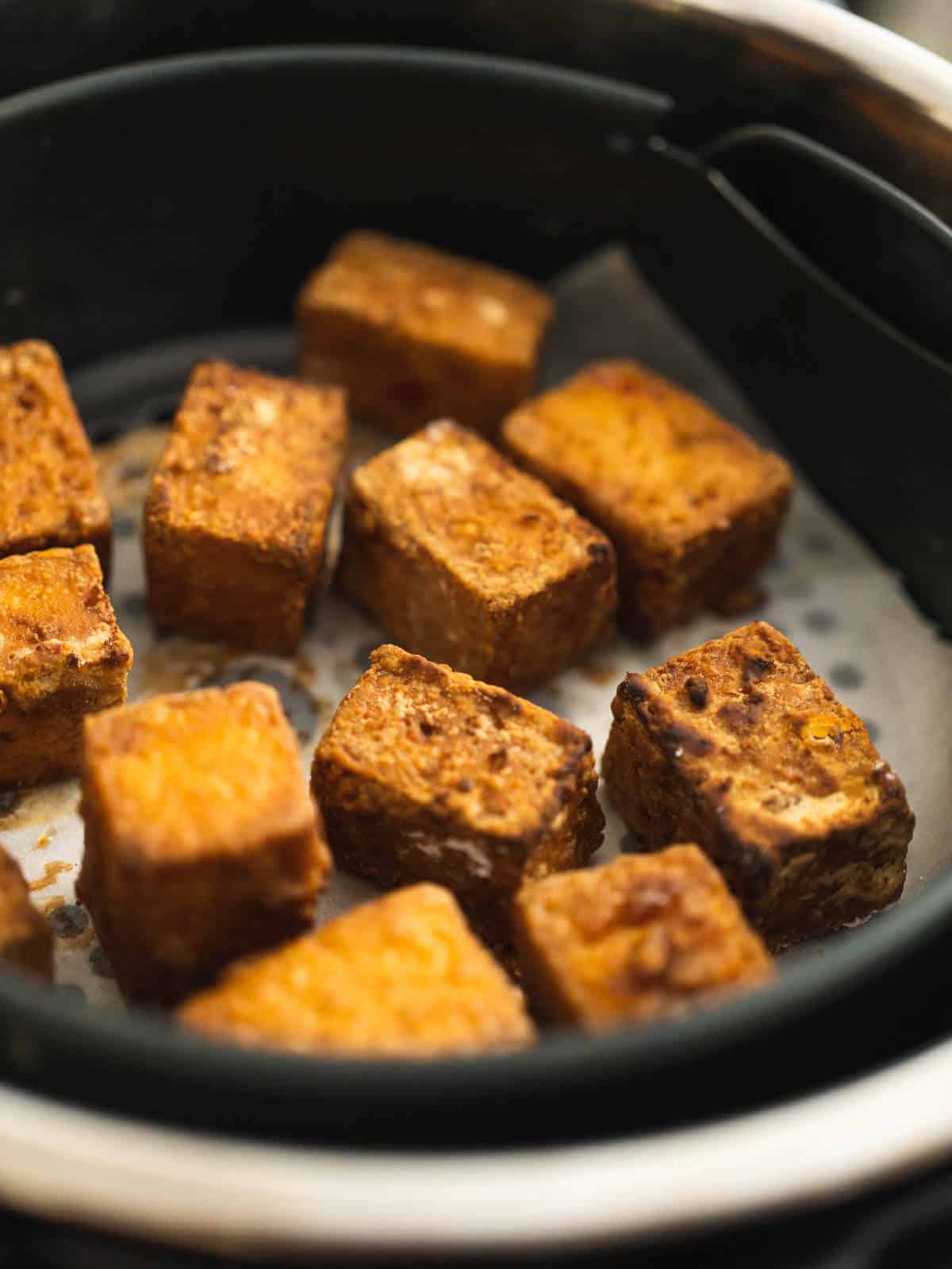 Following the recipe, prepare the Crispy Teriyaki Tofu Puffs and set the tender-crisp tofu aside from the remaining teriyaki sauce to drizzle.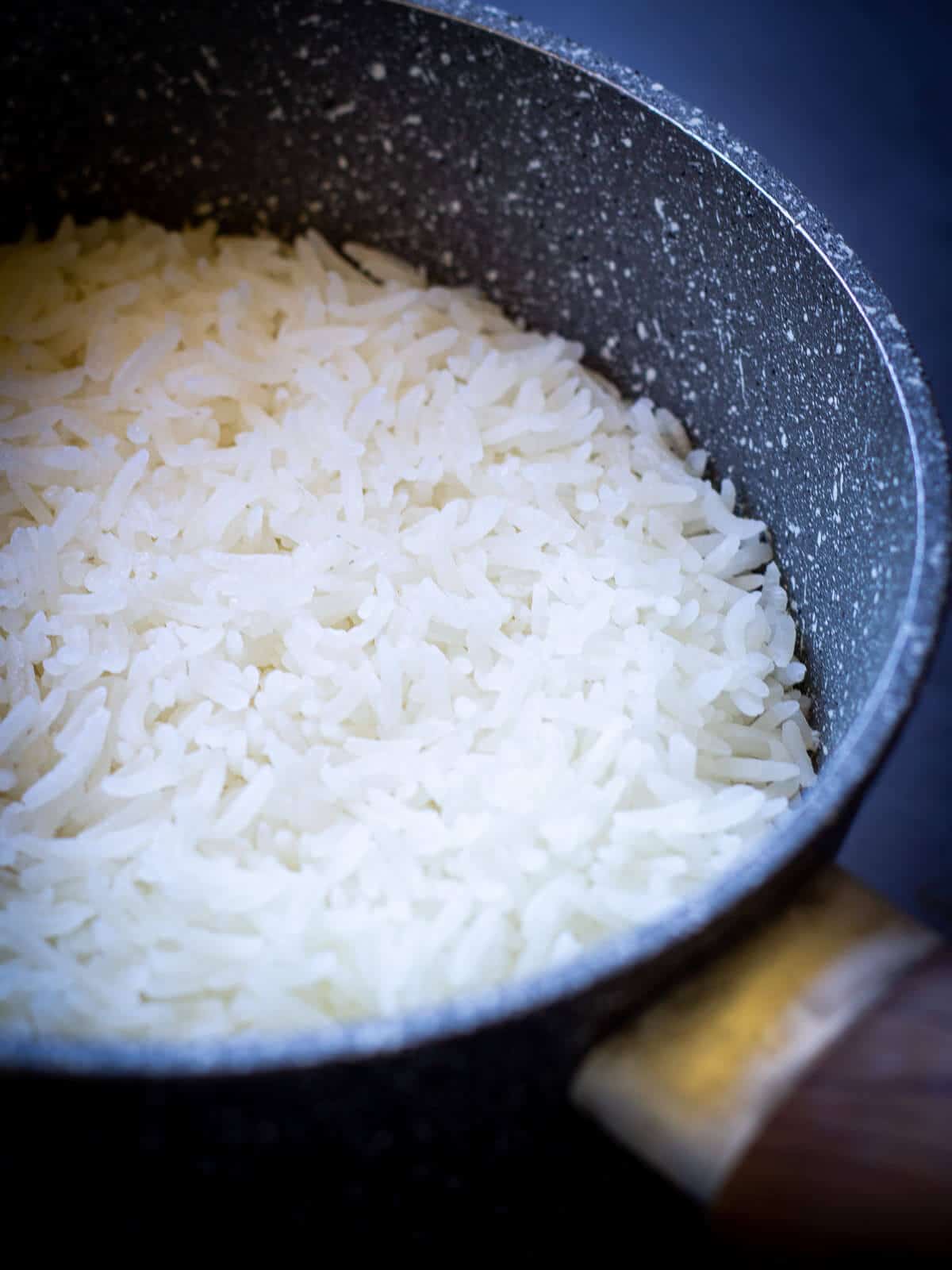 Steam Jasmine rice according to the recipe. Also, steam the broccoli florets until tender.
Alternatively, you can stir-fry tofu; see how.
Helpful tip: to save time and reduce dishes, you can streamline the cooking process by adding broccoli florets to the pot while steaming the rice during the last 4 minutes. This way, you'll have one less dish to wash and a convenient way to cook the rice and broccoli simultaneously.
Hint: Optionally, you can grill the pineapple chunks for a smoky flavor.
Assemble the teriyaki bowl with rice, green onions, broccoli, pineapple chunks, and Teriyaki Tofu Puffs. Drizzle the bowl with the remaining teriyaki tofu marinade. Garnish rice bowls with sesame seeds and red pepper flakes.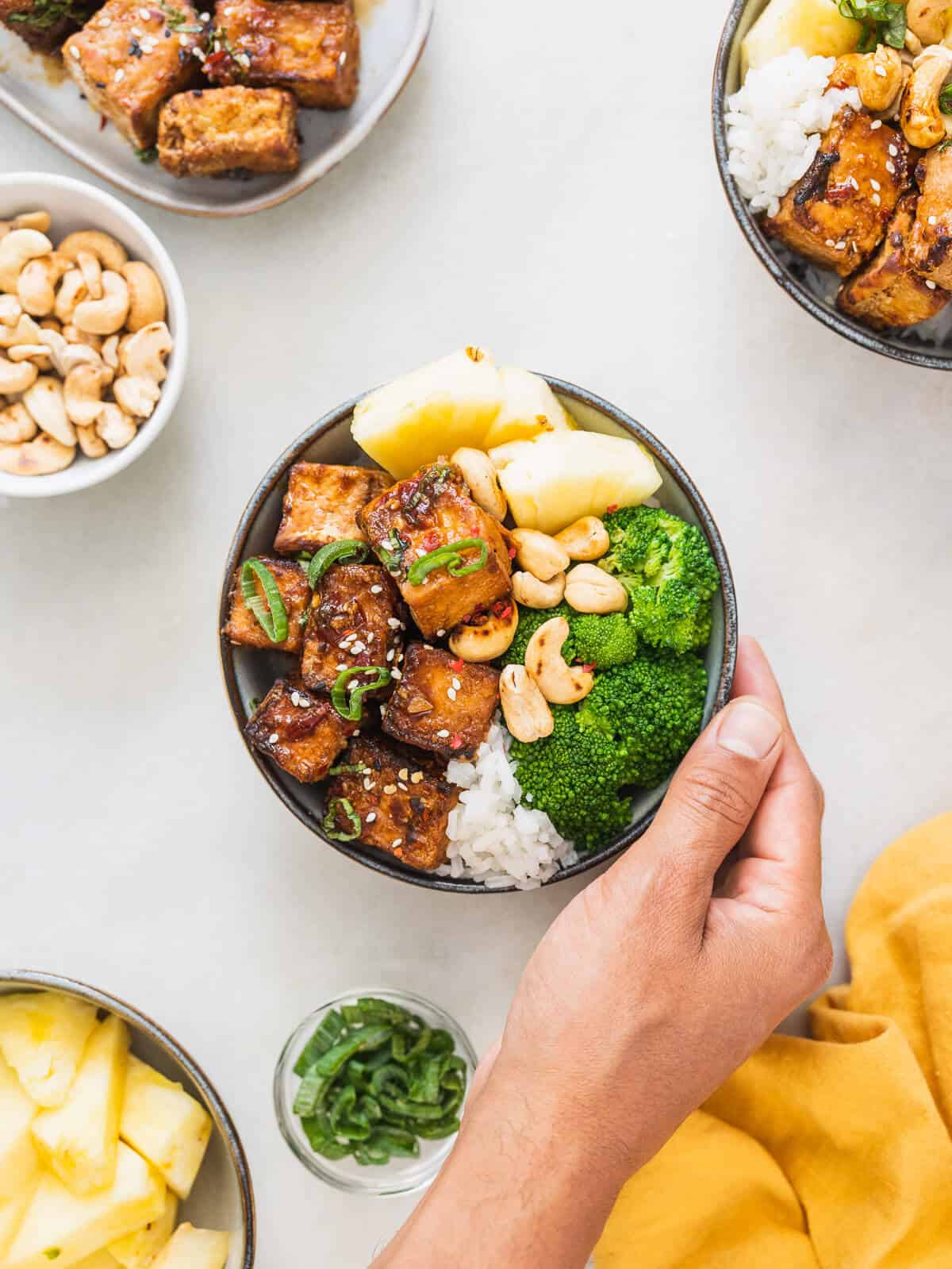 Serve and enjoy immediately!
🍶 Substitutions
Teriyaki tofu: Use extra-firm tofu or tempeh as a vegan alternative. While the texture might differ slightly, marinating and cooking them with the teriyaki sauce will still yield delicious results.
Rice: Substitute with quinoa, bulgur, or cauliflower rice for a low-carb option. Each alternative will bring a unique texture and flavor to the dish.
Green Onions (Scallions): Swap with chives or finely chopped shallots to maintain a mild onion-like flavor. The overall taste of the dish will remain balanced.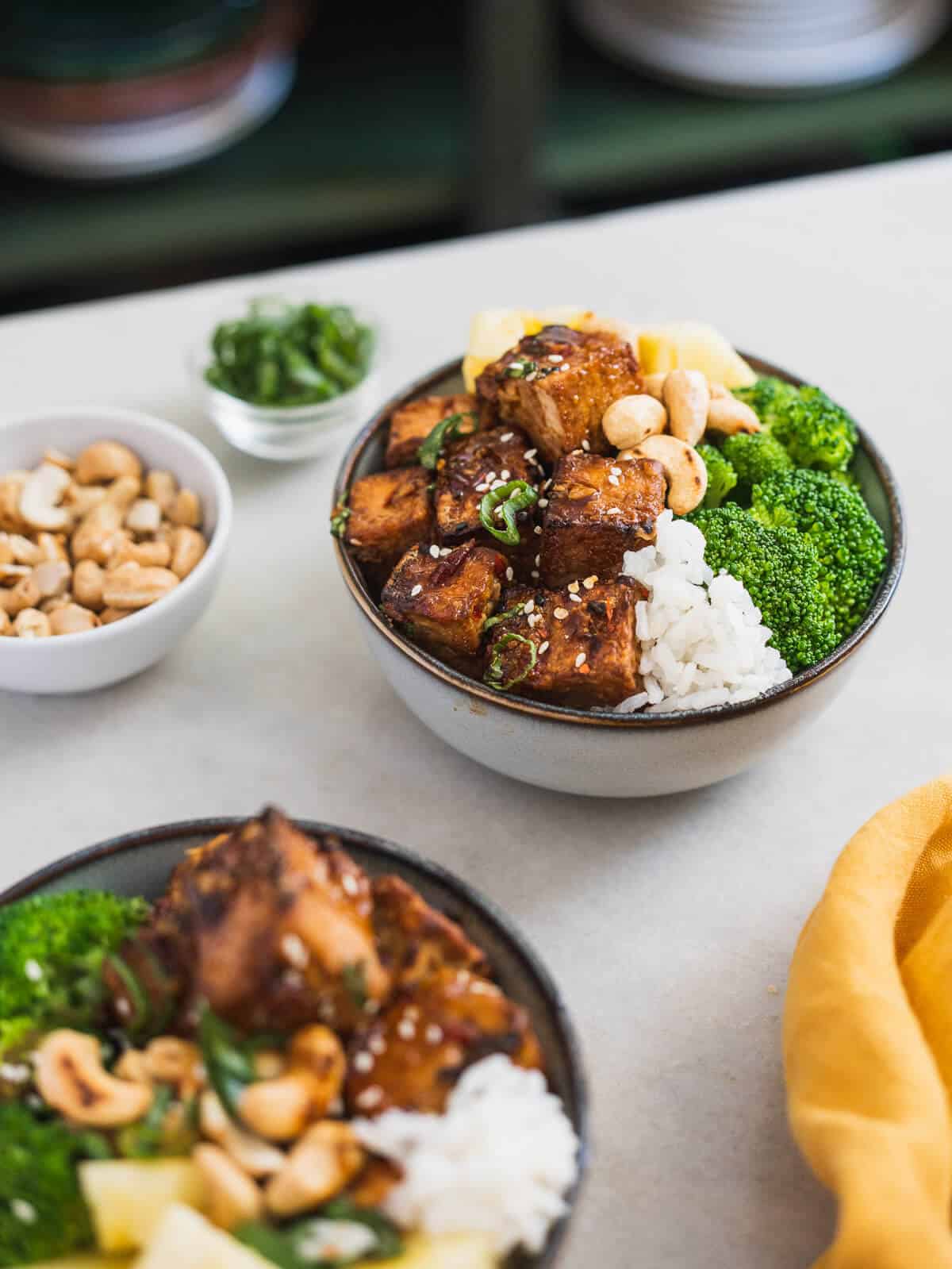 📖 Variations
Red Bell Pepper: Add a colorful twist by swapping red bell pepper with vibrant yellow or orange bell peppers. The taste and texture will remain similar, but the visual appeal will be wonderfully diverse.
Bok Choy: Explore different greens such as Swiss chard, kale, or spinach as an alternative to bok choy. While they may offer slightly different textures, they will still contribute a nutrient-packed element to the dish, enhancing its overall goodness.
Brown Rice: For added variety, replace brown rice with alternative whole grains like quinoa, wild rice, or farro. Each option brings its unique chewiness and nutty flavor, adding a delightful dimension to the dish.
Use any other of your favorite vegetables, like snap peas, chopped red onion, or shallots.
🍽 Equipment
Air fryer: An air fryer

(affiliate link)

is used to achieve crispy tofu without the need for deep frying. It uses hot air circulation to create a crispy outer layer while maintaining a tender interior. Simply coat the tofu in desired seasonings or marinade, place it in the air fryer basket, and cook at the recommended temperature and time for crispy results.
Small saucepan: A small saucepan

(affiliate link)

is necessary to cook the rice, teriyaki sauce, and broccoli. It provides a controlled and even heat distribution, allowing you to simmer the rice to perfection, prepare the teriyaki sauce, and blanch or steam the broccoli. Using a saucepan with a lid is recommended to cover and retain heat during cooking.
Note: If you do not have an air fryer, you can still make the recipe by using alternative cooking methods for the tofu, such as baking tofu in the oven or pan-frying it in a skillet with a small amount of vegetable oil.
🥡 Storage and meal prep
Transfer it to an airtight container or cover it tightly with plastic wrap or aluminum foil.
Place the container in the refrigerator. The rice bowl can be stored in the refrigerator for up to 3-4 days.
Meal prep option:
You can make a larger batch of the components of the rice bowl ahead of time and store it in individual meal-sized containers.
Portion the cooked rice, tofu, and any other desired components into each container.
Allow the components to cool before covering and refrigerating them.
When ready to eat, simply reheat the individual containers in the microwave or on the stovetop, and enjoy a pre-prepared meal.
💡 Top tip
If you make a large batch for future meals, store all the components of the bowl separately so they don't become soggy.
❓ FAQ
Is it best to marinate tofu before cooking?
Marinating tofu before cooking is generally recommended for enhanced flavor and texture. Tofu is known for its ability to absorb flavors, so marinating allows the tofu to soak up the marinade and infuse it with delicious tastes. Marinating can also help improve the tofu's texture by adding moisture and creating a more tender result. The minimum time is 15 minutes, and for maximum flavor, marinate it overnight.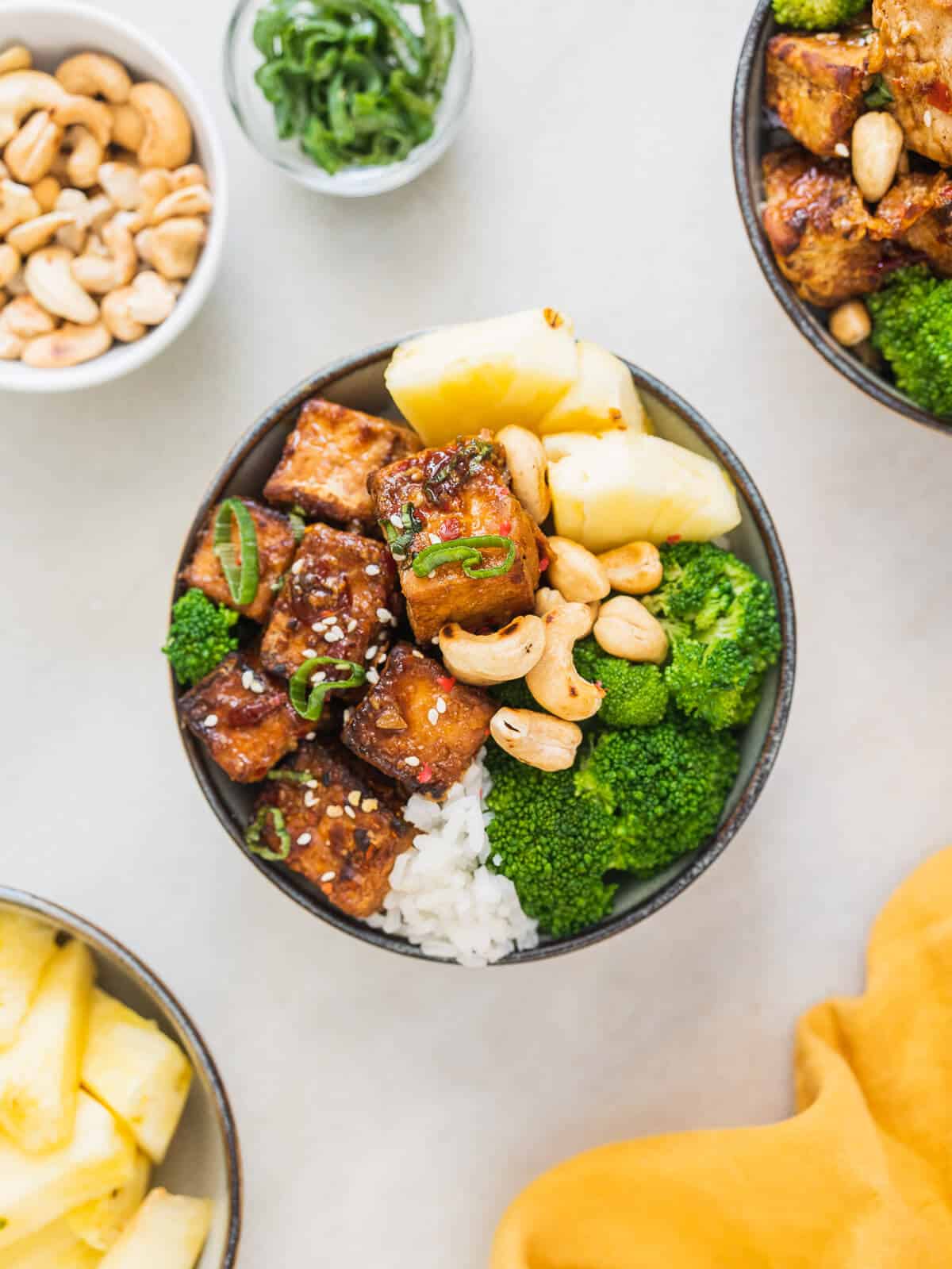 📚 More nutritious bowls recipes
Also, you may want to check our collection of vegan sauces to elevate your dishes; think maple tahini sauce and arugula pesto sauce!
⭐ If you try this Hawaiian Pineapple Bowl, let us know! 💬 Leave a comment, rate it, and don't forget to tag us @ourplantbasedworld on Instagram. Cheers!
📋 Recipe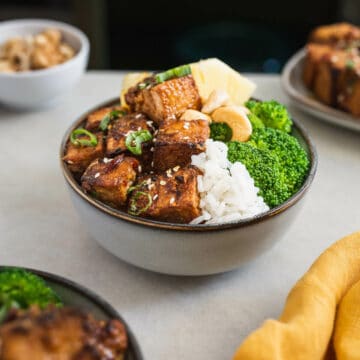 Hawaiian Tofu Rice Bowl with Homemade Gluten-Free Teriyaki Sauce
Indulge in the vibrant flavors of our Hawaiian Tofu Rice Bowl with Homemade Gluten-Free Teriyaki Sauce. Packed with high-protein tofu, wholesome rice, and fresh veggies, it's a perfect plant-based meal. The tangy sweetness of our homemade gluten-free teriyaki sauce takes this island-inspired dish to a new level of deliciousness. Ideal for health-conscious foodies and gluten-sensitive eaters alike.
Equipment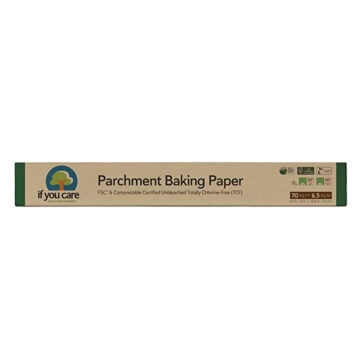 (affiliate link)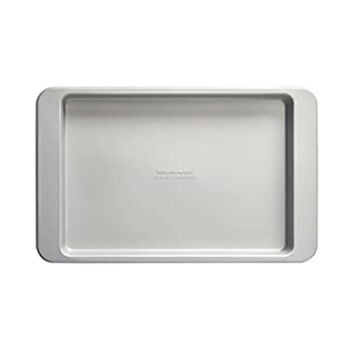 (affiliate link)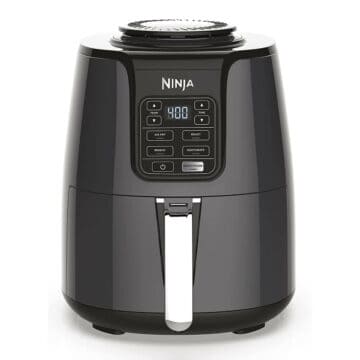 (affiliate link)
Ingredients
For the gluten-free teriyaki sauce
Directions
Prepare the Teriyaki Sauce: In a glass, combine thoroughly water and cornstarch.

In a small saucepan, add all the sauce ingredients, including minced garlic and ginger. Bring the mixture to a simmer over medium-low heat, stirring occasionally until it thickens slightly for approximately 3-4 minutes.

Once done, remove it from the heat and allow it to cool. Store the teriyaki sauce in the refrigerator for up to a week. This recipe yields about ¾ cups.

Prepare the Crispy Teriyaki Tofu Puffs: Follow the recipe on our blog for the Crispy Teriyaki Tofu Puffs, which combines the marinated teriyaki sauce with pressed tofu, creating a light and crispy coating. Once the puffs are ready, set them aside.

Cook the Steamed Jasmine Rice: Refer to our blog post for the recipe on how to make perfectly fluffy Steamed Jasmine Rice. Follow the instructions to cook the rice to perfection, ensuring it is light, fragrant, and ready to serve as the base of your rice bowl.

Optionally Grill the Pineapple Chunks: If you prefer a smoky and caramelized flavor, you can grill the fresh pineapple chunks. Preheat a grill or grill pan over medium-high heat. Place the pineapple chunks on the grill and cook for a few minutes on each side until grill marks appear. Set aside.

Assemble the Tofu Rice Bowl: Start by scooping a generous portion of Steamed Jasmine Rice into each bowl. Top it with the sautéed green onions, broccoli, and a few fresh pineapple chunks for a burst of sweetness. Place the Teriyaki Tofu Puffs on the rice bed, allowing their flavors to mingle. Drizzle the entire bowl with the prepared teriyaki sauce.

Garnish and Serve: Sprinkle sesame seeds over the bowl for added texture and a touch of nuttiness. You can also add additional chopped green onions for a pop of color. Serve the Hawaiian Tofu Rice Bowl immediately while it's still warm, and enjoy the delectable blend of flavors and textures!
Notes
Feel free to customize your rice bowl with other veggies or toppings of your choice to suit your preferences.
Nutrition Facts
Calories:
574
kcal
Carbohydrates:
70
g
Protein:
29
g
Fat:
21
g
Saturated Fat:
3
g
Polyunsaturated Fat:
9
g
Monounsaturated Fat:
8
g
Sodium:
1656
mg
Potassium:
516
mg
Fiber:
6
g
Sugar:
29
g
Vitamin A:
393
IU
Vitamin C:
82
mg
Calcium:
401
mg
Iron:
6
mg
Nutrition Facts
Hawaiian Tofu Rice Bowl with Homemade Gluten-Free Teriyaki Sauce
Amount per Serving
% Daily Value*
* Percent Daily Values are based on a 2000 calorie diet.
🌡️ Food safety
Cook to a minimum temperature of 165 °F (74 °C)
Do not use the same utensils on cooked food, that previously touched raw meat
Wash hands after touching raw meat
Don't leave food sitting out at room temperature for extended periods
Never leave cooking food unattended
Use oils with a high smoking point to avoid harmful compounds
Always have good ventilation when using a gas stove
See more guidelines at USDA.gov.
Nutritional Disclaimer
The information shown is an estimate provided by an online nutrition calculator. It should not be considered a substitute for a professional nutritionist's advice. See our full Nutritional Disclosure here.
Affiliate Disclaimer
Please note that some of the links here are affiliate links, and I will earn a commission if you purchase through those links. I recommend all of the products listed because they are companies I have found helpful and trustworthy.