How to prepare tofu? This is one of the most frequent questions I am asked by friends and people inclined to decrease their meat consumption. Tofu can be a little intimidating to prepare if you're not familiar with it. But don't let that stop you from giving it a try! This versatile ingredient is a great way to add protein and flavor to your meals.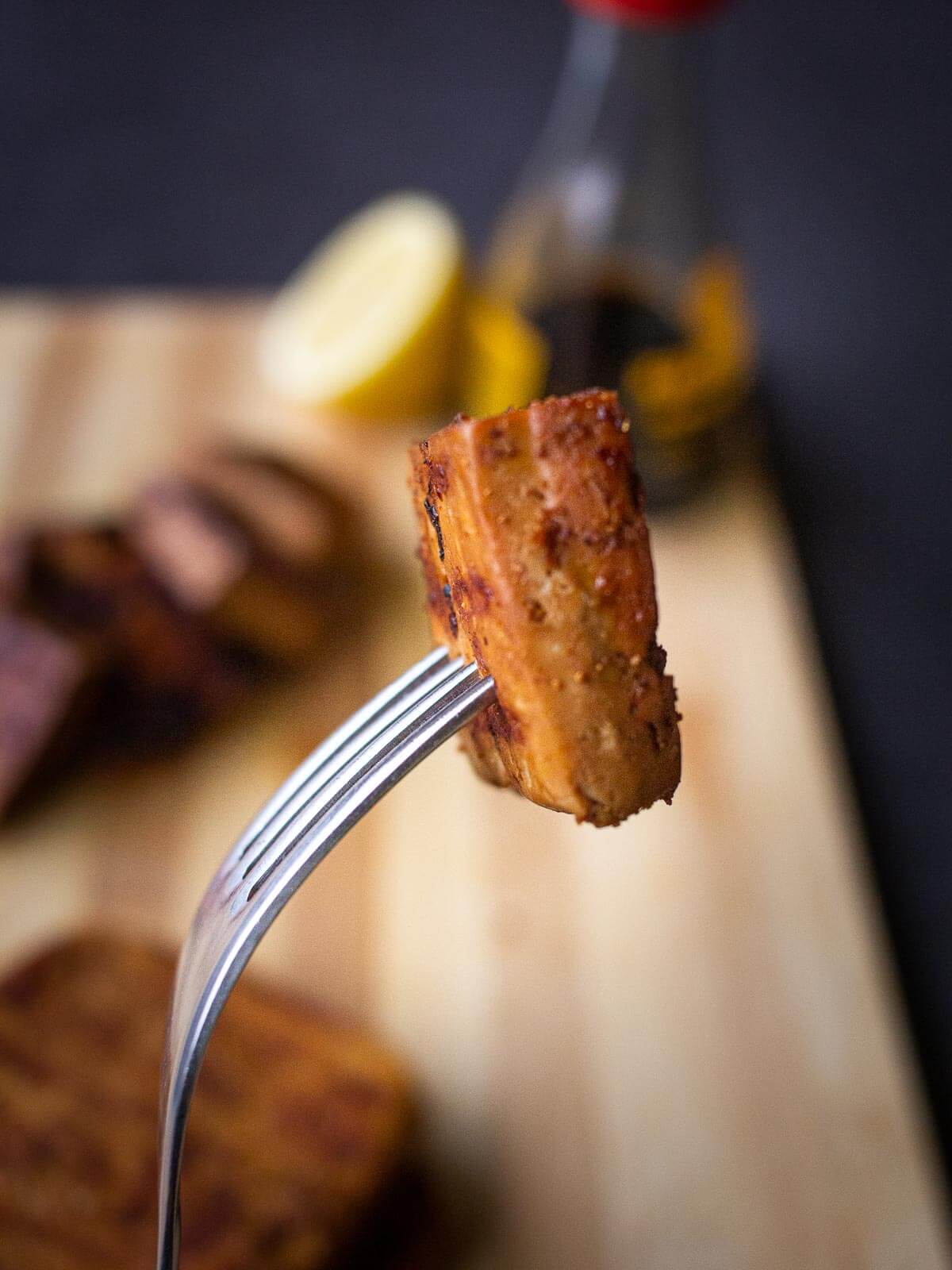 Tofu can be prepared in many different ways. Keep reading for tips on how to cook tofu so you can enjoy its benefits!
When I first tried tofu, it was certainly not love at first sight. However, I did not hate either; I have always been curious about healthy foods.
The fact that it lacked flavor was a downer for me, but it was the same characteristic, the one that I learned later to love.
Tofu doesn't have a taste; it's like a blank canvas. It takes the taste you give it. It is a versatile ingredient despite its lack of taste and the multiple texture and presentations you can find in the market.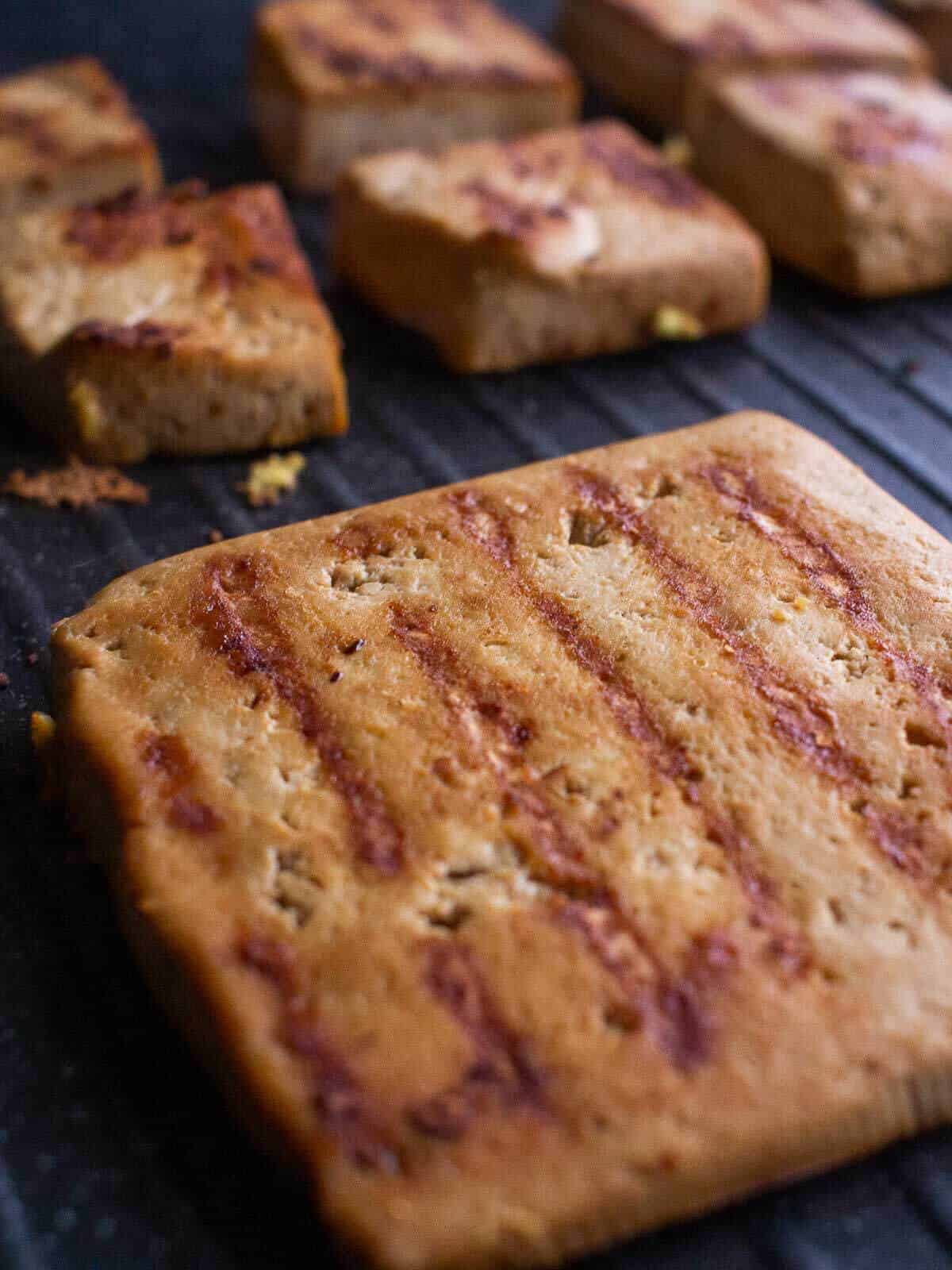 Jump to:
🪧 Our top 6 ways
Start it off by cutting it up into cubes before adding it to your favorite sauces.
Vegan Egg sub
When I make a decadent weekend brunch. Crumble it up and season it with your regular seasoning for eggs.
You can use a mix of spices like thyme, garlic, turmeric, and onion powder. Use the Nutritional Yeast, cut up red and green bell peppers, onions, and garlic. Enjoy!
You can use this Tofu Scramble Recipe; you'll surely love it.
Vegan stuffing
As the base to make stuffing for veggies or filled pasta. See Stuffed Onions and Stuffed Shell Pasta Recipes, and these amazing Vegan Stuffed Bell Peppers.
I also use this method to make a Vegan Bolognese or Ragout that works for pasta and enjoying tofu with baked or stovetop creamy polenta.
Grilled
I grill plain extra-firm Tofu layers at high heat for one minute on each side and reserve and add them to a Thai Curry five minutes before it is ready. They absorb all the curry's flavor and texture from the grilling.
Crispy baked tofu
Covered in polenta, our cornstarch and then baked. Check the full recipe for crispy tofu on this site. This is the best way to make tofu cubes that can then be added to your Green Curry or Yellow Thai Curries.
This version also works as a vegan appetizer with a Green Goddess dipping sauce or topping for an Indian Eggplant Curry.
Marinated and grilled
Grilling or pan-frying tofu, like in this recipe. Pan-fried tofu is excellent for BBQs and chunks for a Protein Salad and Buddha Bowls to create high protein vegan meals.
These also make a delicious filling for Vegan Arepas, add it to steamed broccoli for a simple and nutritious meal, or add it to any vegetarian recipes where you want to add some chunky and meaty protein.
If you are looking for Meat texture: if you are a beginner, season it like you would season meat or chicken after adding an oil base (something like olive oil or vegan butter); oils carry flavor.
And then bake it in the oven until desired texture, then add it to your favorite sauce. And you will have a layer of flavor.
Play with it, be creative. Remember: Raw tofu is a White Canvas!
Easy air fryer tofu with Mediterranean Marinade
I love adding these tofu nuggets to our salads or serving them as appetizers.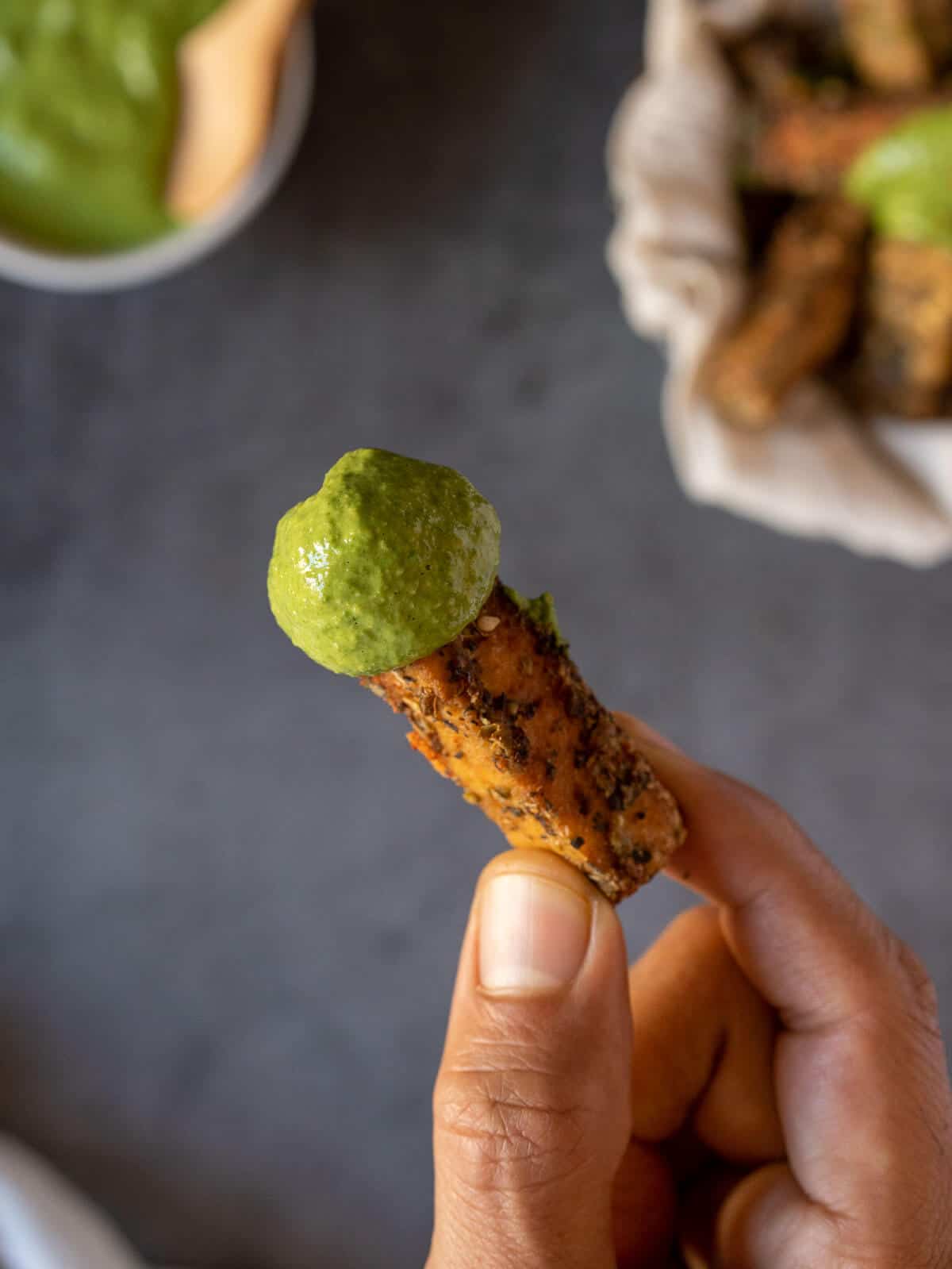 🧾 Ingredients
3 Ingredients for a tofu stir fry marinade with easily found ingredients.
Low-Sodium Soy Sauce or Tamari Soy Sauce (Organic Gluten-Free Reduced Sodium).
Freshly Ground Garlic or Garlic /Onion Powder.
Fresh Ginger or powder.
Optionally, brush the grill or saucepan to prevent it from sticking.
To pan-fry it or brush your grill, use coconut or toasted sesame oil to prevent it from sticking and add a very smoky, interesting note.
See quantities and complete instructions in the recipe card.
Remember that regular soy sauce contains gluten. Therefore, you need to look for Gluten-Free Soy Sauce or Tamari to keep this recipe Gluten-Free.
🔪 Instructions
This is how to prepare tofu for stir fry.
Cut the tofu block into medium or stake-sized squares.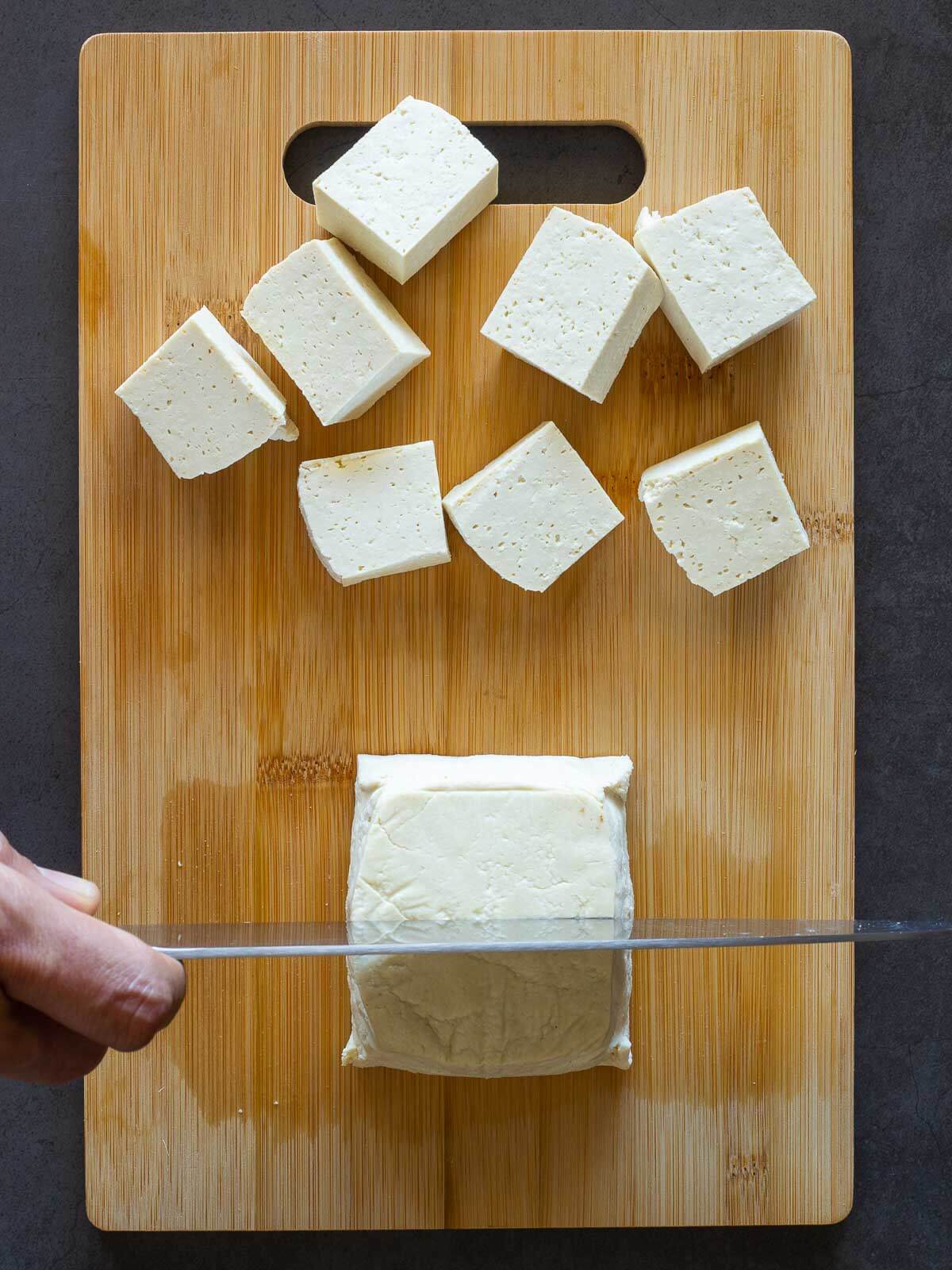 Put the cubed tofu or tofu slices on Tupperware or baking sheet, and cover halfway with half of the soy sauce or tamari ingredients.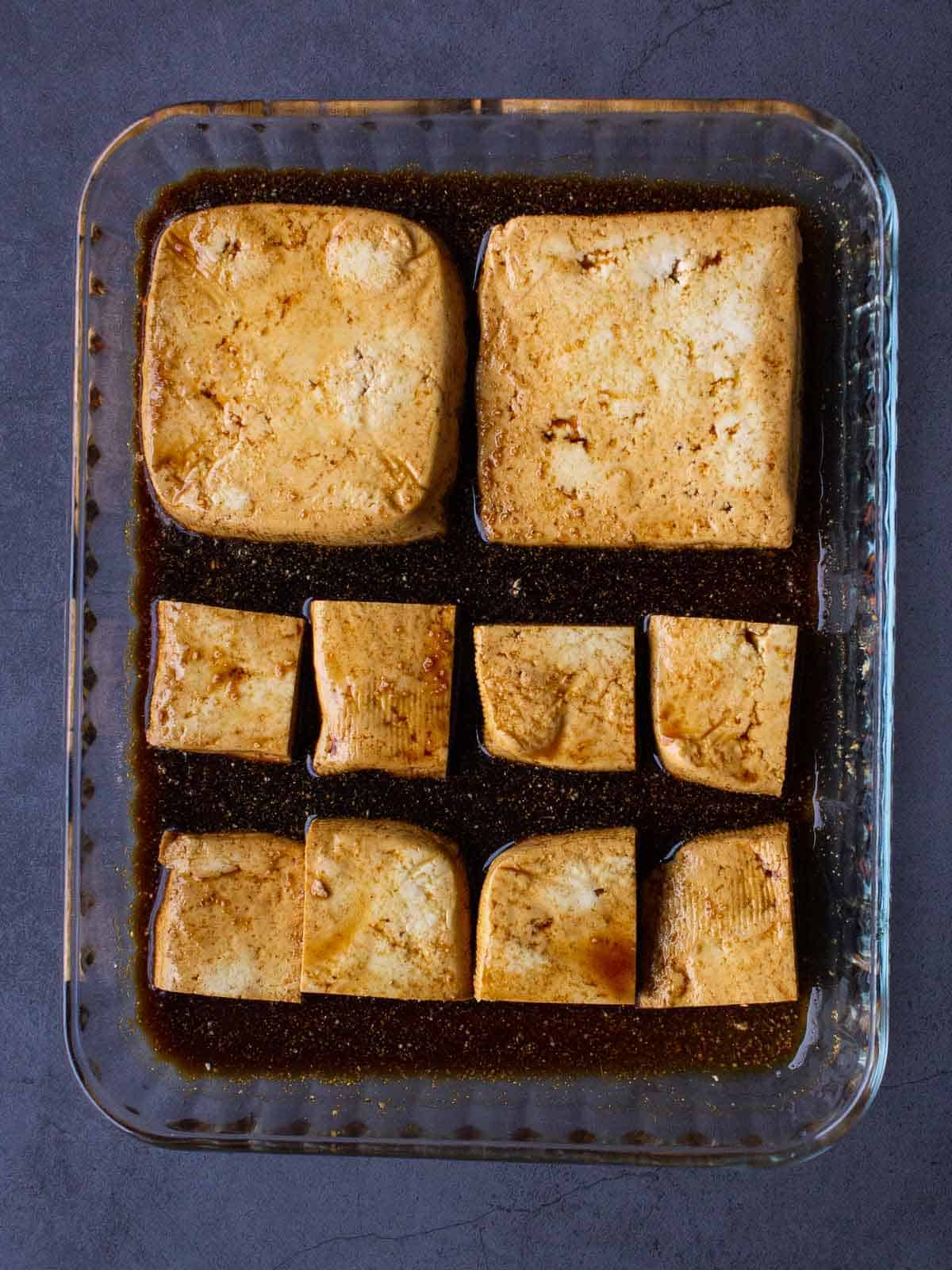 Add your choice of fresh grind garlic or onion/garlic powder.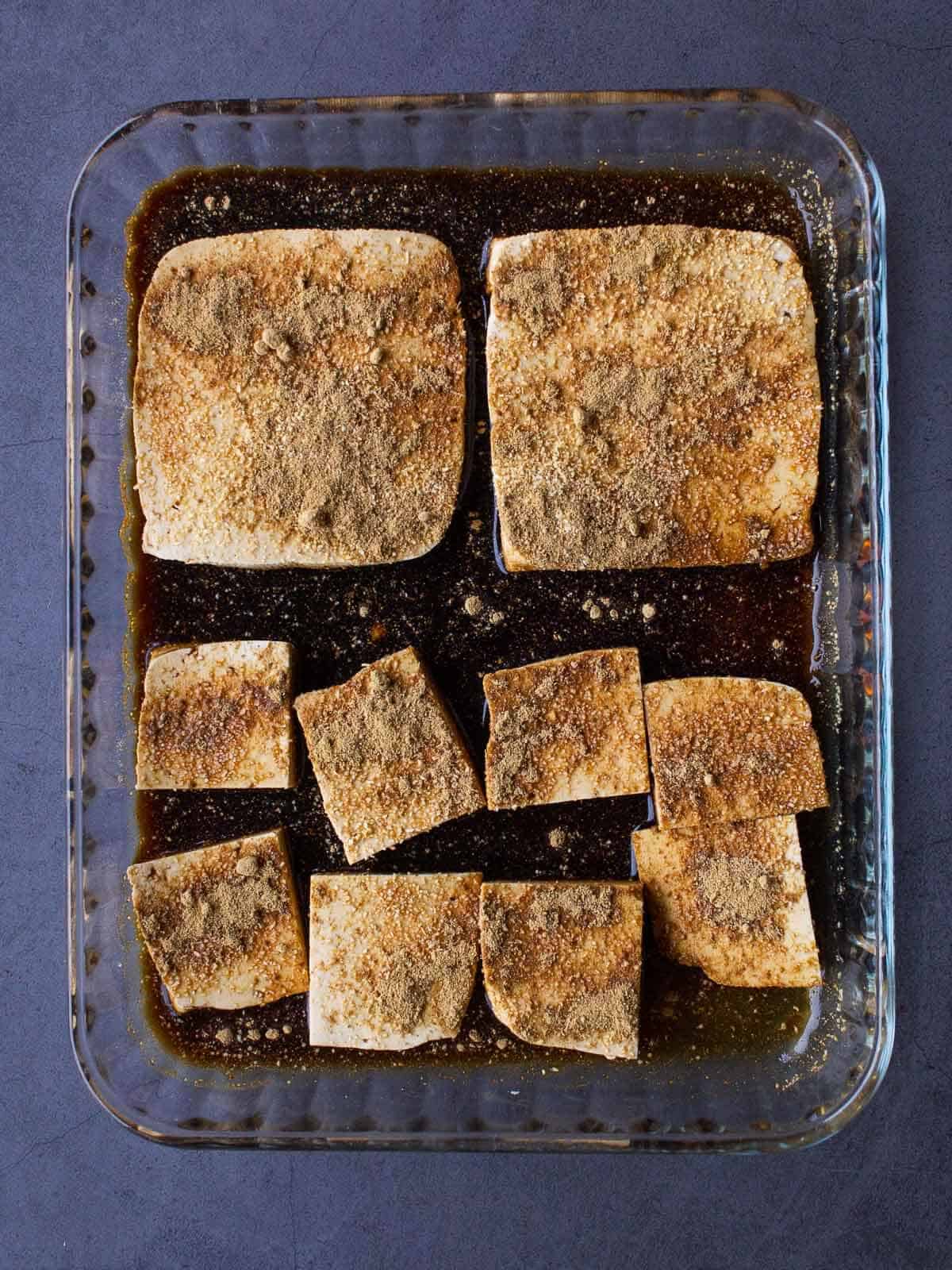 Flip the sides and add the fresh grated ginger or powder. Cover and store for 5 minutes or more. Marinate tofu for 15 minutes.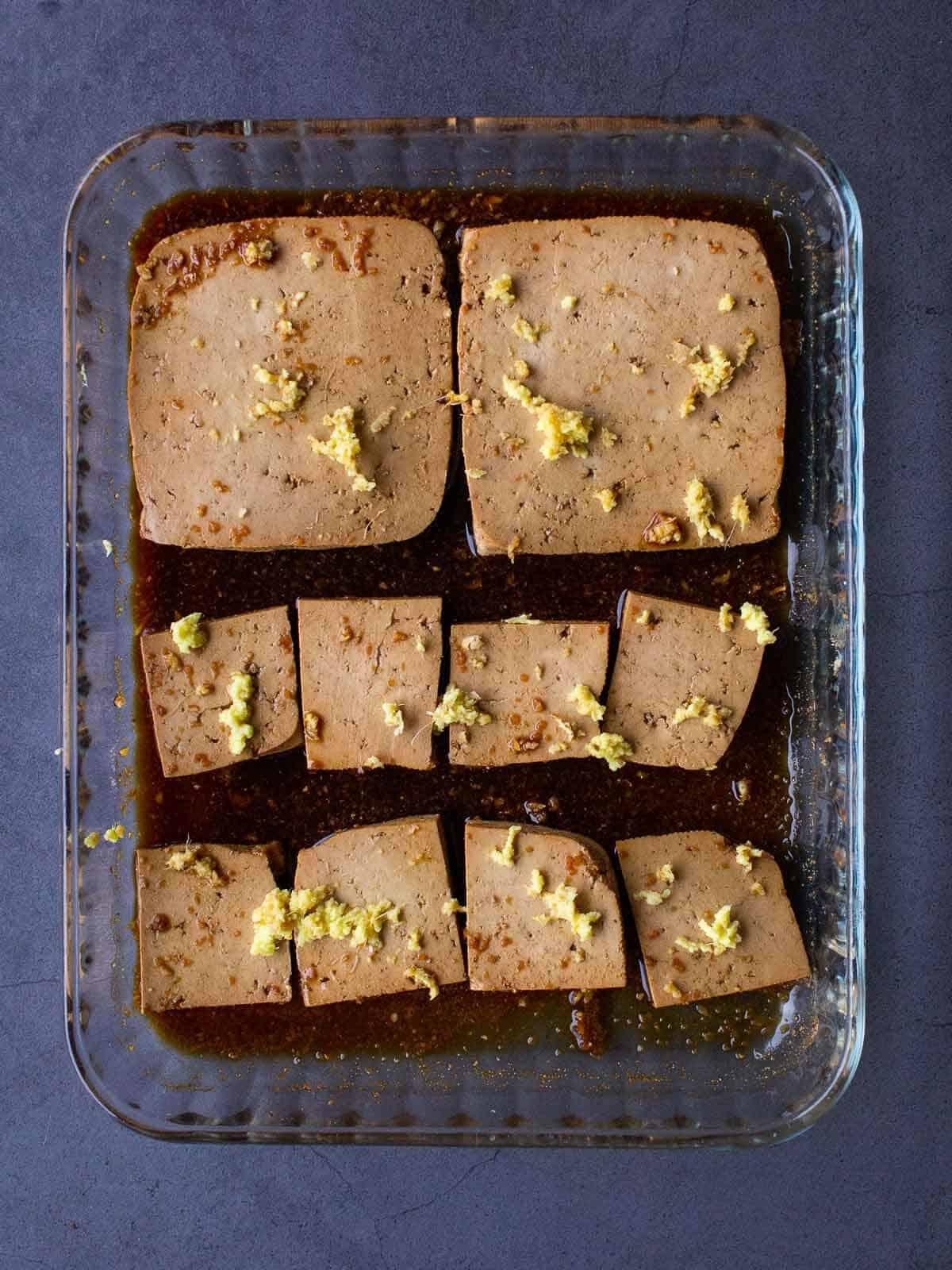 After 5 minutes, cook tofu on a Grill, cast-iron skillet, or frying pan. Cook the prepared tofu for one minute on each side until golden brown. (Optionally, brush the grill or saucepan with oil to prevent it from sticking).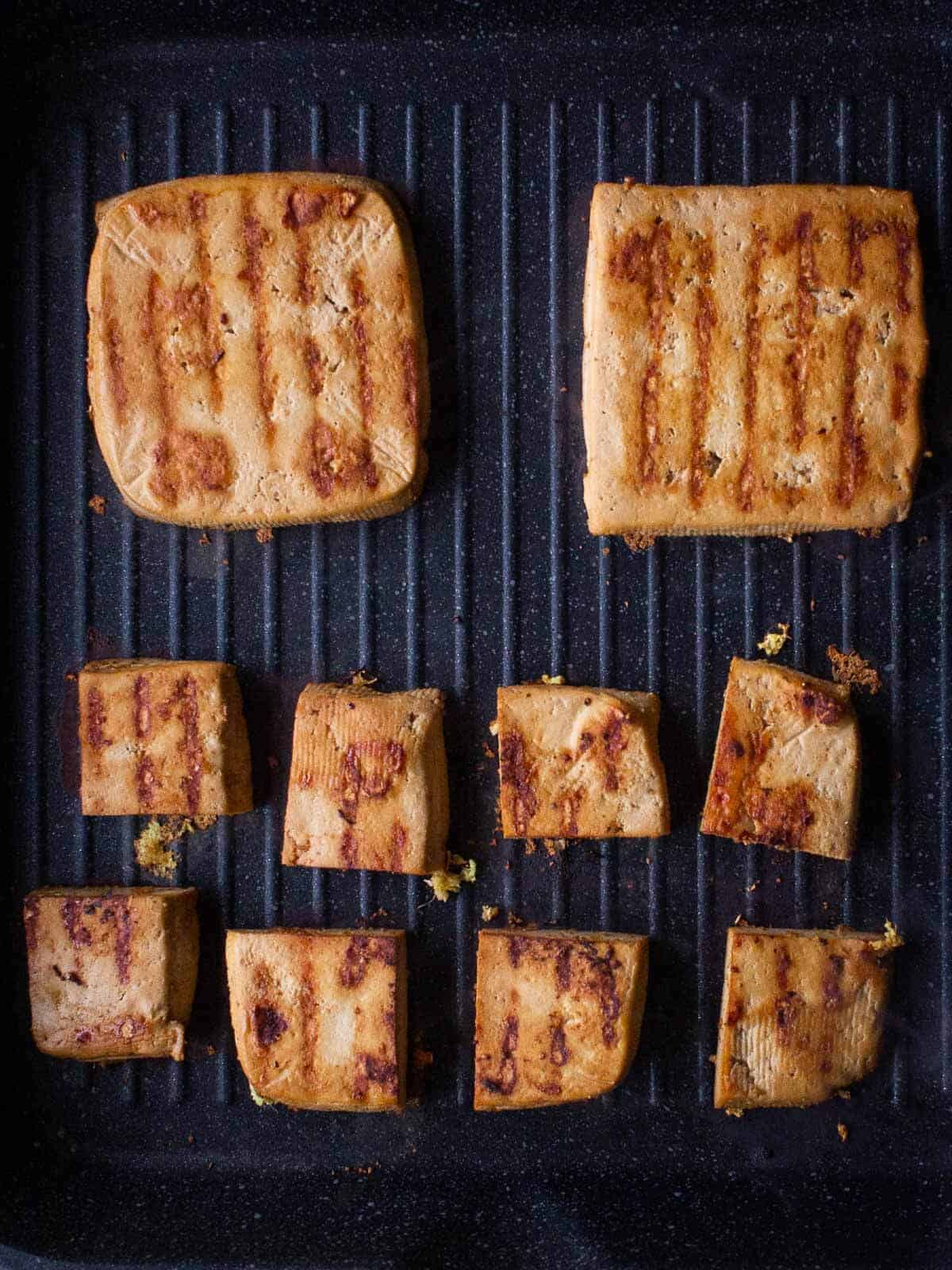 Flip the tofu "stakes" and pour any remaining marinade juices or save them from sautéing onion rings (as suggested in our Vegan Arepas recipe, which used these tofu stakes as filling).
Cook for an extra minute or two on medium-high heat. Ready! Add your cooked tofu to your favorite salad or vegan poke bowl.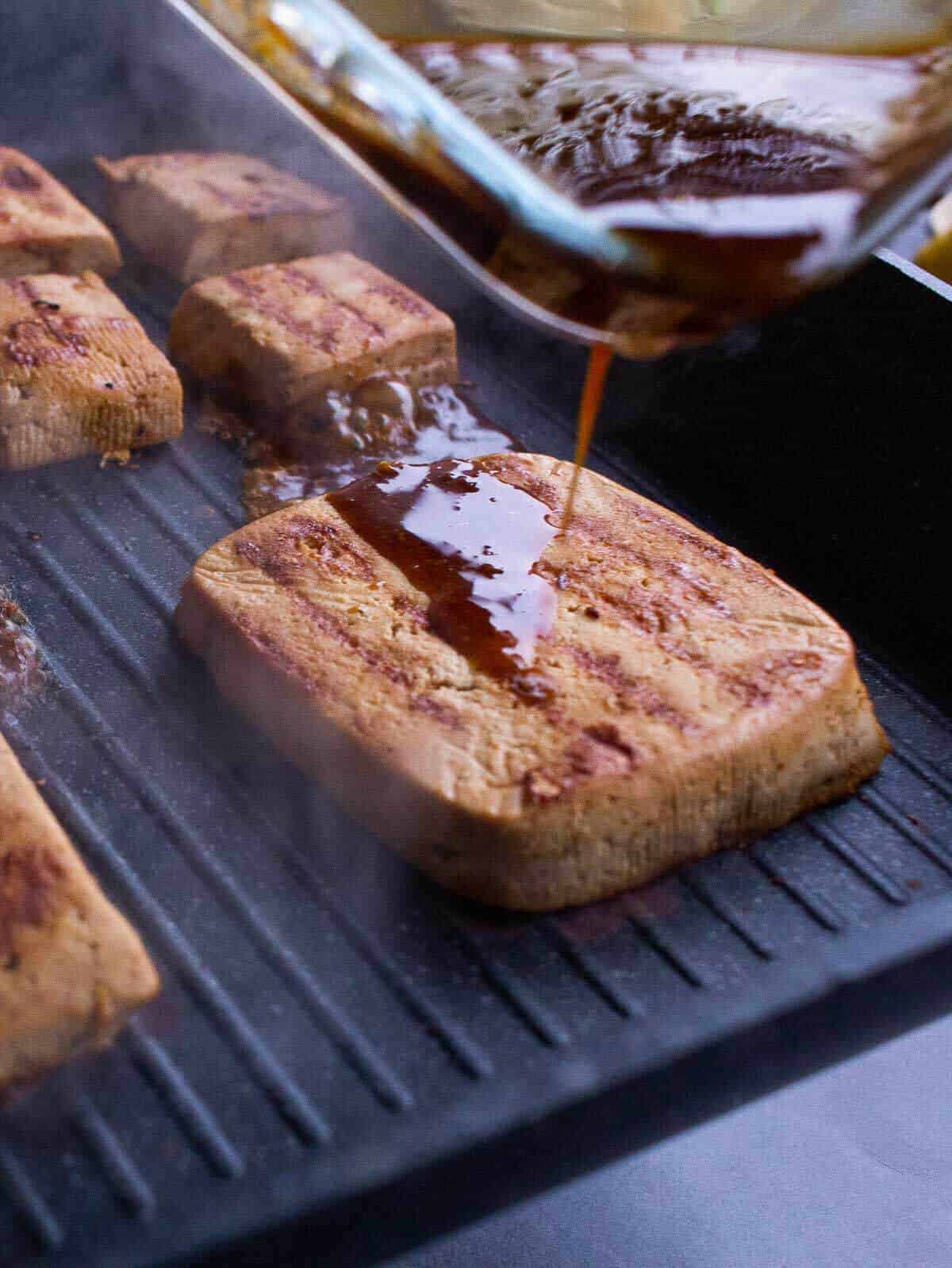 Tofu tip: when you want to use tofu on recipes where you want it to be extra crispy, baking it or making fried tofu or deep-fried tofu, you need to use extra-firm tofu.
Then pressing tofu for a minimum of fifteen minutes, letting tofu sit with something heavy on top will allow it to release the excess moisture that can make it soggy.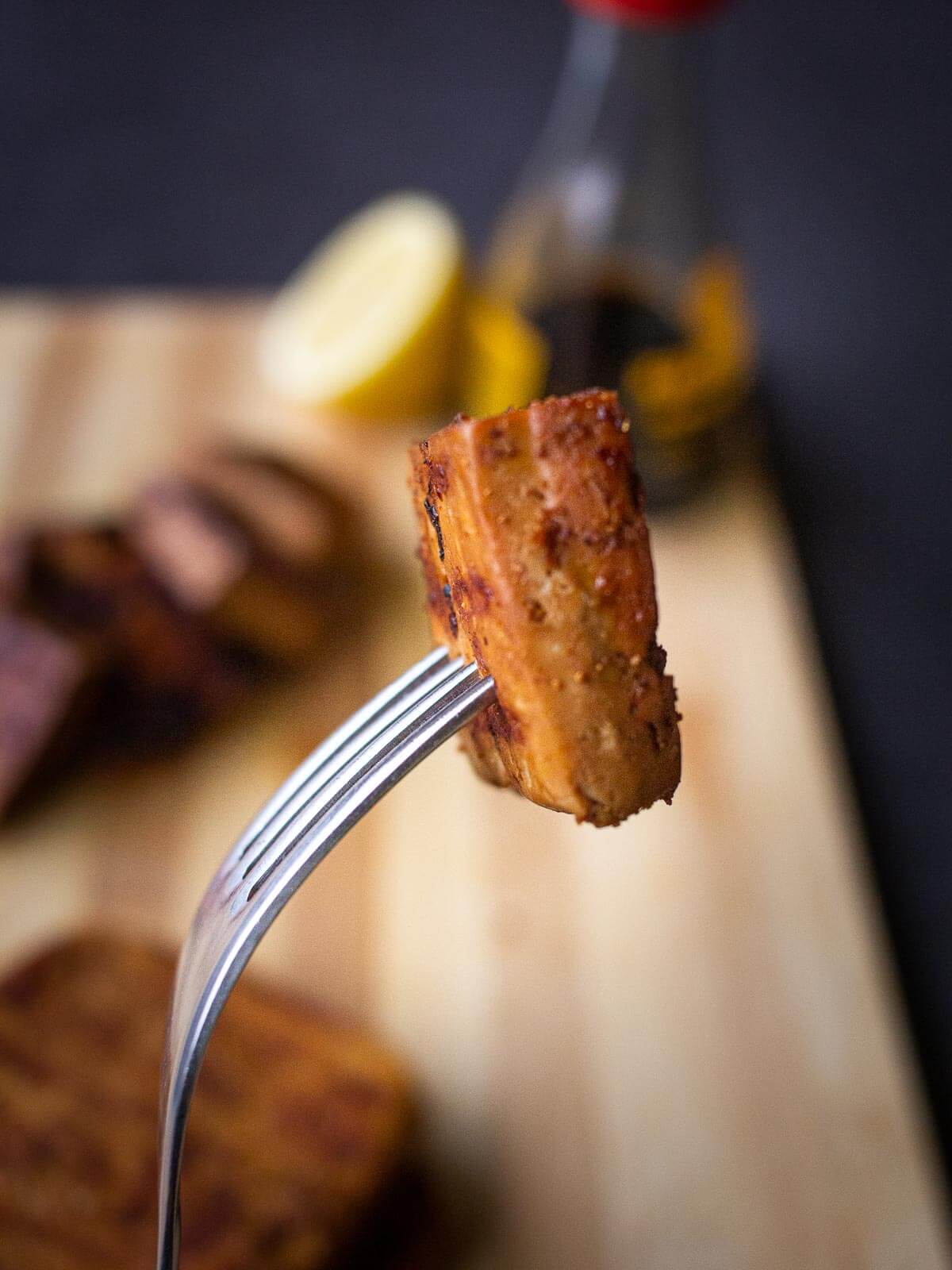 If you are looking into a Crispy Tofu texture to add to your Thai Curries instead of grilled, don't forget to check out this recipe!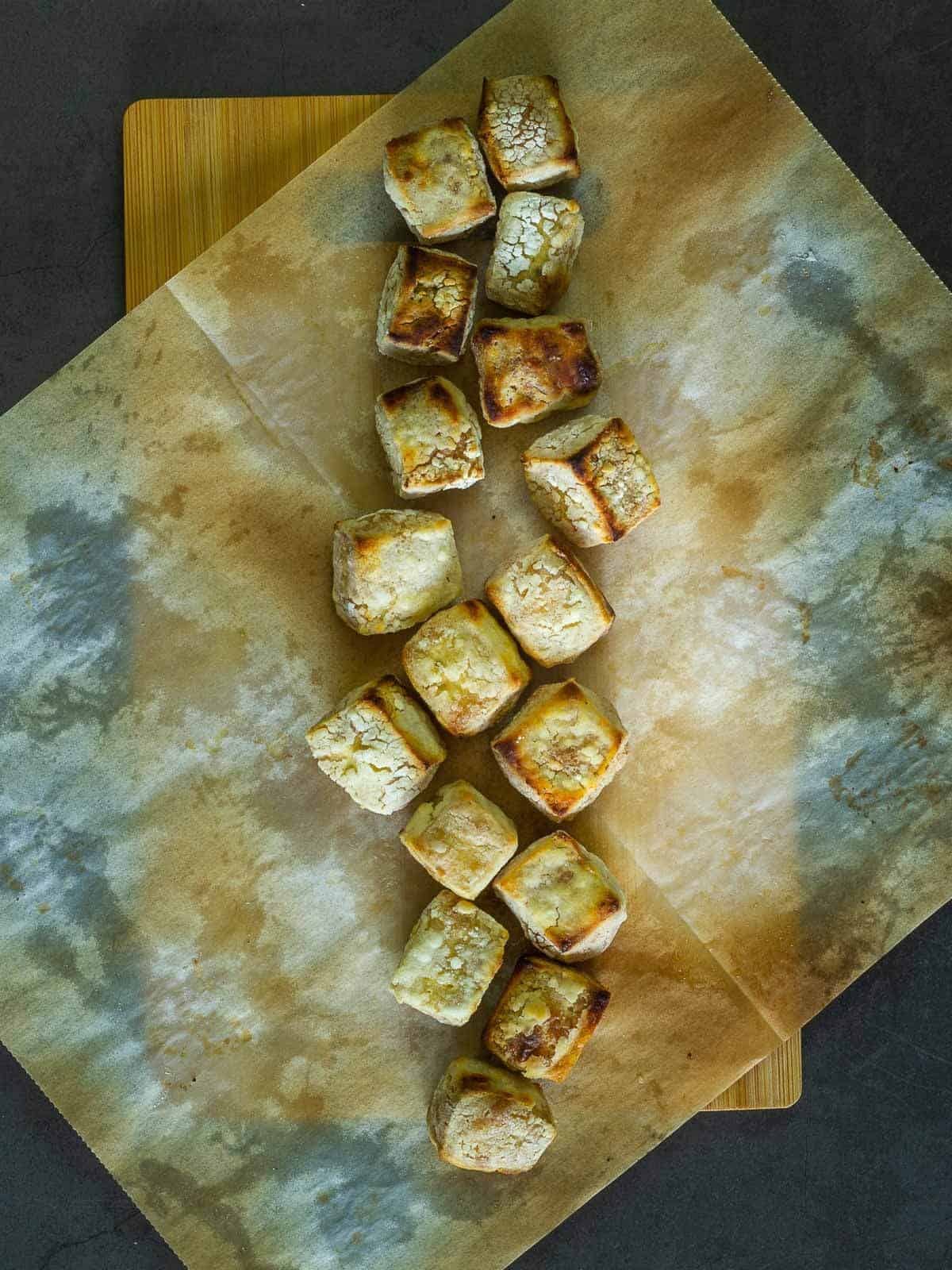 Quick & Crispy Tofu Guide: cooking tofu on stove
Lightly Dab with Paper Towels: Just a gentle press to remove some moisture, avoiding overly dry tofu.
Cut into Cubes or slices: Make even-sized pieces for uniform cooking.
Sizzle in a Seasoned Skillet: Use your favorite oil (olive, avocado, etc.) in a salted and peppered pan for flavor.
Let it Crisp, Then Flip: Wait until it's crispy and easily releases from the pan—patience is key! As it gets golden brown, it will naturally release itself from the pan. Just give the pan a shake. 
Fry Until Golden: Aim for a nice, golden color on most sides for that perfect crunch.
Drain on a Paper Towel-Lined Plate: This helps to remove excess oil, leaving you with just the delicious crispiness.
⏲️ How long to cook tofu? Do you have to cook tofu?
The answer is No; you don't; you can eat raw tofu, but in my opinion, cooking tofu makes its texture better, and also get to add more seasonings to enhance its flavor.
So here is how to prepare tofu in a pan or a grill. Just cut the tofu in the desired shape, preheat the pan on high heat for one to two minutes and then cook the tofu for one minute on each side. You can add a teaspoon of oil to the pan if your pan isn't a non-stick one.
That's it! That's how to prepare tofu in a pan in its simplest form.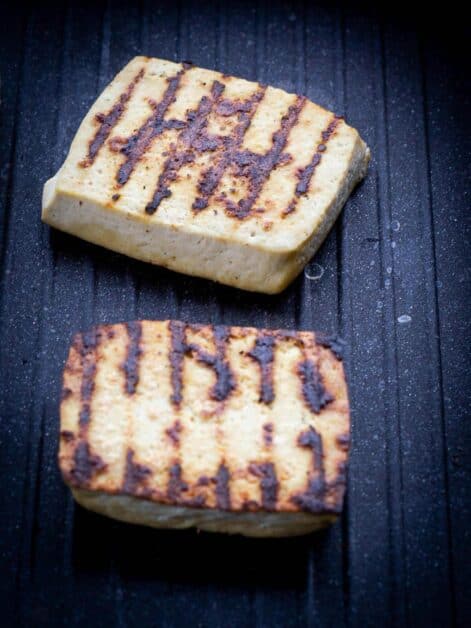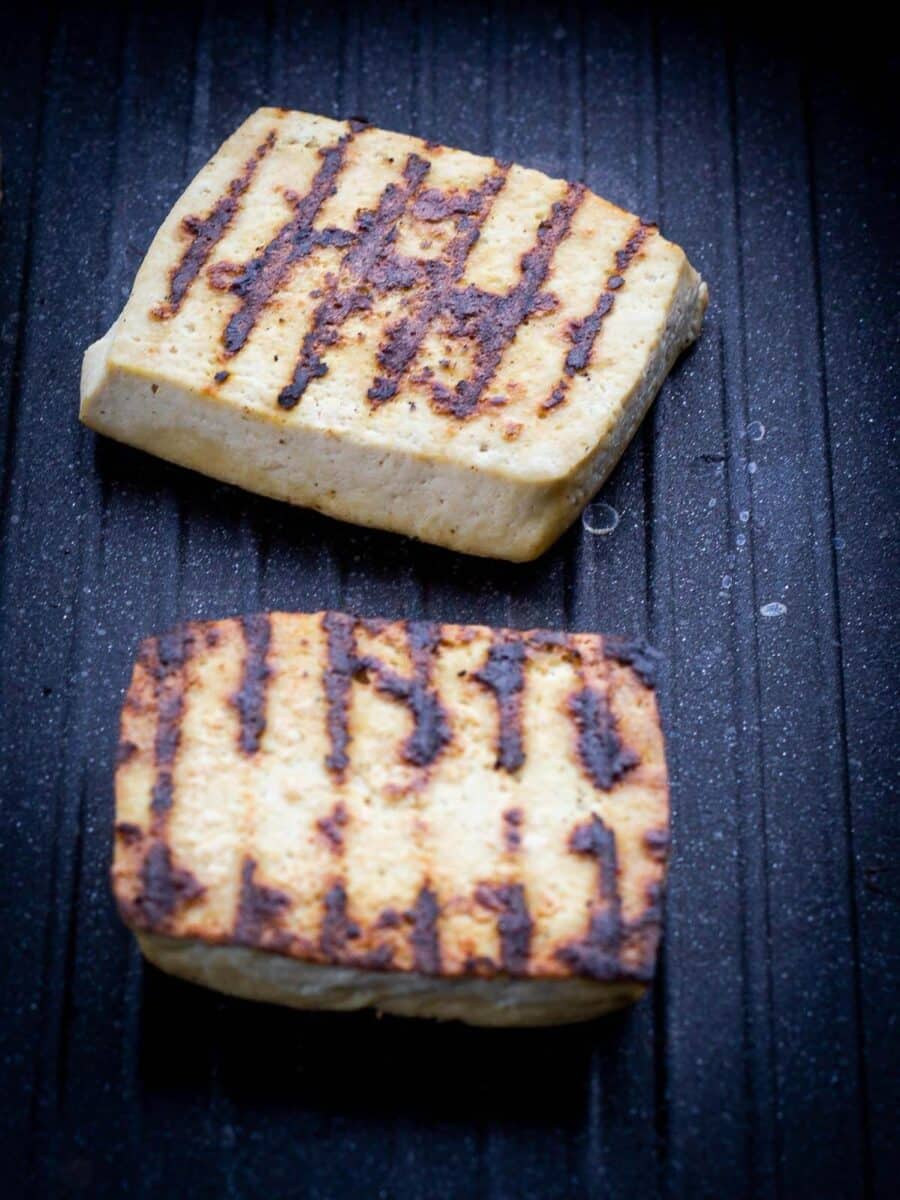 These two qualities make Tofu the perfect ingredient to provide texture, volume, and protein to your foods, and it works both for savory and sweet recipes.
Tofu: versatile and full of healthy protein.
Plus: it can be prepared in uncountable inventive ways.
TIP: There are many transgenic soybeans products out there, so make sure you always buy Organic Certified Tofu.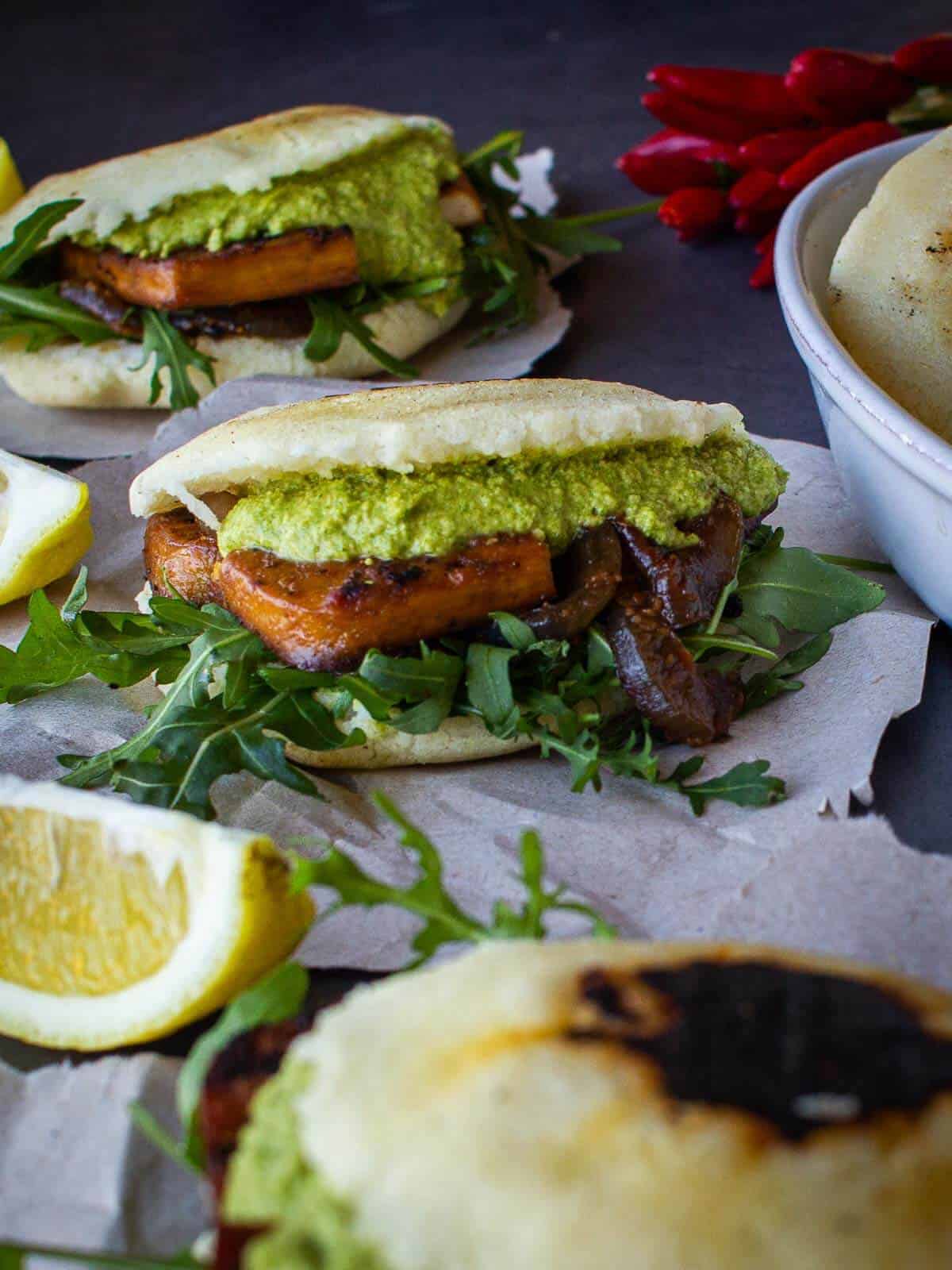 🧊 Freezing Tofu: how to prepare frozen tofu
Freezing tofu allows it to completely take on new flavors and textures, creating a unique experience. Frozen tofu also has a surprisingly meaty texture. But there is one major problem with this method:
It takes forever.
You probably don't want to wait that long, and neither did I. So I tried several methods to speed up the freezing process. Here they are:
Freeze Tofu in Water
Buy a large block of tofu (not pre-fried) and cut it into smaller blocks, each about 1 inch thick. Then place them in a large glass or metal bowl and completely cover the tofu with water. Freeze it for 3 to 5 hours.
This method is faster than leaving it out overnight but will not yield as meaty a texture as those that follow.
Freeze Tofu with Weight
Place the tofu block on a baking sheet, place something heavy (like a book or one of those large decorative stones) on top, and press the tofu for 15 minutes.
You can also use a tofu press.
I like chopping the block into smaller pieces first to freeze faster. Freeze overnight.
This is by far my favorite method for freezing tofu because it creates the meatiest texture. I think the blocks freeze faster because the surface area is smaller.
Freeze Tofu with Airtight Container
This method requires just a bit of extra time but works almost as fast as placing it under something heavy. First, chop up the tofu into small cubes or rectangles about ½-inch thick.
Then place them in an airtight container (I like to use Tupperware or Ziploc bags). Don't fill the container because the tofu will expand as it freezes. Freeze for 3-5 hours.
This method works, but somewhat inconsistently compared to those listed first. I've found that it happens much more quickly if you do not leave any space in the container and do not chop your tofu into small cubes.
I don't like to freeze my tofu this way because of these inconsistencies.
Freezing tofu is a great method for making vegan versions of dishes that would normally require meat, such as beef stew or chili. It also allows you to experiment with "meaty" recipes without the meat, such as vegan Sloppy Joes.
But who knows? The most important reason to freeze tofu is that it allows you to eat it more often! This may sound silly, but I love having access to fresh tofu whenever I want it. It's delicious and versatile. So go ahead and give these methods a try.
You will find different types of tofu, like silken, medium-firm, and extra-firm tofu; they all serve different purposes; you may want to check out some great recipes using silken tofu. We particularly love this hashbrown breakfast casserole which is fantastic for a weekend brunch or Christmas morning.
📚 Favorite tofu recipes
The best tofu recipes to stop worrying about your protein intake on a vegan diet:
If you want to know how to bake tofu like a pro, check How to Make Crispy Tofu.
If you want to pack your breakfast with protein as a pre-workout meal, go for the Best Tofu Scramble.
Tofu is great for stuffings; we love using it for our stuffed onions, vegan stuffed polenta, ravioli fillings, and pasta shells, and we make them often on special occasions!
Last but not least, you can make a fantastic vegan bolognese, that not even meat-eaters will believe; there's no meat in it.
You can even use tofu to make a healthy tofu pesto, so you don't even have to use oil, given the natural creaminess that tofu can add to the pesto sauce.
Check out our collection of Easy 25+ Chinese Tofu Recipes that will make you love tofu once and for all!
⭐ If you try this recipe, let us know! 💬 Leave a comment, rate it, and don't forget to tag us @ourplantbasedworld on Instagram. Cheers!
📋 Recipe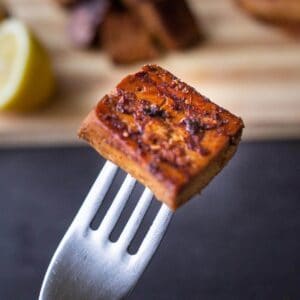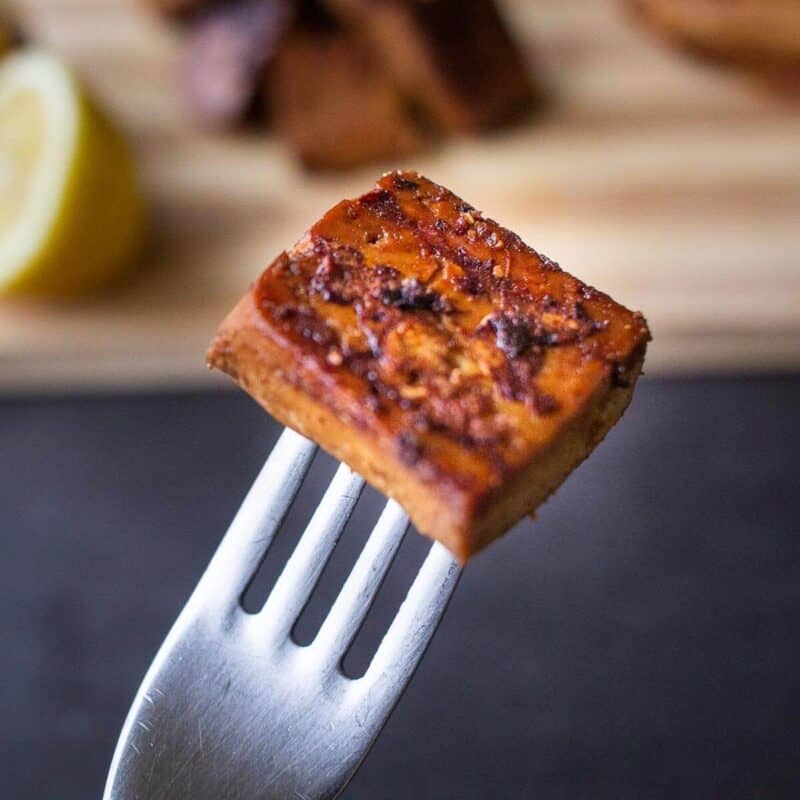 How to Prepare Tofu
How to prepare Tofu is one of the most frequent questions I am asked. Here is a quick beginner's guide!
Equipment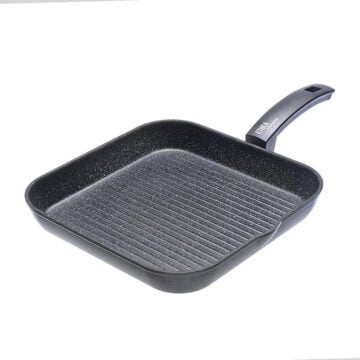 (affiliate link)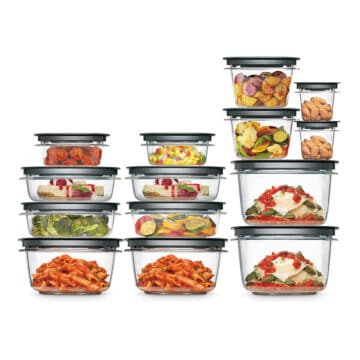 (affiliate link)
Ingredients
Optional:
1

tablespoon

avocado oil

to prevent the tofu from sticking
Directions
Cut the Tofu into squares.

Marinade. Put the squares on a Tupperware and cover half-way with half of the ingredients with the soy sauce, garlic, and ginger. I used today both powdered and fresh garlic and onion (it's never too much, is a marinade). Let it rest for 10 mins.

Flip sides and add the other half of ginger and garlic.

Wait. After 5 minutes it is ready to be grilled.

Heat a non-stick grilling pan and grill the tofu squares for 1 minute on each side. Optionally, brush the grill or saucepan to prevent it from sticking.

Add the remaining marinade before the final flip (don't do it before, because it will not stand 2 minutes at high heat and will be burned).
Nutrition Facts
Calories:
226
kcal
Carbohydrates:
43
g
Protein:
14
g
Fat:
1
g
Saturated Fat:
1
g
Sodium:
487
mg
Potassium:
39
mg
Fiber:
4
g
Sugar:
6
g
Vitamin A:
1
IU
Vitamin C:
12
mg
Calcium:
120
mg
Iron:
4
mg
Nutrition Facts
How to Prepare Tofu
Amount per Serving
% Daily Value*
* Percent Daily Values are based on a 2000 calorie diet.
🌡️ Food safety
Cook to a minimum temperature of 165 °F (74 °C)
Do not use the same utensils on cooked food that previously touched raw meat
Wash hands after touching raw meat
Don't leave food sitting out at room temperature for extended periods
Never leave cooking food unattended
Use oils with high smoking points to avoid harmful compounds
Always have good ventilation when using a gas stove
See more guidelines at USDA.gov.
The information shown is an estimate provided by an online nutrition calculator. It should not be considered a substitute for a professional nutritionist's advice. See our full Nutritional Disclosure here.
Please note that some of the links here are affiliate links, and I will earn a commission if you purchase through those links. I recommend all of the products listed because they are companies I have found helpful and trustworthy.