How to prepare tofu? This is one of the most frequent questions I am asked by friends and people inclined to decrease their meat consumption. So here is a quick tip!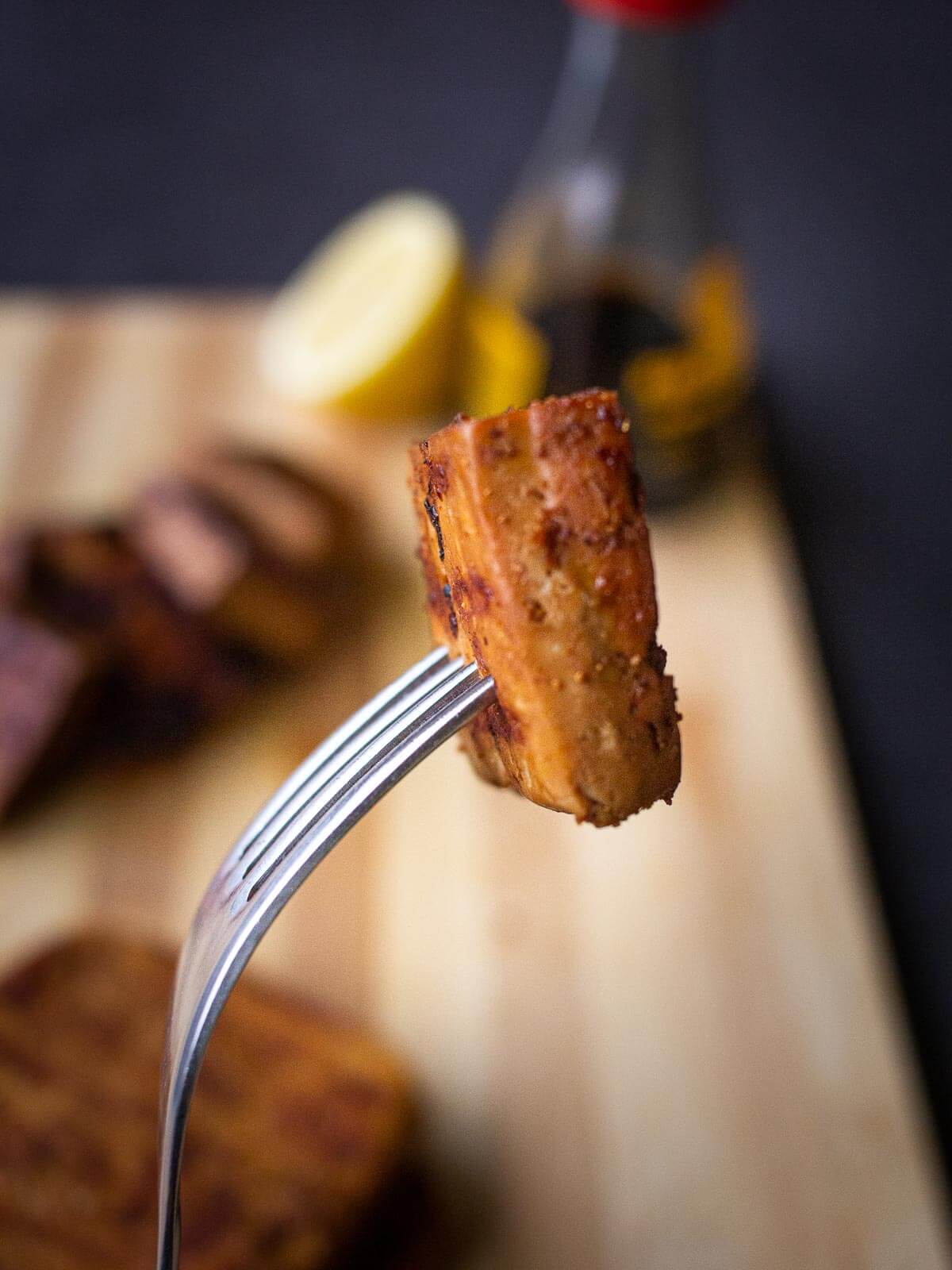 When I first tried tofu, it was certainly not love at first sight. However, I did not hate either; I have always been curious about healthy foods.
The fact that it lacked flavor was a downer for me, but it was the same characteristic, the one that I learned later to love.
Tofu doesn't have a taste; it's like a blank canvas. It takes the taste you give it. It is a versatile ingredient for its lack of taste and the multiple texture and presentations you can find in the market.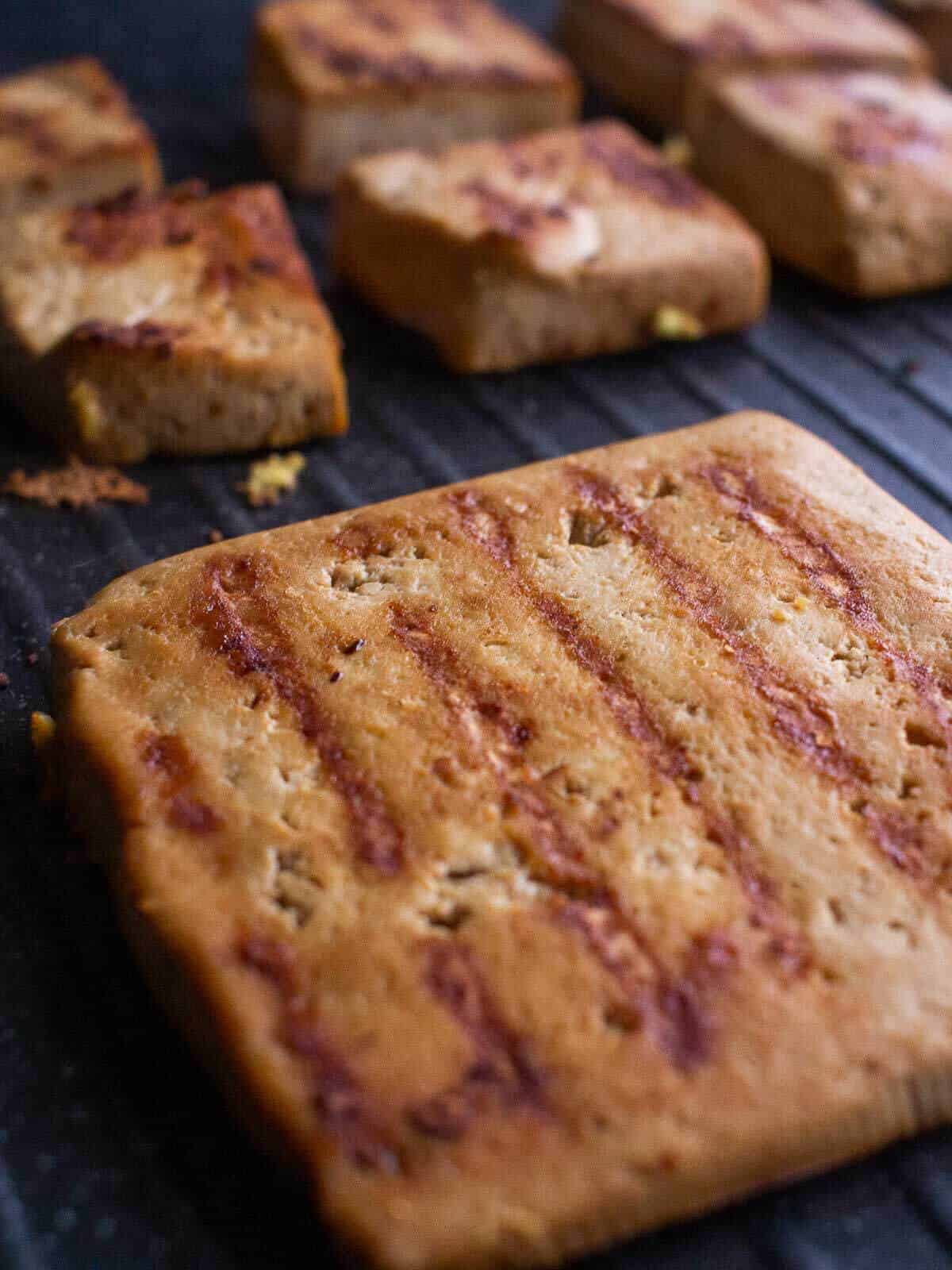 My top 5 ways
Start it off by cutting it up in cubes before adding it to your favorite sauces.

Vegan Egg Sub. When I make a decadent weekend brunch. Crumble it up and seasoned it with your regular seasoning for eggs. You can use a mix of spices like thyme, garlic, turmeric, and onion powder. Use the Nutritional Yeast, cut up red and green bell peppers, onions, garlic, and enjoy! You can use this Tofu Scramble Recipe; you'll surely love it.
As the base to make stuffing for veggies or filled pasta. See: Stuffed Onions and Stuffed Shell Pasta Recipes
Grilled. I grill plain extra-firm Tofu layers at high heat for one minute on each side and reserving and adding them to a Thai Curry five minutes before it is ready. They absorb all the curry's flavor and texture from the grilling.
Breaded in polenta and then baked. (I will soon post a recipe showcasing this option). Subscribe to receive a notification.
Marinated and grilled. Like on this recipe. Great for BBQs and as chunks for a Protein Salad and Buddha Bowls. These also make an excellent filling for Vegan Arepas.
Crispy Tofu! As an appetizer or topping for a curry recipe, such as this Indian Eggplant Curry.
If you are looking for Meat texture: if you are a beginner, season it like you would season meat or chicken after adding an oil base (something like olive oil or vegan butter); oils carry flavor. And then bake it in the oven until desired texture, then add it to your favorite sauce. And you will have a layer of flavor.
Play with it, be creative. Remember: Tofu is a White Canvas!
Ingredients
3 Ingredients for a tofu stir fry marinade with easily found ingredients.
Low-Sodium Soy Sauce or Tamari Soy Sauce (Organic Gluten-Free Reduced Sodium).
Freshly Ground Garlic or Garlic /Onion Powder.
Fresh Ginger or powder.
Optionally, brush the grill or saucepan to prevent it from sticking.
See quantities and full instructions in the recipe card.
Remember that regular soy sauce contains gluten. Therefore, you need to look for Gluten-Free Soy Sauce or Tamari to keep this recipe Gluten-Free.
Instructions
Cut the Tofu into medium or stake-sized squares.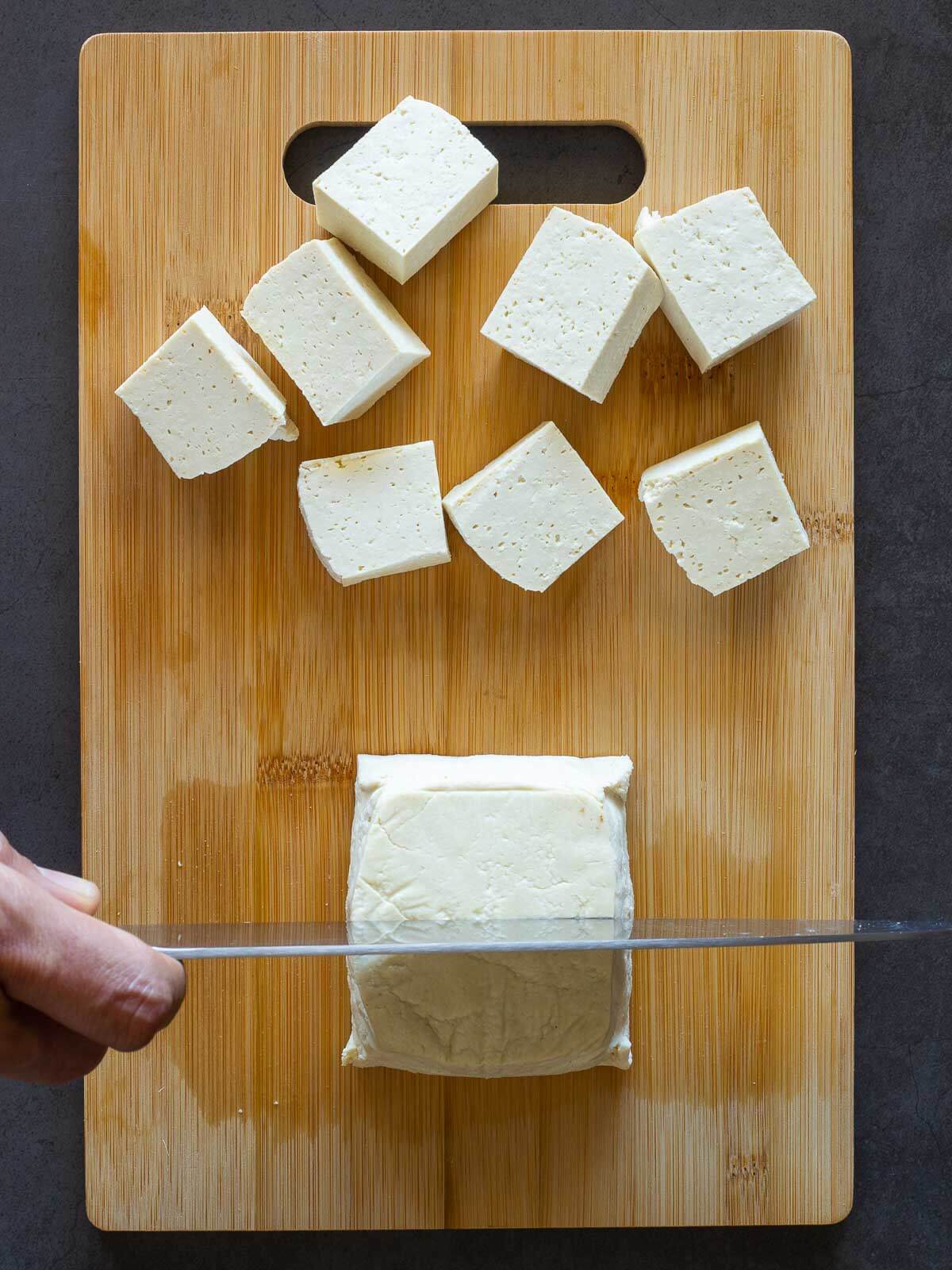 Put the squares on Tupperware and cover halfway with half of the ingredients with the soy sauce or tamari.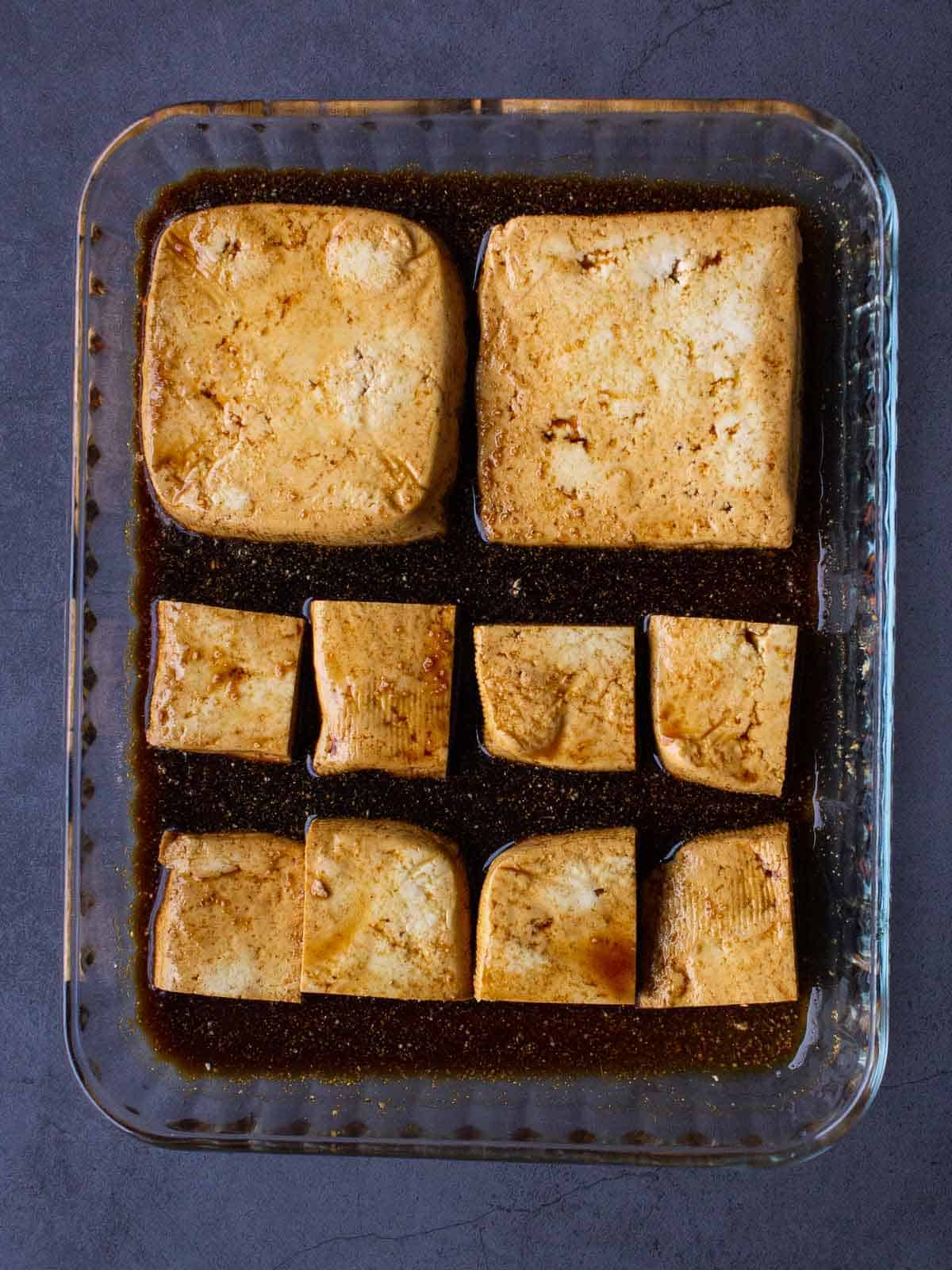 Add your choice of fresh grind garlic, or onion/garlic powder.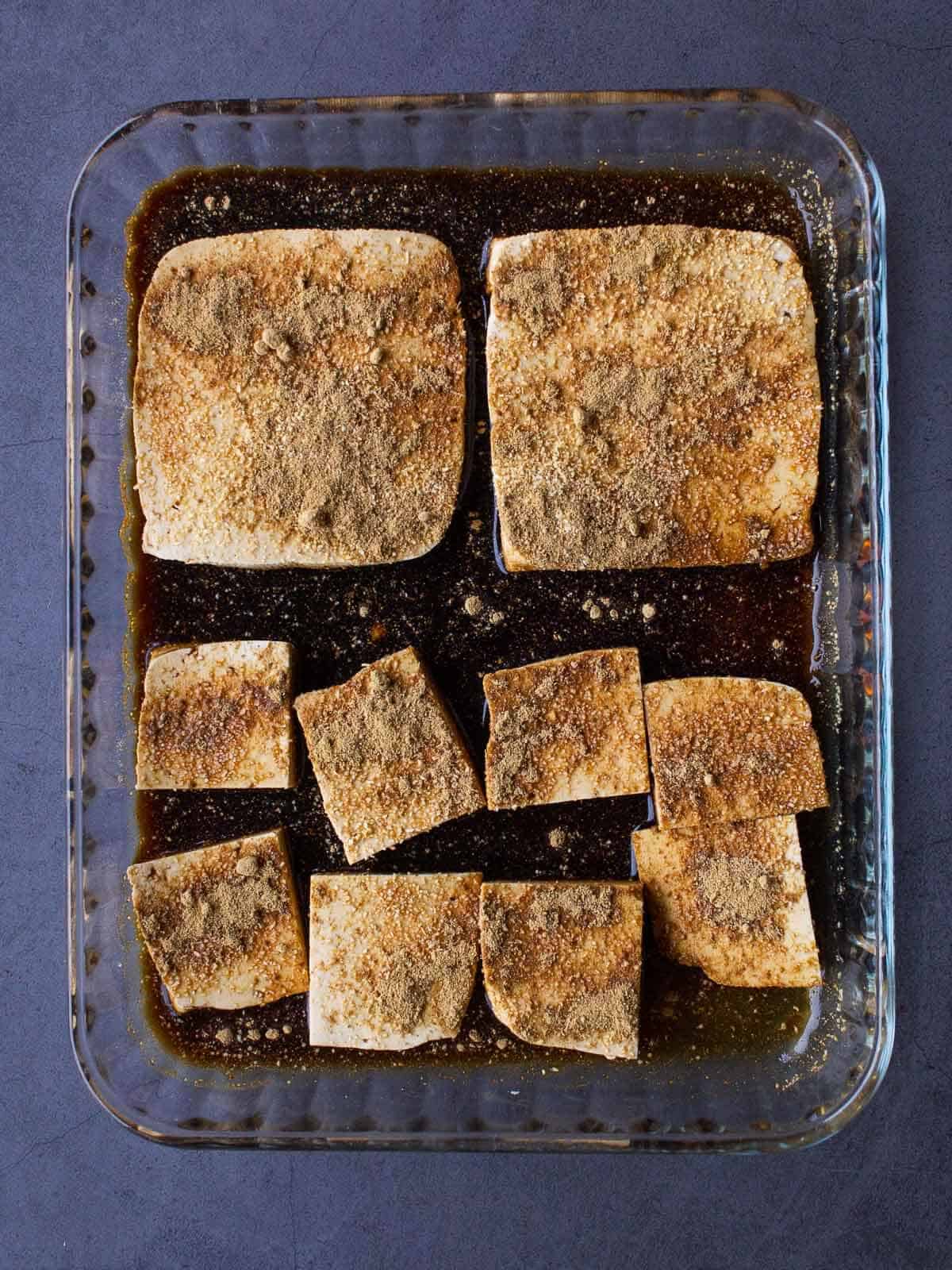 Flip the sides and add the fresh grated ginger or powder. Cover and store for 5 minutes or more. Ideally 15 minutes.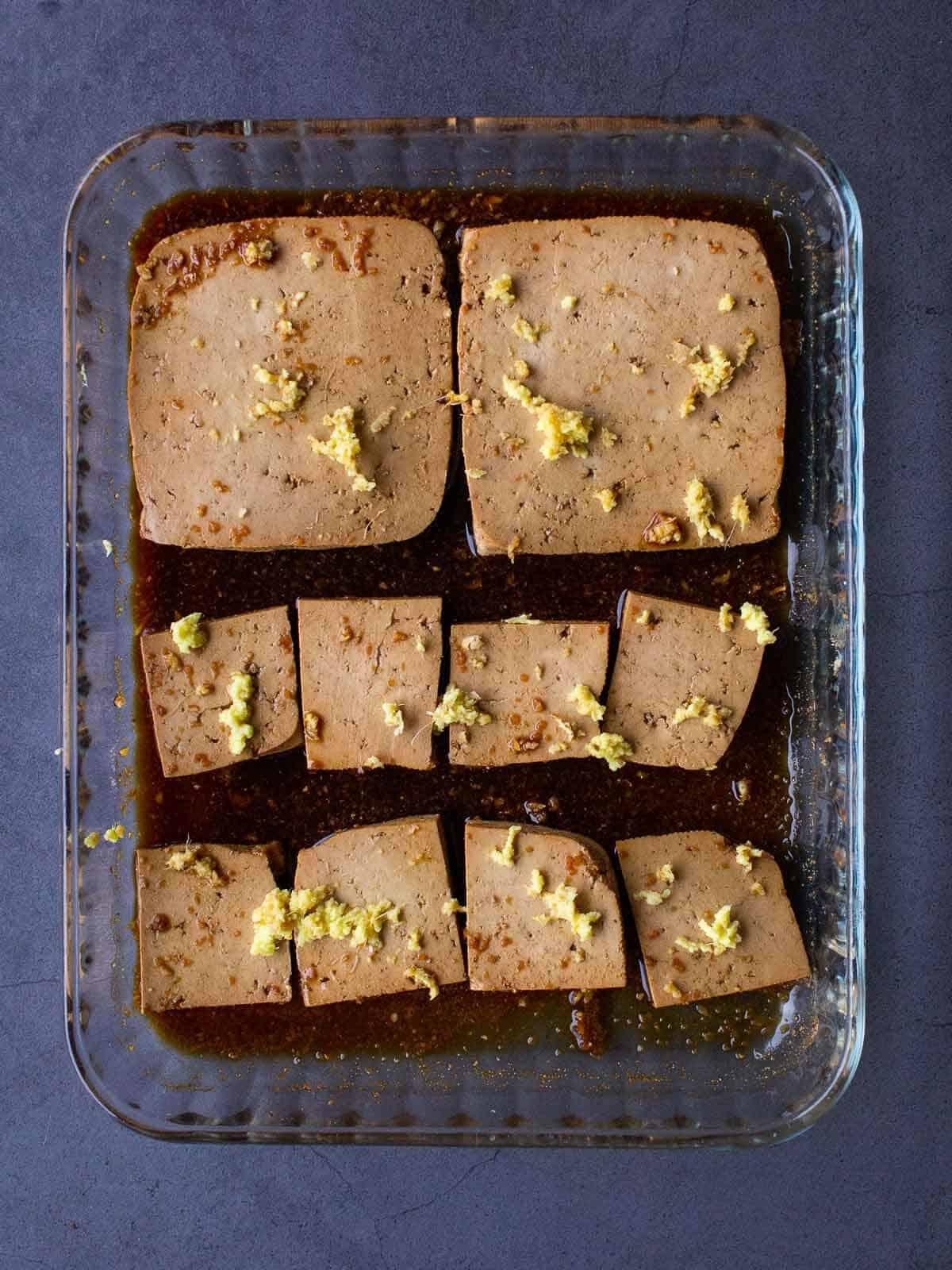 After 5 minutes, place them on a Grill. Cook them for one minute on each side (Optionally, brush the grill or saucepan with oil to prevent it from sticking).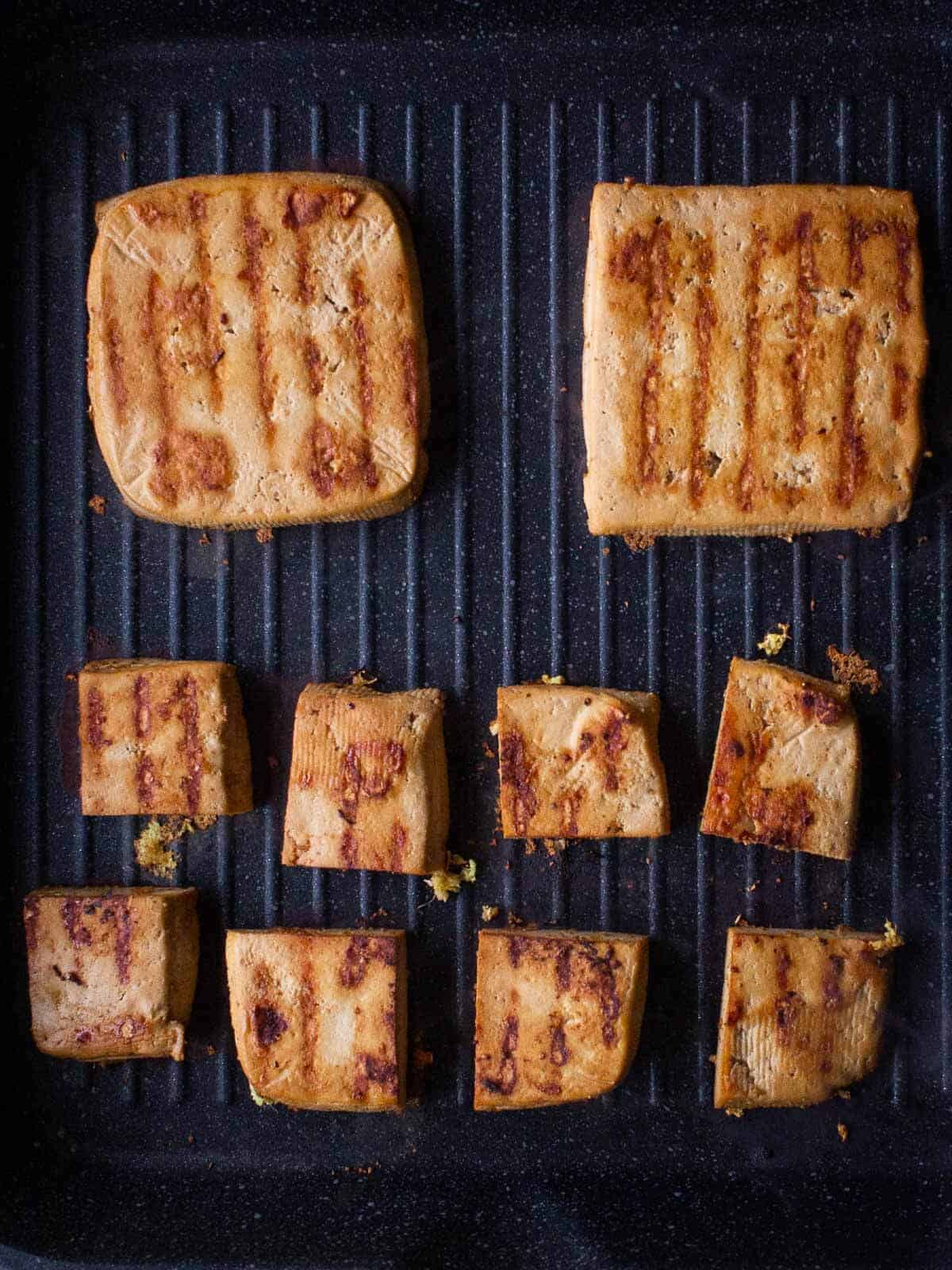 Flip the tofu "stakes" and pour any remaining marinade juices or save them to sauté onion rings (as suggested in our Vegan Arepas recipe, which used these tofu stakes as filling). Cook for an extra minute or two on medium-high heat. Ready!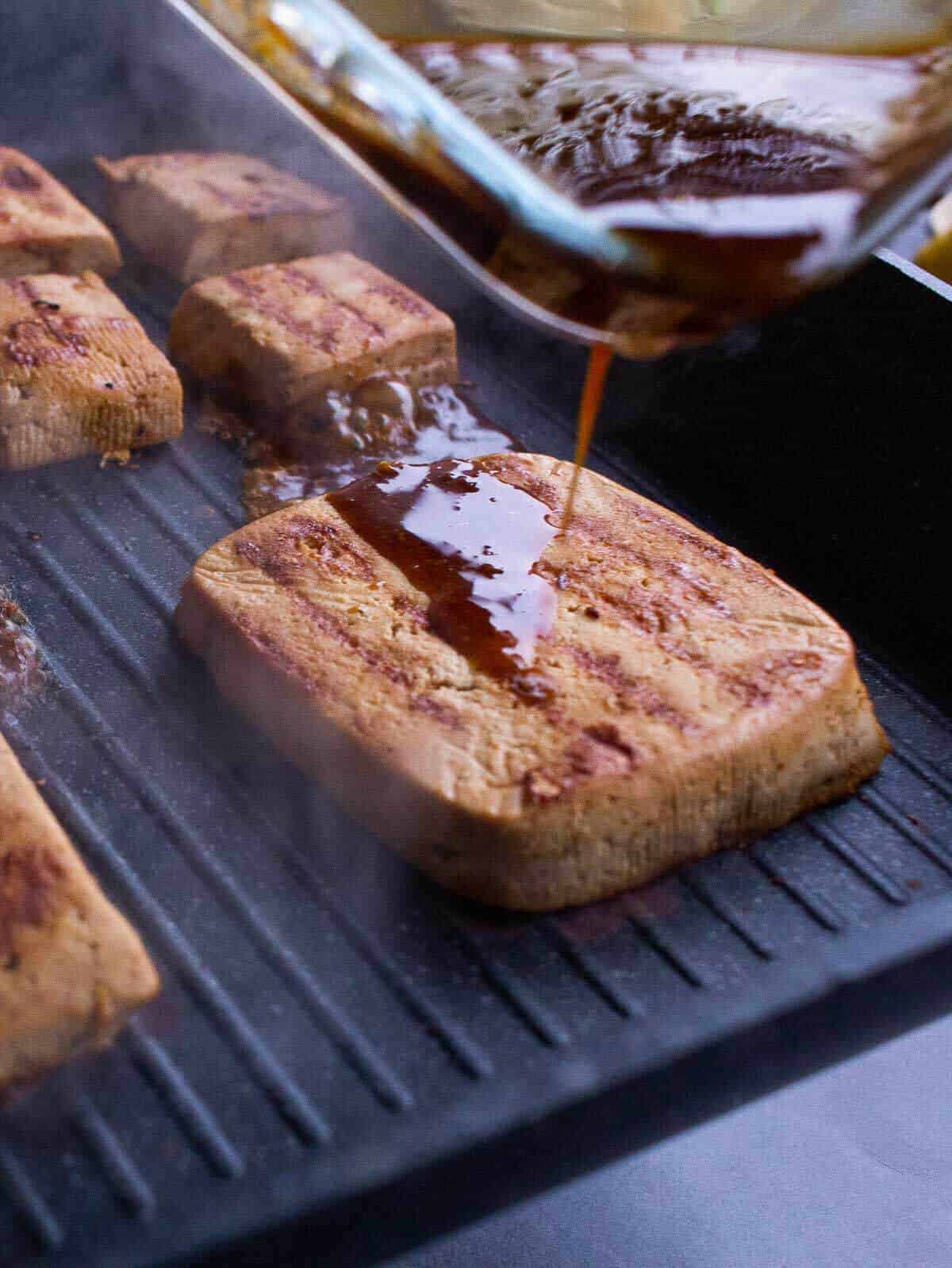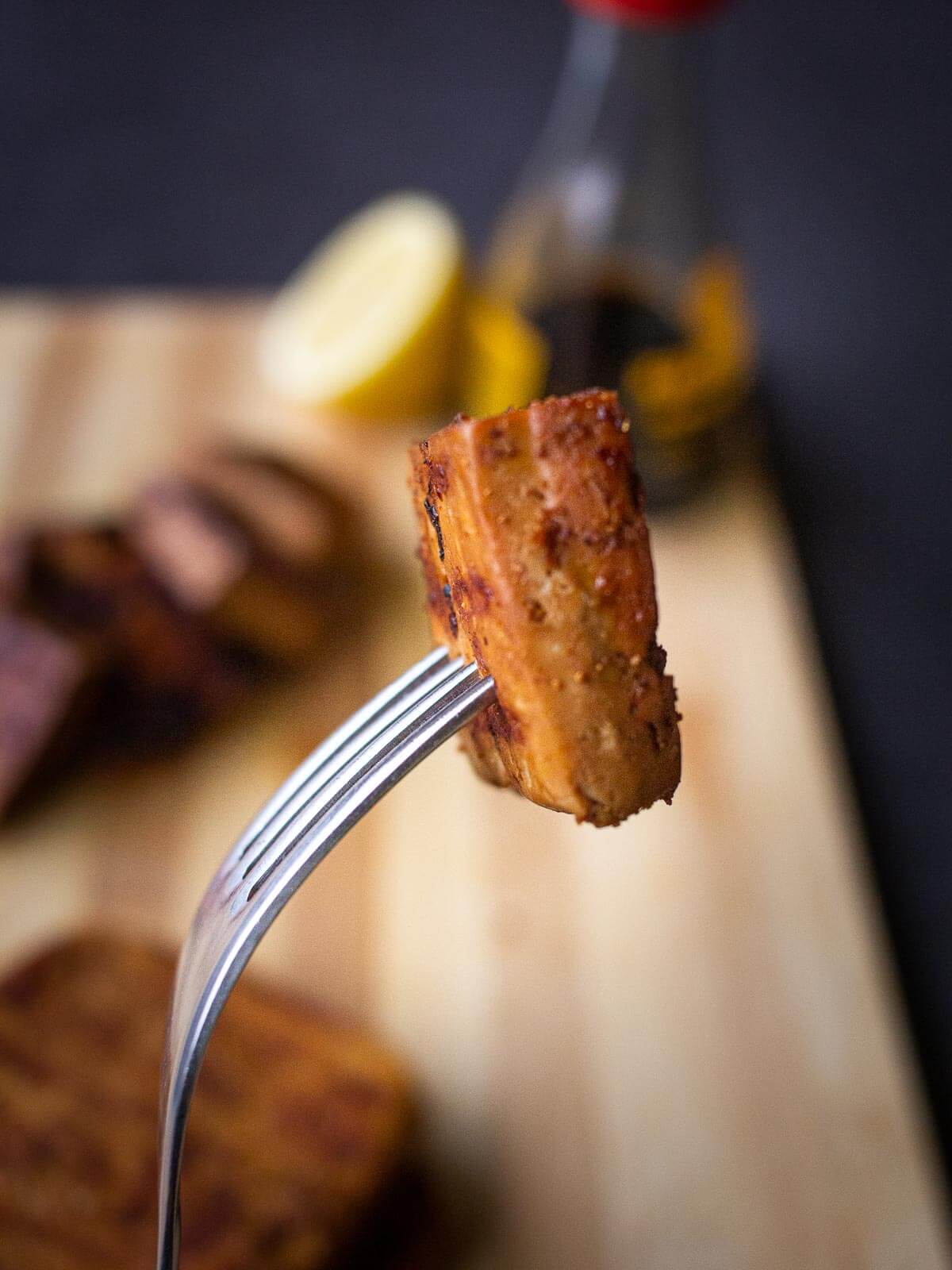 If you are looking into a Crispy Tofu texture to add to your Thai Curries instead of grilled, don't forget to check out this recipe!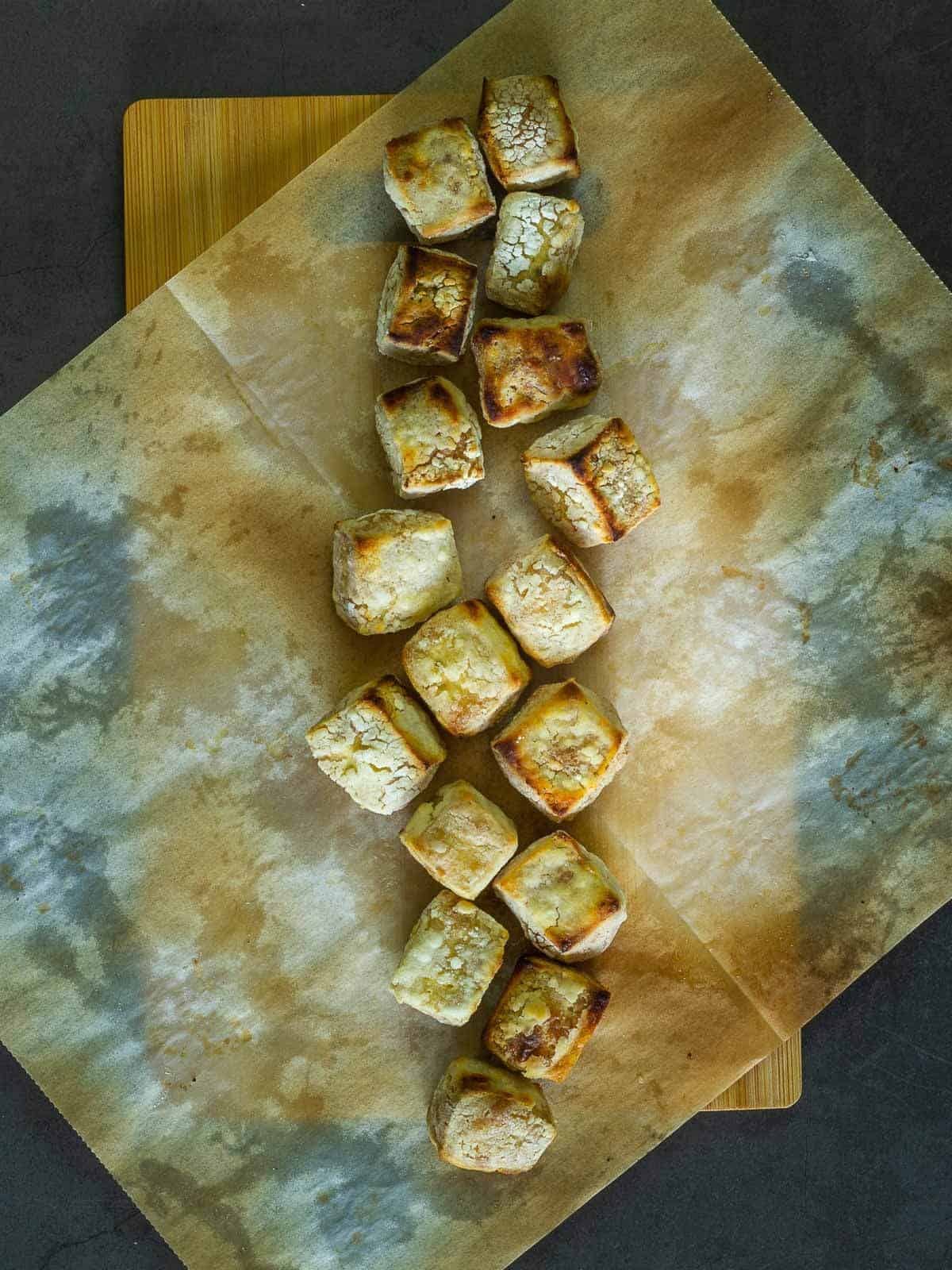 Do you have to cook tofu?
The Answer is No, you don't, but in my opinion, cooking tofu makes its texture better, and also, you get to add more seasonings to enhance its flavor.
So here is how to prepare tofu in a pan or a grill. Just cut the tofu in the desired shape, preheat the pan on high heat for one to two minutes and then cook the tofu for one minute on each side. You can add a teaspoon of oil to the pan if your pan isn't a non-stick one.
That's it! That's how to prepare tofu in a pan in its simplest form.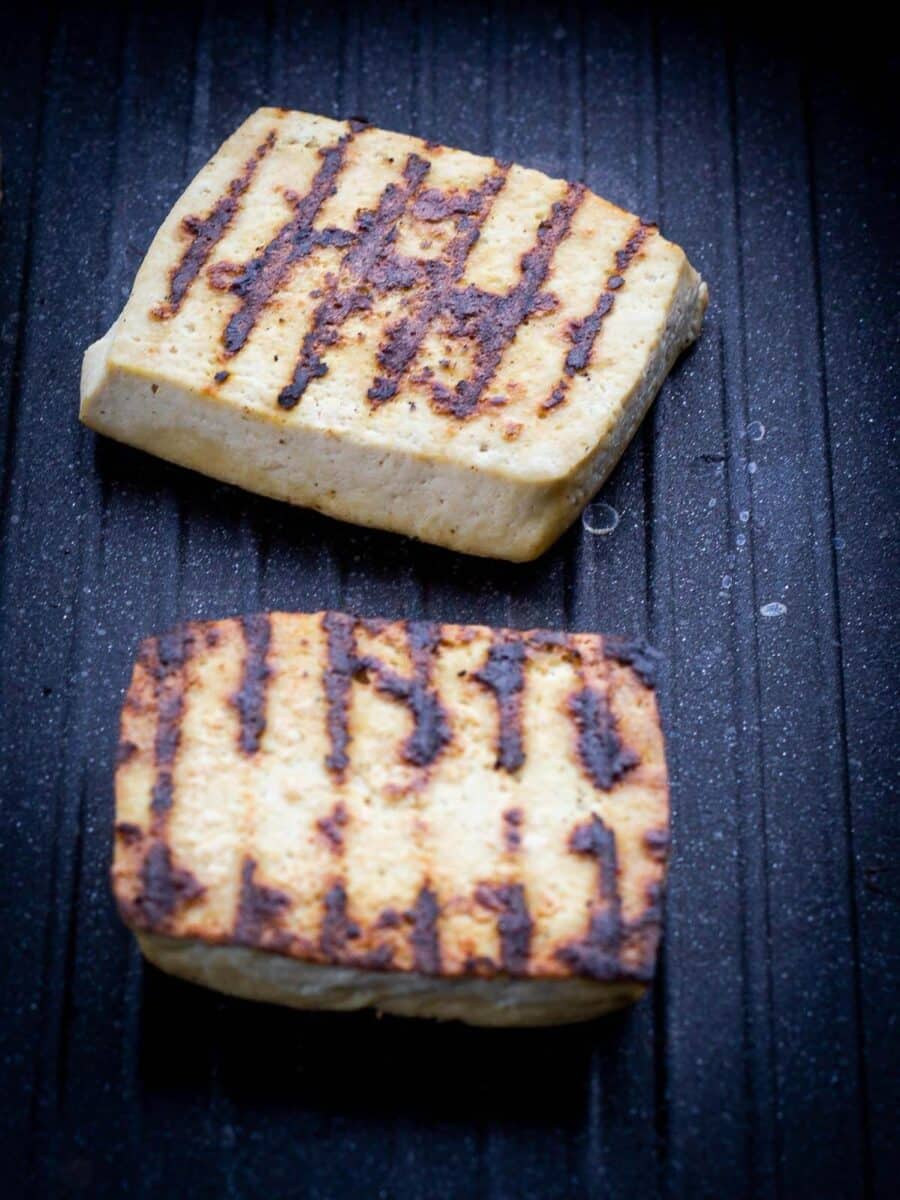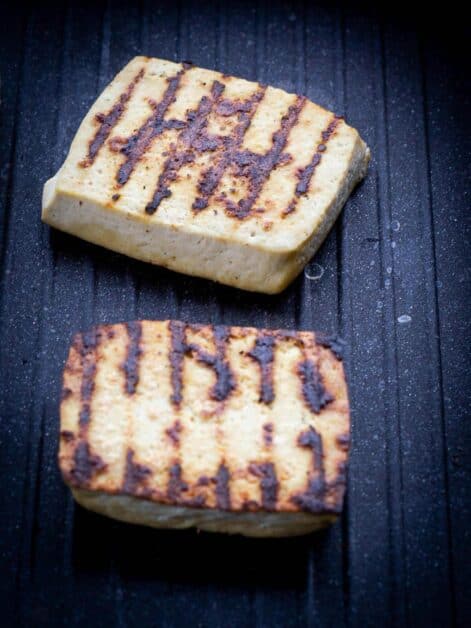 These two qualities make Tofu the perfect ingredient to provide texture, volume, and protein to your foods, and it works both for savory and sweet recipes.
Tofu: versatile and full of healthy protein.
Plus: can be prepared in uncountable inventive ways.
TIP: There are many transgenic soybeans products out there, so make sure you always buy Organic Certified Tofu.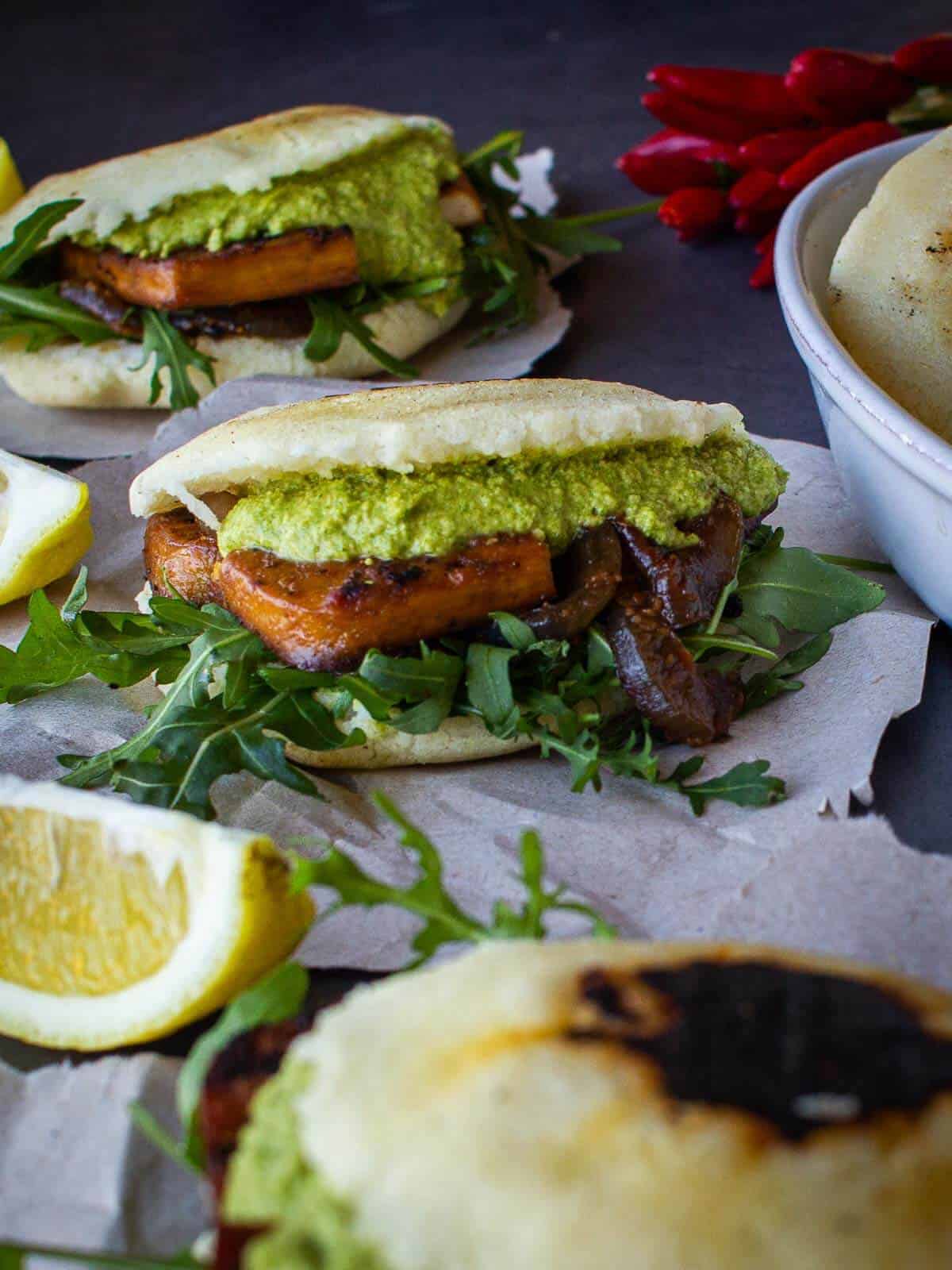 Recipes using Tofu
If you try this recipe, let us know! Leave a comment, rate it, and don't forget to tag a photo #ourplantbasedworld on Instagram. Cheers!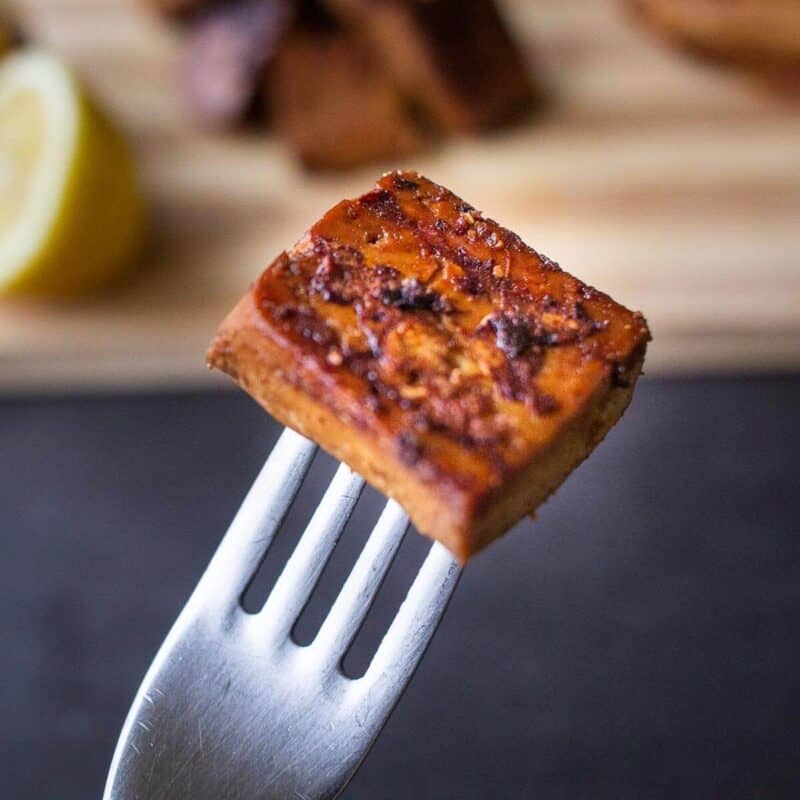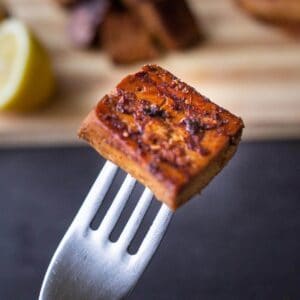 Recipe: How to Prepare Tofu
How to prepare Tofu is one of the most frequent questions I am asked. Here is a quick beginner's guide!
Ingredients
Optional:
1

tablespoon

avocado oil

to prevent teh tofu from sticking
Instructions
Cut the Tofu into squares.

Marinade. Put the squares on a Tupperware and cover half-way with half of the ingredients with the soy sauce, garlic, and ginger. I used today both powdered and fresh garlic and onion (it's never too much, is a marinade). Let it rest for 10 mins.

¼ cup soy sauce

,

2 garlic cloves grated

,

2 tablespoons ginger

Flip sides and add the other half of ginger and garlic.

2 garlic cloves grated

,

2 tablespoons ginger

Wait. After 5 minutes it is ready to be grilled.

Heat a non-stick grilling pan and grill the tofu squares for 1 minute on each side. Optionally, brush the grill or saucepan to prevent it from sticking.

Add the remaining marinade before the final flip (don't do it before, because it will not stand 2 minutes at high heat and will be burned).
Nutrition
Calories:
226
kcal
Carbohydrates:
43
g
Protein:
14
g
Fat:
1
g
Saturated Fat:
1
g
Sodium:
487
mg
Potassium:
39
mg
Fiber:
4
g
Sugar:
6
g
Vitamin A:
1
IU
Vitamin C:
12
mg
Calcium:
120
mg
Iron:
4
mg
Nutrition Facts
Recipe: How to Prepare Tofu
Amount per Serving
% Daily Value*
* Percent Daily Values are based on a 2000 calorie diet.
Food safety
We sometimes take for granted that we have years (or decades) of cooking experience that the average visitor may not. Add to, or remove from, the list below with health and safety tips.
Cook to a minimum temperature of 165 °F (74 °C)
Do not use the same utensils on cooked food, that previously touched raw meat
Wash hands after touching raw meat
Don't leave food sitting out at room temperature for extended periods
Never leave cooking food unattended
Use oils with high smoking point to avoid harmful compounds
Always have good ventilation when using a gas stove
See more guidelines at USDA.gov.
The information shown is an estimate provided by an online nutrition calculator. It should not be considered a substitute for a professional nutritionist's advice. See our full Nutritional Disclosure here.
Please note that some of the links here are affiliate links and I will earn a commission if you purchase through those links. I use all of the products listed and recommend them because they are companies that I have found helpful and trustworthy.