I'm here to share with you a quick and easy recipe for vegan empanadas dough. It's perfect for your next party! Being Argentinean and living in Italy, we really miss the great "Empanadas Argentinas." This Vegan Empanadas Dough Recipe is easy to make and ready in minutes.
Empanadas are a great appetizer or side dish. They can be filled with anything and can be eaten at any time of day. They're also great as the main dish for your next gathering!
Vegan Dough
There are many different kinds of these mildly puffy savory pastries. In a way, they are very close to the pizzas as the principle to make vegan empanadas is the same: dough plus getting creative with the garnishing/filling.
Other Empanada Recipes
You may be surprised at how easy it is to create vegan recipes that are not only healthy but also delicious.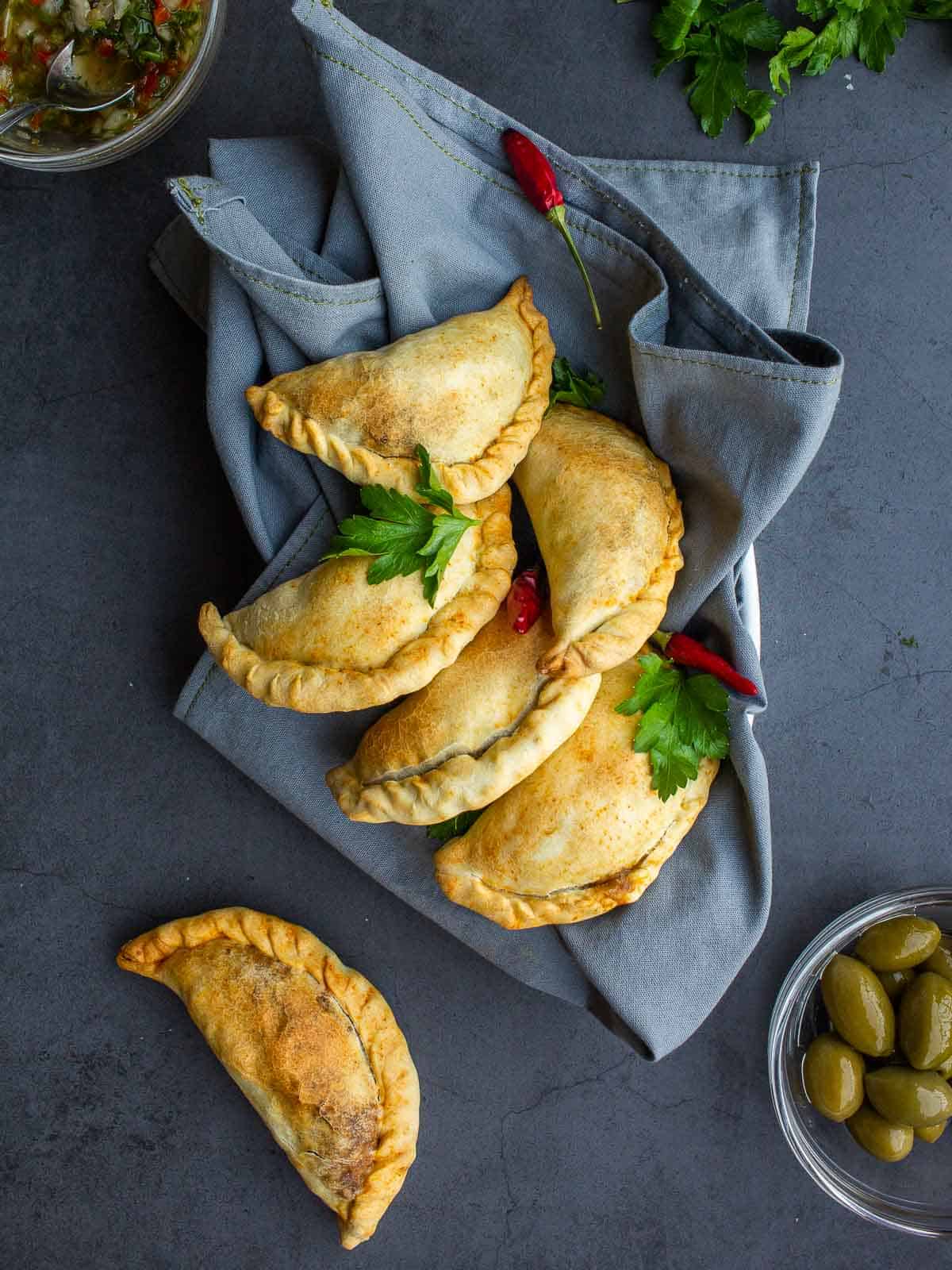 Try our empanada recipes: vegan lentil filling, our mushroom filling, and when feel like the classic Argentinean Meat empanadas, we use our Vegan Ragout, to fill up these delicious hand pies.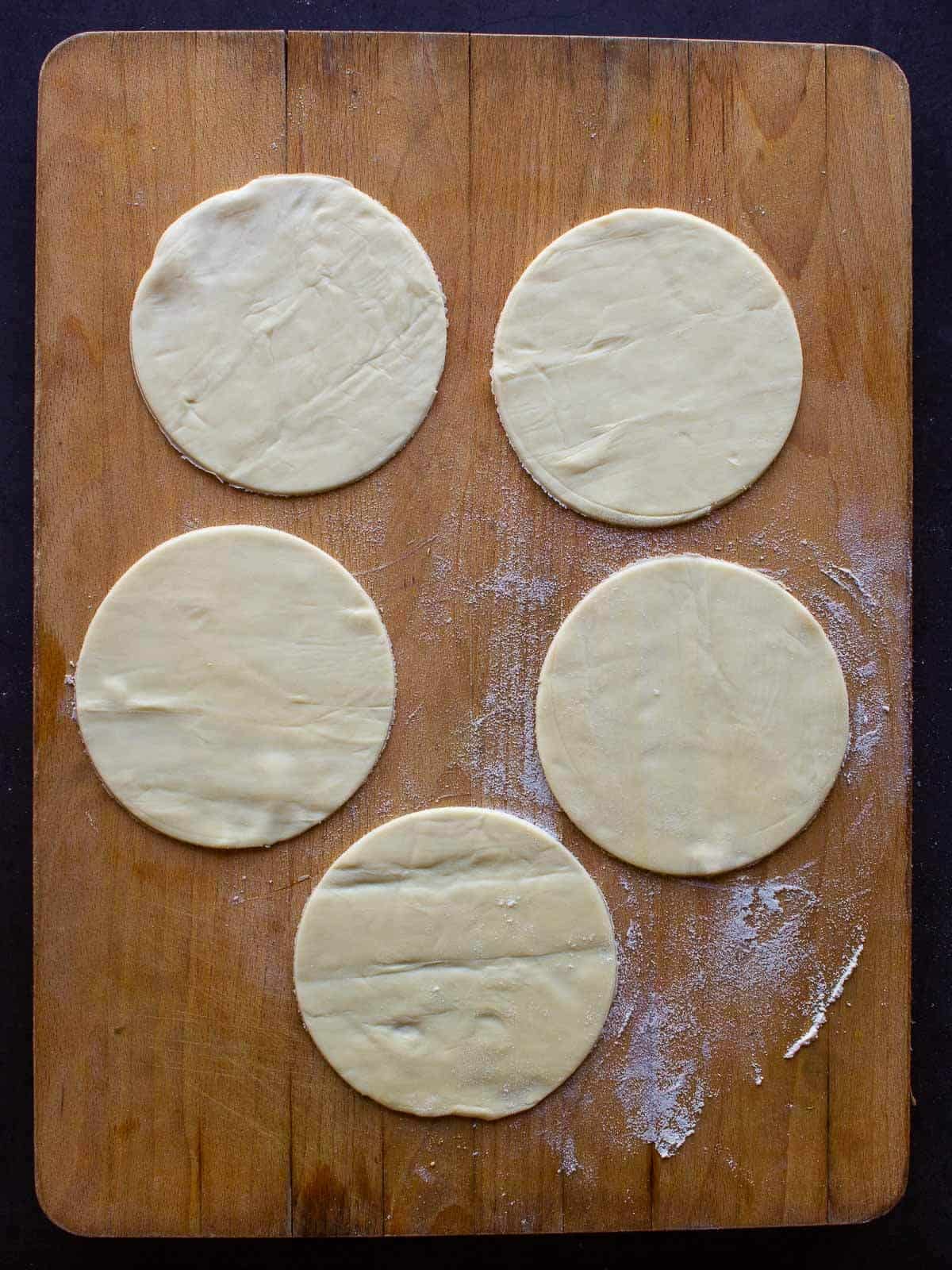 This is not the extra puffy and buttery kind but the drier, and not oily version, which we like better.
Ingredients
Dough Ingredients
In the same way that empanadas are a favorite snack in my family, empanada dough has always been a staple for me. In all the empanadas recipes I've ever made, there's one thing that's been missing: empanada dough without egg. Well, not anymore - I have finally found a suitable replacement...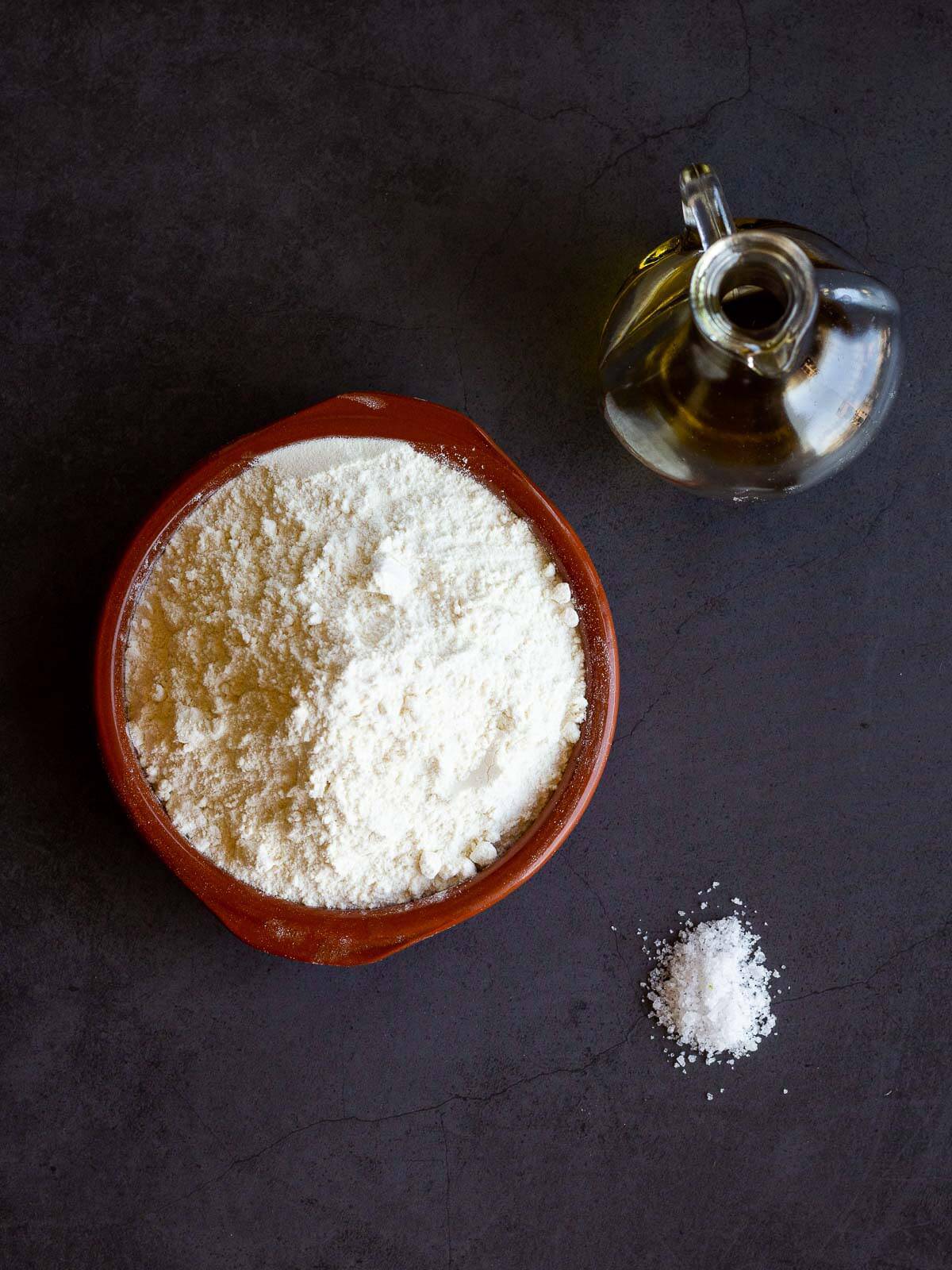 So, to make a dough without eggs, you will need the following ingredients:
All purpose flour
Olive oil
Salt
Water
That's it! See quantities in the recipe card.
Instructions
Unite all the ingredients to form a dough ball.
Knead for 5 minutes so that it is well united and tender. Cover with a plastic wrap or damp towel and let rest which will prevent the surface from drying. Let it sit for 15 minutes.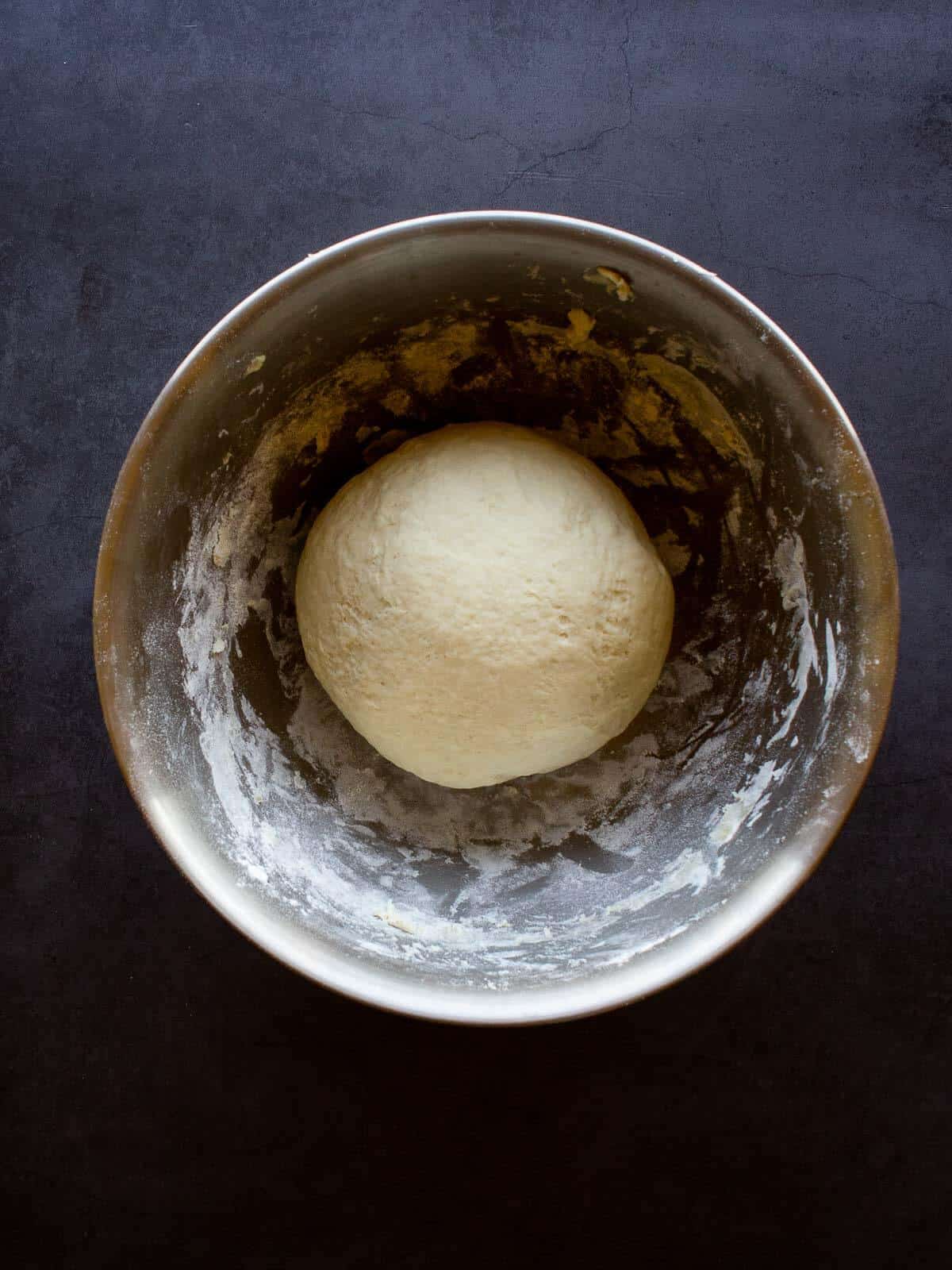 The Dough
Spread the dough with a rolling pin on a lightly floured surface with just a little bit of wheat flour.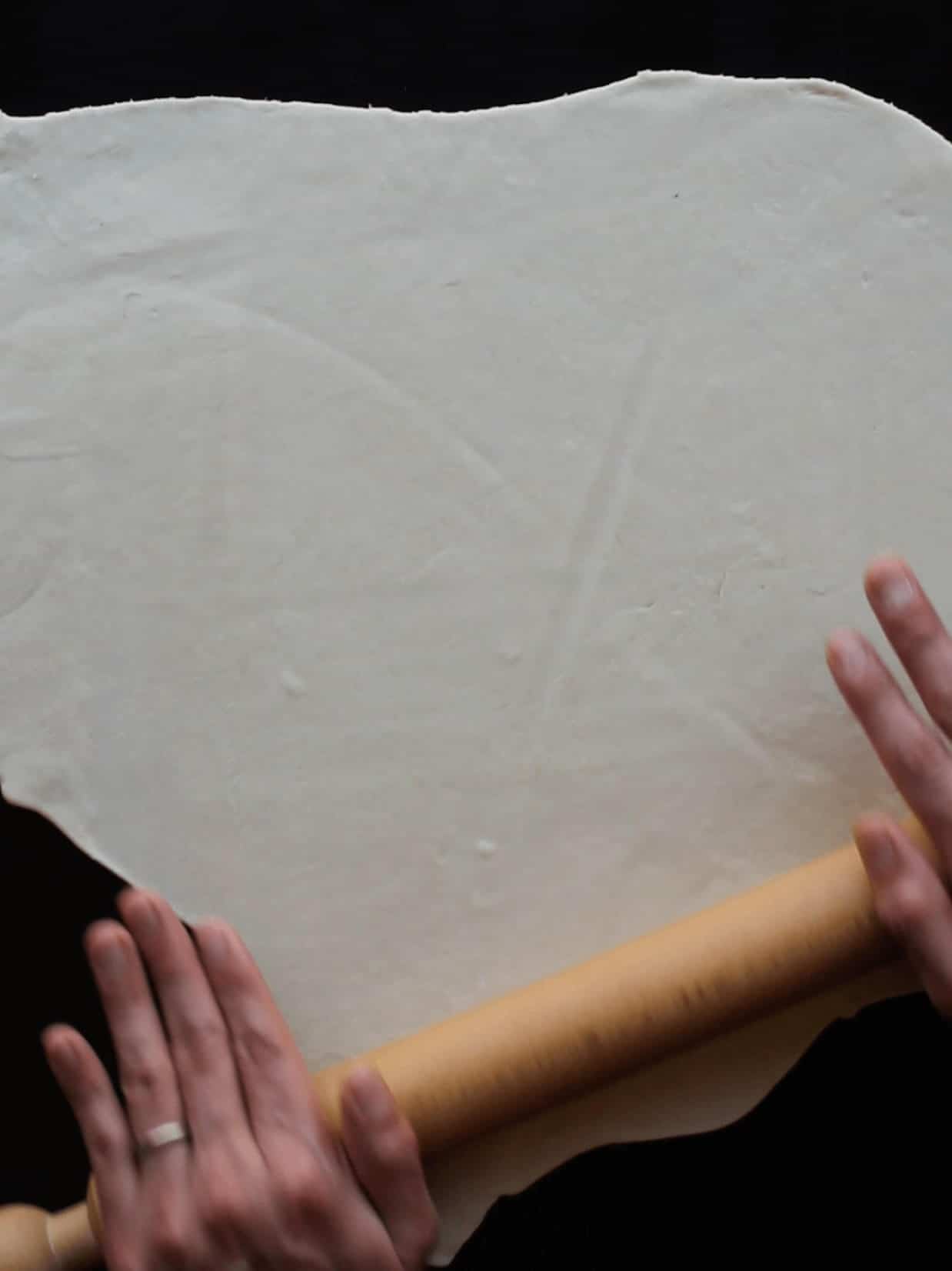 Stretching Homemade Dough
Cut the discs with a round pastry cutter or a circular bowl, making left to right, round movements.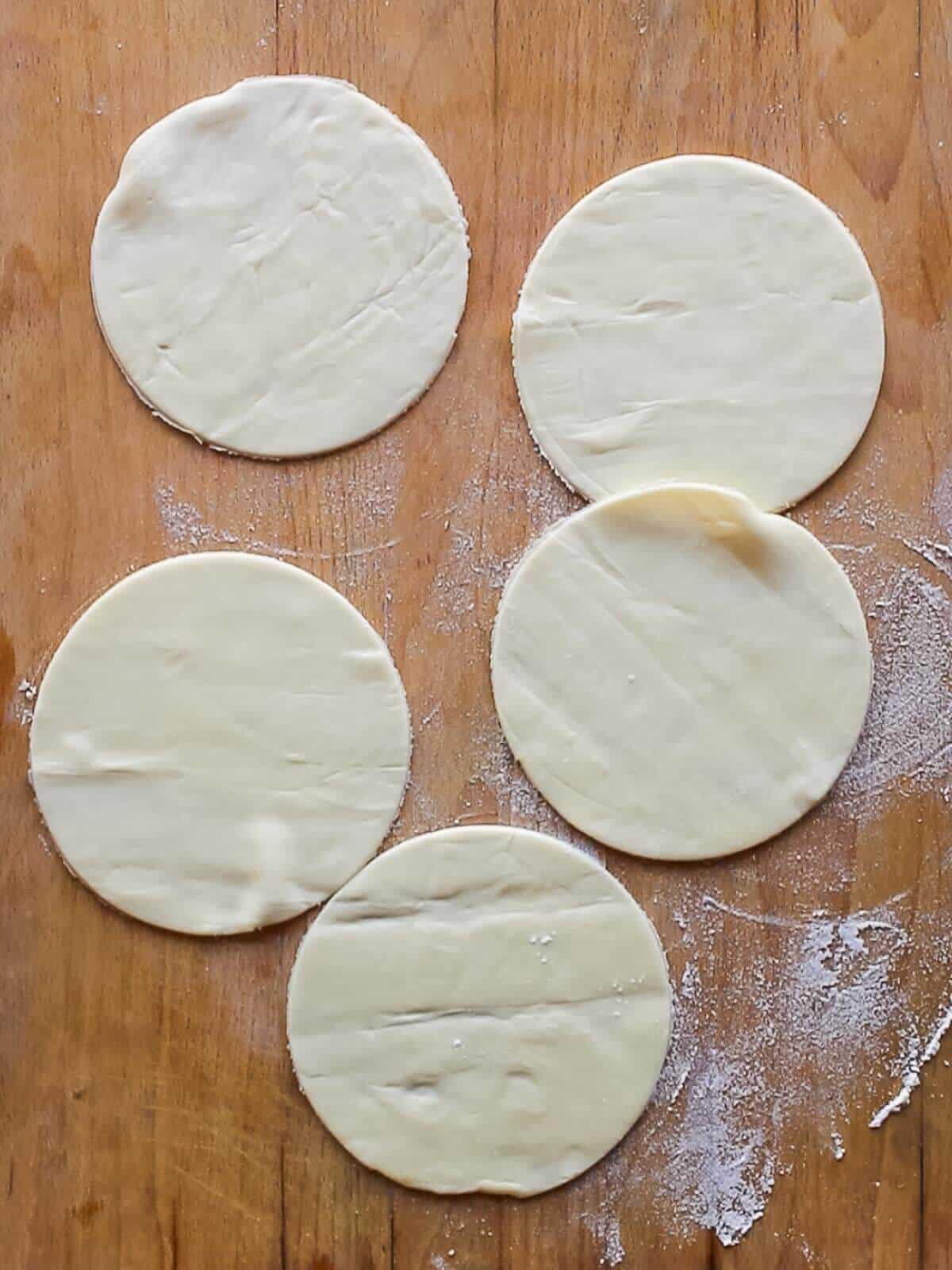 Tips
Try making the dough immediately before using it or keep it chilled in the fridge until you are about to make use of it.
Before making the empanada dough circle, lay some flour on the surface to manage them better. Also, when assembling the vegetarian empanada filling, use some flour to facilitate the handling of the discs.
Sometimes we use Whole Wheat Flour for added flavor and nutrition, the result will be a more dense flavorful dough.
You can also double the recipe and use the remaining dough for your Eggplant or Carrot pies (savory tarts). If you are looking for a pie shortcrust, we recommend using our No-roll vegan pie crust, which works both for sweet and savory baked goods.
If you notice that the borders of your vegetarian empanadas are already golden but the top of the patties still needs some cooking, lower to medium heat.
Baking powder makes dough fluffier. Add it to the dough if you want a puffier and fluffier dough.
Assembling empanadas
Make the dough as directed. You can also use pre-bought puff pastry.
Time to make the filling. This Vegan Empanada Filling is our winner: Vegan Lentil Empanadas Recipe, we also love this quicker Mushrooms filling.
Assemble the empanadas and place them on a baking sheet.
Preheat oven at 450ºF (230ºC).
Bake until golden brown.
Serve.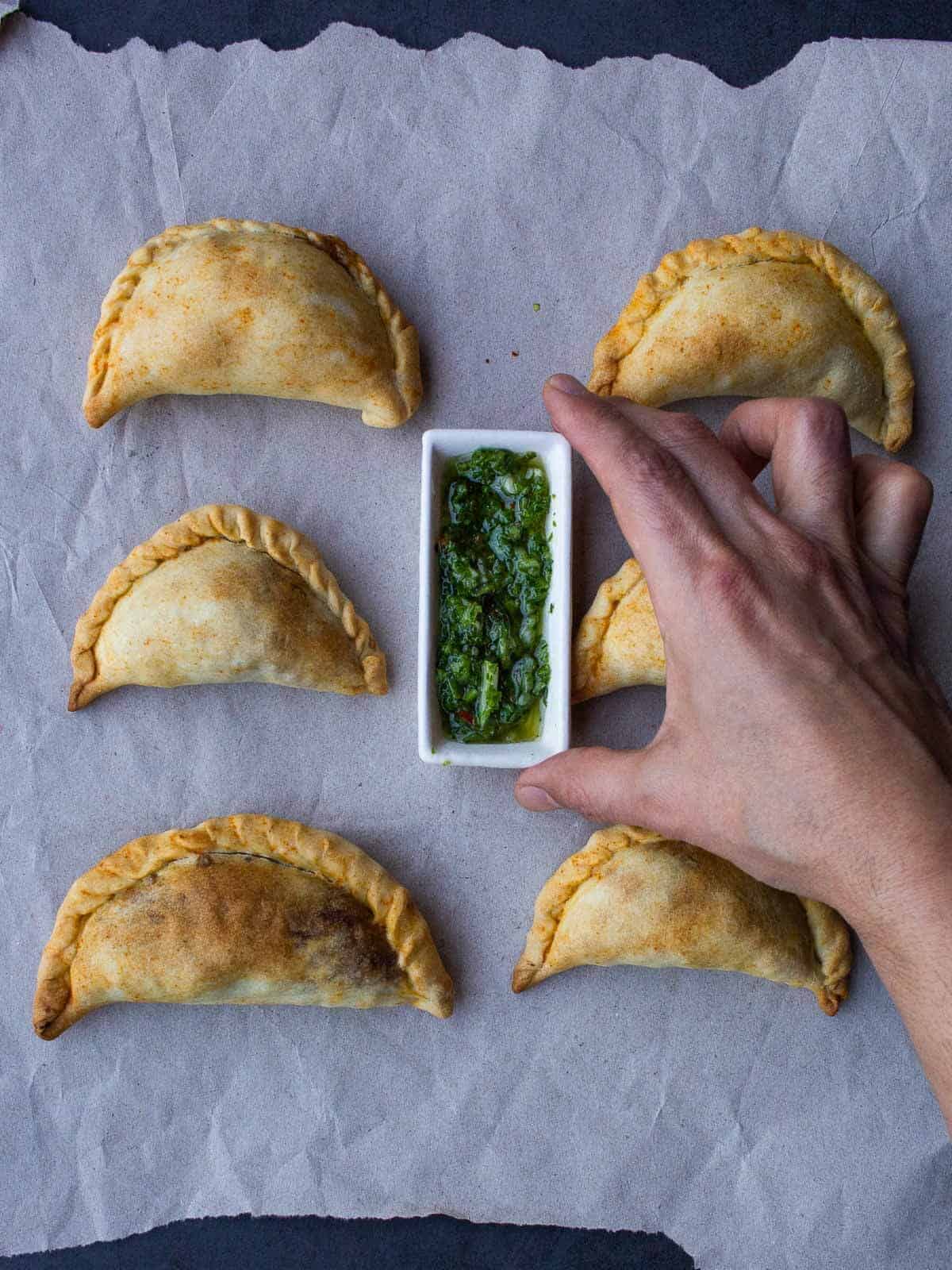 Vegan Empanada with Chimichurri Sauce
Chimichurri is a classic Argentinean sauce that's used to season meats and vegetables. It's made from red wine vinegar, olive oil mixed with garlic in addition to parsley or oregano for tons of flavor!
Make Chimichurri sauce combining all ingredients in a large bowl or jar.
Ingredients of Chimichurri Sauce
1½ fresh Italian parsley leaves
4-5 cloves garlic
⅓ fresh oregano leaves, finely chopped (or ½ t dried) – I used 3 large sprigs of thyme instead. I also use an immersion blender to blend everything.
The empanadas dough
You can find mainly two kinds of doughs, puff pastry, and regular pastry.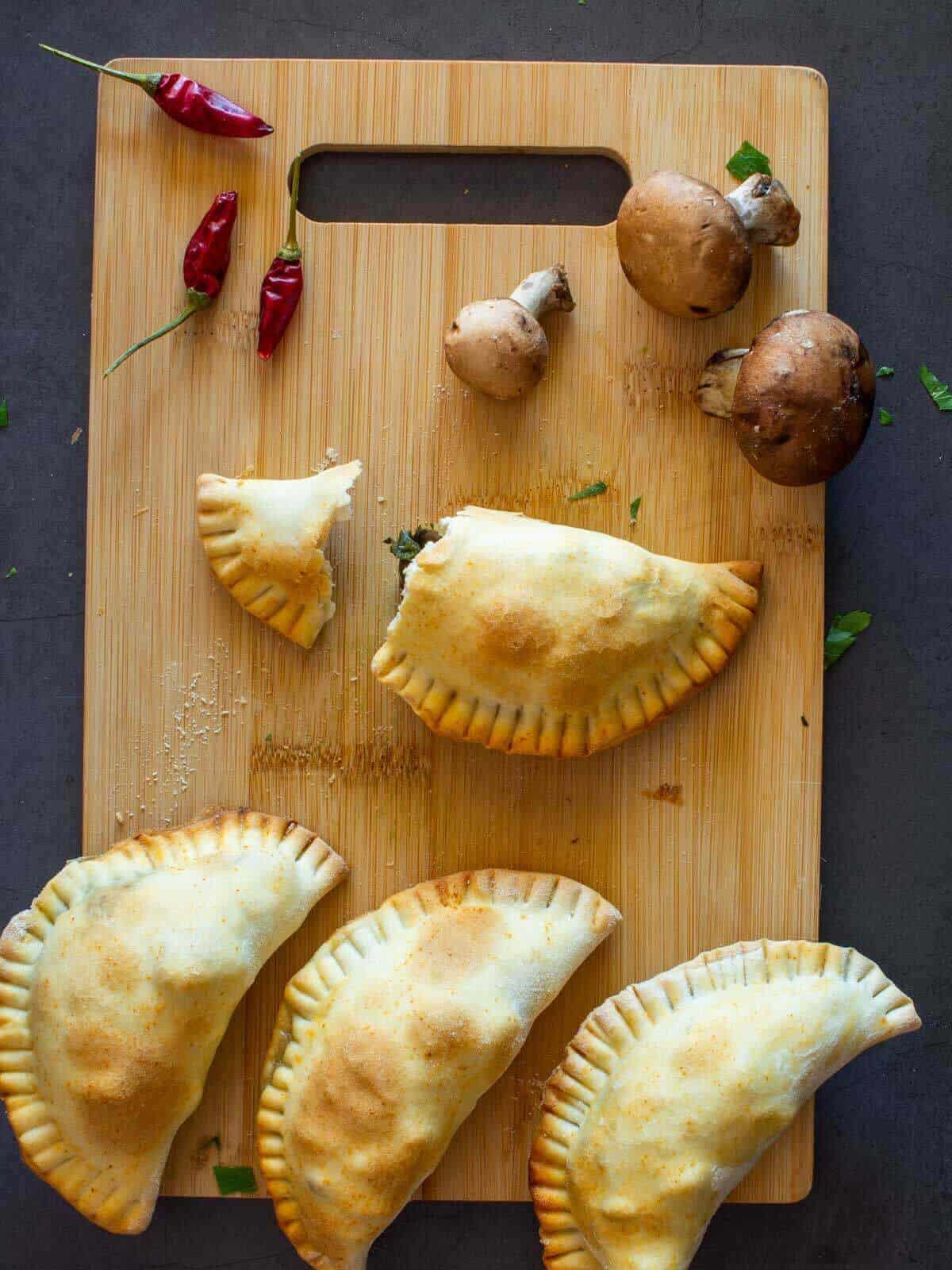 Vegan Puff Pastry, uses vegan butter instead of the traditional one, and the dough is made from all-purpose flour, salt, sugar, baking powder, and any kind of dairy-free milk like soy milk.
The puffy pastry is common in many cuisines, such as French, Levantine/North African, and others, but they exist in every single one of the world's cultures. Every culture has some kind of dough made out of flour and water which is used to make all kinds of pastries- savory or sweet ones.
Vegan butter is an example of a vegan alternative to dairy butter. The main ingredient in butter is fat, which can be extracted from plants such as soy, almond, and other fruit such as coconuts.
Making a vegan empanada usually requires the average person to buy pre-made dough (usually this comes in sheets) and then use that dough to make small turnovers with a filling inside of them.
The use of vegan butter will allow you to replicate the puff pastry used for the vegan empanadas recipe so that you can recreate your own at home. Of course, the recipe here is a healthier version of the puff pastry, but you can start experimenting with different variations.
Vegan Empanada Recipe with mushrooms filling
This decision is harder to make, and we like both lentils and mushrooms fillings very much; it is really just up to what you feel like having. We vary amongst these types, depending on our mood.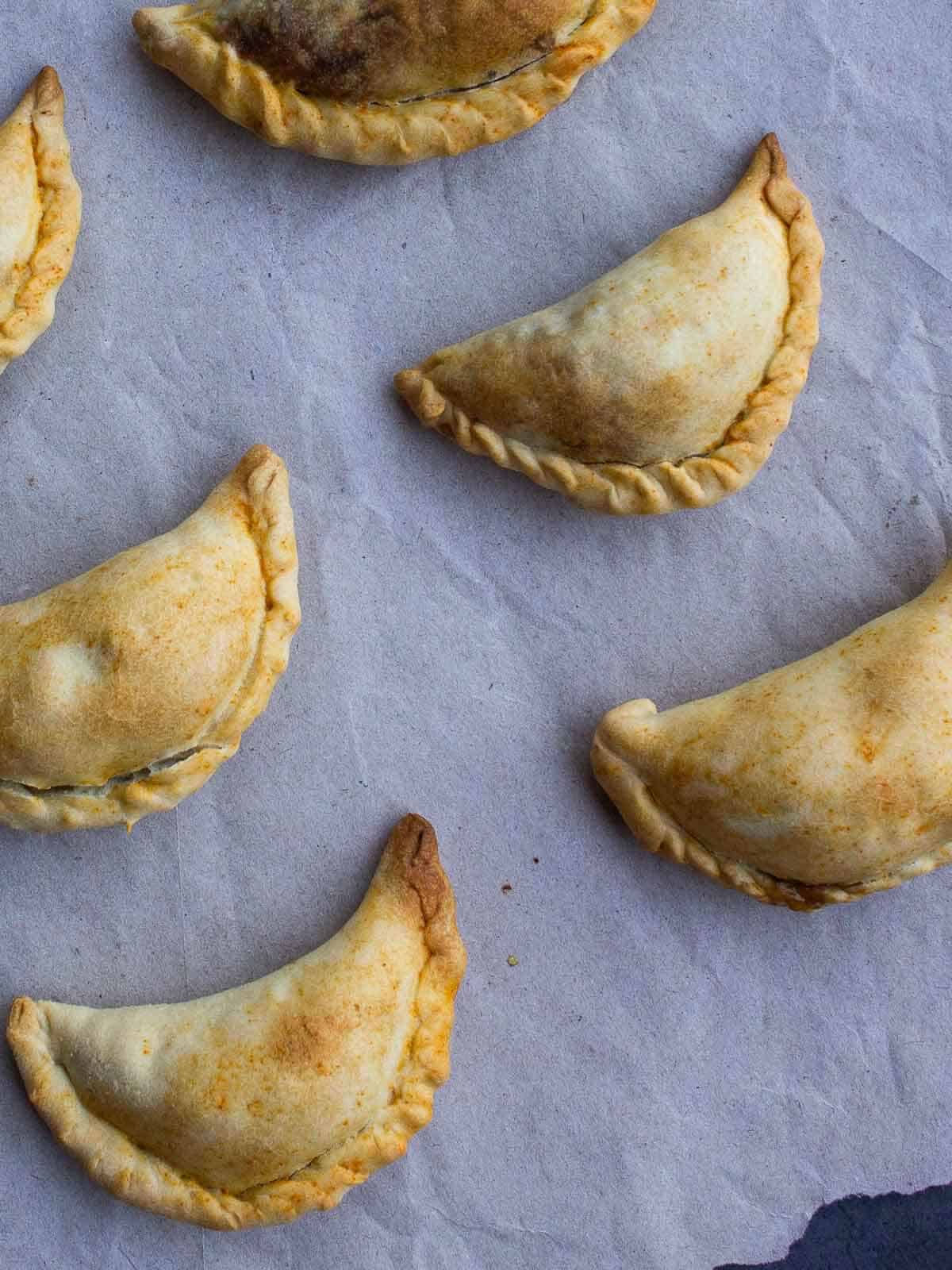 Also, in the north of Argentina, Tucuman's empanadas use pork's fat to make the dough. Being plant-based, we limit our consumption of animal fats. We have tried them before, but in my opinion, there is nothing to miss from porcine fat; also, they are obviously, less healthy than vegan recipes.
Folding: a practical aspect
Since it is common to eat more than one kind of empanadas as part of the same meal, the cue to differentiate them from the outside is the folding technique (repulgue). Also, different marks work.
I will show how to make the repulgue. The easiest way to get it right for a beginner is to use a fork to pressure the border and close them.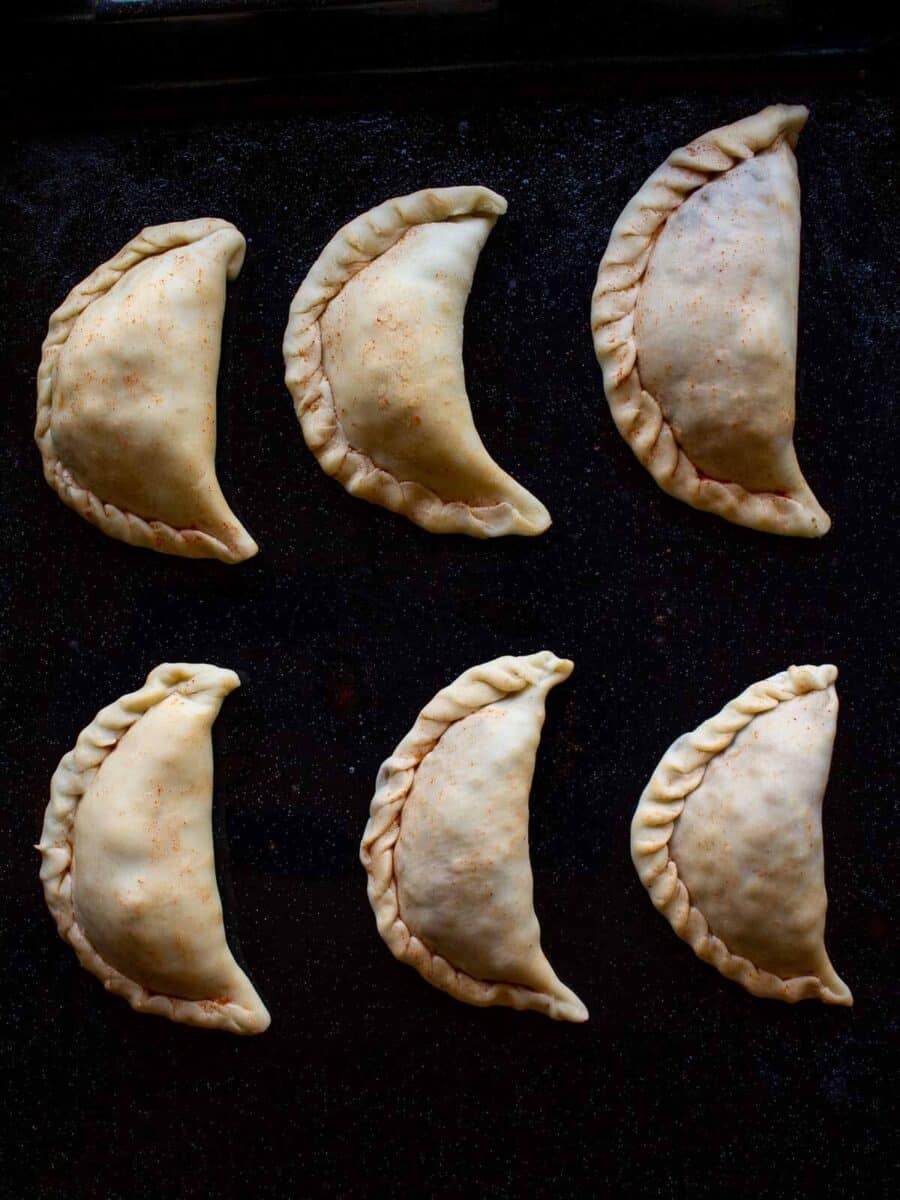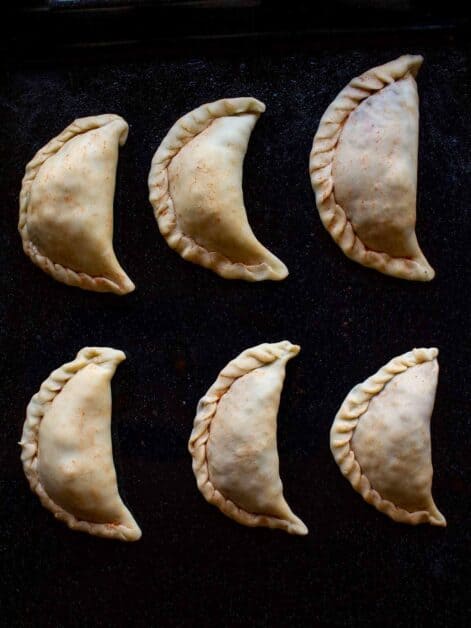 Please let us know which is your favorite and what type of empanadas you find in your region!
Variations
Replace a third of the all-purpose flour for whole bran flour, to include more fiber in your diet and improve the nutritional value of the dough.
In the empanada dough recipes for empanadas I have been sharing with you I use all-purpose flour.
But what is the difference between whole bran flour vs all-purpose?
All-purpose flour is made from a blend of high gluten wheat whereas whole bran is made from a blend of soft wheat, durum flour, and barley.
Whole Wheat flour is not as finely milled as all-purpose or pastry flour.
And that's why empanada dough using whole bran flour is different than empanada dough using all-purpose flour. It works well, I prefer replacing only a third of the all-purpose flour, so the empanadas have some gluten and can keep the rising power of the dough.
Spelt flour also works wonderfully for this recipe! Spelt flour is more easily digestible than other flour and is very nutritious.
Gluten-Free - You can make your empanada dough gluten-free by using a gluten-free flour blend, for baking in place of wheat flour. We like using Bob Mill's. The taste of this gluten-free version will be slightly different, but it can certainly work well if you are gluten-intolerant.
While many gluten-free recipes call for lard or shortening, vegan empanada dough replaces the fat content with olive oil to hold the dough together.
Storing
If you want to save your dough discs for later use, make sure to store them separated with parchment paper or plastic wrap.
If you want to freeze the empanadas dough, separate them with parchment paper. Then place the disc on a closed container.
When ready to use, pull them out 15 minutes before so they thaw well. Use flour on the surface of a baking sheet.
If you buy the discs they come with a separator, set aside them for the next time you prepare your own, and save the planet from using parchment paper.
Argentinean Cuisine Favorite Recipes
If you try this recipe, let us know! Leave a comment, rate it, and don't forget to tag a photo #ourplantbasedworld on Instagram. Cheers!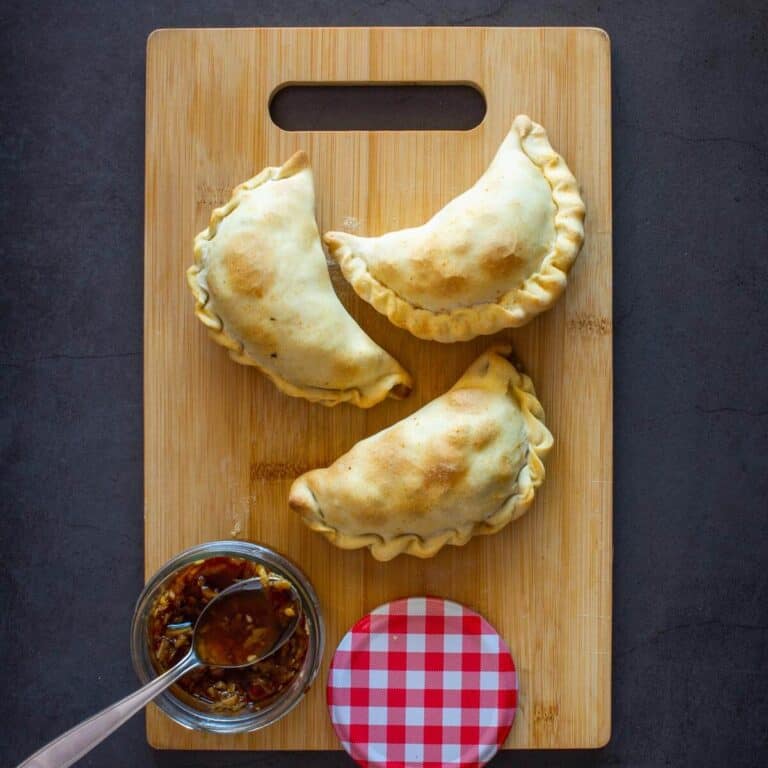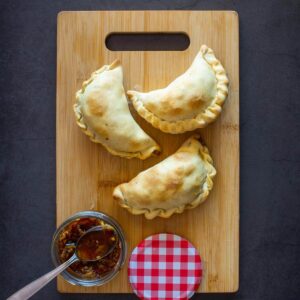 Recipe: Vegan Empanadas Dough
Being Argentinean and living in Italy, we really miss the great "Empanadas Argentinas." These vegan empanadas dough is easy and ready in 5 minutes.
Ingredients
To paint when making empanadas:
¼

teaspoon

paprika

2

tablespoons

water
Directions
Unite all the ingredients to form a dough.

12 ounces all-purpose flour

,

3 tablespoons olive oil

,

½ teaspoon sea salt

,

1 cups water

Knead for 5 minutes so that it is well united and tender.

Cover with a plastic film or damp towel and let rest which will prevent the surface from drying. Let it rest for 5 minutes before using.
Prepare the dough:
Prepare two little bowls, one with a half cup of water and one with two tablespoons ofwater plus a little bit of paprika (to paint the empanadas for color).

Spread the dough with a rolling pin on a surface with just a little bit of flour toprevent it from sticking.

Cut the disks with a 3-4 inches cutter or any circular plate with a circular shape.
Assemble:
Pre-heat the oven at 450ºF (230ºC).

Moist your fingertips in the water bowl and spread some water in the edges of the disks.

Fill with about one full tablespoon of the filling of your preference in the center of the disk.

Close the disk and with a fork, put pressure in the moist edges until perfectly closed.
Bake:
Arrange the empanadas on a greased baking tray and paint them with a brush and the paprikaand water mix.

Bake for 15 minutes, watching it after the tenth minute, to them from burning.
Notes
It is crucial to put water in the discs' tips before closing them. Otherwise, they will open in the oven.
You can store the empanadas in the fridge, separating them with pieces of parchment paper.
To bake frozen empanadas, you need to place them directly in a baking tray without defrosting. You might need to leave them in the oven for another 5 minutes.
Empanadas are well kept frozen for months, so they make a great meal prep.
The dough is well kept wholly covered in the fridge for two days.
Nutrition
Calories:
101
kcal
Carbohydrates:
16
g
Protein:
2
g
Fat:
3
g
Saturated Fat:
1
g
Sodium:
75
mg
Potassium:
23
mg
Fiber:
1
g
Sugar:
1
g
Calcium:
4
mg
Iron:
1
mg
Nutrition Facts
Recipe: Vegan Empanadas Dough
Amount per Serving
% Daily Value*
* Percent Daily Values are based on a 2000 calorie diet.
Pin for Later!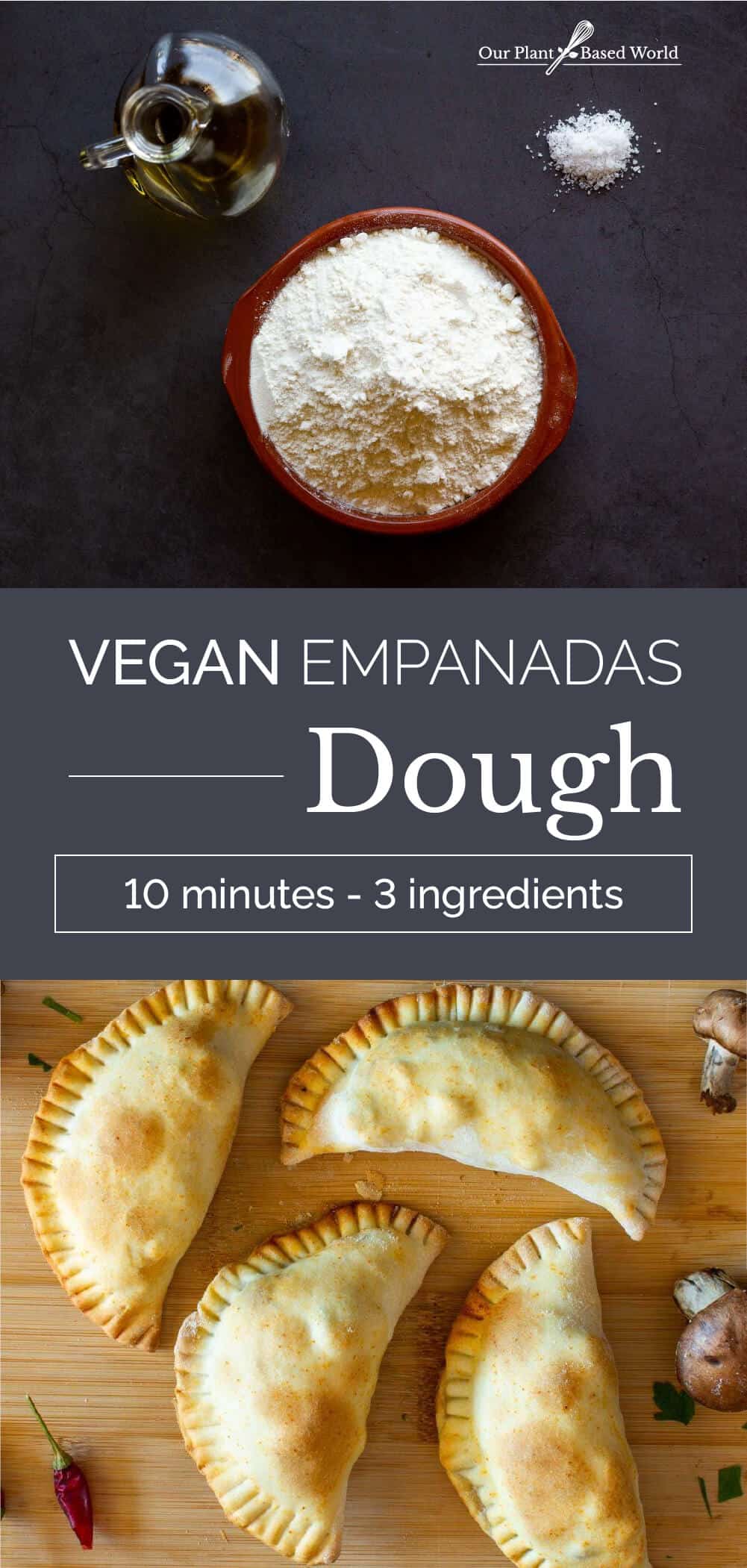 Food safety
We sometimes take for granted that we have years (or decades) of cooking experience that the average visitor may not. Add to, or remove from, the list below with health and safety tips.
Cook to a minimum temperature of 165 °F (74 °C)
Do not use the same utensils on cooked food, that previously touched raw meat
Wash hands after touching raw meat
Don't leave food sitting out at room temperature for extended periods
Never leave cooking food unattended
Use oils with high smoking point to avoid harmful compounds
Always have good ventilation when using a gas stove
See more guidelines at USDA.gov.
The information shown is an estimate provided by an online nutrition calculator. It should not be considered a substitute for a professional nutritionist's advice. See our full Nutritional Disclosure here.
Please note that some of the links here are affiliate links and I will earn a commission if you purchase through those links. I use all of the products listed and recommend them because they are companies that I have found helpful and trustworthy.