This Spicy Garlic Edamame Recipe, an Appetizer that is made in less than ten minutes and is packed with flavor, is one of the best edamame recipes out there! It has no oils and is super healthy. Make it spicy, simply adding chili flakes to the mix.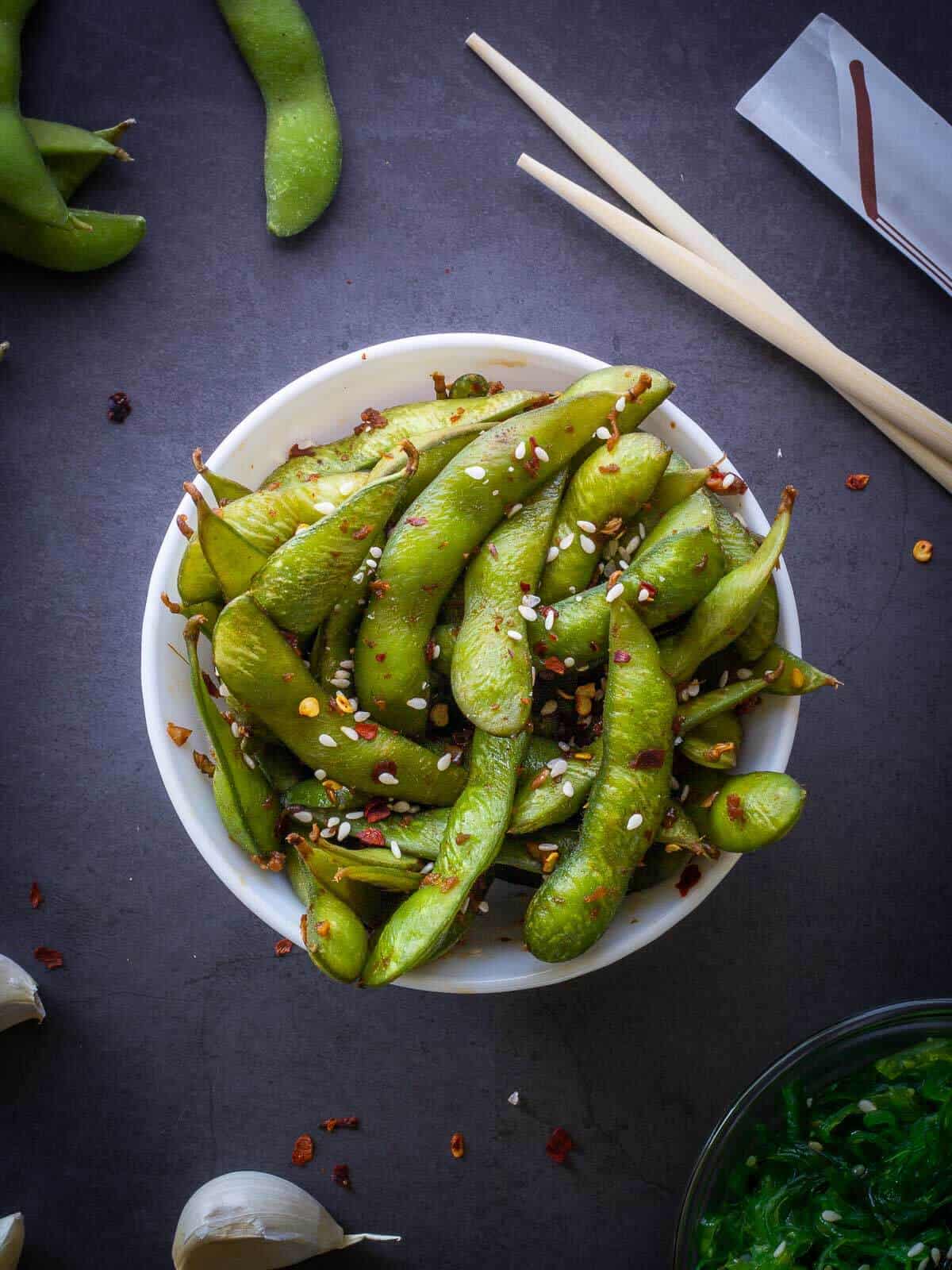 We are all about hosting dinners and brunches. So, making easy appetizers such as Mexican guacamole or quick hummus are must-haves in our recipe's repertoire.
This spicy garlic edamame recipe is a favorite, not only because everyone loves it but because it's put together in 5 to 10 minutes. Also, it is one of those Asian recipes, that is absolutely delicious and also one of the best healthy recipes.
Spicy garlic edamame is commonly found in any Japanese restaurant.
It is really that simple! Also, it caters to most of the people's diets restrictions ranging from vegan, no-oil, Whole Foods Plant Based to low calorie and clean eating.
We are going to show you How to make Garlic Edamame... They are also fun to eat, and kids love them!
Jump to:
🧾 Ingredients
A small number of ingredients are needed to put together this Spicy Garlic Edamame Recipe.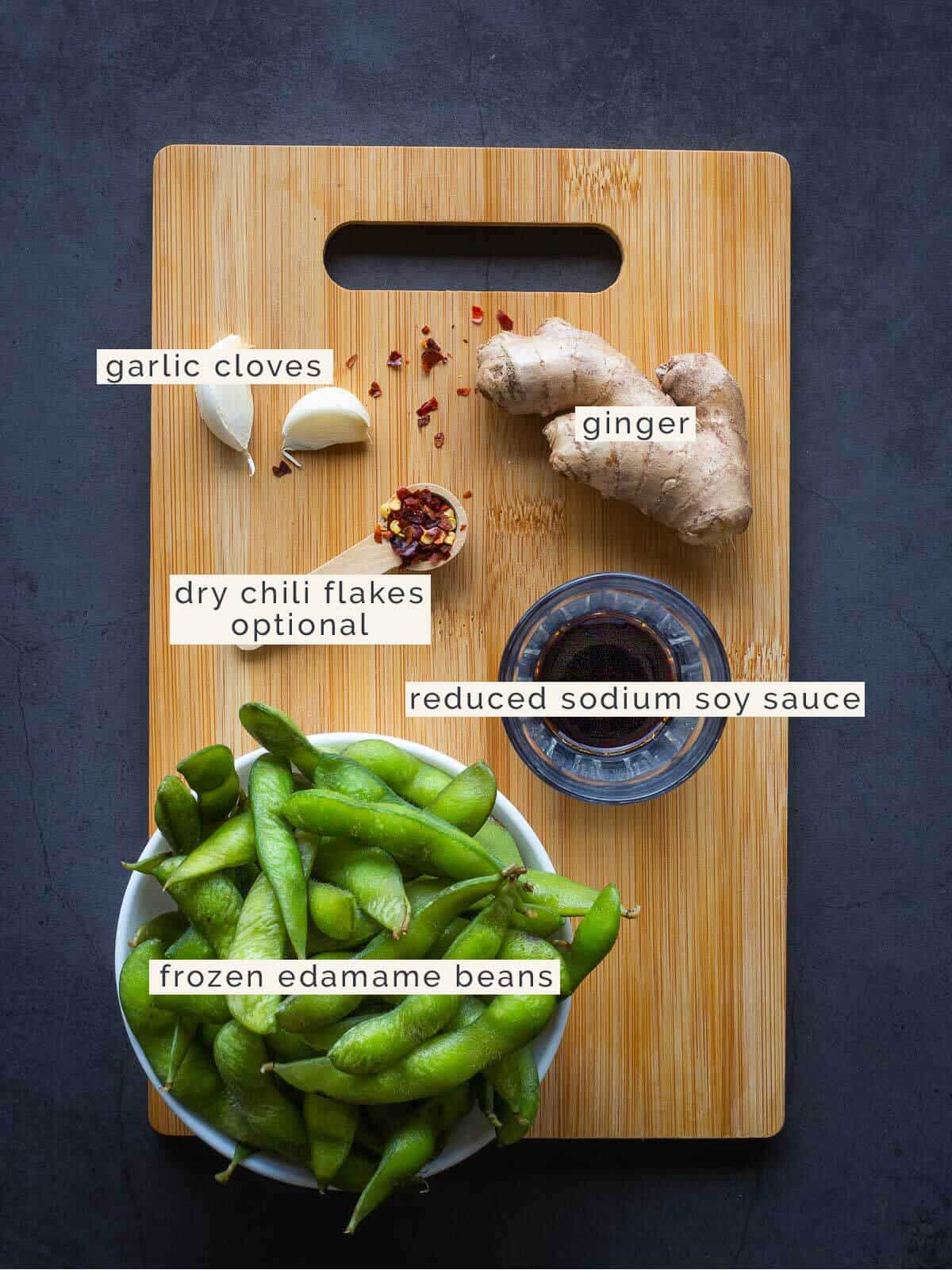 Frozen edamame beans
Minced garlic
Reduced sodium soy sauce (tamari or liquid aminos to make it gluten-free)
Ginger
Optional: dry chili flakes (chili sauce or chili paste also work). Sesame seeds to garnish.
🔪 Instructions
Prepare garlic
Mince the garlic cloves and ginger knob.
Steam
Briefly steam the frozen edamame beans for 2 minutes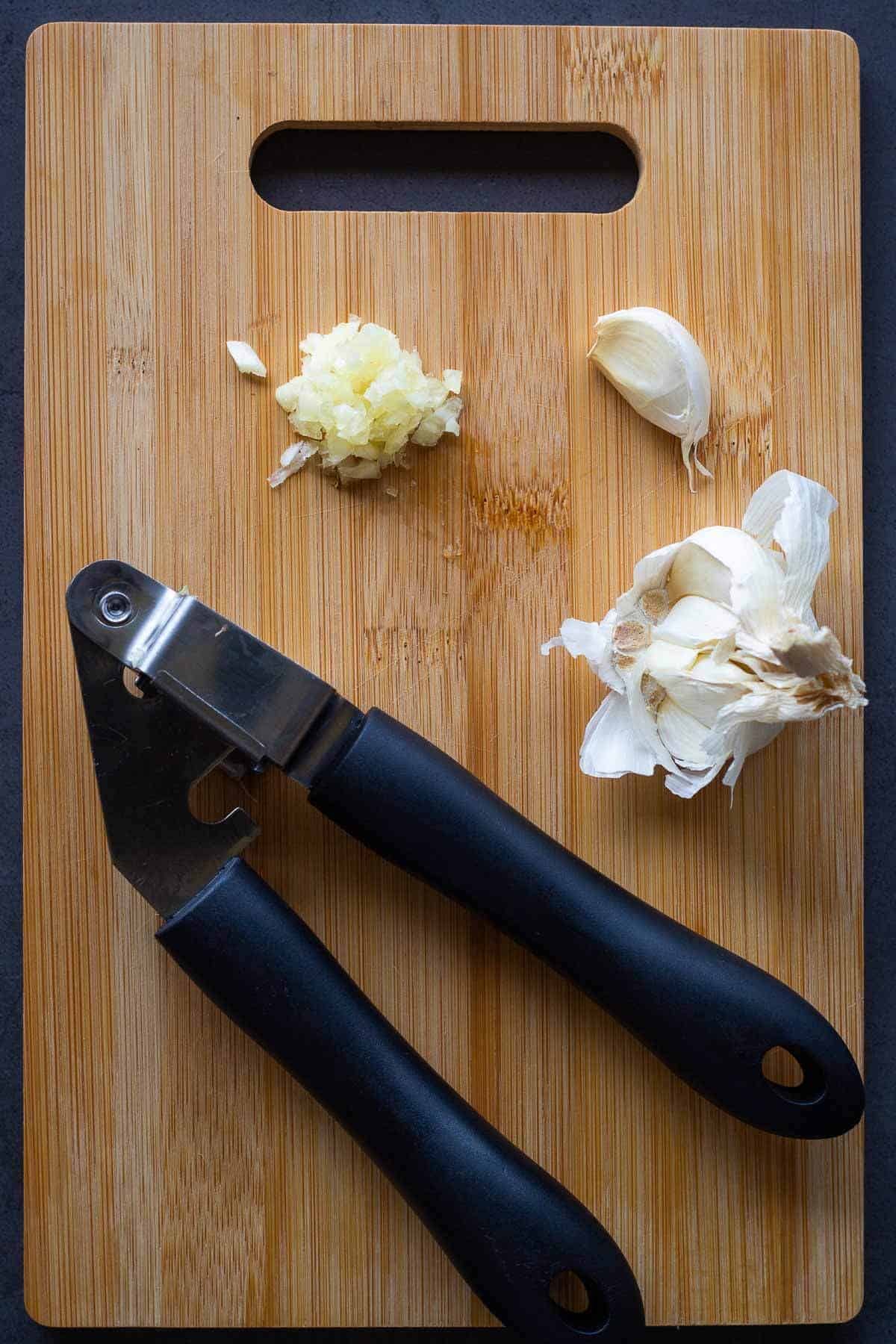 Mince the garlic cloves.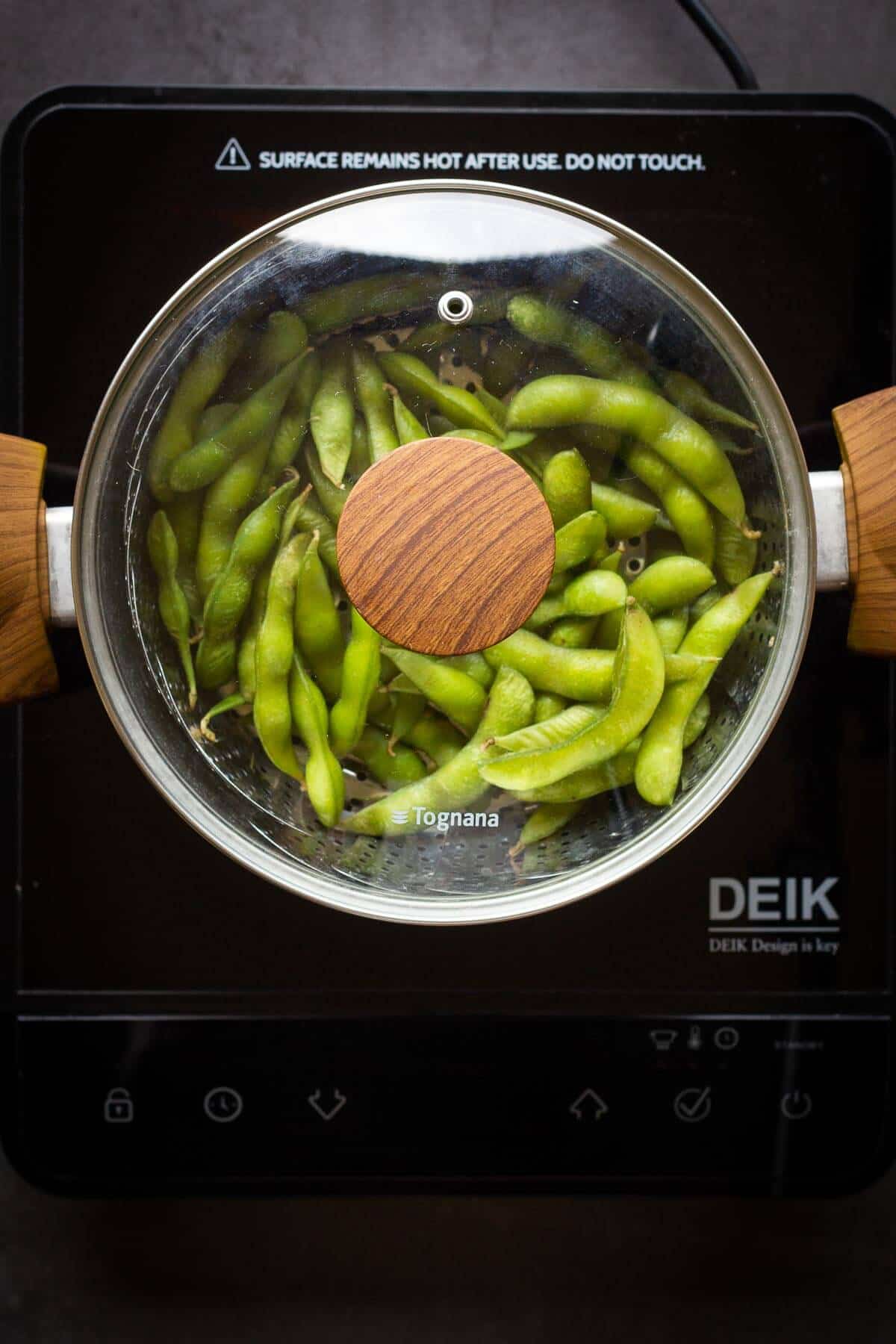 Steam the edamame bean in a large pot using a steamer.
Make spicy garlic sauce
Briefly stir fry the minced garlic, garlic cloves, low sodium soy sauce, and pepperoncino flakes on medium heat. Stir constantly.
Note: if you want a really spicy sauce, add a quarter to half, extra chili sauce, or chili flakes.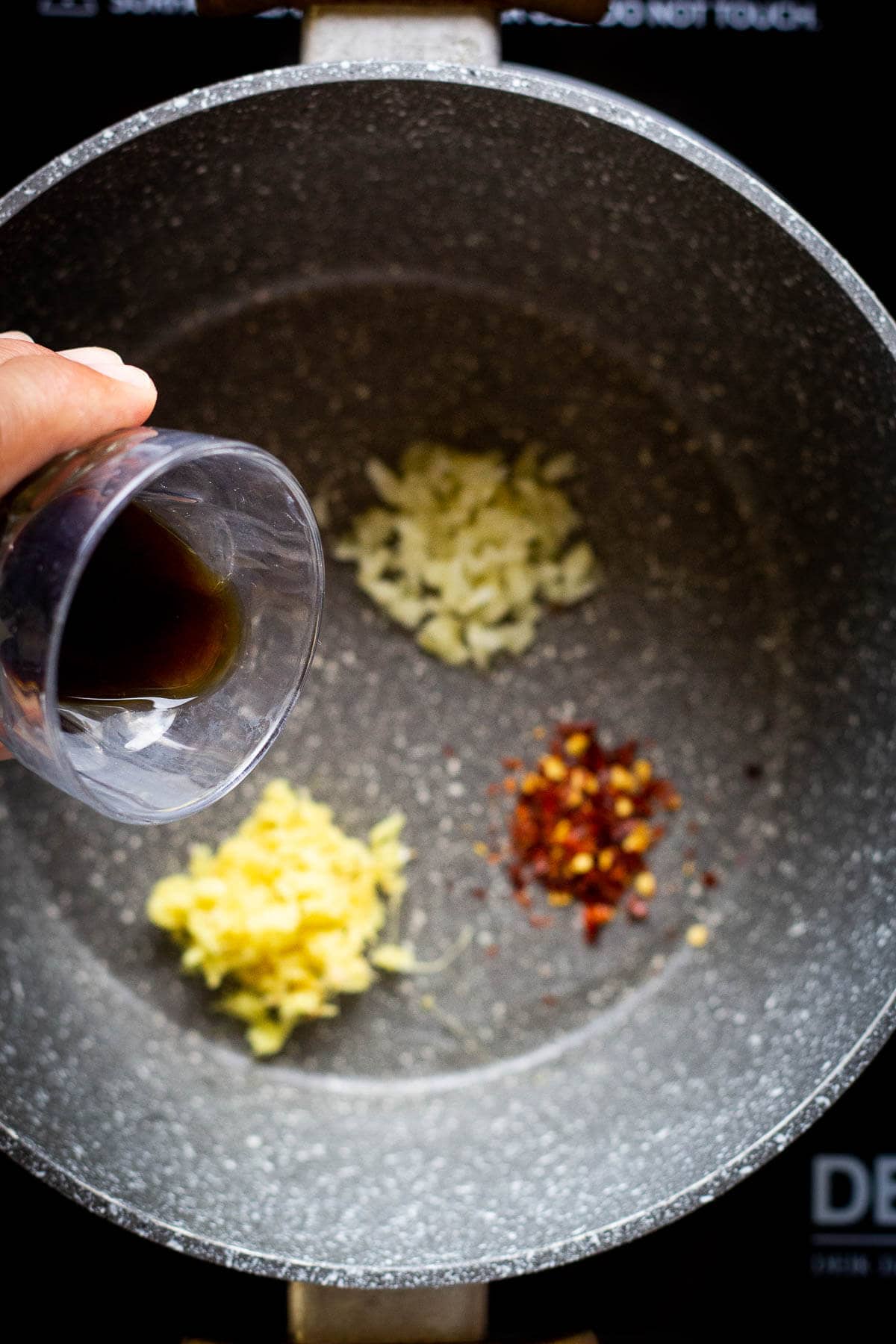 Add all the edamame seasonings into the saucepan.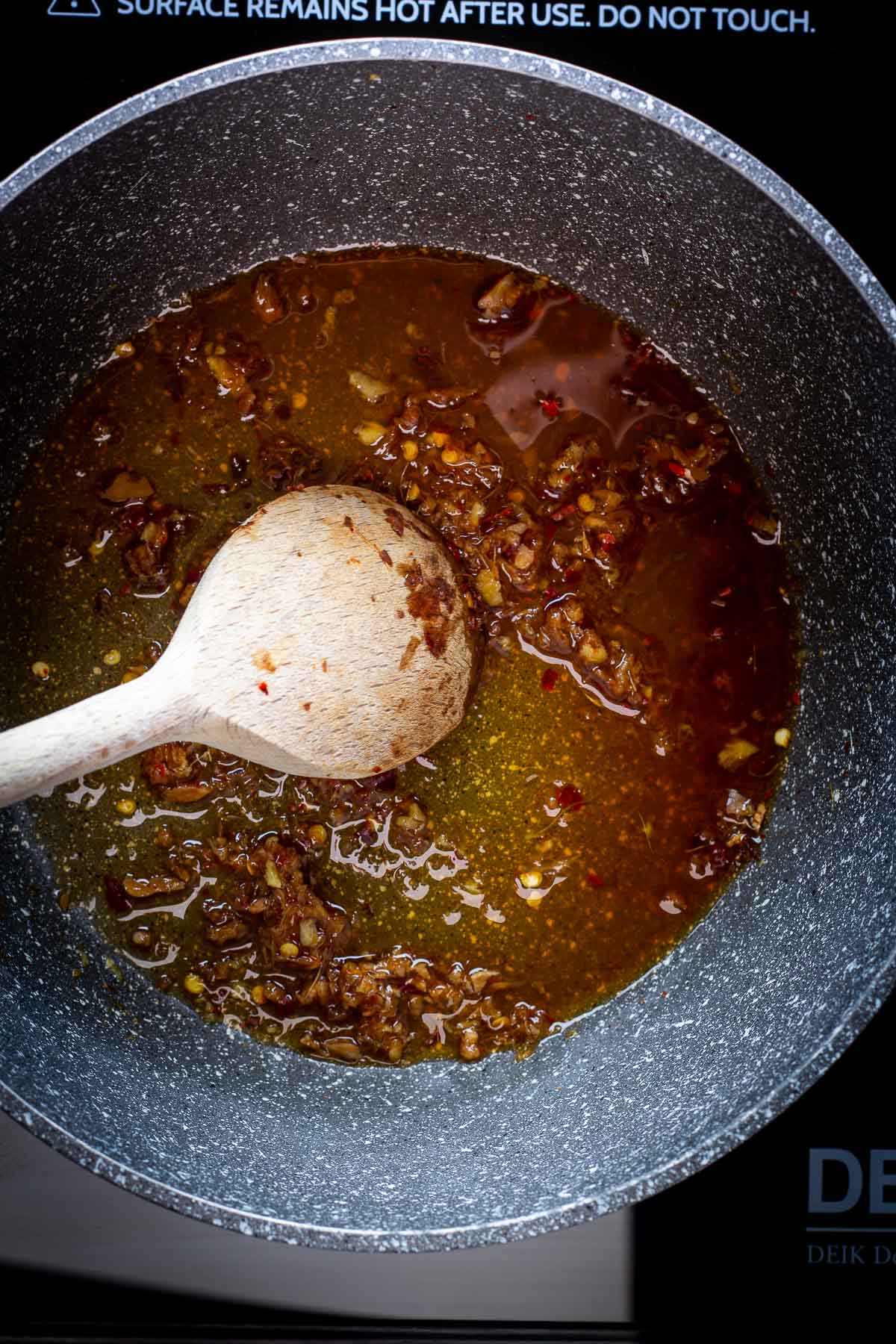 Mix the seasonings.
Mix
Mix the steamed edamame beans and garlic in the same saucepan, and you are ready.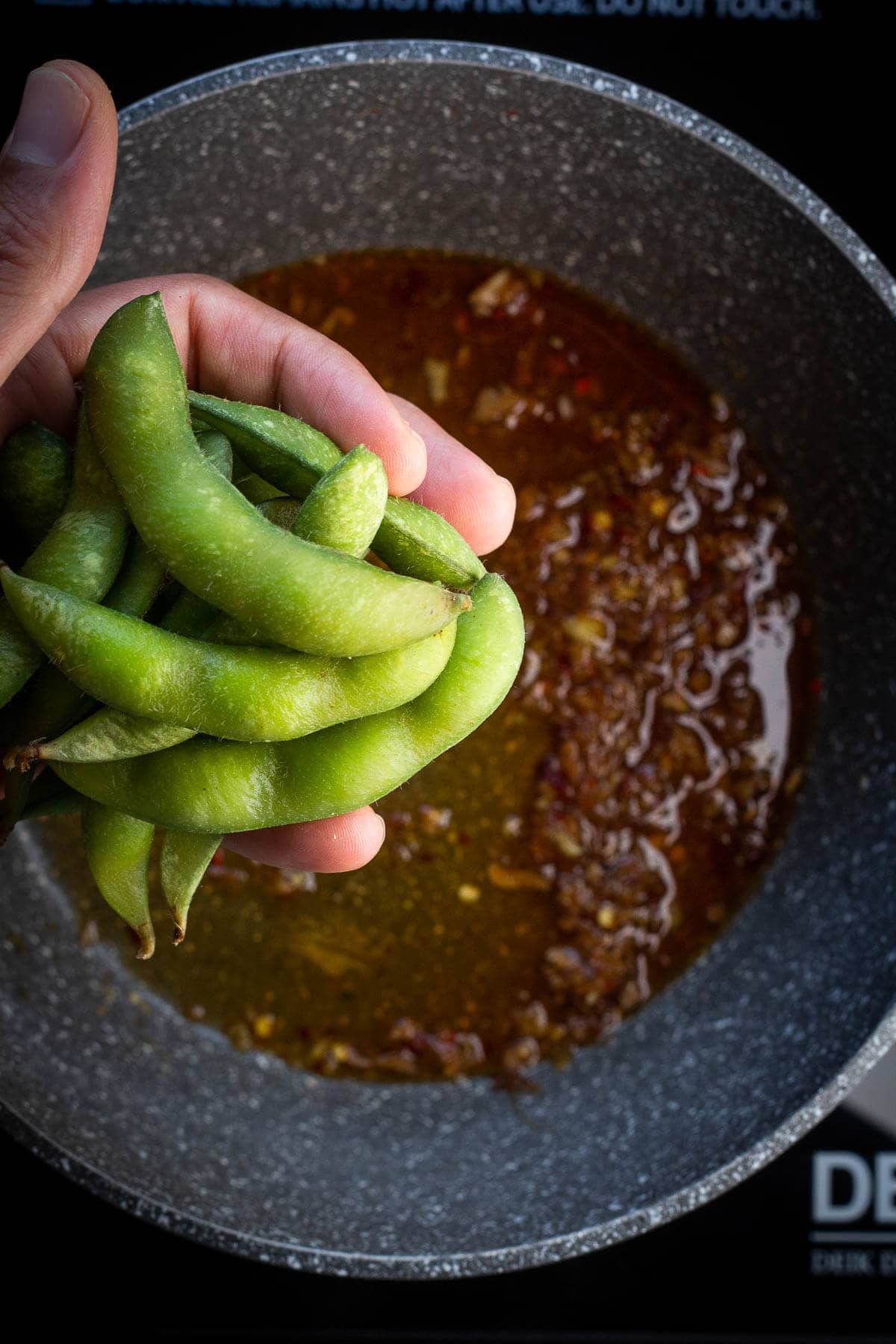 Add Edamame beans and combine with the seasoning mixture.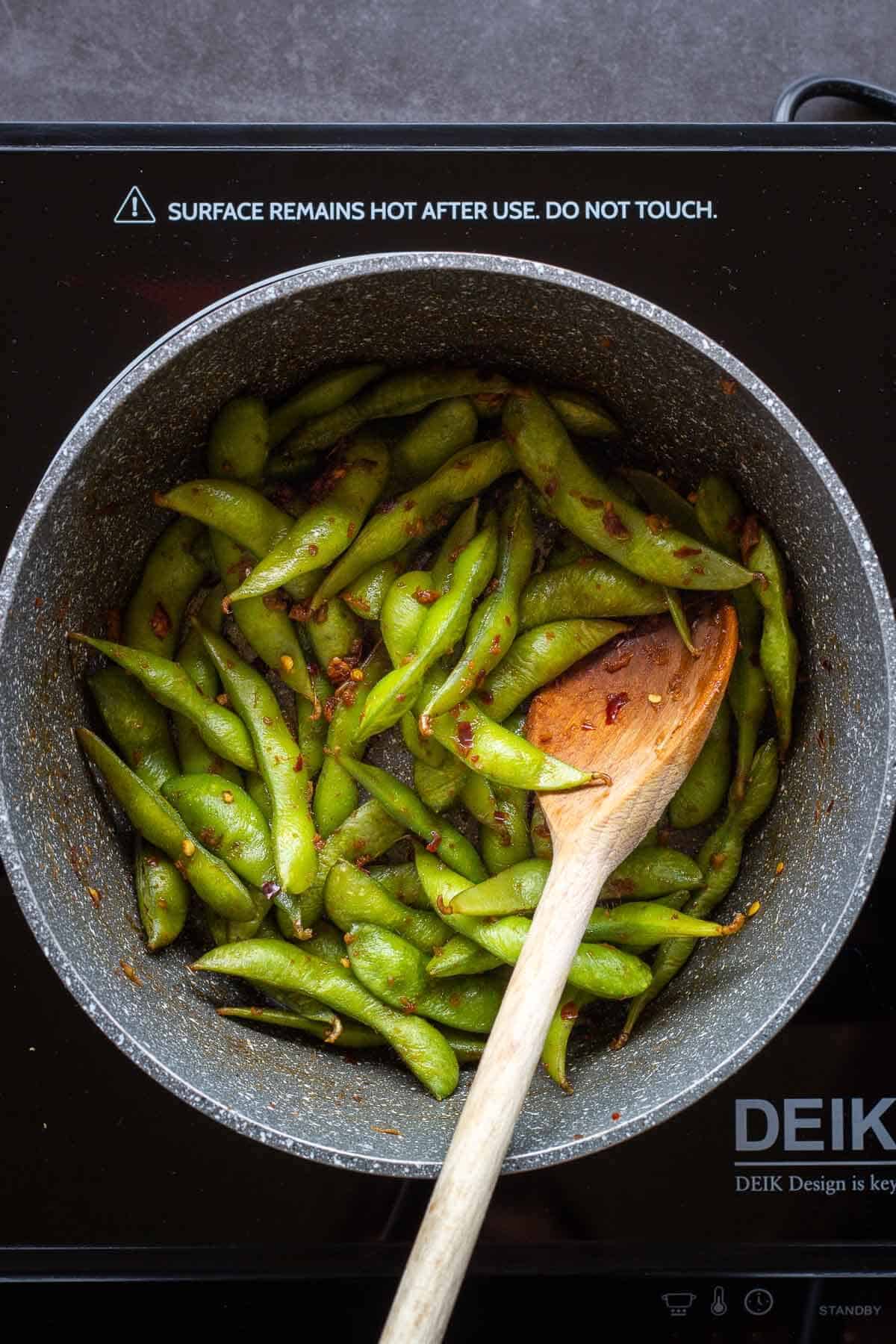 Stirring Garlic Edamame with Seasonings.
Serve in a bowl, sprinkling with sesame seeds (optional).
Taste and adjust; use more soy sauce for umami and saltiness or garlic powder for intensity.
Eat edamame, remove the edamame shells, and squeeze one end. You can do this with your hands directly, bringing the edamame beans to your mouth; no forks are needed!
🍶 Substitutions
Below are some substitutes to ensure you always make best garlic edamame recipe
Soy sauce – use tamari sauce or coconut aminos to make it gluten-free.
Garlic – use 1 teaspoon of garlic powder or 1 teaspoon of onion powder
Ginger – use 1 tablespoon of ginger powder instead
Edamame - you can use shelled edamame beans instead of whole beans. Increase all seasonings by 50%.
📖 Variations
You can easily adjust your spicy garlic edamame recipe with these hints.
Spiciness
This recipe is already spicy as it is. You can add ¼ teaspoon of pepperoncini (chili sauce or chili flakes) to make an extra spicy edamame sauce or reduce it to ⅛ to make it mild.
Sesame oil
Some people like adding some vegetable oil or sesame oil, it tastes great, but I like to keep this recipe super healthy, as it is already packed with flavor. If you are using oil, simply use one tablespoon and add it while you stir-fry the edamame sauce.
Sauce
You can also choose to use a teriyaki sauce in place of the soy sauce and garlic and add chili paste to make it spicy.
Kid-friendly
Omit the pepperoncino (unless you are in Mexico!). Also, you can use garlic powder instead of minced garlic to reduce the spicy garlic sauce's intensity.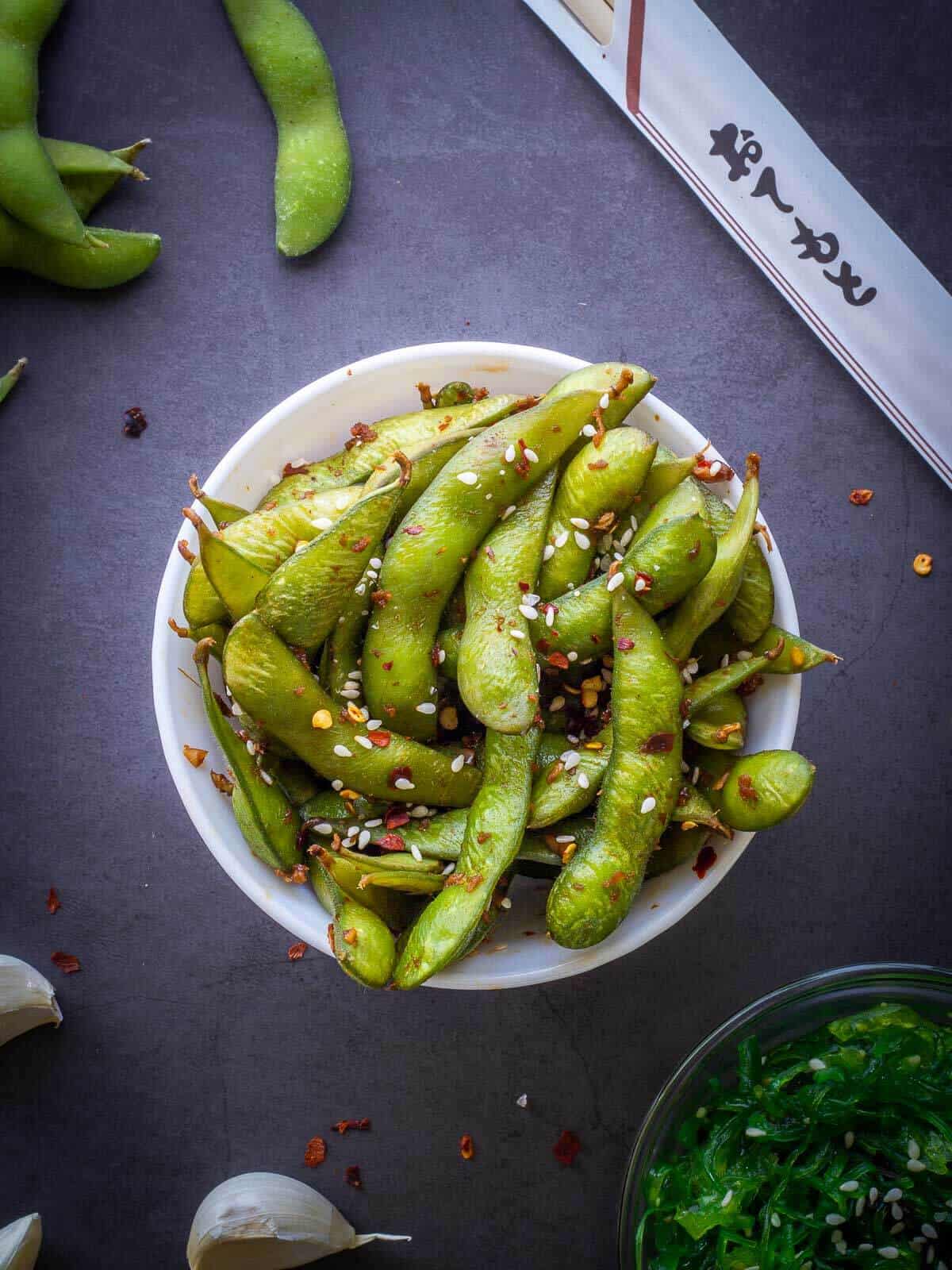 🍽 Equipment
Steamer or colander. Any of them work. Just avoid edamame beans coming in contact with water. They are delicate and just need a brief exposure to steam to be ready to eat.
Small saucepan. Use a small saucepan to stir the seasonings. Since we use small quantities, a large one may make it hard to mix well, and the soy sauce may dry up immediately.
💡 Top tips
Try not to overcook the garlic; otherwise, it will be bitter and ruin the marinade. The cooking takes only 2-3 minutes so keep stirring and don't get away from the saucepan.
Don't overcook the edamame beans as they will become too soft and will lose their bright color—steam for 2 minutes, no more.
If you are curious to know more about edamame benefits or want more edamame recipes, check out our Vegan Poke bowl, where you can also find shelled edamame in action, making a full meal.
🥢 How to Serve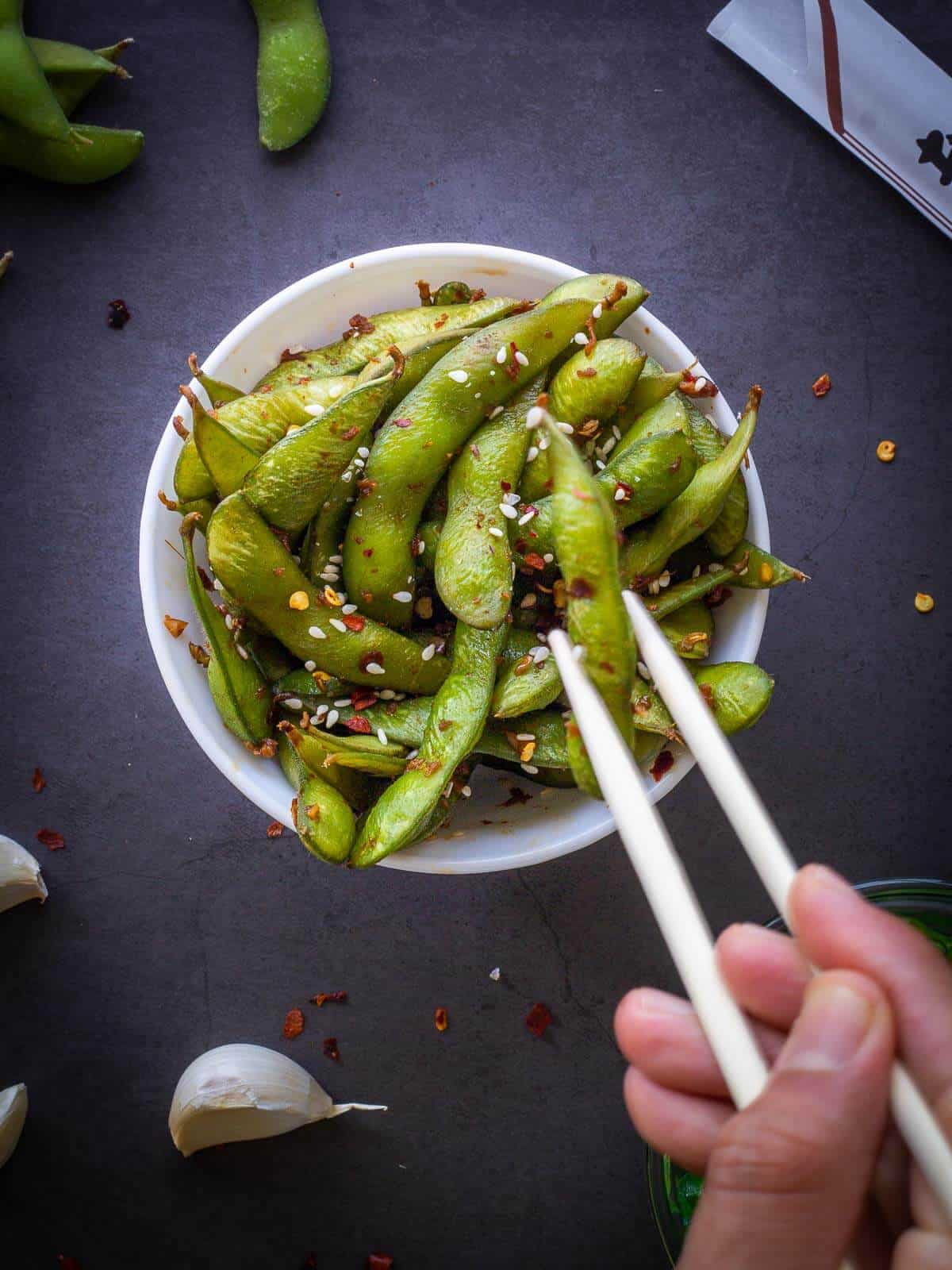 Edamame beans make a great appetizer for most Japanese and Asian Inspired dishes such as sushi or Chinese dishes.
Edamame beans are packed with health benefits,, and their nutritional value is outstanding, given their exceptional build of macronutrients: proteins, fats, and complex carbohydrates.
We like serving them with Wakame Seaweed Salad, which you can easily get at an ethnic store; thaw and serve with a splash of soy sauce and sesame seeds.
Another recipe I found deliciously from a sister blogger is this Edamame Soba Noodles, which are worth trying.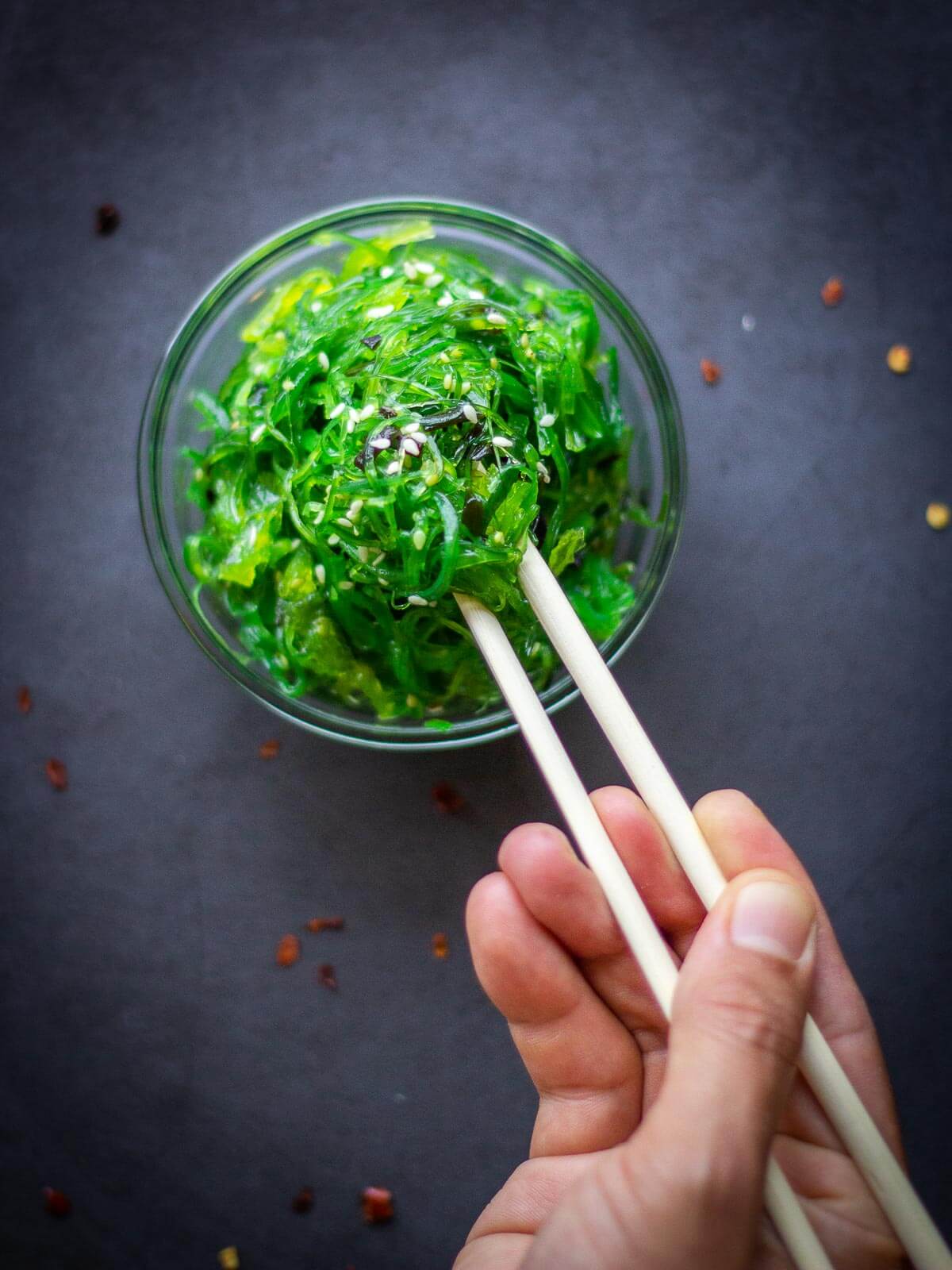 ❓ FAQ
So does edamame give you gas? The answer to this question is yes; it can give you gas when eaten in excess. When we eat, we digest food and end up with byproducts – one of which is flatulence – or as known in the medical field: as gastrointestinal (GI) emissions.
Edamame does cause gas because it contains both raffinose and stachyose, known as prebiotics.
What does that mean? Well, science geeks, to simplify it: the raffinose and stachyose in edamame can't be digested by us because we don't have the enzyme needed to digest these sugars.
As a result, this undigested mixture ends up in your colon, where bacteria do digest it. These undigested sugars (food) are what cause flatulence, bloating, and possibly stomach pain.
So does edamame give you gas? Yes, it does! Simply try to eat it in moderate quantities.
📚 More Vegan Appetizer Recipes?
🌶️ More spicy recipes
If you are like us and indulge in spicy dishes, you might love our Spiced Roasted Cauliflower recipe, the Vegan Chili recipe, and our Thai curries; some of our favorites are the Thai Red Curry and Thai Yellow Curry.
If you like spicy soups, I strongly recommend checking our Curried and Spicy lentil soup and Carrot and Ginger soup as well.
⭐ If you try this recipe, let us know! 💬 Leave a comment, rate it, and don't forget to tag us @ourplantbasedworld on Instagram. Cheers!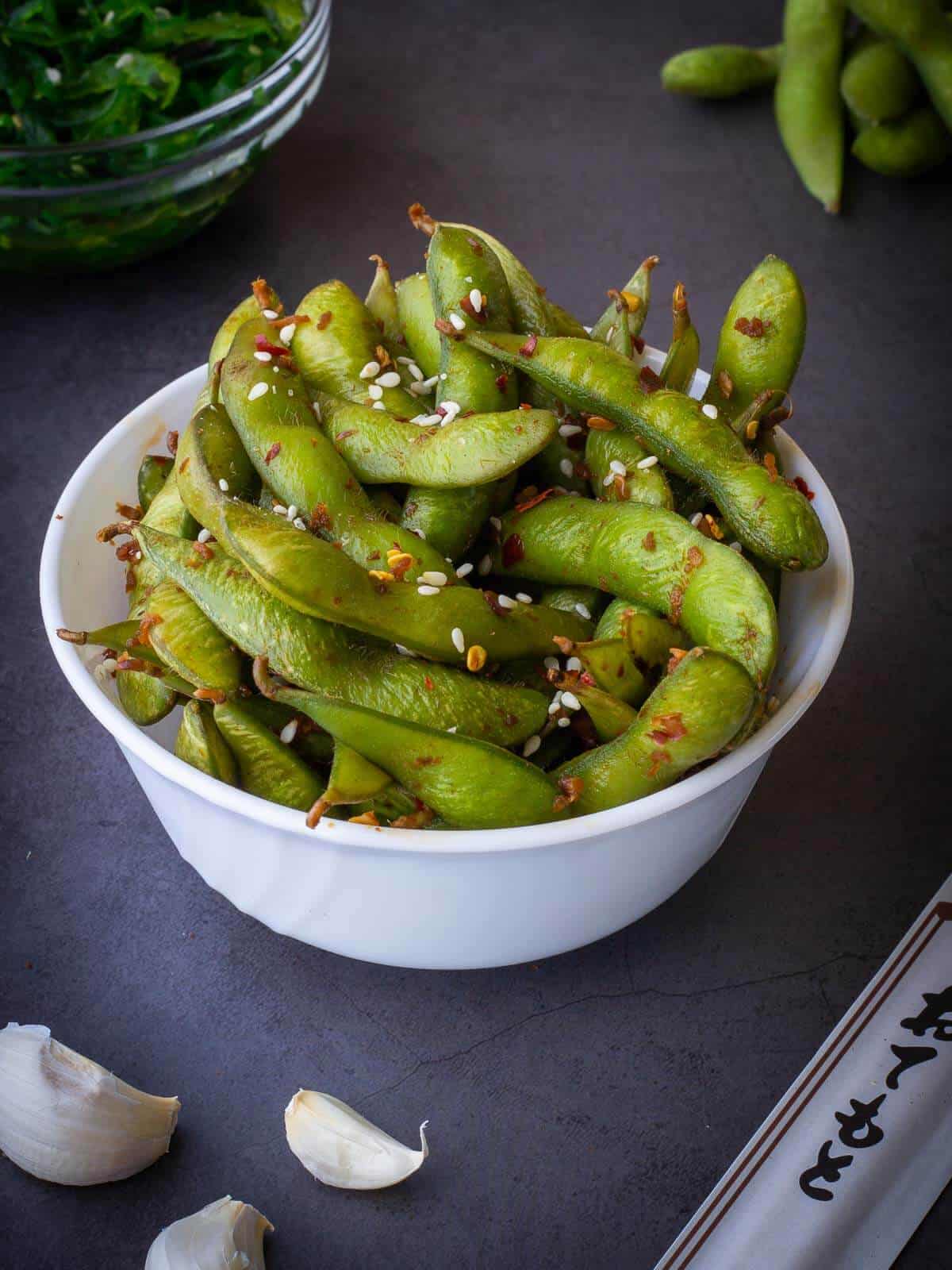 📋 Recipe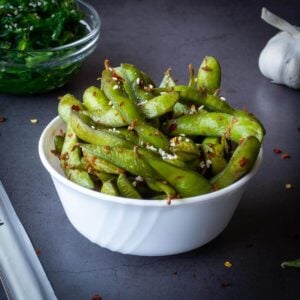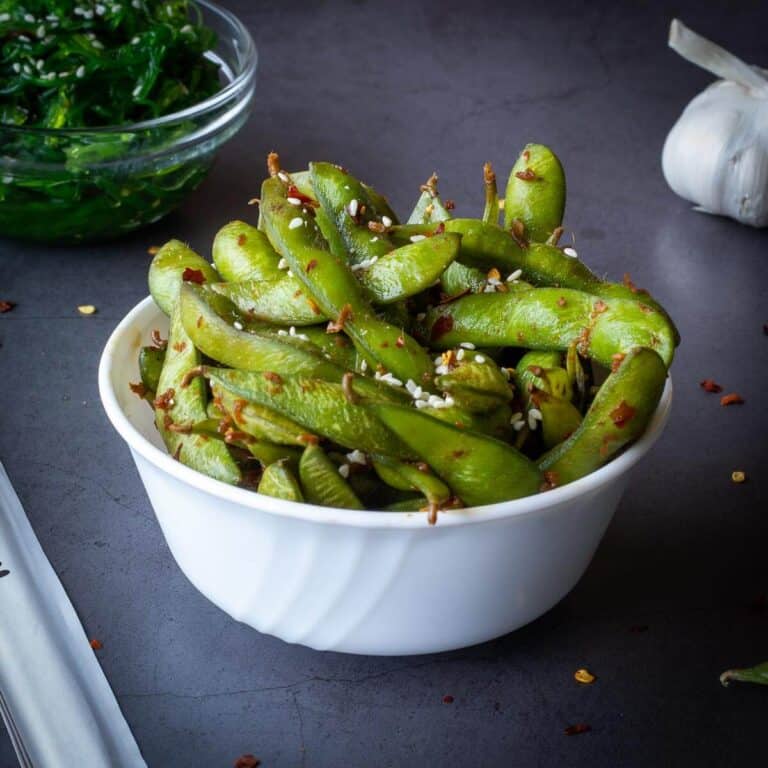 Spicy Garlic Edamame
This Garlic Edamame Appetizer is made in less than ten minutes and is packed with flavor. It has no oils and is super healthy. Make it spicy, simply adding chili flakes to the mix.
Equipment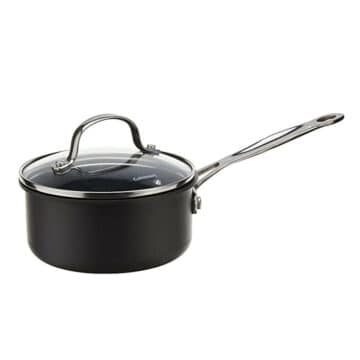 (affiliate link)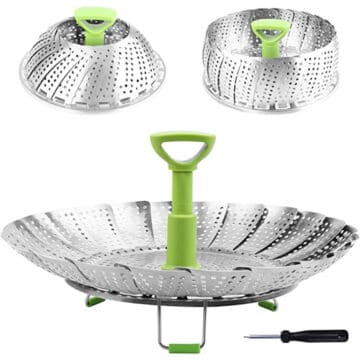 (affiliate link)
Ingredients
18

oz

edamame

4

tablespoons

soy sauce

low sodium, or tamari to make it gluten-free

1

knob ginger

about 2 tablespoons

4

tablespoons

water
Optional:
½

teaspoon

chili flakes

or peperoncino

1

tablespoon

sesame seeds

to garnish
Directions
Mince the garlic cloves and ginger knob.

1 knob ginger,

4 garlic cloves

Steam. Bring about ½ inch of water to boil. Place a steamer or metal colander on top, and add the edamame beans. If the edamame benas are frozen, allow for 4 minutes. If they have been thawed, allow 2 minutes.

Drain the edamame beans.

Stir fry. In a small saucepan, stir fry in low heat, the minced garlic and ginger, soy sauce, water, and pepperoncino flakes. Keep going for 2 minutes and remove from heat.

4 garlic cloves,

4 tablespoons soy sauce,

1 knob ginger,

4 tablespoons water,

½ teaspoon chili flakes

Mix everything. In the same saucepan, add the edamame beans and mix.

Serve in a bowl sprinkling with sesame seeds (optional).

1 tablespoon sesame seeds
Notes
Note:
If you haven't eaten edamame beans before, you should know pods are not meant to be eaten. Squeeze the pods, and the edible beans will come out.
You can then suck on the pods, as they are likely to be full of flavor, as they were in contact with the soy and garlic mix.
Nutrition Facts
Calories:
182
kcal
Carbohydrates:
16
g
Protein:
15
g
Fat:
8
g
Saturated Fat:
1
g
Polyunsaturated Fat:
3
g
Monounsaturated Fat:
2
g
Trans Fat:
1
g
Sodium:
547
mg
Potassium:
619
mg
Fiber:
7
g
Sugar:
3
g
Vitamin A:
75
IU
Vitamin C:
9
mg
Calcium:
110
mg
Iron:
4
mg
Nutrition Facts
Spicy Garlic Edamame
Amount per Serving
% Daily Value*
* Percent Daily Values are based on a 2000 calorie diet.
🌡️ Food safety
Cook to a minimum temperature of 165 °F (74 °C)
Do not use the same utensils on cooked food, that previously touched raw meat
Wash hands after touching raw meat
Don't leave food sitting out at room temperature for extended periods
Never leave cooking food unattended
Use oils with a high smoking point to avoid harmful compounds
Always have good ventilation when using a gas stove
See more guidelines at USDA.gov.
Nutritional Disclaimer
The information shown is an estimate provided by an online nutrition calculator. It should not be considered a substitute for a professional nutritionist's advice. See our full Nutritional Disclosure here.
Affiliate Disclaimer
Please note that some of the links here are affiliate links, and I will earn a commission if you purchase through those links. I recommend all of the products listed because they are companies I have found helpful and trustworthy.