I encountered these textured beauties, not that soon, but not too late to develop a love for them. Roasted Brussel Sprouts are easy to make, versatile, and healthy.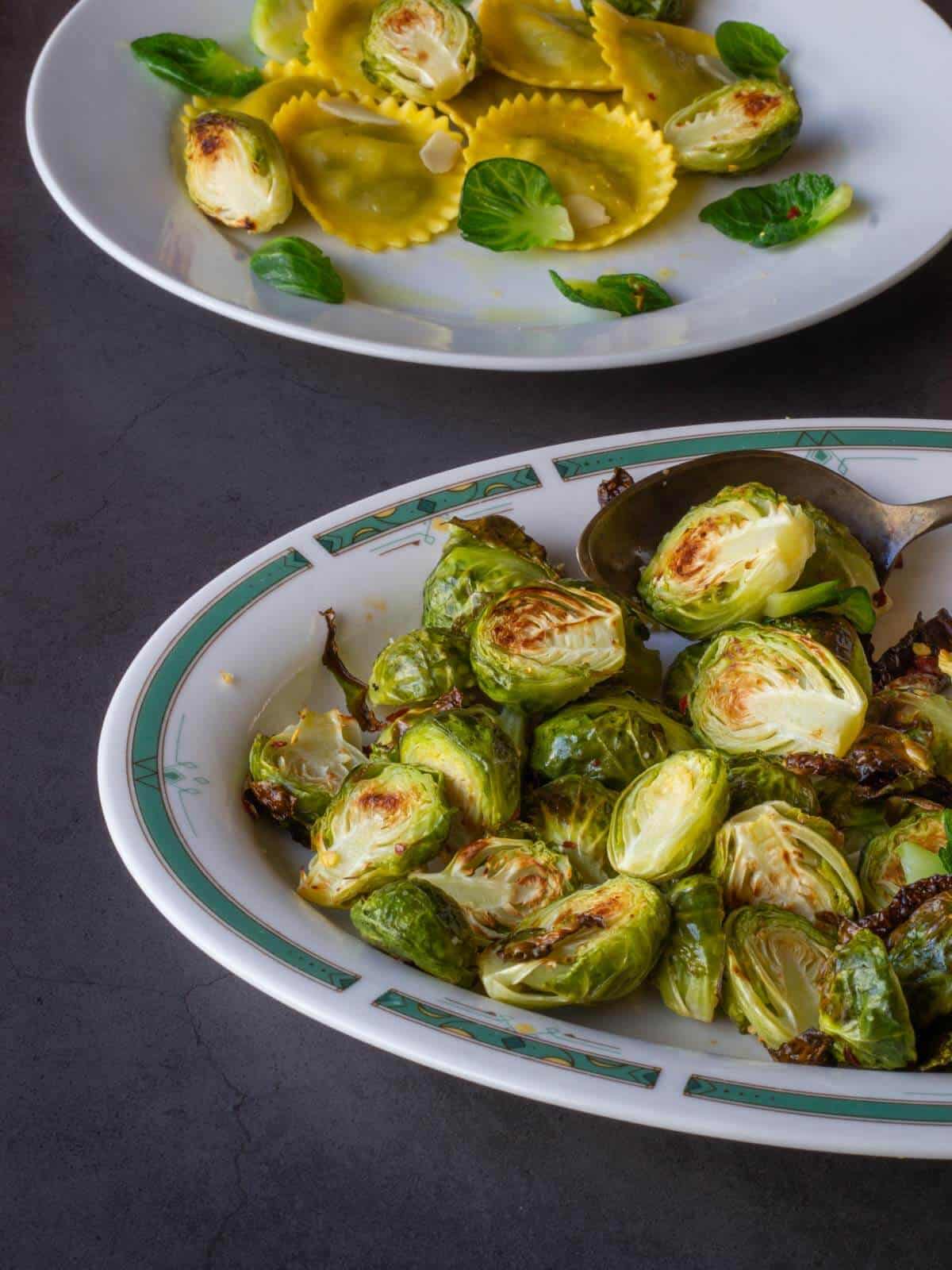 They announce the beginning of the cold season and the last summer stories.
One thing I like about Brussels Sprouts is that whoever loves them is ready to get into a conversation about them, and the others don't even care. There are always tips and tricks to extract everything about these tiny but potent veggies for us, who love them.
These roasted Brussel sprouts with garlic are easy to make in minutes and share a place in my brain labeled "Easy, Simple, Wholesome and Delicious Side dishes" with their sister recipes.
These recipes have in common
the appreciation of textures
only a few ingredients
short cooking time
they are hassle-free
require little time present.
This club has members like the Green Beans with toasted almonds, Artichokes with Dipping Sauce, pan-fried Romanesco Broccoli, and Perfect grilled asparagus, to name a few.
Eating Seasonal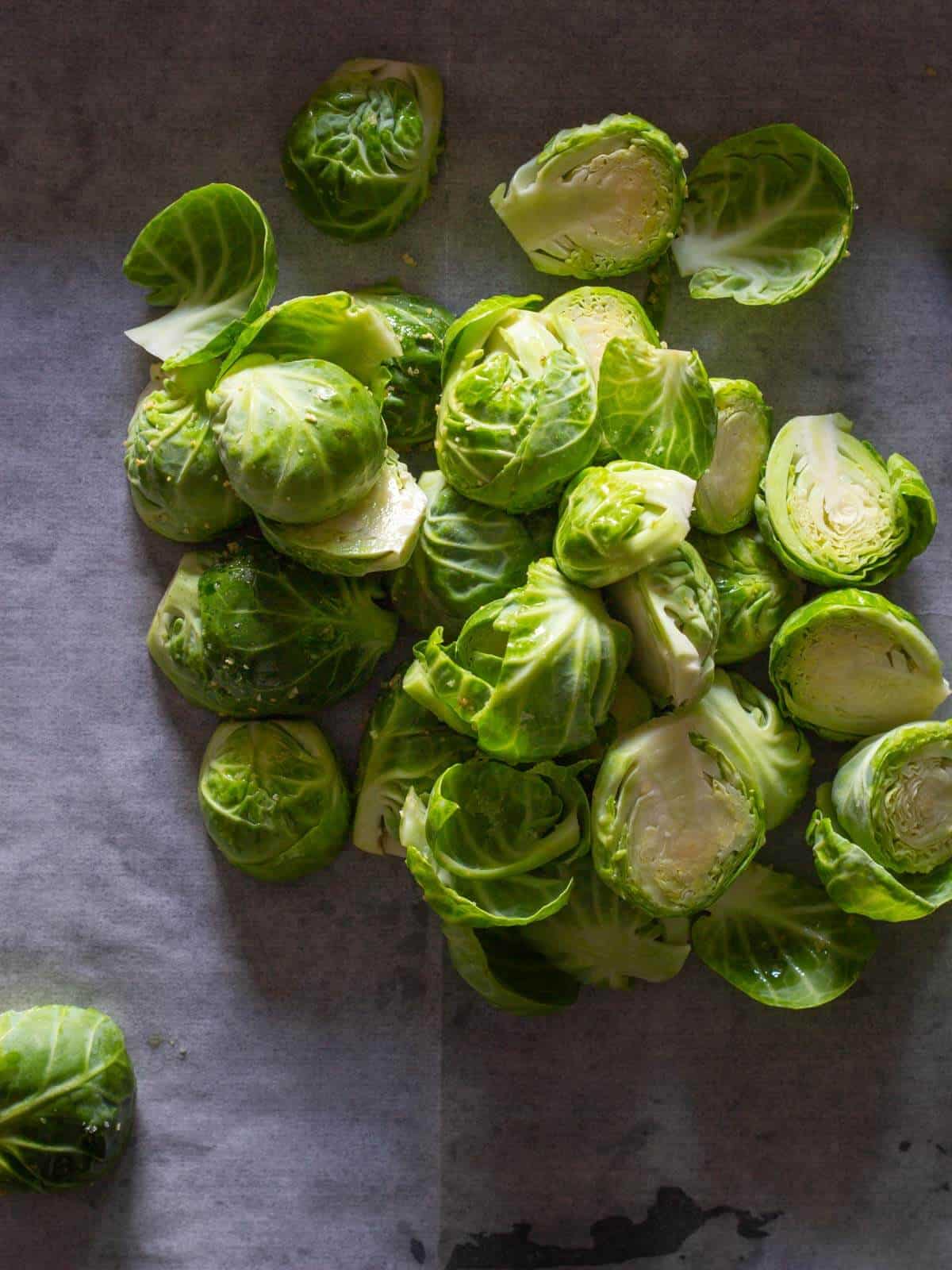 Brussels sprouts season starts at the end of August through March in Italy; although you can find them year-round, they just won't be local. Usually, they are at their pick after the first freezing, as they benefit from cold weather.
Ingredients
These garlic Brussel sprouts are super easy to make.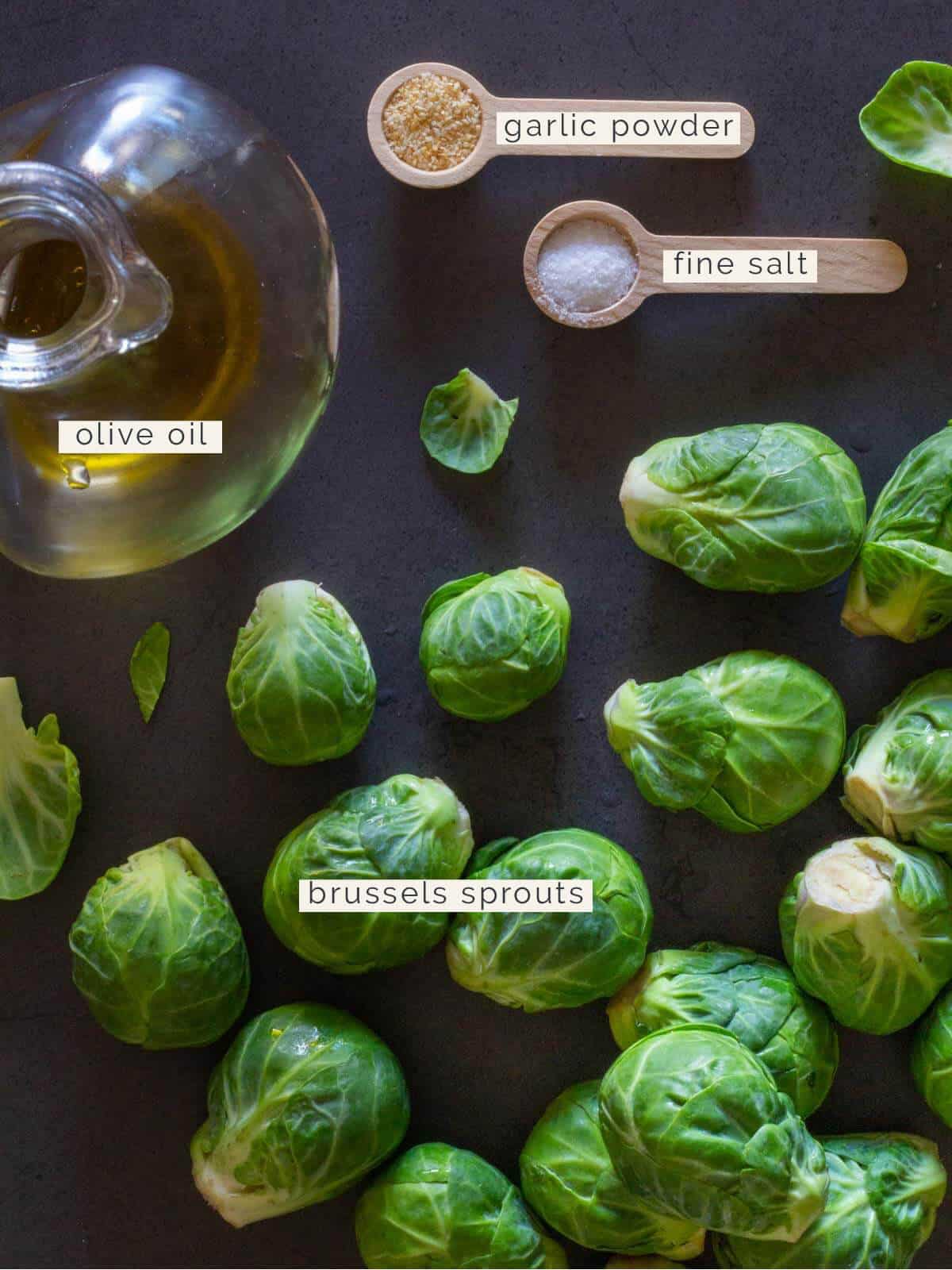 Brussels sprouts
Garlic powder
Olive or Avocado Oil
Fine salt
See the recipe card for quantities.
Instructions
Cooking fresh Brussel sprouts is easy. This is probably the easiest of all the brussel sprout dishes you will find!
The best roasted Brussels sprouts should be golden and crisp on the outside and still tender inside. They're full of well-balanced sweet and earthy flavors. We prefer eating them straight off the pan.
Soak and clean the Brussels sprouts
Pad towel dry them. Pre-heat the oven at 450ºF (225 ºC) if using avocado oil or 400 ºF (200 ºC), if using olive oil.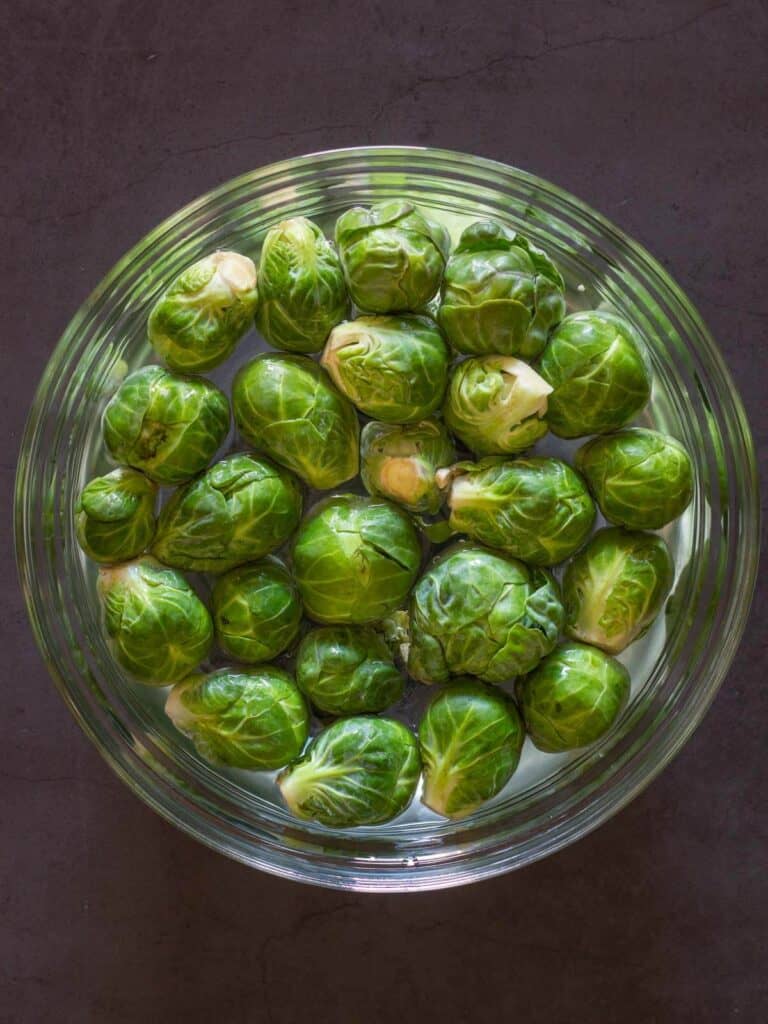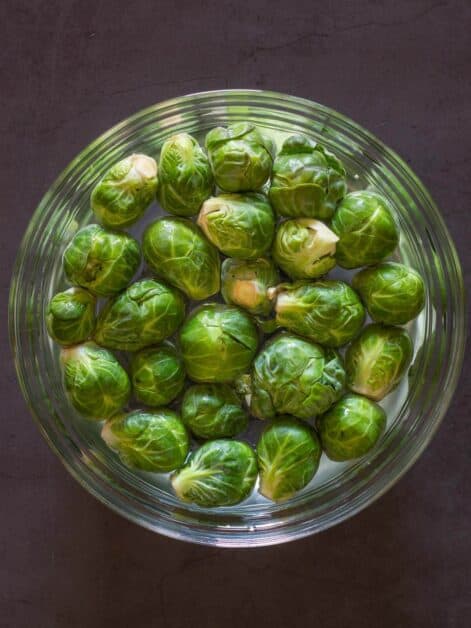 Prepare the sprouts. Trim the bottom and half the sprouts.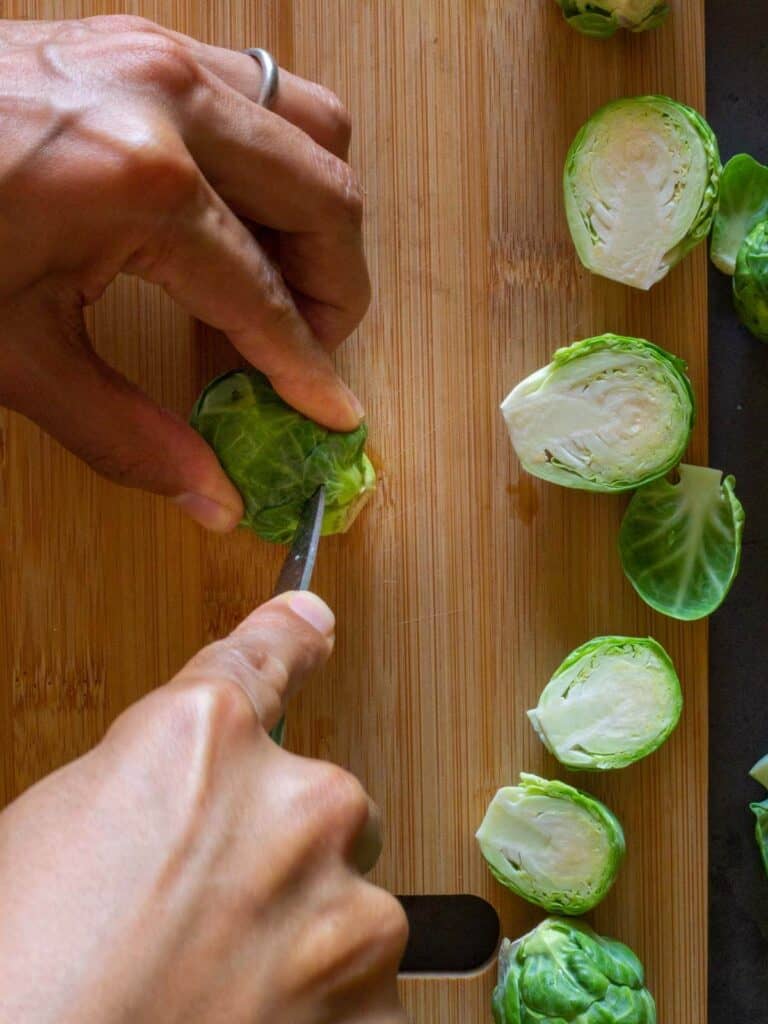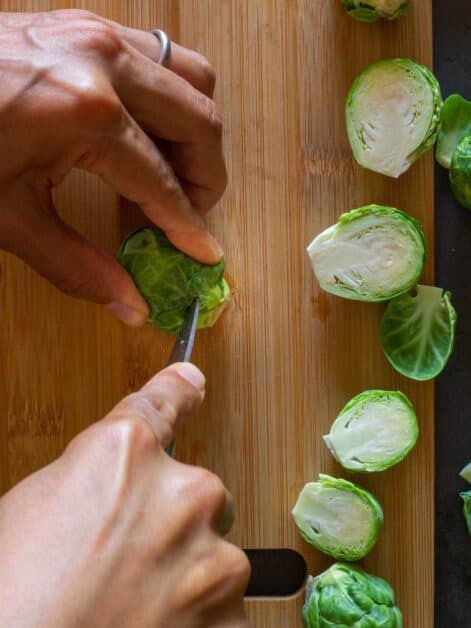 Add oil, powdered seasonings (in this case garlic onion), salt, and pepper.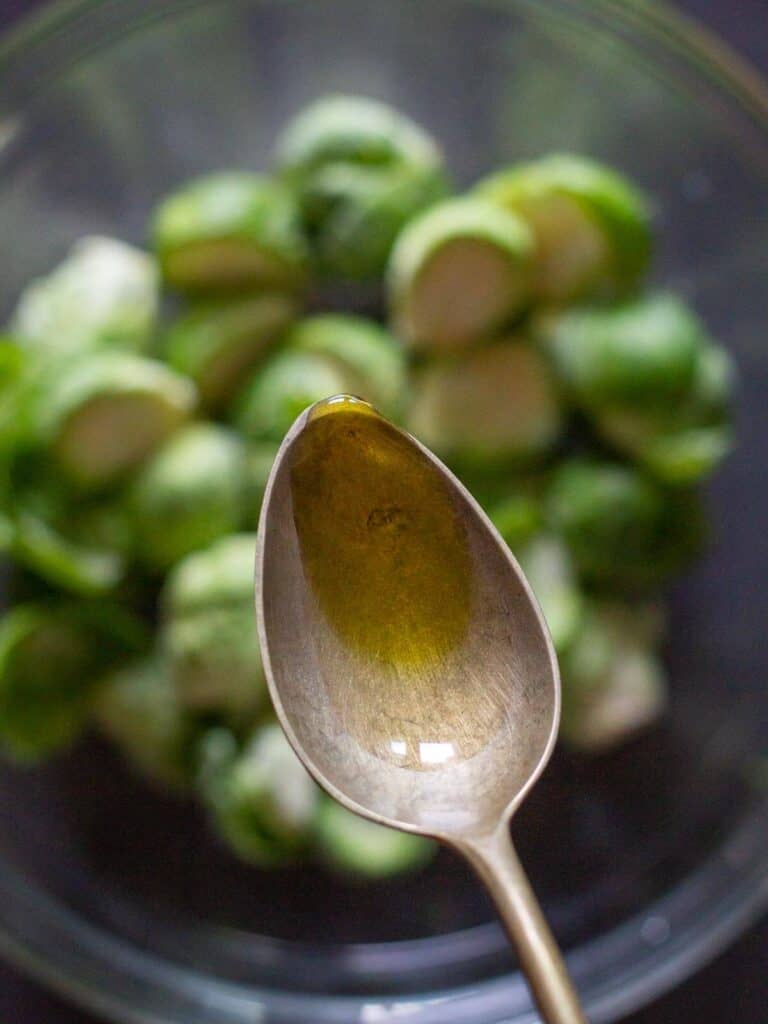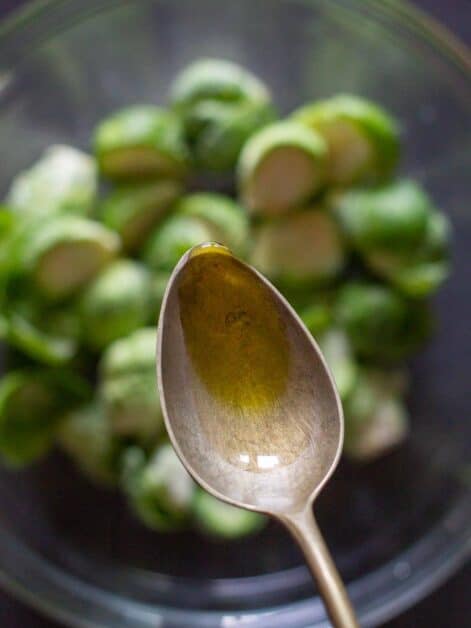 Mix and line up a parchment paper on a large baking tray and place the halved Brussels sprouts, face down.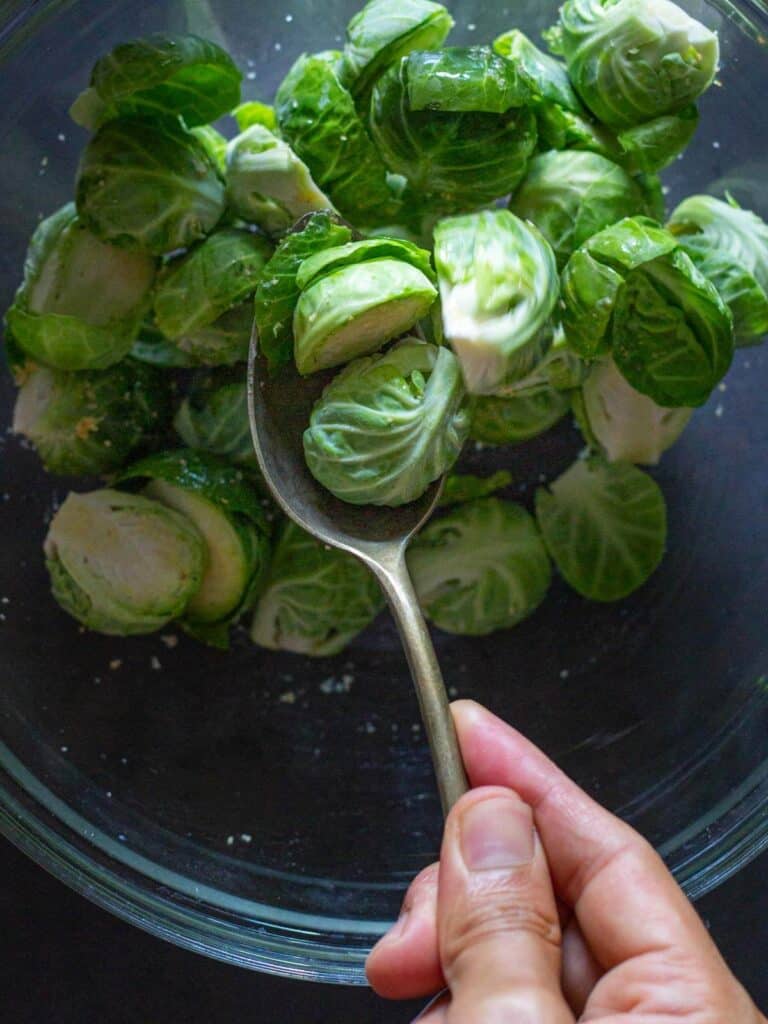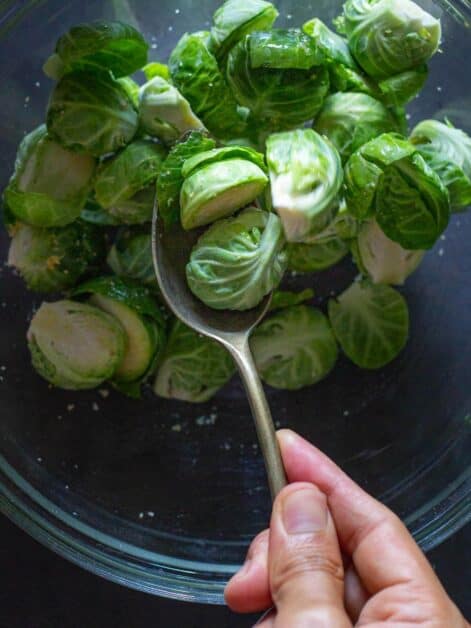 Bake Brussel Sprouts. for 15-20 minutes at 450ºF (225 ºC) if using avocado oil or 17-25 mins at 400 ºF (200 ºC), if using olive oil.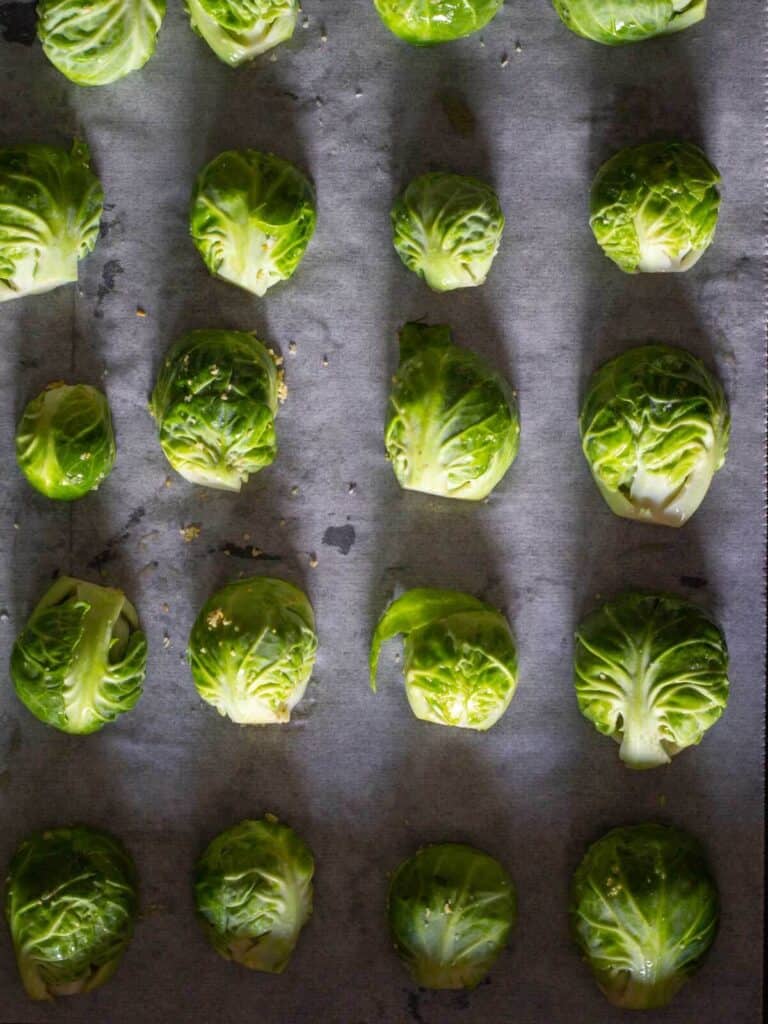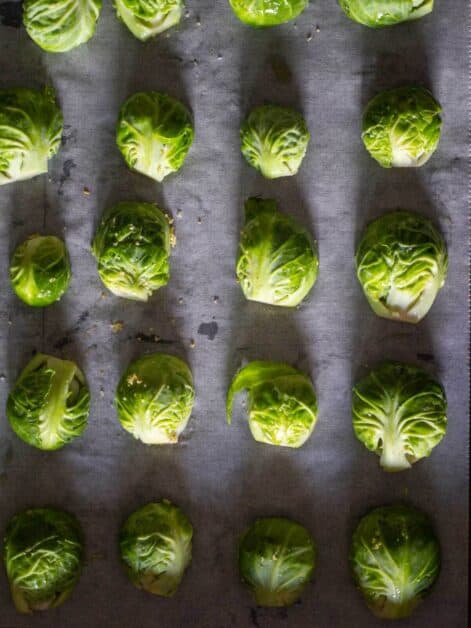 Tips
When cooking Brussels sprouts, just remember that they don't require much seasoning.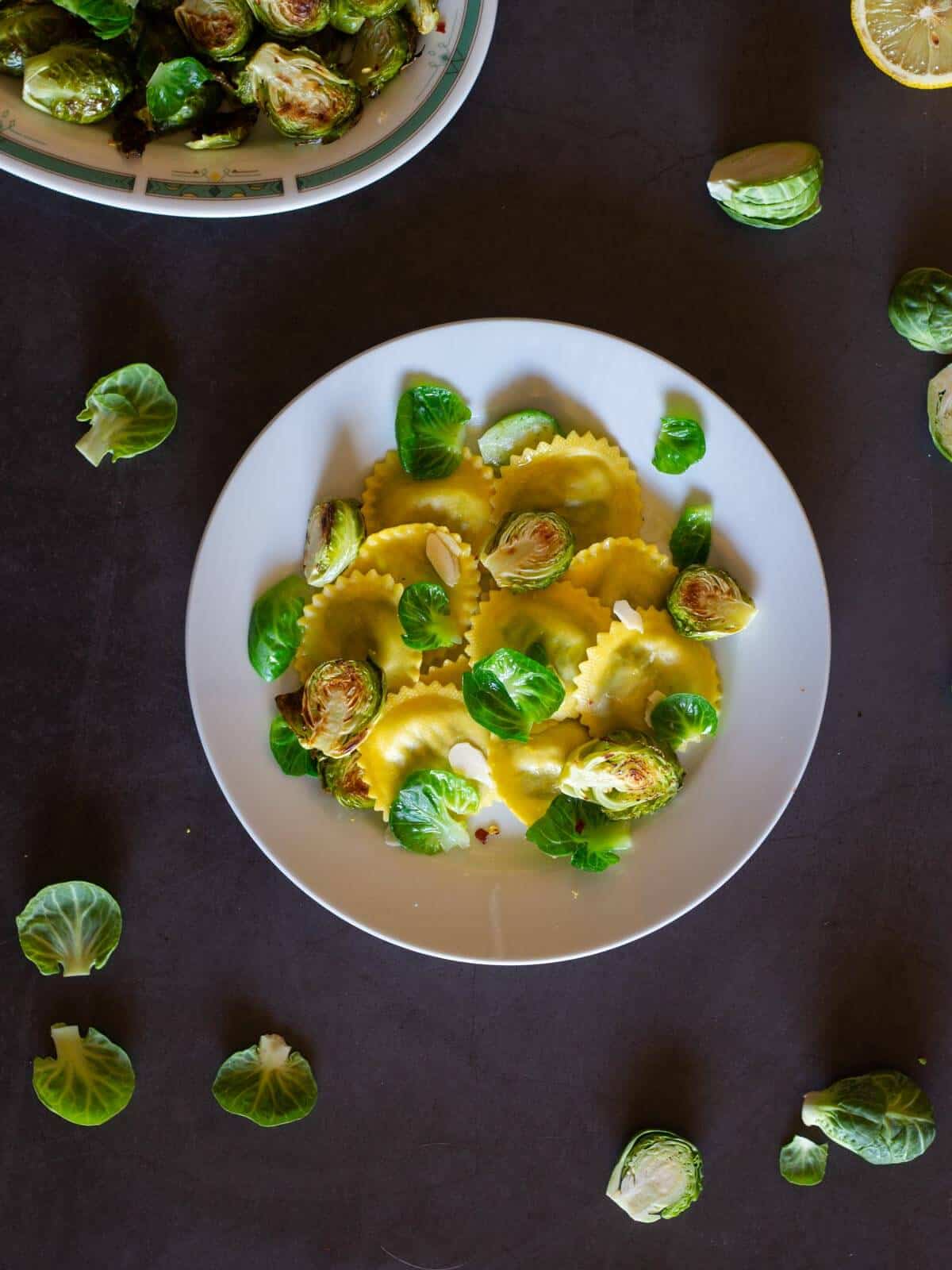 We like using simple ways, such as adding garlic or onion powder and occasionally lightly drizzling thick balsamic vinegar on top (preferably Italian- from Modena).
If you are looking for all the tips on How to Roast Brussels Sprouts, 100% right, take these tips into consideration.
1. Choose fresh and spotless Brussels
Look for bright green Brussels sprouts with spotless leaves. Smaller sprouts tend to be sweeter and more tender. Choose sprouts that are about the same size, so they're cooked evenly.
2. Halve the Brussels sprouts
Start slicing off the ends. Then, slice each sprout in half. This is how we will get the beautiful roasted, caramelized look that we are looking for!
3. Space the sprouts on the pan
Brussels crisp up better when they have some space.
4. Bake the sprouts at a high temperature and don't open the oven
The temperature should be high enough to get crispy, golden edges, this is where the Avocado Oil comes in handy. It has a higher smoke point than olive oil. You could use olive oil. But in that case, try not to go above 400 ºF (200ºC) and bake a little longer (about 5 minutes). Keeping the oven closed allows the heat to be steady, which delivers perfectly evenly cooked goodies.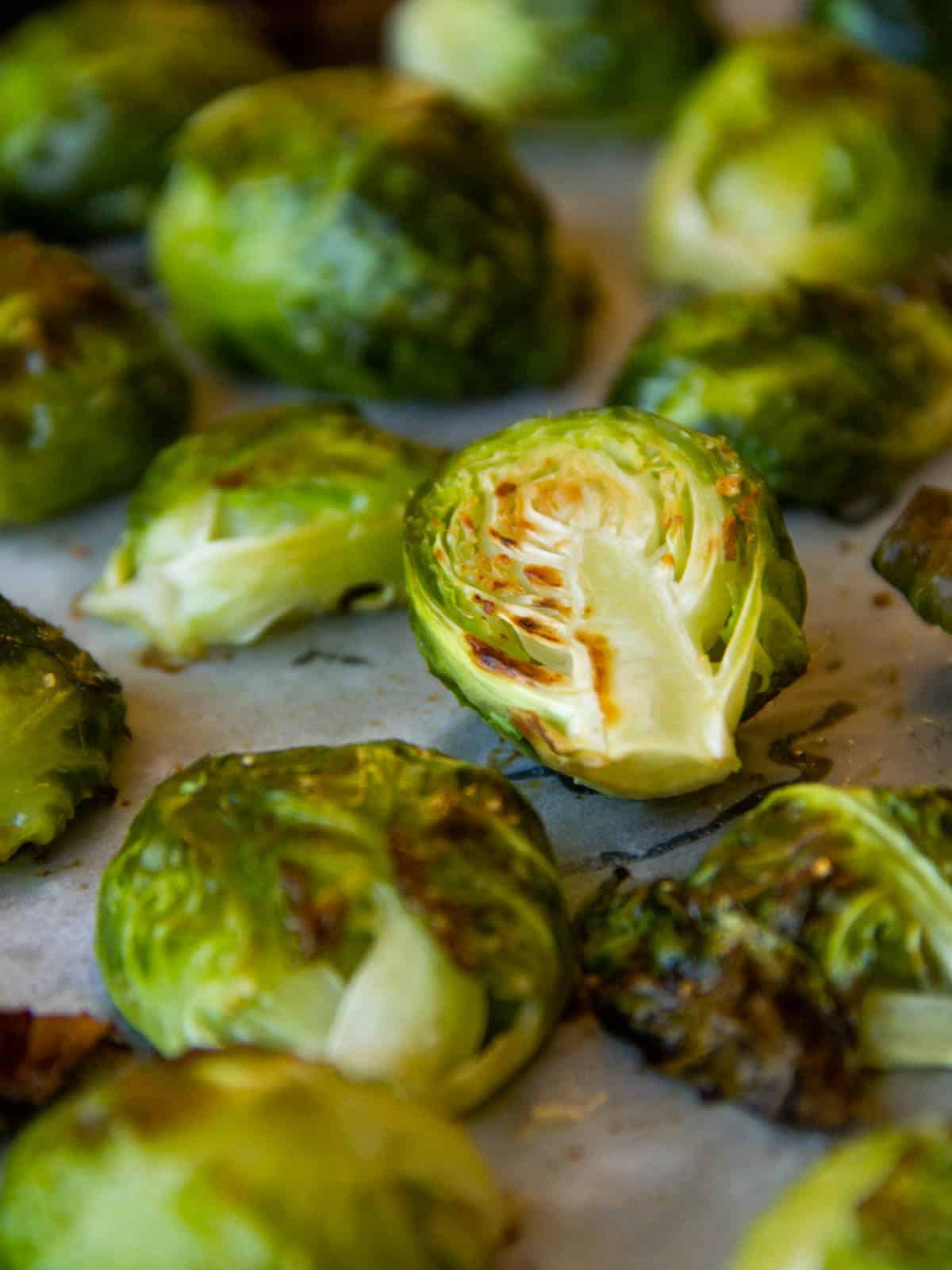 5. Roasting time
The roasting time will depend on the size of your sprouts. We find that we get crisp golden leaves starting at minute 15 but could take up to 25 minutes.
It would be 15 minutes when using high heat (450ºF - 225 ºC), and avocado oil and small sprouts; on the other hand, expect 25 minutes when using medium-high heat (400ºF -200ºC), olive oil, and bigger sprouts.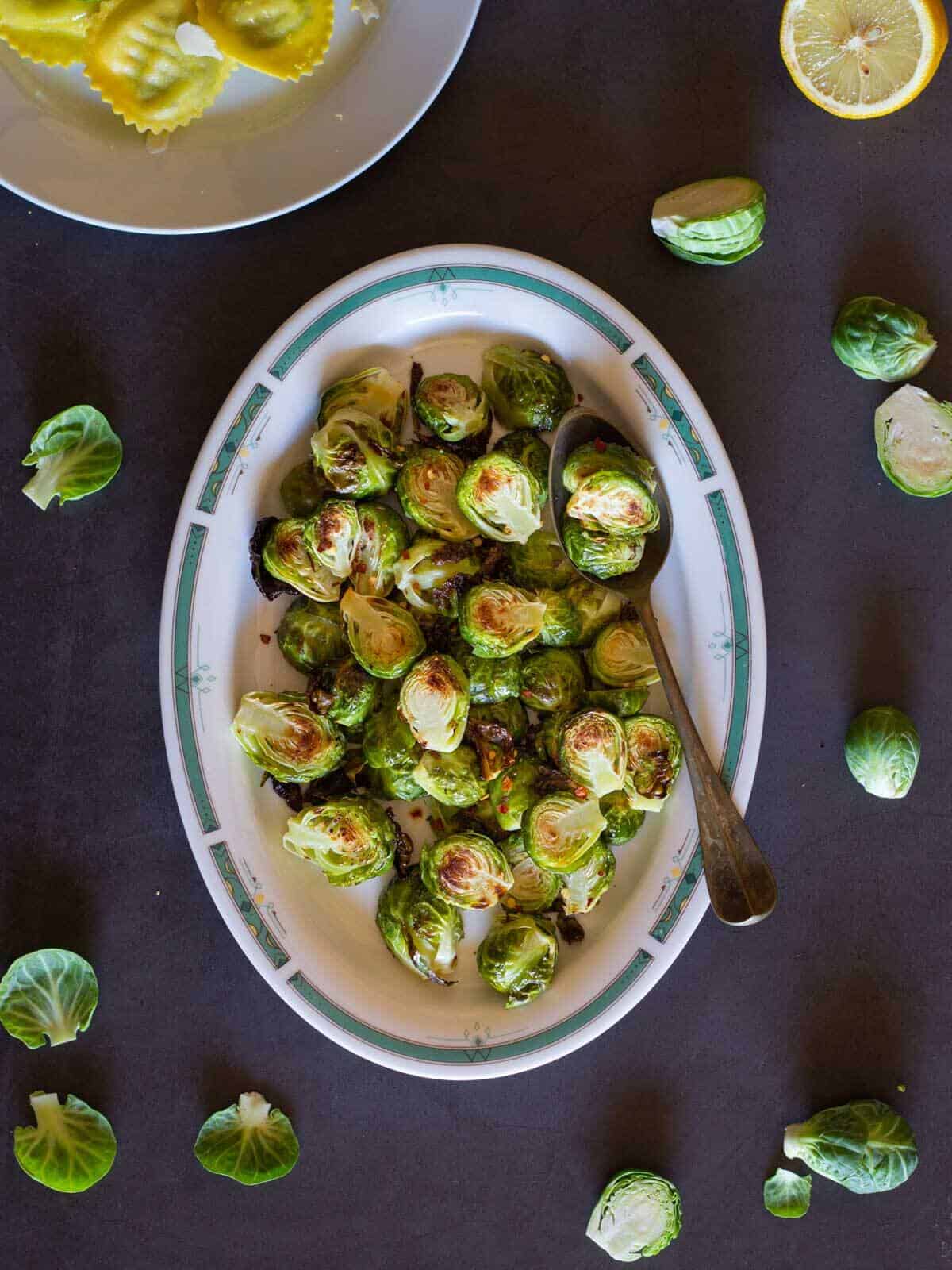 Roast the Brussels sprouts until they are golden on the flattened sides. If you notice that half of your sprouts look deeply golden, it is time to take the tray out.
6. Leaves
You will lose some leaves when tossing the sprouts. If you place them in the oven, they will burn quickly.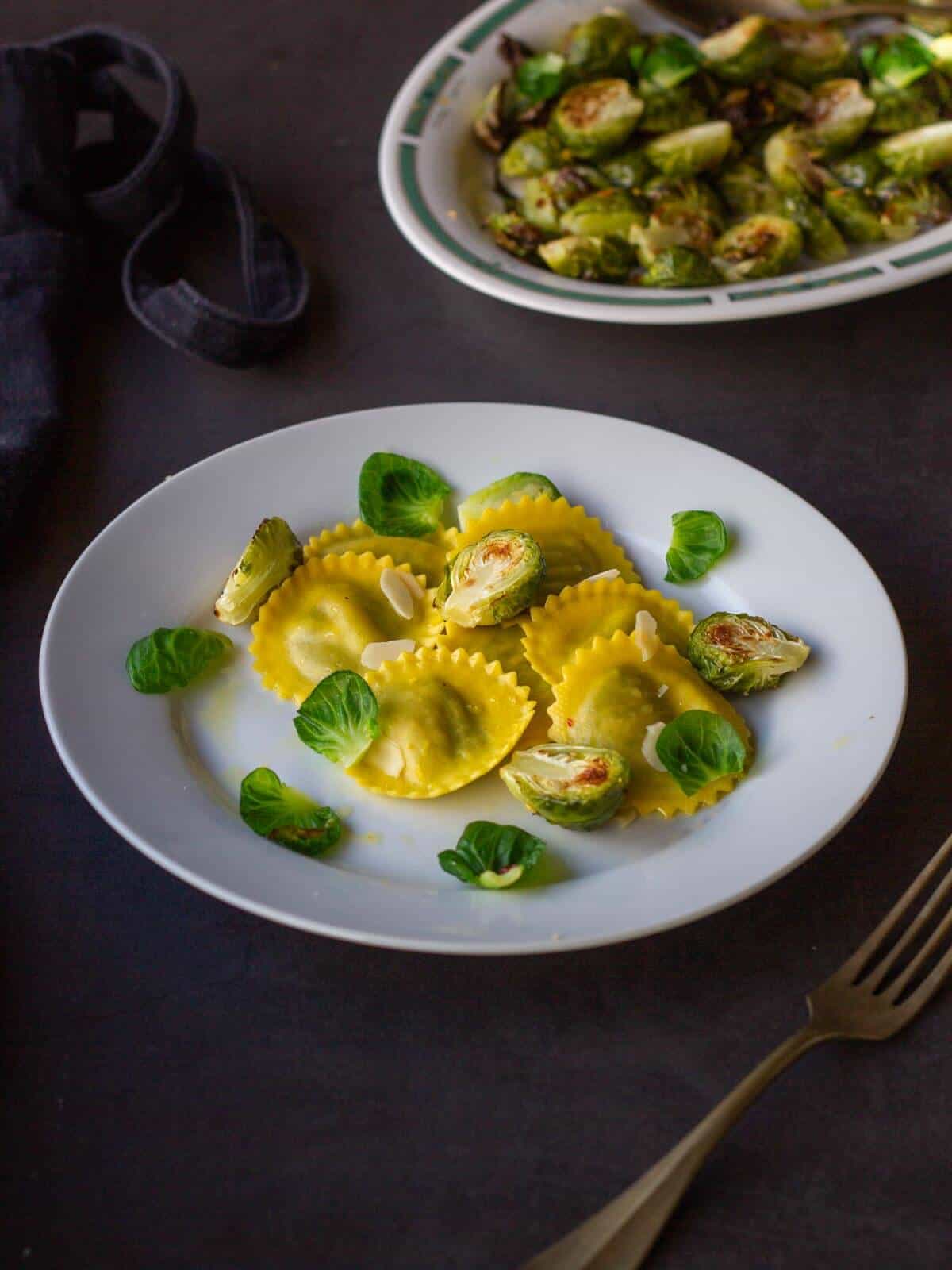 They are not less flavorful or nutritional. We love steaming or briefly adding them to our pasta's boiling water when the pasta is almost ready, so they don't lose their color.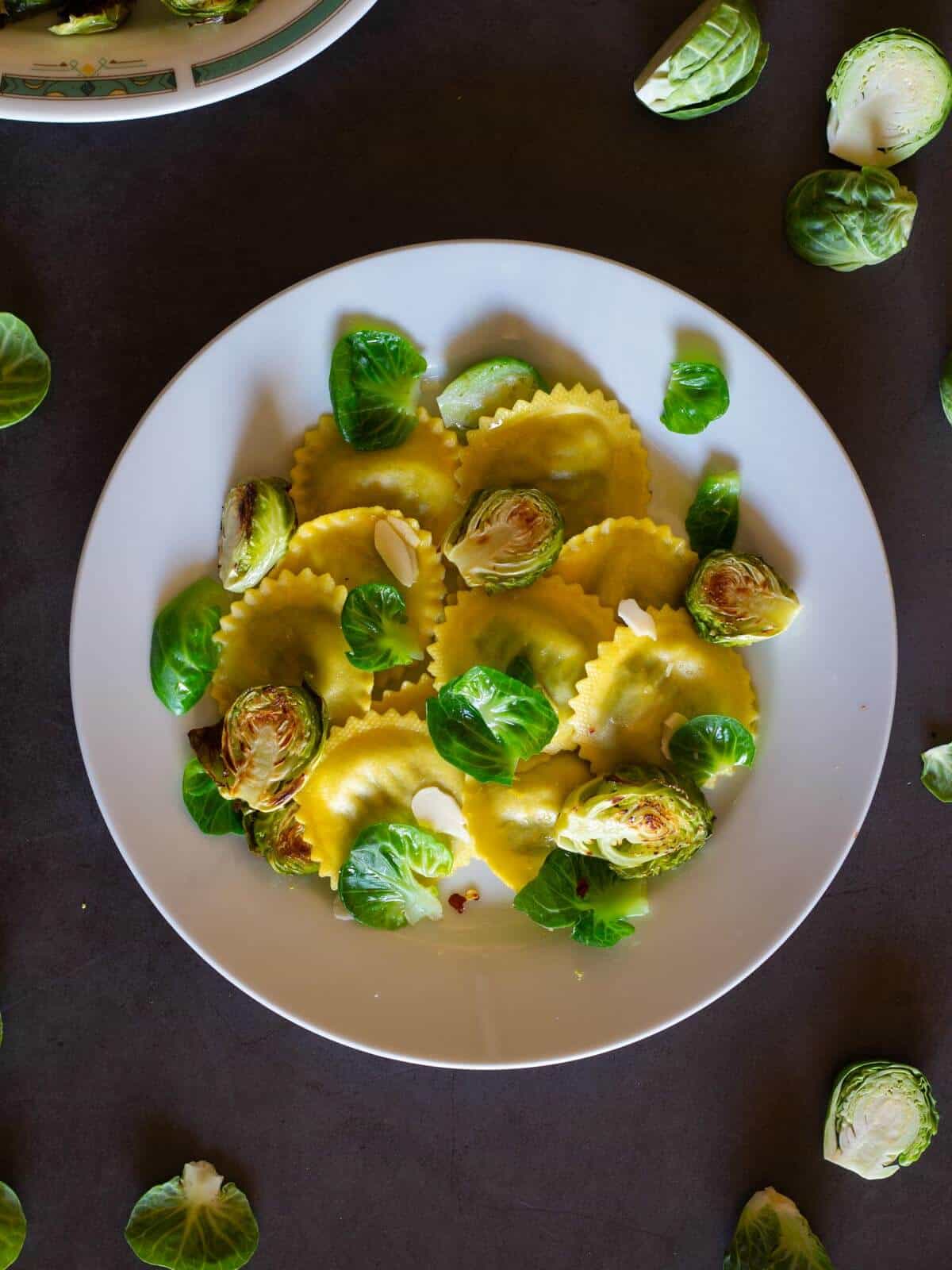 Grilled Brussels Sprouts
If you don't want to use the oven, you can try a pan-fried Brussel Sprouts version. It is equally delicious. The textures will change a bit. You won't have the crispy outer leaves but you can get the golden halved bottoms.
Do everything as directed above placing them on a lightly oiled or non-stick flat, on medium.heat for 30 seconds.
Place the seasoned and halved Brussels sprouts, face down, and place a lid on top, for 2 minutes. The steam will ensure the sprouts are cooked inside.
Lift the lid and continue cooking until they look golden, on the bottom. Check with a spatula.
Hint: when I make Brussel sprouts on a pan, I like adding ¼ cup of breadcrumbs, to make up for the crunchy bite. Add them, just 2 minutes before removing them from heat, so you don't burn them. Use gluten-free breadcrumbs if you are avoiding gluten.
Variations
Spicy - add red chili pepper flakes while cooking to imbue heat into the dish.
Deluxe - add vegan parmesan on top and drizzle with this balsamic vinegar.
Onion vs Garlic - add onion powder, instead of garlic.
Equipment
Make sure you use parchment paper, as it will make everything much easier to handle.
I like using a nice, flat, and large baking tray to ensure all the halved Brussels sprouts have some room while baking.
Health Benefits of Brussels sprouts
Wondering about Brussel sprouts calories? These babies are very low in calories.
High in fiber. These sprouts have a good fiber content, which aiding digestive health, as they help to feed the beneficial bacteria in our guts.
May help to protect against cancer. As it is the case with all cruciferous vegetables like broccoli and cauliflower.
Vitamin K. Brussels sprouts are rich in this important nutrient, that is essential vitamin for coagulation.
Sugar levels. Brussels sprouts may help to maintain healthy sugar levels steady.
Inflammation. Since they are high in antioxidants, they can help neutralize the free radicals that cause inflammation.
More roasted vegetables recipes
We love our easy and hassle-free roasted veggies, such as roasted Brussels sprouts, butternut squash, perfectly roasted spiced cauliflower, and the famous Spanish Escalivada. Each veggie has its own trick, here is how to roast cauliflower like a pro!
If you try this recipe, let us know! Leave a comment, rate it, and don't forget to tag a photo #ourplantbasedworld on Instagram. Cheers!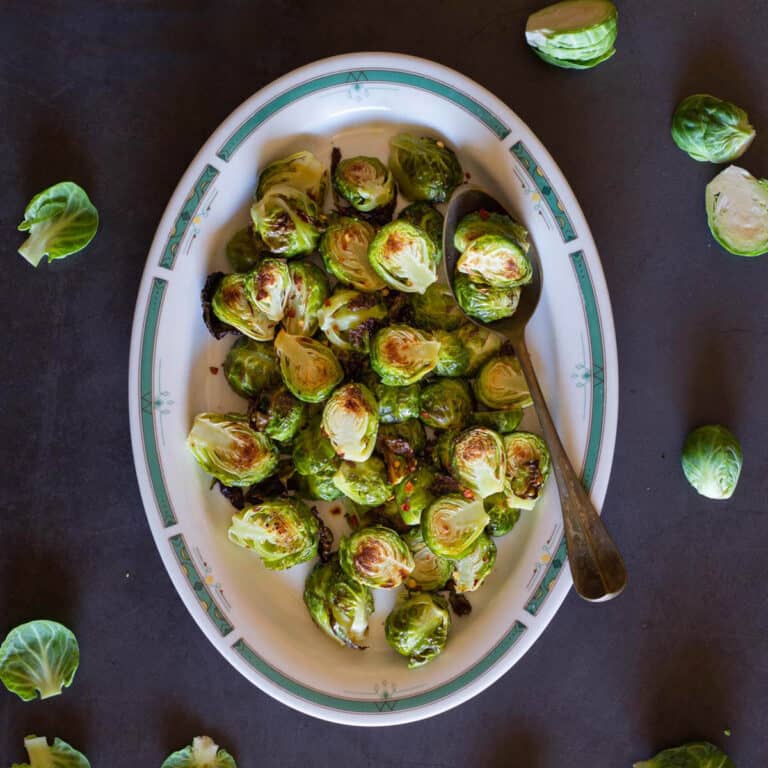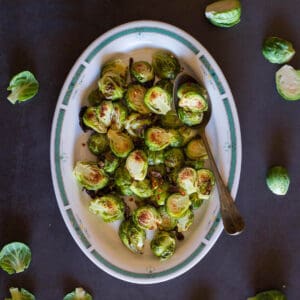 Recipe: Healthy Brussel Sprouts
I encountered these textured beauties, not that soon, but not too late to develop a love for them. Roasted Brussel Sprouts are easy to make, versatile, and healthy.
Ingredients
Optional:
¼

teaspoon

sea salt

or any other oil (sesame, peanut, avocado)

1

tablespoon

avocado oil

or olive oil

lemon wedge
Instructions
Soak or wash Brussels sprouts. In a bowl with water or under running water. Take off any dark leaves.

Pre-heat the oven at 450 ºF (225 ºC).

Towel dry the sprouts before cutting ans seasoning.

Trim and half. Remove the bottom part with a knife and half the sprouts, one by one. Save the loose leaves.

Season. In a bowl, mix de sprouts, oil, garlic powder and salt. Do it carefully to avoid loosing leaves.

⅓ teaspoon garlic powder

,

¼ teaspoon sea salt

,

1 tablespoon avocado oil

Arrange the halved sprouts on a parchment-lined baking sheet. Leave some room between them.

Bake at 450ºF (225ºC) for 25 minutes or until you see they are golden enough for your liking.

Serve. Add pepperoncino to make it spicy and lemon zest if you like an acid note
Nutrition
Calories:
143
kcal
Carbohydrates:
5
g
Protein:
5
g
Fat:
12
g
Saturated Fat:
2
g
Sodium:
41
mg
Potassium:
98
mg
Fiber:
1
g
Sugar:
1
g
Calcium:
20
mg
Iron:
1
mg
Nutrition Facts
Recipe: Healthy Brussel Sprouts
Amount per Serving
% Daily Value*
* Percent Daily Values are based on a 2000 calorie diet.
Pin it for Later!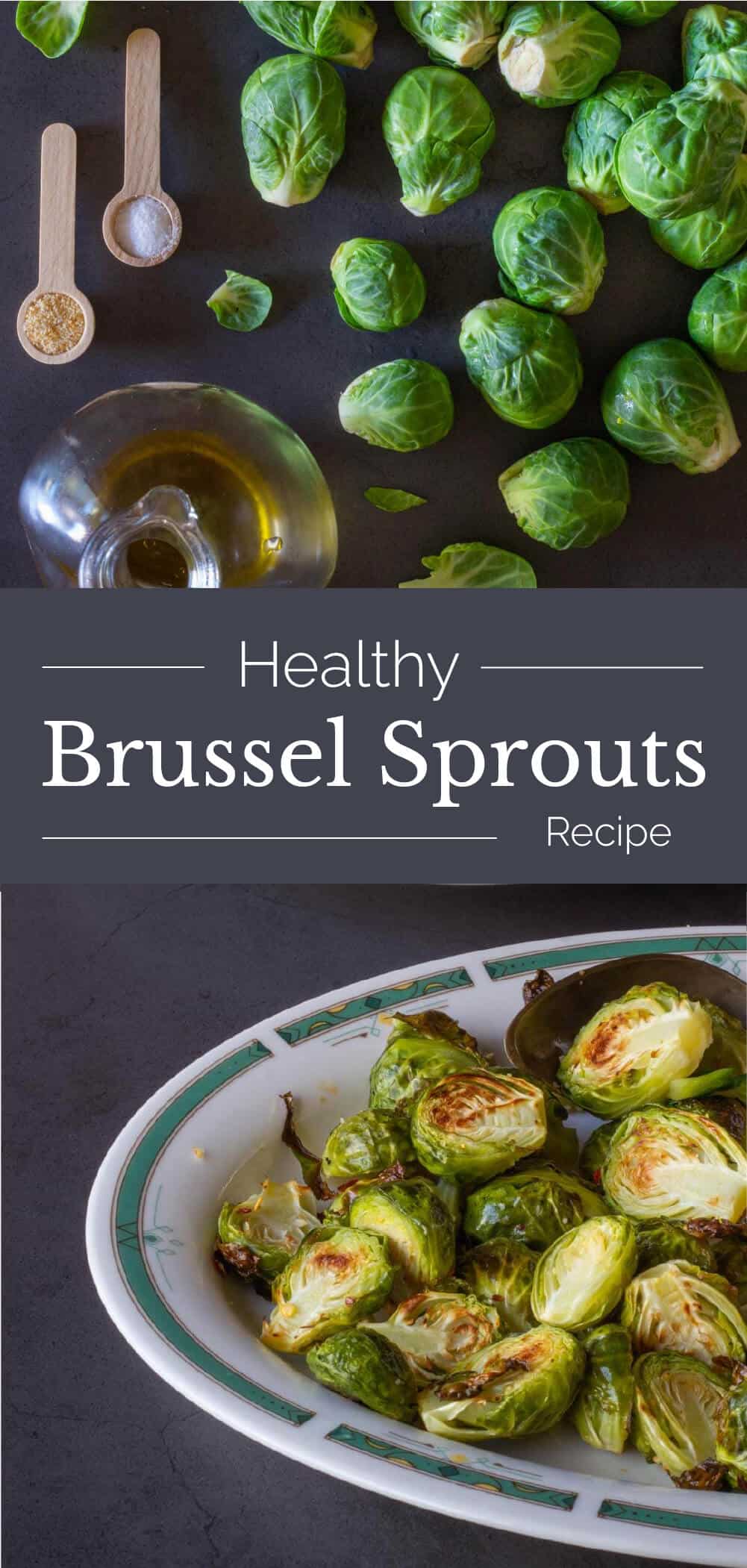 Food safety
We sometimes take for granted that we have years (or decades) of cooking experience, that the average visitor may not. Add to, or remove from, the list below with health and safety tips.
Cook to a minimum temperature of 165 °F (74 °C)
Do not use the same utensils on cooked food, that previously touched raw meat
Wash hands after touching raw meat
Don't leave food sitting out at room temperature for extended periods
Never leave cooking food unattended
Use oils with high smoking point to avoid harmful compounds
Always have good ventilation when using a gas stove
See more guidelines at USDA.gov.
Please note that some of the links here are affiliate links and I will earn a commission if you purchase through those links. I use all of the products listed and recommend them because they are companies that I have found helpful and trustworthy.
The information shown is an estimate provided by an online nutrition calculator. It should not be considered a substitute for a professional nutritionist's advice. See our full Nutritional Disclosure here.