Truffles are one of our weaknesses. Mixed them with potatoes, and we empty the plate. Period. This Truffled Mashed potatoes recipe is made in minutes and delivers plenty of satisfaction.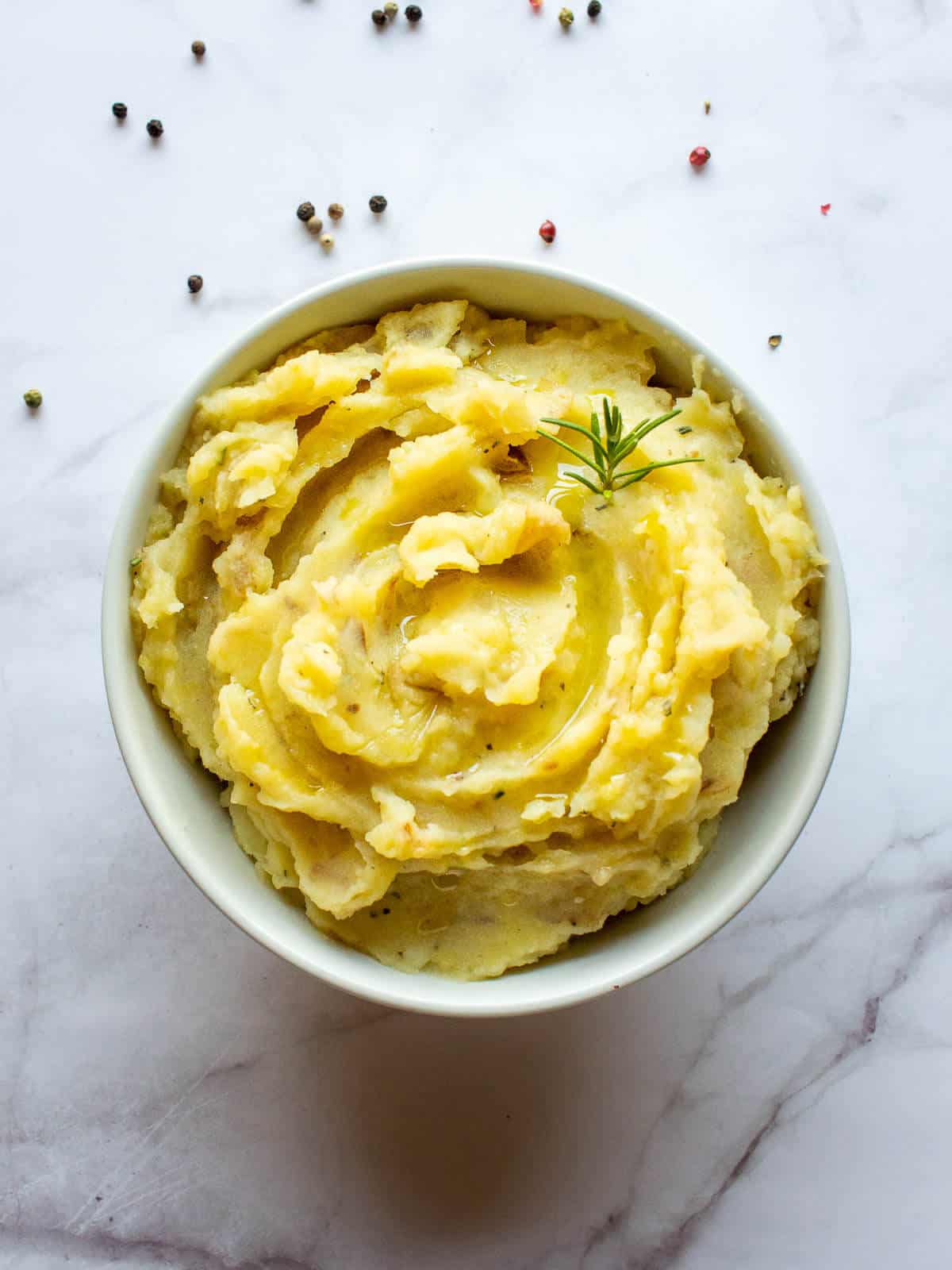 There's hardly a way to create another such an easy, flavorful, and decadent recipe in so little time than this one, so get ready for some compliments. This recipe is exquisite and is made in minutes!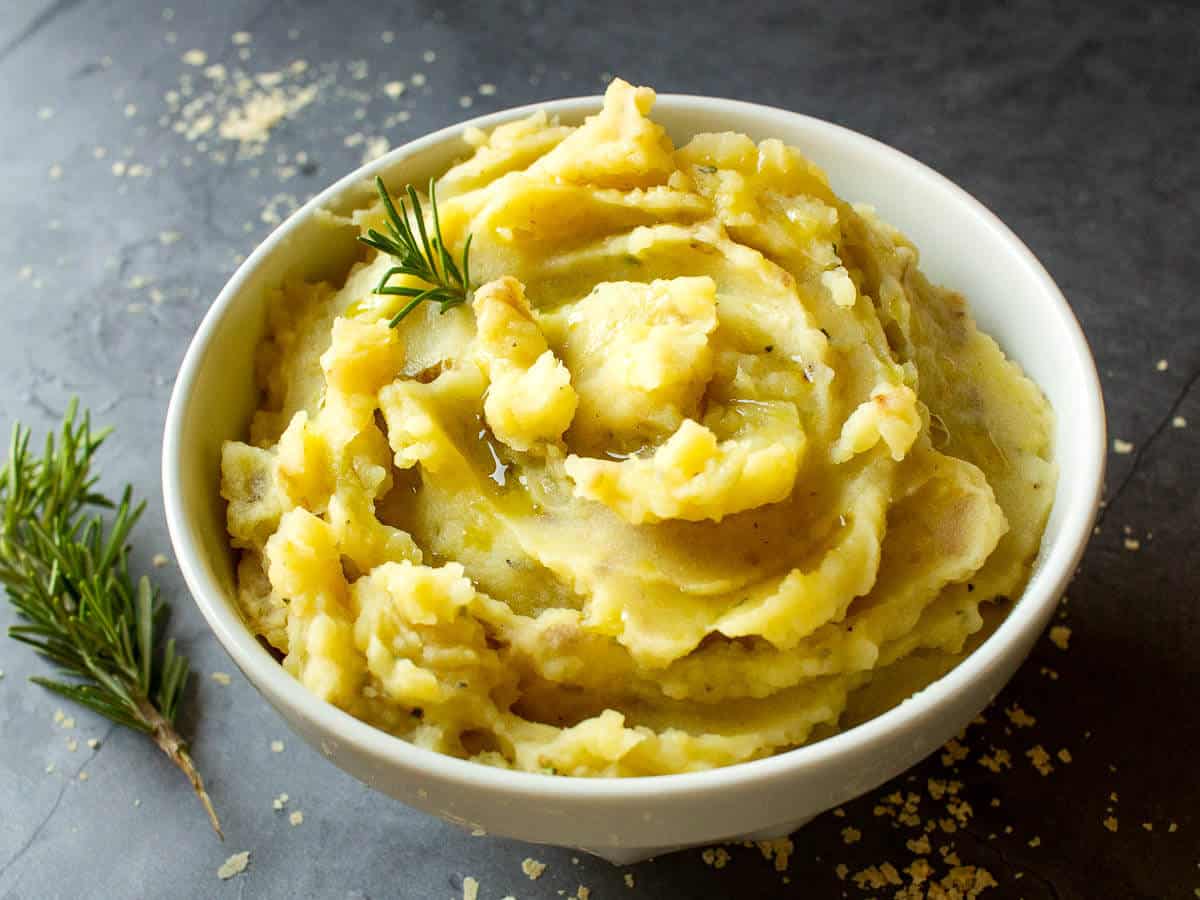 Truffles are those things that you either love or hate, and we just can't get enough of them. White, black, shaved, oil-infused, whichever way they come, we will dig into them, no questions asked.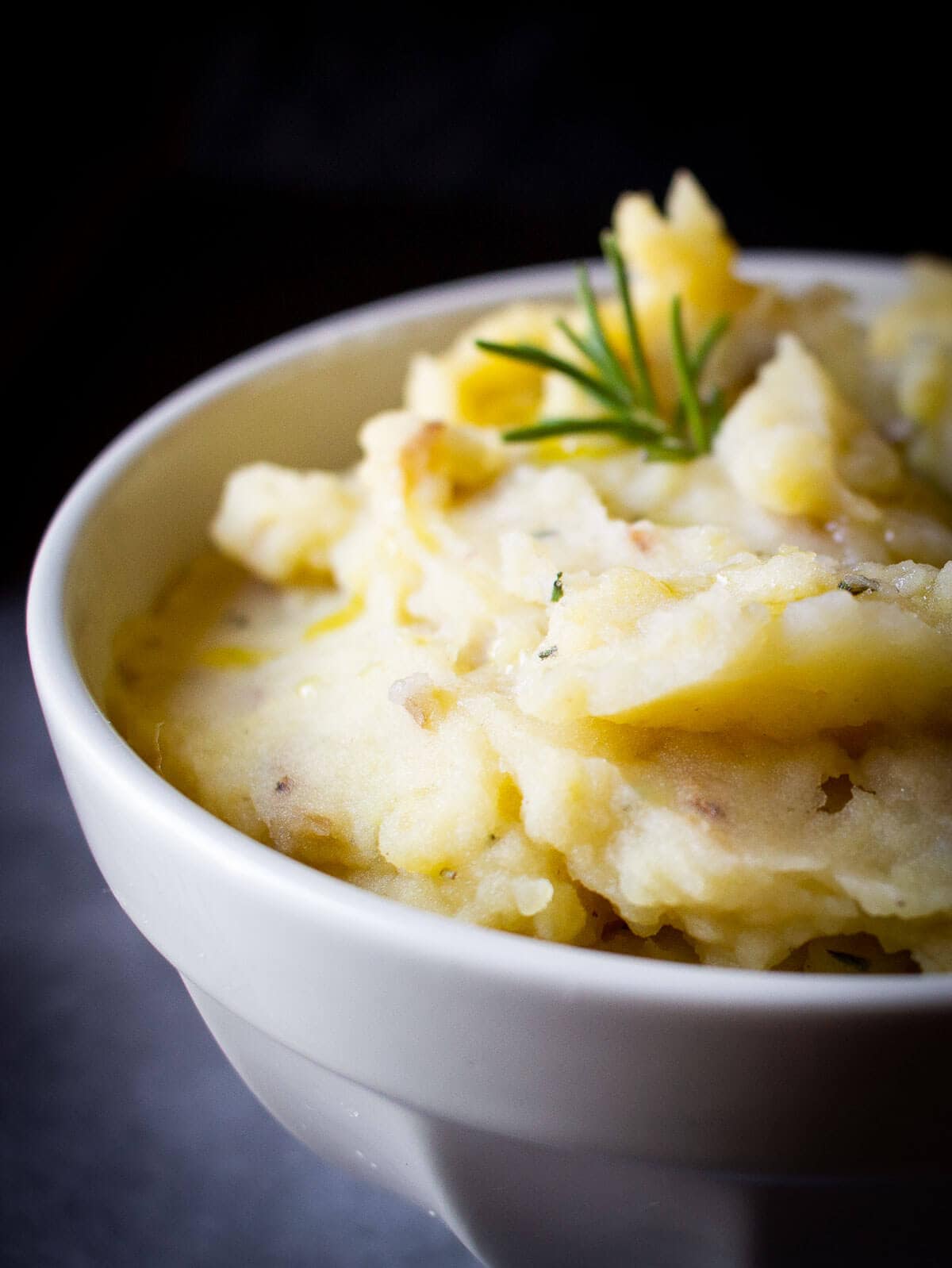 What are truffles
Not to be confused with fancy chocolates of the same name, savory truffles are subterranean fungi grown in calcareous soils near the roots of trees such as oak or hazelnut. They're produced in concentrated areas worldwide, including France, Italy, New Zealand, China, North Africa, the Middle East, and the Pacific Northwest.
In Northern Italy, truffles grow widely and are highly valued and used in many dishes such as risottos and pasta, so yes. So living here, we are closer to our idea of heaven.
Want to know more about truffles?
Ingredients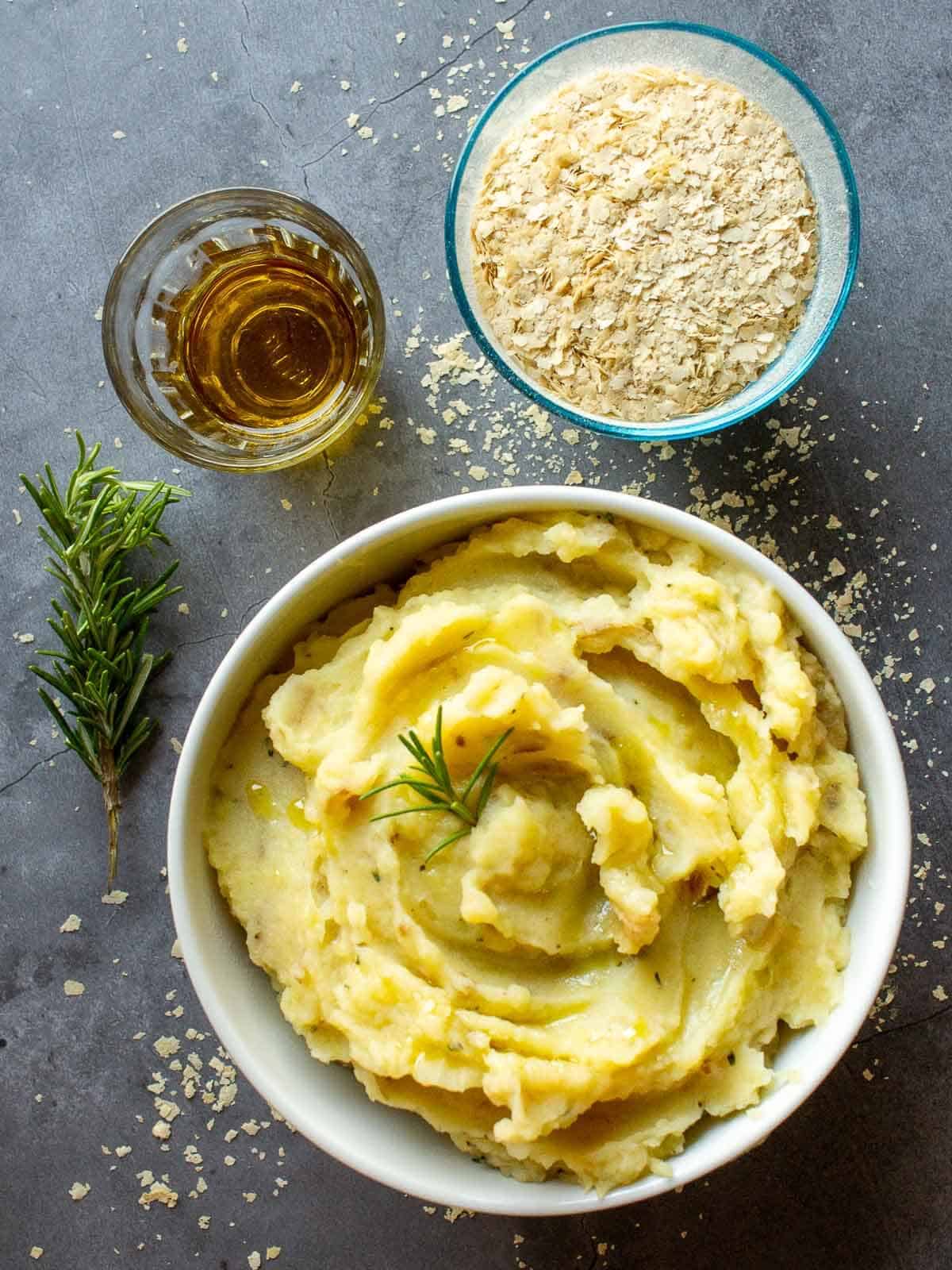 Potatoes
Rosemary
Nutritional yeast
Olive oil
Salt.
See quantities and full instructions in the recipe card.
Instructions
Boil the potatoes, skin on.
Add all the ingredients to a bowl and with a masher, mix everything together.
Mashing potatoes, as opposed to boiling or roasting them, can cause their starch granules to become leakier and dissolve into the liquid phase of the potato.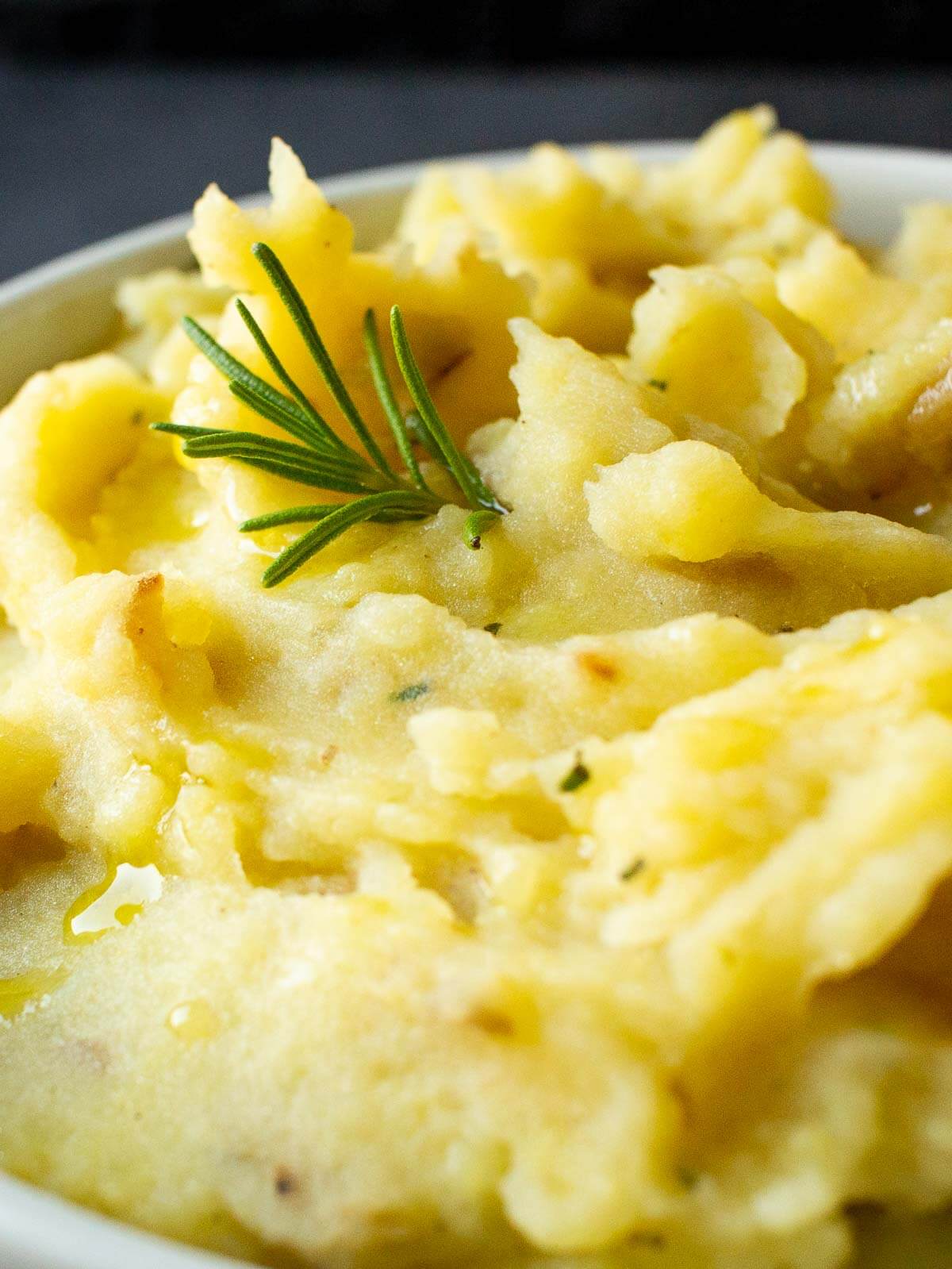 This will result in a thicker mash with a creamier texture and an enhanced 'potato flavor'. If you prefer, mash them by hand – but if you want quick and easy – go for the food processor.
I like to peel my potatoes first (if they don't need pre-peeling, I skip this step). Boil them - cooking time will depend on your preference. Cook until tender but not too soft - I like mine when there's still some give when poked with a fork.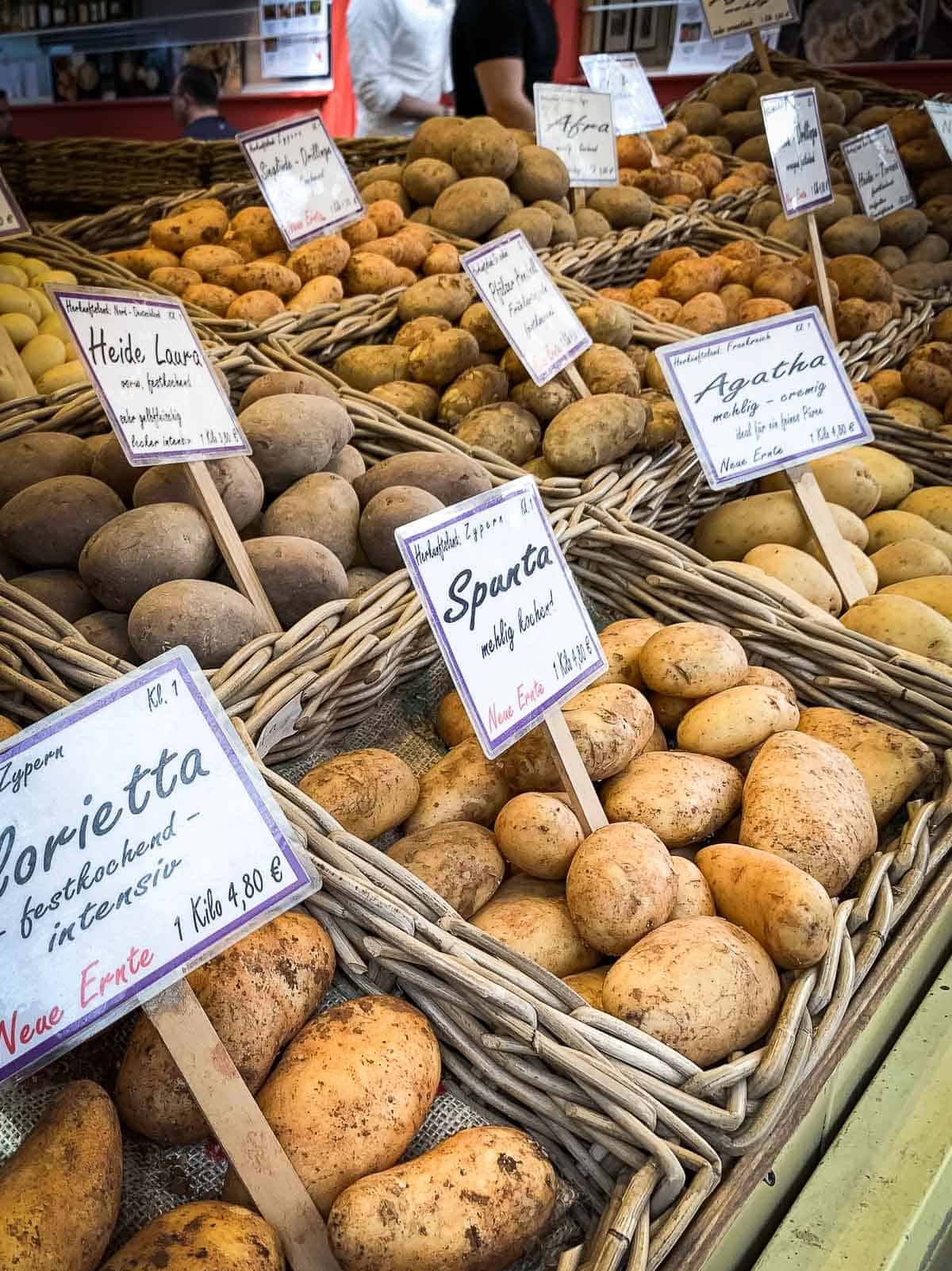 Benefits of potatoes
Potatoes are healthy. They have good things like vitamins C and B6, potassium, copper and manganese. Plus, they also have antioxidants that help fight cancer.
So it is no wonder how mashed potatoes became one of the most popular comfort food in America! Truffles provide another layer
Baked potatoes make a delicious meal with no added fat.
They can be prepared in many different ways but always taste the same—delicious!
Store

It's recommended to store mashed potatoes after they are thoroughly chilled. Freezing mashed potatoes, with or without gravy, isn't recommended. It destroys the texture of the potatoes with prolonged exposure to cold temperatures and prevents nutrients from being available for their normal functions, which can result in taste changes.
For best results, refrigerate your pot of mashed potato on a tray if not covering tightly with cling wrap before stirring every 20 minutes for many hours (depending on temperature) to keep it cold and prevent oxidization that will lead to off-flavors. When ready to eat again after refrigerating, reshape into ball shape then put back into fridge either overnight or enough time so it is inhospitably cold before reheating.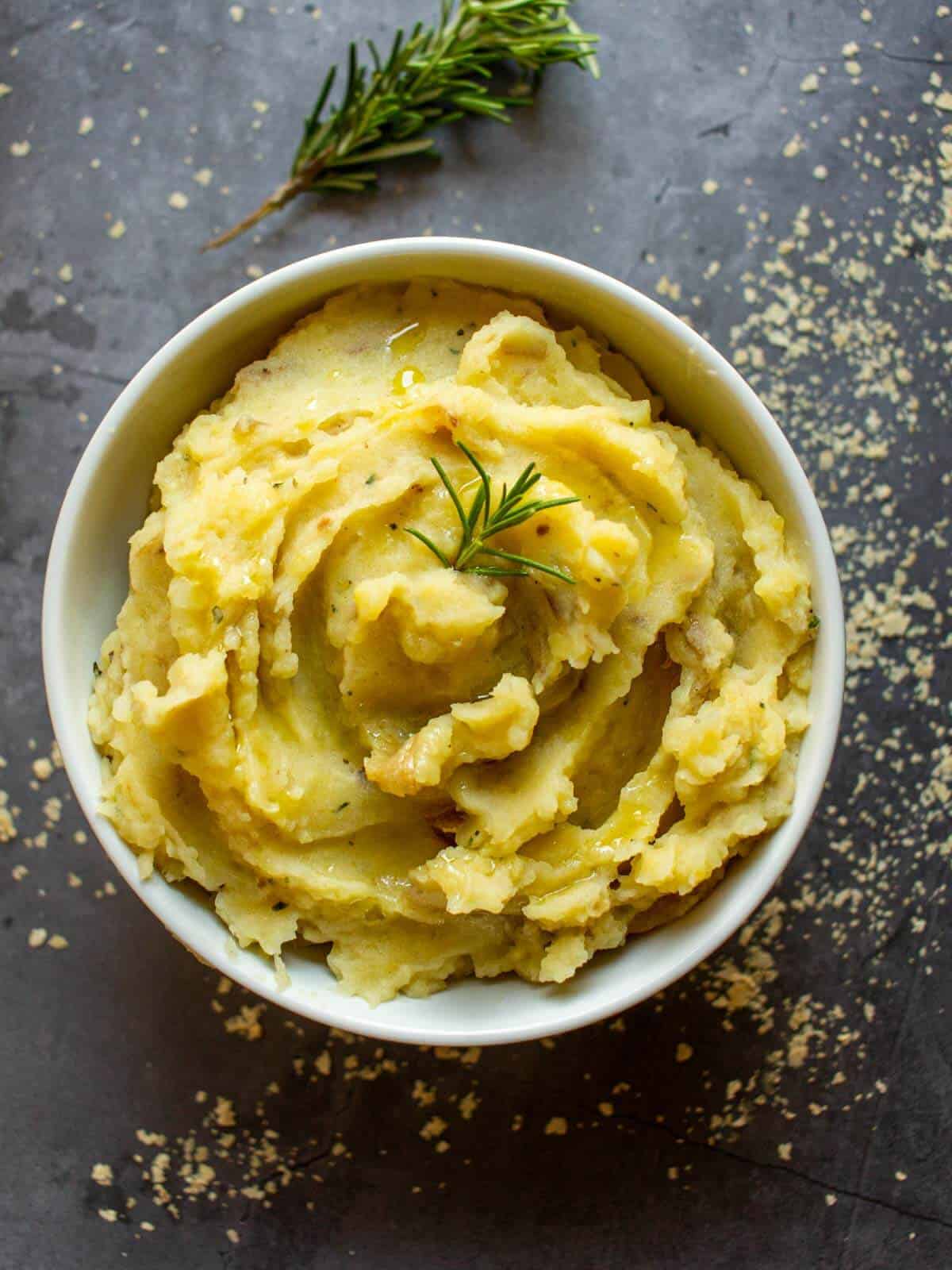 Equiqment
To make these mashed potatoes, I like using this immersion blender, which is very helpful to make pestos, and curry pastes (Yellow and Green Thai Curry pastes). Also, it works better to make sauces such as this Green Goddess Sauce and the delicious Creamy Vegan Sauce that we use for everything! Sometimes bigger food processors, don't work as well for creams.
More Sides ideas?
Get a look at hour suggested Vegan Christmas Menu Post
If you try this recipe, let us know! Leave a comment, rate it, and don't forget to tag a photo #ourplantbasedworld on Instagram. Cheers!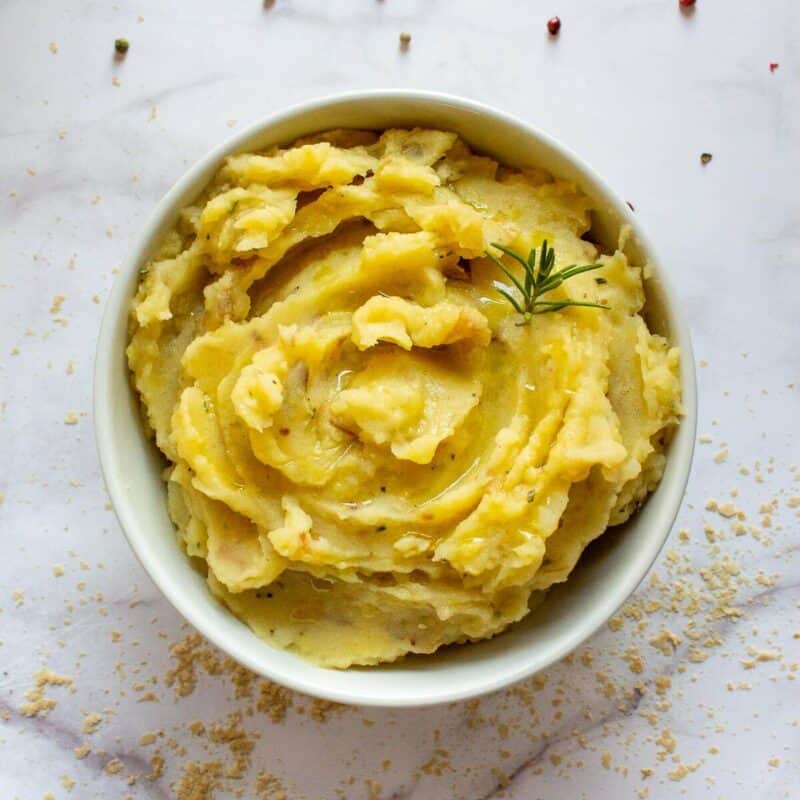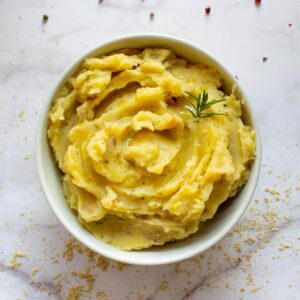 Recipe: Truffled Mashed Potatoes
Fast and Easy to make. Excelent as side for any dish.
Instructions
Boil. Bring your water to boil with some salt. Add the potatoes and cook until tender.

5 potatoes

,

2 tablespoon salt

Mash the potatoes with their skin on.

Blend all the ingredients and mix well.

1 tablespoon extra virgin olive oil

,

1 tablespoon white truffle oil

,

1 tablespoon nutritional Yeast

,

1 tablespoon rosemary
Nutrition
Calories:
220
kcal
Carbohydrates:
38
g
Protein:
5
g
Fat:
6
g
Saturated Fat:
1
g
Sodium:
1408
mg
Potassium:
931
mg
Fiber:
5
g
Sugar:
2
g
Vitamin A:
17
IU
Vitamin C:
42
mg
Calcium:
32
mg
Iron:
2
mg
Nutrition Facts
Recipe: Truffled Mashed Potatoes
Amount per Serving
% Daily Value*
* Percent Daily Values are based on a 2000 calorie diet.
Food safety
We sometimes take for granted that we have years (or decades) of cooking experience that the average visitor may not. Add to, or remove from, the list below with health and safety tips.
Cook to a minimum temperature of 165 °F (74 °C)
Do not use the same utensils on cooked food, that previously touched raw meat
Wash hands after touching raw meat
Don't leave food sitting out at room temperature for extended periods
Never leave cooking food unattended
Use oils with high smoking point to avoid harmful compounds
Always have good ventilation when using a gas stove
See more guidelines at USDA.gov.
The information shown is an estimate provided by an online nutrition calculator. It should not be considered a substitute for a professional nutritionist's advice. See our full Nutritional Disclosure here.
Please note that some of the links here are affiliate links and I will earn a commission if you purchase through those links. I use all of the products listed and recommend them because they are companies that I have found helpful and trustworthy.