Looking for a hearty and healthy Tuscan soup to keep you warm this winter or on chilly nights? Look no further than this delicious Bean Vegetable Soup recipe! This Tuscan Ribollita soup is made with white beans, kale, and leftover bread, making it the perfect meal and warm-up your day.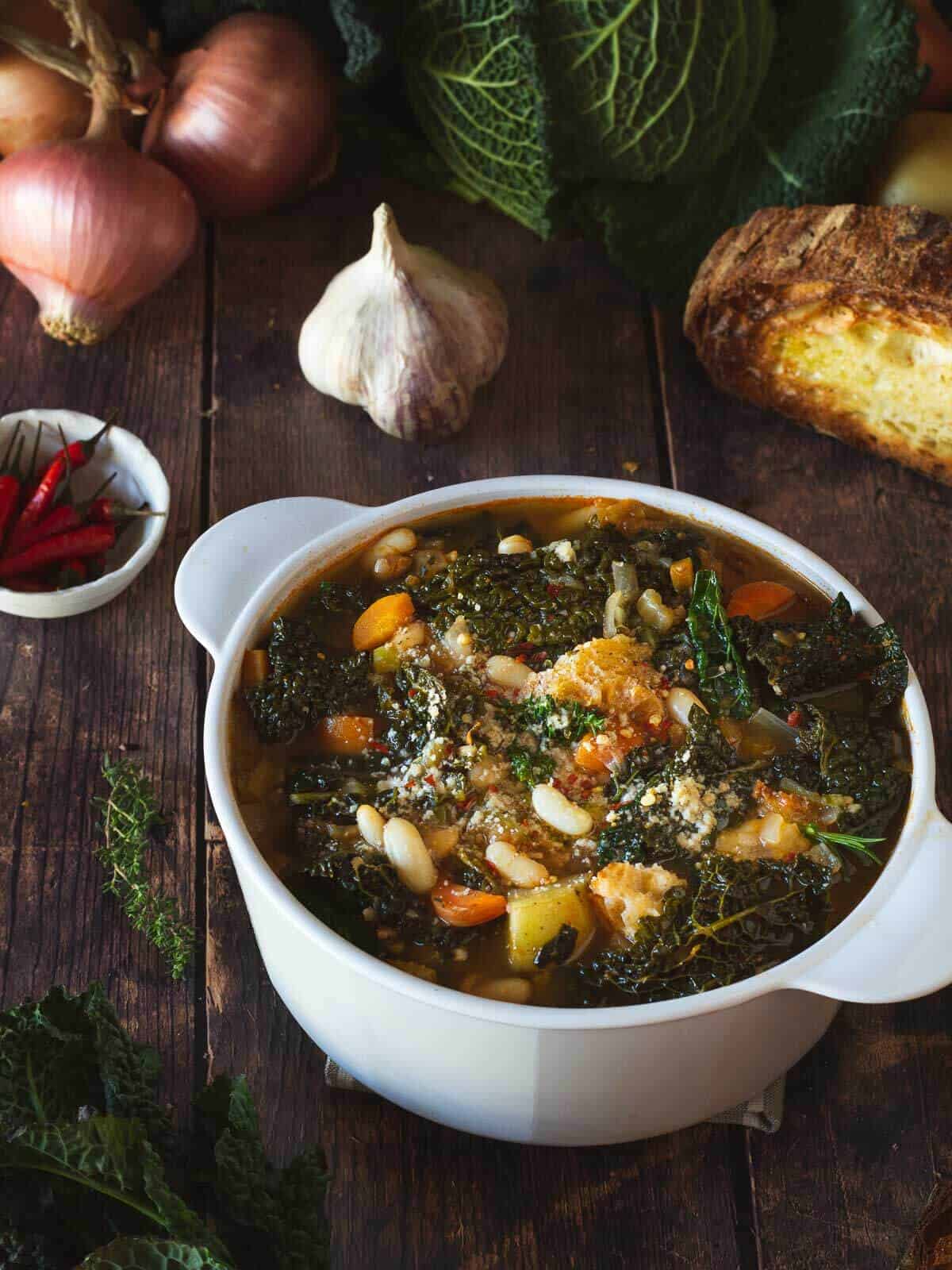 Jump to:
🤔 What is Ribollita?
Ribollita is a traditional Italian soup that is typically made during the winter months. The name Ribollita comes from the word "reboiled" because this soup is made with leftovers and can be repurposed, adding more veggies and carrying lots of flavors.
This hearty and healthy Tuscan soup is packed with flavor and nutrients, making it the perfect meal for cold days.
History of ribollita
Ribollita is a vegetable Tuscan soup that was born during the Middle Ages. There are different versions, but the one I stick to, after extensive research both while our travels Tuscany Region and reading Italian cookbooks, is this ribollita recipe.
During old times, it became a sign of wealth amongst the wealthiest to eat meat on plates made from flatbread, Tuscan bread.
They did not eat their plates, as you would do with a "pan cook" (bread bowl). Those bread "plates" soaked in the meals' juices went back to the kitchen, and servants would reutilize this leftover bread, adding them to large soup pots, along with other ingredients.
During winter times, they would use the vegetable products available, such as Lascinato kale, Swiss chard, and Savoy Cabbage.
They would make vegetable soup, and beans, add winter herbs, and boil the stale bread alone. Some versions say they would add very little meat, if any, to enrich the ribollita soup's flavor.
So it is virtually a Vegan Tuscan soup. In fact, the current official recipe is vegan.
The Keywords here are Winter and Humble products; why? Because understanding the humble origins of this Tuscan soup, you can also embrace its versatility and adapt it to modern days. No fancy ingredients!
🧾 Ingredients
This white bean soup is made with simple pantry staples, and you can vary them depending on what you have.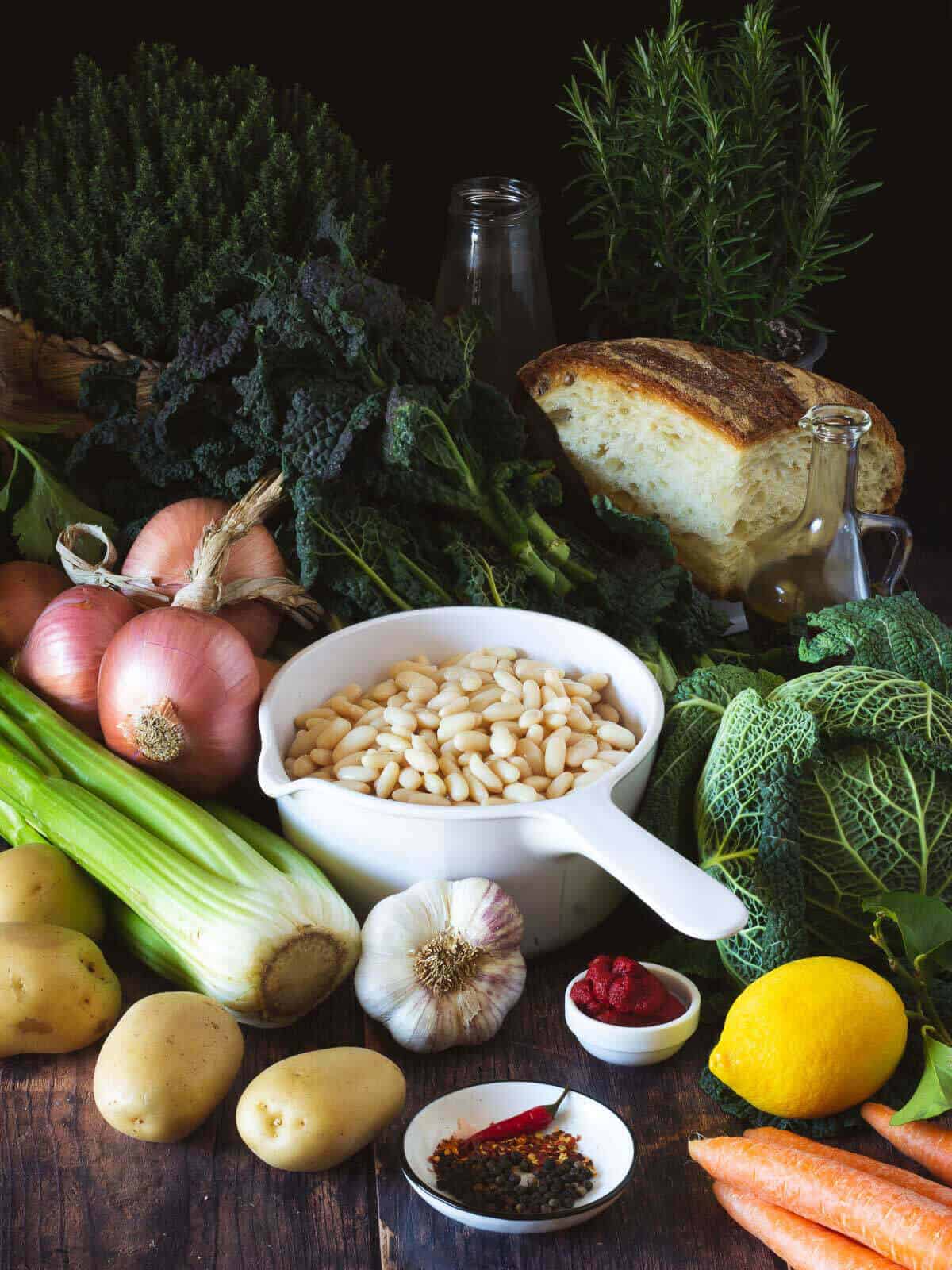 onion
carrot
garlic cloves
celery
tomato paste
yellow or white potatoes
canned white beans
Lacinato kale leaves
white Swiss chard
green or Savoy cabbage
fresh thyme
fresh rosemary
extra-virgin olive oil
stale bread or crusty bread
red pepper flakes
Optional: lemon juice, fresh parsley
🔪 How to make Tuscan soup
This Bean Vegetable soup is easy to make and can be made in just a few simple steps.
After the beans were cooked, this supper was incredibly quick and easy to prepare, but you can also use pre-cooked canned beans.
To see how to cook dried beans, look at the Frequently asked questions below.
Chop ingredients
Coarsely chop your veggies in dice and medium sizes. I like cutting carrots and other vegetables in quarters and halves.
Slice white Swiss chard, savoy cabbage, and lascinato kale.
Sauté
In a large saucepan, heat oil over medium-high heat. Add onions and minced garlic, then add carrots, chopped celery, potatoes, tomato paste, blended cannellini beans, and chili flakes.
Add fresh rosemary, thyme, and optional sage leaves.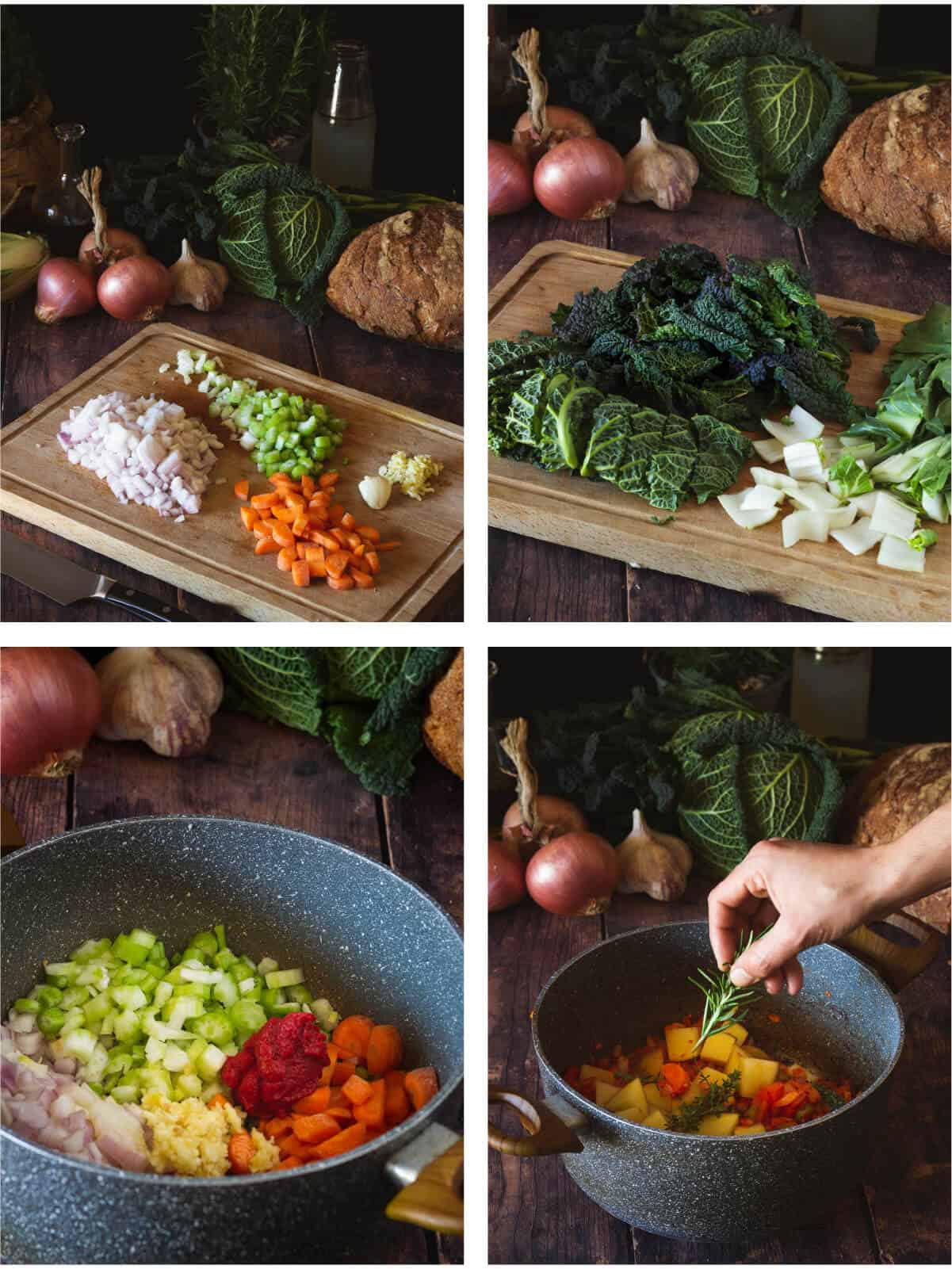 Blend
Divide the cooked white beans in two and blend or mash half of it.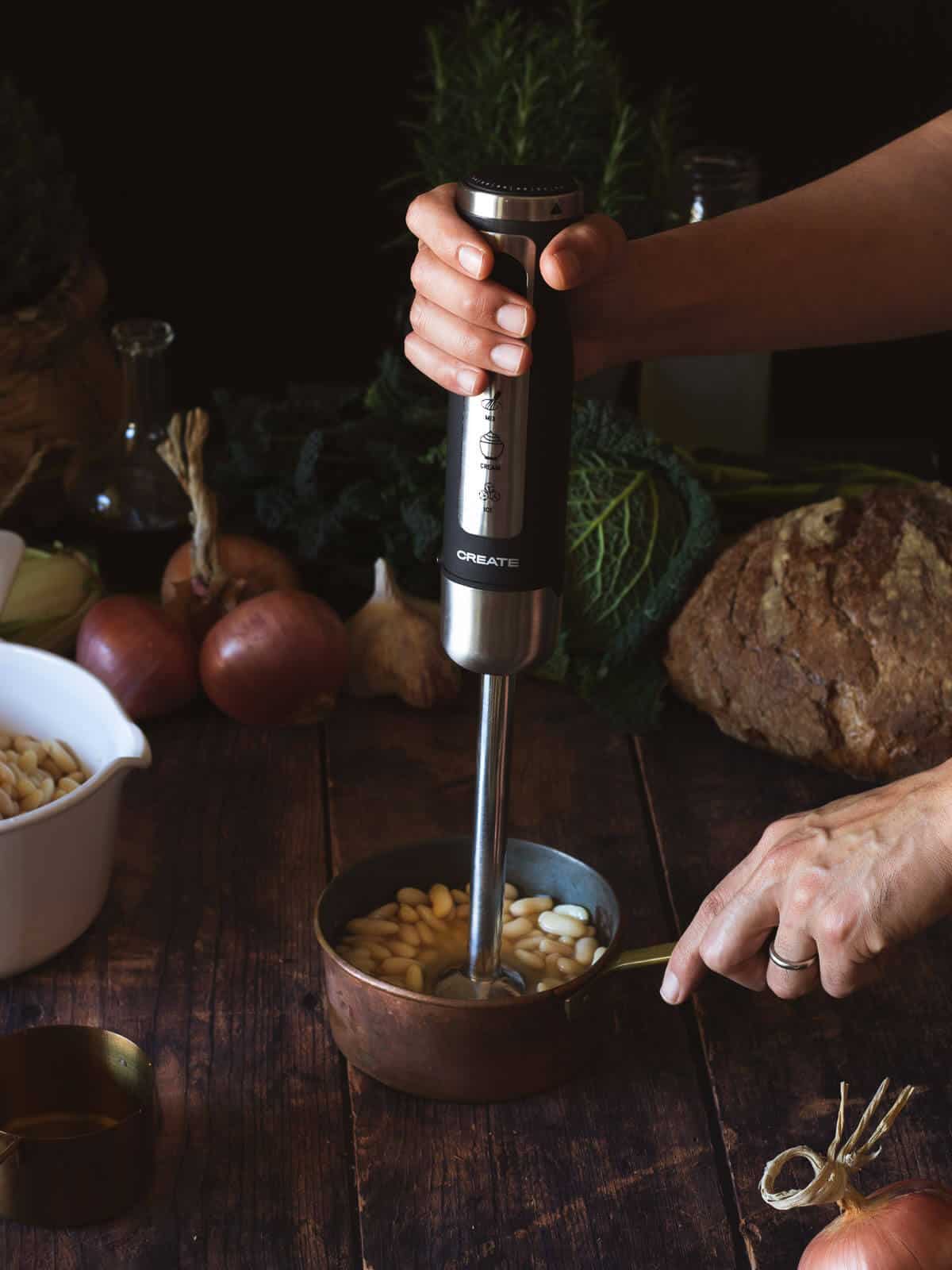 Continue cooking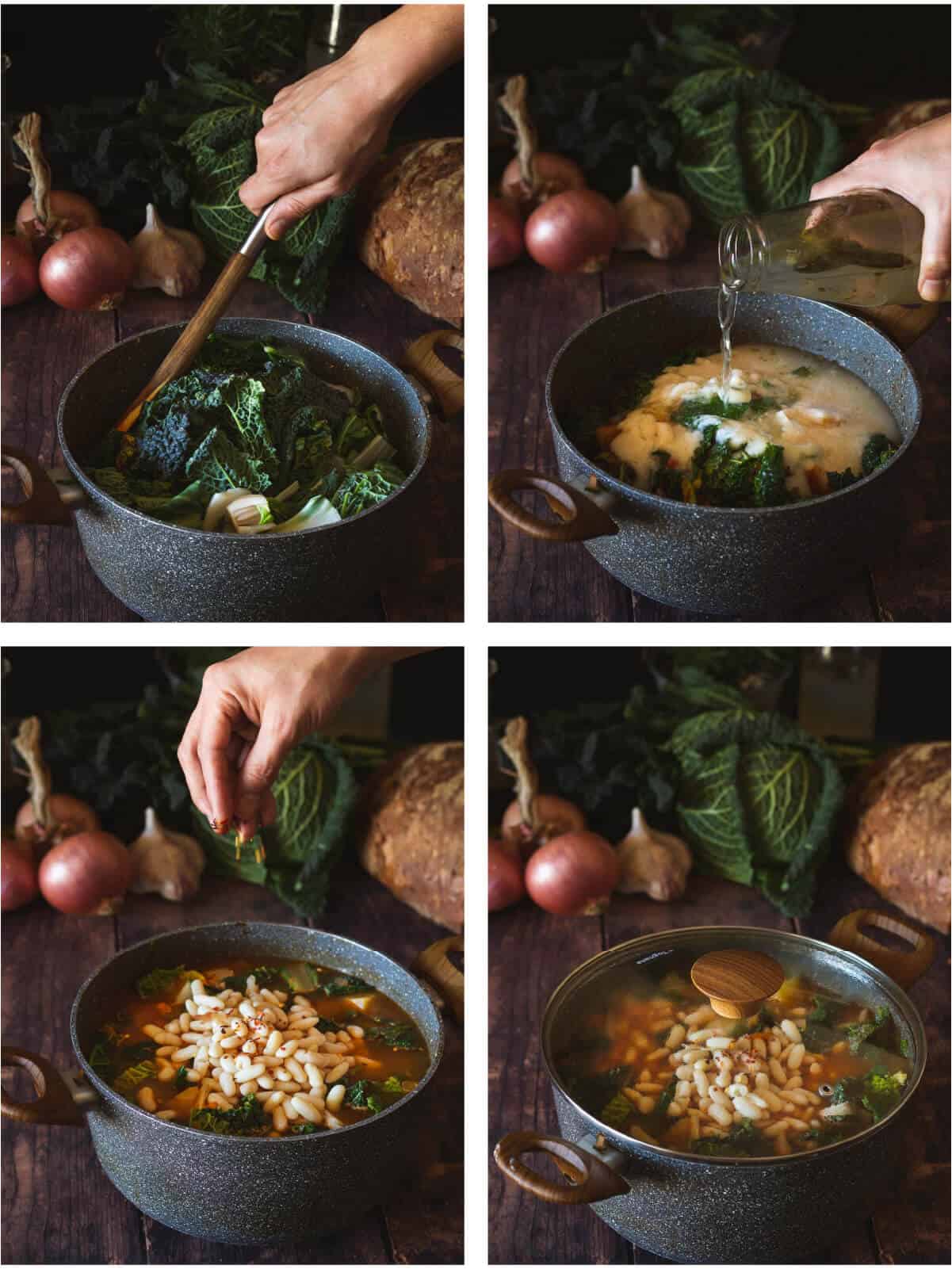 Add the greens, including Swiss chard, cabbage, and half of the kale. Continue sauteing and stirring frequently for 7-8 minutes.
Add the vegetable broth or water and the remaining white beans. Bring to a boil, and then reduce heat and simmer.
Stir in the vegan parmesan to the simmering ribollita soup. Adjust flavor with salt and pepper.
Finish cooking and add bread
When the ribollita soup is ready, in another large pot away from heat, arrange the stale bread then add the soup on top, close the lid and let it sit for 10 minutes before serving.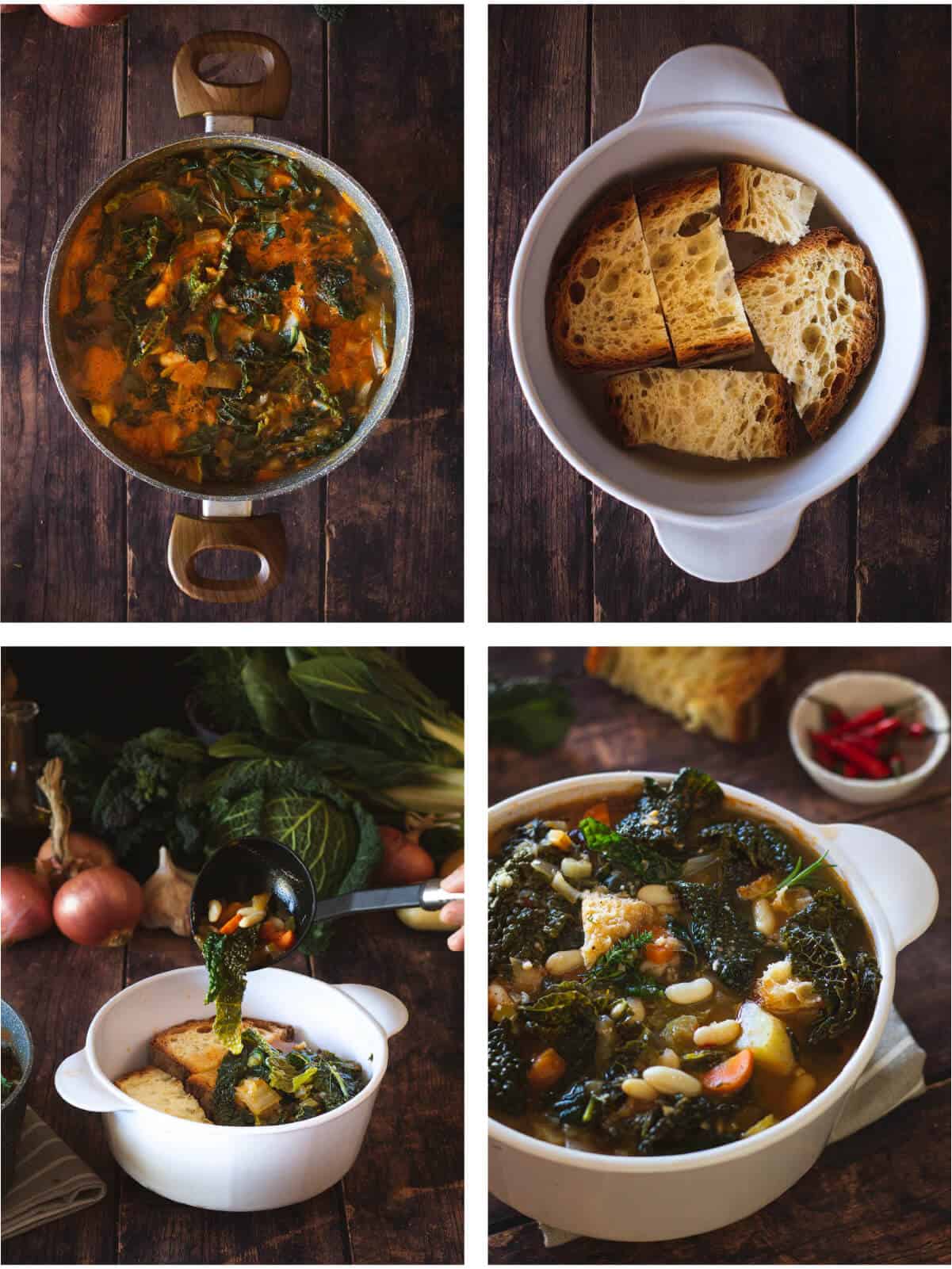 Serve
Serve in bowls with a drizzle of olive oil, lemon, vegan Parmesan, and toasted bread.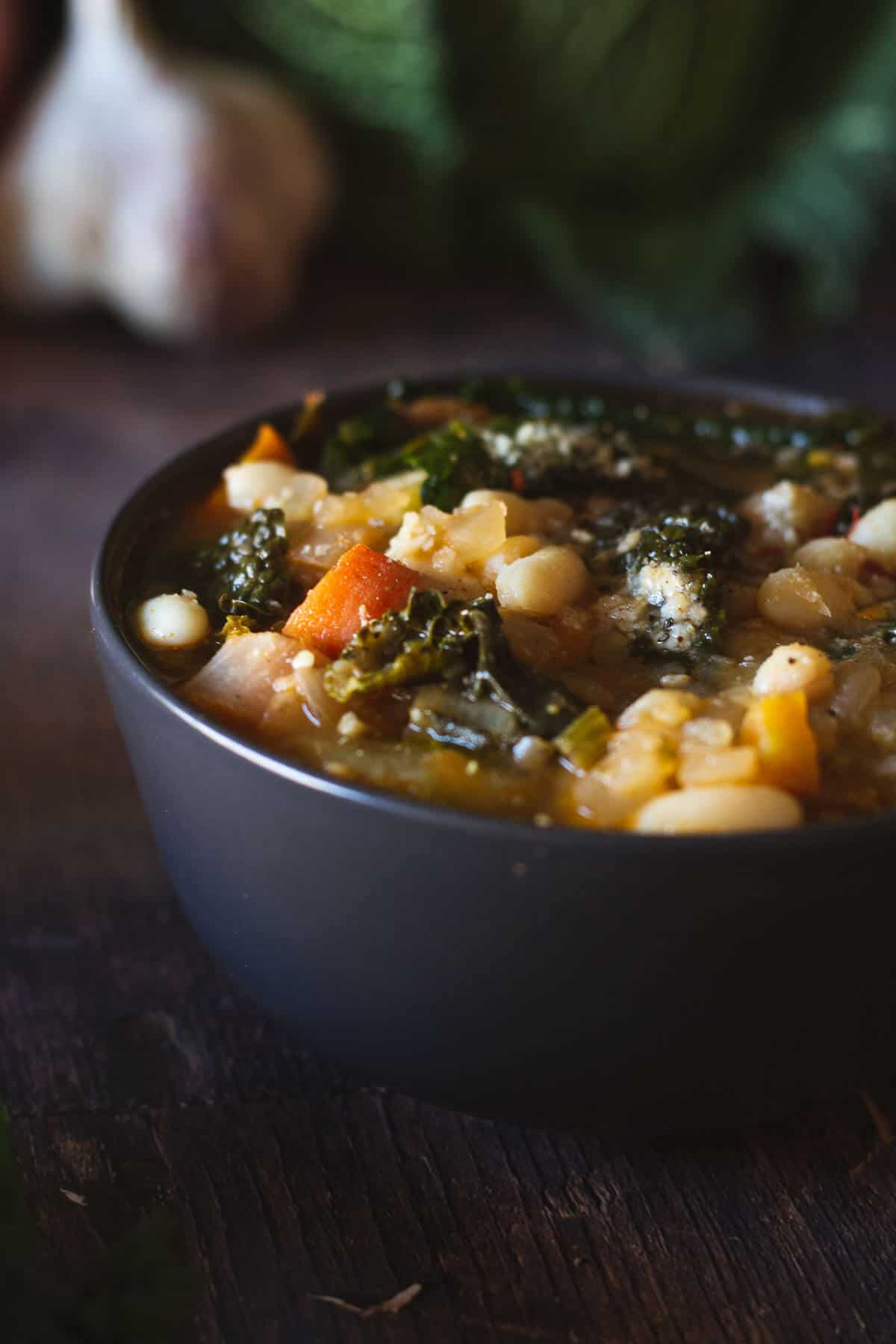 🥢 Serving suggestions
Although this soup is considered a main dish, you could serve smaller portions as the first course of a meal, followed by a light pasta dish, or a winter risotto.
We like toasting some Italian bread with a drizzle of olive oil in the oven to serve this staple Mediterranean soup.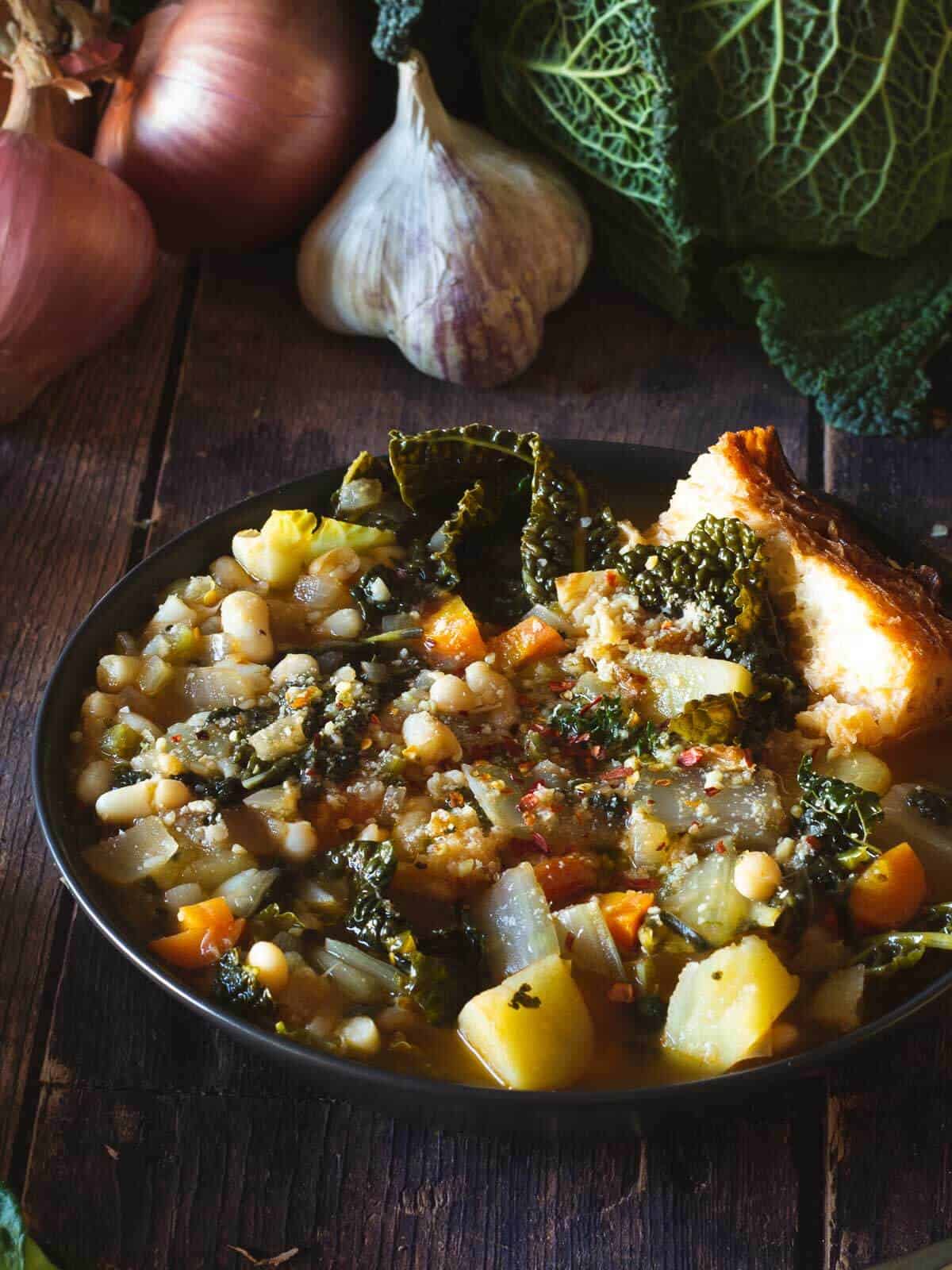 📖 Variations
Tuscan soup is usually made with Tuscan bread, which is made only with wheat, water, and salt, just like the traditional Italian Pagnotta bread.
Let's remember two things about How the Ribollita soup was born: leftover bread and the type of bread.
Type of bread
Crusty bread gives a nice touch because the edges provide texture, and the insides don't disintegrate as much as your regular sandwich bread, thus keeping some of its gluten threads and bringing that on to your bean vegetable soup.
Leftover bread
Use it anyway if you just have stale bread that doesn't necessarily comply with the above. I have done this Tuscan recipe, many times with success, using other types of bread.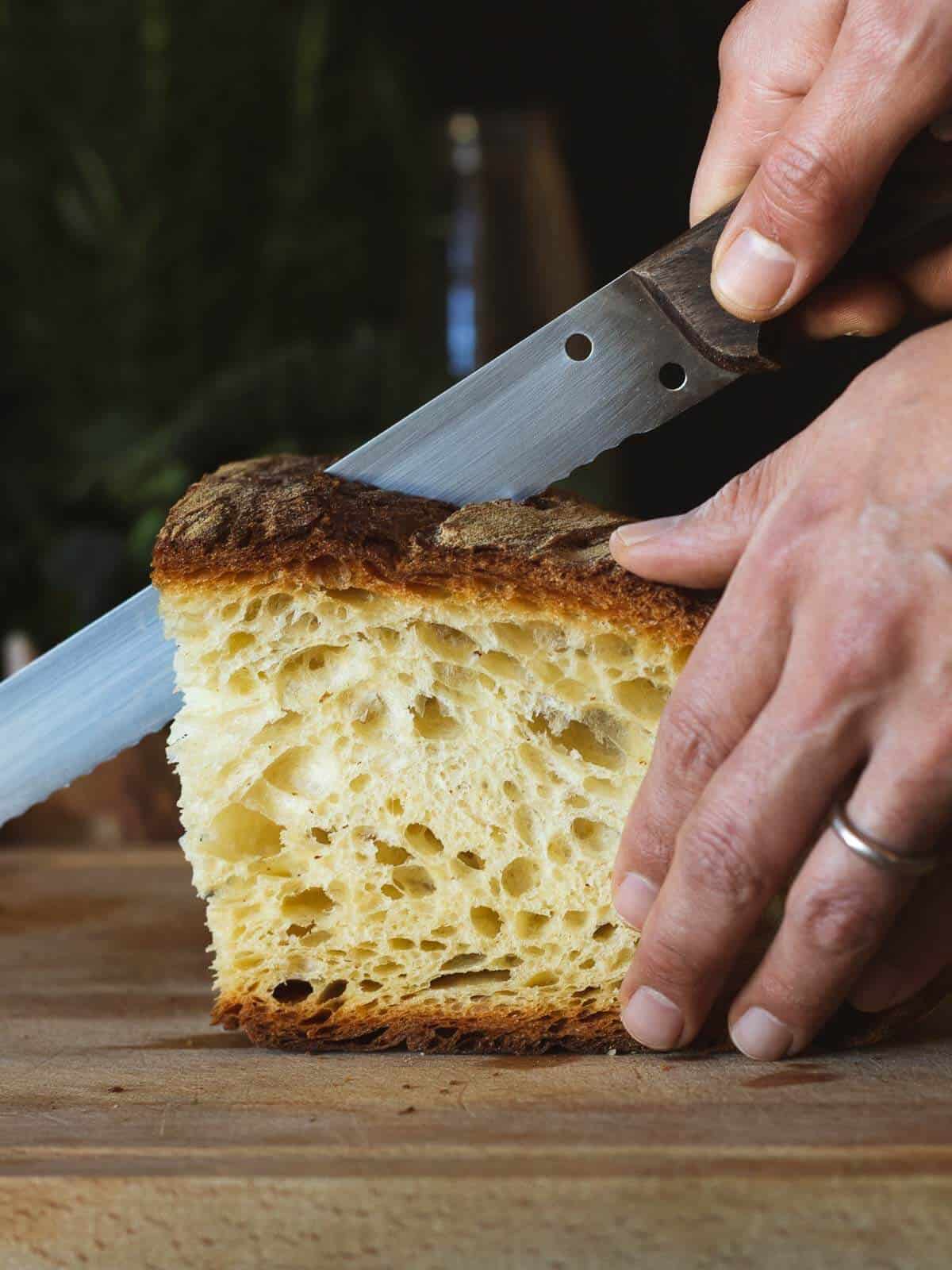 The consistency will slightly change, but the spirit of this Tuscan soup is using leftover foods, and it's meant to be a hassle-free dish. Keep that in mind!
Read on: making the best of your leftovers »
If you follow a gluten-free diet, exclude bread from the recipe, add more beans to make up for the thickening agent, or use crusty gluten-free bread.
Leafy greens
The greens can vary, and you may have different types of cabbage, kale, and chard available in your region, which is OK. Some people even use frozen chopped spinach. Although it is the end of the season, you can still find tasty leafy greens in March.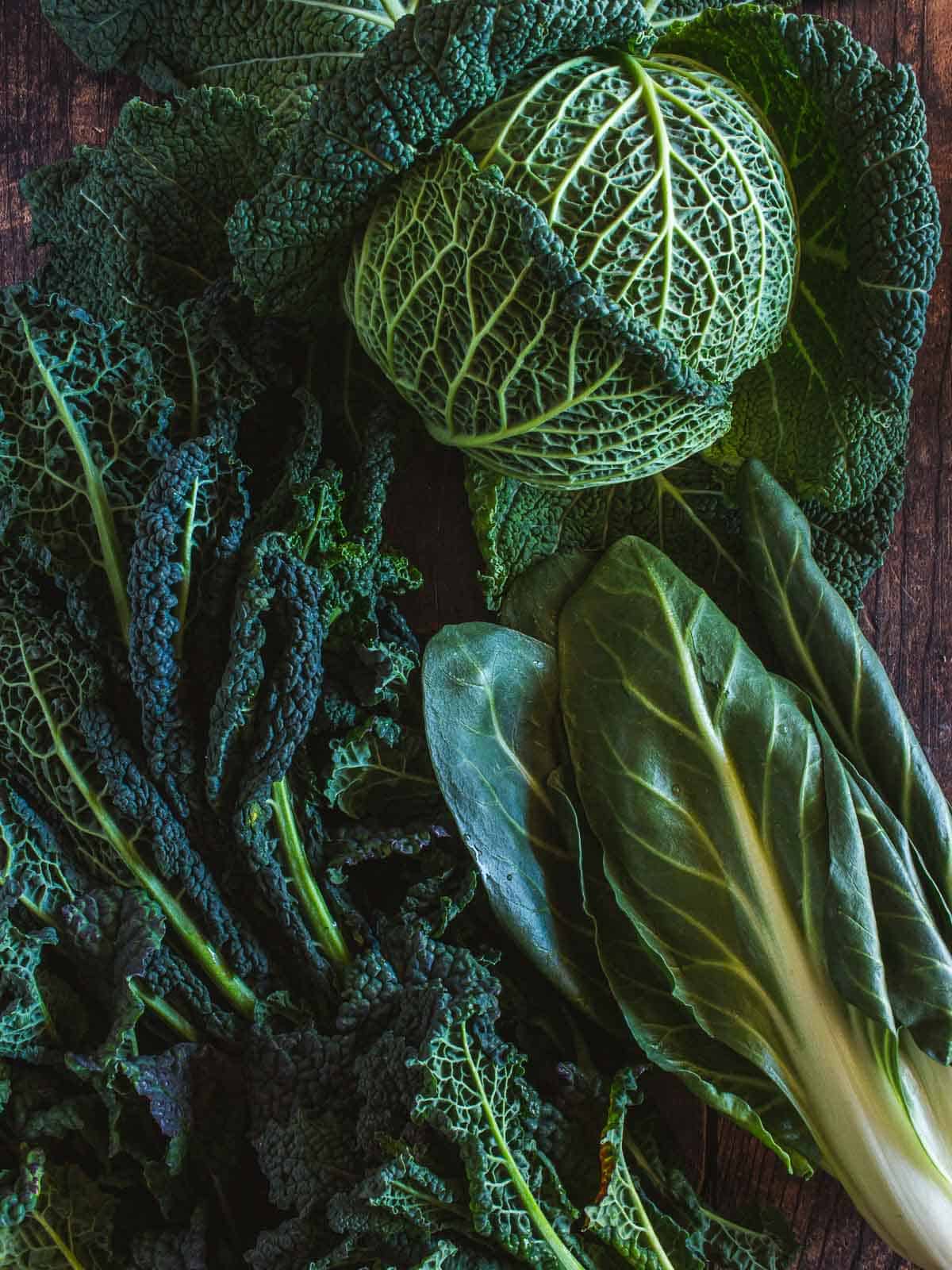 Let's dig into each of them, so you know what you are pursuing when making variations or understand the why's of each ingredient.
Lascinato Kale
This is one of the essential ingredients present in authentic Tuscan white bean soup. Called Cavolo Nero in Italian, which translates literally as black cabbage or kale.
It is typically tougher. Thus, tradition dictates the use of kale that has been through the first freeze of the season because it makes the leaves become softer and concentrates the flavor. The same logic is behind the famous German ice wine.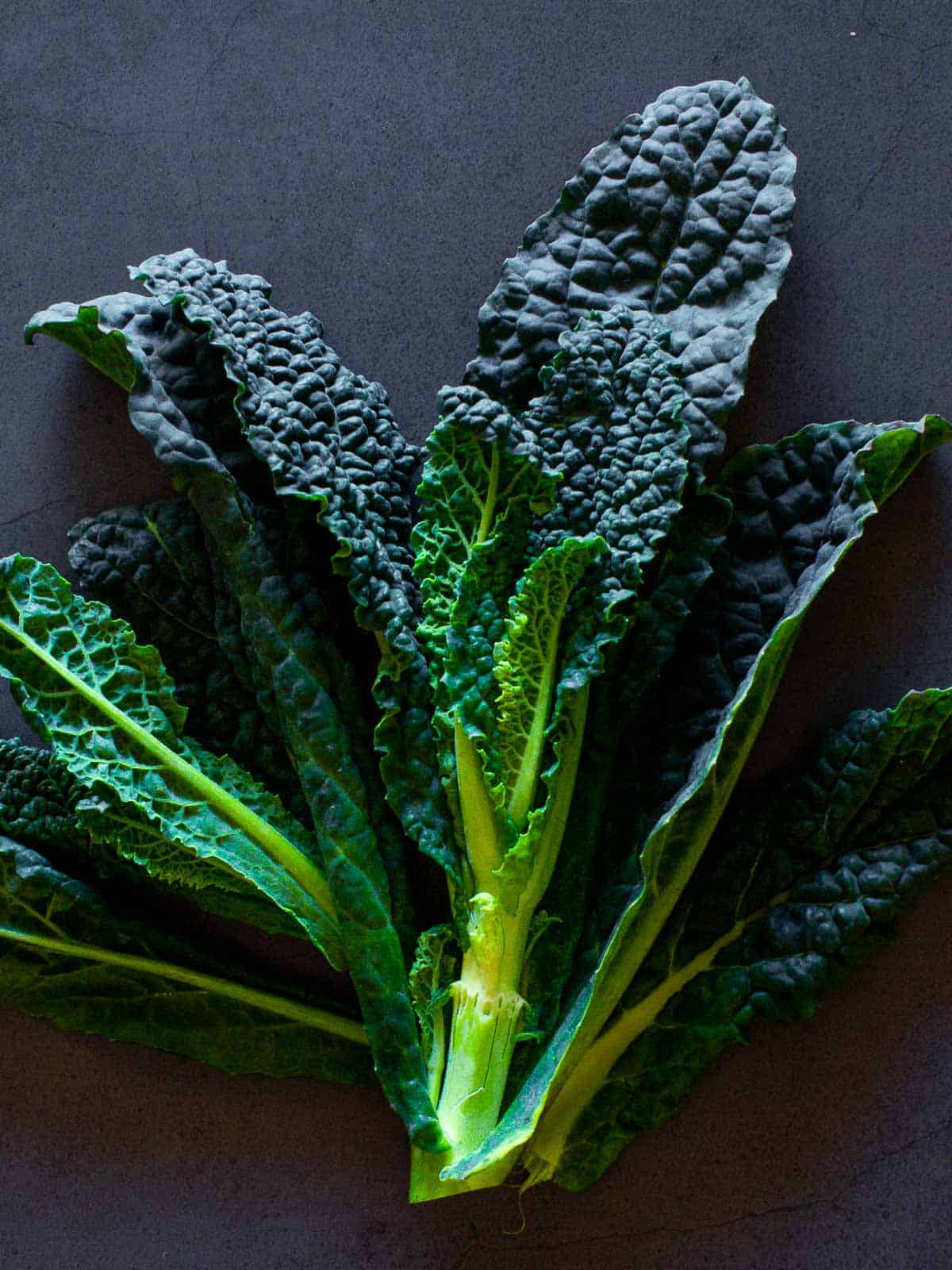 I have to say that I would strongly recommend going after this type of kale because it adds a distinctive flavor, but it is also mild, so don't go crazy if you can't and use the type of kale that you can get.
If you are making this Tuscan bean stew during wintertime and have the luxury of making your veggie groceries close to a farmer's market, you can aim to get Lascinato kale that has frozen while still planted.
Use the leaves, and add half of them during the last step when you add the stale bread. Reason?
The first addition will ensure the soup absorbs the kale flavor, but it will become wilted, and the green color won't be vibrant.
Adding the second batch of kale leaves will add extra texture, and your zuppa Toscana will look prettier.
Use this amazing green in recipes like crispy kale snacks, vegan kale salad with maple balsamic dressing, green juices, or detox smoothies.
White Swiss chard
The type of chard to be used here is the white Swiss chard, which has a very mild flavor, but a great crunchy texture, like the bok choy used in Green and Yellow Thai curry stews.
In Italian, it is called bietola, and beetroot is called barbabietola; you guessed it? Different types of chards belong to the same family, and you are looking for a white variety since the purple. Yellow varieties have a more robust flavor, which will definitely affect the flavor profile of this Tuscan soup.
Still, I wouldn't mind adding the type of chard that I have readily available.
Savoy cabbage
This type of cabbage, called Verza in Italian, has a fantastic texture; it is a silky, soft, and sweet taste. I like rolling the leaves, and make a "burrito," and then shredding them into ½" strips.
It is very commonly found in Europe, but if you can't find this beautiful and delicious cabbage around you, just go for green cabbage.
Cabbage works great in soups, sautéed and even cabbage juice is a popular way to have it, given all its health benefits.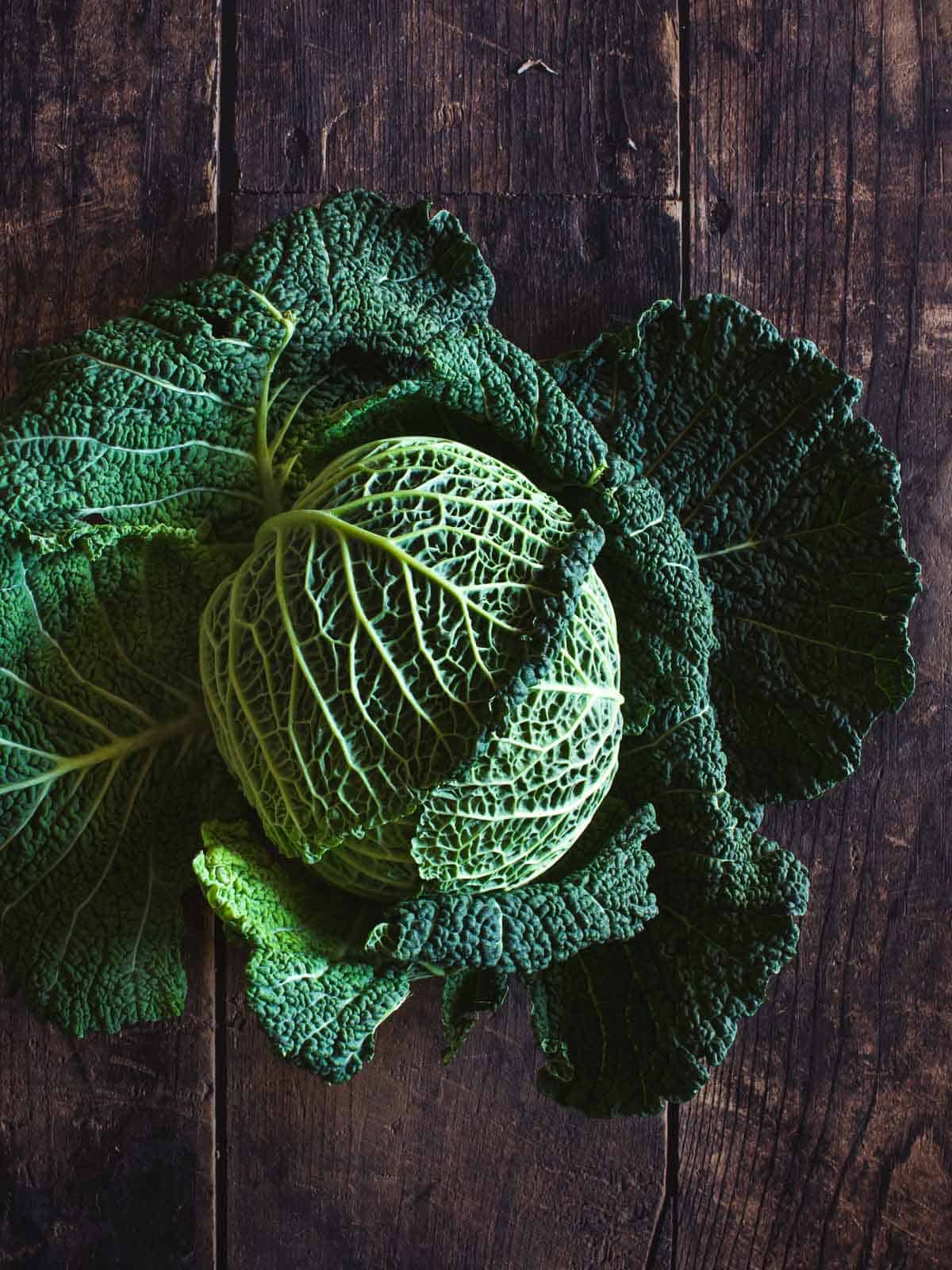 Beans
In addition to kale, this is the most important plant-based protein present in this nutritionally balanced and healthy white bean soup.
You are supposed to use dried beans, but let's remember that beans are also native to the Americas. Different types of beans have been used to make this traditional bean soup.
Today, the most commonly used bean is the cannellini bean because it has a very mild and nutty taste that blends very well with the rest of the ingredients without overpowering the others, but some people even use garbanzo beans, black-eyed beans, kidney beans, and I have even revamped leftover ribollita soups with lentils because I was in a rush and lentils cook faster. These beans are also used in the Great Greek Fasolada Soup, a much simpler yet delicious potage.
By no means am I suggesting that once you use lentils or garbanzo beans, you can call your soup a ribollita, but if you are making a bean soup, you can play with different beans varieties; just mind that the black beans and lentils have very distinctive flavor profiles that will undoubtedly permeate into the bean soup.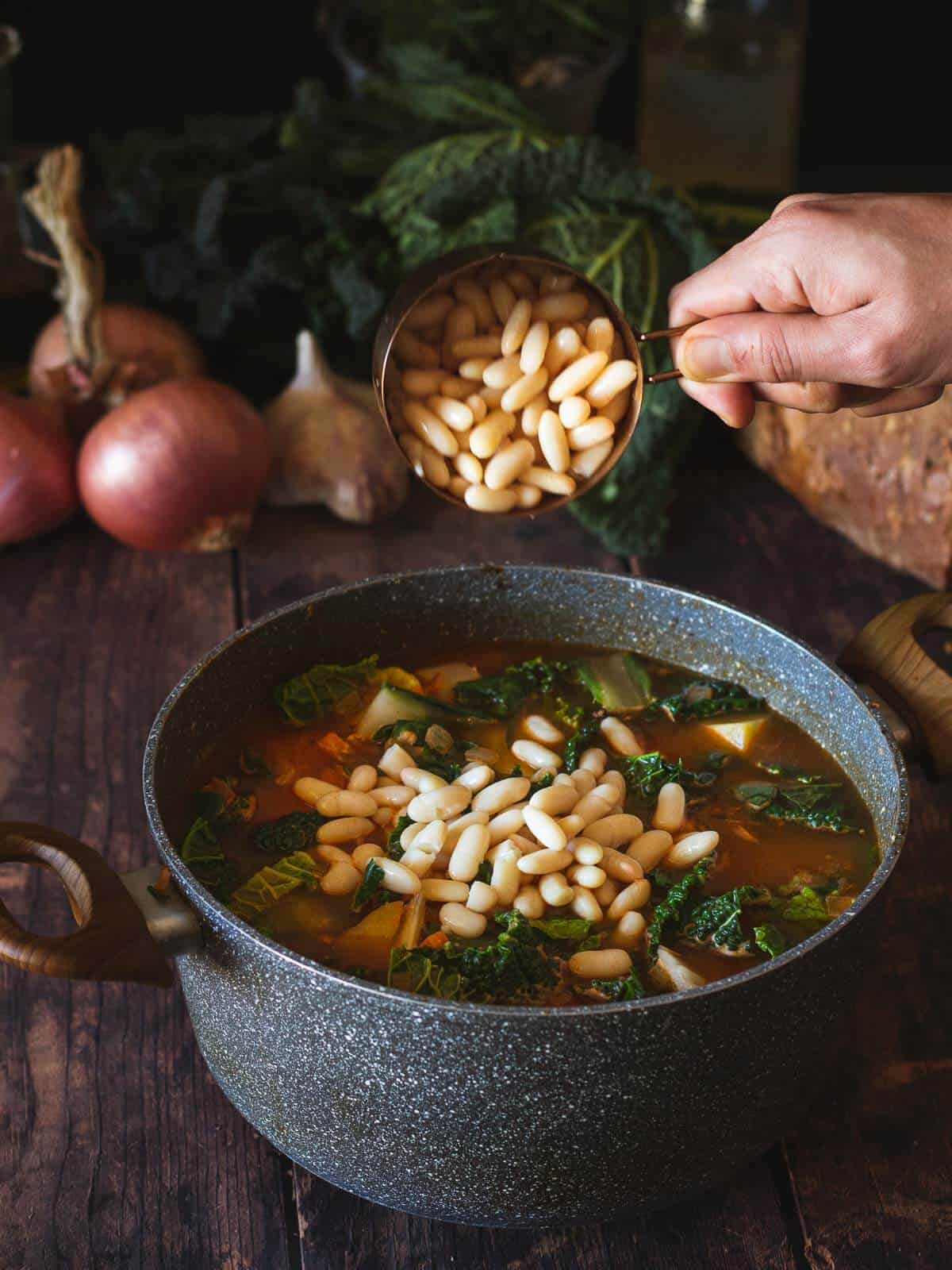 Dried beans vs canned beans
I am the kind of person that likes buying dried pulses and simply leaving them soaking overnight and boiling them with water. I then keep them for different uses, garbanzo for hummus, lentils for warm salads, and so on.
If you boil your white beans, remember to plan one day ahead so you leave them soaking overnight and then boil them with fresh herbs, so they can start absorbing the ribollita flavor notes.
Also, you can use the beans broth to replace the vegetable broth or water for your soup.
Modern times mean less time, so feel free to use canned white beans for your ribollita, and if you use preservative-free canned beans, you can also add the remaining liquid to the ribollita soup.
We recommend using the great northern beans (organic beans brand (affiliate link)).
Tomato paste
Going back to the seasonality of this recipe, tomatoes are simply not winter products; they are at their best during summer, and fresh tomatoes perform much better in summertime recipes.
Also, tomatoes arrived from America, which doesn't mean they are not widely used in Italian cuisines, such as pizza and eggplant stews; these two factors only mean that they were later incorporated into the traditional ribollita recipe and that they were used in preserved forms, such as tomato paste.
You could use fresh tomato; at the end of the day, everything will boil in the soup, and the acidity will be incorporated; just don't make it too prominent. This is not an Italian Tomato soup, and we just want to add a touch.
Herbs
Seasoning dishes is one of my favorite parts of cooking. You can find recipes calling for herbs like basil, bay leaf, sage, thyme, and rosemary.
I went for fresh thyme and rosemary from these herbs for this ribollita recipe. I also add like adding sage.
I don't use fresh basil simply because basil only grows outdoors during summertime, and I think the picked winter herbs add enough flavor; I like to distinguish each herb note in this ribollita stew.
Can I use dried herbs? Yes, you can. Fresh herbs will always add a more vibrant flavor, but the best ribollita recipe is the one that embraces its humble roots, which involves working with what you have.
If you can't find fresh herbs, you can use store-bought Italian seasoning in equal parts to the total amount of herbs that the recipe calls for.
Vegetable broth
You could skip the vegetable broth using enough herbs, garlic, and onion. I personally just add water and just add organic vegetable broth powder if I need to adjust the seasoning quickly. If you choose to use just water, you may have to add more salt and garlic for more flavor, although the recipe is written using water.
Another quick way to adjust the soup is to use Italian seasoning for the white bean soup.
Olive oil
It is no secret that Tuscan Olive oil is world-famous, and that is for a reason. The Frantoio extra-virgin olive oil (affiliate link) is a Tuscan variety with fruity, aromatic, little bitterness, and slightly spicy notes that make it extra special.
The olive oils are added raw at the end when serving the plate, so you can fully appreciate its distinctive notes. If you can get a hold of nice Tuscan oil, go for it.
Black pepper or red pepper flakes
Our years living in Mexico City made us crave and enjoy very spicy food, and we love how hot pepper flakes play out on this fantastic vegetarian ribollita. They make vegan soup recipes even more enjoyable during the winter or fall season.
I go for regular Italian pepperoncini flakes or add a whole chili while boiling the soup and then remove it.
🍽 Equipment
I use two large saucepans for this great recipe, one for cooking the white bean soup and the other for transferring the soup to the one with the bread at the bottom. I just find it easier to manage.
To blend the white beans, I use an immersion blender (affiliate link) since it is super quick and convenient because I can blend the beans directly in the pot, and the detachable piece can easily go into the dishwasher.
🥡 Storage
Leftover soup freezes well. Just store in an airtight container and freeze. It can be kept in the freezer for up to three months.
To thaw, either leave the white bean soup in the fridge overnight and then reheat, or add it to a large saucepan with some water and partially cover with a lid on low heat until it completely thaws and looks ready to eat.
You may want to add more broth, taste the white bean soup and adjust the seasonings.
❓FAQ
How to prepare dried beans?
Unfortunately, beans must be soaked in water before being cooked. Usually, the preparation time for the soup is about one hour.
After leaving the beans soaking overnight, rinse the beans thoroughly to remove any debris from them, such as rocks or sand.
Note: cover the beans with plenty of water, as they are likely to absorb all of it.
Add beans to a large pot and add water. Cook the soaked white beans in boiling water for about 30 minutes and test for consistency.
Ideally, the water level should be three inches above the beans.
There is no need to overcook the beans as they will continue their cooking process with the soup.
Are beans gluten-free foods?
Yes. Beans are gluten-free. All beans, peas, and lentils are naturally gluten-free. However, if you are buying canned beans or packaged bean products, always check the ingredients to be sure that no wheat flour has been added as a thickener.
🍲 More vegan soup recipes
If you love soups, we have a couple of recommendations for you.
When we sprout lentils, we always ensure we save some sprouts to include them in this simple curried and spicy soup, made with sprouted lentils and Indian curry.
Looking for something creamy and cozy? My heart goes to this equally simple carrot and ginger soup and our tahini-flavored pumpkin soup.
Try out this super easy 4-ingredient potato soup, which is oil-free and gluten-free.
Try our pea pottage for a protein-packed and easy-to-make soup; it is hearty and filling.
⭐ If you try this Italian bread soup recipe, let us know! 💬 Leave a comment, rate it, and don't forget to tag us @ourplantbasedworld on Instagram. Cheers!
📋 Recipe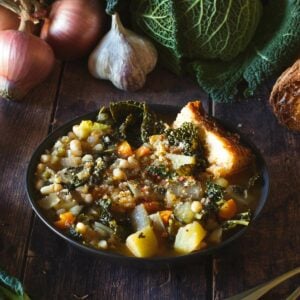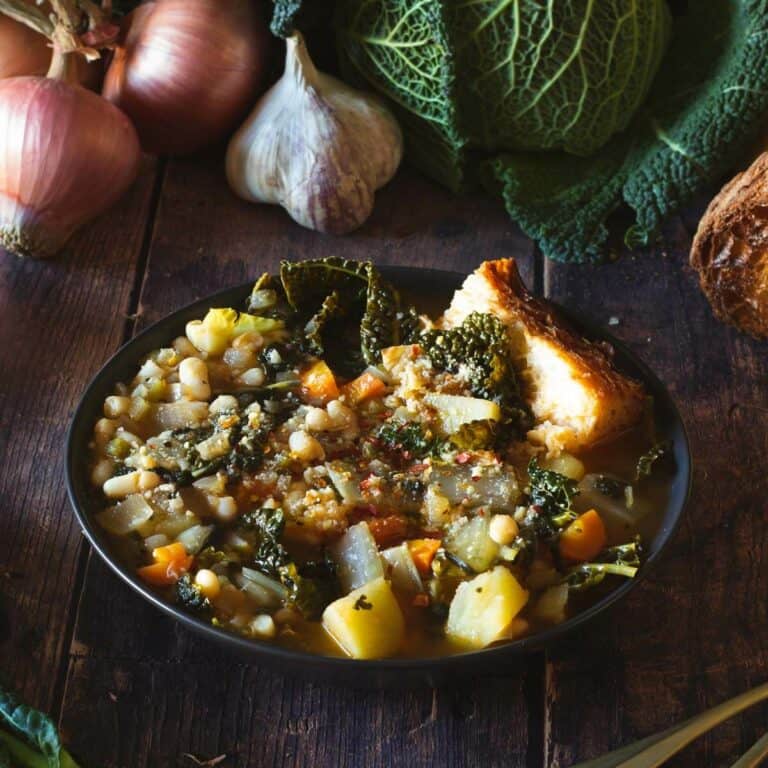 Bean Vegetable Soup - Tuscan Ribollita Recipe
Looking for a delicious and healthy soup recipe? This white bean vegetable soup is authentic Tuscan ribollita, and it's naturally vegan and gluten-free!
Equipment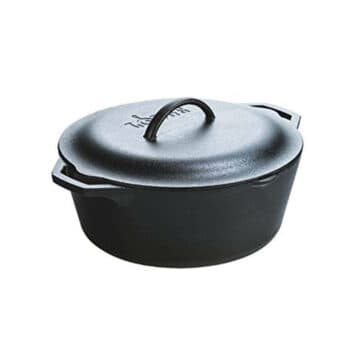 (affiliate link)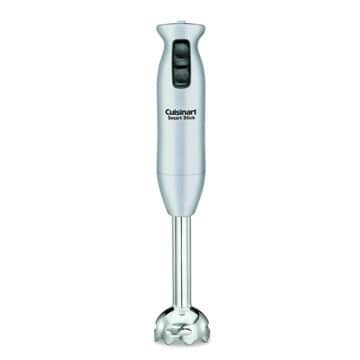 (affiliate link)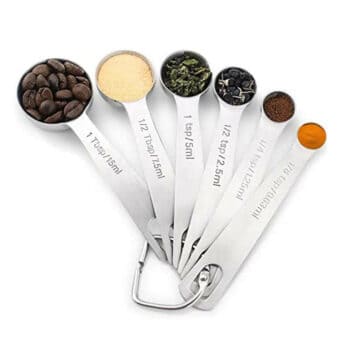 (affiliate link)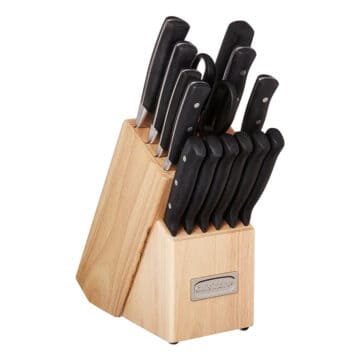 (affiliate link)
Ingredients
1

onion

large, diced

1

carrot

medium, 3 oz, 80 g chopped in halves and quarters

4

clove

garlic

medium, minced

2

stalk

celery

4 oz, 100 g sliced

1

tablespoon

tomato paste

2

potatoes

medium, chopped in medium sizes

3

cups

white beans ~30 oz cannellini beans, cooked or 2 cans cannellini beans (drained and rinsed), or great northern white beans

(affiliate link)

, divided in two

---

8

oz

kale

Lacinato kale leaves, cavolo nero in Italian (dark kale), coarsley chopped

5

oz

white Swiss chard

100 g bietola in Italian), coarsley chopped

4

oz

Savoy cabbage

or green cabbage. 100 g verza in Italian), coarsley chopped

---

2

sprigs

thyme

fresh, or 1 teaspoon thyme

1

rosemary

or ½ teaspoon dried rosemary

1

tablespoon

olive oil

extra-virgin

3.5

oz

stale Tuscan bread

Pugliese or ciabbata bread also work. Pick a crusty bread.

¼

teaspoon

red pepper flakes

crushed, more to taste

¼

cup

vegan parmesan cheese

---

10

cups

water

or vegetable broth

Salt and pepper

to taste
Optional
3

leaves

sage

add with the rest of herbs
To serve
parsley

fresh, chopped

extra olive oil to serve

vegan parmesan cheese to sprinkle on top

extra bread

lemon

juiced, fresh
Directions
Chop your veggies as directed.

Blend half of the cooked cannellini beans and reserve.

In a large saucepan, heat oil over medium heat. Add onions.

Lower heat to med-low and add the carrots, celery, tomato paste, potatoes, minced garlic, and chili flakes, and cook another 5 minutes until the vegetables are tender.

Add greens, Including the Swiss chard, cabbage and half of the kale, and blended cannellini beans. Continue sauteing and stirring occasionally for 8 minutes.

Add the water and remaining white beans. Bring to soup to a boil, turn the heat down and simmer for 10 minutes. Add the vegan parmesan to the simmering soup. Adjust salt.

Arrange stale bread. In another pot, away from heat, arrange the stale bread and pour the soup on top, close the lid and let it rest for 10 minutes before serving.

Serve in bowls with a drizzle of olive oil, vegan Parmesan, and toasted bread.
Nutrition Facts
Calories:
167
kcal
Carbohydrates:
31
g
Protein:
8
g
Fat:
2
g
Saturated Fat:
1
g
Polyunsaturated Fat:
1
g
Monounsaturated Fat:
1
g
Sodium:
83
mg
Potassium:
845
mg
Fiber:
6
g
Sugar:
2
g
Vitamin A:
5402
IU
Vitamin C:
57
mg
Calcium:
123
mg
Iron:
3
mg
Nutrition Facts
Bean Vegetable Soup - Tuscan Ribollita Recipe
Amount per Serving
% Daily Value*
* Percent Daily Values are based on a 2000 calorie diet.
🌡️ Food safety
Cook to a minimum temperature of 165 °F (74 °C)
Do not use the same utensils on cooked food that previously touched raw meat
Wash hands after touching raw meat
Don't leave food sitting out at room temperature for extended periods
Never leave cooking food unattended
Use oils with high smoking points to avoid harmful compounds
Always have good ventilation when using a gas stove
See more guidelines at USDA.gov.
The information shown is an estimate provided by an online nutrition calculator. It should not be considered a substitute for a professional nutritionist's advice. See our full Nutritional Disclosure here.
Please note that some of the links here are affiliate links, and I will earn a commission if you purchase through those links. I recommend all of the products listed because they are companies I have found helpful and trustworthy.