It's no secret that vegan lava cake is one of the most popular desserts around. But what's not so well known is that it's also one of the easiest to make vegan-friendly! This recipe requires just 8 simple ingredients and takes about 30 minutes to prepare. So if you're looking for a delicious, decadent dessert that everyone can enjoy, look no further than this chocolate molten lava cakes. Enjoy!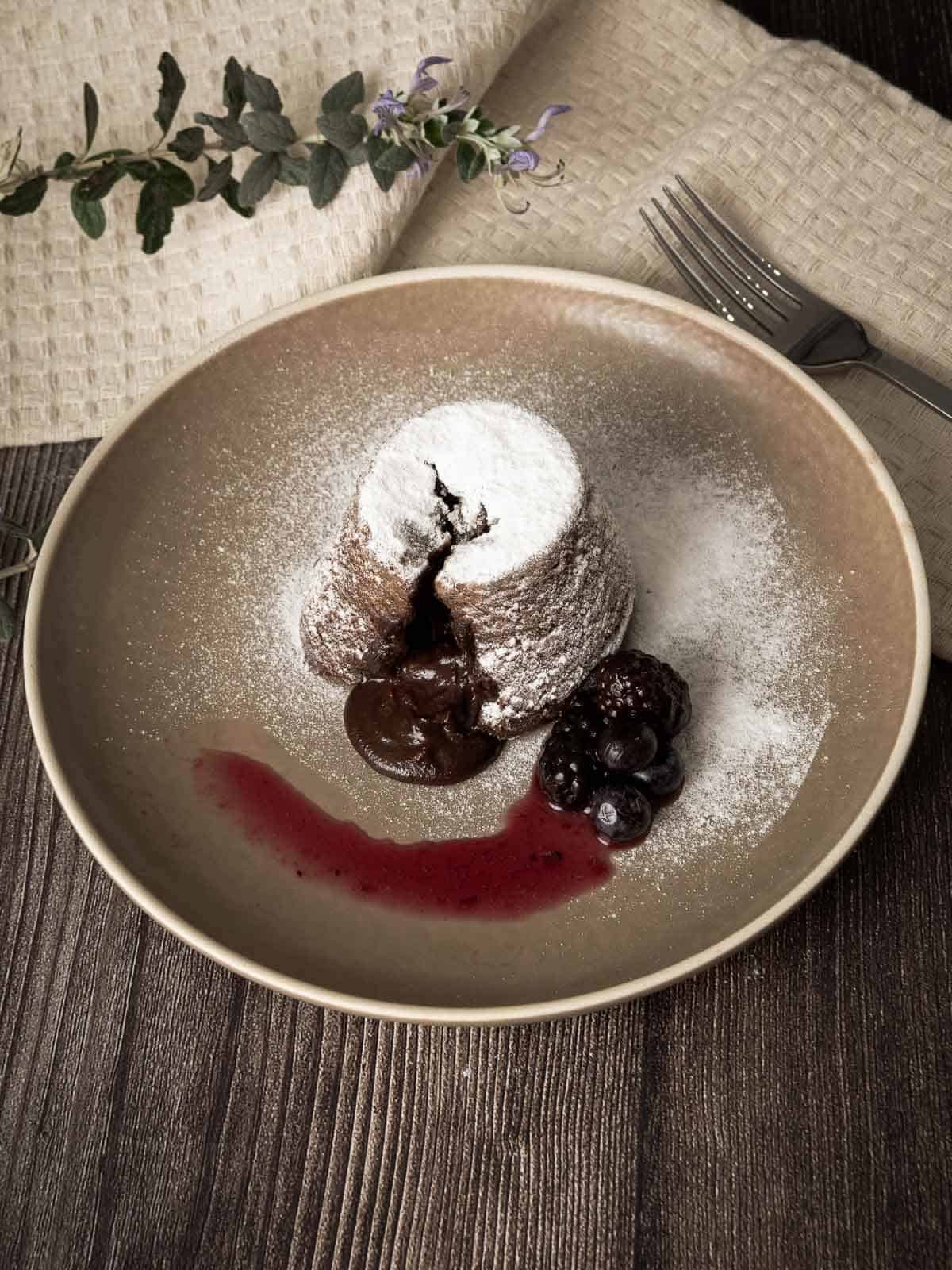 We love making this recipe because it always impresses our guests. We all love interacting with foods, and when you can simply pierce your cake and see how the molten center melts over your plate, it feels glorious... and it is sooo yummy!
This vegan lava cakes pair well with vanilla vegan ice cream or mixed berries nicecream and make a fabulous dairy-free and vegan dessert for any given dinner party, Valentine's dinner, or Holidays. It can be made in advance and frozen.
Jump to:
🧾 Ingredients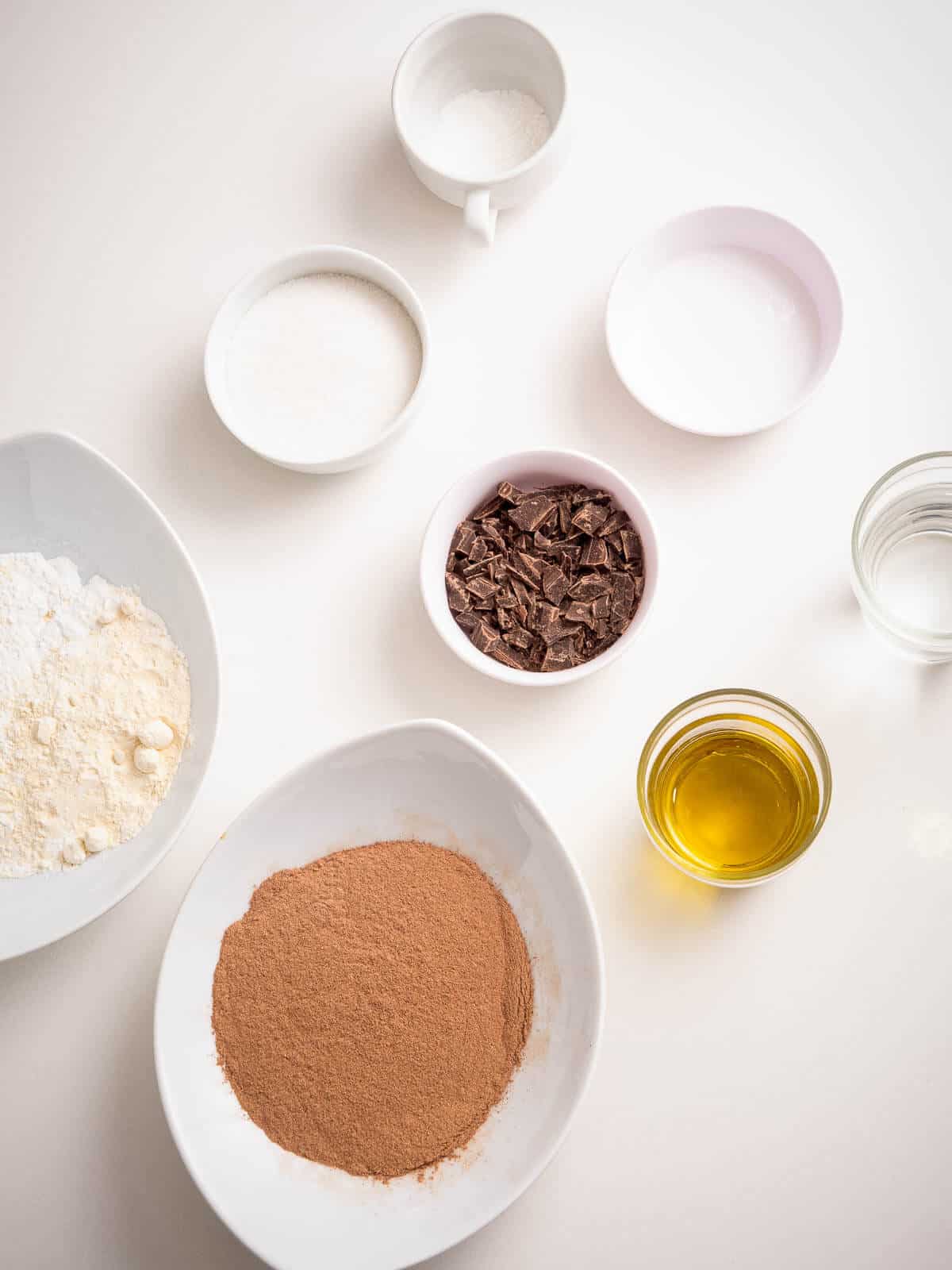 Dark Chocolate (or Vegan Chocolate Chips): Rich flavor and antioxidants, perfect for indulgent yet health-conscious treats.
Coconut Cream: Creamy texture and subtle sweetness, ideal for vegan baking.
Cocoa Powder: Intense chocolate flavor and a source of antioxidants.
Chickpea Flour or Gluten-Free Flour Mix: Protein-rich base for structure and gluten-free option.
Cornstarch: Thickening agent, ensuring a consistent texture.
White Sugar: Sweetness to balance flavors and aid in caramelization.
Extra Virgin Olive Oil: Healthy fats and moisture, adding a subtle fruity note.
Baking Powder: Leavening agent for light and fluffy texture.
See the recipe card for quantities.
🔪 Instructions
Follow these step-by-step instructions to make these unforgettable vegan chocolate lava cakes.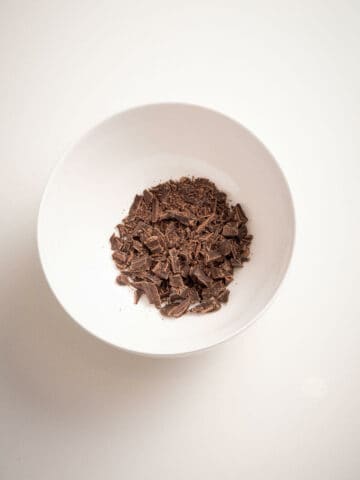 Step 1: Cut the chocolate into pieces.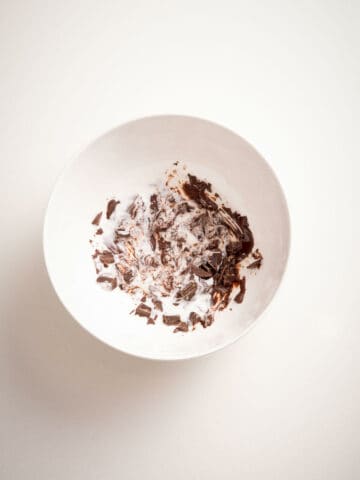 Step 2: Add the coconut cream.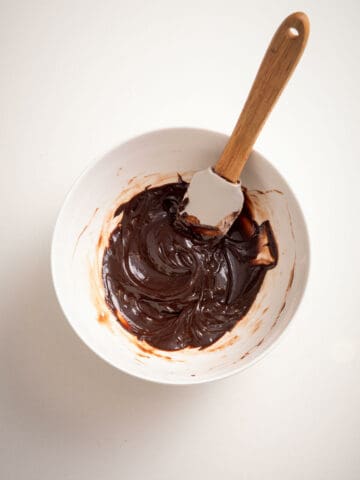 Step 3: Completely melt the chocolate mixture in a double boiler (bain Marie or microwave). Remove from heat and let cool slightly.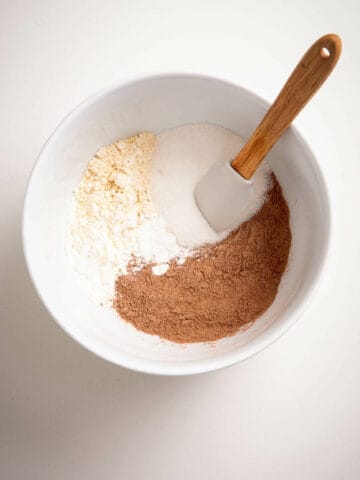 Step 4: To make the chocolate cake, measure the dried ingredients.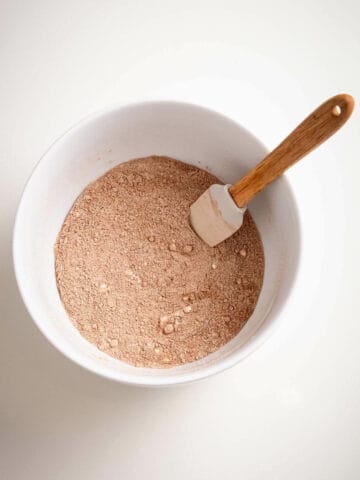 Step 5: Mix completely.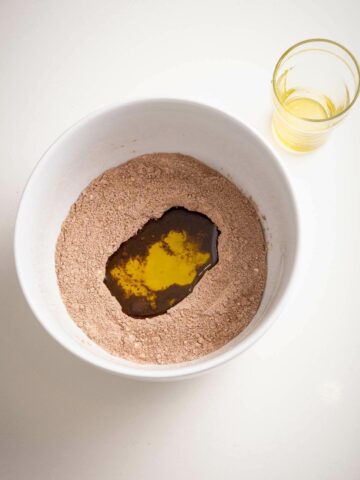 Step 6: Make a hole and add the olive oil and half the water.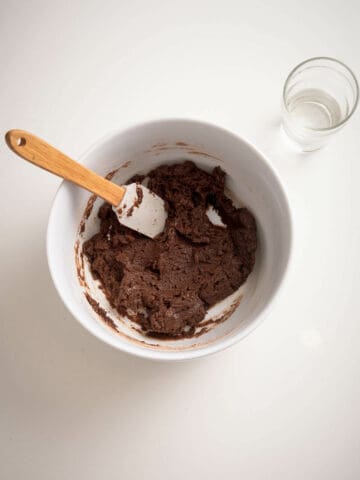 Step 7: Stir until combined, and then add the rest of the water.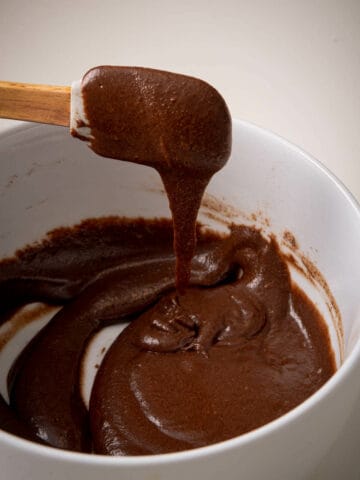 Step 8: Form a homogeneous chocolate ganache without lumps.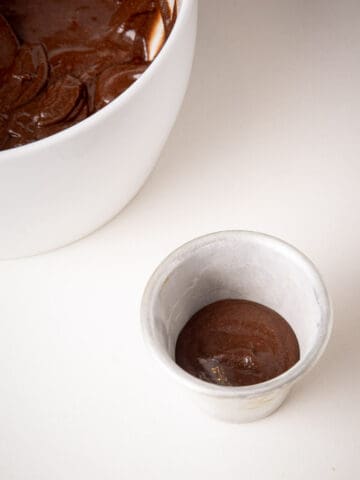 Step 9: Spoon half the cake batter into the oiled ramekins.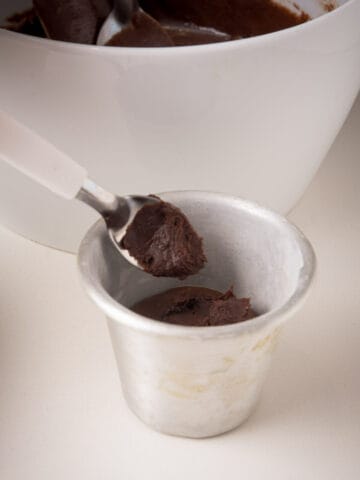 Step 10: Add a teaspoon of the reserved and chilled chocolate mixture.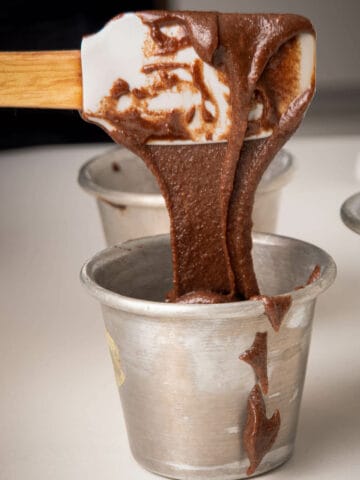 Step 11: Then cover it with the remaining batter.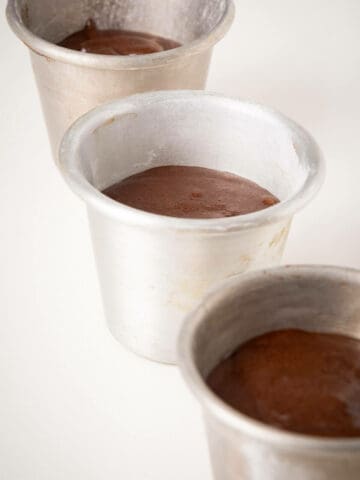 Step 12: Place the filled ramekins onto a baking sheet in the preheated oven.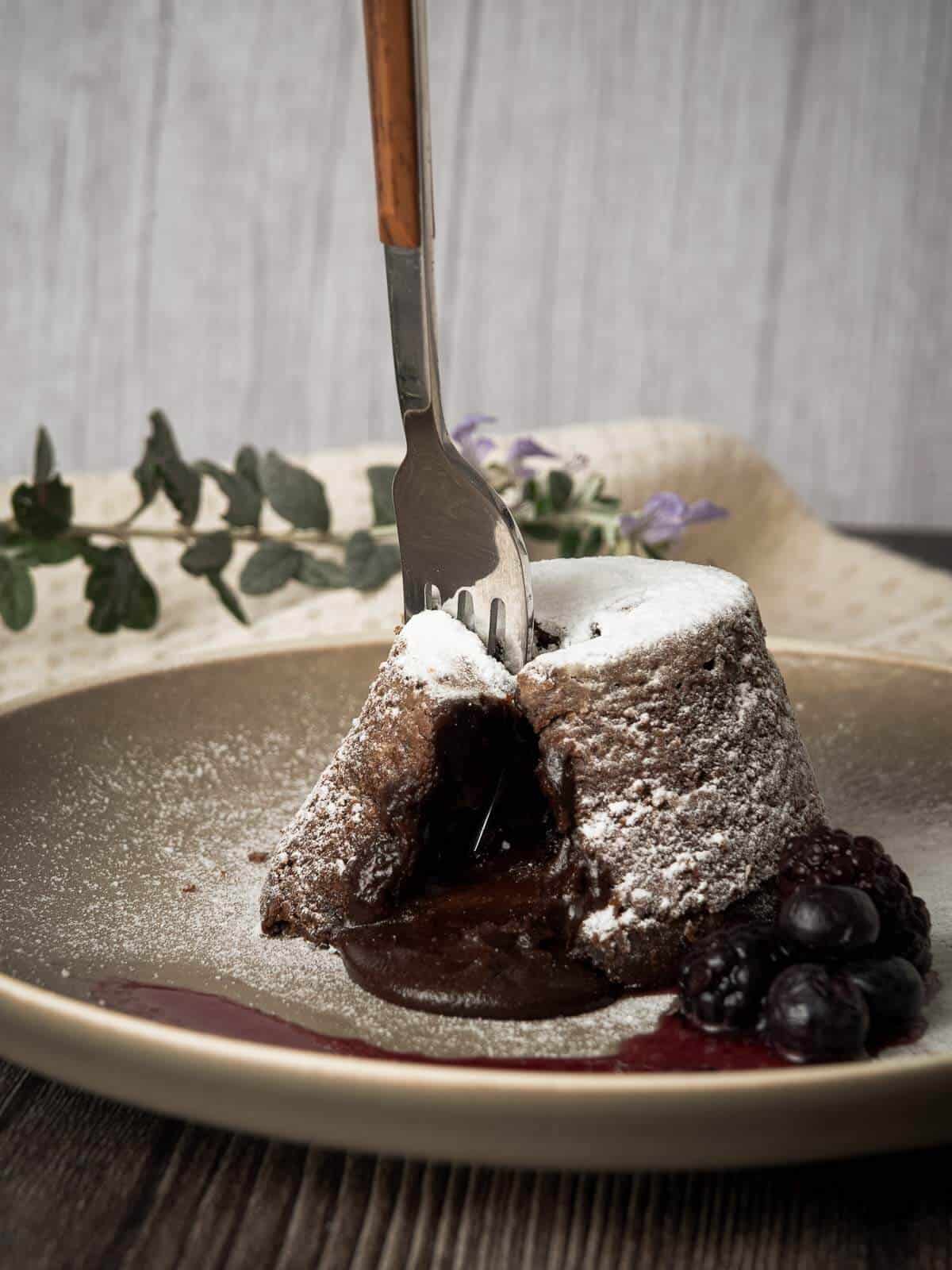 Step 13: Garnish - use canned or fresh berries. Also, use powdered sugar and pass it through a sieve to dust the molten chocolate lava cakes.
Pierce the vegan molten lava cakes to discover their gooey center!
🍶 Substitutions
Nonvegan lava cakes use butter and eggs, which we substitute with olive oil and coconut-based products. Here, we offer other vegan substitutions.
Extra-virgin olive oil - You can use coconut or vegan butter instead of olive oil.
Vegan dark Chocolate - you can use semi-sweet chocolate chips instead.
Chickpea flour - you can make this gluten-free lava cake recipe using almond flour or our gluten-free flour mix. Oat flour is also a great option.
Coconut cream - you can use coconut whipped cream or full-fat coconut milk.
White sugar - you can use coconut sugar or granulated sugar instead.
📖 Variations
Different center - instead of making a chocolate ganache, you can make this molten lava cake using almond butter as a filling.
Coffee - add a teaspoon of espresso powder to the chocolate ganache for a tiramisu-like twist.
🍽 Equipment
You need ramekins or muffin tins to make the perfect dessert.
🥢 How to serve
I love having this warm chocolate cake with a glass of plant-based dairy-free milk such as oat milk, almond milk, or hot chocolate almond milk.
Serve it with your favorite mixed berries marmalade, and vegan ice cream. This eggless Chocolate lava cake is over-the-top when served with vegan whipped cream.
🥡 Storage
Store them in the fridge for up to a week and frozen for up to 3 months, before baking them.
💡 Top tip
You can take it to the oven or keep it in the freezer to bake it later.
The cake batter can be refrigerated for several hours; bring it to room temperature before baking.
❓ FAQ
Is dark chocolate vegan?
Yes. Most dark chocolates are vegan because they do not contain dairy products. However, some dark chocolate brands may contain honey or other ingredients that are not vegan-friendly. So, checking the ingredients list before purchasing any dark chocolate product is essential.
🍫 More vegan chocolate desserts
Try out this fantastic Roman Chocolate cake which is made with nuts for the Holiday season.
Another super easy one is a chocolate chia pudding with pistachio nut cream; it is simply fabulous!
If you like to try more GF vegan desserts, try our moist carrot loaf and apple cake, both great fall season favorites.
⭐ If you try this gluten-free, vegan chocolate lava cake recipe, let us know! 💬 Leave a comment, rate it, and don't forget to tag us @ourplantbasedworld on Instagram. Cheers!
📋 Recipe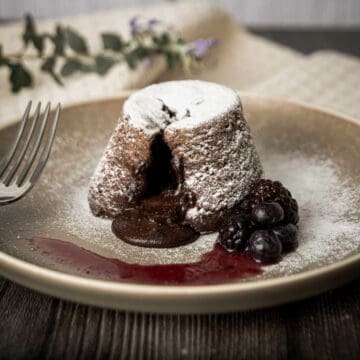 Vegan Lava Cake Recipe
Vegan Volcano chocolate cakes became famous because they are fluffy on the outside with a delicious center of warm dark chocolate. It may seem like magic the first time you try one, but this recipe is super easy to make and only takes 35 minutes.
Equipment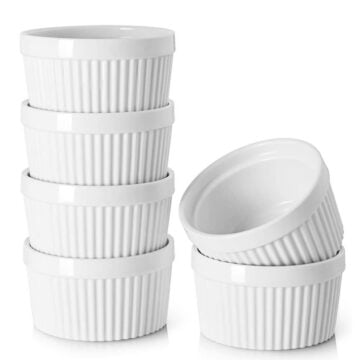 (affiliate link)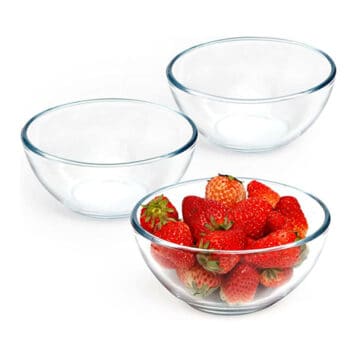 (affiliate link)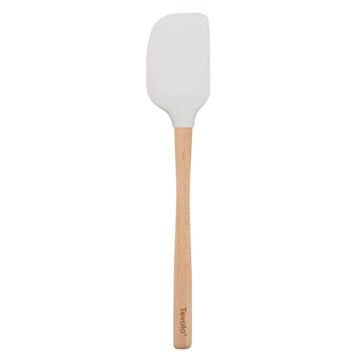 (affiliate link)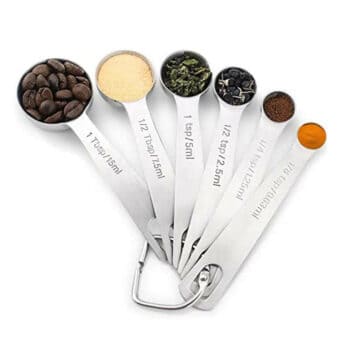 (affiliate link)
Directions
Filling.
Cut the chocolate into pieces, place it in a bowl, and add the coconut cream.

Melt. Set into a double boiler (bain-marie). Melt it completely. (Alternatively, you can use the microwave-safe bowl for 60-90 seconds).

Remove from heat and let cool down or leave in the refrigerator. Reserve.
Cake.
Place the cocoa powder- and chickpea flour in another bowl with the cornstarch, sugar, and baking powder.

After mixing it up, make a hole in the center. Add the olive oil and half of the water.

Mix well and then add the remaining water to form a homogeneous batter without lumps.

Oil three ramekins with olive oil. Spoon half the batter into them.

Take the reserved chilled chocolate, add a teaspoon to each ramekin, and then cover them with the remaining batter. You can take them to the oven or store them in the freezer.
Bake
Preheat the oven for 10 minutes at 350°F (177 °C).

Bake the cakes. If the volcano is not frozen, bake it for 8 minutes or until the sides of the volcano cakes are firm but the centers are soft.

If it is frozen, cooking will take 12-15 minutes. The lava cake is ready with a belly at the top.

Remove from the oven and unmold using a knife on the edges. Let the choco cakes cool in the ramekins for a minute, and then cover each with an inverted dessert plate. Carefully turn each ramekin over, allow them to stand for 10 seconds, and then unmold.

Serve immediately.
Nutrition Facts
Calories:
673
kcal
Carbohydrates:
92
g
Protein:
8
g
Fat:
33
g
Saturated Fat:
8
g
Polyunsaturated Fat:
3
g
Monounsaturated Fat:
20
g
Trans Fat:
0.01
g
Cholesterol:
1
mg
Sodium:
2384
mg
Potassium:
468
mg
Fiber:
9
g
Sugar:
8
g
Vitamin A:
15
IU
Calcium:
77
mg
Iron:
4
mg
Nutrition Facts
Vegan Lava Cake Recipe
Amount per Serving
% Daily Value*
* Percent Daily Values are based on a 2000 calorie diet.
Nutritional Disclaimer
The information shown is an estimate provided by an online nutrition calculator. It should not be considered a substitute for a professional nutritionist's advice. See our full Nutritional Disclosure here.
Affiliate Disclaimer
Please note that some of the links here are affiliate links, and I will earn a commission if you purchase through those links. I recommend all of the products listed because they are companies I have found helpful and trustworthy.