Oats are one of those amazing ingredients that can be used in so many ways. You can make oatmeal, oat flour, oat milk, and the list goes on. Oat Milk is a great dairy-free option for those who are lactose intolerant or simply trying to reduce their dairy intake. It's also great if you're vegan because it provides some important nutrients that aren't found in other plant-based milk. In this post, I'm going to show you how do you make oat milk at home. It's really easy and only takes a few minutes! So let's get started.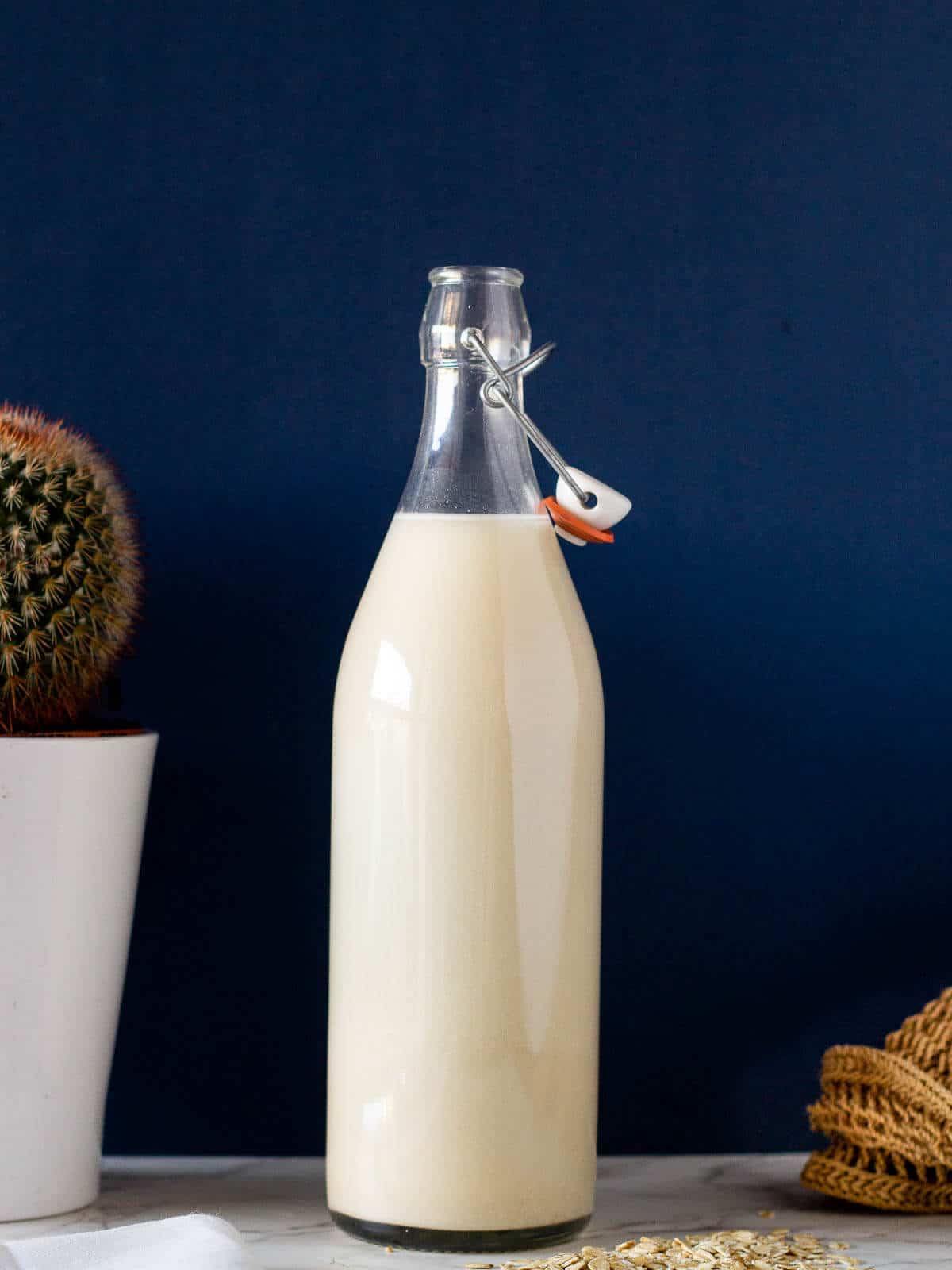 Oat milk is a great dairy-free alternative to cow's milk. It's high in fiber and has a nutty flavor. Making oat milk is easy, and it only takes a few minutes.
We use plant milk every single day of our lives, from our morning homemade gluten-free, oil-free granola to savory recipes like Vegan mashed potatoes, and Vegan Bechamel Sauce. the bechamel sauce. Homemade Oat Milk is by far the cheapest and fastest plant-based homemade milk option.
We like that this recipe is super adjustable and perfect for your smoothies, like our Superfood Green Detox Smoothie. You can make it creamier, sweeter, or flavor-infused.
Jump to:
🧾 Ingredients
It requires 2 ingredients, 5 minutes, and a blender.
Rolled Oats (whole grain oats; use gluten-free option if needed)
Water
Note: keep your oat milk unsweetened if you are planning to make vegan buttermilk to use it as a leaving agent on recipes like vegan apple cake, or vegan mashed sweet potatoes.
Optional
Salt: acts as a flavor enhancer.
Sweeteners: dates, raisins, agave syrup, or maple syrup.
Flavorings: cocoa powder, vanilla extract, banana, strawberry, or hazelnuts.
🍽️ Equipment
Blender, mixing bowl, and filtering fabric of choice.
I like using a piece of fabric for Oat Milk because it is thinner, and nut milk strains more pulp out of it.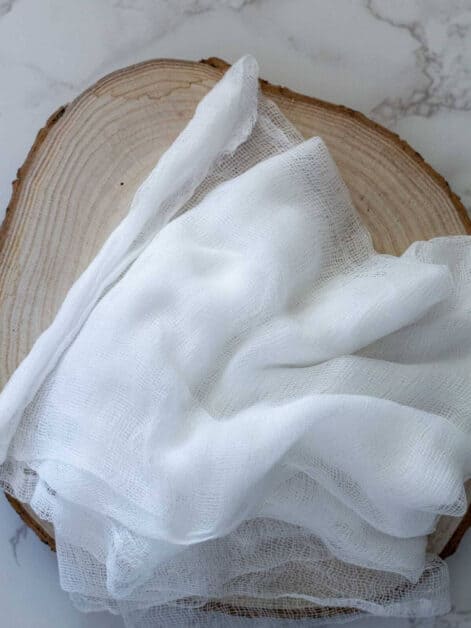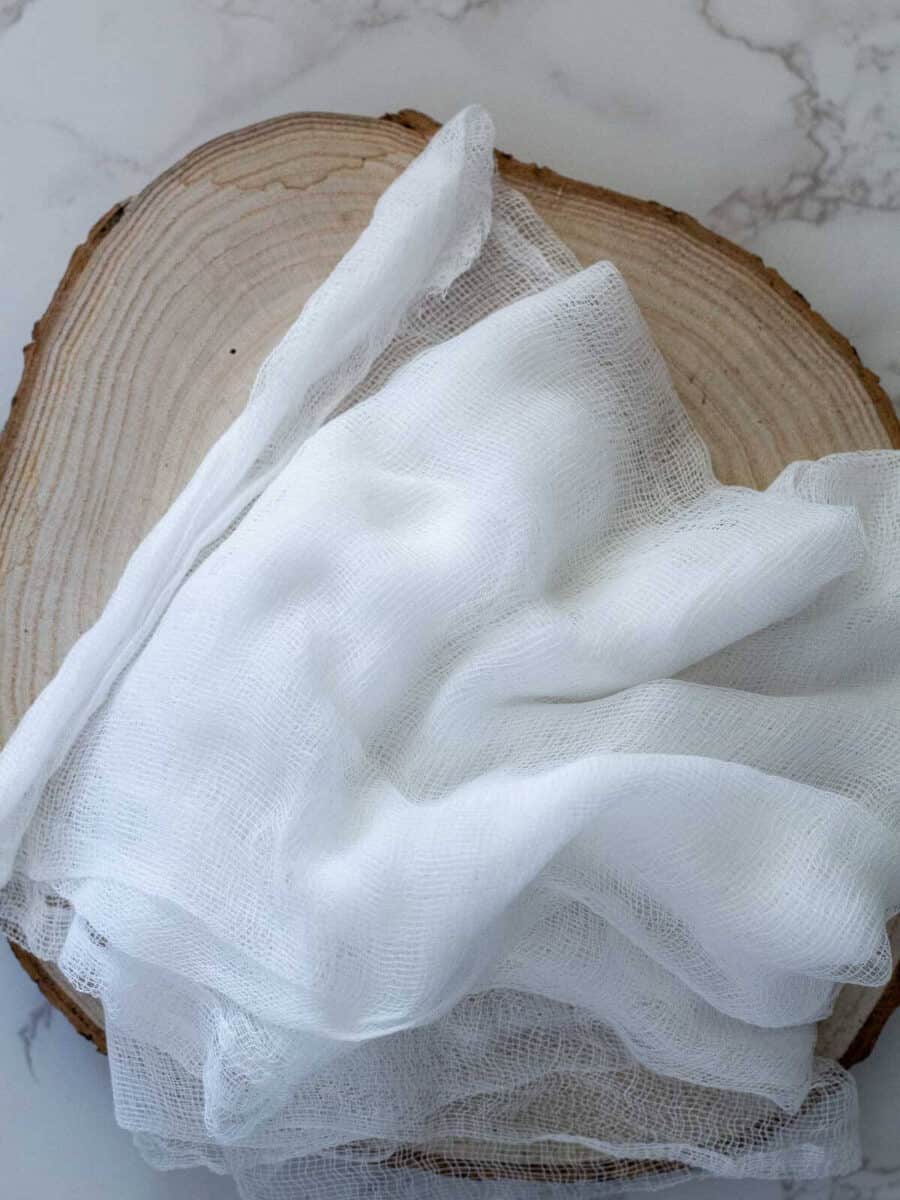 🔪 how is oat milk made
So, how do you get milk from Oats?
Well, it is much easier than getting cow's milk and definitely healthier than dairy milk!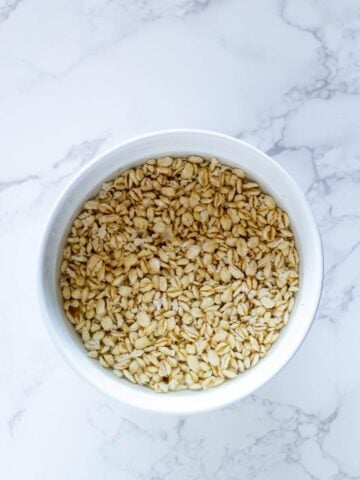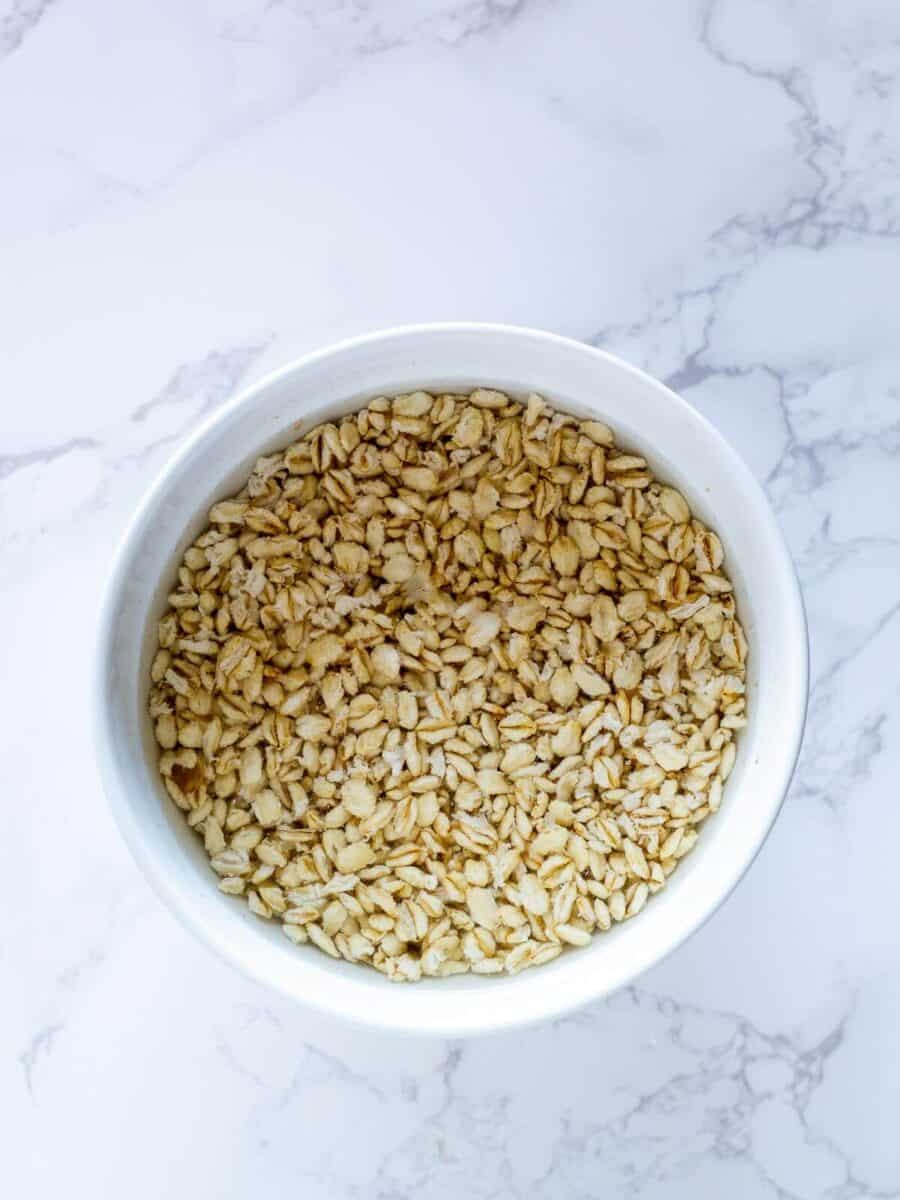 Step 1: The first thing you need to do to make your own oat milk is to soak your oats overnight in water.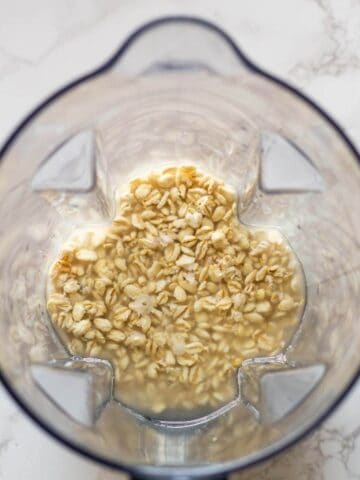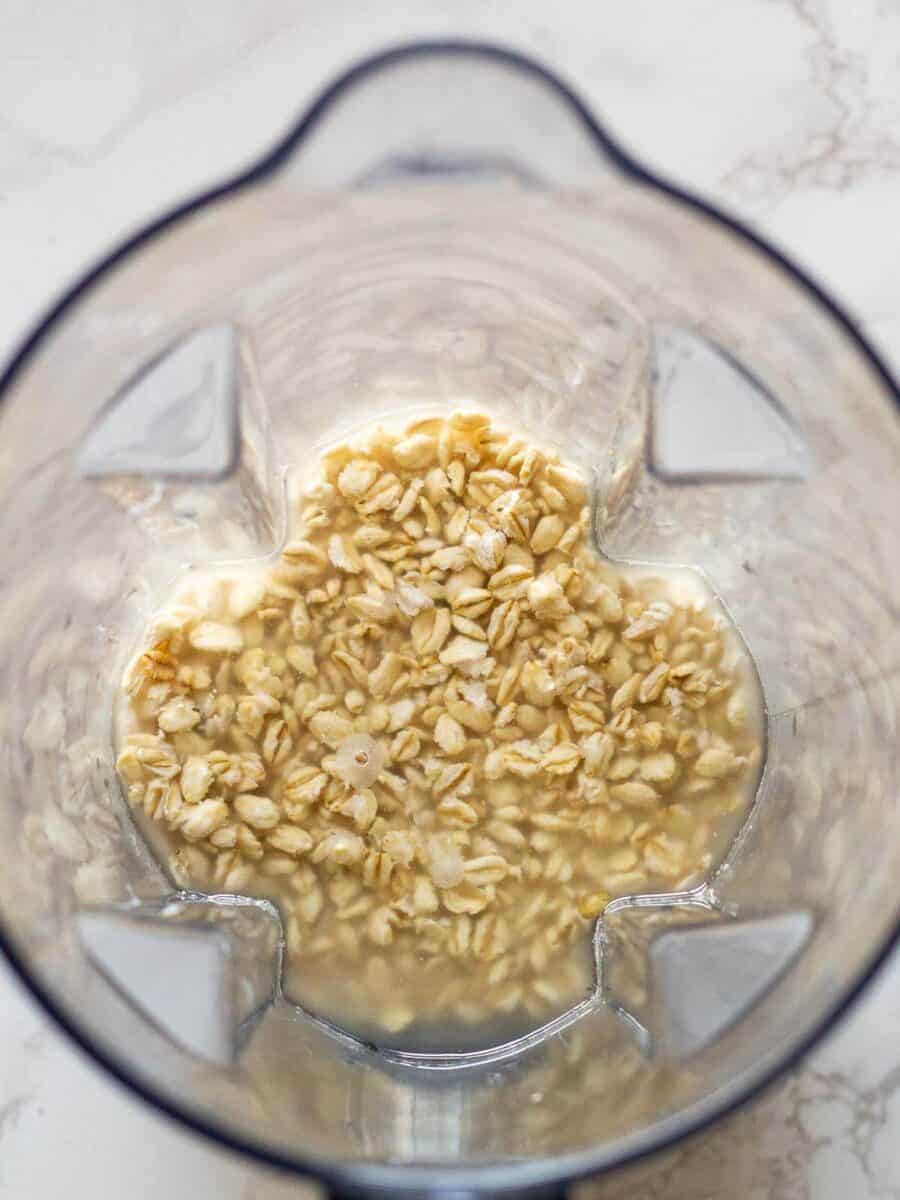 Step 2: drain the oats and add them to the blender. Blend for 1 to 2 minutes along with 4 cups of water.
Hint: If you don't have the time and want to make it quick, you can also soak them in warm water for 5 minutes and proceed.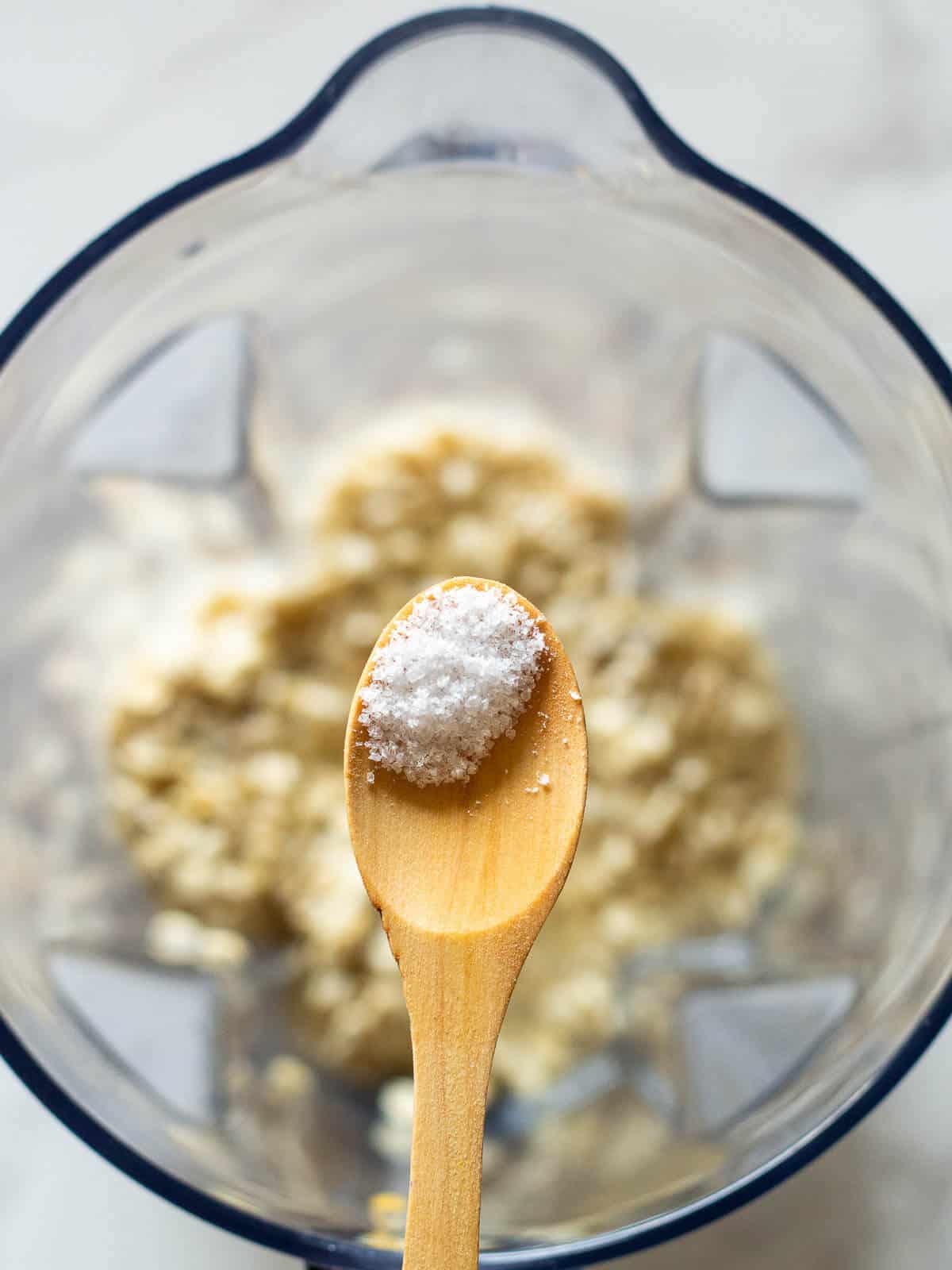 Step 3: Optionally, add a pinch of salt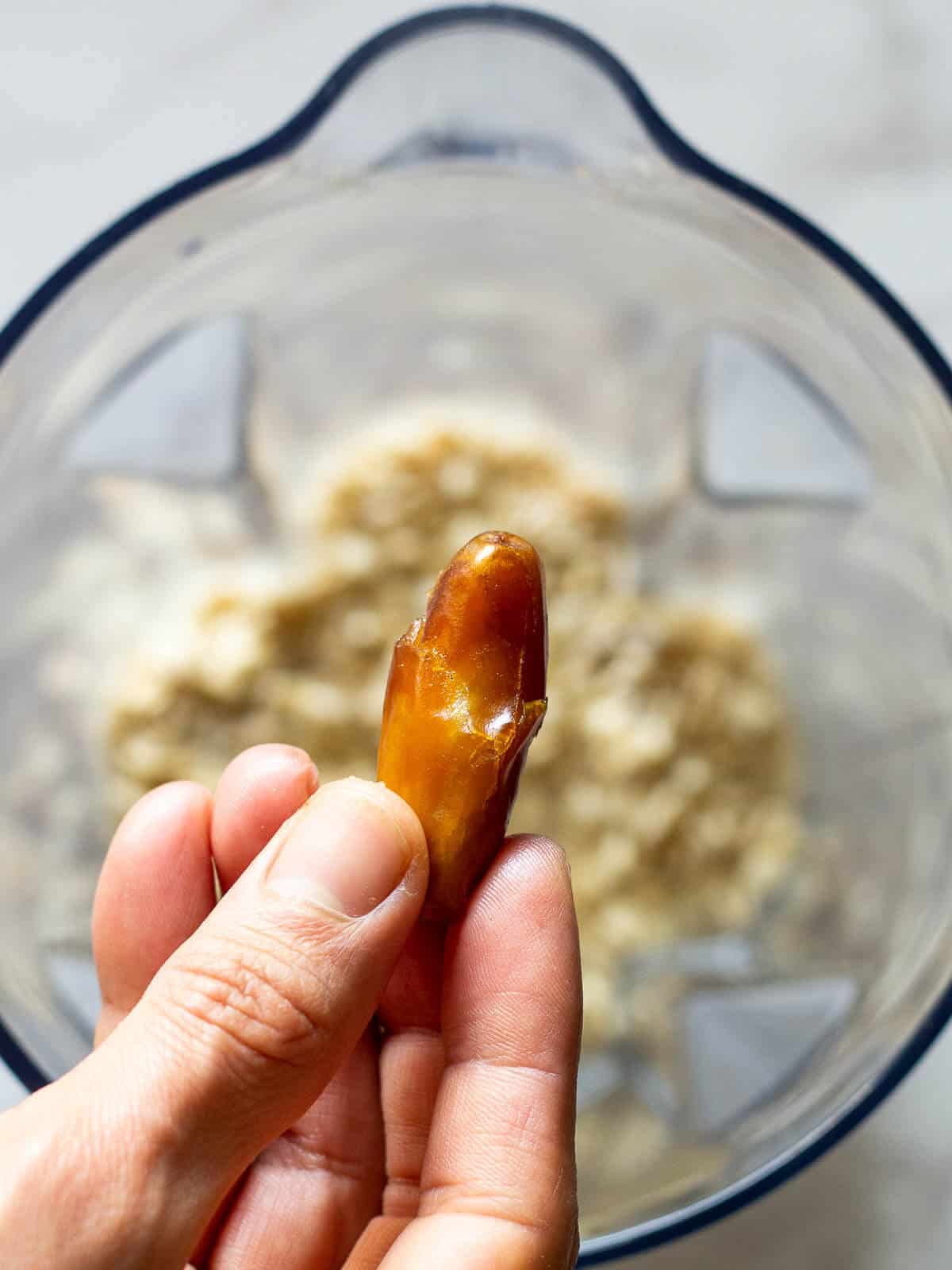 Step 4: add your preferred sweeteners such as maple, syrup, or dates, or flavor enhancers like cocoa.
Oat milk is typically a little sweet, but you can add one or two pitted dates if you want sweetened oat milk. Remove the inner stone from the dates, as the stone can break your blender, or use homemade date paste.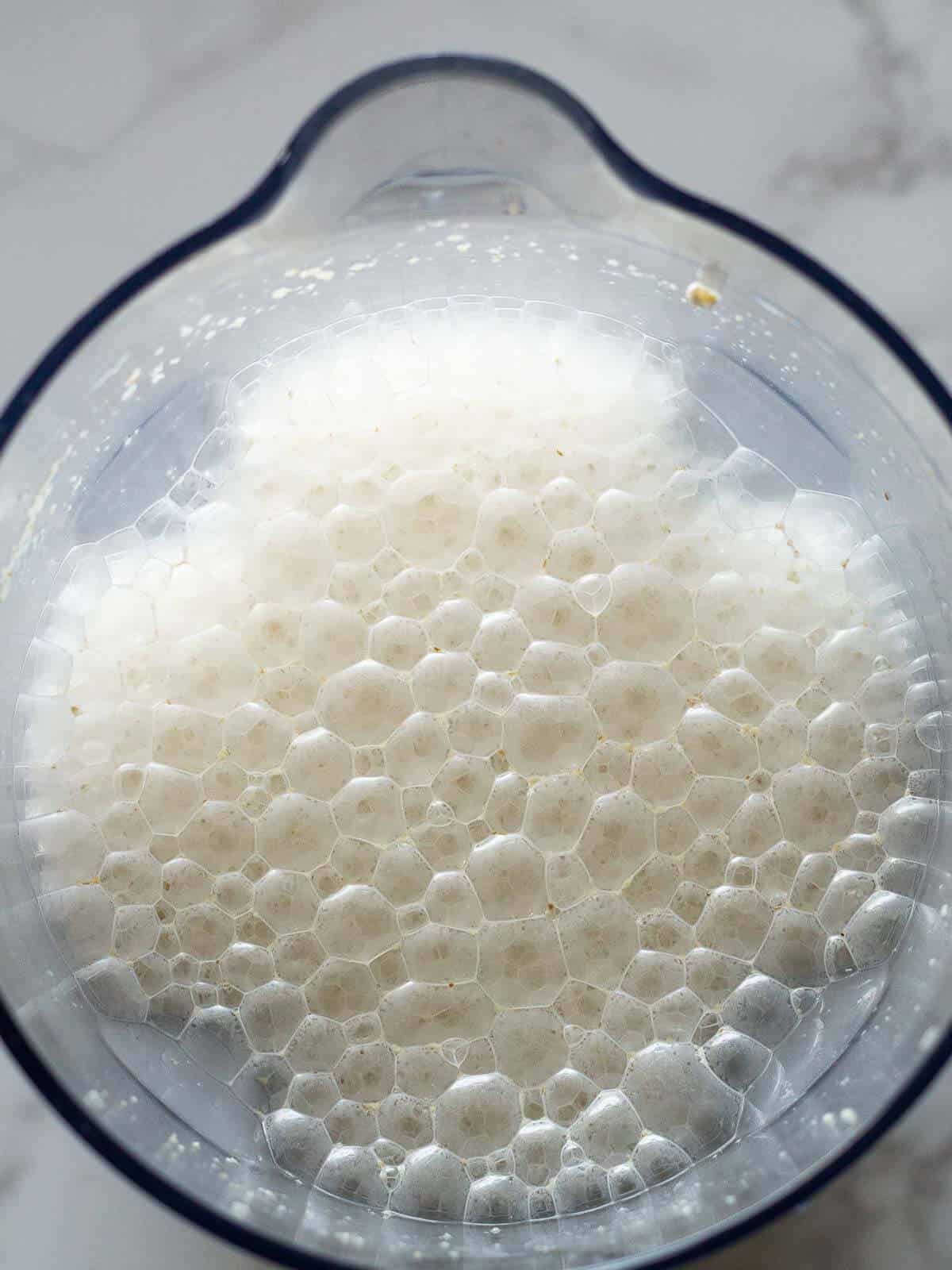 Step 5: Liquify, blending for 40 seconds.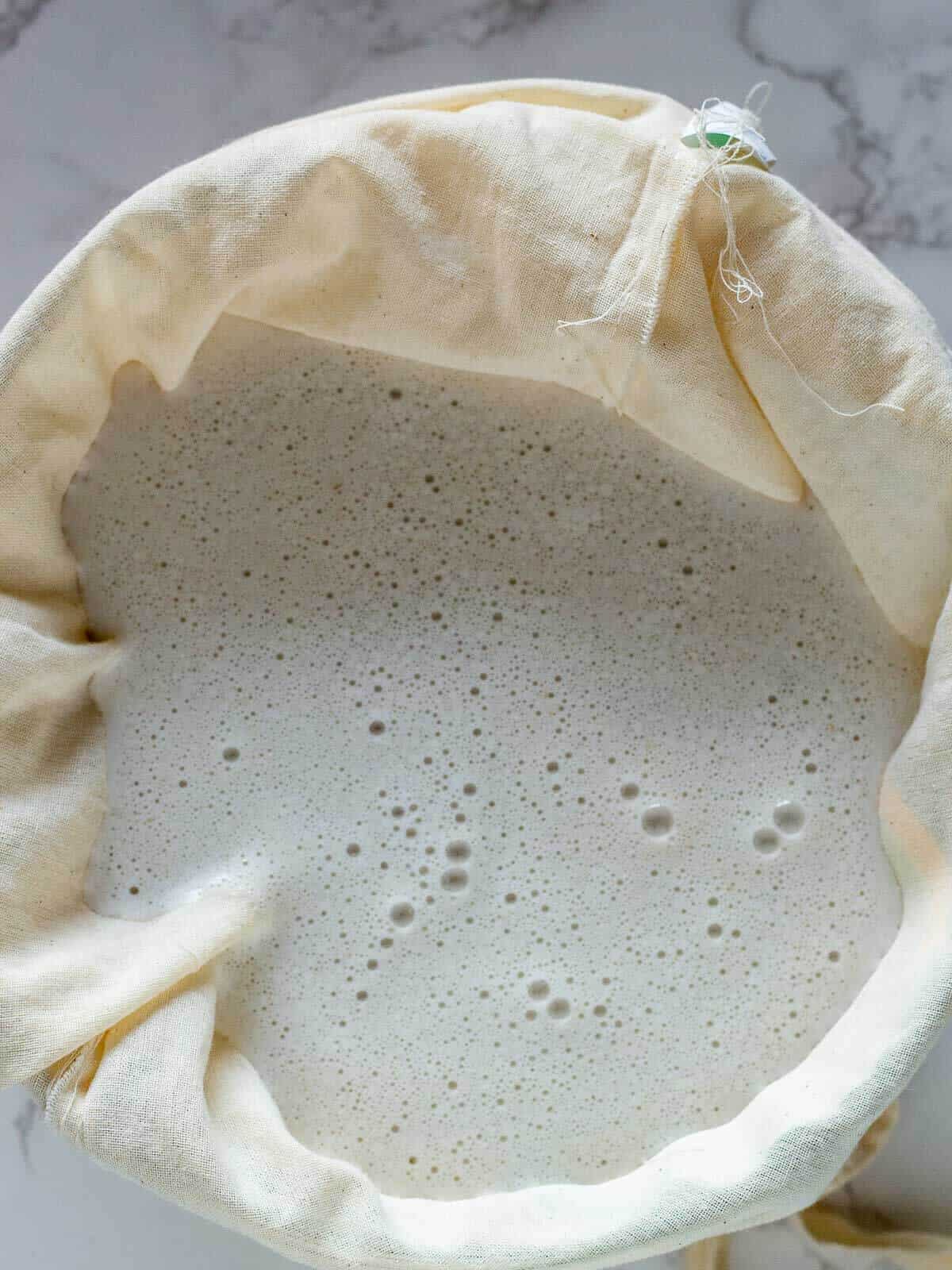 Step 6: Pour the liquid into a container covered with your filtering fabric of choice; you can use a nut milk bag or fine-mesh sieve lined with cheesecloth.
Hint: you can even use a clean t-shirt or canvas fabric bag.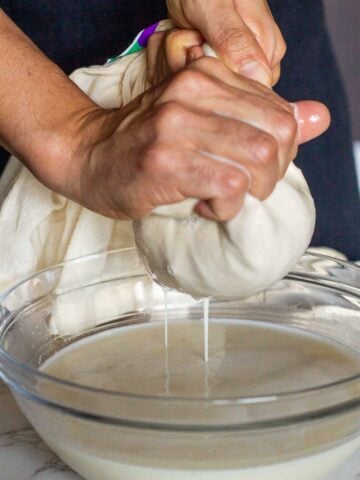 Step 7: Squeeze the liquid out.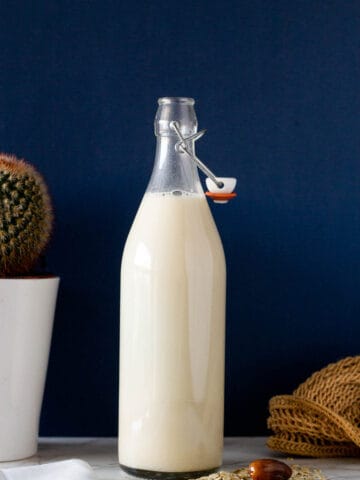 Step 8: bottle freshly made milk in an airtight glass container.
💡 Expert Tips
Preparing Your Oats
Opt for soaking your oats either at room temperature or in the refrigerator.
Should you forget about your oats for over a day at room temperature, simply refresh the water and transfer them to the fridge. Prolonged soaking at room temperature can lead to a gooey texture. In such instances, it's best to rinse them briefly under running water in a colander before proceeding.
For a quicker approach, immerse the oats in warm water and let them soak for about 5 minutes if you're planning to make oat milk the same day.
While you can bypass the soaking stage, remember that an overnight soak enhances the milk's creaminess, yielding a texture that's not only akin to store-bought oat milk but even surpasses it!
Note on Gluten
Remember to shop for Gluten-Free Oats if you have gluten intolerance, have celiac disease, or simply follow a Gluten-Free diet.
Oats are naturally gluten-free. Still, they are usually processed in places with gluten; hence, oat milk may contain gluten.
They typically don't guarantee they are gluten-free, so make sure you either look for a certified gluten-free alternative or, as we do, make your oat milk with certified gluten-free oats.
🫙 Storing: how long does it last?
It depends on whether you sterilize your equipment and how fresh are the ingredients you use. In general, we have found it lasts about 2-3 days.
We often use oat milk for our morning smoothies or Homemade Granola and lemon blueberry overnight oats, so one batch only makes it to the third day. If you are like us, you don't need to sterilize your ingredients as it reaches the 3rd day without any problem.
If you find that it goes off before expected, easily sterilize your bottles either:
Pouring boiling water inside, ensuring the jars are not cold so that they won't break.
Then, put them in the dishwasher.
If you have unexpectedly left home or didn't use your milk soon enough and want to prevent it from going off.
You can freeze it in ice cube trays and save them to add to your morning smoothies.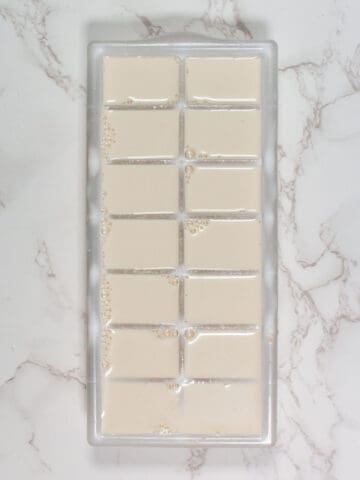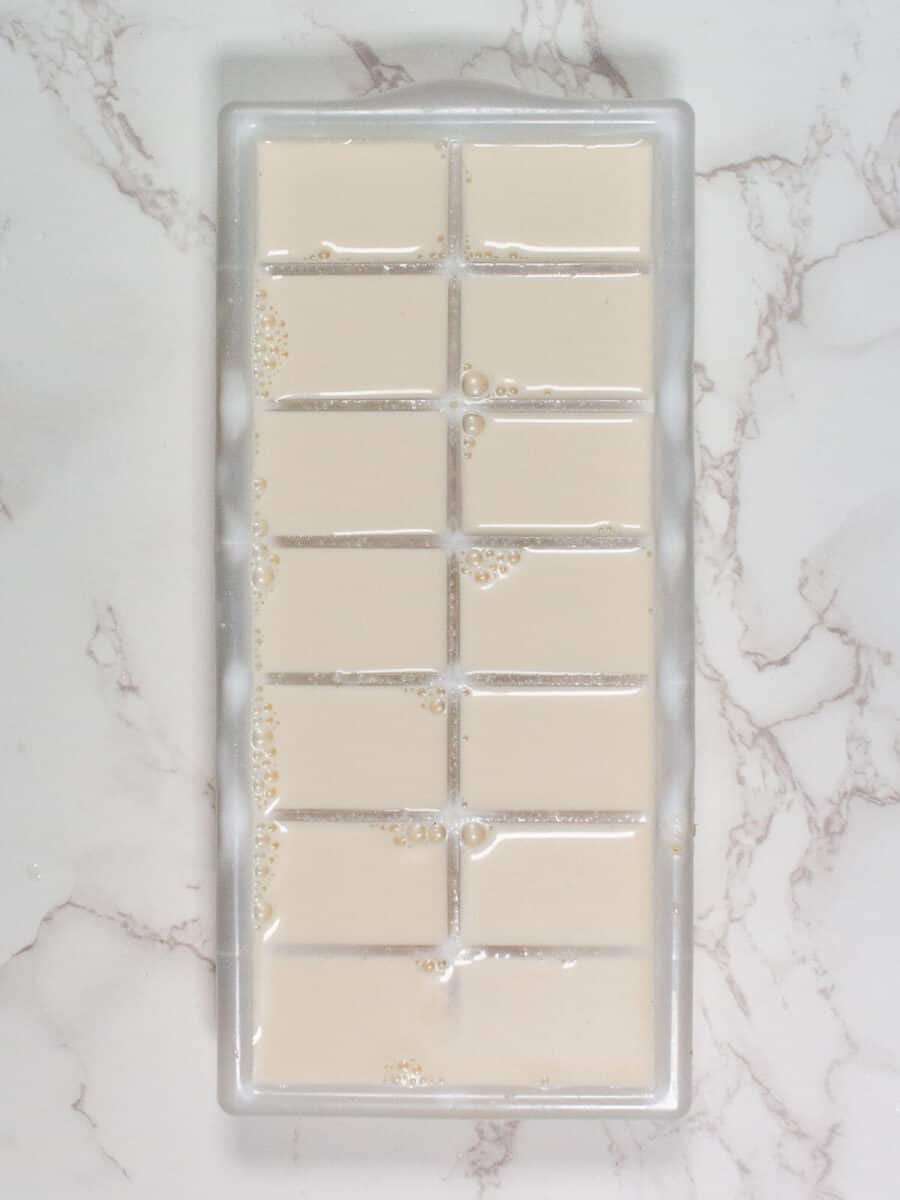 👨🏻‍🍳 How to use it
I like to drink oat milk as it is, as unsweetened oat milk is naturally slightly sweet, just like rice milk.
You can use it the same way you would use regular milk: in smoothies, in your morning granola or breakfast fruit bowl, in bechamel sauce, or in baking.
Below are some recipes where you could use your milk:
Lastly, you can also make vegan chocolate milk with this milk.
🥛 Why should you do your own DIY oat milk?
Convenience
This plant-based milk alternative is effortless to make; it only takes us 5 minutes.
You can make only the quantity you need.
It is dairy-free milk, so it is apt for people with lactose intolerance.
Can be used in a number of recipes
This vegan alternative is fully adjustable in flavor, thickness, and sweetness.
It's nut-free, in case you have nut food allergies.
It has no added sugars as most commercial brands do.
Pocket-friendly
Making it is super cheap; out of 1 cup of rolled oats, you get 4 cups of delicious plant milk.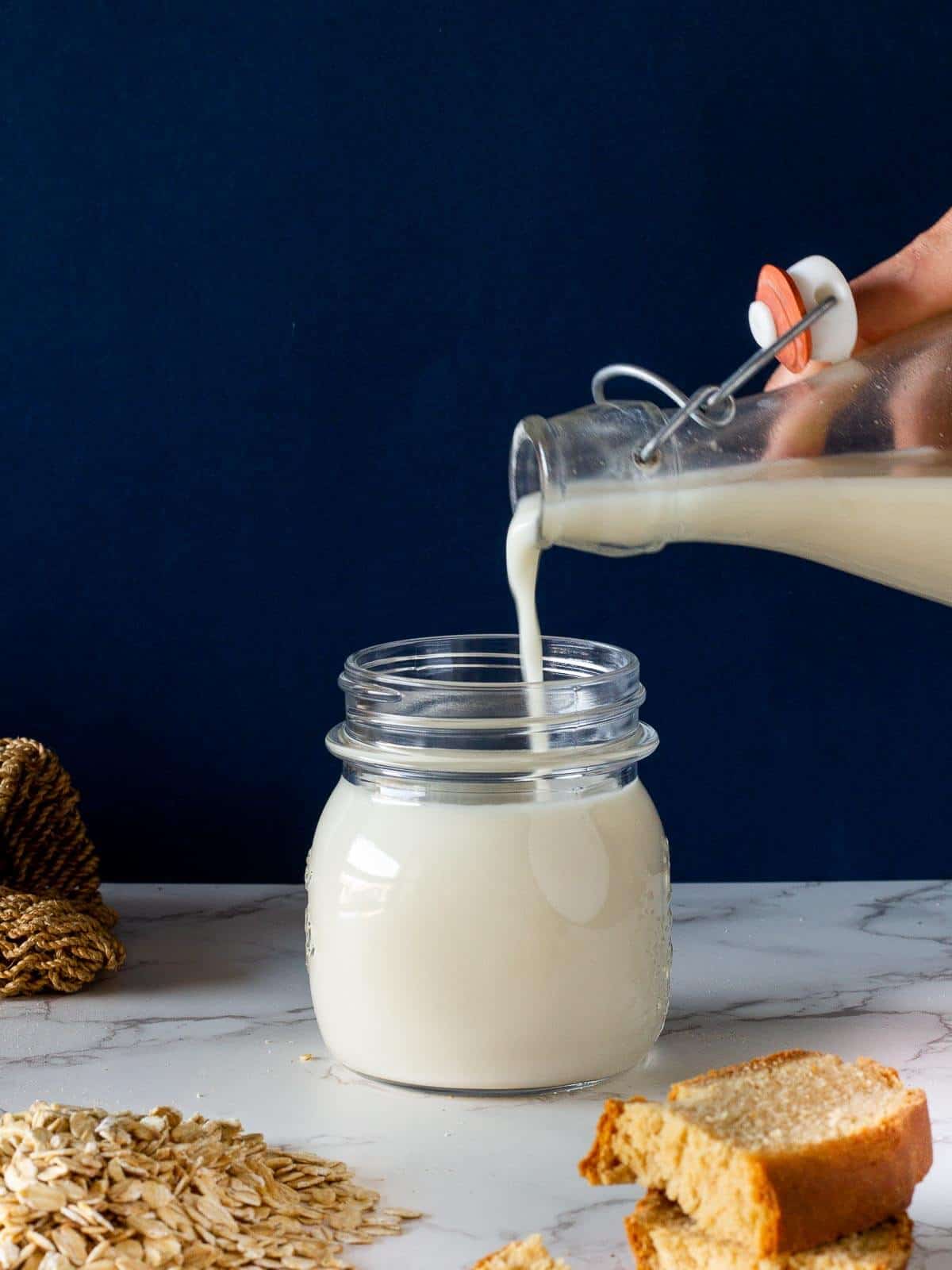 If you are on a budget, Oat Milk is the most suitable of them all, including cow's milk. It is also the most sustainable plant-based milk alternative, including almond milk and coconut milk. You can either let it in or make it part of your smoothies in terms of the very little remaining pulp.
In general, plant-based kinds of milk are more sustainable than dairy milk (cow's milk, goat's milk, and sheep's milk).
✅ Health: 10 Benefits of Oat Milk
Is oat milk healthy? Let's dive into the health benefits of milk and why it is an excellent dairy alternative.
Low in Calories: if you are looking into keeping your waist, this easy oat milk should be one of your allies. Although all vegetable kinds of milk are significantly lower in calories (46kcal per cup) than regular milk, homemade oat milk is lower than its peers (even lower than Homemade Almond Milk (88 kcal per cup) and Homemade Soy Milk (138kcal per cup)).
Skin: oat milk's benefits for skin come from its anti-inflammatory properties, which help reduce acne flare-ups. Oat milk is a humectant that helps skin retain water and is widely found in moisturizers. Oat milk contains Vitamin D, which is great for your skin.
Bone Strengthening: oat milk contains potassium, magnesium, and zinc, which are potent minerals and are essential for forming and strengthening bones.
Fats: Oat milk has zero saturated fats and three times less fat than whole milk.
Dairy-Free: oats are low in fat and dairy-free, so they are an excellent lactose intolerant choice. It also has a naturally sweet taste.
Cholesterol-Free: it contains zero cholesterol. Regular consumption may even lower LDL cholesterol (the bad one) in the blood. This is not the case with dairy milk. Dairy products like butter, cheese, and cow's milk are high in cholesterol.
High in Fibre: oat milk has twice the dietary fiber as cow's milk making it an excellent choice for adding fiber to your diet for a healthy gut and digestive functions. Soluble fiber plays a role in strengthening the immune system, so regular consumption can prevent infections and also helps the body to heal itself naturally. If you want to keep more from its dietary fiber, you either avoid straining your milk or use a mesh that is not fine.
High in Vitamins: oat milk has our beloved B vitamins folate and thiamine, which support the normal function of red blood cells and the breakdown of carbohydrates, respectively.
Helps Regulating Blood Sugar Levels: this good friend for people with type 2 diabetes slows down the absorption of carbohydrates in the gut, providing a slower and steadier supply of sugar into the bloodstream. This property is brought to us thanks to its content of soluble fiber.
Oat milk is perfect for your needs if you're looking for plant-based milk without added sugar. It provides the same creamy texture as dairy milk, but oat milk benefits include the same array of health benefits associated with consuming oats.
❓FAQ
Type of oats for oat milk
We find that using Old-fashioned oats also called rolled oats, which are flat and flakey, make the most creamy oat milk.
If you are on a Gluten-Free diet, look for rolled oats that clearly state it.
How to thicken oat milk?
This creamy oat milk recipe is already in the mid-range of thickness. If you want thicker milk, increase the amount of oatmeal.
We find the perfect thickness for our taste is 1 cup of oats / 4 cups of water.
Suggested thicker oat milk options:
1 cup of oats / 3 cups of water, if you don't mind sacrificing the final volume.
1 ½ cups oats / 4 cups of water, if you want the same volume.
If you want thinner oat milk, reduce the number of oats flakes to ¾ cup or increase water by one cup.
Does oat milk make you gassy?
If you are experiencing gassiness or digestive problems after consuming oat milk, you could do a few things to alleviate the symptoms. First of all, consider switching back to their soy milk or almond counterparts.
You may be particularly sensitive to oats, which might help quite a bit. The main issue with oat milk is that it contains oligosaccharides. This carbohydrate is complex for our bodies to digest because we lack the enzyme necessary to break them down.
Because oligosaccharides and other undigestible sugars travel through our digestive system whole, they feed bacteria that produce gas in return.
This issue can be partially solved by thoroughly straining oat milk to remove the solids. If you experience great gassiness from drinking oat milk, try mixing it with another plant-based milk lower in oligosaccharides, such as soy or almond.
Another trick is to add some additional ingredients, such as ginger and chia seeds which help fight gas production. Although these products are not guaranteed to work for everyone, many have reported relief from these changes.
Can oat milk make you nauseous?
The answers are yes; it is possible that oat milk could make you nauseous. It also depends on how much you drink and what other recently consumed foods. Oat milk contains polyunsaturated fats, the building blocks of prostaglandins, and lipid compounds that have hormone-like actions.
There are both beneficial and harmful prostaglandins in the human body. The negative ones can promote inflammation, intestinal cramps, diarrhea, nausea, etc.
The positive ones help reduce inflammation, lower blood pressure, and ensure gastrointestinal tract health.
Does oatmilk have fiber in it?
Yes. Like other plants, oats contain fiber (or roughage), essential for a healthy digestive system and maintaining a healthy weight. Oat fiber contributes to a feeling of fullness after consumption, making you less likely to snack between meals.
Studies have shown that consuming food containing high levels of viscous fiber/oats resulted in significantly reduced hunger ratings of the test subjects.
Oat fiber also slows down carbohydrate absorption, which can help to regulate blood sugar levels and keep you feeling fuller for longer.
Start making the best of all oat milk benefits today; you just need a cup of oats, water, and a couple of minutes.
Is oat milk bad for you in anyway?
Regular oat milk is bad and unsuitable for those with gluten intolerance or celiac disease. This is because oats are often cross-contaminated with gluten during their production. And so the majority of oat milk isn't gluten-free unless it is explicitly certified as such. That's why we recommend using certified gluten-free oats if you want to make your milk gluten-free.
📚 More DIY milk recipes
⭐ If you try this recipe, let us know! 💬 Leave a comment, rate it, and don't forget to tag us @ourplantbasedworld on Instagram. Cheers!
🎥 Video
📋 Recipe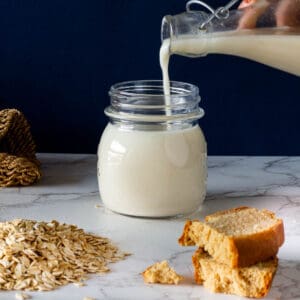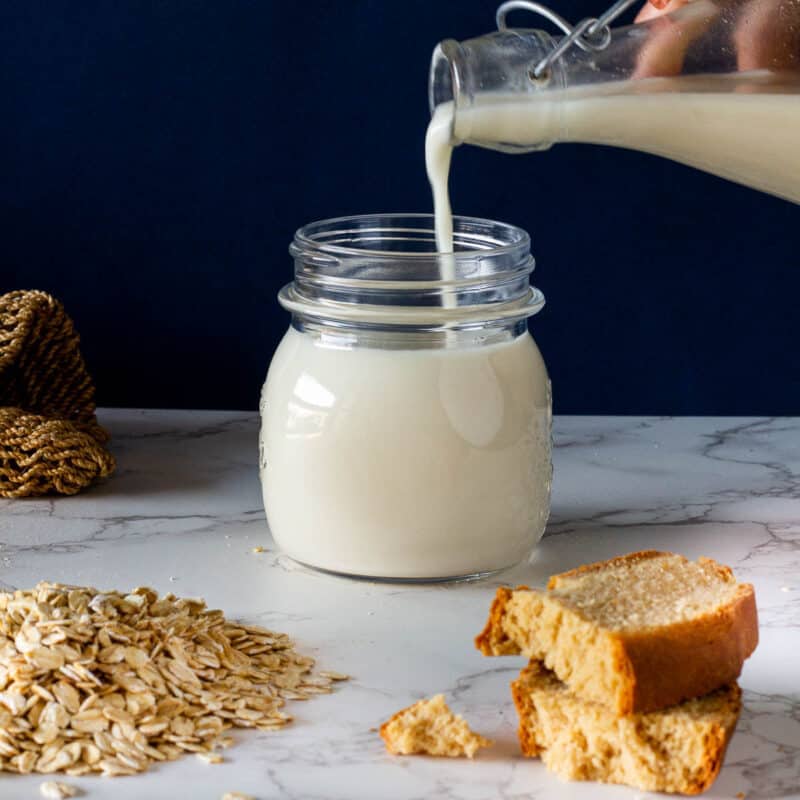 How do you Make Oat Milk?
This Oat Milk is ready in 5 minutes, additives-free organic, nutritious, and convenient. Bye to store-bought!
Equipment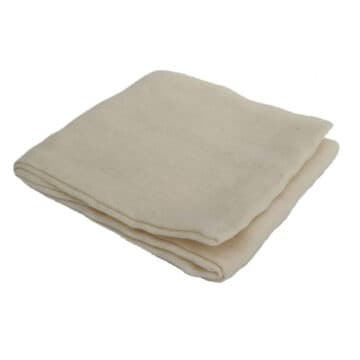 (affiliate link)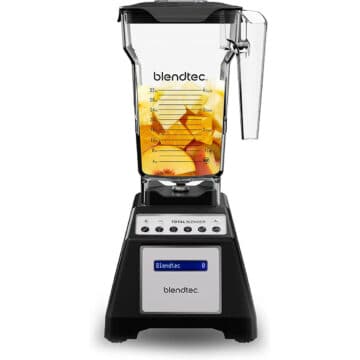 (affiliate link)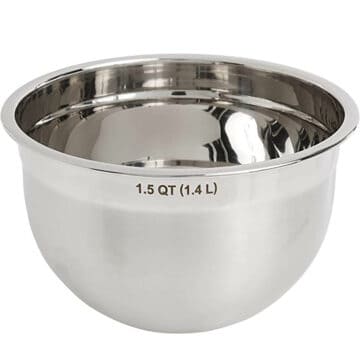 (affiliate link)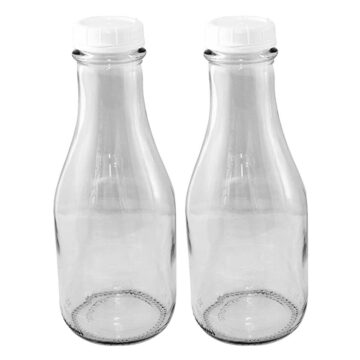 (affiliate link)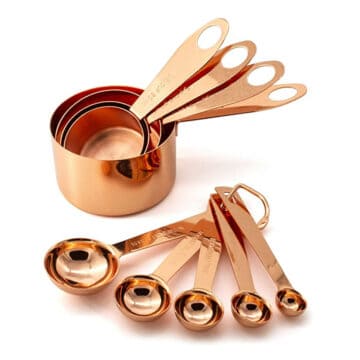 (affiliate link)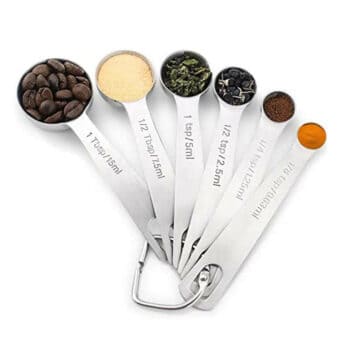 (affiliate link)
Ingredients
1

cup

rolled oats

raw, Gluten-Free (if in a GF diet)

4

cups

water
Directions
Soak the oats overnight in freshwater.

Drain the oats and discard the water.

Add the soaked oats to a blender and water and blend at high speed for 1 to 2 minutes (in this step, add the salt and dates if you choose to).

Strain through a canvas fabric, nut milk bag or fine-mesh sieve lined with cheesecloth, squeezing out as much liquid as possible.

Store in a closed bottle for up to 4 days.
Notes
Check your blender's directions; you might need to stop it after 30-60 seconds, rest for a minute or so, and do a second blend to avoid breaking it. Professional blenders can stand for 2 minutes non-stop, but please check.
In general, we have found it lasts about two to three days. However, this time may vary depending on whether you sterilize your equipment and how fresh the ingredients you used.
Nutrition Facts
Calories:
46
kcal
Carbohydrates:
9
g
Protein:
1
g
Fat:
1
g
Saturated Fat:
1
g
Sodium:
7
mg
Potassium:
54
mg
Fiber:
1
g
Sugar:
2
g
Vitamin A:
1
IU
Vitamin C:
1
mg
Calcium:
10
mg
Iron:
1
mg
Nutritional Disclaimer
The information shown is an estimate provided by an online nutrition calculator. It should not be considered a substitute for a professional nutritionist's advice. See our full Nutritional Disclosure here.
Affiliate Disclaimer
Please note that some of the links here are affiliate links, and I will earn a commission if you purchase through those links. I recommend all of the products listed because they are companies I have found helpful and trustworthy.