We are plant-based milk lovers, just as we were cow's milk lovers years ago. As the years went on, and we started our quest to remove as many Tetra Paks and plastics from our kitchen, Homemade Almond Milk arrived in our lives.
At first, we couldn't get to make the almond milk as creamy as we liked the store-bought one, but as soon as we perfectioned it, it arrived to stay.
We like that this recipe is super adjustable. You can make it creamier, sweeter or flavor infused. You can also make it plain if you need it to make a vegan bechamel sauce, vegan mashed sweet potatoes, or vegan cheese.
It is cheaper than store-bought and super easy to make. It requires 2 ingredients, 5 minutes, and a blender.
We also use this almond milk to make our breakfast banana oatmeal smoothie to make it perfectly creamy!
Why should you do your own?
Health
If you look into the ingredients list of most commercial Almond milk, it's full of strange ingredients such as guar gum, lecithin, and the list gets longer.
The only reason they do it is to preserve it for longer, thicken it, and stabilize the mixture, resembling more cow's milk.
Almond milk, once stored, will inevitably separate, but you have to shake it before consuming it. Do we need to add all of these ingredients just because we can't shake our milk before drinking it? We think most of us don't mind; we just need to have the information.
This dairy-free milk is perfect for your Superfood Green Detox Smoothie, also on this site, to complement your weekly breakfast meal plan.
Convenience
This DIY almond milk is effortless to make; it only takes us 5 minutes.
You can make only the quantity you need.
It's fully adjustable on flavor, thickness, and sweetness.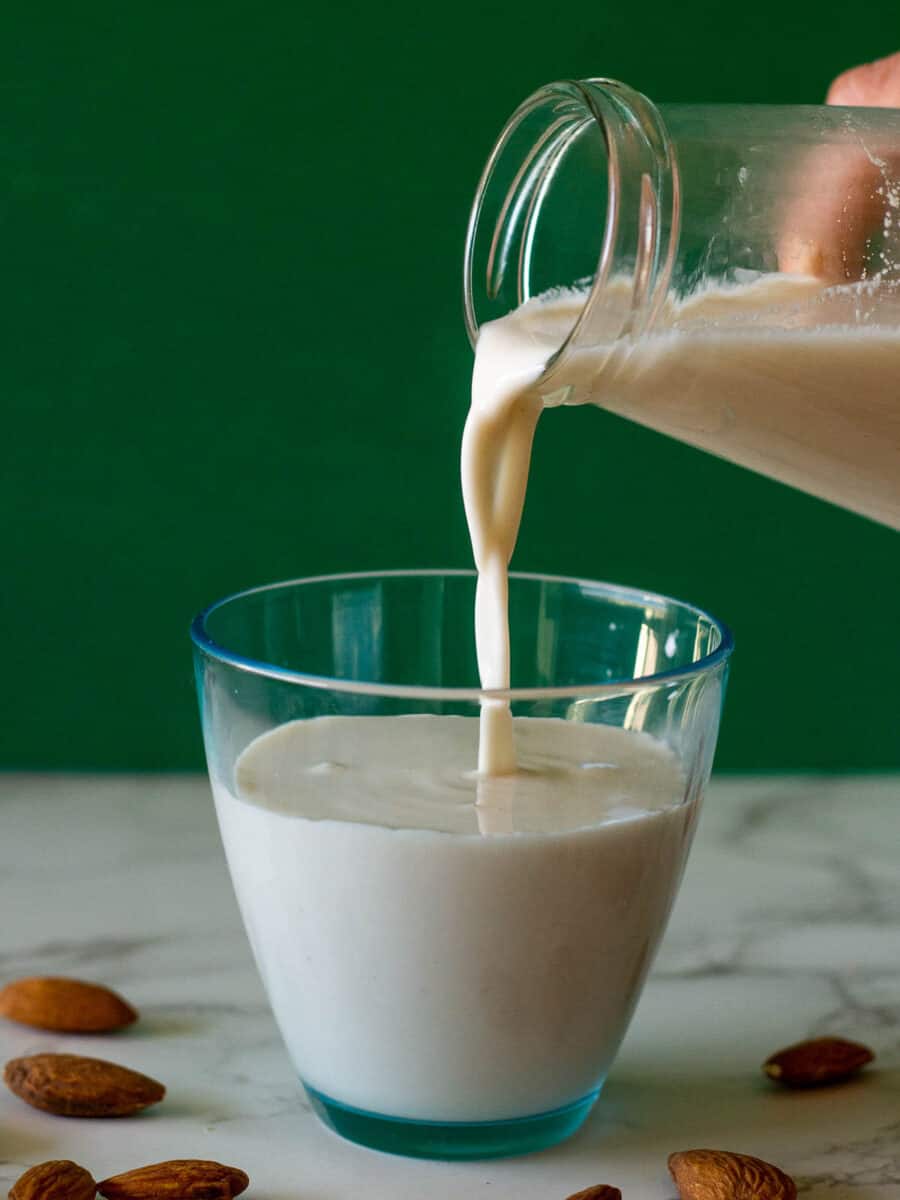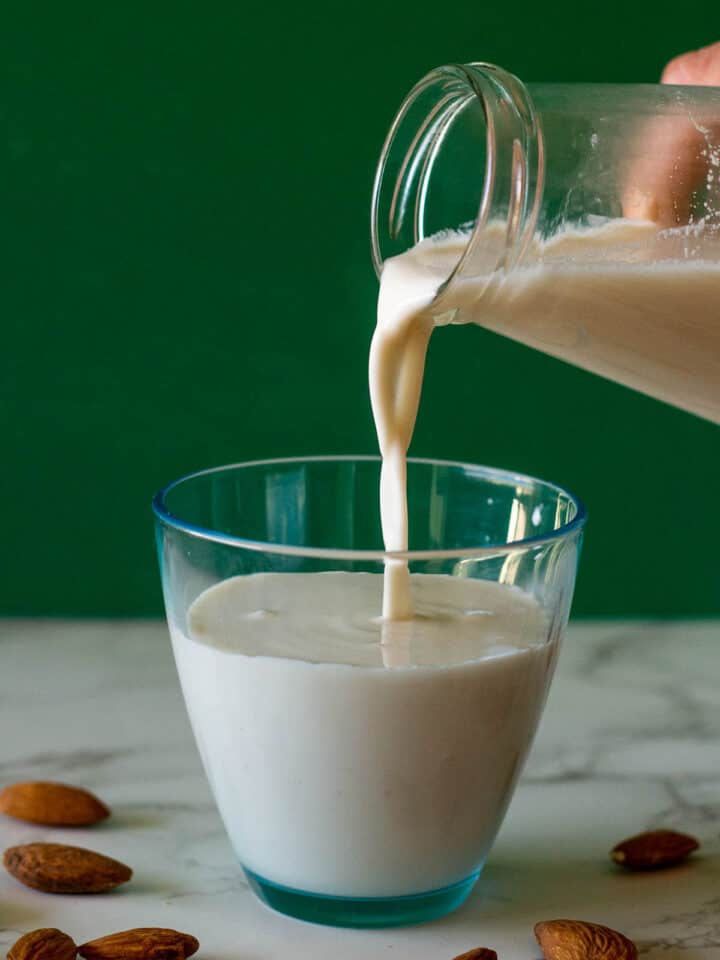 Economy
As a former Engineer, I did my math and living in Northern Italy, where things are pretty expensive (both milk and almonds). However, I found that it was 15% cheaper.
The caveat here is that we compare to Almond milk, not Cow's milk, which is out of the picture as most Dairy products worldwide are subsidized, and we are not talking about the same product.
150 Tetra Paks saved per year: 3 per week!
That's not a lot, but this number gets better when you consider that I use the remaining pulp to replace the nuts that I use for my smoothies and replace half of the nuts I used for my homemade granola bars.
Also, we use a lot of nut milk regularly, so the number piles up rapidly.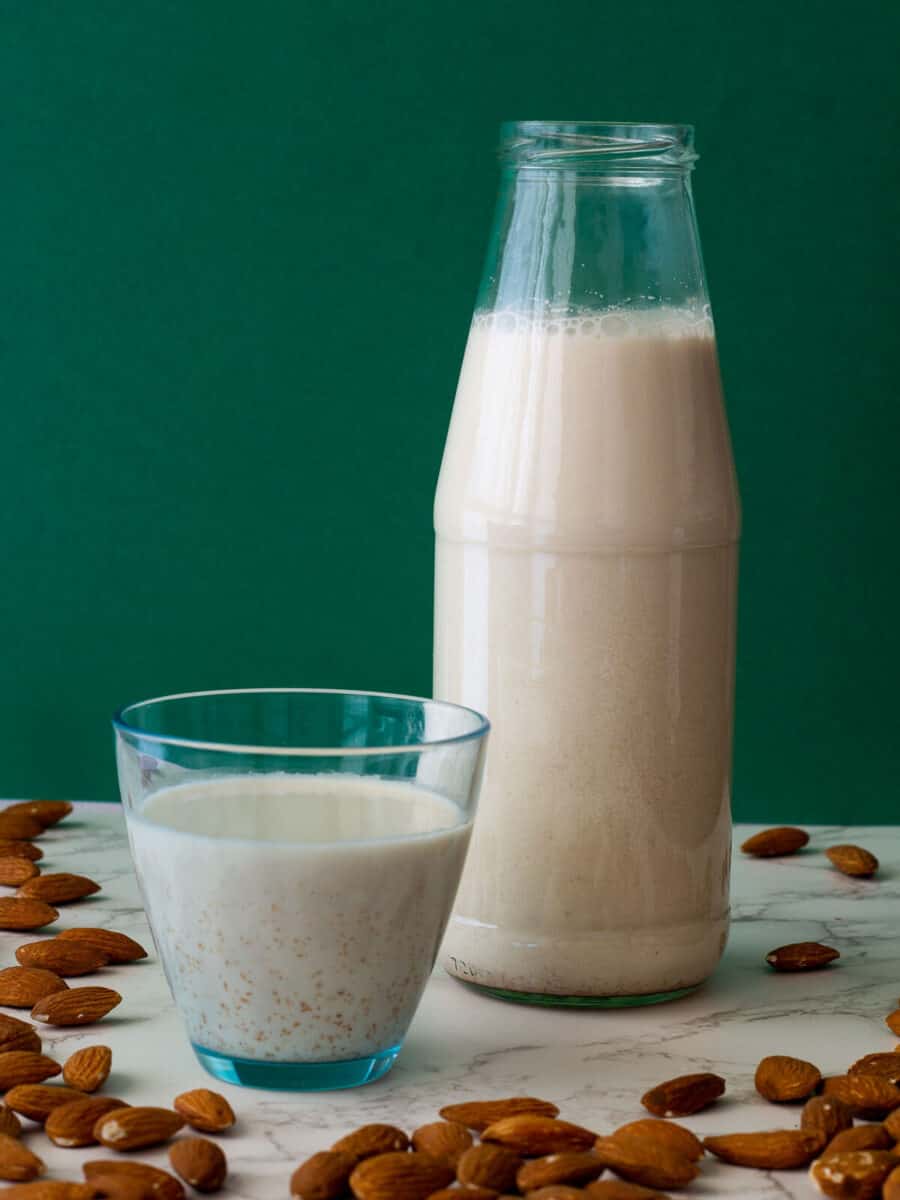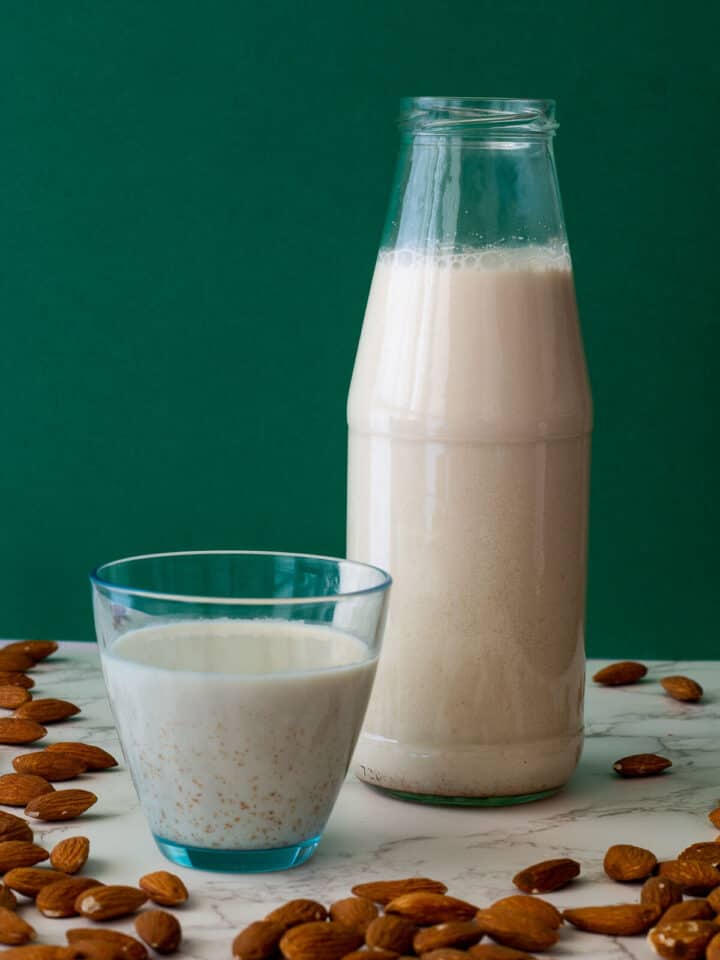 Ingredients
The Almond milk ingredients list, is as short as one ingredient: almonds, plus water and optionally a sweetener.
Raw almonds
Water
Optional: natural sweetener (like dates or maple syrup)
Note: keep your almond milk unsweetened if you are planning to make vegan buttermilk with it. See our post, explaining the details and the best combinations to make the best vegan buttermilk, easily made with soy milk, this almond milk, or even oat milk.
Instructions
So, how do you get milk from almonds?
The first thing you need to do is put your almonds to soak overnight in water.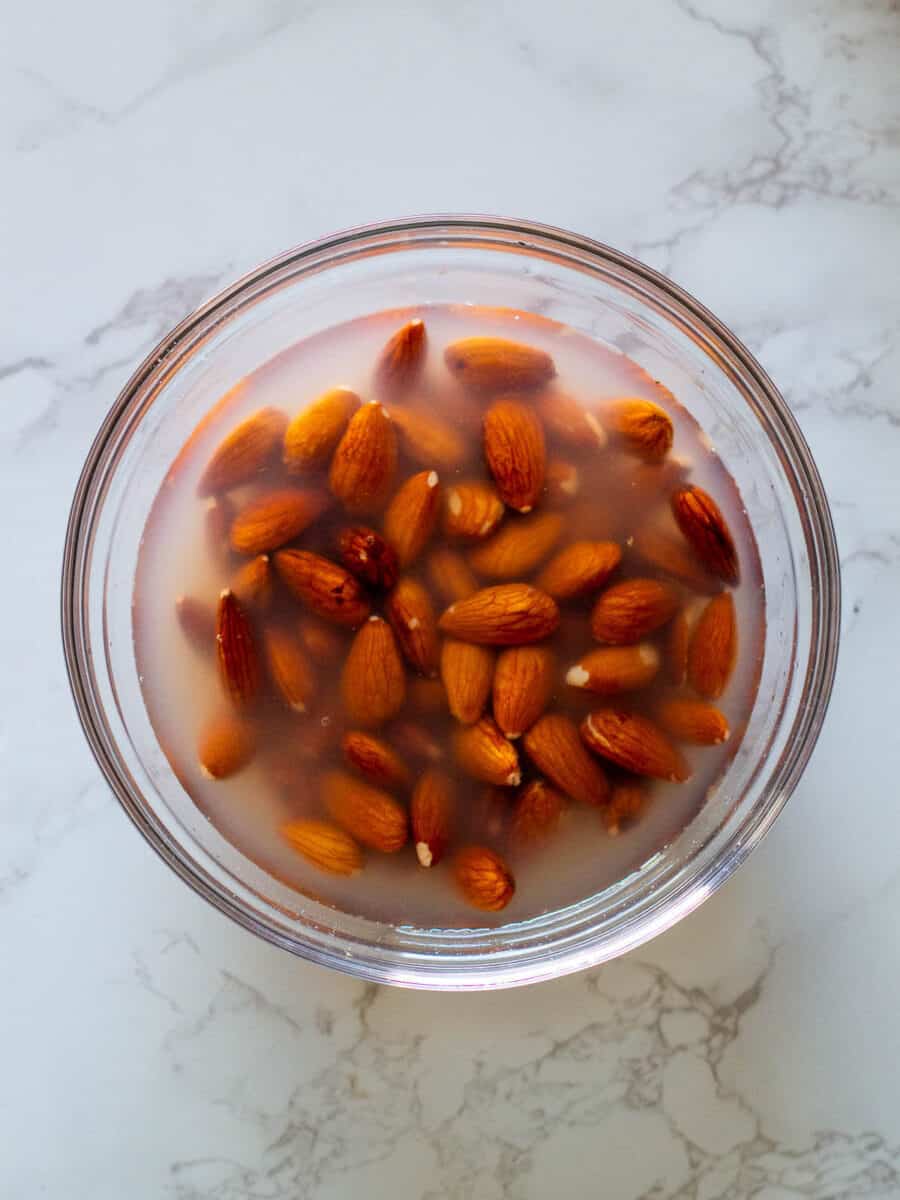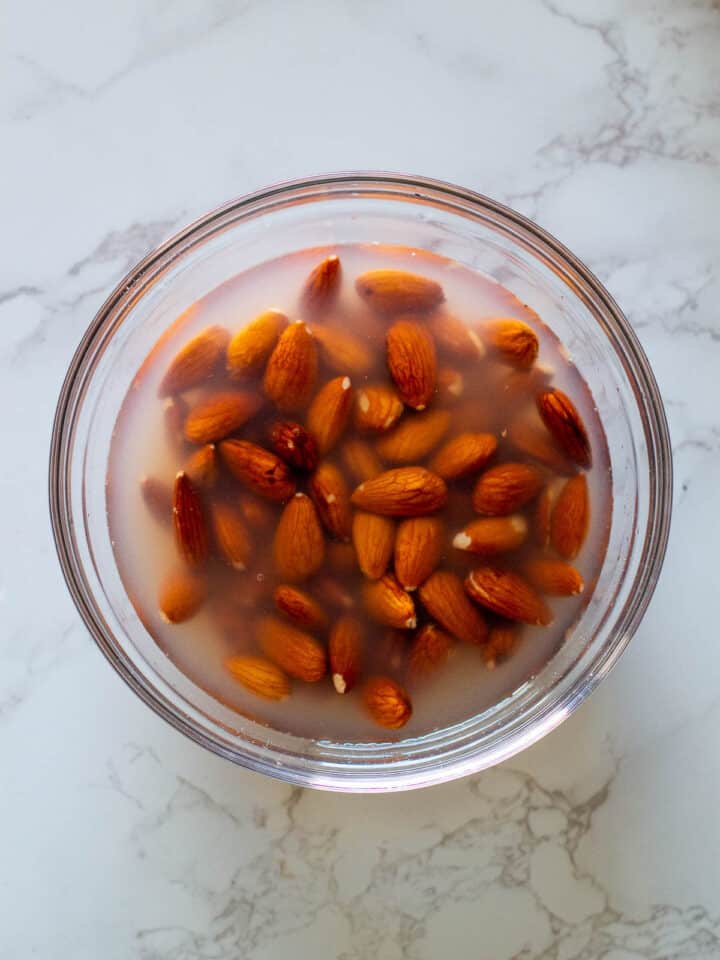 You need to drain the almonds and add them to the blender for 1 to 2 minutes along with water.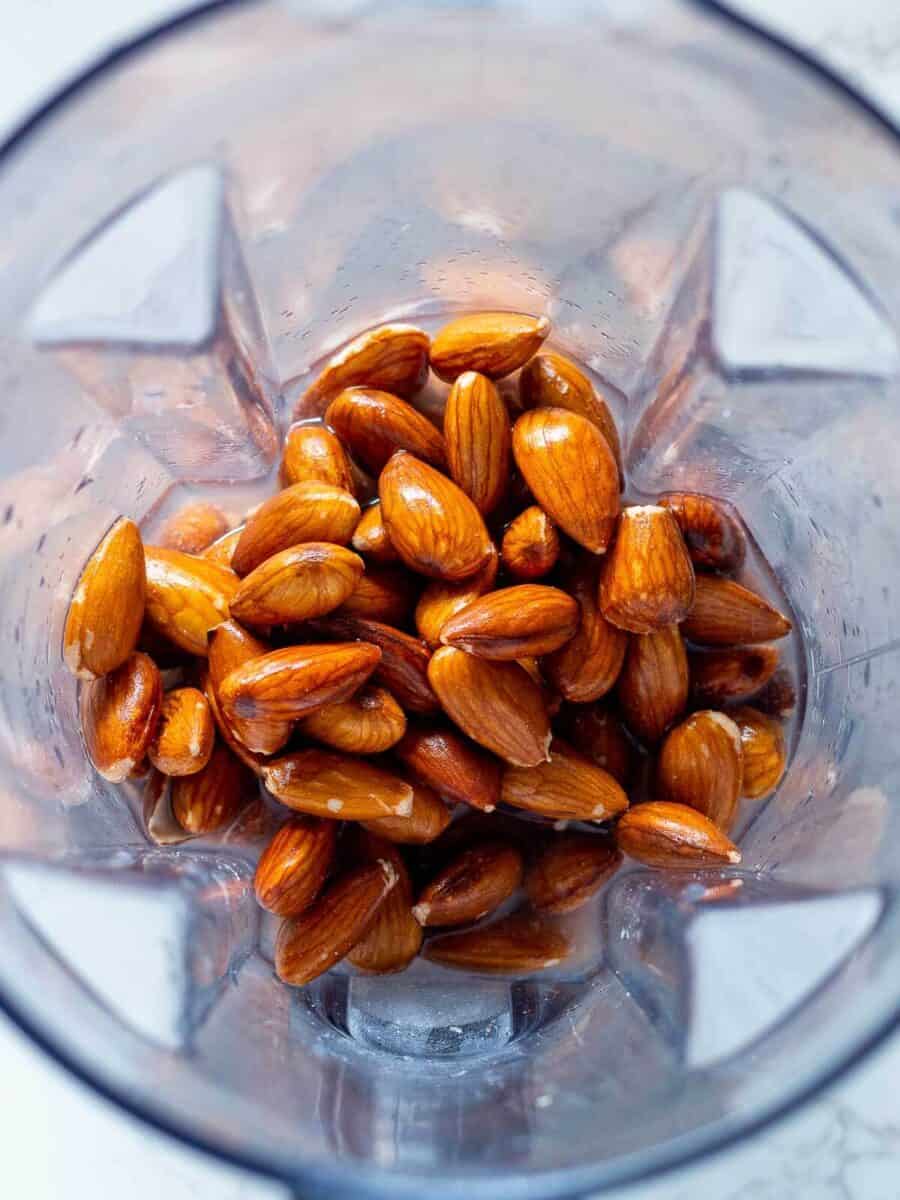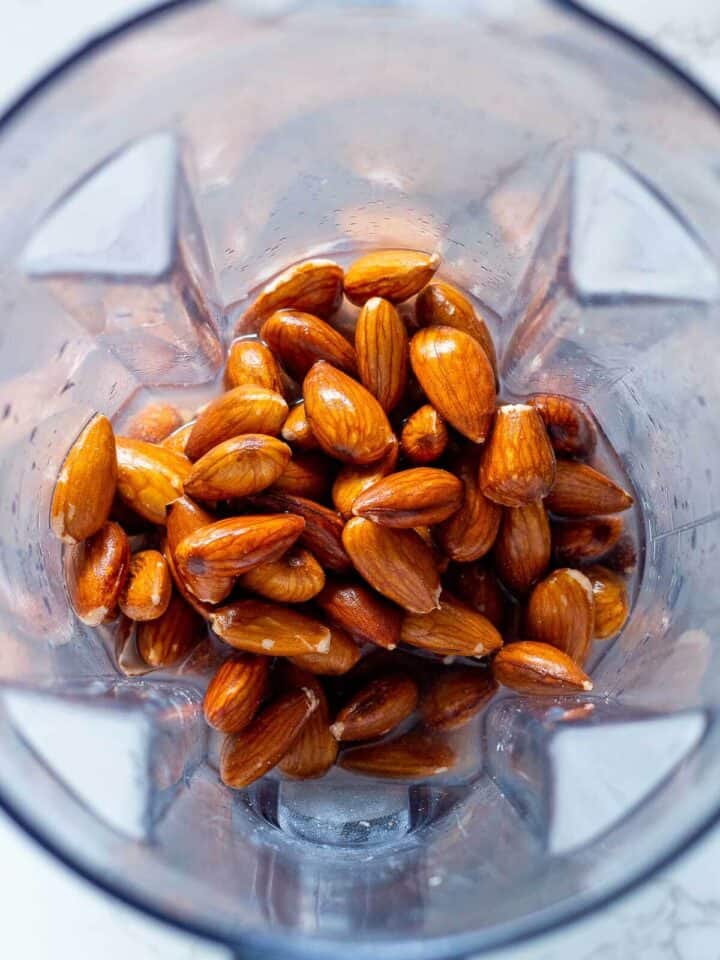 You can optionally add a pinch of salt and your preferred sweetener or flavoring flavor enhancers.
Suggested sweeteners: dates, date paste, raisins, agave syrup, or maple syrup.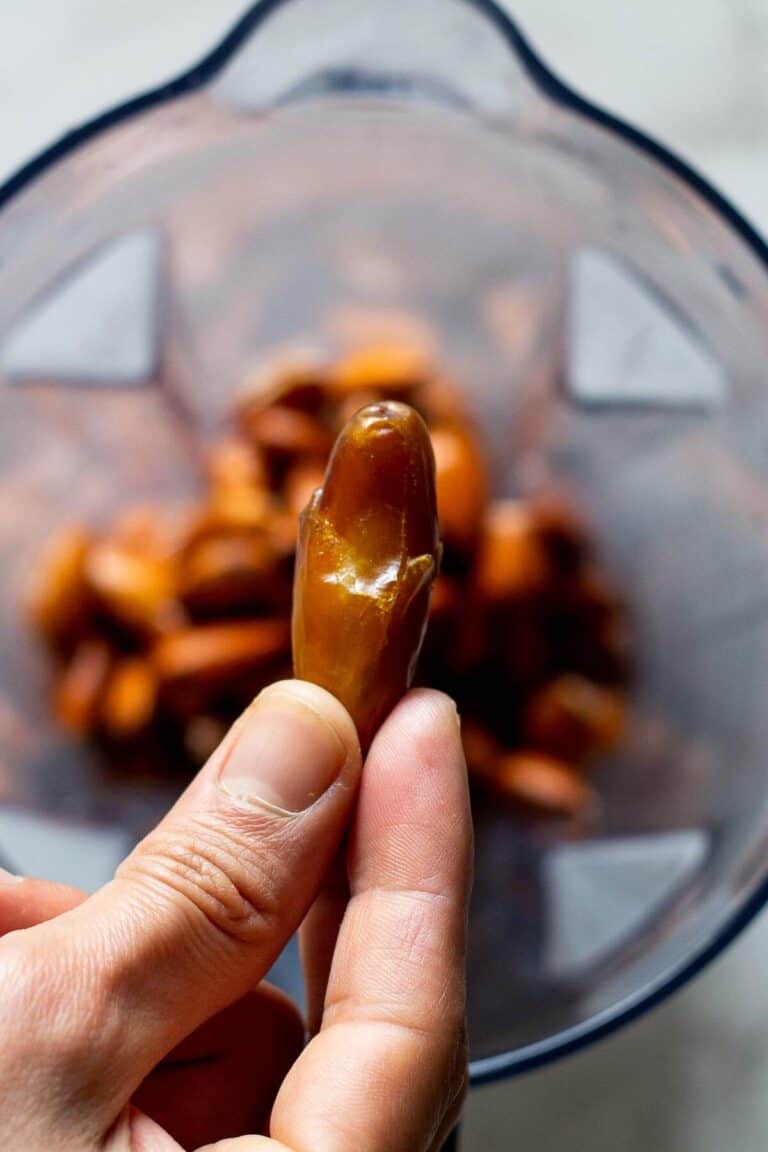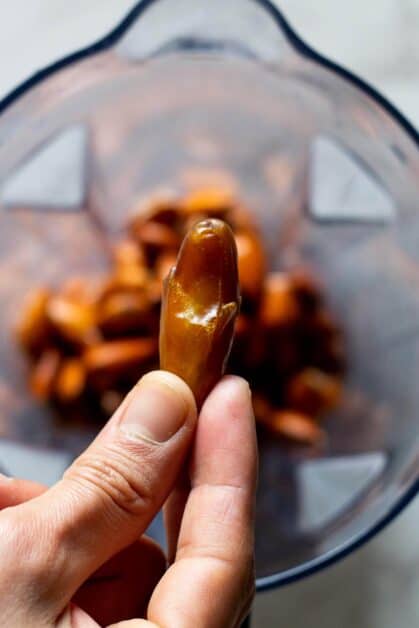 Then you need to strain through a nut milk bag or fine-mesh sieve lined with cheesecloth, squeezing out as much liquid as possible.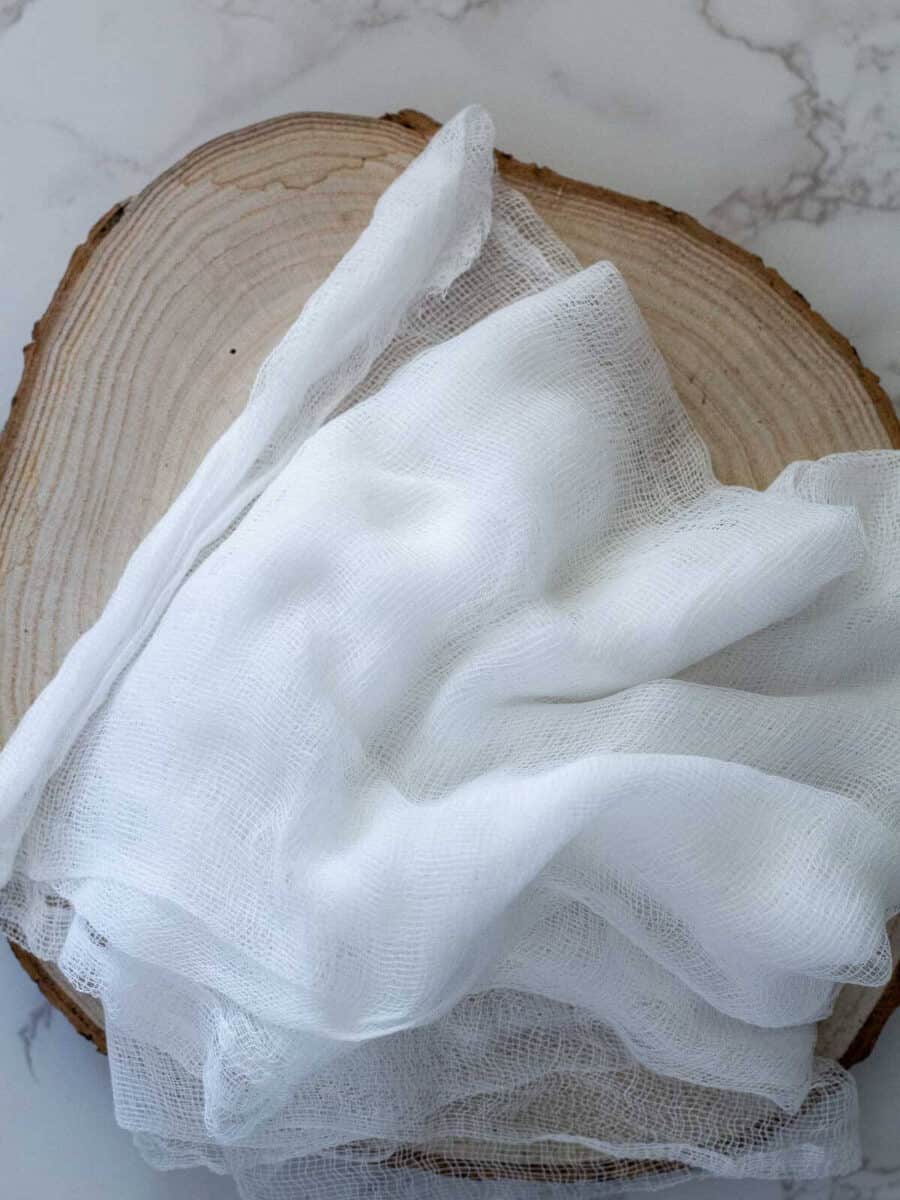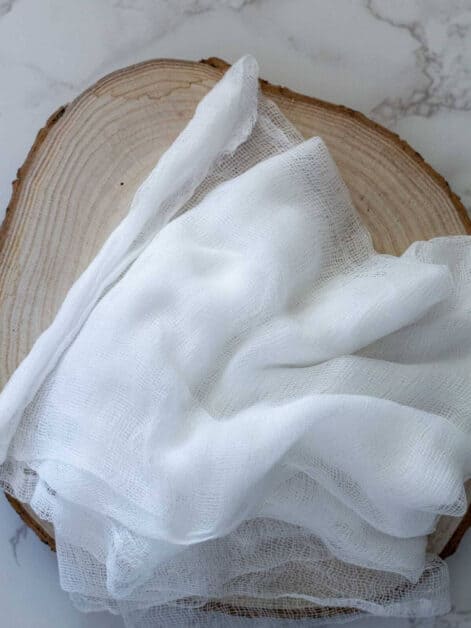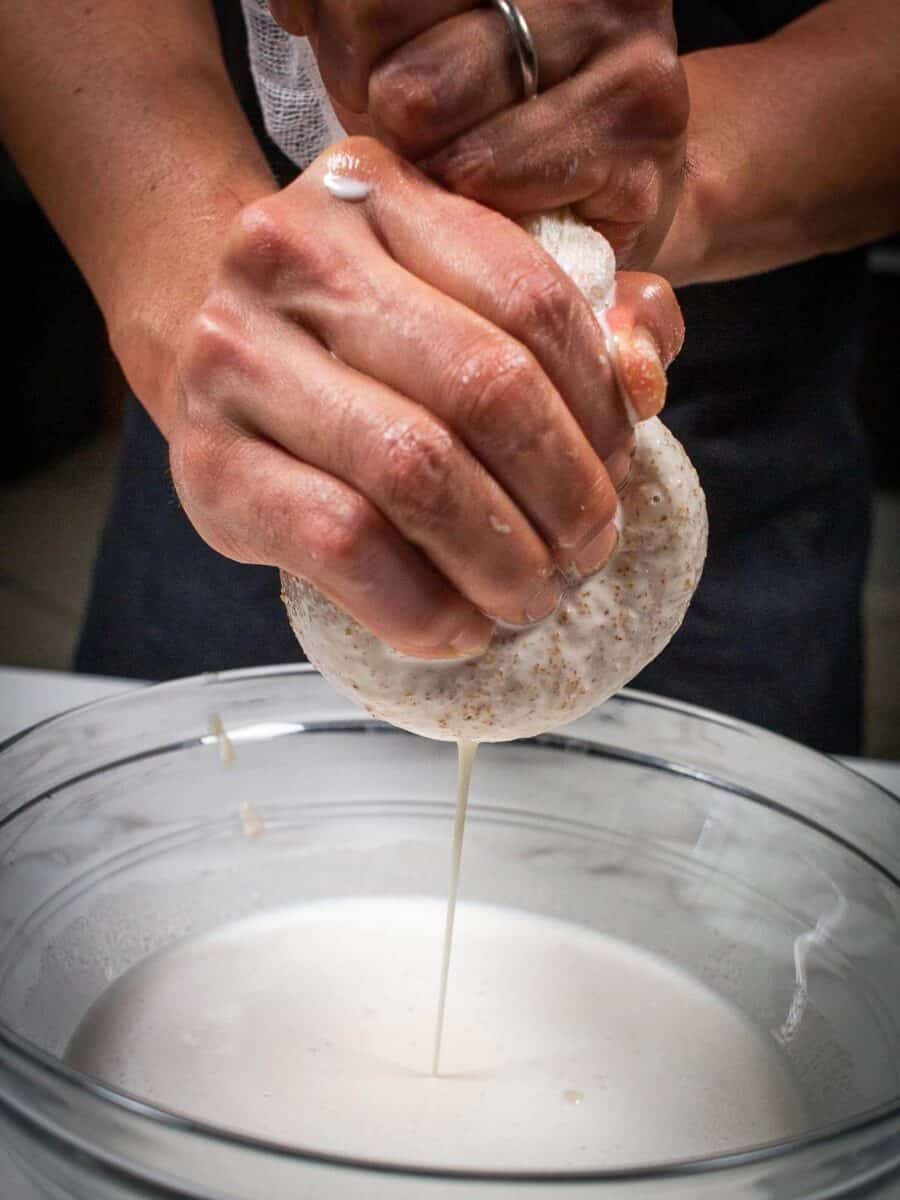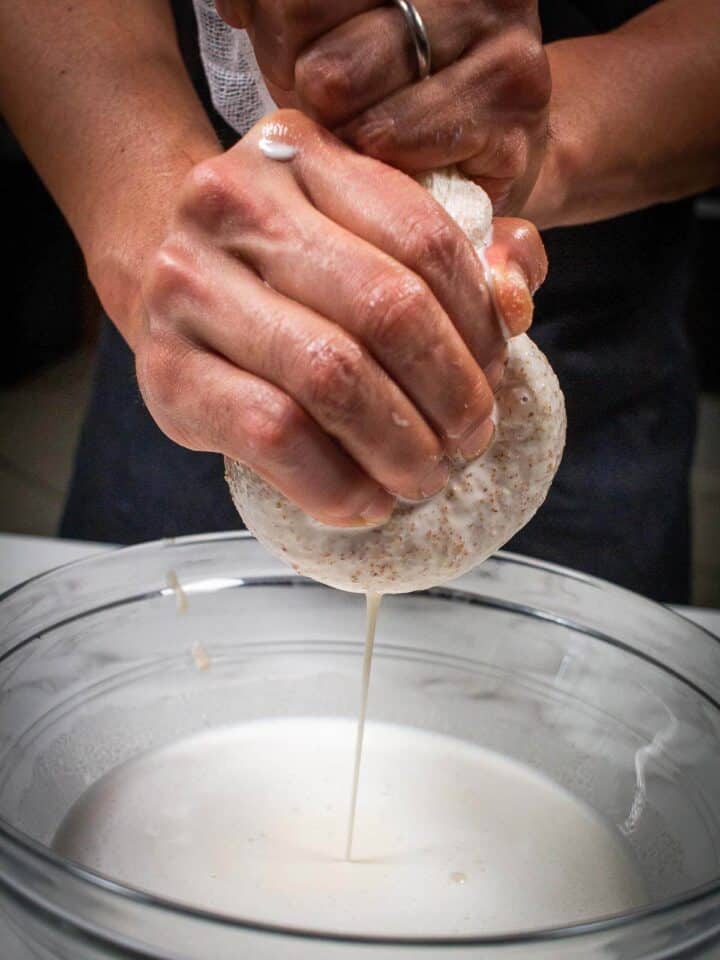 Add in ideas: cocoa powder, vanilla extract, coffee, strawberry, or hazelnuts.
Soaking your Almonds
Soak the almonds at room temperature or in the fridge.
If a day has passed and you forgot or didn't get to make the almond milk, they are at room temperature, change the water, and put the soaking almonds in the fridge.
If you need to make the almond milk the same day, pour boiling water into the almonds to accelerate the process and leave them soaking for one hour.
How to Thicken It?
If you want thicker almond milk increase the number of almonds from 1 cup to 1 ¼ or 1 ½ or reduce the water from 5 cups to 4 cups.
We find the perfect thickness for our taste is 1 cup of almonds / 5 cups of water.
Suggested thick almond milk options:
1 cup of almonds / 4 cups of water, if you don't mind sacrificing final volume.
1 ½ cups almonds / 5 cups of water, if you want the same volume.
If you want thinner almond milk, reduce the number of almonds to ¾ cup or increase water by one cup.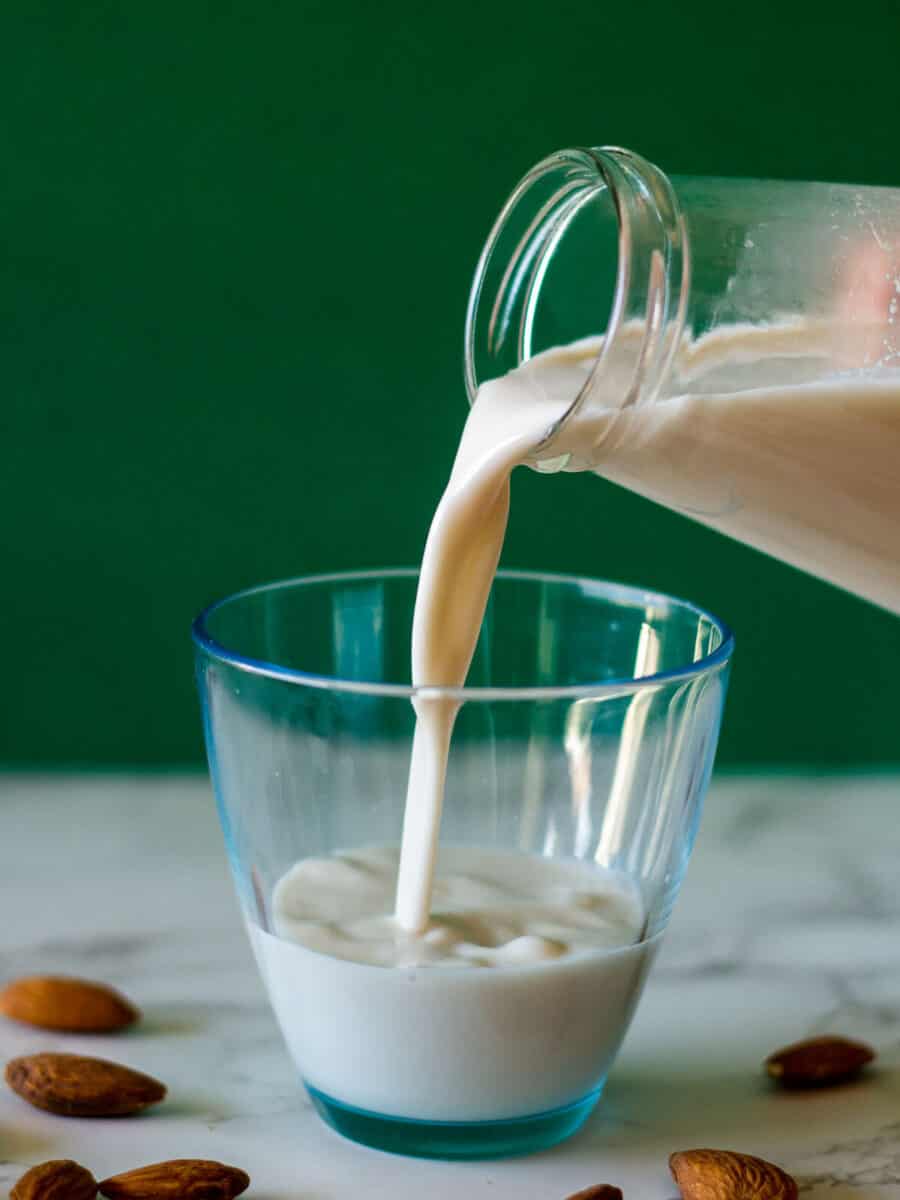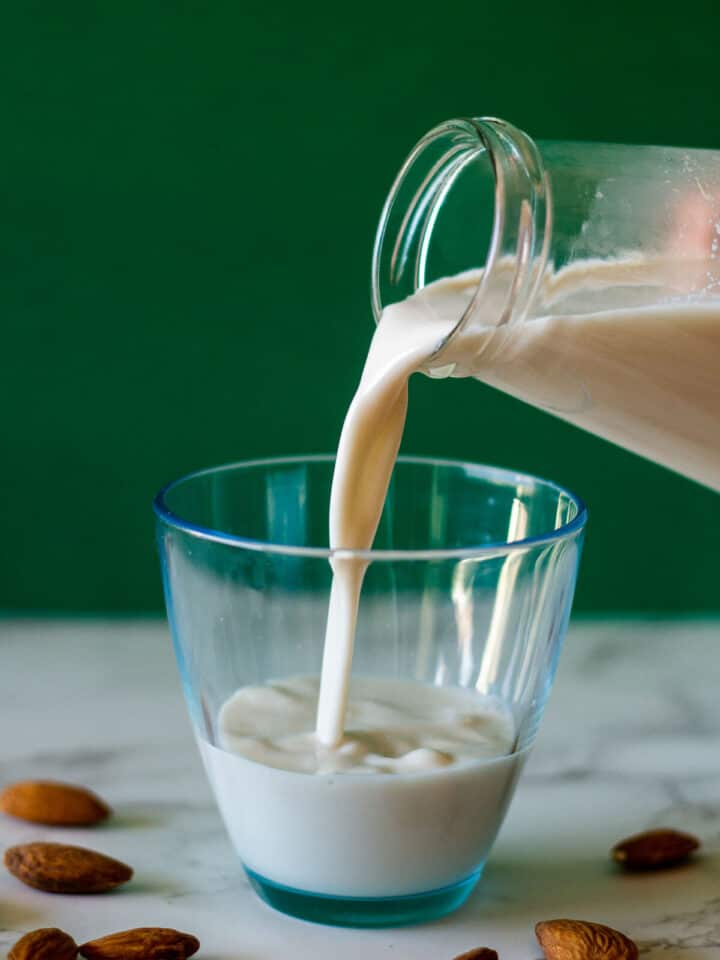 What to Do with Almond Pulp?
We add the remaining almond pulp to our Post-work Out Protein Shake, replacing the nuts component with pulp.
Also, we like replacing half of the required number of nuts for pulp in our Granola Bars.
If using non-organic almonds and prefer avoiding the residual pesticides that almonds skins might have, you may choose not to use the pulp.
How Long Does it Last?
How long does homemade almond milk last depends on whether you sterilize your equipment and how fresh are the ingredients you used. In general, we have found it lasts about 3-4 days.
We use almond milk quite often for our morning smoothies and coffee, so one batch only makes it to the third day. If you are like us, you don't need to sterilize your ingredients as it reaches the 3rd day without any problem.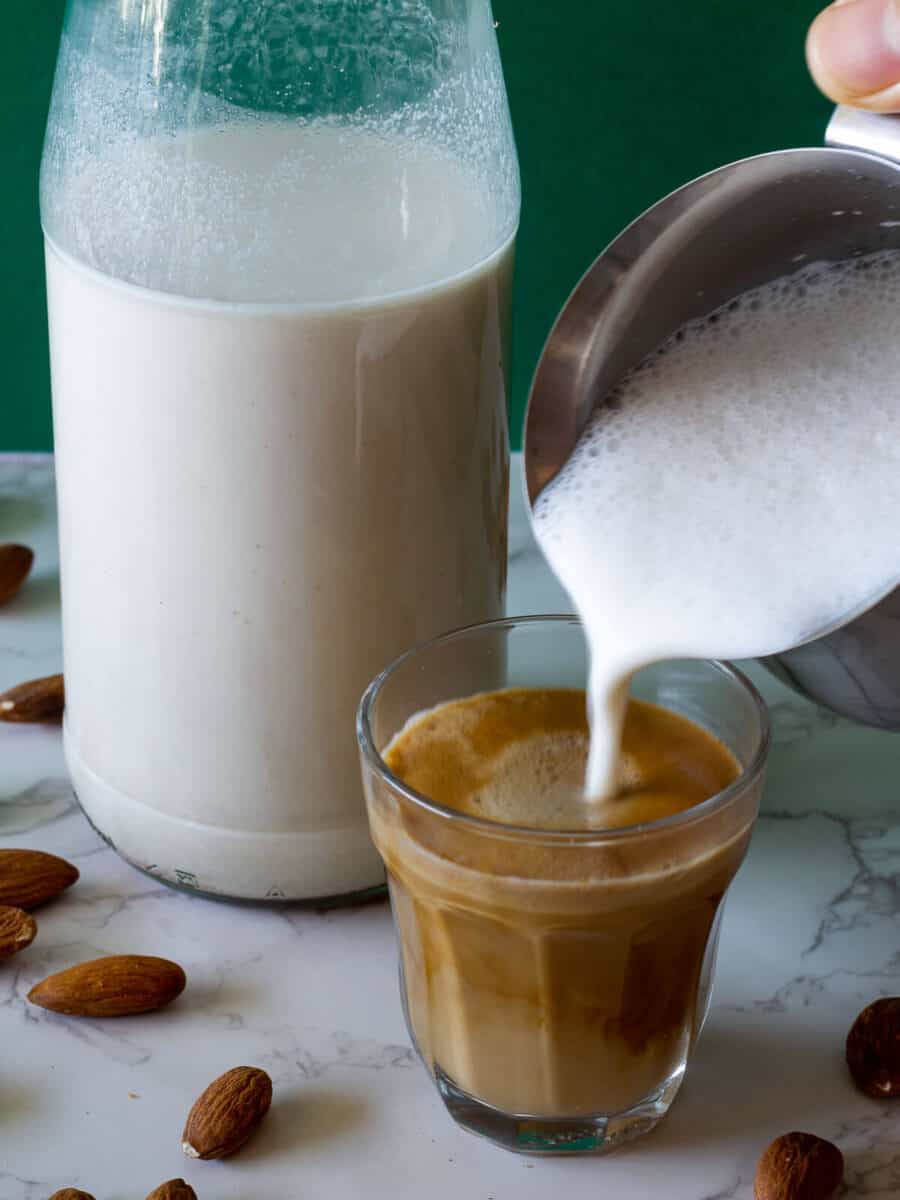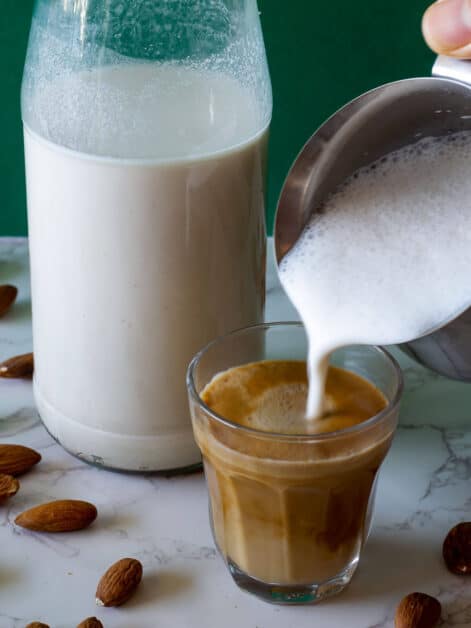 If you find that it goes off before expected, easily sterilize your bottles either:
Pouring boiling water inside, ensuring the jars are not cold so that they won't break.
Then, putting them in the dishwasher.
If you have unexpectedly leave home or didn't use your milk soon enough and want to prevent it from going off, you can freeze it in ice cube trays and save them to add to your morning smoothies.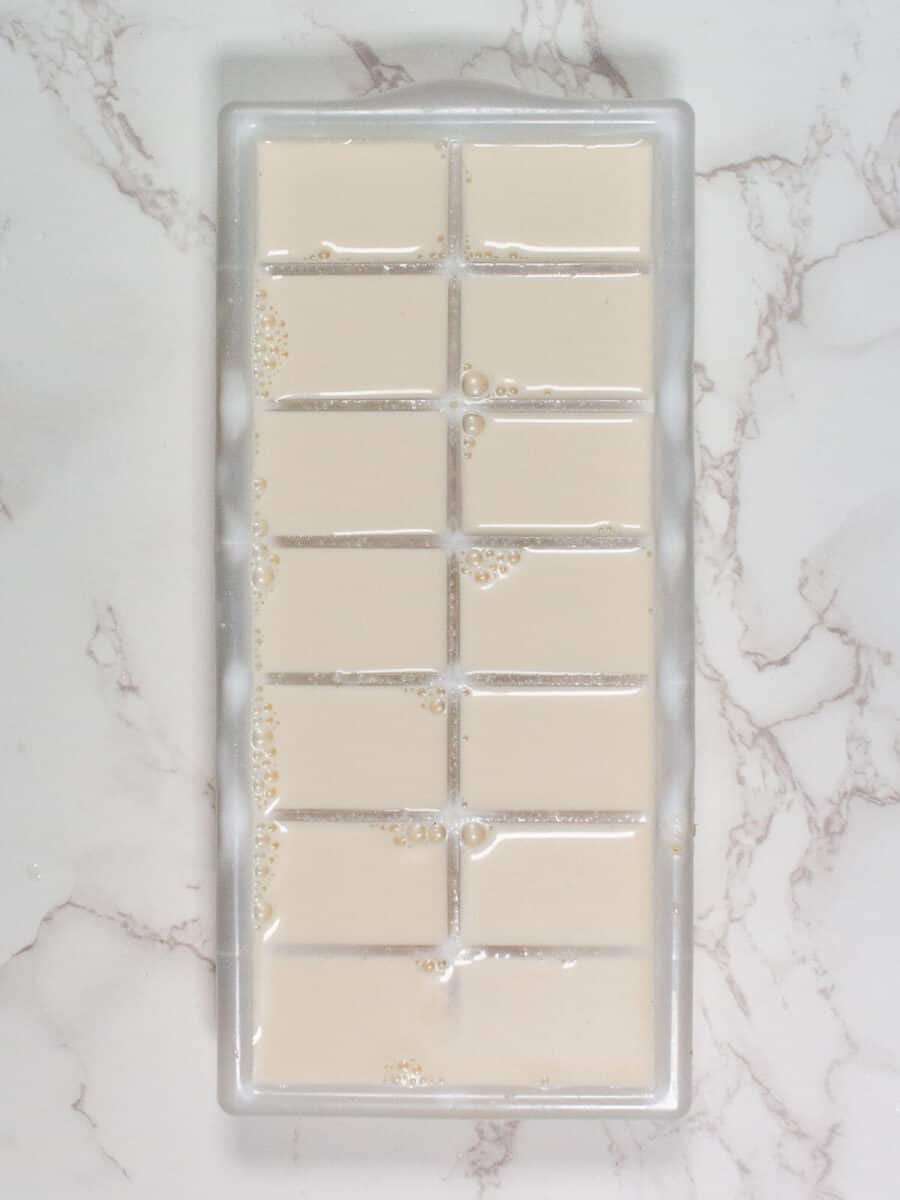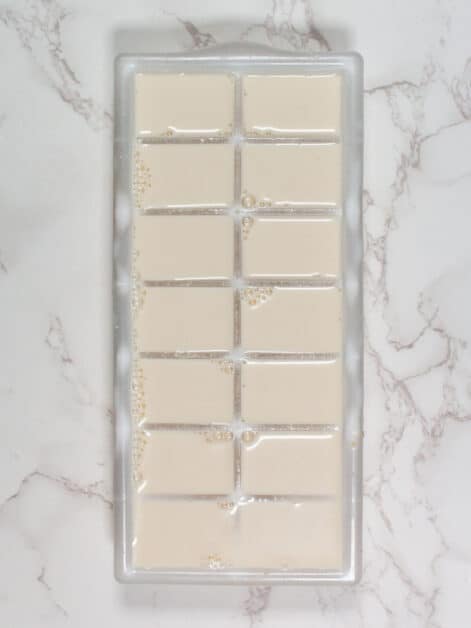 How to Use it
You can use it the same way you would use regular milk: in your coffee, in smoothies, in your morning granola, pumpkin maple granola, or breakfast fruit bowl, bechamel sauce, pumpkin overnight oats, blueberry overnight oats, baking, and even making vegan cheese.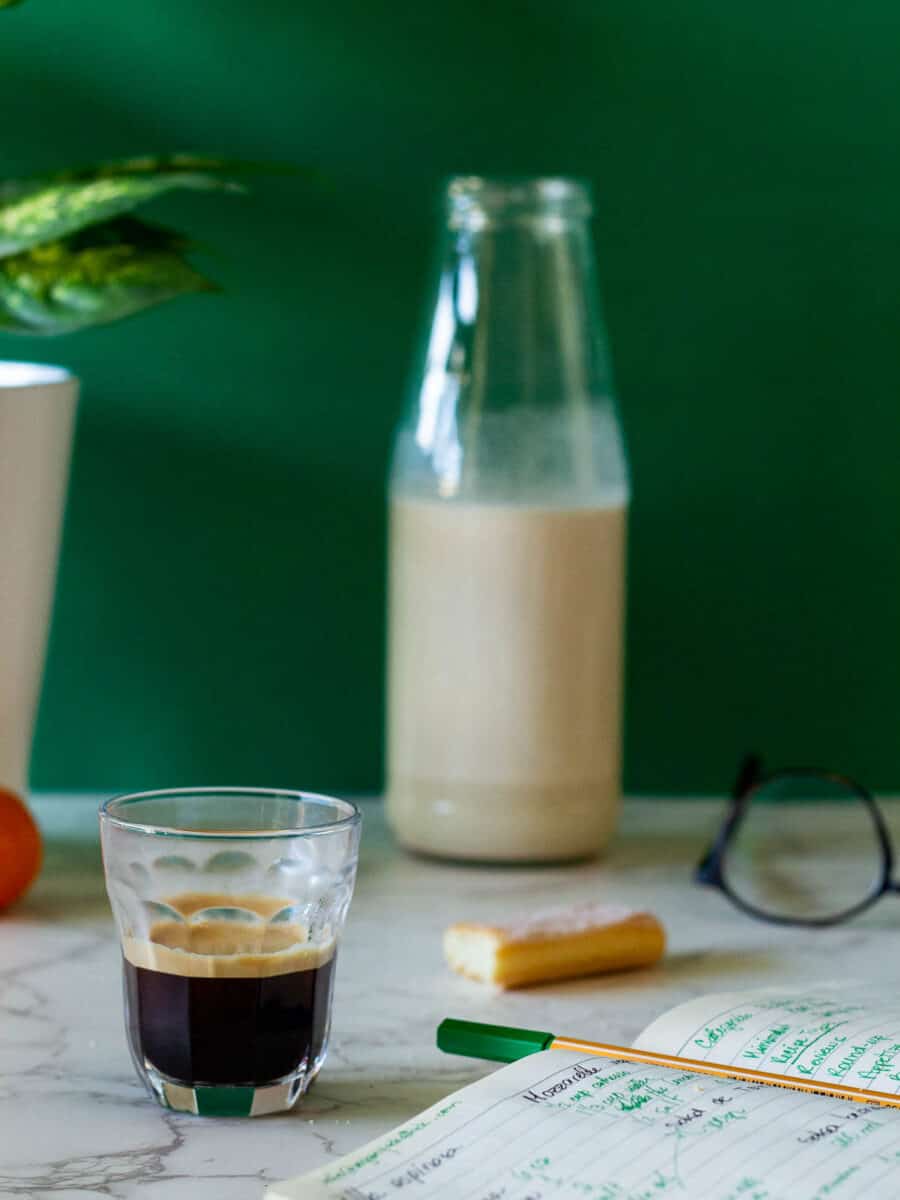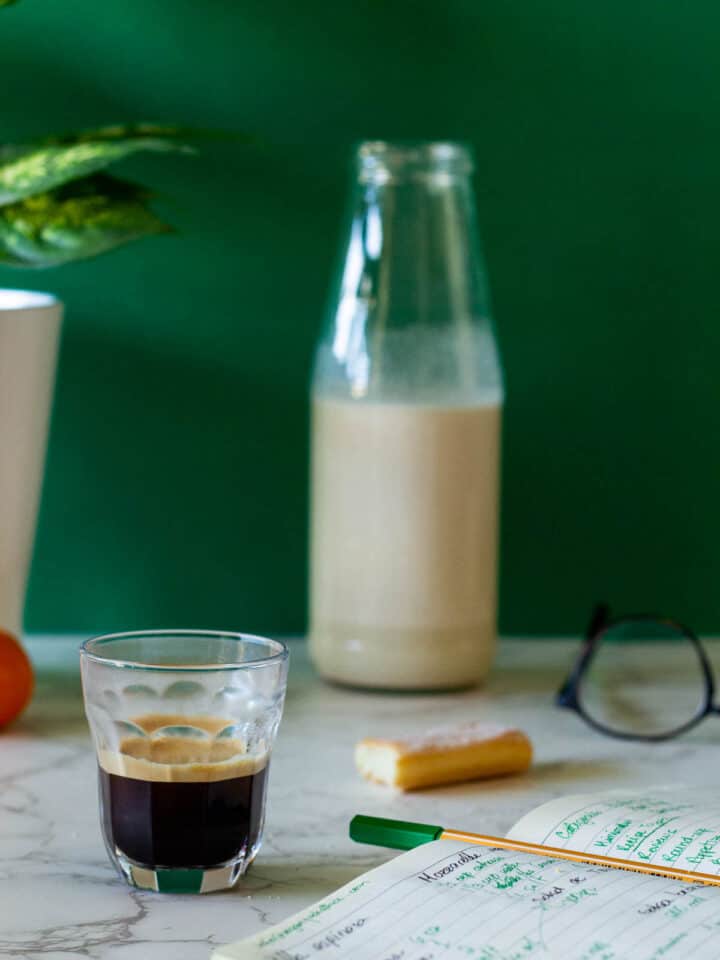 FAQ
Can dogs have almond milk?
As much as we love our furry best friends, there are certain ingredients that should not be given to them under any circumstances. Almond milk is one of those ingredients. Read on below for more information about almond milk and dogs.
By now you probably know that chocolate is bad for your dog. But what about other types of dairy products? What about almond milk specifically, can dogs drink almond milk? Well, the answer is a big no.
Why Can Dogs Not Have Almond Milk??
Almond milk is not bad for your dog in small amounts. However, it should never be given to them due to its ingredients and effects on their digestive system. So what are these ingredients that make almond milk harmful for dogs?
Almonds: It may not be immediately clear why almonds are bad for dogs, but they can actually be quite harmful. There have been reports of dogs being poisoned from eating raw almonds. The symptoms include vomiting, diarrhea, lethargy, and lack of appetite. The reason is due to a chemical called cyanide that's found in raw almonds. When the almond meat is broken down for almond milk, there's not really enough of it to harm your dog so no need to worry about that. But why take the risk?
Below are some recipes where you could use your almond milk:
If you try this recipe, let us know! Leave a comment, rate it, and don't forget to tag a photo #ourplantbasedworld on Instagram. Cheers!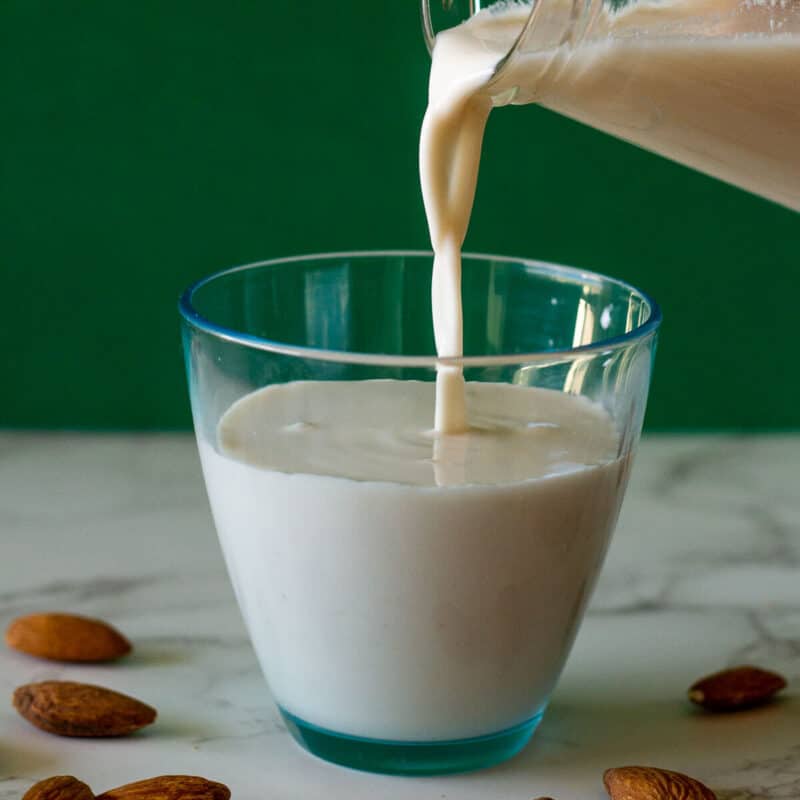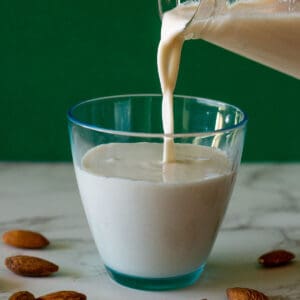 Recipe: to make Almond Milk
This Almond Milk is ready in 5 minutes, additives-free, organic, nutritious, and convenient. Bye to store-bought!
Equipment
Directions
Soak the almonds overnight in freshwater.

Drain the almonds and discard the water.

Add the soaked almonds to a blender and 5 cups of water and blend at high speed for 1 to 2 minutes (in this step, add the salt and dates if you choose to).

Strain through a canvas fabric, nut milk bag or fine-mesh sieve lined with cheesecloth, squeezing out as much liquid as possible.

Store in a closed bottle for up to 3-4 days.
Notes
Check your blender's directions; you might need to stop it after 30-60 sec let it rest for a minute or so, and do a second blend to avoid breaking it. Professional blenders can stand for 2 minutes non-stop, but please check.
In general, we have found it lasts about 3-4 days. This time may vary depending on whether you sterilize your equipment and how fresh the ingredients you used.
Nutrition Facts
Calories:
88
kcal
Carbohydrates:
5
g
Protein:
3
g
Fat:
7
g
Saturated Fat:
1
g
Trans Fat:
1
g
Sodium:
6
mg
Potassium:
115
mg
Fiber:
2
g
Sugar:
2
g
Vitamin A:
1
IU
Vitamin C:
1
mg
Calcium:
42
mg
Iron:
1
mg
Nutrition Facts
Recipe: to make Almond Milk
Amount per Serving
% Daily Value*
* Percent Daily Values are based on a 2000 calorie diet.
Food safety
We sometimes take for granted that we have years (or decades) of cooking experience that the average visitor may not. Add to, or remove from, the list below with health and safety tips.
Cook to a minimum temperature of 165 °F (74 °C)
Do not use the same utensils on cooked food that previously touched raw meat
Wash hands after touching raw meat
Don't leave food sitting out at room temperature for extended periods
Never leave cooking food unattended
Use oils with high smoking points to avoid harmful compounds
Always have good ventilation when using a gas stove
See more guidelines at USDA.gov.
The information shown is an estimate provided by an online nutrition calculator. It should not be considered a substitute for a professional nutritionist's advice. See our full Nutritional Disclosure here.
Please note that some of the links here are affiliate links, and I will earn a commission if you purchase through those links. I use all of the products listed and recommend them because they are companies that I have found helpful and trustworthy.