If you're looking for a refreshing drink to beat the heat, you should try Arroz con Piña, a traditional Panamanian drink made with pineapple, rice, and almond milk. This plant-based drink, also known as Agua Horchata, is a sweet and tangy beverage that's perfect for any occasion, whether it's a summer barbecue or a weekend brunch. In this blog post, we'll explore this drink's history and cultural significance and provide you with an easy-to-follow recipe to make this a vegan horchata with almond milk at home. So grab your ingredients, and let's get started!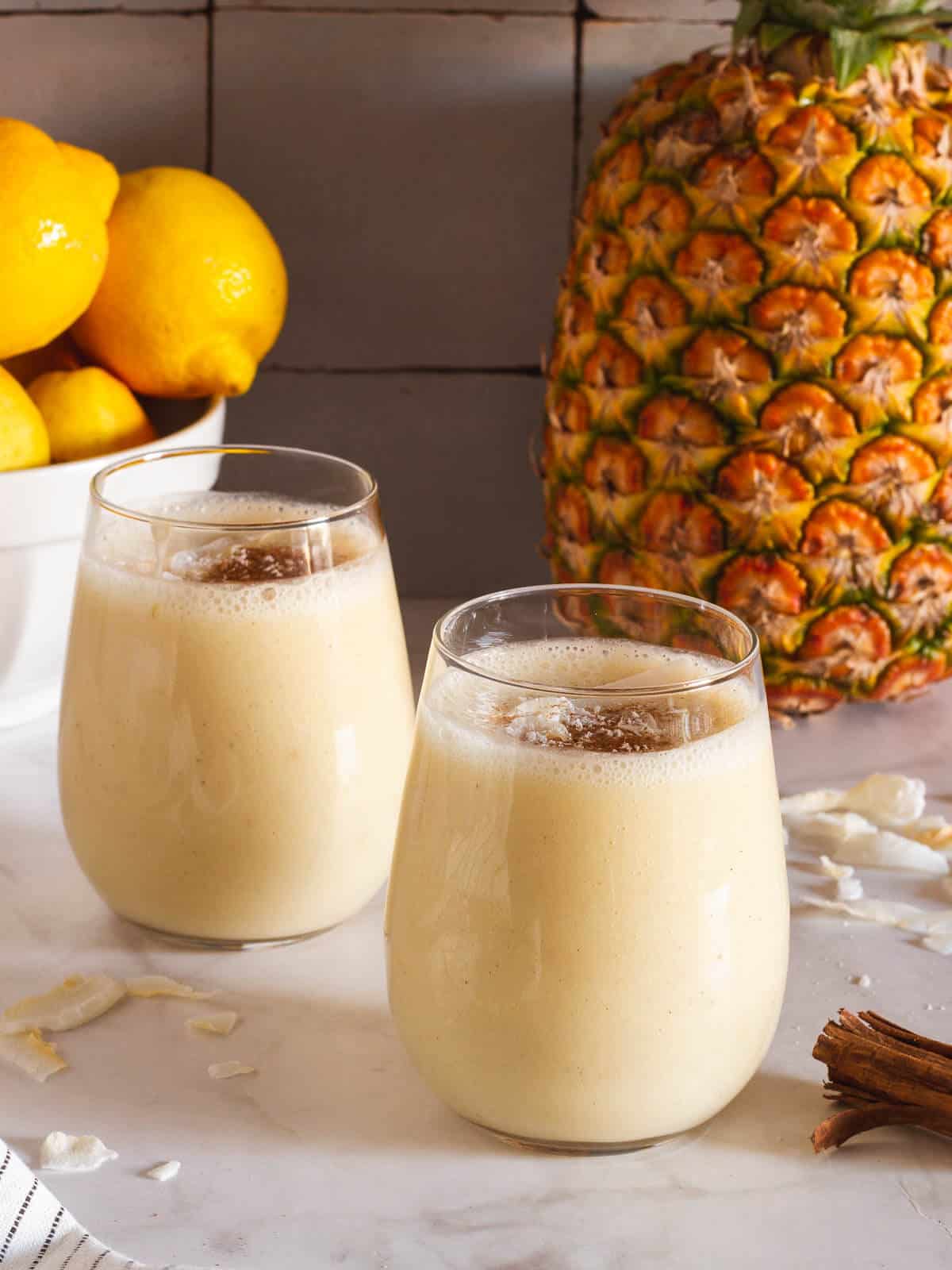 In Panama, where I am originally from, we have a massive production of pineapples, and it is one of the most consumed fruits head to head with bananas and mangoes.
Having wide pineapple varieties come with lots of ways to cook them, like turnover cakes, smoothies, and pineapple water.
This sweet rice drink is very close to the Mexican Horchata, also a rice water drink; the reason why is that the Agua Horchata has ancient roots dating back to Africa and Europe.
🤔 What is Horchata?
Horchata is a traditional beverage that is popular in many countries, particularly in Latin America and Spain. The drink is typically made by soaking and blending rice, almonds, or other nuts or seeds, with water and sweeteners such as sugar or cinnamon.
The specific ingredients used and preparation methods can vary depending on the region, but the resulting drink is typically a creamy, milky white color with a slightly sweet and nutty flavor. Some variations of horchata may also include ingredients such as vanilla, coconut, pineapple, or lime to add additional flavor and complexity.
Homemade horchata is often served chilled and can be enjoyed on its own or as a complement to savory or sweet dishes. It is a popular drink during warm weather months or as a refreshing beverage during festive occasions.
Jump to:
🧾 Horchata ingredients
This "horchata de arroz" is made with just a few delicious ingredients.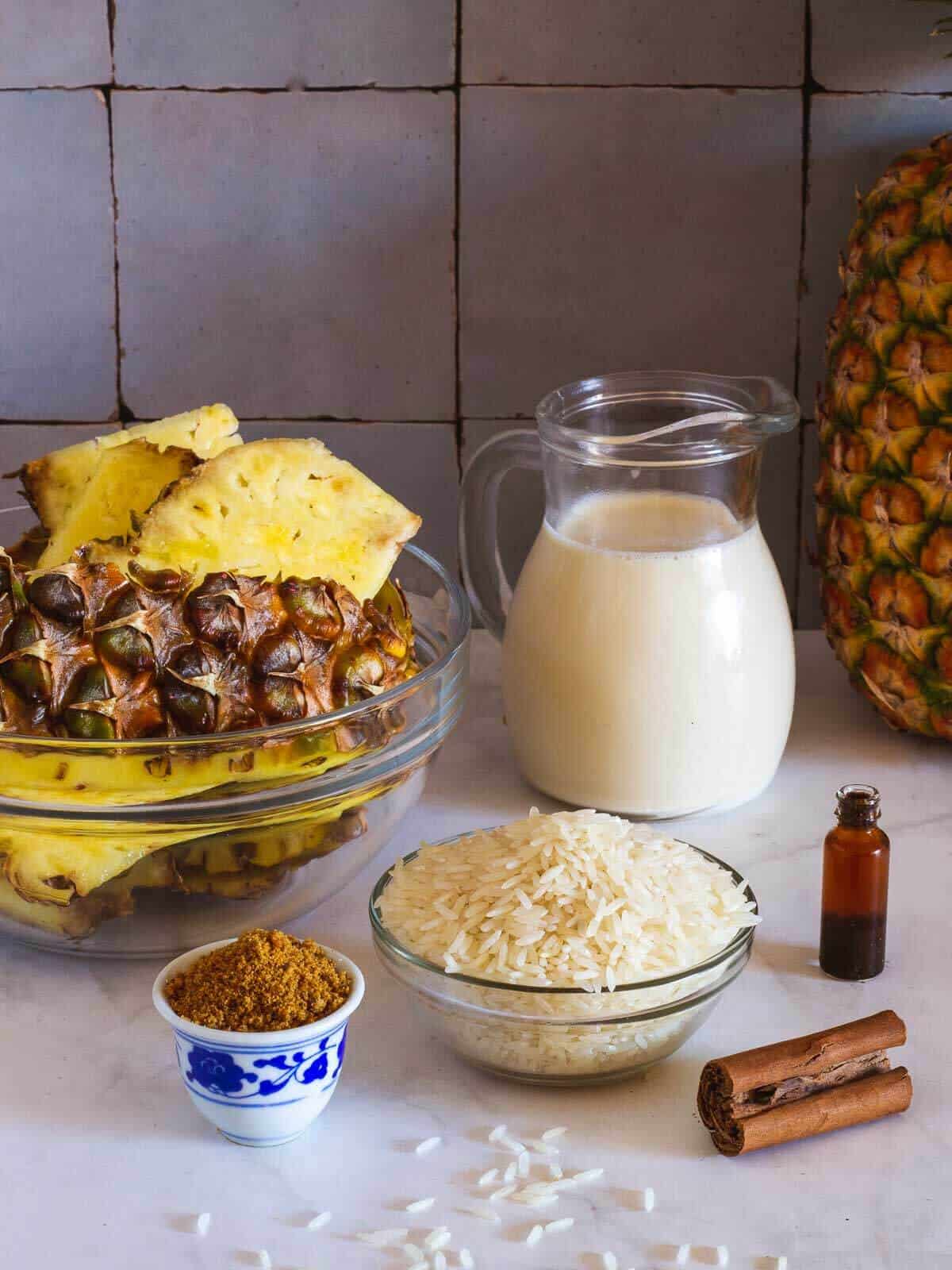 Rice - long grain white rice is what is most often used. It adds the characteristic creaminess of this rice drink.
Pineapple - you only need to use the pineapple rinds, but you can add some extra pineapple chunks if you want the pineapple flavor to be more prominent.
Cinnamon - add a delicious and characteristic note to this drink. You can use cinnamon sticks or powdered cinnamon.
Vanilla extract - we use liquid vanilla extract, but you can also use the insides of vanilla beans.
Sugar - we use coconut or brown sugar to make this recipe as healthy as possible, but you can use any sweetener you like, from white sugar to stevia, without impacting the recipe.
Plant milk - although the traditional Panamanian Arroz con Piña is made with a can of evaporated milk (Leche Ideal is the most popular brand), to make this horchata vegan, we use either homemade almond milk, soy milk, oat milk, rice milk, or coconut milk.
See the recipe card for quantities.
🔪 Instructions
This rice cinnamon drink involves 3 simple steps.
Washing and preparing pineapple.
Boiling liquids, pineapple, and rice.
Blending the result with spices and sweetener.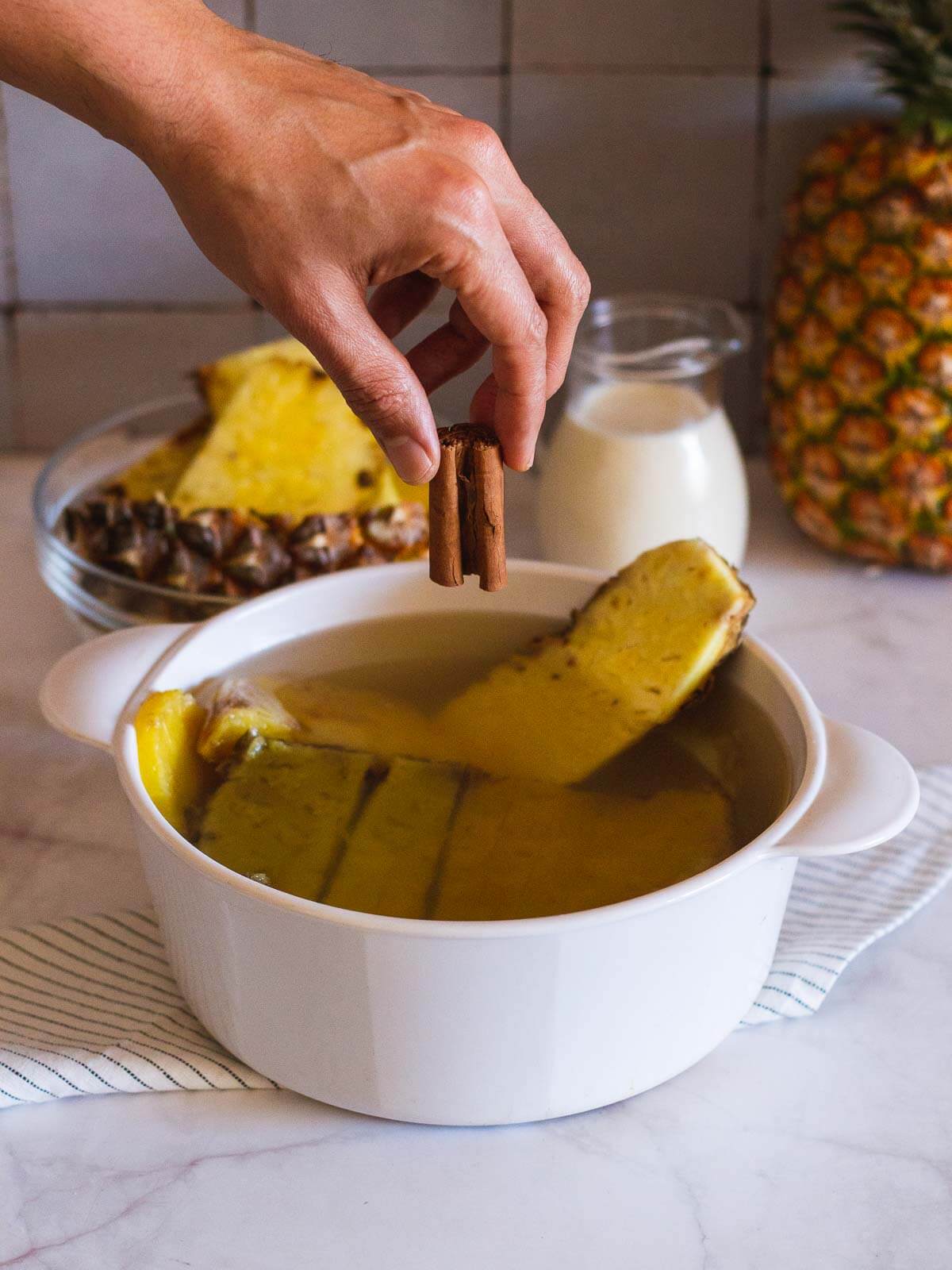 Place the pineapple rinds and cinnamon stick with water in a large pot.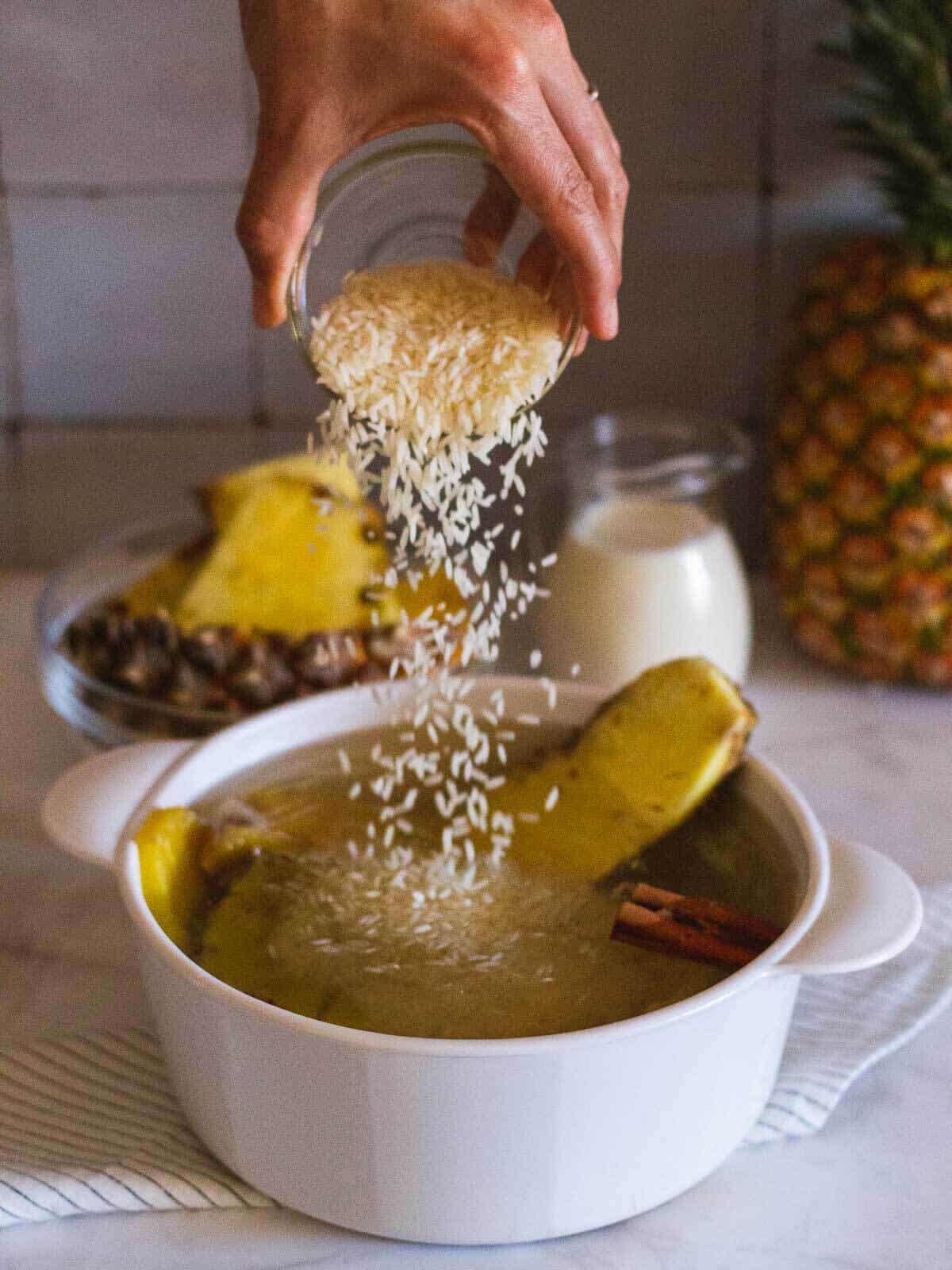 Add uncooked rice and cinnamon sticks to the water along with the pineapple rinds and boil for about 25 minutes.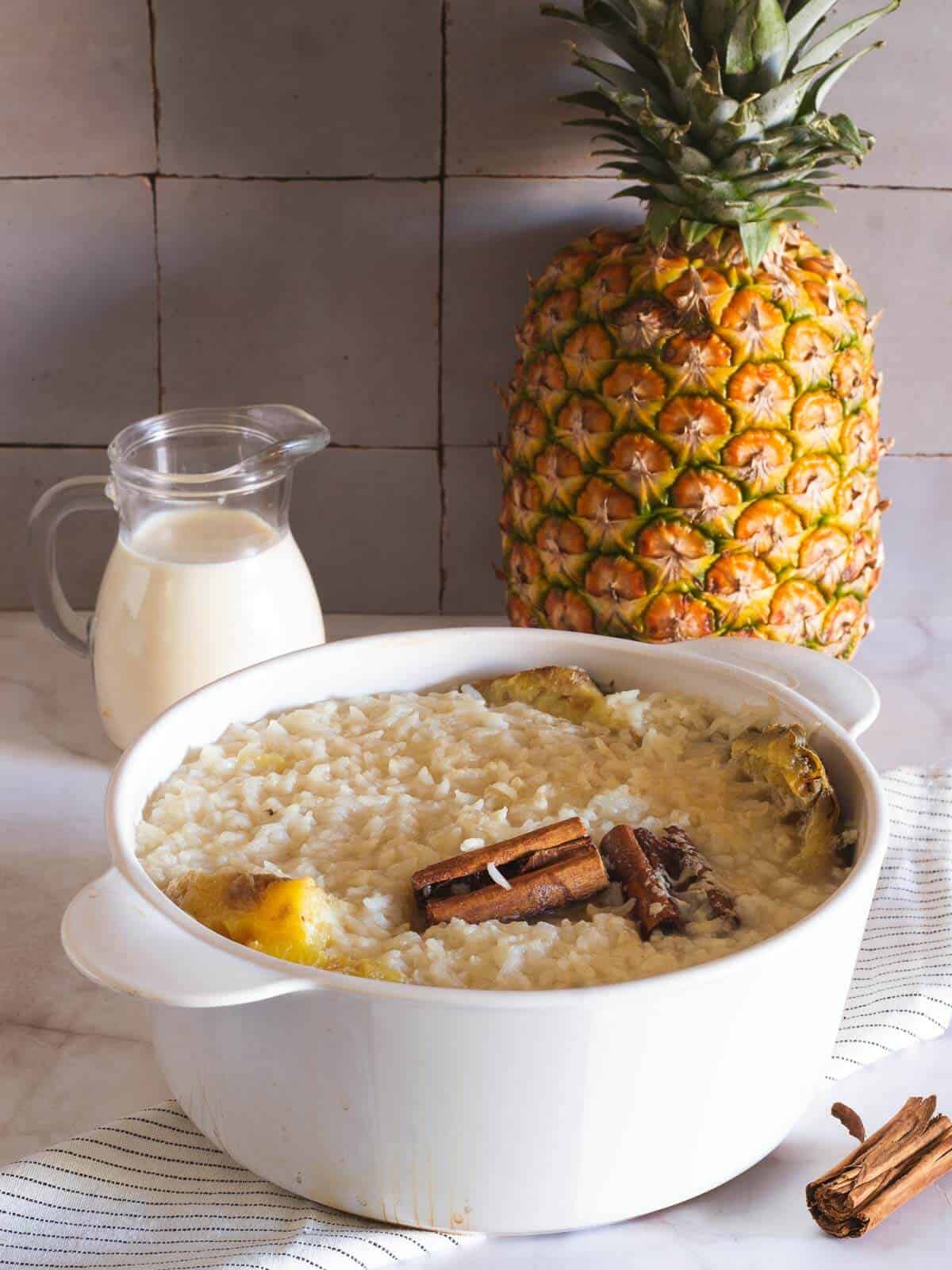 Boil until the rice has completely softened, let it cool down, and remove the cinnamon sticks and pineapple rinds from the saucepan.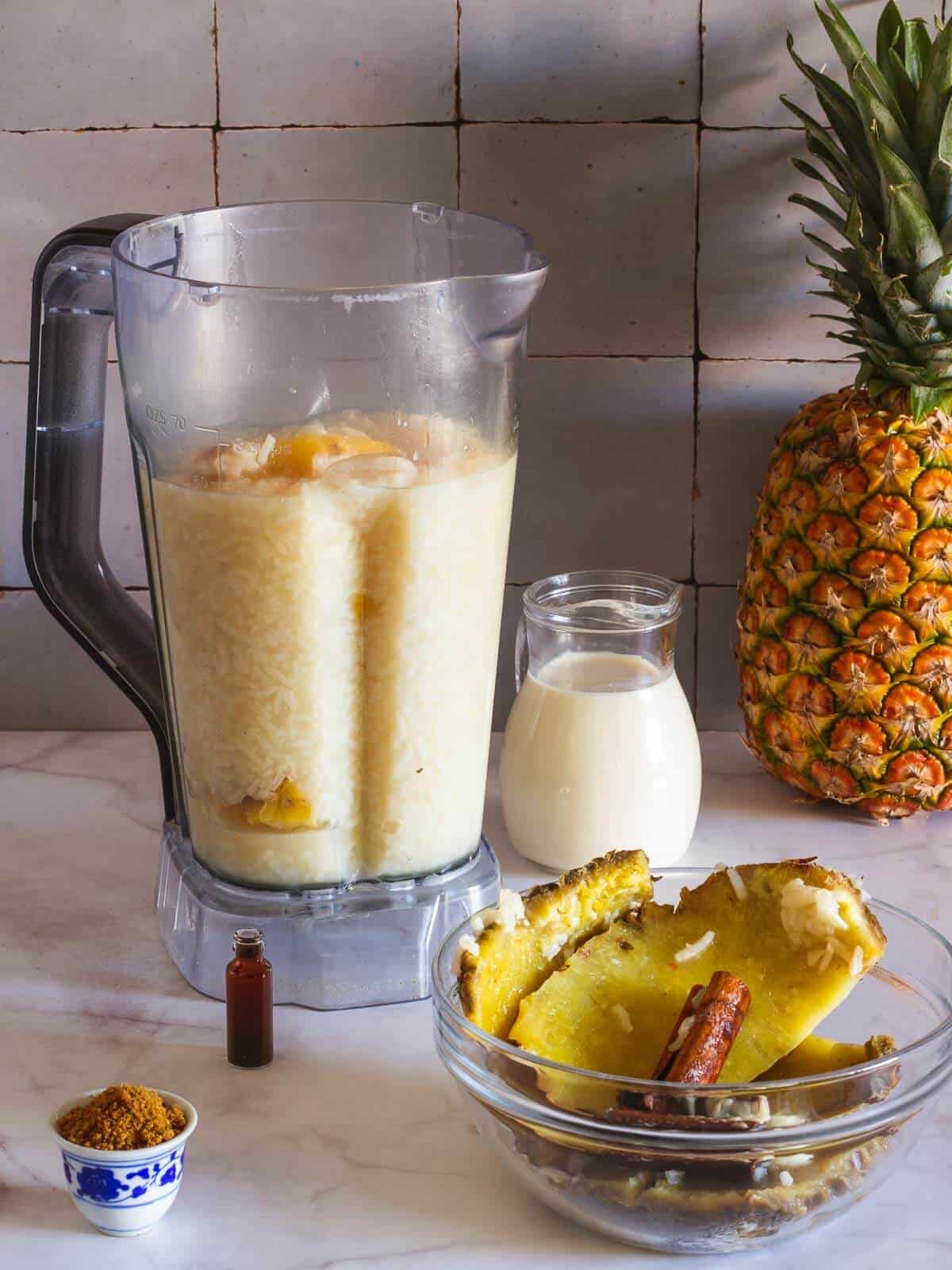 Transfer the rice mixture to a blender.
Hint: if you don't have time, you can freeze the pineapple rinds in a bag and make pineapple water or this recipe later. The boiling time will increase by 5 minutes.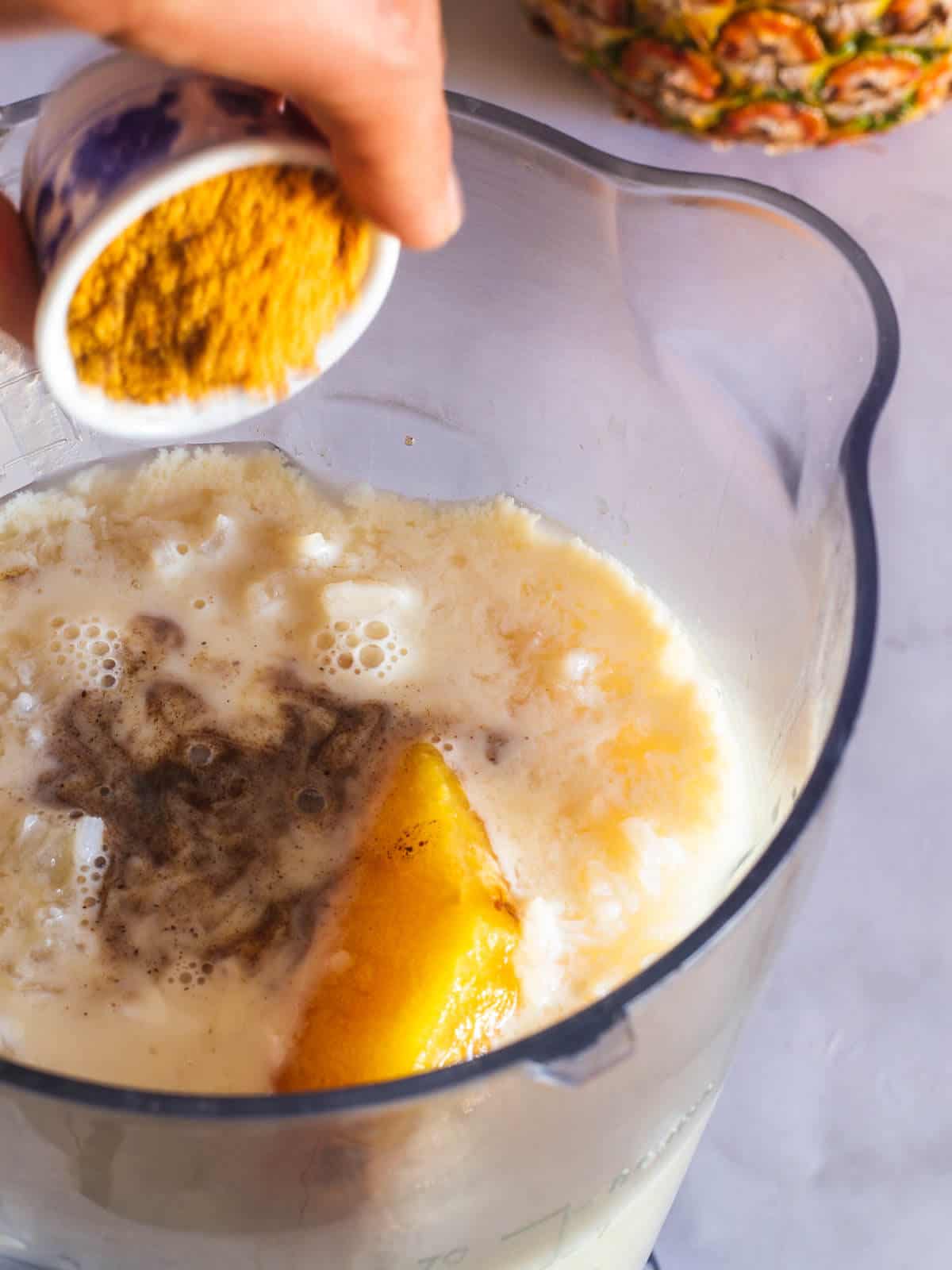 Add vanilla extract, sweetener, and plant milk to the blender.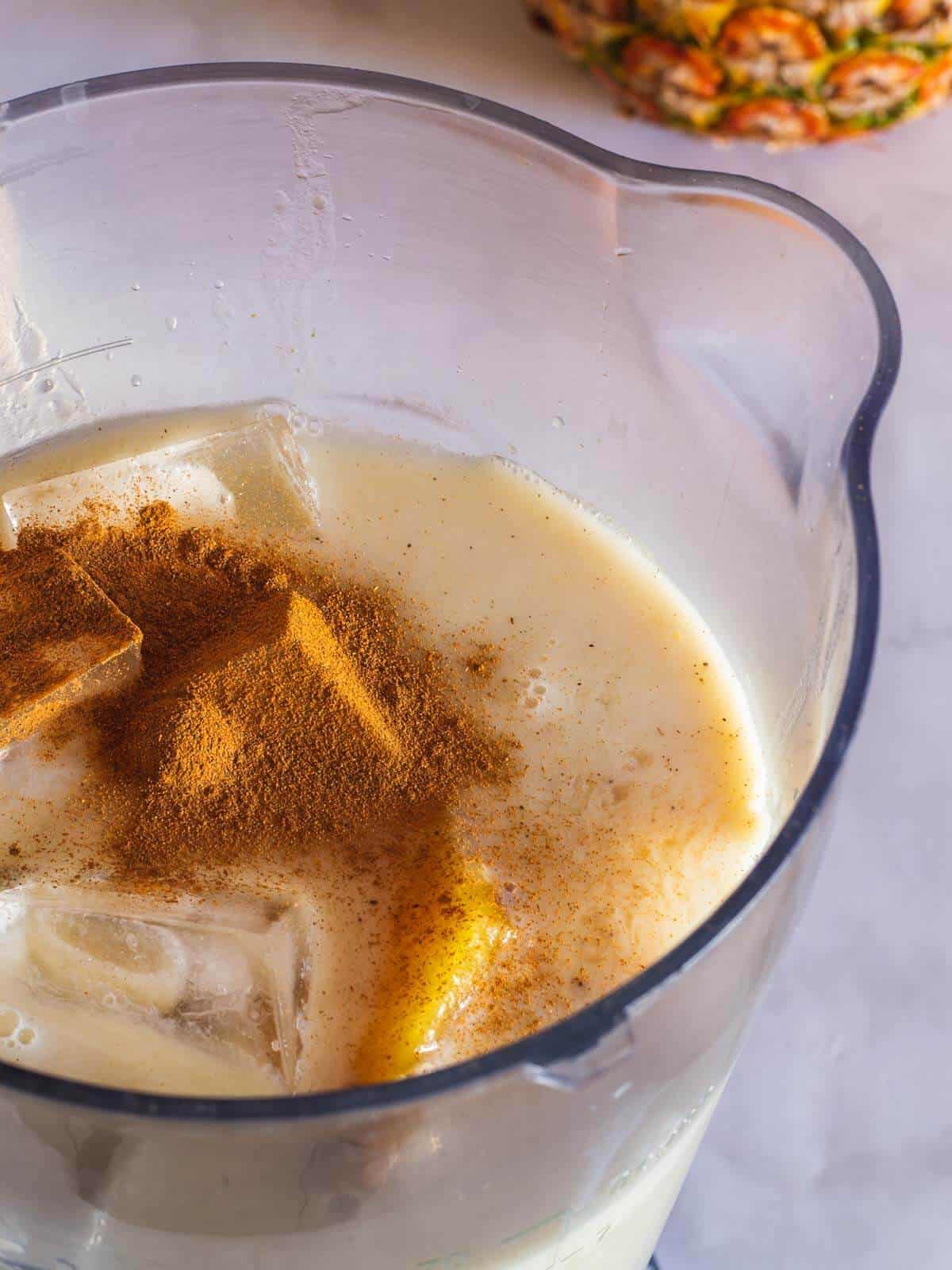 If you didn't use cinnamon sticks, you could use cinnamon powder. Let chill in the fridge.
Serve with ice cubes, ground cinnamon, shredded coconut, or fresh pineapple chunks.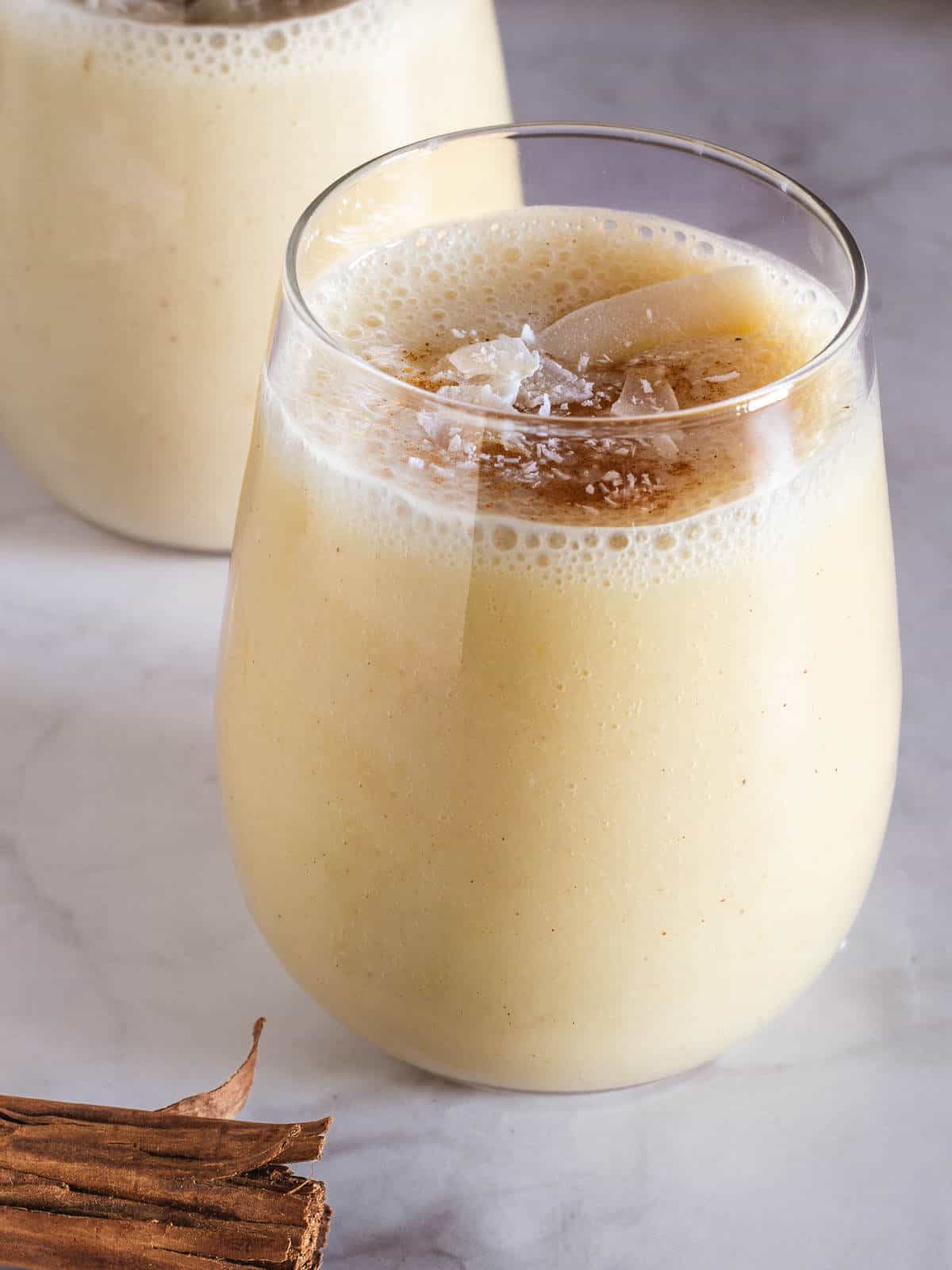 Hint: if you have popsicles, you can add the liquid into them and make these delicious and wholesome kid-friendly treats.
Read on: how to make pineapple water (fully-explained technique) or see how to do it for this drink on the recipe card.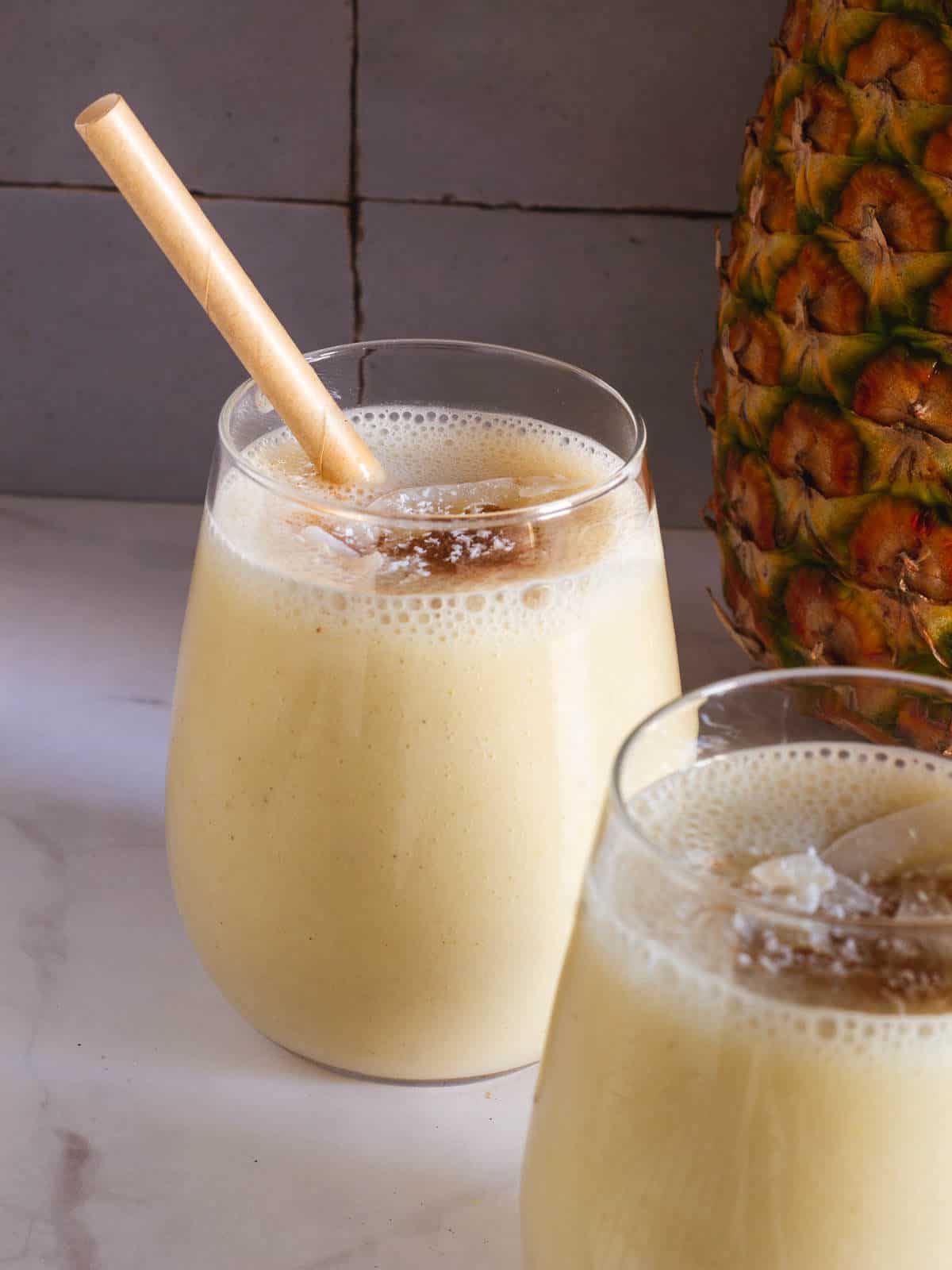 🍶 Substitutions
Cinnamon - use powdered cinnamon instead. Just add it when blending instead of boiling cinnamon sticks.
Plant milk - our preferred choices are almond milk for a nutty taste, coconut milk for a more piña colada taste effect, cashew milk for creaminess, and soy milk to make it extra healthy and protein-packed.
Sweetener - use any granulated sugar or sweetener you like; some recipes even use sweetened condensed milk. We suggest using date paste, maple syrup, coconut, or brown sugar, as they add a hint of complexity to the flavor compared to any other regular sweetener like agave syrup or erythritol.
📖 Variations
Spices - you can replace cinnamon or add some other spices to the mix, like pumpkin spice mix. If you don´t love the cinnamon flavor, you can use nutmeg.
Rice - you can use white rice or brown rice. Since horchata was initially made with barley, you can easily make this ancient grain without affecting much horchata flavor or texture.
Citrus - instead of using pineapple rinds, you can boil the rice in water, and when blending, add one tablespoon of lime zest.
🍽 Equipment
Blender- if you don't have a juicer, you will need a high-speed blender

(affiliate link)

and,
Fine mesh strainer- or nut milk bag just in case you want to make the rice water drink thinner.
Large saucepan - to boil the pineapple peeling.
🫙 Storage
Store this carrot juice in a BPA-free (affiliate link), tightly sealed container in the fridge for up to 3 days.
You can freeze this horchata drink in an airtight container, but it doesn't stand up well to freezing for more than 3 months.
💡 Top tip
If you have popsicles, you can put this easy horchata recipe to put it into them and make these delicious and wholesome popsicles
✅ Rice water drink benefits
Rice water, which is the starchy liquid that remains after soaking or cooking rice, has been consumed in some cultures for centuries due to its potential health benefits. Here are some of the potential benefits of drinking rice water:
May aid digestion: Rice water contains compounds that can help soothe and heal the digestive system, potentially easing constipation, bloating, and other digestive issues.
Horchata may promote hydration: Rice water is a good source of fluids and electrolytes, making it a potentially effective way to stay hydrated.
May provide energy: Rice water is a source of carbohydrates, which can provide a quick burst of energy.
This rice drink may support immune function: Rice water contains vitamins and minerals, including B vitamins, iron, and zinc, which are important for immune function.
May help improve skin health: The starch in rice water may have a soothing effect on the skin, potentially improving the appearance of fine lines, wrinkles, and other signs of aging.
However, it's important to note that these potential benefits are not backed up by much scientific evidence, and more research is needed to confirm them. Additionally, drinking large amounts of rice water could potentially lead to an excess intake of carbohydrates, which may not be ideal for everyone, especially those with diabetes or other blood sugar issues. As with any dietary change, it's best to consult a healthcare professional before adding rice water to your diet.
❓ FAQ
What are the horchata origins?
Agua de horchata is a traditional Mexican drink made from rice, water, and sweeteners like sugar and cinnamon. Its origins can be traced back to pre-Columbian times when the Aztecs and other indigenous groups in Mexico would make a similar drink using different grains and seeds.
One theory suggests that the name "horchata" comes from the Latin word "hordeata," which means "made from barley." This is because the original recipe used barley, which was later replaced with rice when it became more widely available in Mexico.
Another theory suggests that the drink was brought to Mexico by the Moors during the Spanish conquest. The Moors had a similar drink called "horchata de chufa," which was made from tiger nuts. This version of horchata is still popular in Spain today.
Regardless of its origins, agua de horchata has become a beloved beverage in Mexico and other parts of the world, and its refreshing and creamy taste makes it a popular choice on hot summer days.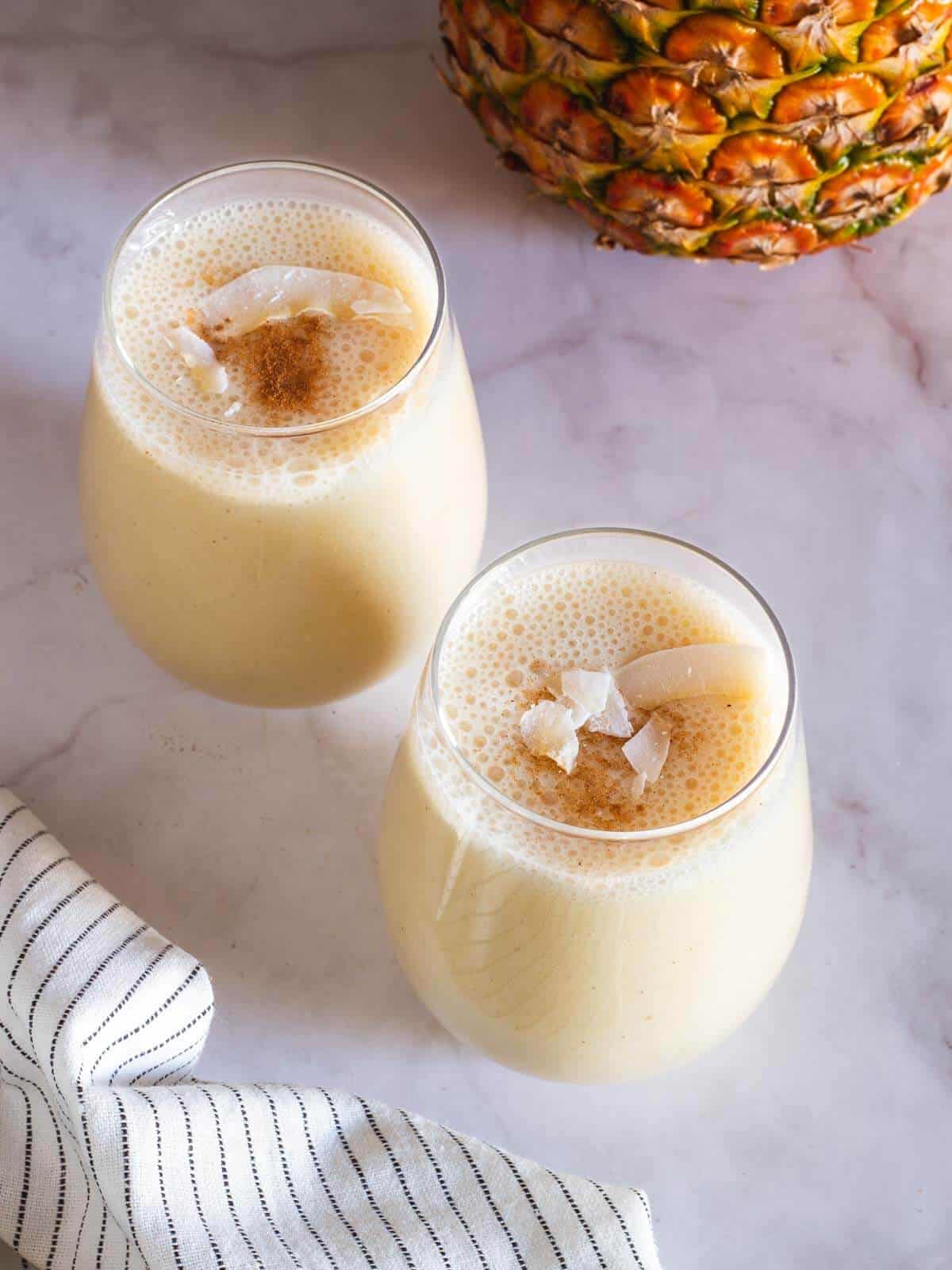 ⭐ If you try this vegan horchata recipe, let us know! 💬 Leave a comment, rate it, and don't forget to tag us @ourplantbasedworld on Instagram. Cheers!
📋 Recipe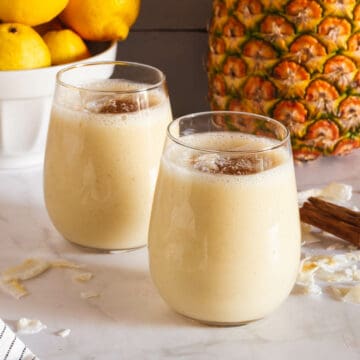 Arroz con Piña Panameña (Agua Horchata)
Agua de piña is a refreshing and delicious rice drink made with pineapple rinds and milk. This dairy-free version of traditional horchata is a perfect summer beverage, with its creamy texture and sweet, tropical flavor.
Equipment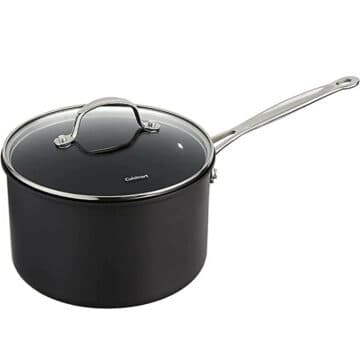 (affiliate link)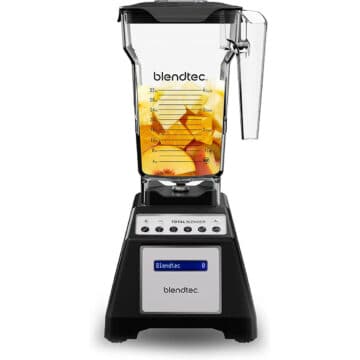 (affiliate link)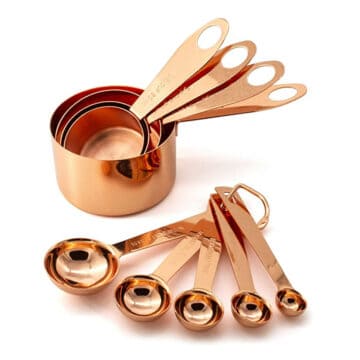 (affiliate link)
Ingredients
1

pineapple

whole

½

cup

rice

any kind

2

cinnamon sticks

½

cup

coconut sugar or any other sweetener like date paste

6

cup

water

2

cup

plant milk

almond milk, coconut milk

1

tablespoon

vanilla extract
Optional
pineapple meat to your liking
Directions
Wash and dry the pineapple.

Cut off the top and bottom of the pineapple.

Peel the pineapple with a knife and save as much of the skin as possible. Set skins aside.

Boil 5 cups of water in a medium pot or saucepan. Add pineapple skins, rice, and cinnamon. Cook for 25-30 minutes or until rice is cooked and pineapple and cinnamon are fragrant.

Remove from heat and cool for 10 minutes. Remove pineapple skins and cinnamon sticks.

Transfer rice and water to a blender. Add milk, sugar, vanilla, and pineapple meat to your liking to the rice and water.

Blend for 30-45 seconds or until smooth.

Pour into a glass and garnish with shredded coconut or pineapple chunks.

You may chill the arroz con piña in the fridge or add ice cubes to cool instantly.
Nutrition Facts
Calories:
158
kcal
Carbohydrates:
35
g
Protein:
3
g
Fat:
1
g
Saturated Fat:
0.2
g
Polyunsaturated Fat:
1
g
Monounsaturated Fat:
0.3
g
Sodium:
53
mg
Potassium:
216
mg
Fiber:
3
g
Sugar:
18
g
Vitamin A:
194
IU
Vitamin C:
54
mg
Calcium:
108
mg
Iron:
1
mg
Nutrition Facts
Arroz con Piña Panameña (Agua Horchata)
Amount per Serving
% Daily Value*
* Percent Daily Values are based on a 2000 calorie diet.
Nutritional Disclaimer
The information shown is an estimate provided by an online nutrition calculator. It should not be considered a substitute for a professional nutritionist's advice. See our full Nutritional Disclosure here.
Affiliate Disclaimer
Please note that some of the links here are affiliate links, and I will earn a commission if you purchase through those links. I recommend all of the products listed because they are companies I have found helpful and trustworthy.