In case you haven't heard, date paste is all the rage right now. It is a healthy and delicious sugar substitute and an alternative to other sweeteners. So what exactly is this mysterious concoction? Date paste is simply made from dates that have been blended into a thick, gooey paste. And while it may sound daunting to make your own, it's really quite simple! In today's blog post, I'll show you how to make date paste using just one ingredient! So keep reading for all the details!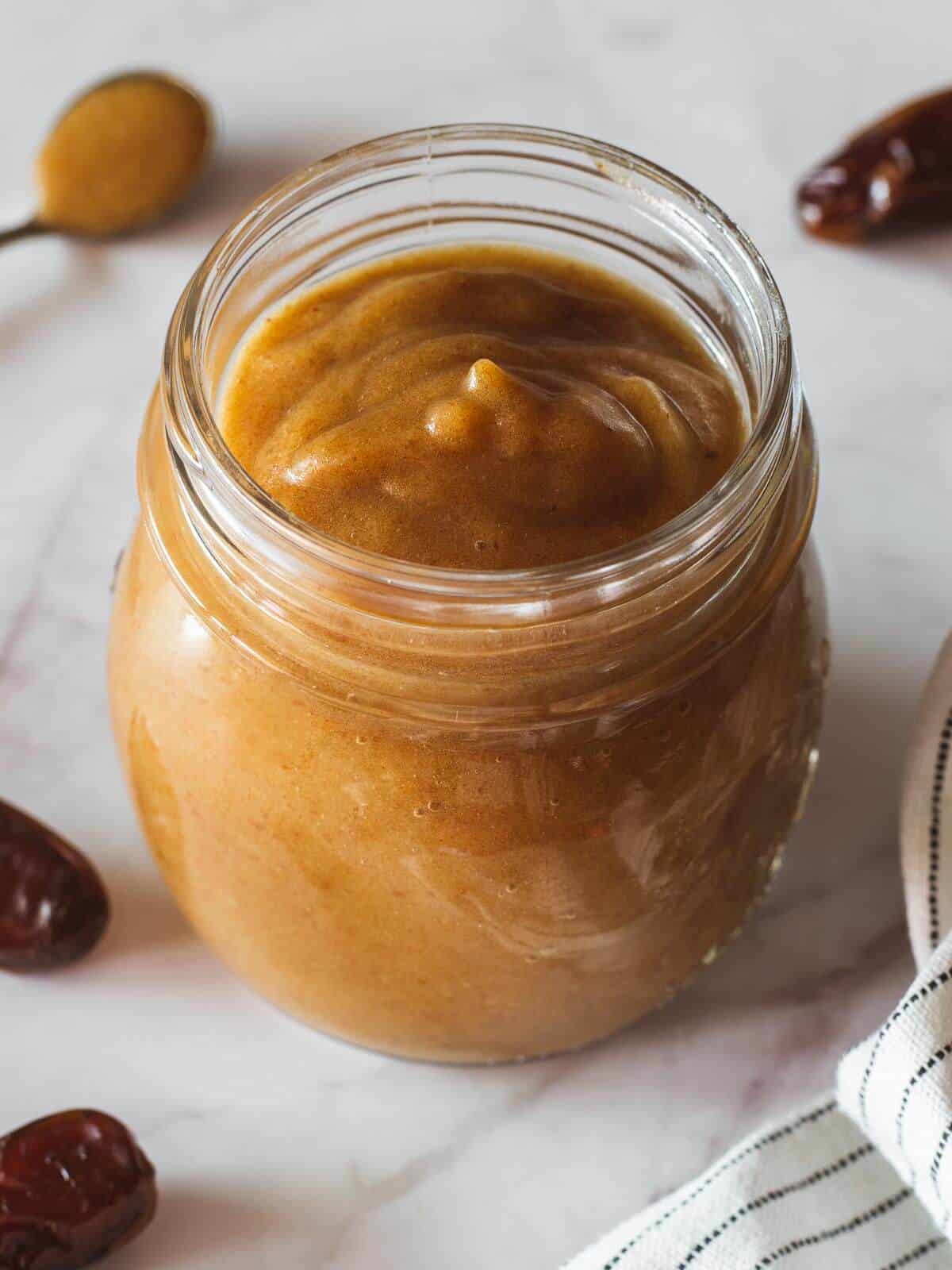 This homemade date paste is a natural sweetener that is great to substitute for maple syrup, date syrup, coconut sugar, refined sugar, white sugar, table sugar, the natural organic sugar in your favorite recipes, tea, smoothies, baked goods, and even salad dressings.
This healthy substitute brings on sweetness and all the fabulous health benefits of dates, especially in bone health.
Dates are a source of bone-strengthening minerals, including potassium, calcium, and magnesium. Dates are also an excellent source of vitamin K, which promotes strong and healthy bones.
Dates are excellent natural sweeteners for your smoothies, plain yogurt, granola bars, power balls, and cakes.
If you are following a Whole Foods Plant-Based Diet (WFPB), the good news is that date paste is not only compliant, but it is one of the best natural sweeteners!
Jump to:
🧾 Ingredients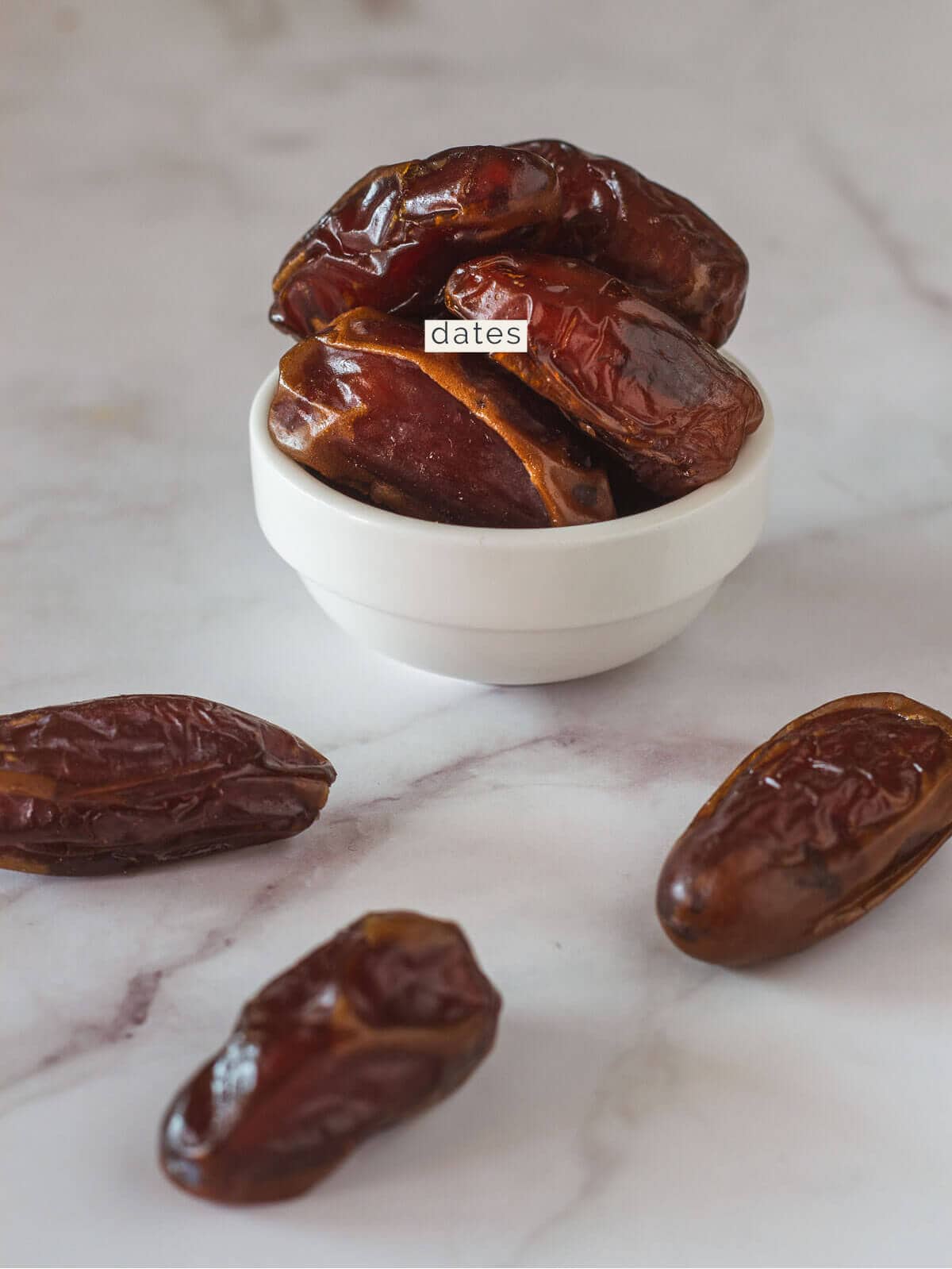 🔪 Instructions
We will show you how to make date paste in a blender using perfectly soft pitted dates and also how to make date paste from dried dates.
Soak dates (only for dried dates)
Start soaking the dried dates in hot water in a medium-large bowl. Depending on how tough the whole dates are, you might have to soak them for more time. See date types.
Leave the dates in hot water overnight.
Note: If using Medjool dates, you can skip this step and reduce the amount of water to ⅓ cup water.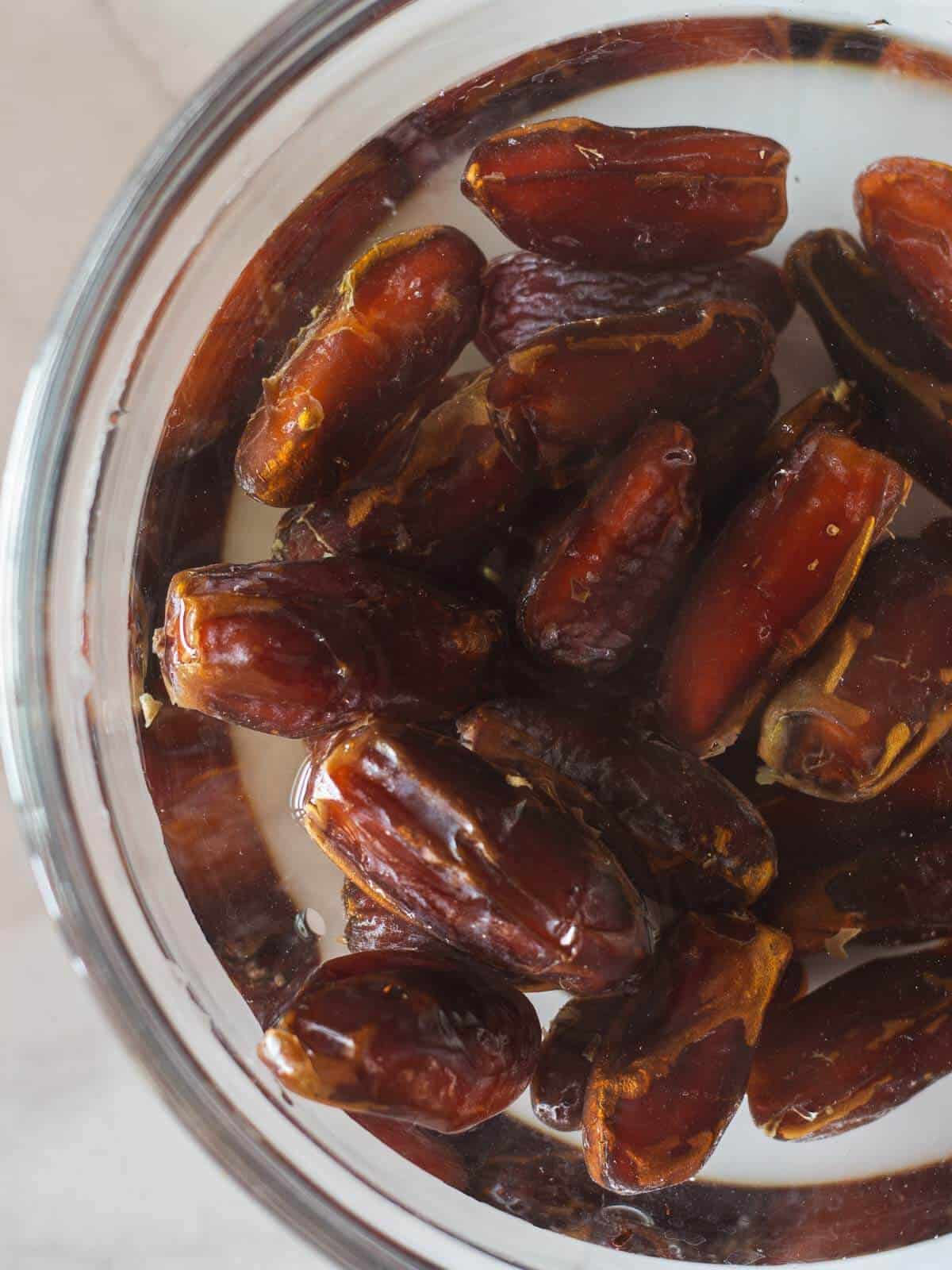 If using dry unpitted dates, remove the pits from the soaked dates with your hands. If they are still hard, leave them in soaking water for more time. You may have to add more warm water if they have absorbed it all.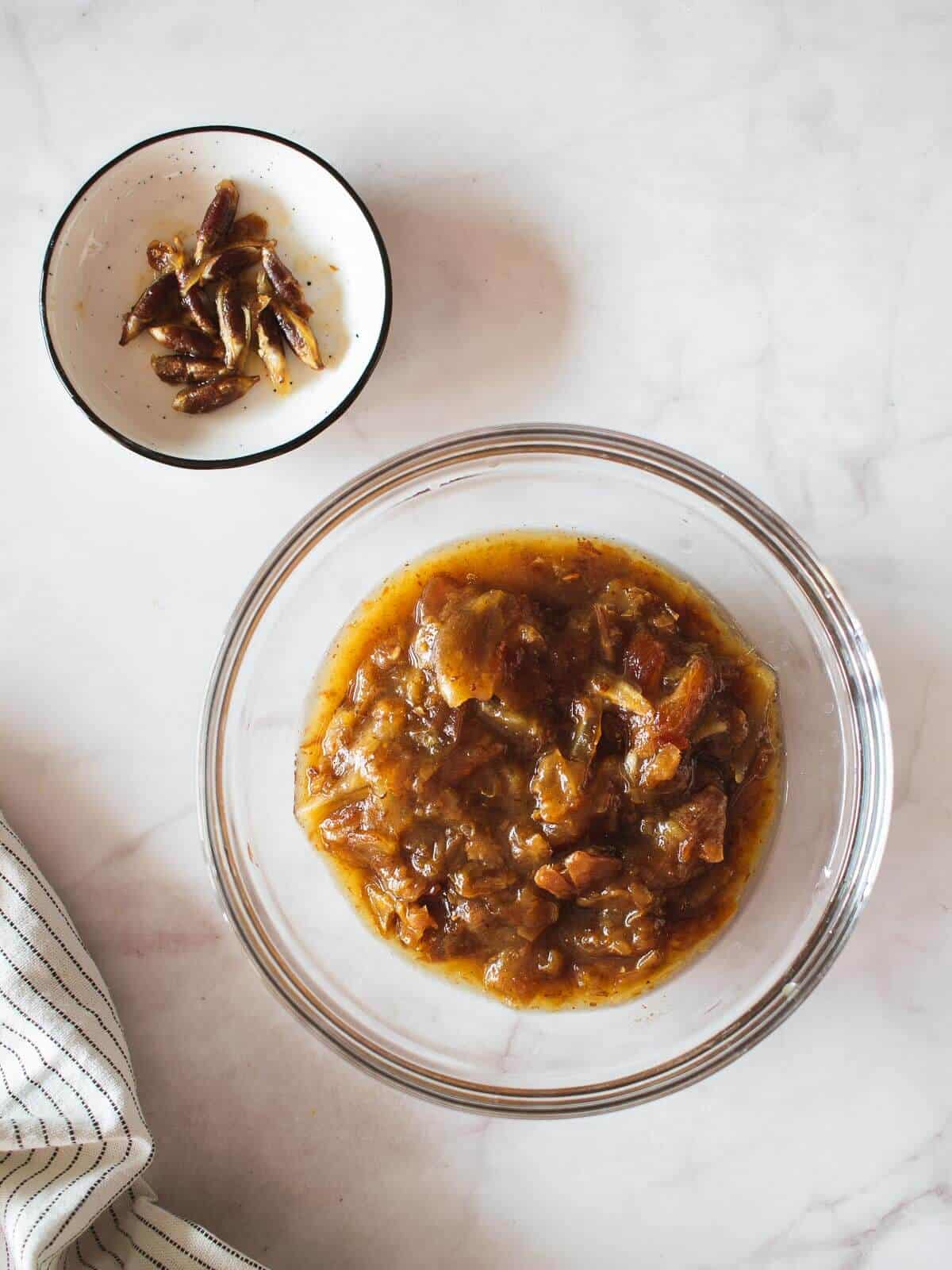 Blend
Place dates (dates flesh) into the high-speed blender, immersion blender, food processor jar, and water.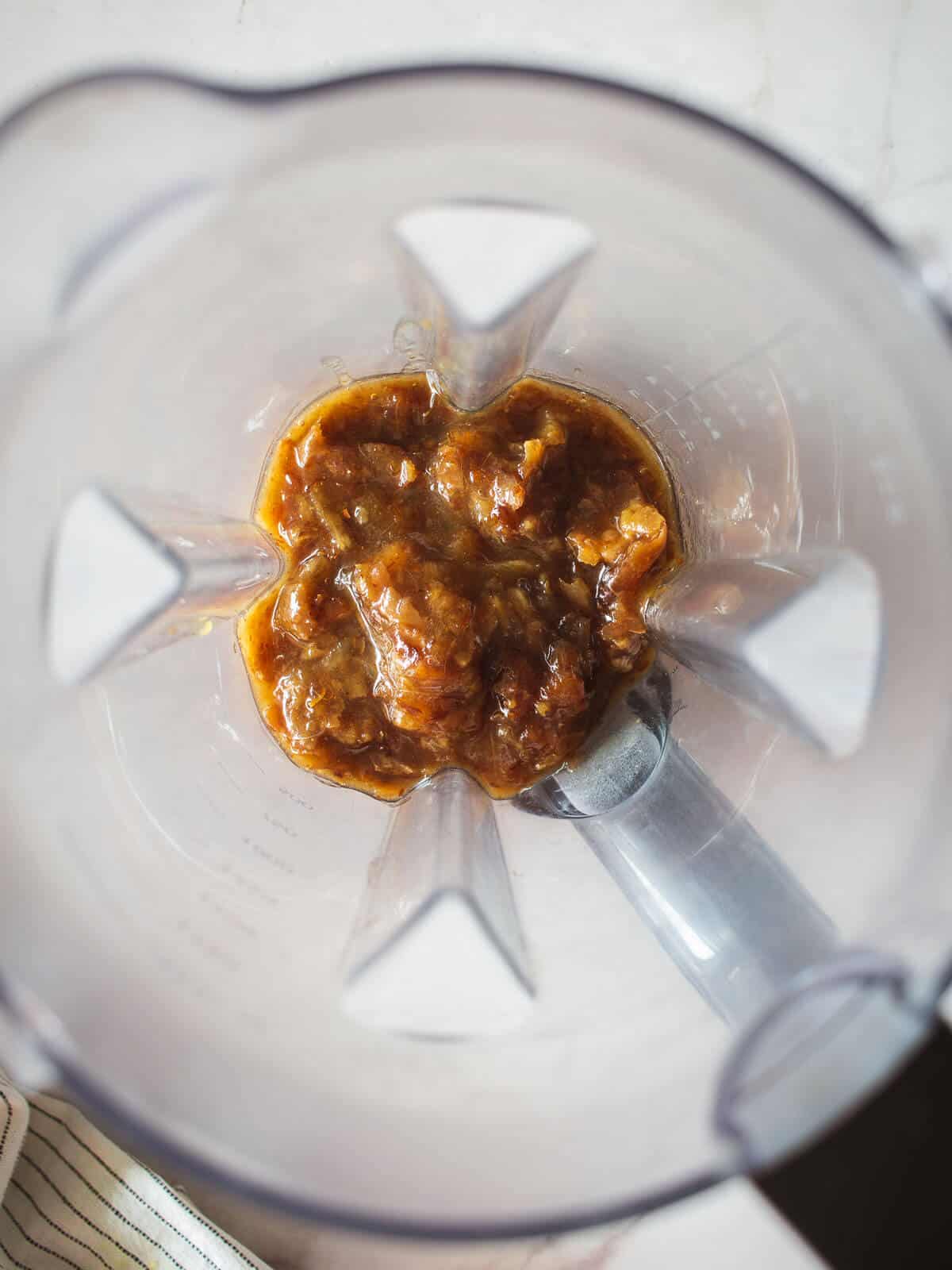 Adjust
Depending on how thick your date paste is, you can add more water to the food processor and blend until you reach the desired consistency.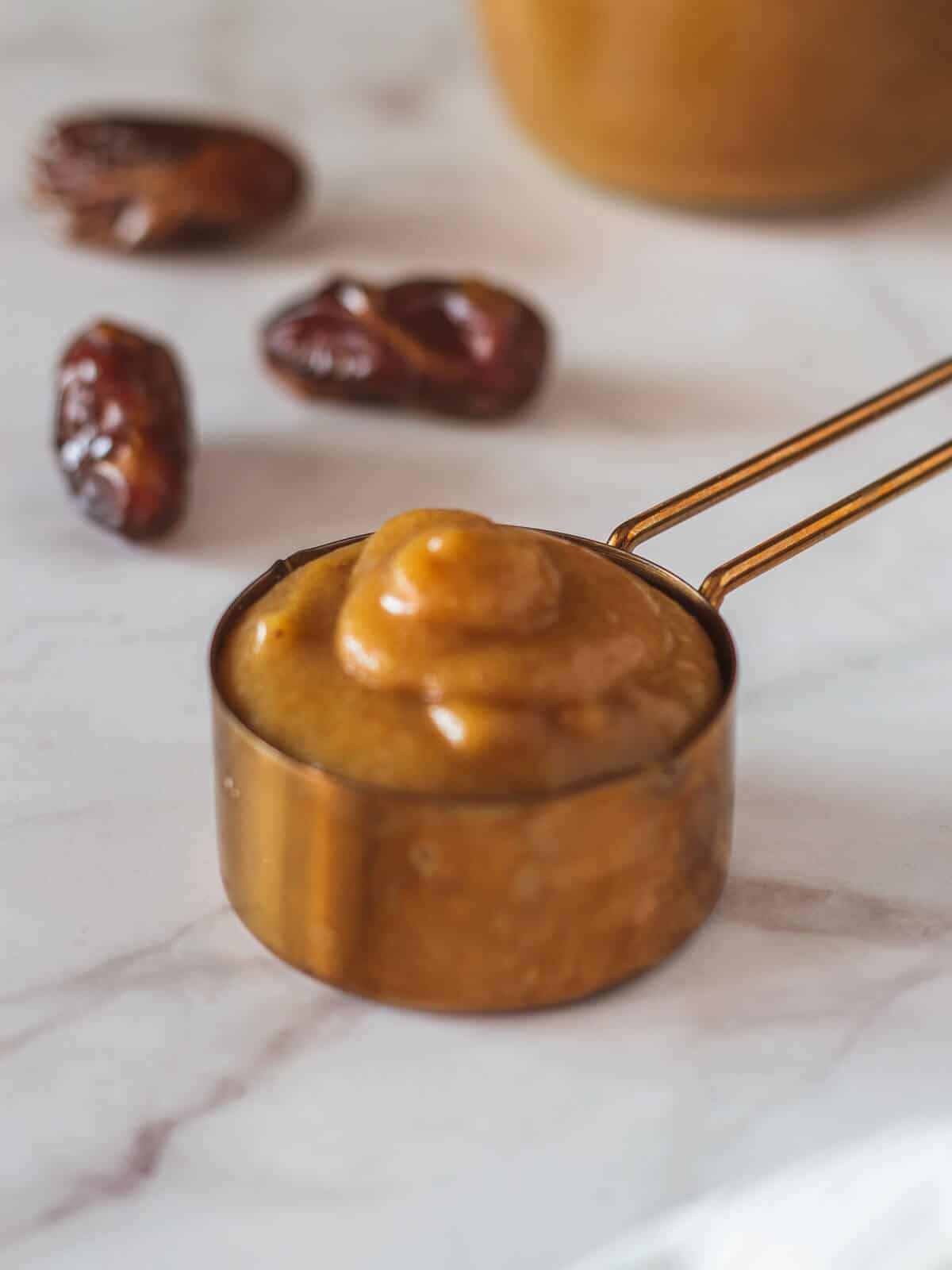 🧐 What type of dates to use
Date paste recipes can vary slightly depending on the date variety you use. This factor will have a direct effect on the following:
the time needed to make the homemade date paste
sweetness
cost
Medjool dates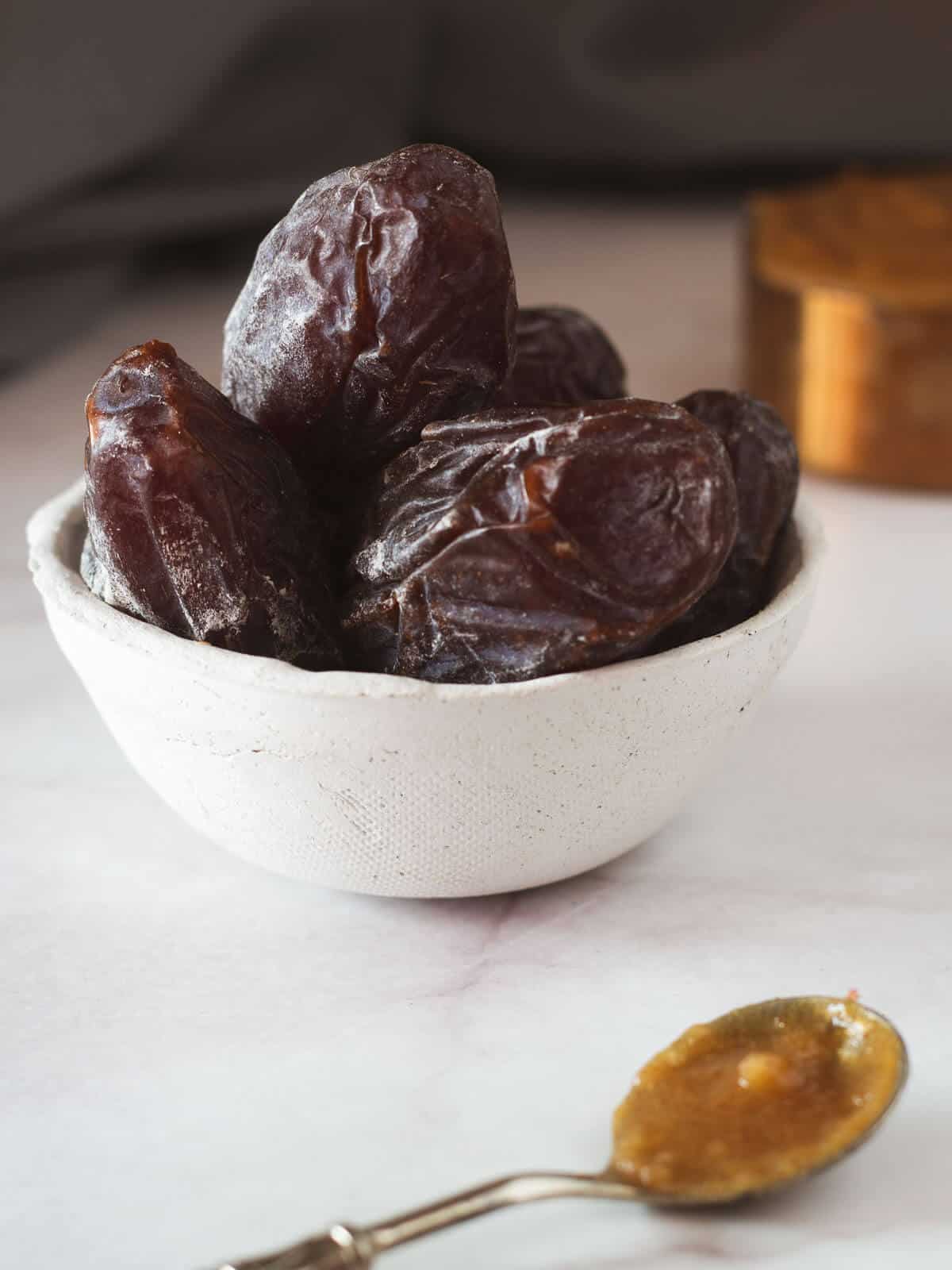 These are the sweetest dates and usually the more expensive.
This type of date is grown in Israel. They are distinct from other types of dates because they are larger and have softer flesh. They are also described as having a milder and more pleasurable flavor.
Out of all the dates in the world, Israel currently produces the most Medjool dates. In fact, Israel holds more than 60 percent of the global Medjool market share. Therefore, if you are looking for Medjool dates, your best bet is to look for those coming from Israel.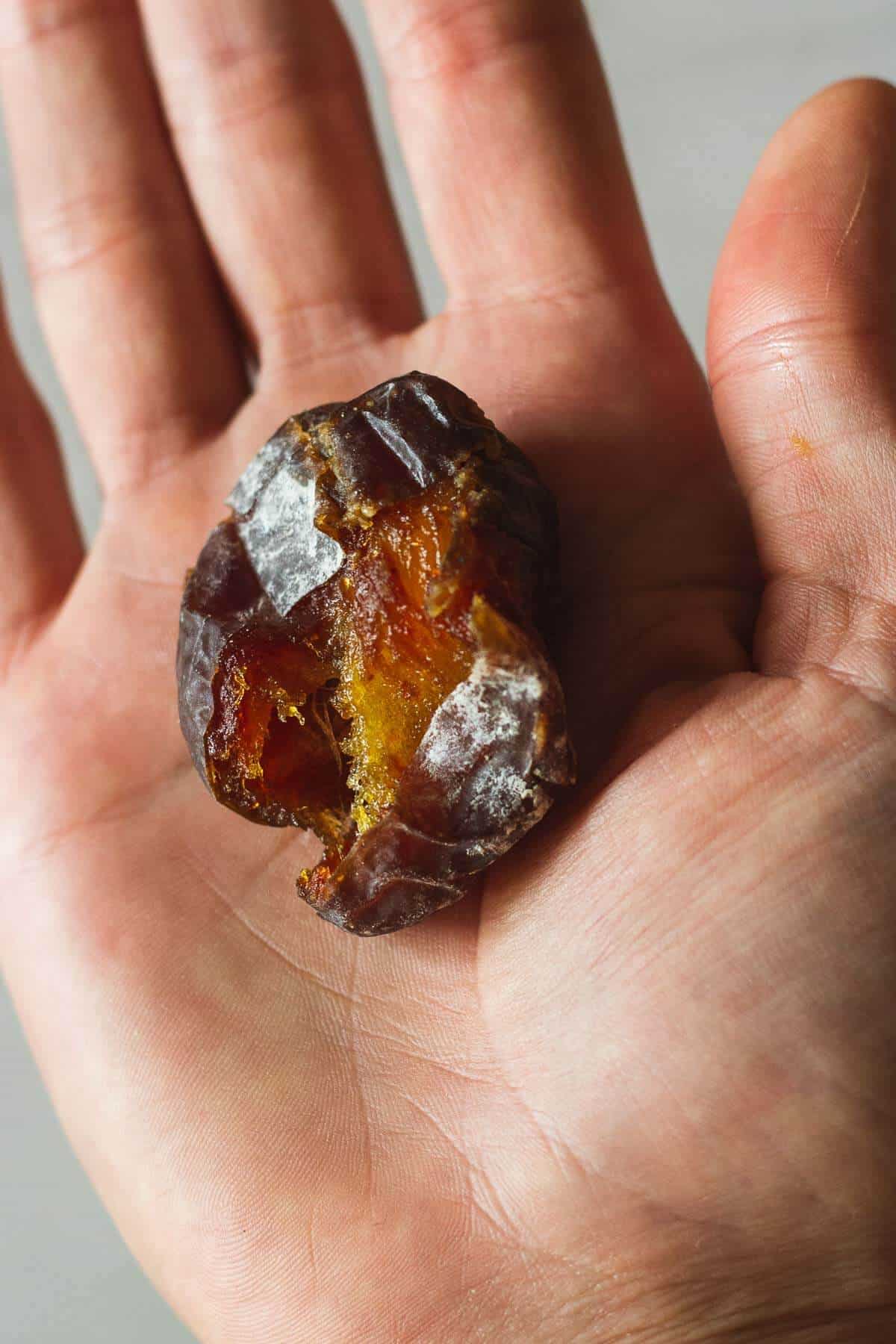 I usually keep these dates as a healthy dessert as they are quite expensive but satisfy my sweet tooth.
Cost: 5X compared to dried unpitted dates.
Pitted dates
If you use pitted dates (not Meedjol), they will be a little more expensive than unpitted dates but less expensive than Medjool dates, and you will skip one step.
Cost: 2X compared to dried unpitted dates.
Unpitted Dates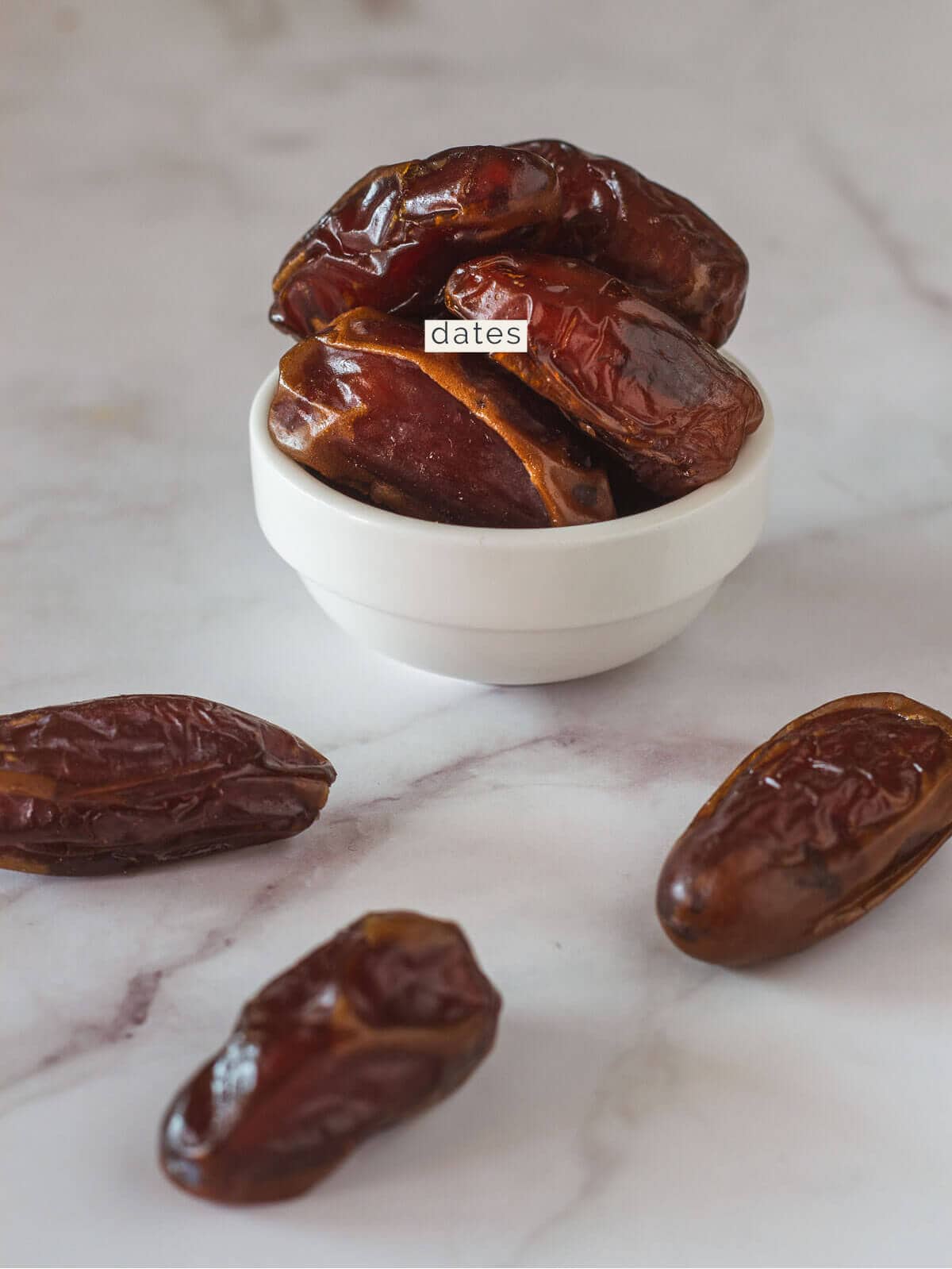 The cheapest option is just to plan for leaving the dates soaking for longer, about 24 hours.
Cost: 1X
Tip: I recently left a forgotten pack of unpitted dates in the pantry, and when I found them, they were like rocks. I thought I needed to trash them but decided to first allow them to become date paste.
It worked; I had to soak them for 3 days, but after the first day, I already had some date-soaking liquid I could scoop on, but it was still difficult to pit with my hands.
After the third day, the pits came out without an effort. I unpitted them and blended dates with just a little water in my blender, and voilá: perfectly creamy date paste.
🥢 How to use
You can use this date paste to sweeten recipes of all kinds naturally. You can even add it to your dairy-free milk, such as almond milk, oat milk, or soy milk, to enjoy during breakfast with your homemade granola, pumpkin granola, protein balls, to make vegan protein cookies, or your cup of cappuccino.
You can also use it in your favorite smoothies or even in your pineapple water, arroz con piña (pineapple horchata), or preferred herbal infusions and detox drinks.
🫙 Storage
As this great sugar substitute is made with whole ingredients, storing date paste in an airtight container in the fridge is better to extend its shelf-life. I like using a glass container to store this all-natural sweetener.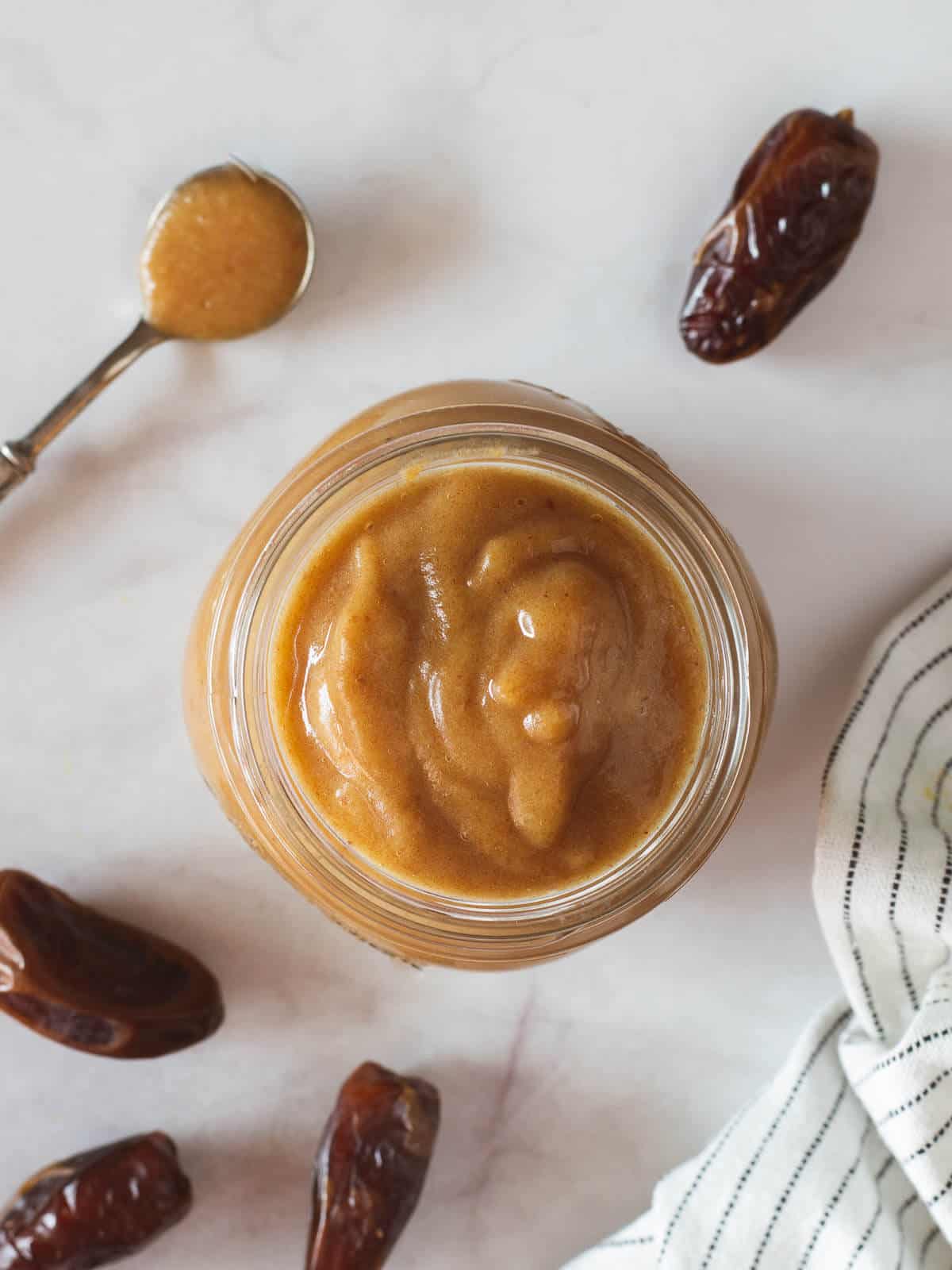 In my experience, it lasts up to 1 week.
If you go on vacation, make sure you freeze the date paste using an ice cubes tray so it doesn't start to fermentate.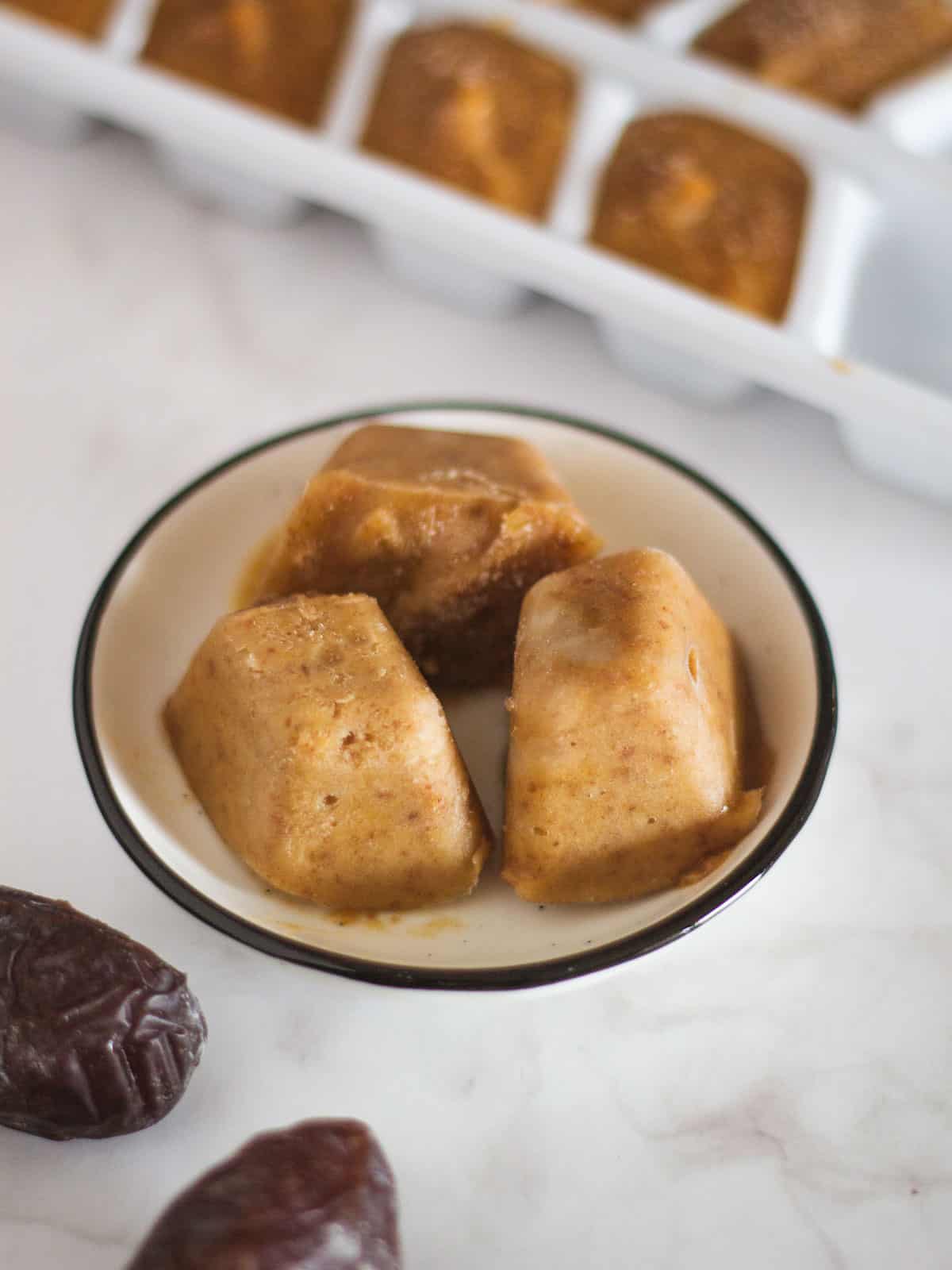 Frozen date paste can last up to a year.
You can then use the frozen date paste cubes in smoothies or briefly thaw them before using them as a natural sweetener in your recipes.
🍶 Substitutions
How do you substitute date paste for sugar in baking?
To substitute date paste for sugar, I use a 1:1 ratio for coconut sugar, brown sugar, regular sugar, and coconut sugar.
Substituting date paste for agave or maple syrup
I prefer using a 2:1 date paste ratio when subbing for maple syrup or agave nectar. So, if a recipe calls for one cup of maple syrup, I'd use two cups of date paste.
In baking, the date paste will be slightly less sweet. I tested this method with my Carrot Cake, Apple Cake, and Banana Bread, removing 2 tablespoons from the wet ingredients, such as vegan buttermilk, or almond milk, to ensure the textures remain the same.
You can always add slightly more date paste for a sweeter flavor, keeping in mind that the date paste will create a maple syrup-like texture rather than a chewy texture in vegan baked goods.
❓ FAQ
Is date paste healthier than sugar?
It is natural to be scared of the "sugar" contained in dates, but research shows that this natural sweetener has a low glycemic index.
Studies that measured the rising glucose in the blood in healthy individuals it was concluded that the effect was not significant, thus making it an excellent option for people with diabetes. (source)
⭐ If you try this date puree recipe, let us know! 💬 Leave a comment, rate it, and don't forget to tag us @ourplantbasedworld on Instagram. Cheers!
📋 Recipe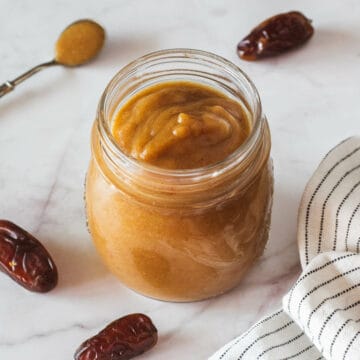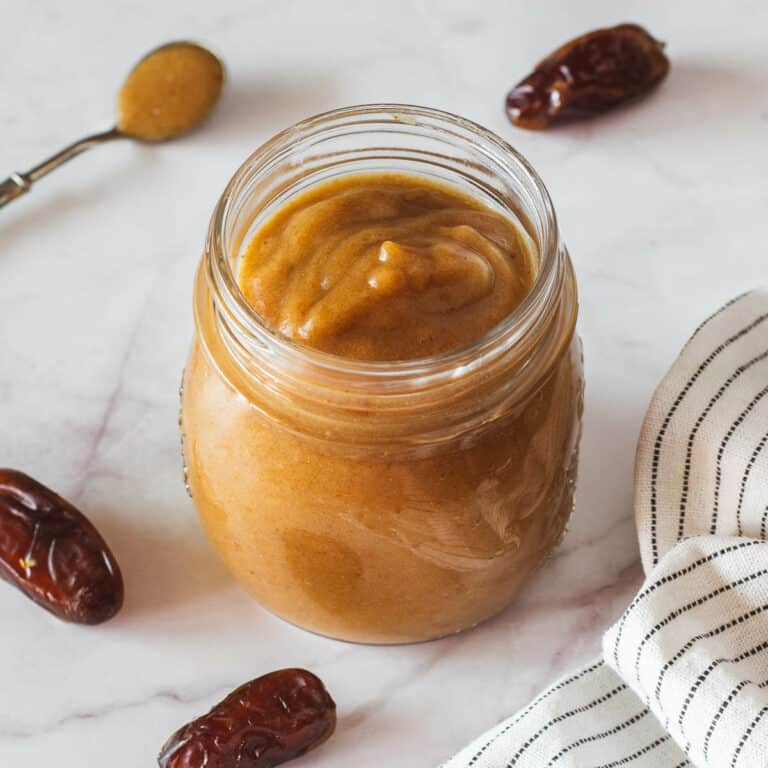 How to Make Date Paste, Recipe
A quick and easy guide on how to make date paste at home - perfect for adding sweetness and nutrients to your baking!
Equipment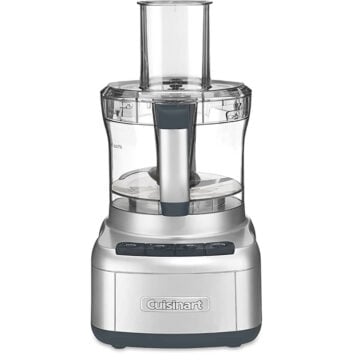 (affiliate link)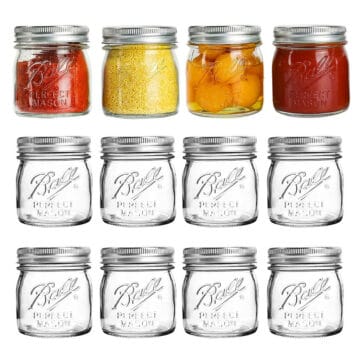 (affiliate link)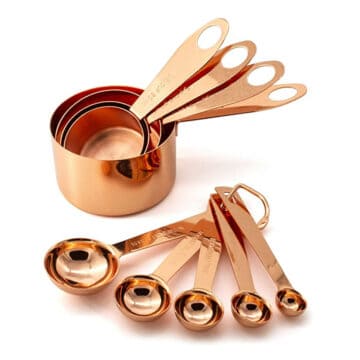 (affiliate link)
Ingredients
7

oz

dates

pitted

1

cup

water
Directions
If using dried unpitted dates or tough dates, let them soak in hot water until they are smooth enough to pit. You can leave them soaking overnight. Then pit the dates before blending.

In the jar, a high-speed blender or a food processor, blend the water and the pitted dates.

Process until silky, scraping down the jar to ensure all the dates' flesh is incorporated.

Store the date puree in a mason jar or an airtight container in the fridge for up to one week.

If not using immediately freeze the date paste using an ice cube tray and then add it to your smoothies.
Notes
If your dates are too tough, you might need to add a second cup of water until they become soft.
Make sure the dates are pitted before using your blender.
Nutrition Facts
Calories:
25
kcal
Carbohydrates:
7
g
Protein:
1
g
Fat:
1
g
Saturated Fat:
1
g
Polyunsaturated Fat:
1
g
Monounsaturated Fat:
1
g
Sodium:
1
mg
Potassium:
59
mg
Fiber:
1
g
Sugar:
6
g
Vitamin A:
1
IU
Vitamin C:
1
mg
Calcium:
4
mg
Iron:
1
mg
Nutrition Facts
How to Make Date Paste, Recipe
Amount per Serving
% Daily Value*
* Percent Daily Values are based on a 2000 calorie diet.
🌡️ Food safety
Cook to a minimum temperature of 165 °F (74 °C)
Do not use the same utensils on cooked food, that previously touched raw meat
Wash hands after touching raw meat
Don't leave food sitting out at room temperature for extended periods
Never leave cooking food unattended
Use oils with a high smoking point to avoid harmful compounds
Always have good ventilation when using a gas stove
See more guidelines at USDA.gov.
Nutritional Disclaimer
The information shown is an estimate provided by an online nutrition calculator. It should not be considered a substitute for a professional nutritionist's advice. See our full Nutritional Disclosure here.
Affiliate Disclaimer
Please note that some of the links here are affiliate links, and I will earn a commission if you purchase through those links. I recommend all of the products listed because they are companies I have found helpful and trustworthy.