This time of year always makes me want to drink smoothies. There's something about the weather that just makes them so refreshing. And this 3-ingredient Pineapple Coconut Smoothie is one of my favorites! It's perfect for a quick breakfast or snack. Plus, it's dairy-free and vegan-friendly, so everyone can enjoy it!
It is not summer yet, but the first long days have arrived, and the Sun is shining; the time for the first Piña colada of the year has come.
Jump to:
🤔 Why you will love it?
I love that this smoothie is easy to make and doesn't require any special ingredients. All you need is pineapple, coconut milk, and ice cubes (add your preferred sweetener for extra sweetness).
Simply blend all the ingredients together until smooth and enjoy! This smoothie is sweet, creamy, and SO delicious. I hope you'll give it a try! 🙂
This is how it works. We will also show you how to make it a full-fledged boozy cocktail.
If you are into tropical flavors, you will surely like this watermelon and passion fruit juice, which can also be turned into a delicious smoothie, by simply adding ice.
Try also our Superfood Green Detox Smoothie, also on this site, to complement your weekly breakfast meal plan.
🧾 Ingredients
So, what are the ingredients of a Traditional Piña Colada?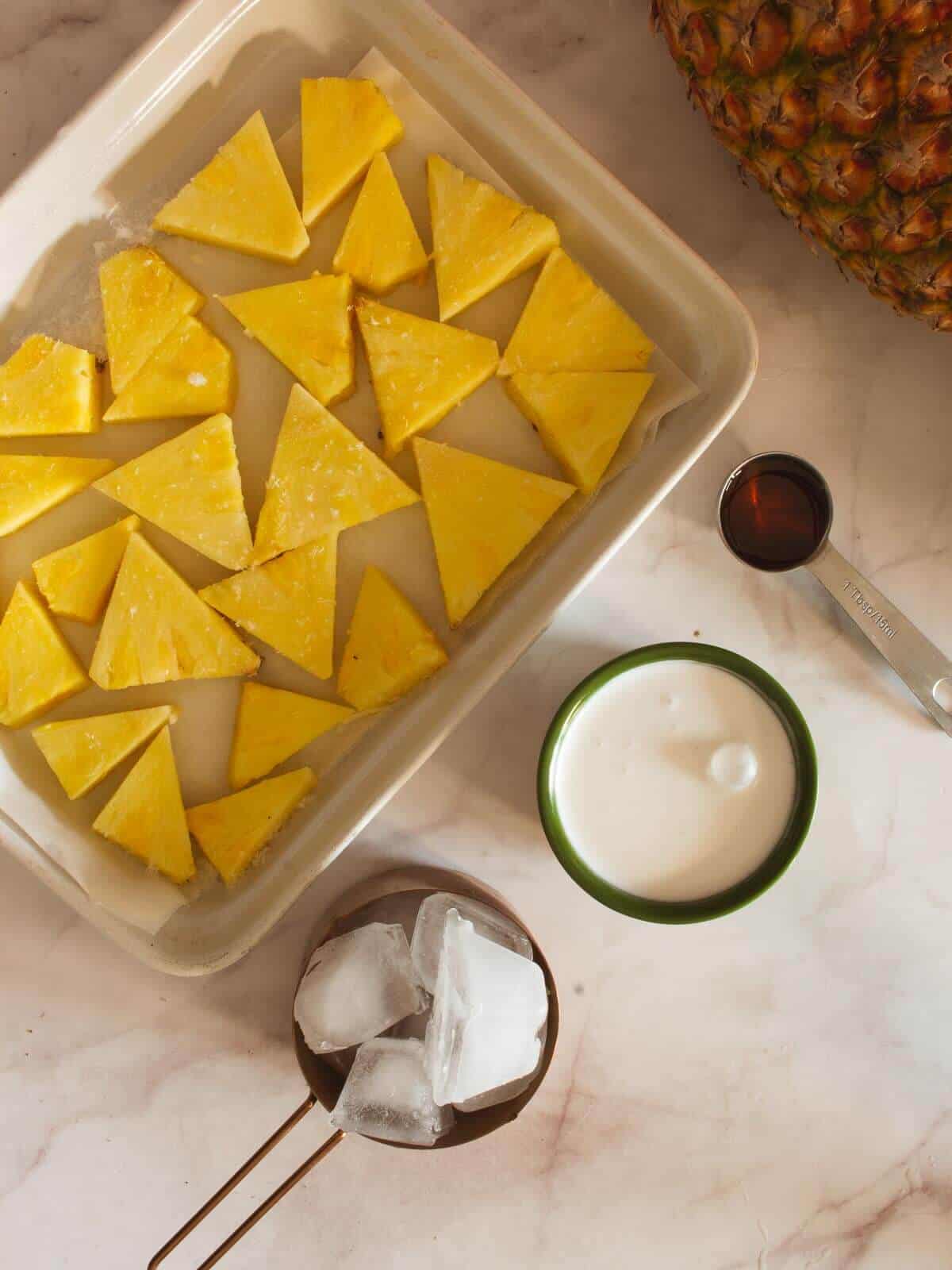 Piña Colada is typically made from heavy coconut cream, pineapple juice, Puerto Rican white rum, and ice.
For this Pineapple Coconut Smoothie, also known as Virgin Piña Colada or Virgin Colada, we use:
pineapple chunks to keep all its fiber
thick coconut milk
Ice cubes
Optional
Some agave syrup or maple syrup as a sweetener.
🔪 Instructions
Choose Coconut milk
For a healthy pineapple coconut smoothie, go for light or reduced-fat coconut milk.
If you feel like having something more decadent or a cocktail, go for the full-fat coconut milk, or coconut milk.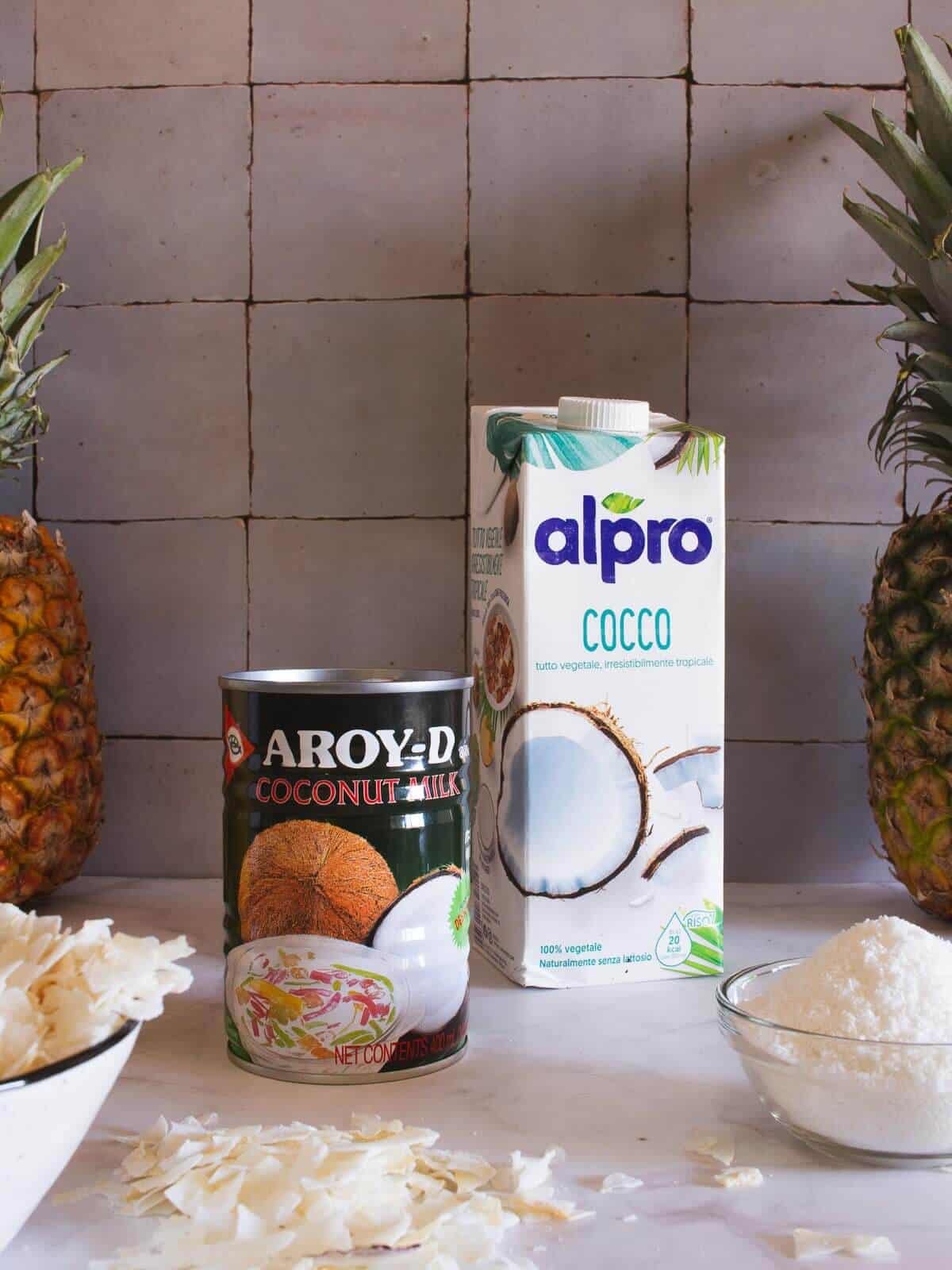 Freeze pineapple
After peeling your pineapple, freeze your fresh chunks of raw pineapple in the freezer overnight. You can do the same with drained canned pineapple.
Top tip: save your pineapple peels to make delicious pineapple water, it is a refreshing, delicious, and zero-calorie drink that you are bound to love.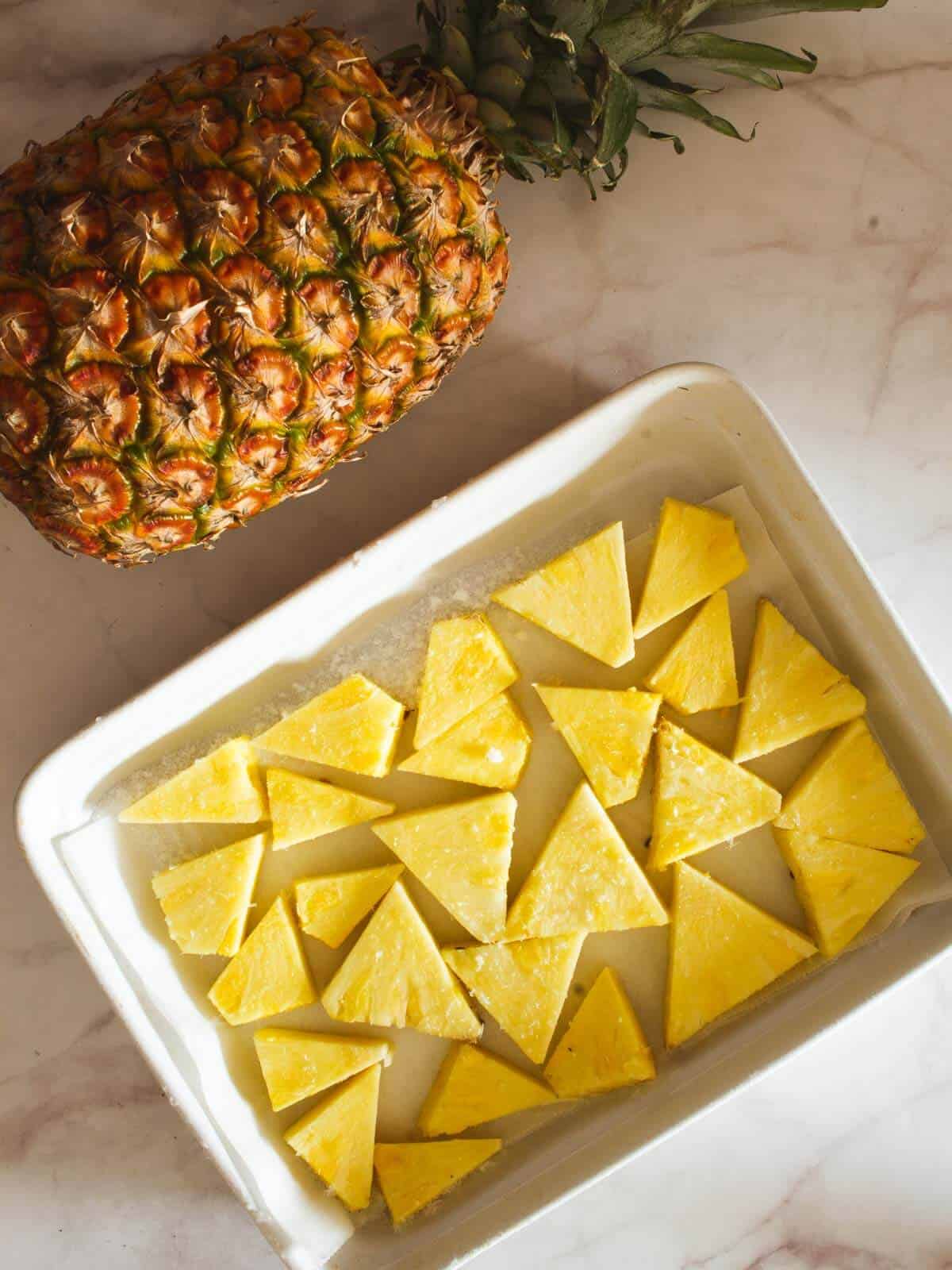 Frozen, store-bought pineapple also works.
If using fresh and raw pineapple or pineapple juice, simply add more ice cubes to the blender.
Measure
Measure your ingredients. If using light coconut milk, you can double the quantity or add coconut flakes or shredded coconut to make the coconut flavor stand out clearly.
Blend
Add all the frozen chunks, coconut milk, agave syrup, and one cup of ice cubes to a blender and blend at high-speed for 40 seconds, or simply use the smoothie mode in your blender.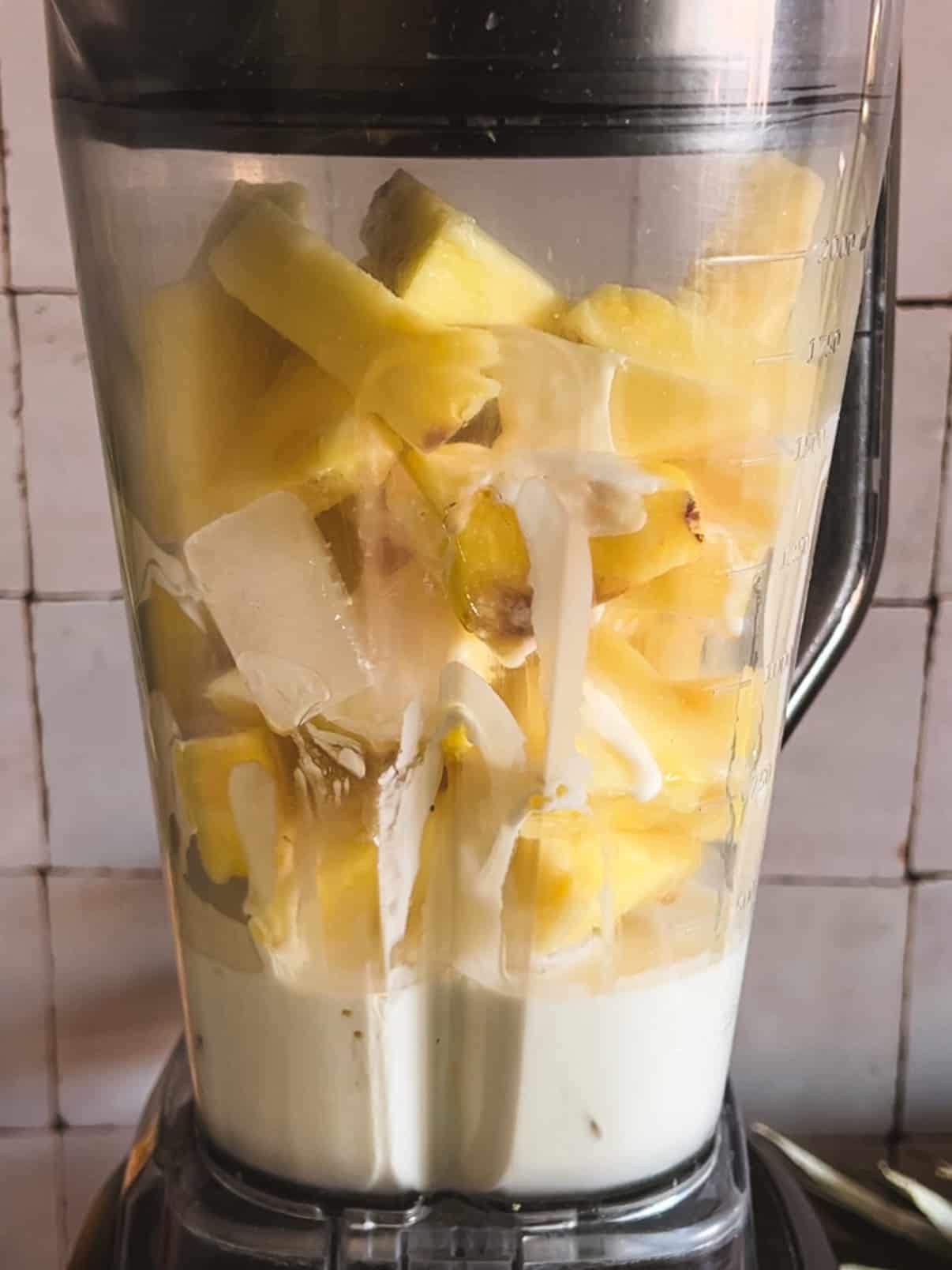 We need to blend all the ingredients in a high-speed blender. We love this Professional Blender which has a very accessible price, is super effective in crushing everything, and has a large volume capacity. We also use it to make our Almond Milk.
The result is a delicious and creamy pineapple smoothie, which reminds me of the traditional arroz con piña (horchata).
📖 Variations
Boozy Piña Colada
You just need to add the rum 1 oz for a soft one and 2 oz for a strong one.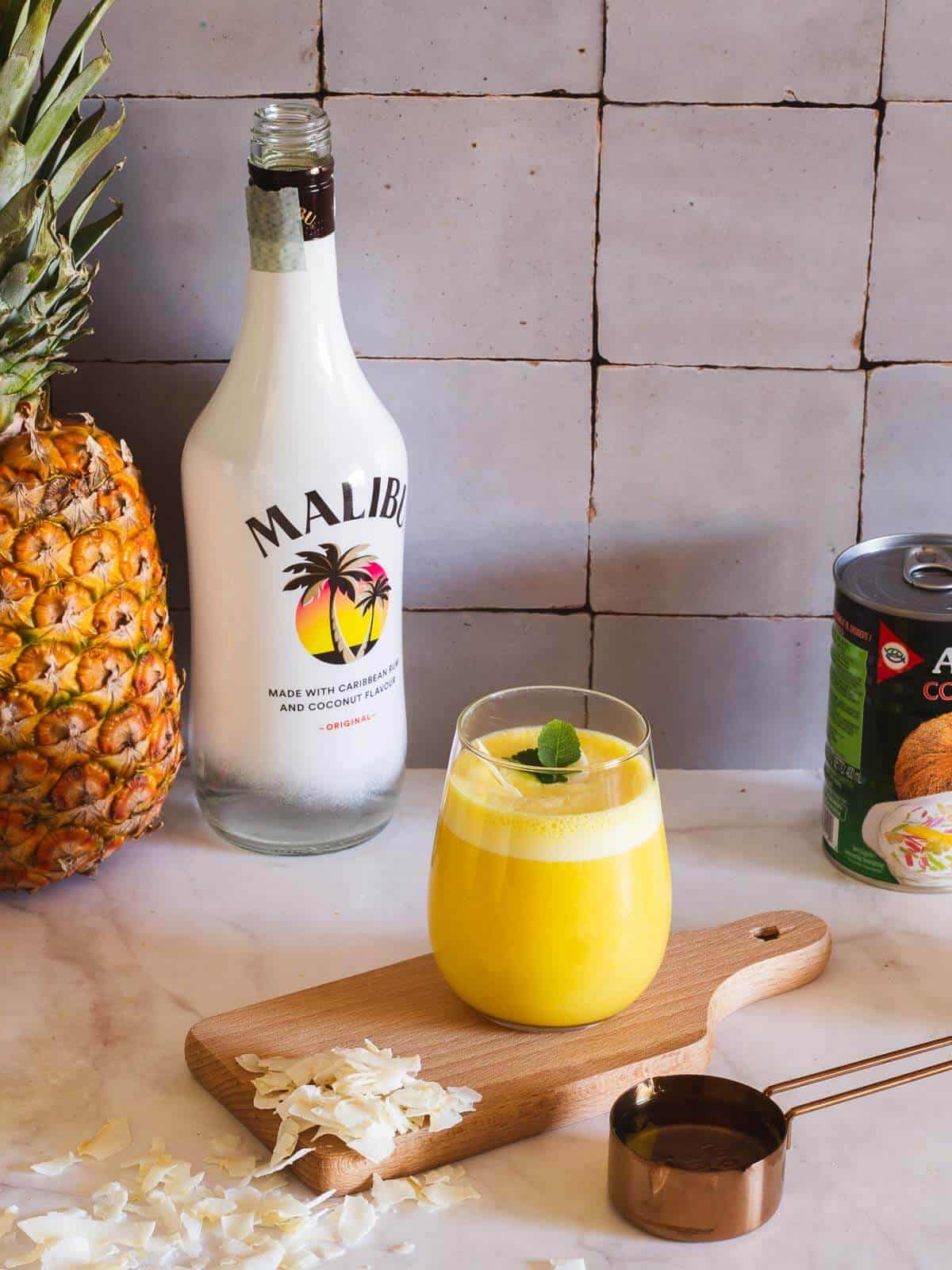 Banana
Add a banana for extra natural sweetness, creaminess, and fiber. I often add bananas when making a post-workout smoothie.
Protein Post Workout Drink
If you want to make it an even more healthy pineapple smoothie, switch for light coconut milk and add a scoop of clean protein powder (affiliate link). You can use either plain flavored or vanilla-flavored or even hemp seeds.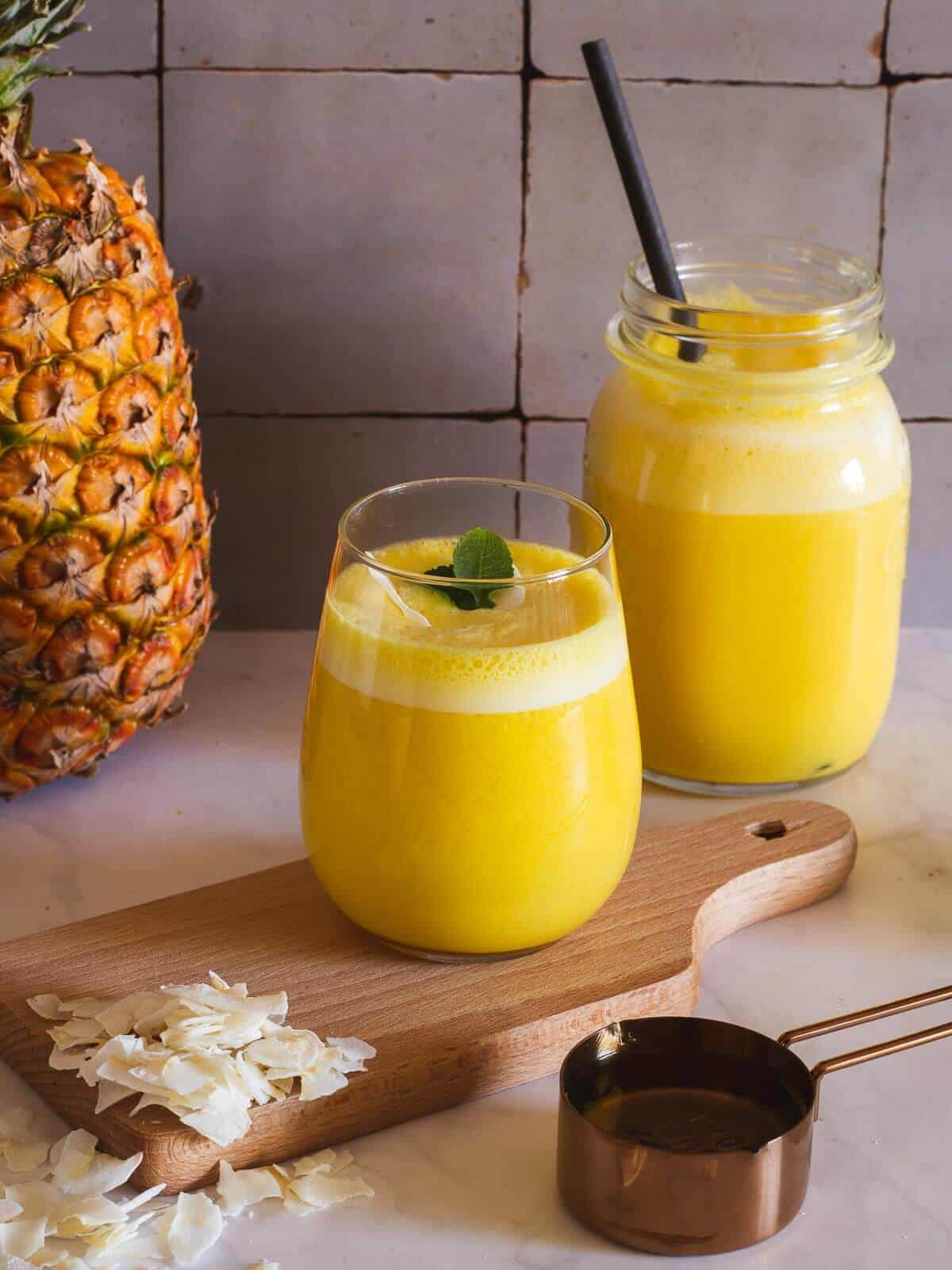 If you want to know more about the history of piña colada, visit this article.
🫙 Storage
Store the smoothie in an air-tight glass container or mason jar.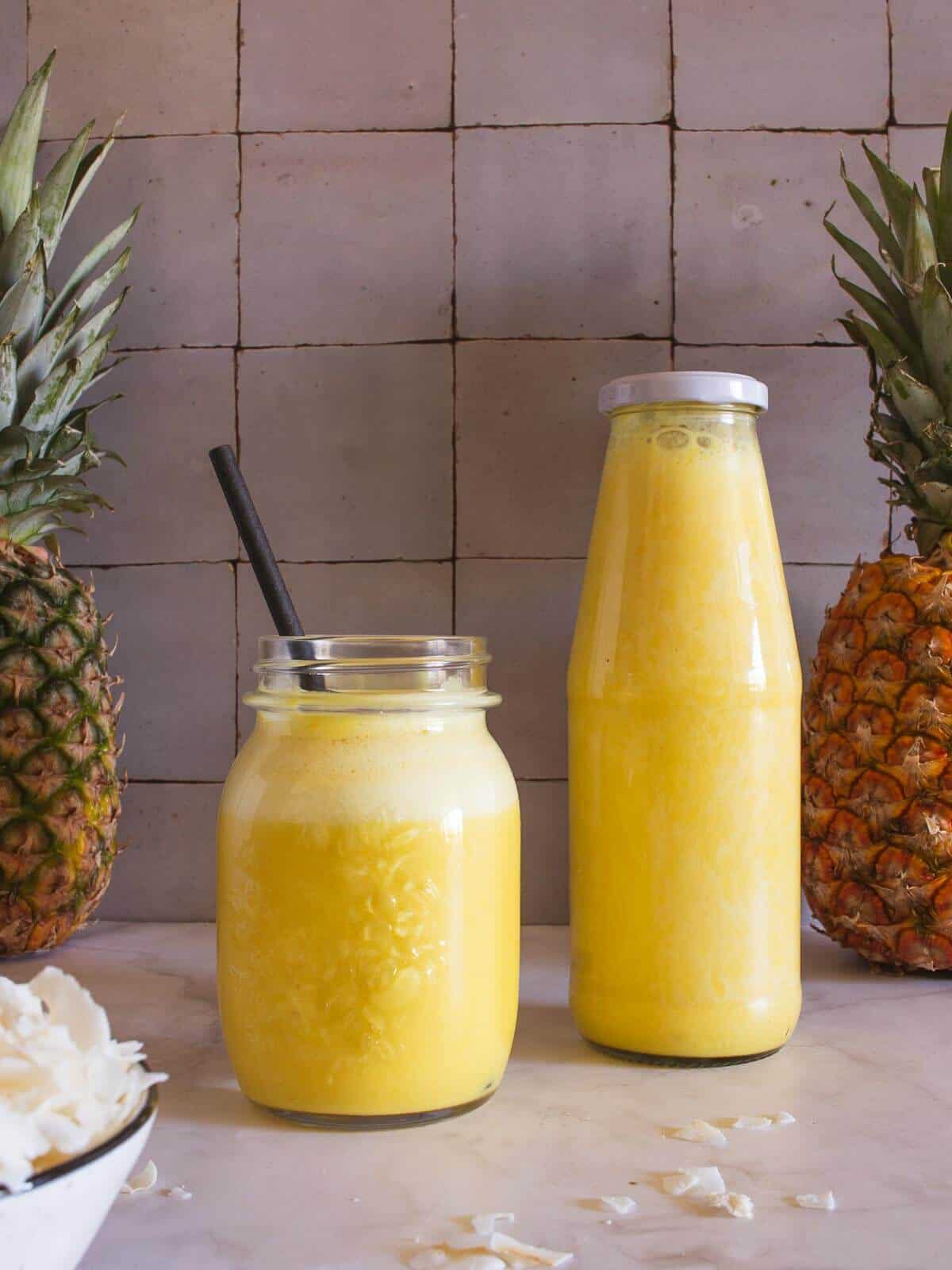 🍍 Health benefits of eating pineapple
This delicious one-of-a-kind fruit is a delicious and healthy addition to any diet as scientific evidence suggests.
Well, I doubt you are not really into Pineapple, but I am sure you will want to have more after learning about its benefits.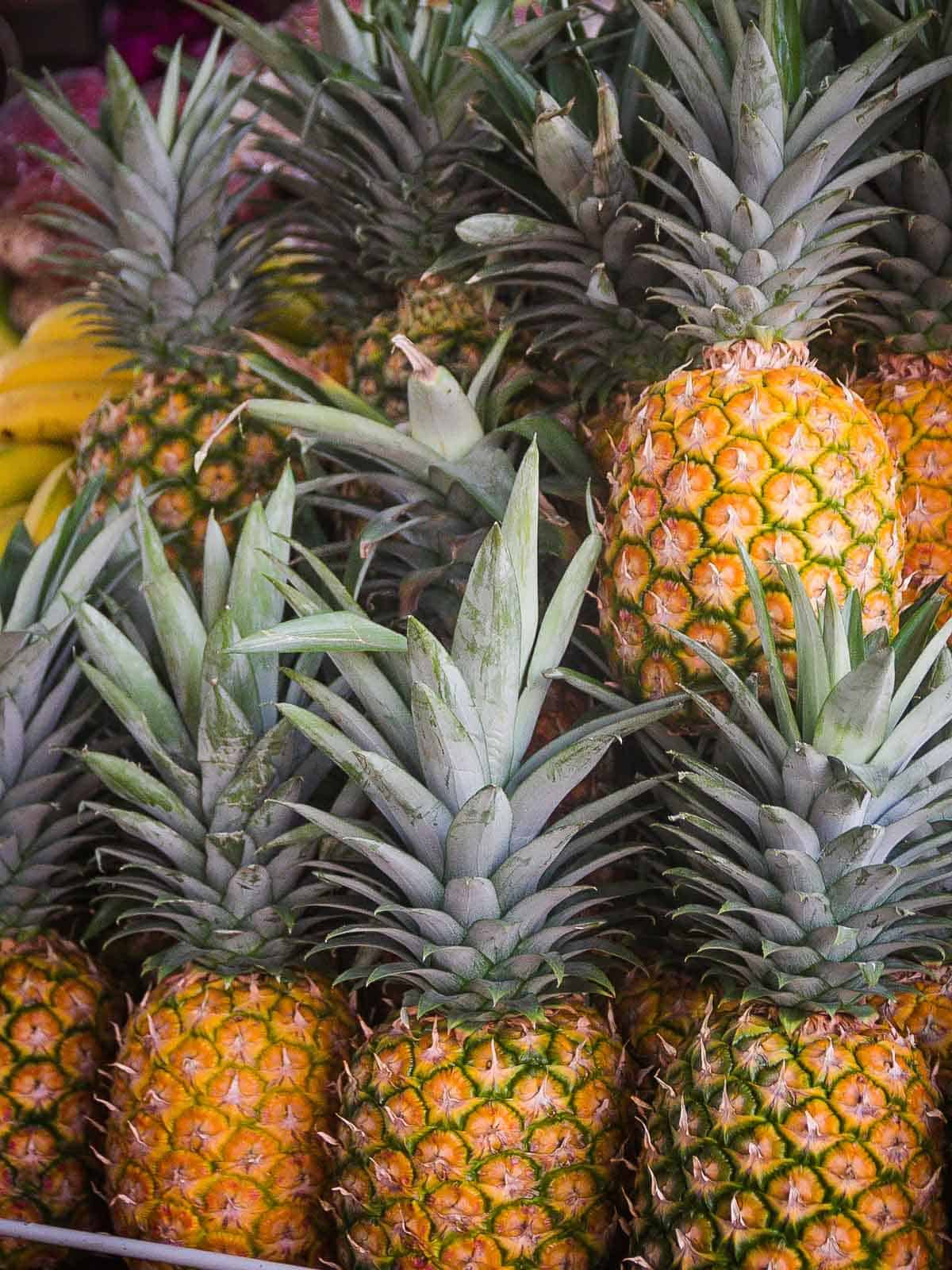 This tropical marvel of fresh Pineapple is that it contains immune-boosting vitamin C. It is also an excellent hydration powerhouse and provides natural sugars, thus providing a great energy source.
One cup serving of pineapples have several B Vitamins than most fruits, boost immunity, aid digestion, facilitates tissue growth, protects against heart disease, improves sex drive, help with wound healing, reduce inflammation, raises testosterone levels, and easily satisfy your sweet tooth, regulates blood sugar level, and help to fight against chronic diseases and high blood pressure.
The hydrating benefits of pineapple help to fight even the roughest hangover, when juiced. Along with other veggies like beets, they make great detox juices.
Pineapple is an excellent source of magnesium and potassium, both nutrients beneficial to sexual health. In addition, it helps to sustain stamina and aids in weight loss. See our Pineapple Cucumber Juice and smoothie for weight loss recipes to learn more.
To make the best of the health benefits of eating pineapples, it would make sense to have them as part of a healthy diet.
Pineapple benefits for women
Pineapple for women is particularly advantageous because it is high in Vitamin C. This magnificent antioxidant plays a significant role in supporting healthy bones and reducing the risk of osteoporosis.
Additionally, Pineapple provides copper and several Complex B vitamins that are important to consume during pregnancy.
If you don't have fresh Pineapple where you live, try adding frozen Pineapple to this delicious smoothie.
Pineapple benefits for men
The benefits of eating pineapple for a man are straightforward; pineapple is known as the "libido lifter" and has even been used to help with impotence.
In addition, this tangy fruit contains manganese, which supplements are often prescribed for improving sexual strength, especially among men as it elevates testosterone production and blood flow.
As the high levels of Vitamin C and thiamine, these tropical fruit contents promote hormones responsible for happiness and act as an energy booster.
These two factors that come together in this tropical fruit come to hand when things get warmer 🙂 – both of which come in handy in the bedroom.
Eating fresh pineapple is great for men's sexual health but historically has also been noted as an aphrodisiac for both women and men.
🥥 Benefits of coconut
Coconut is a great energy source, noted for boosting endurance. It's great for aiding digestion, and like carrots, it is loaded with carotene. It is also a great source of Vitamin E, Selenium, and fiber. For these reasons, it is excellent for combating high cholesterol, diabetes, and heart problems.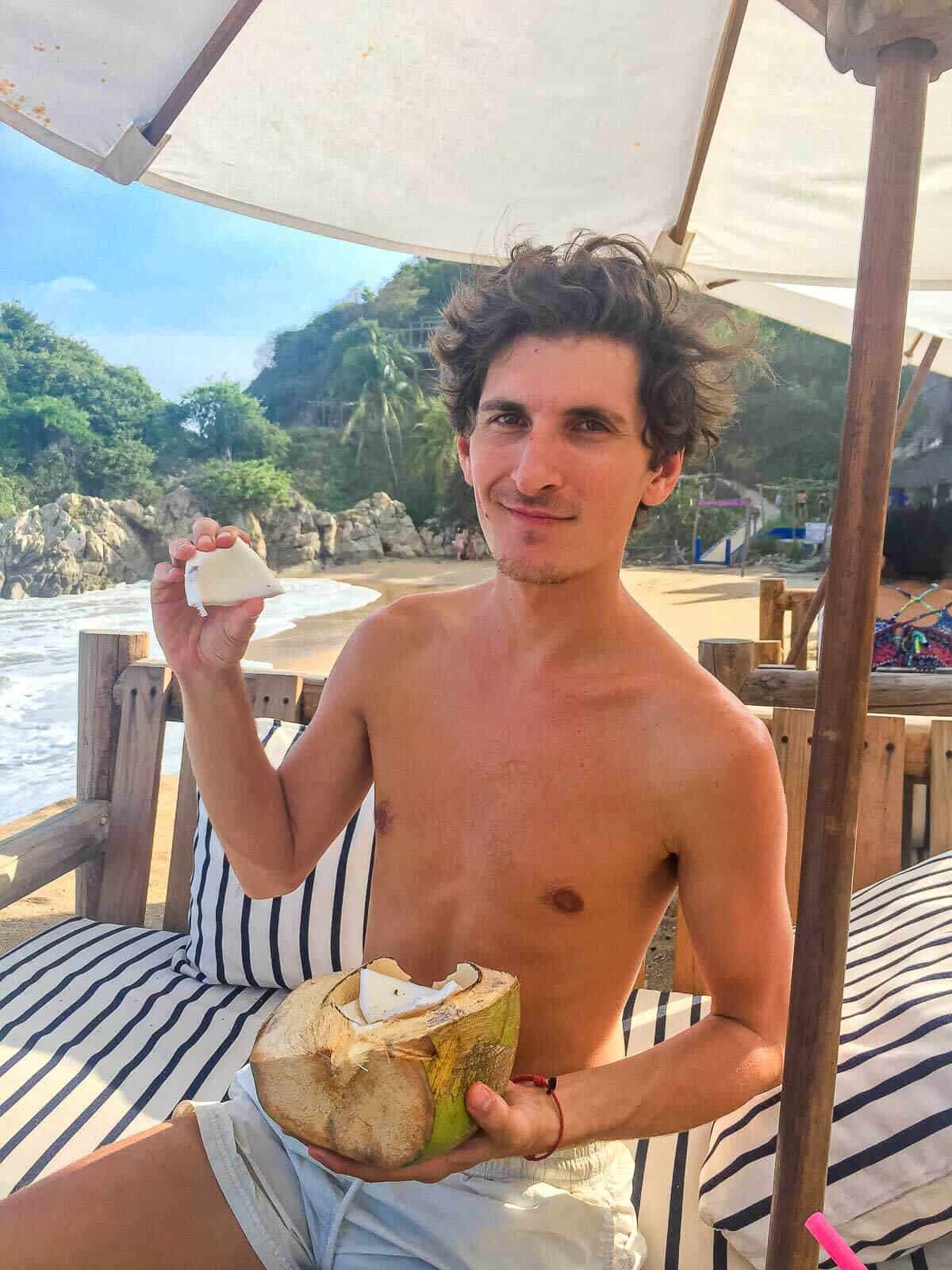 Coconut is also especially good for men's health.
As pineapples, coconut is a good source of manganese, which, as explained before, plays an essential role in men's sexual health. A lack of manganese in a man's diet will diminish his reproductive system.
So, Yes to Pina Coladas! We think they will make everyone happy!
🥤 More Smoothie Recipes
If you don't have a good blender, we think it is an excellent investment; we use it at least twice a day, and it's really worth it. Try some of our favorite smoothies:
If you like smoothies with pineapple, this strawberry smoothie is for you, it has no bananas or yogurt and is super creamy.
⭐ If you try this recipe, let us know! 💬 Leave a comment, rate it, and don't forget to tag us @ourplantbasedworld on Instagram. Cheers!
📋 Recipe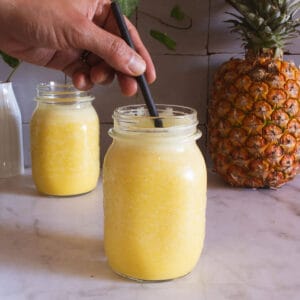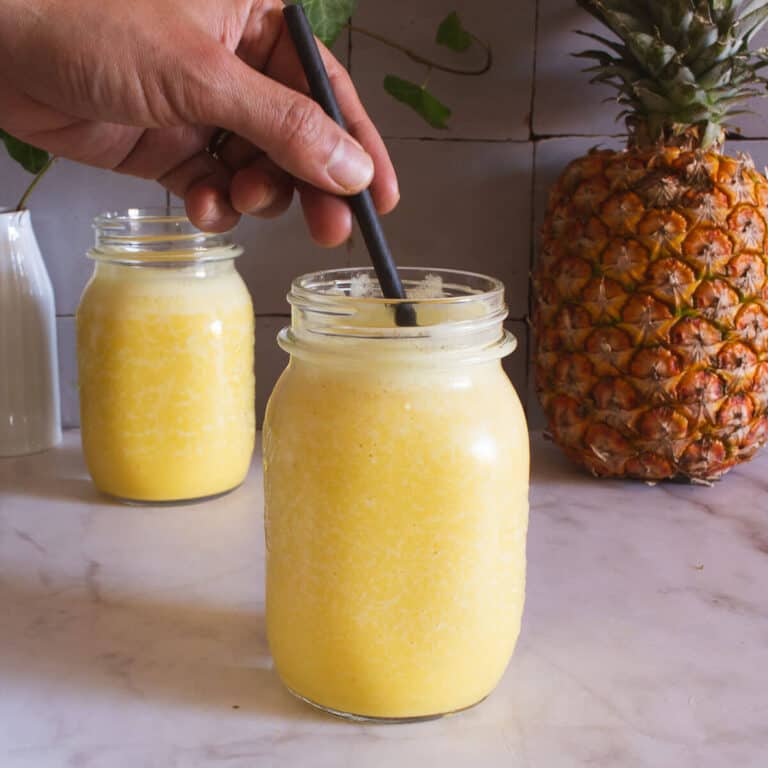 3-ingredient Pineapple Coconut Smoothie
Our simple Pineapple Coconut Smoothie requires just 3 ingredients: frozen ripe pineapple, coconut milk, and your preferred sweetener.
Equipment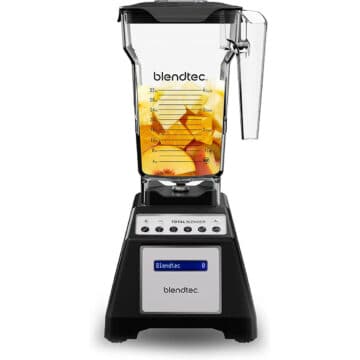 (affiliate link)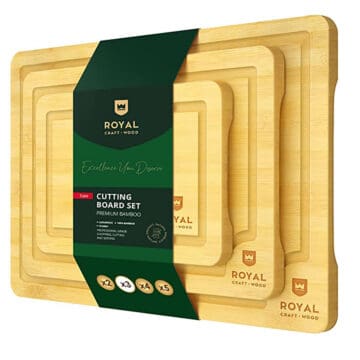 (affiliate link)
Ingredients
3

cups

pineapple

ripe, chopped and frozen

½

cup

coconut milk

canned or boxed

1 ½

cup

ice
Directions
Cut the pineapple into chunks.

Add the liquid ingredients first. This will help facilitate the blender to liquify the solid or frozen ingredients faster.

Taste and adjust flavors if needed. Add more coconut milk for creaminess or pineapple to thicken or agave syrup (optional) for additional sweetness.

Serve and enjoy frozen. Smoothie leftovers will keep in a covered mason jar in the refrigerator for up to 2 days, though best when fresh.
Notes
Boozy Piña Colada: you just need to add the rum 1 oz for a soft one and 2 oz for a strong one.
Protein Post Workout Drink: if you want to make it an even more healthy pineapple smoothie, just switch for light coconut milk and add a scoop of a plant-based protein powder. It can be plain, vanilla, or even hemp seeds.
Nutrition facts are calculated without the protein powder.
Adding the suggested protein powder adds 28 calories, 0 carbohydrates, and 5 grams of protein per serving.
Add agave or maple syrup for extra sweetness or extra dates. We like using dates because they have a ton of beneficial post-workout benefits.
Vegan Clean Protein: if using the clean protein powder

(affiliate link)

, add our 10% discount code OURPBWORLD10 at check-out to enjoy the benefit. (affiliate)
Nutrition Facts
Calories:
251
kcal
Carbohydrates:
38
g
Protein:
2
g
Fat:
12
g
Saturated Fat:
11
g
Sodium:
10
mg
Potassium:
394
mg
Fiber:
3
g
Sugar:
28
g
Vitamin A:
144
IU
Vitamin C:
119
mg
Calcium:
42
mg
Iron:
3
mg
Nutrition Facts
3-ingredient Pineapple Coconut Smoothie
Amount per Serving
% Daily Value*
* Percent Daily Values are based on a 2000 calorie diet.
🌡️ Food safety
Cook to a minimum temperature of 165 °F (74 °C)
Do not use the same utensils on cooked food, that previously touched raw meat
Wash hands after touching raw meat
Don't leave food sitting out at room temperature for extended periods
Never leave cooking food unattended
Use oils with a high smoking point to avoid harmful compounds
Always have good ventilation when using a gas stove
See more guidelines at USDA.gov.
Nutritional Disclaimer
The information shown is an estimate provided by an online nutrition calculator. It should not be considered a substitute for a professional nutritionist's advice. See our full Nutritional Disclosure here.
Affiliate Disclaimer
Please note that some of the links here are affiliate links, and I will earn a commission if you purchase through those links. I recommend all of the products listed because they are companies I have found helpful and trustworthy.