The weather is getting cooler, and the leaves are changing color. The holiday season is right around the corner! Whether you celebrate Thanksgiving or Christmas, pumpkin pie is a must-have on your table this time of year, and this is the only Pumpkin Pie Spice you will need.
Look no further if you want to make an amazing pumpkin pie this holiday season! Just start with the right food with this DIY pumpkin pie spice!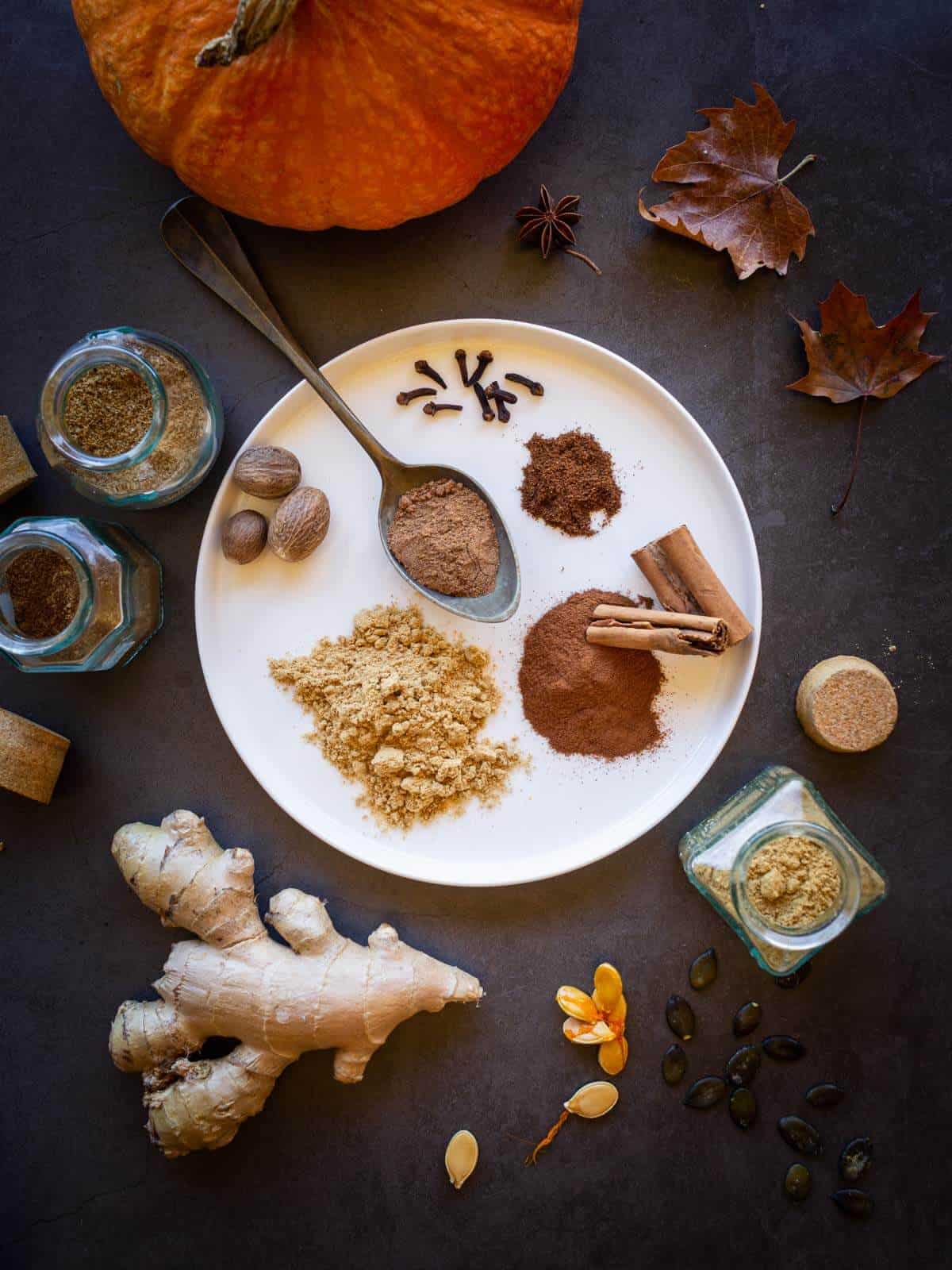 This is the best homemade pumpkin pie spice recipe that will take your home-baked goodies from ordinary to extraordinary.
🤔 What is in Pumpkin Pie Spice?
Pumpkin pie spices are a blend of different spices, including ground ginger, ground cinnamon, and nutmeg are the most common ingredients in many recipes for pumpkin pie spice, but there can be some variations. Depending on which seasonings they have on hand, some people may also add allspice into their spices mix, and ground cloves.
We are making a 4 ingredient spice mix, using cinnamon and ginger as the predominant flavors, followed by nutmeg and cloves.
🥧 History of Pumpkin Pie Spice
The first pumpkin pie spice recipe was published in American cookbooks around 1900. The mixture likely evolved from earlier recipes for pumpkin pie that called for a long list of spices to flavor the dish, including things like ginger, cloves, and nutmeg.
Although it was essentially a shortcut to improve the flavor of pumpkin pies, it soon became a popular spice blend in its own right.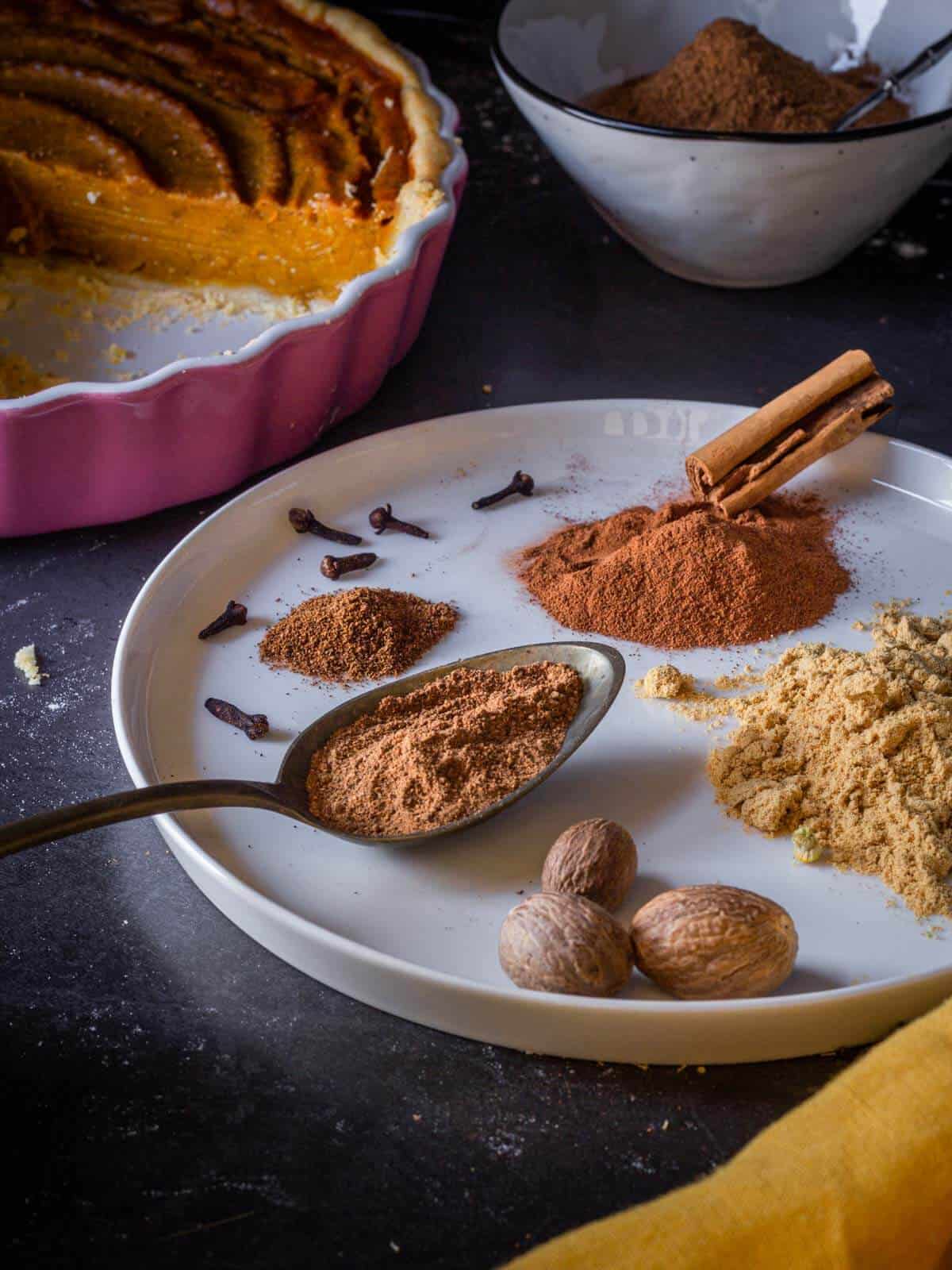 Thanks to its popularity and simplicity, it is easy to find this famous mix in the grocery store. However, there are many reasons why you might want to try making your pumpkin pie spice from scratch!
For example, freshly made spice blends have a more potent flavor than store-bought. In fact, making your own pumpkin pie spice blend can be cheaper than buying a small jar at the local grocery store. Many people love to give homemade food items as Christmas gifts, especially if they are easy to make in large batches.
Also, the prep time is minimal, as you only need to put the right proportion of ingredients together and store them in an airtight container.
Curious about cooking with pumpkin? It is super easy!
🧾 Ingredients
You need only common spices. The only ingredient that might be more difficult to get is allspice, which we exclude as we don't think is required, and pumpkin spice blends usually consist of only these ingredients.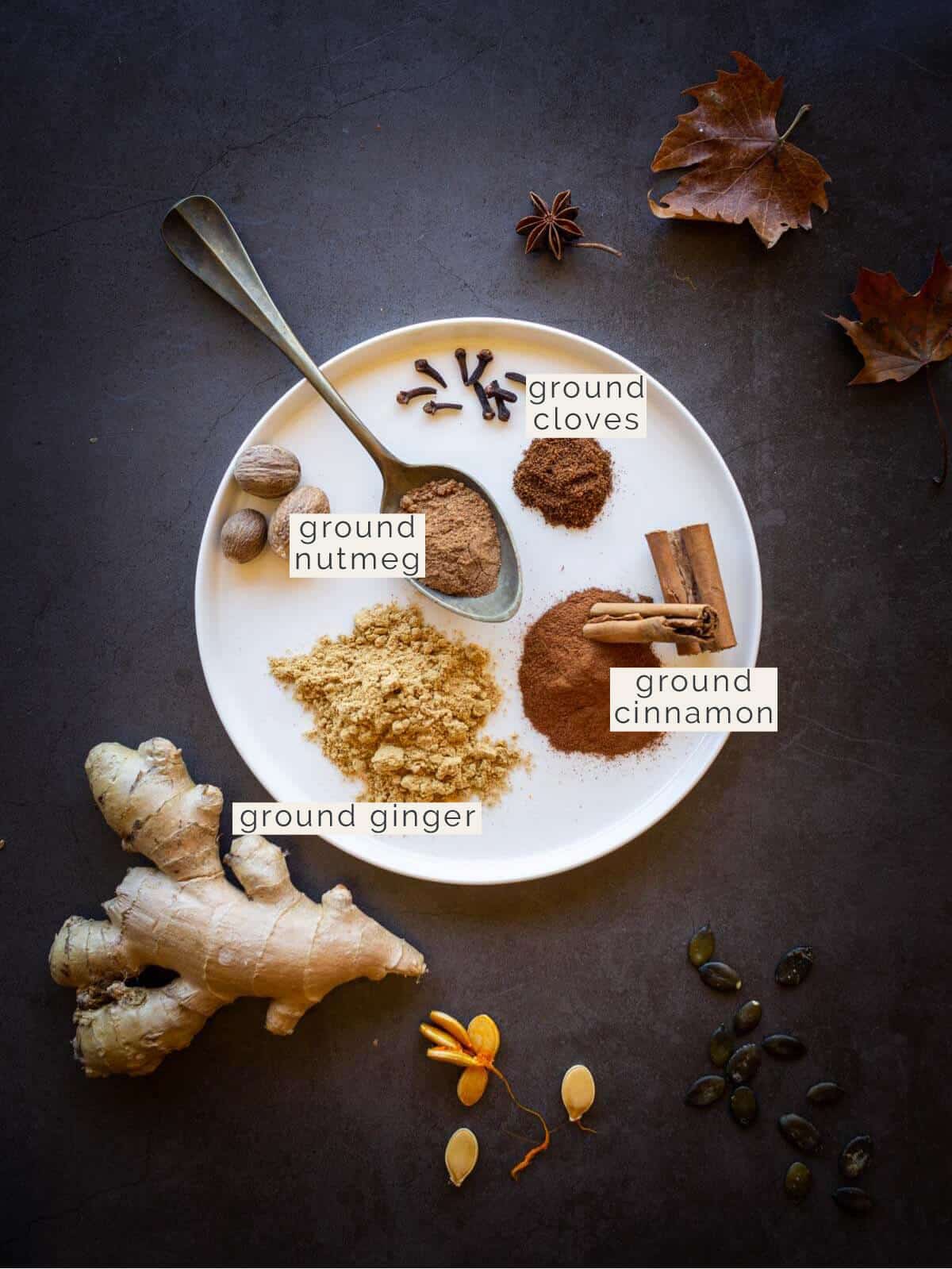 ground cinnamon
ground ginger
ground nutmeg
ground cloves
Other spices: optionally, you can add a pinch of ground allspice.
*all the spices should be ground spices. If you don't have a spice grinder use a coffee grinder or a blender. You can use this for all kinds of baked goods. Happy Holiday baking!
Hint: we don't recommend grinding cloves, as they have a resin that will irreversibly stain your grinder machine's plastic or acrylic.
🧐 How to Make Pumpkin Pie Spice Recipe
The following homemade spice recipe makes about 8 teaspoons of pumpkin pie spice, enough for several pies.
Pumpkin pie spice yield: our vegan pumpkin pie recipe calls for around 3 teaspoons of pumpkin pie spice. So, if you follow the quantities, you will have enough to make 2 pies, plus enjoy your homemade pumpkin spice with overnight oats, pumpkin pancakes, your homemade granola, vegan banana bread, or your pumpkin spice latte.
You can even use it in savory dishes like Pumpkin hummus.
If you want to stock on it (as we normally do), multiply the amounts by how much pumpkin pie spice you want. There is a multiplier function below in the recipe card.
Combine all the ingredients in a small bowl to create your own pumpkin pie spice mix. Store it in an airtight container to keep it fresh for as long as it lasts.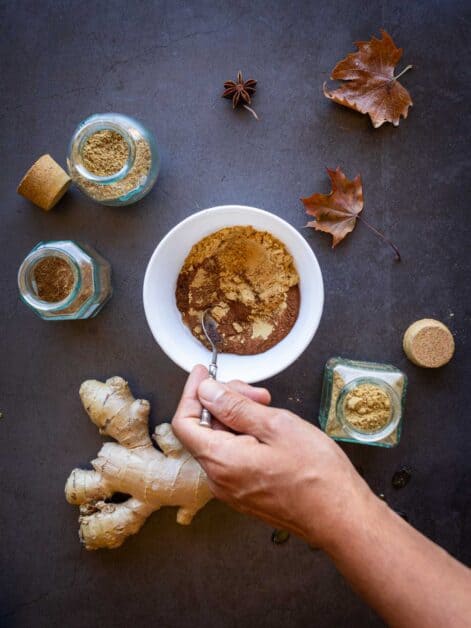 Hint: we use pumpkin pie spice often during the fall and holidays season, so we prefer making a big batch of the best pumpkin pie spice to save time while making recipes that call for the same individual spices, which is very common. We love using it as a replacement for cinnamon on our unsweetened applesauce, to give it a more interesting twist.
Take a look at our Vegan No-Roll Pie Crust.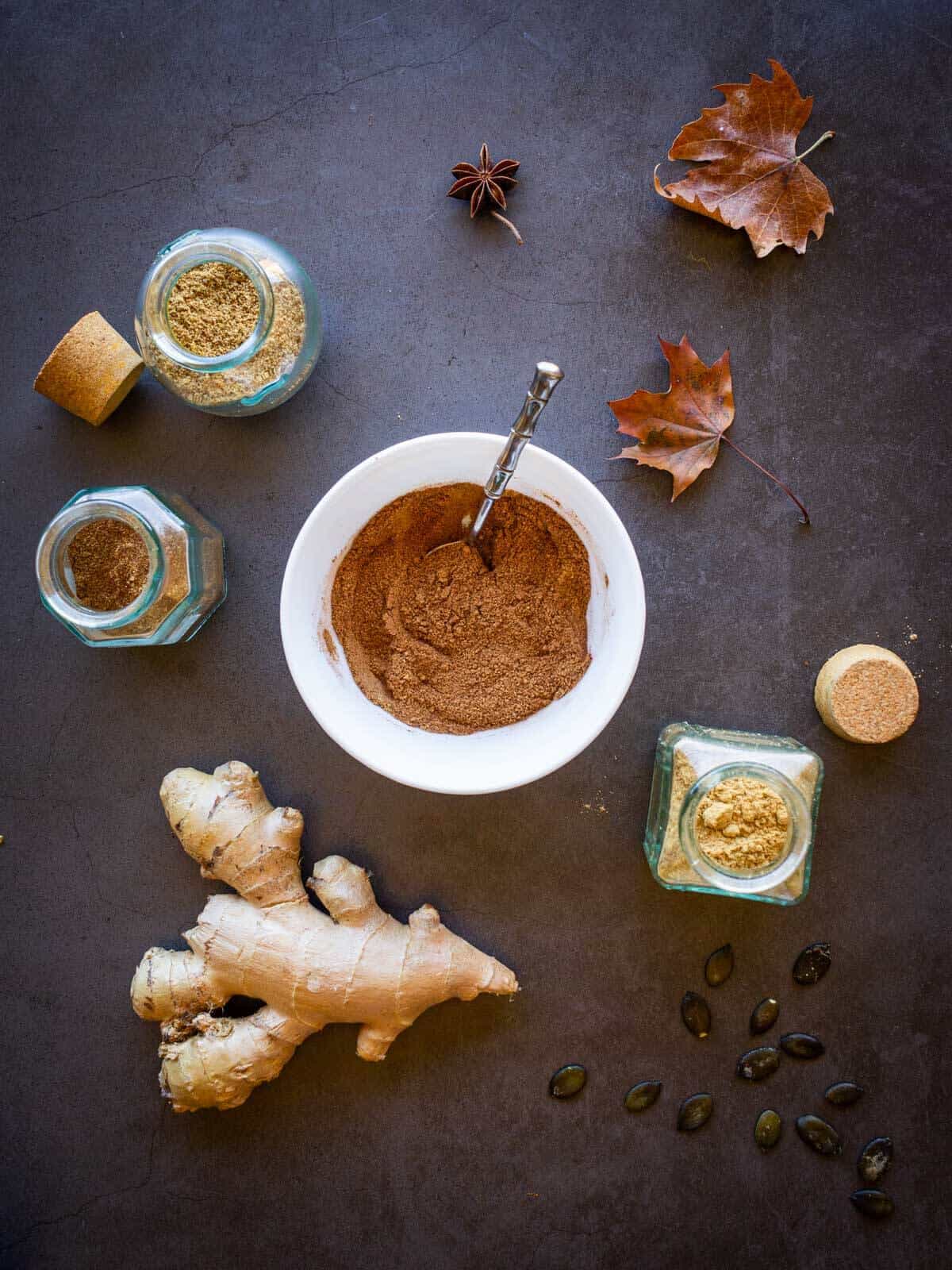 🫙 Storing
To keep the spices fresh between uses, store them in a sealed container away from direct sunlight and heat. If you plan on using pumpkin pie spice regularly, consider making large batches of the whole or part of the pumpkin pies spice recipe to save time.
Now that you know how to make this easy recipe (and more about spices) go ahead and make this for your next pumpkin pie!
📚 Recipes using Pumpkin Pie Spice seasoning
The obvious recipe for using your homemade pumpkin pie spice is the Vegan Pumpkin Pie bake. Still, there are lattes, overnight oatmeal, breads, spinach smoothies, and warm dishes like a Sweet Potato Crunch casserole. The list is never-ending, as the flavors present in pumpkin spices are very common on several Fall and Holiday dishes.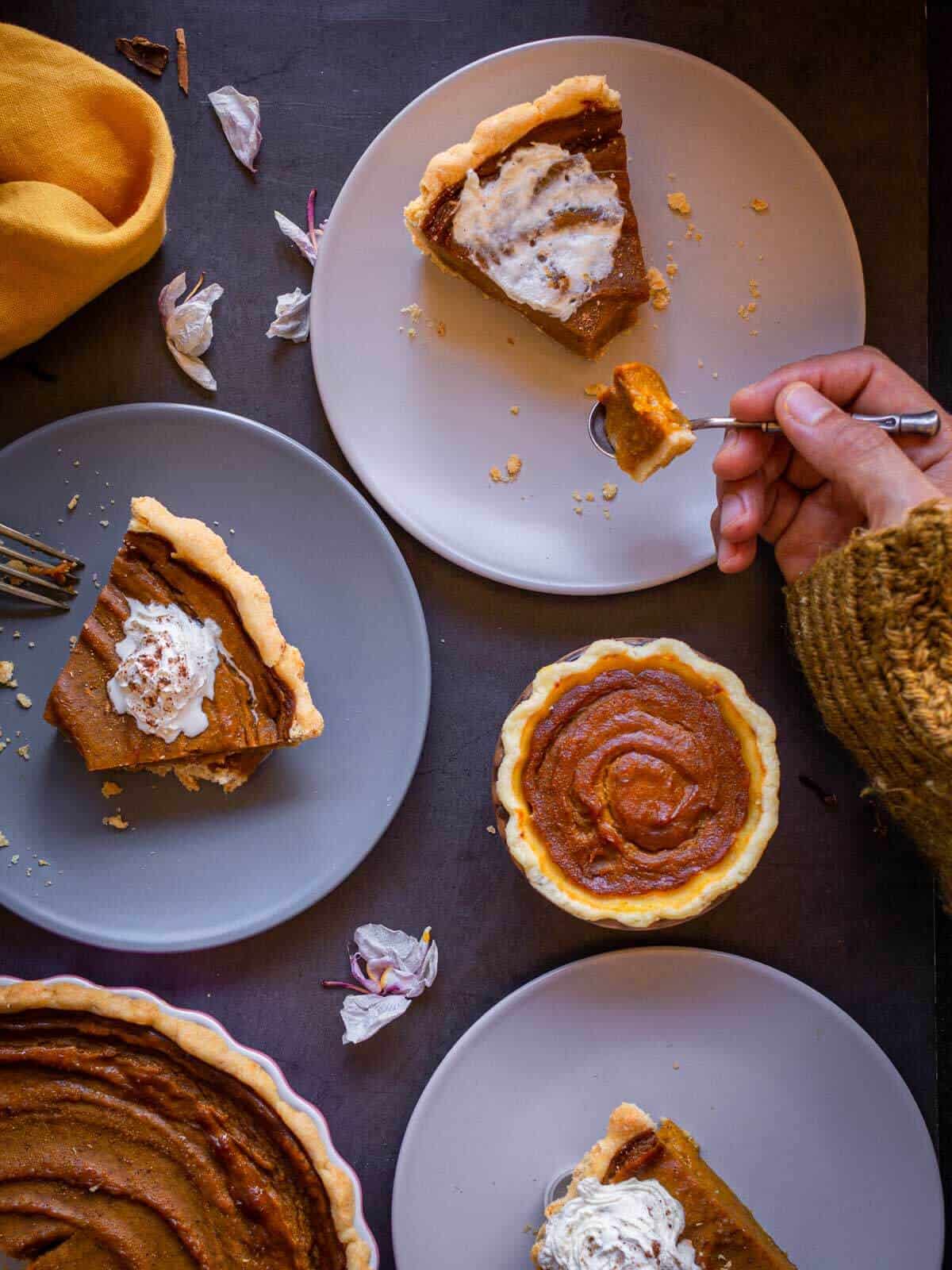 We like eating our Holiday Season pumpkin pie with some coconut whipped cream and sprinkle pumpkin pie spice on top.
It's a popular ingredient for fall wintersweet treats, including pumpkin pie, and works great in other dishes.
There are many tasty options: baked goods like coffee cakes, scones, or apple cookies.
❓ FAQ
How long does nutmeg last?
Nutmeg is a spice that can last for quite some time, although the timeframe depends on how you store it. If stored correctly, nutmeg should be good for up to five years from the date of purchase.
In terms of open storage in your kitchen pantry or cupboard, whole nutmegs should last anywhere from six months to one year before their flavor decreases significantly. Ground nutmegs are more vulnerable and will only stay potent for about three months - after that point, their aroma and taste will begin to fade more quickly.
To help extend shelf life, make sure your ground nutmeg is closed tightly after every use; this will also help preserve its potency as well as keep away any unwanted moisture or pests!
🧂 Benefits of consuming spices
Spices add flavor and variety to food, but they also offer additional health benefits. Many spices can reduce the risk of certain diseases and conditions. Some possible ways in which spices may affect your health include: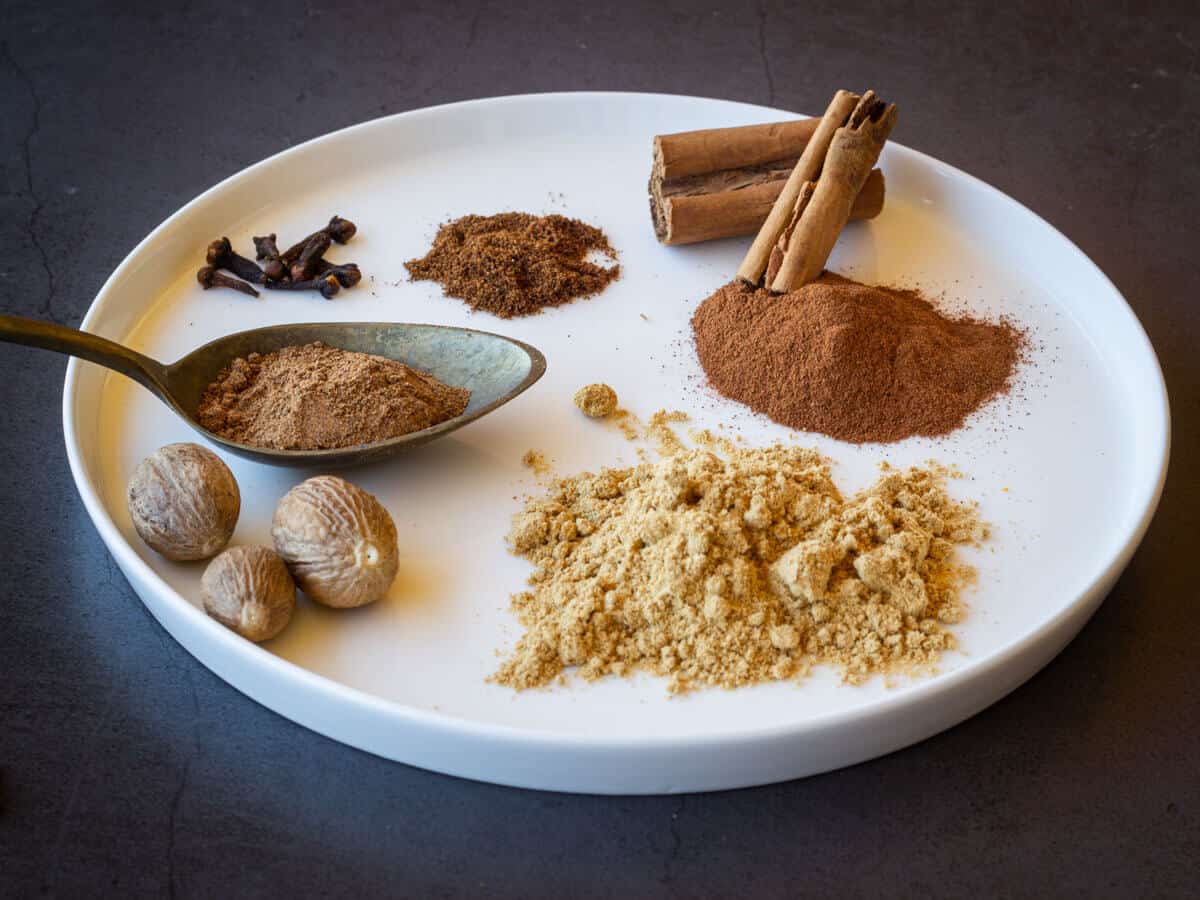 Aiding in weight loss: Spicy foods might speed up metabolism, so they can contribute to weight loss by increasing calorie burn. If you want to lose weight, consider adding more spices and seasonings to your meals.
Fighting inflammation: Spices with anti-inflammatory compounds might have benefits for people with chronic diseases that feature inflammation, such as arthritis or inflammatory bowel disease. Some possible anti-inflammatory spices include ginger, turmeric, cinnamon, black pepper, garlic, and cloves.
Improving gut health: Spices used in traditional cultures for digestive disorders are reported to help in the function of gut microbiota. The consumption of these spices can increase beneficial bacteria in the microbiome, thereby benefiting mental health and well-being.
Benefits of Cinnamon
Cinnamon is one of the most popular spices out there. It contains powerful antioxidants called polyphenols that help reduce inflammation in the body.
Cinnamon also has anti-clotting effects, improving circulation and protecting against some cardiovascular problems.
Many studies have found the benefits of cinnamon on blood sugar control in people with diabetes. However, some people find that cinnamon can cause a spike in blood sugar levels, especially diabetics and those sensitive to blood sugar fluctuations.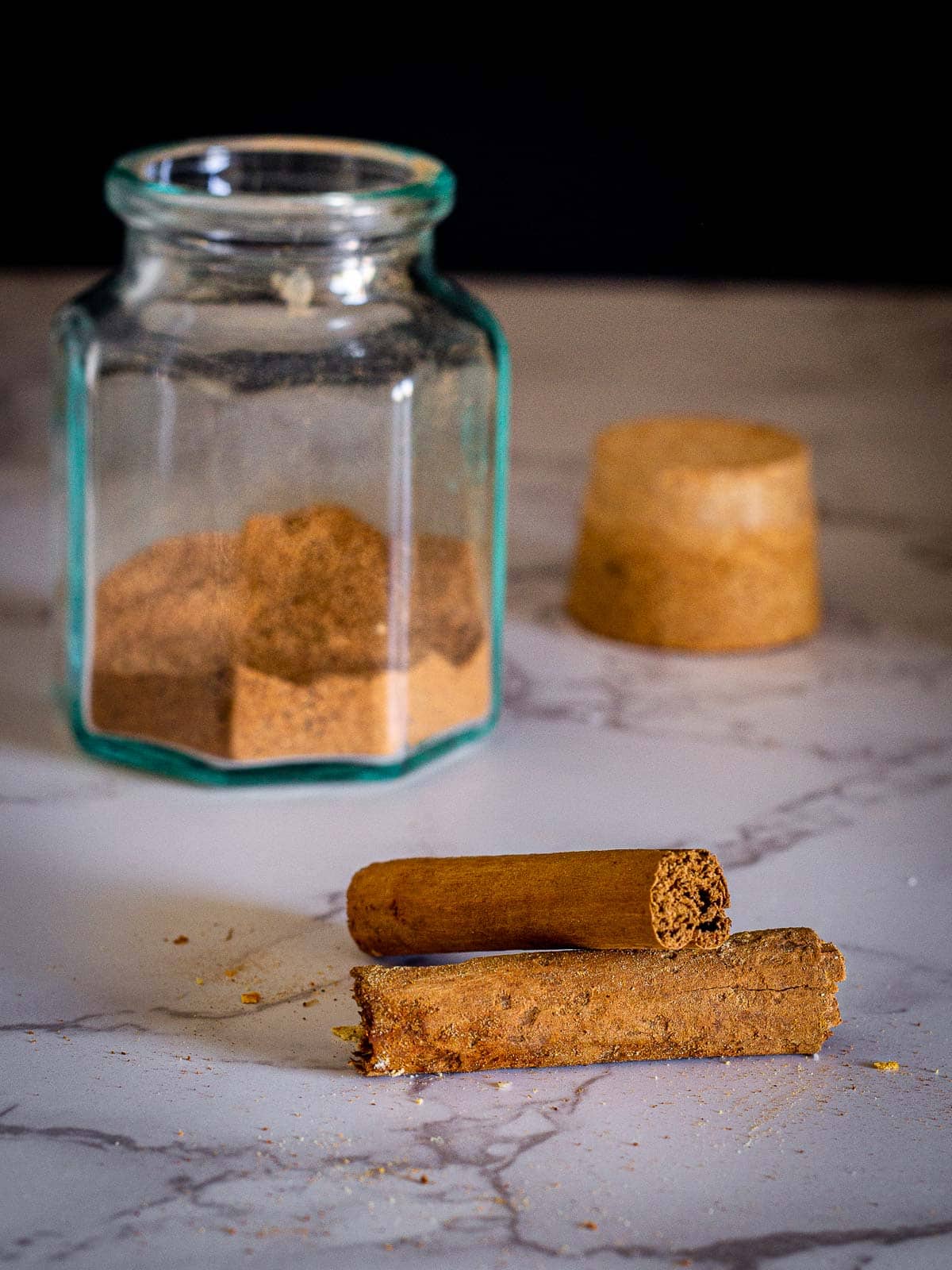 Benefits of Ginger
Ginger is one of the most versatile spices. It has powerful anti-inflammatory effects that help fight flu symptoms, reduce arthritis pain and lower cholesterol. The active compounds in ginger are thought to have significant antiemetic properties, meaning they can suppress nausea and vomiting.
Some studies have shown ginger to be just as effective as medication when controlling nausea or vomiting after surgery.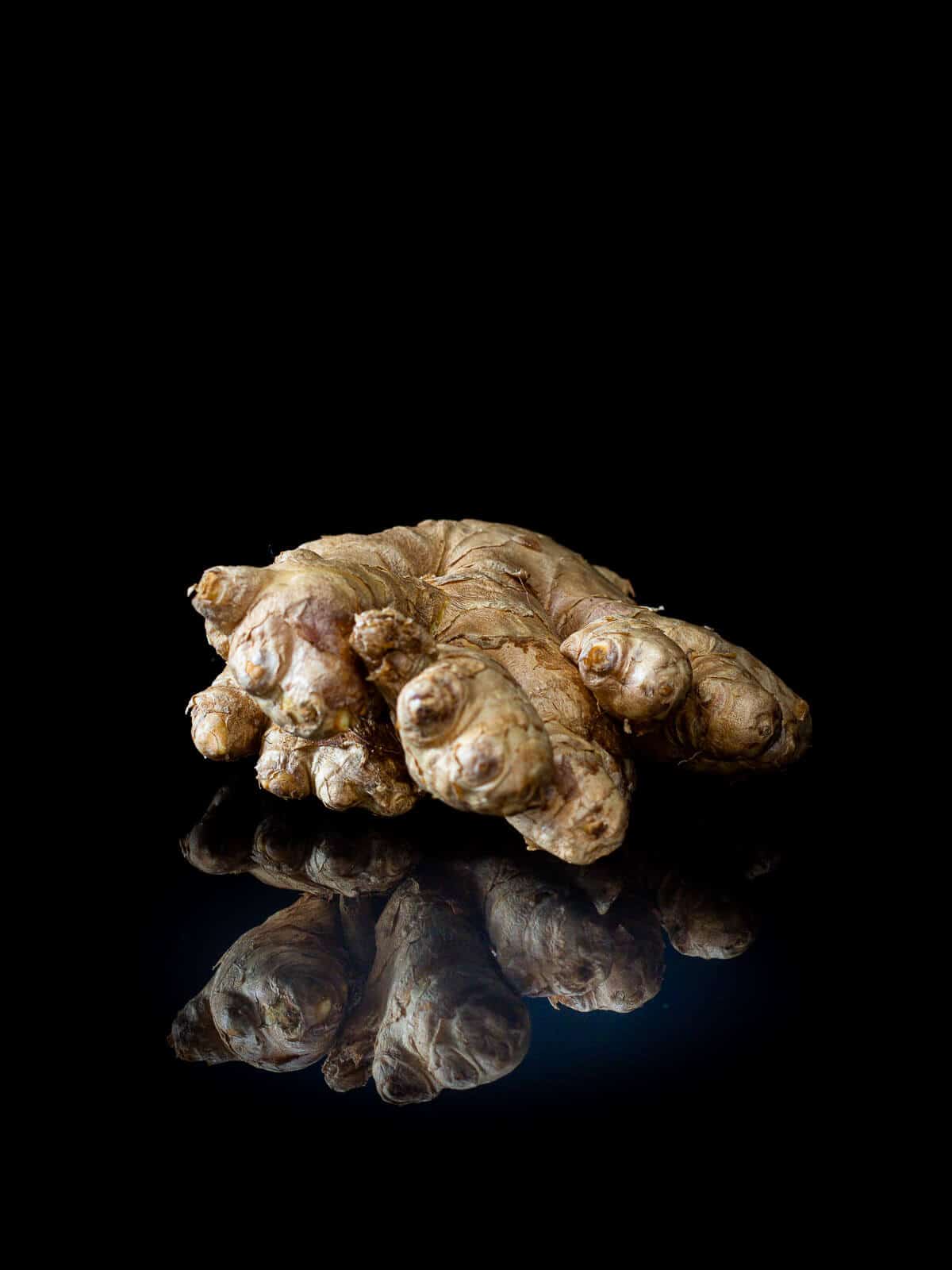 Benefits of Nutmeg
Nutmeg is a popular baking spice. It is high in manganese, fiber, and vitamin C, all essential for health. For example, the body needs manganese for blood clotting and building bones.
Since nutmeg is high in fiber, it can help relieve constipation. Many studies have focused on the benefits of nutmeg for memory improvement and Alzheimer's disease prevention.
Benefits of Cloves
Cloves are used to season foods but also have some medicinal properties. They contain eugenol, a compound that acts as an antiseptic and has anti-inflammatory properties. Cloves also contain antioxidants that can reduce inflammation throughout the body. Recent studies have found that cloves might lower blood pressure, fight cancer cells and relieve pain.
Ask for a cup of coffee with pumpkin pie spices syrup instead of regular maple syrup to save 120 calories and 18 grams of sugar per serving!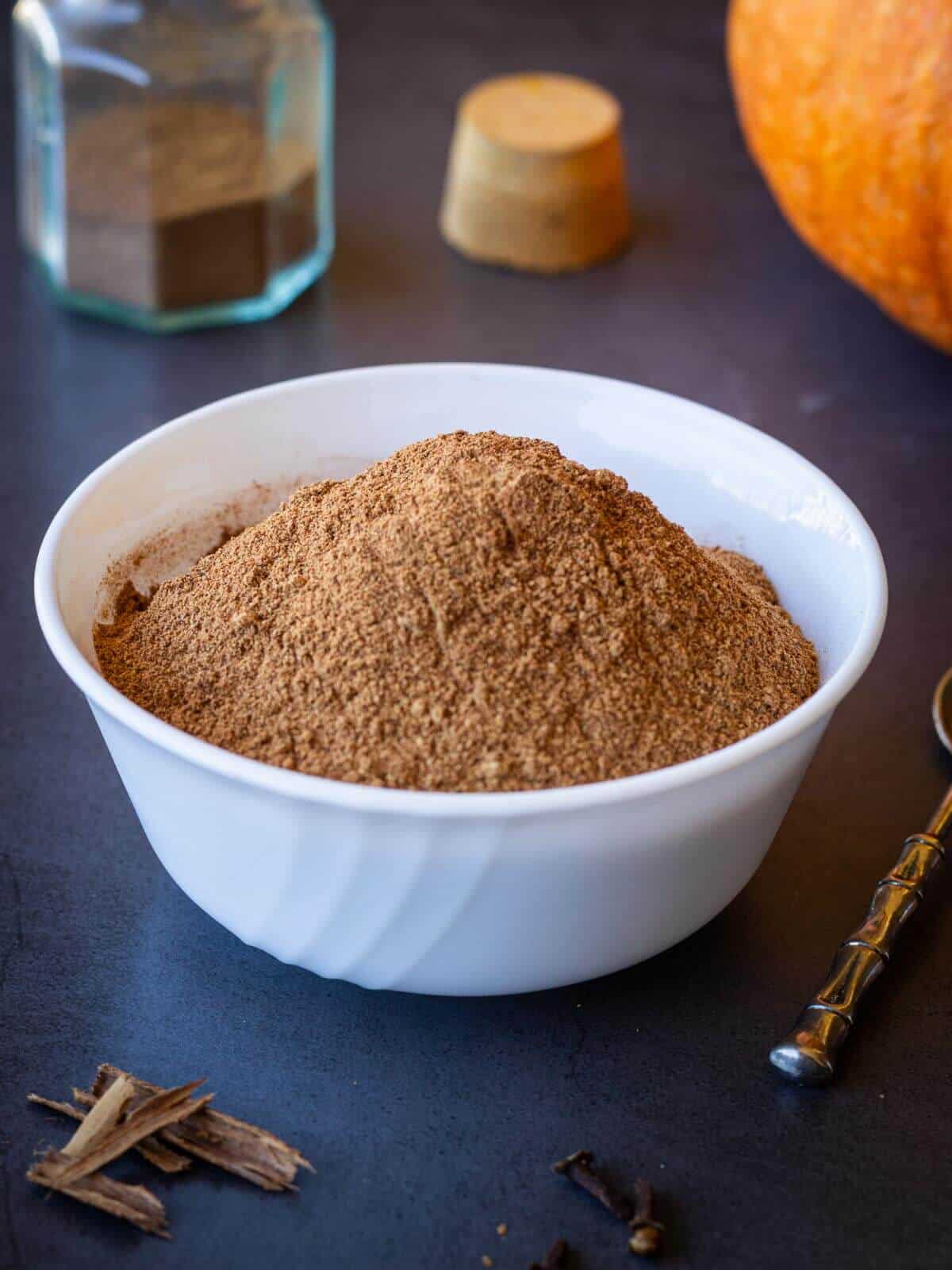 It is easy to make your spice mix at home; instead of buying pre-made pumpkin mixes, you can store them for months and use them in many dishes, from breakfast and beverages to the most decadent and festive holiday desserts.
⭐ If you try this recipe, let us know! 💬 Leave a comment, rate it, and don't forget to tag us @ourplantbasedworld on Instagram. Cheers!
📋 Recipe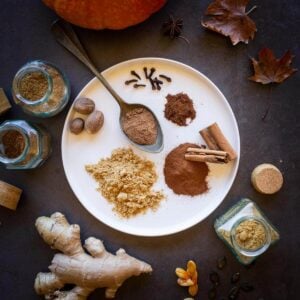 Pumpkin Pie Spice
Make homemade pumpkin pie spice mix for fall and holiday season recipes. This homemade pumpkin pie spice recipe is super easy to make and is a great gift for the holidays. Mix it up in just a few minutes!
Directions
Combine all the ingredients in a small bowl to create your own pumpkin pie spice mix.

¾ teaspoon cinnamon,

¾ teaspoon ginger,

¼ teaspoon nutmeg,

⅛ teaspoon cloves

Store it in an airtight container to keep it fresh for as long as possible.
Nutrition Facts
Calories:
2
kcal
Carbohydrates:
1
g
Protein:
1
g
Fat:
1
g
Saturated Fat:
1
g
Polyunsaturated Fat:
1
g
Monounsaturated Fat:
1
g
Sodium:
1
mg
Potassium:
4
mg
Fiber:
1
g
Sugar:
1
g
Vitamin A:
1
IU
Vitamin C:
1
mg
Calcium:
2
mg
Iron:
1
mg
Nutrition Facts
Pumpkin Pie Spice
Amount per Serving
% Daily Value*
* Percent Daily Values are based on a 2000 calorie diet.
🌡️ Food safety
Cook to a minimum temperature of 165 °F (74 °C)
Do not use the same utensils on cooked food that previously touched raw meat
Wash hands after touching raw meat
Don't leave food sitting out at room temperature for extended periods
Never leave cooking food unattended
Use oils with high smoking points to avoid harmful compounds
Always have good ventilation when using a gas stove
See more guidelines at USDA.gov.
The information shown is an estimate provided by an online nutrition calculator. It should not be considered a substitute for a professional nutritionist's advice. See our full Nutritional Disclosure here.
Please note that some of the links here are affiliate links, and I will earn a commission if you purchase through those links. I recommend all of the products listed because they are companies I have found helpful and trustworthy.