The Best Tofu Scramble Recipe; it's easy, hassle-free, delicious, versatile, and fast! Are you looking for a vegan breakfast that is both healthy and delicious? If so, then you need to try tofu scramble! This dish is made with tofu, onion, and spinach, and it can be served with toast or a bagel. Tofu scramble is perfect for those who are looking for a nutritious meal that doesn't take long to prepare.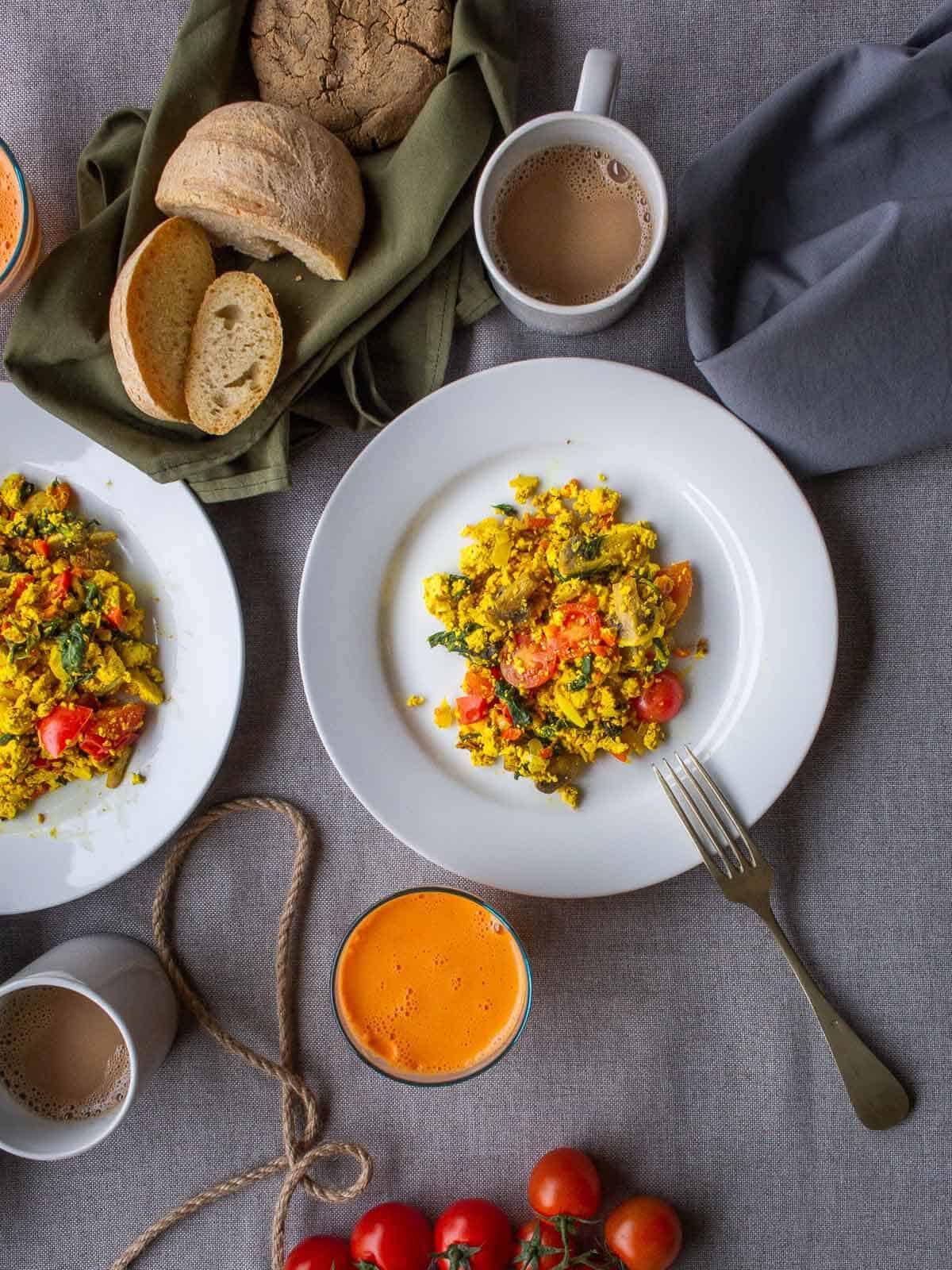 Eating scrambled eggs was very regular for us before embracing a vegan lifestyle and a plant-based diet.
We enjoy working out very much and stuck to our regular scrambled eggs breakfast for a long time after leaving meat behind. Having egg whites for dinner or even as a post-workout meal as usual.
We decided to try different tofu scramble recipes and stumbled towards different versions. The texture was there, but we still lacked some flavor.
Don't get me wrong. I am not saying this tastes like real scrambled eggs; I am saying that we lacked the protein and deliciousness of an egg scramble without sacrificing flavor, as this super tasty recipe doesn't have any flavor.
If you miss scrambled eggs or simply want to try something different, this basic tofu scramble recipe is for you, and don't forget to try out the hashbrown casserole version of it!
Read on: High-Protein Vegan Meals »
Jump to: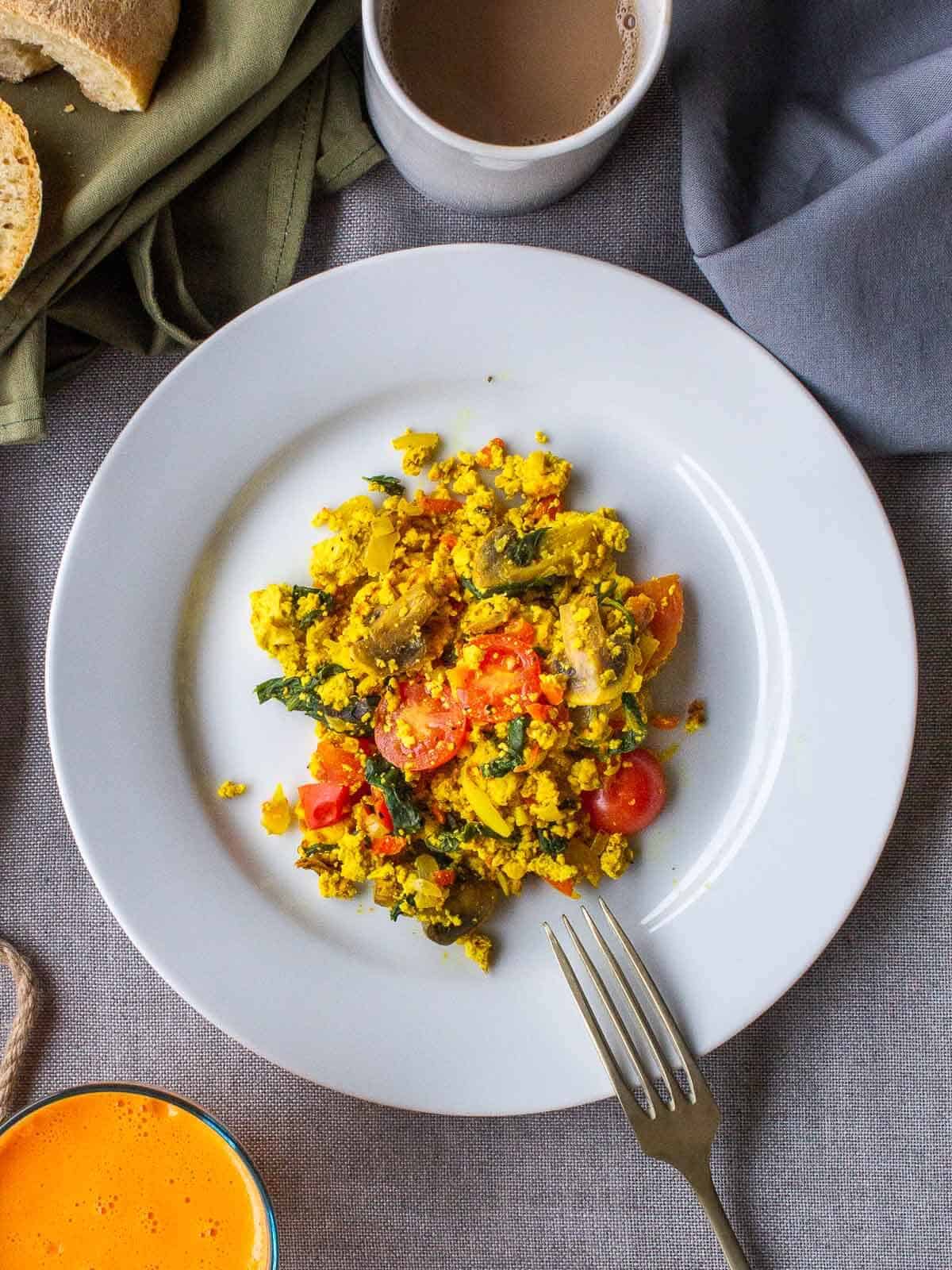 We tried different things. I mixed and matched and have stuck to this recipe for over five years.
It is delicious, and it is very versatile. We use whatever combination of vegetables we typically use on eggs, a tofu base, nutritional yeast, mild mustard, and turmeric.
It is oil-free, cholesterol-free, and full of anti-inflammatory properties, brought to you by turmeric as a bonus.
🧾 Ingredients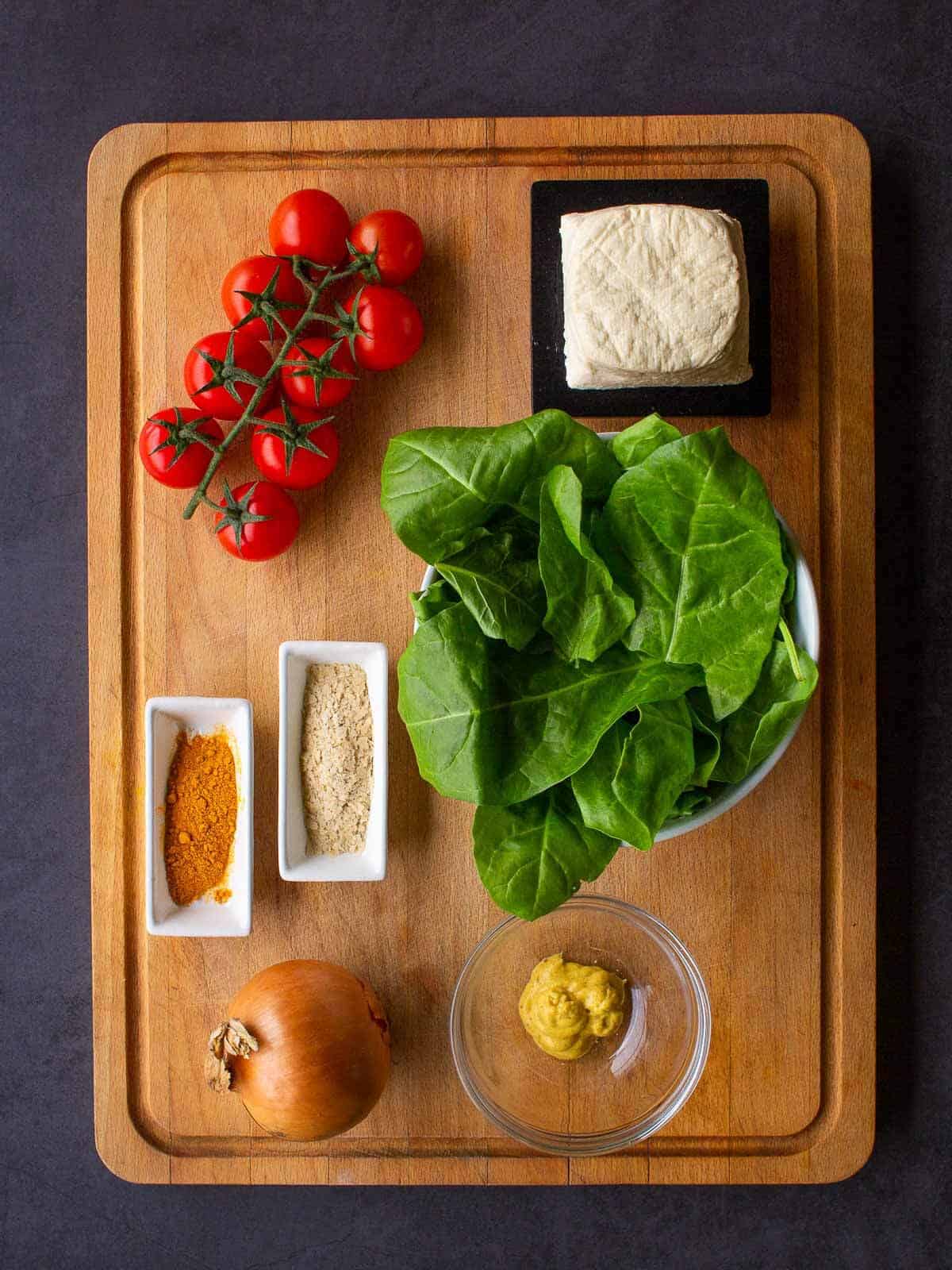 Extra-firm tofu (or silken tofu)
Nutritional yeast
Dijon mustard
Ground turmeric
Baby spinach
Chopped onion
Cherry tomatoes
Salt and black pepper to taste
Optional: olive oil.
Additional Suggested Ingredients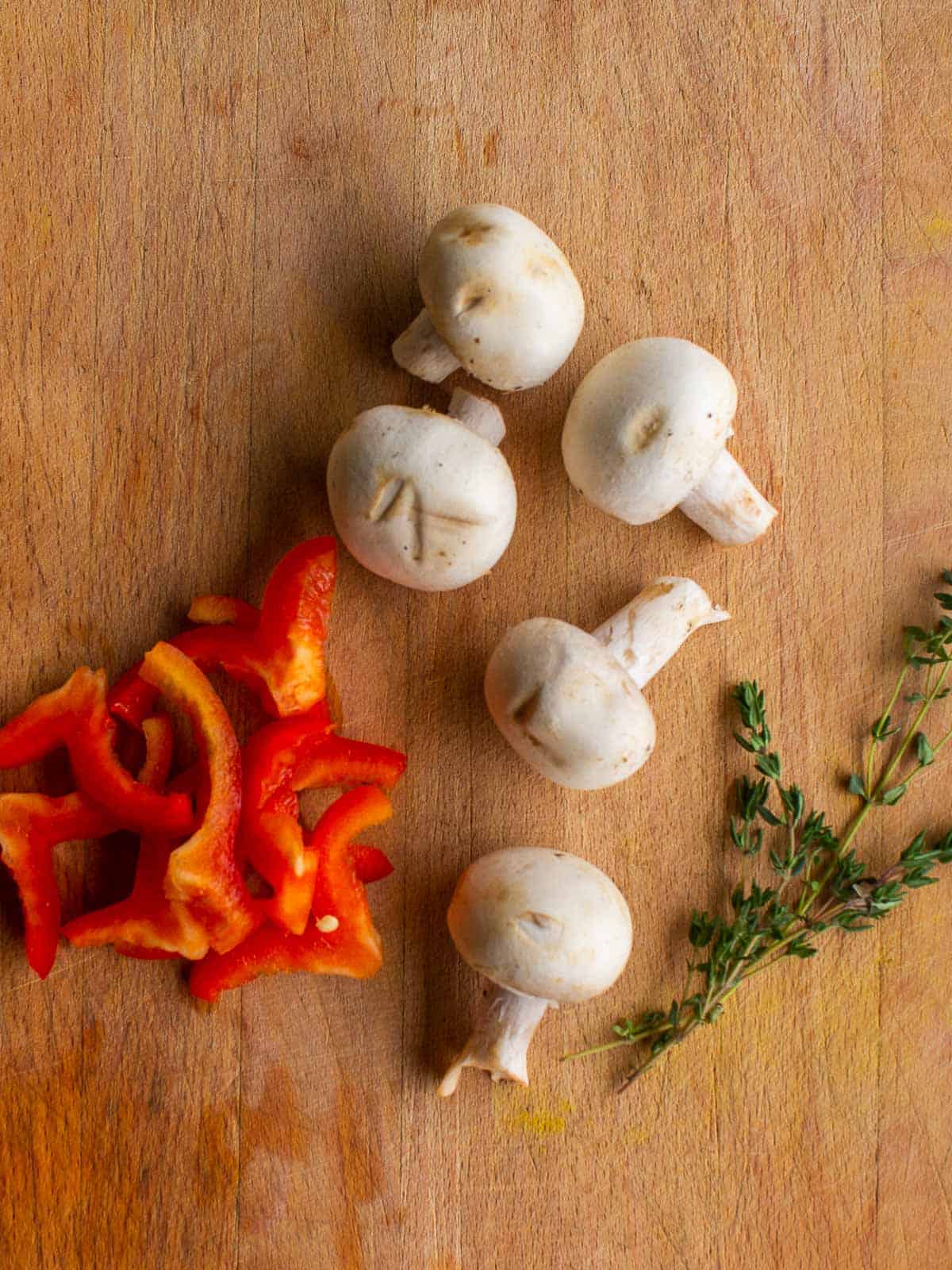 Thyme
Sliced mushrooms
Red bell pepper or chili powder
Pinch of garlic powder or one minced garlic
Hot sauce or lemon juice
🔪 Instructions
Prepare the ingredients
Finely chop the onion and any other veggies you decide to use.
Crumble the tofu with your hands.
Cook
In a skillet or frying pan, stir fry the chopped onion using olive oil or vegan butter on medium heat. If using red peppers, add them now.
As soon as it is soft, add crumbled tofu, followed by fresh spinach and the remaining veggies, stirring occasionally. I always leave the spinach to the end, as it wilts quickly.
Add the nutritional yeast, mustard, ground turmeric, freshly ground pepper, and salt to taste.
Cook tofu until lightly browned.
Serve
Immediately serve with a toast of artisan bread, a piece of baguette, or breakfast potatoes.
🍶 Substitutions
Onions - you can replace them with chopped red onion, green onion, shallots, or even onion powder.
Thyme - use oregano instead.
Tofu - instead of using firm tofu, you can use silken tofu; the result will be a much softer and creamy texture. Just as the eggs can be cooked to be very creamy rather than crumblier, you can achieve the same results with tofu scrambles depending on the type of tofu you pick.
Eggy taste - you can use Himalayan black salt to have a unique flavor because of its sulfur. People say they taste is like hard-boiled eggs. It gives food a savory, umami taste. This salt is often used in dishes that don't have eggs to give them a similar flavor.
Turmeric - you could use curry powder instead.
🥢 How to serve
You can have your vegan tofu scramble as a savory breakfast with sliced avocado and toasted bread. We love having a good piece of Italian rustic bread, an easy bread loaf that you will love to make.
You can also pair your tofu scrambled eggs with our delicious carrot bacon recipe for a magnificent healthy breakfast that everyone will surely love.
If you like flour tortillas, you can easily use this tofu eggs recipe with vegan cheese to make a delicious vegan breakfast burrito or breakfast tacos.
🤔 Benefits of turmeric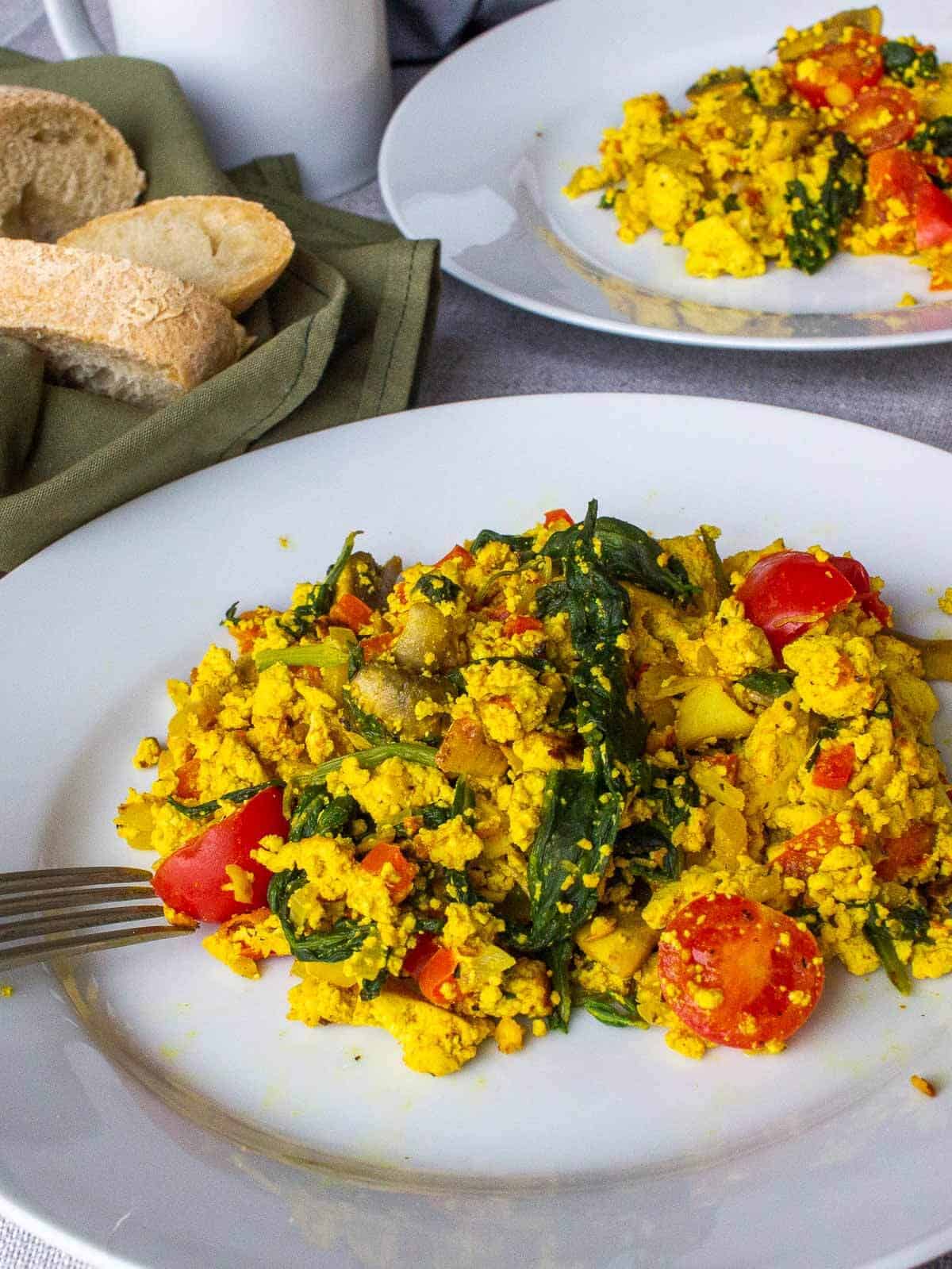 Turmeric has been used in Ayurvedic medicine for thousands of years to treat joint pain, fatigue, and digestive issues, amongst other conditions.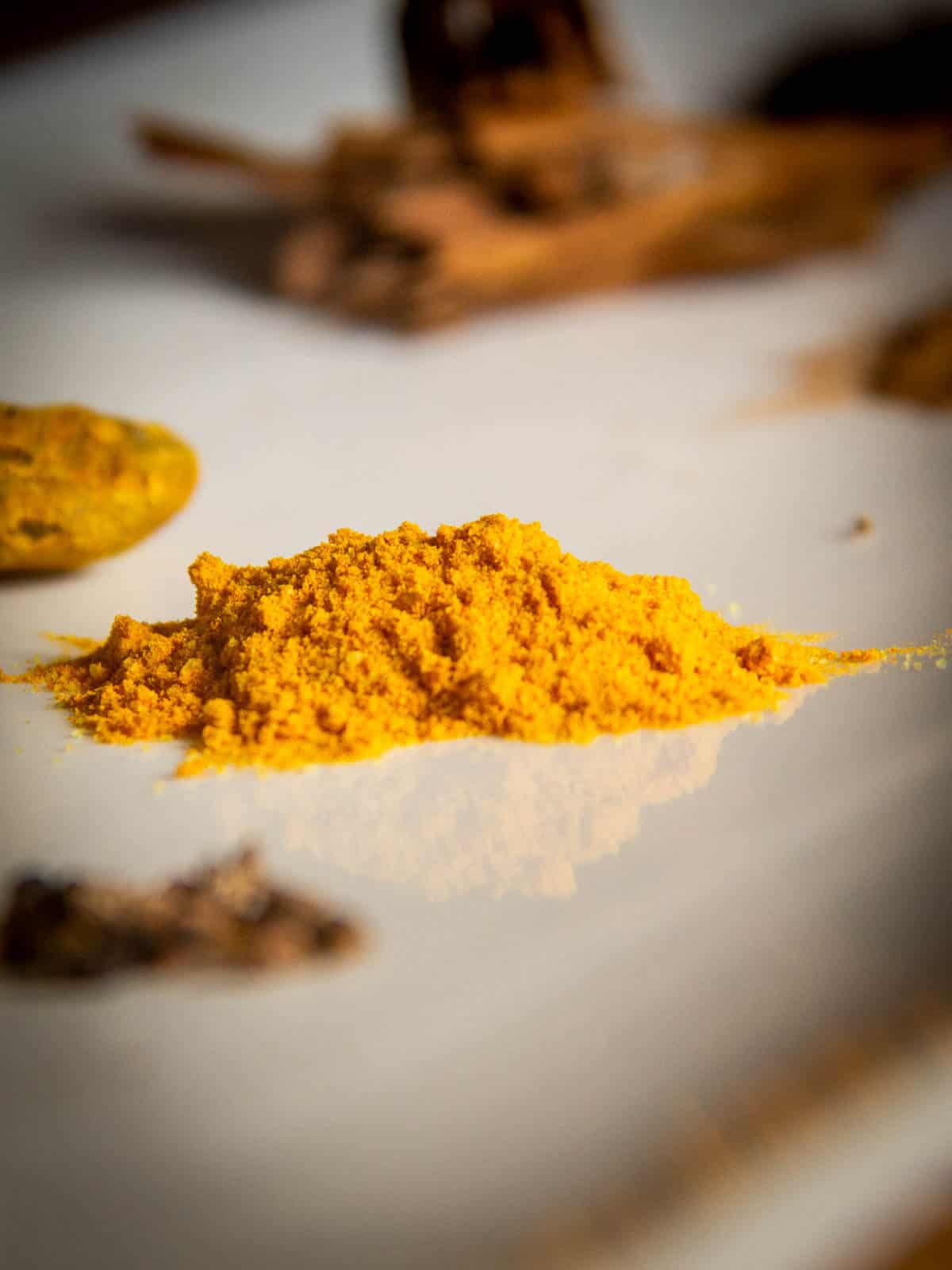 Modern research also suggests that turmeric is a potent antioxidant, heart disease-fighting, and has anti-cancer effects.
Learn how to consume more turmeric with this morning time lemon, ginger, and turmeric tea.
🥐 More vegan breakfast recipes
Want more delicious vegan recipes?
We love making chia puddings and overnight oats; if you haven't tried them or love them as we do, you should try our Lemon and Blueberry Overnight Oats, Pumpkin Parfait, and our oats and chia pudding.
Juices, smoothies, and granola are regular on our breakfast tables; here are some of the recipes we enjoy the most!
⭐ If you try this recipe, let us know! 💬 Leave a comment, rate it, and don't forget to tag us @ourplantbasedworld on Instagram. Cheers!
📋 Recipe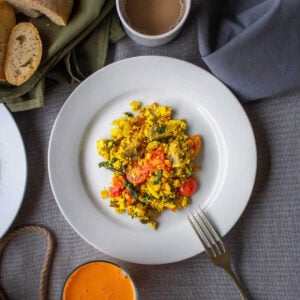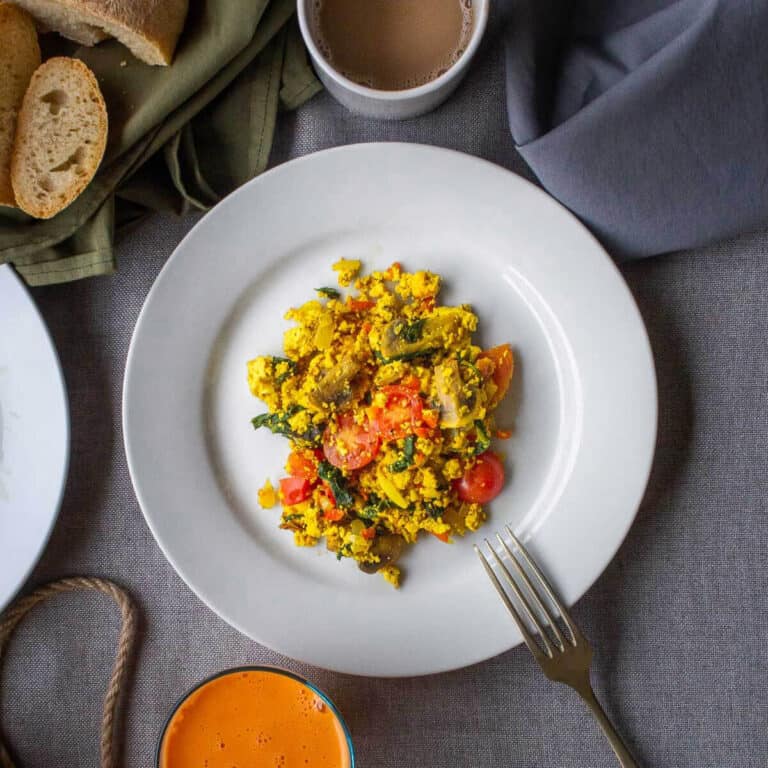 Best Tofu Scramble Recipe
This one is the best tofu scramble recipe; it's easy, is hassle-free, is delicious, is versatile, and is fast!
Equipment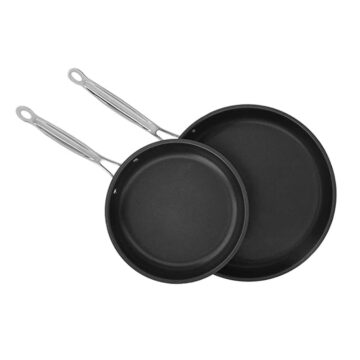 (affiliate link)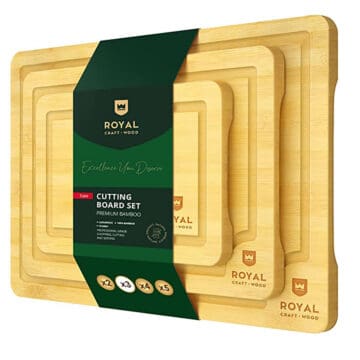 (affiliate link)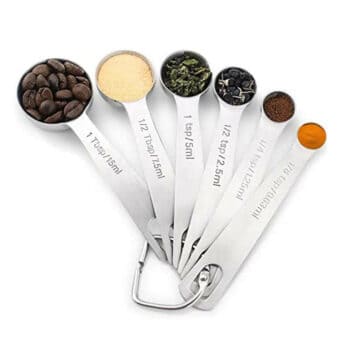 (affiliate link)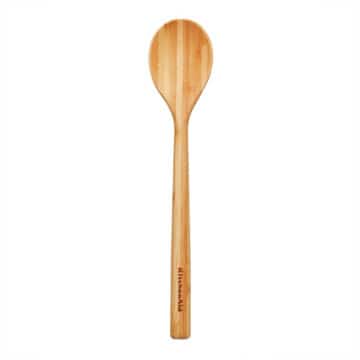 (affiliate link)
Directions
Finely chop the onion and coarsely chop any other veggies you decide to use.

Crumble the tofu with your hands.

Stir fry. In a skillet, stir fry the chopped onion. As soon as it is soft, add crumbled tofu followed by the rest of the veggies. I always leave the spinach to the end, as it wilts quickly.

Season. Add the nutritional yeast, mustard, ground turmeric, freshly ground pepper, and salt to taste.

Serve hot with bread.
Notes
Play with different veggies, just make sure to use the onion, mustard, nutritional yeast, and turmeric mix, as a base.
Some turmeric powders are stronger than others. If you are sensible to the strong earthy flavors, try with half the quantity and take it from there.
Nutrition Facts
Calories:
165
kcal
Carbohydrates:
17
g
Protein:
18
g
Fat:
4
g
Saturated Fat:
1
g
Polyunsaturated Fat:
2
g
Monounsaturated Fat:
1
g
Sodium:
583
mg
Potassium:
876
mg
Fiber:
6
g
Sugar:
5
g
Vitamin A:
4399
IU
Vitamin C:
25
mg
Calcium:
112
mg
Iron:
4
mg
Nutrition Facts
Best Tofu Scramble Recipe
Amount per Serving
% Daily Value*
* Percent Daily Values are based on a 2000 calorie diet.
🌡️ Food safety
Cook to a minimum temperature of 165 °F (74 °C)
Do not use the same utensils on cooked food, that previously touched raw meat
Wash hands after touching raw meat
Don't leave food sitting out at room temperature for extended periods
Never leave cooking food unattended
Use oils with a high smoking point to avoid harmful compounds
Always have good ventilation when using a gas stove
See more guidelines at USDA.gov.
Nutritional Disclaimer
The information shown is an estimate provided by an online nutrition calculator. It should not be considered a substitute for a professional nutritionist's advice. See our full Nutritional Disclosure here.
Affiliate Disclaimer
Please note that some of the links here are affiliate links, and I will earn a commission if you purchase through those links. I recommend all of the products listed because they are companies I have found helpful and trustworthy.