Most people think they must give up their favorite foods before eating healthily. But that's not always the case! You can make delicious, nutritious meals using simple substitutions and creative recipes. For example, this lemon blueberry overnight oats recipe is a great way to enjoy your favorite flavors while protecting your waistline.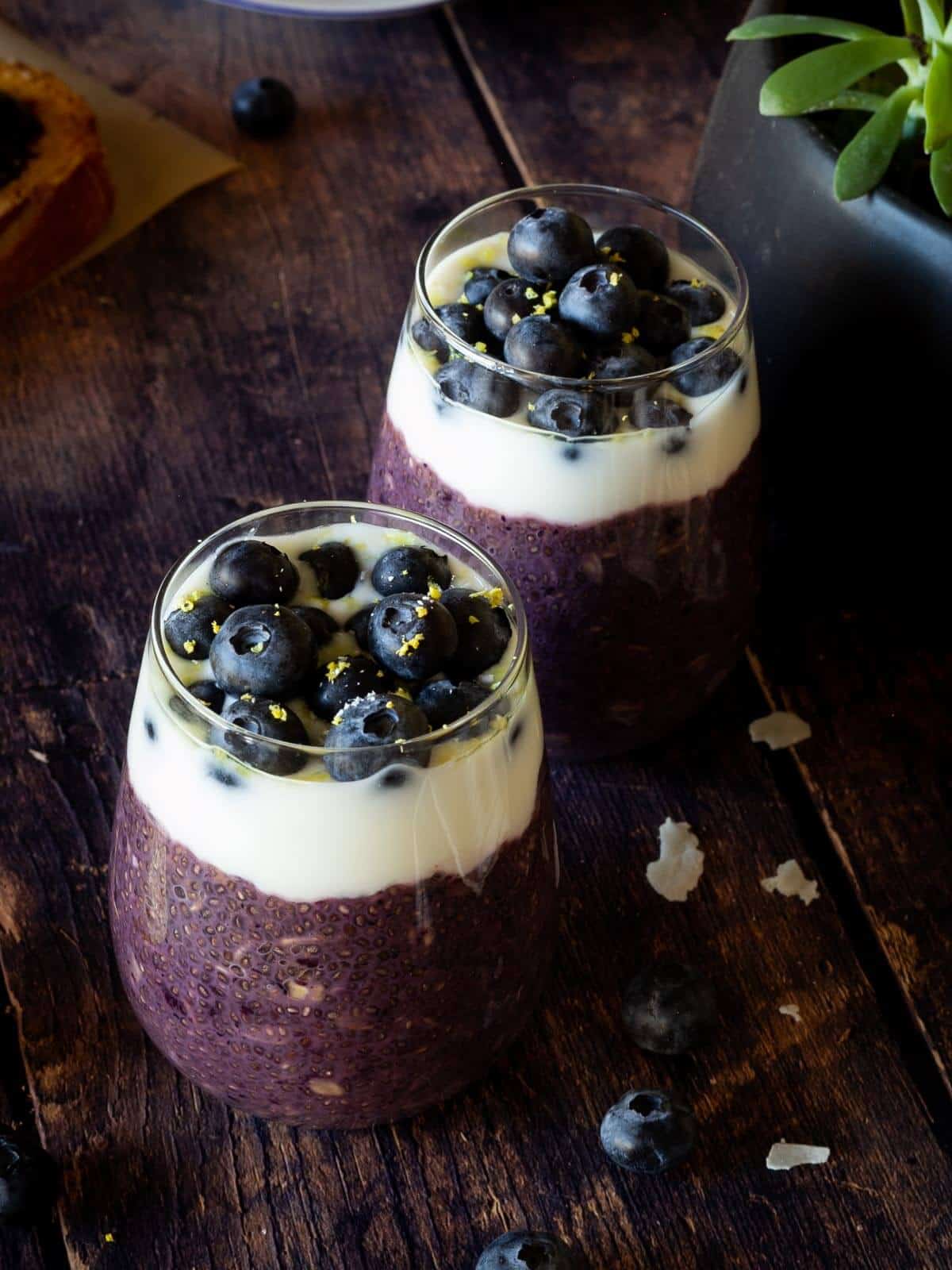 With just a few minutes of meal prep time, you'll have a delicious breakfast waiting for you in the morning on those busy mornings. So why not give it a try?
Sometimes you have 15 minutes that you don't know how to make a good time. Make a couple of these delicious blueberry parfaits in 10 minutes, leave them in the fridge, and you have your batch for healthy mornings for the week!
This was inspired by my pumpkin overnight oats, chocolate chia pudding recipe, and oats and chia pudding on this site, and pairs well with this excellent juice detox juice, for a perfect, sugar-free, healthy, and nutritious breakfast.
If you love blueberries for breakfast, don't forget to try our high-protein spinach blueberry smoothie, and blackberry strawberry banana smoothie; you'll love them!
Jump to:
🧾 Ingredients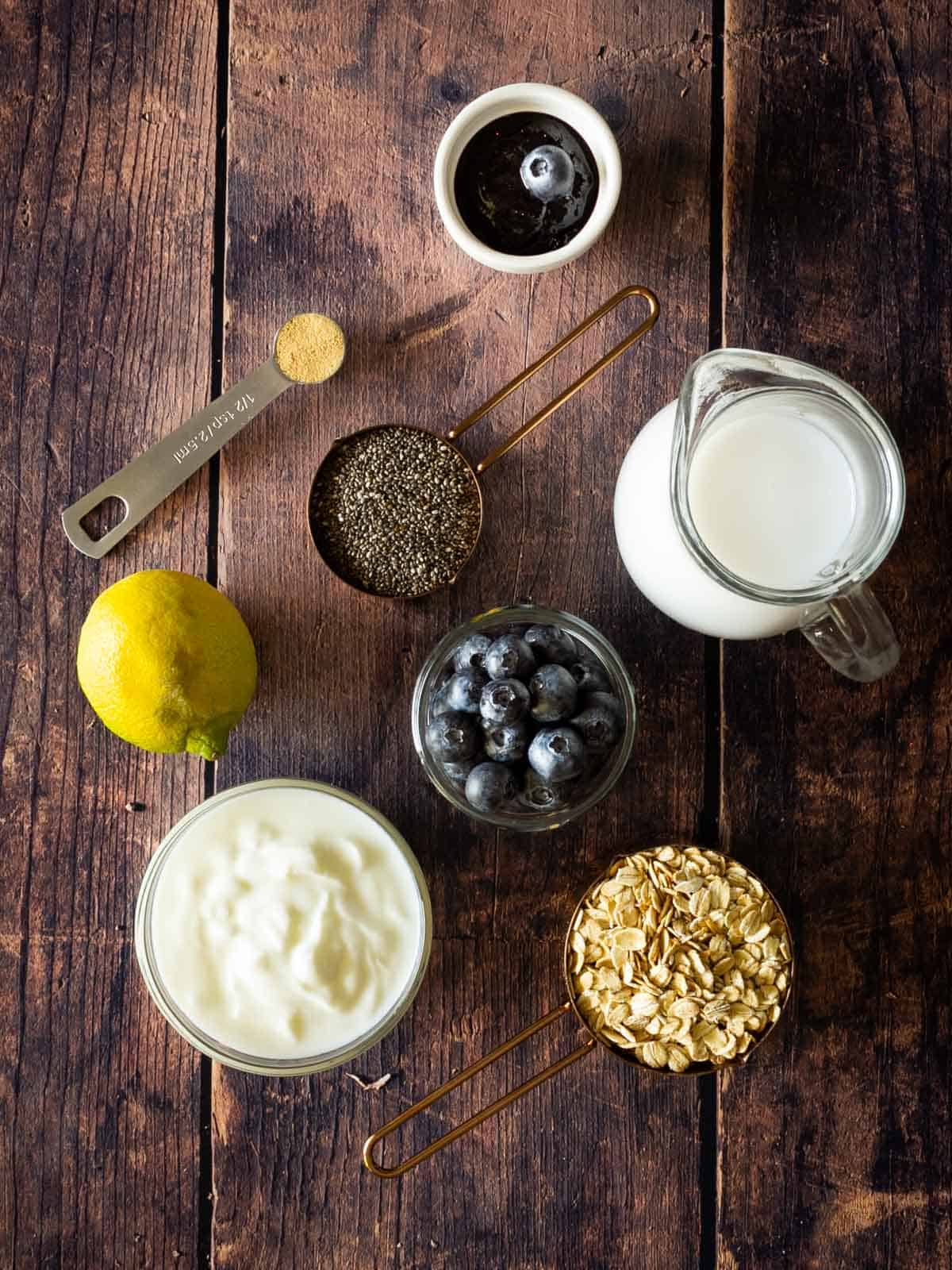 Rolled oats (old-fashioned oats)
Chia seeds
Fresh or frozen blueberries
Blueberry unsweetened jam
Light coconut milk (or almond milk, oat milk, cashew milk - any dairy-free mill works)
Lemon zest
Ground ginger powder (fresh ginger also works)
Optional: plant-based coconut yogurt and coconut flakes on top.
See the recipe card for quantities.
🔪 Instructions
To make blueberry overnight oats follow just a few simple steps.
Mix
Oats, chia seeds, blueberry jam, ginger powder, and coconut milk in a small bowl. Stir the mixture thoroughly.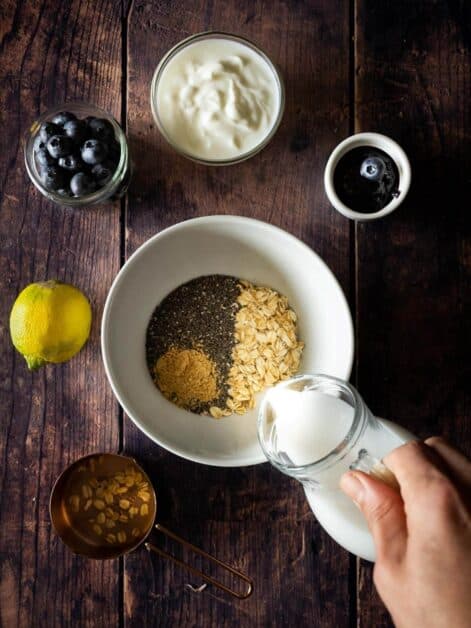 Adjust
Taste the mixture and add additional sweetener if needed.
Pour and assemble
Carefully pour into two glasses and add the plant-based coconut yogurt.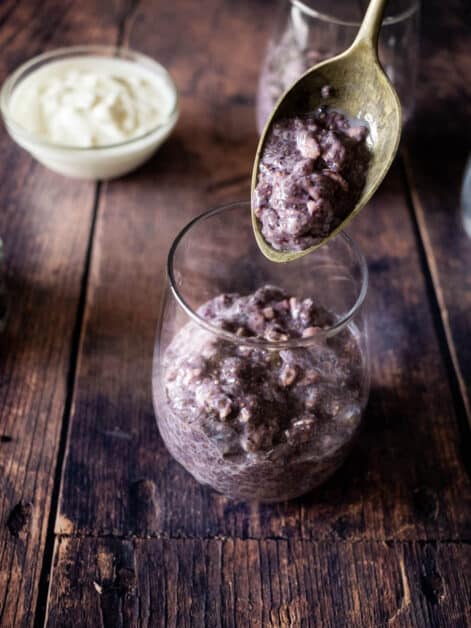 Place the frozen or fresh blueberries on top, and then shred the lemon zest.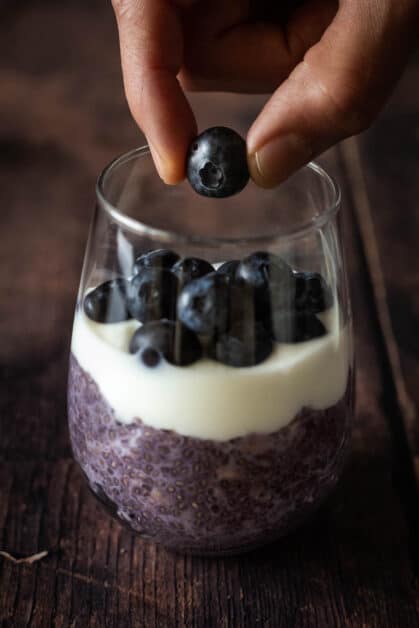 Wait and enjoy
Let the overnight blueberry oats sit in the fridge for a minimum of two hours or refrigerate overnight to have your breakfast ready as soon as you wake up.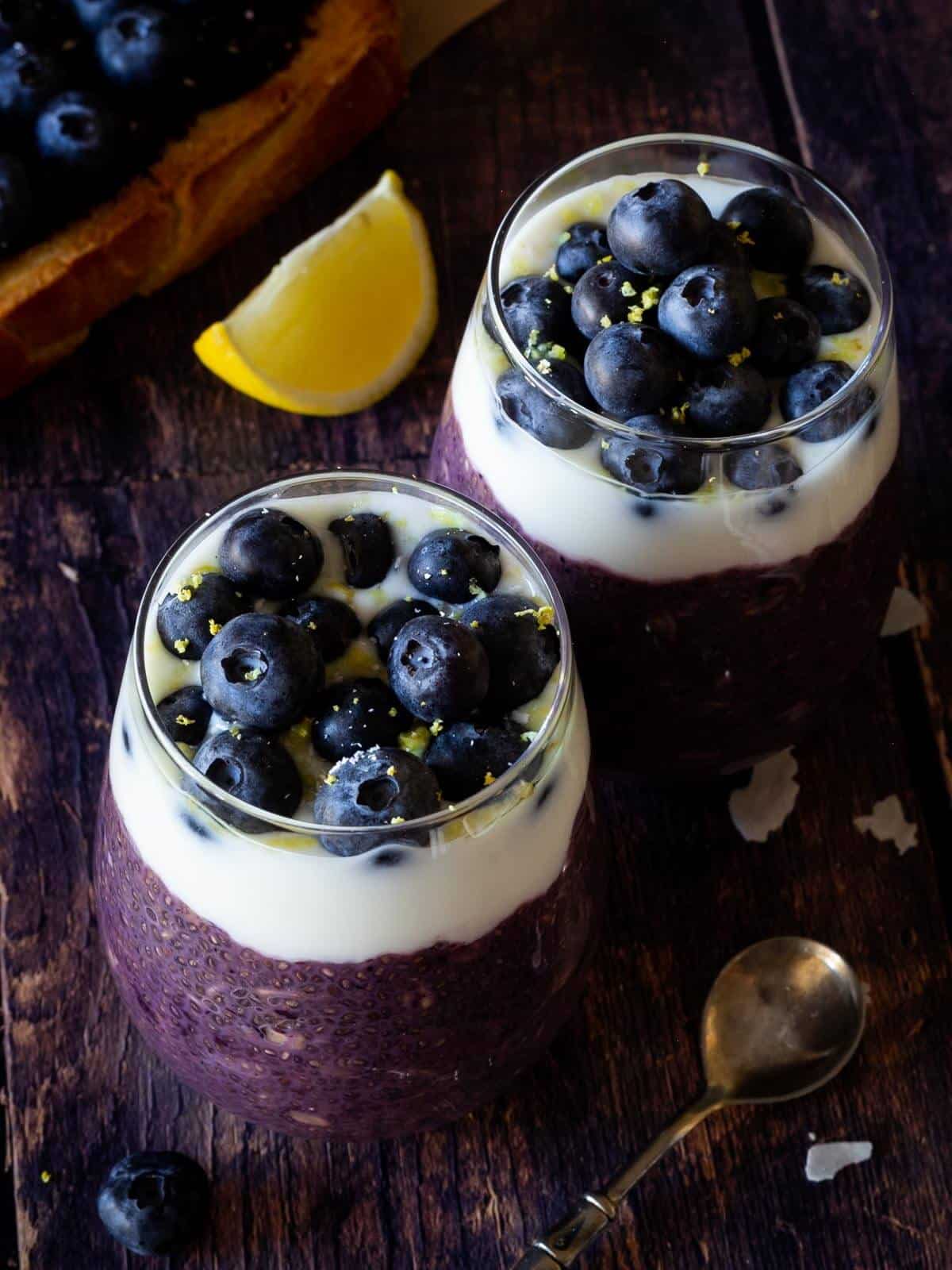 🍶 Substitutions
Blueberries - fresh blueberries, frozen blueberries, fresh or frozen wild blueberries, they all work. Just make sure to place them on top of the plant-based yogurt while the oats soak in the fridge overnight so they thaw well and achieve the right consistency.
Other berries - if you want to add some color and different flavors, feel free to replace the frozen or fresh blueberries with raspberries or strawberries.
Oats - you can also use instant oats or steel-cut oats instead of old-fashioned rolled oats for this overnight oats recipe. The result will be less chunky, but the resting time will be reduced to half. It will be ready to consume in just one hour of resting time.
Chia seeds - we love chia seeds and their antioxidant powers. You can use a flaxseed meal if you don't have chia seeds. Flaxmeal, when in contact with liquids, make a similar gel-like texture.
Milk - use your favorite milk. I always use dairy-free milk options such as coconut milk because I love how lemon zest, coconut, and blueberries pair for a delicious pick-me-up nutritious breakfast, but if you use coconut-flavored yogurt, you have that covered. You can use any plant milk that you have handy. Homemade oat milk is an excellent option.
Yogurt - same as above, any yogurt works, coconut, soy, almond, and if you are not vegan but vegetarian, use plain Greek yogurt for a nice tart flavor.
More protein - add one scoop of your favorite plant-based protein powder to the oats, milk, and chia seeds to make it the perfect pre or post work out meal.
📖 Variations
Sweetness - this is a refined sugar-free recipe. We don't like adding unnecessary sugar to our food and we think a concentrated, good-quality blueberry jam has the perfect tart and sweetnesses balance, but if you still think you could use an extra spoon, go for maple syrup, a mashed ripe banana, or agave nectar which will make your overnight perfectly naturally sweetened.
Plant-based Yogurt - you can skip the plant- yogurt or use your yogurt of preference, including greek yogurt, if you are vegetarian.
Plant milk - feel free to use other beverages such as store-bought or homemade almond milk, oat milk, or soy milk.
Extra nutty flavor - use a dollop of nut butter such as almond butter on top.
Vanilla flavor - if you fancy some vanilla, add halt-teaspoon vanilla extract to the mix before turning it to the fridge overnight.
See this pumpkin version on my website!
🍽 Equipment
No fancy equipment, just a small bowl, and nice glasses to fill them with the overnight oats mix.
🫙 Storage
Eat overnight oats cold or at room temperature. Prepare them preferably overnight to ensure both rolled oats and chia are super soft, but I find them soft enough after two hours. They are good to eat for 2-3 days.
These ingredients don't stand up well to freezing.
💡 Top tip
If you feel like your overnight oats are too thick for your liking, add extra liquid and let it rest for 5 minutes, the rolled oats and chia will absorb it all.
Note on gluten - overnight oats are naturally gluten-free, but they are usually handled in facilities where they handle gluten products. Use gluten-free marked oats to ensure the recipe is apt for people with celiac disease. You can also opt to use chia seeds only (double the quantity and liquid), so you don't have to worry about gluten.
❓ FAQ
How to tell when blueberries are ripe?
When it comes to telling if blueberries are ripe, there are a few key characteristics to look out for.
Firstly, when picking blueberries at the grocery store or farmer's market, you should be looking for plump and firm berries with a deep, vibrant blue hue. These will be the sweetest and ripest!
Secondly, give your chosen blueberries a gentle squeeze - they shouldn't feel mushy or soft. If they have brown spots, these can just be picked off as they don't affect flavor.
Lastly, you can pick up the carton of berries and lightly shake it; ripe ones won't move around much, while unripe berries will jostle each other in the box.
The final test of the ripeness of your chosen berries is by taste testing one or two!
Ripe blueberries have an intensely sweet flavor, so if yours don't quite hit that mark, then they probably need another day on the plant before being eaten! Try following these steps next time you're shopping for fresh produce and you'll always know exactly how ready your fruit is for eating.
📚 More overnight oats recipes
Try these delicious recipes:
3-ingredient oat milk chia pudding
Another great oatmeal-based snack that is super easy to make is these chocolate peanut butter oatmeal bars.
Also, try our quick brown sugar cinnamon oatmeal ! It's made with wholesome ingredients and is super easy to make. Plus, it's vegan, so everyone can enjoy it!
If you like your oats packed in a yummy banana smoothie, you should have a check at ours!
If you're looking to eat healthier, finding new recipes that taste good can be hard. But don't panic! You can still enjoy your favorite flavors while protecting your waistline with some simple substitutions and creative cooking techniques.
One of our favorites is this lemon blueberry overnight oats recipe which uses almond milk for a creamy texture without the unnecessary added sugar or saturated fat found in most breakfast cereals.
With just a few minutes of prep time, you'll have breakfast waiting for you in the morning - so why not try it?
If you love the blueberry flavor as we do, enjoy your leftover blueberries jam with a toast of homemade Italian Pagnotta bread.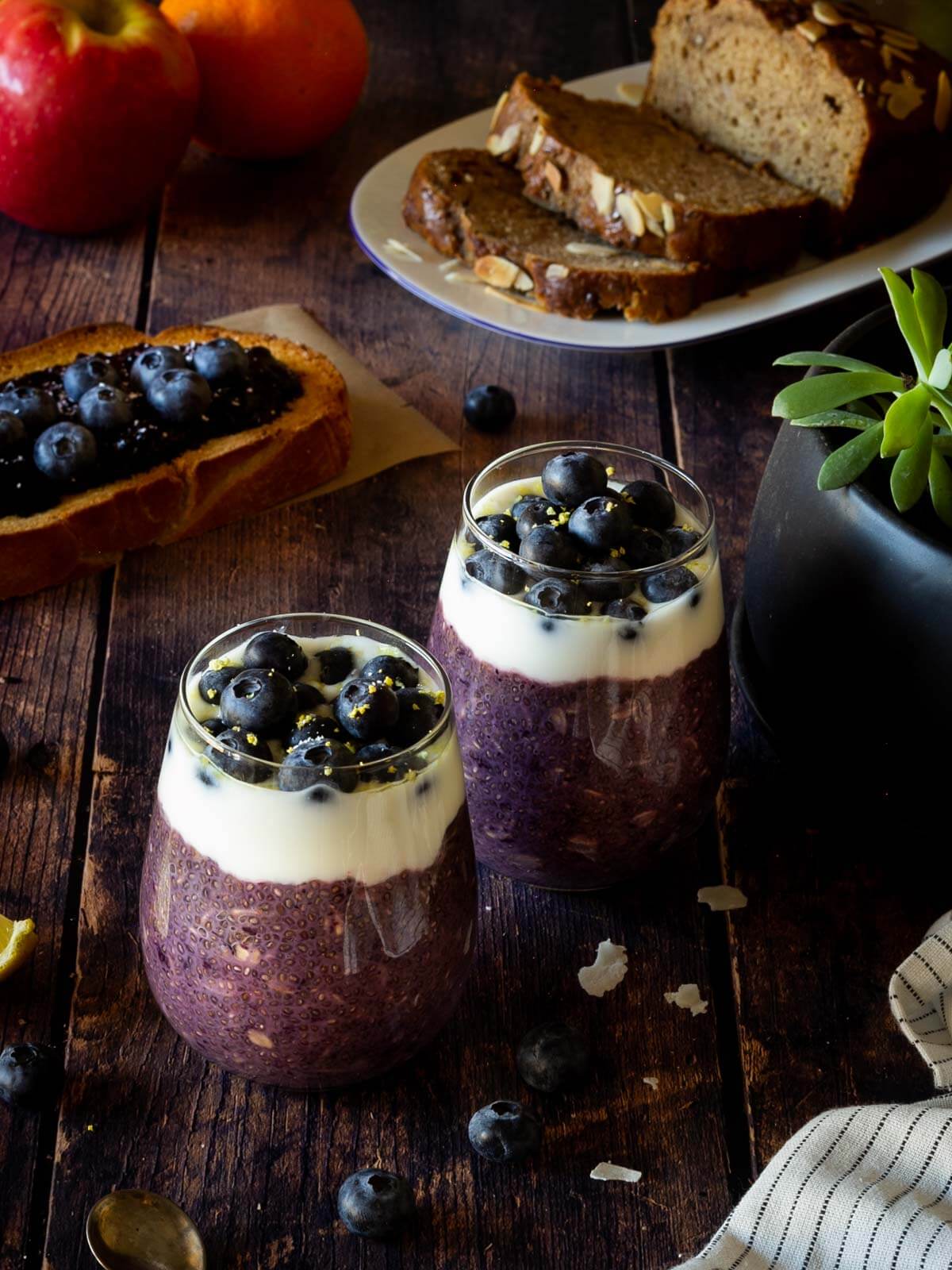 ⭐ If you try this recipe, let us know! 💬 Leave a comment, rate it, and don't forget to tag us @ourplantbasedworld on Instagram. Cheers!
📋 Recipe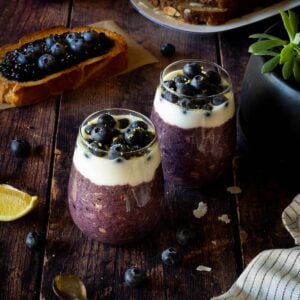 Lemon Blueberry Overnight Oats
Try these lemon blueberry overnight oats with chia seeds if you're looking for an easy, healthy breakfast with a fall season flavor that will keep you full all morning long.
Equipment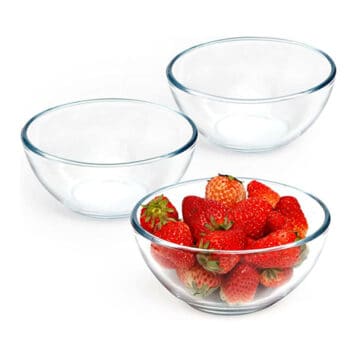 (affiliate link)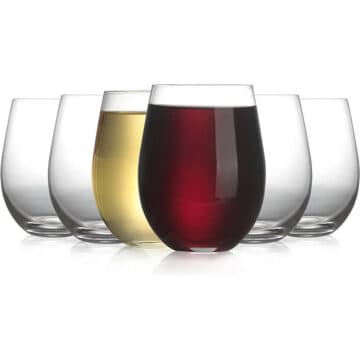 (affiliate link)
Ingredients
2

cups

coconut milk

¼

cup

chia seeds

1 ½

tablespoons

blueberry jam

unsweetened

½

oatmeal

rolled, old-fashioned

2

oz

blueberries

fresh or frozen blueberries

lemon

zest
Optional:
4 ½

oz

coconut yogurt

1

tablespoon

maple syrup

or agave nectar
Directions
Mix the oats, chia seeds, blueberry jam, ginger powder, and coconut milk in a small bowl. Stir the mixture thoroughly, and it thickens up for 10 minutes.

Adjust. Taste the mixture and add additional sweetener if needed.

Pour into two glasses and add the plant-based coconut yogurt, fresh blueberries, and lemon zest.

Wait and enjoy. Let it sit in the fridge for a minimum of two hours or refrigerate overnight.
Nutrition Facts
Calories:
254
kcal
Carbohydrates:
35
g
Protein:
6
g
Fat:
12
g
Saturated Fat:
5
g
Polyunsaturated Fat:
5
g
Monounsaturated Fat:
1
g
Trans Fat:
1
g
Sodium:
13
mg
Potassium:
152
mg
Fiber:
10
g
Sugar:
17
g
Vitamin A:
28
IU
Vitamin C:
12
mg
Calcium:
322
mg
Iron:
2
mg
Nutrition Facts
Lemon Blueberry Overnight Oats
Amount per Serving
% Daily Value*
* Percent Daily Values are based on a 2000 calorie diet.
🌡️ Food safety
Cook to a minimum temperature of 165 °F (74 °C)
Do not use the same utensils on cooked food, that previously touched raw meat
Wash hands after touching raw meat
Don't leave food sitting out at room temperature for extended periods
Never leave cooking food unattended
Use oils with a high smoking point to avoid harmful compounds
Always have good ventilation when using a gas stove
See more guidelines at USDA.gov.
Nutritional Disclaimer
The information shown is an estimate provided by an online nutrition calculator. It should not be considered a substitute for a professional nutritionist's advice. See our full Nutritional Disclosure here.
Affiliate Disclaimer
Please note that some of the links here are affiliate links, and I will earn a commission if you purchase through those links. I recommend all of the products listed because they are companies I have found helpful and trustworthy.