For those of you who asked for this recipe on our Instagram, today we will share a recipe that will knock your socks off. It's called Vegan Carrot Bacon, and it is absolutely delicious. I know what you're thinking: "Carrots? BACON?" Trust me, it works!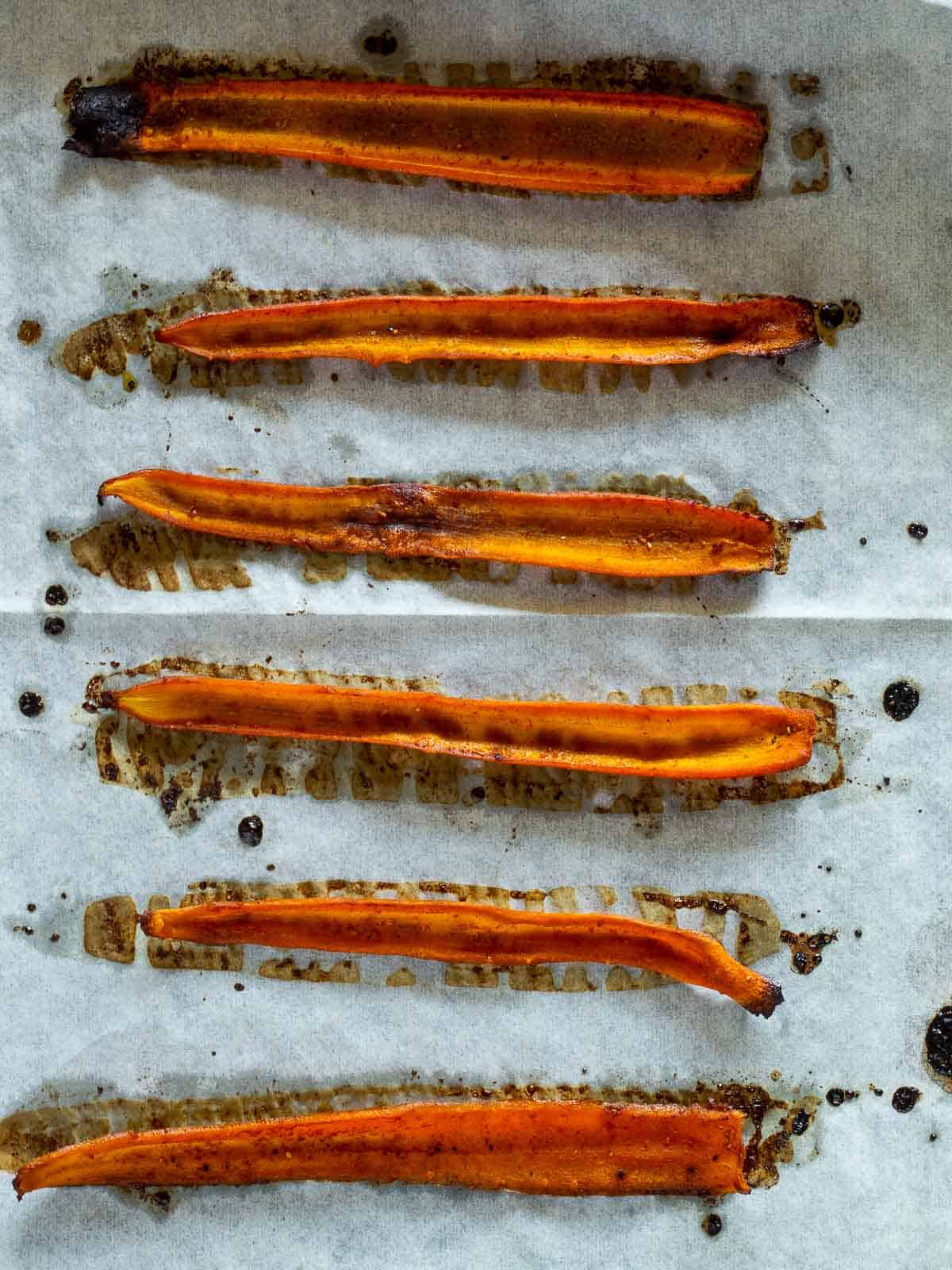 Tarah! This Crispy and Tasty Carrot Bacon recipe makes a fantastic side dish! It is incredible what we can do with a bit of imagination!
You think of the shape, the color, the textures, the flavors, and get into the creating lab! I love that process.
That's how we came up with this Carrot Bacon recipe. It's the perfect way to add a little bacon flavor to your breakfast without switching out your morning favorites.
Plus, it's a healthier alternative to sneak some vegetables into your diet first thing in the morning. Give it a try, and let me know what you think!
We want to achieve the smokiness and crispiness of the bacon. So, this is how we did it!
Jump to:
🧾 Ingredients
Apart from large carrots, to make this delicious bacon recipe, our choice of spices and liquids for the marinade is:
Gluten-free soy sauce (or coconut aminos)
maple syrup
onion powder
garlic powder
smoked paprika
balsamic vinegar
black pepper
Optionally sesame oil or olive oil, is good if you want to make really crispy bacon. Remember, vegan bacon doesn't have the fat; that's why carrot bacon recipes usually add some oil to make it crispy.
However, if following a WFPB diet, you can skip the oil, the vegan bacon just won't be as crispy.
🔪 Instructions
This is how to make a carrot bacon recipe: you first create a marinade with those spices that will make us think of bacon.
Our choices of spices and liquids for the marinade are soy sauce, maple syrup, onion powder, garlic powder, smoked paprika, balsamic vinegar, and black pepper.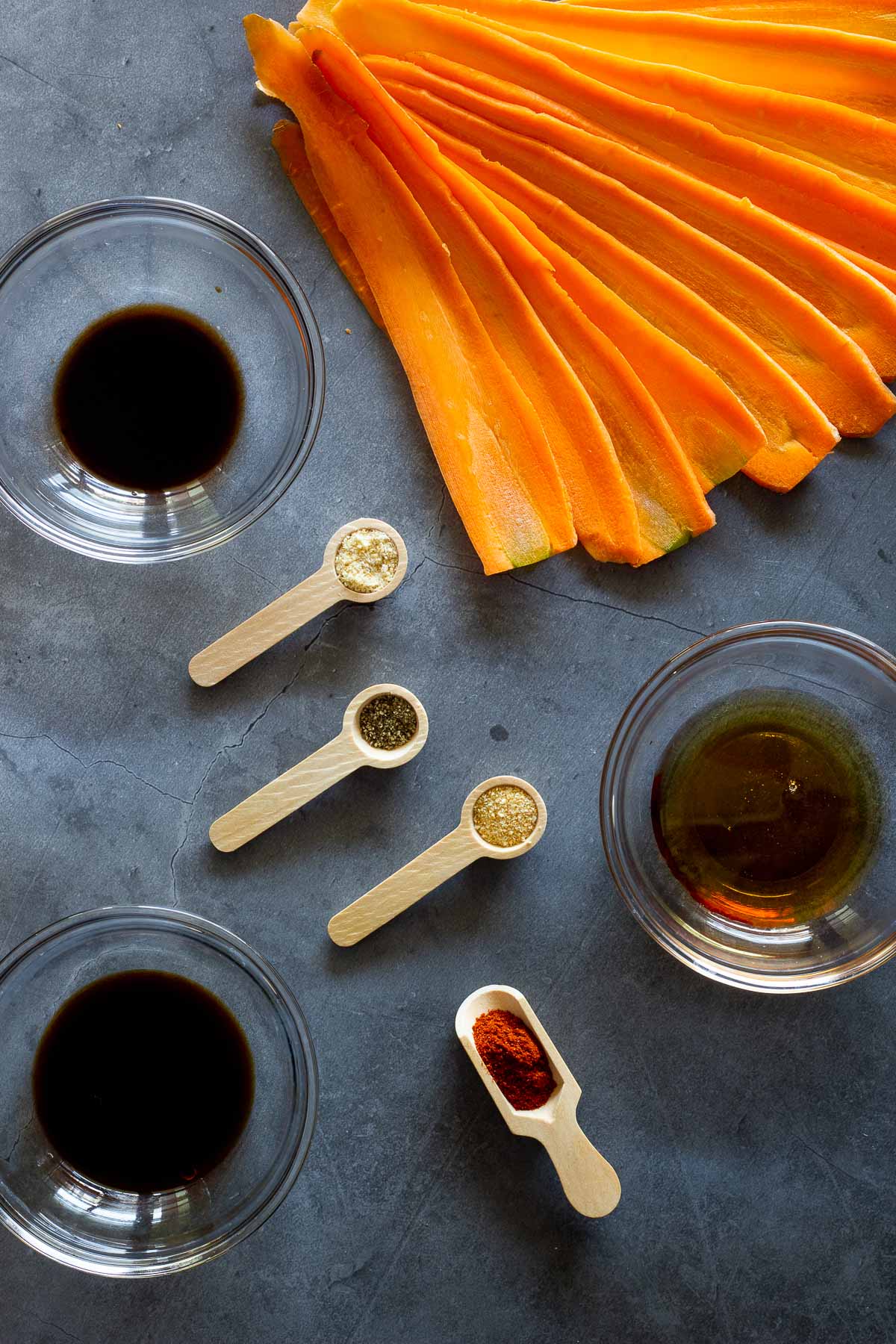 With this Vegan carrot bacon recipe, you could play around with the ingredients. For example, you could optionally you could replace the balsamic vinegar with liquid smoke if you want a piece of full-on smoky flavor.
However, I prefer to go for balsamic vinegar since liquid smoke contains harmful carcinogens. So, if you use it in your kitchen, make sure you do it in moderation.
Preheat the oven to 350 ºF (175 ºC).
Start by making the marinade for your vegan bacon, mixing up the gluten-free soy sauce, smoked paprika, garlic powder, onion, powder, balsamic vinegar, and maple syrup.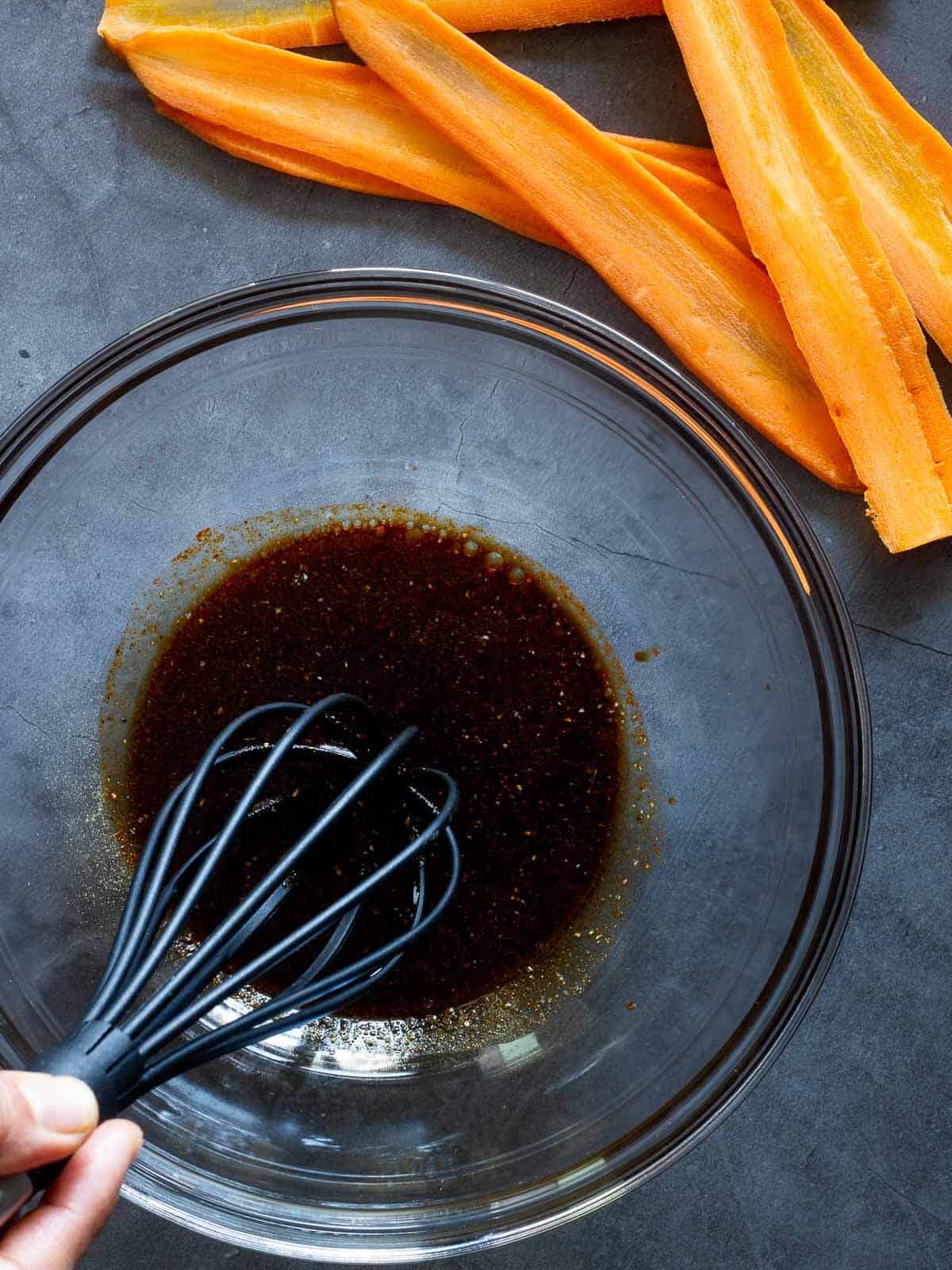 Peel the carrots and simply slice them as thinly as possible, making carrot strips. Ideally, you would use a mandolin, but a sharp knife and good precision also help. You can also try a vegetable peeler.
You then want to marinate the sliced carrots in the mixture. Use a shallow dish; otherwise, the tops and bottoms of the carrots won't get enough juice. Place carrots in, and let them marinate.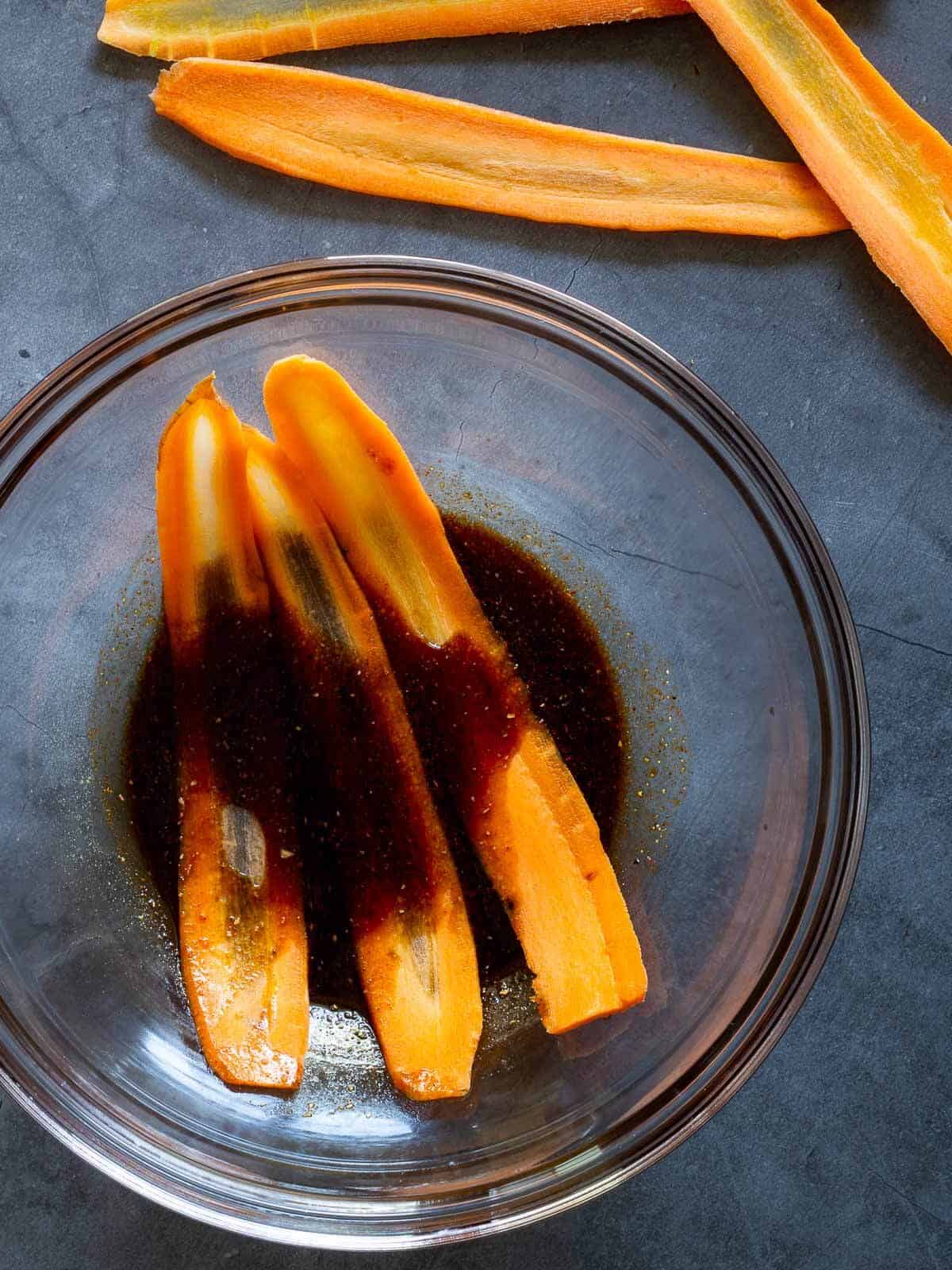 Proceed with baking marinated strips, using a lined baking sheet with parchment paper to handle the carrots easier.
Halfway through, once the carrots start bubbling. Flip the carrot slices with your kitchen tongs and add any remaining marinade. Ensure you close the oven while you do that, so the oven doesn't lose its temperature.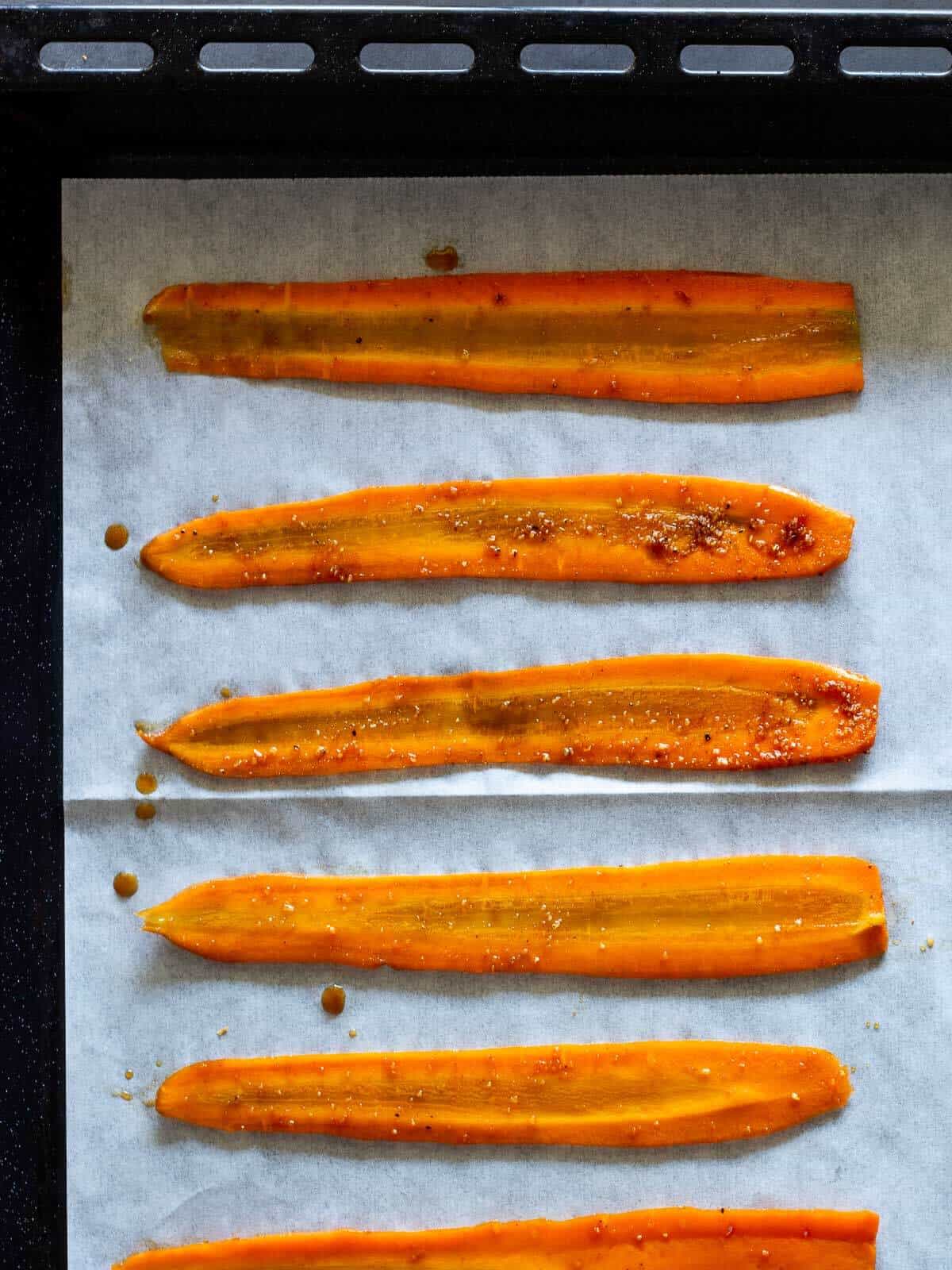 An air-fryer also works very well.
💡 Tips and notes
Be aware that these are carrots and not bacon, of course. So, you may want to call the carrot chips instead.
When we are in the process of leaving animal products behind or simply eating healthier, we need to adjust our tastebuds. But hey! It is all for a good cause, the animals, the environment, and our health!
For example, bacon has much unhealthy saturated fat that provides many flavors and substances you don't want in your body!
Method
Instead of using a regular oven, you could make this vegan carrot bacon recipe air-fried. I do not own an air fryer, but the marinade and method are entirely applicable for an air fryer.
Extra crispy
Add olive oil, sesame oil, or peanut oil to the marinade.
Flavor
If you want the carrots to have a more intense flavor, you can marinade the carrot strips overnight and/or add liquid smoke into the marinade. Coconut aminos, and liquid aminos, make great gluten-free replacements for soy sauce.
When you make carrot bacon is important to watch out for the oven closely after you turn the carrots; you might burn the strips! Look!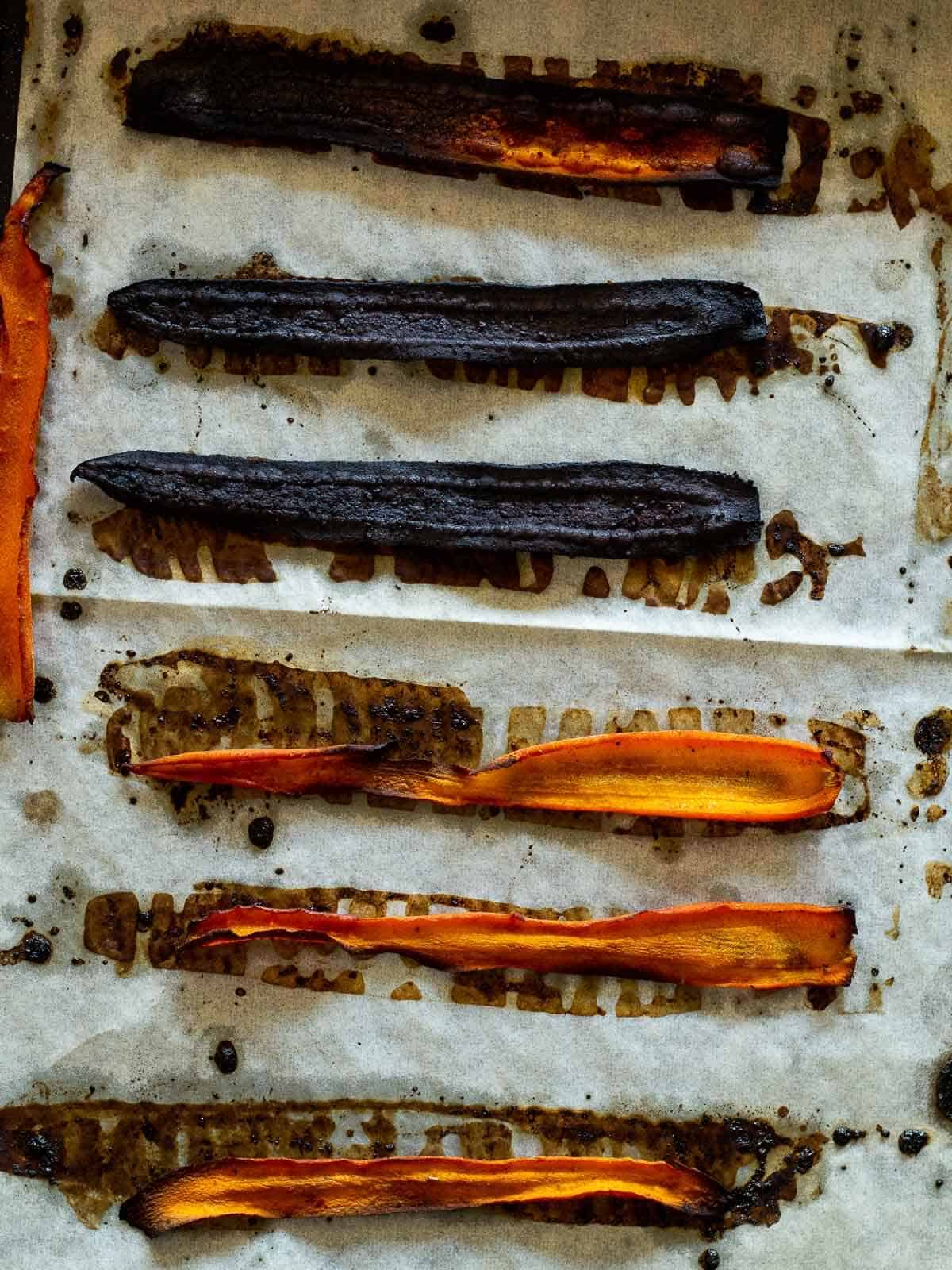 🥢 How to serve 
Eat your plant-based bacon as you would typically do with bacon—either side by side with your tofu scramble (see tofu scramble recipe), sweet potato breakfast hash, Vegan BLT, or inside of any sandwich or veggie burger. It makes a great side dish in general.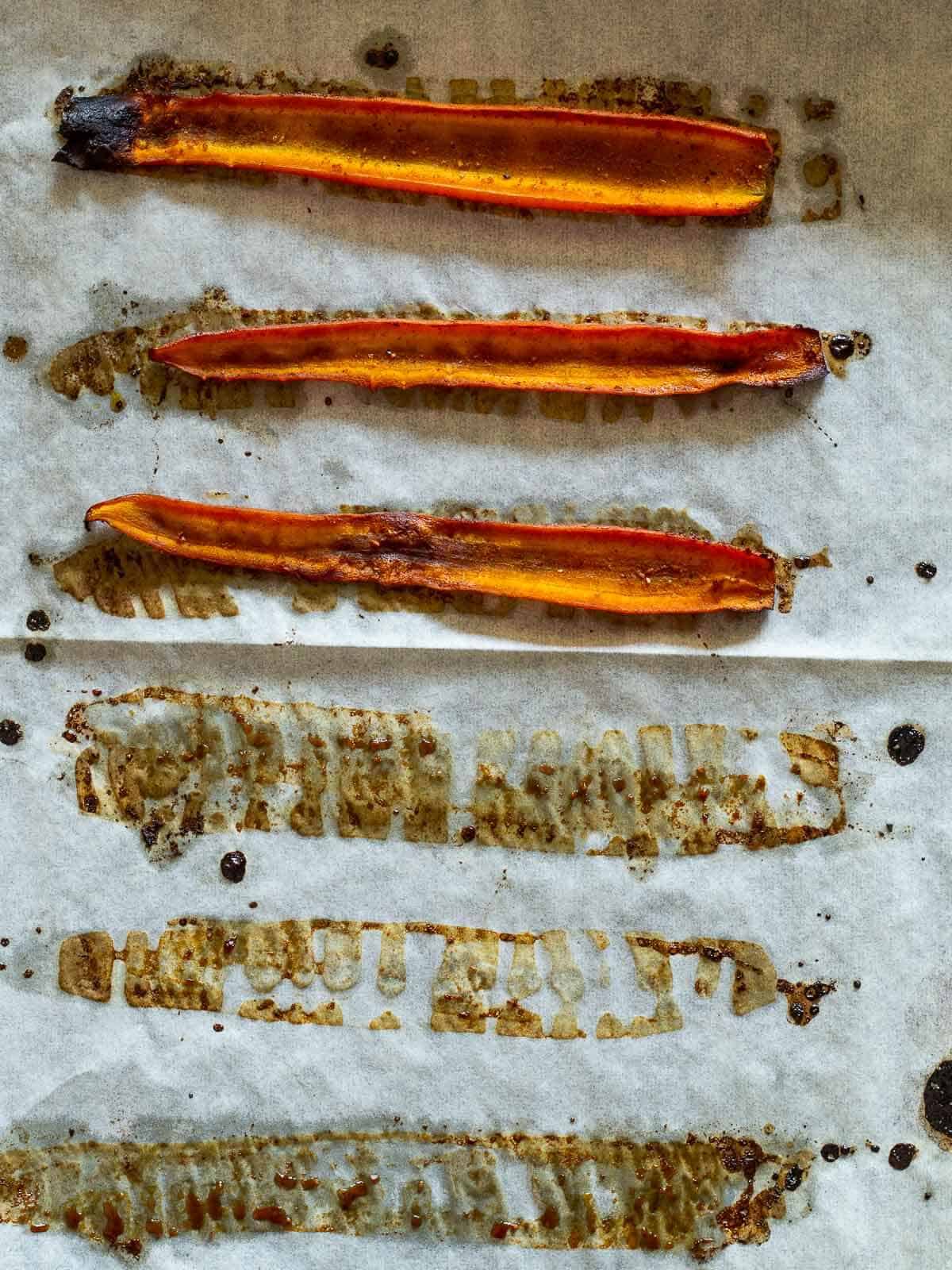 🍶 Substitutions
Carrots - well, although carrots are the stars of this recipe, you can use the same principles with other root vegetables such as sweet potatoes, beets, and yams. Simply cut them thinly, ideally with a mandoline.
Aminos - you can dissolve yeast marmite in water to add more umami to your veggie bacon.
🥕 More carrot recipes
Carrots are always present in our kitchen, either as maple bacon carrots or in many other ways.
We make them in all possible ways, including juicing, where we have some favorites like the delicious Carrot, Apple, and Celery Juice; our hydrating Carrot, and Cucumber juice is another great way to use carrots.
Then we love making soups, and the Carrot and Ginger Soup is our indisputable favorite, head to head with the Curried Sprouted lentils soup, which also features delicious carrots.
We also love having carrots as a main dish, like in our Savory carrot tart, next to a nice green salad, or enjoying something more exotic like the Miso Maple Glazed Carrots, which have become a Holiday dinner classic.
We even make pesto out of carrot tops, it is delicious, and it is a great way to reduce waste. What otherwise would have finished in the compost bin becomes a delicious pesto sauce.
If you love carrots, you will surely love our 1-pot carrot cake, made with our go-to gluten-free flour blend, for a healthy treat or breakfast.
⭐ If you try this recipe, let us know! 💬 Leave a comment, rate it, and don't forget to tag us @ourplantbasedworld on Instagram. Cheers!
📋 Recipe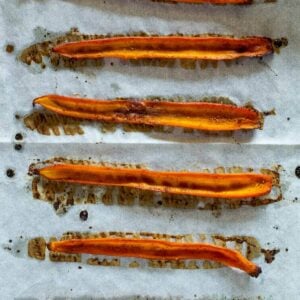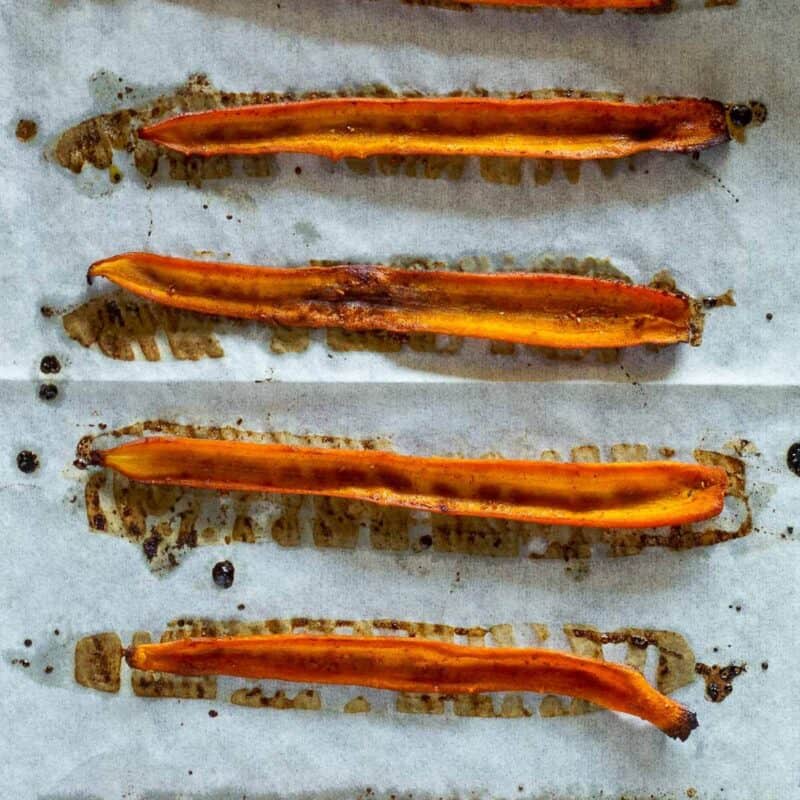 Vegan Carrot Bacon Recipe
For those of you who asked for this recipe on our Instagram, Tarah! Carrot Bacon! It is incredible what we can do with a bit of imagination!
Equipment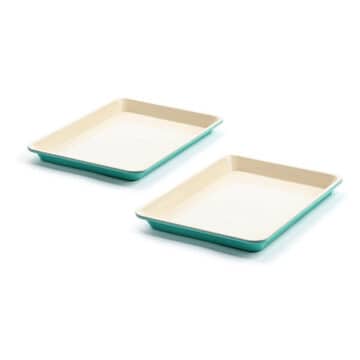 (affiliate link)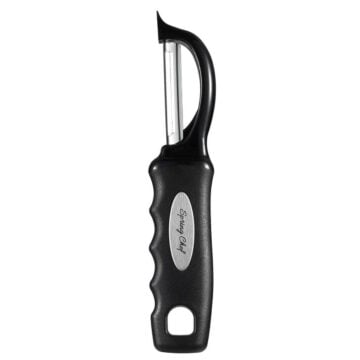 (affiliate link)
Ingredients
Optional to make them extra crispy
Directions
Make a marinade with all the ingredients except for the carrots.

Preheat oven to 350°F (180°C) if using a regular oven.

I hardly ever peel my carrots as they hold many nutrients, but you can peel them if you prefer.

Slice thinly lengthwise with a mandolin or a vegetable peeler.

In a shallow dish, lay the sliced carrots and pour the marinade. Marinate for at least 10 minutes. You may have to work in batches to cover the carrots fully.

Place carrots on a lined baking sheet. Place in the oven for 15-20 minutes until they start bubbling.

Halfway through, flip the carrot slices with your kitchen tongs and add any remaining marinade. Ensure you close the oven while you do that, so the oven doesn't loose its temperature.

As soon as they look like bacon, they are ready; it may take around 5 minutes.
Notes
They may need some extra time out of the oven to harden up and be crispy.
If adding oil, add it directly into the marinade.
Nutrition Facts
Calories:
46
kcal
Carbohydrates:
11
g
Protein:
1
g
Fat:
1
g
Saturated Fat:
1
g
Polyunsaturated Fat:
1
g
Monounsaturated Fat:
1
g
Sodium:
107
mg
Potassium:
129
mg
Fiber:
1
g
Sugar:
8
g
Vitamin A:
5157
IU
Vitamin C:
2
mg
Calcium:
22
mg
Iron:
1
mg
Nutrition Facts
Vegan Carrot Bacon Recipe
Amount per Serving
% Daily Value*
* Percent Daily Values are based on a 2000 calorie diet.
🌡️ Food safety
Cook to a minimum temperature of 165 °F (74 °C)
Do not use the same utensils on cooked food that previously touched raw meat
Wash hands after touching raw meat
Don't leave food sitting out at room temperature for extended periods
Never leave cooking food unattended
Use oils with high smoking points to avoid harmful compounds
Always have good ventilation when using a gas stove
See more guidelines at USDA.gov.
The information shown is an estimate provided by an online nutrition calculator. It should not be considered a substitute for a professional nutritionist's advice. See our full Nutritional Disclosure here.
Please note that some of the links here are affiliate links, and I will earn a commission if you purchase through those links. I recommend all of the products listed because they are companies I have found helpful and trustworthy.