I like making Oats and Chia Pudding in batches, as they are easy to make and last well for 3-4 days in the fridge, this way; you have your breakfast secured for a couple of days, they also make a good dessert, or snack for a home office day.
This Oats and Chia Pudding is a smaller and slimmer version of a breakfast bowl, but we make them a little more decadent to make up for the reduced quantity of fresh fruit.
If you want a blueberry-packed breakfast, check out our lemon blueberry overnight oats; it also features healthy chia seeds.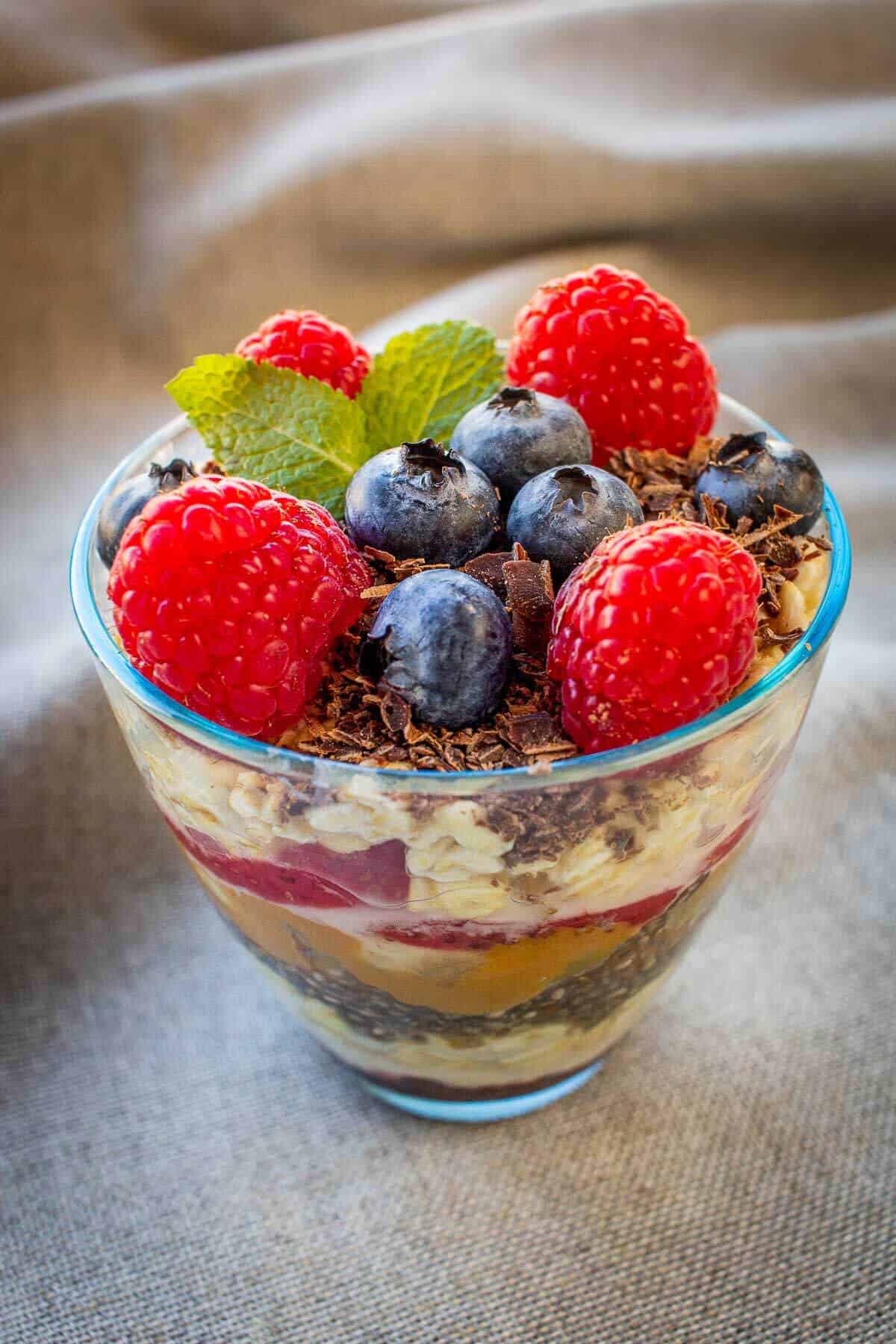 Instructions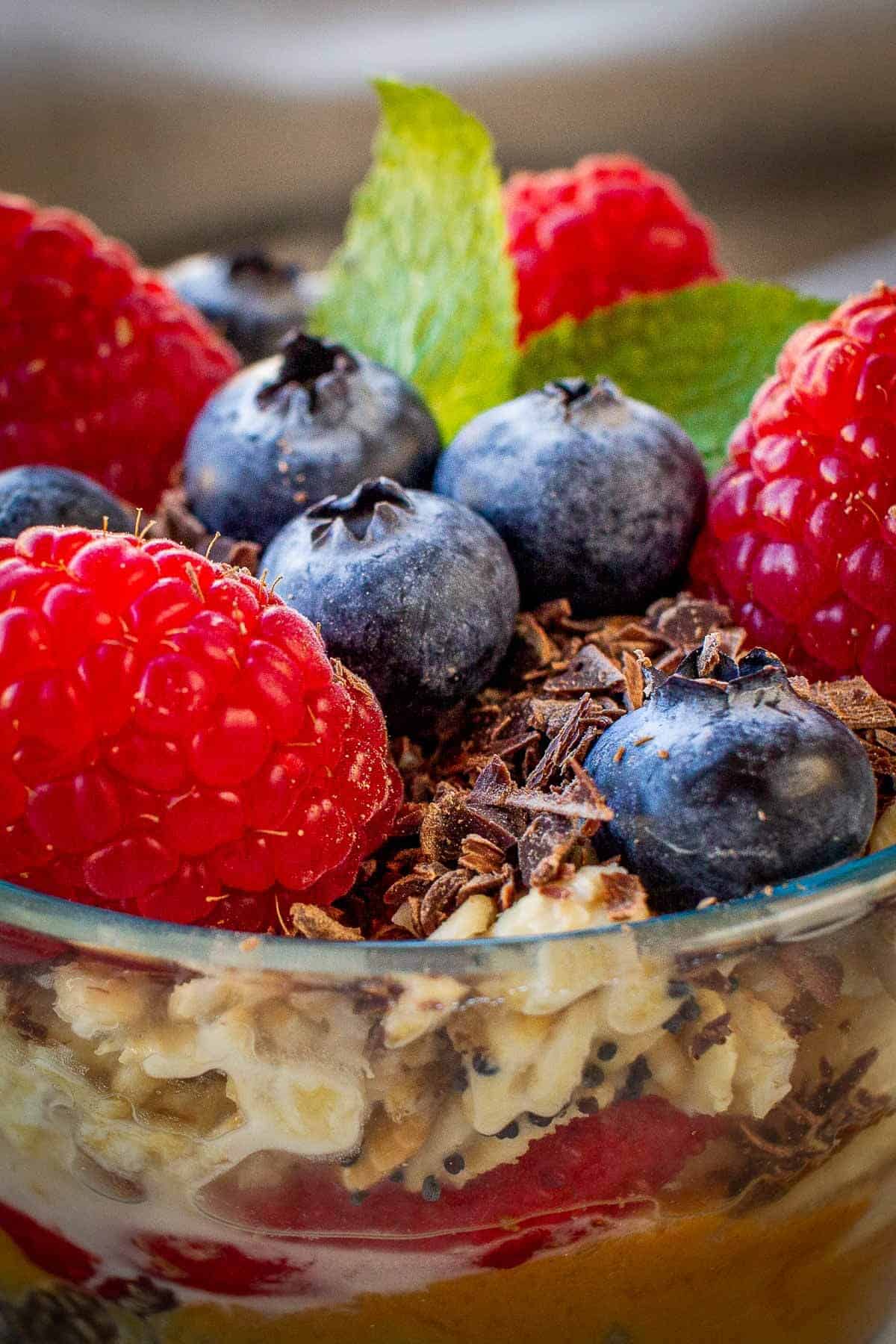 In a glass, put (in this order) marmalade, followed half of the oats, then the chia seeds (or/and amaranth/linen seeds), half of the water or vegetable milk, the peanut butter (optional), the next half of oats, and water/milk again.
Top with the berries, maple syrup, cocoa, and coconut flakes (optional). You can also top with chunky applesauce.
As you can see, I am intentionally marking several items as optional. This way, you can always find a way to make your pudding even if you miss two or three ingredients.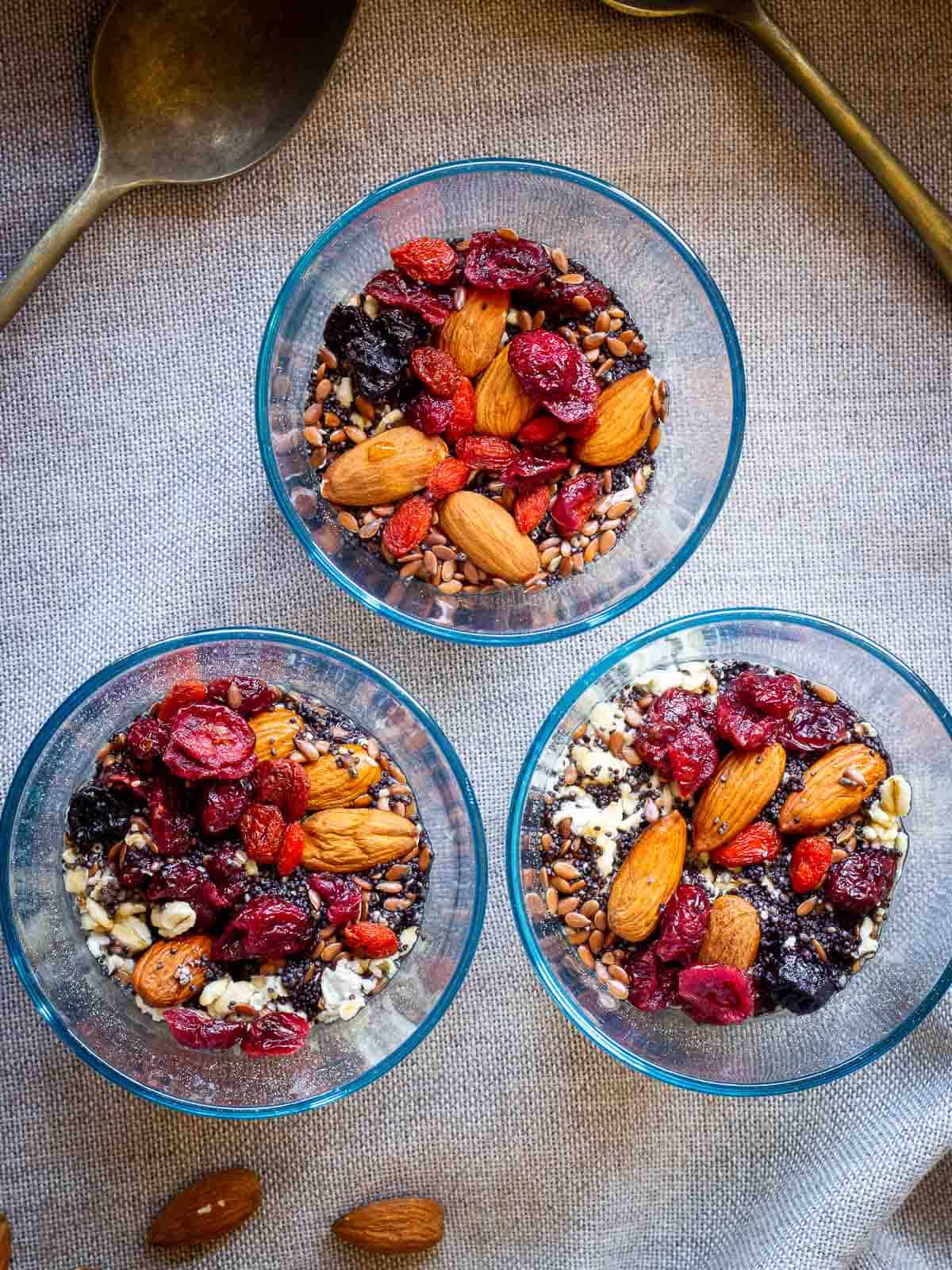 You can make it less sweet and less caloric, taking off the marmalade, nuts, peanut butter, and coconut flakes.
Also if you don't have fresh berries, you can use dry berries. They will hydrate well overnight.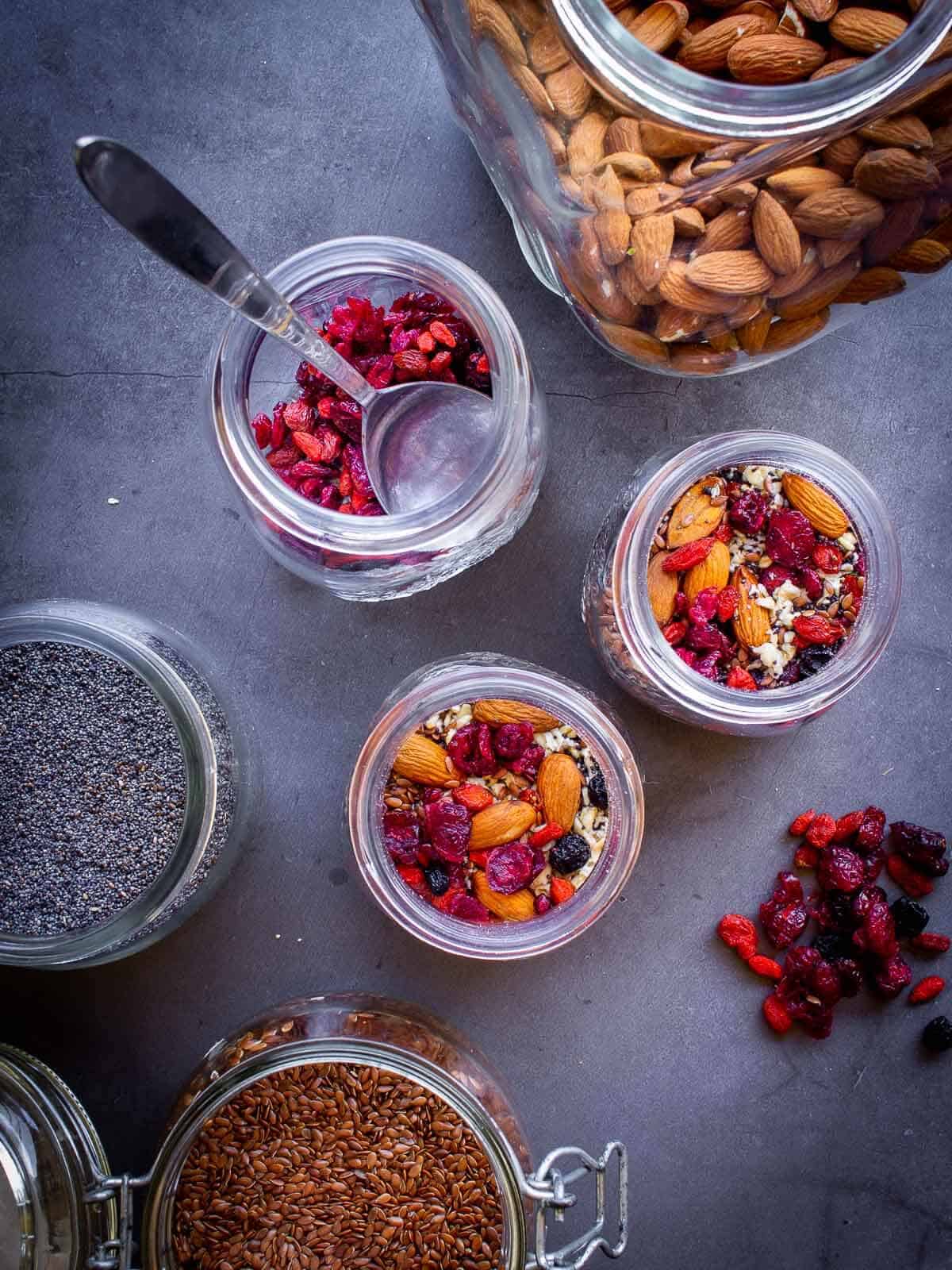 Here are the quantities for a single serving, but I suggest you make at least four at once, one effort: 4 breakfasts.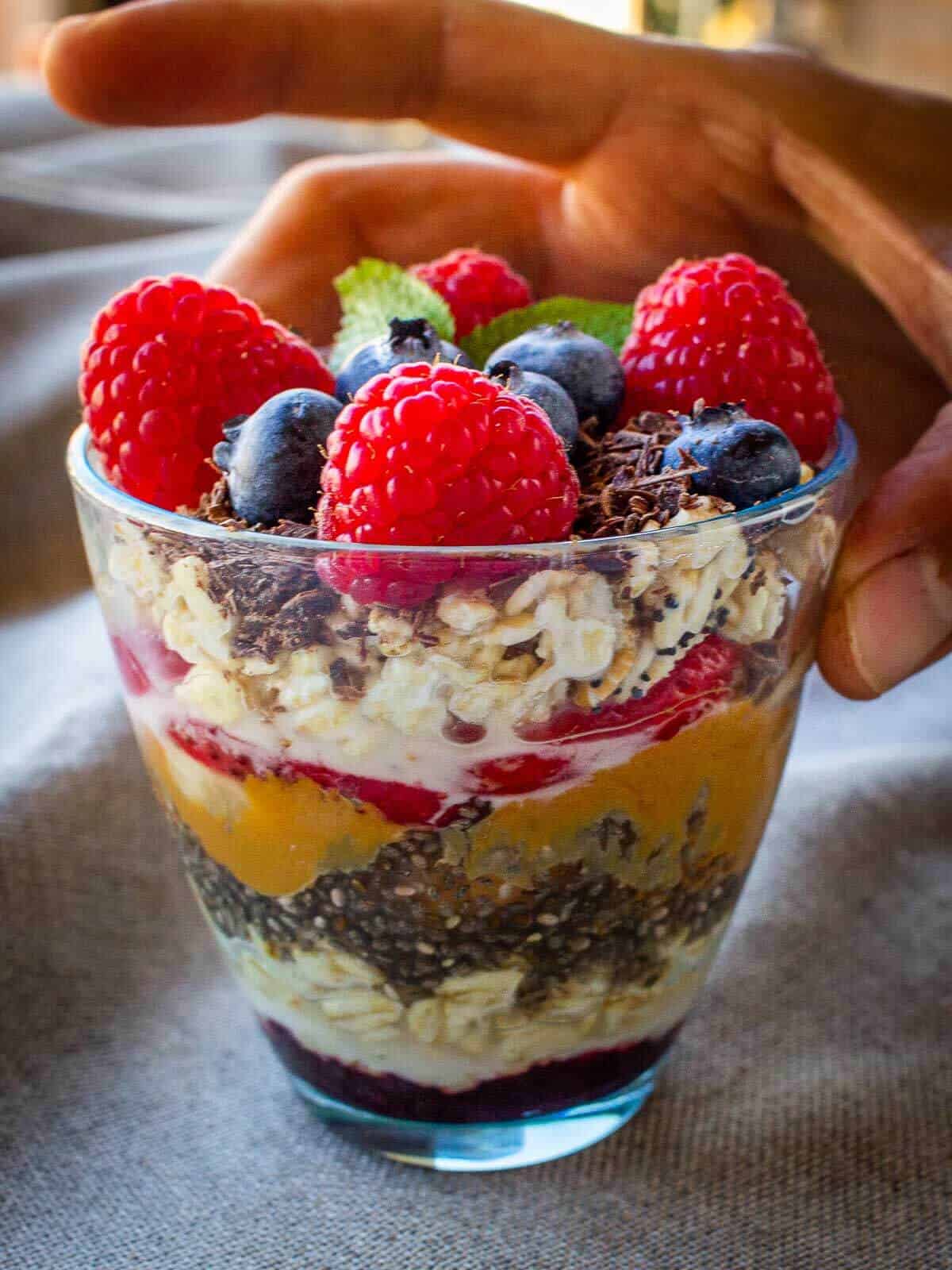 Adding Oats and Chia to your morning: a Great Idea!
Chia seeds are full of antioxidants, fiber, and protein, while they have varied and healthy calorie and carb counts.
Chia seeds are a powerful ingredient, and Science Says These Are 3 of the Healthiest Foods You Can Eat.
Oats are not behind, they provide an immense amount of nutrients and tons of benefits.
They can Lower Cholesterol Levels and Protect LDL Cholesterol From Damage and improve Blood Sugar Control.
So these two together are a blast!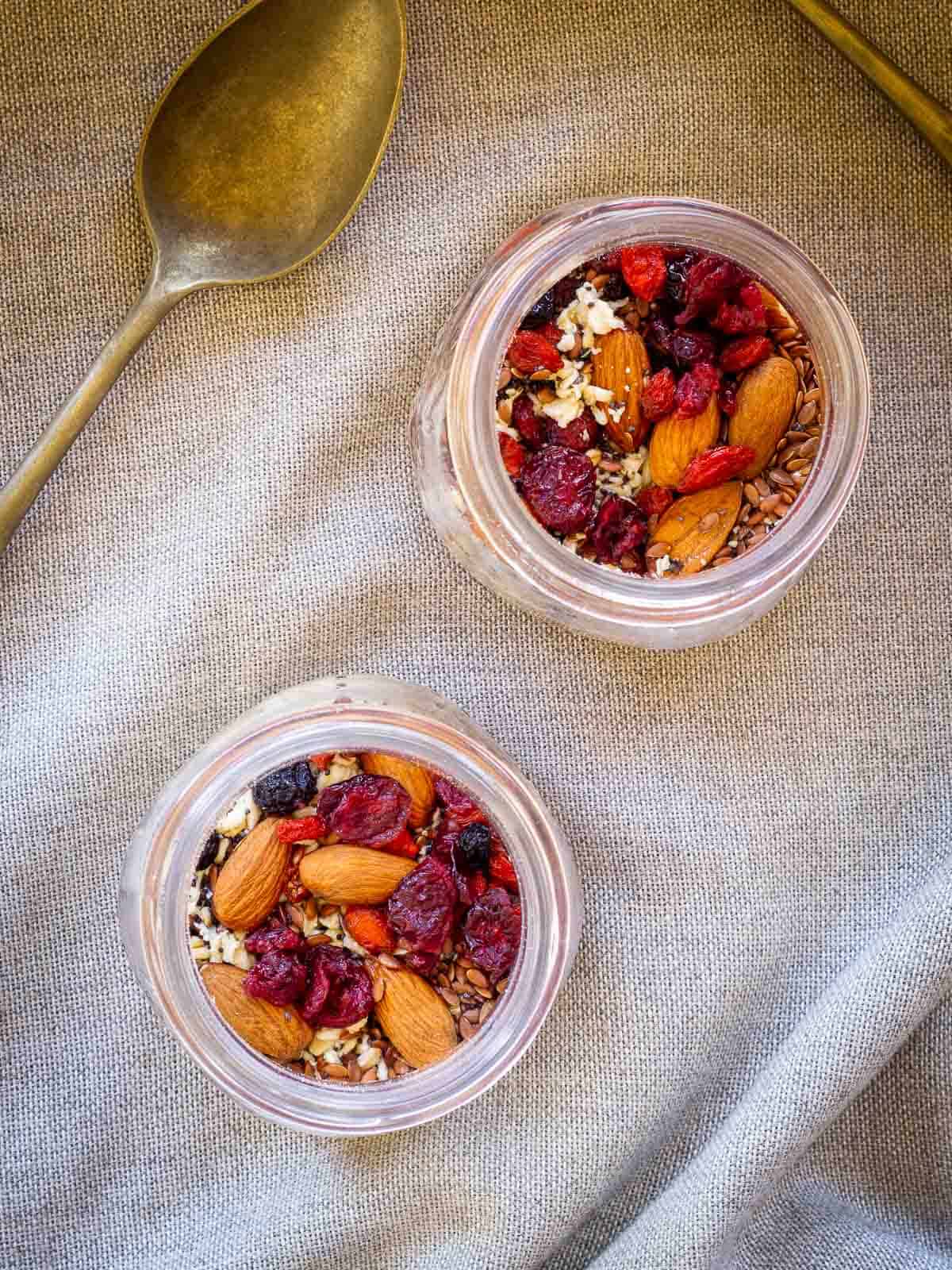 Remember to shop for Gluten-Free Oats if you are on a Gluten-Free diet, as Oats naturally do not contain gluten. Still, they are usually processed in places where there is gluten, and usually, they don't guarantee they are gluten-free.
Activate your oatmeal, seeds and nuts
Our bodies digest better the nuts, seeds, and oats when activated in water. Nuts are plant seeds; soaking them for 12 hours can start the germination process, causing changes in the seed.
When you soak nuts and seeds, you minimize their nutritional inhibitors and toxic substances as they are absorbed into the water, and you make it easier for your body to absorb the great stuff. More about why it is important to activate seeds, nuts, grains, and beans. WebMd
Rolled oats absorb so much water that you won't necessarily need to add milk, making it different from eating a granola bowl, which would be dry granola and needs additional moisture on it.
So before going to bed, leave three cups of water for every cup of dry oats, your choice of seeds, and nuts soaking, and use it as they will be soft in the morning.
Health Benefits of Berries
Berries are amongst the healthiest foods on Earth. Here are some of them.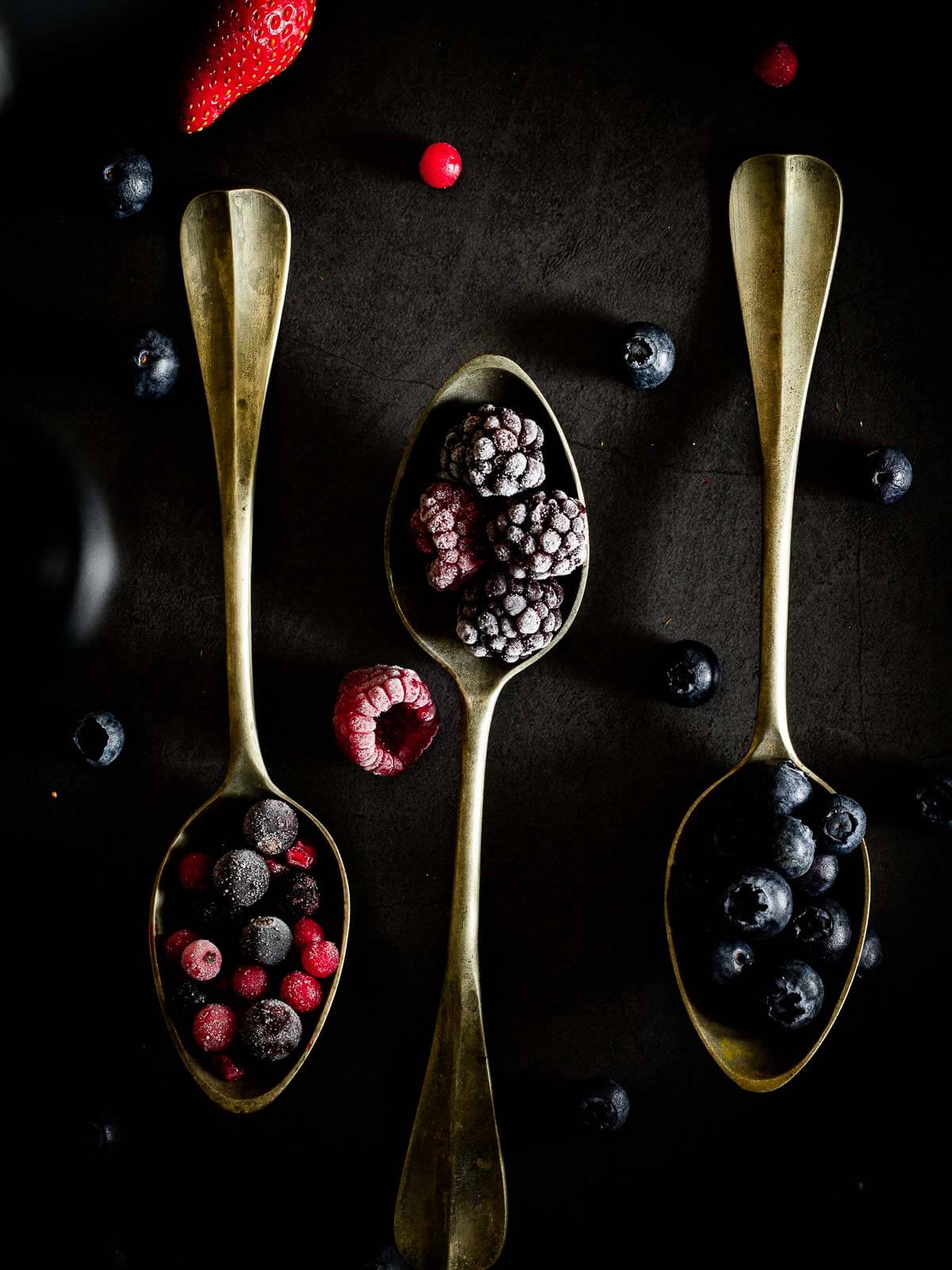 Benefits of berries for hair
Berries have many beneficial antioxidants and vitamins, such as vitamin C, that may promote hair growth. Antioxidants can help nourish hair follicles and protect against damage from harmful free radicals.
Benefits of berries for skin
Berries may help reduce skin wrinkling, as their antioxidants help control free radicals, which is a leading cause of skin damage.
Various studies suggest that berries may protect skin by blocking the production of enzymes that break down collagen in the skin that has been damaged by excessive sun exposure.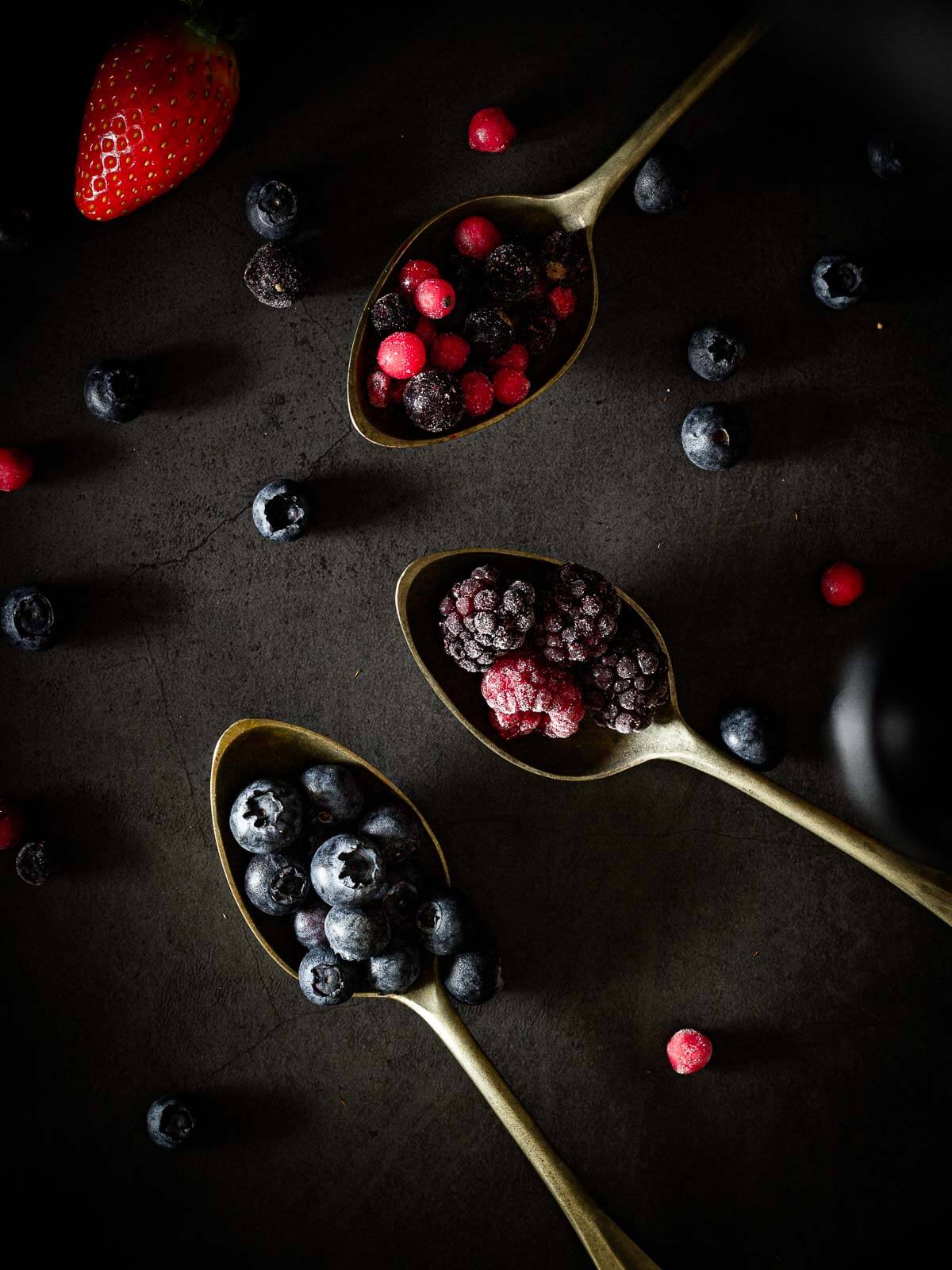 Collagen is a protein that constitutes an essential part of our skin's structure. Collagen allows our skin to stretch. Conversely, our bodies develop wrinkles when collagen is damaged.
Benefits of berries for heart
Many berries have proven benefits for heart health. These include lowering blood pressure and cholesterol while reducing oxidative stress.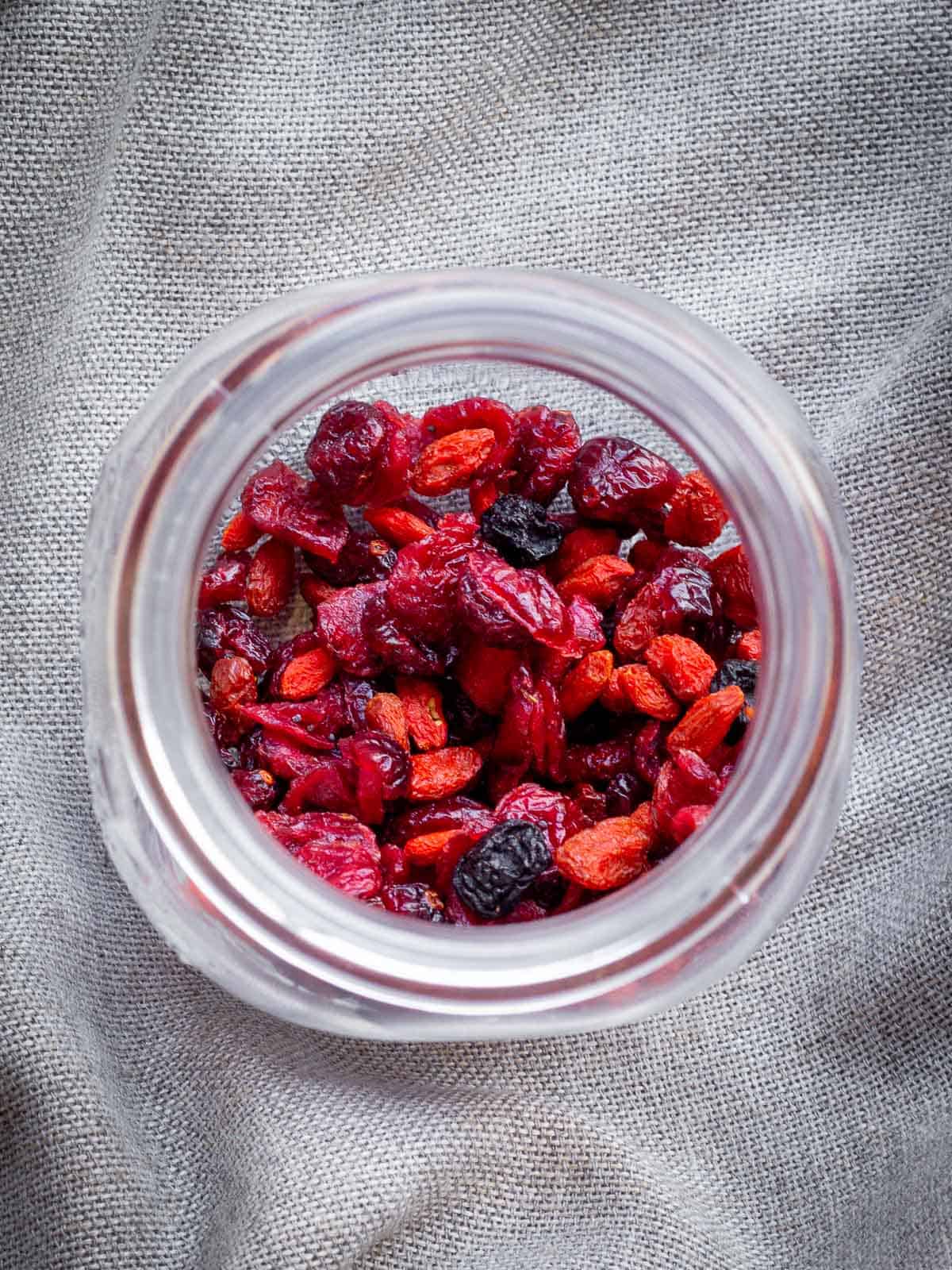 Berries have many folates (vitamin B) known for their benefits that include improved cardiovascular health.
Raspberries may protect against diseases such as cancer, diabetes, arthritis and obesity.
Health Benefits of Raspberries
They are low in calories and high in fiber, vitamins, minerals and antioxidants.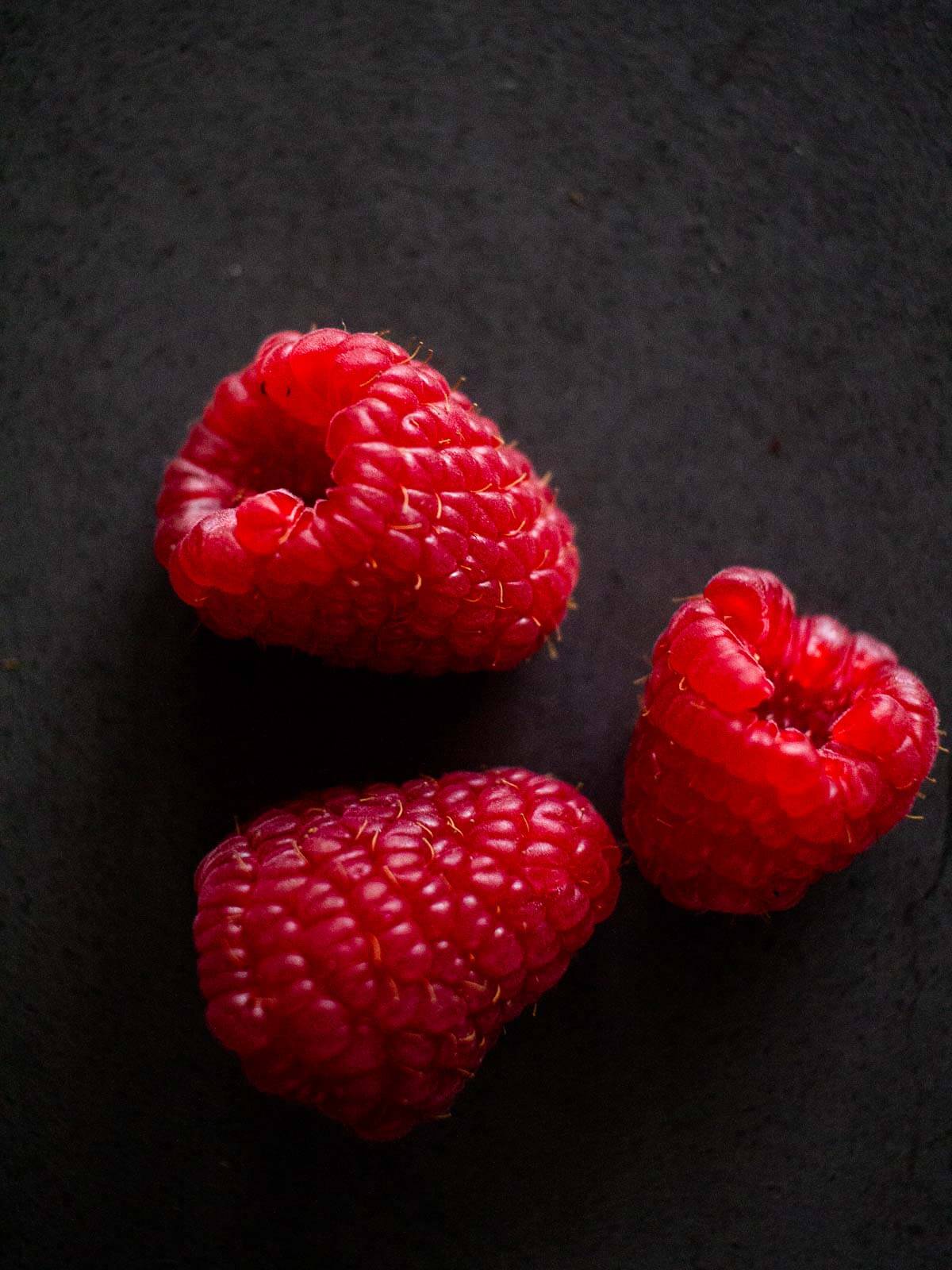 Raspberries may also have anti-aging effects.
These red fruits are easy to add to your diet in smoothies and are a great addition to your breakfast. Try this Frozen Mixed Berry Smoothie
Make sure to buy them when they're in season and eat them quickly as they can get moldy.
Make sure to make them the night before and use a glass container to tempt yourself with the layers of goodness you wouldn't notice on any other container.
Learn more about the benefits of:
For more nutritious Vegan Breakfast recipes, check these out:
If you try this recipe, let us know! Leave a comment, rate it, and don't forget to tag a photo #ourplantbasedworld on Instagram. Cheers!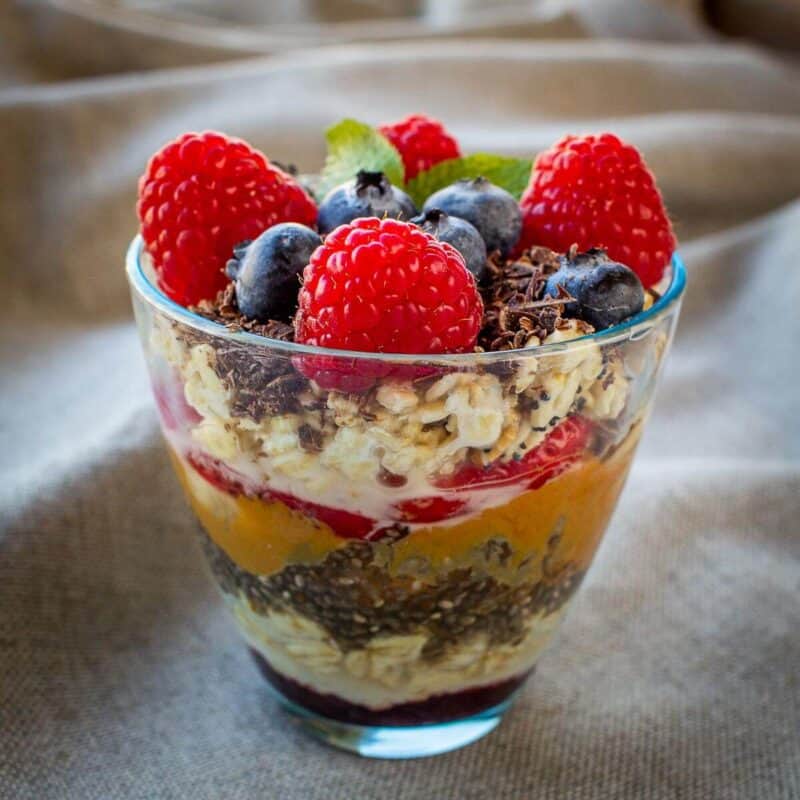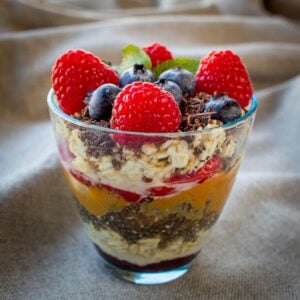 Recipe: Oats and Chia Pudding
Make these Chia Puddings in batches, as they are easy to make and last well for 3-4 days in the fridge
Equipment
Directions
In a glass, put (in this order) marmalade, followed half of the oats, then the chia seeds, half of the water or milk, the peanut butter, the next half of oats, and water/milk.

Top with the berries, maple syrup, cocoa, and coconut flakes. Let it soak overnight.
Notes
REMEMBER: Play and replace with the ingredients available in your kitchen.
Nutrition Facts
Calories:
328
kcal
Carbohydrates:
39
g
Protein:
9
g
Fat:
17
g
Saturated Fat:
3
g
Polyunsaturated Fat:
6
g
Monounsaturated Fat:
6
g
Trans Fat:
1
g
Sodium:
165
mg
Potassium:
308
mg
Fiber:
8
g
Sugar:
17
g
Vitamin A:
13
IU
Vitamin C:
11
mg
Calcium:
193
mg
Iron:
2
mg
Nutrition Facts
Recipe: Oats and Chia Pudding
Amount per Serving
% Daily Value*
* Percent Daily Values are based on a 2000 calorie diet.
Pin it for later!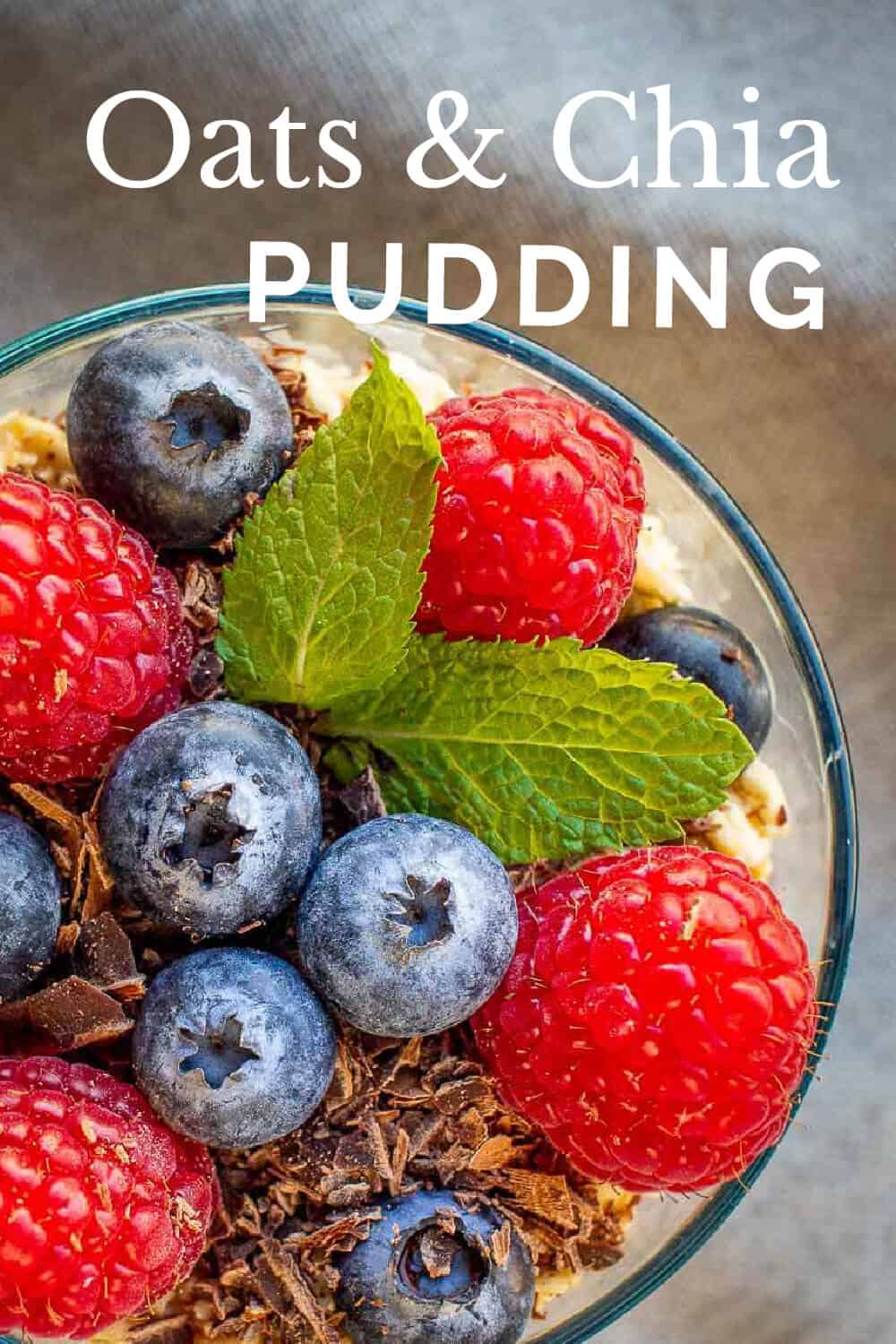 Food safety
We sometimes take for granted that we have years (or decades) of cooking experience that the average visitor may not. Add to, or remove from, the list below with health and safety tips.
Cook to a minimum temperature of 165 °F (74 °C)
Do not use the same utensils on cooked food, that previously touched raw meat
Wash hands after touching raw meat
Don't leave food sitting out at room temperature for extended periods
Never leave cooking food unattended
Use oils with high smoking point to avoid harmful compounds
Always have good ventilation when using a gas stove
See more guidelines at USDA.gov.
The information shown is an estimate provided by an online nutrition calculator. It should not be considered a substitute for a professional nutritionist's advice. See our full Nutritional Disclosure here.
Please note that some of the links here are affiliate links and I will earn a commission if you purchase through those links. I use all of the products listed and recommend them because they are companies that I have found helpful and trustworthy.