I like making Oats and Chia Pudding in batches, as they are easy to make and last well for 3-4 days in the fridge this way. With this chia oatmeal pudding recipe, you have your breakfast secured for a couple of days; they also make a good dessert or snack for a home office day.
This Oats and Chia Pudding is a smaller and slimmer version of a breakfast fruit bowl, but we make them a little more decadent to make up for the reduced quantity of fruit.
We think overnight oats are one of the best breakfast meal prep options you can find. They make the perfect grab-and-go healthy breakfast.
Overnight oats have a creamy texture and can be eaten cold out of the fridge and still have a delicious breakfast.
You can easily fix them in ten minutes before going to bed and waking up to your nutritious breakfast!
If you want a blueberry-packed breakfast, check out our lemon blueberry overnight oats; it also features healthy chia seeds.
Another great fall recipe overnight oats option is our pumpkin overnight oats. All yummy and nutritious treats!
Making the classic rice pudding or a cardamom rice pudding is another great meal prep option if you want to try something a little different and equally easy!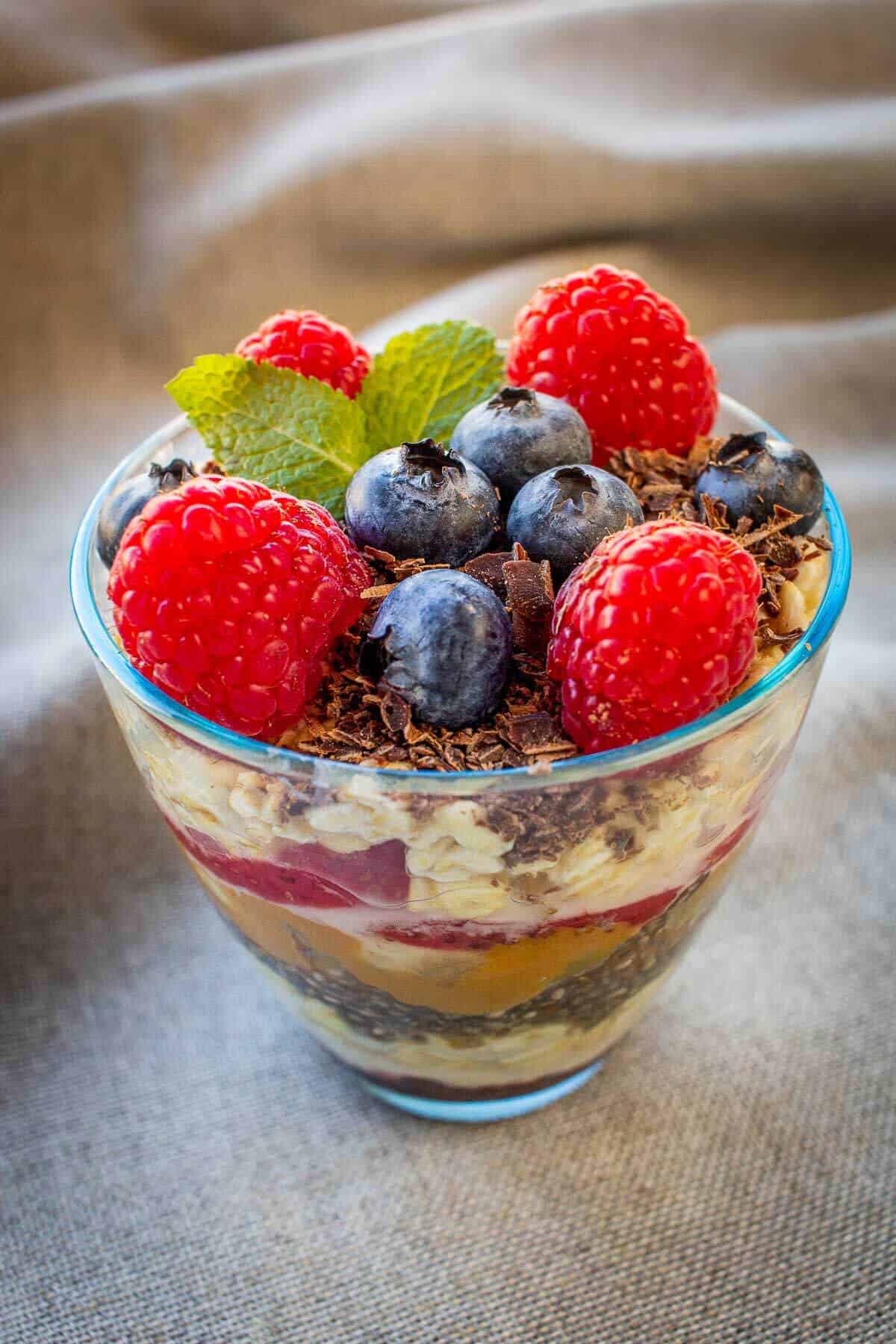 Jump to:
🧾 Ingredients
Old-fashioned Rolled Oats or steel-cut oats (gluten-free)
Chia seeds
Your favorite nut butter (Peanut butter or almond butter)
Fresh fruit (blueberries, raspberries, and strawberries)
Almond milk (coconut milk or oat milk)
Cocoa powder or dark chocolate
Coconut flakes
Optional: chopped nuts, maple syrup, vanilla extract, sliced almonds, or chopped walnuts.
You can see that I am intentionally marking several items as optional. This way, you can always find a way to customize your overnight oats recipe, even if you miss two or three ingredients.
🔪 Instructions
To make this overnight chia oats follow these quick and simple steps: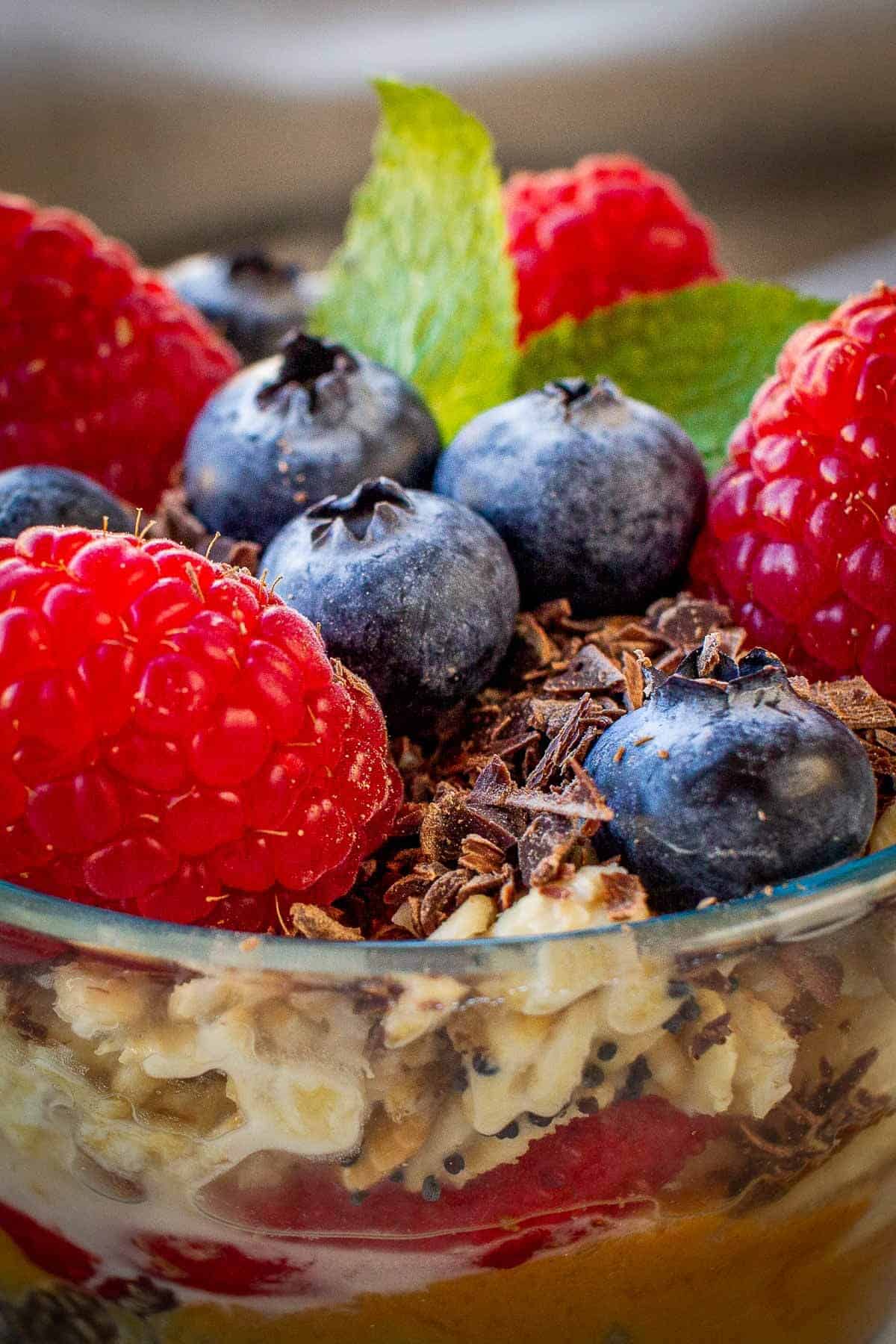 Measure
Get your measuring spoons and cups ready, as well as your fresh fruit.
Assemble
In a glass, set (in this order) jam, followed by half of the rolled oats, then chia seeds, half of the water or vegetable milk, the nut butter (optional), the next half of the oats, and finish with water or almond milk.
Refrigerate overnight
Let the chia seed pudding soak overnight.
In the morning, add toppings. May it be dried fruits or seasonal ingredients. We like using fresh banana slices and berries. Add maple syrup, cocoa or dark chocolate, and coconut flakes to finish.
You can also top it with chunky unsweetened applesauce.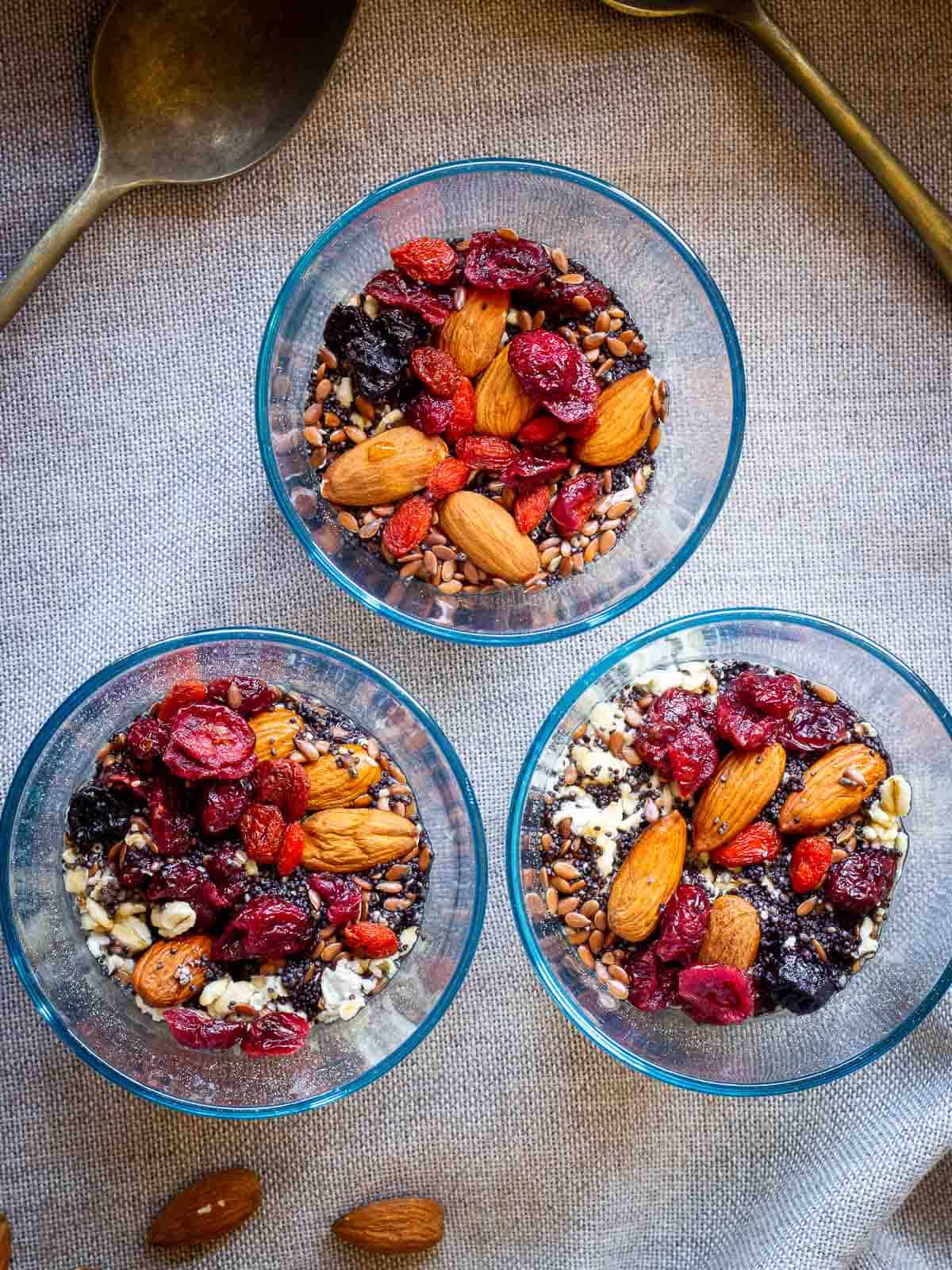 You can make it less sweet and less caloric, taking off the marmalade, nuts, peanut butter, and coconut flakes.
Also, you can use dry berries if you don't have fresh berries. They will hydrate well overnight.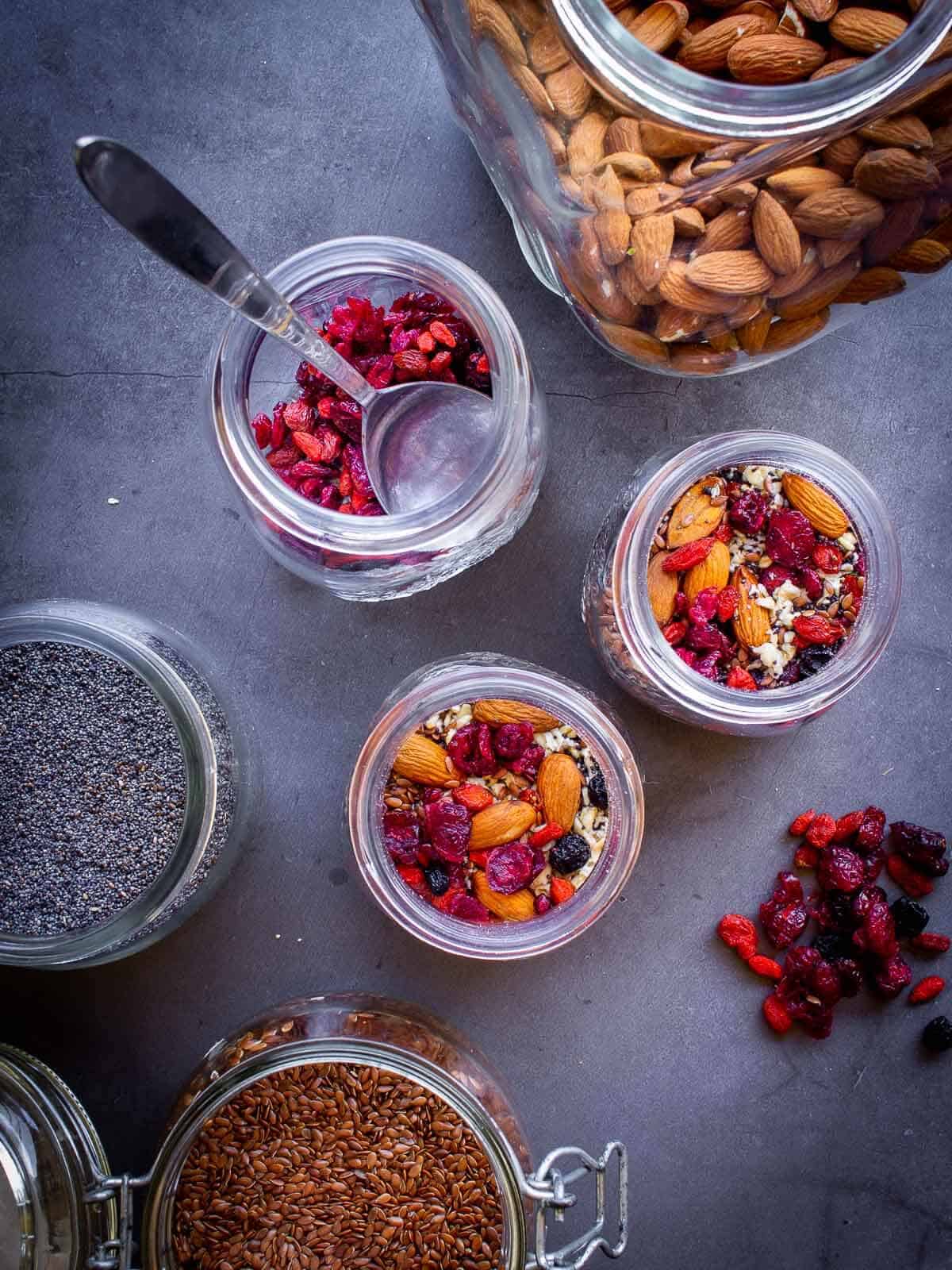 Here are the quantities for a single serving, but I suggest you make at least four at once, one effort: 4 breakfasts.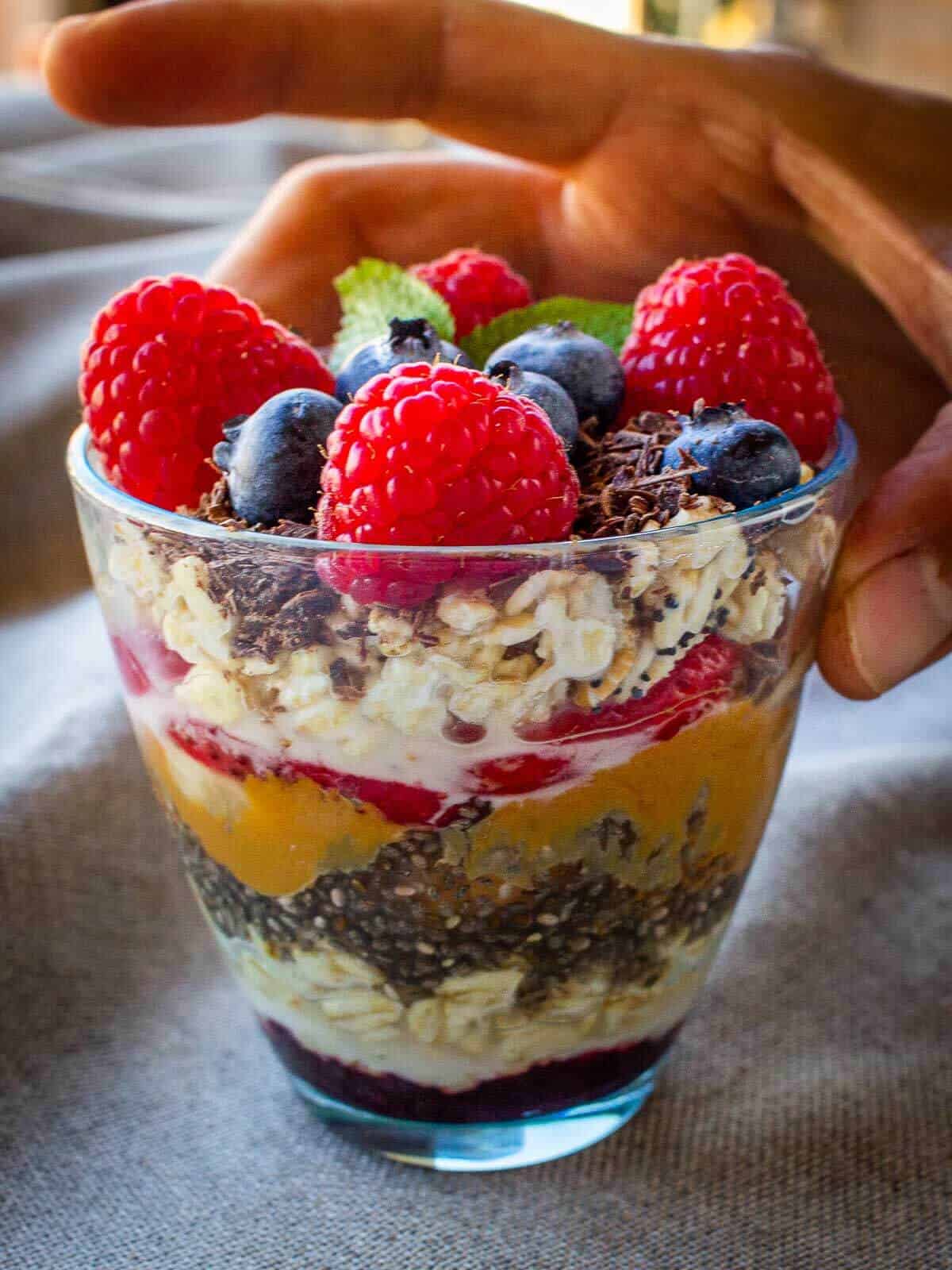 Storing
If you want to save time in the morning and have a quick breakfast, add your favorite topping and fresh fruit before bed. Use individual jars and close them with a lid on the overnight oats.
This way, the fresh fruit will not oxidate much in the fridge and can keep its color.
This is the perfect breakfast for busy mornings, so we recommend making a big batch on Sunday, and you will have your overnight oats ready for the week.
📖 Chia oatmeal pudding variations
Here are a few ideas to make your chia puddings different.
Oats
You can use any kind of oats, like quick-cooking oats, rolled oats, and steel-cut oats, just like you would on your usual brown sugar cinnamon oatmeal.
Dairy-free milk
Instead of using the usual dairy skim milk, go for a healthier option. I find the most flavorful options are almond milk (find a homemade recipe), oat milk, and coconut milk.
Cashew milk helps a lot to make your cold oats ultra-creamy, and soy milk helps to add extra protein.
Nuts
Almonds, walnuts, hazelnuts, Brazil nuts, and even pecans can be used.
Nut butter
I am slightly biased toward peanut butter, almond butter, and hazelnut butter, but you can also use cashew butter. We love using pistachio cream as we do in our chocolate chia pudding recipe.
Chia seeds
Chia seeds are great for making cold overnight oats because they absorb very well the plant milk. If you decide to try other seeds like flax seeds, I recommend using ground flax meals so that you can make the best out of their nutritional value.
Hemp seeds also make a great option, as they are packed with protein, making these healthy overnight oats extra creamy.
Maple syrup
Instead of maple syrup, feel free to replace it with your favorite natural sweeteners like stevia leaves, agave nectar, or even coconut nectar.
Flavor
Add vanilla extract to your grab-and-go healthy breakfast. I also love overnight oats with almond and orange extract.
You can simply add the zest of a lemon or the one from your breakfast orange juice for a citrusy touch.
🥇 Adding Oats and Chia to your morning
Chia seeds are full of antioxidants, fiber, and protein, and they have varied and healthy calorie and carb counts.
Chia seeds are a powerful ingredient, and Science Says These Are 3 of the Healthiest Foods You Can Eat.
Oats are not behind; they provide an immense amount of nutrients and tons of benefits.
They can Lower Cholesterol Levels Protect LDL Cholesterol From Damage, and Improve Blood Sugar Control.
So these two together are a blast!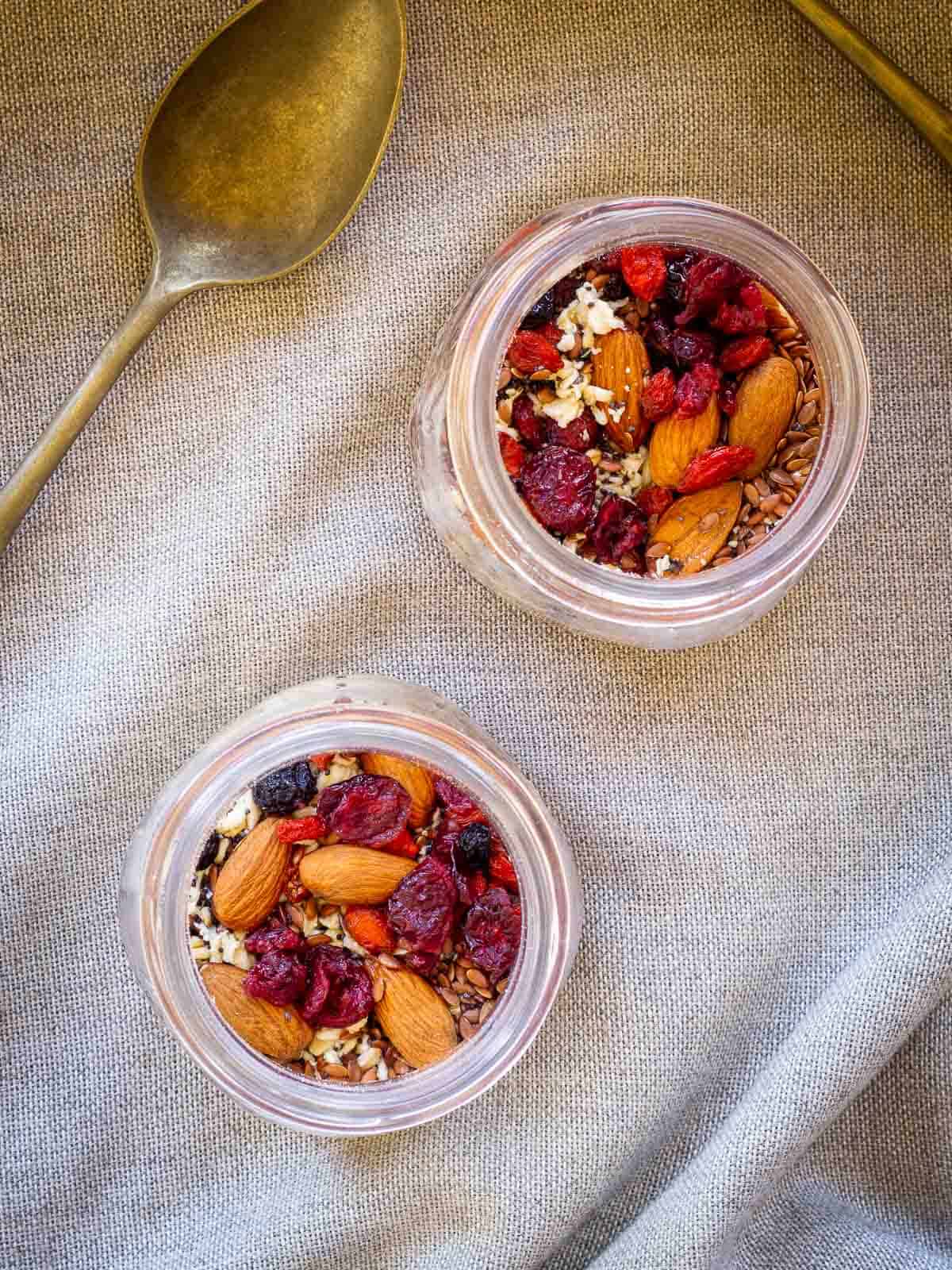 Remember to shop for Gluten-Free Oats if you are on a Gluten-Free diet, as Oats naturally do not contain gluten. Still, they are usually processed in places where there is gluten, and usually, they don't guarantee they are gluten-free.
💡 Activate your oatmeal, seeds and nuts
When activated in water, our bodies better digest the nuts, seeds, and oats. Nuts are plant seeds; soaking them for 12 hours can start the germination process, causing changes in the seed.
When oats soak, as well as nuts and seeds, you minimize their nutritional inhibitors and toxic substances as they are absorbed into the water, making it easier for your body to absorb the great stuff. More about why it is essential to activate seeds, nuts, grains, and beans. WebMd
Rolled oats absorb so much water that you won't necessarily need to add milk, making it different from eating a granola bowl, which would be dry granola and needs additional moisture on it.
So before going to bed, leave three cups of water for every cup of dry oats, your choice of seeds, and nuts soaking, and use it as they will be soft in the morning.
Top tip: use oats for recipes like a savory carrot tart, or eggplant pie. How? Before adding the pie or savory filling, sprinkle 1-2 tablespoons of raw rolled oats.
This will absorb moisture from your pie crust, prevent it from becoming sogged, and add extra fiber and protein to your tarts. We use the same 3-ingredient dough that we use for empanadas.
✅ Health Benefits of Berries
Berries are amongst the healthiest foods on Earth. Here are some of them.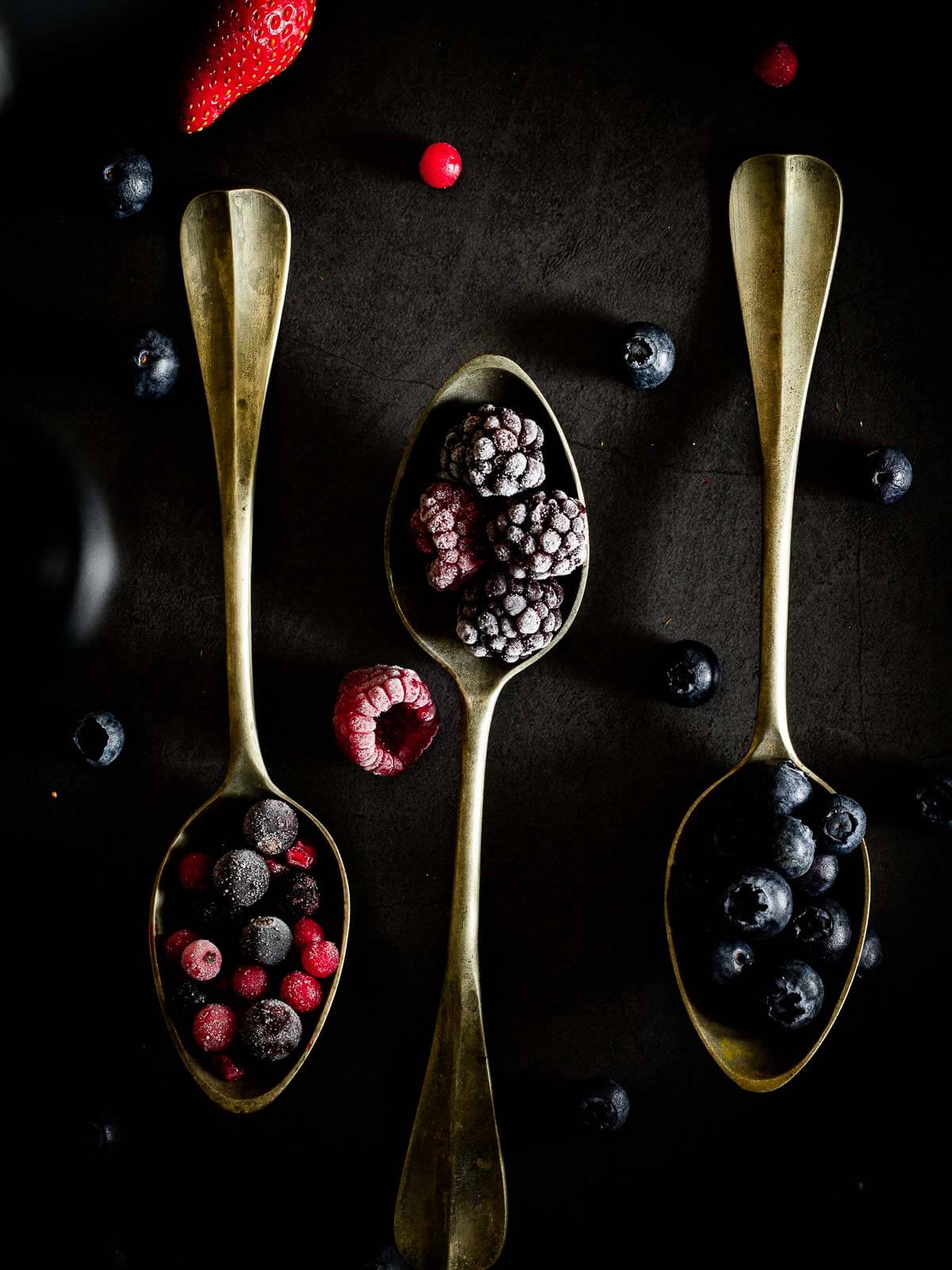 Benefits of berries for hair
Berries have many beneficial antioxidants and vitamins, such as vitamin C, that may promote hair growth. Antioxidants can help nourish hair follicles and protect against damage from harmful free radicals.
Benefits of berries for skin
Berries may help reduce skin wrinkling, as their antioxidants help control free radicals, which are a leading cause of skin damage.
Various studies suggest that berries may protect the skin by blocking the production of enzymes that break down collagen in the skin damaged by excessive sun exposure.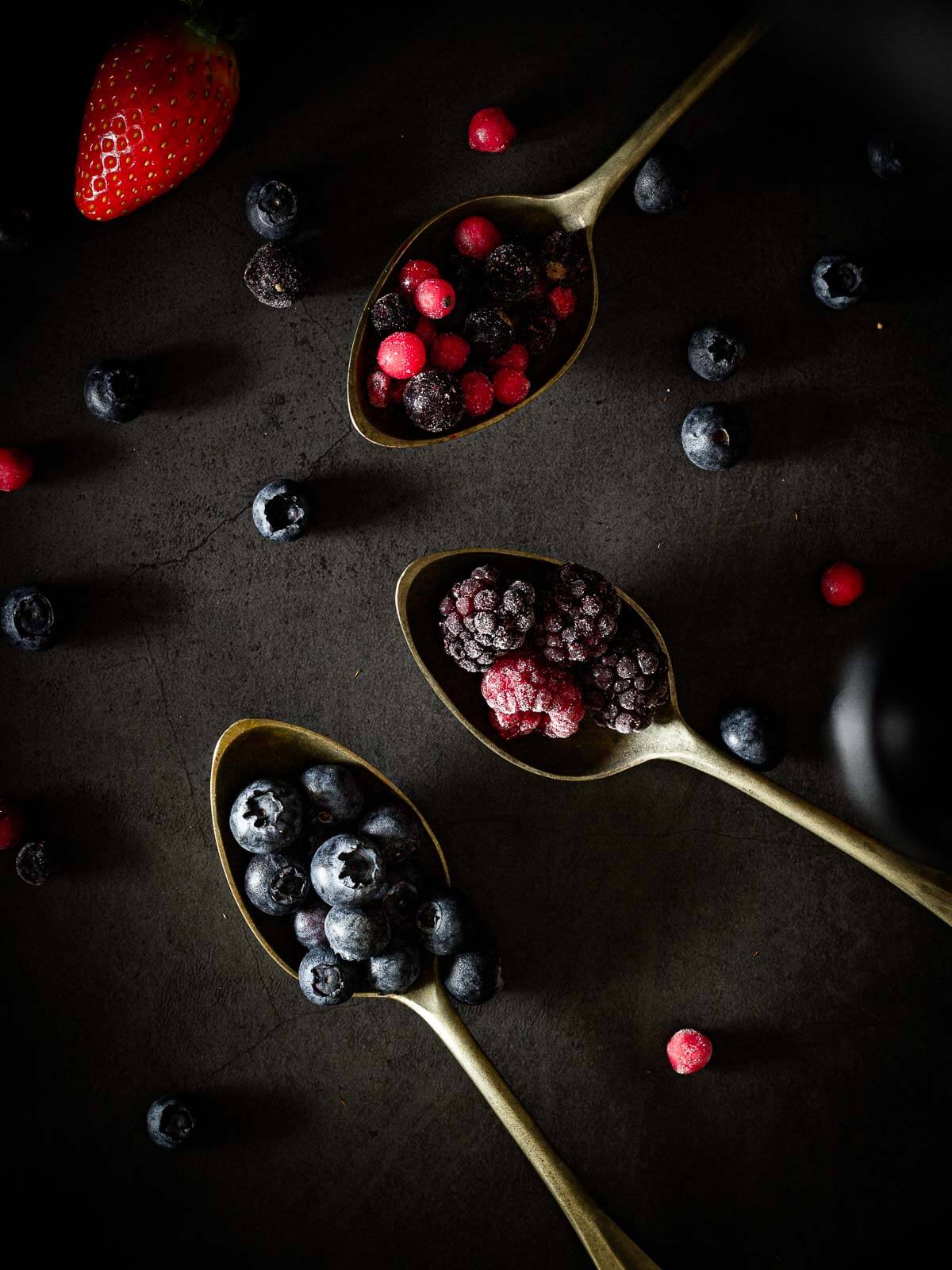 Collagen is a protein that constitutes an essential part of our skin's structure. Collagen allows our skin to stretch. Conversely, our bodies develop wrinkles when collagen is damaged.
Benefits of berries for heart
Many berries have proven benefits for heart health. These include lowering blood pressure and cholesterol while reducing oxidative stress.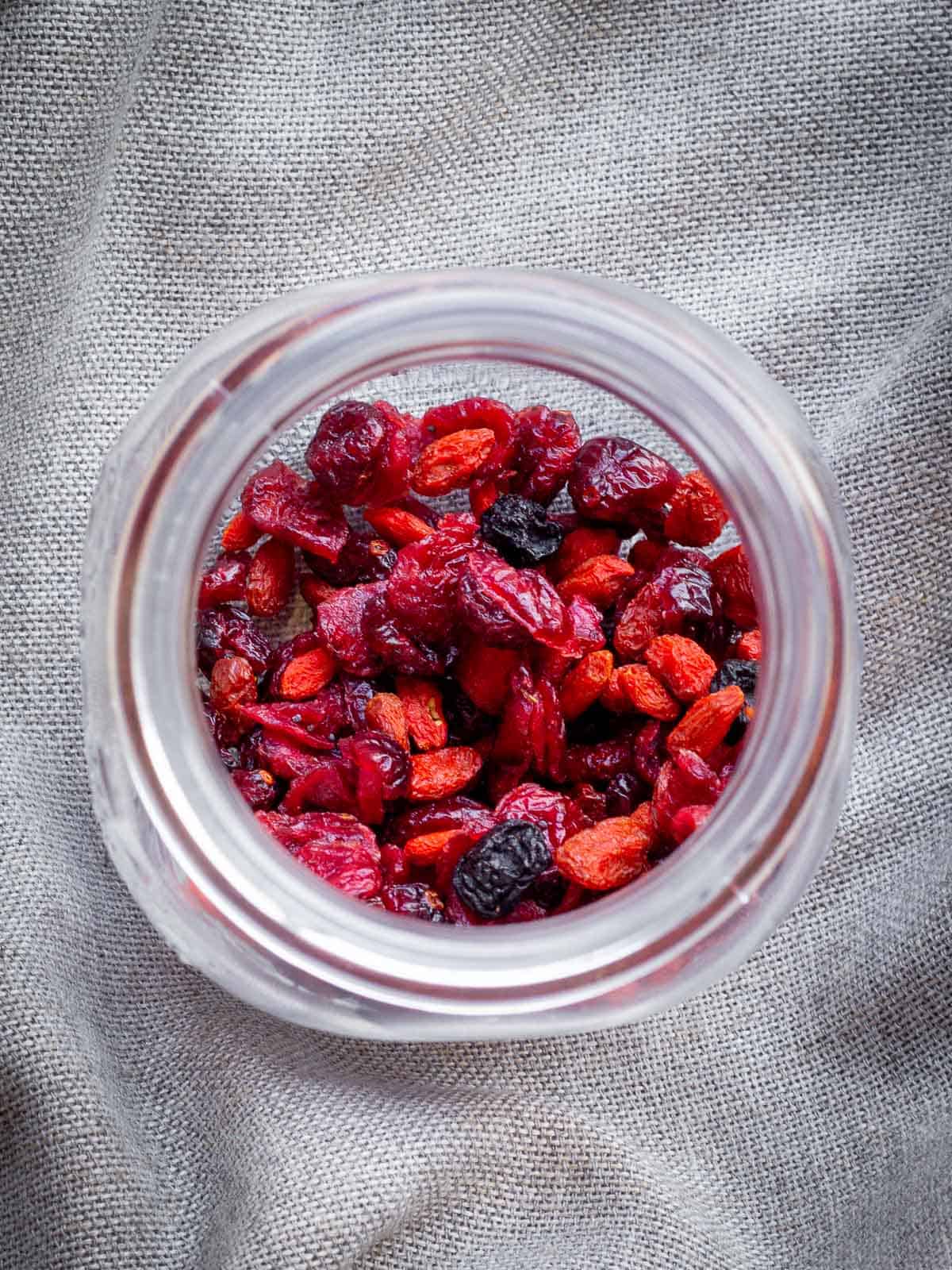 Berries have many folates (vitamin B) known for their benefits that, including improved cardiovascular health.
Raspberries may protect against cancer, diabetes, arthritis, and obesity.
Health Benefits of Raspberries
They are low in calories and high in fiber, vitamins, minerals, and antioxidants.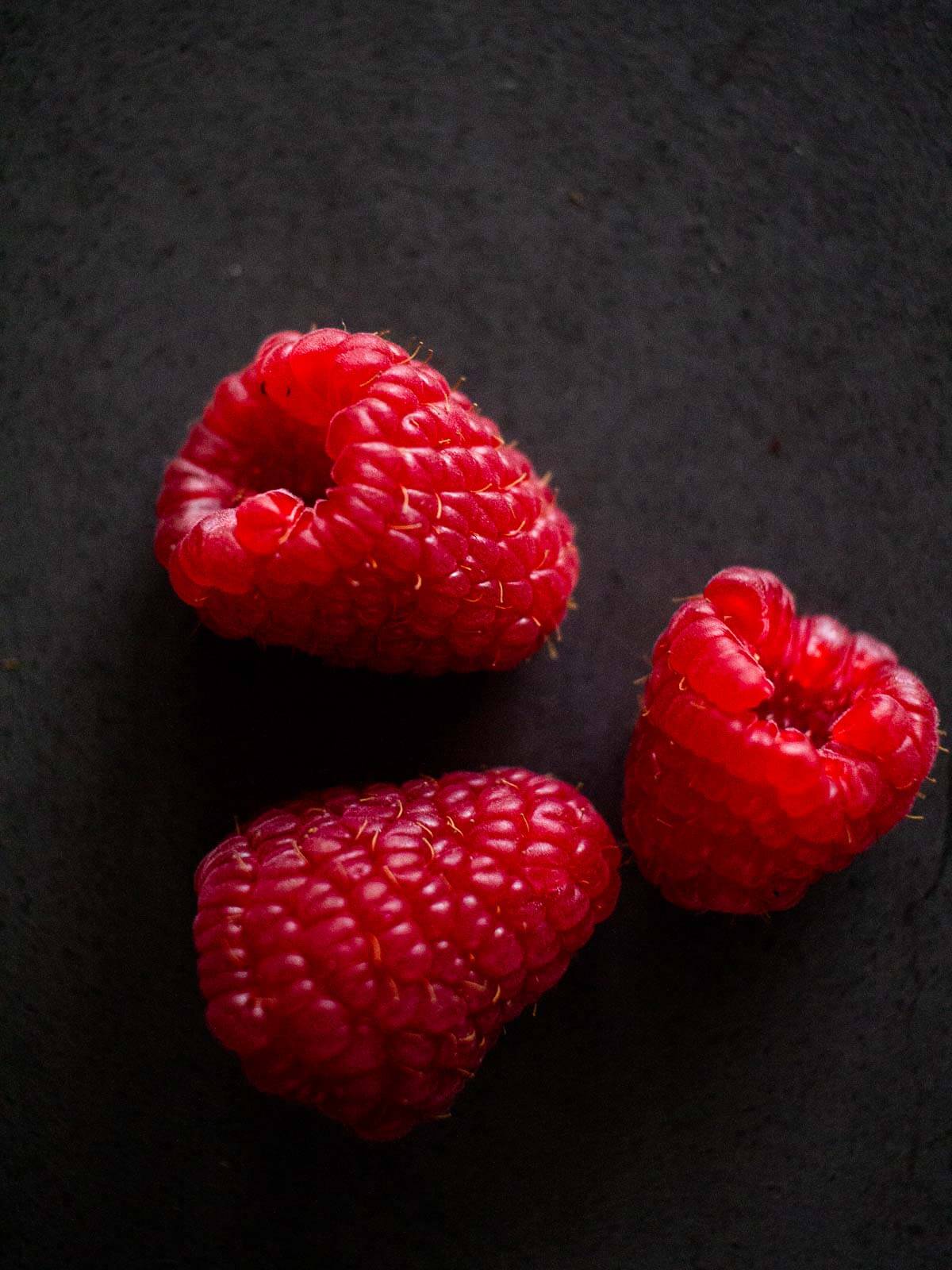 Raspberries may also have anti-aging effects.
These red fruits are easy to add to your diet in smoothies and are a great addition to your breakfast. Try this Frozen Mixed Berry Smoothie, breakfast fruit bowl, and berry vegan and healthy vegan ice cream are also great options to add more berries to your diet.
Make sure to buy them when they're in season, and eat them quickly, as they can get moldy.
For more nutritious Vegan Breakfast recipes, check these out:
If you like your oats packed in a yummy banana smoothie, you should have a check at ours!
⭐ If you try this recipe, let us know! 💬 Leave a comment, rate it, and don't forget to tag us @ourplantbasedworld on Instagram. Cheers!
📋 Recipe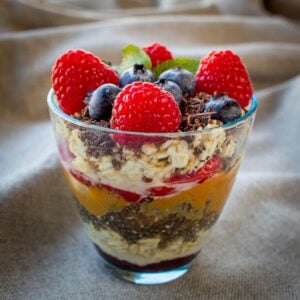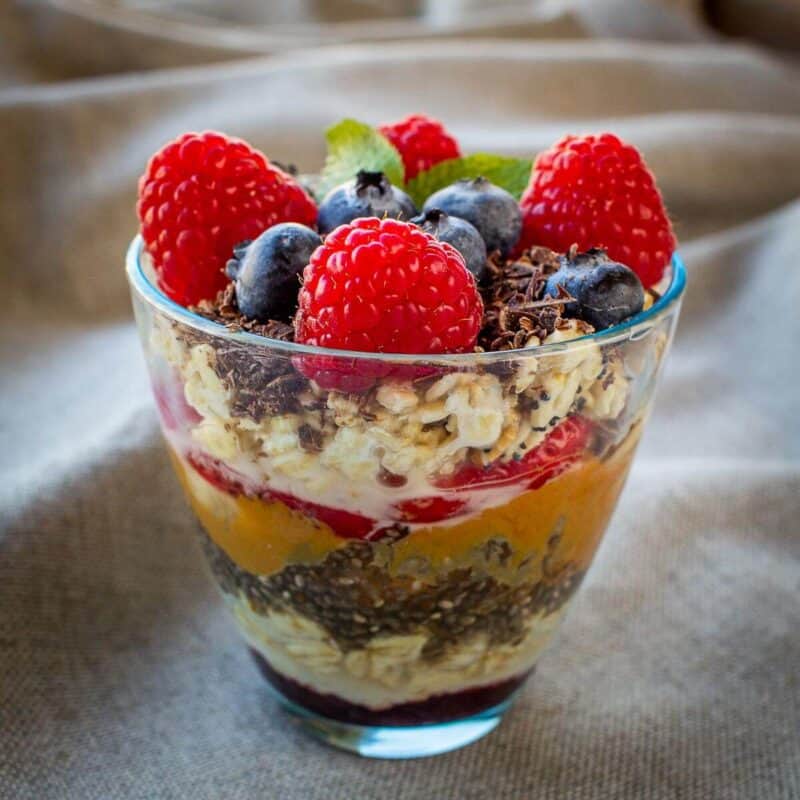 Oats and Chia Pudding
Make these Chia Puddings in batches, as they are easy to make and last well for 3-4 days in the fridge
Equipment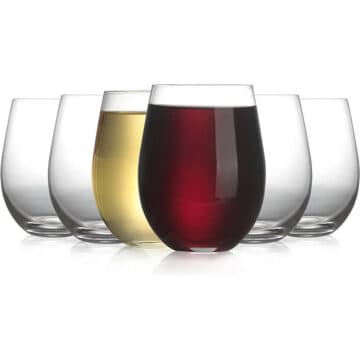 (affiliate link)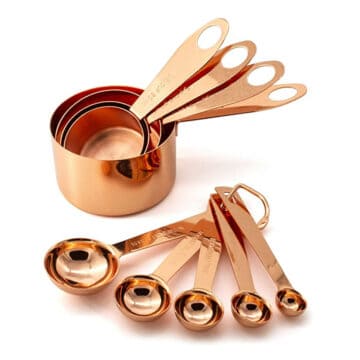 (affiliate link)
Directions
In a glass, put (in this order) jam, followed half of the oats, then the chia seeds, half of the water or milk, the peanut butter, the next half of oats, and water/milk.

Top with the berries, maple syrup, cocoa, and coconut flakes. Let the oats soak in the refrigerator overnight.
Notes
You can add the fresh fruit in the morning so it doesn't oxidate in the fridge or simply close the individual jars with a lid or foil.
Nutrition Facts
Calories:
336
kcal
Carbohydrates:
38
g
Protein:
10
g
Fat:
17
g
Saturated Fat:
3
g
Polyunsaturated Fat:
8
g
Monounsaturated Fat:
5
g
Trans Fat:
0.03
g
Sodium:
188
mg
Potassium:
279
mg
Fiber:
12
g
Sugar:
13
g
Vitamin A:
20
IU
Vitamin C:
11
mg
Calcium:
273
mg
Iron:
3
mg
Nutrition Facts
Oats and Chia Pudding
Amount per Serving
% Daily Value*
* Percent Daily Values are based on a 2000 calorie diet.
🌡️ Food safety
Cook to a minimum temperature of 165 °F (74 °C)
Do not use the same utensils on cooked food that previously touched raw meat
Wash hands after touching raw meat
Don't leave food sitting out at room temperature for extended periods
Never leave cooking food unattended
Use oils with high smoking points to avoid harmful compounds
Always have good ventilation when using a gas stove
See more guidelines at USDA.gov.
The information shown is an estimate provided by an online nutrition calculator. It should not be considered a substitute for a professional nutritionist's advice. See our full Nutritional Disclosure here.
Please note that some of the links here are affiliate links, and I will earn a commission if you purchase through those links. I recommend all of the products listed because they are companies I have found helpful and trustworthy.