If you're looking for an easy, healthy breakfast with a fall flavor that will keep you full all morning long, try these pumpkin Dairy-Free Overnight Oats. It's a simple pumpkin purée recipe where the ingredients are mixed together in a jar and then just put in the fridge to soak overnight.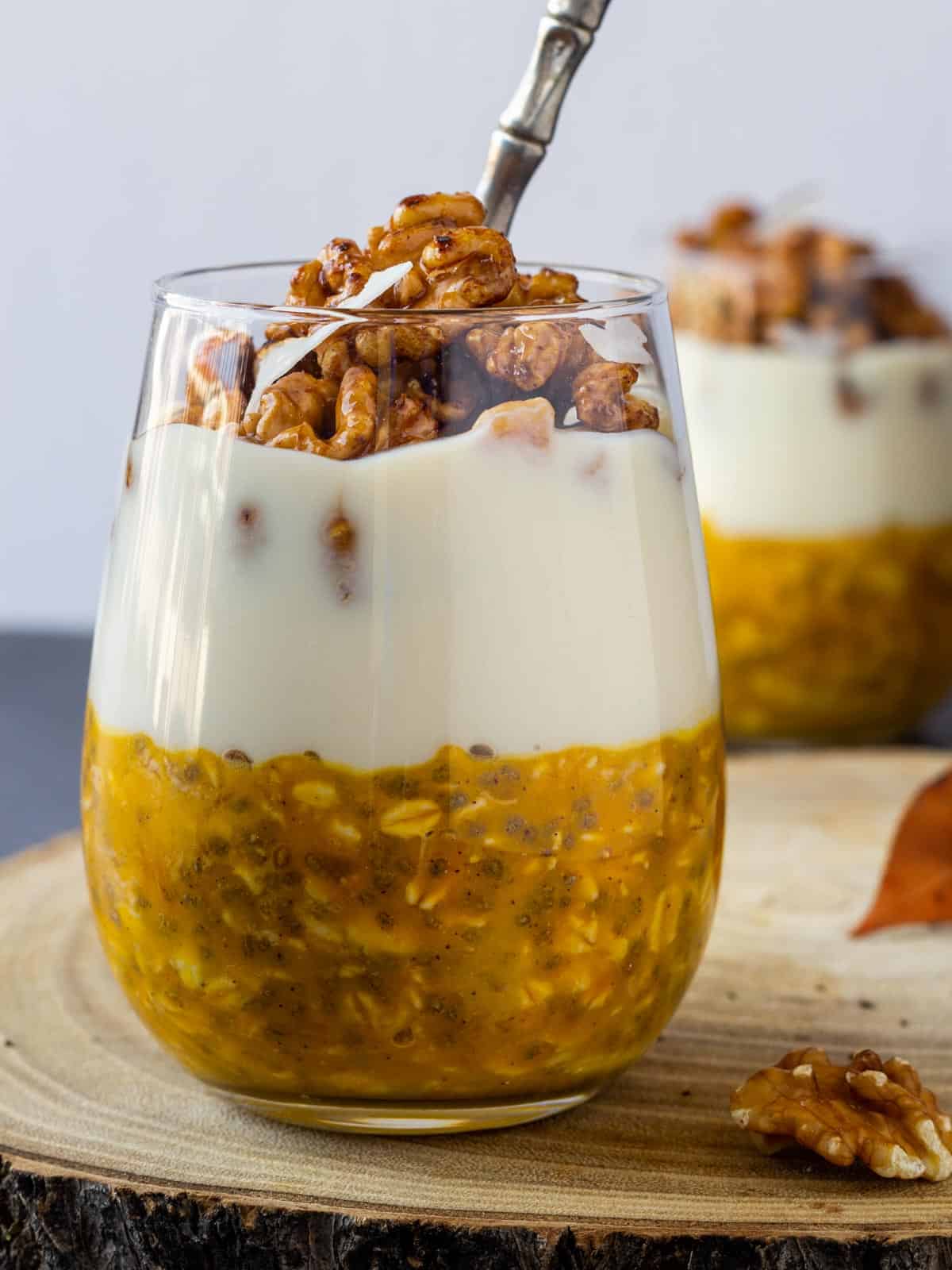 In the morning, it's ready to eat! The best part is that they taste like dessert but have healthy ingredients, so you can feel good about enjoying them guilt-free! Just as our lemon blueberry overnight oats.
This is one of our favorite fall treat pumpkin recipes because it is perfect for all of us pumpkin lovers out there looking for a pumpkin fix. It tastes like pumpkin pie, but better because it's healthy and won't make you feel guilty!
Jump to:
🤔 Why will you love this recipe?
Just throw everything into your jar for an instant puree breakfast. It is somehow the easy counterpart of pumpkin pancakes.
Other favorites in our house are Pumpkin scones and pumpkin bread, which are also delicious recipes we'll share with you soon.
A fun twist on overnight oats, this recipe is made by mixing the creamy pumpkin puree with oats, spices, and maple syrup.
You can do it directly in a glass or small bowl, so there is no need for a food processor.
The pumpkin pie overnight oats are then topped with walnuts caramelized in maple syrup. Soaking overnight makes the overnight oats creamy while waking up to a sweet treat.
I've always been a pumpkin fan. I mean, pumpkin pie is my favorite kind of pie, and pumpkin season is one of my favorite times of the year. So it makes sense that pumpkin would play a role in breakfast as well.
I'm sure you've heard of overnight oats before if you're here. It is a simple preparation. You put old-fashioned rolled oats in a bowl and pour milk or yogurt and fruit the next day, you eat it.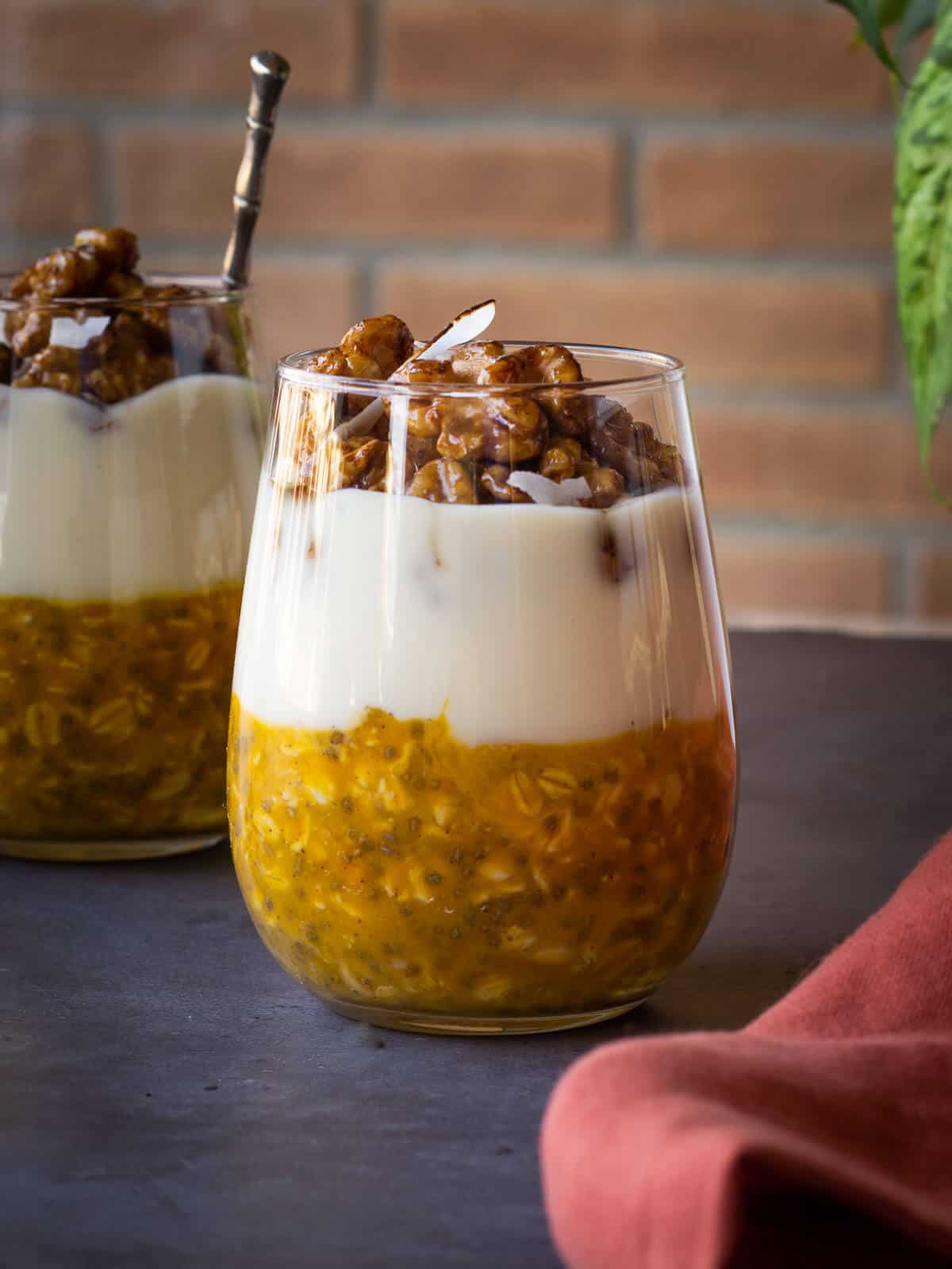 The oat breaks down the phytic acid that can cause digestive problems for people who want to eat healthy during breakfast or dessert.
On top of that, this is one of our favorite recipes with pumpkin puree since it is effortless to make and requires no attention and brings pumpkin pie flavors to our everyday breakfast.
Although pumpkin is great all year round, pumpkin recipes tend to appear in the fall, when we can enjoy their quality at their best.
You can make it with either fresh or leftover canned pumpkin puree.
🔪 How to make pumpkin puree oats
This recipe is shockingly simple. No cooking required! Just add all the ingredients for pumpkin pie into a bowl and mix well. Then optionally top with caramelized chopped nuts and dairy-free yogurt. That's it!
This pumpkin pie oatmeal just needs to rest overnight in your fridge (or 4-5 hours), with no cooking involved. It's such an easy pumpkin breakfast, and why not...dessert!
The idea is that you are making starch and flour-free, simple version of pumpkin pie filling that requires no cooking and let it sit overnight. Pumpkin makes it creamy, and rolled oats and nuts add texture.
That's the simplest version of the recipe. You can choose to make it richer with an extra step. Making the caramelized nuts that will sit on top adds some crunch to your pumpkin madness.
You can use store-bought leftover pumpkin purée or easily make your own, as we usually do. Also, you can easily make your own pumpkin pie spice mix can in 5-minutes, which you will later be able to use for pumpkin pie, pancakes, pumpkin spice lattes, and so on.
If you want to make it extra healthy, why don't you take one further step and make your own homemade almond milk in 5 minutes? It also works with our homemade oat milk or soy milk.
If you want to know more about cooking with pumpkin check our guide.
🧾 Ingredients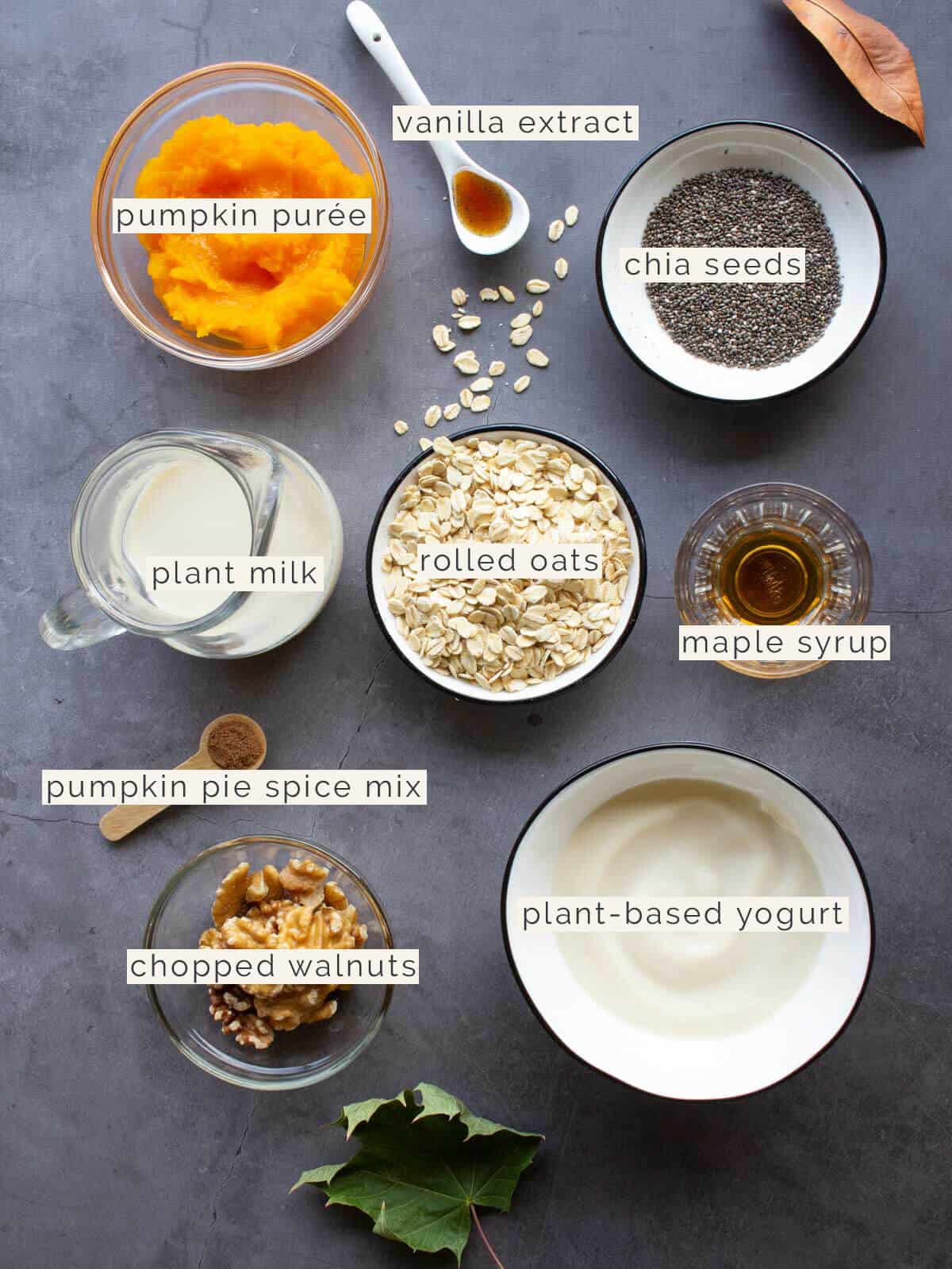 You need just a handful of simple ingredients.
Rolled oats
Plant milk
Pumpkin pie spice mix
Chia seeds
Chopped walnuts
Maple syrup (or agave nectar, or brown sugar)
Pumpkin purée, or leftover pumpkin puree
Vanilla extract
Optional special topping
Walnuts
Maple syrup
Pumpkin pie spice
Almond or Vanilla flavored plant-based yogurt
Coconut flakes or shredded coconut
👨🏻‍🍳 Directions
Add soy or almond milk to a small mixing cup, pumpkin puree, seeds, sweetener of your choice, and pumpkin spice, and stir with a spoon to combine. Then, add the rolled oats last and stir.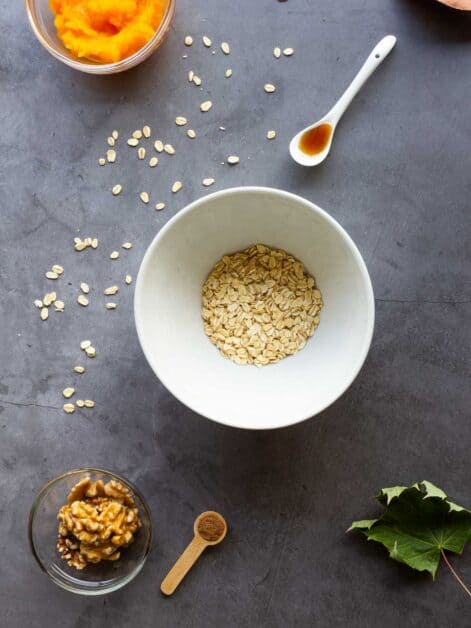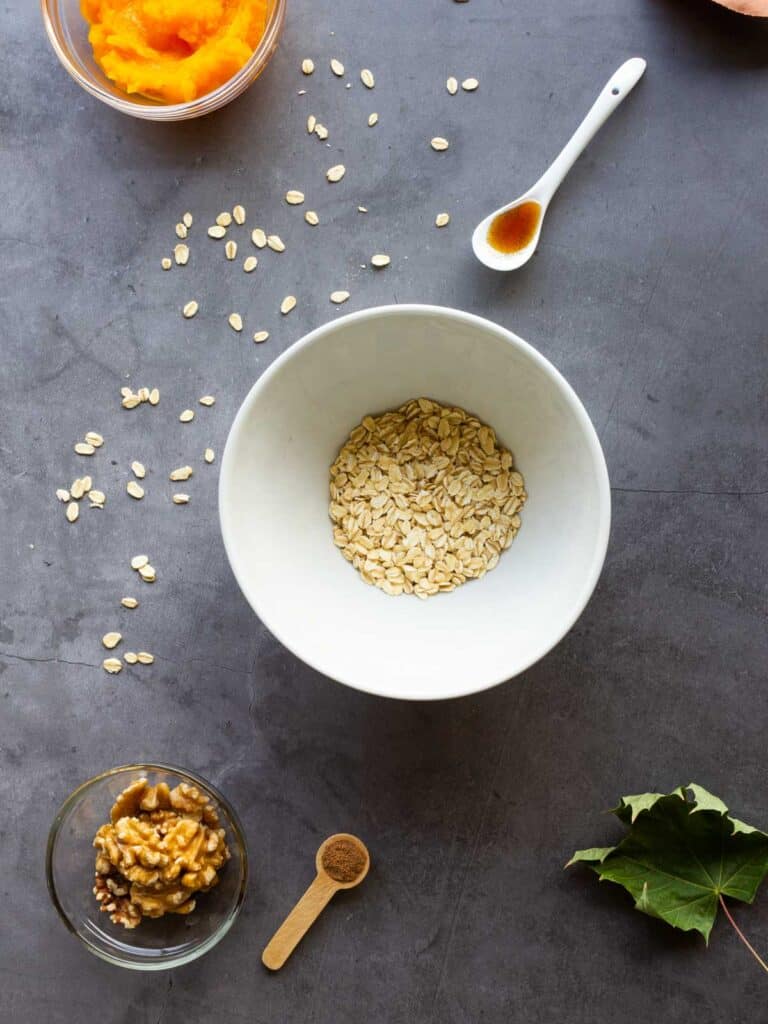 Get two tiny mason jars, fill halfway with oats, then seal or cover and store in the fridge for at least 5 hours to soak.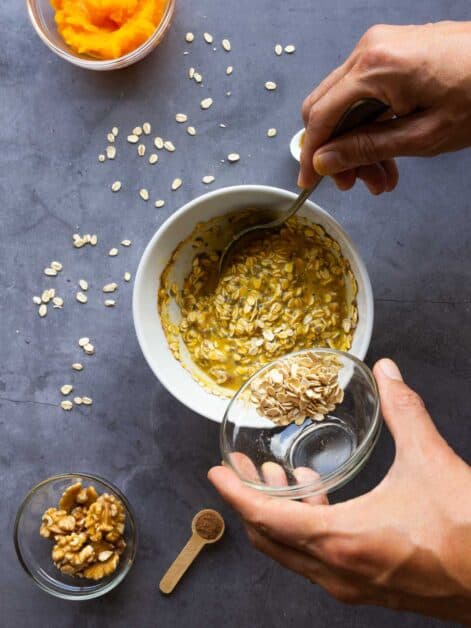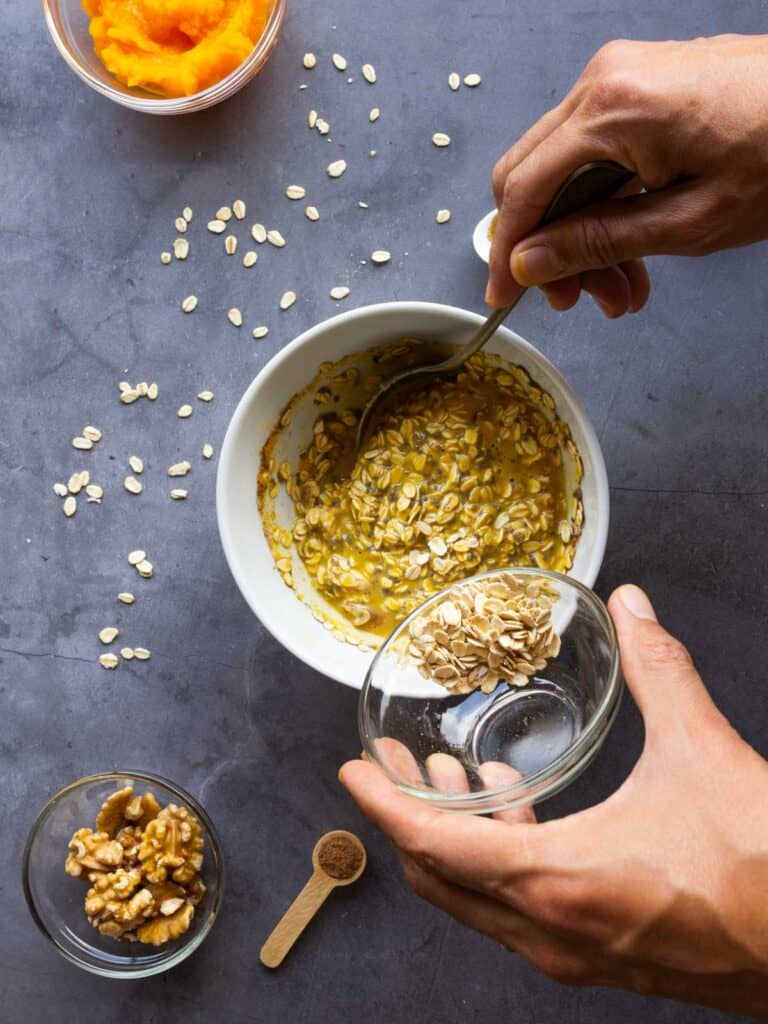 Maple candied Walnuts: Over medium-high heat, toast roughly chopped pecans in a nonstick skillet for about 4 minutes, stirring frequently.
Reduce the heat to low and quickly mix in the maple syrup to cover the walnuts evenly. Spread them out on a baking sheet.
Remove the pan from the heat, add the pumpkin seeds, and stir in the pumpkin pie spice. Allow to cool completely before storing in an airtight container.
Check out this cinnamon-spiced candied nuts recipe to make brown sugar candied walnuts super creasy as a snack.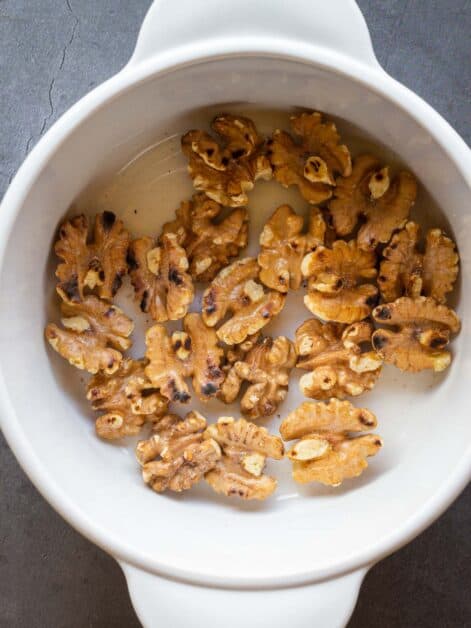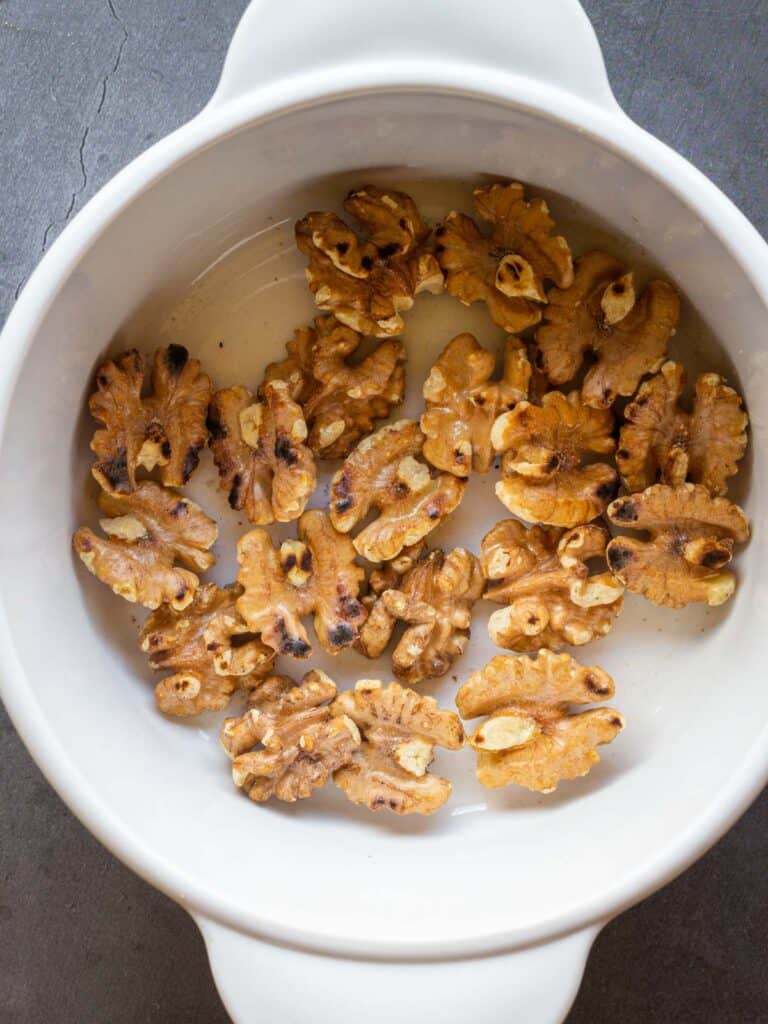 Next day, top your oats with candied walnuts, coconut flakes, and soy yogurt or whipped cream. ENJOY!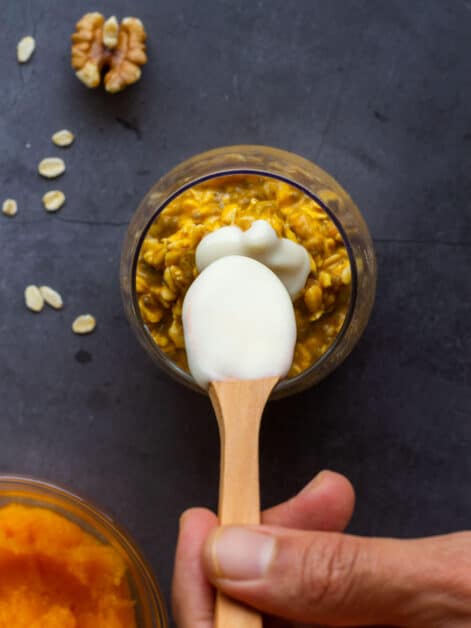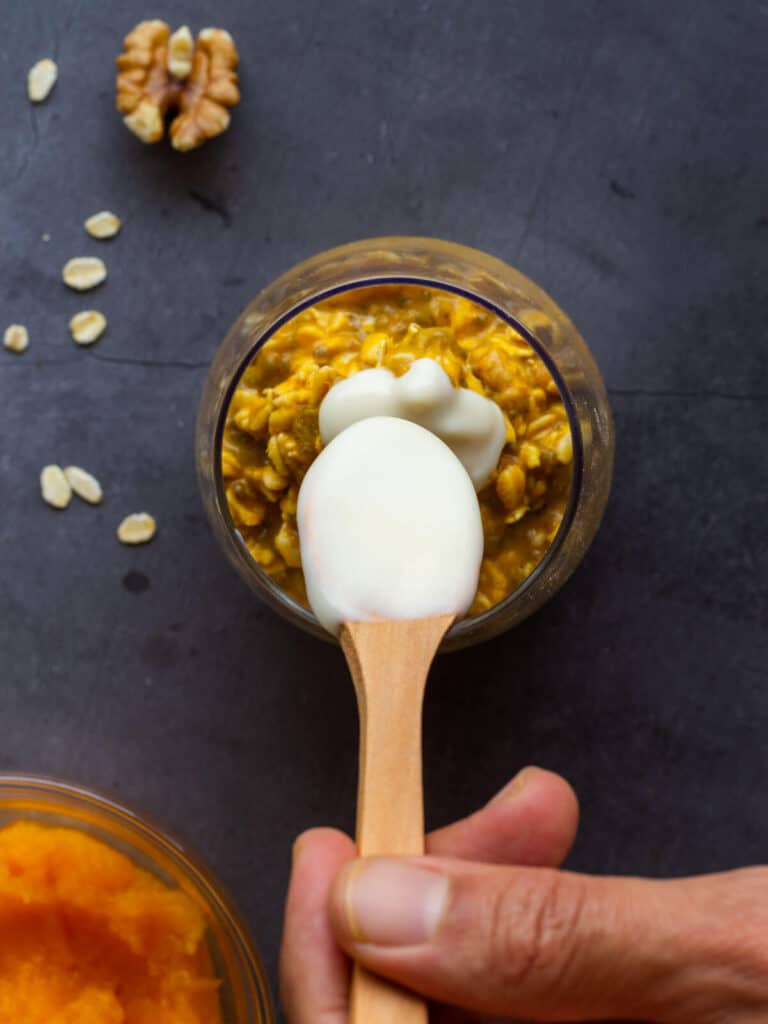 Pumpkin pie Overnight oats will keep in the refrigerator for two to three days, but they're best within the first 12-24 hours.
Note: do not freeze.
📖 Variations
Nuts: you can use any nuts, we find walnuts, pecans, and almonds being our favorite for this breakfast treat.
Non-dairy milk: any milk will work. The most neutral ones are soy, almond, and oat milk, which I highly recommend making at home, but any store-bought milk works. On the other hand, coconut milk provides an extra layer of flavor, which combines well with the spice mix, and the result is also worth trying.
Seeds and healthy fats: you can replace chia seeds with flax meal or poppy seeds; they work perfectly and provide similar nutritional value.
Sweetener: you can also use nectar agave with a low glycemic index. Brown sugar can also be used, but we avoid adding sugar or condensed milk in our pumpkin recipes, as pumpkins are naturally sweet and silky. Sometimes, we even make our leftover pumpkin with oats, milk, and spices and skip sweeteners altogether.
Our favorite toppings: you can go crazy here; you can use chocolate chips, extra maple syrup, etc. If you want to keep it WFPB compliant and avoid extra unneeded calories, it is better to go easy with the toppings.
Vegan yogurt: you can also substitute it with coconut whipped cream topping. If you are vegetarian, Greek yogurt also pairs well with puréed pumpkin.
Make it a morning bowl: just treat your morning oats exactly the same, but instead, pour everything into a small bowl. Don't forget to cover it with a plate while setting them overnight to prevent drying.
Skinny version: you can make a lighter version of this breakfast, omitting the plant-based yogurt and the caramelized walnuts topping.
Rich version: on top of the suggested ingredients, while you mix the oats and pumpkin purée mix, you can add either peanut butter or almond butter to make it super decadent. Cashew butter is also an excellent addition.
Oats - besides the easy, quick oats and steel-cut oats, obvious replacements... Yes, oats also have an easy replacement. Use farro (spelt); they behave exactly the same and can be used interchangeably. Remember to use Gluten-Free oats if you are celiac or following a gluten-free diet.
Sweet potatoes: this root can be used almost the same way as pumpkin, as you can make an equally sweet purée and achieve very similar results! We also like using acorn squash since it has a nutty flavor that foes well on this recipe.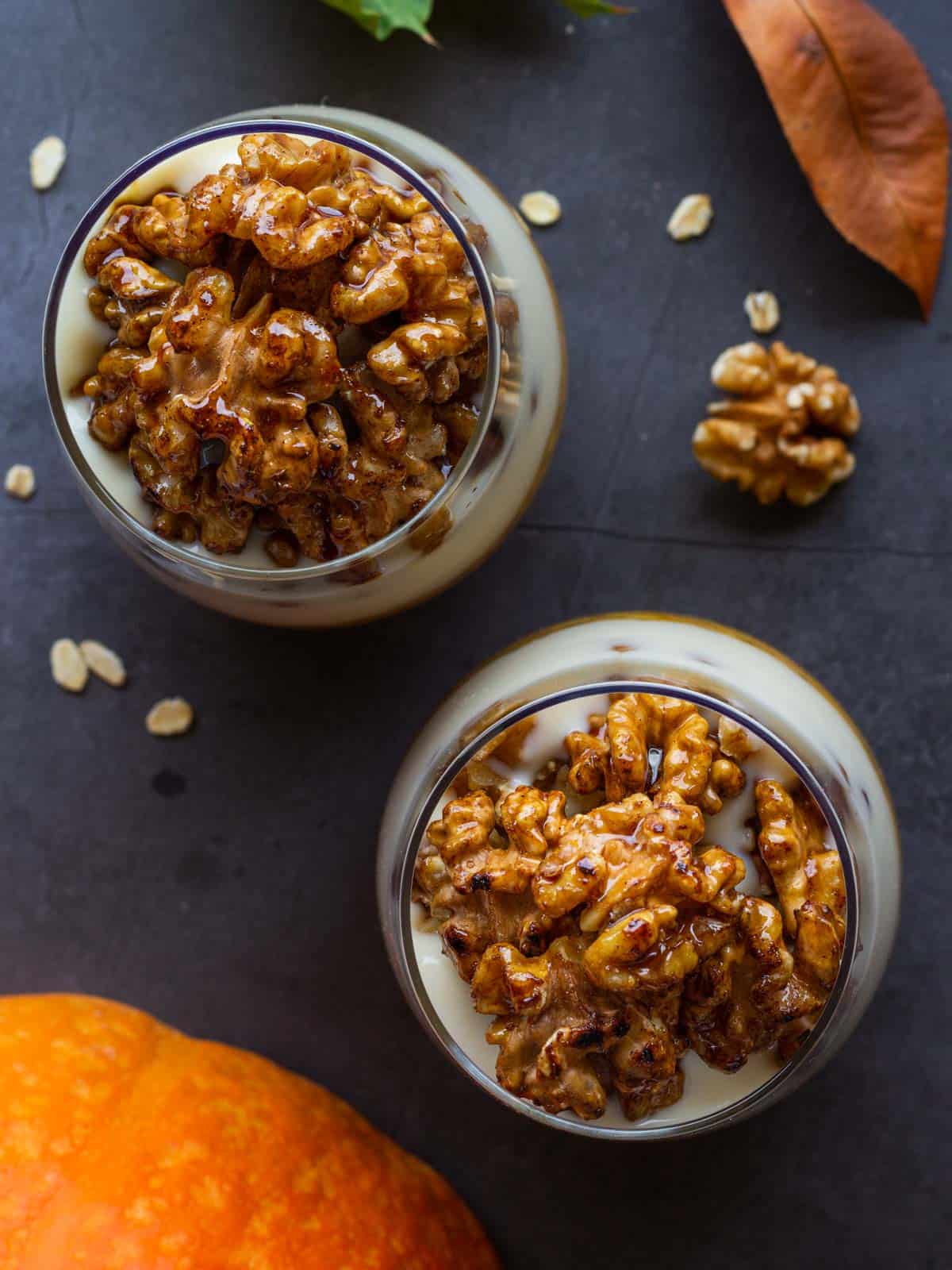 💡 Top tips
Stir the pumpkin pie and oats thoroughly: If you don't mix all the ingredients together before placing the mason jars in the fridge, chia seeds may stick together with the liquid, thus not mixing well with the ingredients causing small clumps of hard textures.
Covering the oats: during the time in the fridge, the top of the mixture can become dry; that is why it is better to cover it with a lid to retain the moisture of the mixture while they are in the refrigerator, which tends to dry everything out.
🥫 Canned pumpkin vs. Pumpkin Pure
If it is pumpkin season, why use canned pumpkin purée? Homemade pumpkin is super simple, simply set a big chunk to boil in water, and you have pumpkin purée to be used on various dishes. BPA-free and wholesome!
Also, feel free only to use a little pumpkin if you find its taste too invasive. No can, and no plastic container!
☀️ Why eating oats and pumpkin is a good idea
Oats are an incredibly versatile grain that can be used for breakfast, side dishes, main courses, or even dessert if you have a sweet tooth.
They're also super healthy since they keep you full all morning long! Add pumpkin to your oats and get in some extra pumpkin pie antioxidants.
Pumpkin is high in vitamin A, and pumpkin spice mix, like cinnamon, has anti-inflammatory properties.
For this pumpkin version of breakfast oats, you need to add pumpkin puree to your base cereal for some extra antioxidants and pumpkin pie flavor.
Happy pumpkin pie season!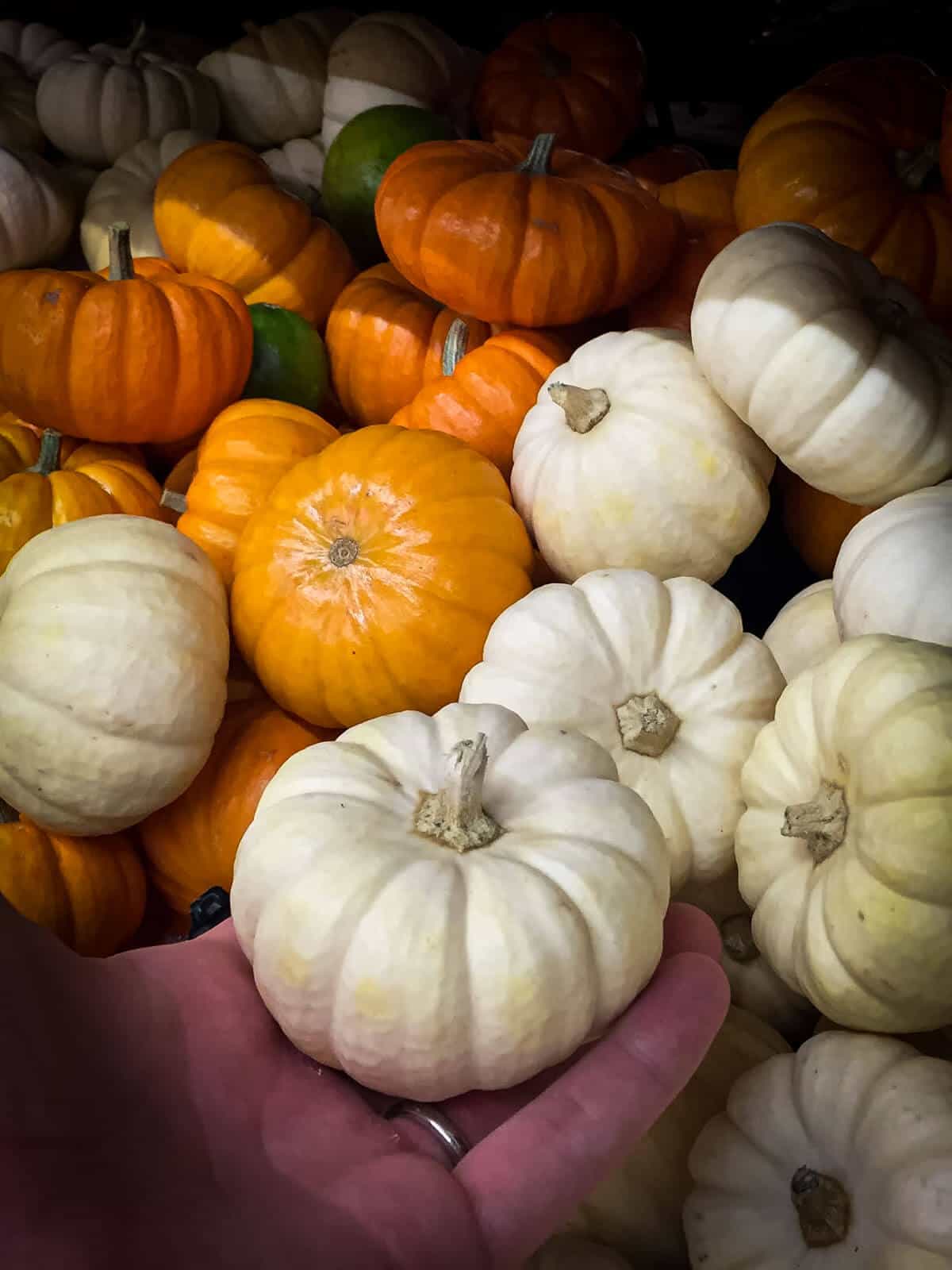 Get a VITAMIN A boost!
Pumpkin is an excellent source of vitamin A. Vitamin A is essential for healthy vision and supporting cells that protect your eyes from oxidative stress, leading to age-related macular degeneration (AMD). It's also good for keeping your skin looking young since it supports new skin cells.
Pumpkin is also an excellent source of vitamin K, which is perfect for blood clotting and healthy bones.
It's also a good source of manganese and potassium, both electrolytes necessary to keep us hydrated.
🧂 Pumpkin spice
The pumpkin spice in pumpkin pie has antioxidant properties. Not only do pumpkin pies have antioxidant properties from pumpkin puree, but this spice mix contains several spices that all have antioxidant activity.
You can use it in many recipes with pumpkin puree, such as pumpkin pie, pumpkin spice latte, and homemade granola. Make your own!
🙌🏻 Health benefits of cinnamon
Studies show that cinnamon reduces inflammation and blood sugar levels in people with type 2 diabetes.
Cinnamon may also help protect against cancer as it contains a powerful compound called coumarin, which has been shown to kill leukemia cells.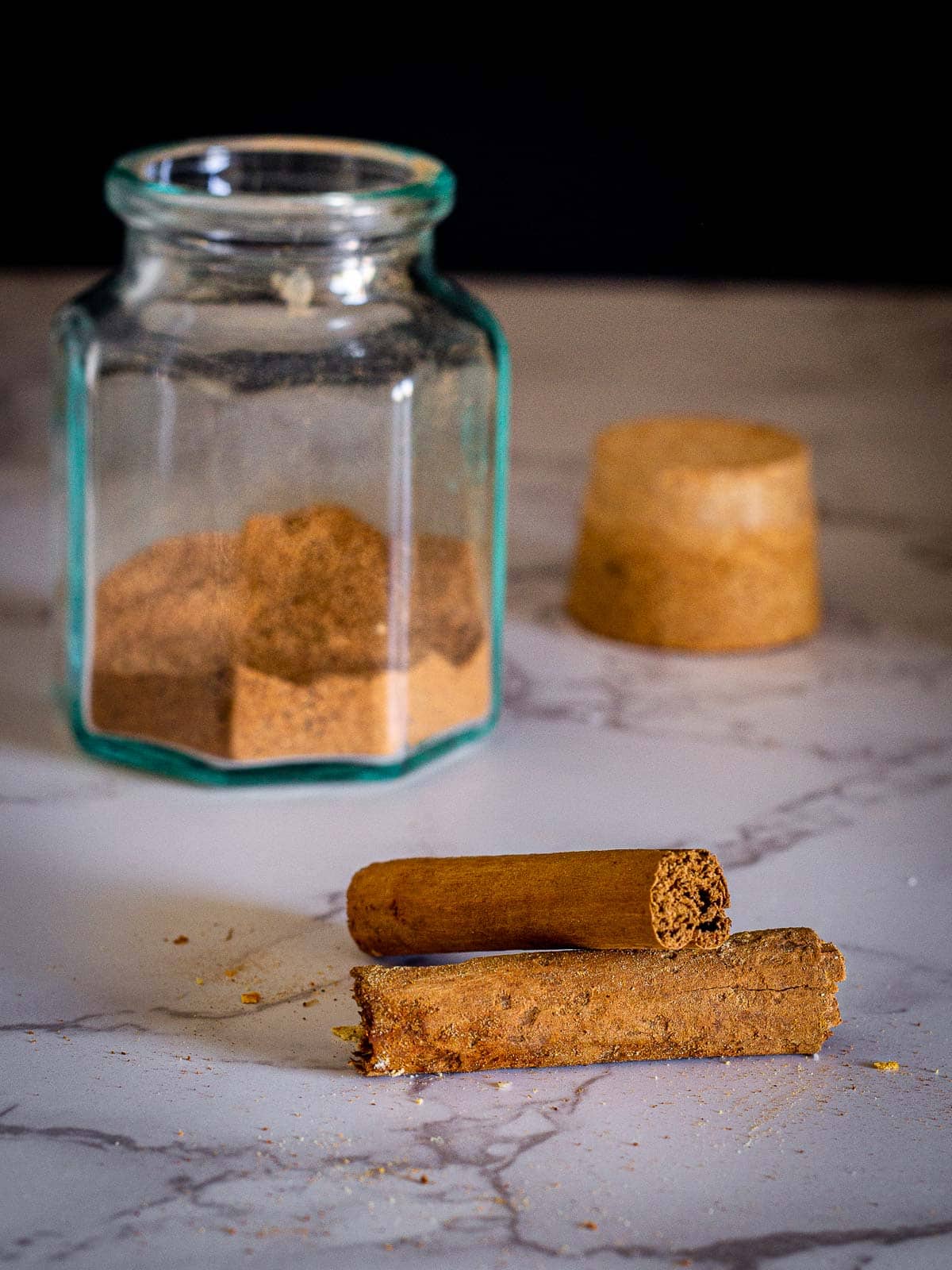 Coumarin also prevents blood vessels around tumors from developing (angiogenesis) and stops the spread of melanoma skin cancer cells in mice.
This recipe is easy to make, highly nutritious, and delicious. If you like pumpkin pie flavors in the fall season, then this recipe is for you! This recipe is a total fall upgrade, a crowd-pleaser, and good food.
I recommend using seeds in general because they are high in omega-3 fatty acids, which can help with brain health; it also helps provide energy by promoting healthy blood sugar levels.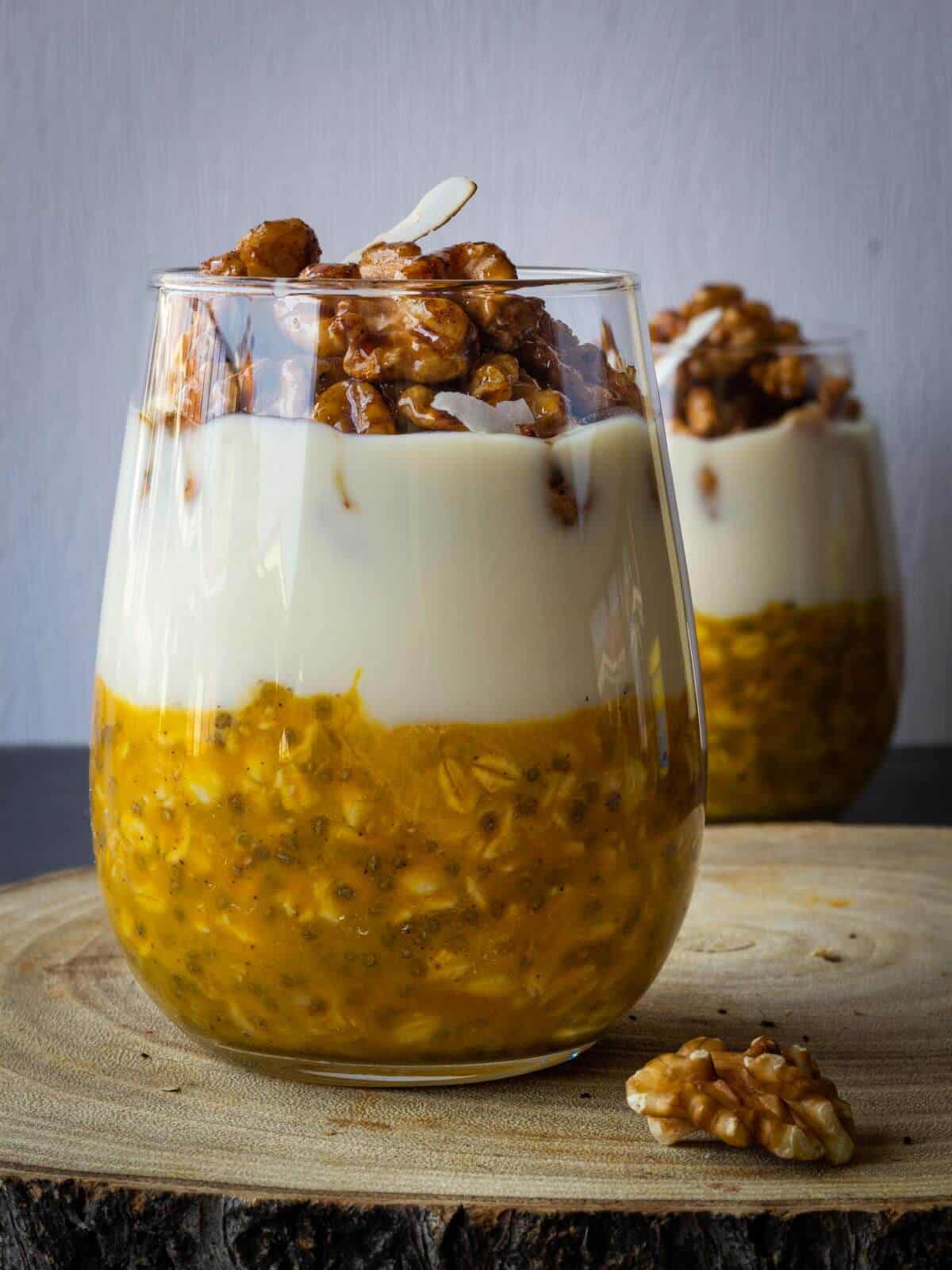 The oats will keep your stomach full throughout the day while providing fiber and protein. These ingredients come together quickly, so there's no need to wait to make breakfast or spend more time than necessary prepping food before work or school. Give this dish a try today.
Looking for a savory fall treat? Check our Truffled mashed potatoes recipe or this delicious vegan Bolognese, a pasta dish that has become a favorite recipe in our house!
Top it with our 5-minute Vegan Parmesan Cheese, and you are off for a luscious dinner!
If you love vegan overnight oats recipes, you will probably love our berries chia pudding, lemon blueberry overnight oats, 3-ingredient oat milk chia pudding, and chocolate chia pudding recipe as well!
Also, try our quick brown sugar cinnamon oatmeal ! It's made with wholesome ingredients and is super easy to make. Plus, it's vegan, so everyone can enjoy it!
Another great oatmeal-based snack that is super easy to make is these chocolate peanut butter oatmeal bars.
If you like your oats packed in a yummy banana smoothie, you should try a check out our version!
⭐ If you try this recipe, let us know! 💬 Leave a comment, rate it, and don't forget to tag us @ourplantbasedworld on Instagram. Cheers!
📋 Recipe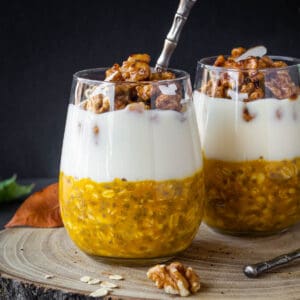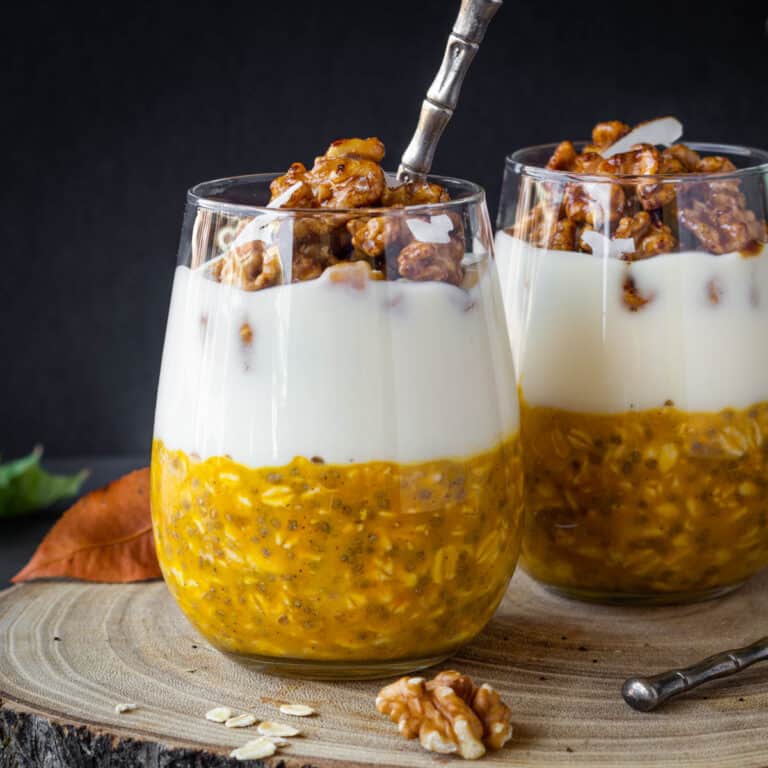 Overnight Pumpkin Oats (dairy-free)
If you're looking for an easy, healthy breakfast with fall flavor, that will keep you full all morning long, try these pumpkin pie spice overnight oats.
Equipment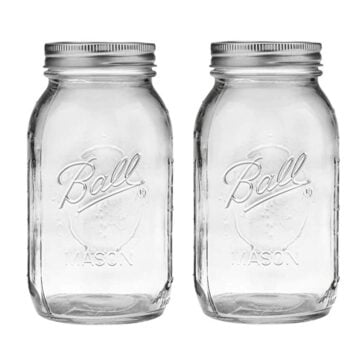 (affiliate link)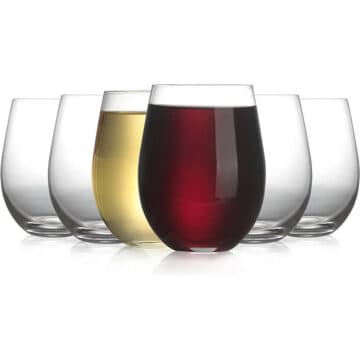 (affiliate link)
Ingredients
Optional special topping:
Directions
Overnight oats
Place oats in a glass.

Add in plant milk, chia seeds, pumpkin puree, chopped walnuts, pumpkin spice mix, and sweetener. Optionally add vanilla extract.

Stir the mixture to combine using the spoon.

Taste the mixture and add additional sweetener if needed.

Secure with a lid and place in the refrigerator for at least 4 hours.

After 4 hours or next day, add toppings. We used plant-based yogurt (we used vanilla or almond flavored), coconut flakes, and the special topping described below.
Special topping
Toast the walnuts on low heat.

Pour the maple syrup and stir.

Add the pumpkin pie mix.

Cool down, and reserve.
Nutrition Facts
Calories:
255
kcal
Carbohydrates:
20
g
Protein:
5
g
Fat:
18
g
Saturated Fat:
2
g
Polyunsaturated Fat:
13
g
Monounsaturated Fat:
3
g
Trans Fat:
1
g
Sodium:
60
mg
Potassium:
236
mg
Fiber:
3
g
Sugar:
12
g
Vitamin A:
1656
IU
Vitamin C:
5
mg
Calcium:
153
mg
Iron:
1
mg
Nutrition Facts
Overnight Pumpkin Oats (dairy-free)
Amount per Serving
% Daily Value*
* Percent Daily Values are based on a 2000 calorie diet.
🌡️ Food safety
Cook to a minimum temperature of 165 °F (74 °C)
Do not use the same utensils on cooked food, that previously touched raw meat
Wash hands after touching raw meat
Don't leave food sitting out at room temperature for extended periods
Never leave cooking food unattended
Use oils with a high smoking point to avoid harmful compounds
Always have good ventilation when using a gas stove
See more guidelines at USDA.gov.
Nutritional Disclaimer
The information shown is an estimate provided by an online nutrition calculator. It should not be considered a substitute for a professional nutritionist's advice. See our full Nutritional Disclosure here.
Affiliate Disclaimer
Please note that some of the links here are affiliate links, and I will earn a commission if you purchase through those links. I recommend all of the products listed because they are companies I have found helpful and trustworthy.