Hey there, squash lovers! Have you ever wondered what to do with those seeds you scoop out of your squash? Well, we've got a scrumptious solution for you—roasted squash seeds! This snack is not only delicious but also packed with nutrients. Trust us, once you try these, you'll never toss those seeds again.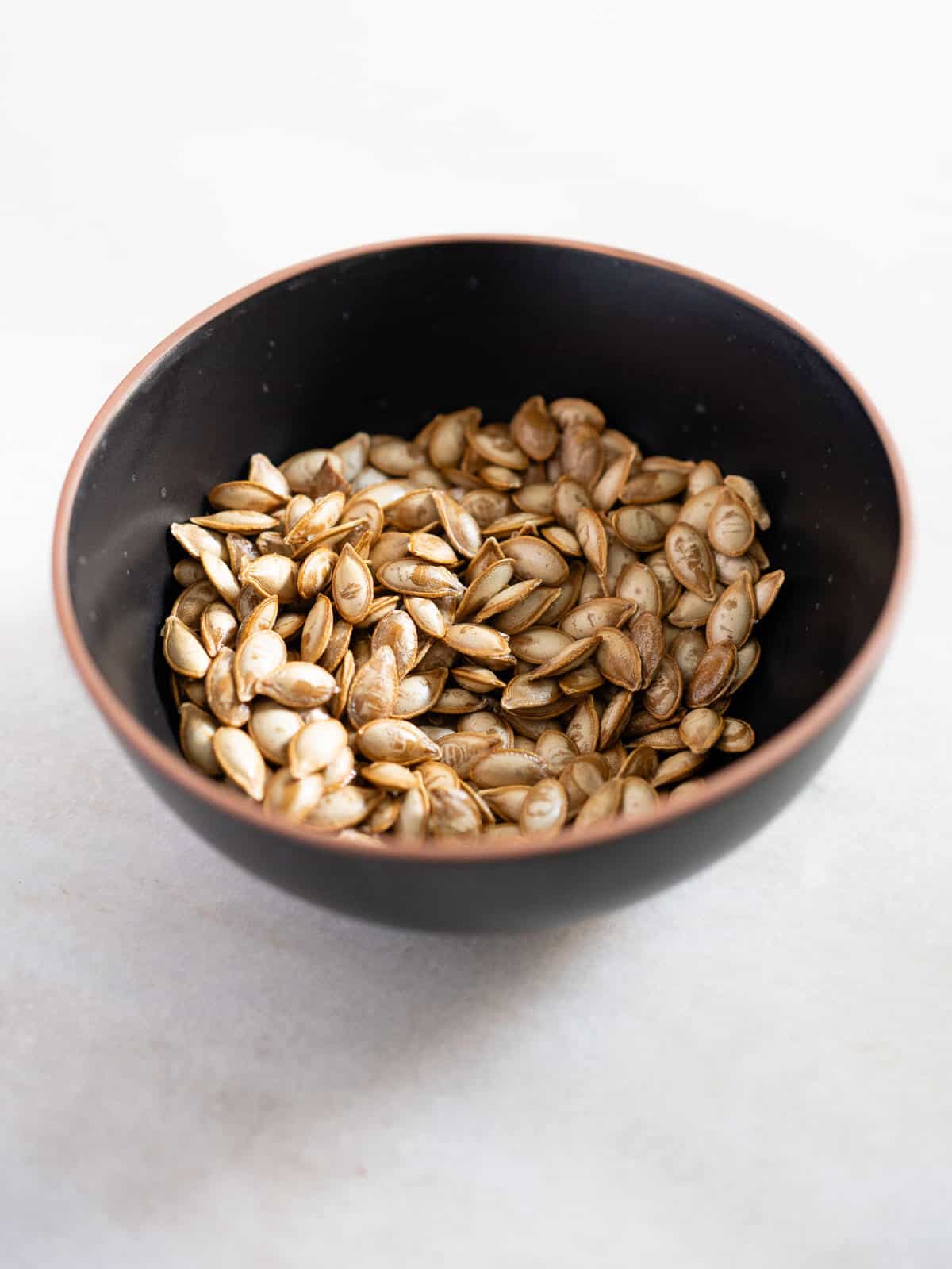 Hold up, squash enthusiasts! Before you even think about tossing those seeds from your roasted butternut squash or roasted pumpkin into the trash, we've got a better idea. Why not turn them into a crunchy, delicious, and super-nutritious snack? Trust us, once you try this roasted squash seeds recipe, you'll wonder why you ever considered them waste. It's the ultimate zero-waste kitchen hack that's as good for your taste buds as it is for the planet
🧡 Why you will love this recipe
Nutrient-Packed Goodness: First off, let's talk nutrition. Squash seeds are tiny powerhouses of nutrients. They're rich in protein, fiber, and a variety of essential minerals like magnesium and zinc. Plus, they're a fantastic source of antioxidants that help fight off those pesky free radicals. So, not only are you munching on something irresistibly tasty, but you're also doing your body a solid favor. It's like a wellness retreat but in snack form!
Easy-Peasy Lemon Squeezy. This recipe is as easy as 1-2-3! Seriously, all you need to do is scoop, season, and roast. No culinary degree is required, just a love for good food and maybe a podcast to listen to while the seeds are getting all crispy in the oven. It's the perfect activity to add to your meal prep day or when you're carving that squash for a centerpiece.
Versatility for the Win Lastly, let's chat about how incredibly versatile these roasted seeds are. You can toss them into your salads for an extra crunch, sprinkle them over your morning oatmeal, or add them to your plant-based yogurt. Heck, they're so good you might just find yourself snacking on them straight from the jar! And if you're feeling adventurous, you can play around with the seasonings to create your own unique flavor combos. Smoked paprika, anyone?
So there you have it—nutritious, easy, and versatile. These roasted squash seeds are the triple-threat snack you didn't know you needed! 🌱
Jump to:
🧾 Ingredients
The ingredients that make these squash seeds SO good are: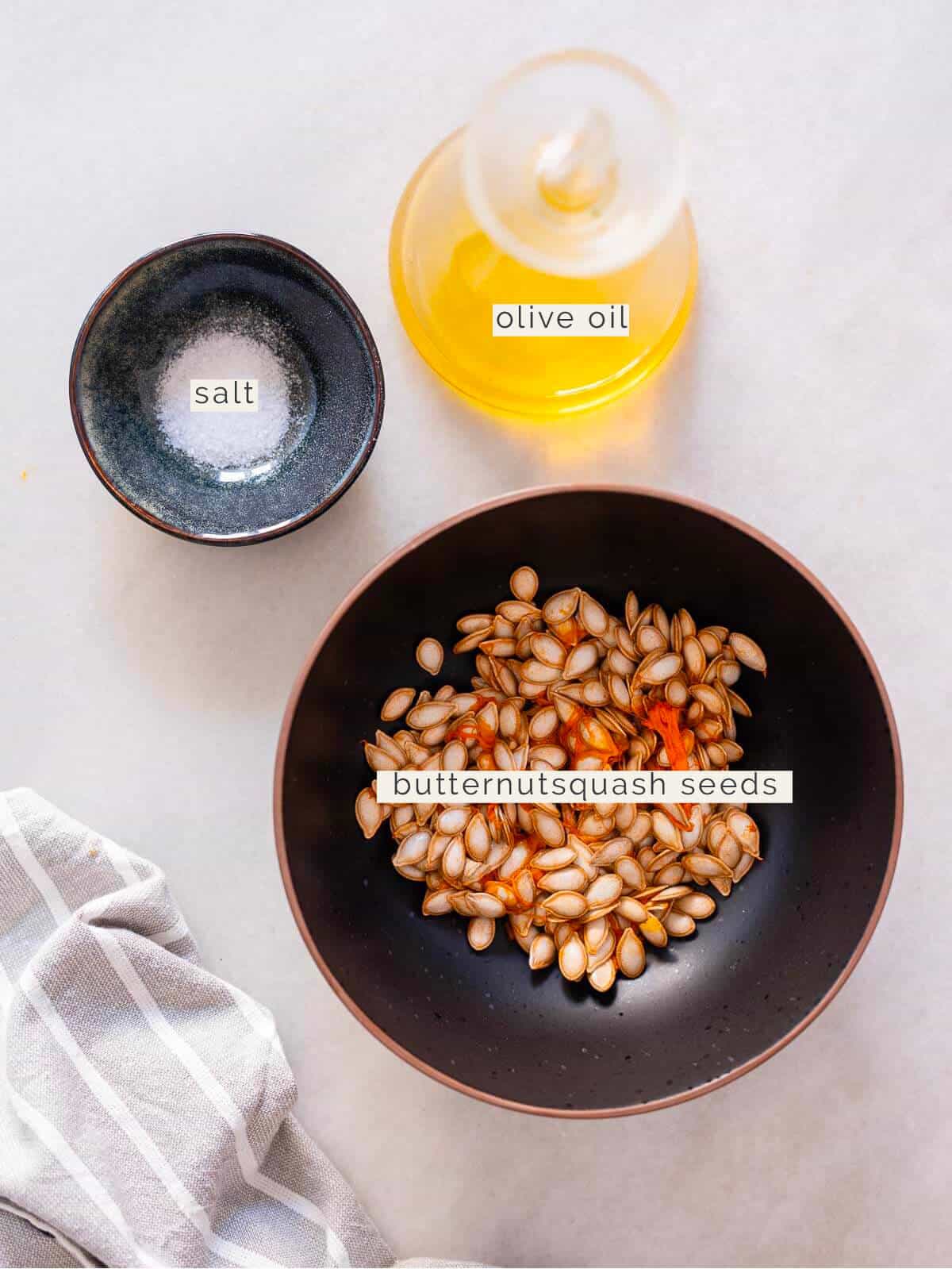 Butternut squash seeds
Olive oil
Salt
See the recipe card for quantities.
🍽 Equipment
Colander
Baking sheet
Parchment paper
Tea cloth or parchment paper
🔪 Instructions
Roasting squash seeds is very straightforward:
Preheat the oven.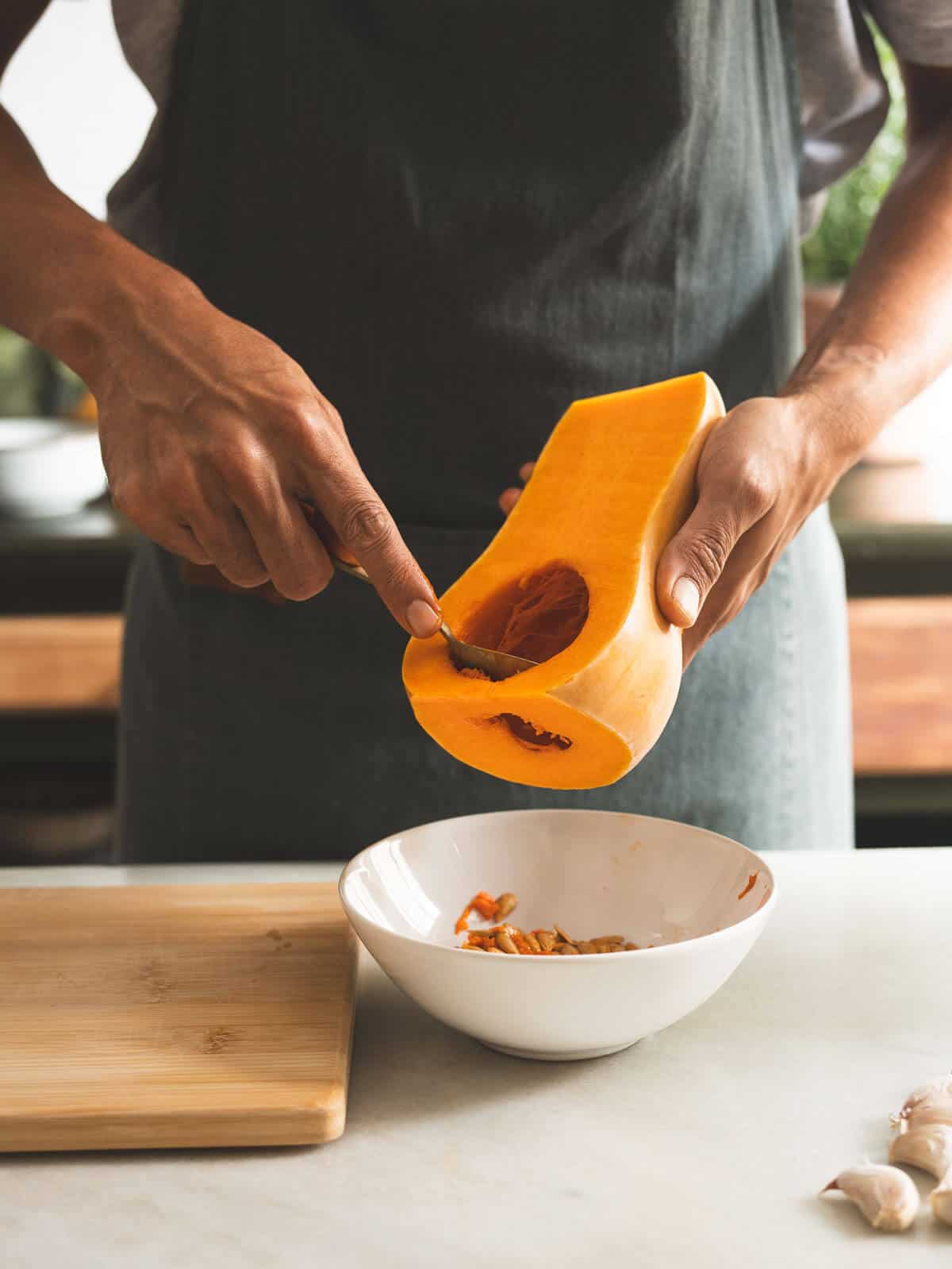 Step 1: Remove seeds from the butternut squash, scooping them out with a spoon.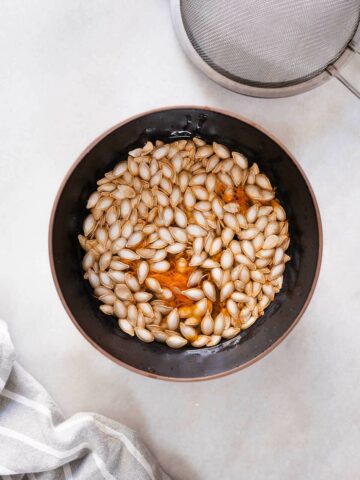 Step 2: Clean squash seeds by soaking them in cold water to remove the slimy pulp.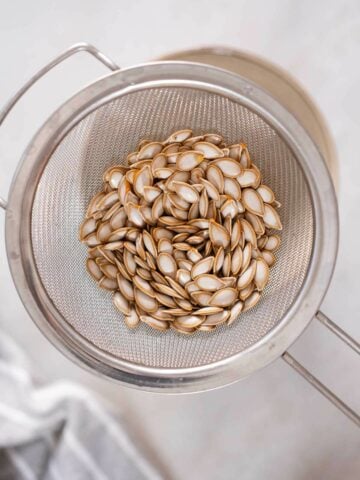 Step 3: Drain squash seeds using a colander.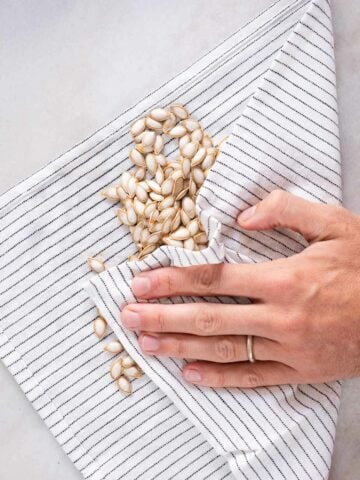 Step 4: Pad dry the squash seeds with a tea cloth or paper towel.
Then, season in a bowl with salt and oil combining until evenly coated. Feel free to add your preferred seasonings; see our suggestions below.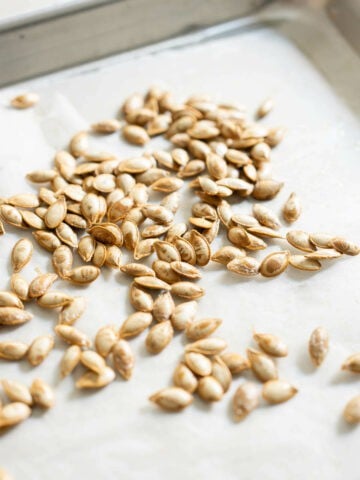 Step 5: Line a baking sheet lined with parchment paper and place the dried seeds. Remember to spread them evenly on a single layer.
Hint: you can season squash seeds with your preferred seasonings at this point.
Roast the seeds until they turn golden brown.
💡 Expert Tip
For that perfect crunch every time, make sure your squash seeds are thoroughly dry before seasoning and roasting. Excess moisture can lead to steaming instead of roasting, leaving you with chewy seeds instead of the crispy delights you're aiming for. A simple pat-down with a paper towel after rinsing them clean should do the trick. Trust us, this little extra step makes all the difference!
📖 Variations
This technique works like a charm for roasting seeds from pumpkin seeds, delicata, acorn squash seeds, butternut squash seeds, and pretty much any winter squash you've got.
Suggested seasonings: curry powder, chili powder, black pepper, cayenne pepper, garlic powder, onion, powder, smoked paprika, and adobo seasoning.
Suggested oil: coconut oil, avocado oil, and extra virgin olive oil.
🥢 How to serve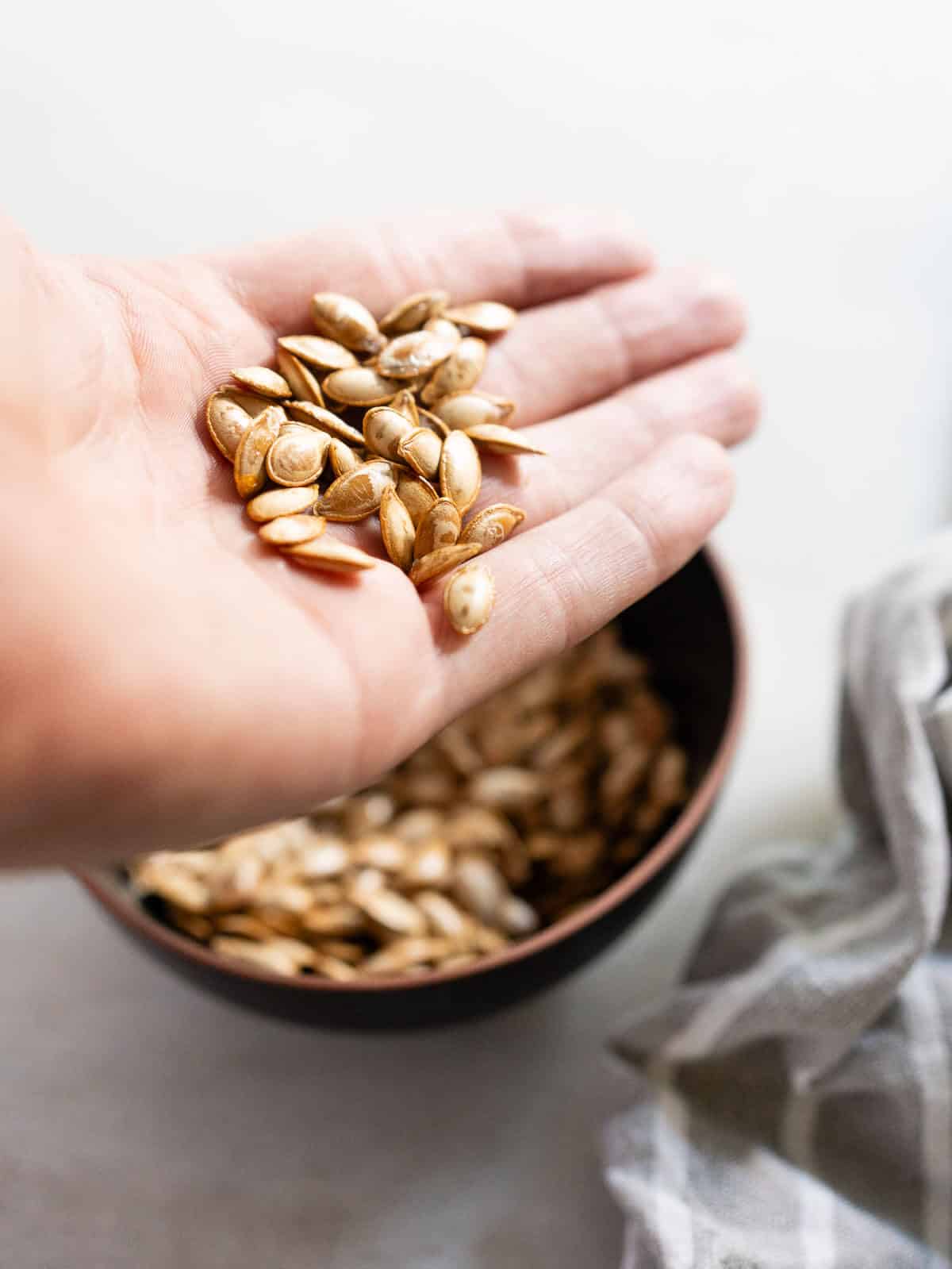 These crunchy gems are not just a healthy snack but perfect for elevating your soups and salads. Want more? Use the roasted seeds as a crunchy twist on your yogurt or as a textured topper for your baked treats. They're also a fab add-in for your go-to trail mix.
Serve them along with our crispy chickpeas and crunchy oyster mushroom recipe.
❓ FAQ
Can you eat the seeds of any squash?
The short answer is yes, most squash seeds are edible and can be roasted for a tasty snack. This includes seeds from butternut squash, acorn squash, spaghetti squash, and even pumpkin, which is a type of squash. However, it's always a good idea to double-check, especially if you're dealing with a less common variety of squash. Some squash seeds may have a tougher outer shell that might not be as pleasant to eat, even after roasting. But for the most part, if you can scoop it, you can roast it!
🥡 Storage
Airtight Container: Once your seeds have completely cooled down, transfer them to an airtight container. This will help maintain their crunch and keep moisture at bay.
Room Temperature: Store the airtight container at room temperature. Your seeds will stay fresh and crunchy for up to a week.
📚 More squash recipes
Try our creamy sweet butternut squash casserole, risotto, and stuffed ravioli!
⭐ If you try this recipe, let us know! 💬 Leave a comment, rate it, and don't forget to tag us @ourplantbasedworld on Instagram. Cheers!
📋 Recipe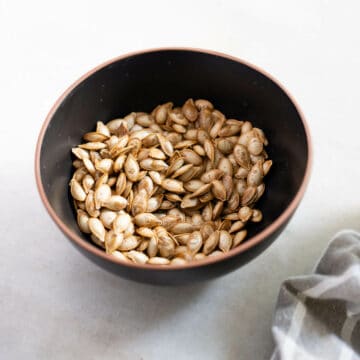 Roasted Squash Seeds (Oven and Air Fryer Methods)
Why toss those butternut squash seeds when you can turn them into a crunchy, nutrient-rich snack? Our recipe offers both oven and air fryer methods to suit your cooking style. Perfect for topping salads, enhancing oatmeal, or just snacking on the go. A zero-waste solution that's as tasty as it is smart!
Equipment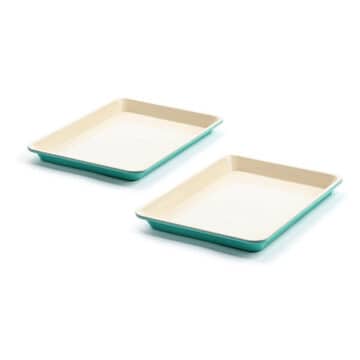 (affiliate link)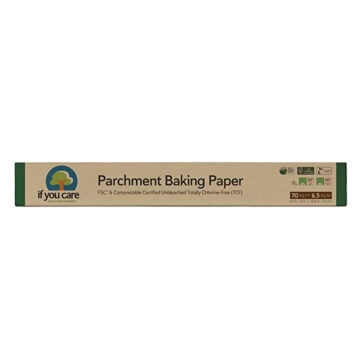 (affiliate link)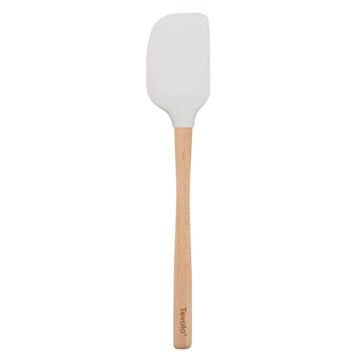 (affiliate link)
Ingredients
Optional seasonings:
garlic powder

smoked paprika, nutritional yeast, or your favorite herbs
Directions
Preheat Oven: Start by preheating your oven to 375°F (180°C). Line a baking sheet with parchment paper for easy cleanup.

Clean Seeds: If you haven't already, make sure to clean the seeds thoroughly to remove any squash flesh. A quick rinse and pat dry will do the trick.

Season: In a mixing bowl, combine the butternut squash seeds, olive oil, and sea salt. If you're using additional seasonings, toss them in now. Mix well to ensure all seeds are evenly coated.

Spread: Pour the seasoned seeds onto the prepared baking sheet. Spread them out in a single layer for even roasting.

Roast: Pop the baking sheet into the preheated oven and roast for 10-15 minutes. Give them a good stir halfway through to ensure even roasting.

Check: Around the 10-minute mark, take one seed out and let it cool for a minute. Taste to see if it's crispy enough for your liking. If not, continue roasting for another 5 minutes.

Cool: Once done, remove the seeds from the oven and let them cool on the baking sheet. They'll continue to crisp up as they cool down.

Store: Transfer the cooled roasted seeds to an airtight container. They'll stay fresh for up to a week, but we doubt they'll last that long!
Air Fryer Method
Preheat Air Fryer: First things first, preheat your air fryer to 350°F (175°C).

Arrange: Place the seasoned seeds in the air fryer basket, spreading them out in a single layer for even cooking.

Air Fry: Set the timer for 10 minutes. Halfway through, pause the air fryer and give the seeds a good shake or stir to ensure even cooking.

Check: After 10 minutes, take out a seed and let it cool for a minute. Taste to see if it's crispy enough for you. If not, air fry for an additional 2-3 minutes.

Cool Down: Once they're done, remove the seeds and let them cool. They'll get even crispier as they sit.
Notes
Flavor Variations: Feel free to experiment with different seasonings. A dash of cayenne for heat or a sprinkle of nutritional yeast for a cheesy flavor can add a fun twist. Storage: These seeds are best enjoyed fresh but can be stored in an airtight container for up to a week.
Nutrition Facts
Calories:
241
kcal
Carbohydrates:
3
g
Protein:
10
g
Fat:
23
g
Saturated Fat:
4
g
Polyunsaturated Fat:
7
g
Monounsaturated Fat:
10
g
Trans Fat:
0.02
g
Sodium:
584
mg
Potassium:
259
mg
Fiber:
2
g
Sugar:
0.5
g
Vitamin A:
5
IU
Vitamin C:
1
mg
Calcium:
15
mg
Iron:
3
mg
Nutritional Disclaimer
The information shown is an estimate provided by an online nutrition calculator. It should not be considered a substitute for a professional nutritionist's advice. See our full Nutritional Disclosure here.
Affiliate Disclaimer
Please note that some of the links here are affiliate links, and I will earn a commission if you purchase through those links. I recommend all of the products listed because they are companies I have found helpful and trustworthy.