You bought those oyster mushrooms that looked so cool in the supermarket, and now you have no clue how to cook them, but you know some fantastic flavors are hiding there. Let's do just that! This air fryer oyster mushrooms recipe delivers a big flavor and a fabulous crispy jet meaty texture. It is made in less than 30 minutes with less than 5 minutes of active time.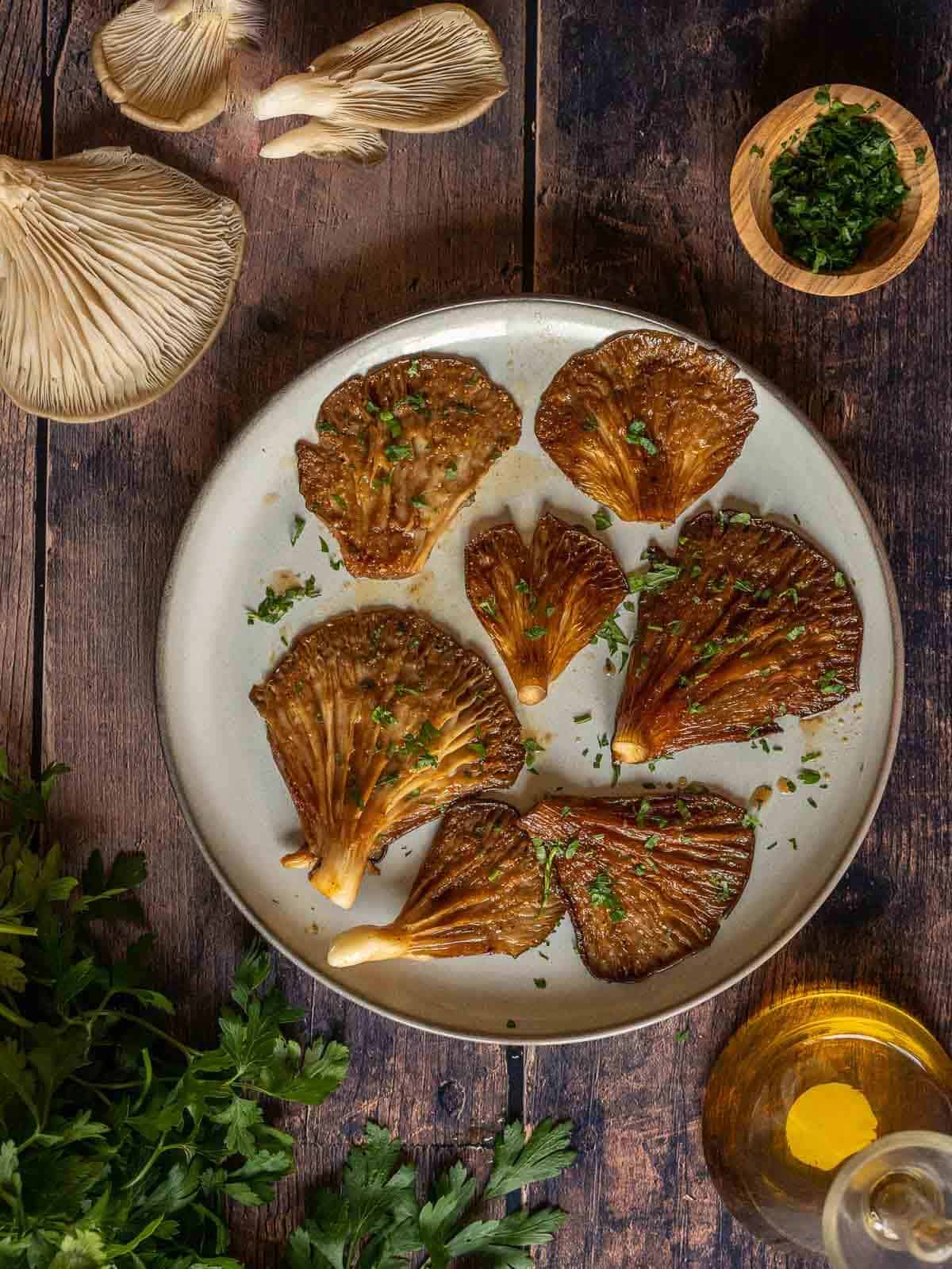 This blue oyster mushroom recipe makes a delicious side dish or appetizer during the fall season when they are at their peak.
Jump to:
🧾 Ingredients
Gather some easy staple ingredients to get your air-fried oyster mushrooms going.
Oyster mushrooms - we used king oyster mushrooms, as they tend to dehydrate and lose about 40% of their size when cooked. Choose oyster mushrooms that are large to end up with sizeable portions.
Tamari - adds umami to the dish.
Garlic powder - add intensity and pop to the flavor of the mushrooms.
Extra-virgin olive oil - helps to give the mushrooms a more golden finish. You can skip it if oil-free.
Maple syrup - adds sweetness and mellowness.
Balsamic vinegar - adding some acidity to your dishes is a must; it helps to balance out the flavors.
Smoked Paprika - we like the smokiness and depth it adds to the dish.
Salt and pepper.
See the recipe card for quantities.
🔪 Instructions
This vegan oyster mushroom recipe involves three simple steps.
Making the marinade.
Letting oyster mushrooms marinate briefly.
Air-frying the oyster mushrooms.
Clean the oyster mushrooms with a damp cloth or damp paper towel.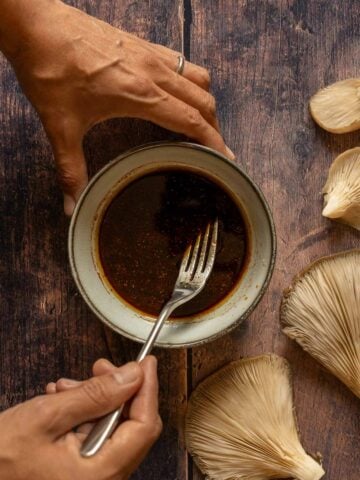 Mix all the marinade ingredients, including all the spices.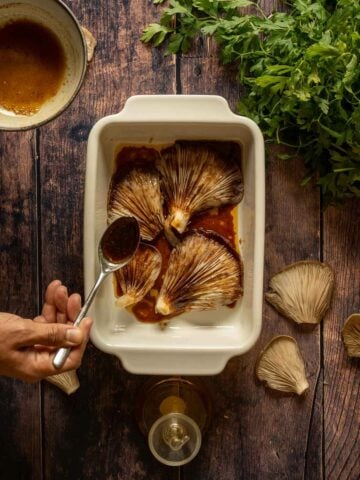 Marinate the oyster mushrooms on a shallow pan for 15 minutes.
Hint: if you are out of time, you can simply brush the marinade carefully, imbuing all the mushroom threads. Marinating it for 10 minutes will improve the oyster mushrooms' taste.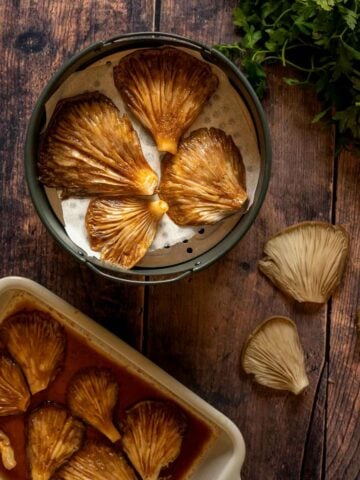 Cut parchment paper to fit into the air fryer basket and place the mushrooms on a single layer. You can also use an oil spray to prevent them from sticking.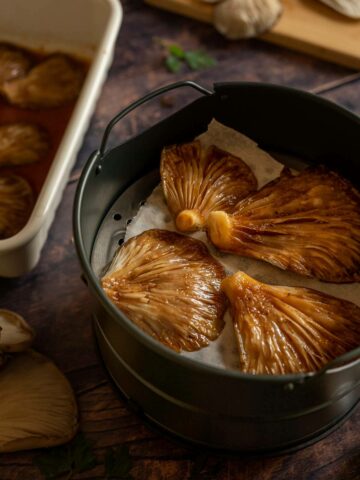 Air fry at 350 ºF (175ºC), flipping once if necessary.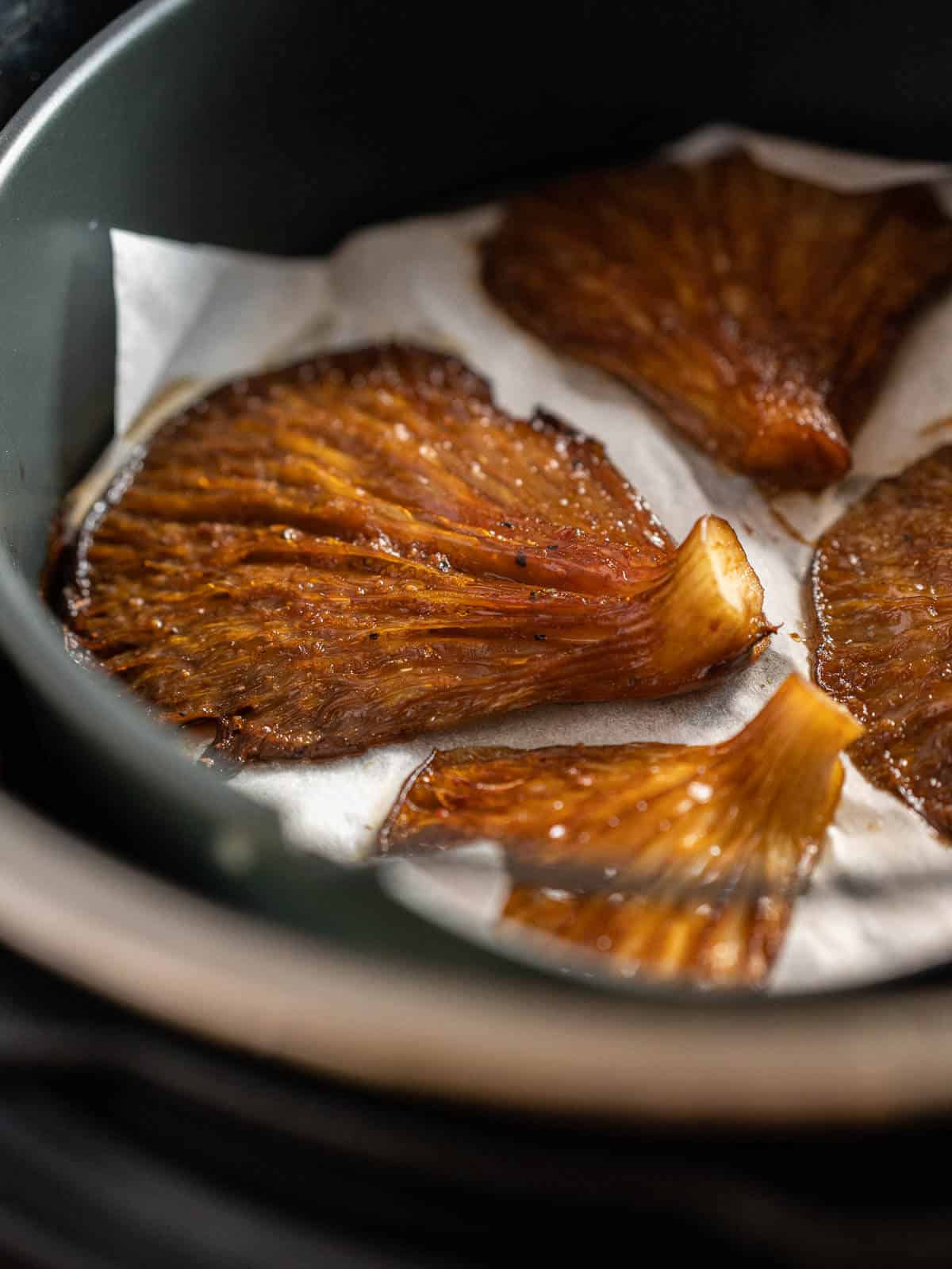 Hint: don't overcrowd the air fryer basket; it will result in mushy mushrooms. Each oyster mushroom should have some breathing space.
Transfer all the mushrooms to a serving plate and garnish with freshly chopped parsley.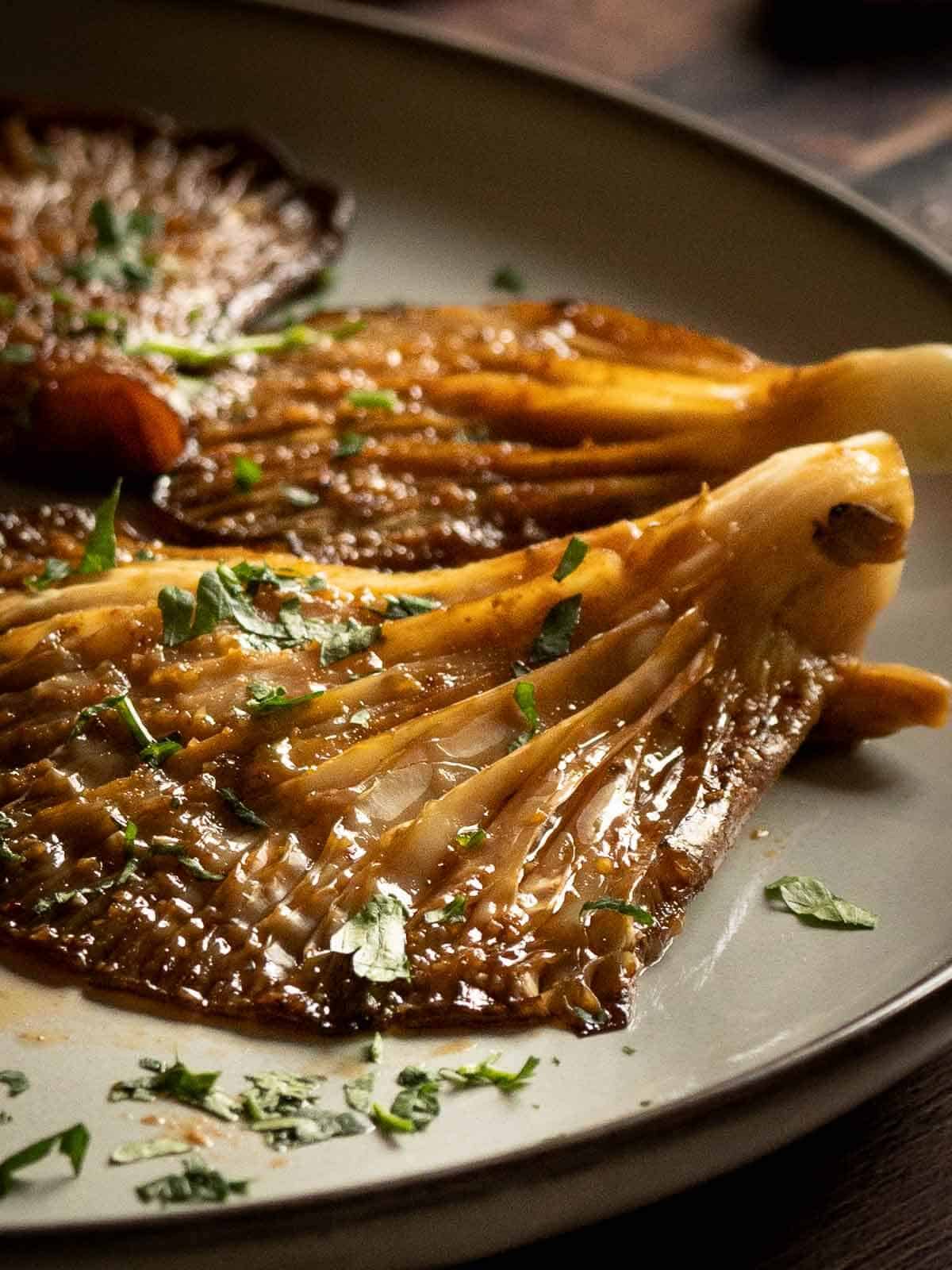 These air-fried oyster mushrooms are delicious as they are, so you don't need any dipping sauce.
🍶 Substitutions
Oyster mushrooms - although we designed this recipe for oyster mushrooms, we have successfully used the same principles and marinade with cremini mushrooms and shiitake. See note below.
Tamari sauce - we picked tamari to keep the recipe gluten-free; you can also use liquids or coconut aminos. You can simply use low-sodium soy sauce if you don't mind the gluten-free recipe.
Balsamic vinegar - use apple cider vinegar, lime, or lemon juice instead.
Maple syrup -

you can use another liquid sticky sweetener like agave syrup or date paste. You can also use brown or coconut sugar.

Garlic powder - use minced garlic or onion powder.
Olive oil - you can use melted vegan butter or skip the oil component if following an oil-free diet.
Fresh parsley is present here to garnish and add an herbal note, so you can skip it or use chives instead.
Paprika - we like using smoked paprika, but you can use sweet or hot paprika instead.
Hint: if you use this recipe with mushrooms with a more rigid surface, like button mushrooms, increase the marinating time to 15 minutes.
📖 Variation
Instead of using an air fryer, you can make roasted oyster mushrooms with the same principles. Simply line a baking tray with parchment paper and roast in a preheated oven at the same temperature for 15 minutes, flipping the mushrooms once.
🍽 Equipment
Small bowl - mix all the marinade ingredients.
Shallow container - to marinate the oyster mushrooms.
Air fryer - You can also use a regular oven to bake the mushrooms.
🥡 Storage
Store the air-fried oyster mushrooms in a BPA-free airtight container in the fridge for up to 3 days.
💡 Top tips
If you prefer your Oyster mushrooms to be drier and crispy, turn them halfway during the cooking process in the air fryer.
Top Tip 🌟
When using an air fryer, it's crucial to remember that each model, with its unique power level (watts), can yield different results. Always check your dish halfway through the suggested cooking time to ensure you get the perfect finish every time. This mid-point check is a golden rule, which most air fryer manuals emphasize too. Many air fryers even come with a handy beep to remind you!
Doing this lets you adjust the timing as needed and avoid any unexpected crispy surprises. Happy air frying!
🥢 How to serve
Appetizer - just right before any meal. They are full of umami. Your guests will be amazed!
Side dish - air-fried mushrooms make a great side dish next to a bowl of steamed aromatic Jasmin rice on an Asian-themed feast.
❓ FAQ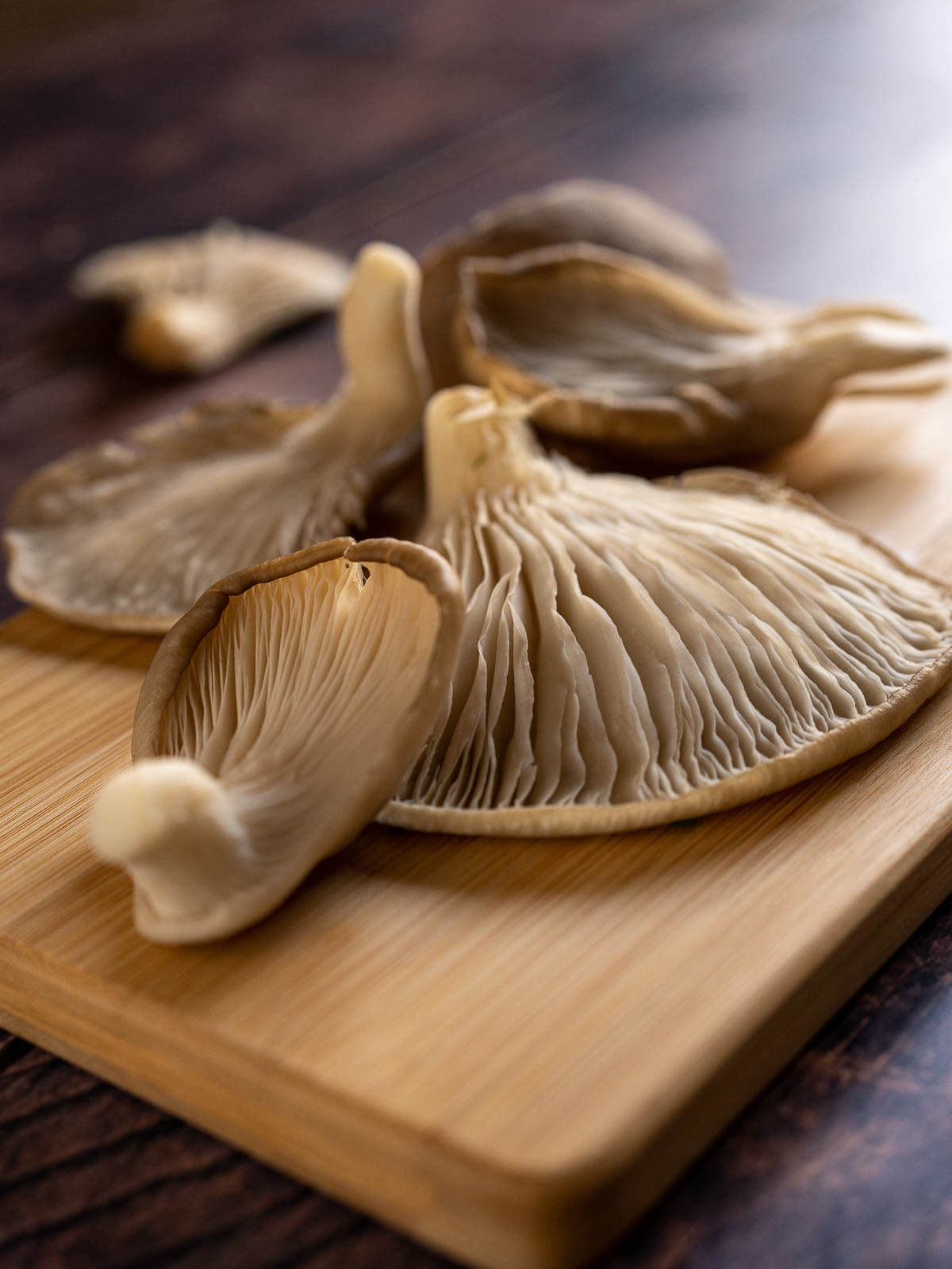 How to clean oyster mushrooms?
You'll need a bowl of cold water and a soft brush if they are too dirty. Dunk the mushrooms in the water, and use the brush to scrub off any dirt or residue. Rinse them off with clean water, then set them aside to dry.
If they're relatively clean, you can simple use a paper towel to gently wipe them down. Oyster mushrooms are ready to eat once they're dry.
Do oyster mushrooms need to be cooked?
No, but they should be cooked for the best flavor and texture. Oyster mushrooms are actually very delicate and can turn slimy when cooked for too long or at too high a temperature. You can even just sautée them in olive oil with a bit of garlic until they're just tender.
What are blue oysters good for?
Blue oysters are good for you because they're high in zinc and vitamin B12.
Zinc is essential for a healthy immune system, and vitamin B12 is important for red blood cell formation and energy production. Blue oysters are a good source of protein, omega-3 fatty acids, and selenium. Selenium is an antioxidant that helps protect cells from damage caused by free radicals. So overall, blue oysters are a nutritious food choice that provides various health benefits.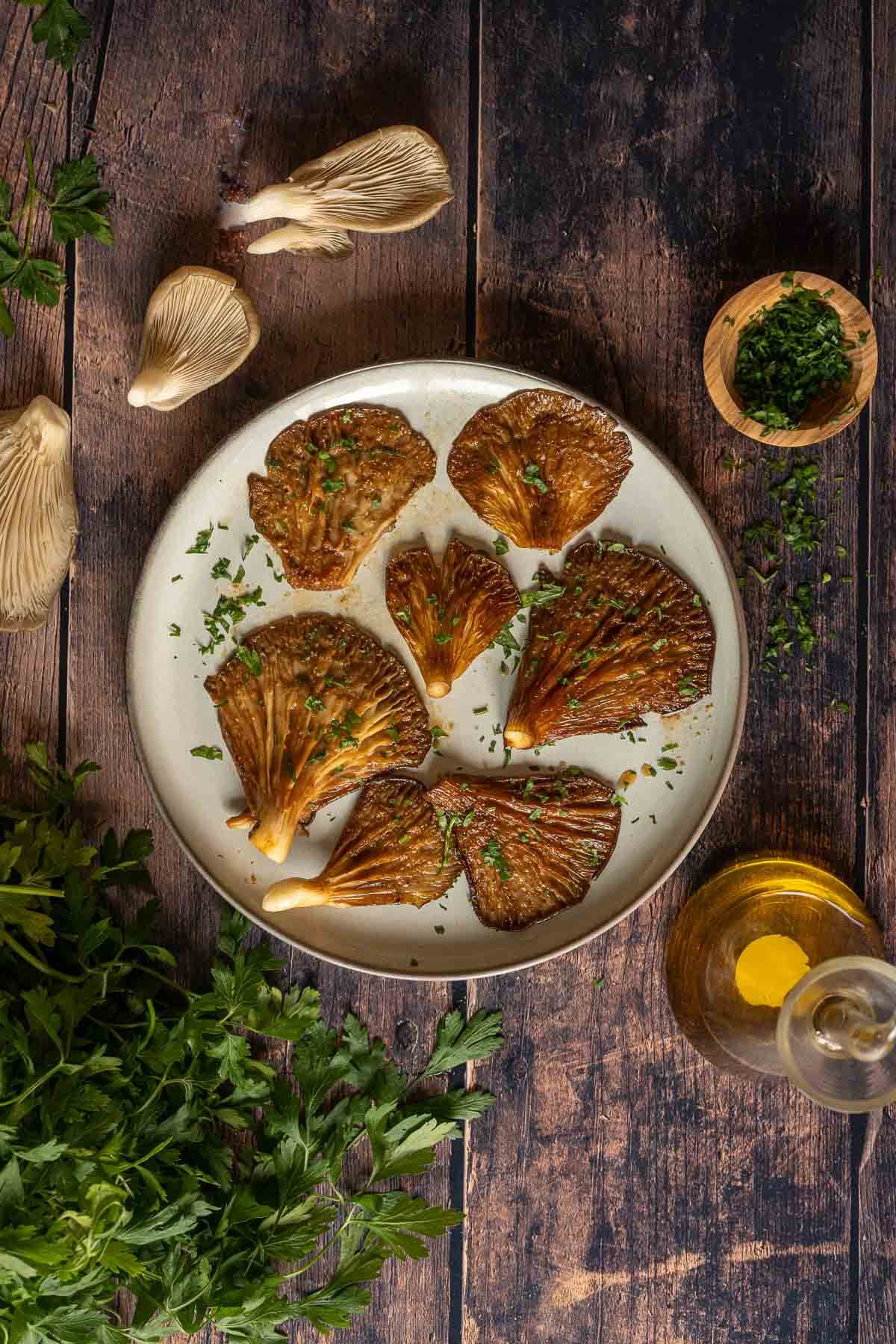 🍄 More Mushroom recipes
I am a mushroom lover, so we use them in various recipes. Including button, portobella, cremini, pioppini, and porcini.
We make these stuffed portobella mushrooms quite often as a light main dish or appetizer, and we use a similar set of ingredients to grill these herb-stuffed pioppini mushrooms.
Dried shiitake and porcini mushrooms are mushrooms of choice to make vegan gravy, make a nut roast, and create stuffing for shell pasta or ravioli, eggplant rotallini, or holiday stuffed onions. That's because they have a stronger and more decisive flavor.
If you have a mix of mushrooms, go for a mushroom risotto or empanadas.
Button mushrooms are great for topping pizza or making mushroom curry, as they better hold up their texture in a mushroom stew.
⭐ If you try this air fryer mushrooms recipe, let us know! 💬 Leave a comment, rate it, and don't forget to tag us @ourplantbasedworld on Instagram. Cheers!
📋 Recipe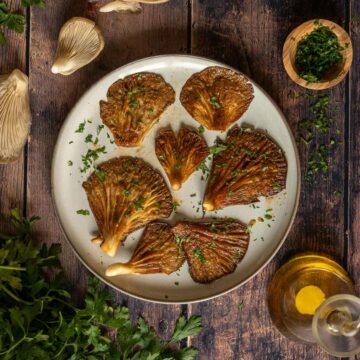 Air Fryer Oyster mushrooms Recipe
These delicious, healthy vegan air fryer oyster mushrooms will be a hit with everyone in your family! Only 5 minutes hands-on.
Equipment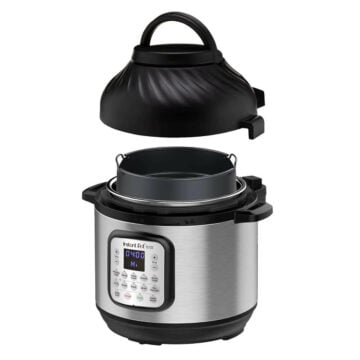 (affiliate link)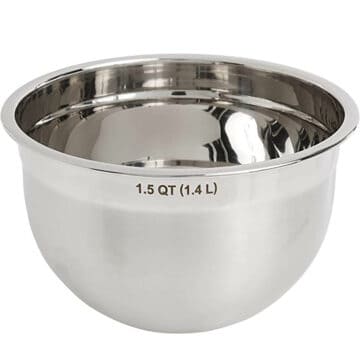 (affiliate link)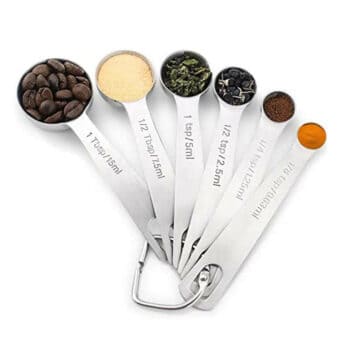 (affiliate link)
Ingredients
To Garnish:
1

tablespoons

parsley

chopped fresh leaves
Directions
Mix. Place the garlic powder, balsamic vinegar, maple syrup, olive oil, tamari, paprika, salt, and pepper in a large bowl and whisk to combine.

Marinate. In a shallow pan, place the oyster mushrooms and drizzle them with the marinade. Let marinate for 10 minutes.

Air fry. Place the mushrooms in a single layer on an air fryer, optionally flipping once, until tender and caramelized, about 15 minutes at 350 ºF (175ºC), 7-8 minutes per side.

Garnish. Transfer to a serving dish and optionally top with chopped parsley.

Serve immediately.
Notes
When using an air fryer, it's crucial to remember that each model, with its unique power level (watts), can yield different results. To ensure you get the perfect finish every time, always check your dish halfway through the suggested cooking time. This mid-point check is a golden rule, and it's one that most air fryer manuals emphasize too. Many air fryers even come with a handy beep to remind you! By doing this, you can adjust the timing as needed and avoid any unexpected crispy surprises. 
Nutrition Facts
Calories:
139
kcal
Carbohydrates:
16
g
Protein:
4
g
Fat:
7
g
Saturated Fat:
1
g
Polyunsaturated Fat:
1
g
Monounsaturated Fat:
5
g
Sodium:
338
mg
Potassium:
536
mg
Fiber:
3
g
Sugar:
9
g
Vitamin A:
224
IU
Vitamin C:
3
mg
Calcium:
21
mg
Iron:
2
mg
Nutrition Facts
Air Fryer Oyster mushrooms Recipe
Amount per Serving
% Daily Value*
* Percent Daily Values are based on a 2000 calorie diet.
🌡️ Food safety
Cook to a minimum temperature of 165 °F (74 °C)
Do not use the same utensils on cooked food, that previously touched raw meat
Wash hands after touching raw meat
Don't leave food sitting out at room temperature for extended periods
Never leave cooking food unattended
Use oils with a high smoking point to avoid harmful compounds
Always have good ventilation when using a gas stove
See more guidelines at USDA.gov.
Nutritional Disclaimer
The information shown is an estimate provided by an online nutrition calculator. It should not be considered a substitute for a professional nutritionist's advice. See our full Nutritional Disclosure here.
Affiliate Disclaimer
Please note that some of the links here are affiliate links, and I will earn a commission if you purchase through those links. I recommend all of the products listed because they are companies I have found helpful and trustworthy.