Hey there, culinary adventurers! Today, we're taking you on a tantalizing journey of flavors, where the savory world of hummus melds with the rich decadence of cocoa. Our key ingredient? Dark chocolate! Yes, you read that right - wea're creating an unusual yet utterly delightful treat: a Dark Chocolate Hummus!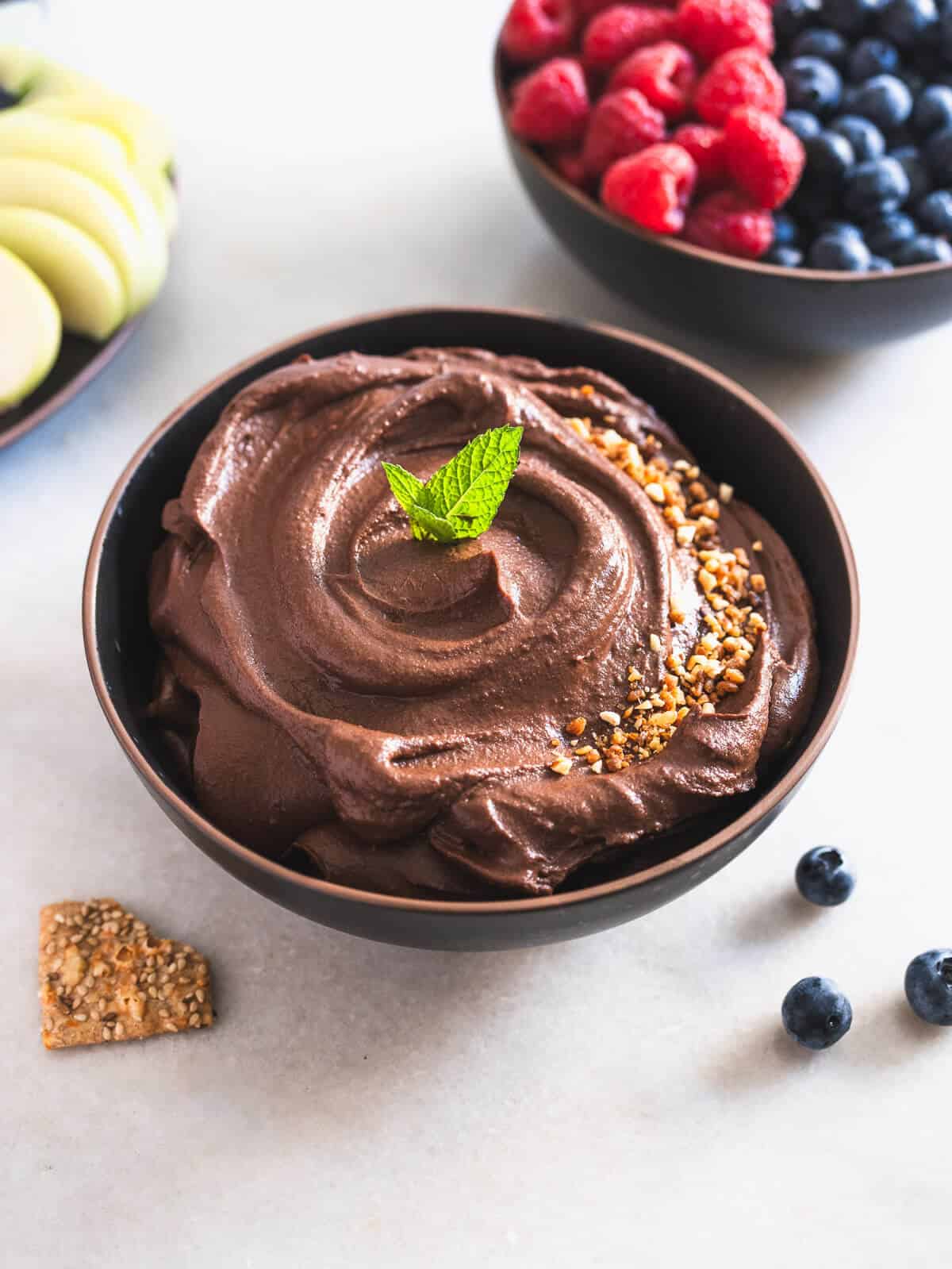 Here's a game-changer for your sweet cravings. This unique sweet snack or dessert has all the creamy textures of traditional hummus, enhanced with the luxurious depth of dark chocolate. It's a fun way to add a nutritional punch to your desserts while still ensuring a heavenly taste experience.
Our Chocolate Hummus recipe is a clear winner for many reasons, chief among them being its perfect balance of nutritional goodness and delightful flavor for the perfect high-protein snack; it is like the dip version of the famous chickpea brownies.
The twist? It uses cocoa powder instead of melted chocolate, keeping it light while ensuring you get all the health benefits of pure cocoa. Full of heart-healthy fats, fiber, and protein from chickpeas and antioxidants from cocoa, this dessert hummus is your ally in maintaining a wholesome diet without sacrificing taste.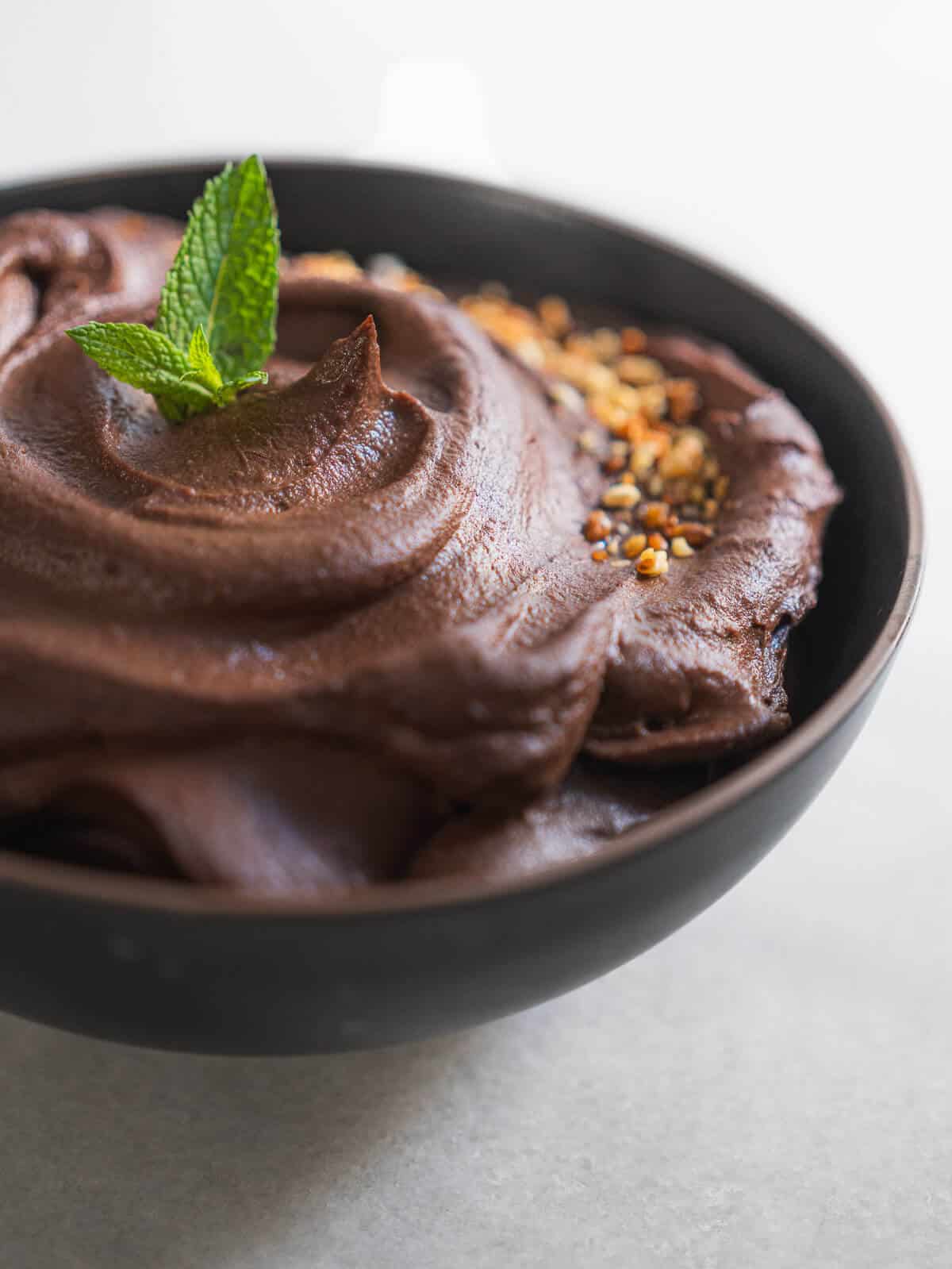 Moreover, this recipe is simple and quick to assemble, requiring just a handful of ingredients. With the key components being chickpeas, cocoa powder, and a natural sweetener, it's also refined sugar-free, making it a healthier alternative to many traditional desserts.
You get rich and creamy hummus with a chocolatey twist, ready in no time. The process is as easy as tossing canned chickpeas with the rest of your ingredients into a food processor and blending until smooth - even the most novice cooks will have no problem whipping up this fantastic treat. If you've ever wanted a dessert that's as easy to make as it is nutritious and satisfying, this Chocolate Hummus recipe is your answer.
Jump to:
🧾 Ingredients
This dark chocolate hummus recipe is made with just a few delicious ingredients: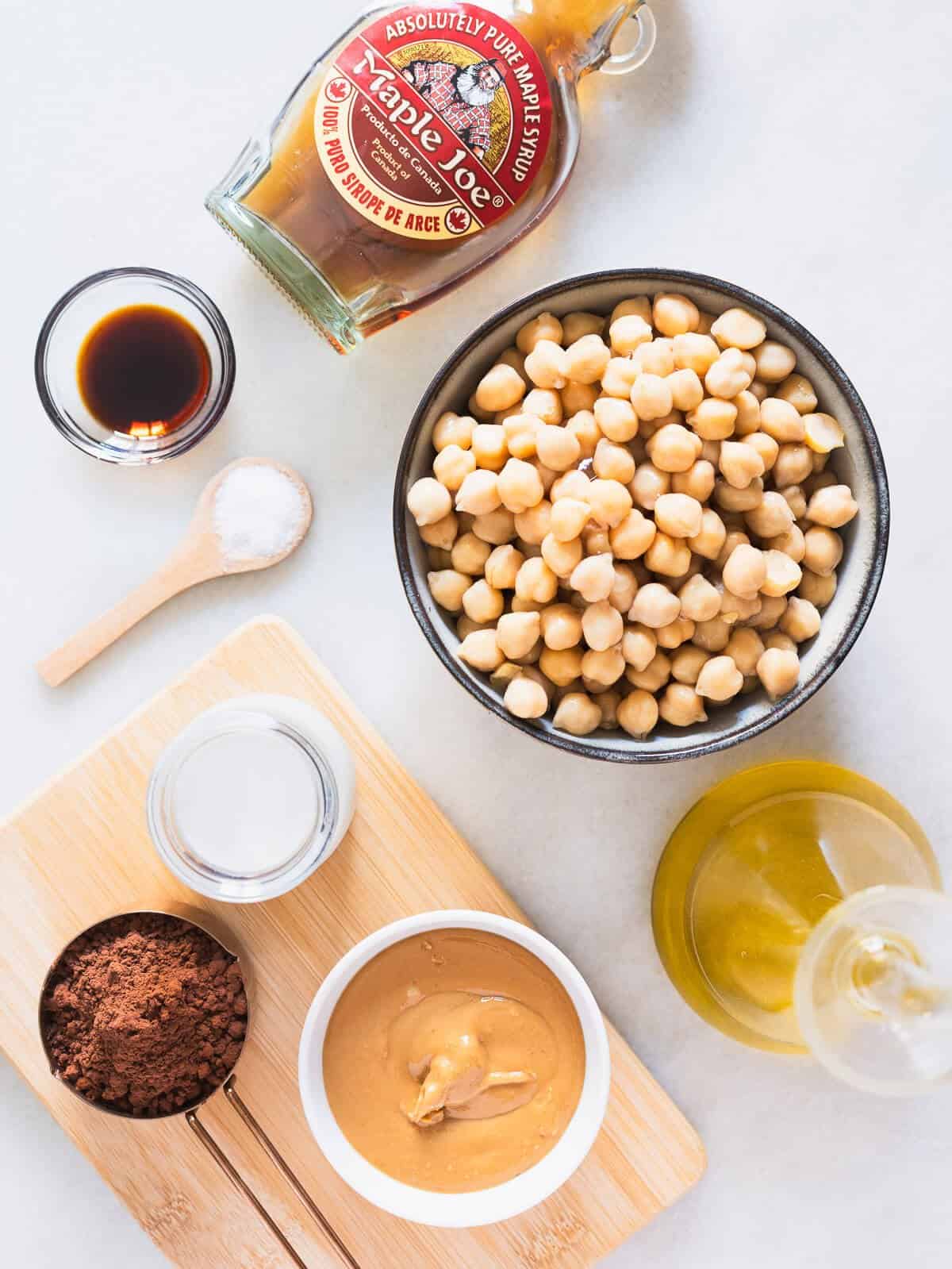 Cooked Chickpeas: These legumes form the base of our hummus recipe, offering a creamy texture when blended. Rich in protein and fiber, garbanzo beans also promote satiety and support digestive health.
Peanut Butter or Tahini: Both options are an excellent source of healthy fats and provide a silky consistency to the dessert hummus. While tahini adds a subtly earthy flavor, peanut butter imparts a delightful nutty undertone. We are using peanut butter as a more readily available option.
Dark Chocolate Powder: The star ingredient, dark chocolate powder, gives the hummus a robust, chocolatey flavor. Packed with antioxidants, it adds a healthy yet indulgent twist to the recipe.
Maple Syrup: To naturally sweeten our dessert hummus without any refined sugars, we use maple syrup. Its rich, caramel-like taste pairs beautifully with dark chocolate, enhancing its flavor profile.
Vanilla extract: A splash of vanilla extract adds a subtle yet delightful aroma and flavor, enhancing the overall taste experience of our Chocolate Hummus recipe without overpowering the richness of the dark chocolate.
Almond Milk: A dash of almond milk helps achieve the perfect consistency for our hummus. Being dairy-free, ensures the recipe stays plant-based, while its light, nutty flavor complements the other ingredients.
Fine-grain Sea Salt: Just a pinch of fine-grain sea salt is enough to accentuate the sweetness of the chocolate and maple syrup. It brings balance to the dish, ensuring the flavors don't lean too heavily on the sweet side.
See the recipe card for quantities.
🔪 Instructions
Making this chocolate hummus is a breeze just follow these step by steps directions.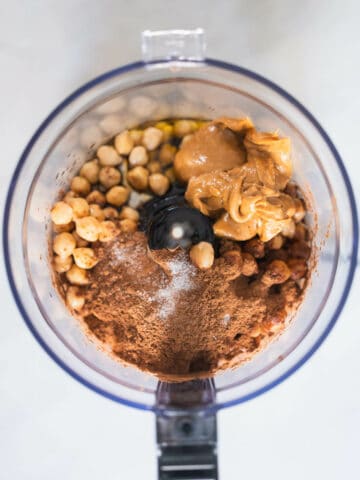 Place all the chopped ingredients in the food processor bowl.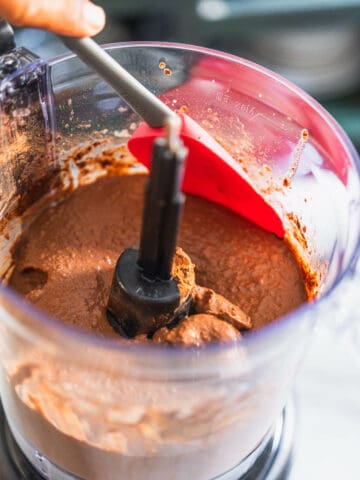 Scrape the edges with a spatula and continue blending.
Hint: if you will use dried chickpeas, check our guide on how to cook chickpeas perfectly in an instant pot.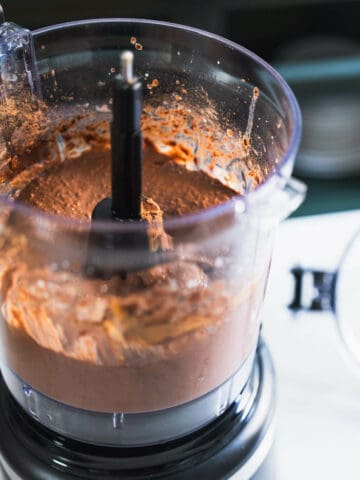 Continue blending and adding almond milk one tablespoon at a time.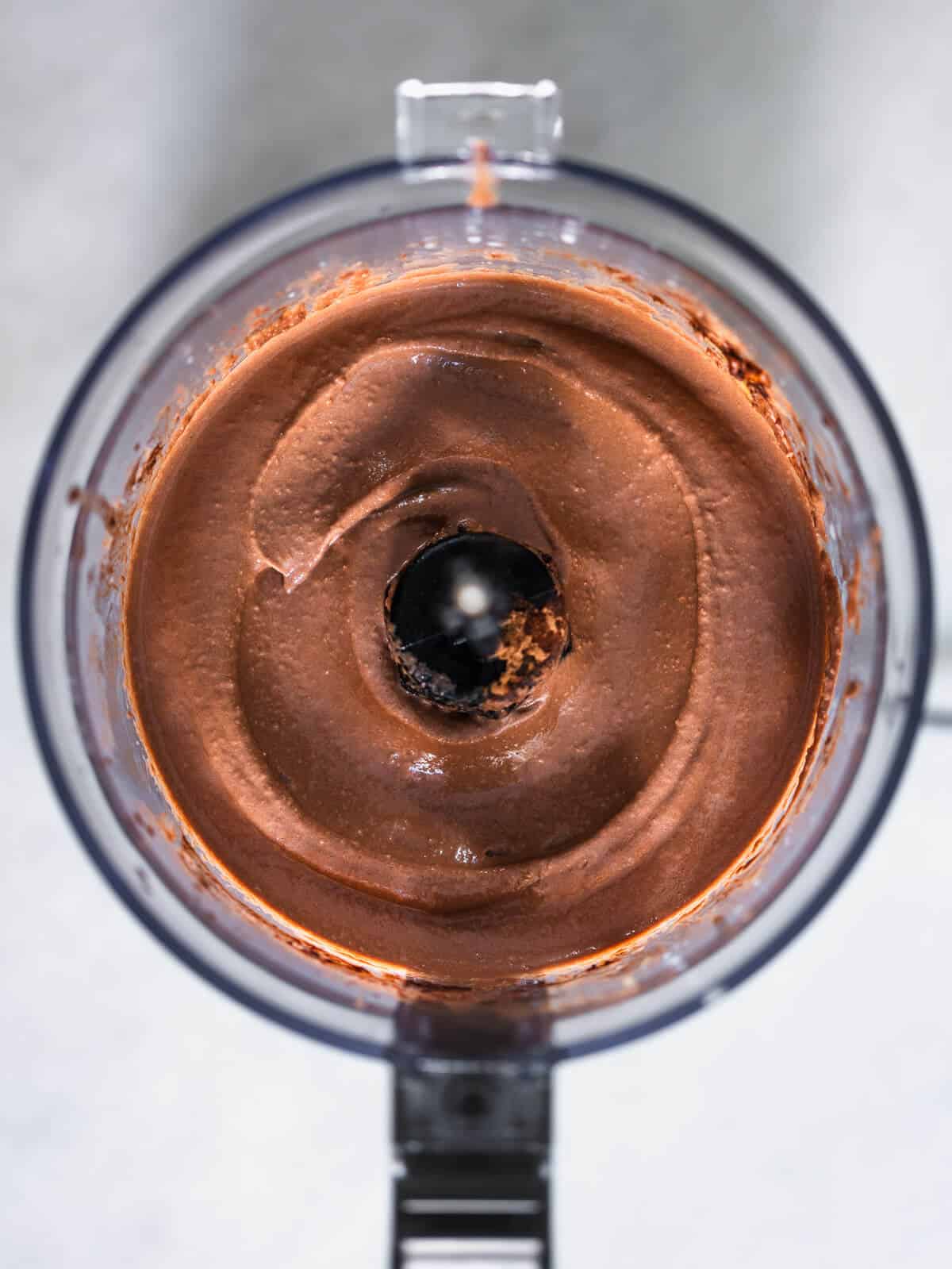 Blend until you reach the desired consistency.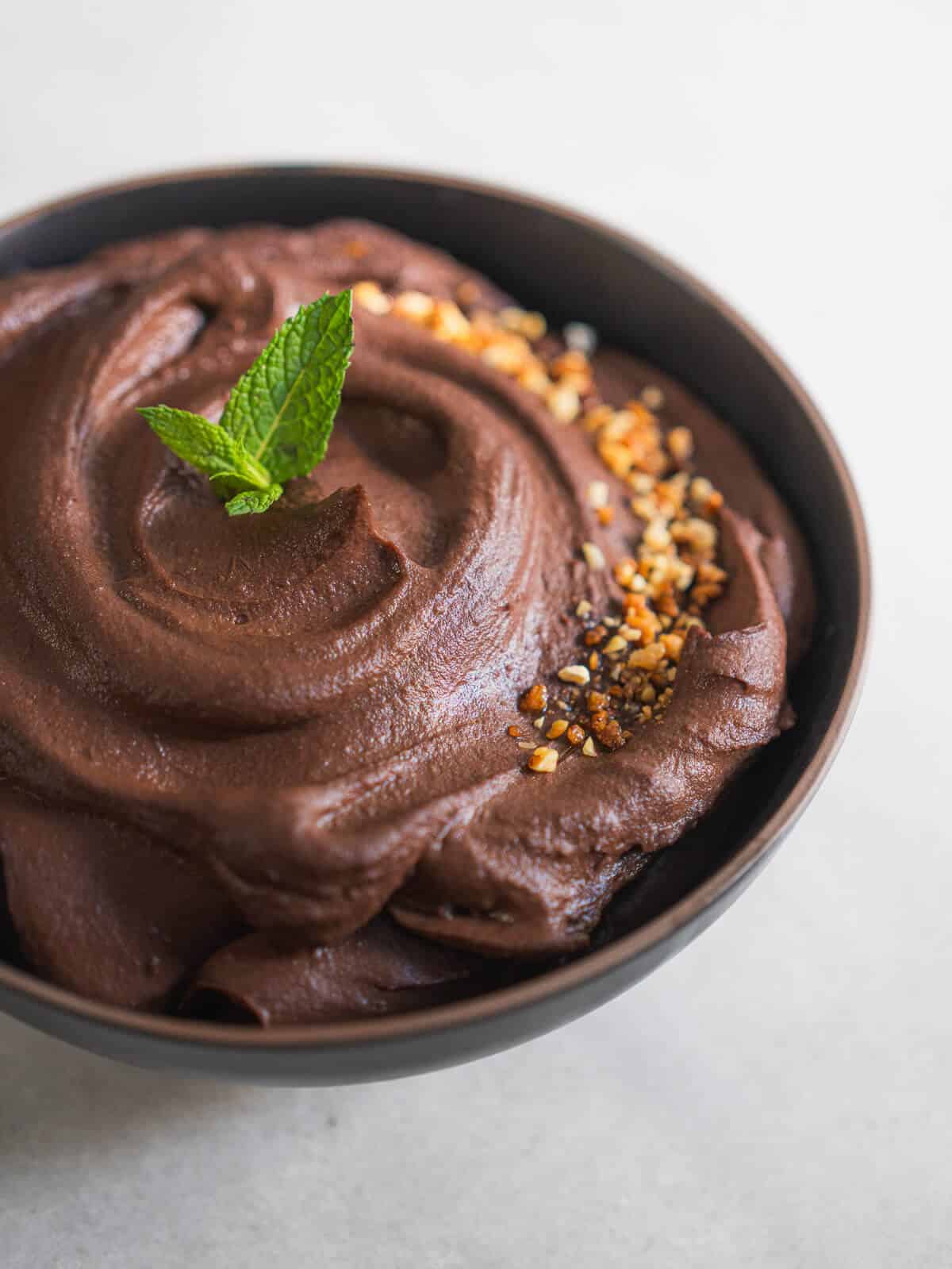 🥢 What to eat with dark chocolate hummus
So, OK, we have our super classy hummus; now you might wonder what to dip in dark chocolate hummus.
The possibilities are endless when it comes to serving this delightful gluten-free sweet hummus as dessert. Here are some creative ways to relish the unique flavors of our chocolate hummus:
Fruit Heaven: Spread this dessert hummus on fresh fruit like fresh strawberries, raspberries, banana slices, sliced apples, or kiwi slices for a healthy snack. The freshness and natural sweetness of the fruits beautifully complement the rich, creamy hummus as a fruit dip.
Berry Blast: Upgrade your usual bowl of blueberries by mixing them with a dollop of chocolate hummus. This combination looks fantastic and provides a delightful contrast of flavors and textures.
Sweet and Salty Delight: For a twist on the classic sweet-and-salty combo, use this dessert as a dip with dip pretzels or rice cakes. The salty crunch of the pretzels against the velvety, chocolatey hummus is a match made in heaven.
Chocolate Extravaganza: Add an extra layer of indulgence by sprinkling dark chocolate chips over the hummus. This can be a great option for a spread on toast or crackers.
Crunchy Creations: Graham crackers and pita chips offer a crunchy contrast to the creamy hummus. These can be served on the side for guests to dip at their leisure.
Remember, the beauty of this dessert lies in its versatility. Feel free to experiment with your favorite pairings and discover new ways to enjoy this chocolaty treat!
Check our comprehensive guide on What to eat with hummus!
🍶 Substitutions
As this recipe is already naturally vegan, there may not be a need for substitutions. However, if you'd like to explore alternatives based on your dietary preferences, allergies, or availability of ingredients, here are some options:
Canned chickpeas: navy beans, black beans, white beans, and cannellini beans can be a viable alternative to chickpeas for a similar creamy consistency. While the taste may vary slightly, it will not affect the overall chocolate flavor of the hummus.
Peanut Butter or Tahini: If you're allergic to peanuts, sunflower seed butter or almond butter can be used in place of peanut butter. Similarly, if tahini is not available, you can substitute it with any other seed or nut butter, such as cashew butter or almond butter.
Dark Chocolate Powder: Unsweetened cocoa powder, brownie batter, regular cacao powder, and chocolate protein powder can be used if you don't have dark chocolate powder on hand. Remember, this may lead to a less intense chocolate-rich flavor.
Maple Syrup: You can use other natural sweeteners or liquid sweetener like agave syrup, date syrup, or date paste if maple syrup is not available. Each one will impart a unique flavor to the hummus yet keep the sweetness balanced.
Almond Milk: Any non-dairy milk, such as cashew milk, oat milk, or soy milk, can be used as an alternative to almond milk. Just note that each type of milk has its own distinct flavor, which can subtly change the final taste of your hummus. You can also use vegan cream; it works wonderfully!
Fine-grain Sea Salt: Himalayan pink salt or kosher salt can be used instead of sea salt. They will still perform the critical role of enhancing the sweetness and balancing the overall flavors of your hummus.
Olive oil - sub for plain (not toasted) sesame oil, avocado oil, or ripe avocadoes.
📖 Variations
No oil - substitute oil for the same amount of avocadoes.
Peppermint Extract Variation: For a refreshing twist, add a few drops of peppermint extract to the base recipe. The combination of dark chocolate and cool peppermint creates a delightful flavor reminiscent of a mint chocolate dessert.
Orange Extract Variation: To infuse a hint of citrusy goodness, incorporate a small amount of orange extract into the Chocolate Hummus. The zesty notes of orange beautifully complement the richness of dark chocolate, resulting in a vibrant and tangy variation.
Almond Extract Variation: For those who love the nutty undertones, try adding a touch of almond extract to the base recipe. The subtle almond flavor harmonizes with the dark chocolate, creating an exquisite taste profile that's reminiscent of an almond-chocolate confection.
🍽 Equipment
Food Processor or High-powered Blender: The food processor

(affiliate link)

or high-speed blender

(affiliate link)

is essential for achieving that smooth, creamy texture in our Chocolate Hummus. It effectively combines and blends the ingredients, resulting in a velvety consistency that's perfect for dipping or spreading.
Spatula: A spatula comes in handy when transferring the Chocolate Hummus from the food processor or blender to a serving bowl. Its flexible and wide surface allows you to scrape down the sides of the equipment, ensuring that you get every last bit of that delicious dessert hummus without wasting any.
🥡 Storage
Store your Dark Chocolate Hummus fresh and delicious in an airtight container in the refrigerator. The cool temperature will help maintain its creamy texture and preserve its flavors. Simply cover the container tightly and place it in the fridge for up to a week. Remember to give it a quick stir before serving if any separation occurs. Enjoy chilled and savor every spoonful!
💡 Top tip
The consistency of this creamy hummus is achieved by adding ice-cold almond milk to a tablespoon at a time to the food processor to help emulsify the mixture. To make it nut free, go for oat milk or soy milk.
✅ Health factor
How healthy is dark chocolate hummus?
Dark Chocolate Hummus is a delectable treat and a surprisingly healthy indulgence. Its plant-based and nutrient-rich ingredients offer a range of health benefits. Here's why Dark Chocolate Hummus is a guilt-free delight:
Nutritional Powerhouse: This dessert hummus is primarily made from chickpeas, which are an excellent source of plant-based protein, fiber, vitamins, and minerals. Chickpeas provide a sustained release of energy, help regulate blood sugar levels, and support digestive health.
Antioxidant-Rich: Dark chocolate, a key ingredient in this recipe, is packed with antioxidants that combat free radicals in the body. These antioxidants help reduce inflammation, support heart health, and boost overall well-being.
Reduced Sugar: Unlike many traditional desserts, Dark Chocolate Hummus is free from refined sugars. It relies on natural sweeteners like pure maple syrup, which adds sweetness without causing blood sugar spikes. This makes it a healthier option for those mindful of their sugar intake.
Healthier Fats: The combination of chickpeas and tahini in this hummus provides a good dose of healthy fats, such as monounsaturated fats and omega-3 fatty acids. These fats are beneficial for heart health, brain function, and overall vitality.
Remember, moderation is key when enjoying any treat, including Dark Chocolate Hummus. While it offers numerous health benefits, it is still a calorie-dense food. So, enjoy it as part of a balanced diet, savoring the goodness it brings while keeping portion sizes in che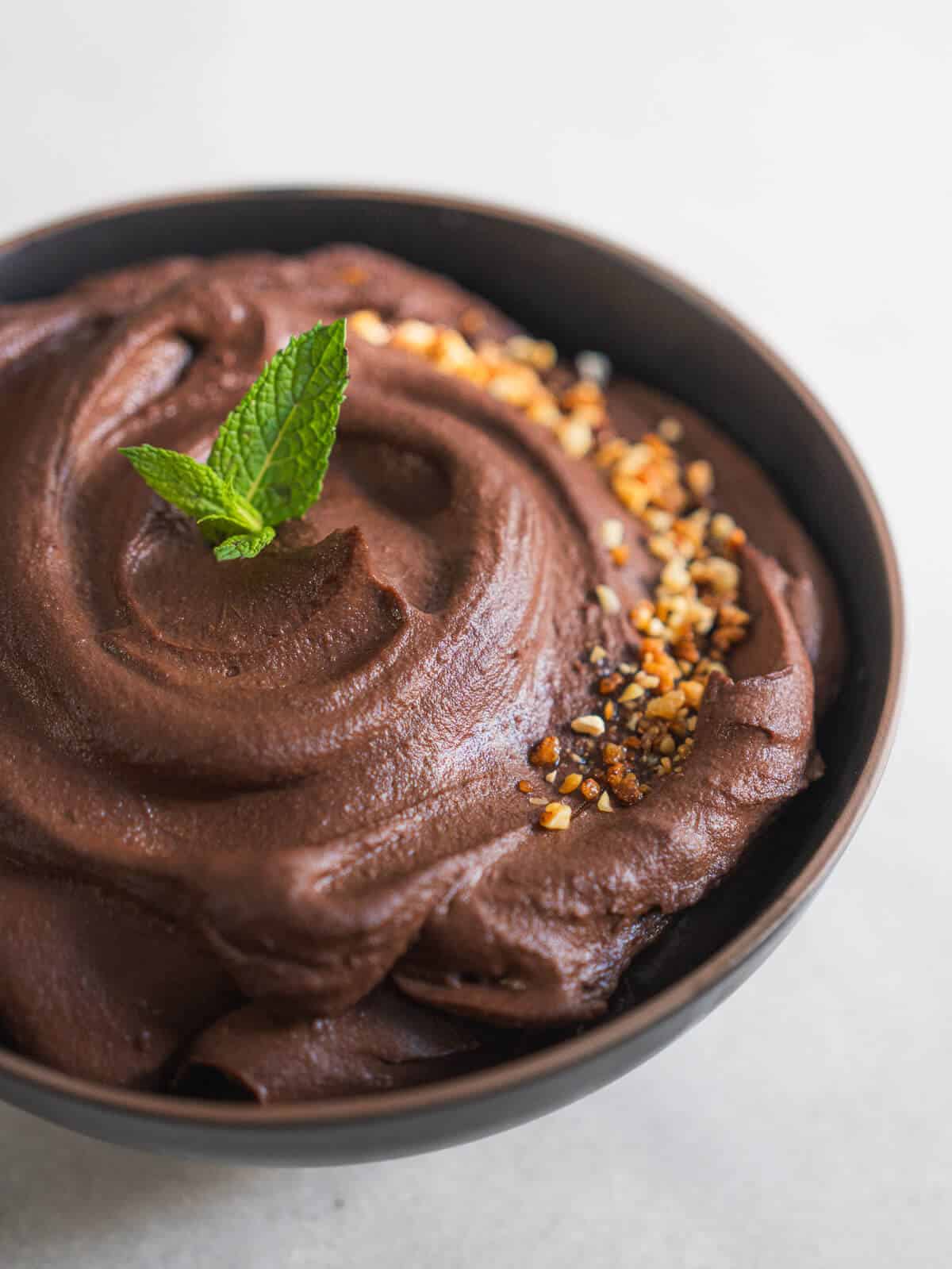 📚 More hummus recipes
Transport your taste buds to the vibrant streets of Lebanon with our Lebanese Traditional Hummus recipe, a creamy and flavorful classic that will have you coming back for more.
Looking for a burst of smoky sweetness? Our Red Pepper Hummus recipe is a delightful twist on the traditional, infusing roasted red peppers for a captivating flavor profile that will leave you craving another dip.
Embrace the cozy flavors of fall with our Roasted Pumpkin Hummus, where the earthy sweetness of roasted pumpkin blends harmoniously with the creamy hummus base, creating a seasonal delight that's perfect for autumn gatherings.
Experience a vibrant hue and tangy twist in our Lemon Beet Hummus, where the natural sweetness of beets and the zesty freshness of lemon collide, resulting in a visually stunning and absolutely delicious hummus that's as nutritious as it is vibrant.
An equally delicious and chickpea-free version of hummus is our black-eyed peas hummus.
⭐ If you try this dark chocolate hummus recipe, let us know! 💬 Leave a comment, rate it, and don't forget to tag us @ourplantbasedworld on Instagram. Cheers!
📋 Recipe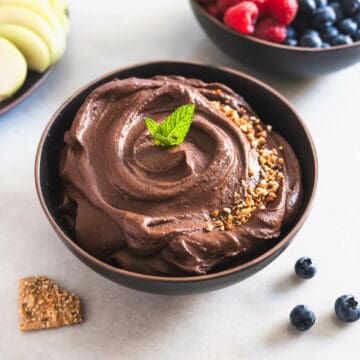 Dark Chocolate Hummus
Discover the irresistible world of Dark Chocolate Hummus, a unique blend of savory and sweet that will delight your taste buds. Learn how to make this delicious, health-boosting dessert that combines the creaminess of hummus with the rich depth of dark chocolate.
Equipment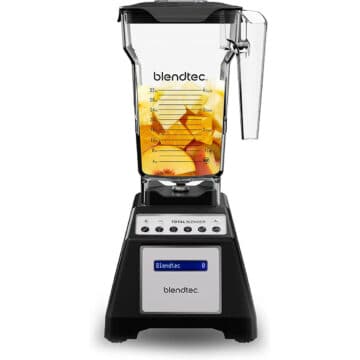 (affiliate link)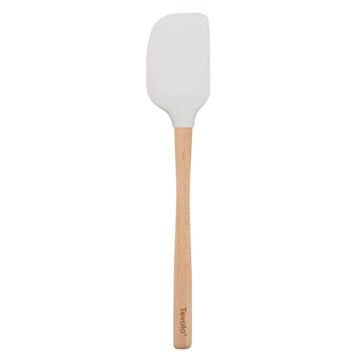 (affiliate link)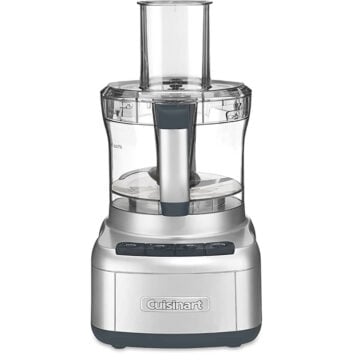 (affiliate link)
Directions
Blend. In the bowl of your food processor or high-powered blender (like Vitamix), combine all the ingredients except for the iced almond milk. Process for around 1½ minutes, pausing to scrape down the sides and base of the bowl as needed, until the mixture is thoroughly blended.

Scrape down the vase or bowl and continue processing until the hummus reaches a thick and smooth consistency, which should take about 1 extra minute.

If your hummus turns out too thick or chunky, simply run the food processor while gradually adding iced almond milk, one tablespoon at a time, until you achieve your desired texture.

Transfer the hummus to a small serving bow and serve with fresh fruit like sliced apples, blueberries, raspberries, bananas, and crackers or pretzels.
Notes
Leftover hummus can be stored in the refrigerator for up to a week, so you can enjoy it throughout the week.
Nutrition Facts
Calories:
247
kcal
Carbohydrates:
23
g
Protein:
7
g
Fat:
16
g
Saturated Fat:
2
g
Polyunsaturated Fat:
4
g
Monounsaturated Fat:
9
g
Sodium:
438
mg
Potassium:
459
mg
Fiber:
8
g
Sugar:
3
g
Vitamin A:
184
IU
Vitamin C:
12
mg
Calcium:
51
mg
Iron:
2
mg
Nutrition Facts
Dark Chocolate Hummus
Amount per Serving
% Daily Value*
* Percent Daily Values are based on a 2000 calorie diet.
Nutritional Disclaimer
The information shown is an estimate provided by an online nutrition calculator. It should not be considered a substitute for a professional nutritionist's advice. See our full Nutritional Disclosure here.
Affiliate Disclaimer
Please note that some of the links here are affiliate links, and I will earn a commission if you purchase through those links. I recommend all of the products listed because they are companies I have found helpful and trustworthy.