Have you ever tried making your own nut milk? This homemade cashew milk recipe is a great place to start! Making your own cashew milk is easy, affordable, and allows you to control the ingredients and requires fewer steps than other kinds of nut milks. In this post, we'll guide you through the simple steps to create this creamy and versatile plant-based milk that can be used in a variety of recipes.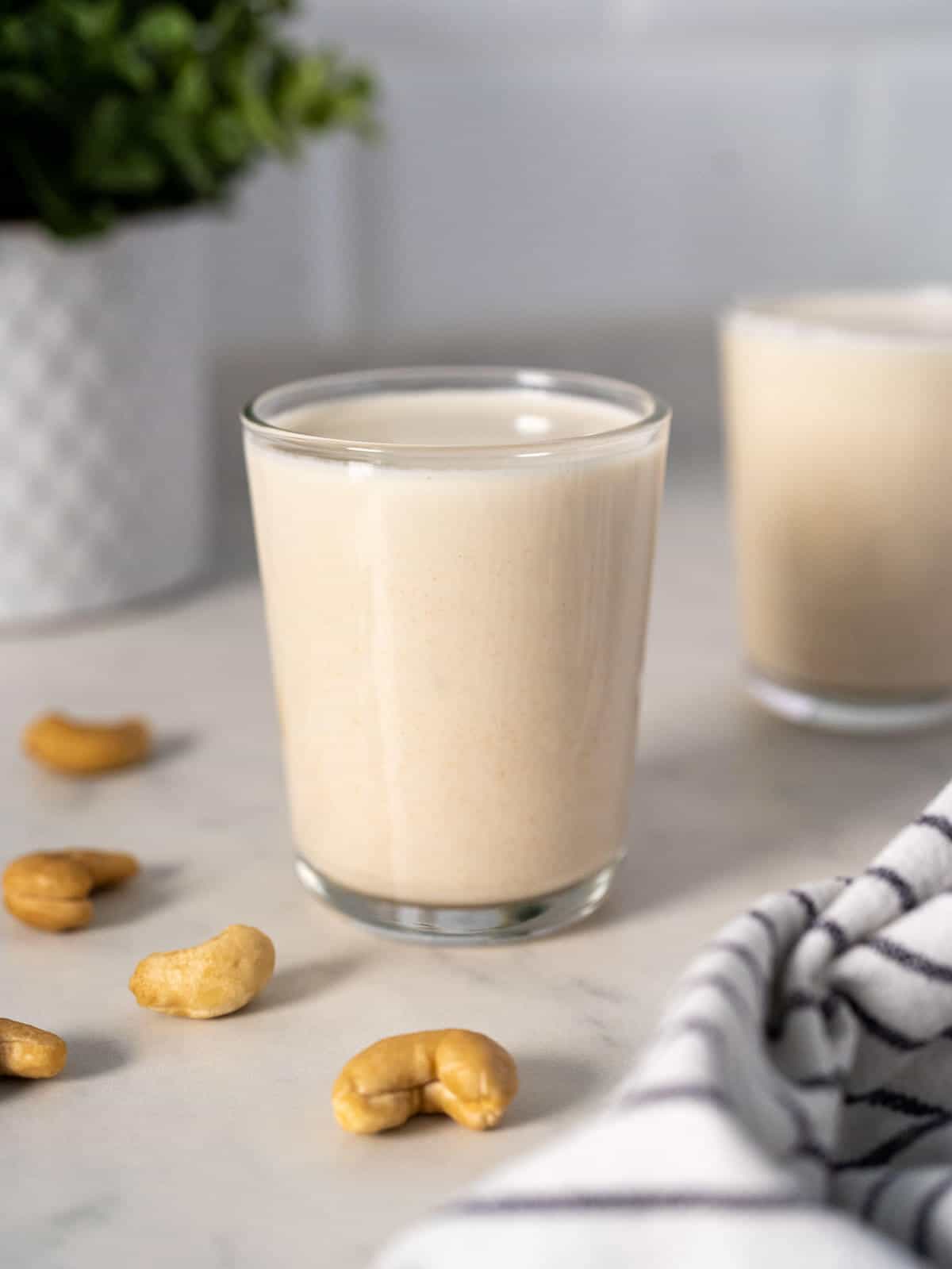 We love making our own nut milks as they have no additives and they are hassle-free to make.
Cashew milk is the creamiest of homemade nut milks and that's why it is also the one that is most used to make vegan cheeses, desserts, and products like cashew cheese, cashew cream, and cashew butter.
Regarding homemade nut milk, cashew milk is incredibly easy to make using a milk juicer, blender, or regular slow juicer, and it has a deliciously creamy taste.
Plus, since the cashews blend completely into the water, there's no waste, and all the fiber and nutrients are retained. The best part? You don't even need to strain cashew milk!
This cashew milk recipe is super adjustable and perfect for your smoothies and nicecreams. You can make it creamier, sweeter, or flavor infused. We love using the unsweetened version for recipes such as Vegan mashed potatoes and Vegan Bechamel Sauce.
Jump to:
🧾 Ingredients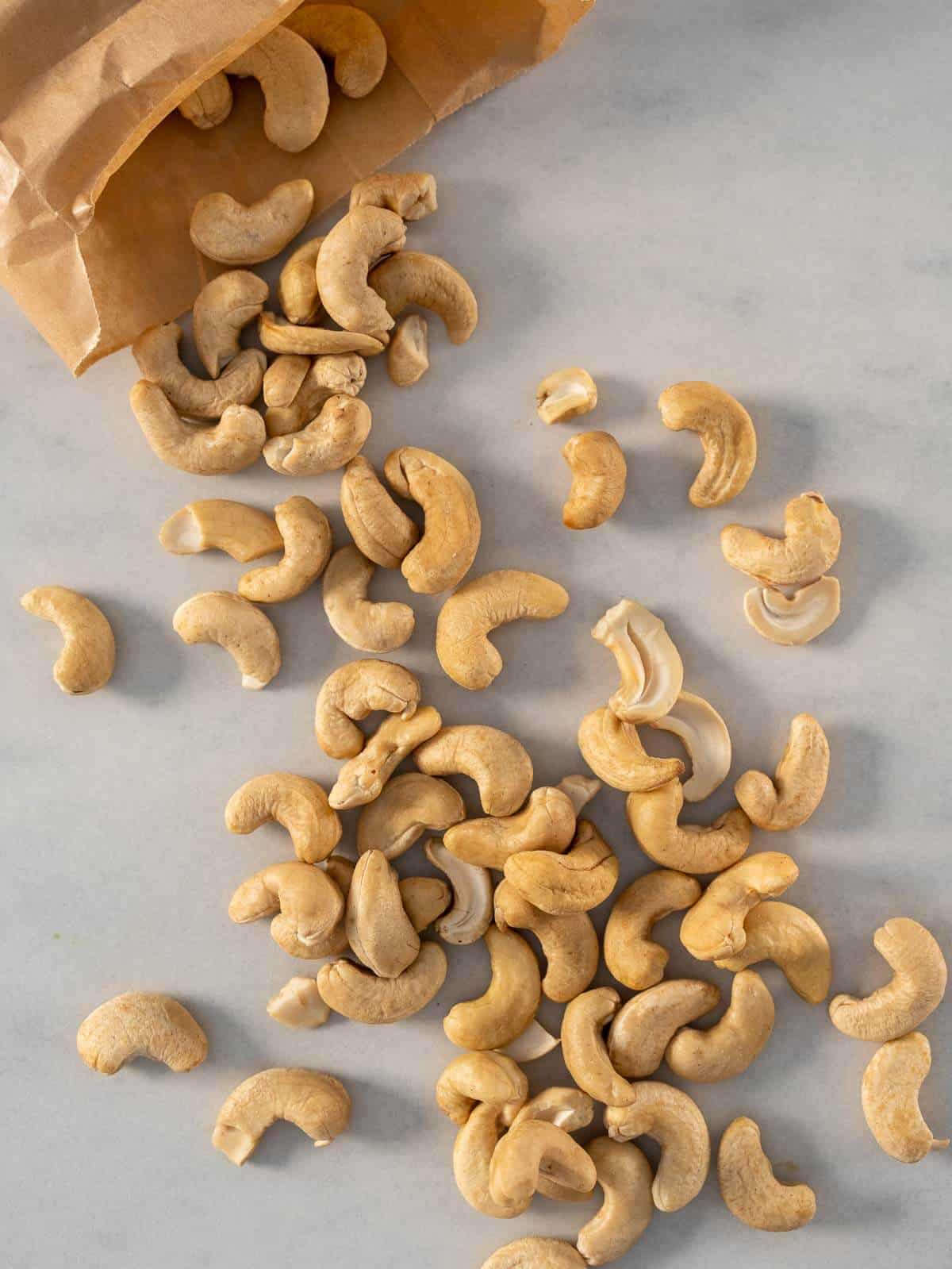 It requires 2 ingredients, 5 minutes, and a slow juicer or blender.
Raw Cashews are the main ingredient in the recipe and provide a creamy, nutty flavor and a rich, velvety texture to the milk. You can also use roasted unsalted cashews, they the cashew milk will have a slightly roast flavor.
Filtered water is used to thin the milk and provide hydration, helping to blend the ingredients together into a smooth and creamy consistency.
Optional ingredients
Dates are added to the milk to provide a natural sweetness and a rich, caramel-like flavor.
Salt is used to enhance the flavor of the milk and bring out the natural sweetness of the cashews and dates.
Note: keep your cashew milk unsweetened if you plan to make vegan buttermilk.
🔪 Instructions
Making cashew milk is super easy. Let's get into the two methods.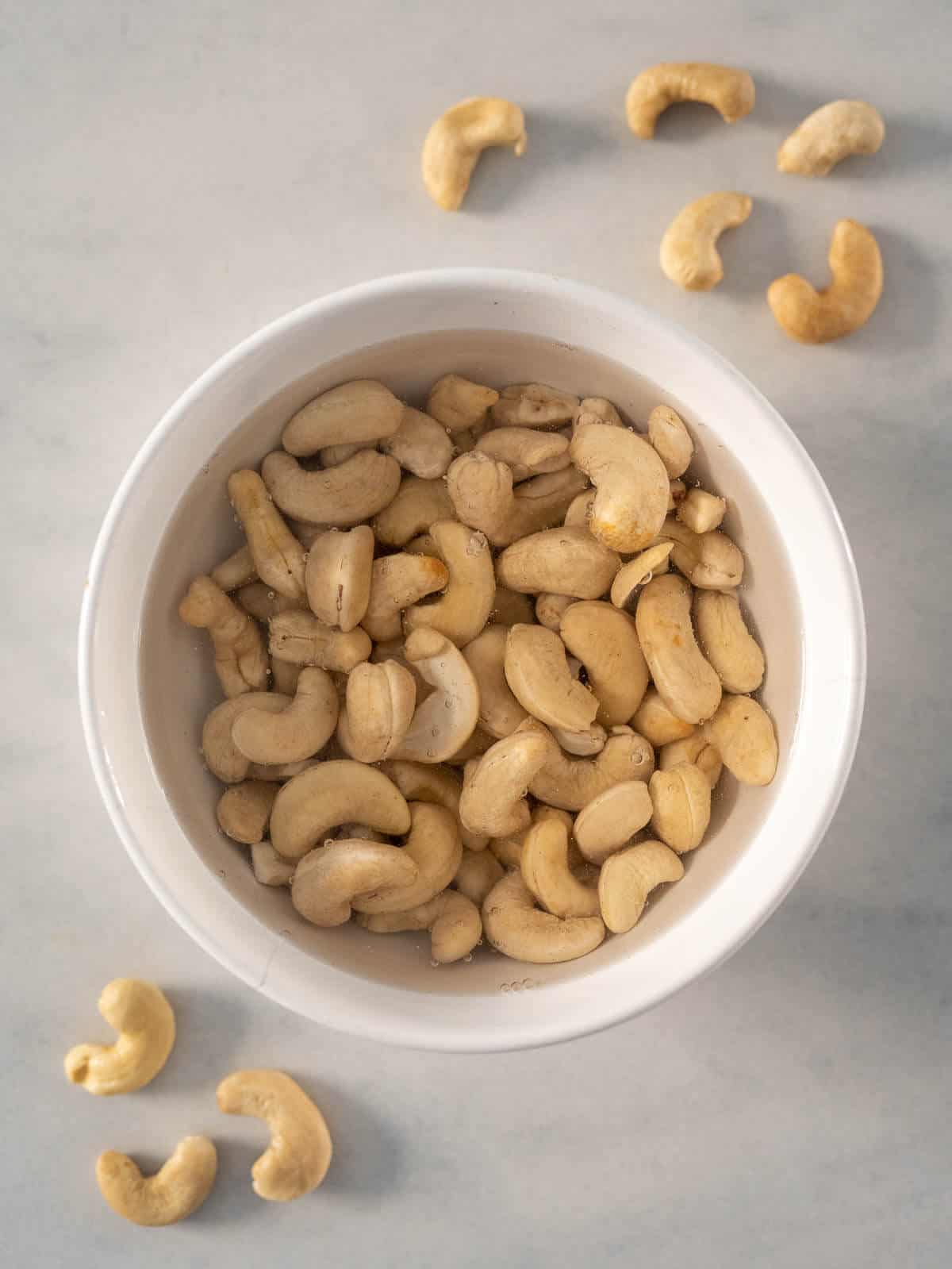 Soak the cashews at room temperature or in the fridge for 6-8 hours or overnight.
If you need to make it the same day, pour hot water into the cashew nuts to accelerate the process and leave them soaking for 15 minutes.
Slow juicer method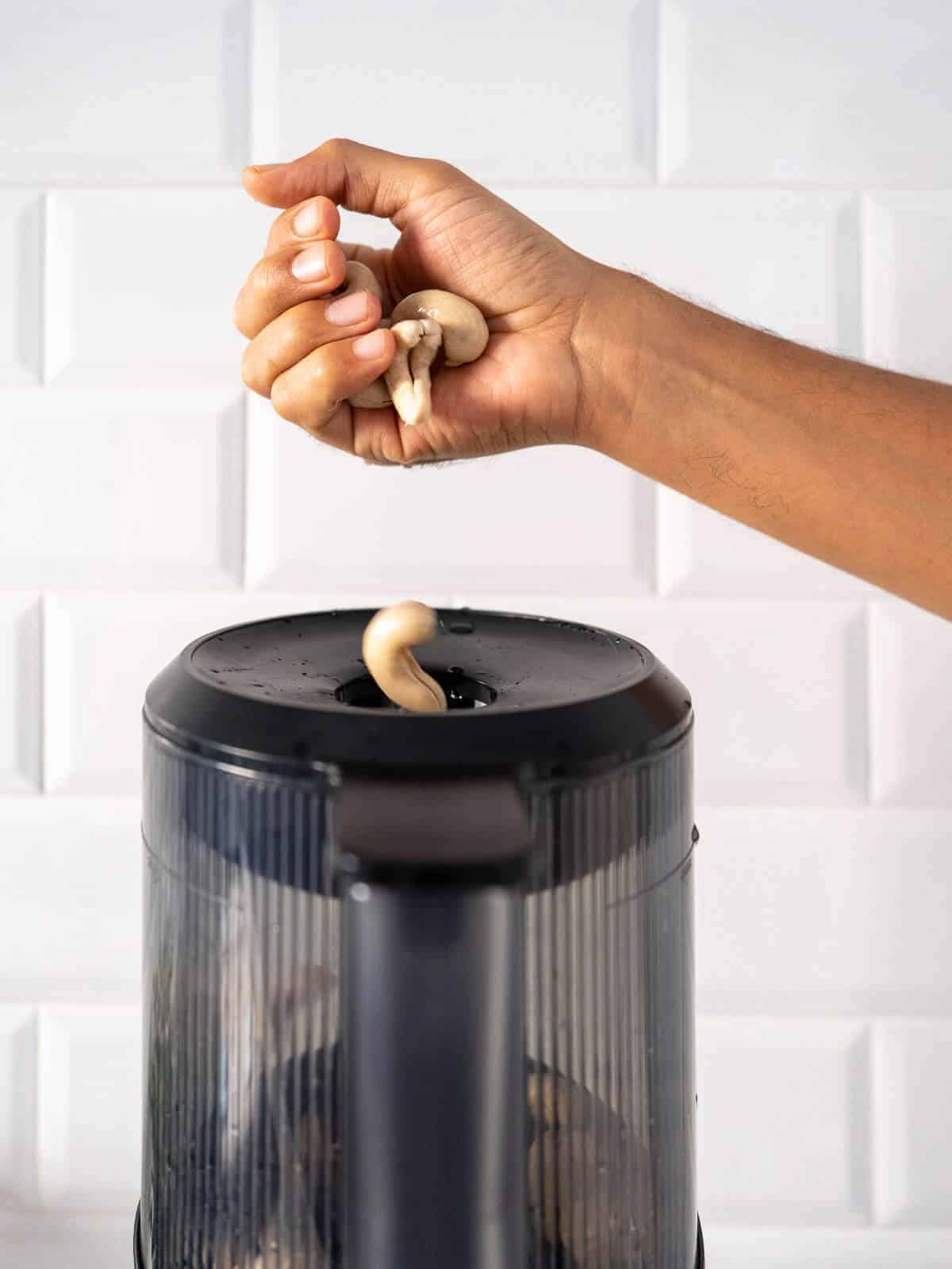 Soak the raw unsalted cashews overnight in water.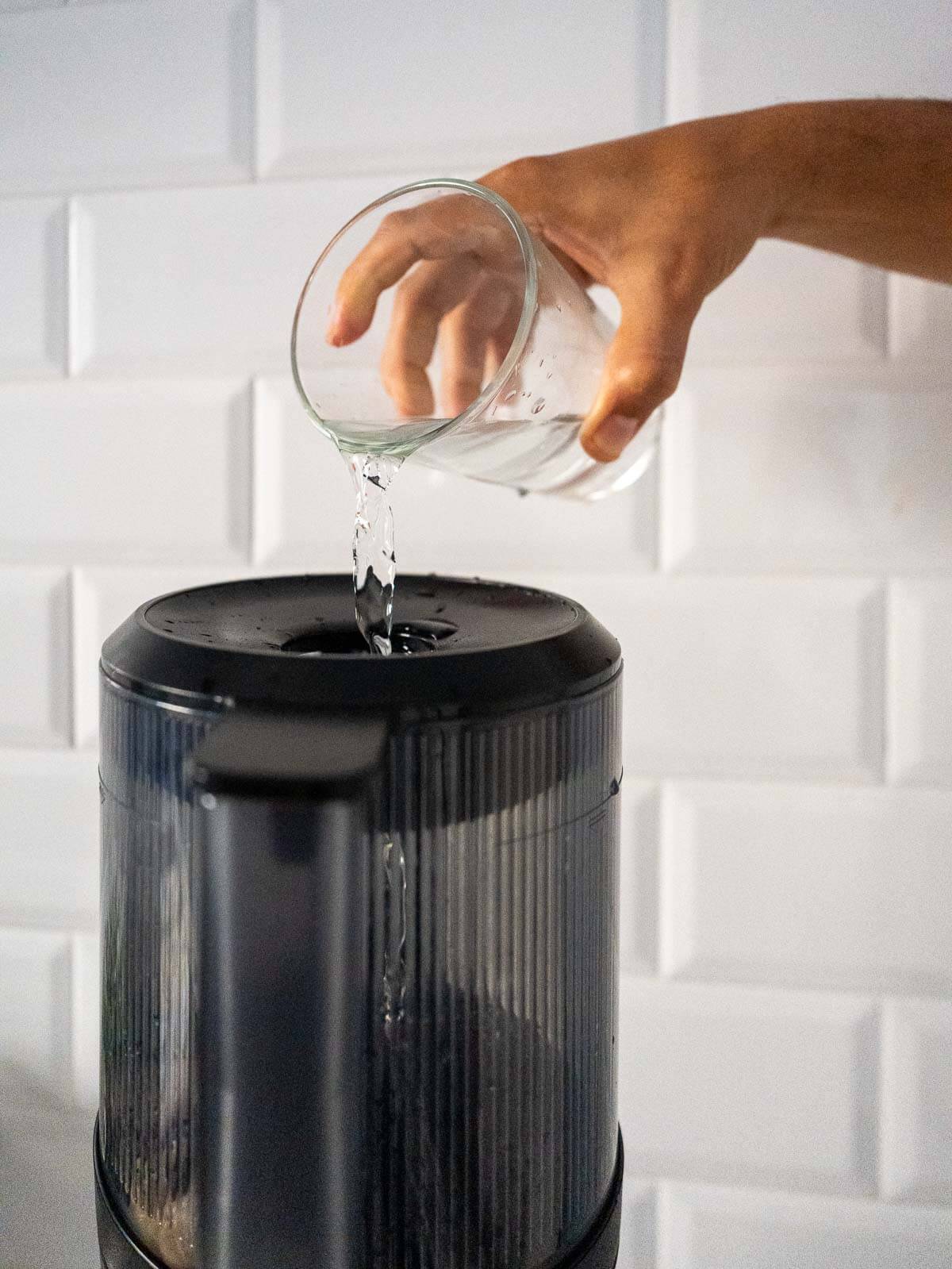 You then need to drain the soaked cashews.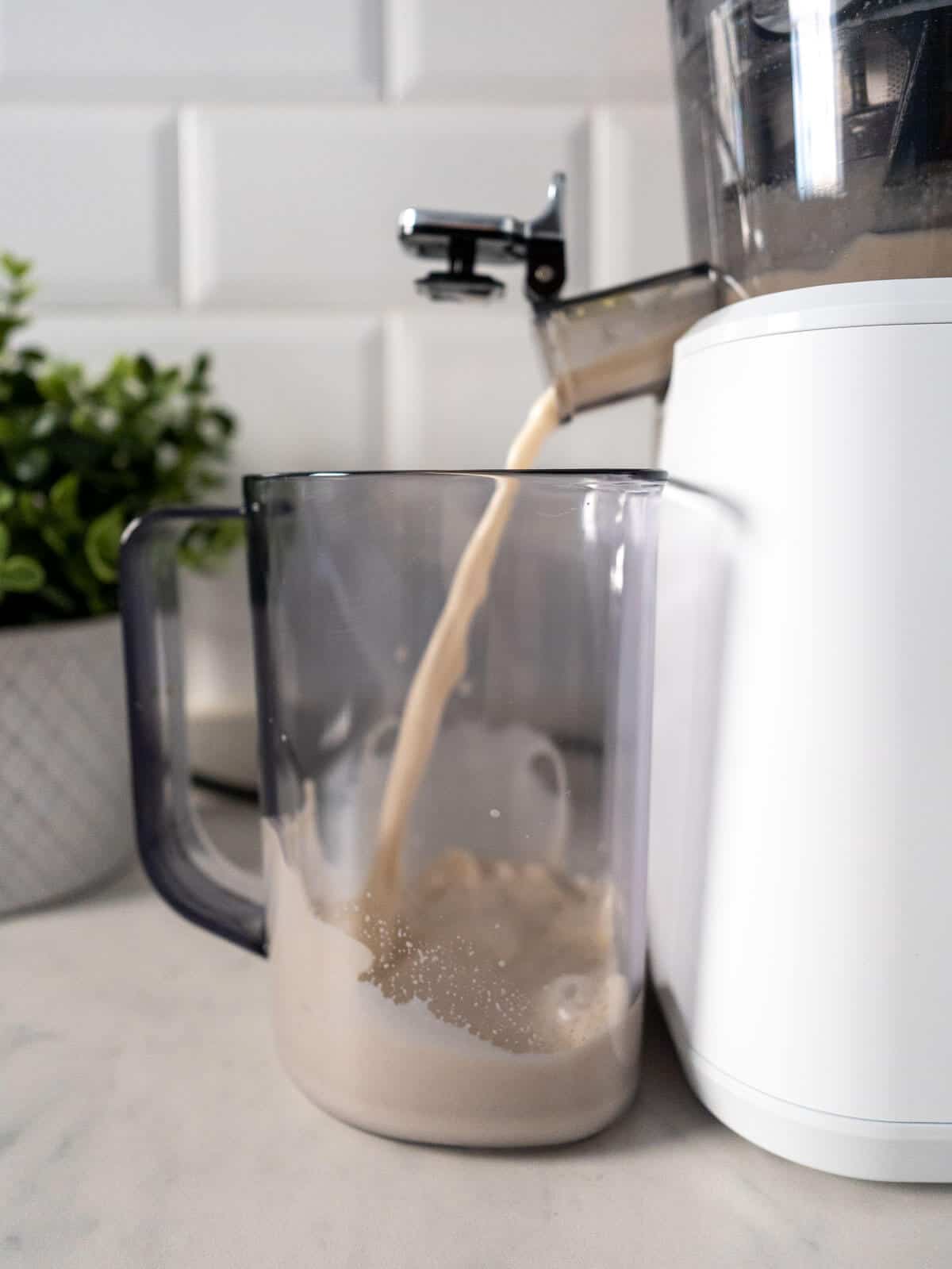 Pour the cashew milk into the juicer jar.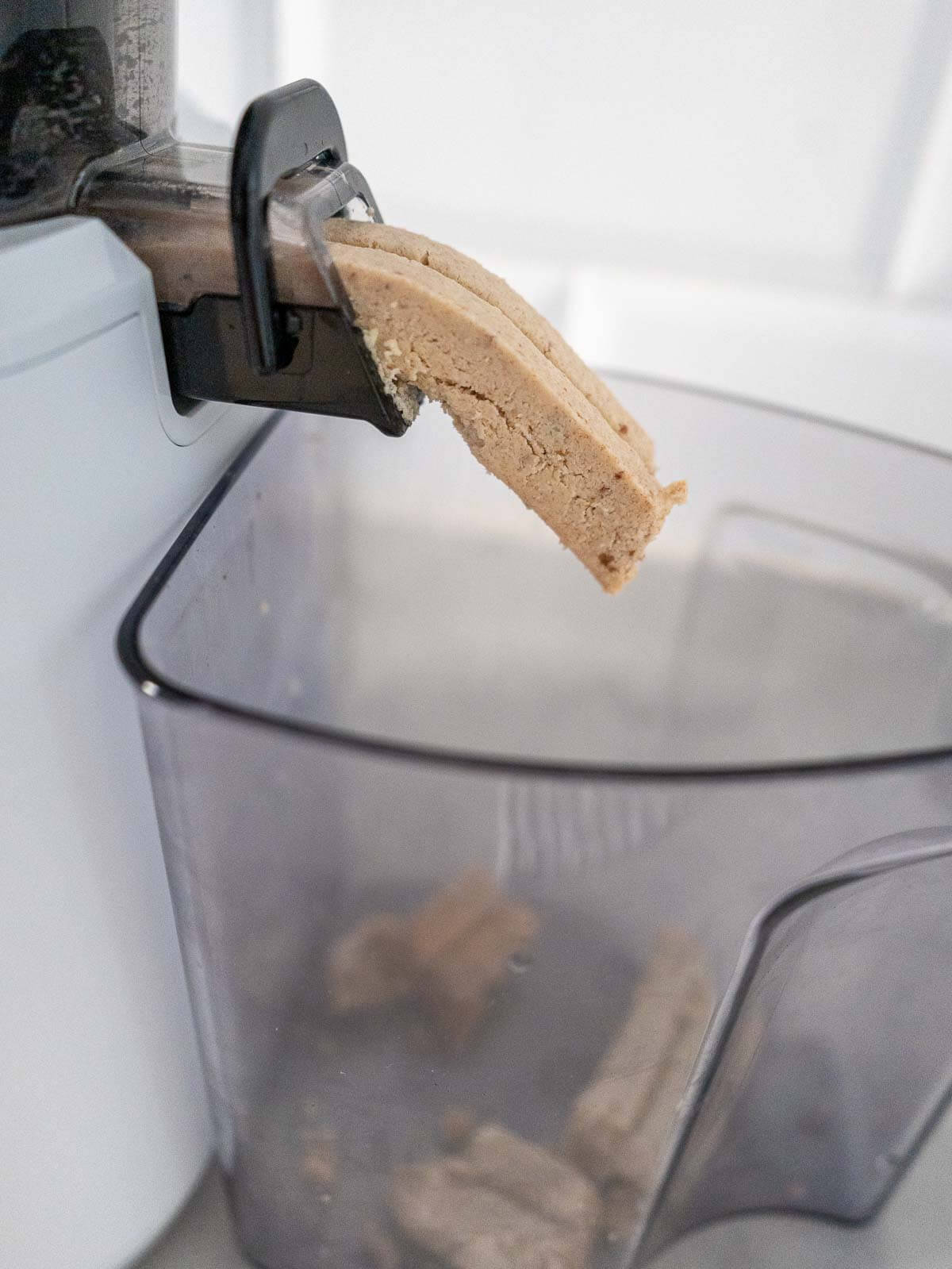 After you make homemade cashew milk, keep the leftover pulp to make smoothies, baked goods, and even savory recipes.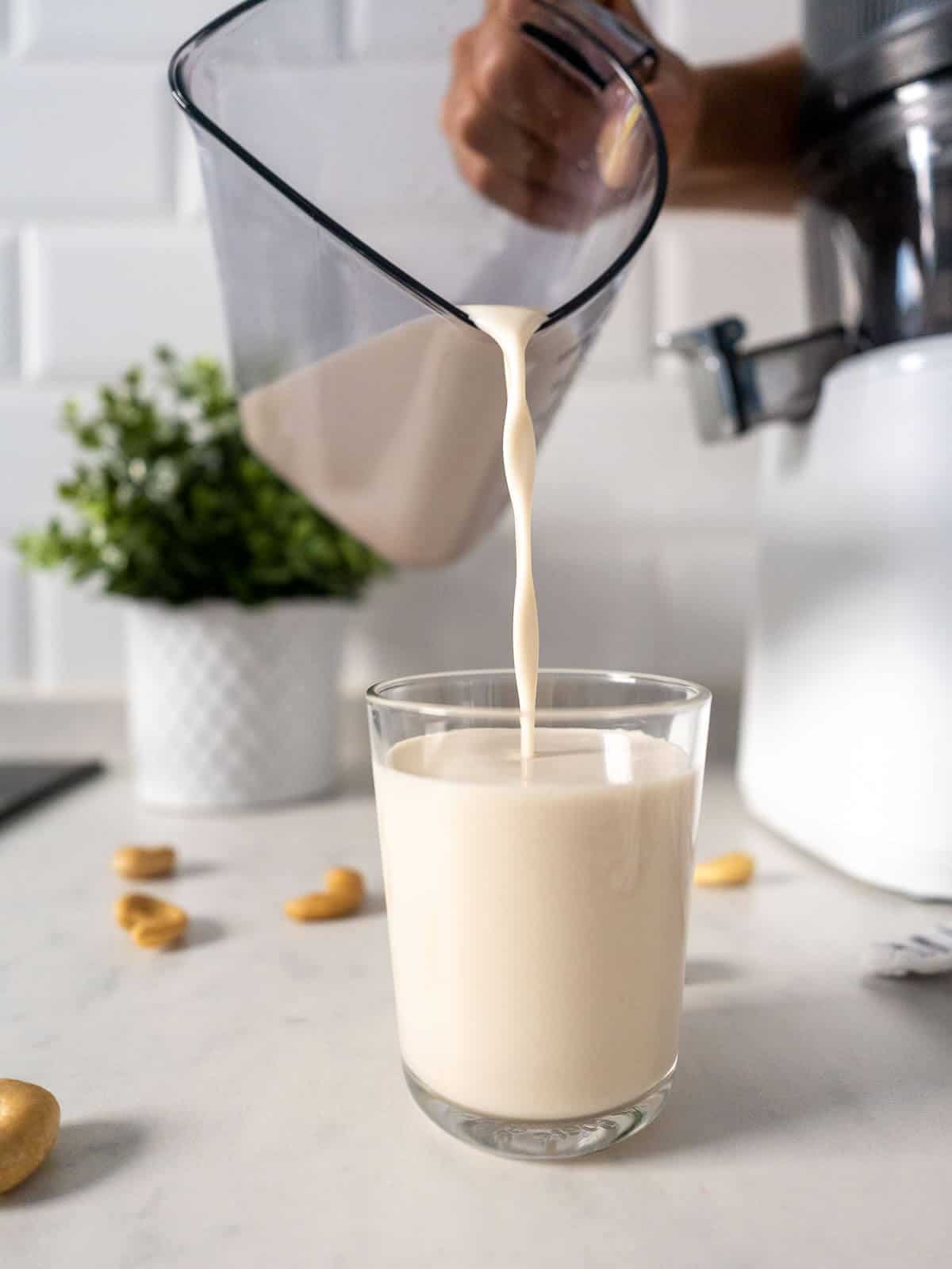 Enjoy your delicious cashew milk.
You can use this protein balls recipe using cashew pulp.
Blender method
First, soak cashews in fresh water.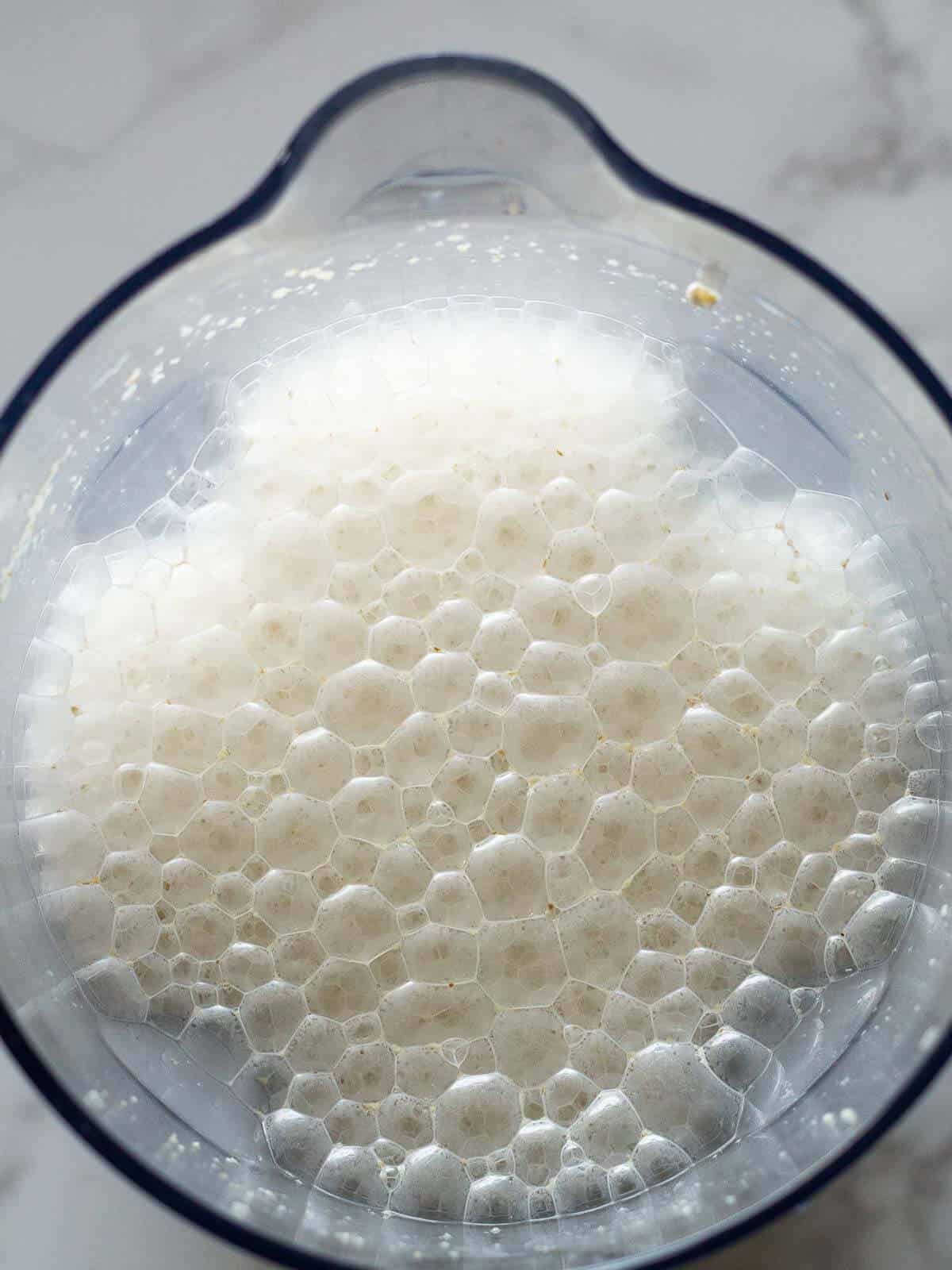 You can make homemade cashew milk with a blender, and you don't even need a nut milk bag because the fiber just blends into the milk, which is usually not the case with other nut milks.
Alternatively, add a pinch of salt and your preferred sweeteners such as maple, syrup, or dates or flavor enhancers like cocoa.
Cashew milk is typically a little sweet, but you can add one or two pitted dates if you want sweetened cashew milk. Remove the inner stone from the dates, as the stone can break your blender, or use homemade date paste.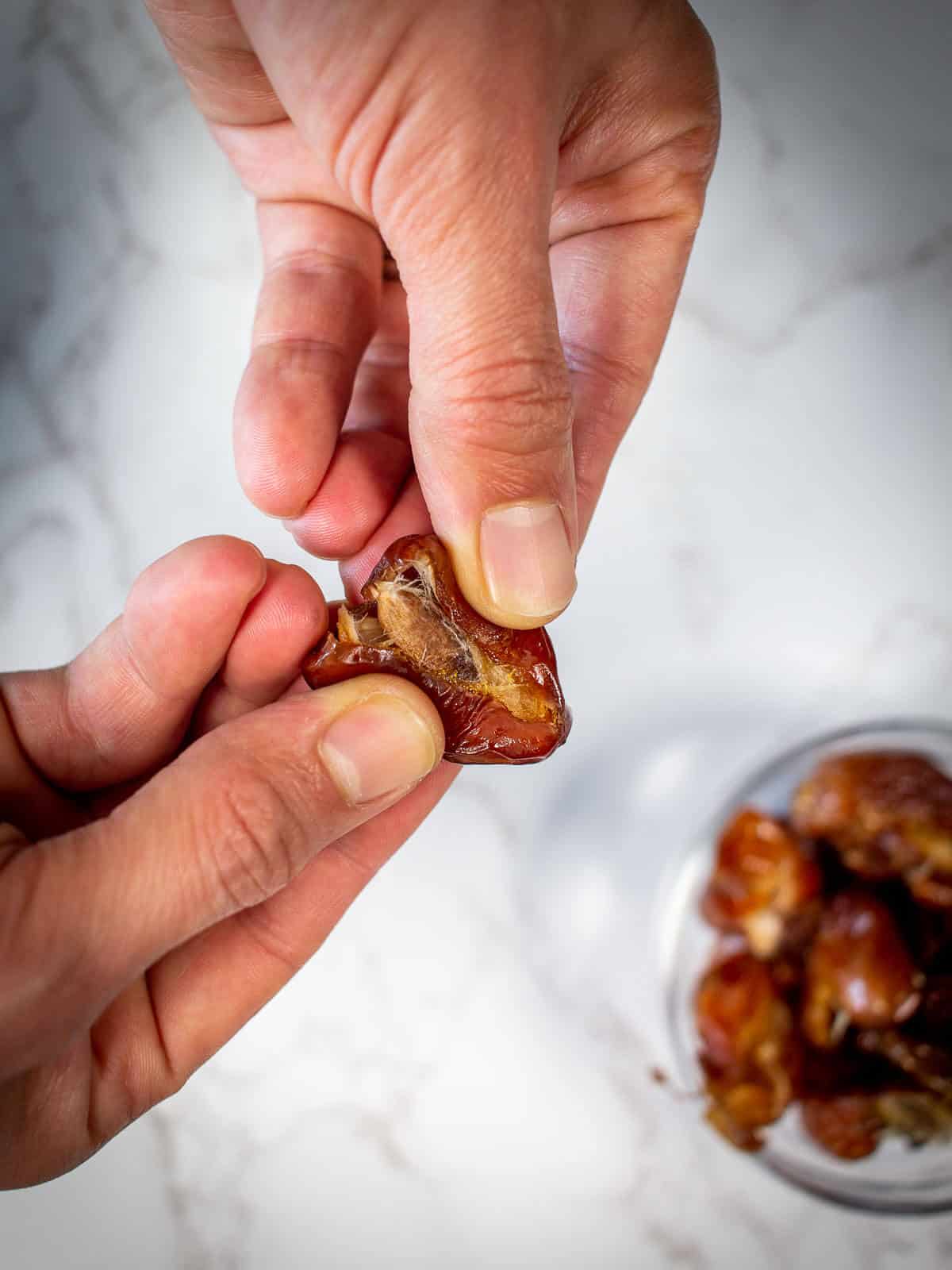 Suggested sweeteners for this cashew nut milk recipe: dates, raisins, agave syrup, or maple syrup.
Add in ideas: cocoa powder, vanilla extract, banana, strawberry, or hazelnuts.
🍽 Equipment
Slow juicer - we love our Nama J2 cold-pressed juicer

(affiliate link)

, as we use it to make juices, plant milk, and even ice cream. (affiliate). See recipe notes for a discount code.
Blender - we use a Vitamix

(affiliate link)

high-powered blender (affiliate), but you can also use a regular blender.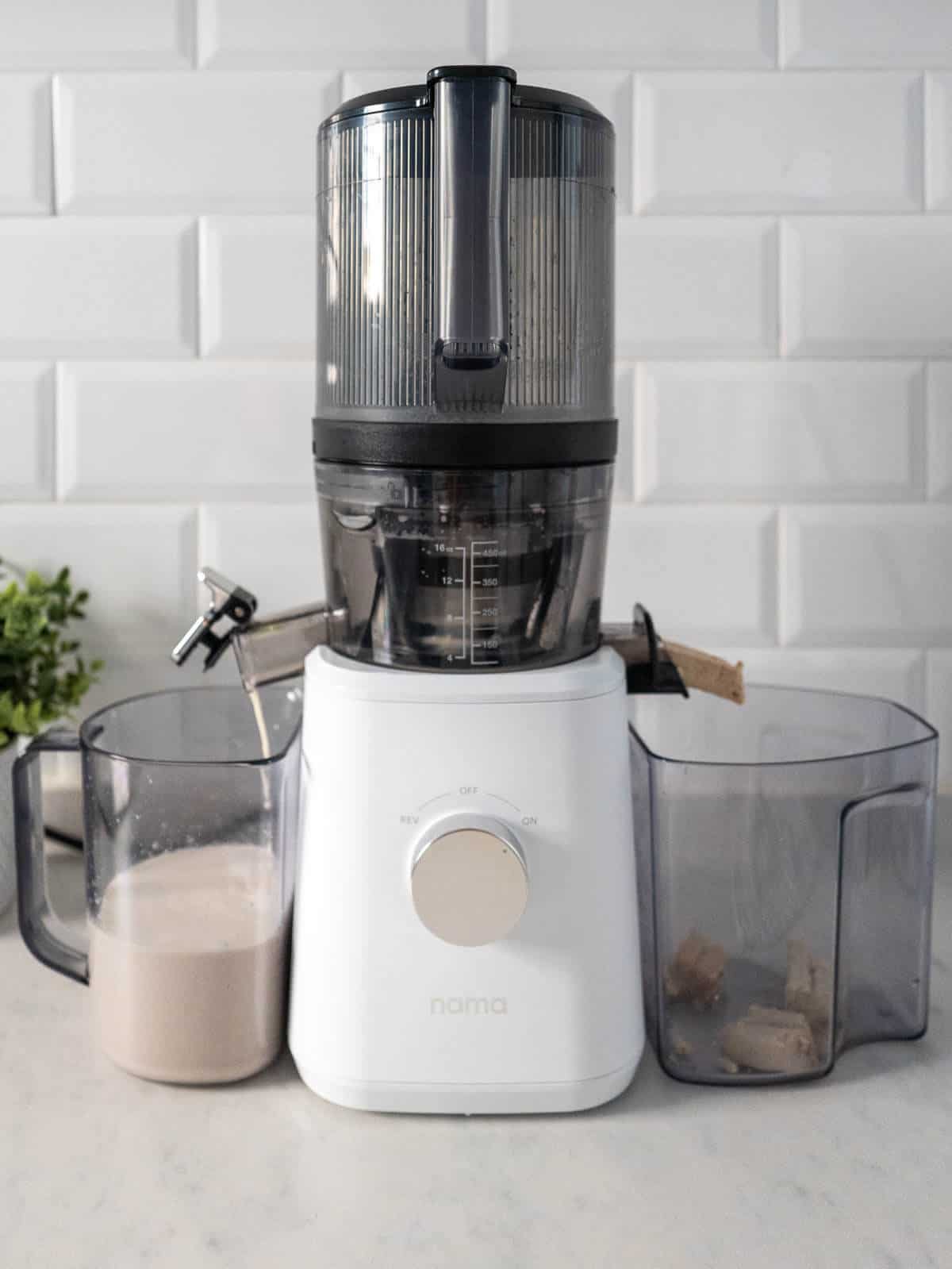 🫙 Storing
It depends on whether you sterilize your equipment and how fresh the ingredients you use are. In general, we have found it lasts about 2-3 days.
We often use cashew milk for our morning smoothies or Homemade Granola and overnight oats, so one batch only makes it to the third day. If you are like us, you don't need to sterilize your ingredients as it reaches the 3rd day without any problem.
If you find that it goes off before expected, easily sterilize your bottles either:
Pour boiling water inside, ensuring the jars are not cold so they won't break.
Then, put them in the dishwasher.
Left home unexpectedly? or didn't use your milk soon enough and want to prevent it from going off?
You can freeze it in ice cube trays and save them to add to your morning smoothies.
If the cashew milk separates after thawing, it can be blended or shaken thoroughly. If you find the taste unpalatable, you can still use it for baking purposes. For ease of use, you can freeze the milk in ice cube trays and thaw only the required amount, such as dropping one ice cube in your coffee.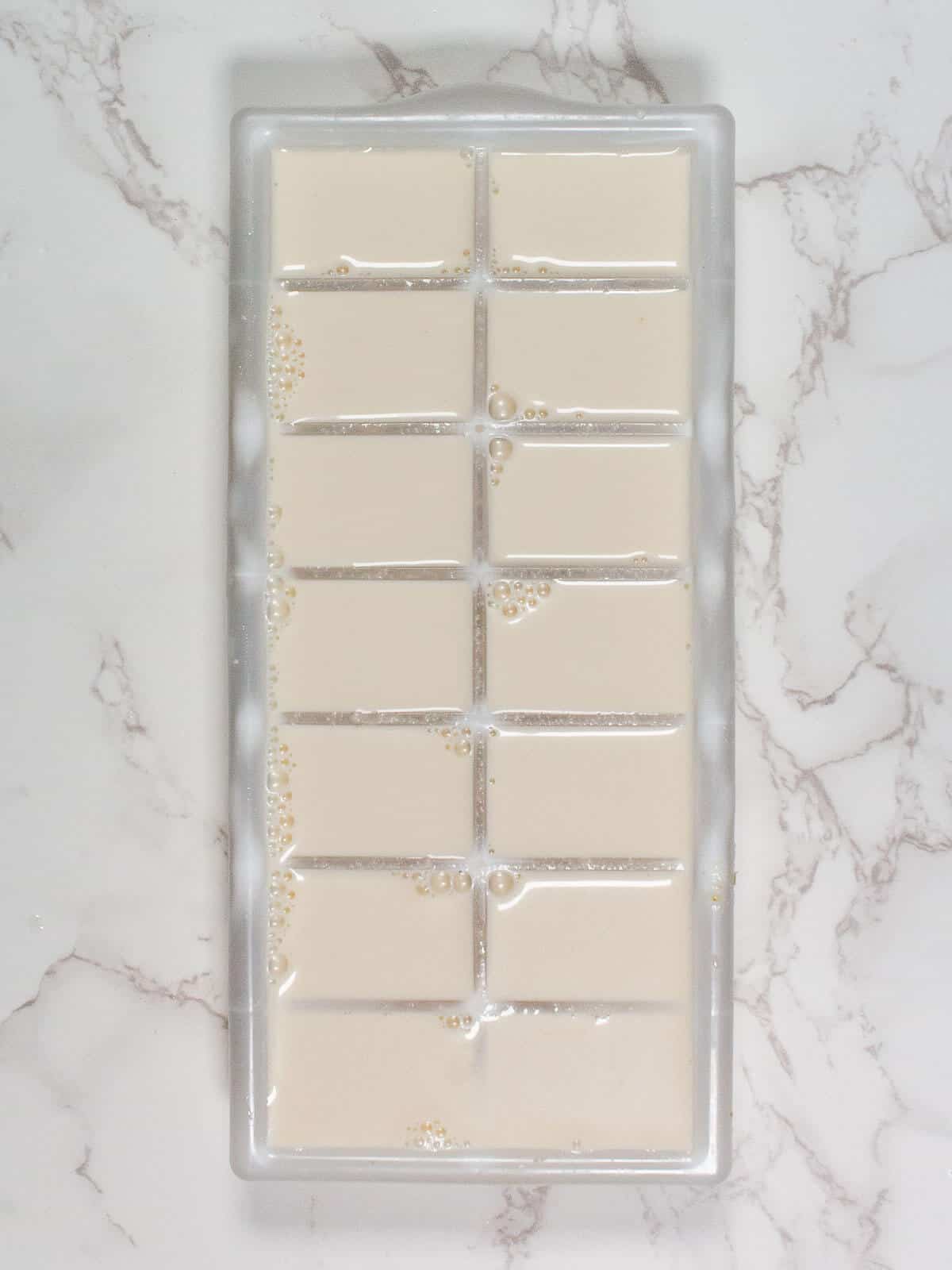 🍫 Variations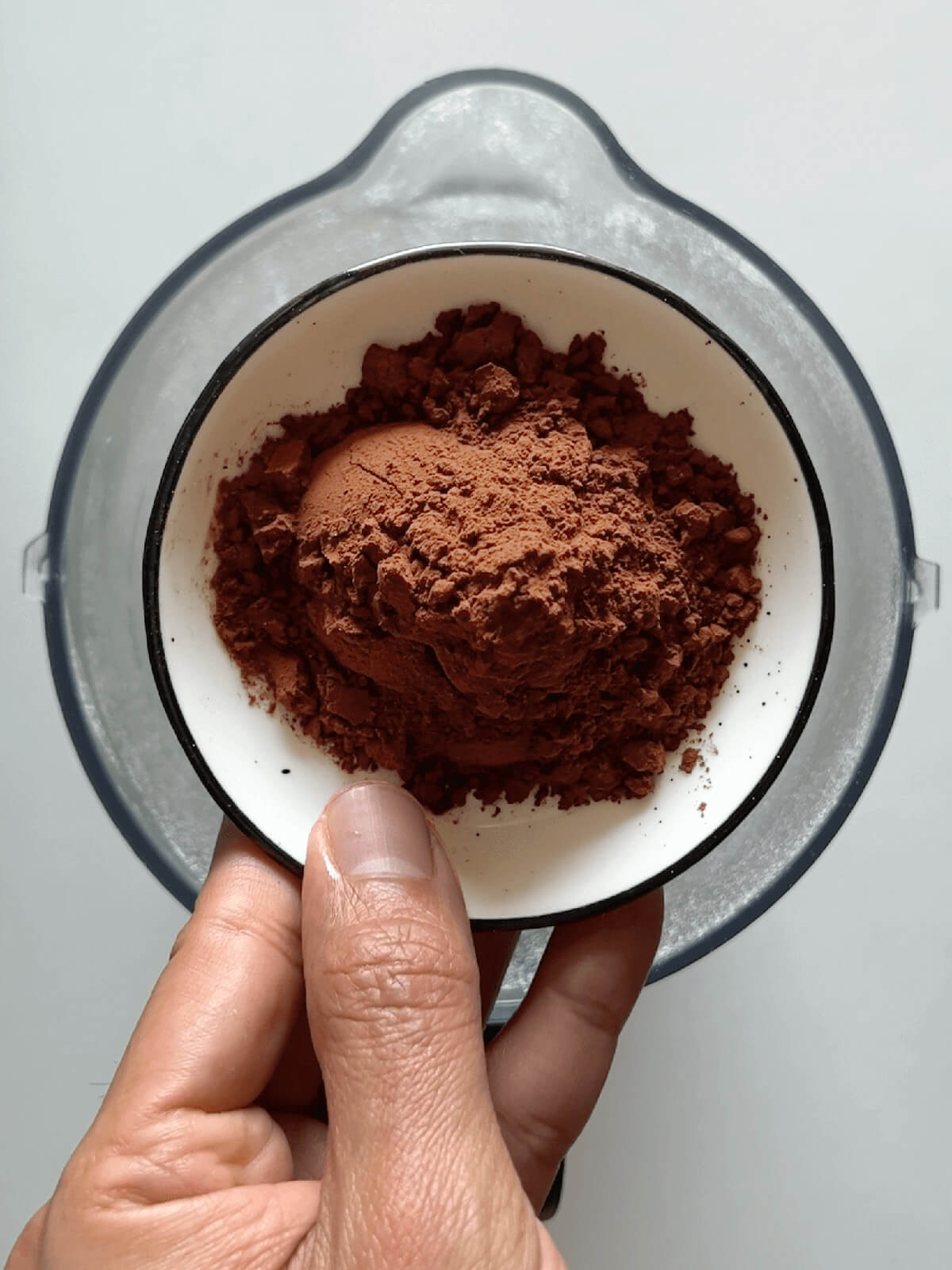 Chocolate cashew milk: add one tablespoon of cocoa powder to the cashew milk, plus sweetener and an optional pinch of cinnamon powder.
Vanilla cashew milk: add one teaspoon of vanilla extract to the recipe.
👨🏻‍🍳 How to use it
I like to drink cashew milk as it is, as unsweetened cashew milk is naturally slightly sweet, just like rice milk.
Creamy cashew milk can be used the same way you would use regular milk: in smoothies, chia pudding, in your morning granola or breakfast fruit bowl, in bechamel sauce, or in baking.
Lastly, you can also make vegan chocolate milk with cashew milk.
📄 Cashew milk vs almond milk
Health: Cashew milk contains more fiber, protein, and minerals like copper and magnesium, while almond milk has more vitamin E. Both nut milks are low in calories and fat and are suitable for those with dairy allergies or lactose intolerance.
Texture: Cashew milk has a creamier and thicker texture than almond milk, which can make it a better option for coffee or tea. While almond milk has a lighter and nuttier flavor, which can make it more suitable for use in smoothies or cereal.
Flavor: Cashew milk has a mild and slightly sweet flavor, which can complement a variety of dishes and recipes. In comparison, almond milk has a nutty and slightly sweet flavor, which can add a unique taste to recipes and dishes.
✅ Cashew milk health benefits
Is cashew milk healthy? Let's dive into the health benefits of cashew milk and why it is an excellent dairy alternative.
Dairy-free: Cashew milk is a dairy-free alternative to traditional milk, making it suitable for people who are lactose intolerant or have a dairy allergy.
Low in calories: Cashew milk is low in calories, making it a great choice for people trying to lose or maintain a healthy weight.
High in nutrients: Cashew milk is rich in nutrients such as protein, fiber, vitamins, and minerals, making it a healthy addition to your diet.
Good for bone health: Cashew milk contains calcium and phosphorus essential for strong and healthy bones.
Heart-healthy: Cashew milk is low in saturated fat and unsaturated fats, which can help reduce cholesterol levels and promote heart health.
Good for digestion: Cashew milk is easy to digest and can help to soothe the digestive system, making it a good choice for people with digestive issues.
❓FAQ
How to thicken cashew milk?
We find the perfect thickness for our taste is 1 cup of cashew for 1 cup of water.
Suggested thicker cashew milk options:
1 cup of cashews / ¾ cup of water, if you don't mind sacrificing the final volume.
If you want thinner cashew milk, just add an extra cup of water.
Does cashew milk have fiber in it?
Cashew milk can contain fiber, but it depends on how it is made. The process of making cashew milk involves blending cashews with water and then straining the mixture to remove any solids. The amount of fiber in the milk will depend on whether or not the solids are removed during the straining process.
If the milk is made with whole cashews, which have fiber in them, and the solids are not entirely strained out, then the milk will contain some fiber. However, if the milk is made with cashew butter or a highly strained version of the blended mixture, then it may contain little to no fiber.
It's important to note that commercially produced cashew milk may also have added ingredients that affect the fiber content. It's best to check the nutrition label or ingredients list to determine the fiber content of a specific brand of cashew milk.
🥛 More plant milk recipes
Read on How to make oat milk, almond milk, and soy milk with a blender.
Making an almond meal out of homemade almond milk's pulp leftovers + almond pulp recipes.
How to make vegan buttermilk with plant milk.
⭐ If you try this cashew milk recipe, let us know! 💬 Leave a comment, rate it, and don't forget to tag us @ourplantbasedworld on Instagram. Cheers!
📋 Recipe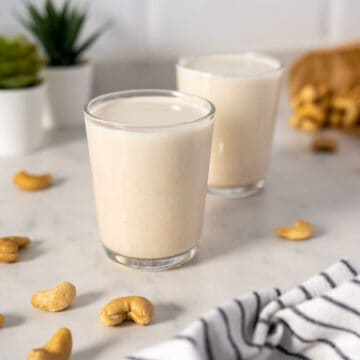 Homemade Cashew Milk Recipe with Slow Juicer or Blender
This Cashew Milk is ready in 5 minutes, additives-free organic, nutritious, and convenient. Bye to store-bought!
Equipment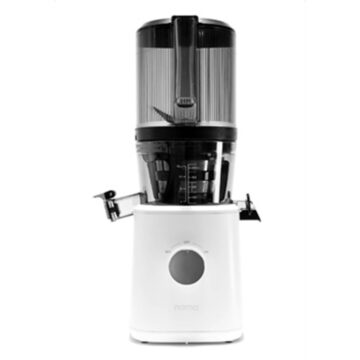 (affiliate link)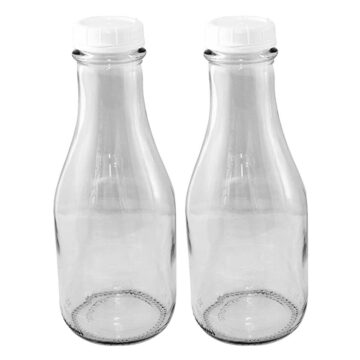 (affiliate link)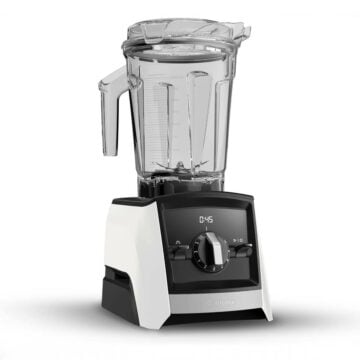 (affiliate link)
Ingredients
1

cup

nuts

raw, Gluten-Free (if in a GF diet)

4

cups

water
Optional (as flavor enhancers):
Directions
Soak cashews in water overnight or for 6-8 hours in a bowl. This makes the nuts softer for optimal juicing. We recommend juicing 2 cups of cashew nuts to make 3.5 cups of cashew milk (28 oz).

Soak dates with pits removed in warm water to soften for 20-30 mins. If using soft Meedjol dates, you can skip this step.

Pour out the water and rinse the cashew nuts. Add back equal parts of fresh water into the bowl.
Slow Juicer Method
Turn on your slow juicer and add cashew nuts, dates, and equal parts fresh filtered water into the juicer. For best results, add ingredients through the hole in the hopped lid while in the closed position.

Keep going until you've put in all the cashews and water. Watch the nuts turn into milk and let it flow out.

Pour yourself a glass and enjoy!
Blender Method
After soaking your ingredients, add all the ingredients into a blender and mix for a minute.

Serve. No need to strain the nut milk.
Notes
Use the exact instructions for other plant products such as hazelnuts, almonds, walnuts, macadamia, and cooked soybeans.
Adjust the amount of water to achieve your desired texture.
Use our 10% discount code OPBW10 limited time only! NamaWell.
Nutrition Facts
Calories:
116
kcal
Carbohydrates:
7
g
Protein:
3
g
Fat:
9
g
Saturated Fat:
1
g
Polyunsaturated Fat:
2
g
Monounsaturated Fat:
6
g
Sodium:
8
mg
Potassium:
125
mg
Fiber:
2
g
Sugar:
2
g
Vitamin A:
3
IU
Vitamin C:
0.1
mg
Calcium:
17
mg
Iron:
1
mg
Nutrition Facts
Homemade Cashew Milk Recipe with Slow Juicer or Blender
Amount per Serving
% Daily Value*
* Percent Daily Values are based on a 2000 calorie diet.
🌡️ Food safety
Cook to a minimum temperature of 165 °F (74 °C)
Do not use the same utensils on cooked food that previously touched raw meat
Wash hands after touching raw meat
Don't leave food sitting out at room temperature for extended periods
Never leave cooking food unattended
Use oils with high smoking points to avoid harmful compounds
Always have good ventilation when using a gas stove
See more guidelines at USDA.gov.
The information shown is an estimate provided by an online nutrition calculator. It should not be considered a substitute for a professional nutritionist's advice. See our full Nutritional Disclosure here.
Please note that some of the links here are affiliate links, and I will earn a commission if you purchase through those links. I recommend all of the products listed because they are companies I have found helpful and trustworthy.