Move over chickpea hummus, there's a new hummus in town, and it's packing some serious flavor. This lemon beet hummus recipe is pretty, full of color, flavor-packed, and perfect for boosting your metabolism and providing essential vitamins and minerals. Plus, it's super easy to make! So ditch the store-bought stuff and give this lemon beet hummus recipe a try today. You won't regret it!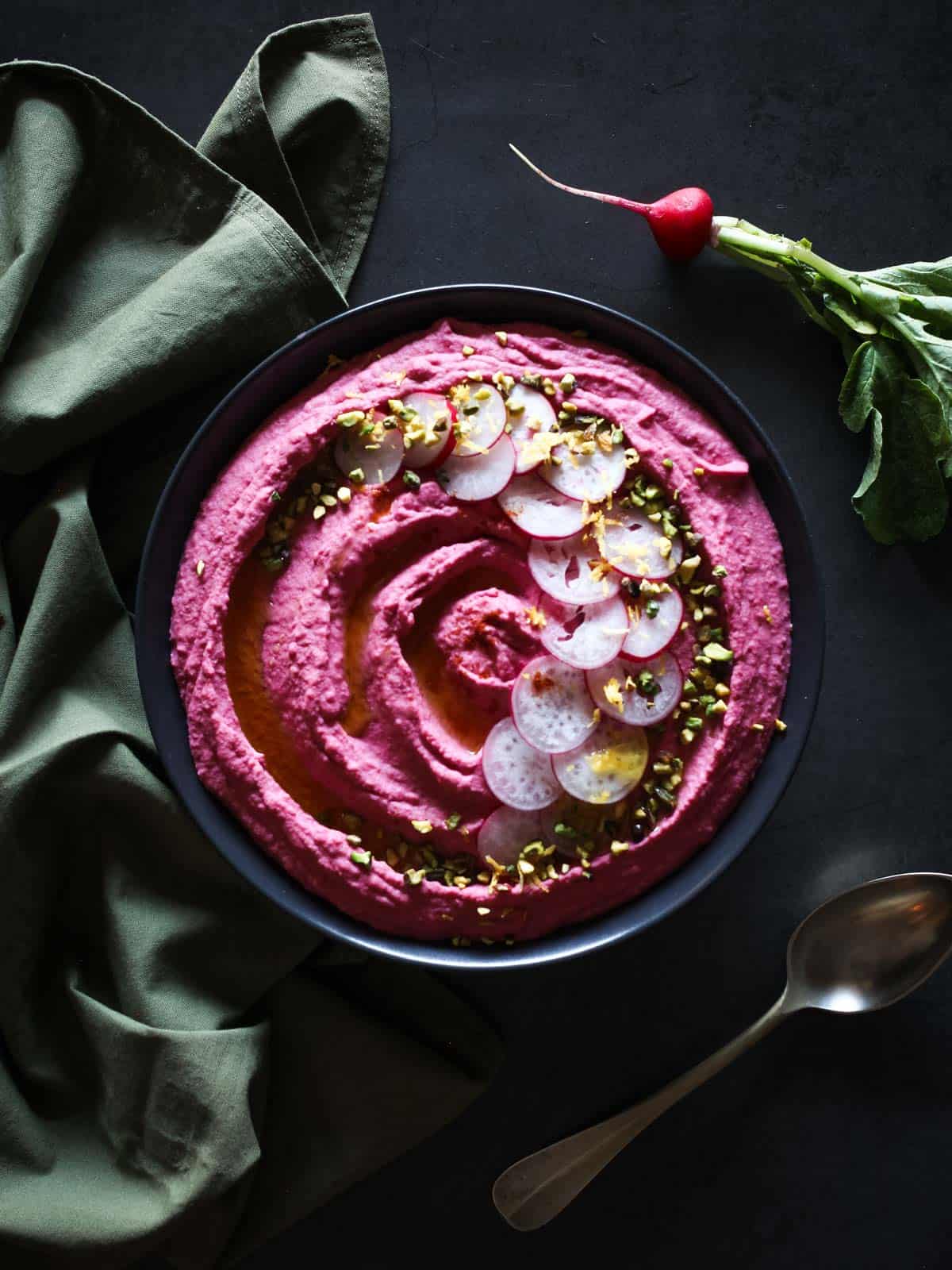 If you have been with us for a while, you know that we are avid hummus lovers.
You might have seen some of our hummus recipes, such as our traditional hummus (the classic recipe) and flavored hummus recipes like pumpkin hummus, avocado hummus, or even roasted bell peppers hummus; they are all delicious.
White bean hummus makes perfect healthy appetizers or mid-morning protein-packed snacks.
This lemon beet hummus recipe has something very different apart from the lovely color... it doesn't use chickpeas, just like our green edamame hummus and black-eyed peas hummus.
We have found that white beans are an excellent substitution for people that don't digest chickpeas hummus very well or want to try something new.
This colorful hummus makes a perfect special occasion starter. Why not try it out for Valentine's dinner!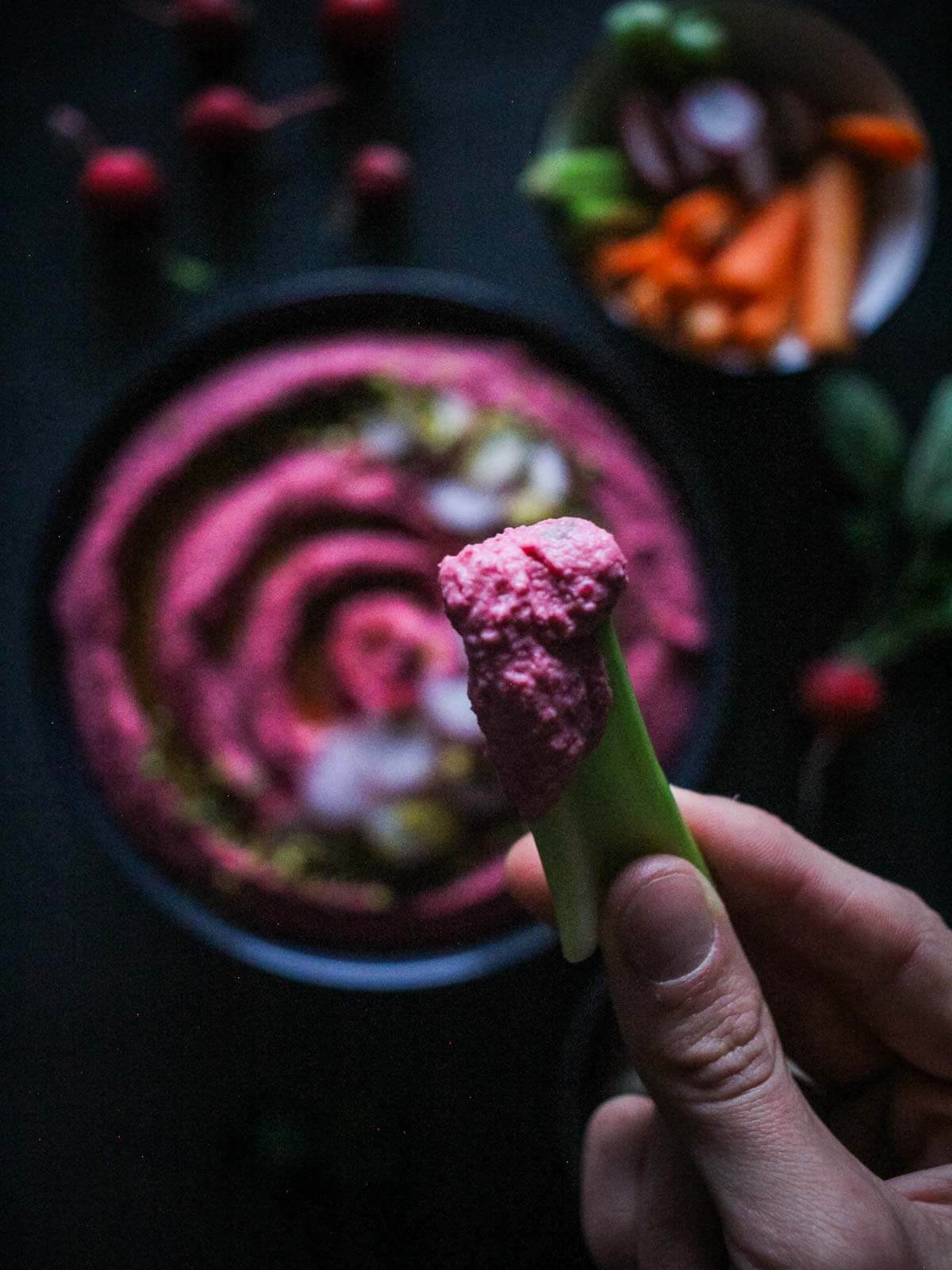 Also, beets have many health benefits, and adding them to our juices or savory foods is a great way to make the best out of them.
Jump to:
🥇 Why you will love it
It is naturally vegan
Gluten-free
Dairy-free
Colorful
Easy to make
Made in minutes
Crowd pleaser
🧾 Ingredients
Make this lemon beet hummus with only a handful of ingredients.
Of course! Here's the revised list with each ingredient and its explanation on the same line:
Cooked beets (canned beets or roasted beets work well): These add a vibrant color and earthy flavor to the hummus, and their natural sweetness balances the tanginess of the lemon and the sharpness of the garlic.
Lemon juice: It provides a refreshing tanginess and brightness to the hummus, and the acidity also helps preserve the freshness of the dip.
White beans (cannellini beans or cooked chickpeas): They serve as the creamy base for the hummus, giving it a smooth texture, and are a great source of protein and fiber, making the hummus more nutritious.
Fresh garlic (or roasted garlic): Garlic adds a depth of flavor and a touch of sharpness to the hummus, and when roasted, it imparts a mellow and slightly sweet flavor.
Tahini: This sesame seed paste gives the hummus its traditional Middle Eastern flavor and contributes to the dip's creamy texture.
Extra virgin olive oil: It enhances the richness and mouthfeel of the hummus, and the oil also acts as a preservative, keeping the hummus fresh for longer.
Fresh chopped parsley and lemon zest to garnish.
🔪 Instructions
Making this white bean hummus recipe cannot be easier. You simply have to blend everything in a food processor.
Prepare your ingredients
Juice your lemon, measure your liquids, and drain your grains (keep the water).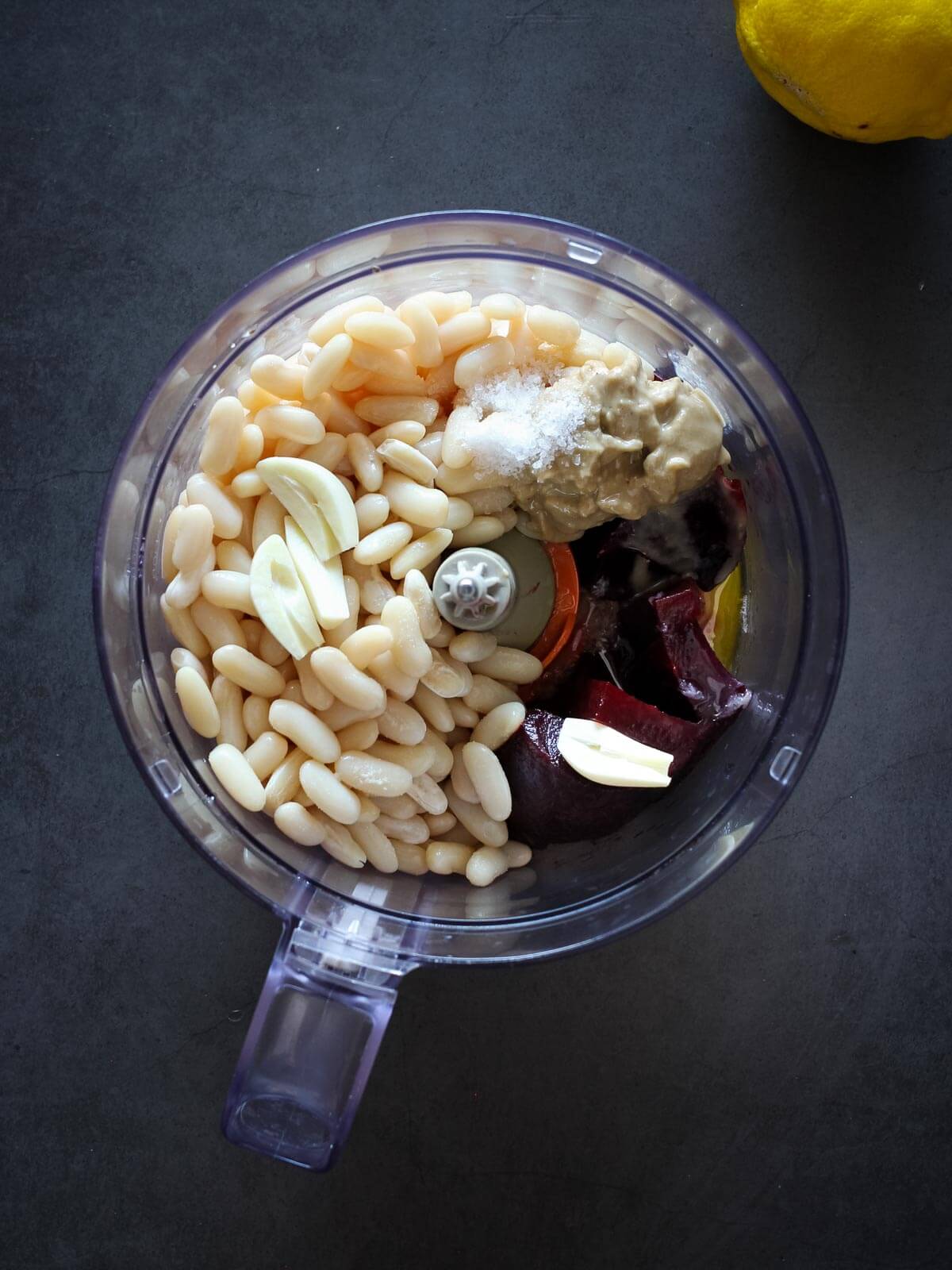 Blend
Place all your ingredients either in a food processor or blender and blend until you achieve a smooth and creamy hummus.
You may have to scrape the inner borders of the food processor with a spatula once or twice to ensure the beet hummus is blended well and doesn't have any hard chunks.
If you are unsure about how powerful your blender is, mince the garlic before blending it. Nobody wants to find a chunk of garlic in a bite.
You may need one to three minutes to make beet hummus smooth and creamy.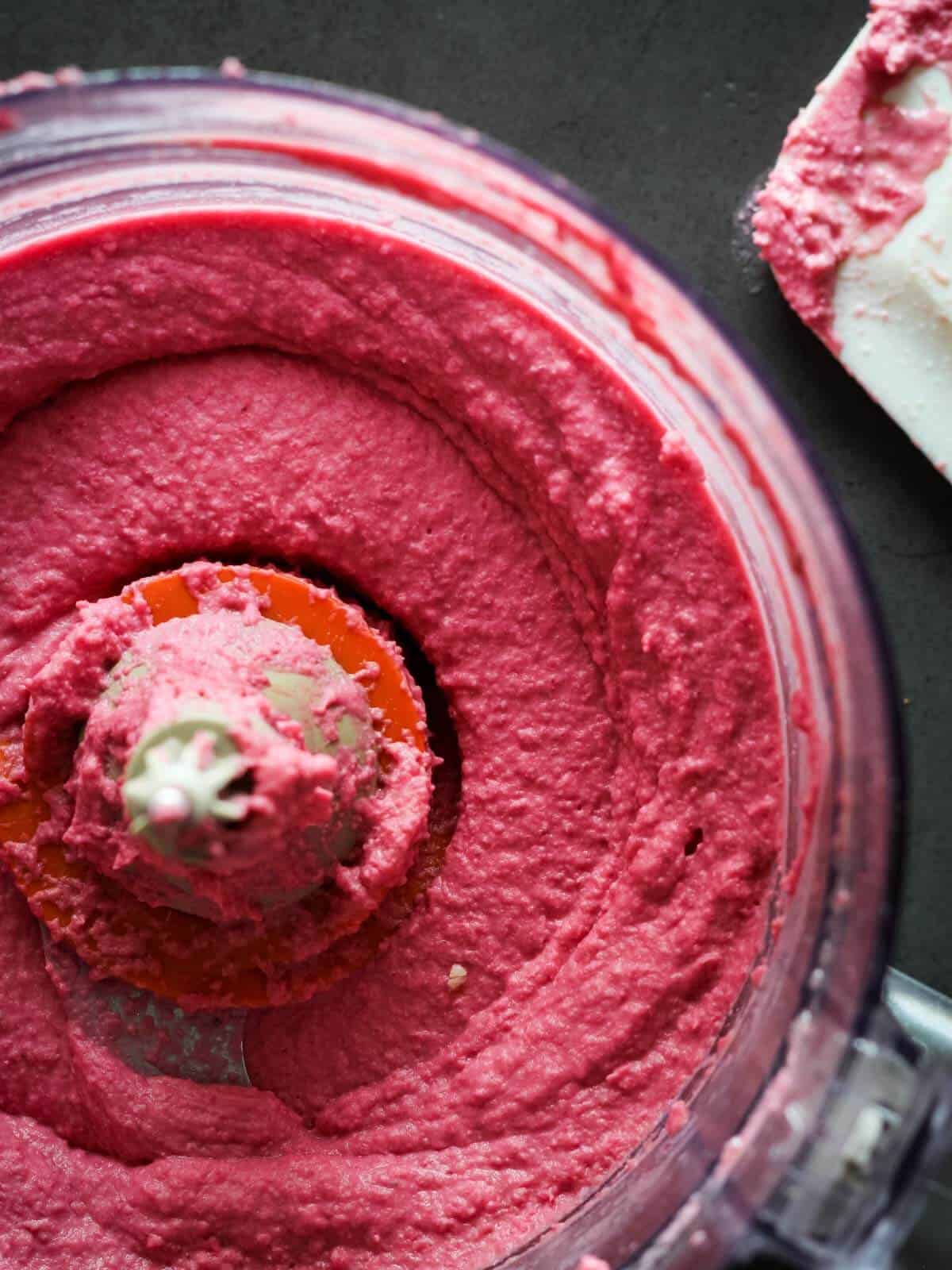 Adjust seasonings
To adjust the seasoning of your beet hummus recipe, add more lemon juice for acidity, tahini for a nutty flavor, white beans or chickpeas starchy water for texture, garlic (very little) for intensity, and extra virgin olive oil for extra creaminess.
Use more cooked beets if you want extra beet flavor or sweetness. I like adjusting this white bean hummus, one tablespoon of each ingredient at a time.
Flavor tip - I tried different beets to ensure the beet flavor doesn't overpower the hummus. My findings show that 6 ounces are good, and 7 ounces is my perfect sweet spot. I suggest adding 6 ounces, and if you want some more, add more beets, that extra ounce.
I think it is very personal. If you feel you added too many beets, try to balance it with a bit of lemon juice.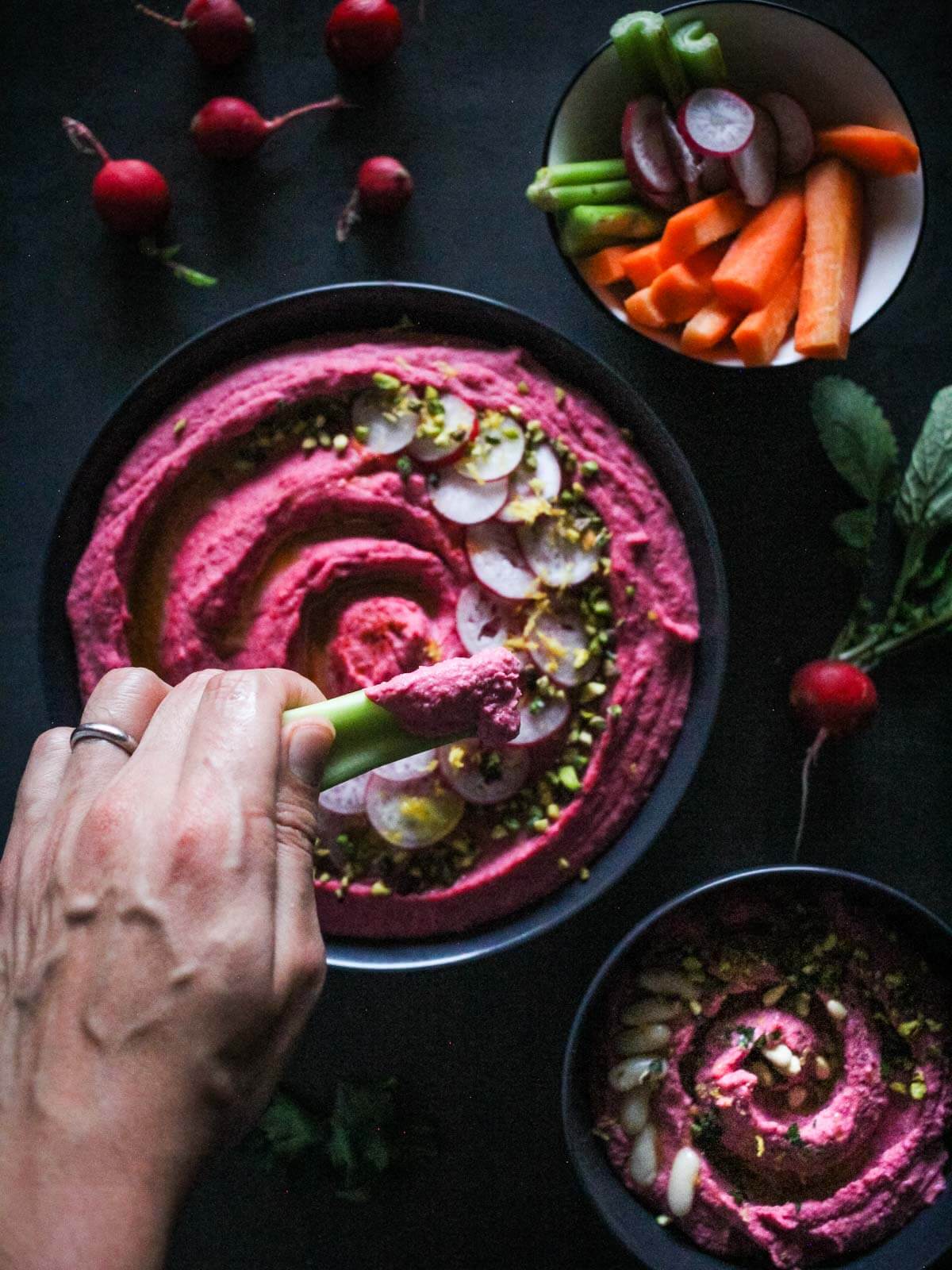 Fresh produce is different everywhere, so its flavor is, so I prefer starting low and adjusting to my liking, especially when we are using raw ingredients, where their flavor profile won't change after cooking.
Tip: I always use a minimum amount of garlic in my hummus recipes because garlic (especially when using raw garlic cloves) tends to overpower the final result.
🍶 Substitutions
Tahini
Tahini paste is made with ground sesame seeds, so if you have sesame allergies, you can change the tahini for cashew butter, almond butter, or peanut butter.
Chickpeas
You can use chickpeas instead of white beans. Replace for the exact quantities.
If you will boil raw chickpeas, make sure to boil them for about thirty minutes with a teaspoon of baking soda, then let the chickpeas cool down and optionally remove the chickpea skins. This will help you achieve a creamier hummus.
Save some of the chickpea liquid to adjust the hummus' texture.
Beets
If you love beets and are one of those lucky ones who have their own beets in the garden, you can perfectly make your beet hummus using them instead of canned beets.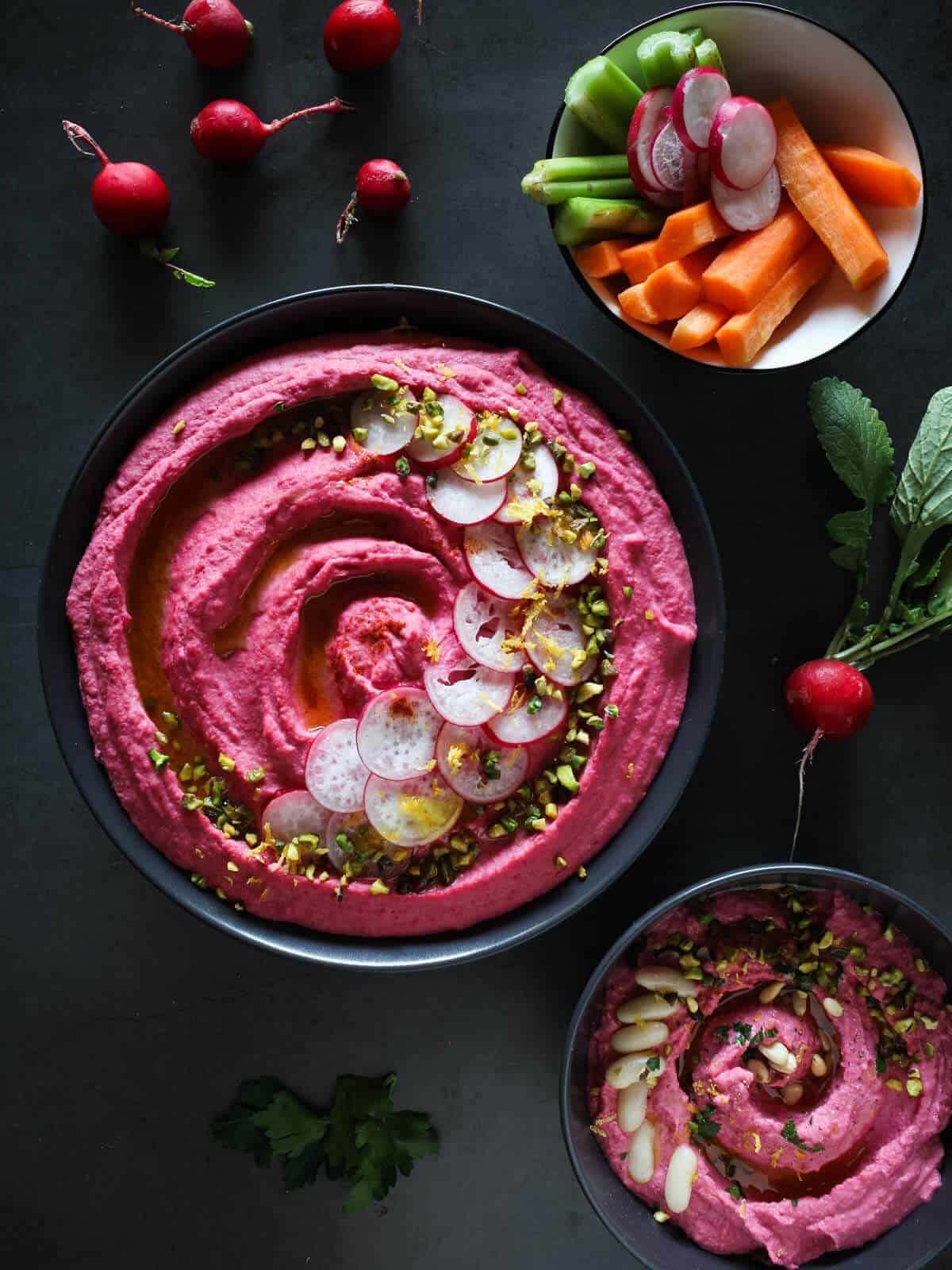 Make sure you have BPA-free, organic canned beets (affiliate link).
Beets are such a healthy food with many health benefits that it wouldn't be wrong to have some in the garden. You can even use the leaves for salads and juicing.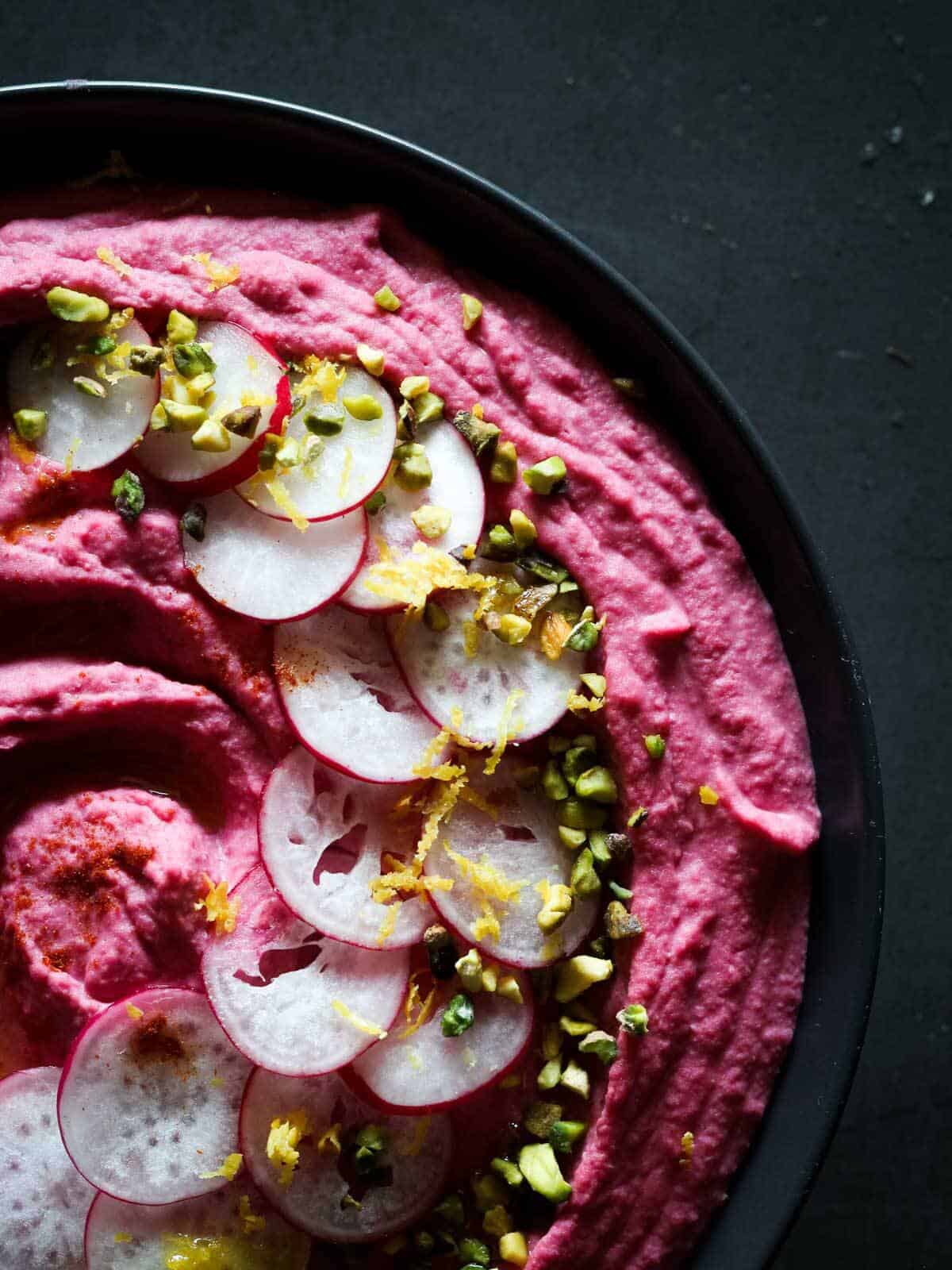 📖 Hummus variations
Chickpeas hummus
This recipe works equally well, using freshly boiled or canned chickpeas instead of white beans. I have made it countless times and tastes delicious.
I have even made this beet hummus with half white beans and half canned chickpeas; the result was absolutely delicious.
Roasted beet hummus recipe
Instead of using canned beets, you can use raw beets and then roast beets wrapped in aluminum foil if you have some extra time.
To make a whole roasted beet, wrap beets with the garlic clove and a drizzle of olive oil or avocado oil, close the aluminum foil, and roast in the oven at 350 ºF (180 ºC) until they are fork-tender to add some lovely caramelized and smoky flavor.
Use more red beets if you which to extra a slightly sweet-caramelized flavor.
🍽 Equipment
Food processor - use a large food processor (affiliate link) if more than one suggested serving.
🥢 How to serve
Make this recipe a snack or appetizer that you can include at any informal or formal table. You can also add it to a salad or a sandwich. Here are our preferred options.
Beet hummus sandwiches - use this beet hummus recipe as a sandwich spread, along with some roasted veggies, to make the perfect sandwich for an easy dinner or meal prep option.
As an appetizer, serve with:
Pita bread - I like my pita bread cut in triangles and slightly toasted with a drizzle of olive oil. Use thin pita bread with a drizzle of olive oil and briefly toast before serving.
Seed crackers - any cracker will work; we love making juice pulp crackers with leftovers after juicing..
Pita chips - are a classic and don't need any preparation. This is a great option when taking this beet hummus recipe to a friend's house and wanting to dig in without any hassle.
Unleavened bread - I love using this lovely bread for hummus because it is an easy option for all kinds of spreadable and just needs to be quickly warmed and toasted in a flat pan.
Celery sticks - wash and cut your celery or buy ready-to-serve celery sticks for maximum convenience.
Carrots sticks - or you can use store-bought baby carrots for hassle-free party hosting.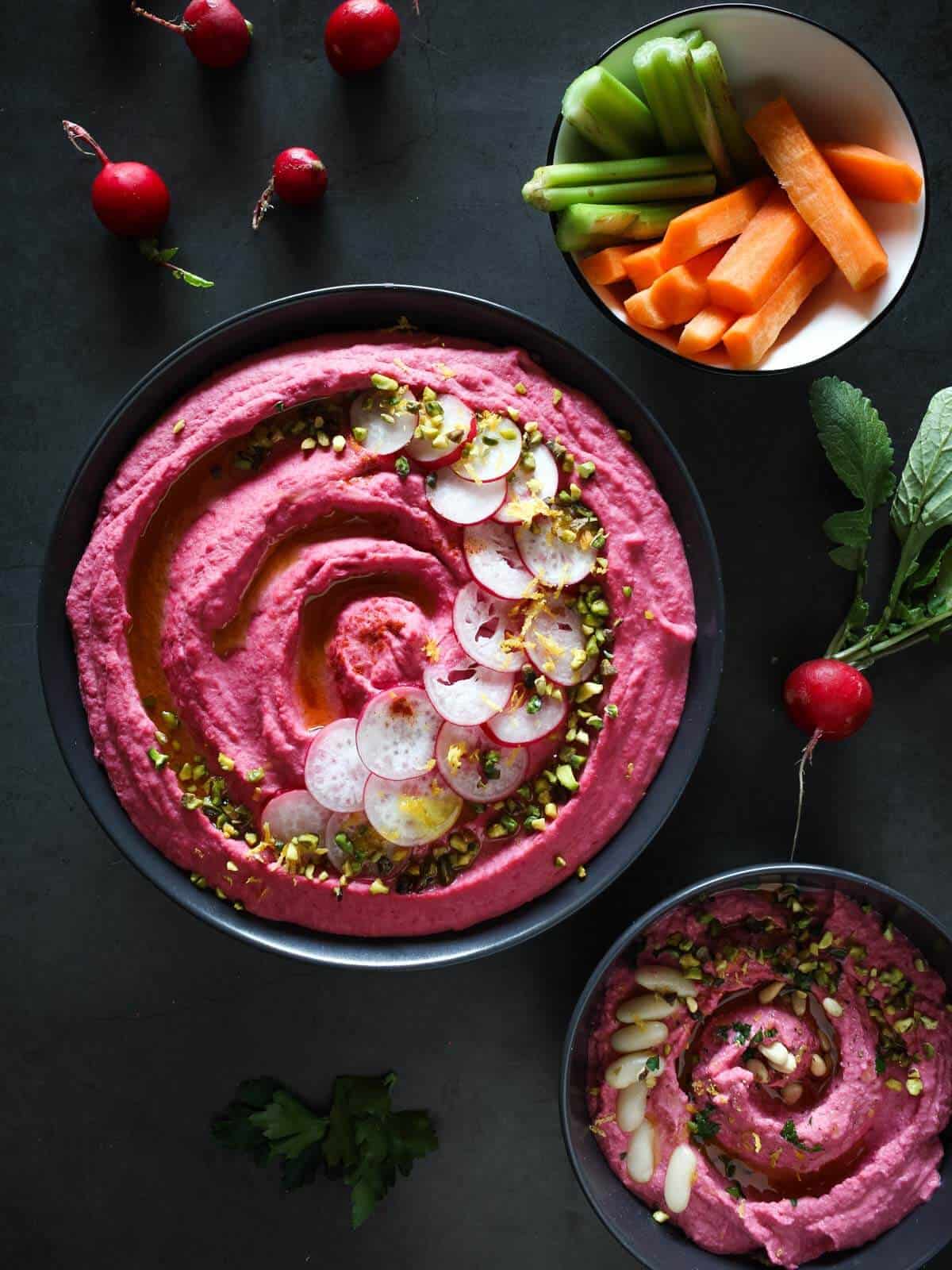 If you have two hours and want to impress your guests, you can make either a classic Italian Pagnotta (easy bread loaf) or our Focaccia, which is to die for.
Serving tip: use a small serving bowl if making one serving, or switch to a medium if doubling the recipe. A hummus serving needs to look full and delicious, not empty.
Hummus spreads also make fantastic sandwich spreads, just as you would use a chickpea-based vegan "tuna" salad sandwich.
Check our comprehensive guide on What to eat with hummus!
👨🏻‍🍳 Garnishing options
Start making using the back of a spoon and make pockets in the hummus with a circular motion from the outside to the inside.
Then add olive oil to fill some of the beet hummus pockets.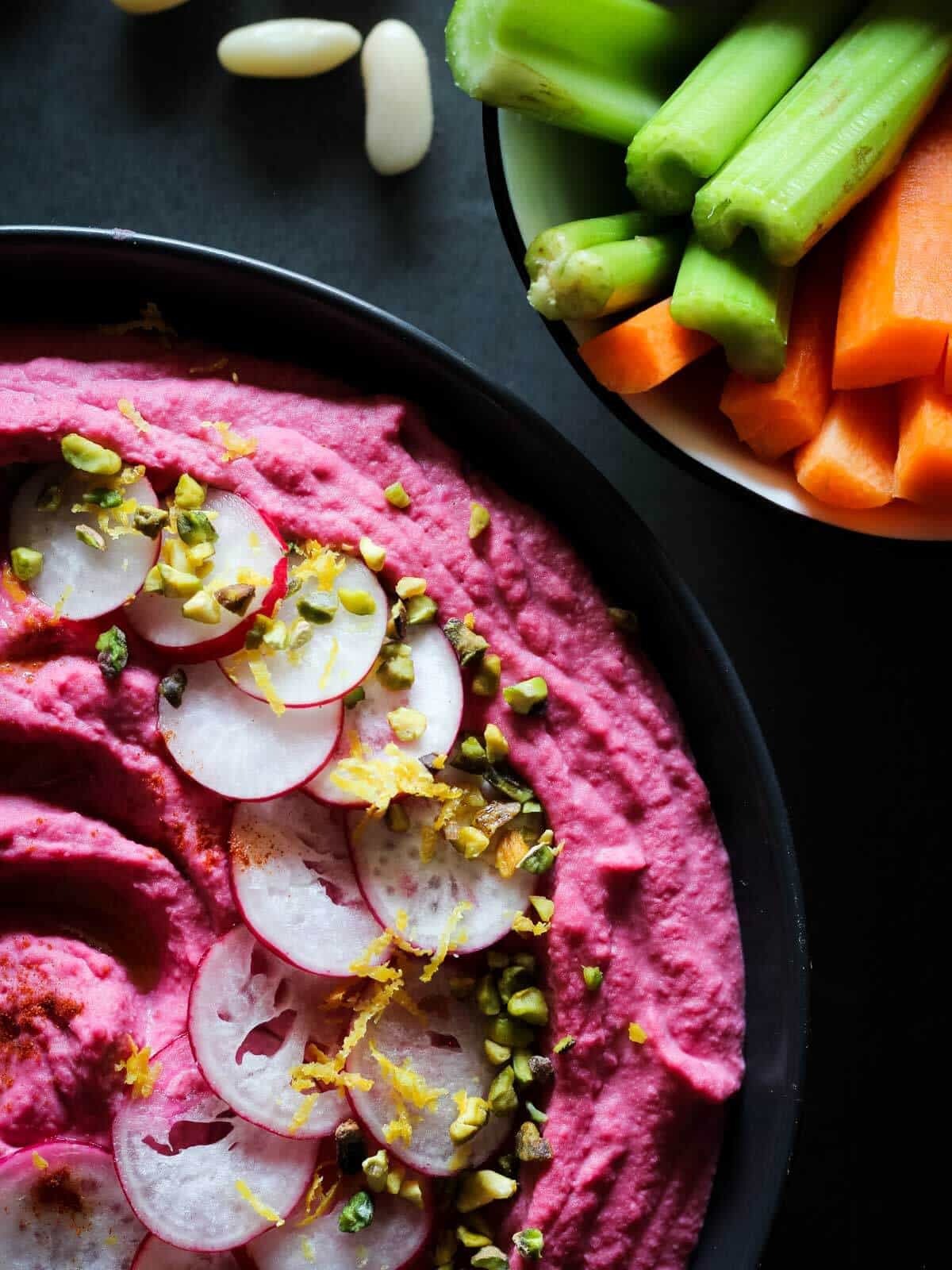 Then use products that create contrast but don't change the flavor, such as pumpkin seeds, sesame seeds, and fresh chopped parsley.
Beets
Use leftover beets slices from the canned or roasted beets to top the beet hummus.
Sesame seeds
We like using a mix of lightly toasted white and black sesame seeds. Just use one teaspoon of each and toast them at low heat in a small flat pan for 2-3 minutes.
Pine nuts
The same method as above, but you can also use them raw, out of the package. If you decide to toast the pine nuts, stay close to the pan, and pine nuts roast quickly as they have lot of fat content.
Cooked chickpeas or white beans
Save some extra cooked beans to place on top of the beet hummus. The idea is to create some contrast that adds depth and additional interest.
Cooked beets
Slice some cooked beets and place them on top of the hummus.
Roasted garlic
If you go for roasted beets and roast some garlic with it or roast some garlic in a flat pan for 2-3 minutes, you can add some charred garlic cloves on top of the beet hummus.
Herbs
Use finely sliced chopped basil or fresh parsley to add some color to this delicious recipe.
💡 Top tips and notes
Creamy hummus
Save some of its starchy water from adjusting the texture regardless of using cooked white beans or chickpeas.
Using this water helps me make creamy beet hummus without adding excessive oil.
Add one tablespoon at a time to ensure you make a creamier hummus.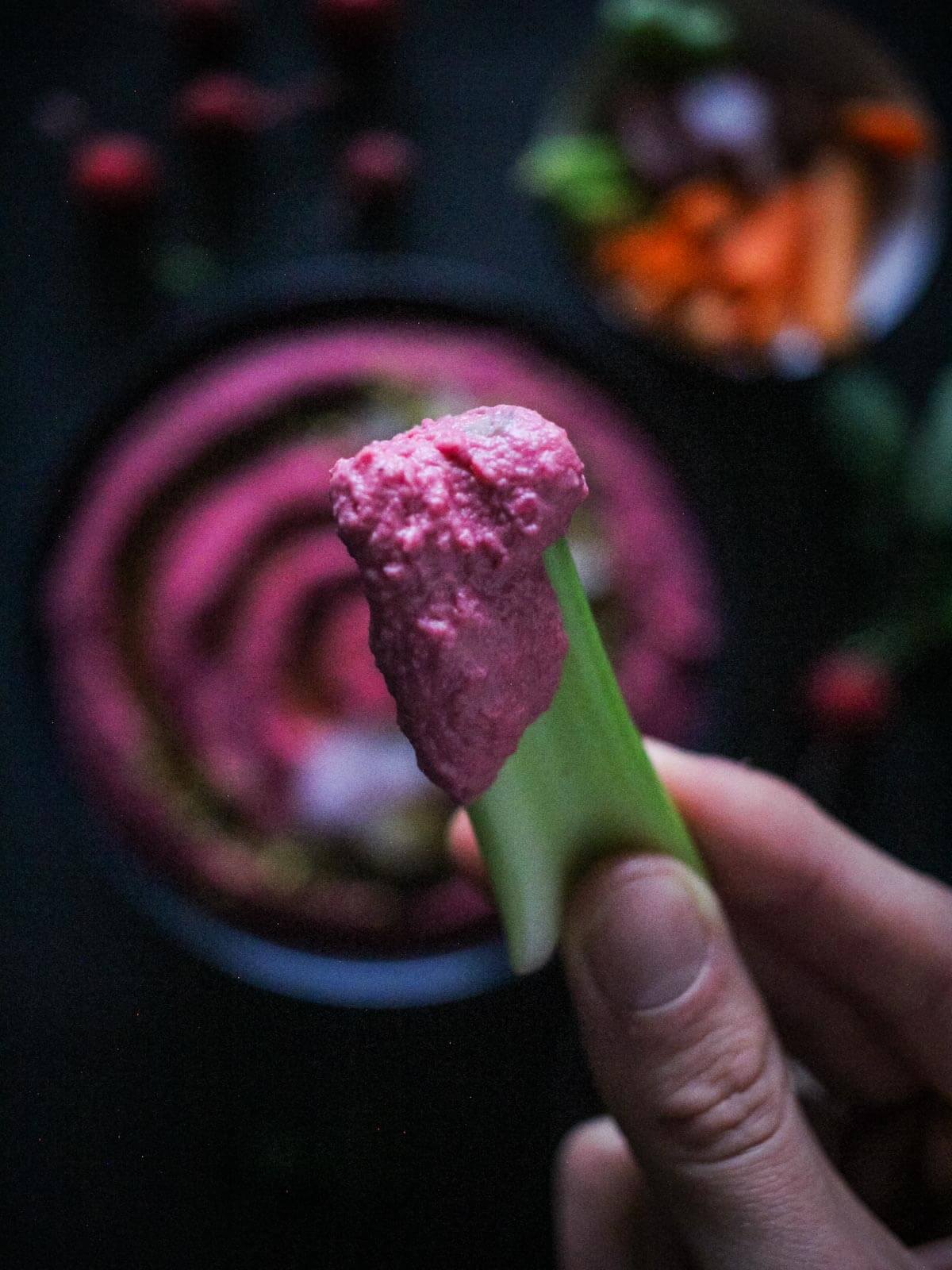 Garlic
We use only one garlic clove without the germ. We find that adding more makes garlic's intense flavor take over the rest of the flavors.
If you want to add some extra depth to your beet hummus and have some extra minutes, either.
Oven roast garlic, add garlic cloves to the aluminum foil and raw beets, and blend them in the food processor.
Flat pan garlic roast - Place 2-3 garlic cloves in a flat pan with a lid and a few drops of olive oil for 3 minutes, and use them in place of the raw garlic before blending the ingredients in the food processor.
Lemon juice
You can adjust the acidity using more lemon juice. I recommend going easy on it, as you can easily cross the line and end up with acid hummus.
Always use freshly squeezed lemon juice, as store-bought lemon juice can add a funny flavor and ruin your beet hummus.
🥡 Storing
Can I freeze my beet hummus?
Yes, you can. However, in the fridge, hummus is best made fresh for 1-2 days. This hummus thaws well, especially if you use it as a spread for sandwiches.
It will miss some of its lovely texture, but it will be fine.
Use leftover beet hummus in your sandwiches, or add a healthy dollop on a salad for an extra protein portion and added flavor.
You might have to use a drizzle of olive oil to bring it back to life in the fridge or freezer after some days.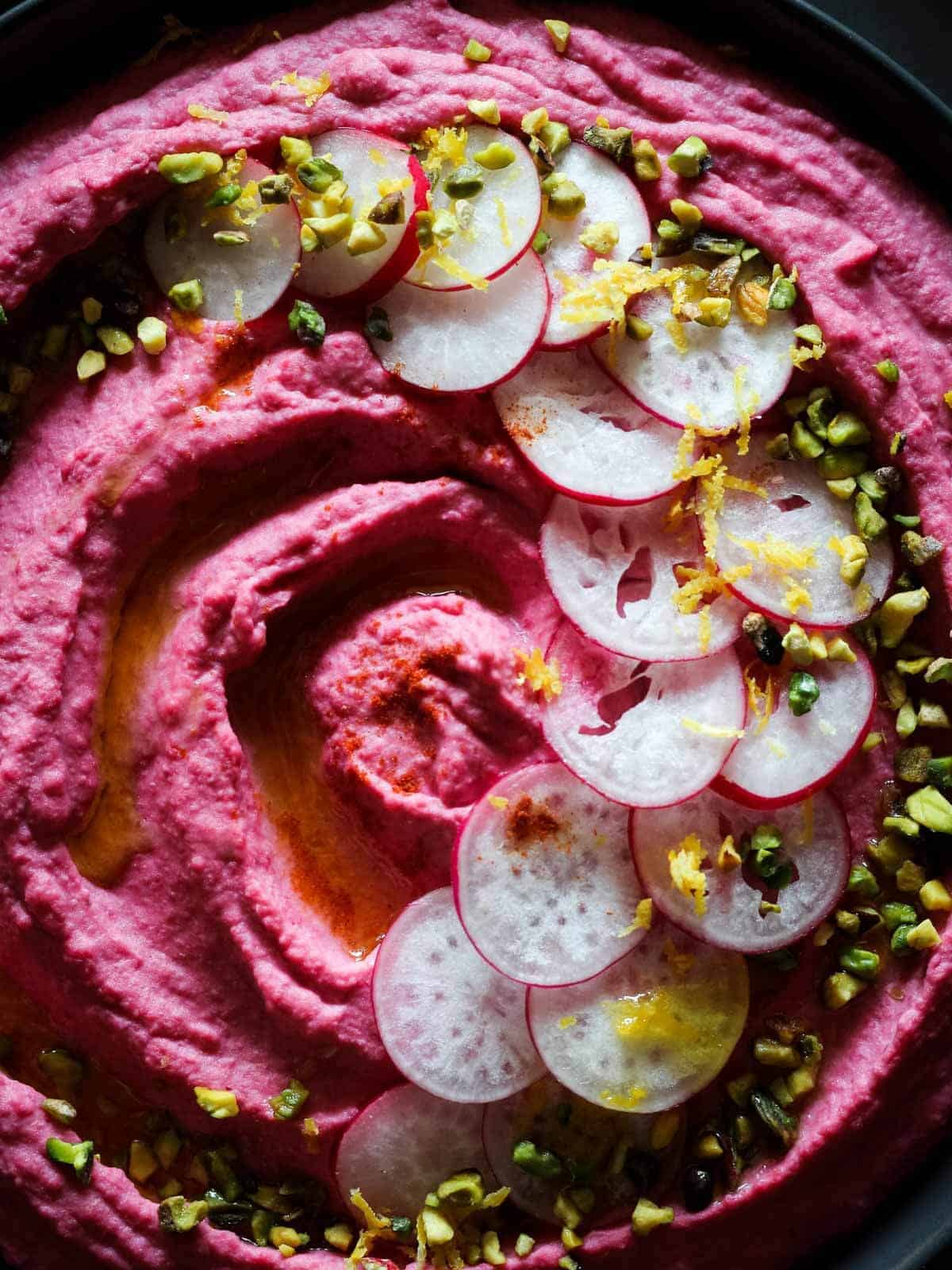 📚 More healthy recipes
Escalivada (Catalonian roasted vegetables)
Beetroot juice is the perfect pre and post-workout drink
If you love beets, don't forget to check out our stunning beet carpaccio, an authentic Italian gem!
Don't forget to check out our simple Lebanese Seven Spices mix to make any stew taste like an authentic Lebanese dish!
Feeling adventurous? Here's a mindblowing idea; try our dessert hummus, made with dark chocolate and enjoyed with fresh fruit. Curious?
⭐ If you try this beet hummus recipe, let us know! 💬 Leave a comment, rate it, and don't forget to tag us @ourplantbasedworld on Instagram. Cheers!
📋 Recipe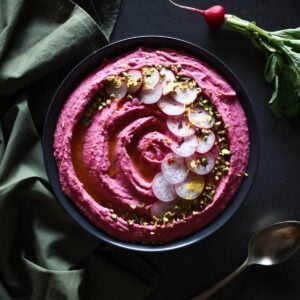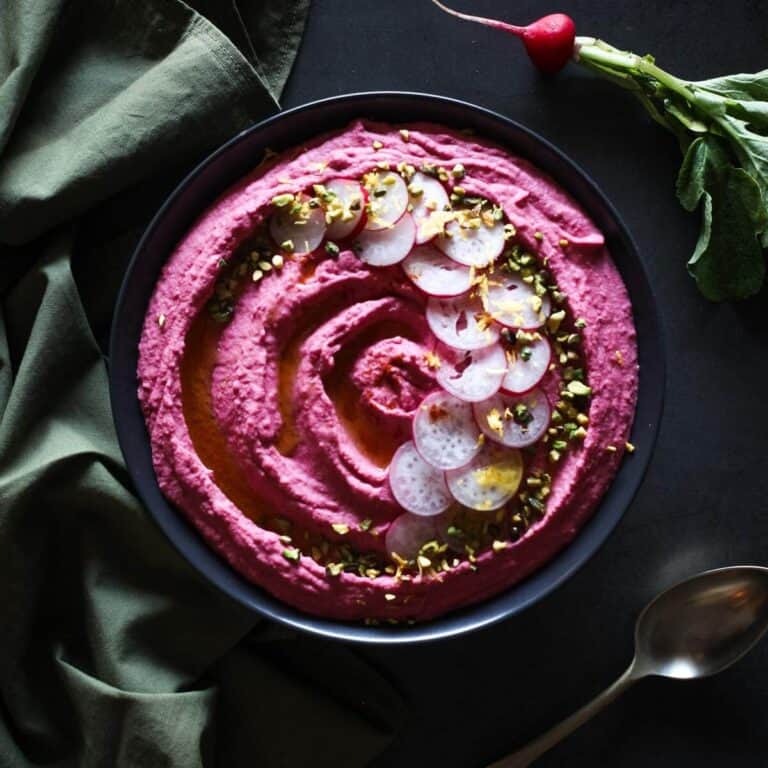 Lemon Beet Hummus Recipe
This Lemon Beet Hummus Recipe takes 10 minutes to make, and you can use canned beets for convenience. You'll love this unique blend of ingredients.
Equipment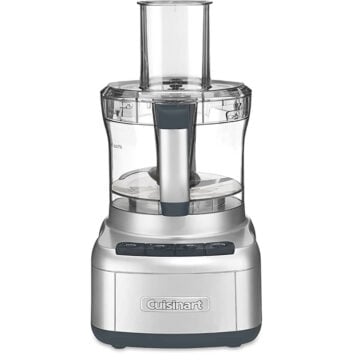 (affiliate link)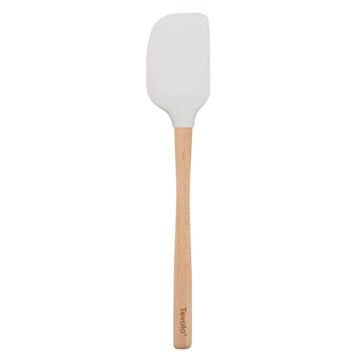 (affiliate link)
Ingredients
Optional for garnishing:
red radish

fresh parsley

thinly chopped
Directions
Blend. To a food processor, add peeled beets, extra virgin olive oil, cooked or canned white beans, garlic, tahini, lemon juice, and salt. You might have to scrape down the sides of the food processor.

Adjust seasoning. You can add some of the white beans liquid - in small amounts until you reach the desired consistency. I use about 8 tablespoons.

Serve in a small bowl and garnish with more extra virgin olive oil. Check the post suggestions for serving and garnishing.
Notes
Remember to take off the germ of the raw garlic.
Nutrition Facts
Calories:
249
kcal
Carbohydrates:
23
g
Protein:
9
g
Fat:
15
g
Saturated Fat:
2
g
Polyunsaturated Fat:
3
g
Monounsaturated Fat:
9
g
Sodium:
310
mg
Potassium:
515
mg
Fiber:
6
g
Sugar:
2
g
Vitamin A:
15
IU
Vitamin C:
11
mg
Calcium:
86
mg
Iron:
3
mg
Nutrition Facts
Lemon Beet Hummus Recipe
Amount per Serving
% Daily Value*
* Percent Daily Values are based on a 2000 calorie diet.
🌡️ Food safety
Cook to a minimum temperature of 165 °F (74 °C)
Do not use the same utensils on cooked food, that previously touched raw meat
Wash hands after touching raw meat
Don't leave food sitting out at room temperature for extended periods
Never leave cooking food unattended
Use oils with a high smoking point to avoid harmful compounds
Always have good ventilation when using a gas stove
See more guidelines at USDA.gov.
Nutritional Disclaimer
The information shown is an estimate provided by an online nutrition calculator. It should not be considered a substitute for a professional nutritionist's advice. See our full Nutritional Disclosure here.
Affiliate Disclaimer
Please note that some of the links here are affiliate links, and I will earn a commission if you purchase through those links. I recommend all of the products listed because they are companies I have found helpful and trustworthy.