Welcome, food explorers! Today, we're guiding you on a delightful culinary journey that will leave your taste buds enchanted and your health boosted. We're diving into the vibrant world of Edamame Hummus Dip. A fusion of Asian flair and Middle Eastern tradition, this refreshing dip is not just an explosion of flavors but also a powerhouse of nutrition. It's creamy, it's easy, it's quick to prepare, and it's all things green and clean. So, buckle up because this isn't just any dip; it's a journey towards discovering the extraordinary potential of plant-based produce! Let's start blending!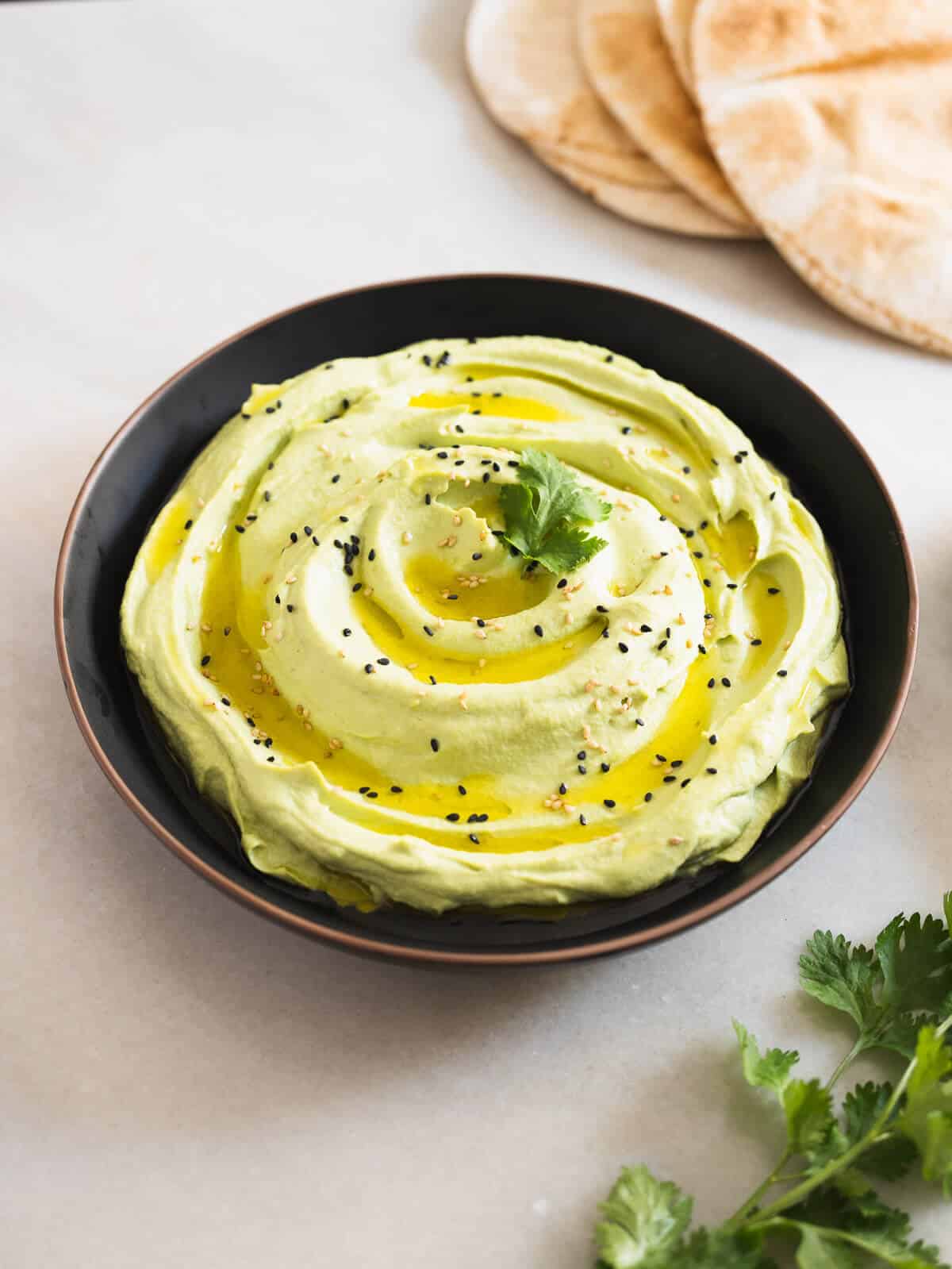 This edamame hummus recipe stands out from regular hummus recipes not only for its enticing vibrant green hue but also for its remarkable nutritional value. With fresh edamame beans at its heart, this homemade hummus serves as a fantastic source of plant-based protein and fiber.
These green gems and the heart-healthy monounsaturated fats from olive oil contribute to a nutrient-dense, satisfying dip that fits the bill as a healthy snack or a vibrant addition to any meal. And let's not forget the lemon juice, a splash of vitality that not only lifts the flavors but also aids in the absorption of iron from the edamame, making this a wellness winner all the way.
And the beauty of this hummus recipe? It's effortless to prepare! All you need is a food processor and a handful of ingredients, and you're just a blend away from your new appetizer or savory snack in your tasty recipes collection. This isn't just a step away from your traditional hummus; it's a leap into a world of flavor and nutrition!
While this hummus takes a departure from the classic chickpea-based hummus, its vibrant green goodness and creamy texture will make you a believer in the versatility of plant-based dips.
Jump to:
🧾 Ingredients
Make this recipe is made with just a few delicious ingredients: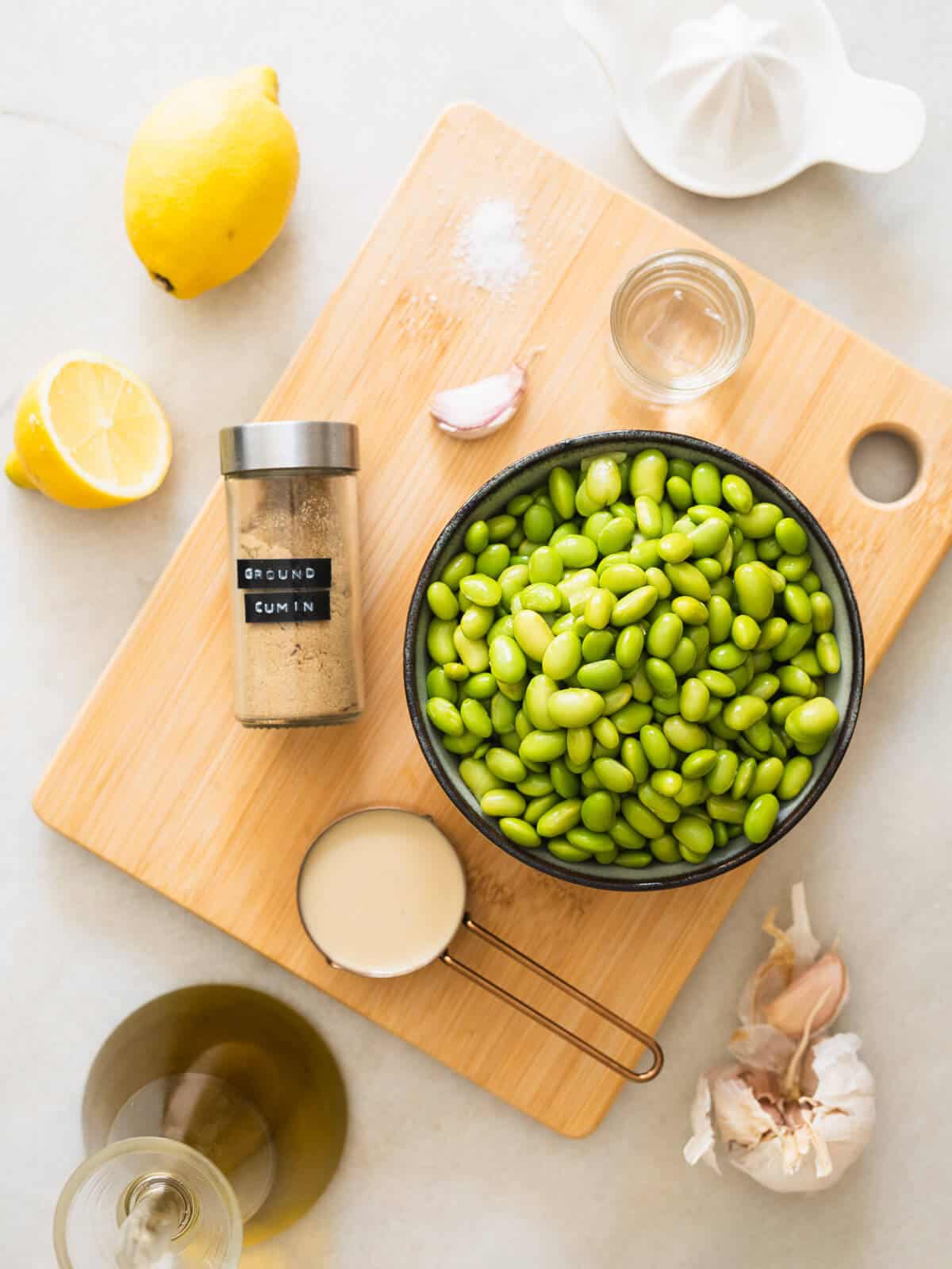 Shelled edamame beans: These vibrant beans are the star of our dish, offering not only a unique flavor profile but also a hefty dose of plant-based protein and fiber.
Tahini: Made from sesame seeds, tahini adds a distinct, nutty richness that pairs perfectly with the edamame, enhancing the creaminess of the hummus.
Lemon juice: This provides a splash of freshness and acidity to balance the richer elements while also helping preserve the edamame's vibrant green color.
Extra virgin olive oil: Its fruity notes complement the flavors while its healthy fats aid in nutrient absorption, contributing to the dip's silky texture.
Fresh garlic clove: A hint of garlic adds depth to the hummus, infusing it with a touch of pungent flavor that gives our dish character.
Sea salt: Used judiciously, sea salt helps to amplify all the flavors in the dish and brings balance to the overall taste.
Ground cumin: This warming spice adds an earthy complexity that enriches the overall flavor profile, subtly enhancing the natural taste of edamame.
Iced water: Besides aiding in achieving the desired creamy consistency, iced water also helps to keep the hummus light and refreshing.
🔪 Instructions
To make edamame hummus simply follow these steps.
First, you need to briefly cook the frozen edamame beans in boiling water or defrost them under hot running water.
Hint: If you didn't buy shelled edamame, you would need to plant to remove their shells for extra minutes before using.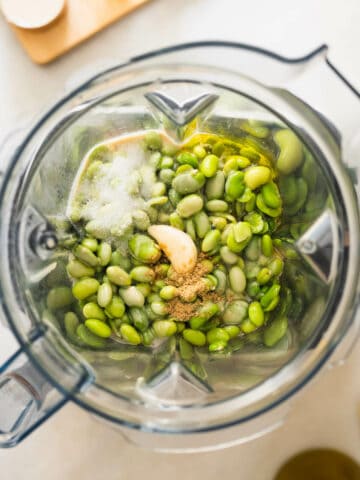 Place all the ingredients except for water in the food processor or blender's vase.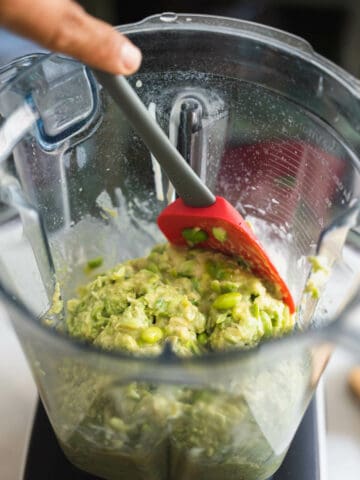 Blend and stop if the food processor or blender needs some help. Scrape the edges with a spatula.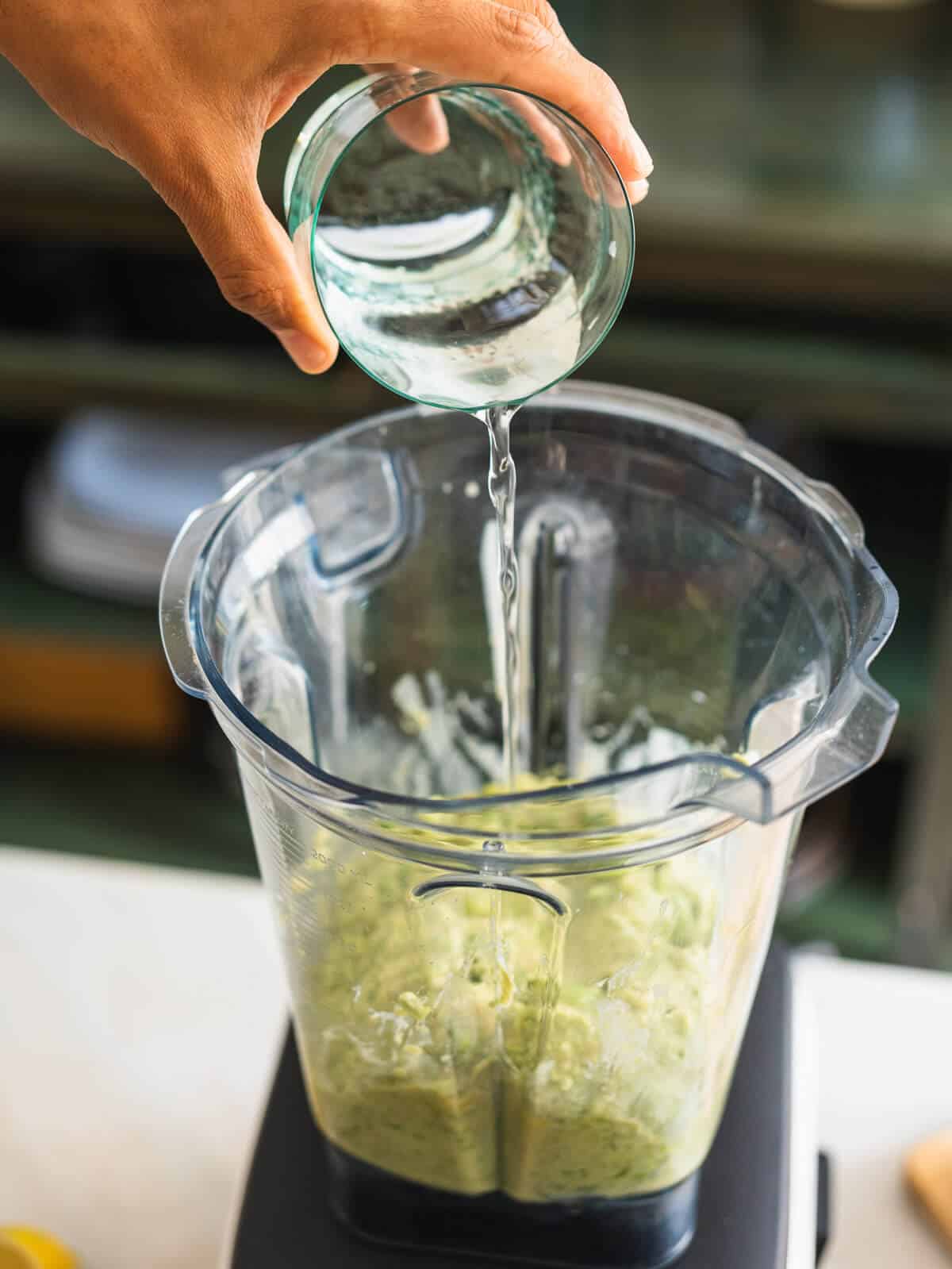 Add iced water little by little. I usually use about ½ cup (4 oz) ice-cold water.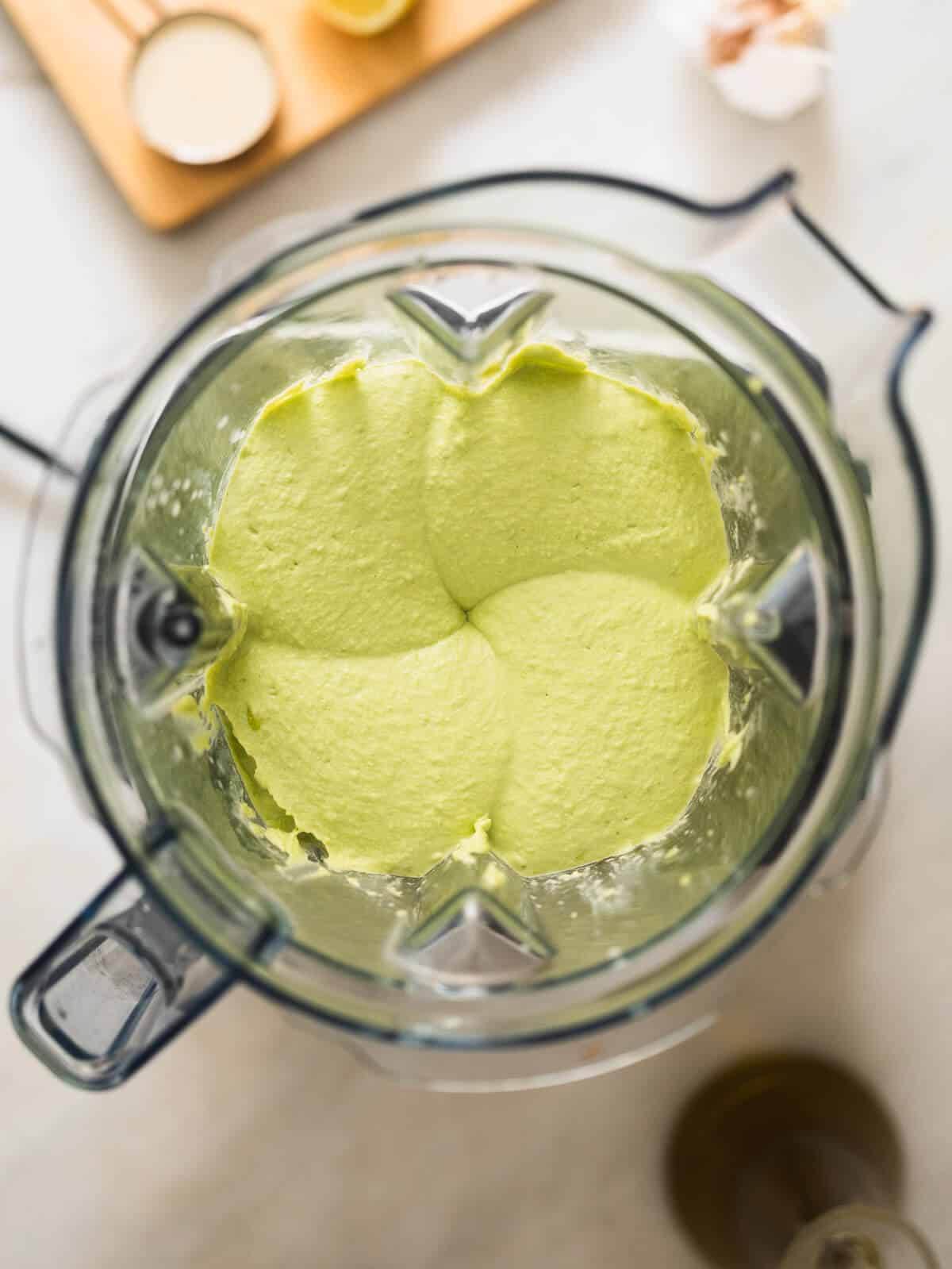 Blend until you reach the desired consistency.
Hint: it usually takes me about two 50 seconds blender cycles, to get to the right texture.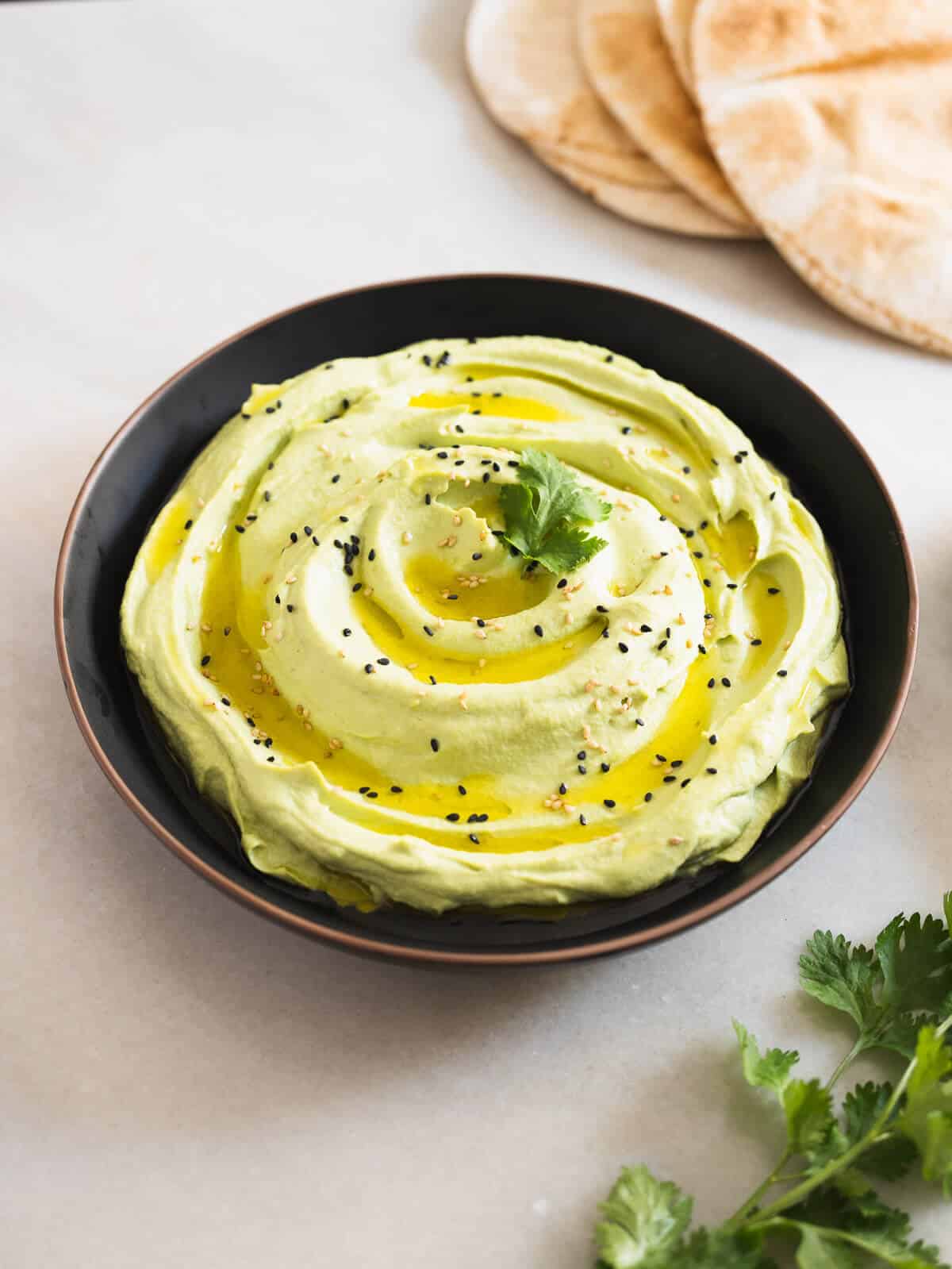 Hint: use some ice cubes to chill water and add it as you mix the hummus for the creamiest texture.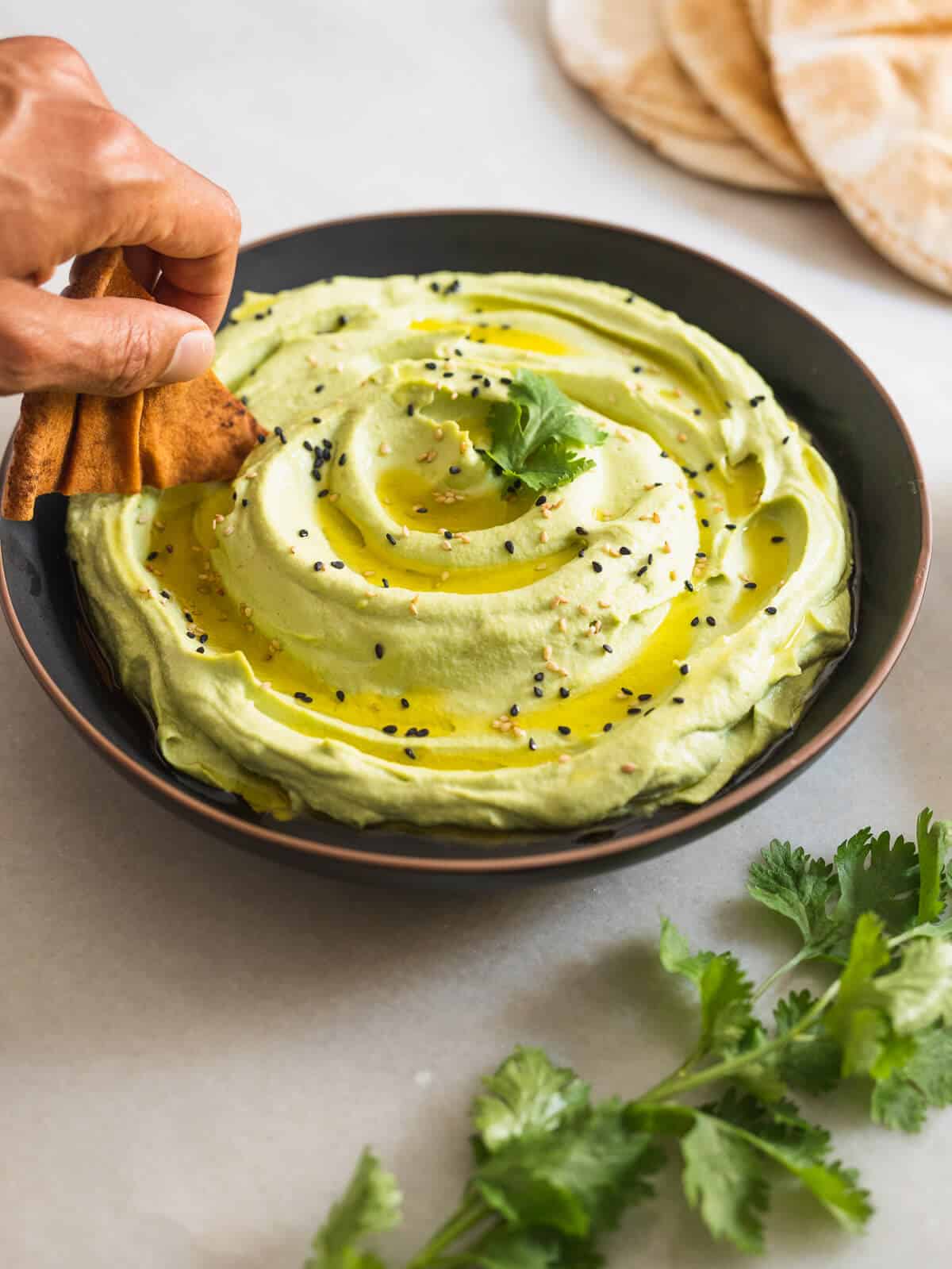 🍶 Substitutions
Finding vegan substitutions for the ingredients in our edamame hummus recipe is a breeze. Here are some alternatives:
Frozen edamame beans: Green peas are a perfect alternative. They'll give your hummus a slightly sweeter flavor and maintain the vibrant green color. However, the texture might be a tad less creamy.
Tahini: If you're out of tahini, you can use any seed or nut butter, like almond or sunflower seed butter. Note that this will slightly change the flavor, depending on the butter you use.
Lemon juice: Lime juice can be used instead. They both provide the necessary acidity, but the flavor profile will vary slightly.
Extra virgin olive oil: If you're looking for a lower-fat option, you can use unsweetened almond milk or vegetable broth. Keep in mind that this will make the hummus less creamy and the taste less rich. Non-toasted sesame oil can work as a substitute for olive oil. The result will be a more pronounced sesame flavor which can complement the overall taste of your hummus.
Fresh garlic clove: Garlic powder or minced roasted garlic can be used in place of fresh garlic. The roasted garlic will provide a milder, sweeter flavor.
Ground cumin: Coriander or caraway seeds can offer a similar warm, earthy flavor. The difference in taste will be subtle.
Optional ingredients
Black and white sesame seeds for garnishing.
Cilantro leaves for an herby taste.
📖 Variations
Looking to mix things up with our edamame hummus recipe? Here are some delicious variations:
Arugula Edamame Hummus: Add a handful of fresh arugula to the food processor before blending. This will give your hummus a peppery kick and an even deeper green hue. It's a great way to incorporate more leafy greens into your diet.
Cilantro Lime Edamame Hummus: Substitute lime juice for lemon and add a bunch of fresh cilantro before blending. This variation will offer a refreshing, tangy twist, with the cilantro adding a distinct herbaceous note.
Spicy Edamame Hummus: Add a fresh jalapeño or a dash of cayenne pepper to your blend for a spicy version. This one's perfect for those who like a little heat!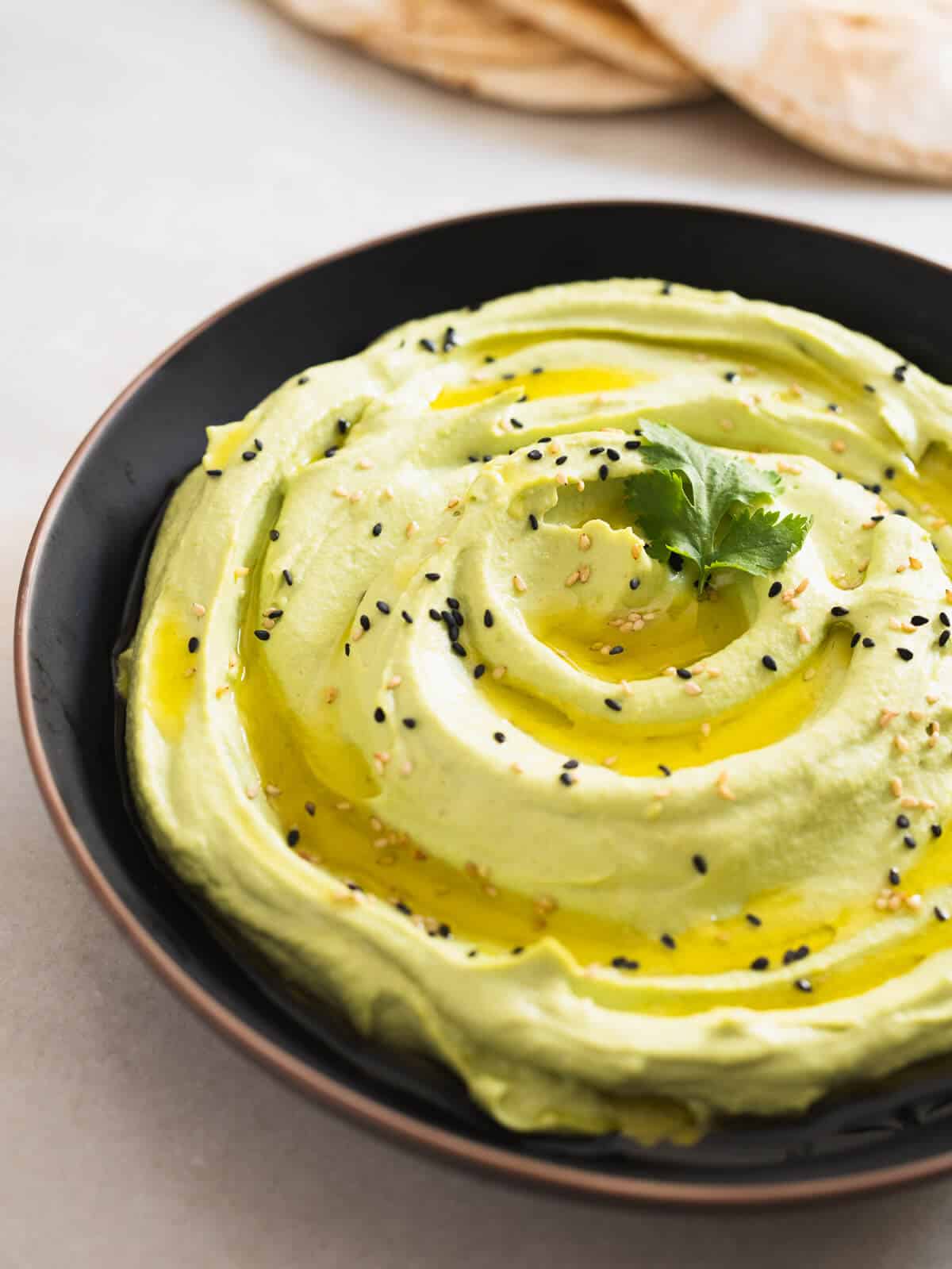 🥢 How to serve
Here are some imaginative ways to serve edamame hummus for a dinner party:
First, make pockets with the back of a spoon, drizzle some extra olive oil, and add sprinkle sesame seeds.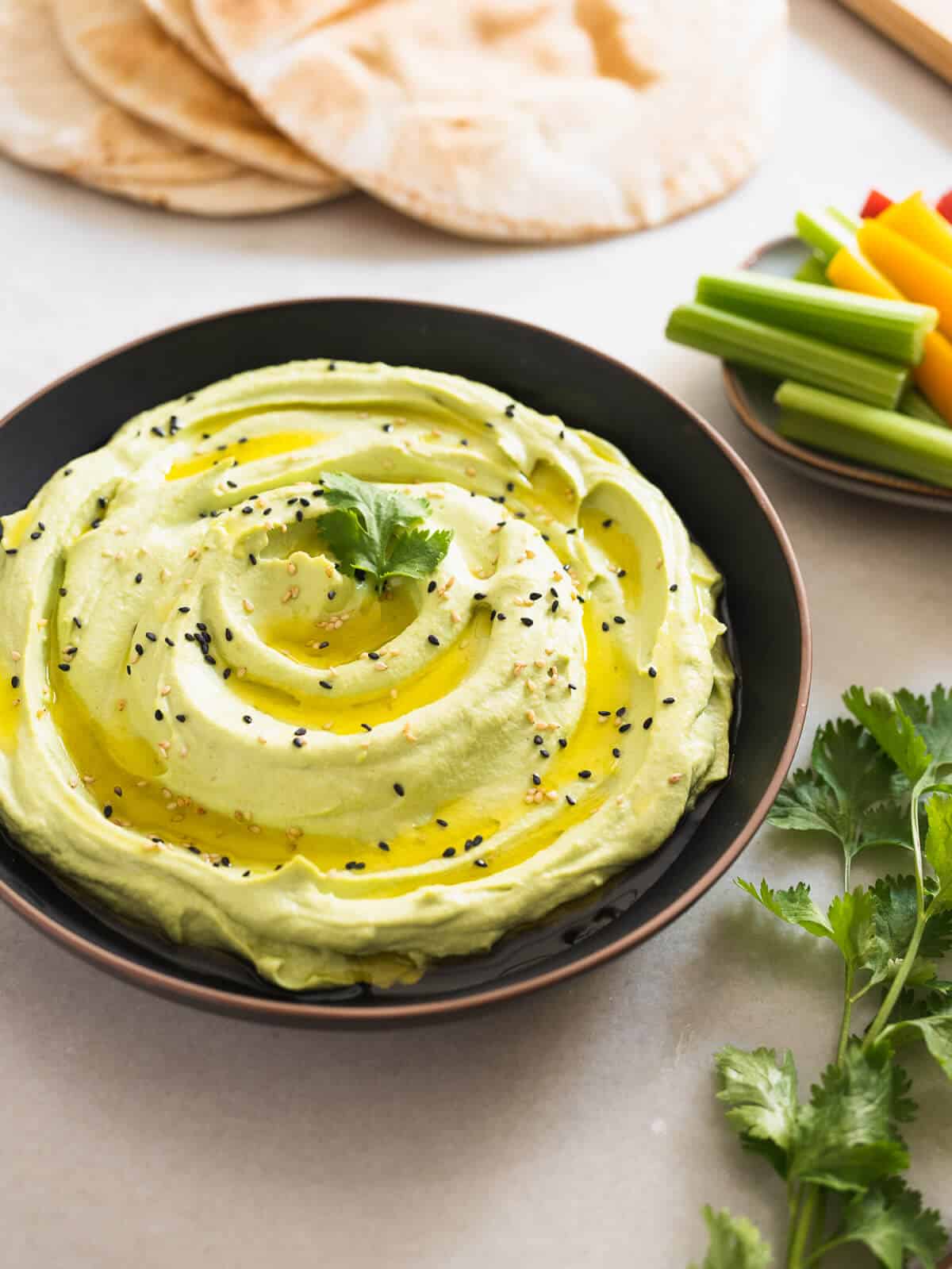 Pita Chip Dip: Traditional but always a hit; place your hummus in a serving bowl and pair it with some crunchy pita chips. For an extra flavor boost, try warming the chips slightly before serving.
Veggie and Pita Platter: Showcase your hummus with an array of fresh, crunchy raw veggies, and toasted pita bread. Vegetable sticks are the perfect snack for sharing. Roasted veggies are also a great option.
Spread for Sandwiches or Wraps: Slather your hummus on a wrap or sandwich, along with fresh veggies and grilled tofu. The hummus adds a creamy, flavorful twist!
Sauce for Grain Bowls: Drizzle it over a bowl of your favorite grains, roasted vegetables, and crispy chickpeas for a balanced, plant-powered meal.
Creamy Pasta Sauce: Mix it into warm pasta for a unique, protein-rich sauce. Add in some roasted vegetables and a sprinkle of fresh herbs for a complete meal.
Salad Dressing: With a little extra lemon juice and olive oil, you can turn your hummus into a creamy salad dressing. It pairs especially well with hearty salads and grain bowls.
Stuffed Veggies: Use the hummus as a delicious stuffing for roasted bell peppers, tomatoes, or mushrooms.
For a comprehensive list of ideas and inspiration to eat hummus, check out our post on the topic.
🍽 Equipment
Here's a quick rundown of the equipment you'll need for our edamame hummus recipe and why each piece is important: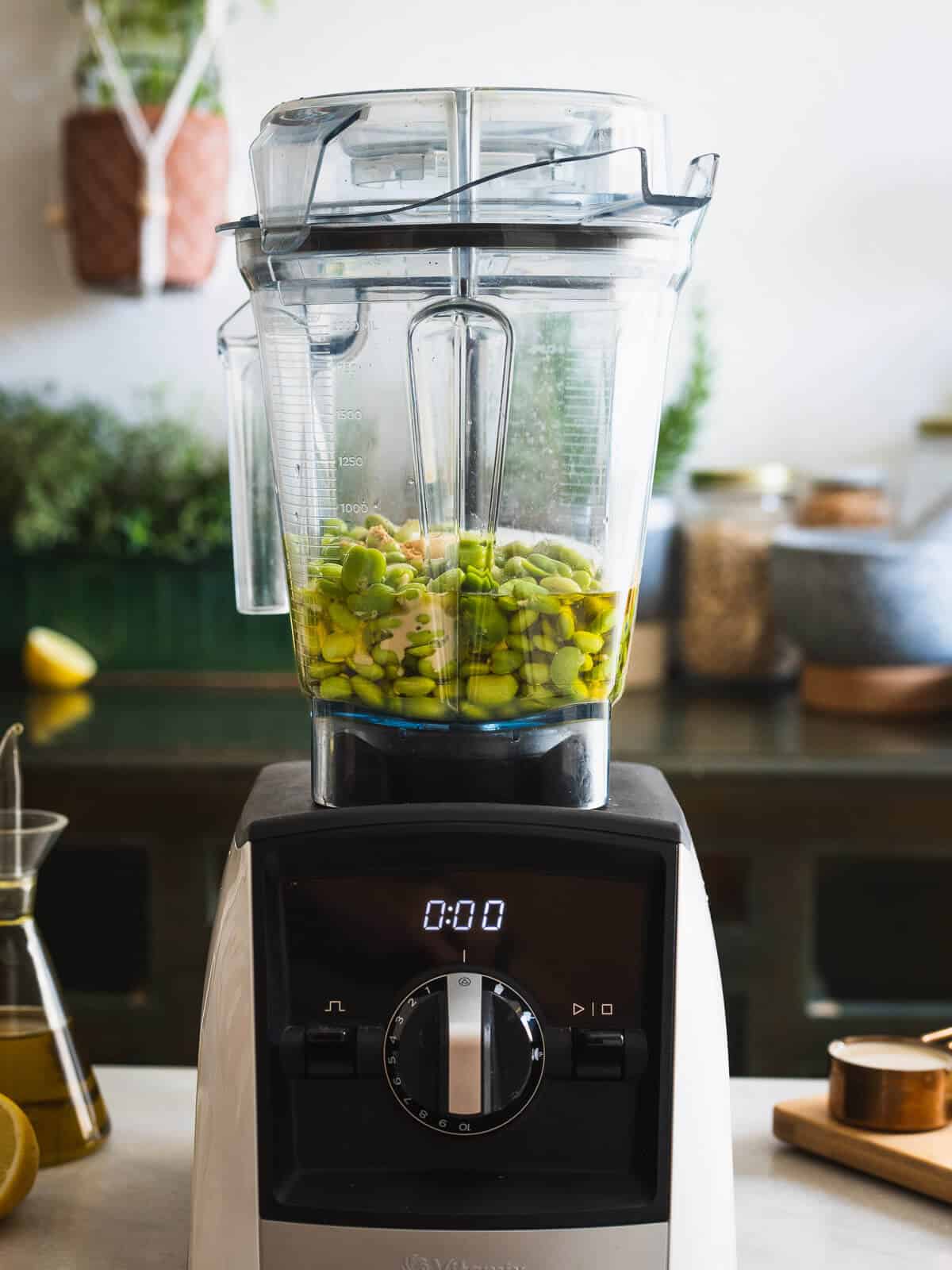 Food Processor or High-Speed Blender: The backbone of this recipe, a good food processor

(affiliate link)

or blender is necessary to achieve the smooth, creamy texture we love in hummus. Whether you're using edamame beans, green peas, or any other ingredients, a powerful processor will ensure everything is well blended and uniformly smooth.
Measuring Cups and Spoons: To make sure your hummus tastes just right, accurate measurements are key. Measuring cups and spoons will help you get the proportions of edamame, tahini, lemon juice, and other ingredients just right, ensuring your hummus is balanced and delicious.
Lemon Press: Fresh lemon juice can really brighten up your hummus, and a lemon press makes it easy to get every last drop from your lemons. It also helps separate the seeds and pulp from the juice, meaning less hassle for you.
Having the right equipment will make your cooking experience smoother and more enjoyable, and the results will speak for themselves! Happy cooking!
🥡 Storage
Proper storage is key to maintaining the freshness and flavor of leftover hummus. Here's how:
Refrigerating and Thawing:
Place your hummus in an airtight container and refrigerate. It should stay fresh for up to one week.
Before serving, you might want to let it sit at room temperature for about 20 minutes to take the chill off.
If the hummus thickens too much in the refrigerator, you can stir in a little bit of water or olive oil to bring it back to the desired consistency.
Freezing and Reheating:
We don't recommend freezing hummus as the texture changes dramatically, but if you must... it can be frozen for up to 3 months. Again, use an airtight container. To avoid freezer burn, you can add a thin layer of olive oil on top before sealing.
Meal Prep:
This hummus recipe is an excellent option for meal prepping. You can prepare a big batch and portion it out into individual serving containers for the week.
Pair your hummus with a variety of dippables like pita chips, fresh veggies, or even dollop onto salads or grain bowls for quick, easy meals.
💡 Top tip
For the creamiest edamame hummus, pay special attention to the water you add—it should be icy cold! The reason behind this is that the blades of the food processor heat up as they work, which can affect the emulsification process.
Using iced water helps keep everything cool, ensuring a smoother, creamier consistency. Start with a small amount and add more as needed until your hummus reaches your desired texture. It's a simple trick, but it makes all the difference in achieving that perfect, creamy hummus every time!
❓ FAQ
What are edamame beans?
Edamame beans are young, green soybeans that are harvested before they have fully matured. The term "edamame" comes from Japanese, where "eda" means "branch" and "mame" means "bean", reflecting the traditional way the soy beans were sold — still attached to their branches.
In terms of nutrition, these young soybeans are a powerhouse. They're an excellent source of high-quality plant-based protein, fiber, and healthy fats. They are also rich in a variety of vitamins and minerals, including iron, calcium, and vitamin C.
Edamame are often served boiled or steamed, either in their pods as a popular appetizer in East Asian cuisine or shelled and incorporated into a range of dishes, like salads, soups, stir-fries, and in our case, a delectable hummus. They have a subtly sweet and nutty flavor, and their firm yet creamy texture makes them a versatile ingredient in the kitchen.
📚 More hummus recipes
Also, try our new black-eyed peas hummus for a Southern twist!
If you feel adventurous and are in for a mindblowing idea, try our dessert hummus, made with dark chocolate and enjoyed with fresh fruit. Curious?
If you love edamame, you should also try our spicy garlic edamame, the crunchy quinoa and edamame salad with Asian dressing, and our yummy poke bowl.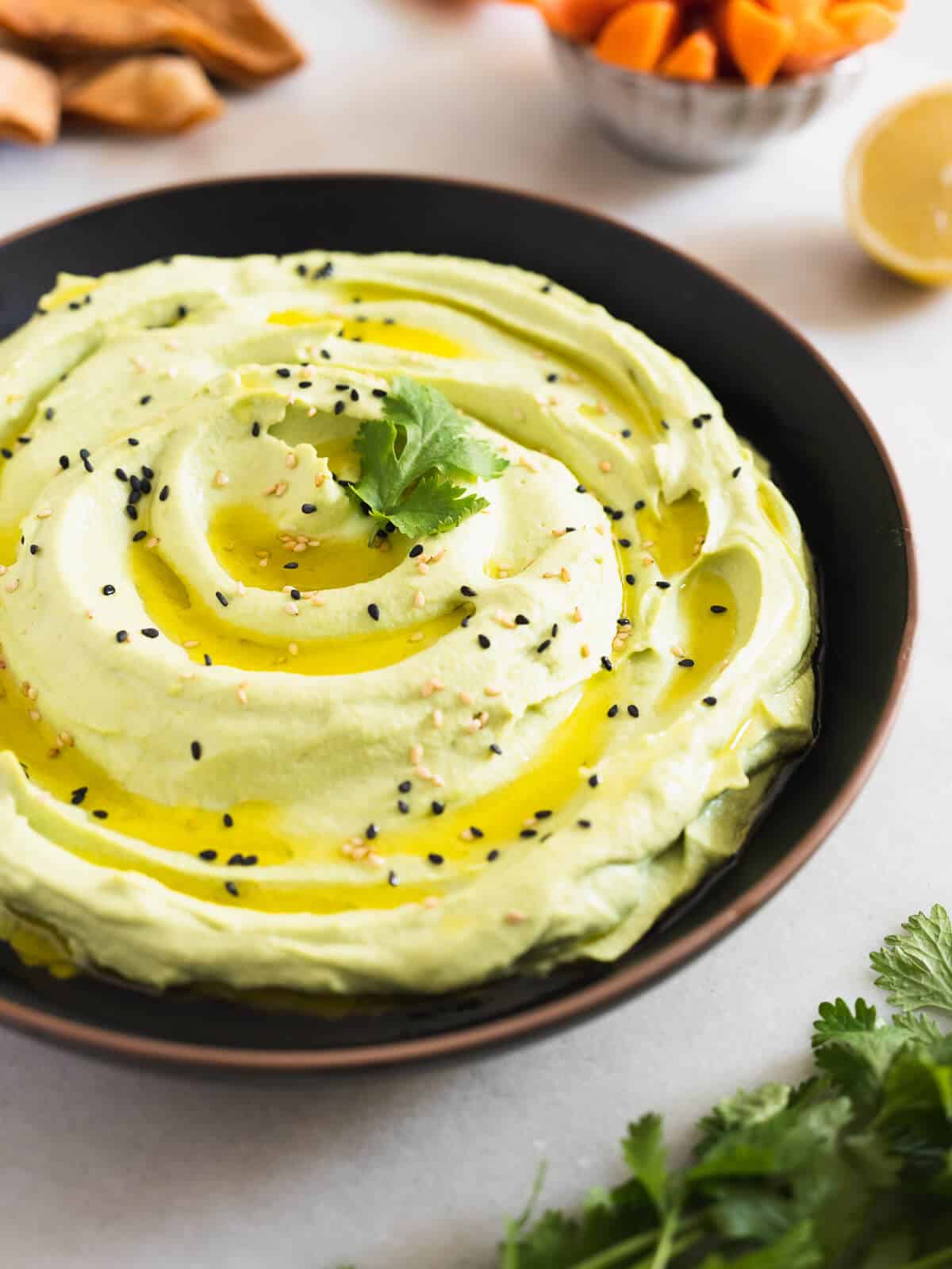 ⭐ If you try this naturally gluten-free, dairy-free green edamame dip recipe, let us know! 💬 Leave a comment, rate it, and don't forget to tag us @ourplantbasedworld on Instagram. Cheers!
📋 Recipe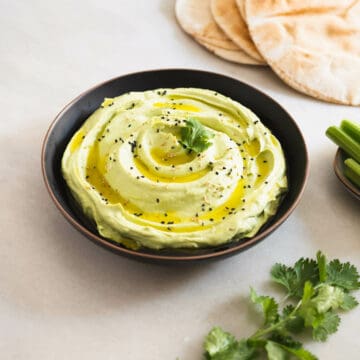 Best Green Edamame Hummus Dip (Creamy, Easy & Quick)
Get ready to delight in our edamame hummus, a flavorful fusion of Asian and Middle Eastern cuisine. This creamy, quick, and easy-to-make dip is not only tasty, but also packed with nutritional goodness. Let's dive into the green, clean world of plant-based cooking!
Equipment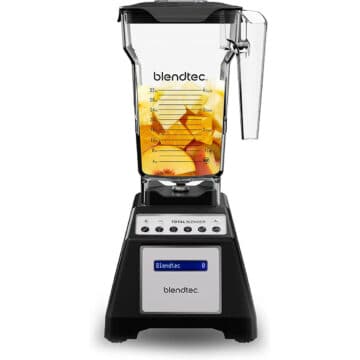 (affiliate link)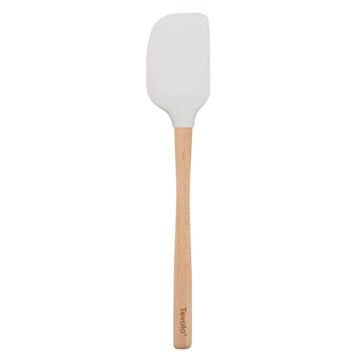 (affiliate link)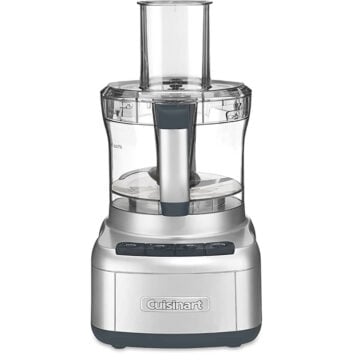 (affiliate link)
Ingredients
1 ½

cups

shelled edamame

10 ounces, preferably organic, defrosted if frozen*

¼

cup

tahini

3

tablespoons

lemon juice

3

tablespoons

extra-virgin olive oil

plus more for garnish

1

medium clove garlic

roughly chopped

½

teaspoon

fine-grain sea salt

⅛

teaspoon

cumin

ground

3 to 4

tablespoons

water

as necessary
Optional
Parsley

or cilantro to garnish
Directions
In the bowl of your food processor or high-powered blender (like Vitamix), combine all the ingredients except for the iced water. Process for around 1½ minutes, pausing to scrape down the sides and base of the bowl as needed, until the mixture is thoroughly blended.

Scrape down the vase or bowl and continue processing until the hummus reaches a thick and smooth consistency, which should take about 1 extra minute.

If your hummus turns out too thick or chunky, simply run the food processor while gradually adding iced water, one tablespoon at a time, until you achieve your desired texture.

Give the hummus a taste and add a little more salt if needed.

Transfer the hummus to a small serving bowl, and for an extra touch, lightly drizzle some olive oil over the top and sprinkle with a few sesame seeds if desired.
Notes
To defrost edamame, start by bringing a pot of water to a boil. Then, add the frozen edamame and let it simmer for approximately 4 to 6 minutes until it's warmed. Afterward, thoroughly drain the edamame and allow it to cool on a plate for at least 5 minutes before using it.
You can also just run them under hot water in a colander.
Leftover hummus can be stored in the refrigerator for 4 to 5 days, so you can enjoy it throughout the week.
Nutrition Facts
Calories:
247
kcal
Carbohydrates:
23
g
Protein:
7
g
Fat:
16
g
Saturated Fat:
2
g
Polyunsaturated Fat:
4
g
Monounsaturated Fat:
9
g
Sodium:
438
mg
Potassium:
459
mg
Fiber:
8
g
Sugar:
3
g
Vitamin A:
184
IU
Vitamin C:
12
mg
Calcium:
51
mg
Iron:
2
mg
Nutrition Facts
Best Green Edamame Hummus Dip (Creamy, Easy & Quick)
Amount per Serving
% Daily Value*
* Percent Daily Values are based on a 2000 calorie diet.
🌡️ Food safety
Cook to a minimum temperature of 165 °F (74 °C)
Do not use the same utensils on cooked food, that previously touched raw meat
Wash hands after touching raw meat
Don't leave food sitting out at room temperature for extended periods
Never leave cooking food unattended
Use oils with a high smoking point to avoid harmful compounds
Always have good ventilation when using a gas stove
See more guidelines at USDA.gov.
Nutritional Disclaimer
The information shown is an estimate provided by an online nutrition calculator. It should not be considered a substitute for a professional nutritionist's advice. See our full Nutritional Disclosure here.
Affiliate Disclaimer
Please note that some of the links here are affiliate links, and I will earn a commission if you purchase through those links. I recommend all of the products listed because they are companies I have found helpful and trustworthy.