I'm sure by now you've all seen the amazing vegan curried cauliflower recipe that's been going around on Instagram. I was first introduced to this recipe by my friend Shishir, who is a fantastic Indian cook. I had no idea that cauliflower could taste so good! Since then, I've made this curry many times, and it's always a hit. In fact, my friends are so obsessed with it that they've even started calling it "the magic curry." So if you're looking for an easy, delicious, and healthy vegan dish, look no further than this Indian Cauliflower Curry Recipe. Enjoy!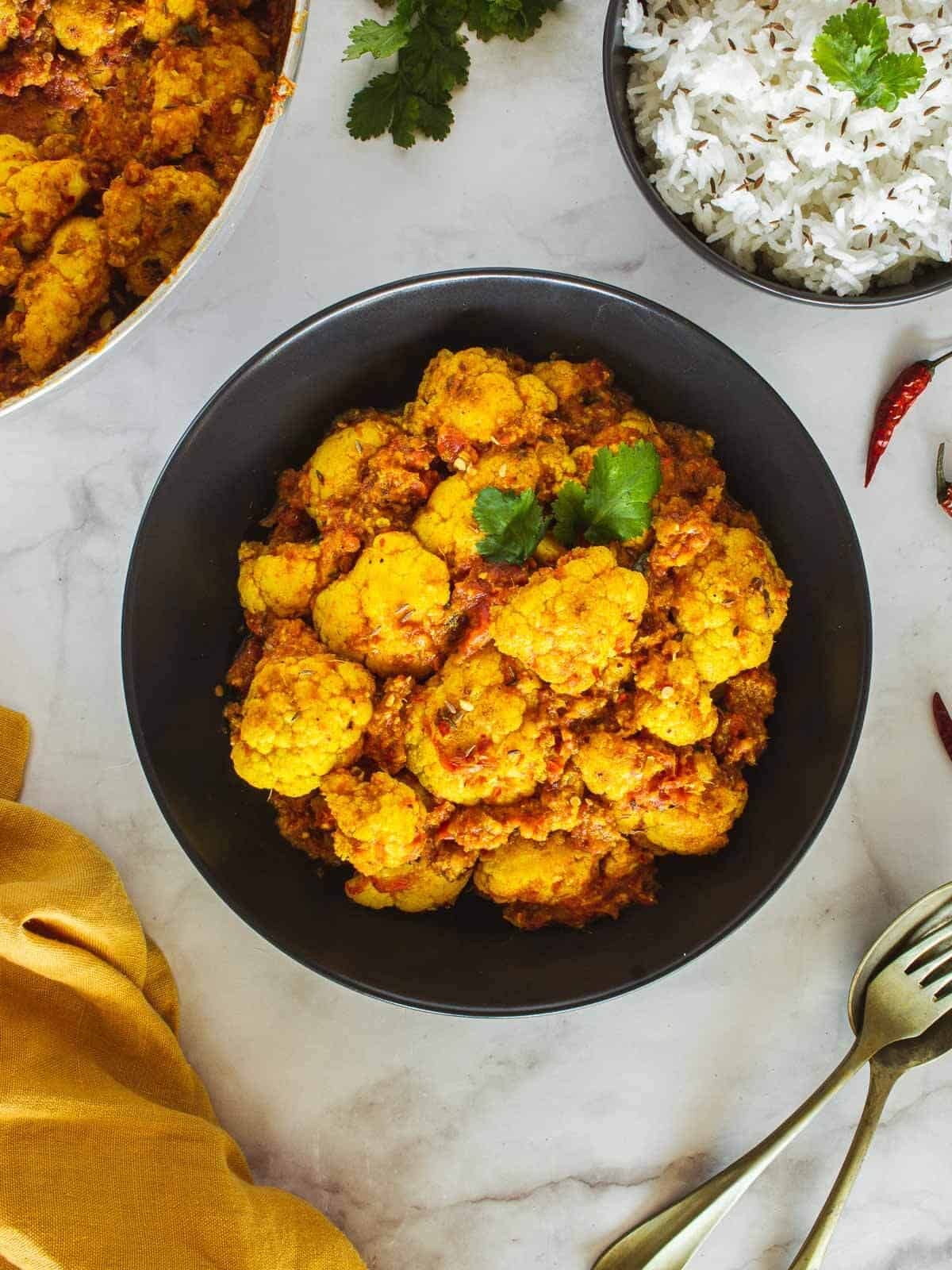 This cauliflower curry Indian recipe is a staple in Indian cuisine, and it is often cooked with potatoes, which is called Aloo Gobi curry. I think it is the easiest of cauliflower curry recipes by far!
Gobi means Cauliflower in India; that's why you might have seen some recipes like Indian Gobi Curry.
This wonderful recipe is usually eaten as a side dish, but we often have it as an entrée main dish and basmati rice. We find it very filling.
Jump to:
🧾 Ingredients
This cauliflower vegan curry is made with simple pantry staples that you may already have in your pantry and delivers a big flavor!
Otherwise, you can easily get them on amazon or any ethnic store.
Cauliflower Head: The star of the show! Cauliflower is not only low in calories but also packed with fiber and antioxidants, making it a nutritious and versatile base for our curry.
Fresh Tomatoes: These juicy gems add a natural sweetness and acidity to the dish. Plus, they're rich in lycopene, an antioxidant that's good for your heart.
Onion: The unsung hero that builds a flavorful foundation. Onions are also a great source of vitamin C and fiber, which aid in digestion.
Fresh Garlic: A little goes a long way! Garlic adds a robust flavor and has antimicrobial properties to boot.
Fresh Ginger: This root adds a zesty kick and aids in digestion. It's also known for its anti-inflammatory benefits.
Fresh Coriander: Also known as cilantro, this herb brings a fresh, citrusy aroma to the dish. It's also packed with vitamin K, which is good for bone health.
Ground Cumin: This spice adds a warm, earthy flavor that complements the other spices. Cumin is also known for its digestive benefits.
Turmeric Powder: The golden spice! Not only does it give the curry its vibrant color, but it's also loaded with curcumin, a powerful anti-inflammatory.
Lemon or Lime Juice: A splash of citrus brightens up the flavors and helps to balance the richness of the curry. Plus, it's a great source of vitamin C.
Masala Curry Powder: This blend of spices is the heart of the dish, giving it that authentic Indian flavor. It's a mix of several spices, each with its own health benefits.
Red Chili Flakes: Turn up the heat! These flakes add a spicy kick and are known to boost metabolism.
There you have it! Each ingredient brings its own unique flavor and health benefits to this delicious Indian Cauliflower Curry. Ready to cook? 🍲🌱
Optional: coconut oil or olive oil
🔪 Instructions
To make an Indian recipe for cauliflower curry, follow these simple steps.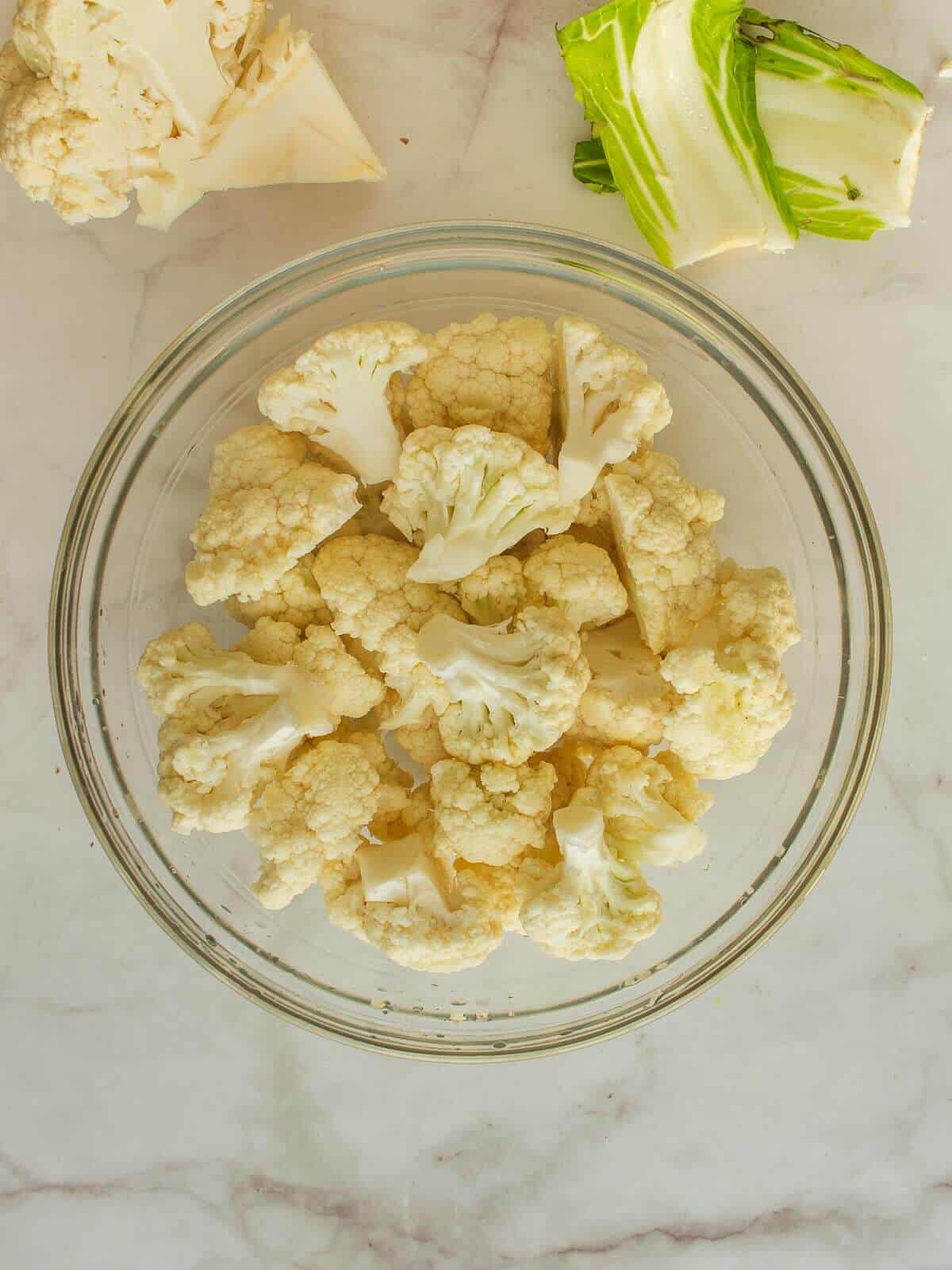 Break up the cauliflower into small florets. You can let them soak for about 20 minutes in a large bowl with water, but this is unnecessary.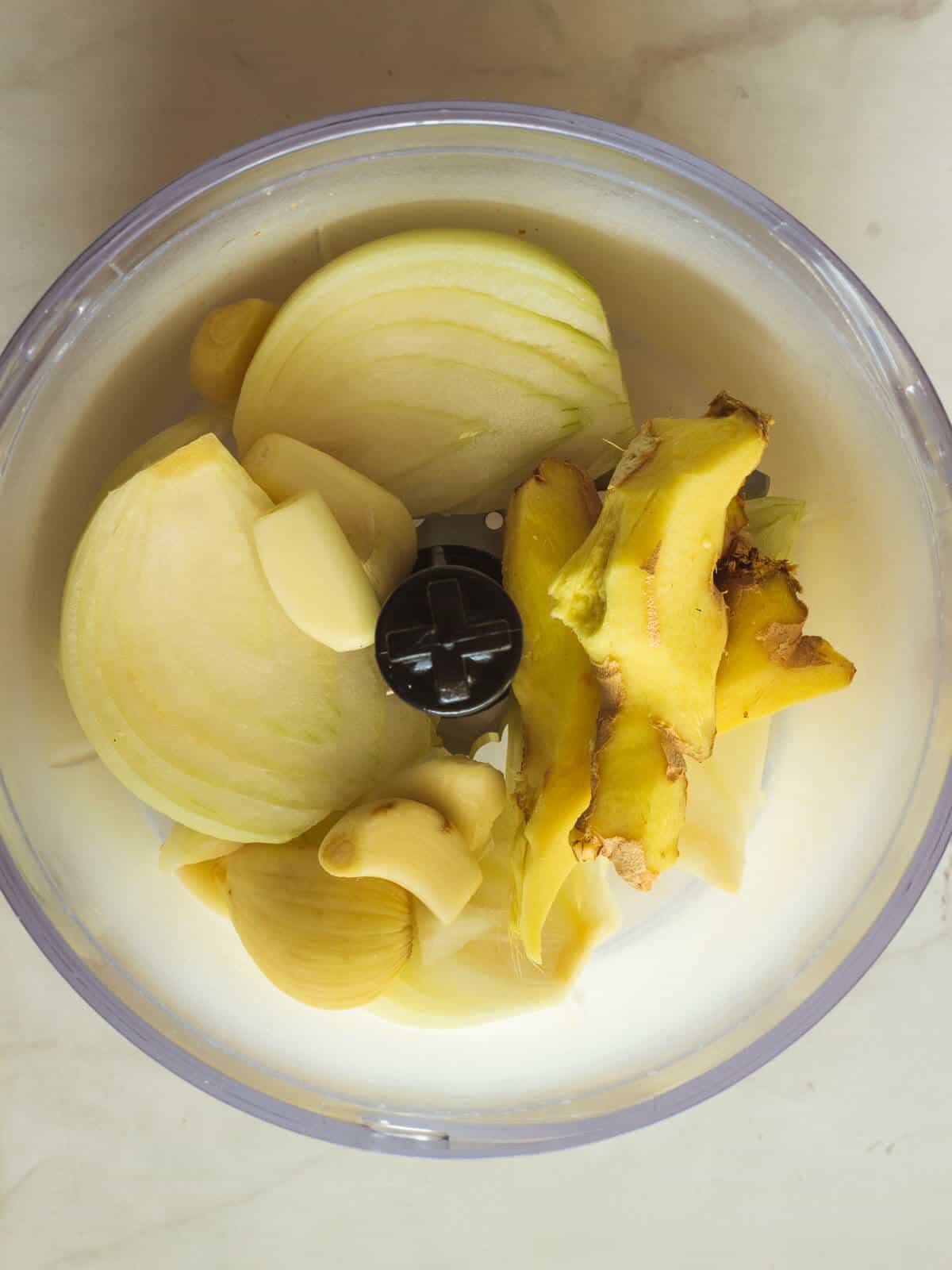 Peel the onions, garlic, and ginger with a potato peeler and coarsely chop them. Then add them to a blender's jar and blend until you have a thick paste. You may need to add a couple of tablespoons of water.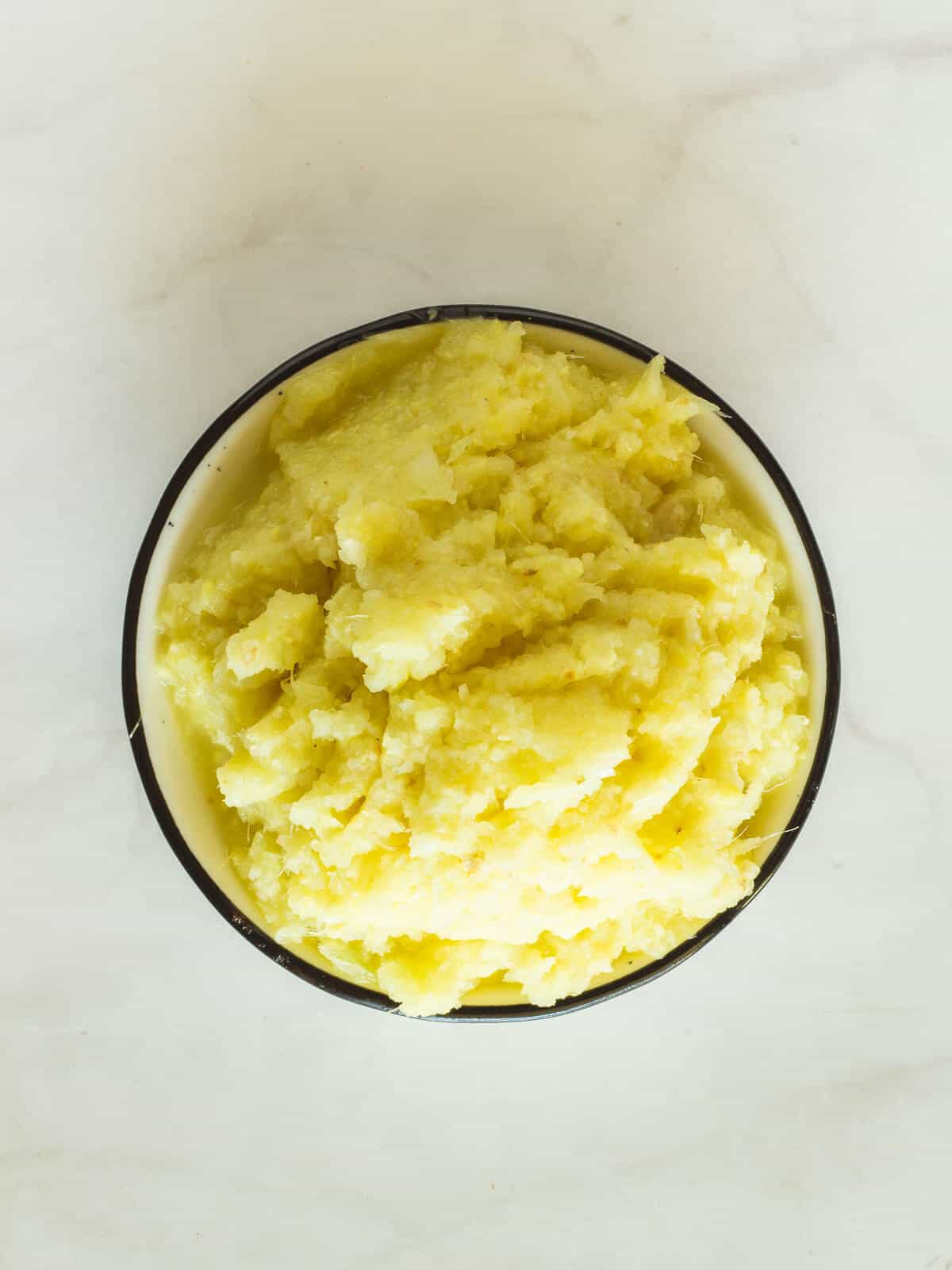 Make a paste with the onion, garlic, and ginger, throw them into the immersion blender jar and blend until you have a smooth paste.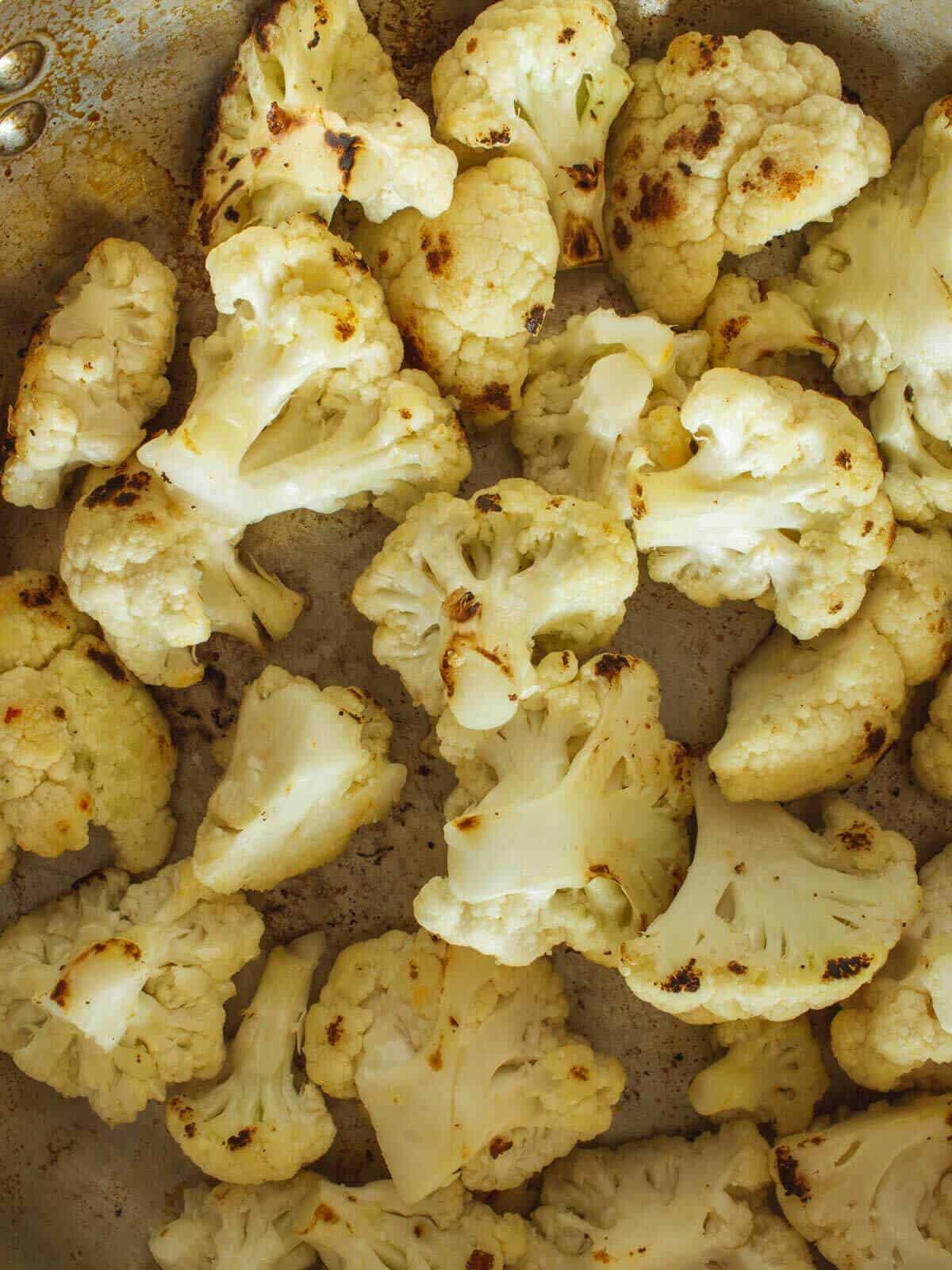 Stir-fry the cauliflower florets. In a large skillet, pour the oil and add cauliflower florets stirring occasionally until they have some brown spots. Alternativerly you can put teh florets on a baking sheet and bake on a preheated oven with a swirl of coconut oil on high for 10 minutes.
Stir in the onion and ginger-garlic mixture into the same skillet and saute until the mixture turns slightly brown, adding some water if needed.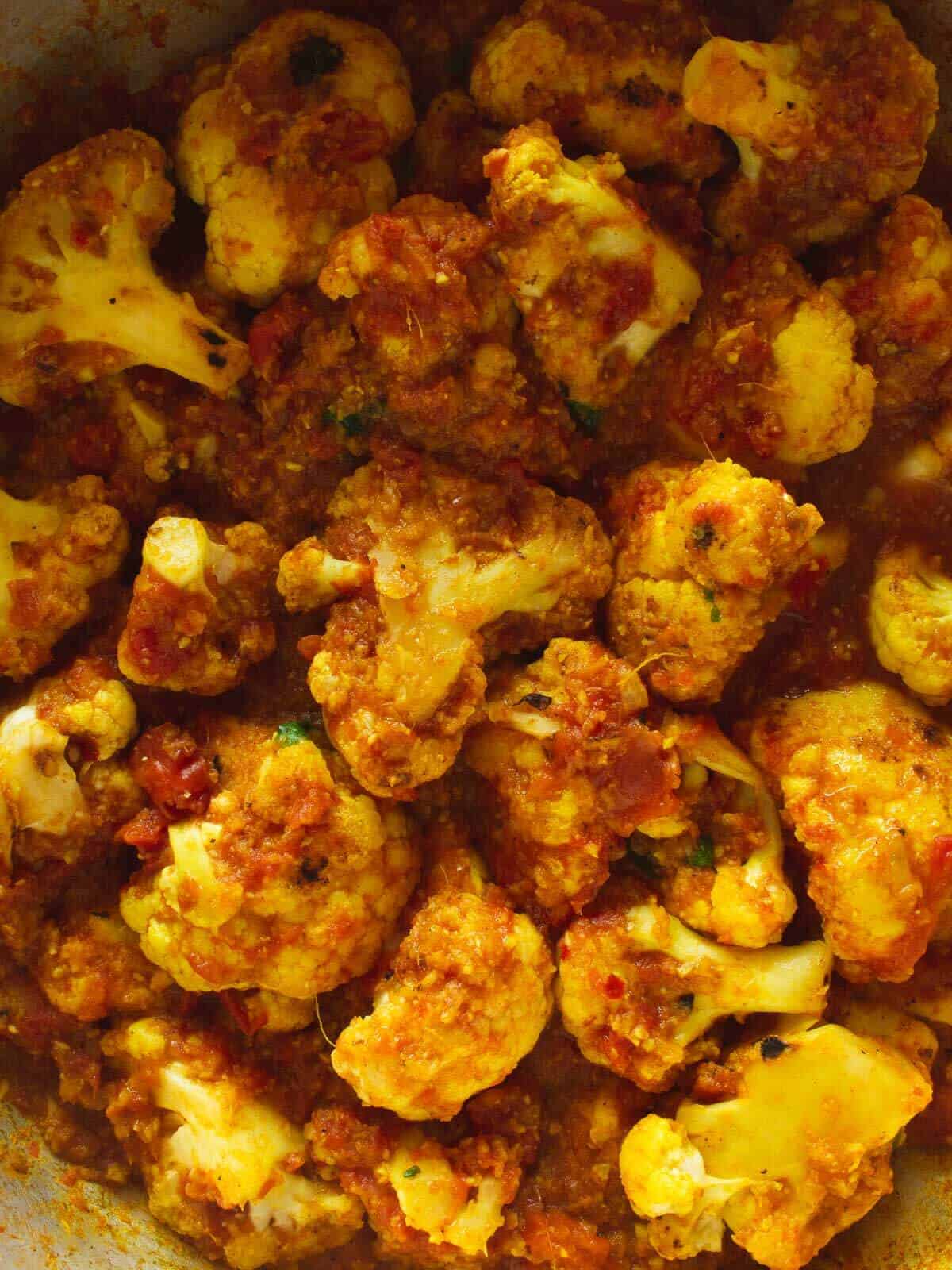 Add chopped tomatoes and spices on medium heat, then add half of the fresh coriander leaves.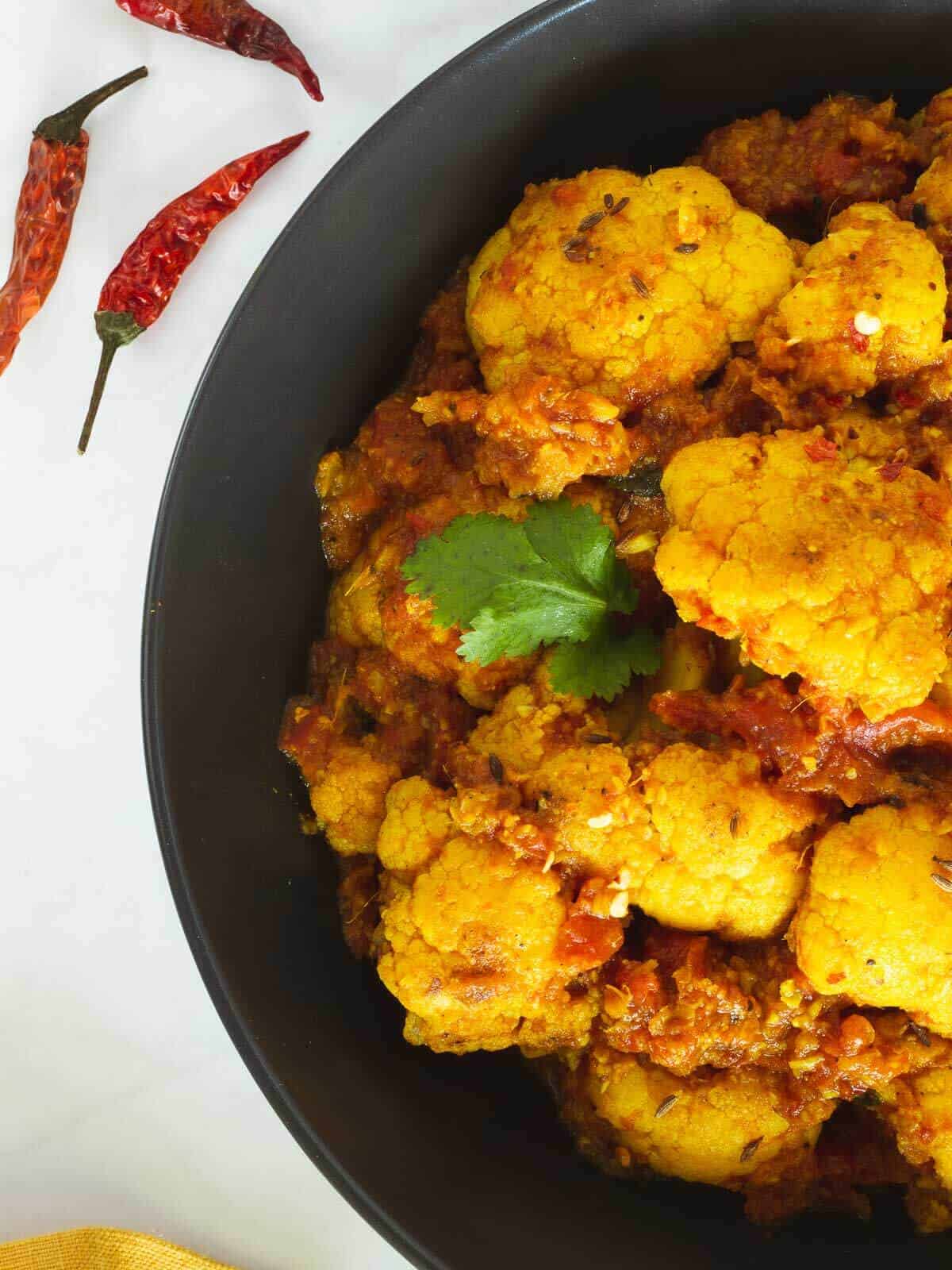 Season the curry mixture with lemon, salt, and the rest of the fresh or ground coriander.
Taste to ensure the cauliflower is fork-tender and perfectly cooked, and adjust for salt and heat.
🥢 How to serve
This vegan cauliflower curry pairs perfectly with freshly made basmati rice, but you can also have it with steamed potatoes, roti, stir-fried tofu, mashed potatoes, steamed Jasmin rice, naan bread, cauliflower rice, or brown rice.
You can serve it as a side dish for a tasty protein bowl of masala green lentils.
You can also serve it with spicy pearl onions prepared with Indian spices.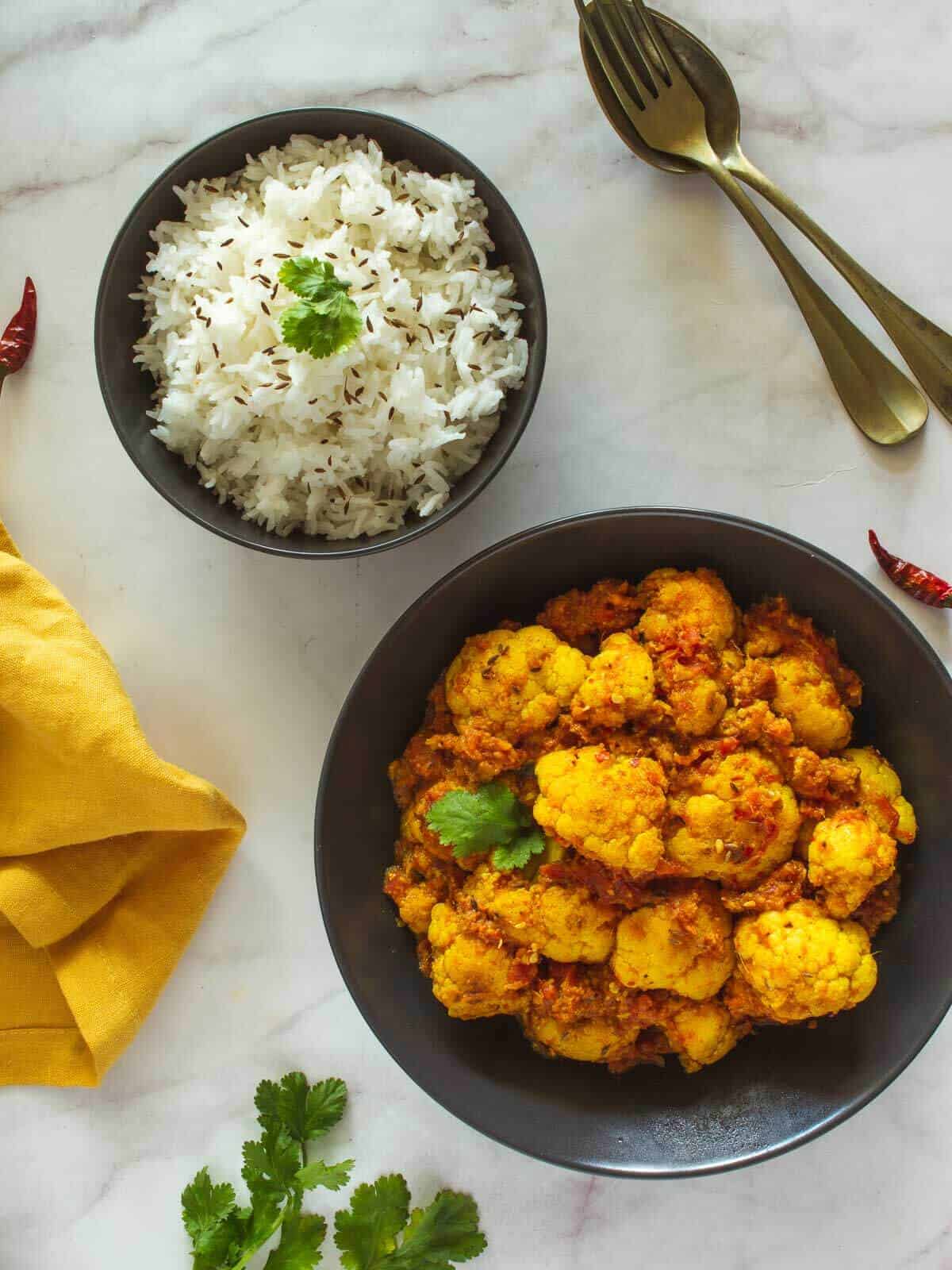 🍶 Substitutions
This easy cauliflower recipe can be easily adjusted and customized to your needs.
Curry flavor - you can also use madras curry powder, red curry paste, or any yellow curry powder if you don't have garam masala. The flavor will be different but equally delicious.
Coriander - no worries, if you don't have fresh cilantro, you can use coriander powder
More veggies - you can add frozen peas (green peas), chopped spinach, red peppers, or even cooked sweet potato. Also, add chickpeas if you want to increase the protein content of this easy cauliflower curry.
Cumin - you can use cumin seeds instead of cumin powder, but make sure you lightly toast them in a skillet until fragrant.
Heat - instead of red chili flakes, you can use cayenne pepper, green chili, serrano pepper.
Tomatoes - if you don't have fresh tomatoes, this wonderful recipe also works with crushed or whole canned tomatoes.
📖 Variations
If you want to make a creamy cauliflower Indian dish, you can simply add one cup of canned coconut milk and skip the lemon juice.
Both light coconut milk and full-fat coconut milk work; just consider that heavy coconut milk will drastically increase your curried cauliflower side dish's saturated fats and calorie count.
We hope this Indian cauliflower curry recipe has shown you that it can make a healthy, delicious, and easy dinner tonight that even meat-eaters will love.
This dish is packed with flavor and nutrients, so you can feel good about serving it up any night of the week.
And best of all, it takes just 30 minutes to prepare! If you're looking for more quick and easy meal ideas, be sure to check out our other recipes. Start feeling better today by cooking up one of our favorite healthy dishes.
❓FAQ
What Goes Into Vegetarian Curry?
Various spices include cumin, coriander, turmeric, and chili powder. Vegetarian curries also include onions, garlic, ginger, tomatoes, coconut milk, coconut-based yogurt or cream, and various vegetables, such as eggplant, cauliflower, peas, potatoes, and spinach.
🍛 More curry recipes
Our Indian Eggplant Curry has been a hit on many tables, and our readers love it; it is also made with garam masala like our mushroom tikka recipe; so don't forget to check them out.
We love our Asian curries, so you might want to check our Yellow Thai Curry, Vegan Green Thai Curry, and Fresh Red Thai Curry.
We also like making our homemade curry paste. See our Thai Yellow Curry paste and Green Curry Paste.
Learn how to roast a whole cauliflower head with only three ingredients! The perfect side dish to impress your guests!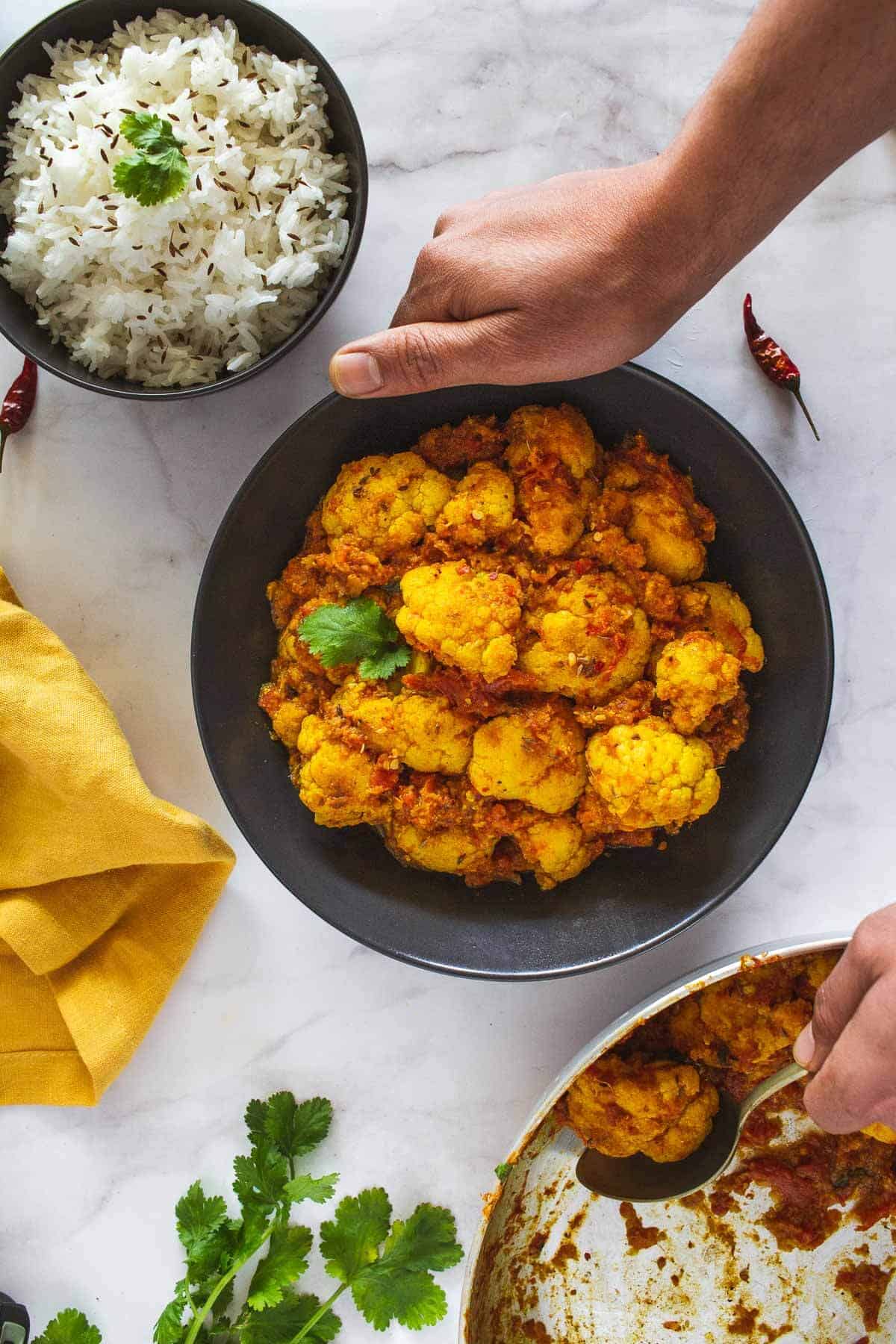 ⭐ If you try this naturally gluten-free cauliflower recipe, let us know! 💬 Leave a comment, rate it, and don't forget to tag us @ourplantbasedworld on Instagram. Cheers!
📋 Recipe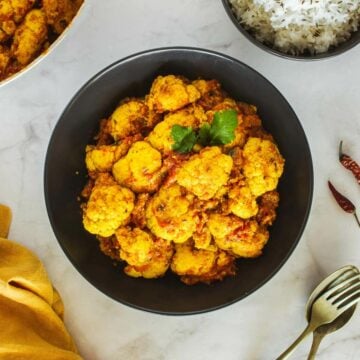 Indian Cauliflower Curry Recipe
Learn how to make cauliflower the way Indians do it. This vegan recipe for an Indian cauliflower curry is so easy and delicious!
Equipment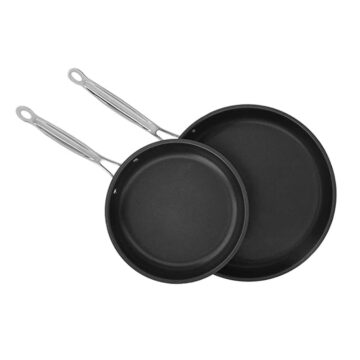 (affiliate link)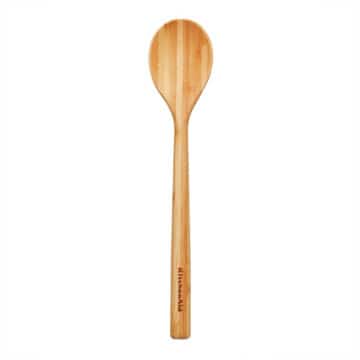 (affiliate link)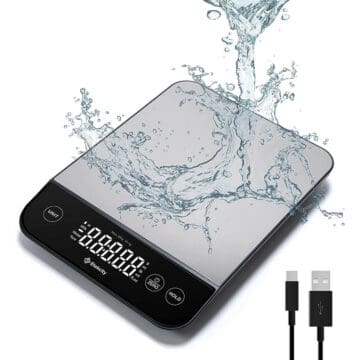 (affiliate link)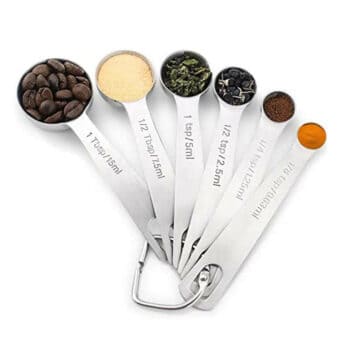 (affiliate link)
Ingredients
1

head

cauliflower

medium, about 30 oz, 800 grams

12

oz

peeled tomatoes

crushed (crushed canned tomatoes or chunky tomato sauce also work)

1

onion

medium, coarsely chopped

7

cloves

garlic

1

oz

ginger

fresh

1

bunch

coriander

fresh, or 1 teaspoon ground coriander

1

teaspoon

cumin

ground

½

teaspoon

garam masala

½

teaspoon

turmeric

ground

1

tablespoon

lemon

juiced

1 ½

teaspoon

sea salt

fine

½

teaspoon

red chili flakes

⅓

cup

water

or water from canned tomatoes, if using
Optional
1

tablespoon

sunflower seed oil

coconut oil, olive oil (skip to make it WFBP, replace with a tablespoon water)

steamed basmati rice

to pair
Directions
Break up the cauliflower head into small florets. You can let them soak for about 20 minutes in a water bowl if you have the time, but this is not necessary.

Put the onion, garlic, and ginger into the immersion blender jar and blend until you have a smooth paste. You may need to add 2-3 tablespoons water.

Brown the cauliflower florets. In a large skillet, pour the oil (or tablespoon of water if cookign without oil) and cook the dried cauliflower florets until they have some brown spots.

Cook. Add the onion mixture into the same skillet and cook for a couple of minutes until the mixture starts turning brown, adding some water if needed. The curry should be chunky, so don't overdo the water.

Keep stirring. Add the tomato, cumin, turmeric,garam masala, chili flakes, and half of the fresh coriander leaves. Add some water if needed. Cook for about 15 minutes until the cauliflower is slightly soft.

Season. Add the lemon juice, salt, and the rest of the fresh or ground coriander.

Taste and adjust.
Nutrition Facts
Calories:
111
kcal
Carbohydrates:
17
g
Protein:
4
g
Fat:
4
g
Saturated Fat:
1
g
Polyunsaturated Fat:
1
g
Monounsaturated Fat:
3
g
Sodium:
1043
mg
Potassium:
703
mg
Fiber:
5
g
Sugar:
6
g
Vitamin A:
159
IU
Vitamin C:
83
mg
Calcium:
82
mg
Iron:
2
mg
Nutrition Facts
Indian Cauliflower Curry Recipe
Amount per Serving
% Daily Value*
* Percent Daily Values are based on a 2000 calorie diet.
🌡️ Food safety
Cook to a minimum temperature of 165 °F (74 °C)
Do not use the same utensils on cooked food, that previously touched raw meat
Wash hands after touching raw meat
Don't leave food sitting out at room temperature for extended periods
Never leave cooking food unattended
Use oils with a high smoking point to avoid harmful compounds
Always have good ventilation when using a gas stove
See more guidelines at USDA.gov.
Nutritional Disclaimer
The information shown is an estimate provided by an online nutrition calculator. It should not be considered a substitute for a professional nutritionist's advice. See our full Nutritional Disclosure here.
Affiliate Disclaimer
Please note that some of the links here are affiliate links, and I will earn a commission if you purchase through those links. I recommend all of the products listed because they are companies I have found helpful and trustworthy.