This Vegetable Tikka Masala Curry is a quick and easy way to get your Indian food fix. The key to this dish is the garam masala, a blend of spices that gives curries their characteristic flavor. You can find it at most grocery stores or make your own if you have the time. Regardless, this mushroom tikka curry will warm you up on a cold winter night! Enjoy!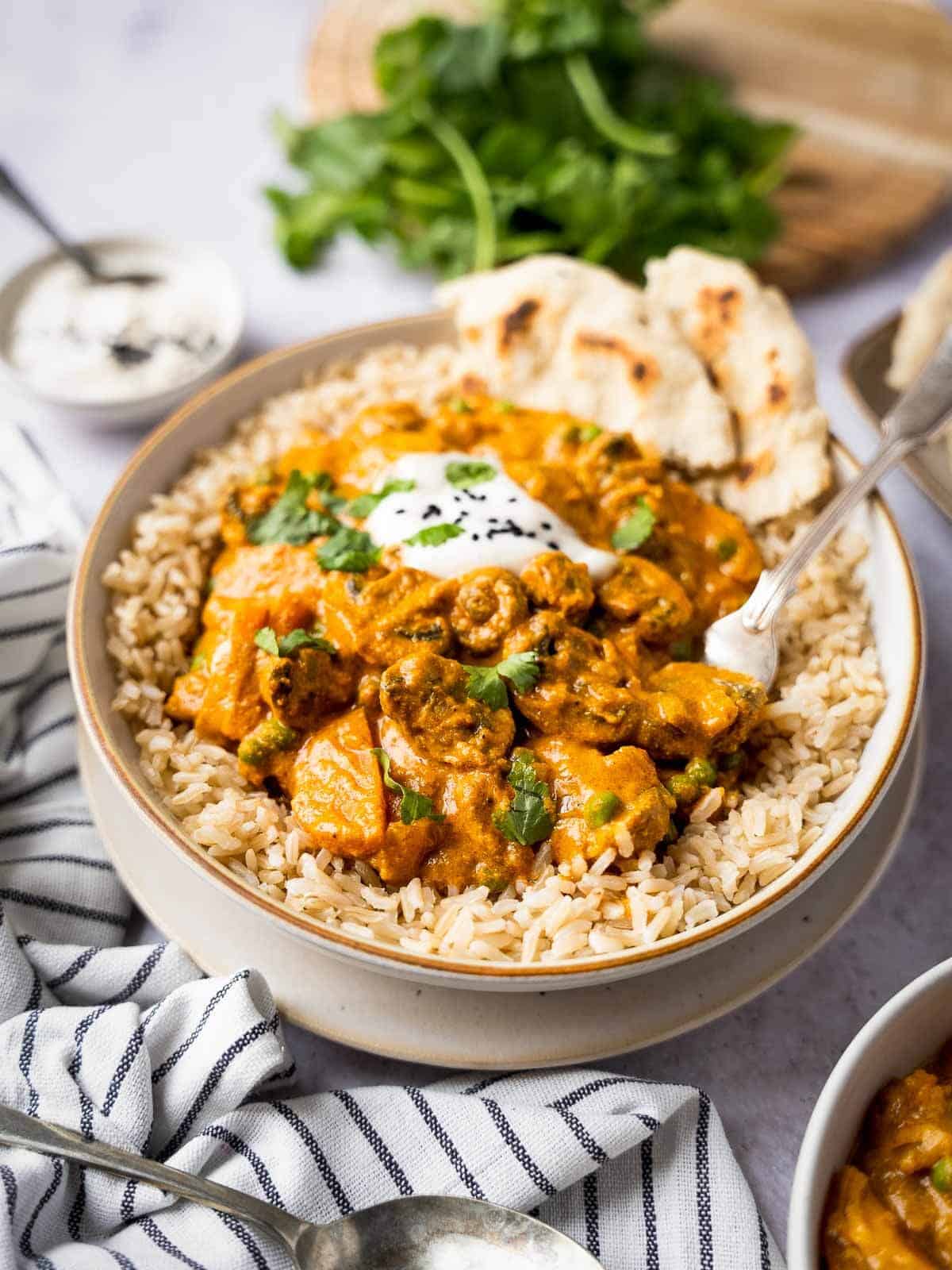 This is a veganized version of the traditional chicken tikka masala and mushroom tikkas. We make a dairy-free tikka masala sauce with soaked cashews and a coconut-based yogurt instead of fresh cream or hung curd (the Indian version of Greek yogurt)—one of our favorite Indian dishes.
This was inspired by my Indian eggplant curry and Cauliflower Masala recipe on this site and pairs well with aromatic steamed basmati rice and spiced onions.
Jump to:
🧾 Ingredients
To make your homemade mushroom tikka, we'll divide the ingredients into the curry stew and the mushrooms' marinade; most of the spices and seasonings are shared between the two groups, though.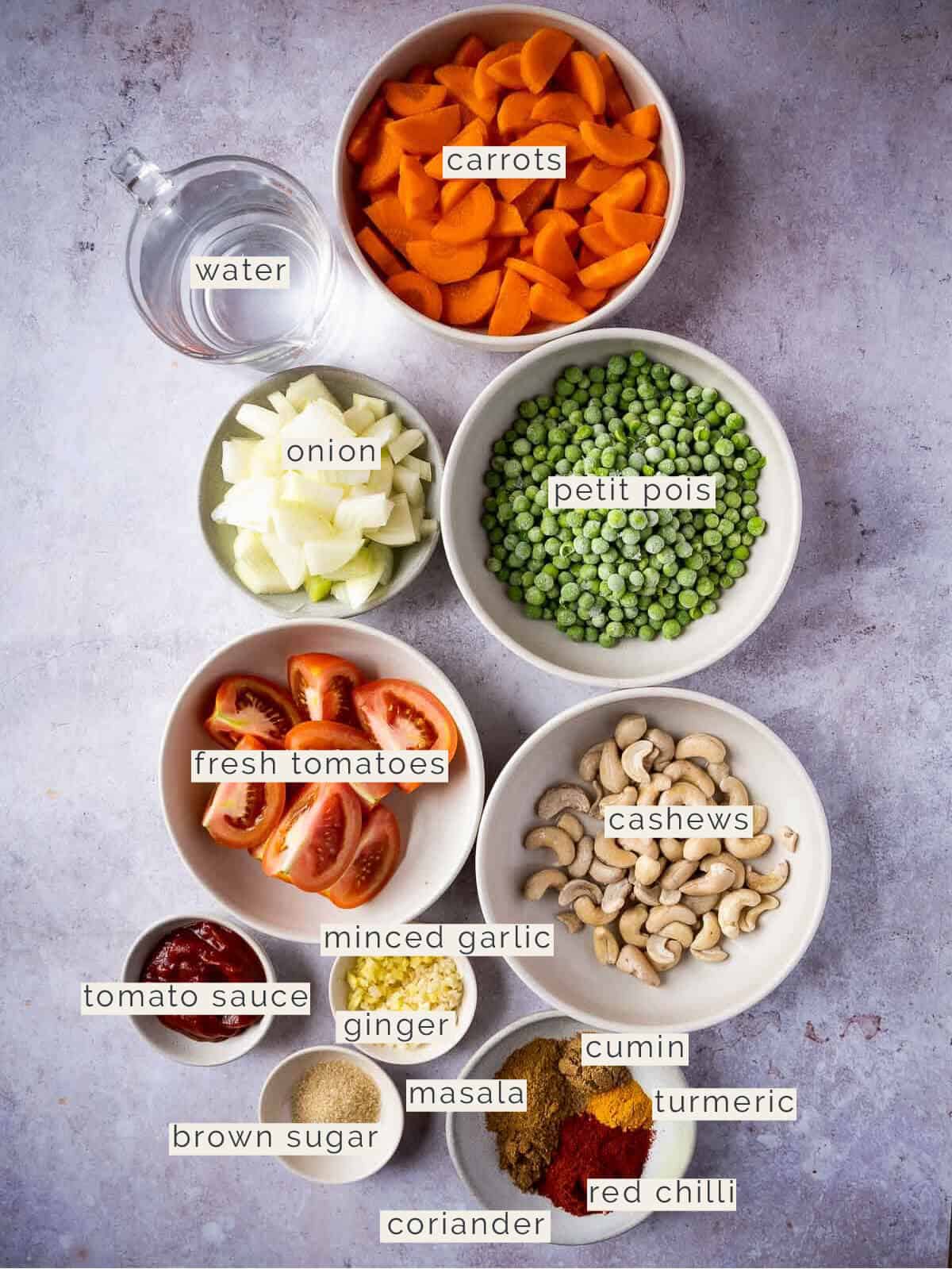 Vegetable curry ingredients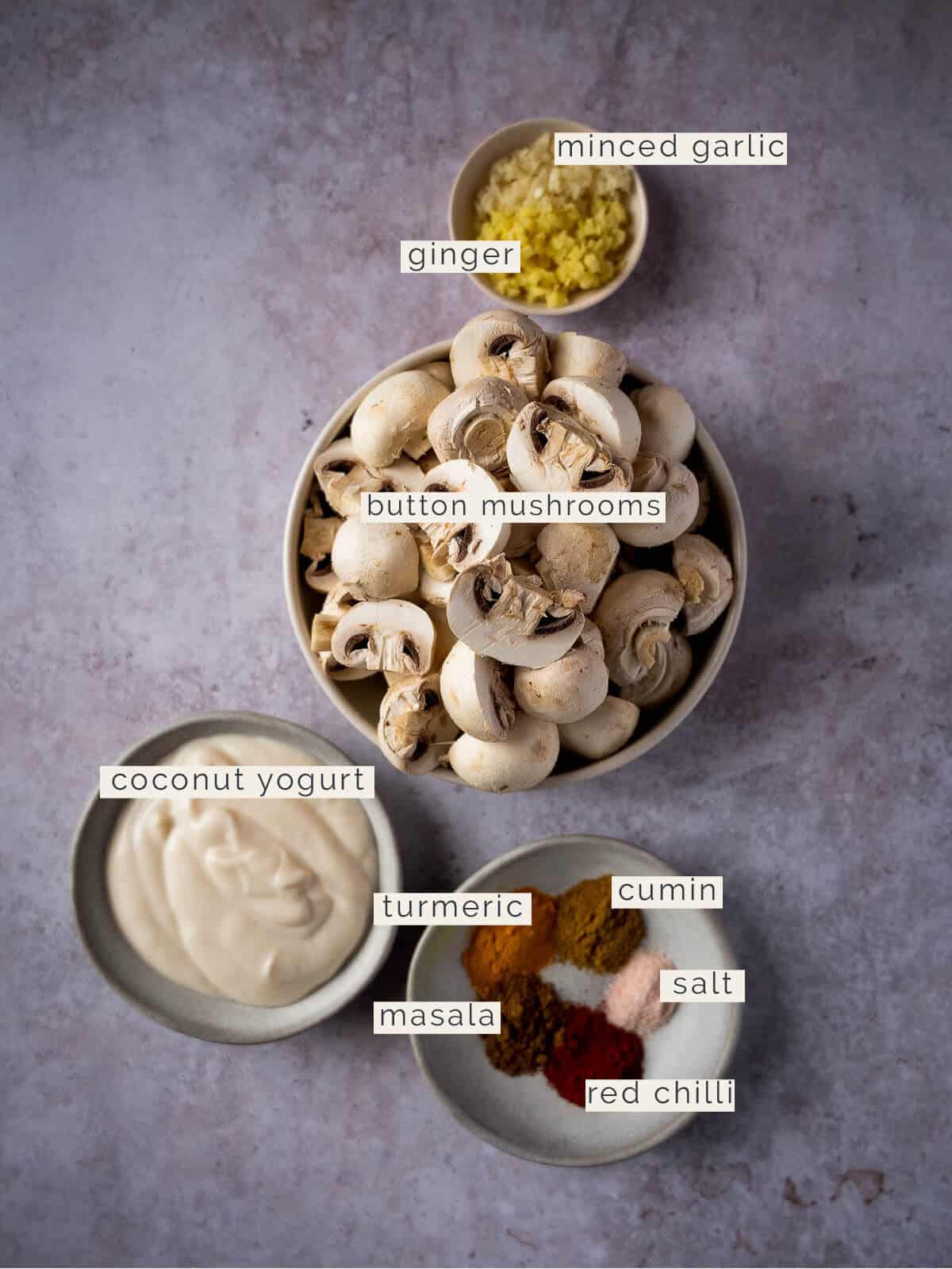 Marinated mushrooms ingredients
Button Mushrooms: These little fungi absorb flavors like champs and offer a meaty texture, giving the dish some oomph! Plus, they're a good source of selenium, an antioxidant.
Coconut-based Yogurt: Creamy and plant-based, this yogurt provides a luxurious texture and a hint of tropical flavor. Coconut yogurt also contains healthy fats that can improve gut health.
Garlic: This kitchen staple infuses the dish with a robust, spicy kick. Bonus: it's a great immunity booster.
Ginger: The zesty undertone from ginger not only adds complexity but also offers digestive benefits. Perfect for harmonizing with garlic.
Cashews: When blended, they offer a creamy richness that substitutes heavy cream. Cashews are also a good source of magnesium and healthy fats.
Fresh Tomatoes: These provide natural sweetness and acidity, making them the base for your sauce. Tomatoes are also rich in lycopene, an antioxidant.
Onion: The base of many Indian dishes, onions offer a natural sweetness when sautéed and serve as a flavor foundation.
Garam Masala: This spice mix is like the grand finale in a fireworks show. It rounds out all the flavors and adds authentic Indian warmth.
Cumin Powder: Earthy and aromatic, cumin adds depth. It's also a great source of iron.
Coriander Powder: Offers a lemony, floral note, complementing the other spices. It's also said to have anti-inflammatory properties.
Turmeric Powder: Aside from giving your dish that gorgeous golden hue, turmeric has potent anti-inflammatory and antioxidant benefits.
Kashmiri Red Chilli Powder – or Paprika: This brings heat without the burn and a vibrant red color. Kashmiri red chilli is milder but packs in flavor; paprika works as a solid alternative.
Tomato Sauce: Adds volume and richness to the sauce, serving as a unifying factor for all the spices and flavors.
Carrot: Offers a slight sweetness and a crunchy texture, contrasting nicely with softer ingredients. Plus, they're rich in beta-carotene.
Petit Pois: These little peas add a pop of color and sweetness. They're also a good source of plant-based protein.
Brown Sugar: A touch of this helps balance out the acidity and heat. It makes the dish more rounded and palate-pleasing.
See the recipe card for quantities.
🔪 Instructions
Put all the mushroom marinade ingredients in a bowl apart from the mushrooms, and stir to combine. Then add the cremini mushrooms and mix well to coat them evenly. Then bake in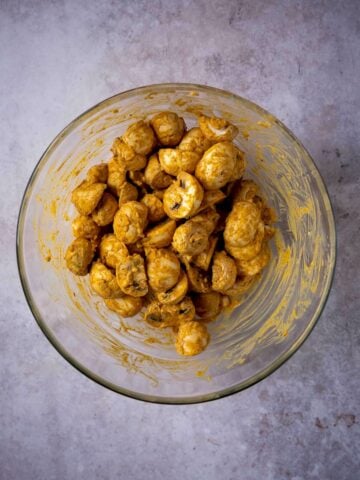 Step 1: Marinade mushrooms for an hour in a large mixing bowl.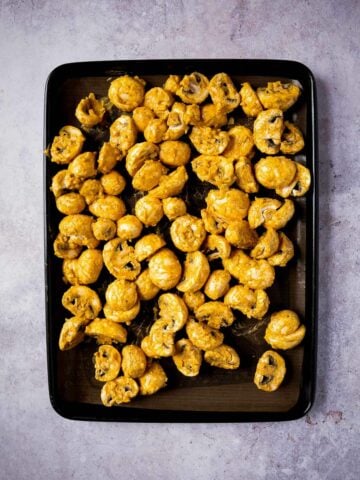 Step 2: Bake in a preheated oven for around 20 minutes.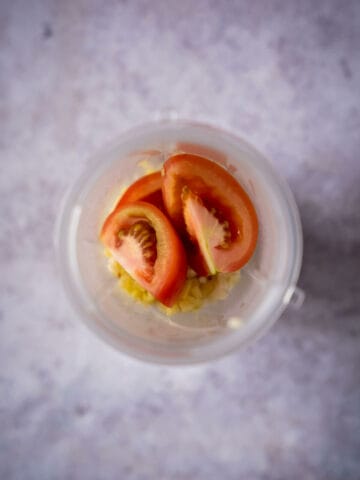 Step 3: Add garlic, ginger, soaked cashews, and tomatoes in a blender.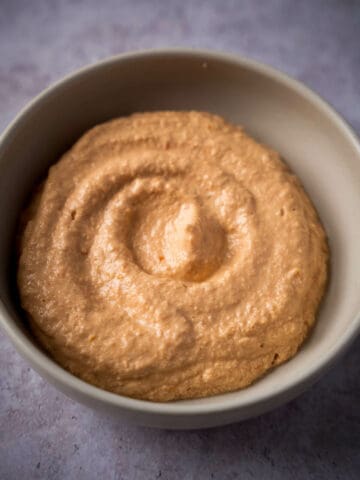 Step 4: Blend the ginger garlic paste until smooth.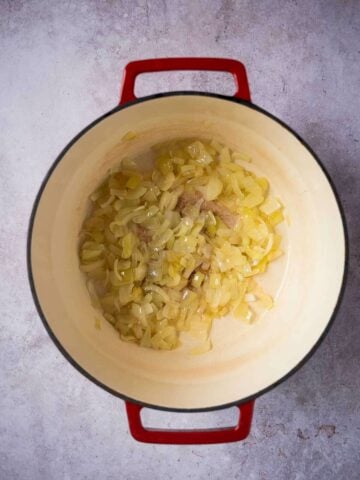 Step 5: Fry the finely chopped onions gently on medium heat for 5-10 minutes on the stovetop, stirring occasionally.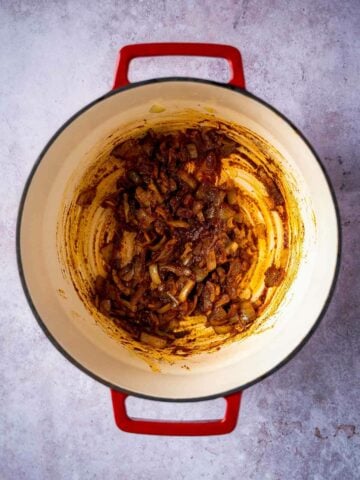 Step 6: Sprinkle in the spices and fry for a couple of minutes until fragrant.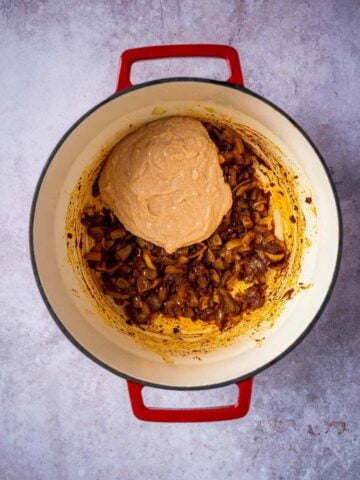 Step 7: Stir in the tomato puree.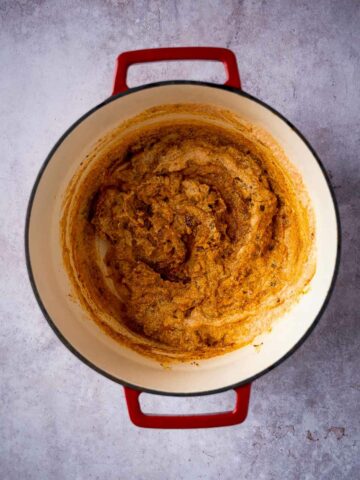 Step 8: Stir, pour in the water, and then bring the sauce to a simmer.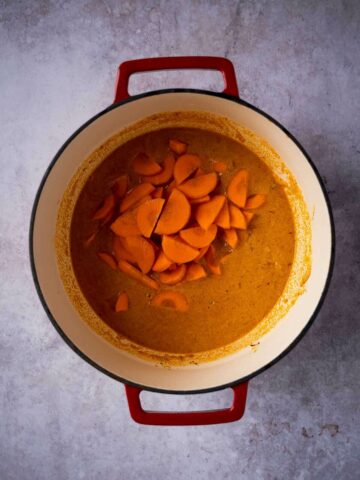 Step 9: Pop carrots and cook on medium-high heat until tender.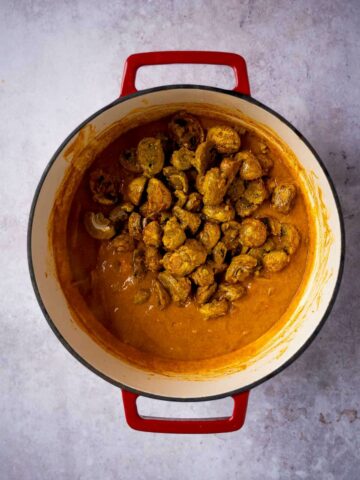 Step 10: Add mushrooms and any leftover marinade, and optional sugar.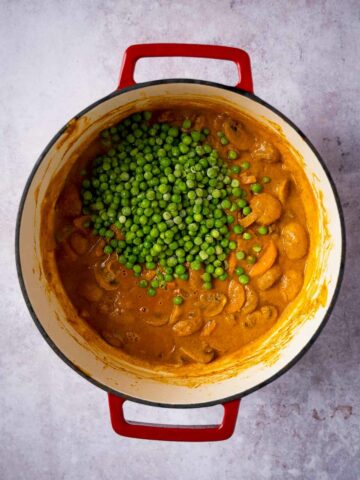 Step 11: Add frozen peas.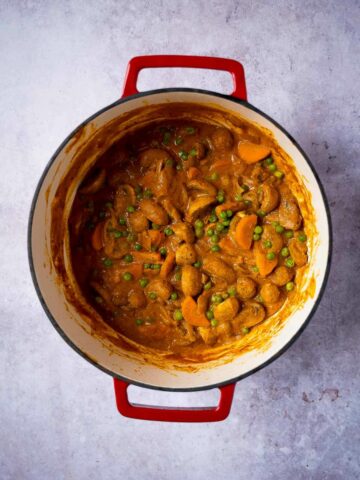 Step 12: Bring them back to a simmer for a couple of minutes.
Taste and adjust; add more salt if needed.
Serve hot on top of brown steamed basmati rice or Indian vegan naan bread. Garnish with fresh cilantro.
Hint: to save time, you can leave the mushrooms marinating from the day before.
🍶 Substitutions
Mushrooms – we used button cremini mushrooms, but you can also use baby portabella. You can use soaked and marinated TVP, soy curls, or even marinated tofu to make a vegan tofu tikka masala.
Tomato puree - you can use tomato paste instead.
Cashews – to keep this recipe dairy-free, cashews are used as the base for the creamy sauce. Whole-fat coconut milk can be used instead.
Vegetables – carrots and peas have been used alongside the mushrooms, but you can mix the veggies up. Green beans, cauliflower, and pepper could all be used. And if you'd like to increase the protein content, try adding tofu cubes, such as crispy tofu.
Coconut sugar – can be omitted but provides a more authentic curry house tikka masala flavor, which always has a slight sweetness. You can use brown sugar, maple syrup, or molasses instead. Omit if you are following a WFPB (Whole Food Plant-Based Diet).
Garam masala - you can use chaat masala instead.
📖 Variations
Spicy - Kashmiri chili or paprika powder – tikka masala is a mild and creamy curry, so it doesn't include any hot chili – Kashmiri chili or paprika doesn't have heat to them. If you'd like to raise the spice level of your tikka, add half to one teaspoon of hot chili powder!
Grilled mushrooms - to reduce the cooking time, you could quickly grill the mushrooms (making mushroom skewers) in a skillet and then let them marinate overnight.
Tangy - optionally add a splash of lemon juice before serving.
🥢 How to serve
Basmati rice - steamed basmati rice is the perfect pairing for Indian curries, such as eggplant curry. If you want to keep the carbs low, you can pair it with riced cauliflower instead - see cauli rice recipe.
Naan - the perfect Indian bread to pair up this curry; use whole bran to make it more wholesome. If you are following a gluten-free diet, omit this option and go for rice or even quinoa.
You can serve it next to a tasty bowl of masala green lentils.
🍽 Equipment
Large pan - or a dutch oven is ideal for making this vegetable tikka masala recipe.
Sheet pan baking tray - to bake the marinated mushrooms in the oven.
Hand mixer - or a small blender such as a nutribullet

(affiliate link)

to make the yogurt and tomato sauce. You can also use a food processor.
🥡 Storage
Fridge – store in an airtight container for up to 3 days.
Freezer – store in an airtight container for up to 3 months.
💡 Top tip
We always scale up stew recipes because their flavor only gets better with time. When you are ready to thaw your curry, add some water or coconut milk to hydrate it.
❓ FAQ
What vegetables go with tikka masala?
Tikka masala goes with many different vegetables! It's one of the most versatile curries. Mushrooms, peas, and carrots have been used in this recipe, but others work well, too, such as green beans, peppers, and cauliflower (check out our cauliflower masala recipe).
Is tikka masala spicy?
No, tikka masala is a creamy and mild curry.
Is tikka masala vegan?
As long as no dairy cream or butter is used, this vegetable tikka masala is vegan! Traditional tikka masala recipes are made with chicken, but mushrooms provide all the meaty textures you need in this recipe.
What is garam masala powder made of?
Garam masala is a blend of aromatic spices that are commonly used in Indian, Pakistani, and Nepalese cuisine. The spice mix typically contains black pepper, cloves, roasted cumin powder, cinnamon, coriander seeds, and cardamom pods.
The spices are toasted or dry-roasted before being ground into a powder. Garam masala is used as a seasoning to flavor dishes such as chicken tikka masala, lamb biryani, and vegetable pakoras.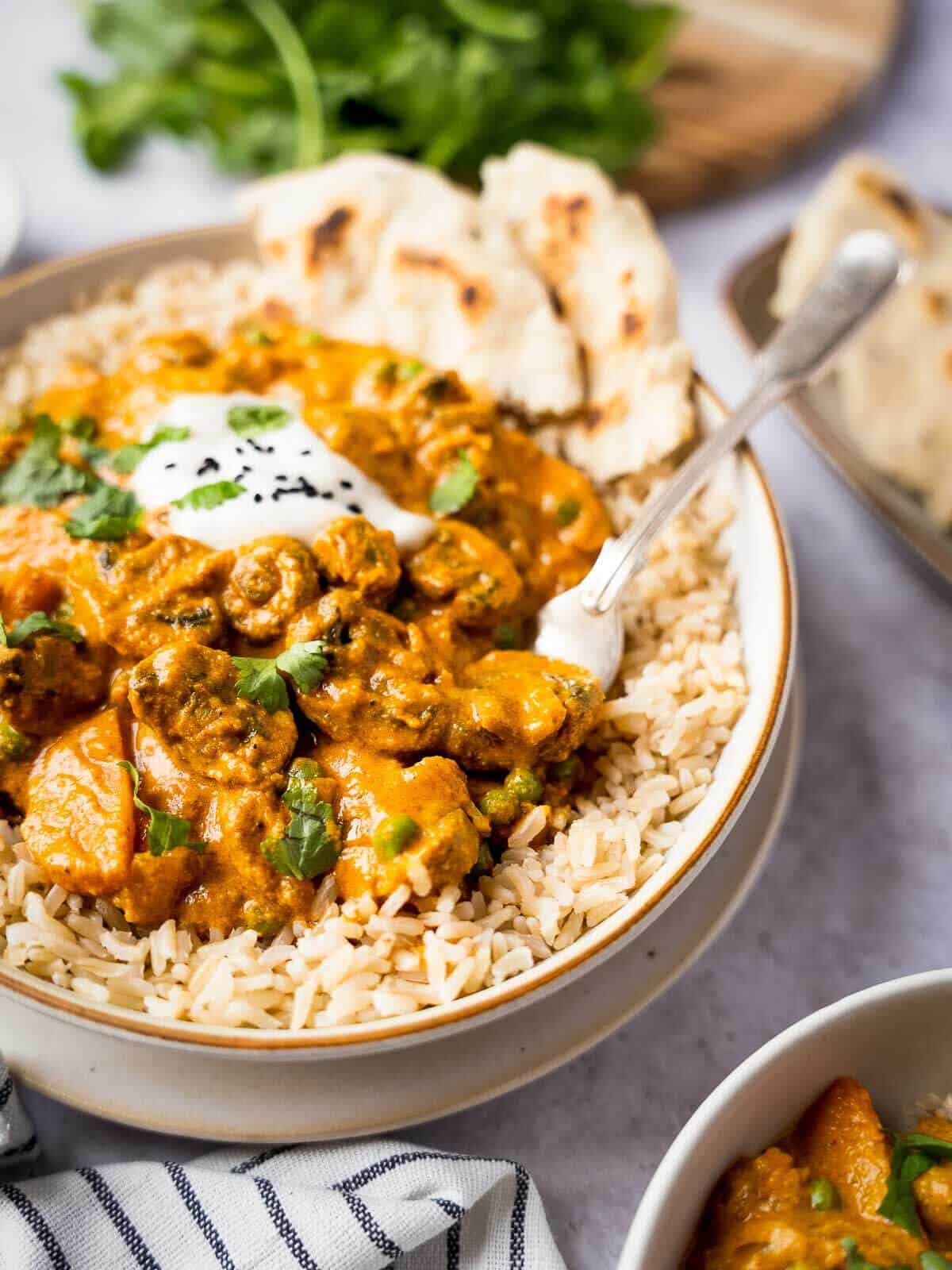 🇮🇳 More Indian-inspired recipes
If you love mushrooms as we do, check out this air fryer oyster mushrooms and creamy mushrooms risotto recipe.
⭐ If you try this dairy-free tikka masala recipe, let us know! 💬 Leave a comment, rate it, and don't forget to tag us @ourplantbasedworld on Instagram. Cheers!
📋 Recipe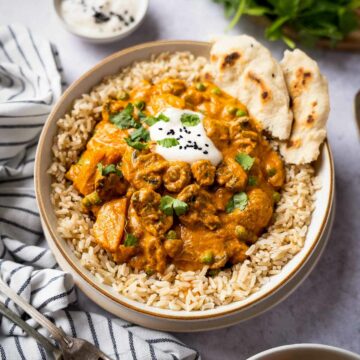 Easy Vegetable Garam Masala Curry (Mushroom Tikka)
This veggie garam masala curry features a luxuriously creamy and silky cashew-based gravy, meaty baked button mushrooms, and a delicious mild flavor.
Equipment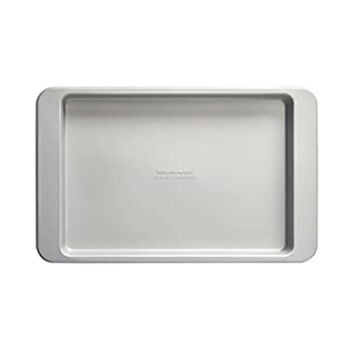 (affiliate link)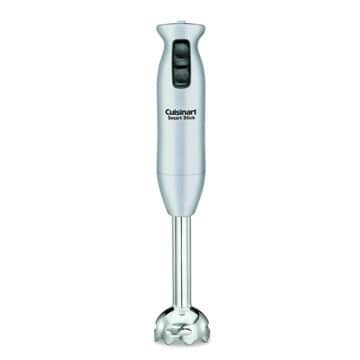 (affiliate link)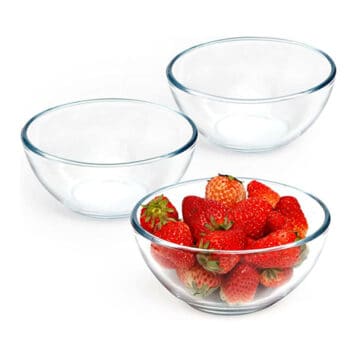 (affiliate link)
Ingredients
For the Marinated mushrooms:
For the Curry:
1

tablespoon

garlic

minced

1

tablespoon

ginger

freshly minced

½

cup

cashews

~65g / 2.3oz – soaked in hot water for at least 1 hour, then drained

7

oz

tomatoes

fresh

1

onion

finely chopped

1 ½

teaspoon

garam masala

1 ½

teaspoon

cumin

powder

1

teaspoon

coriander

ground

½

teaspoon

turmeric

ground

1

tablespoon

Kashmiri chili

– or paprika

2

tablespoon

tomato

puree

12

oz

carrot

peeled and thinly sliced

1

cup

petit pois

frozen

1

teaspoon

coconut sugar

or brown sugar

1 ¼

cups

water
Directions
For the mushrooms:
Put all the marinade ingredients in a mixing bowl apart from the mushrooms, and stir to combine. Then add the mushrooms and mix well to coat the mushrooms in the marinade evenly.

Set aside and leave to marinate for an hour or cover overnight in the fridge.

Once marinated and ready to cook, preheat the oven to 400 °F (200 °C).

Put the mushrooms on a non-stick or lined baking sheet and bake in the oven for around 20 minutes until starting to brown and the excess water has cooked from the mushrooms.
For the curry:
Blend. Put the garlic, ginger, soaked cashews, and tomatoes in a blender and blend until smooth.

Cook the curry. In a large saucepan or dutch oven, add a good splash of oil and bring to medium heat. Add the onion and gently fry for 5-10 minutes until completely soft and starting to brown.

Sprinkle in the spices and fry for a couple of minutes until fragrant.

Stir in the tomato puree, then pour in the blended cashew paste and stir well. Pour in the water, then bring the sauce to a simmer.

Pop the carrots into the pan and simmer for around 15 minutes until the carrots are tender.

Add the baked mushrooms, stir well and simmer for another 5 minutes.

Optionally sprinkle in 1 teaspoon of sugar and season with salt to taste.

Finally, add the peas and bring them back to a simmer for a couple of minutes, so the curry is piping hot.
Nutrition Facts
Calories:
250
kcal
Carbohydrates:
35
g
Protein:
12
g
Fat:
9
g
Saturated Fat:
2
g
Polyunsaturated Fat:
2
g
Monounsaturated Fat:
4
g
Sodium:
377
mg
Potassium:
1105
mg
Fiber:
9
g
Sugar:
15
g
Vitamin A:
16065
IU
Vitamin C:
37
mg
Calcium:
128
mg
Iron:
4
mg
Nutrition Facts
Easy Vegetable Garam Masala Curry (Mushroom Tikka)
Amount per Serving
% Daily Value*
* Percent Daily Values are based on a 2000 calorie diet.
See more guidelines at USDA.gov.
Nutritional Disclaimer
The information shown is an estimate provided by an online nutrition calculator. It should not be considered a substitute for a professional nutritionist's advice. See our full Nutritional Disclosure here.
Affiliate Disclaimer
Please note that some of the links here are affiliate links, and I will earn a commission if you purchase through those links. I recommend all of the products listed because they are companies I have found helpful and trustworthy.