This Indian Eggplant Curry Recipe is one of my favorite comfort food dishes of all time. It is an effortless preparation with meltingly tender eggplant and a luscious sauce loaded with big Indian flavors. Indian cooking at its best!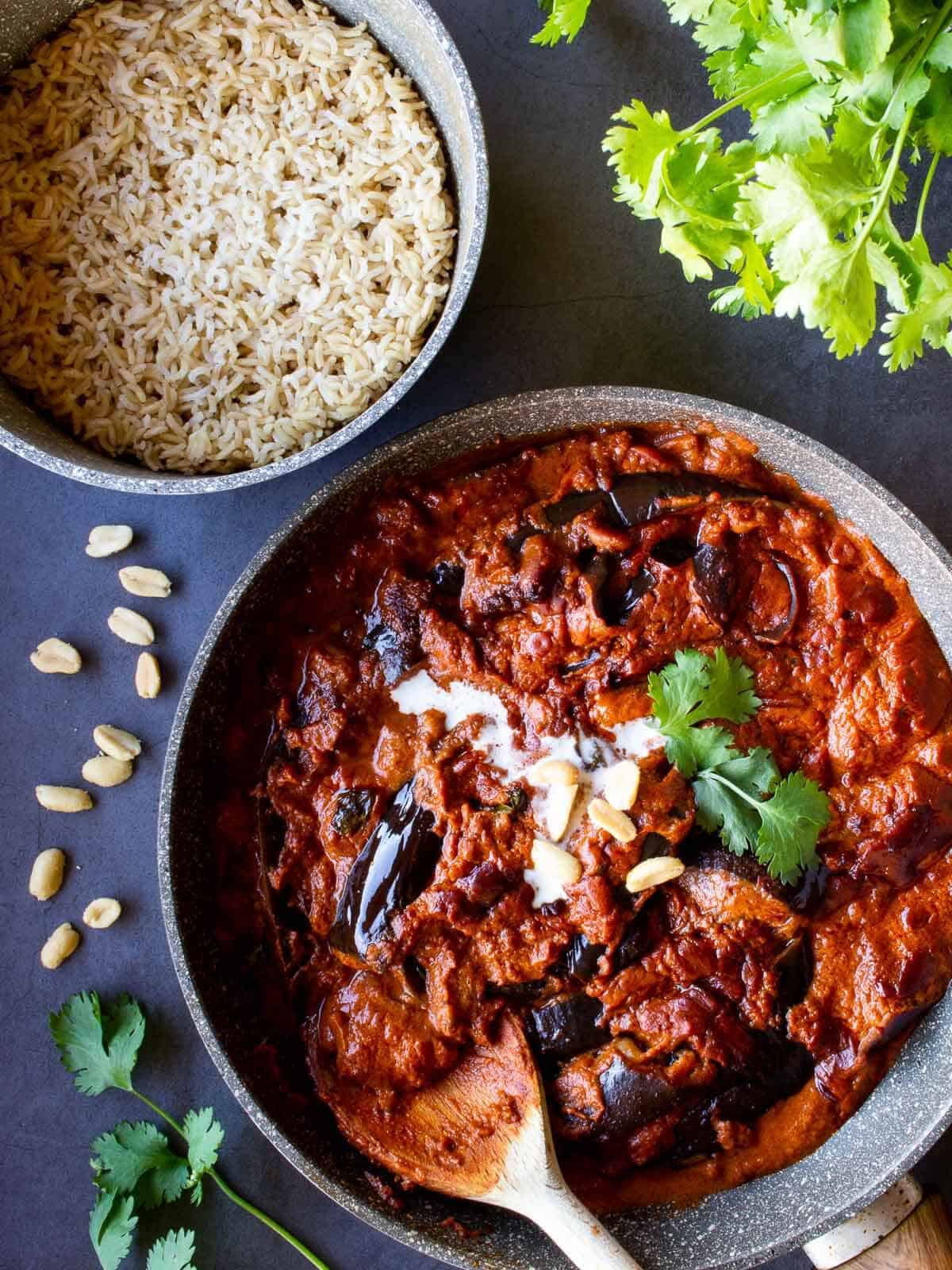 We are declared fans of curries and Indian food. So naturally, Indian recipes and Thai Curries (Yellow, Red, and Green recipes here on our site) are at the top of our list.
While we lived in Mexico until the end of 2019, we used to have Indian Curry delivered or cooked every Sunday, no questions asked.
This Easy 1-Pot Masala Curry puts a smile on our faces every time we make it; definitely one of our favorite Indian eggplant dishes. We had it three times this past week! Like our Indian Curried Cauliflower and mushroom tikka masala, also use garam masala!
Yes, maybe that's a little too much! But, we were just craving for it, just as sometimes you'd want Perfect Italian Pizza three days in a row!
Jump to:
🤔 Why we love this dish
You make this eggplant curry in one pot.
Minimal babysitting - It only needs to be checked twice during the whole making.
You only need a few ingredients that are very easy to find.
This eggplant recipe is soft and silky, and you can pair it with your favorite choice of flatbread naan or basmati rice.
Easy to use leftovers - we use eggplant curry leftovers as burritos or involtinis fillings.
It makes a great fall season recipe, as it is cozy and packed with flavor.
🧐 What is curry?
Curry can be traced back to the origins of India and Bangladesh - that is where it came from originally.
Curry was first brought into Britain by the British Raj (or British Empire), which ruled over India between 1858 and 1947.
The British Raj used a lot of spices in their cooking and brought them into Britain.
A popular spice that they introduced was called "curry powder," which is a mixture of many different spices.
When curry powder arrived in Britain, it was very new, so after a time, people began to add more and more spices to curry powder, giving rise to different varieties of curry.
Over time, people began to call the new combinations of spices "curry" and so curry powder itself was called "curry powder."
Curry is a dish that has many different varieties and origins. One popular type of curry is Thai curry, which originated in Thai cooking and uses Thai spices such as Thai basil, Thai chili, Thai lemongrass, Thai galangal (also called Thai ginger), and Thai fish sauce.
Indian curry is another type of curry that has many different varieties, such as roghan josh (the red roghan meaning red chili powder), korma (derived from the word "kurma"), vindaloo, and garam masala (which we use in this recipe).
Types of Curry
Asian curry (Thai curry, Indo-chinese curry, Singaporean curry, Indian Curry)
Caribbean curry (derived from African cuisine & Indian spices such as cumin seeds and coriander)
European curry (the reason for this is unknown because it doesn't really come from any one region)
English curry (Thai curry with an English twist)
Ethiopian Curry (derived from Indian cuisine)
Japanese curry (Japanese dish made of beef or vegetables stewed in curry roux and usually eaten with rice. It was introduced to Japan by the British during early Meiji era)
The word curry came from the Tamil word "kari" meaning any kind of sauce or stew. So "curry" is a very broad term that can be used to describe any kind of dish, stew, or sauce.
If you love Thai curry, don't forget to check out how to make authentic Thai Yellow and Green Curry Paste.
🧾 Ingredients for eggplant curry recipe
Eggplant: This veggie is the star of the dish, offering a meaty texture and absorbing flavors like a sponge. Plus, it's low in calories and high in fiber, making it a nutritional win.
Coconut Oil: We use it for its high smoke point, perfect for sautéing and frying. Its subtle coconut flavor also elevates the tropical notes in the dish.
Tomato Pulp: This adds a tangy richness and serves as the base for our sauce. Whether you use diced, crushed, or passata, it's all about creating that luscious texture.
Peanuts: These little guys add a crunchy contrast and are packed with protein. They also bring in a nutty flavor that complements the spices beautifully.
Shredded Coconut: This ingredient is all about texture and flavor. It adds a tropical twist and a bit of crunch, making each bite more interesting.
Garam Masala or Madras Curry: Spice is the life of the party here. These blends offer a complex flavor profile, ranging from sweet to spicy, and can be easily swapped based on what you have.
Fresh Coriander Leaves: These add a burst of freshness and color to the dish. If you're out of fresh leaves, coriander powder can also do the trick.
Coconut Milk: This brings everything together, adding creaminess and a hint of sweetness. It also helps to balance out the spices, making the dish indulgent yet light.
You can always add some fresh ginger (or ground ginger), but it is unnecessary.
See the recipe card for quantities.
🔪 How to cook Indian eggplant curry
Cooking Indian Eggplant is easy. You just need to be patient to achieve the best texture. It does not require babysitting but requires some time.
The creaminess of the eggplants comes from the technique used. Are you ready to take your cooking skills to the next level?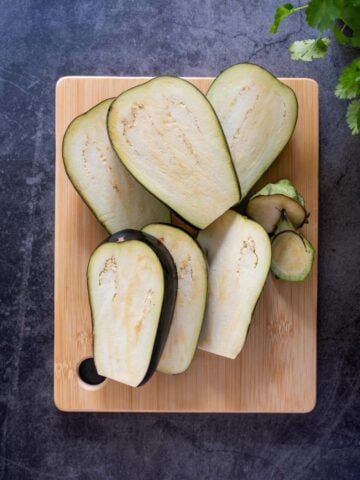 Slice eggplants lengthwise into ½" (1 cm) slices. Remove the tops.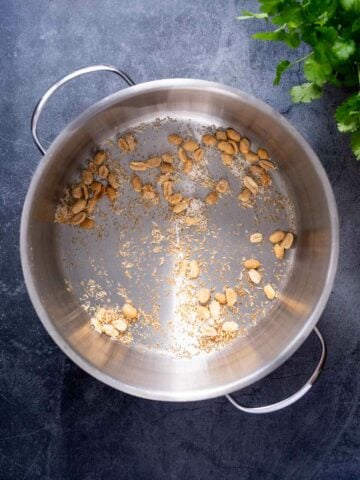 In a large saucepan, gently toast the peanuts and the shredded coconut in hot oil on medium heat. Ensure they only get golden brown; it should take about 30 seconds.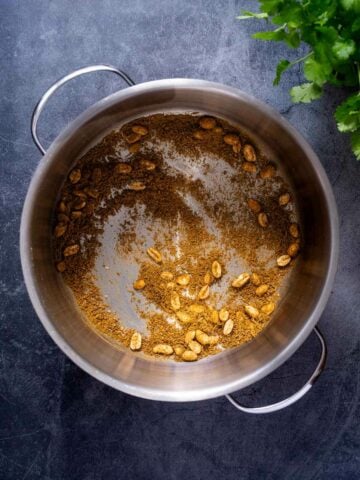 Add the garam masala curry powder to the saucepan.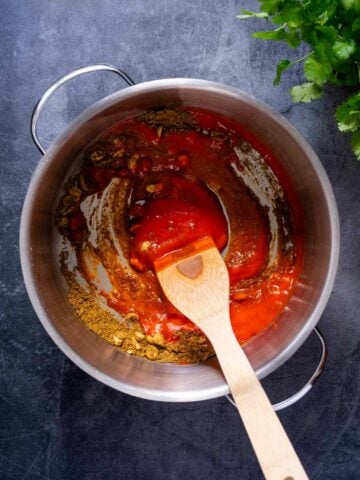 Stir in half of the tomato passata and stir for 2 minutes.
Hint: you can also use two tablespoons of peanut butter to substitute for peanuts.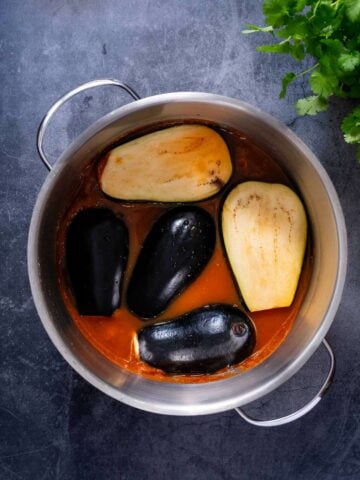 Place the eggplant slices on top of the mix. Stir a bit and add 1 cup of water. Close with a lid. (Don't worry if the eggplants are not fully covered). Bring the heat to a minimum and leave it closed for 30 minutes.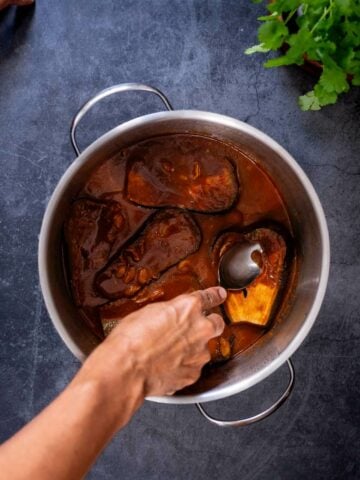 Turn the eggplants and smash them with the back of a spoon. Close the lid and cook on medium-high heat for another 10 minutes, stirring it halfway through.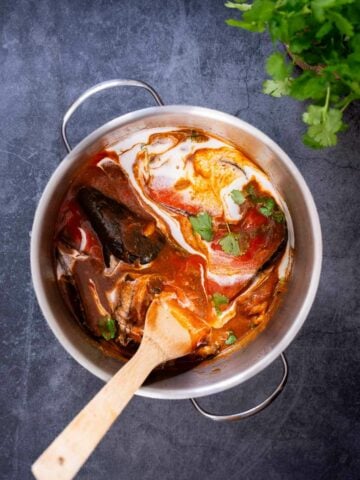 Open the lid, stir a bit, and add the coconut milk, the rest of the tomato purée, salt, and cayenne pepper (or black pepper).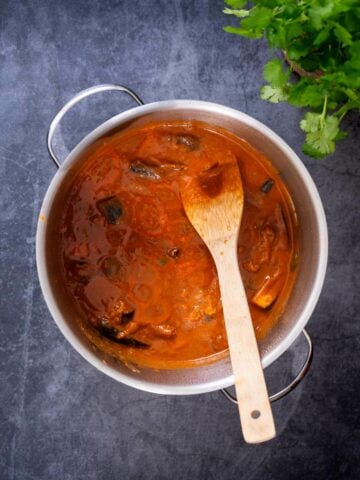 Let the curry simmer for another 10 minutes and remove from heat.
Turn the heat off and let the lid on to let all the flavors come together before garnishing the eggplant curry with fresh coriander finely chopped.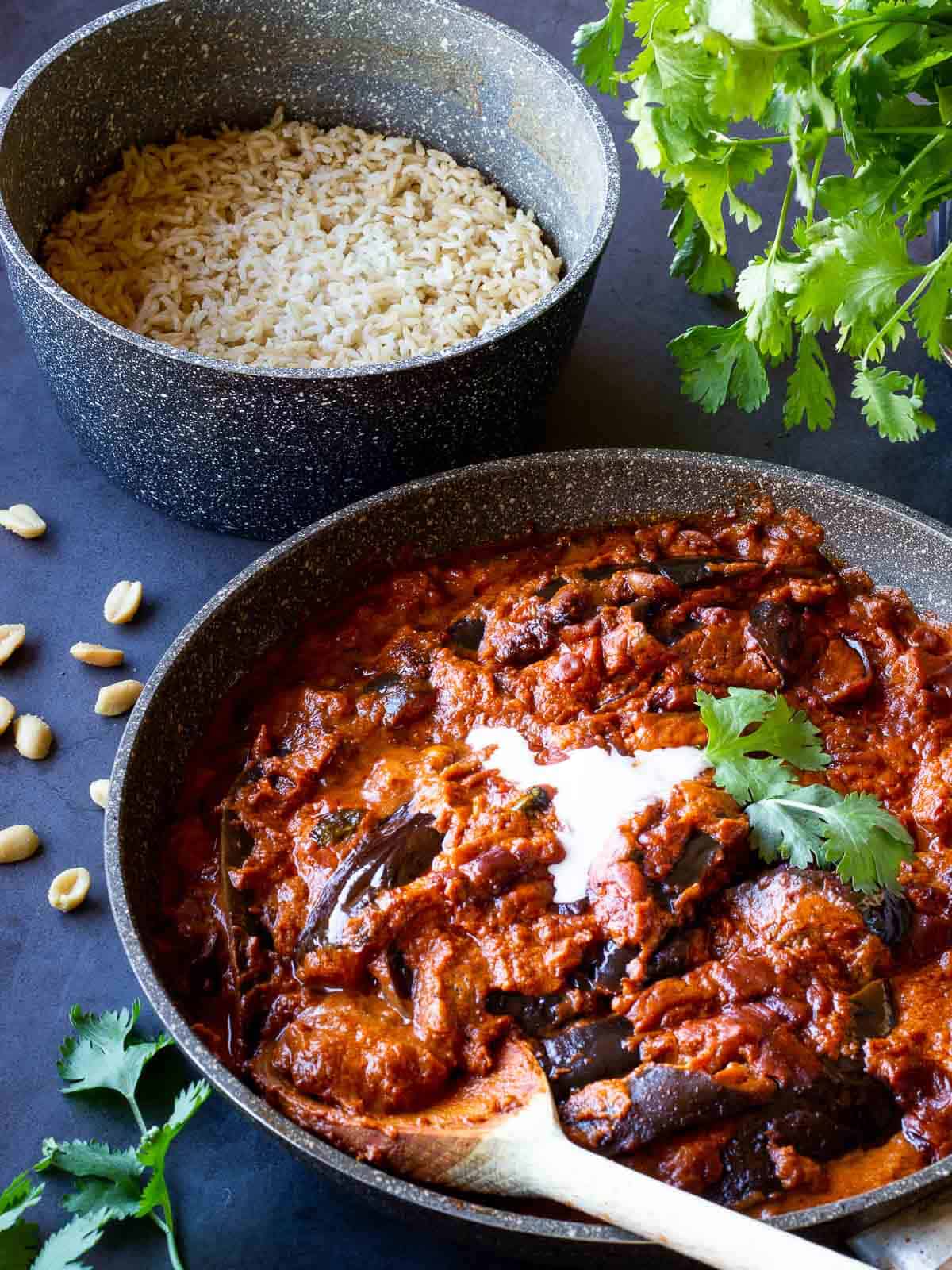 🥢 How to serve
Basmati Rice: The long-grain, aromatic rice is a classic pairing with any Indian curry. It's like the Batman to this Eggplant Curry's Robin. The rice soaks up the flavors and provides a fluffy, light base that complements the richness of the curry. Ass some spicy pearl onions prepared with Indian spices; alternatively, serve with mashed potatoes.
Naan Bread: Tear off a piece of this fluffy, slightly charred bread and use it as an edible spoon. It's the perfect vehicle for scooping up that delicious curry and makes for a hearty meal.
Stuffed Bell Peppers: Get a little adventurous and stuff some bell peppers with the Eggplant Curry. Bake them until the peppers are tender, and you've got yourself a fusion dish that's as Instagrammable as it is tasty.
Serve with freshly made basmati rice, naan flatbread,
🍶 Substitutions
Eggplants
You can use Asian eggplants, Japanese eggplants, and Italian eggplants. I have made the recipe with different types, and they all work.
Curry powder
You can use madras curry or mainstream curry powder if you have garam masala. If you have dried curry leaves, you can crush them using mortar and pestle and add them to the eggplant curry.
Other spices
Spiciness - feel free to add some cayenne pepper, red chili powder, or green chili if you want to spice it up unless you use a hot masala.
Mustard seeds - you can add a teaspoon of crushed mustard seeds or black mustard seeds.
Coriander powder - is always a nice addition to this curry if you want to spicy it even more.
Herbs - If you don't love coriander, you can use some parsley leaves.
Tomato - if you don't have tomato puree, you can use diced whole tomatoes. Tomato paste can be used to add extra sweetness and depth.
Fresh ginger - add a tablespoon of freshly grated ginger for extra intensity.
Oil choice - you can use olive oil instead of coconut oil.
Onion and garlic - just because we love intense flavors, we have tried adding one chopped onion and garlic cloves, and I have to say that this eggplant curry didn't need them.
I was very surprised to see that the flavor was already there with this choice of nicely picked ingredients, but if you feel like you want to add them to the dish, they won't hurt.
We noted that the onions and garlic started to overpower the delicious taste of the slow-roasted eggplant and decided to leave them out.
📖 Variations
Spice It Up: If you're a heat seeker, add some sliced green chilies or a teaspoon of red chili flakes to the curry. It'll give you that extra kick and make your taste buds dance.
Protein Boost: Want to up the protein? Toss in some cubed tofu or tempeh during the last 10 minutes of cooking. They'll soak up the flavors and add a different texture to the dish.
Low-Fat Version: If you're watching your calories, swap out the coconut milk for a lighter plant-based milk like almond or oat milk. Just add a teaspoon of cornstarch to thicken the sauce and you're good to go.
Bulk it up: Add medium diced potatoes and tomato puree to add some extra starch and volume to your curry. Also, you can add Frozen peas - add a handful if you want some extra texture and veggies.
Feel free to mix and match these variations to create your own signature, Eggplant Curry. The kitchen is your playground!
❓ FAQ
Garam masala vs curry powder
Garam masala is a blend of spices used in Indian cuisine, while curry powder is a British invention that combines different spices depending on the region.
Garam masala typically contains cumin, coriander, cardamom, cloves, cinnamon, and black pepper.
Curry powder can contain various spices such as turmeric, cumin, coriander, garam masala, mustard seeds, ginger, and chilies.
The flavor profiles of garam masala and curry powder vary significantly since each one contains different spice combinations. Curry powder is generally hotter and spicier than garam masala.
Do you need to salt eggplant?
Ah, the age-old question: To salt or not to salt the eggplant and why.
Reduce Bitterness: Older eggplants can sometimes have a bitter taste. Salting them can help draw out some of that bitterness.
Remove Excess Moisture: Salting also helps remove excess moisture, resulting in a less soggy, more firm texture when cooking.
Our Take:
Given that many modern eggplant varieties are bred to be less bitter, salting is often optional. If you're using fresh, young eggplants, you can probably skip this step without any culinary regrets. However, if you're aiming for a firmer texture or are working with an older, potentially bitter eggplant, then go ahead and salt away!
So, it's your call! Whether you're Team Salt or Team No-Salt, you're still in for a delicious dish.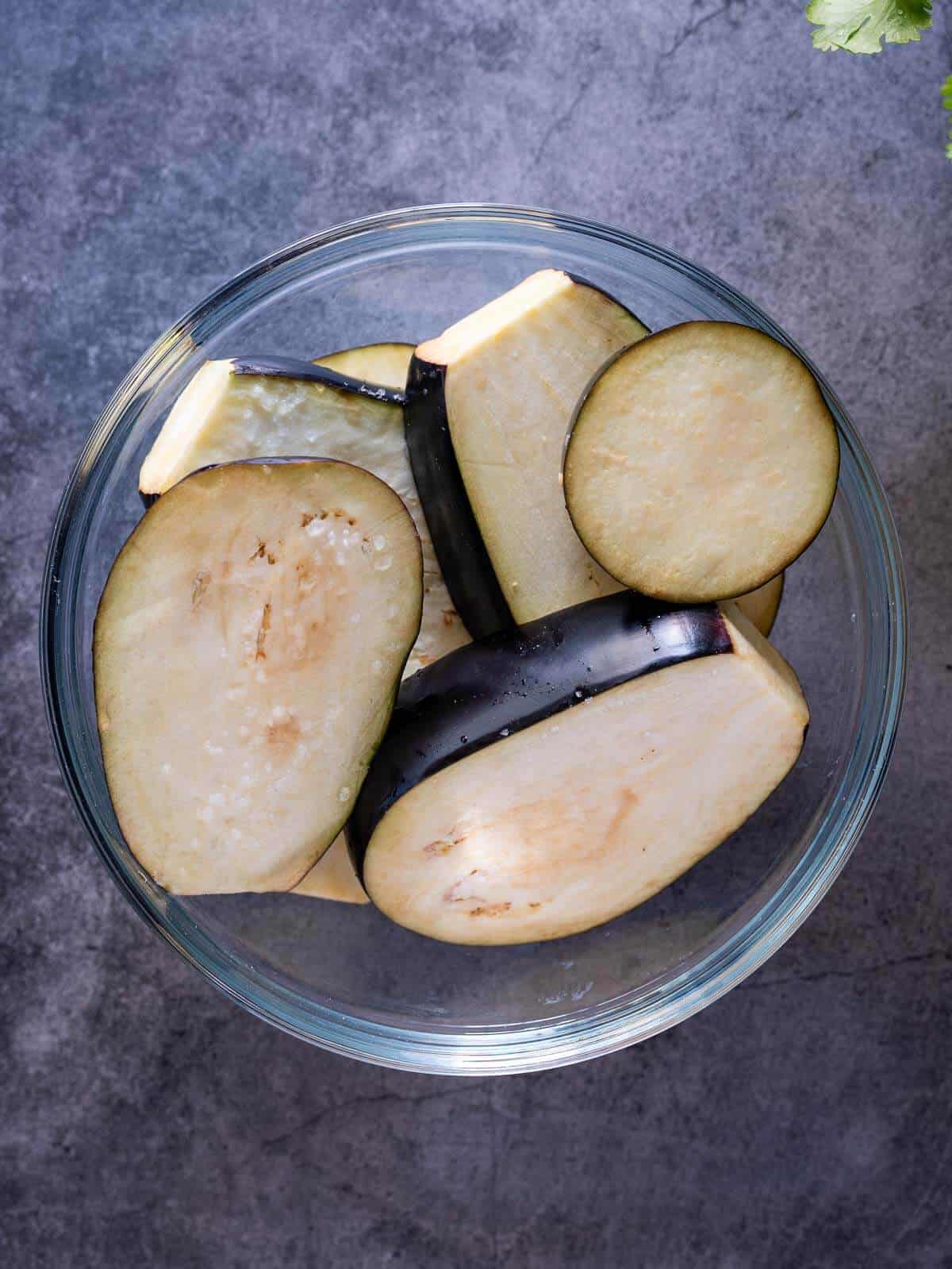 🍛 More Curry Recipes
If you like one-pot recipes, don't forget to try this vegan chili recipe! Your family will love it!
Into Indian recipes? This Vegan Kitchari Cleanse Ayurvedic recipe is a great one for detoxing and giving your stomach some rest while resetting your gut health.
If you love eggplant, check our 9 Vegan Eggplant dishes post for more delicious recipes and one of our favorite eggplant comfort foods, the savory eggplant pie, and our creamy eggplant pasta with tomato ricotta sauce.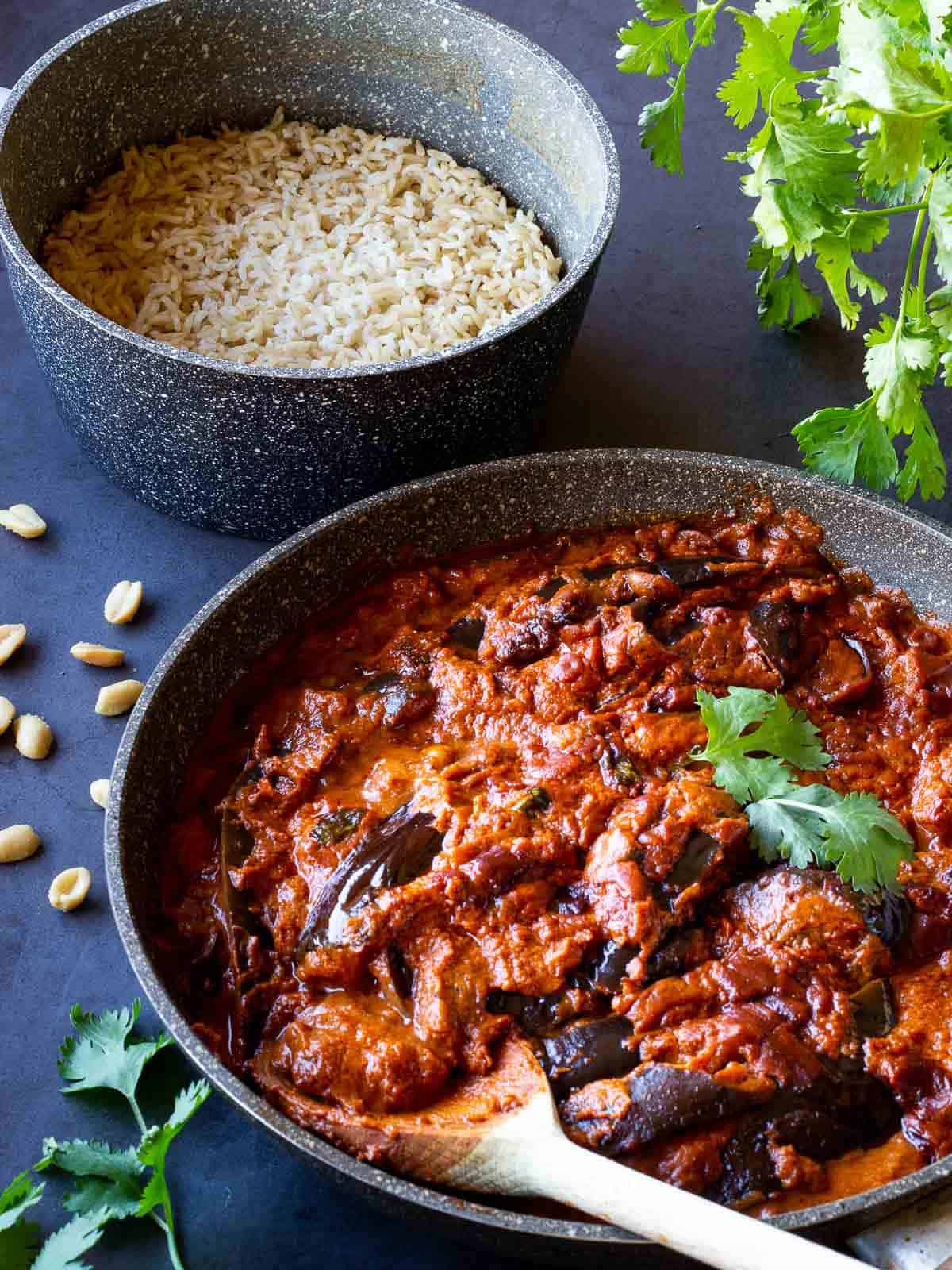 ⭐ If you try this curry with aubergine, let us know! 💬 Leave a comment, rate it, and don't forget to tag us @ourplantbasedworld on Instagram. Cheers!
📋 Recipe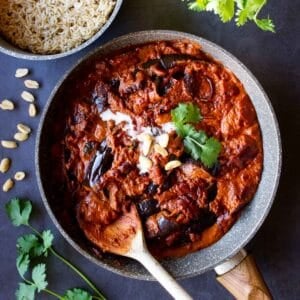 Indian Eggplant Curry Recipe
A carefully balanced blend of our favorite spices and seasonings come together to create this eggplant curry dish. It is the simplest way to enjoy your favorite vegetables!
Equipment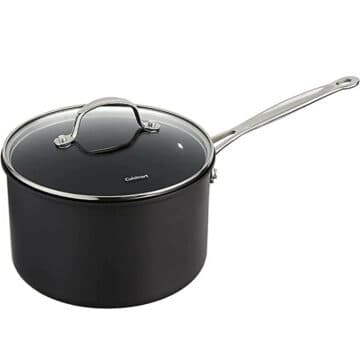 (affiliate link)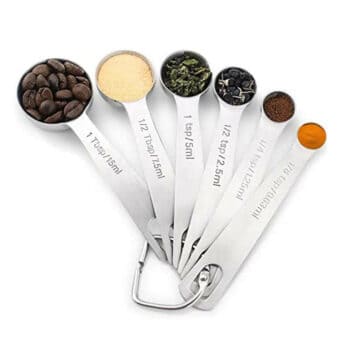 (affiliate link)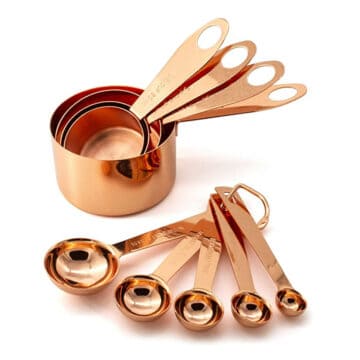 (affiliate link)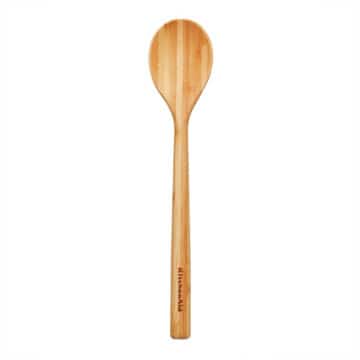 (affiliate link)
Directions
Slice the eggplant lengthwise. Ensure to make thick slices of about ½ inch (1 cm).

In a large saucepan, gently toast the peanuts along with the shredded coconut on medium-high. Make sure they only get golden; it should take about 30 seconds.

Add the oil and the curry and stir for 1 minute.

Stir in the half of the tomato purée and stir for 2 minutes.

Place the eggplant slices on top of the mix. Stir a bit and add 1 cup of water. Close with a lid. (don't worry if the eggplants are not fully covered). Bring the heat to the minimum and leave it closed for 30 minutes.

Stir. Open the lid, stir a bit and add the coconut milk, the rest of the tomato purée and the salt and cayenne pepper (salt and pepper are optional).

After 10 minutes, add half of the chopped coriander (reserve the rest to garnish). With the back of the spoon, slightly mash the eggplant slices inner parts. Close the lid and let it simmer for another 10 minutes, stirring it halfway through.

Turn the heat off and garnish. Your curry is ready to serve with some basmati rice. Garnish with the remaining coriander leaves.
Notes
Topping
Add some Crispy Tofu Cubes for an extra dose of protein
Substitutions
Curry: you can use madras curry or mainstream curry powder if you don't have masala.
Spiciness: feel free to add some cayenne pepper or any other chili if you want to spice it up unless you are using a hot masala.
Herbs: If you don't love coriander, you can use some parsley leaves.
Tomato: if you don't have tomato puree, you can just use diced tomato.
Oil: you can use olive oil instead of coconut oil.
Nutrition Facts
Calories:
194
kcal
Carbohydrates:
16
g
Protein:
6
g
Fat:
13
g
Saturated Fat:
5
g
Polyunsaturated Fat:
2
g
Monounsaturated Fat:
5
g
Sodium:
652
mg
Potassium:
780
mg
Fiber:
8
g
Sugar:
9
g
Vitamin A:
591
IU
Vitamin C:
11
mg
Calcium:
41
mg
Iron:
3
mg
Nutrition Facts
Indian Eggplant Curry Recipe
Amount per Serving
% Daily Value*
* Percent Daily Values are based on a 2000 calorie diet.
🌡️ Food safety
Cook to a minimum temperature of 165 °F (74 °C)
Do not use the same utensils on cooked food, that previously touched raw meat
Wash hands after touching raw meat
Don't leave food sitting out at room temperature for extended periods
Never leave cooking food unattended
Use oils with a high smoking point to avoid harmful compounds
Always have good ventilation when using a gas stove
See more guidelines at USDA.gov.
Nutritional Disclaimer
The information shown is an estimate provided by an online nutrition calculator. It should not be considered a substitute for a professional nutritionist's advice. See our full Nutritional Disclosure here.
Affiliate Disclaimer
Please note that some of the links here are affiliate links, and I will earn a commission if you purchase through those links. I recommend all of the products listed because they are companies I have found helpful and trustworthy.