Are you looking for a delicious yet simple meal that's sure to be the star of any dinner party? Then look no further than this perfectly roasted whole cauliflower head! With just three ingredients, minimal prep time, and little mess, this roasted family favorite is an easy way to make a great impression on your guests. Plus, it tastes so good no one will guess it's healthy too! Show off your culinary skills with this flavorful dish that can't help but make mouths water while delivering an explosion of fresh flavor.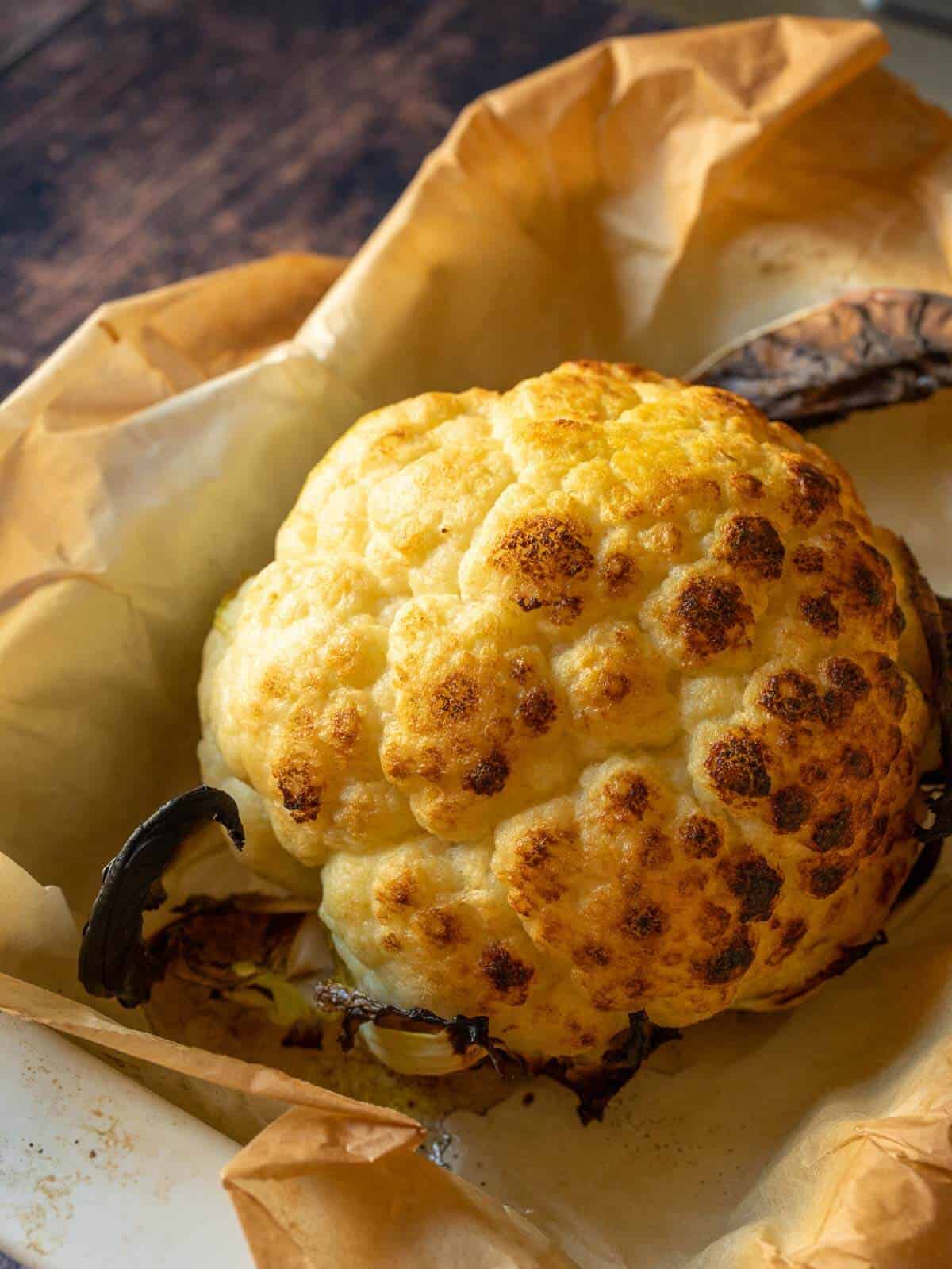 We love our roasted veggies, and this whole roasted cauliflower recipe makes a beautiful centerpiece for any dinner table. It's so delicious that even the pickiest eaters will love it. The outside of the cauliflower becomes crispy and caramelized, while the inside remains tender and juicy. You can also experiment with different seasonings or sauces to create your own unique flavor combinations, as we did with this spiced roasted cauliflower with tahini sauce, which makes a great side dish.
In addition to being delicious, this cauliflower recipe is also packed with nutrients. It's low in calories, high in fiber, and a good source of vitamin C, vitamin K, and folate. Plus, adding more veggies to your diet is a great way.
Jump to:
🧾 Ingredients
This whole roasted cauliflower head is made with just a few delicious ingredients.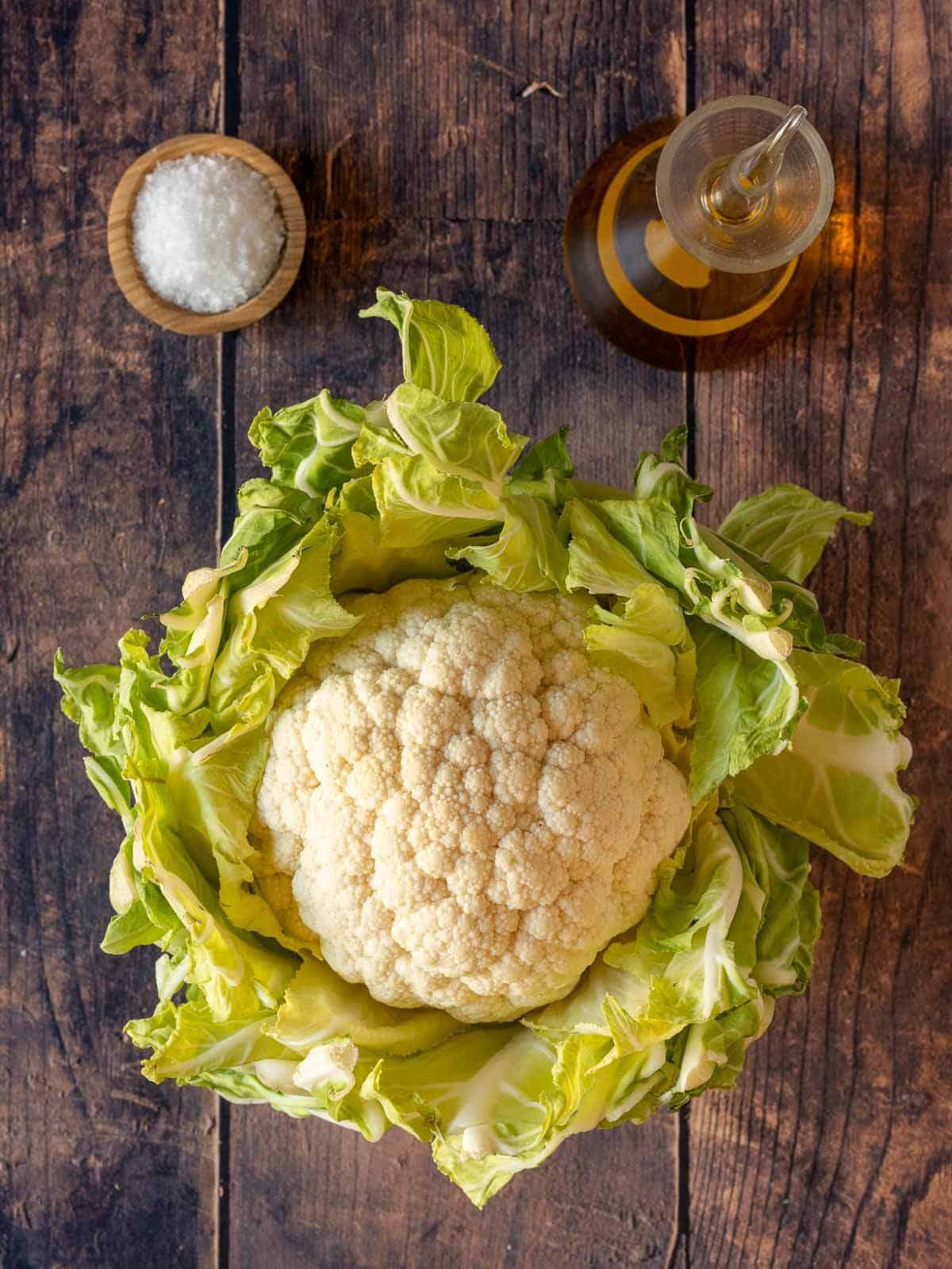 The whole cauliflower head - steamed, fried, or roasted - is such a versatile ingredient to work with. It is the perfect side dish or can be used to make hearty meals and snacks.
Extra virgin olive oil - brings the golden color out of the cauliflower and helps caramelize the cumin. It is heart-healthy and gives a deeper flavor to vegetable dishes like this one, so using a good quality Spanish or Italian olive oil is key!
Fine sea salt 🌱 - yum! Rounds up all the roasting flavors!
Optional: Maldon flaky salt to serve the cauliflower. You can also rub some of it with olive oil before baking the cauliflower head.
See the recipe card for quantities.
🔪 Instructions
This morning detox drink involves 3 simple steps.
Washing and preparing the cauliflower.
Boiling in the cauliflower head.
Roasting the cauliflower with oil.
Preheat oven to 480 ºF (250ºC).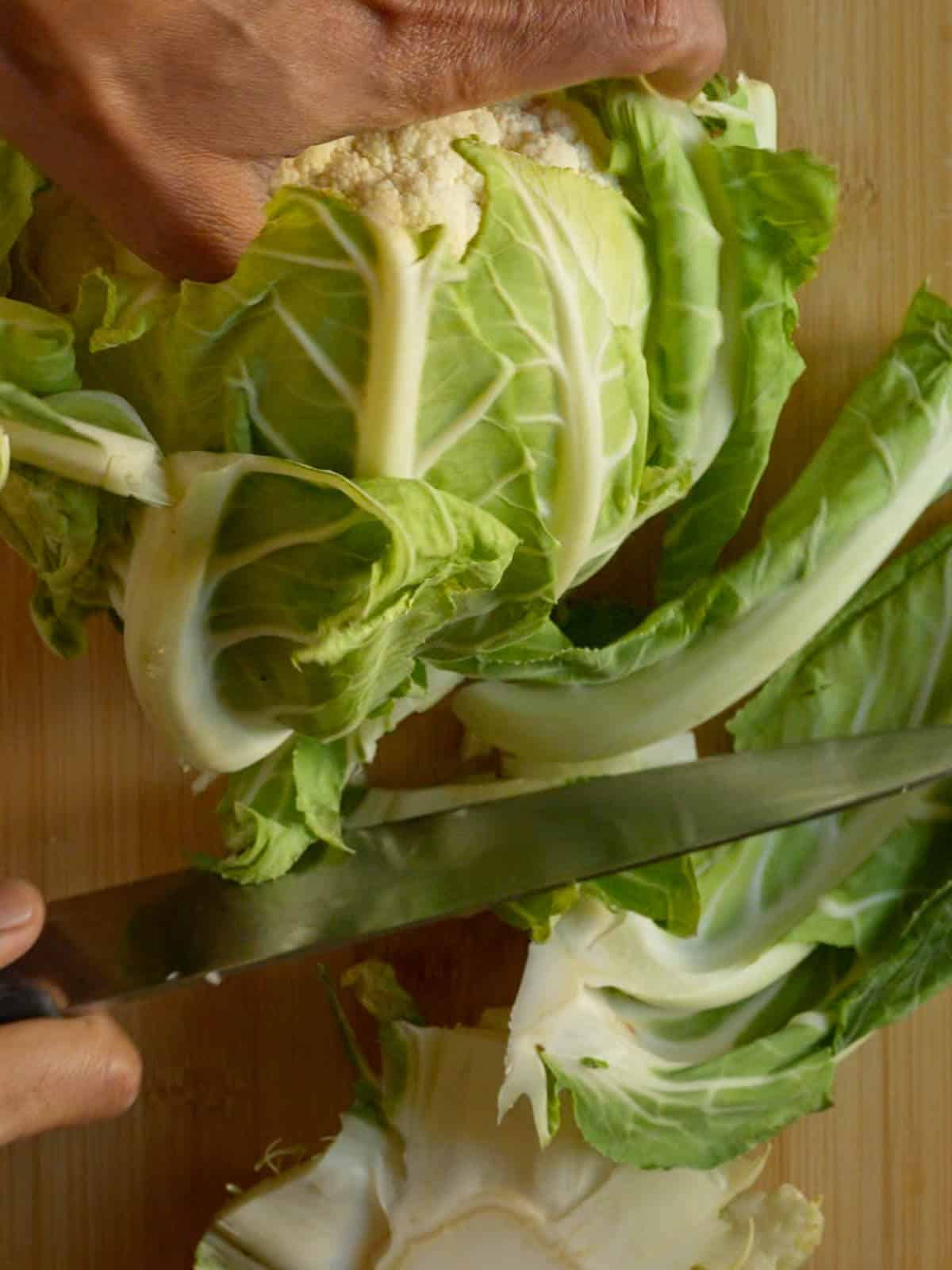 Carefully cut the outer leaves of the cauliflower and about an inch of the hard stem.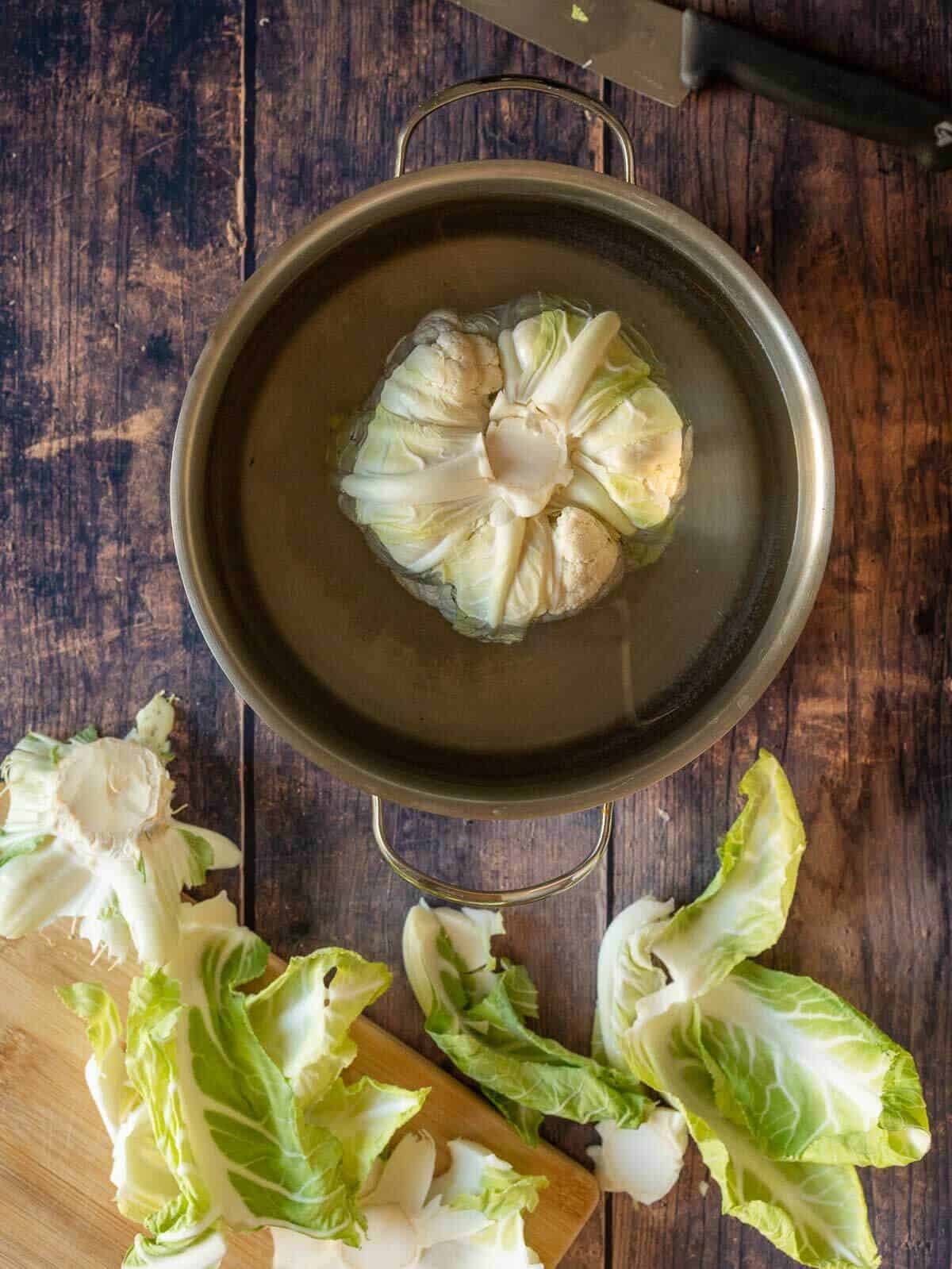 Boil the whole head for 12 minutes in salted water until the cauliflower is fully blanched.
Hint: you can leave the head intact with its leaves. The green leaves will turn dark brown and can be great for plating the dish.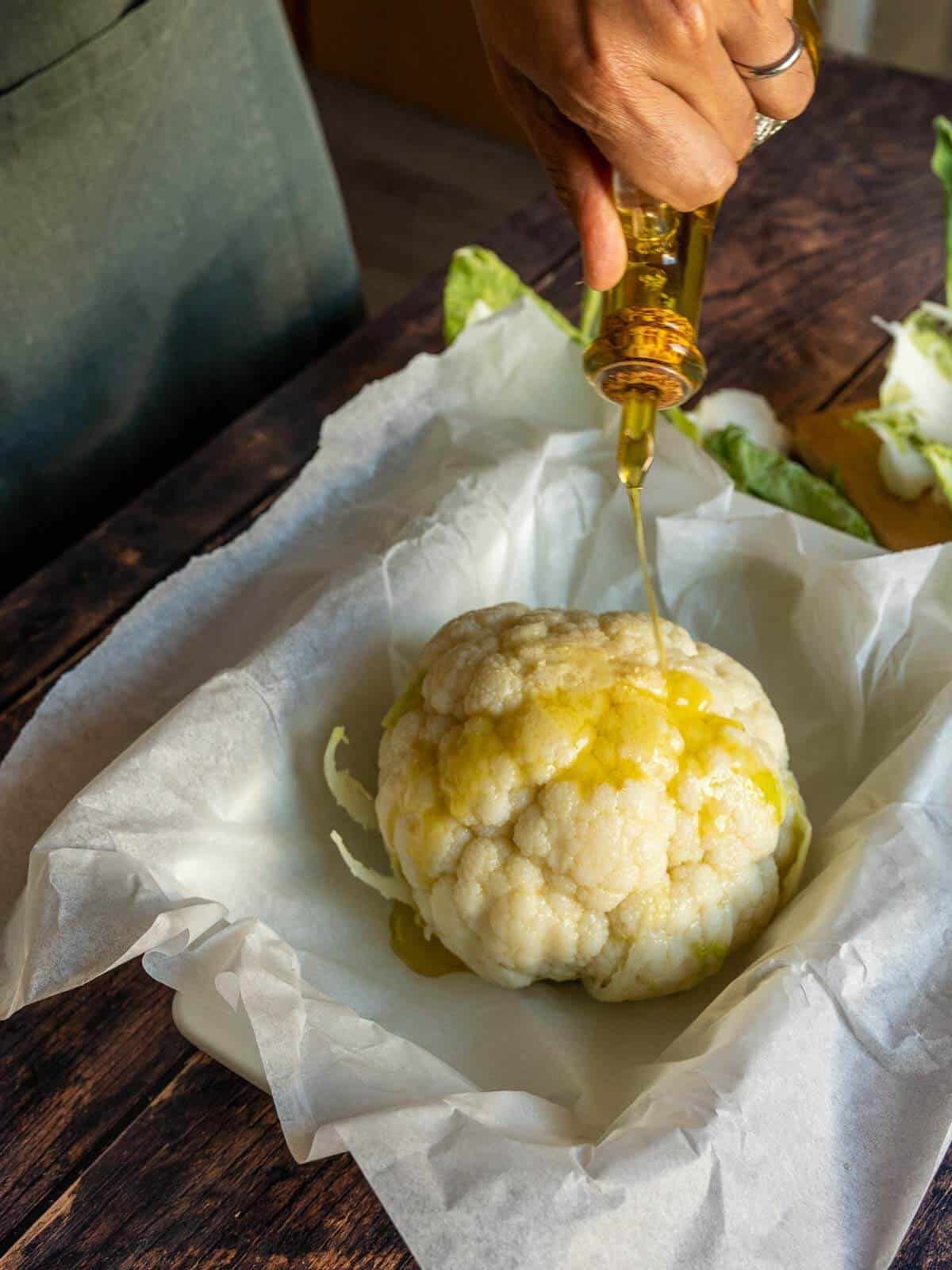 Remove the cauliflower from the heat and drain. Pat dry with a clean tablecloth.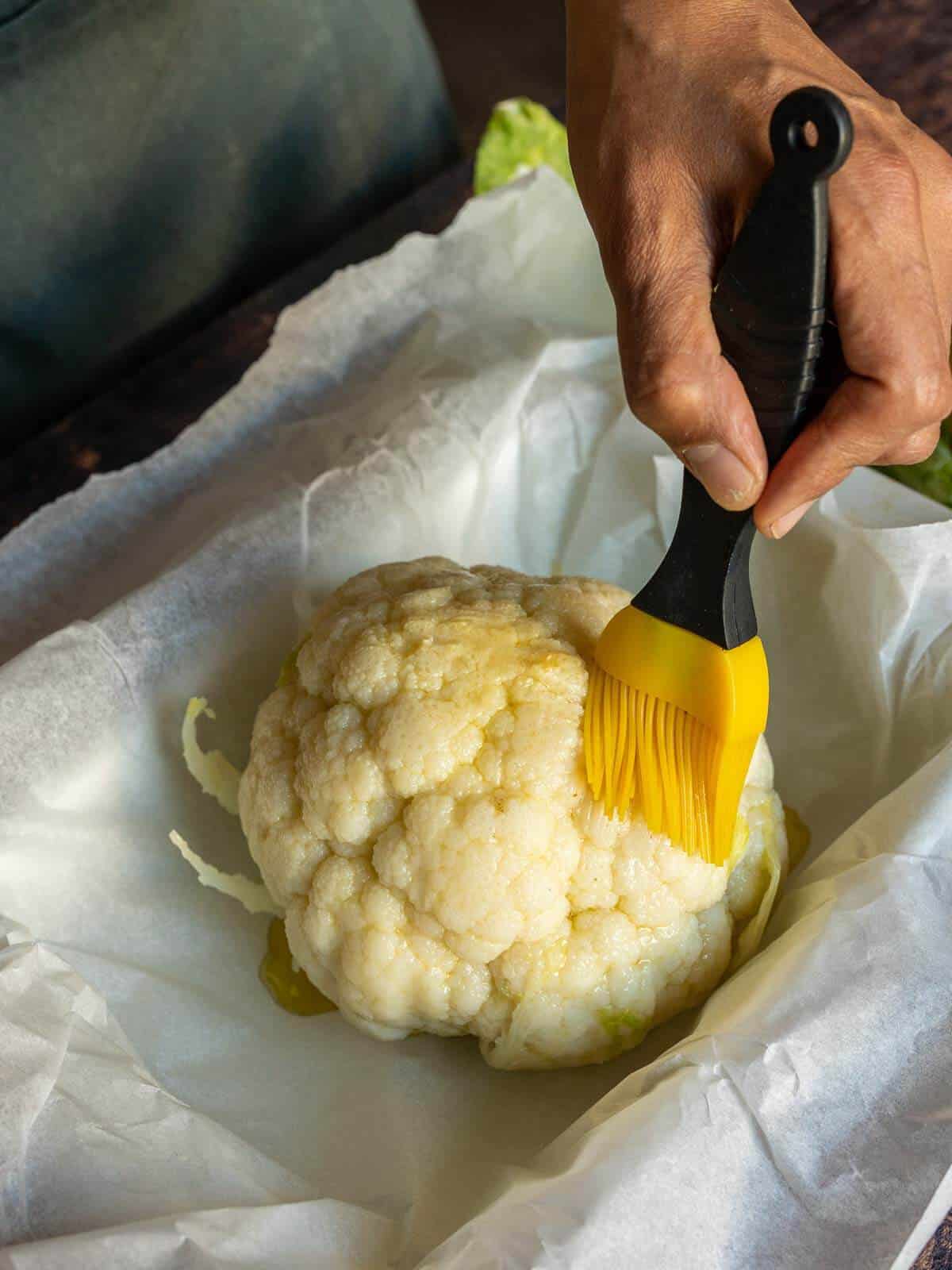 Place the head of cauliflower on a prepared baking dish lined with parchment paper or a cast iron pan, top it with the oil, and brush it evenly.
Hint: optionally massage the cauliflower with Maldon salt. Make sure you add olive oil to the cauliflower upside down, so the center also gets some olive oil goodness.
Bake cauliflower in the mid-rack for 15-20 minutes, watching the oven after 15 minutes to ensure the top is not too burned. A dark golden brown is what we aim for!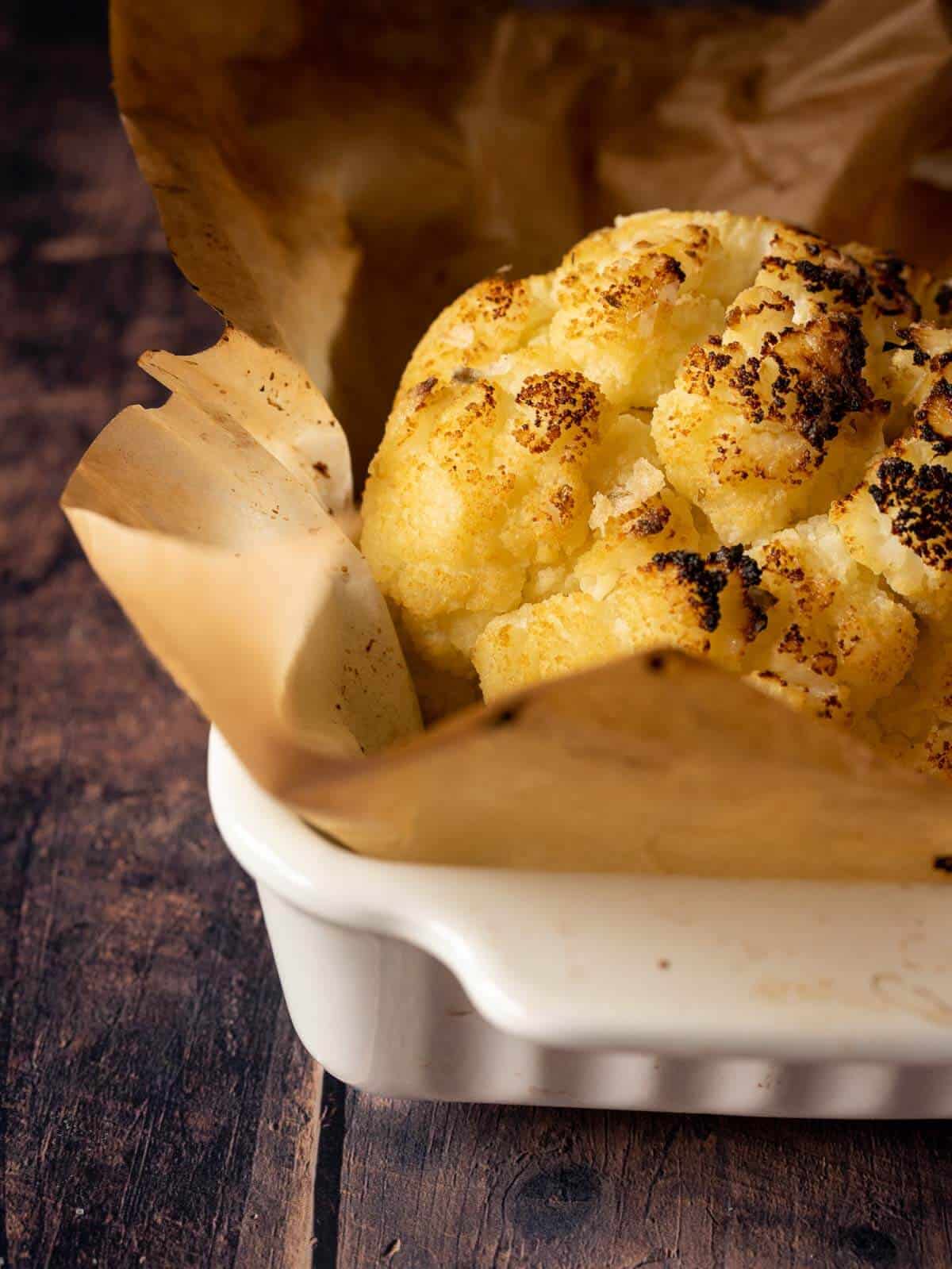 Bake the trimmed cauliflower head in the preheated oven, and roast until it has a lovely golden brown color.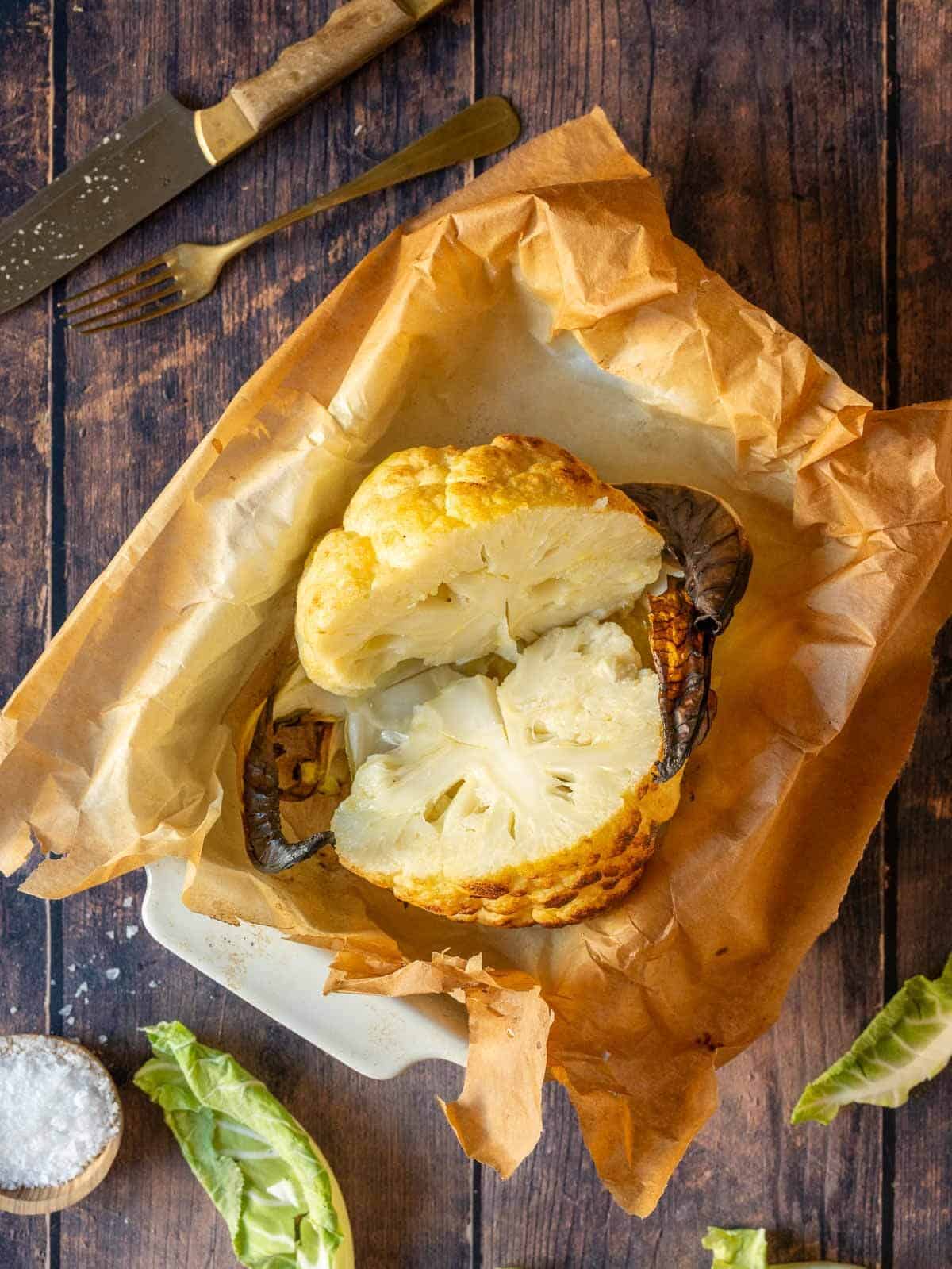 Place the entire head on a single serving plate and slice right in the middle.
Hint: if you want to add color, add chopped fresh parsley and black pepper. You can also add some zesty lemon juice on top to serve.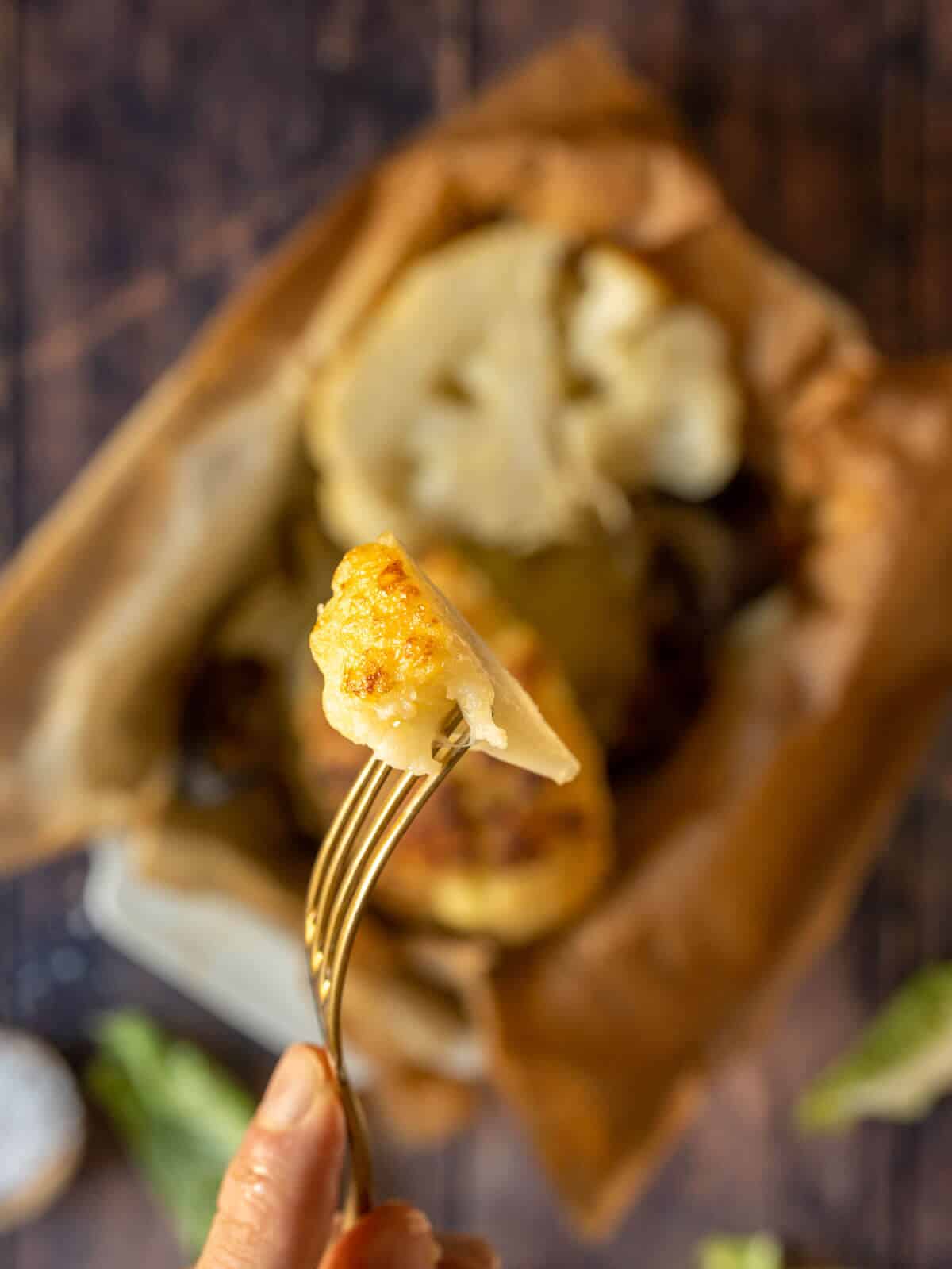 🍶 Substitutions
Not much to substitute for the three-ingredient recipe, but if you are curious to try other simple flavorings, I recommend you to use toasted sesame oil, which has a strong and decisive flavor that pairs wonderfully with cauliflower.
That's why we used tahini paste on our whole roasted spiced cauliflower with tahini sauce.
📖 Variations
Adding spices to the boiling water is one easy way to infuse the whole head of cauliflower with your favorite seasonings and colors into your cauliflower head.
You can add a cube of concentrated vegetable broth and spices like smoked paprika and turmeric.
Another option, if you love your garlic, is to massage the boiled head of cauliflower with garlic powder and olive oil before you bake it.
If you like to add a sour note, you can drizzle freshly squeezed lemon juice on top of the whole baked cauliflower.
🍽 Equipment
Sharp knife and chopping board to remove the outer cauliflower leaves and inner stem.
Baking tray - and parchment paper to put the head of cauliflower in the oven.
Medium to large pot - to boil the cauliflower.
Kitchen Brush - optional, to evenly coat the cauliflower with olive oil.
🥡 Storage
Store leftover cauliflower in a covered container in the fridge for up to 3 days.
You can freeze leftovers, but the cauliflower will be a little mushy when they thaw. If you absolutely need to freeze it, use leftovers to make a vegan "egg salad".
You can freeze your immune-boosting juice in an airtight container, but it doesn't stand up well to freezing for more than 3 months. It will never reach the same nutrient density as fresh juice, but you will still enjoy its health benefits.
💡 Top tip
The trick in this easy recipe to ensure you have a softer cauliflower is to boil it. Otherwise, you must use aluminum foil before turning it into the oven. Then remove the foil to get the top of the cauliflower browned.
📚 More cauliflower recipes
Well, cauliflower is one of our favorite vegetables to cook, as it is super versatile, so we leave you some ideas to use this fantastic vegetable.
Try out making an Indian cauliflower curry, deliciously spiced, or making a vegan egg salad.
Make healthy low-carb cauliflower rice or cauliflower steaks the centerpiece of a meal.
You can even make cauliflower juice or make vegan buffalo wings; the possibilities are endless.
Check out our guide on cooking cruciferous vegetables.
❓ FAQ
Calories in roasted cauliflower
Roasted cauliflower is an incredibly healthy and delicious vegetable side dish with many nutritional benefits. A one-cup serving of roasted cauliflower contains just 25 calories, 1 gram of protein, 5 grams of carbohydrates, and 0.3 grams of fat, as long as you don´t have any oil.
All in all, roasted cauliflower is a tasty and nutritious way to increase your daily intake of vegetables without overloading it with calories!
Note: see recipe nutrition facts for this specific recipe.
So next time you're in the mood for a healthy and tasty side dish, give this perfectly roasted whole cauliflower head a try. Your taste buds (and your body) will thank you!Regenerate response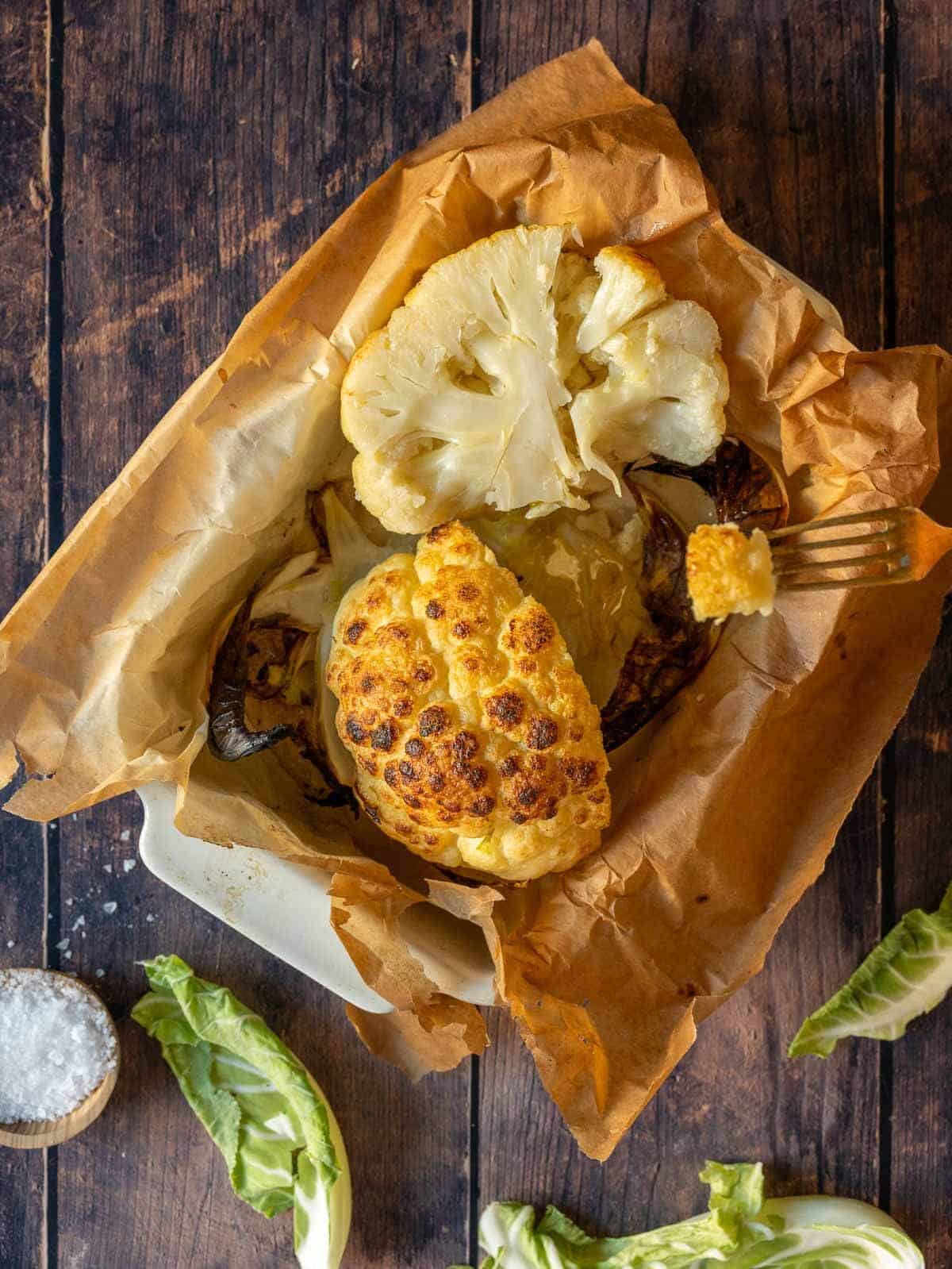 ⭐ If you try this Italian roasted cauliflower recipe, let us know! 💬 Leave a comment, rate it, and don't forget to tag us @ourplantbasedworld on Instagram. Cheers!
📋 Recipe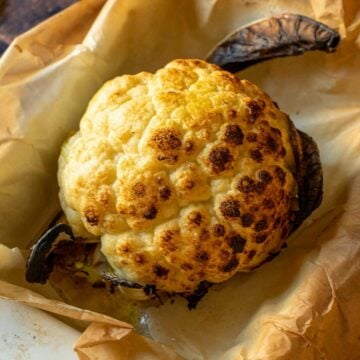 Perfectly Roasted Whole Cauliflower Head (3 Ingredients)
Looking for a simple yet impressive side dish? Try this recipe for a perfectly roasted whole cauliflower head with just three ingredients. This vegetarian and gluten-free dish is easy to make and sure to impress your guests!
Equipment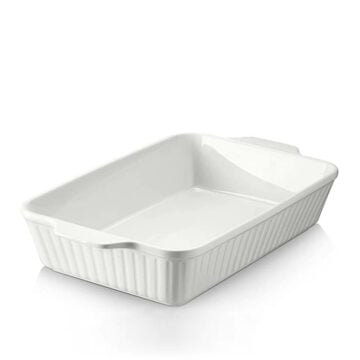 (affiliate link)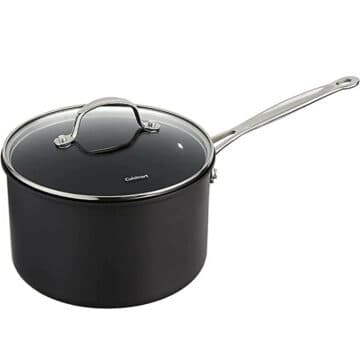 (affiliate link)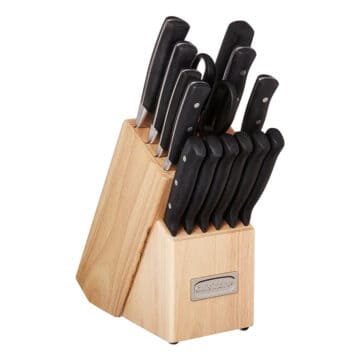 (affiliate link)
Directions
Preheat your oven to 480 °F (250°C).

Remove the leaves and stem of the cauliflower head and trim the bottom so it can stand upright. Rinse the cauliflower head and pat dry with a paper towel.

Place the cauliflower head on a baking sheet and brush the olive oil mixture evenly over the entire cauliflower.

Roast the cauliflower in the oven for 15-20 minutes, or until it is tender and the outside is golden brown. To check if it is done, insert a knife into the center of the cauliflower. If it is tender all the way through, it's ready.

Remove the cauliflower from the oven and let it cool for a few minutes before slicing and serving.
Nutrition Facts
Calories:
202
kcal
Carbohydrates:
8
g
Protein:
3
g
Fat:
18
g
Saturated Fat:
3
g
Polyunsaturated Fat:
2
g
Monounsaturated Fat:
13
g
Sodium:
5284
mg
Potassium:
510
mg
Fiber:
3
g
Sugar:
3
g
Vitamin C:
82
mg
Calcium:
41
mg
Iron:
1
mg
Nutrition Facts
Perfectly Roasted Whole Cauliflower Head (3 Ingredients)
Amount per Serving
% Daily Value*
* Percent Daily Values are based on a 2000 calorie diet.
🌡️ Food safety
Cook to a minimum temperature of 165 °F (74 °C)
Do not use the same utensils on cooked food, that previously touched raw meat
Wash hands after touching raw meat
Don't leave food sitting out at room temperature for extended periods
Never leave cooking food unattended
Use oils with a high smoking point to avoid harmful compounds
Always have good ventilation when using a gas stove
See more guidelines at USDA.gov.
Nutritional Disclaimer
The information shown is an estimate provided by an online nutrition calculator. It should not be considered a substitute for a professional nutritionist's advice. See our full Nutritional Disclosure here.
Affiliate Disclaimer
Please note that some of the links here are affiliate links, and I will earn a commission if you purchase through those links. I recommend all of the products listed because they are companies I have found helpful and trustworthy.