If you're a fan of Brussels sprouts and Indian cuisine, then you're in for a treat! In this blog post, we're going to share with you a delicious and easy-to-make Indian Brussels sprouts recipe (known as Brussel Sprouts Sabzi) that will add a burst of flavor to your meal. Brussels sprouts are a versatile vegetable that can be prepared in many ways, but adding some Indian-inspired spices and ingredients takes them to a whole new level. Get ready to impress your taste buds with this mouthwatering Indian Brussels sprouts recipe!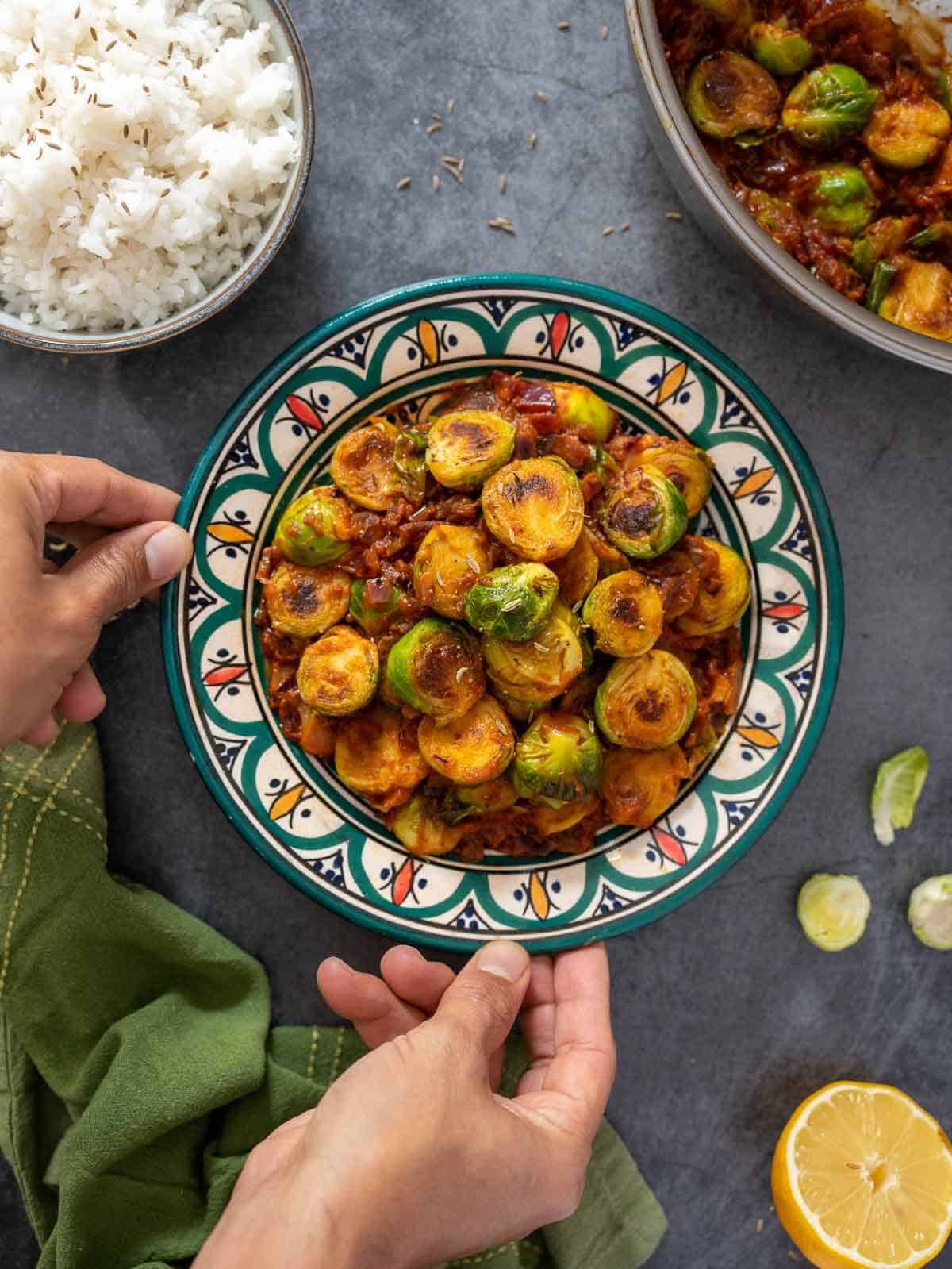 💚 Why you will love it
Rich Flavors: Enjoy the unique and irresistible taste of this curry, featuring a blend of cumin, coriander, turmeric, and ginger.
Health Benefits: This dish offers the nutritional benefits of Brussels sprouts, enhanced by the anti-inflammatory and antioxidant properties of Indian spices.
Variety in Meals: Break the monotony of regular veggies with this exciting recipe, transforming Brussels sprouts into an exotic and flavorful curry, that makes a wonderful side dish.
We have shared similar recipes using garam masala, like our Indian Cauliflower curry and the Eggplant curry that you should definitely check out!
Jump to:
🧾 Ingredients
This curry recipe is made with just a few delicious ingredients.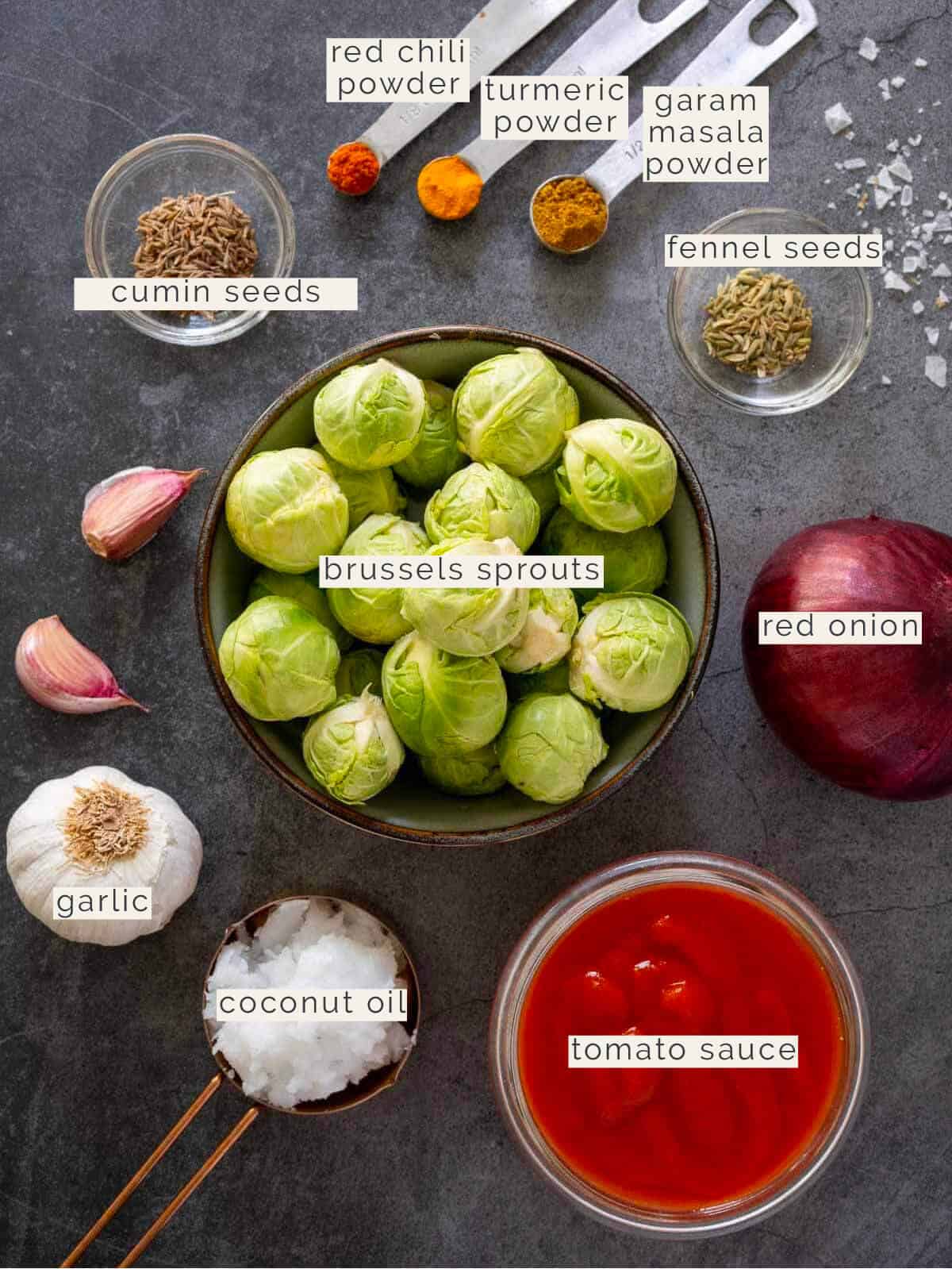 Fresh Brussels sprouts are the main ingredient and provide a nutty, earthy flavor and a crunchy texture to the dish.
Red onion adds sweetness and depth of flavor to the dish, and its bright color provides a visual contrast to the green Brussels sprouts.
Garlic adds a pungent, savory flavor to the dish and helps to enhance the other spices and ingredients.
Tomato sauce provides a tangy, slightly sweet flavor to the dish and helps to balance out the spices.
Garam masala powder is a blend of spices commonly used in Indian cuisine and adds warmth and depth of flavor to the dish.
Cumin seeds: cumin seeds have a warm, nutty flavor and are commonly used in Indian cuisine to add depth and complexity to the dish.
Fennel seeds have a slightly sweet, anise-like flavor and are commonly used in Indian cuisine to add a subtle licorice-like flavor to the dish.
Turmeric powder: adds a vibrant yellow color to the dish and has a warm, slightly bitter flavor that complements the other spices. Turmeric also has anti-inflammatory properties, so it makes a great addition to your meals.
Red chili powder: adds heat and spiciness to the dish, and can be adjusted to taste depending on personal preference.
Coconut oil - we really enjoy the touch that coconut gives to this dish, but you can use extra virgin olive oil or even any other vegetable oil.
Substitutions
Indian spices - feel free to add ½ teaspoon coriander powder, cumin powder, or mustard seeds to replace the same amounts of fennel seeds or garam masala.
Red Chili powder- use other types like green chili or cayenne pepper.
🍽 Equipment
Bowl- to soak, wash, and clean the Brussels sprouts.
Chopping board and knife - to handle Brussels sprouts before cooking them.
Skillet or saucepan - you only need one to make the whole recipe. There is no need to wash it between the recipe steps.
🔪 Instructions
This curried Brussels sprouts recipe involves a couple of simple steps.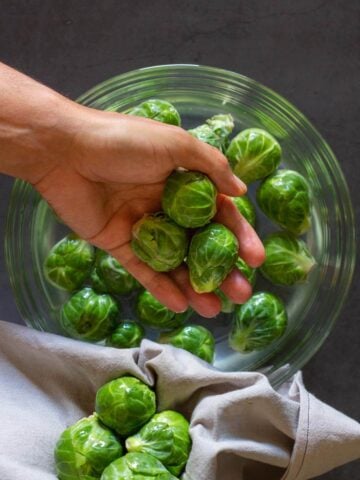 Step 1: Add Brussels sprouts to a bowl with water and remove the dirty outer yellow or brown leaves. Then, pat dry with a tablecloth.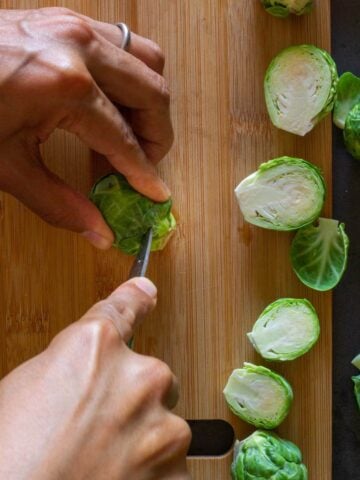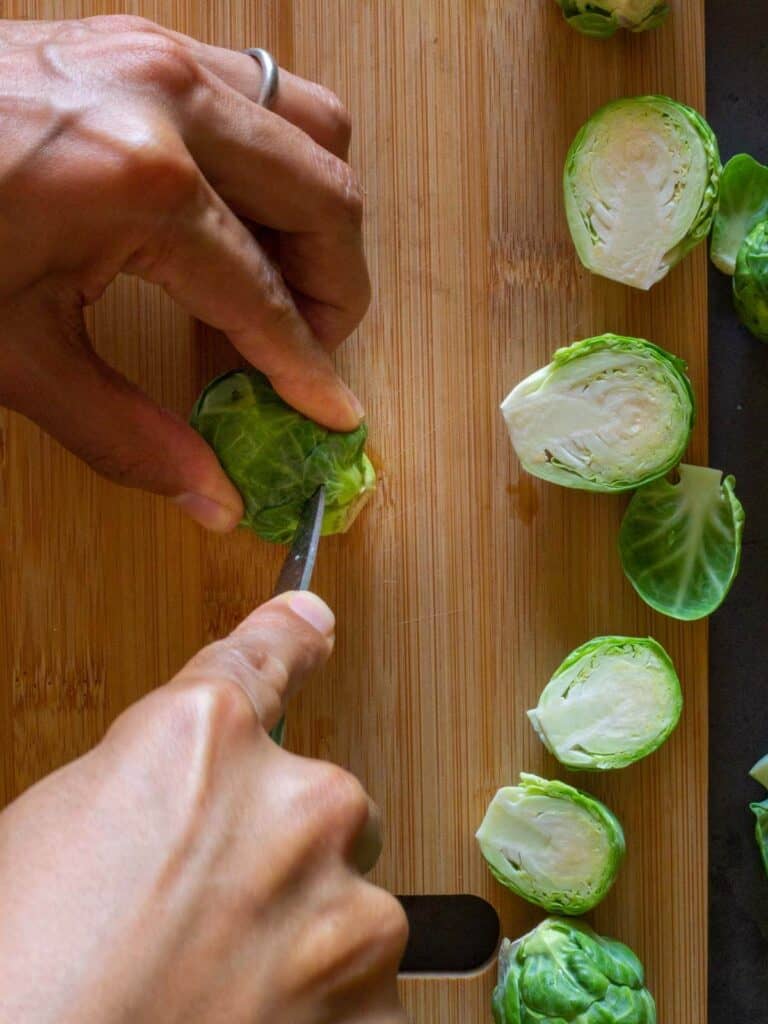 Step 2: Remove the bottom tip of the sprouts using the tip of the knife.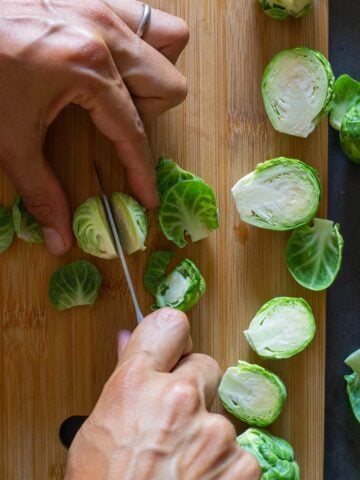 Step 3: Half the sprouts evenly.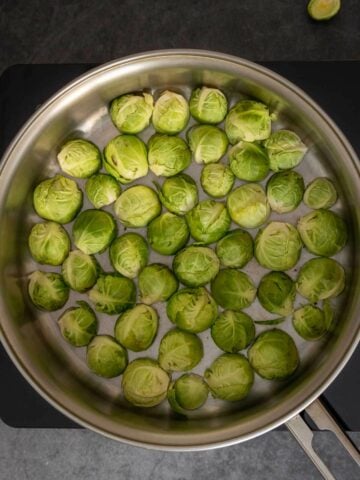 Step 4: Heat oil and place the chopped Brussels sprouts halves face down.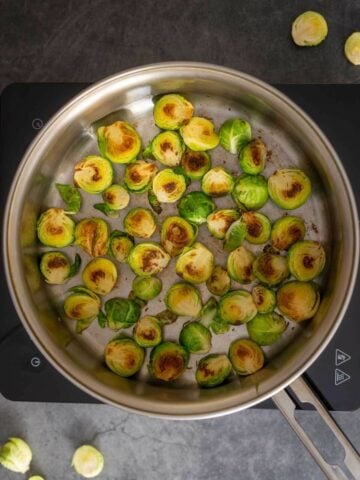 Step 5: Sear the Sprouts on one side.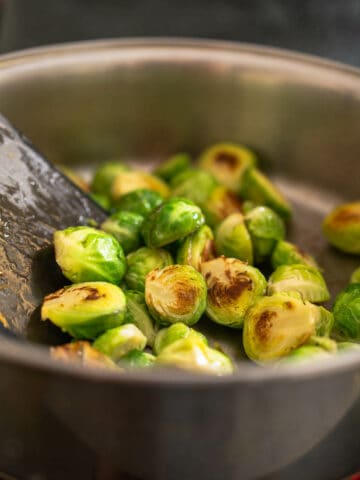 Step 6: Stir with a spatula, trying to keep the sprout's shape, and remove as few leaves as possible.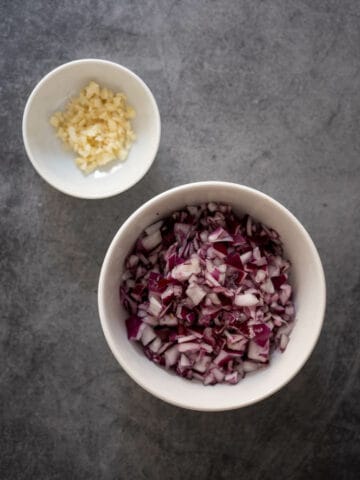 Step 7: Chop fresh garlic and red onion.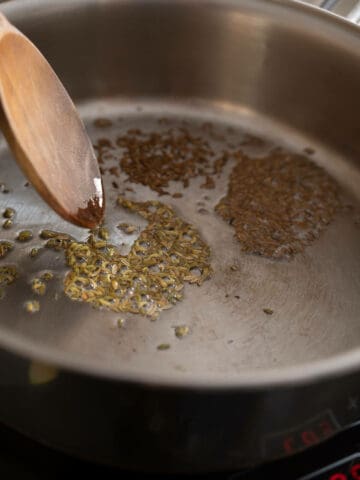 Step 8: To a heated pan with coconut oil, add cumin seeds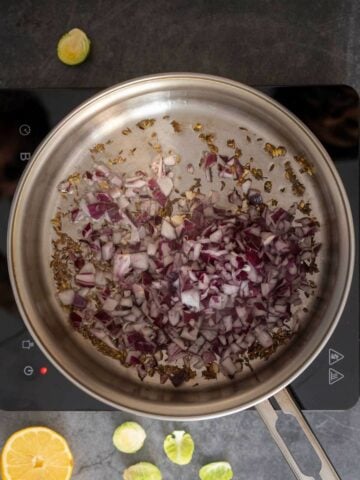 Step 9: Add onions and garlic and stir fry until translucent.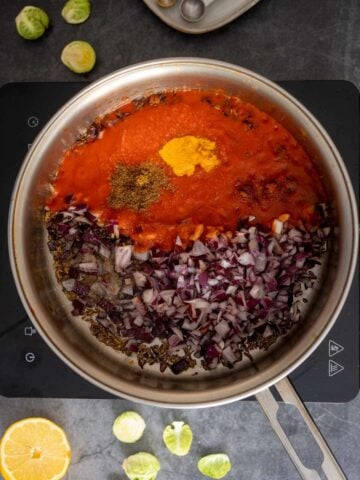 Step 10: Stir in ground Indian spices and tomato puree to the stir-fried onions and seeds.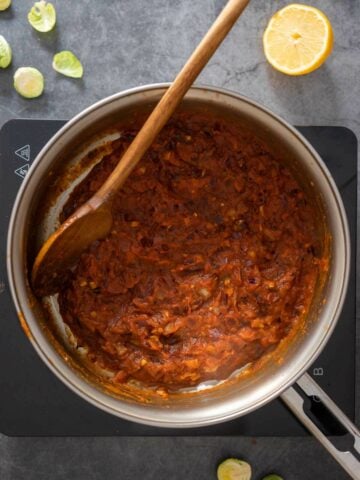 Step 11: Cook the tomato sauce for a couple of minutes so the flavors meld.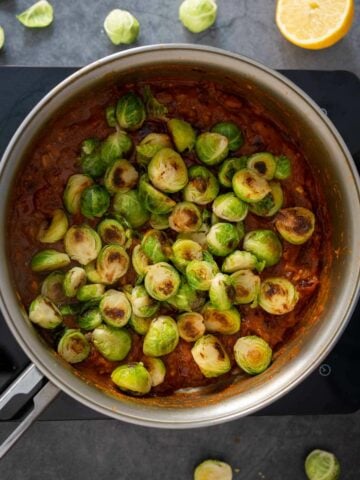 Step 12: Cook Brussels sprouts with spices and tomato sauce.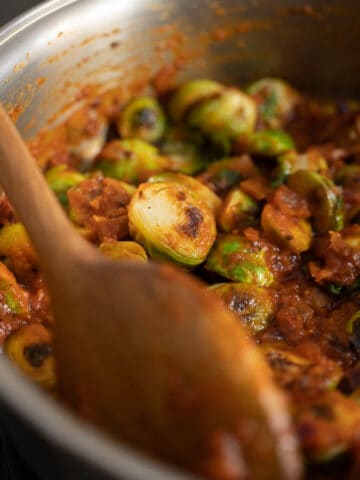 Step 13: Folding the sprouts delicately.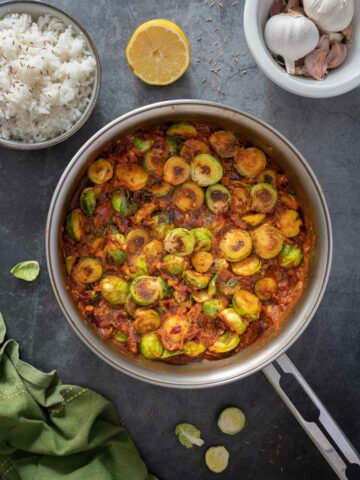 Step 14: Serve warm and enjoy!
Hint: add water gradually to achieve a thinner consistency for the dish.
That's it! You have made an easy Brussels sprouts sabzi that's sure to please your whole family and guests!
💡 Expert tip
Although you can skip the step where you sear the sprouts and add them directly into the tomato sauce, the consistency with be a little mushy, and the golden color will not be present.
We think taking 5 minutes for this extra step is totally worth it.
📖 Variations
Try out some curried Brussels sprout variations with the following:
Green peas - add green peas during the final cooking stage to add some color and protein. One cup is perfect for 1 pound of Brussels sprouts.
Ginger - you can fresh ginger and make a ginger garlic paste, stir fry it with the seeds and onion before pouring the tomato sauce as we do in the cauliflower curry recipe.
🥢 How to serve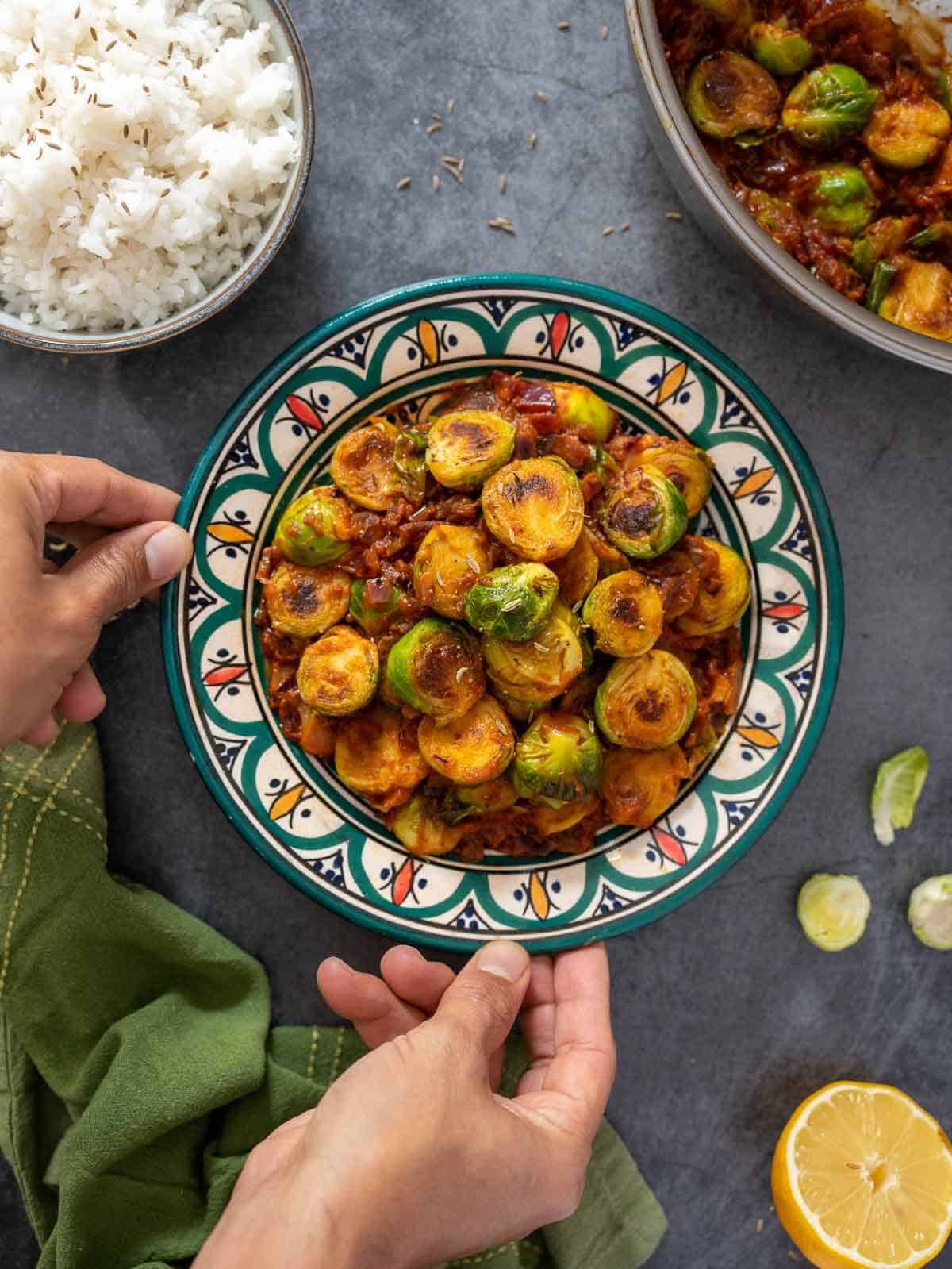 Serve this Indian spiced Brussels sprouts with freshly made basmati rice, roti, or naan.
You can squeeze lemon juice on top or also fresh lime juice.
Toss some fresh coriander leaves on top for a special touch.
You can serve this dish next to other side dishes to make a complete meal. We like making an Indian feast with a variety of vegetable curries such as cauliflower, eggplant, lentil, daal, and mushroom tikka masala.
❓ FAQ
What gives Brussels sprouts a better taste?
Brussels sprouts can have a variety of flavors depending on how they are cooked and seasoned. Some ways to enhance their taste include:
Roasting: Roasting Brussels sprouts in the oven can give them a delicious nutty flavor and crispy texture. Simply toss them with olive oil, salt, and pepper, and roast in a preheated oven at 400°F (205°C) for 20-25 minutes or until golden brown.
Sauteing: Sauteing Brussels sprouts in vegan butter or olive oil can also bring out their natural sweetness. You can add some minced garlic or shallots for extra flavor.
Seasoning: Brussel sprouts can benefit from various condiments, such as balsamic vinegar, soy sauce, lemon juice, maple syrup, or vegan Parmesan cheese. Experiment with different combinations to find what you like best.
Blanched: Blanching is a cooking technique that involves boiling the Brussel sprouts for a short period and then plunging them into ice water to stop cooking. This method helps preserve their bright green color and gives them a tender crisp texture.
Pairing: Brussels sprouts go well with many ingredients, such as apples, pecans, cranberries, and vegan blue cheese. Try adding these to your Brussels sprouts dish to enhance their taste.
Overall, the key to getting a better taste from Brussels sprouts is to experiment with different cooking techniques and seasonings until you find what works.
🥡 Storage
Store leftover Brussels sprouts in a BPA-free (affiliate link), tightly sealed container in the fridge for up to 3 days.
Add water little by little to reheat the dish either in a saucepan or microwave.
You can freeze cooked Brussels sprouts in an airtight container, but it doesn't stand up well to freezing for more than 3 months.
📚 More Brussels sprouts recipes
Try out our Roasted Brussels sprouts recipe, Honey roasted vegetables with Brussels sprouts with pecan nuts, and this veggie chorizo sweet potatoes and Brussels sprouts hash.
If you have extra time, I recommend you try our marinated Brussels sprouts recipe; it is totally worth it!
Also, check out more recipes with sprouts of different types, including our curried hearty and spicy sprouted lentil soup.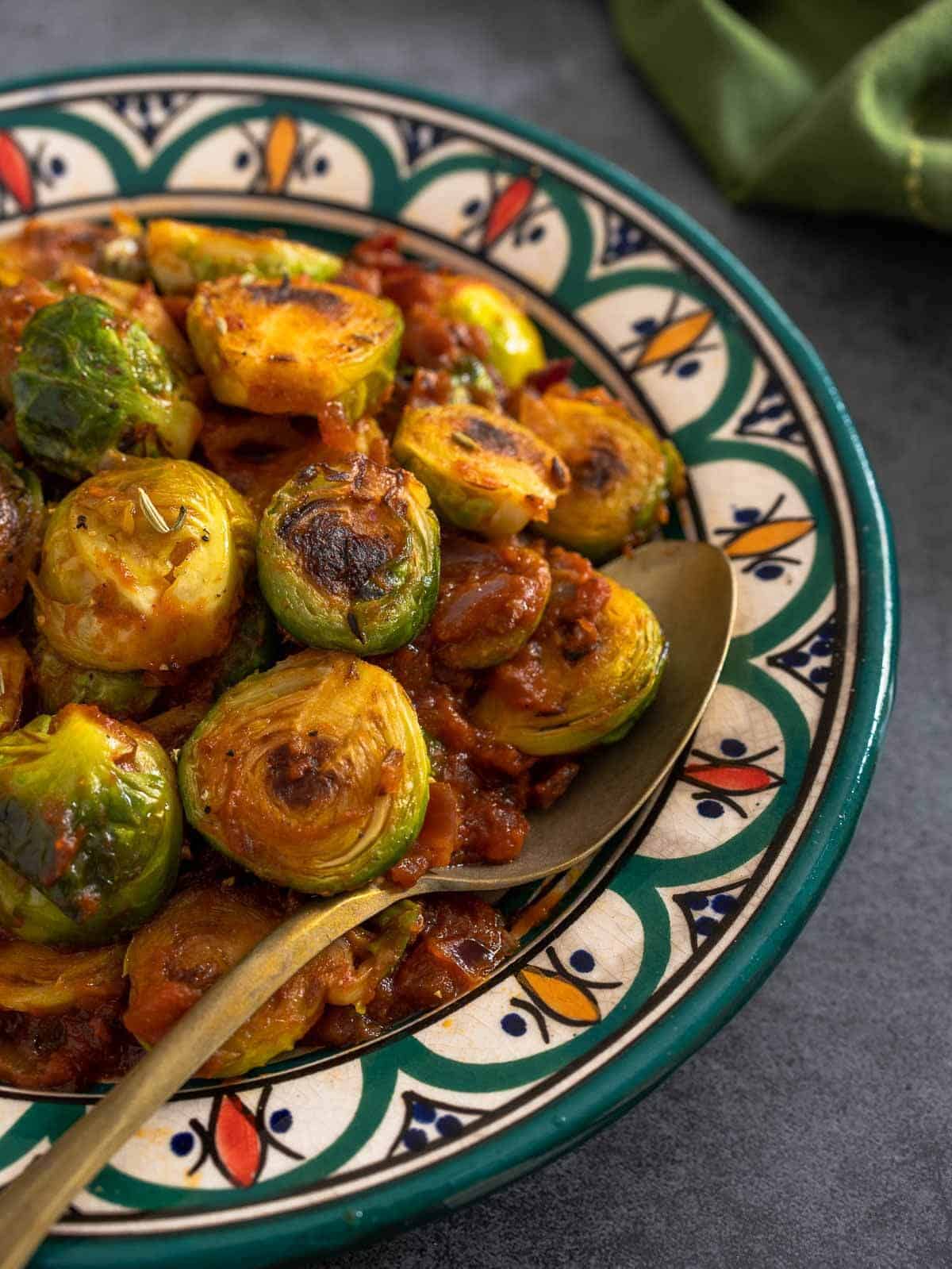 ⭐ If you try this recipe, let us know! 💬 Leave a comment, rate it, and don't forget to tag us @ourplantbasedworld on Instagram. Cheers!
🎥 Video
📋 Recipe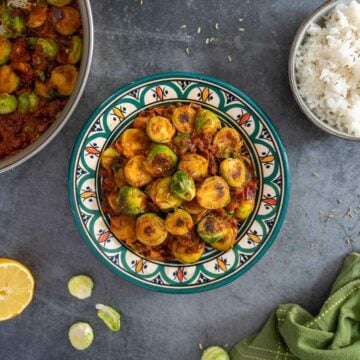 Indian Style Brussels Sprouts Curry
Looking for a delicious and healthy way to prepare Brussels sprouts? Try this Indian-inspired recipe that's sure to spice up your taste buds! Sautéed with fragrant cumin and turmeric, these Brussels sprouts are tender and flavorful.
Equipment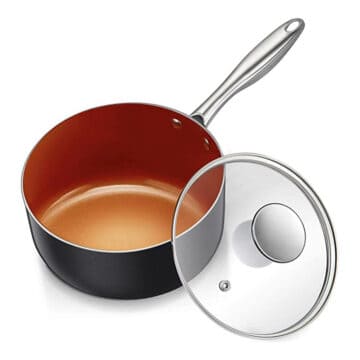 (affiliate link)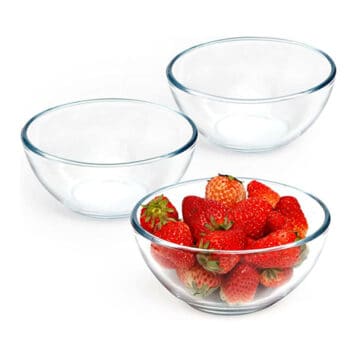 (affiliate link)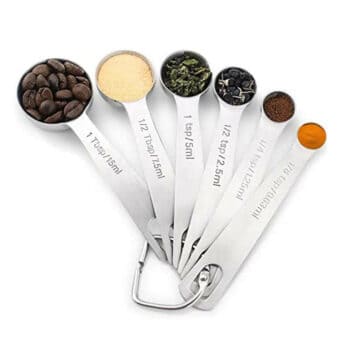 (affiliate link)
Directions
Wash Brussels sprouts under running water.

Remove the outer dirty outer leaves, then Slice off the bottoms of each brussel sprout, then cut lengthwise.

Sear. Add one tablespoon of coconut oil to the saucepan and place the halved Brussels sprouts face down. Work in batches if needed, then reserve them.

Add seeds. Heat the remaining coconut oil in the same saucepan and then add the fennel and cumin seeds and stir until fragrant.

Stir in the chopped onion and garlic.

Add the tomato sauce and all the ground spices.

Stir in the Brussels sprouts and toss to coat. Cook for 5 minutes.

Transfer the Brussels to a serving plate.

Serve with freshly steamed basmati rice, roti, or naan bread.
Notes
While it is possible to skip searing the sprouts and adding them directly to the tomato sauce, this will result in a softer texture and loss of golden color. Taking an extra 5 minutes for this step is highly recommended for a better overall result.
Nutrition Facts
Calories:
178
kcal
Carbohydrates:
19
g
Protein:
6
g
Fat:
11
g
Saturated Fat:
9
g
Polyunsaturated Fat:
1
g
Monounsaturated Fat:
1
g
Sodium:
1373
mg
Potassium:
800
mg
Fiber:
7
g
Sugar:
7
g
Vitamin A:
1318
IU
Vitamin C:
106
mg
Calcium:
79
mg
Iron:
3
mg
Nutritional Disclaimer
The information shown is an estimate provided by an online nutrition calculator. It should not be considered a substitute for a professional nutritionist's advice. See our full Nutritional Disclosure here.
Affiliate Disclaimer
Please note that some of the links here are affiliate links, and I will earn a commission if you purchase through those links. I recommend all of the products listed because they are companies I have found helpful and trustworthy.