It's almost springtime, which means cookouts and picnics galore! I don't know about you, but when it comes to bringing a dish to share, I love choosing something that is both easy AND tasty. This Easy No-fry eggplant Parmesan recipe definitely fits the bill. Not only does it require just a handful of ingredients, but there's no frying or breading required either – score!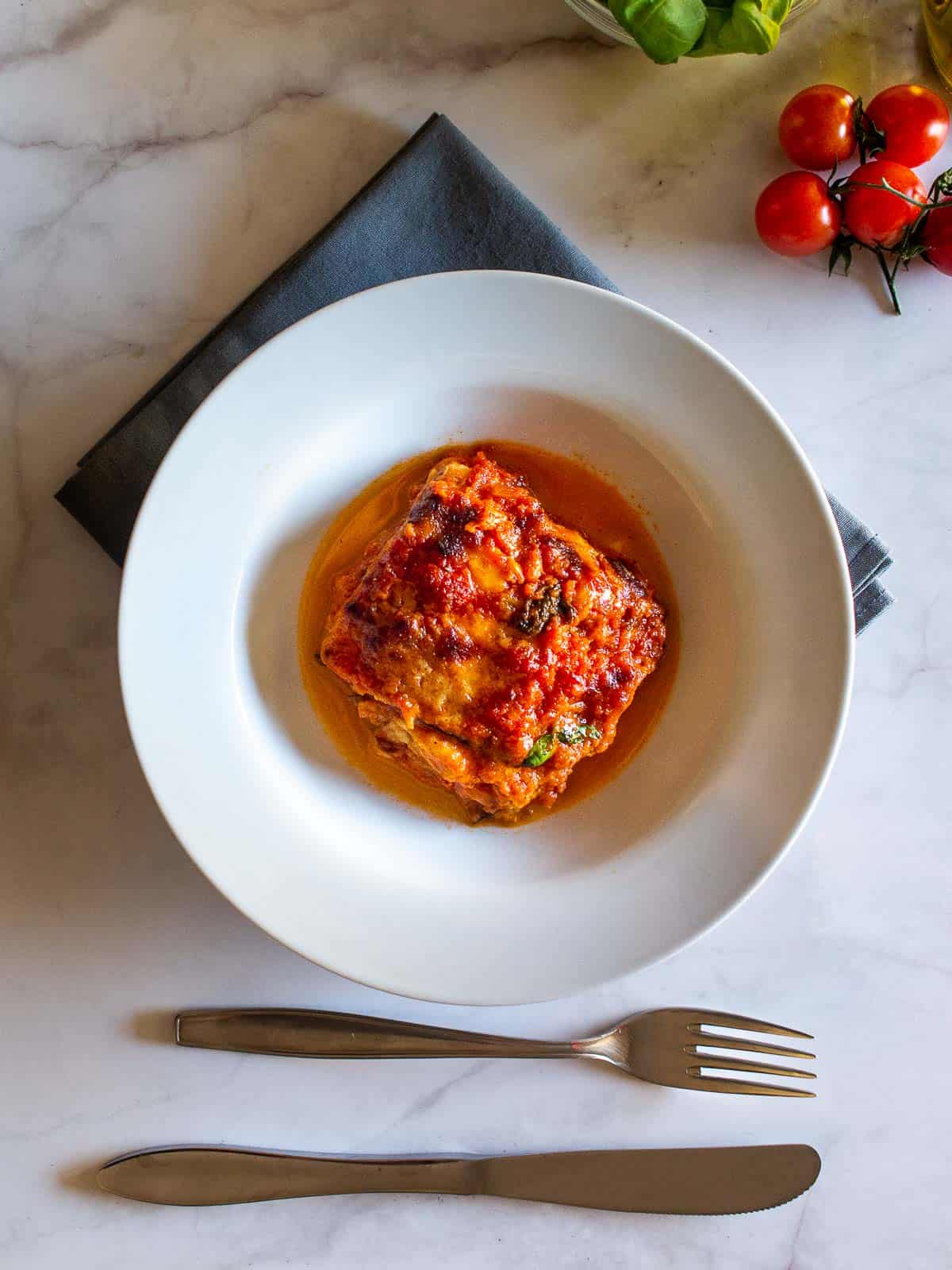 This healthier version is perfect for those who are watching their waistlines. So if you're looking for an easy yet impressive dish to bring to your next potluck or gathering, give this recipe a try. You won't regret it!
This Parmigiana di Melanzane or No Fry Eggplant Parmesan is definitely part of our top 5 decadent Italian dishes, that can be eaten as an appetizer or main dish. If you haven't tried it before, your time has come.
Living here in Italy helped us learn how to make a Perfect Eggplant Parmesan from scratch and enjoy its simplicity. Makes a perfect special occasion starter or main course. Try it out for Valentine's dinner!
It is like an eggplant lasagna, without pasta sheets, which are replaced with delicious eggplant layers. This makes it a great dish for people following a low-carb diet.
If you are trying to keep the carbs away, are on a keto diet but not worrying much about the calories, and want a healthier version, this is for you.
This recipe is made from scratch, but it's easy to prepare. First, we'll roast the eggplant slices instead of using fried eggplant. Then we'll assemble the dish and bake it.
You can it this no fry parm any time of the year, but we love it, especially during the fall season with cold weather and during the springtime when eggplants and asparagus are at their peak.
Jump to:
🧾 Ingredients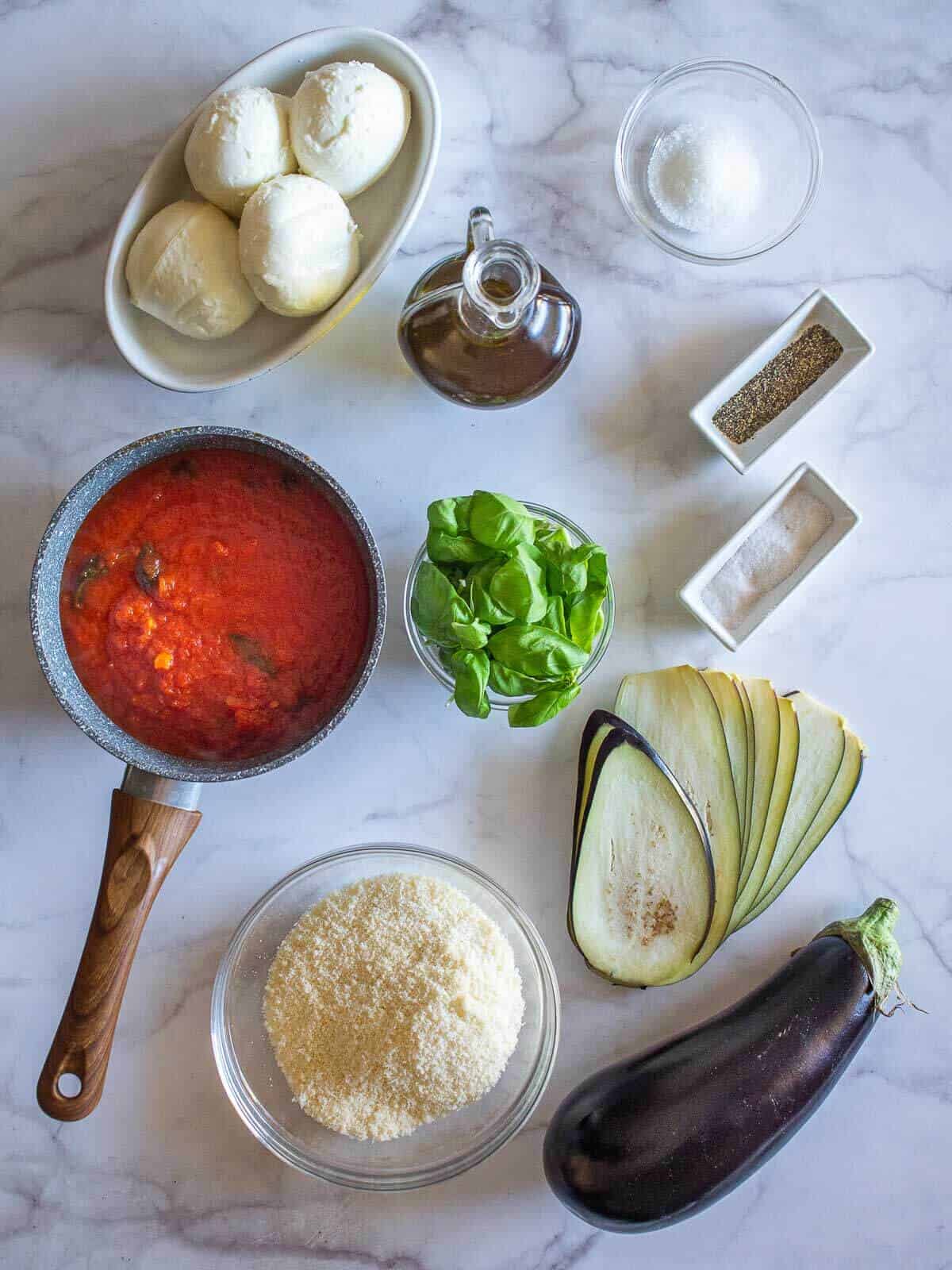 Fresh Eggplant
Vegan mozzarella cheese
Vegan Parmesan Cheese
Extra virgin olive oil
Coarse sea salt
Marinara Sauce (or make a tomato sauce with garlic and tomato purée).
Fresh basil leaves
See quantities and complete instructions in the recipe card.
Optional and strongly suggested: fresh basil!
Use Fresh mozzarella cheese and 30-month aged parmesan romano cheese if you are vegetarian and want something closer to the traditional eggplant parmigiana, skipping the frying.
🔪 Instructions
How to Make an Eggplant Parmesan (Parmigiana di Melanzane)?
Prepare the eggplant slices.
To make your baked eggplant parmigiana, first look for firm Eggplants. You need to make thin slices, so using firm eggplant helps. You want to make sure you have fresh tight eggplants.
Make ⅛"-1/16 (1.5 mm - 3 mm) slices. The thinner, the better to make a really silky and soft eggplant parm recipe. You may encounter tough slices on the final dish if your slices are too thick.
I suggest you use a mandoline if you have one; if not, use a sharp knife and carefully slice the eggplants.
Baking the eggplant. Prepare a baking dish (optionally with baking sheets or parchment paper). Make slices and sprinkle coarse salt on top.
Then, place a sheet of parchment paper and place it on top.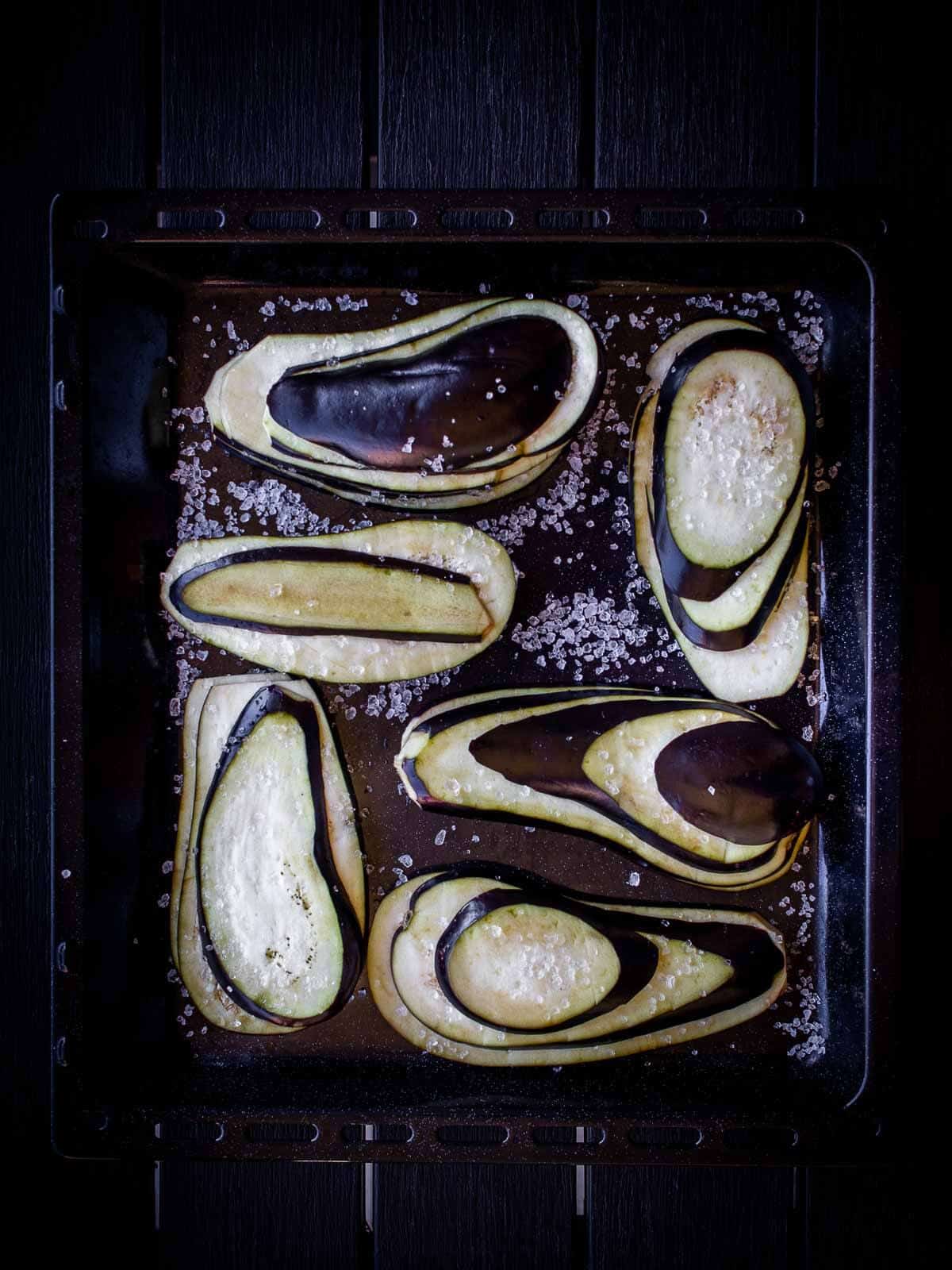 Put some heavyweight, such as cooking books, on top, to increase the pressure. Leave them like "sweating" for 30-60 minutes.
I like to leave the baking sheet slightly reclined so the water drains freely.
Note: this step is optional but I strongly suggest you do so because it will help to reduce eggplant's natural bitterness, to the minimum.
Dry the eggplants with a tablecloth or paper towel. Slightly oil a large baking sheet, place the slices on it with a drizzle of extra virgin oil, and bake them in a preheated oven at 400 ºF (200 ºC) until golden brown.
Tip: if you have two baking sheets, it will be better to accommodate the slices.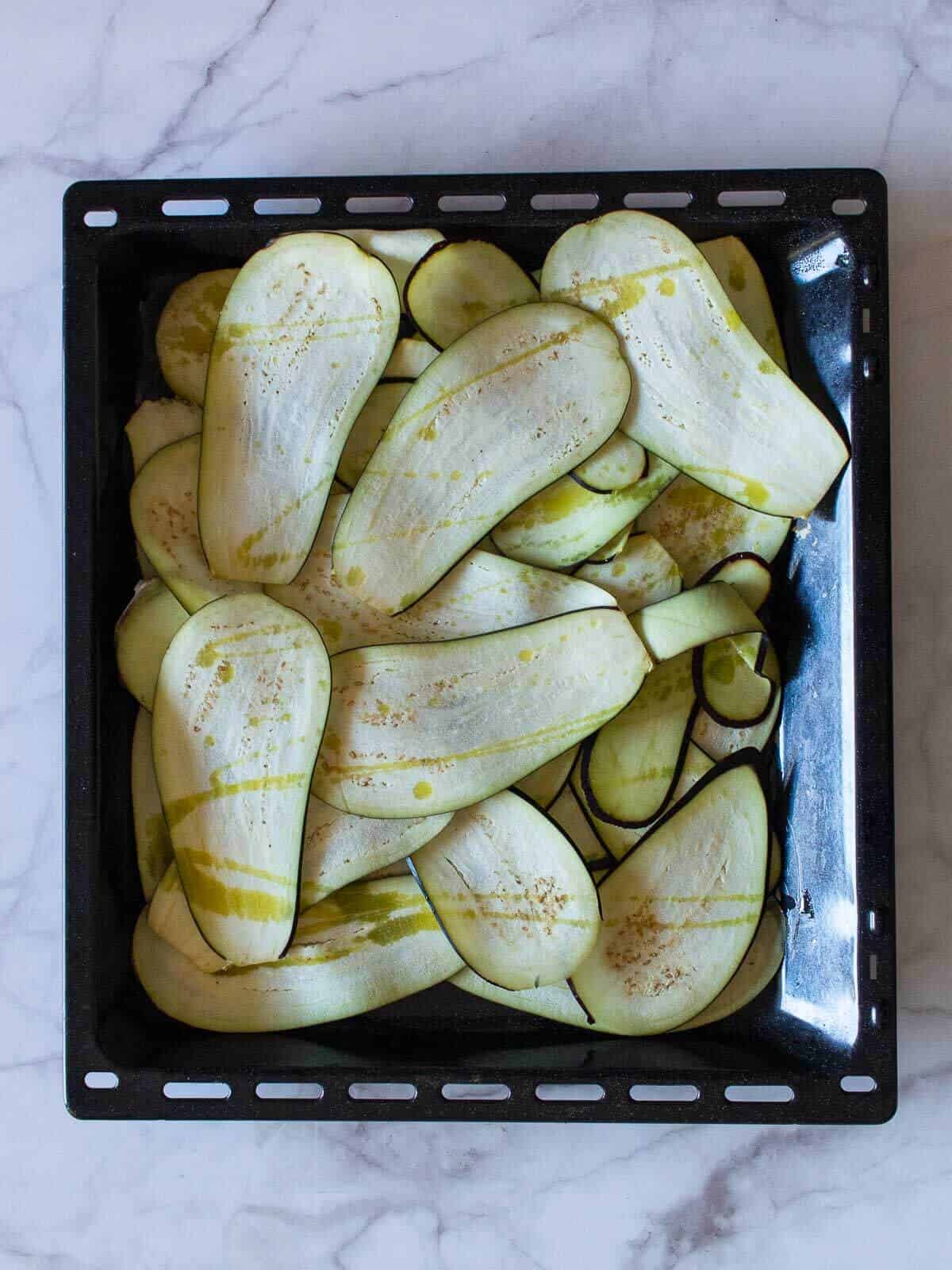 Make the tomato sauce
Note that this is optional, as you can use store-bought marinara sauce.
Prepare your own simple tomato sauce by chopping the onion and garlic finely. Stir fry them in olive oil, add pasta sauce (Italian tomato passata), or use crushed tomatoes. Add a teaspoon of organic sugar, to balance the fresh tomatoes' acidity.
Let the tomato sauce simmer for 30 minutes until thick (I like placing a lid on top since, even at very low heat, tomato sauce sprinkles a lot and can make a mess). Make sure you stir it occasionally.
Just like making a marinara sauce. You can skip the onion if you don't have it, as it is not 100% necessary.
Optionally add a bunch of fresh herbs or Italian seasoning to the sauce.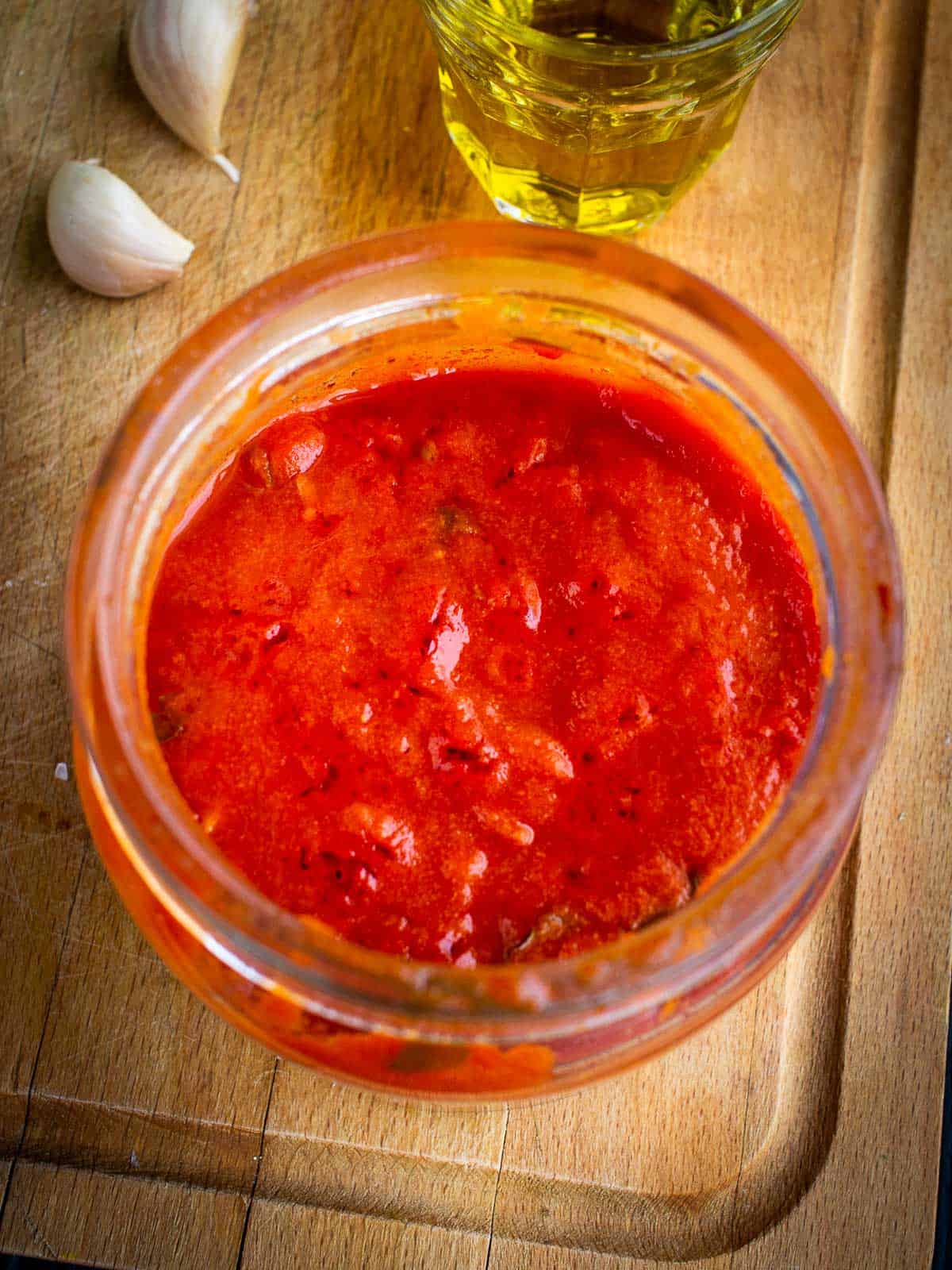 Remove the extra coarse salt (this is important. Otherwise, the parmigiana may be too salty).
Assemble
Place a layer of the marinara sauce, followed by a layer of baked layered eggplant, then fresh mozzarella and grated parm cheese until you run out of ingredients.
Place any remaining eggplant slices on top with tomato puree and grated parmesan cheese. Top with this 5 Minutes Vegan Parmesan
Bake until the vegan cheese is melted and let it rest for 10 minutes before serving. Enjoy with garlic bread or a piece of homemade focaccia bread, for a full Italian Food feast!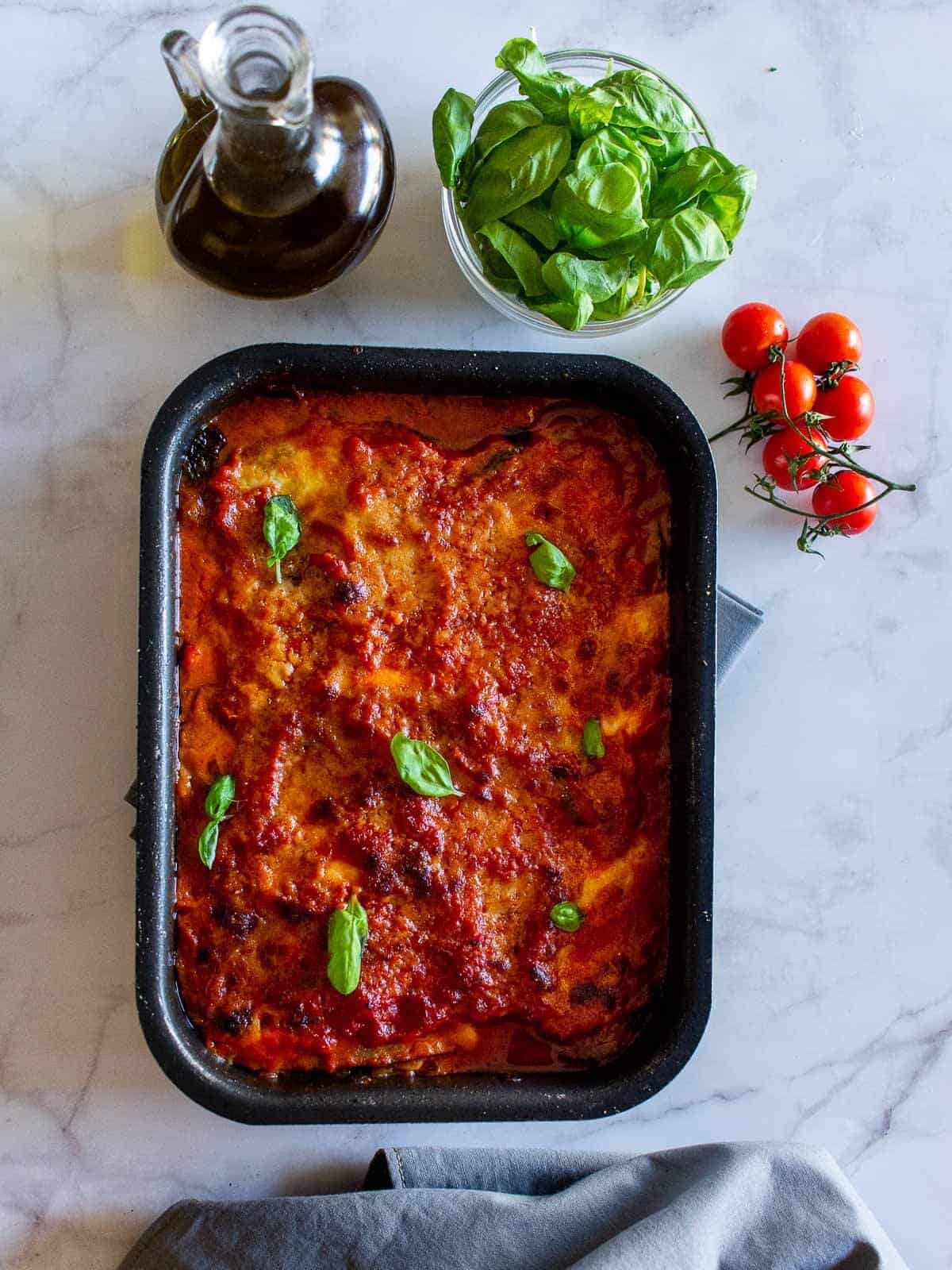 It is not the easiest dish to make, but it is easy enough to take it on for any given day's dinner when you have more than one hour and want to make something extra special.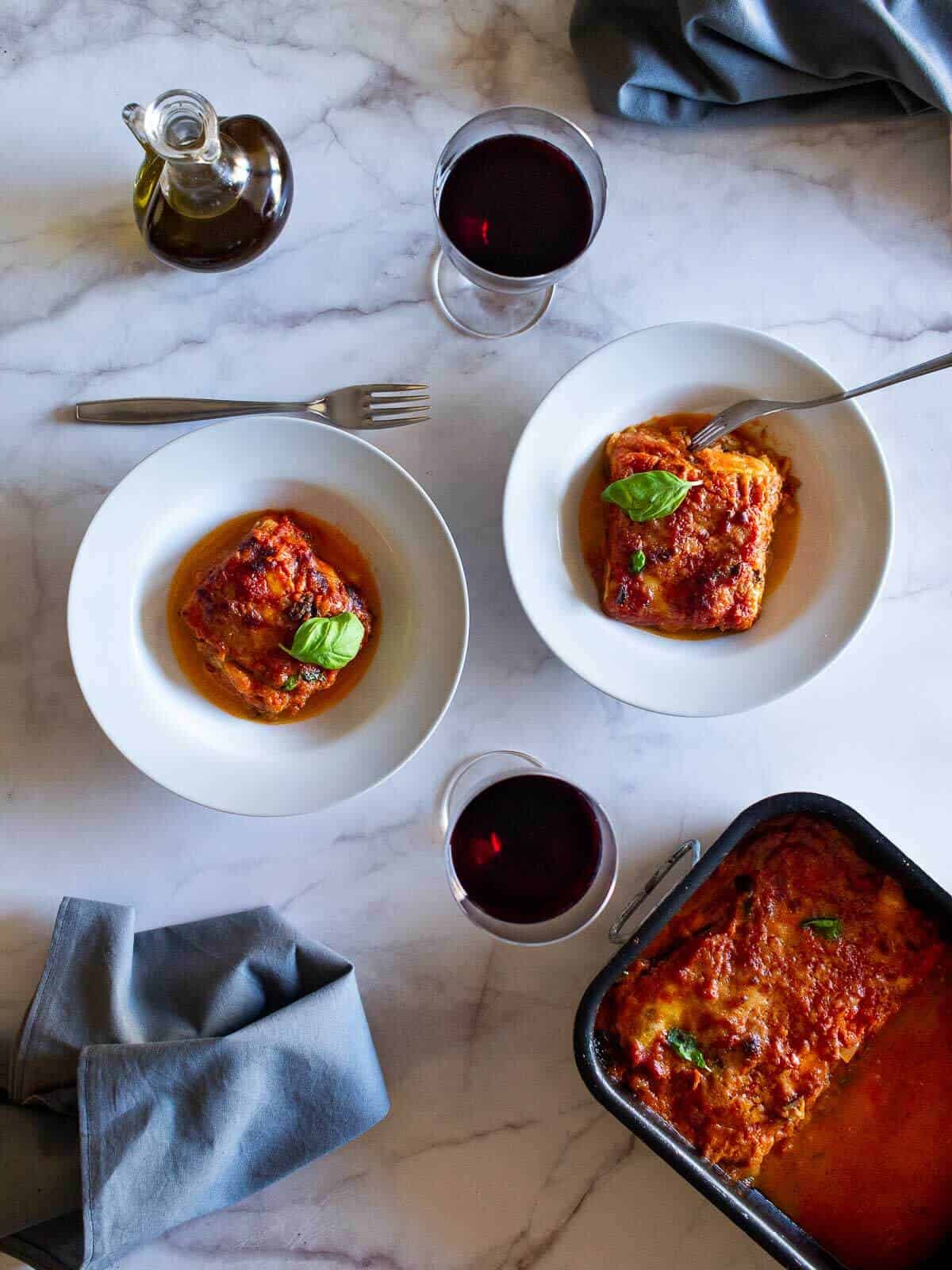 💡Top tips
It is like making lasagna but with fewer ingredients. The Lasagna sheets will be replaced by baked eggplant sheets, which need a little treatment before achieving the desired consistency.
You need your baked eggplant sheets, your tomato sauce, and your vegan cheeses (you can use regular mozzarella and parmesan if Vegetarian), both Vegan and Vegetarian versions work well.
Then you assemble it and put it in the oven. Here is our 5-minutes Vegan Parmesan Recipe, or this version of vegan parm, made with sunflower seeds.
Although we love eating the eggplant parm out of the oven, our favorite Sunday decadent treat is room-temperature eggplant parmesan!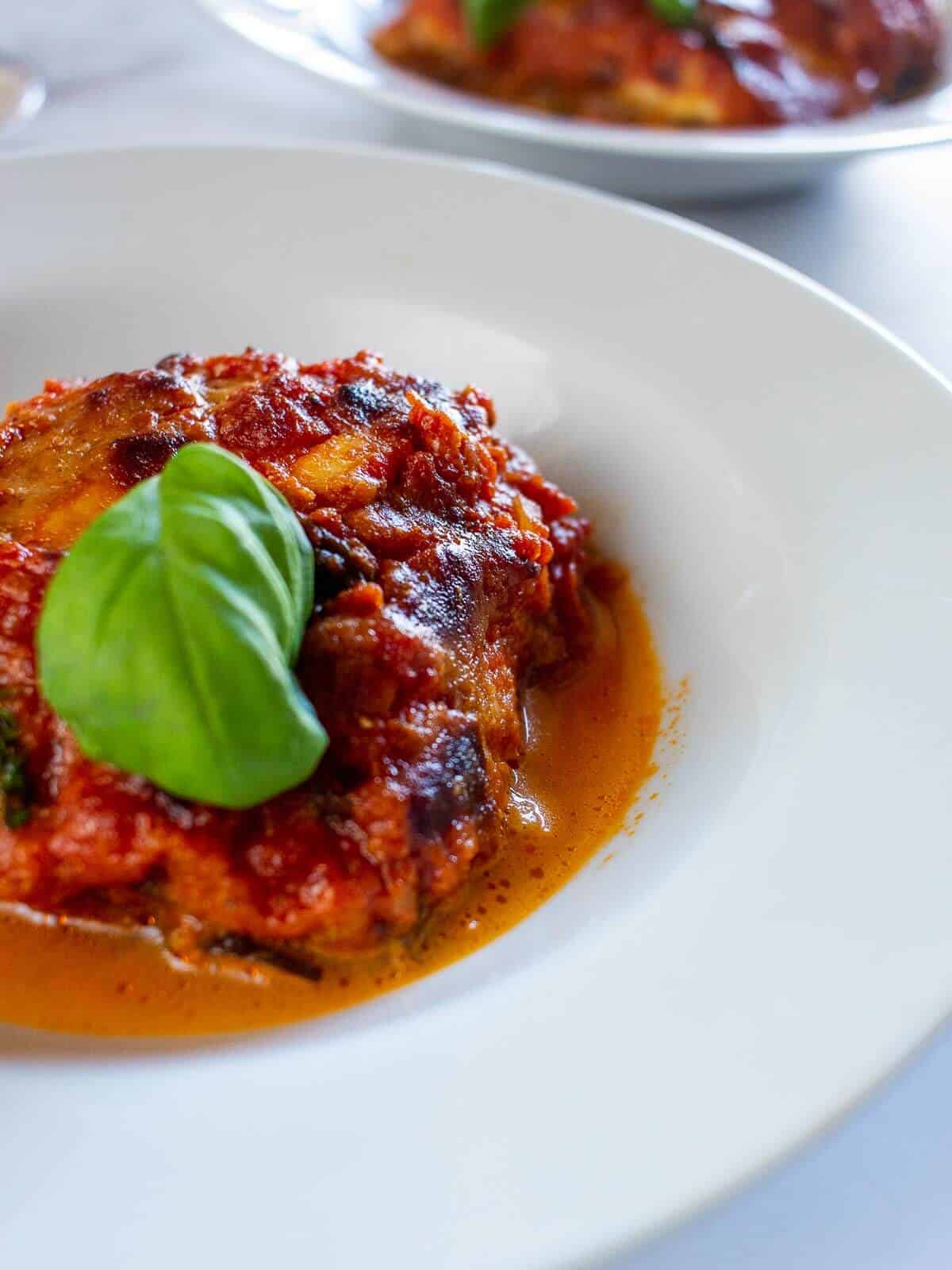 If you are asking yourself, what happened with the breading?
Italian Parmesan is not breaded (no bread crumbs!). Breaded eggplant is an American creation that adds a step and doesn't add flavor here.
This No-fry Eggplant parmesan recipe is healthier than most American eggplant Parmesans and is delicious and traditional. We live in Italy and have had our fair share of Eggplant Parmesans. The only non-traditional aspects here are: skipping the frying step, and if you choose the vegan cheeses option, that would be a second one.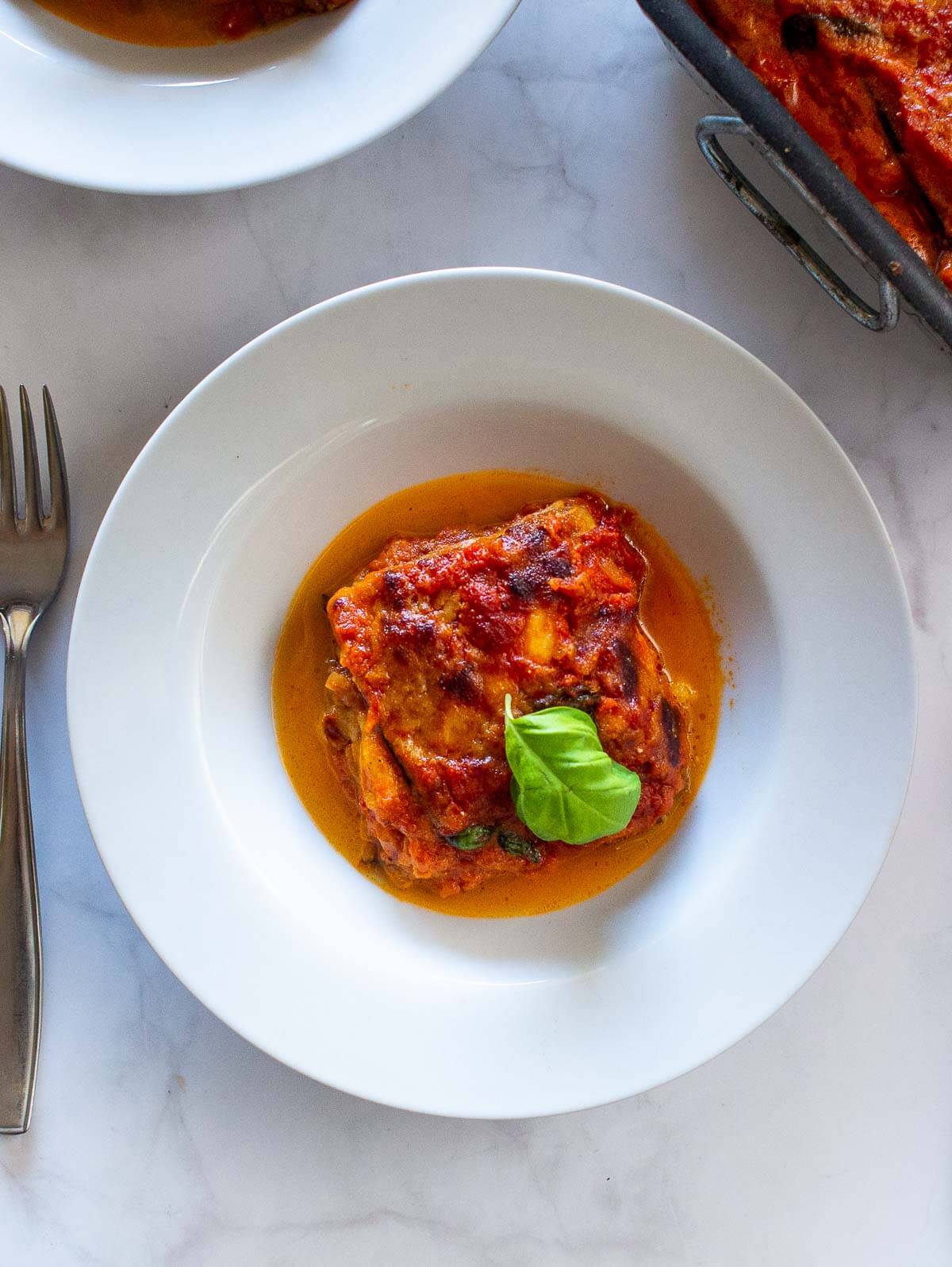 You usually make the standard version of frying the eggplant sheets, but I am super happy with a healthier one where I grill them.
🥢 How to serve
In Italy, this eggplant recipe is usually served as a primi piatti or appetizer, followed by the main dish. We like it so much that we just have a big piece and make it our main dish.
If you have it as a main dish, we suggest pairing it with a kale salad or any other fresh salad.
📖 Variations
Cheese - we love eggplant parm and find that using vegan mozzarella cheese and our homemade vegan parmesan cheese gives excellent results. But we don't make our own vegan mozzarella cheese (yet) and have found that it can be daunting if you don't have the right one. Some people even use fresh vegan ricotta cheese. We haven't tried it, but it can be a good sub for mozzarella cheese.
Veggies - we think the best eggplant parmesan just needs eggplants, but if you feel playful, adding sliced mushrooms and green peppers can work as you roast your eggplants. The end result will taste more like vegetarian lasagna.
Read on: Creamy Eggplant Pasta with Tomato Ricotta Sauce »
🇮🇹 More Italian recipes inspiration
⭐ If you try this recipe, let us know! 💬 Leave a comment, rate it, and don't forget to tag us @ourplantbasedworld on Instagram. Cheers!
📋 Recipe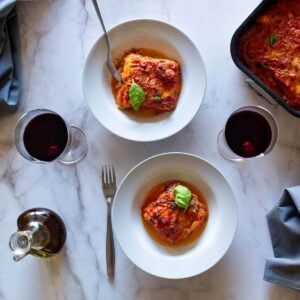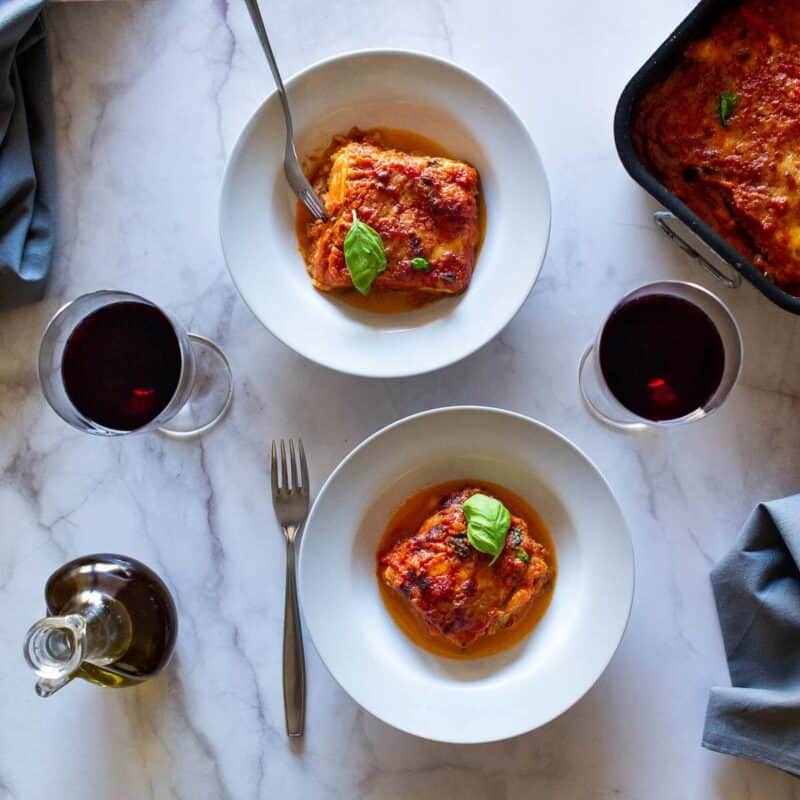 Healthier No-Frying No breading Eggplant Parmesan
This Parmigiana di Melanzane or No Frying Eggplant Parmesan is definitely part of our top 5 decadent Italian dishes. If you haven't tried it before, your time has come.
Equipment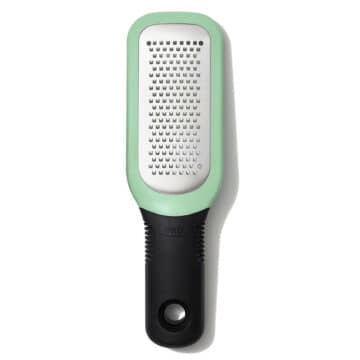 (affiliate link)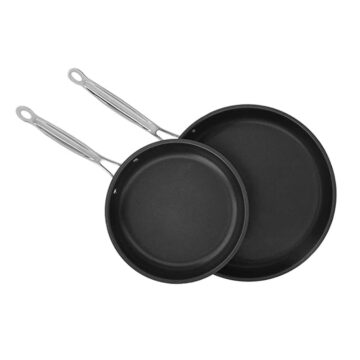 (affiliate link)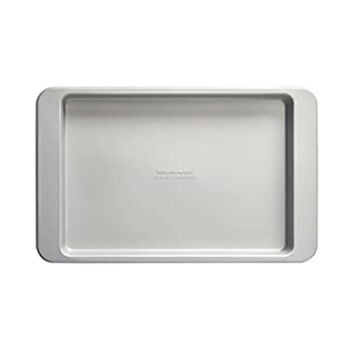 (affiliate link)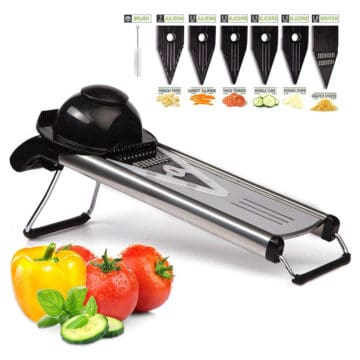 (affiliate link)
Directions
Wash and slice the eggplants very thinly with a sharp knife, or even better if you have a mandolin, the layers should be a little less than ⅛ inch (2 mm).

Prepare the eggplant. Lay the slices on a tray or colander where they can drain and put the coarse sea salt over. The salt will make the eggplant "sweat" and lose some water and bitterness. Let them rest for one hour.

Pre-heat the oven at 400ºF (about 200ºC).

Prepare the tomato sauce by chopping the onion and garlic finely. Stir fry them in olive oil for a minute and add the tomato purée. Let it simmer on low heat for 45 minutes.

Remove eggplant's excess salt. Wash the eggplants from the extra coarse salt. Then, dry them with a tablecloth. Oil a tray and put them on it with a splash of extra virgin oil. Put them in the oven and grill for 10-15 minutes.

Season tomato sauce. Go back to your tomato sauce and add the basil leaves, sugar, salt, and pepper and take them out of the heat.

Remove from oven. Take the eggplant out of the oven and prepare the tray where you are going to assemble the dish.

Prepare baking tray. Put some oil on the bottom of a deep tray.

Assemble. Place a layer of tomato sauce, followed by a layer of grilled eggplant, salt, and pepper, followed by mozzarella and parmesan.

Repeat until you fill the pan, making sure you finish with a layer of tomato sauce, mozzarella, and parmesan cheese to ensure it looks well grilled.

Bake in the oven keeping the 400ºF (about 200ºC) for 40 minutes.

Remove from the oven and let it rest about 10 minutes before serving.
Notes
When you take it out of the oven, let it rest for 15 minutes before serving, to ensure all flavors and textures are well settled.
Top it with some basil leaves.
Nutrition Facts
Calories:
293
kcal
Carbohydrates:
29
g
Protein:
11
g
Fat:
15
g
Saturated Fat:
6
g
Polyunsaturated Fat:
1
g
Monounsaturated Fat:
1
g
Cholesterol:
11
mg
Sodium:
2509
mg
Potassium:
729
mg
Fiber:
8
g
Sugar:
10
g
Vitamin A:
737
IU
Vitamin C:
12
mg
Calcium:
260
mg
Iron:
2
mg
Nutrition Facts
Healthier No-Frying No breading Eggplant Parmesan
Amount per Serving
% Daily Value*
* Percent Daily Values are based on a 2000 calorie diet.
🌡️ Food safety
Cook to a minimum temperature of 165 °F (74 °C)
Do not use the same utensils on cooked food that previously touched raw meat
Wash hands after touching raw meat
Don't leave food sitting out at room temperature for extended periods
Never leave cooking food unattended
Use oils with high smoking points to avoid harmful compounds
Always have good ventilation when using a gas stove
See more guidelines at USDA.gov.
The information shown is an estimate provided by an online nutrition calculator. It should not be considered a substitute for a professional nutritionist's advice. See our full Nutritional Disclosure here.
Please note that some of the links here are affiliate links, and I will earn a commission if you purchase through those links. I recommend all of the products listed because they are companies I have found helpful and trustworthy.