Welcome to this tantalizing journey of flavors and textures, as we explore a simple yet profound culinary delight - Spinach and Arugula Salad with Blueberries. This salad brings together the peppery kick of arugula, the mild sweetness of fresh spinach, and the juicy burst of blueberries, resulting in a vibrant dish that is pleasing to the eye and a symphony for your taste buds. Tossed in a tangy vinaigrette, this salad is a perfect blend of nutritious greens and antioxidant-rich blueberries, making it a veritable powerhouse of health.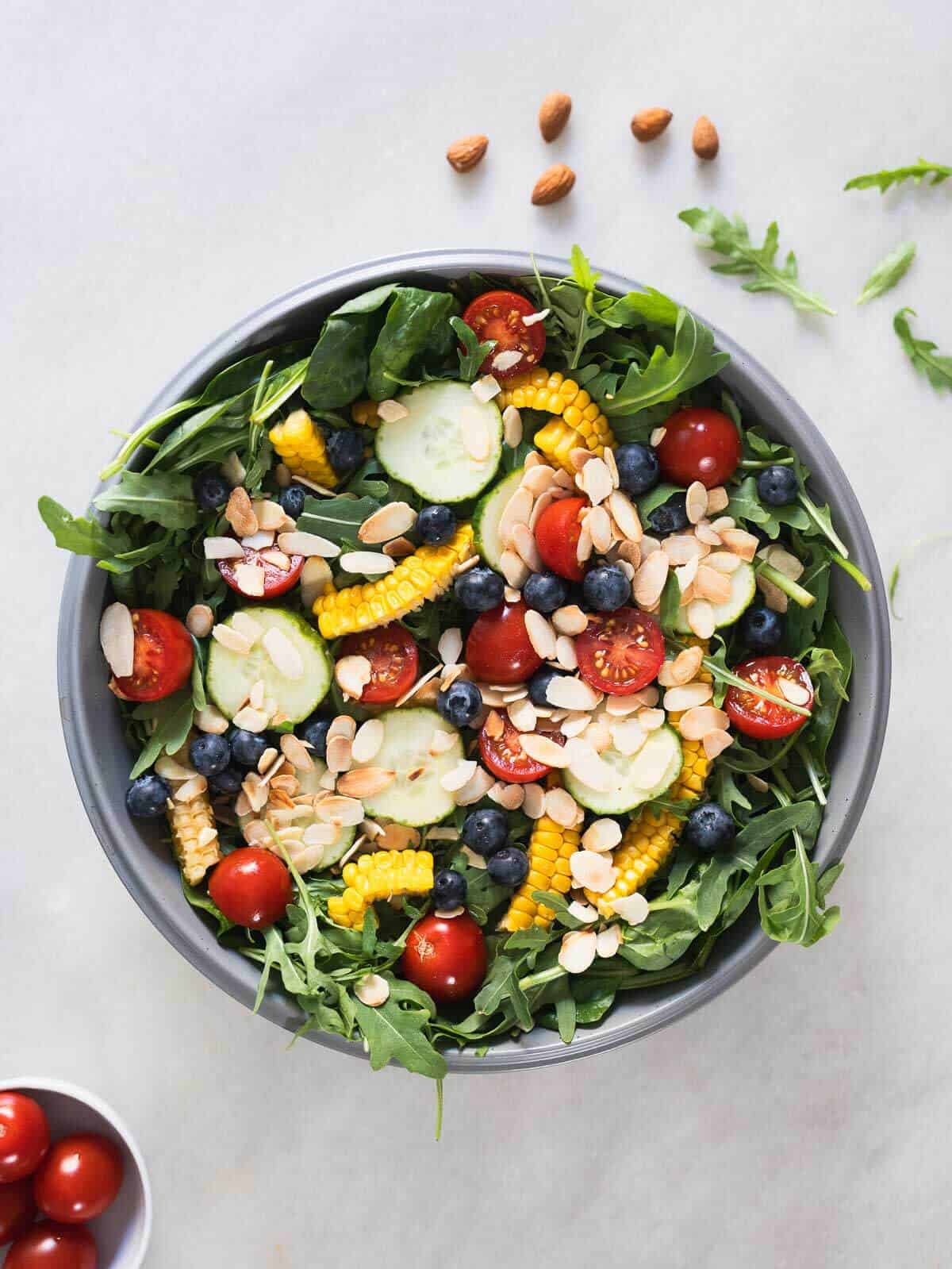 This Arugula Salad recipe truly stands out as a winner, thanks to its seamless blend of fresh ingredients, each carrying a healthful punch. The combination of peppery arugula and sweet spinach makes for a vibrant salad base that's packed with essential vitamins and minerals.
Arugula, a cruciferous vegetable, is an excellent source of Vitamin K, which supports bone health, while spinach brings in a wealth of iron and calcium. The blueberries, little globes of goodness, are famously rich in antioxidants, boosting overall wellness. All these elements harmoniously meld together to create a salad that's as nourishing as it is delectable.
Despite its impressive nutritional profile, this delicious salad remains accessible and quick to prepare - a perfect candidate for a light lunch or a side to your main course. The tangy blueberry balsamic vinaigrette dressing made with maple syrup and lemon juice is a cinch to whip up and adds a burst of flavor that ties the whole dish together.
This salad lets its ingredients' freshness shine, without demanding hours spent in the kitchen. Whether you're a busy professional looking for a quick yet healthy meal or someone who loves experimenting with flavors and textures, this Spinach Salad with Blueberry ticks all the boxes. So, get ready to indulge in a salad that's as easy on your schedule as on your palate.
Jump to:
🧾 Ingredients
This spinach arugula salad is made with just a few delicious ingredients:
Fresh Baby Spinach leaves: This leafy green adds a soft, mildly sweet flavor to our salad and is also a fantastic source of iron and calcium, essential for healthy bones and blood. Spinach and blueberries go well even in smoothies!
Arugula: Known for its distinctive, peppery kick, arugula contributes an exciting depth of flavor to the salad while also supplying a substantial amount of Vitamin K.
Cherry Tomatoes: These small, flavorful tomatoes add a bright pop of color and sweetness to the salad while also being rich in antioxidants, especially lycopene.
Cucumber: Cucumber provides a refreshing, crisp contrast to the other ingredients and is a great source of hydration due to its high water content.
Blueberries: Aside from adding a sweet and tangy punch, blueberries are packed with antioxidants, enhancing the nutritional profile of this salad.
Cooked Corn Cob: Apart from lending a sweet, earthy flavor, corn cobs are a good source of carbohydrates, making the salad more satiating.
Sliced Almonds: The addition of sliced almonds provides a satisfying crunch and introduces heart-healthy fats, making this salad even more nutritious.
Optional Blueberry Vinaigrette: This dressing, while optional, adds an extra layer of tangy sweetness that complements the salad's flavors perfectly, and its blueberries carry the same antioxidant benefits as those in the salad.
See the recipe card for quantities.
🔪 Instructions
This salad with spinach and arugula involves 3 simple steps.
Wash fresh spinach, arugula, tomatoes, and corn.
Chop ingredients.
Make your dressing and assemble the arugula spinach salad.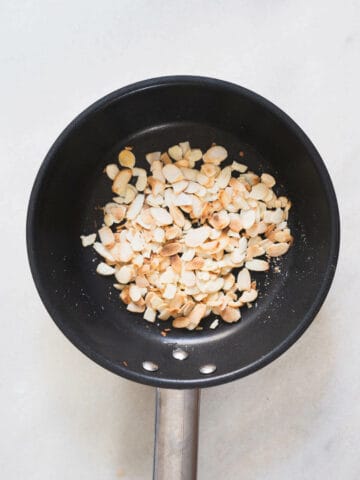 Get your toasted almonds going. Toss them gently into a skillet and toast on medium heat for a few minutes until golden brown.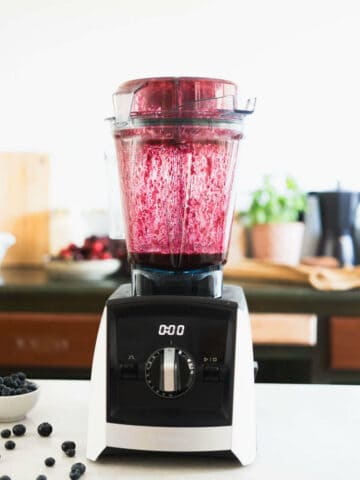 Optionally make our Oil-free Blueberry vinaigrette to top your salad.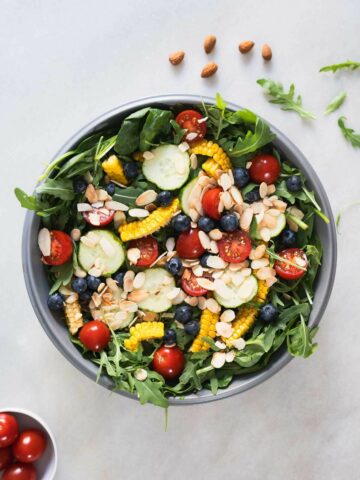 Assemble the entire salad in a large bowl. First, add fresh spinach, then greens, and top with halved cherry tomatoes, corn ribs, sliced cucumbers, fresh blueberries, and the blueberry dressing.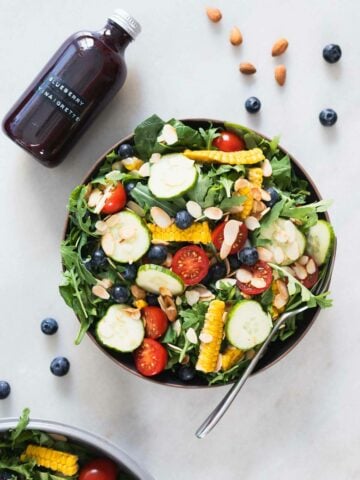 Gently toss spinach arugula salad with our suggested blueberry dressing made in less than 5 minutes, or pour dressing with extra virgin olive oil, lemon zest, lime juice, and balsamic vinegar or apple cider vinegar.
Serve immediately!
🍶 Substitutions
Baby Spinach: You could opt for romaine lettuce, fresh basil, or kale as an alternative, both providing a slightly stronger, peppery flavor. However, they both maintain the leafy green benefits.
Almonds: sunflower seeds, walnuts, or pecans could be used as a substitute. While both provide a crunchy texture, walnuts offer a sweet, earthy, subtle flavor, and pecans provide a rich buttery taste.
Blueberries: Dried fruit, raspberries, cherries, or goji berries would make a good substitute. Both provide a slightly different tartness but are equally antioxidant-rich.
Corn cob ribs: Substitute with canned sweet corn or chickpeas.
Cucumber: Raw zucchini has a mild flavor and crunch similar to cucumber, making it a good alternative. It's also similarly hydrating, though it may have a slightly softer texture.
Blueberry Vinaigrette: apple cider vinaigrette, strawberry balsamic dressing, or raspberry vinaigrette are great alternatives. While it maintains the tanginess, it infuses the salad with a distinctive apple undertone, adding a unique twist to your dish.
📖 Variations
Vegan Feta Twist: Crumble some vegan feta cheese over the top of your salad. This will lend a creamy, tangy element that perfectly complements the sweetness of the apples and cranberries.
Bold and Blue Variation: Try sprinkling vegan blue cheese crumbles on top for a robust, punchy flavor. The unique tang of blue cheese adds an interesting layer to the salad's taste profile.
Apple and Red Onion Variation: Add thin apple slices to bring a sweet crunch to the salad. The apples pair well with thin slices of red onion, which provide a pungent contrast to the sweetness of the apples and blueberries. The red onions can either be added raw for a stronger flavor or lightly sautéed for a mellower taste.
Avocado and Vegan Parmesan Cheese Variation: Introduce creamy avocado slices of ripe avocado to your salad for a richer mouthfeel and added healthy fats. Sprinkle vegan Parmesan cheese over the top for a dairy-free, savory flavor boost that beautifully complements the creaminess of the avocado.
Pumpkin Seed and Pomegranate Variation: Sprinkle roasted pumpkin seeds onto the salad for an added crunch and a boost of plant-based protein. Add pomegranate seeds for a splash of color and a tart, juicy pop. They'll make the salad even more visually appealing and increase the antioxidant content.
🍽 Equipment
Blender or Food Processor: Essential for crafting your dressing, a blender

(affiliate link)

or food processor

(affiliate link)

will help combine all the vinaigrette ingredients into a smooth, perfectly emulsified mixture. This ensures even flavor distribution throughout your salad.
Large Bowl: A generously sized bowl is ideal for assembling your salad. It offers enough space to comfortably mix all your ingredients, ensuring that every serving is balanced and packed with your delightful dish's different components.
🥡 Storage
To maintain the freshness and quality of your salad, it's recommended to store leftover salad's components separately:
Salad Greens and Vegetables: After washing and drying, store the spinach, spring greens, and grated carrot in separate airtight containers in the refrigerator. They should keep well for 2-3 days.
Fruits and Nuts: Keep the blueberries and almonds in a separate container, while the almonds can be stored at room temperature in a cool, dry place.
Dressing: The blueberry vinaigrette can be stored in a glass jar or bottle refrigerator for up to a week. Remember to give it a good shake before using it.
When you're ready to enjoy the arugula salad again, assemble the components and dress it fresh.
❓ FAQ
What goes well with arugula?
Arugula, known for its unique, peppery flavor, matches well with a range of vegan-friendly ingredients. Here are some suggestions:
Citrus Fruits: The tang of citrus fruits like lemon or grapefruit beautifully contrasts the peppery taste of arugula.
Vegan Cheese: Nut-based cheeses or nutritional yeast can balance out arugula's strong flavor, adding a creamy element to your salad or dish.
Nuts and Seeds: Almonds, walnuts, pine nuts, or sunflower seeds can introduce a delightful crunch and complementary flavors.
Grains: Quinoa, farro, or couscous can add substance to your arugula salad, making it a more filling meal.
Other Vegetables and Fruits: Tomatoes, cucumbers, beets, pears, and apples are just a few options that can provide sweet or refreshing counterpoints to arugula's peppery notes.
Plant-Based Proteins: Tofu, beans, or lentils can make the salad more satiating, and their relatively mild flavors can balance arugula's spiciness.
Dressings: A tangy vinaigrette or a creamy vegan dressing, like a tahini-based one, can pair well with arugula.
Herbs and Spices: Fresh basil, mint, or dill, as well as spices like cumin and coriander, can complement and elevate the flavor profile of an arugula-based dish.
📚 More salad recipes
If you love salad vinaigrettes, don't forget all the tips to make the perfect vinaigrette!
⭐ If you try this salad with spinach and arugula, let us know! 💬 Leave a comment, rate it, and don't forget to tag us @ourplantbasedworld on Instagram. Cheers!
📋 Recipe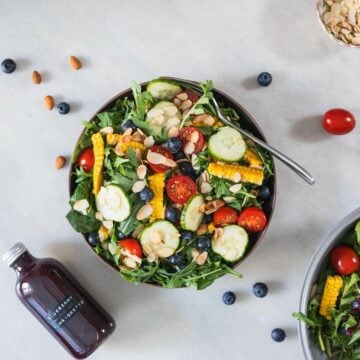 Spinach and Arugula Salad with Blueberry Vinaigrette
Discover the vibrant flavors of our Spinach and Arugula Salad with Blueberry, a nutritious symphony of peppery arugula, sweet spinach, and antioxidant-rich blueberries. Perfect for any meal, this easy-to-make spinach arugula salad not only satisfies your taste buds but also boosts your health with its powerhouse of nutrients.
Equipment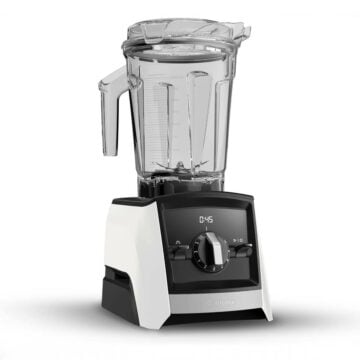 (affiliate link)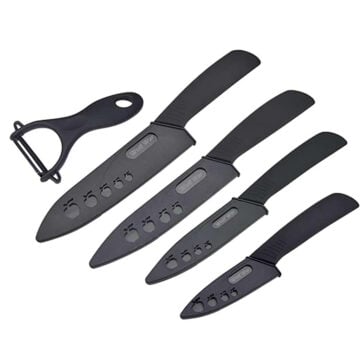 (affiliate link)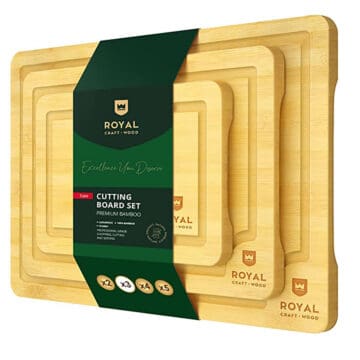 (affiliate link)
Ingredients
5

ounces

baby spinach

2.5

ounces

arugula

10

cherry tomatoes

1.5

ounces

cucumber

1

cob

corn

ribs cut

3

ounces

blueberries

2

ounces

almonds
Directions
Blend. Add the balsamic glaze, olive oil, lemon juice, salt, and black pepper in a blender or food processor and blend until well combined and smooth.

Taste the dressing and adjust the seasoning if needed.

Refrigerate. Pour the dressing into a jar or container with a lid and store it in the refrigerator until ready to use.

Shake. Give the dressing a good shake before using it to ensure all ingredients are well combined.

Enjoy your delicious homemade strawberry balsamic dressing on your favorite salads or as a marinade for grilled tofu or vegetables.
Notes
If you don't use the blueberry vinaigrette, you can opt for a mix f extra virgin olive oil, balsamic vinegar, salt, and pepper.
Nutrition Facts
Calories:
17
kcal
Carbohydrates:
1
g
Protein:
1
g
Fat:
1
g
Saturated Fat:
1
g
Polyunsaturated Fat:
1
g
Monounsaturated Fat:
1
g
Sodium:
29
mg
Potassium:
18
mg
Fiber:
1
g
Sugar:
1
g
Vitamin A:
1
IU
Vitamin C:
7
mg
Calcium:
2
mg
Iron:
1
mg
Nutrition Facts
Spinach and Arugula Salad with Blueberry Vinaigrette
Amount per Serving
% Daily Value*
* Percent Daily Values are based on a 2000 calorie diet.
🌡️ Food safety
Cook to a minimum temperature of 165 °F (74 °C)
Do not use the same utensils on cooked food, that previously touched raw meat
Wash hands after touching raw meat
Don't leave food sitting out at room temperature for extended periods
Never leave cooking food unattended
Use oils with a high smoking point to avoid harmful compounds
Always have good ventilation when using a gas stove
See more guidelines at USDA.gov.
Nutritional Disclaimer
The information shown is an estimate provided by an online nutrition calculator. It should not be considered a substitute for a professional nutritionist's advice. See our full Nutritional Disclosure here.
Affiliate Disclaimer
Please note that some of the links here are affiliate links, and I will earn a commission if you purchase through those links. I recommend all of the products listed because they are companies I have found helpful and trustworthy.