As the leaves start to turn yellow and red, and the air becomes crisper, it's time to start thinking about hearty comfort foods like this vegan butternut squash risotto recipe. The key to a great risotto is all in the stirring! Stirring allows the rice to cook evenly and releases its starch, which results in a creamy and delicious final product. This vegan version is lightened up with vegetable broth instead of cream, making it perfect for those colder days when you want something comforting but not too heavy. Give it a try!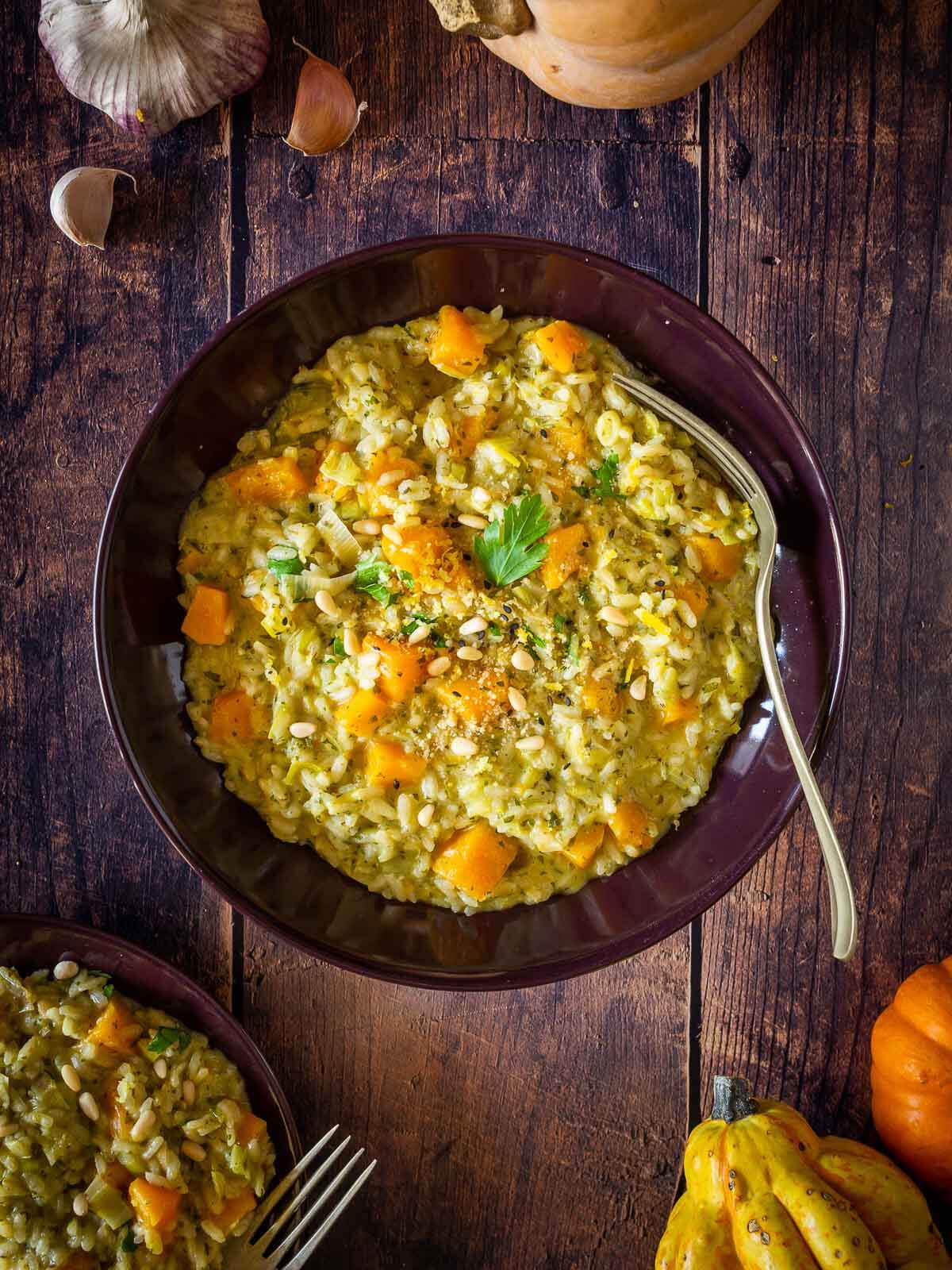 Butternut squash is one of my all-time favorite vegetables. I love its sweet and nutty flavor and the fact that it's so versatile. You can use it in soups, stews, pasta dishes, or as part of the main course. You can use leftover squash for this recipe, as the chunks can be irregular.
In this blog post, I'm going to show you how to make an easy butternut squash risotto recipe. Risotto is a classic component of the Italian diet made with short-grain rice, which gives it a creamy texture. This particular recipe is vegan and gluten-free, but you can easily adapt it to fit your dietary needs. So let's get started!
This was inspired by my roasted pumpkin risotto recipe on this site, and pairs well with a fresh green salad and homemade vinaigrette.
Ingredients
Butternut squash risotto ingredients are vegan pantry staples and wholesome ingredients that are easy to get.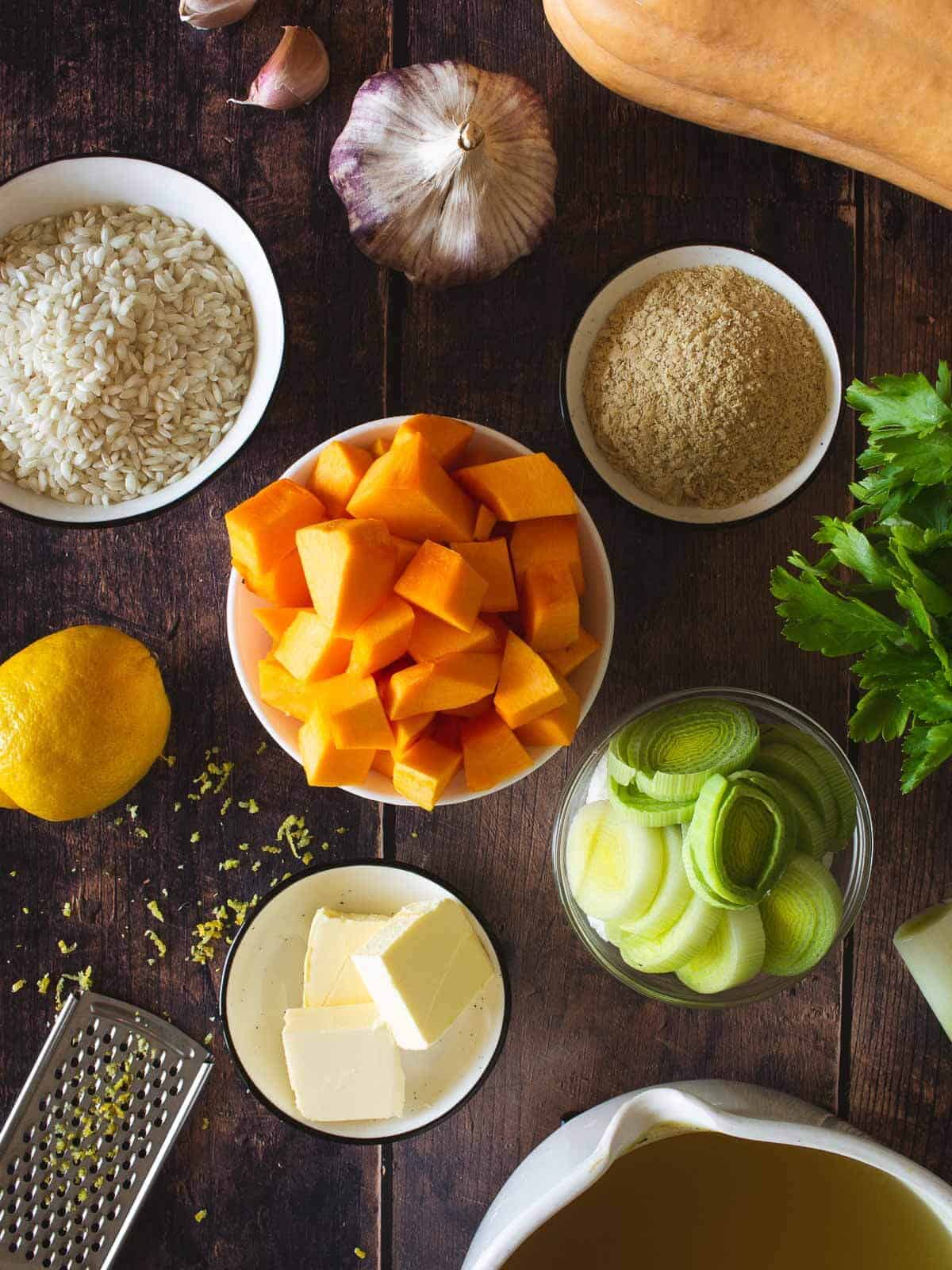 Carnarolli rice or arborio rice
Butternut squash
Leeks
Lemon
Parsley
Fresh garlic
Vegetable stock
Vegan butter or extra virgin olive oil
Nutritional yeast or vegan parmesan cheese
See quantities and full instructions in the recipe card.
Instructions
To make butternut squash risotto start by peeling and cubing the butternut squash.
Prepare the veggie stock
Put your vegetable stock to simmer in a large saucepan. If using granulated store-bought veggie stock, bring the water to boil and prepare according to packaging instructions. I like adding leek's green tops.
Prepare the butternut squash and leeks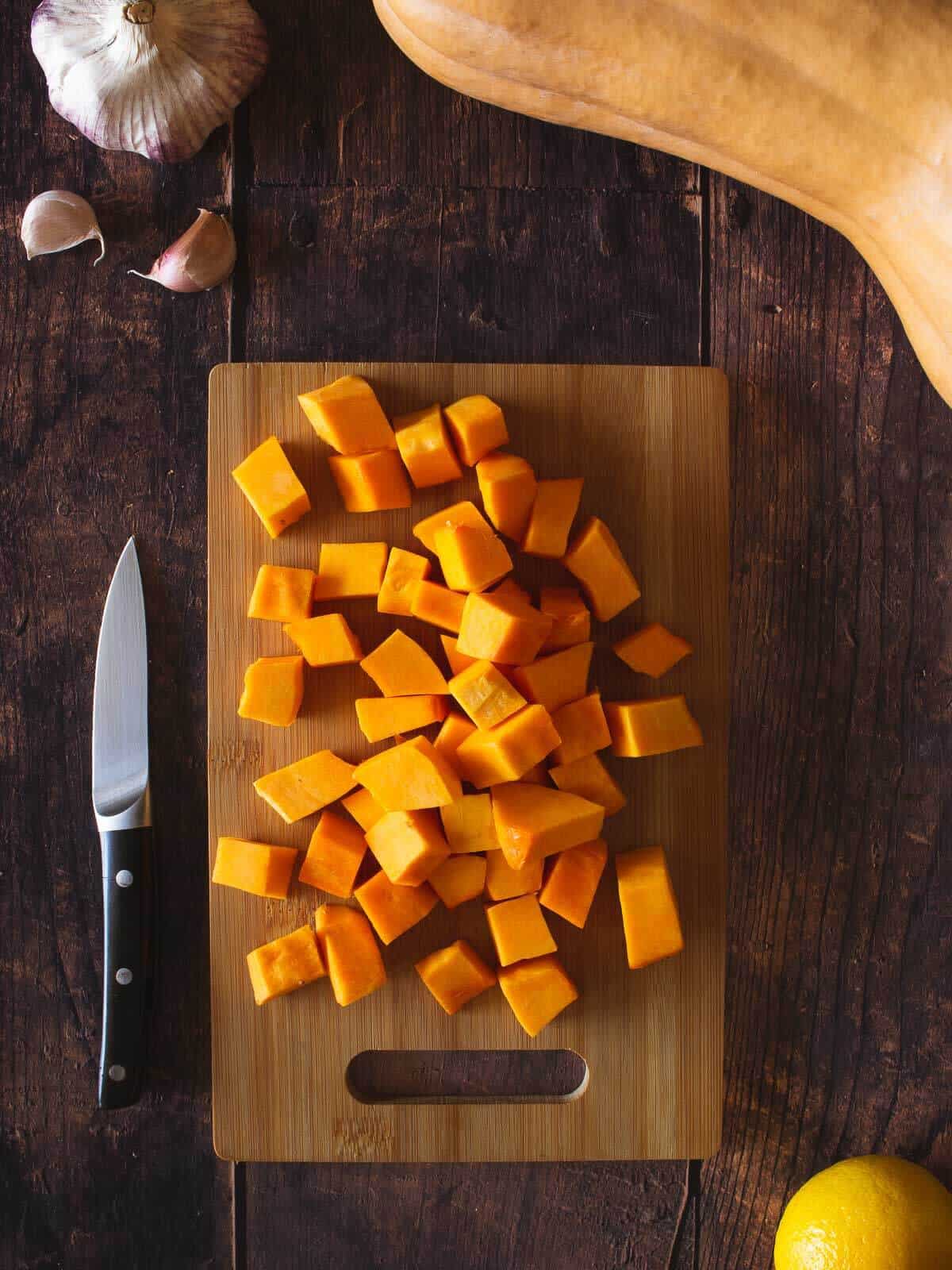 dice the butternut squash into cubes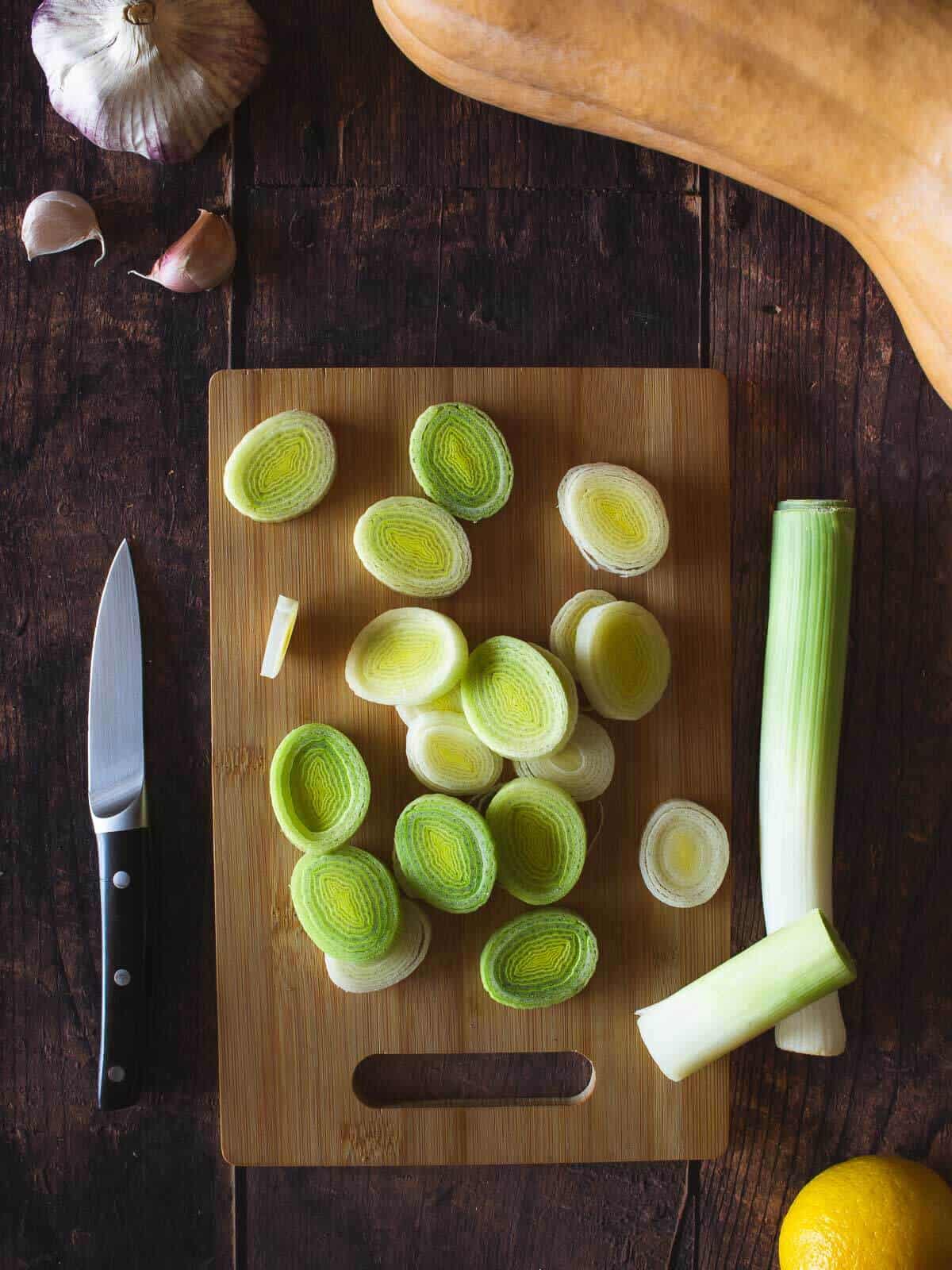 finely slice the leeks
Prepare the seasonings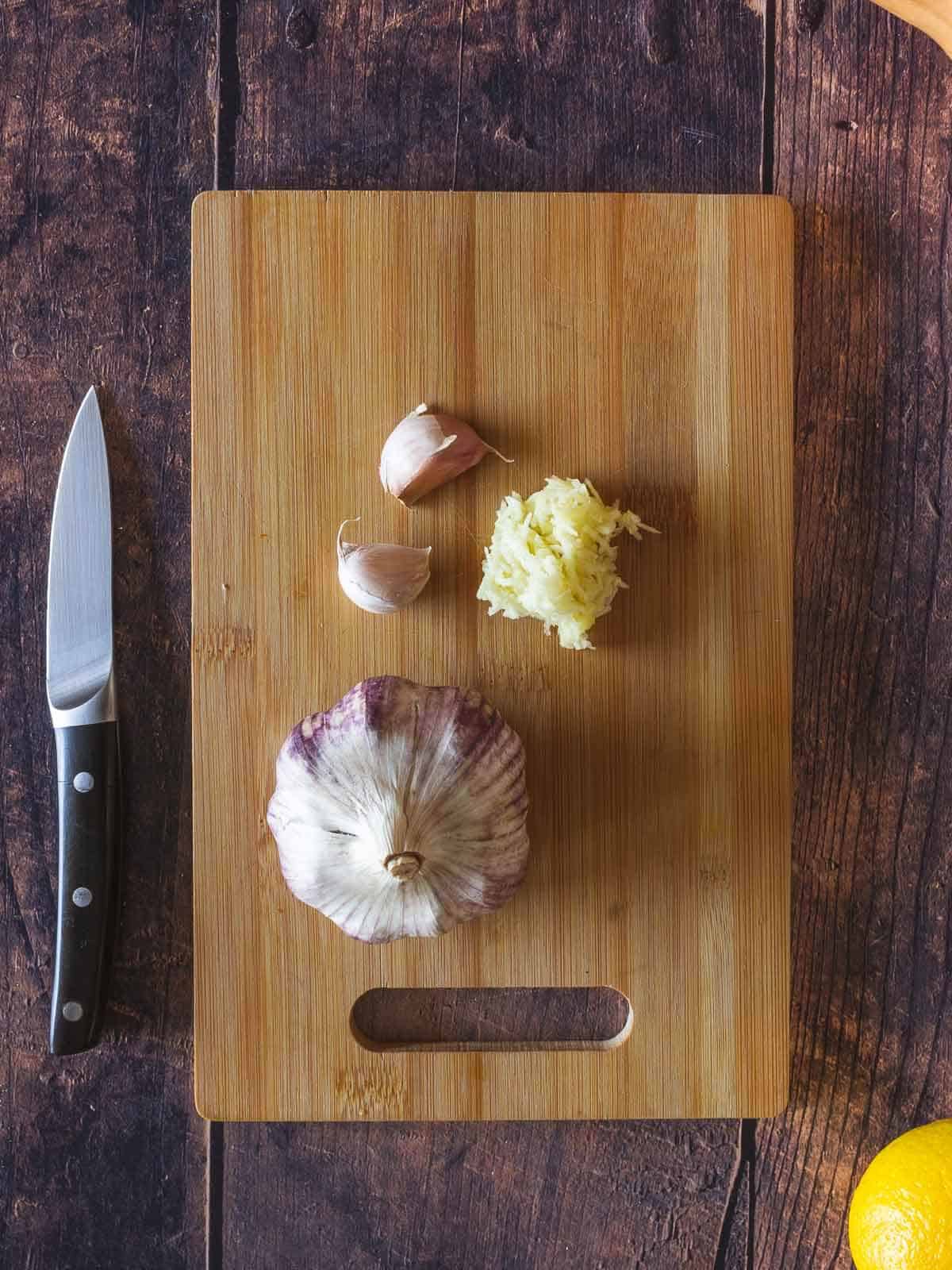 mince the fresh garlic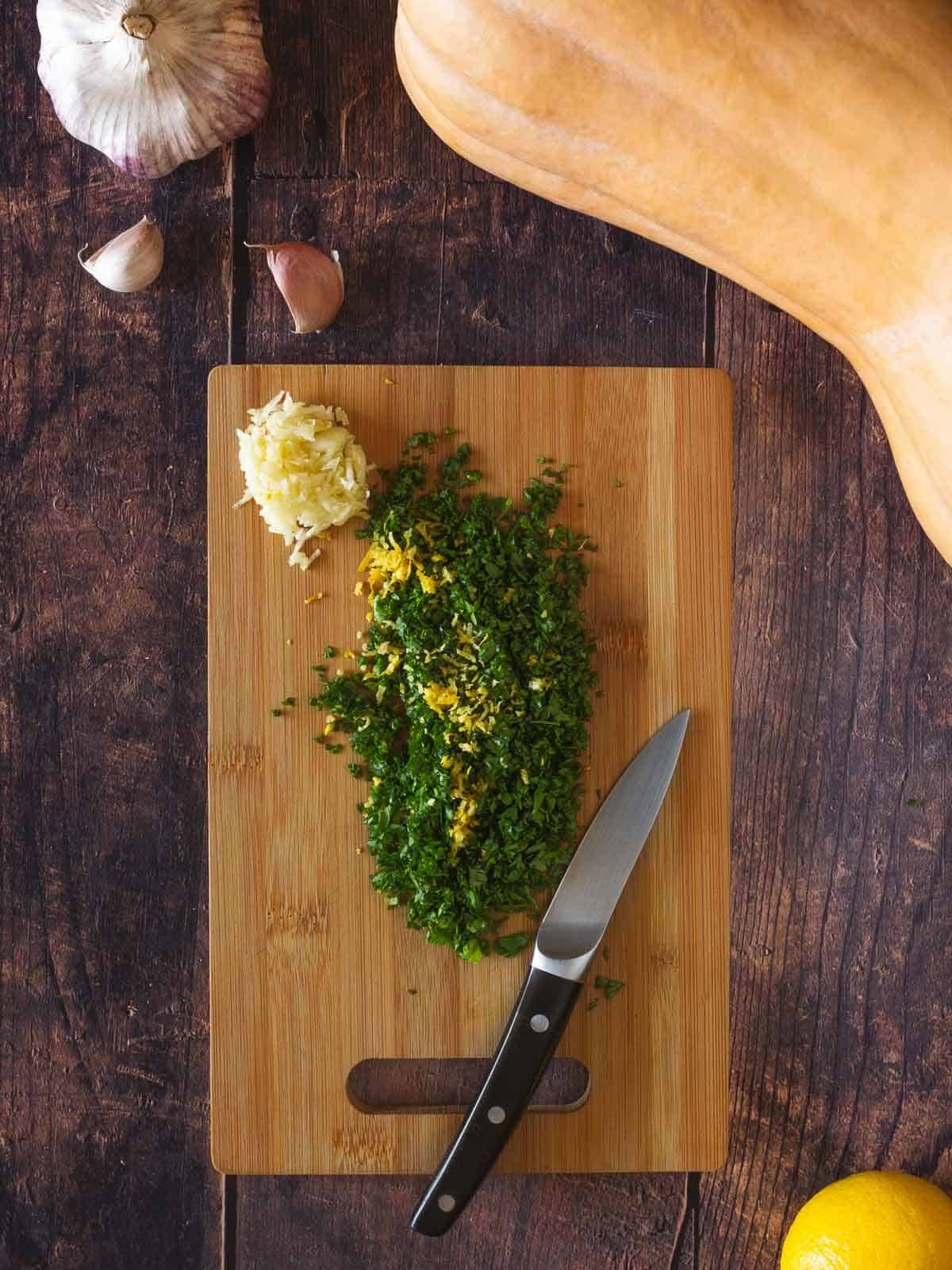 chop parsley, zest the lemon, and mix with minced garlic
Sautée the vegetables and seasonings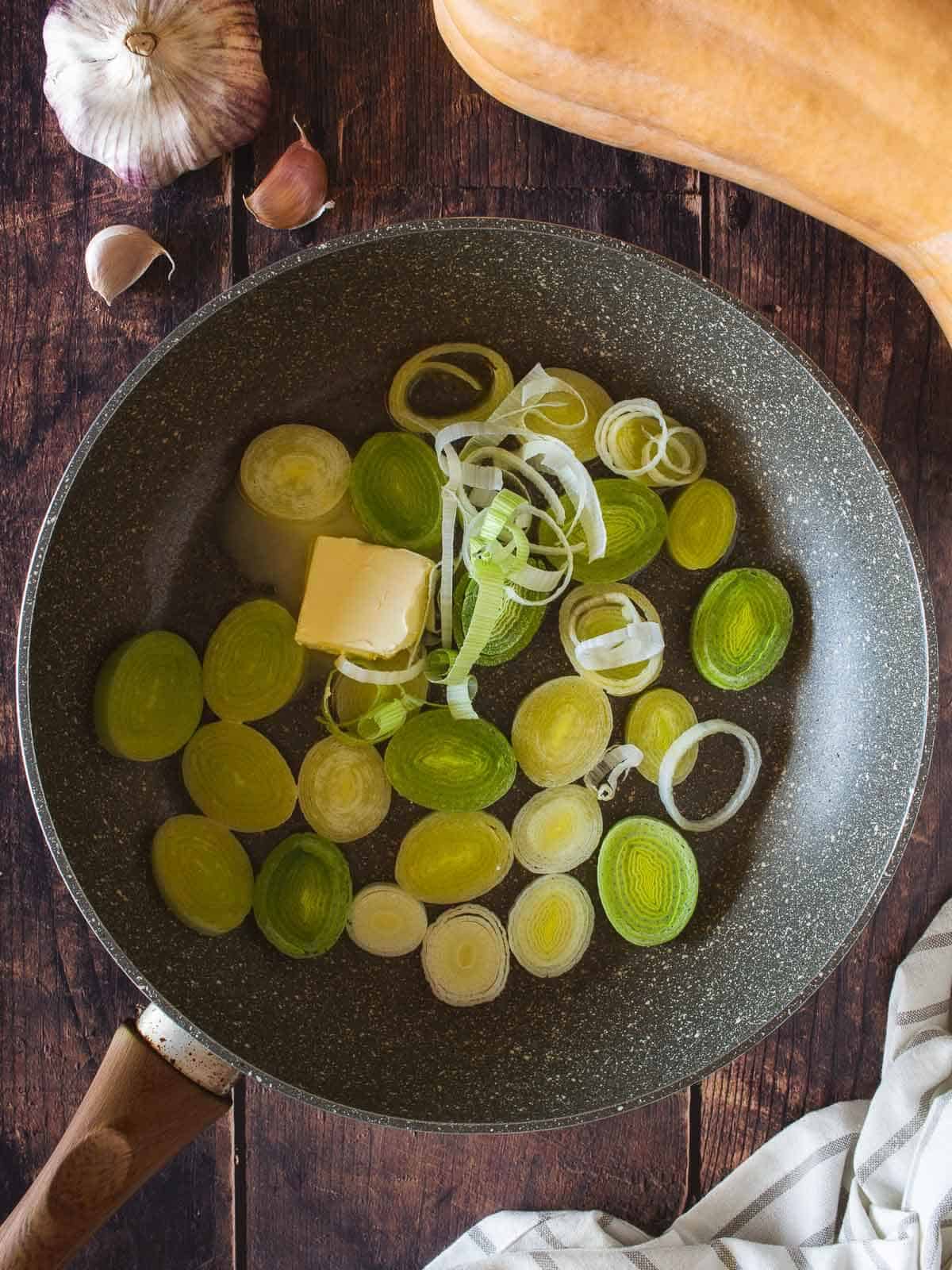 sautée the leeks and vegan butter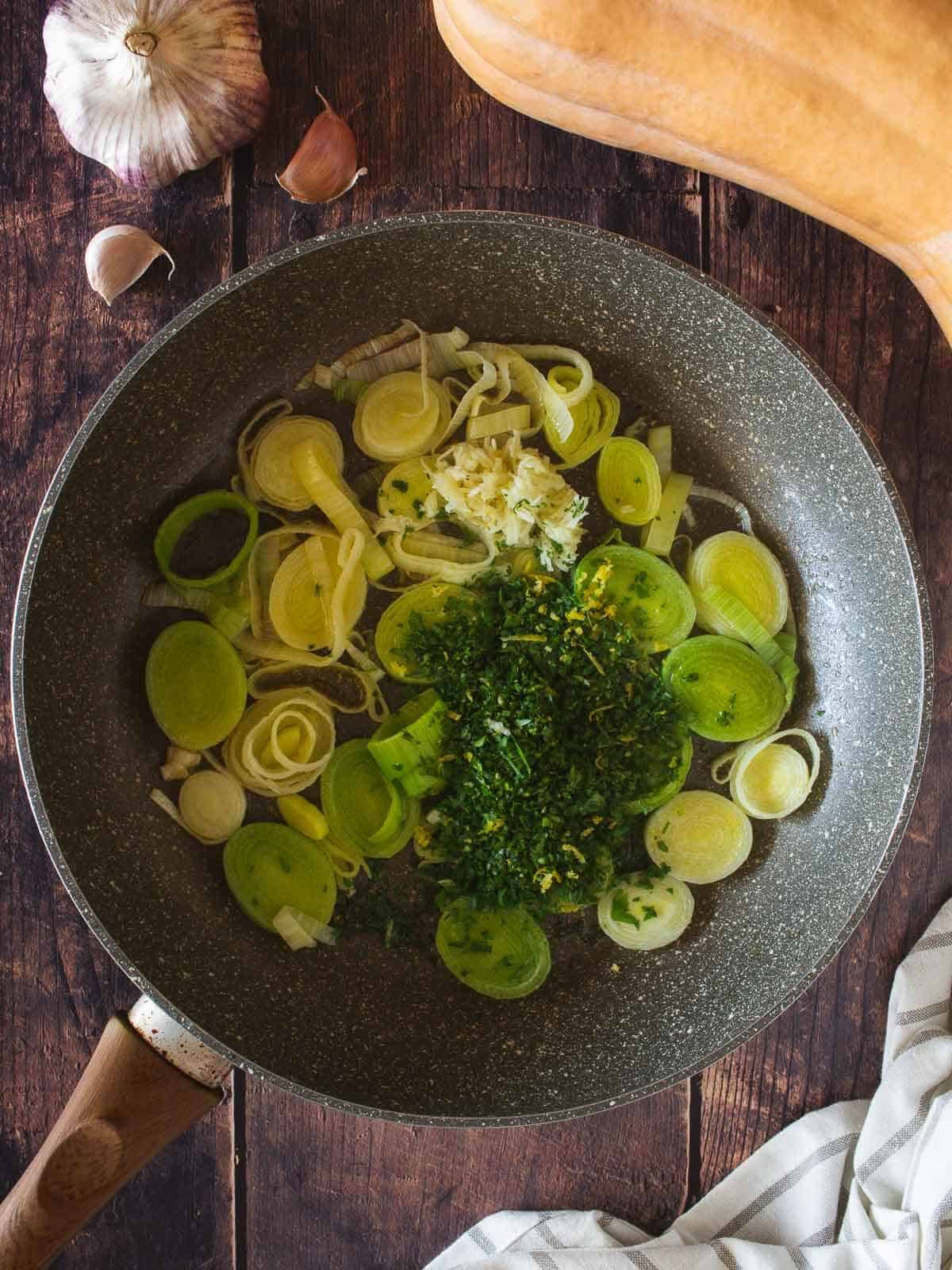 add the parsley mixture
Making risotto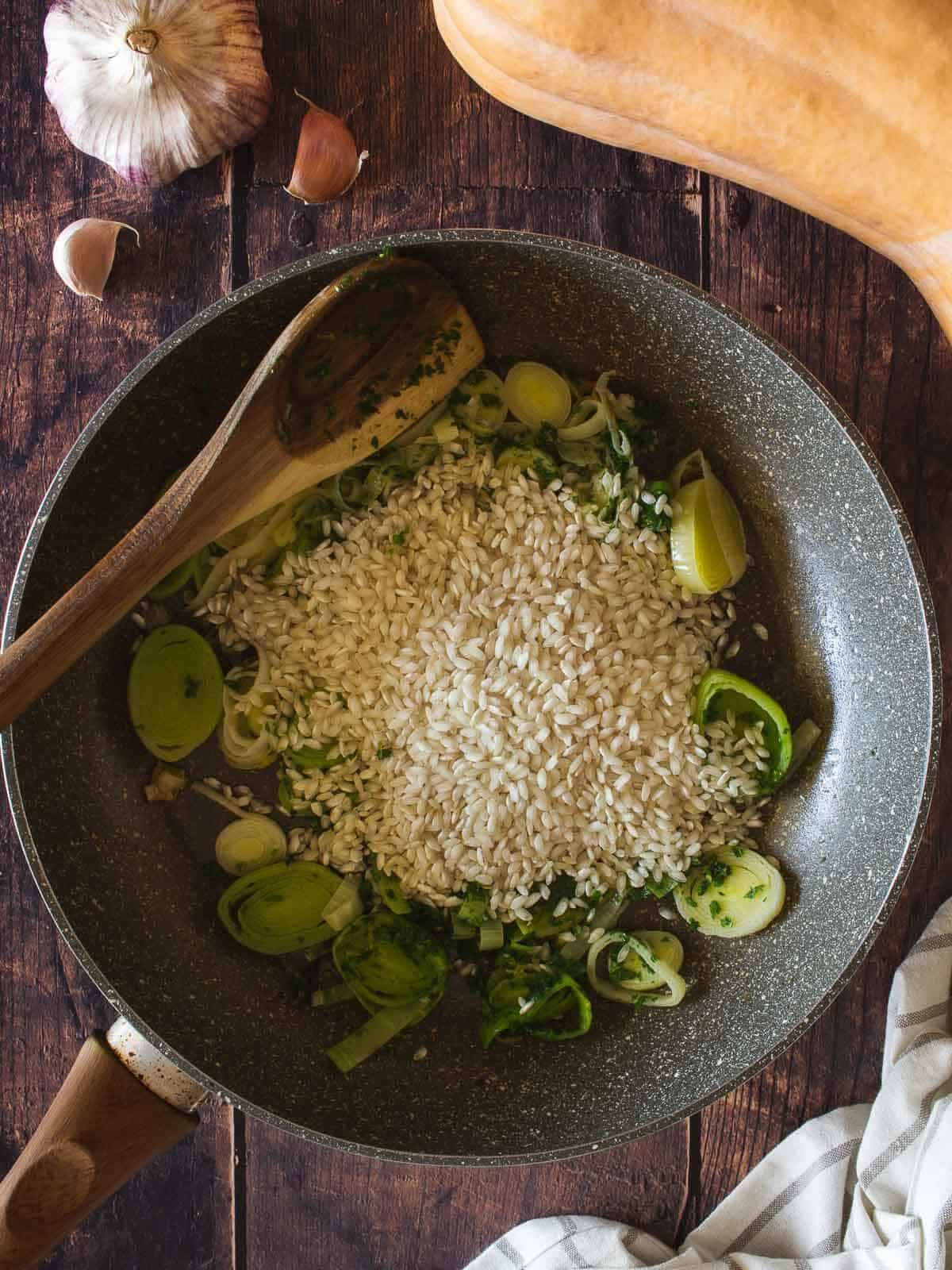 toast rice followed by veggie stock or white wine letting the rice absorb the liquid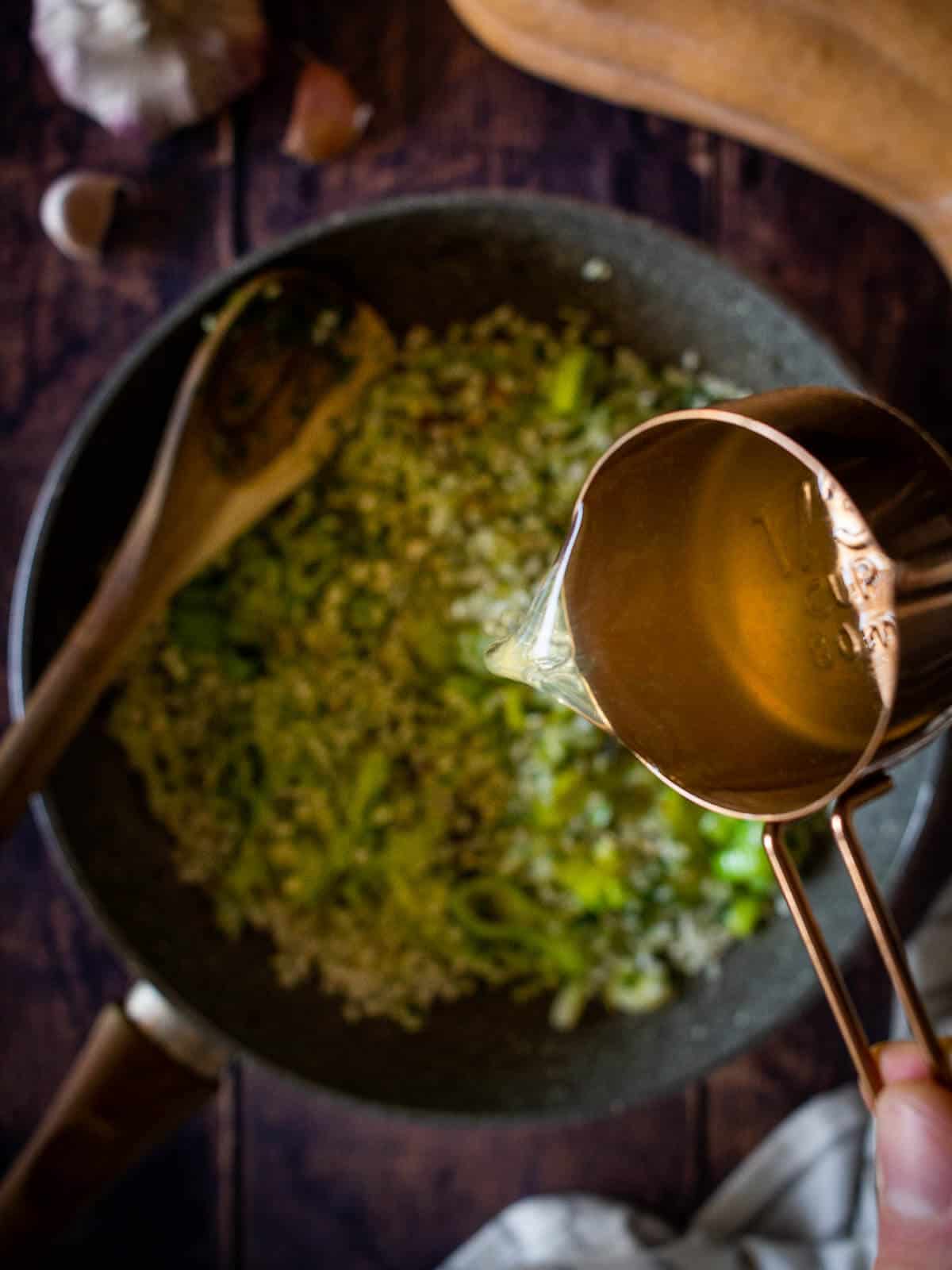 add veggie stock, a half cup at a time until consumed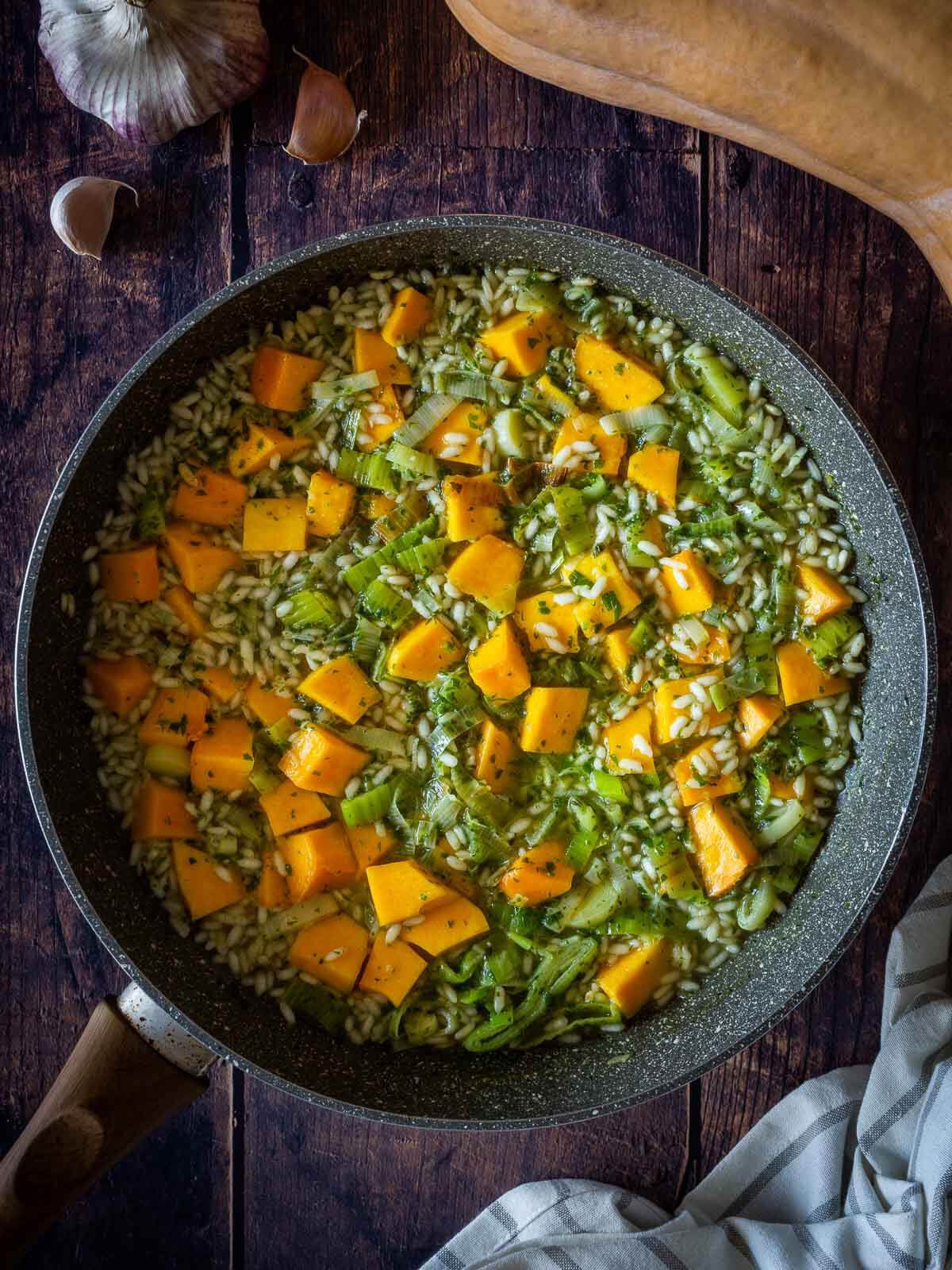 add cubed butternut squash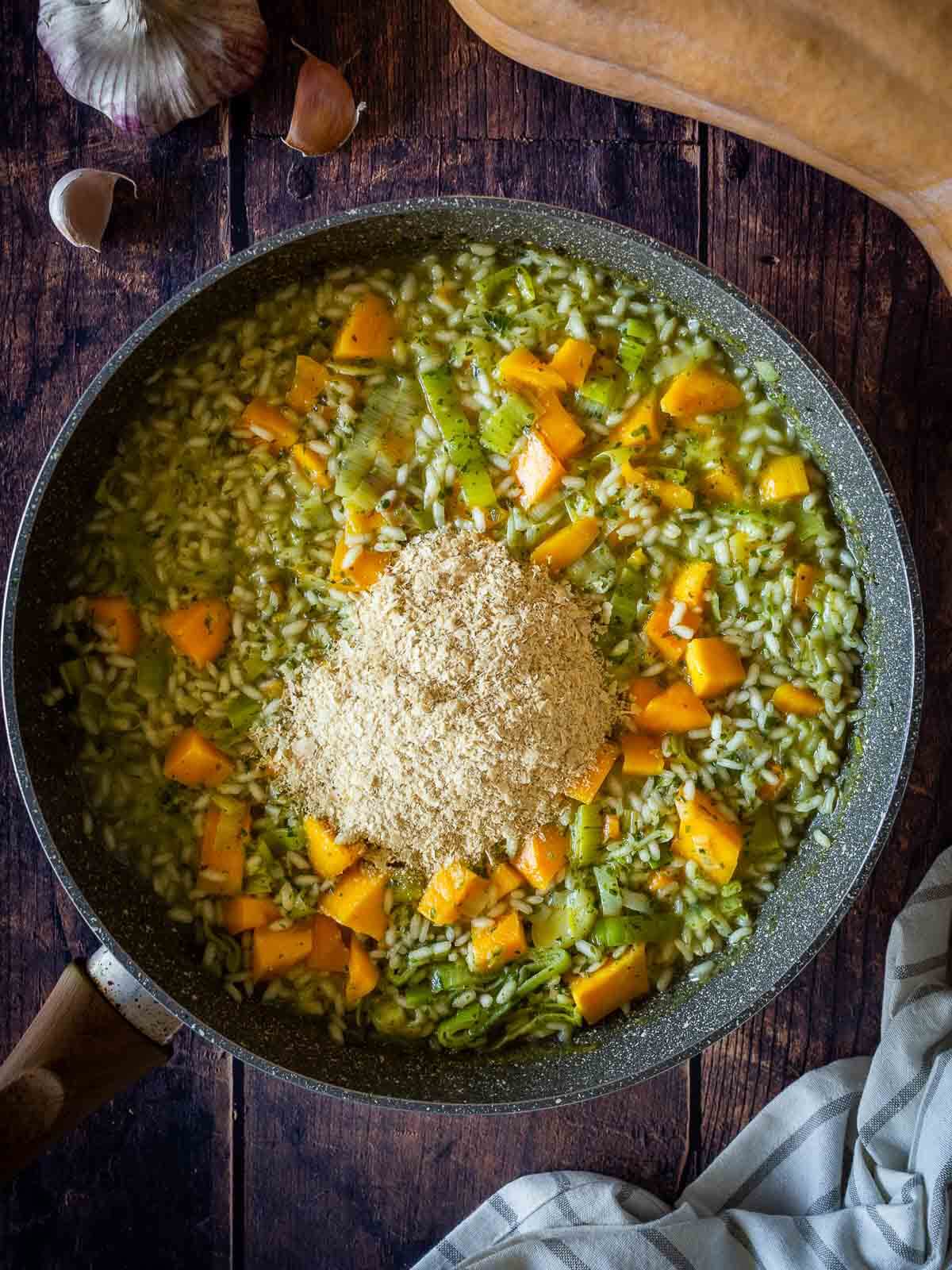 add nutritional yeast or vegan parm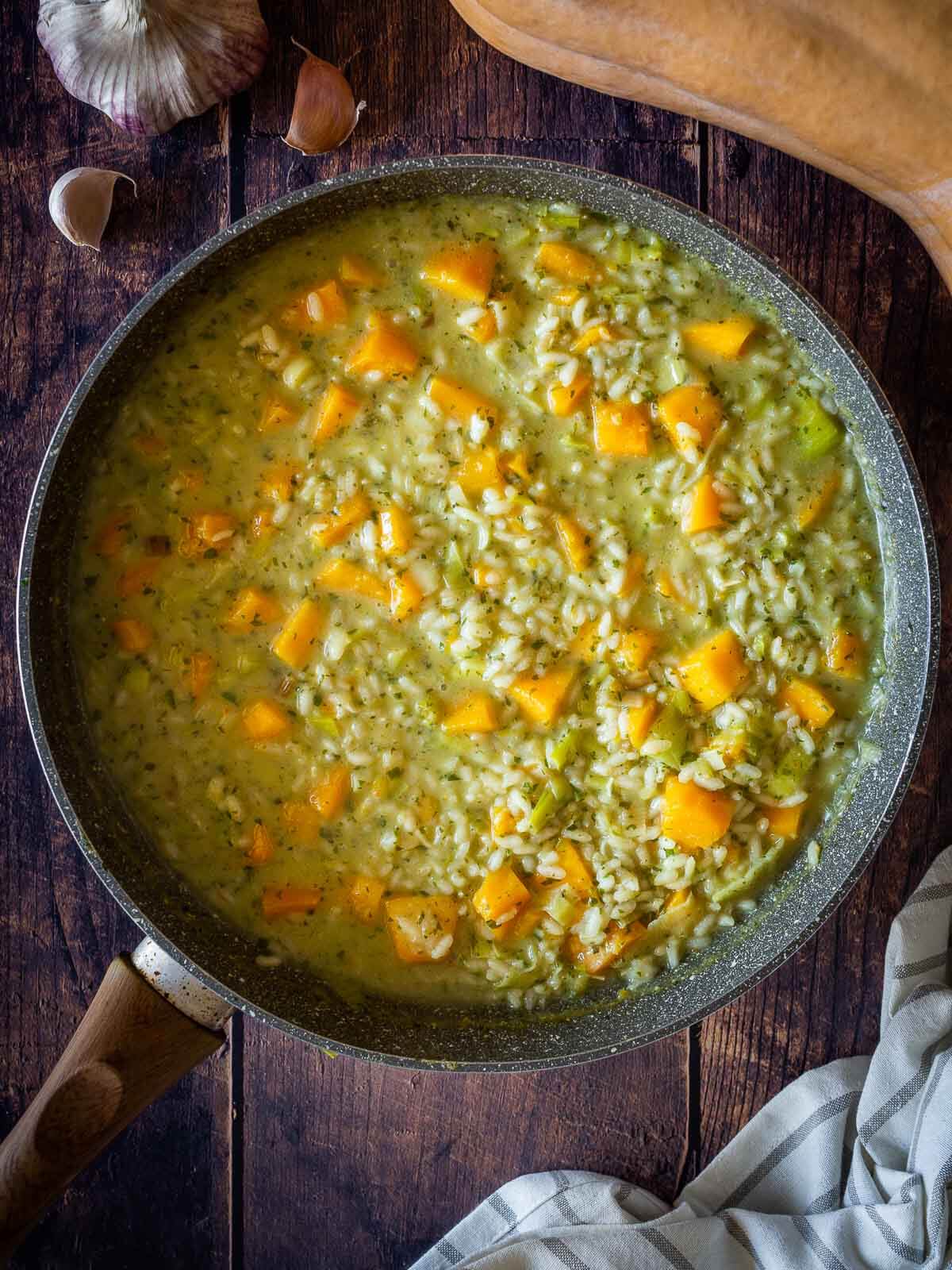 stirring frequently on medium heat until rice is slightly al dente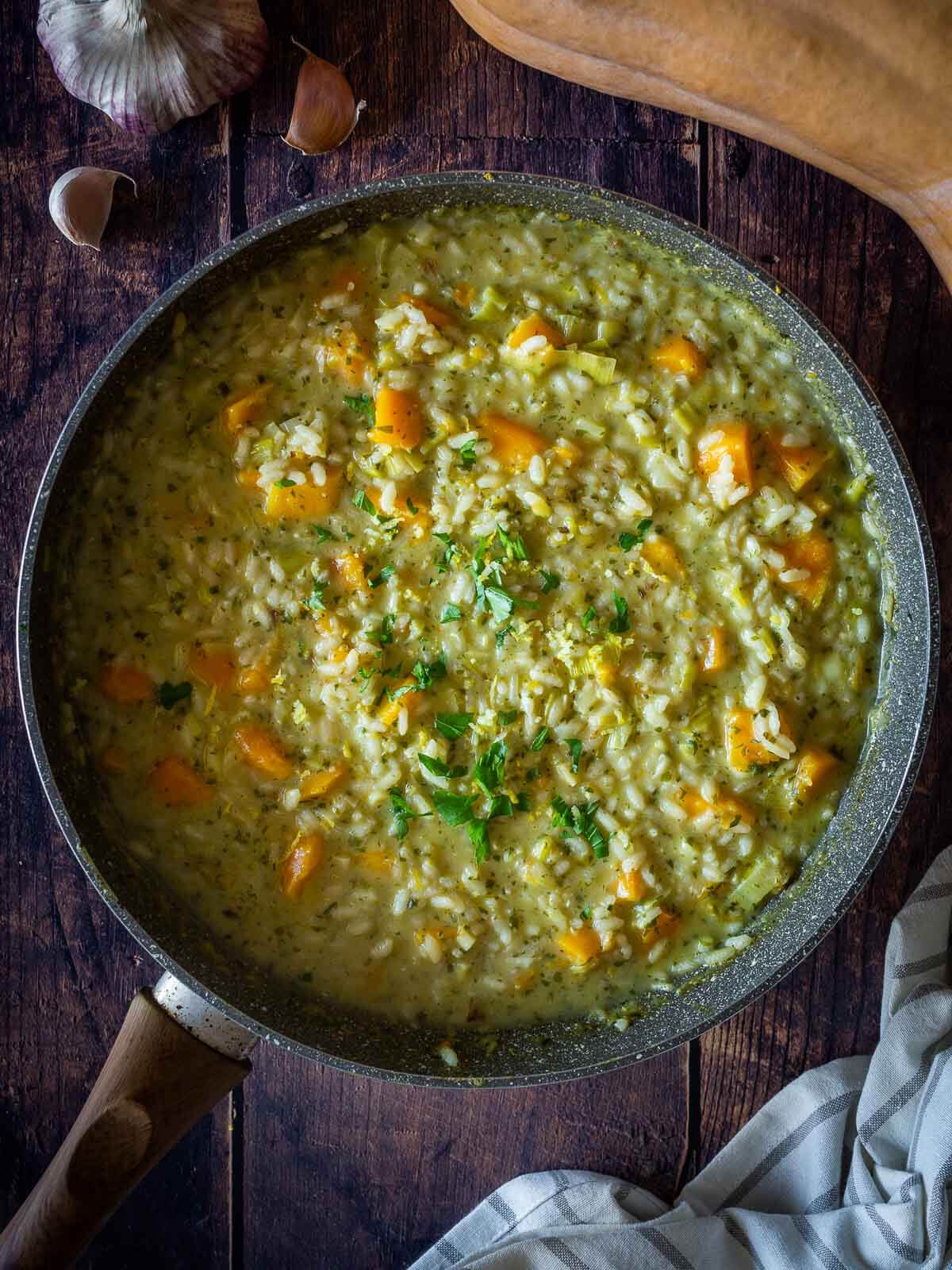 season with more parsley, salt, and freshly ground black pepper
Serve immediately as soon as the squash is tender and the rice is al dente, optionally topping the butternut squash risotto recipe with pine nuts.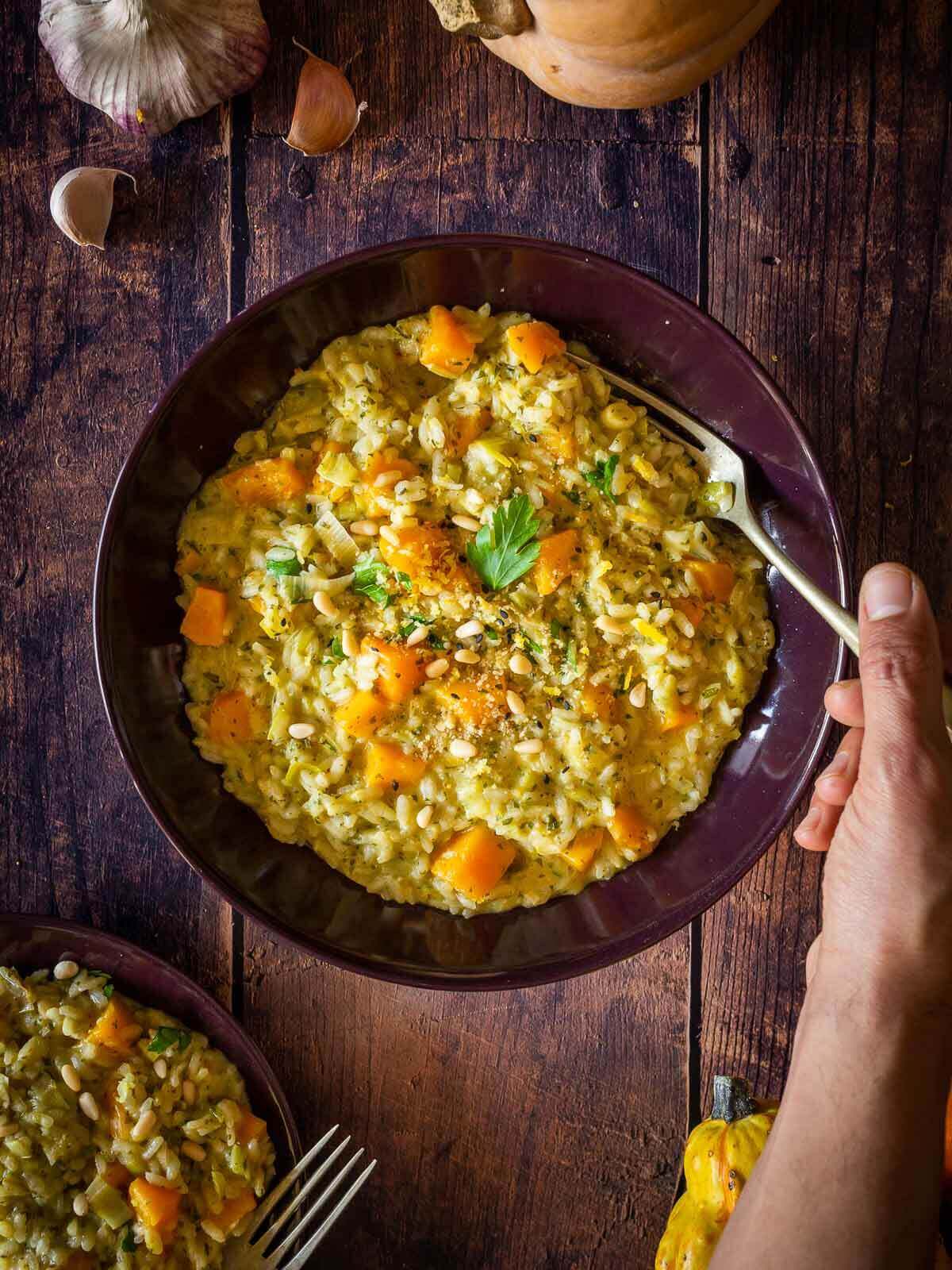 What to serve with butternut squash risotto
We like serving our risottos with a fresh green salad or with side dishes like roasted Brussels sprouts, grilled asparagus, white asparagus, or green beans with toasted almonds.
Substitutions
This creamy risotto is super versatile, here are a couple of suggestions in case you need to make some changes based on the product you have readily available.
Rice - instead of white arborio rice or carnarolli rice, you could use short grain brown rice for additional fiber, but it will take longer to cook.
Parsley - use fresh sage instead of parsley for a more earthy flavor. Thyme and rosemary are also great options. Another great option if using sage is to briefly fry the sage leaves and add the crispy fried sage on top while serving.
Leeks - you can use finely chopped yellow onion instead.
Vegan cheese - we like using our homemade vegan parmesan cheese instead of the regular freshly grated parmesan cheese used on traditional risotto, as it is vegan and it is made with nutritional yeast. You can also use cashew cheese.
Extra earthy - add sautéed mushrooms to this wonderful recipe.
Butternut - replace the original ingredients with pumpkin and sweet potato. Both choices will yield this thick and sweet outcome. Add some freshness and thyme to it. This dish has a great flavor that makes for a very different experience.
Roasted butternut squash option - if you have some extra minutes, you can make this butternut risotto recipe with roasted butternut (see how to roast butternut squash to perfection).
Storing
Leftover risotto can be stored using an airtight container.
Once cool, put in containers and keep in the refrigerator for up to 2-3 days. Bring the risotto to its proper temperature in the microwave or on the stovetop with some vegetable broth or water to hydrate it.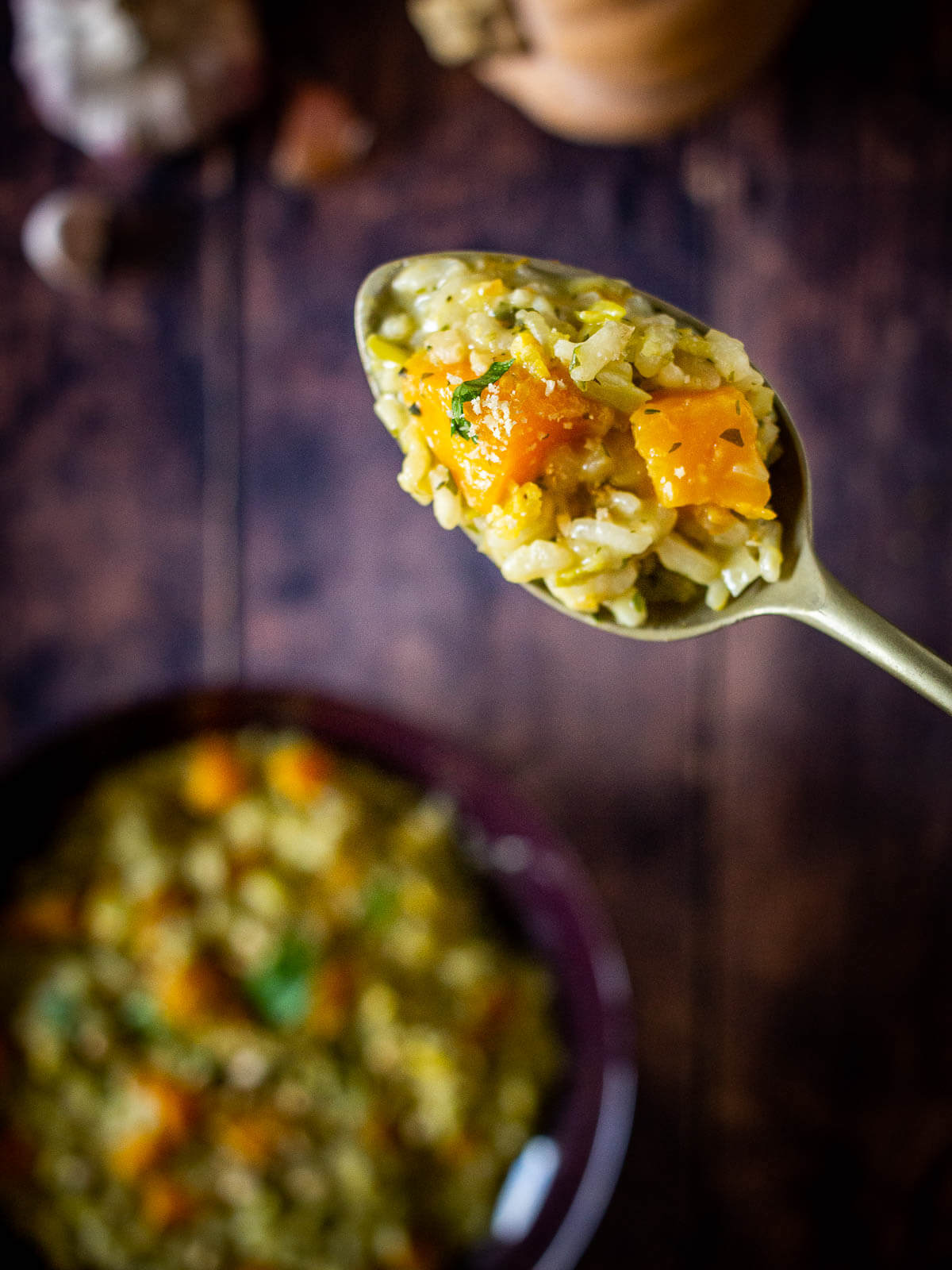 Vegan butternut squash recipes
Try out our roasted butternut squash recipe as well as our creamy soup made either with pumpkin or butternut squash.
We also love making our vegan butternut squash pasta, which is a creamy and delicious recipe that resembles the classic mac and cheese.
More vegan risotto recipes
As risotto lovers we love trying out all possible risotto combinations, here are a few our vegetarian recipes for creamy rice: creamy mushrooms risotto, lemon, and asparagus risotto, roasted pumpkin risotto, Risotto alla Milanese, zucchini risotto, and sun-dried tomato risotto.
If you try this recipe, let us know! Leave a comment, rate it, and don't forget to tag a photo #ourplantbasedworld on Instagram. Cheers!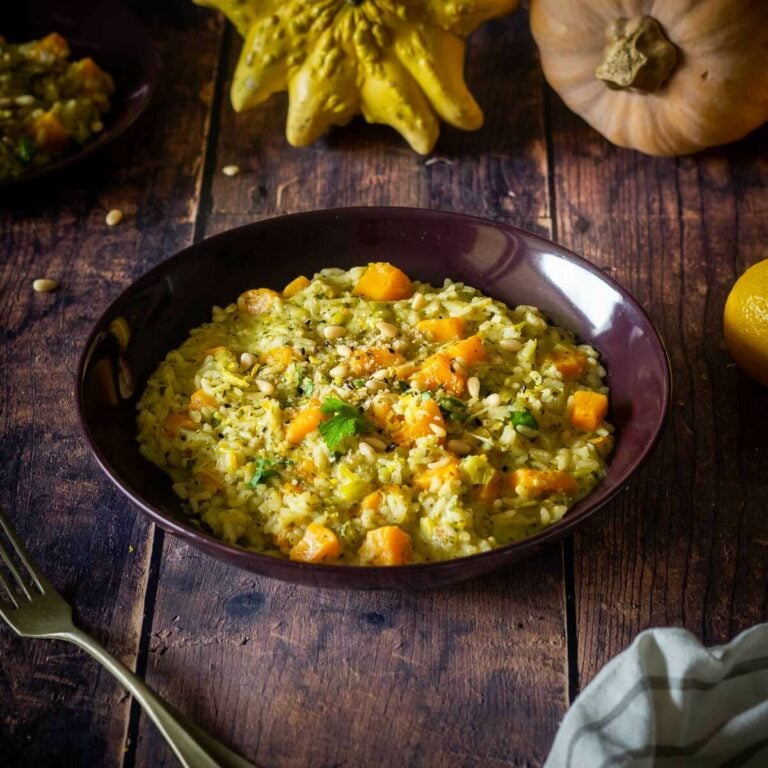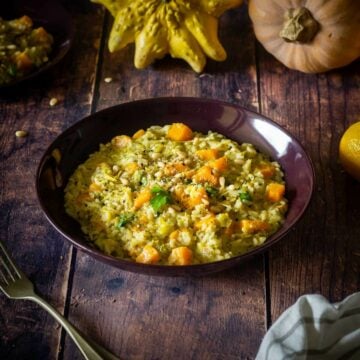 Recipe for Butternut Squash Risotto
Are you looking for an easy butternut squash risotto recipe? Look no further! This recipe is simple to follow and takes less than 30 minutes to make. Plus, it's packed with flavor.
Ingredients
1

cup

carnarolli rice

or arborio rice (7 oz, 210 grams)

1

lb

butternut squash

454 grams (diced into ¼ inch and ¼ cubes, about 1 cm or 1.5 cm)

1 ½

cup

thinly sliced leeks 

(well cleaned and dried)

2

small lemon zest

½

bunch

parsley

2

minced garlic cloves

6

cups

hot vegetable broth

2

tablespoons

vegan butter

or olive oil

5

tablespoons

nutritional yeast or homemade vegan parmesan cheese
Optional
⅓

cup

dry white wine

pinch

fresh grated nutmeg

pine nuts

to garnish
Directions
Prepare the vegetable stock
Put your vegetable stock to simmer. If using granulated store-bought veggie stock, bring the water to boil and prepare according to packaging instructions. I like adding leek's green tops, but it is not necessary.
Prepare the butternut squash, leeks, and garlic
Finely chop your leek. Mince the garlic cloves, zest your lemon, and dice the butternut squash into small cubes.

Make a mixture with chopped parsley, minced garlic, and lemon zest.
Making the risotto (about 15 minutes)
Add one tablespoon of vegan butter to a skillet, stir-fry the leeks on medium heat, making sure they don't burn, and then add the parsley, garlic, and lemon zest mixture.

Add the risotto rice, stir until lightly toasted, then add the vegetable broth (or add ⅓ cup of dry white wine). Stir constantly until completely absorbed.

Using a spoon, add hot vegetable broth ⅓ cup (80 ml) at a time, stirring almost constantly. Keep on medium heat, and there should always be a slight simmer to prevent it from becoming gummy.

On minute ten, add nutritional yeast or (homemade vegan parmesan) and the finely chopped parsley, followed by extra broth.

Once the rice is al dente, turn the heat to the minimum and add the lemon zest. Stir until well combined, testing a bite to ensure peas are warmed through.

Taste and adjust flavor, adding a pinch of salt and pepper to taste or vegan parmesan cheese.
Notes
Best when fresh, though leftovers will keep covered in the fridge for 2-3 days. Reheat the stovetop over medium heat, adding vegetable broth or water as needed to rehydrate. You can also reheat it in the microwave, adding some liquid.
Look at the Tips on the post body, for variations and substitutions.
It is important to use small butternut squash dice, so they cook in parallel with the rice, otherwise, they may still be uncooked when the rice is ready, which results in adding cooking time and the rice would be mushy.
Nutrition Facts
Calories:
346
kcal
Carbohydrates:
66
g
Protein:
10
g
Fat:
5
g
Saturated Fat:
1
g
Polyunsaturated Fat:
1
g
Monounsaturated Fat:
2
g
Trans Fat:
1
g
Sodium:
1236
mg
Potassium:
733
mg
Fiber:
7
g
Sugar:
6
g
Vitamin A:
14104
IU
Vitamin C:
39
mg
Calcium:
89
mg
Iron:
5
mg
Nutrition Facts
Recipe for Butternut Squash Risotto
Amount per Serving
% Daily Value*
* Percent Daily Values are based on a 2000 calorie diet.
Food safety
We sometimes take for granted that we have years (or decades) of cooking experience that the average visitor may not. Add to or remove the list below with health and safety tips.
Cook to a minimum temperature of 165 °F (74 °C)
Do not use the same utensils on cooked food that previously touched raw meat
Wash hands after touching raw meat
Don't leave food sitting out at room temperature for extended periods
Never leave cooking food unattended
Use oils with high smoking points to avoid harmful compounds
Always have good ventilation when using a gas stove
See more guidelines at USDA.gov.
The information shown is an estimate provided by an online nutrition calculator. It should not be considered a substitute for a professional nutritionist's advice. See our full Nutritional Disclosure here.
Please note that some of the links here are affiliate links, and I will earn a commission if you purchase through those links. I use all of the products listed and recommend them because they are companies that I have found helpful and trustworthy.