As the leaves start to turn yellow and red and the air becomes crisper, it's time to start thinking about hearty comfort foods like this vegan butternut squash risotto recipe. The key to a great risotto is all in the stirring! Stirring allows the rice to cook evenly and releases its starch, which results in a creamy and delicious final product. This vegan version is lightened with vegetable broth instead of cream, making it perfect for those colder days when you want something comforting but not too heavy. Give it a try!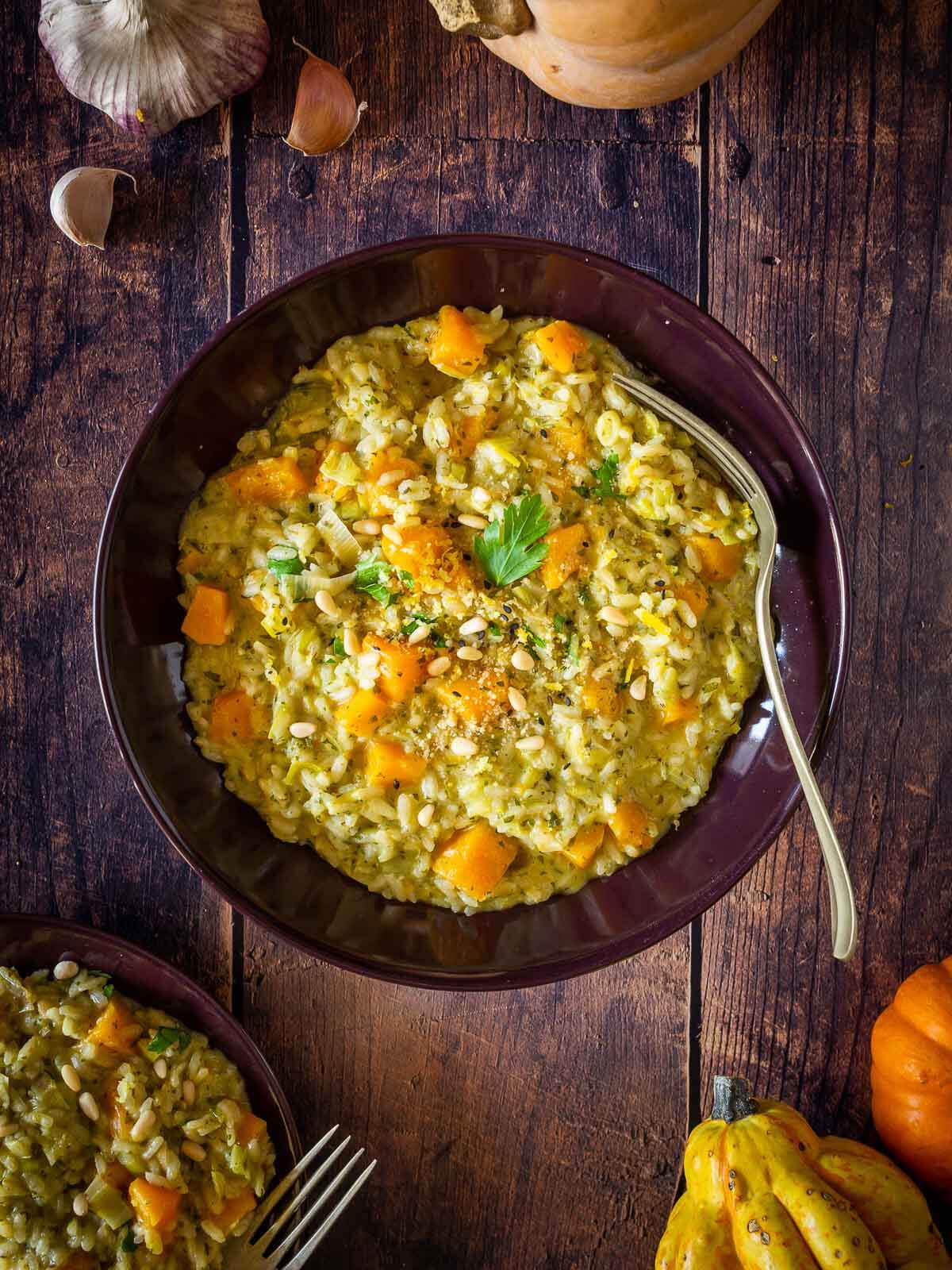 Butternut squash is one of my all-time favorite vegetables. I love its sweet and nutty flavor and the fact that it's so versatile. You can use it in soups, stews, pasta dishes, or as part of the main course. You can use leftover squash for this recipe, as the chunks can be irregular.
This blog post will show you how to make an easy butternut squash risotto recipe. Risotto is a classic component of the Italian diet made with short-grain rice, which gives it a creamy texture. This recipe is vegan and gluten-free, but you can easily adapt it to fit your dietary needs. So let's get started!
This was inspired by my roasted pumpkin risotto recipe on this site and pairs well with a fresh green salad and homemade vinaigrette.
Jump to:
🧾 Ingredients
Butternut risotto ingredients are vegan pantry staples and wholesome ingredients that are easy to get.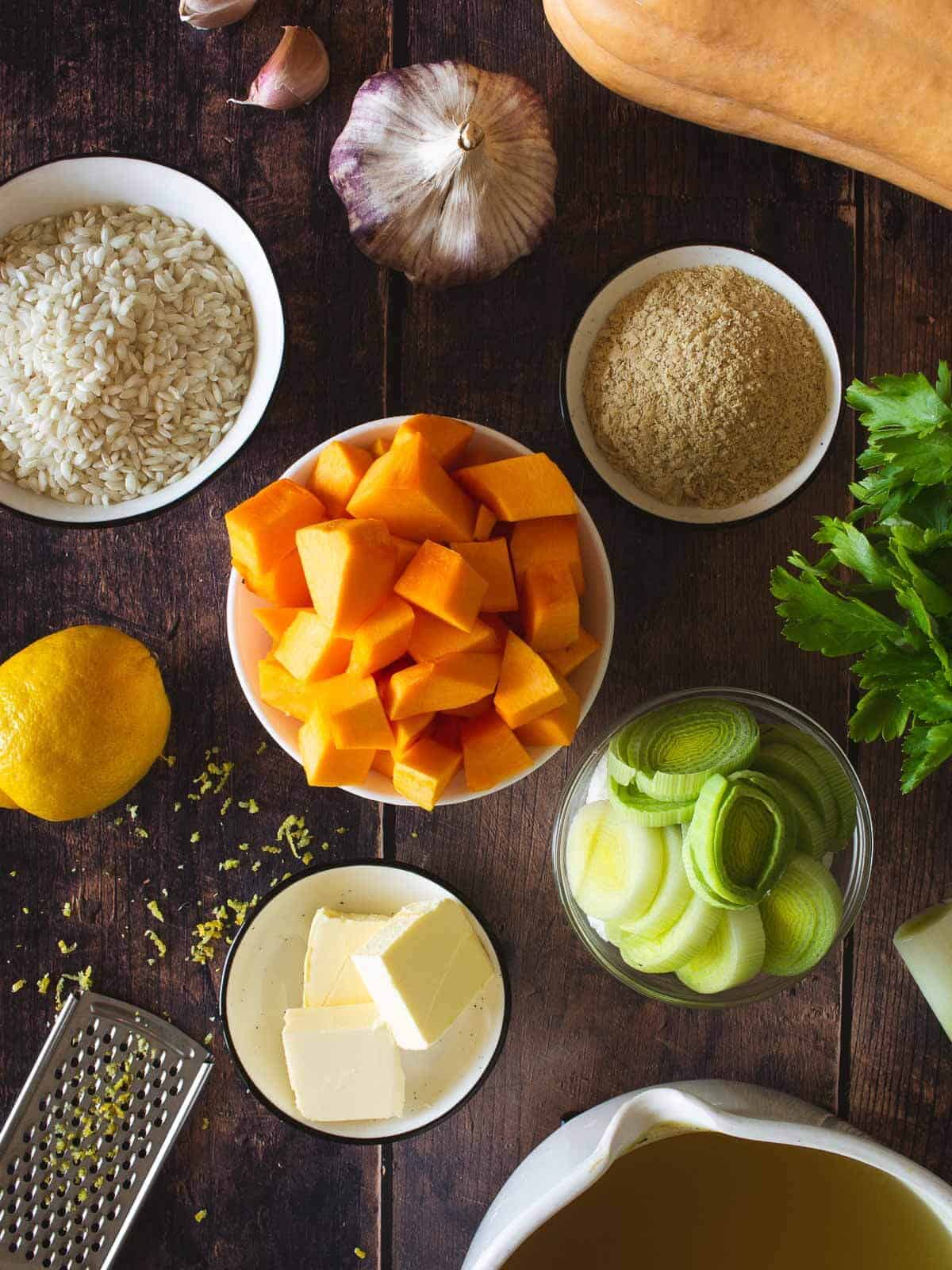 Carnaroli or Arborio Rice: These rice varieties are starchy, making them perfect for a creamy risotto. Plus, they absorb flavors like a sponge, so every bite is a flavor bomb.
Butternut Squash: This winter veggie adds a natural sweetness and vibrant color to the dish. It's also packed with vitamins A and C, making your meal both delicious and nutritious.
Leeks: These add a subtle, onion-like flavor without overpowering the dish. Bonus: they're a good source of antioxidants and vitamin K.
Lemon: A squeeze of this citrus brightens up the dish and balances the rich, creamy texture. Plus, it's a vitamin C powerhouse!
Parsley: This herb adds a pop of color and a fresh, earthy flavor. It's also rich in antioxidants, which can help fight inflammation.
Fresh Garlic: It's the flavor backbone of the dish, adding a robust aroma. Garlic also has allicin, known for its potential health benefits.
Vegetable Stock: This serves as the liquid base that helps the rice absorb flavors. Opt for a low-sodium version to control your salt intake.
Vegan Butter or Extra Virgin Olive Oil: These fats add a velvety texture and enrich the dish's flavor. Plus, they're cholesterol-free!
Nutritional Yeast or Vegan Parmesan Cheese: These add a cheesy, umami kick without the dairy. They're also a good source of B-vitamins, especially nutritional yeast.
Substitutions
This creamy risotto is super versatile; here are a couple of suggestions in case you need to make some changes based on the product you have readily available.
Rice - instead of white arborio rice or carnarolli rice, you could use short grain brown rice for additional fiber, but it will take longer to cook.
Leeks - instead of fresh leeks, you could use leftover frozen leeks, or you can use finely chopped yellow onion or spring onions.
Vegan cheese - we like using our homemade vegan parmesan instead of the regular freshly grated parmesan cheese used on traditional risotto, as it is vegan and it is made with nutritional yeast. You can also use cashew cheese.
Roasted butternut squash option - if you have a few extra minutes, you can make this butternut risotto recipe with the fresh puree from a whole roasted butternut squash.
See quantities and complete instructions in the recipe card.
🔪 Instructions
To make butternut squash risotto, start by peeling and cubing the butternut squash and washing the leeks thoroughly, as they usually hold a lot of dirt.
Prepare the veggie stock.
Put your vegetable stock to simmer in a large saucepan. Using granulated store-bought veggie stock, bring the water to boil and prepare according to packaging instructions. I like adding leek's green tops.
Prepare the butternut squash and leeks.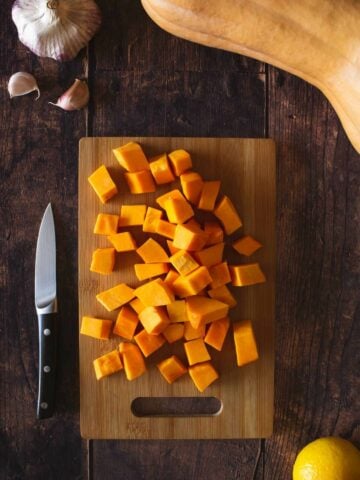 Step 1: Dice the butternut squash into cubes.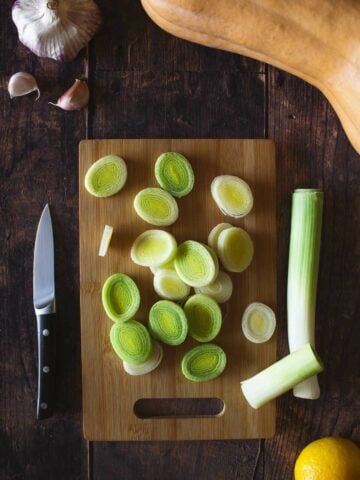 Step 2: Finely slice the leeks with a sharp knife, making circles of about? Inch (¼ cm).
Don't even think about tossing those seeds— make roasted squash seeds and transform them into a scrumptious, health-boosting treat!
Prepare the seasonings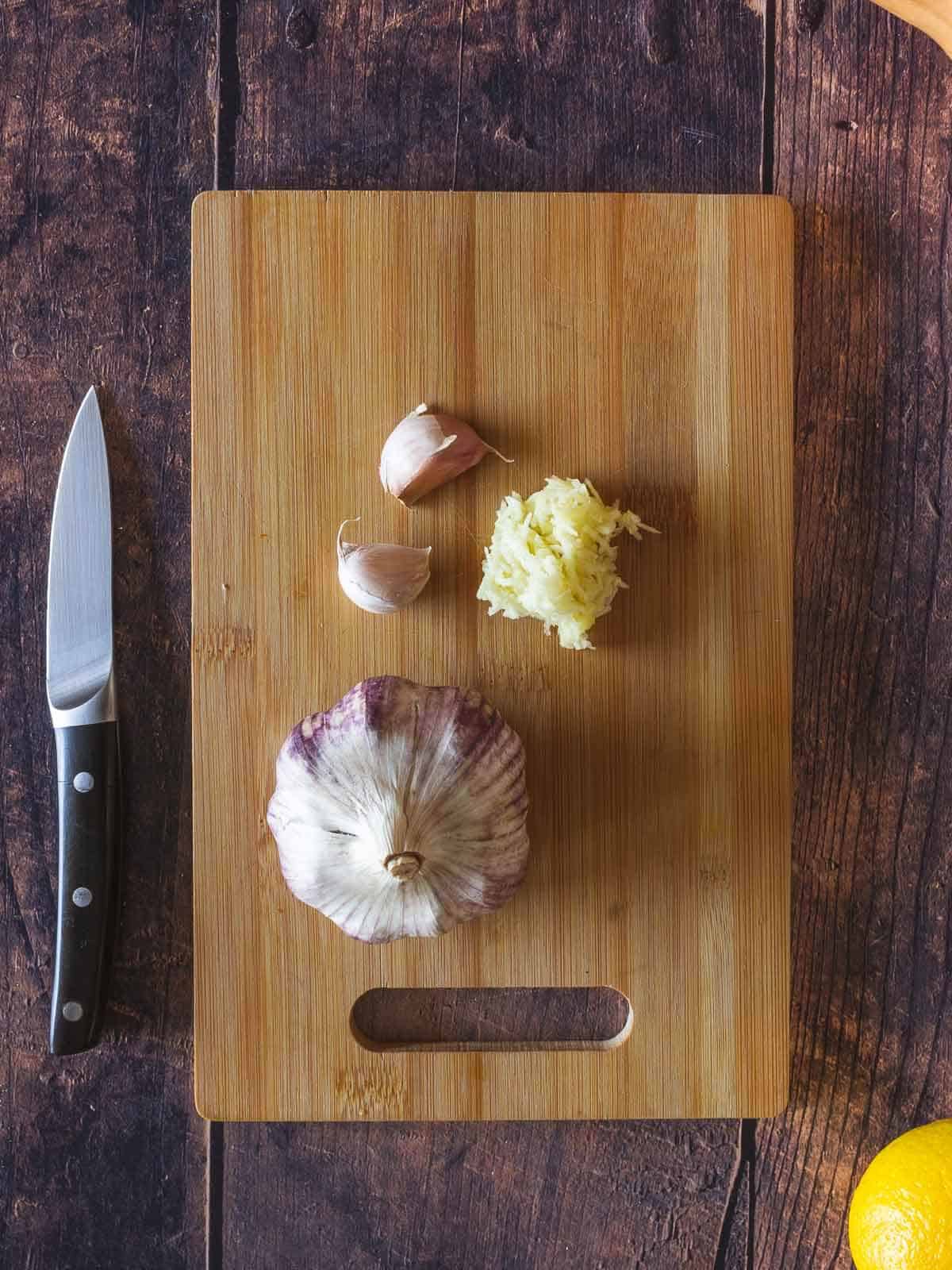 Step 3: Mince the fresh garlic.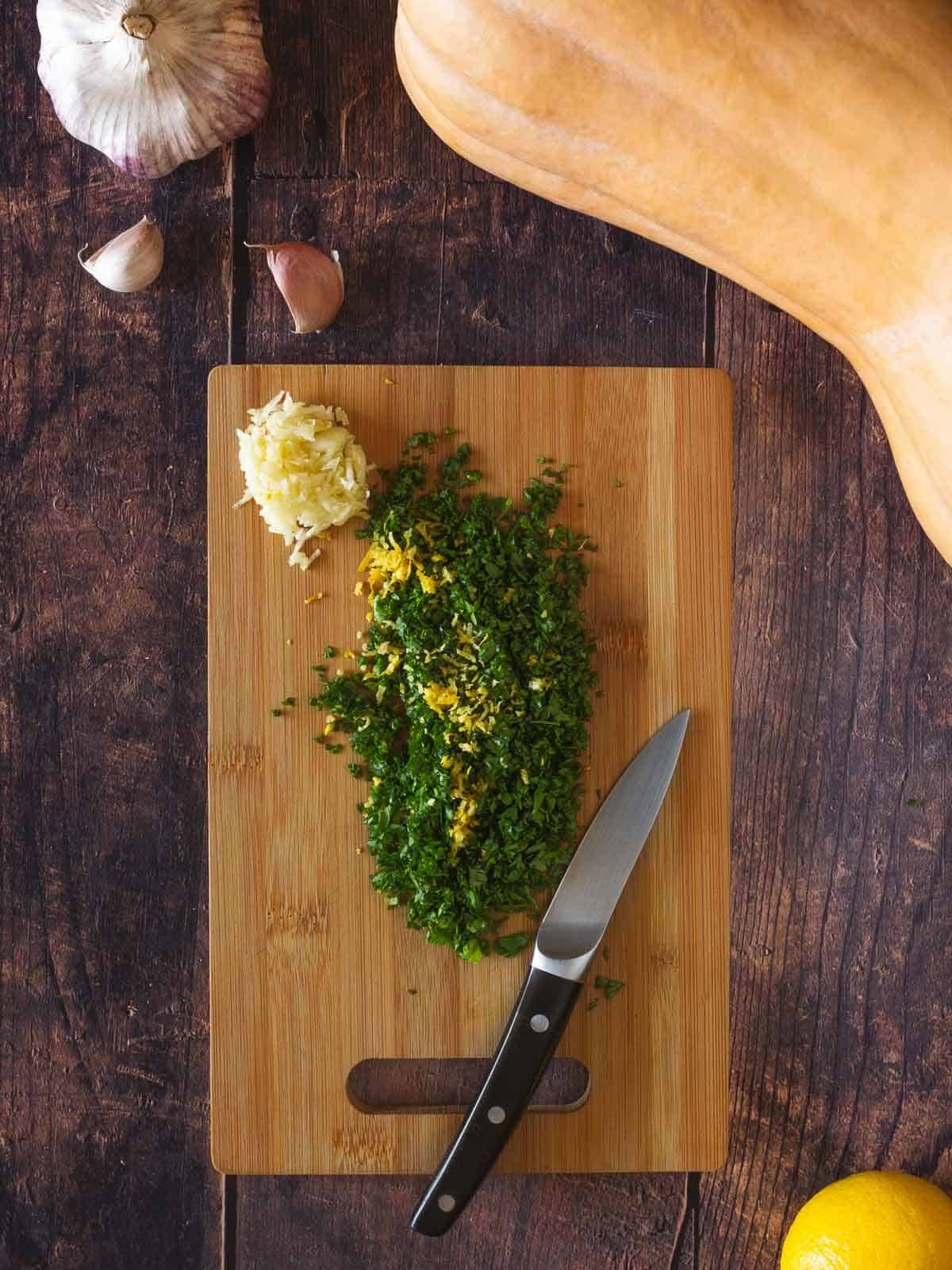 Step 4: Chop parsley, zest the lemon, and mix with minced garlic.
Sautée the vegetables and seasonings.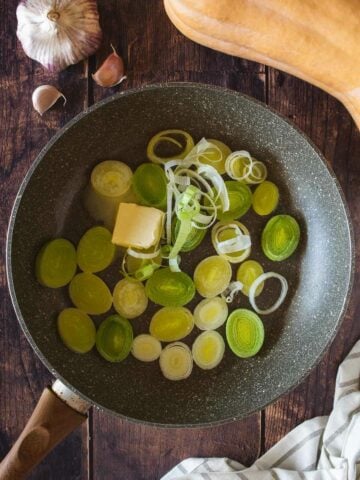 Step 5: Sautée the leeks and vegan butter.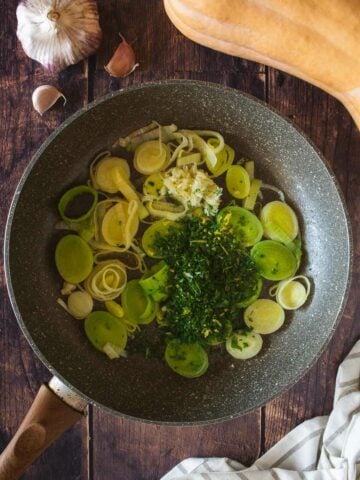 Step 6: Add the parsley mixture on top of the fried leeks.
Making risotto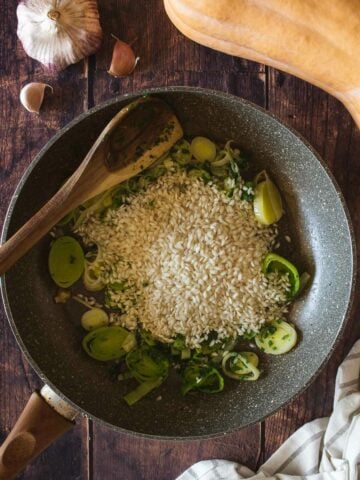 Step 7: Toast rice followed by veggie stock or white wine, letting the rice with leeks absorb the liquid.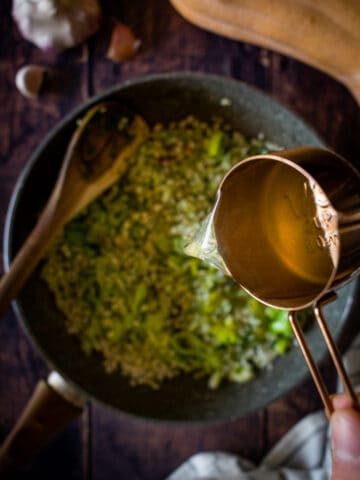 Step 8: Add veggie stock, a half cup at a time, until consumed.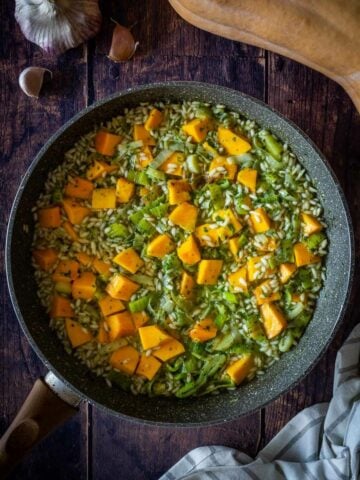 Step 9: Then add cubed butternut squash.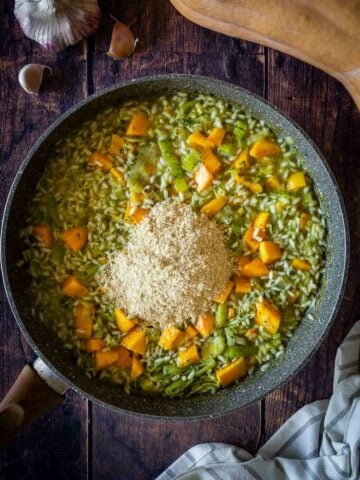 Step 10: Add nutritional yeast or vegan parm.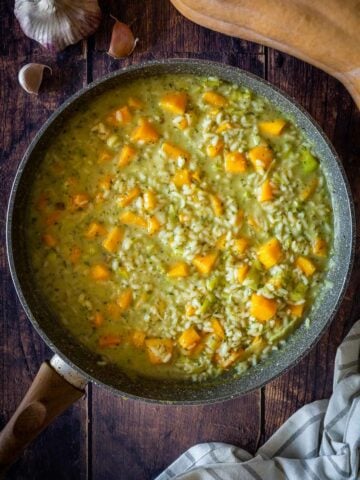 Step 11: Frequently stir on medium heat until rice is slightly al dente.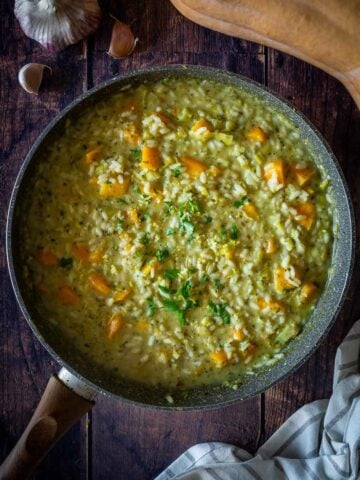 Step 12: Season with more parsley, salt, and freshly ground black pepper.
Serve immediately as soon as the butternut risotto looks silky and creamy, and the rice is al dente, optionally topping the butternut squash risotto recipe with pine nuts.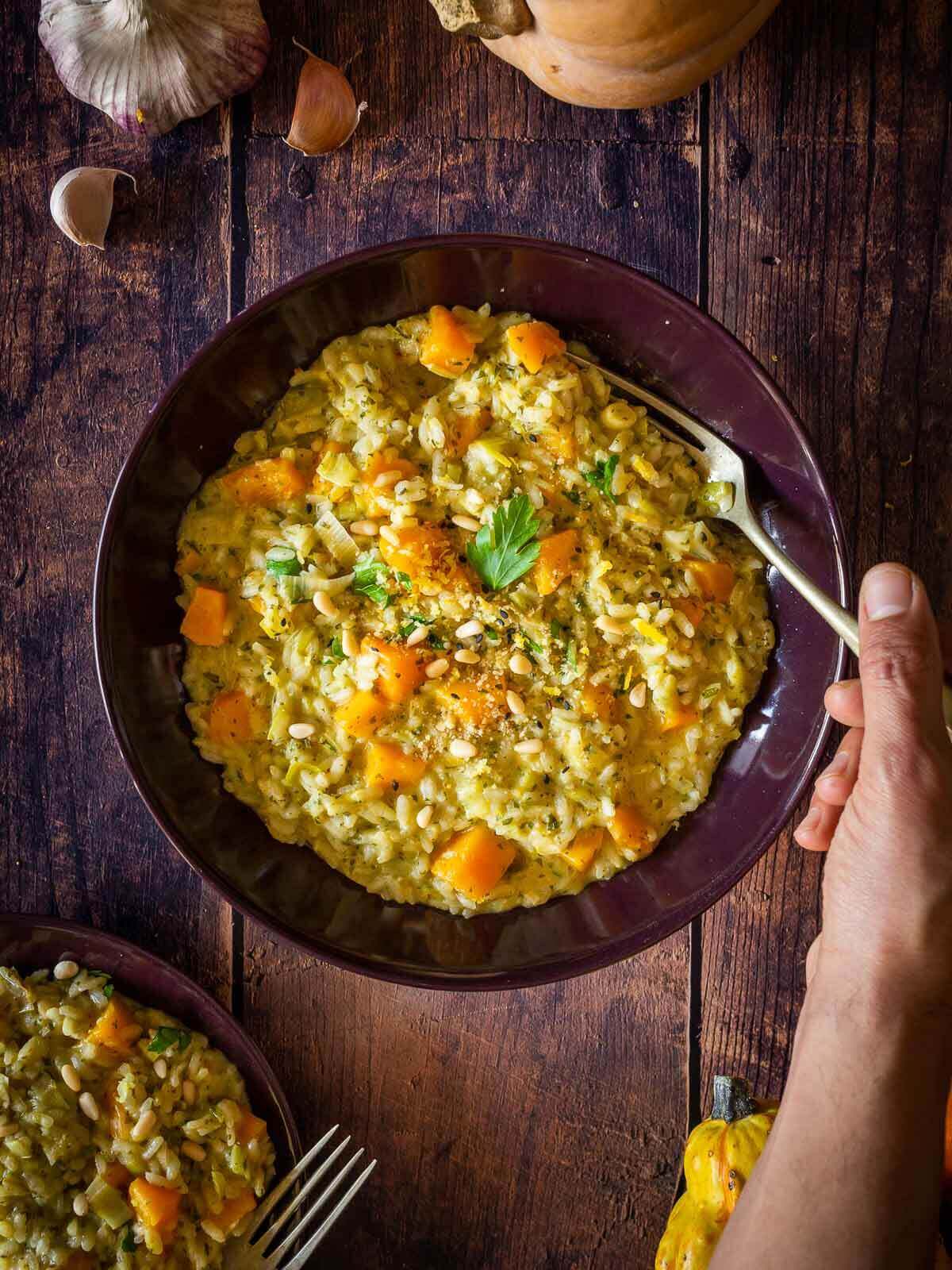 💡Expert tip
Substitute for white wine in risotto: I decided to make this risotto without wine because I make risotto at least once a week, and sometimes I don't have it available. So I tried making it without wine and found that there wasn't any detectable difference. We even passed this risotto through our Milanese friends here in Milano, and they wouldn't notice it, even after making the point.
Our substitute simply adds vegetable broth instead of wine when the risotto rice is already lightly toasted. So, simply skip the addition of wine and jump directly into the added broth.
This also makes any risotto kid-friendly.
🥢 How to serve
Some ideas for what to serve with butternut squash risotto.
We like serving our risottos with a fresh green salad or with side dishes like roasted Brussels sprouts, grilled asparagus, white asparagus, or green beans with toasted almonds.
On another note, this risotto without wine makes an excellent baby food with butternut squash because babies love rice, sweet butternut squash, and fried leeks' mild flavor. All the flavors in this recipe are kid-friendly, and we often make this vegan risotto when we visit family, with babies and toddlers; they devour it.
🥡 Storage
Leftover risotto can be stored using an airtight container.
Once cool, put in containers and keep in the refrigerator for up to 2-3 days. Bring the risotto to its proper temperature in the microwave or stovetop with some vegetable broth or water to hydrate it.
❓FAQ
How to slice leeks?
Wash the part of leeks you will use immediately thoroughly. Then, slice them into moons or half moons with a sharp knife, making circles of about? inch (¼ cm).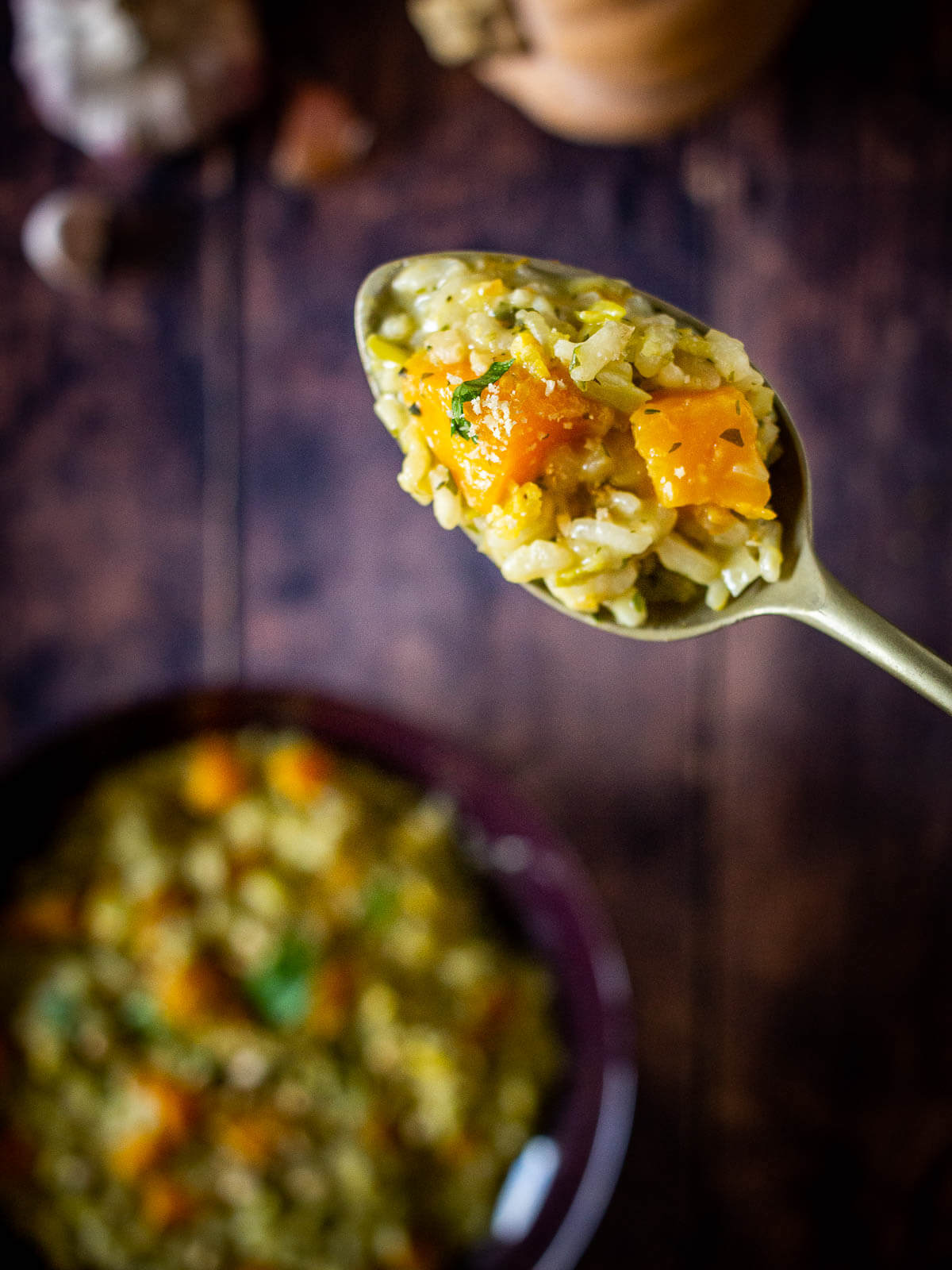 📚 Vegan butternut squash recipes
Try out our roasted butternut squash recipe and our creamy soup made with pumpkin or butternut squash.
We also love making our vegan butternut squash ravioli and vegan butternut squash pasta, a creamy and delicious recipe that resembles the classic mac and cheese.
Try our delicious creamy butternut squash spinach lasagna.
🍚 More vegan risotto recipes
As risotto lovers, we love trying out all possible risotto combinations; here are a few of our vegetarian recipes for creamy rice to try after you have indulged in this butternut risotto recipe: super easy parmesan garlic risotto, creamy mushrooms risotto, lemon, and asparagus risotto, roasted pumpkin risotto, Risotto alla Milanese, zucchini risotto, and sun-dried tomato risotto.
⭐ If you try this butternut risotto recipe, let us know! 💬 Leave a comment, rate it, and don't forget to tag us @ourplantbasedworld on Instagram. Cheers!
🎥 Video
📋 Recipe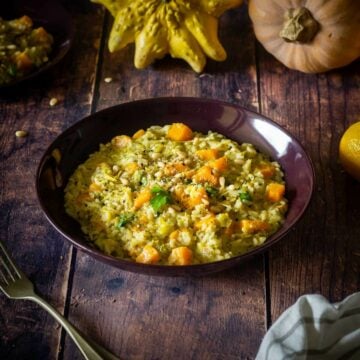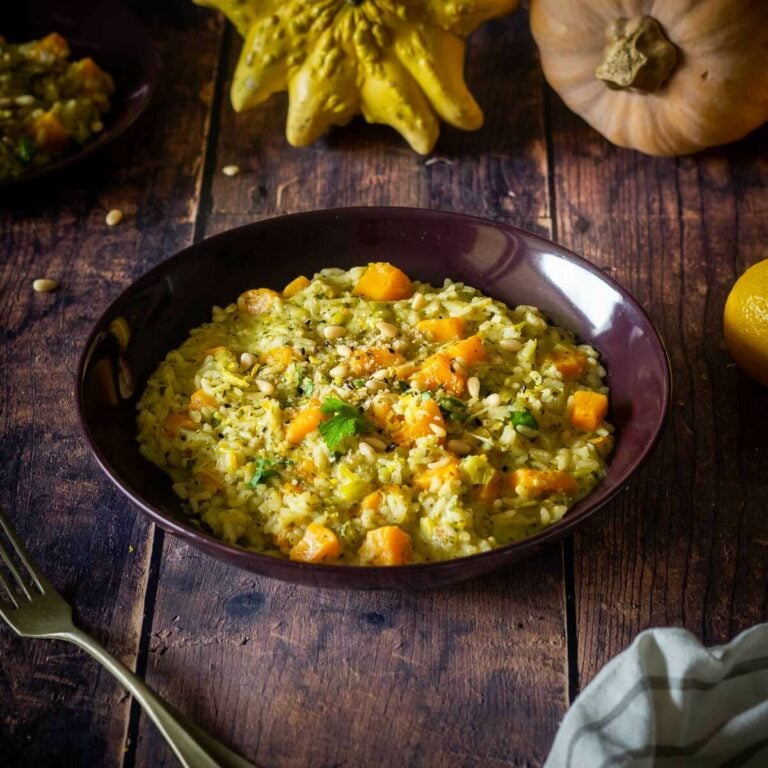 Recipe for Butternut Squash Risotto
Are you looking for an easy butternut squash risotto recipe? Look no further! This recipe is simple to follow and takes less than 30 minutes to make. Plus, it's packed with flavor.
Equipment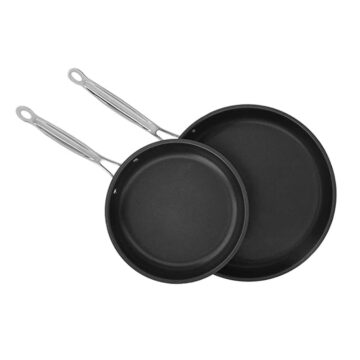 (affiliate link)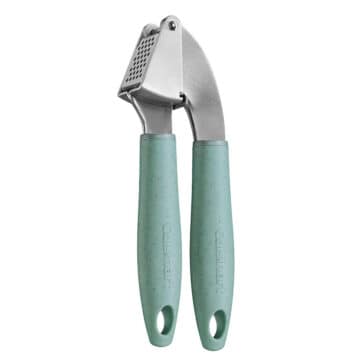 (affiliate link)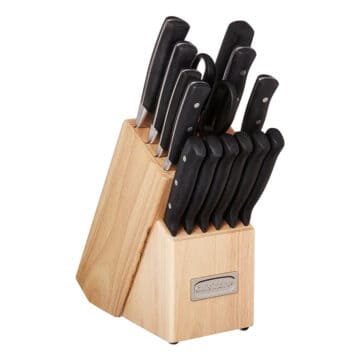 (affiliate link)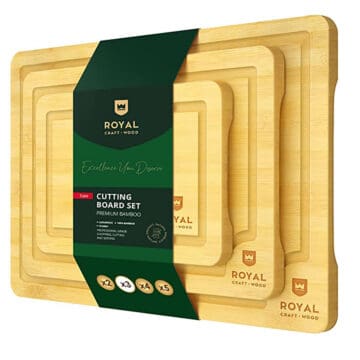 (affiliate link)
Directions
Prepare the vegetable stock
Put your vegetable stock to simmer. If using granulated store-bought veggie stock, bring the water to boil and prepare according to packaging instructions. I like adding leek's green tops, but it is not necessary.
Prepare the butternut squash, leeks, and garlic
Finely chop your leek. Mince the garlic cloves, zest your lemon, and dice the butternut squash into small cubes.

Make a mixture with chopped parsley, minced garlic, and lemon zest. Leave some lemon zest apart to finish up the dish.
Making the risotto (about 15 minutes)
Add one tablespoon of vegan butter to a skillet, stir-fry the leeks on medium heat, making sure they don't burn, and then add the parsley, garlic, and lemon zest mixture.

Add the risotto rice, stir until lightly toasted, then add the vegetable broth (or add ⅓ cup of dry white wine). Stir constantly until completely absorbed.

Using a spoon, add hot vegetable broth ⅓ cup (80 ml) at a time and the butternut squash dice, stirring almost constantly. Keep on medium heat, and there should always be a slight simmer to prevent it from becoming gummy.

On minute ten, add nutritional yeast or (homemade vegan parmesan) and the finely chopped parsley, followed by extra broth.

Once the rice is al dente, turn the heat to the minimum and add the extra lemon zest if wanter. Stir until well combined.

Taste and adjust flavor, adding a pinch of salt and pepper to taste or vegan parmesan cheese.
Notes
Best when fresh, though leftovers will keep covered in the fridge for 2-3 days. Reheat the stovetop over medium heat, adding vegetable broth or water as needed to rehydrate. You can also reheat it in the microwave, adding some liquid.
Look at the Tips on the post body, for variations and substitutions.
It is important to use small butternut squash dice, so they cook in parallel with the rice, otherwise, they may still be uncooked when the rice is ready, which results in adding cooking time and the rice would be mushy.
Nutrition Facts
Calories:
346
kcal
Carbohydrates:
66
g
Protein:
10
g
Fat:
5
g
Saturated Fat:
1
g
Polyunsaturated Fat:
1
g
Monounsaturated Fat:
2
g
Trans Fat:
1
g
Sodium:
1236
mg
Potassium:
733
mg
Fiber:
7
g
Sugar:
6
g
Vitamin A:
14104
IU
Vitamin C:
39
mg
Calcium:
89
mg
Iron:
5
mg
Nutritional Disclaimer
The information shown is an estimate provided by an online nutrition calculator. It should not be considered a substitute for a professional nutritionist's advice. See our full Nutritional Disclosure here.
Affiliate Disclaimer
Please note that some of the links here are affiliate links, and I will earn a commission if you purchase through those links. I recommend all of the products listed because they are companies I have found helpful and trustworthy.