Ready to elevate your fall comfort food game? Our super creamy vegan butternut squash lasagna is the cozy, plant-based dish you've been searching for. With seasonal butternut squash and nutrient-packed spinach and mushrooms, this vegan twist on an Italian classic is perfect for those crisp autumn nights.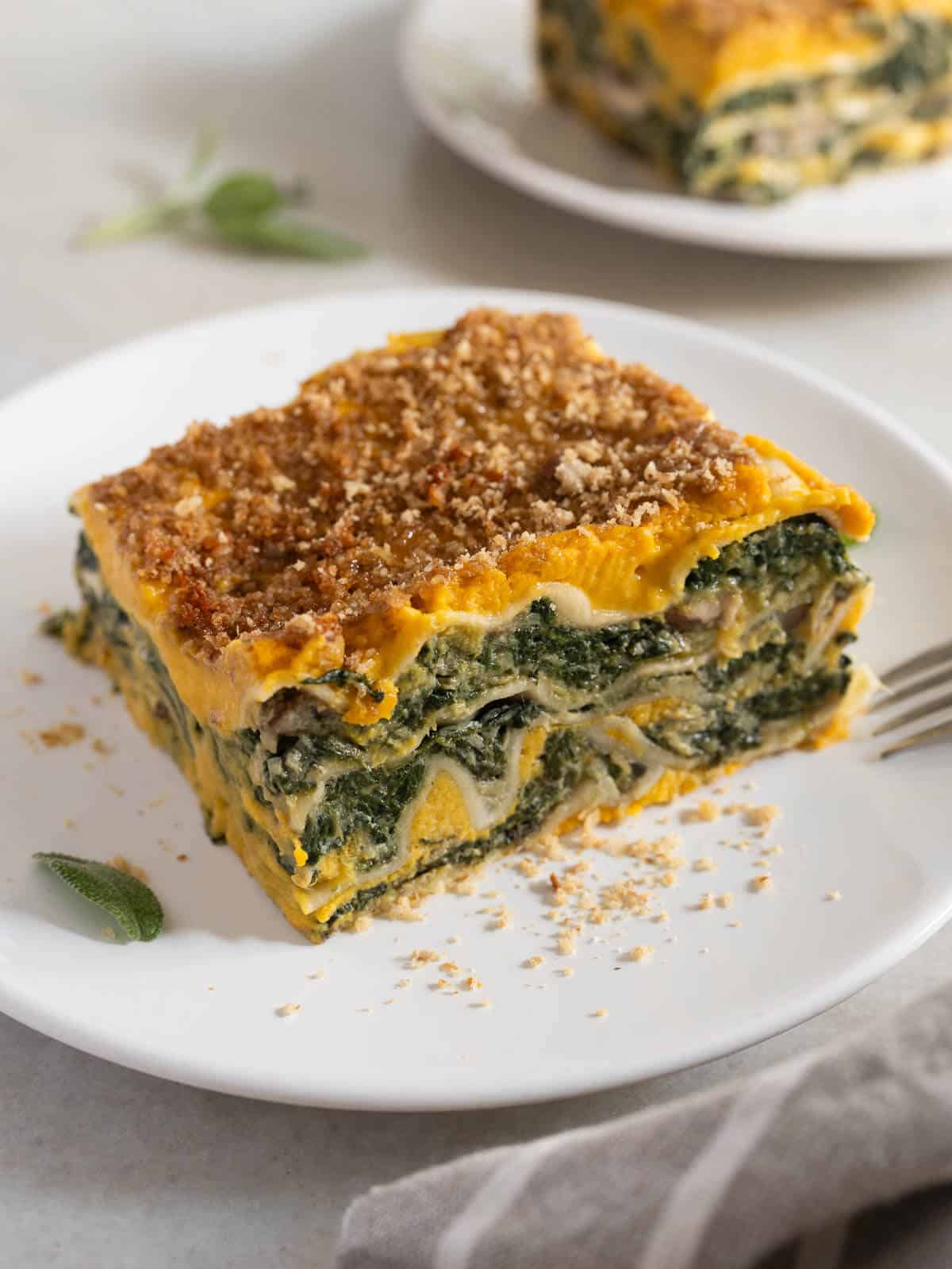 While we lived in Italy, we fell in love with how they turn this fabulous orange veggie into anything you can imagine, they use it to fill pasta or make fantastic creamy rice. We first created our vegan butternut squash risotto and immediately started using it in more Italian dishes.
This recipe is perfect for a main meal or a show-stopping side dish for a more extensive spread.
Drawing inspiration from our popular Vegan Butternut Squash Ravioli, this recipe elevates the experience with a savory filling of spinach and mushrooms. We've also crafted a creamy sauce that mirrors our Vegan Butternut Squash Pasta Sauce, but with a twist: it's a non-roasted version, cutting down on kitchen time without sacrificing flavor. This approach blends familiar tastes with new, simpler techniques.
Whether you're meal prepping for the week or looking for a dish that will become your following fall vegan recipe to impress on the next Thanksgiving gathering, this recipe has got you covered.
Jump to:
🧡 Why you will love it
Nutrient-Rich: Packed with vitamins A and C from butternut squash puree and iron and calcium from fresh spinach.
Simple Preparation: No need for boiling noodles; use oven-ready or homemade vegan pasta dough sheets for ease.
Effortless Filling: Blend the butternut squash filling easily, with an option to use frozen spinach for convenience.
🧾 Ingredients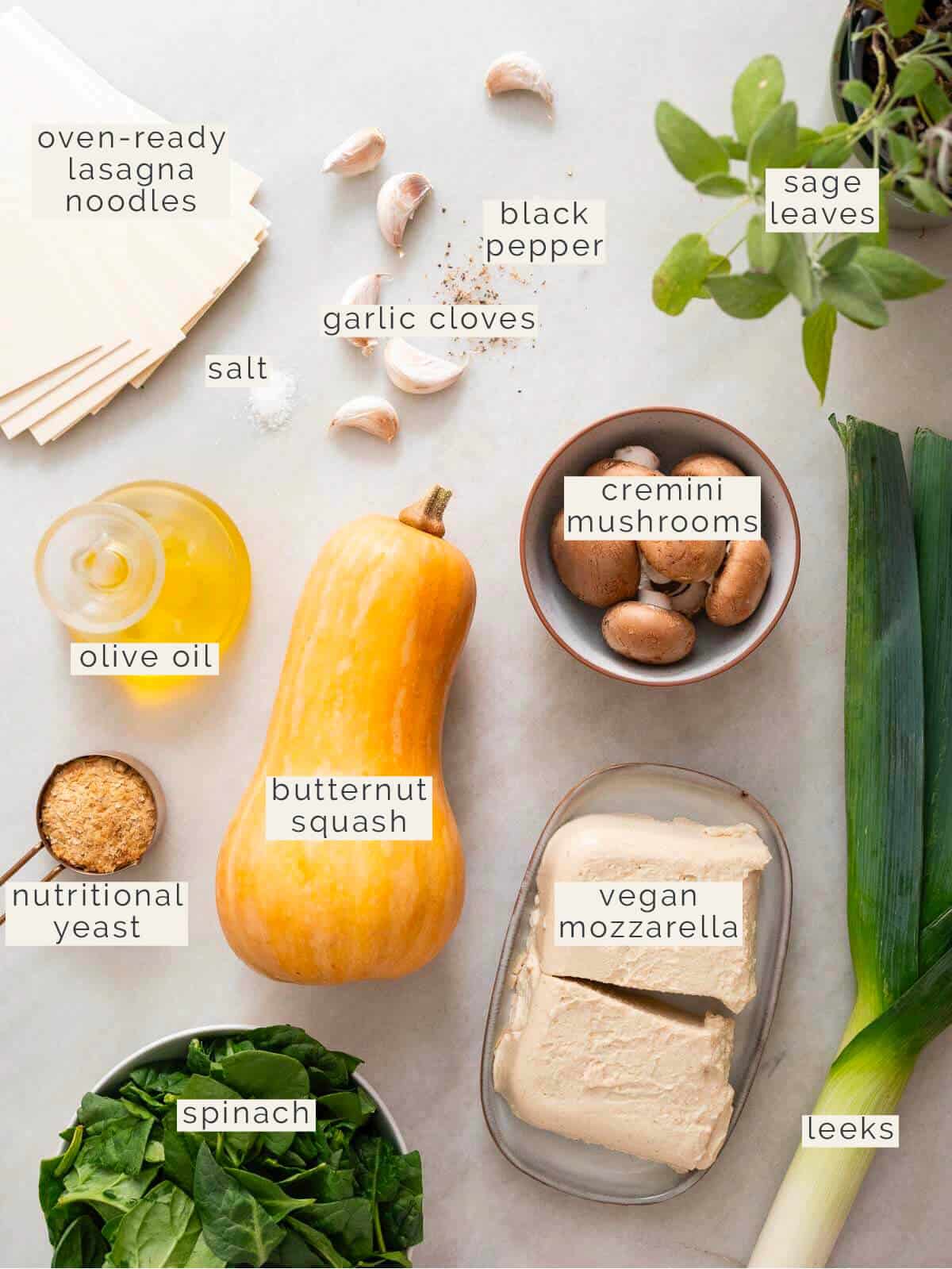 Butternut Squash: Adds a creamy texture and sweet, nutty flavor to the lasagna, making it perfect for a fall dish.
Garlic Cloves: Infuses the lasagna with a rich, aromatic depth that complements the sweetness of the squash.
Vegan Mozzarella or Vegan Bechamel Sauce: Provides that gooey, cheesy texture we all crave without the dairy. We'll use it for both the spinach and butternut filling.
Sage Leaves: Gives an earthy, aromatic kick that pairs well with the butternut squash.
Nutritional Yeast: Adds a cheesy, umami flavor while keeping the dish plant-based. We'll use it for both the spinach and butternut filling.
Sea Salt and Black Pepper: Enhances the flavors of all the other ingredients, making them pop.
Oven-Ready Lasagna Noodles (Gluten-Free as Needed): The foundation of the lasagna, these save time and can be easily swapped for a gluten-free option.
Spinach: Adds a nutritional punch and a vibrant green color, balancing out the richness of the other layers.
Cremini Mushrooms: Provide an earthy flavor and meaty texture, making the dish more satisfying.
Leeks: Adds a subtle, sweet undertone that complements the stronger flavors.
Optional ingredients
Olive Oil (Extra Virgin): Helps sauté the veggies and adds a touch of richness to the filling.
Homemade Vegan Parmesan Cheese: For that final sprinkle of cheesy magic, adding a layer of complexity to the dish.
Substitutions
Butternut Squash: Swap it out for acorn squash or pumpkin for a similar creamy texture and autumnal flavor.
Vegan Mozzarella or Vegan Bechamel Sauce: You can use cashew cream sauce or creamy vegan ricotta cheese.
Nutritional Yeast: If you're out, you can use vegan parmesan cheese or a dash of soy sauce for that umami kick.
Oven-Ready Lasagna Noodles: You can use regular lasagna noodles (just pre-cook them), gluten-free noodles, or even thinly sliced zucchini for a low-carb option; it is the base of our vegan, gluten-free lasagna.
Spinach: Kale or Swiss chard can be used as a green, leafy substitute.
Cremini Mushrooms: Portobello or white mushrooms can be used. If you're feeling adventurous, try shiitake for a different texture and flavor.
Leeks: Green onions or shallots can be used if leeks aren't available. They both offer a mild, sweet flavor.
🍽 Equipment
Blender or Food Processor: This gadget is your best friend for creating a creamy butternut squash sauce. Whether you're using a blender or a food processor, you'll get that velvety texture you're aiming for.
Basket Steamer: A quick and efficient way to cook your butternut squash. It fits right into a large pot, making it super convenient for steaming the squash to perfection in less time.
Lasagna Baking Dish: The final destination for all your prepped ingredients. A 9 x 13-inch glass or ceramic dish is perfect for layering your no-boil noodles, fillings, and sauce, and it's oven-safe for that golden-brown finish.
🔪 Instructions
Let's walk through the steps one by one to ensure your butternut squash lasagna turns out perfectly.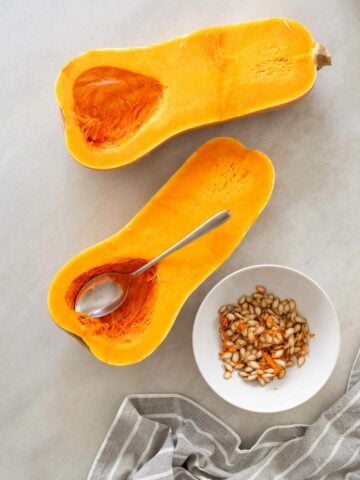 Step 1: Cut that squash in half and scoop out the seeds. You make roasted squash seeds later for a quick snack!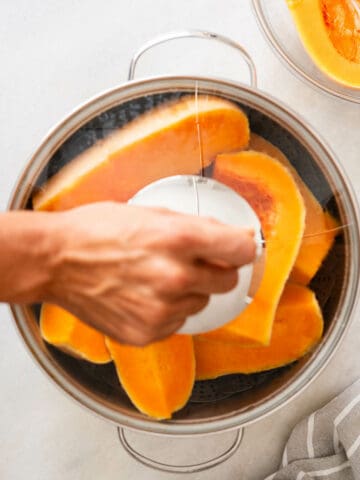 Step 2: Cut the squash into smaller pieces and leave the skin on. Steam in a large saucepan, with a basket steamer and the lid for 15 minutes.
You've got options: either have a butternut squash roasted whole on a baking sheet or make butternut squash slices and then steam them, as we did here to save time. Roasting brings out deep flavors, but steaming is quicker.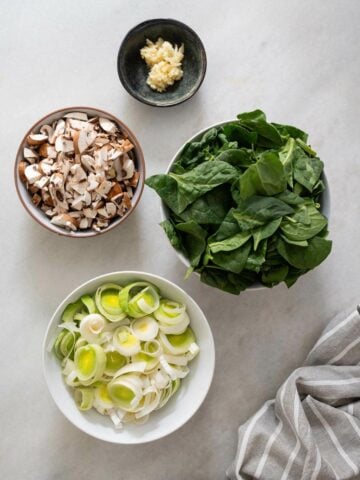 Step 3: Prep all your veggies.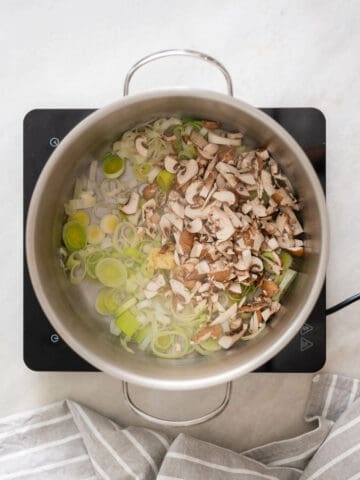 Step 4: Sauté leeks in olive oil until they're soft. Toss in garlic and mushrooms.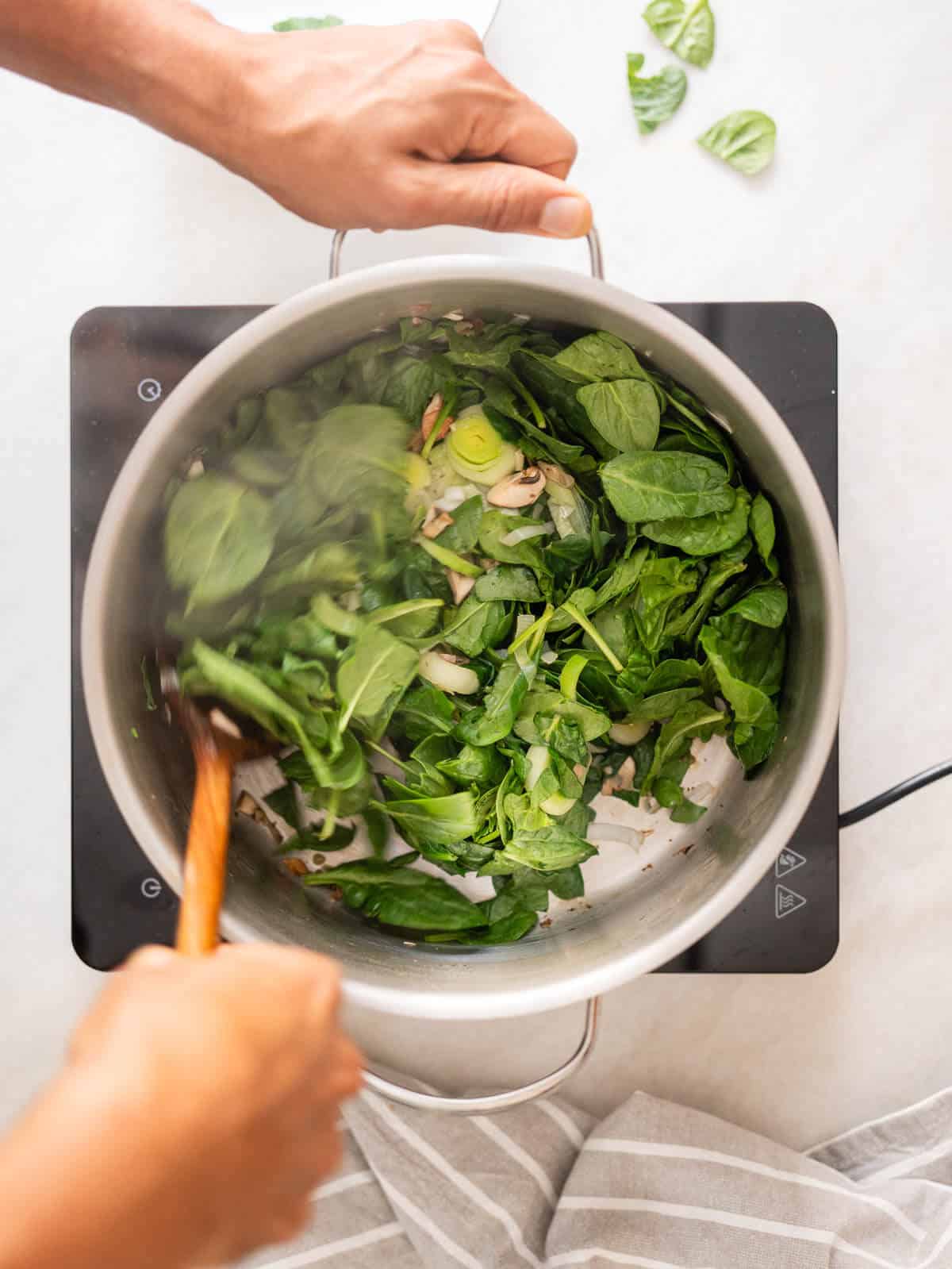 Step 5: Add the spinach and cook until the spinach wilts. Then, let it dry out on medium heat for about 15 minutes.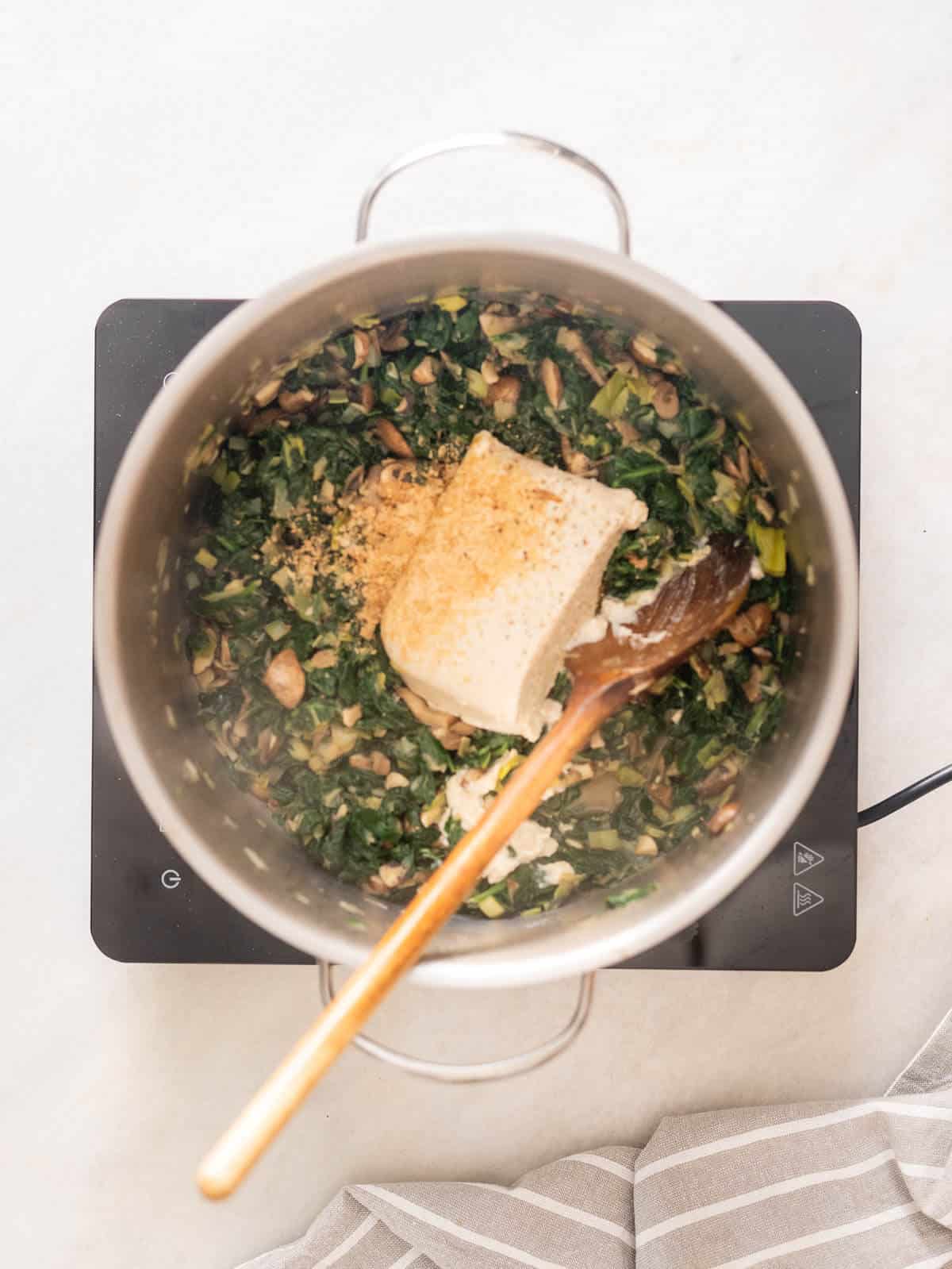 Step 6: Add your vegan mozzarella cheese or bechamel, nutritional yeast, and seasonings. Stir until it's creamy and dreamy.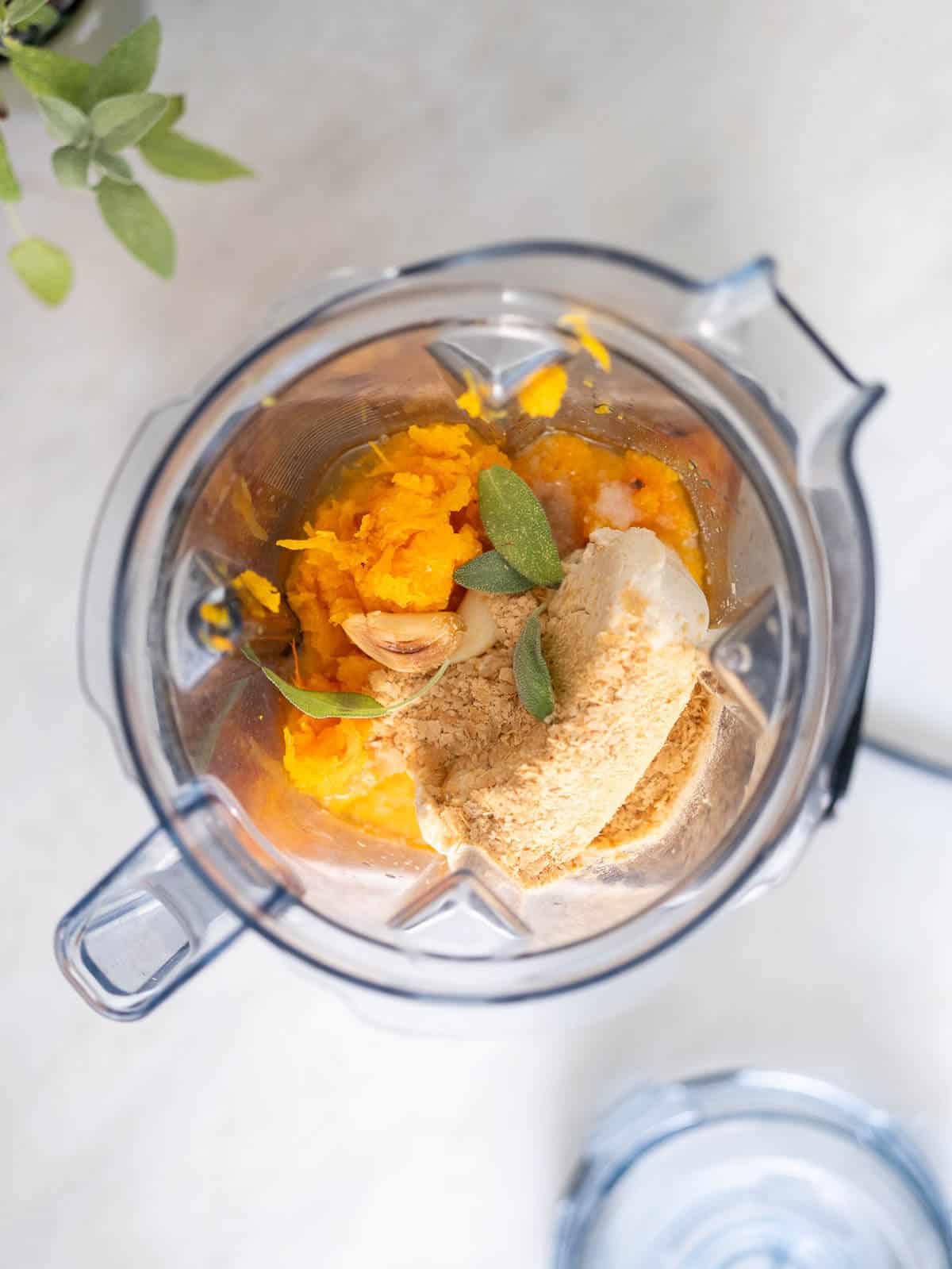 Step 7: Your cooked squash, fresh sage, roasted garlic, vegan cheese, and all those tasty seasonings go into the blender or food processor.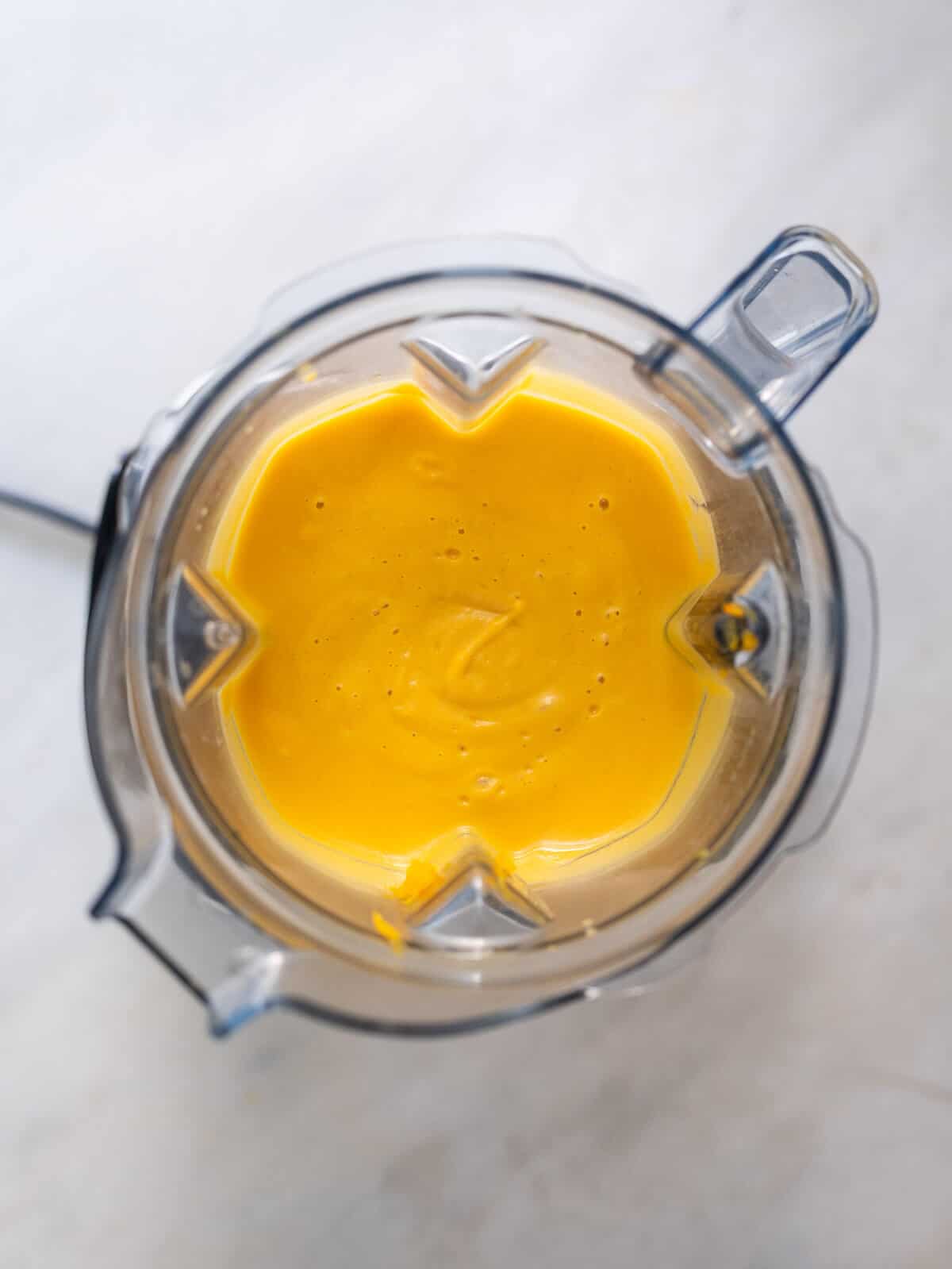 Step 8: Blend until it's silky smooth.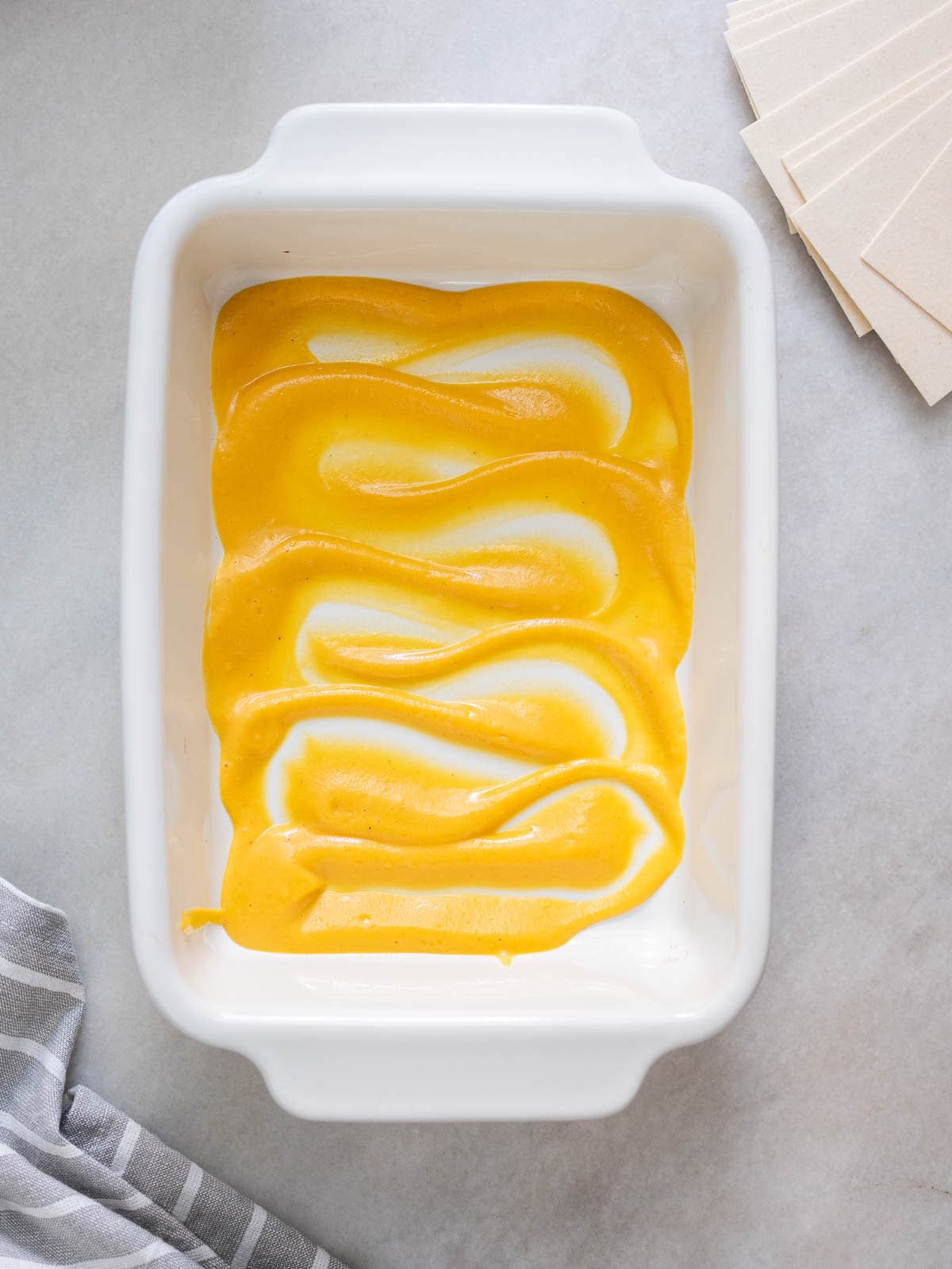 Step 9: Time to layer! Oil a 9x13 baking dish with cooking spray. Start with the butternut mixture.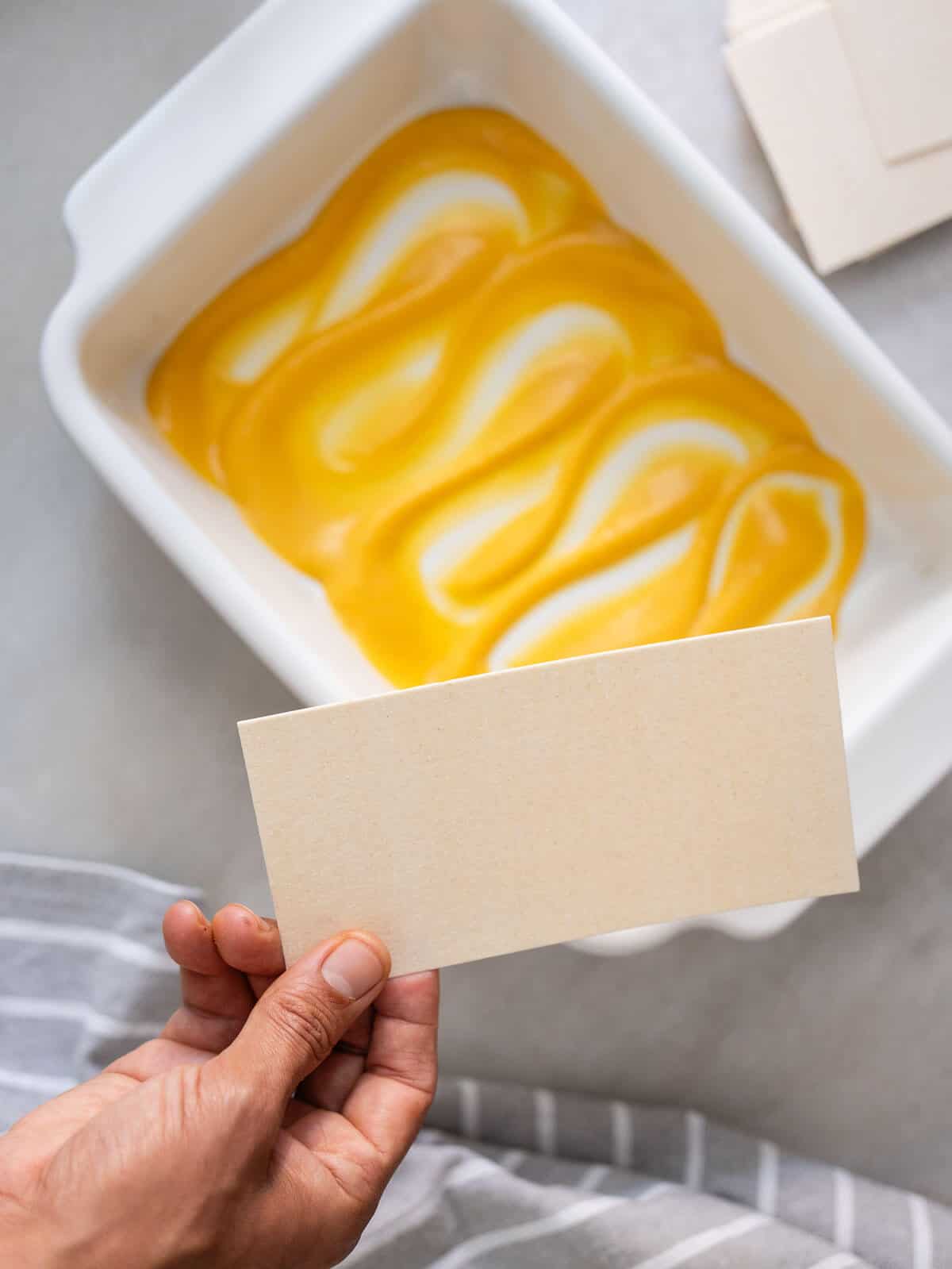 Step 10: Add the no-boil lasagna noodles (or boiled al dente if you used regular noodles).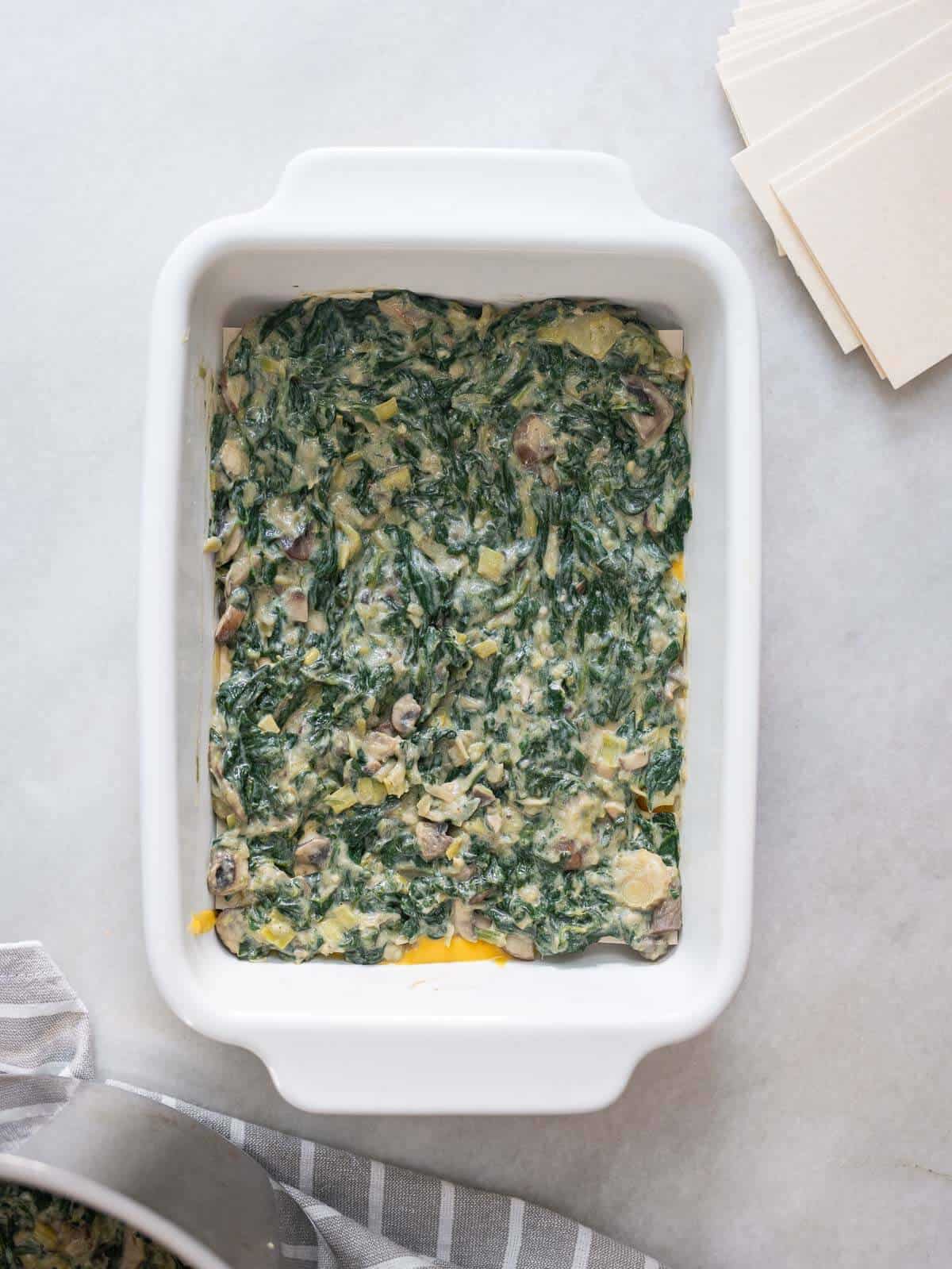 Step 11: Then add a layer of that delicious mushroom spinach mixture.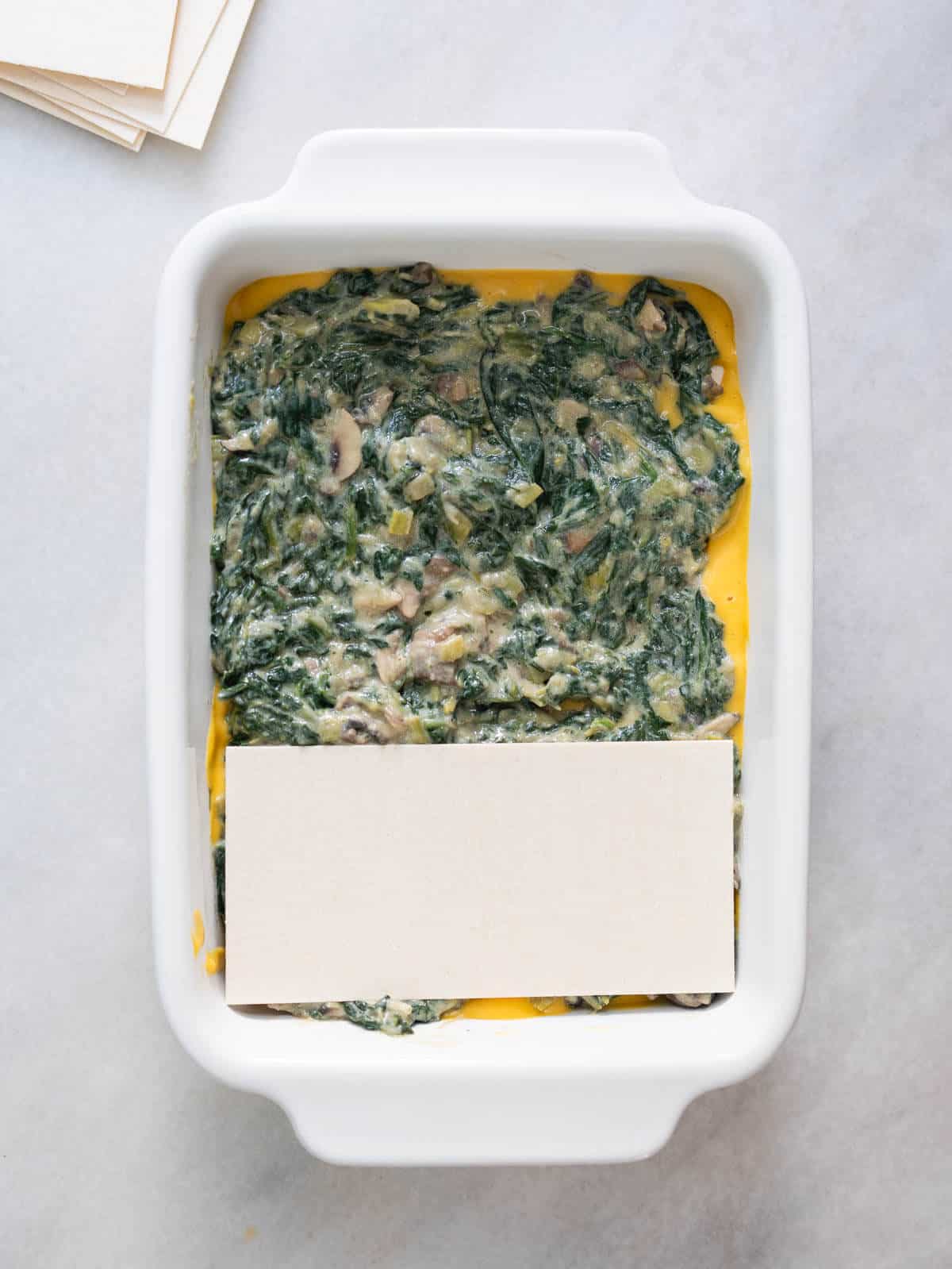 Step 12: Keep alternating between these three layers until you finish.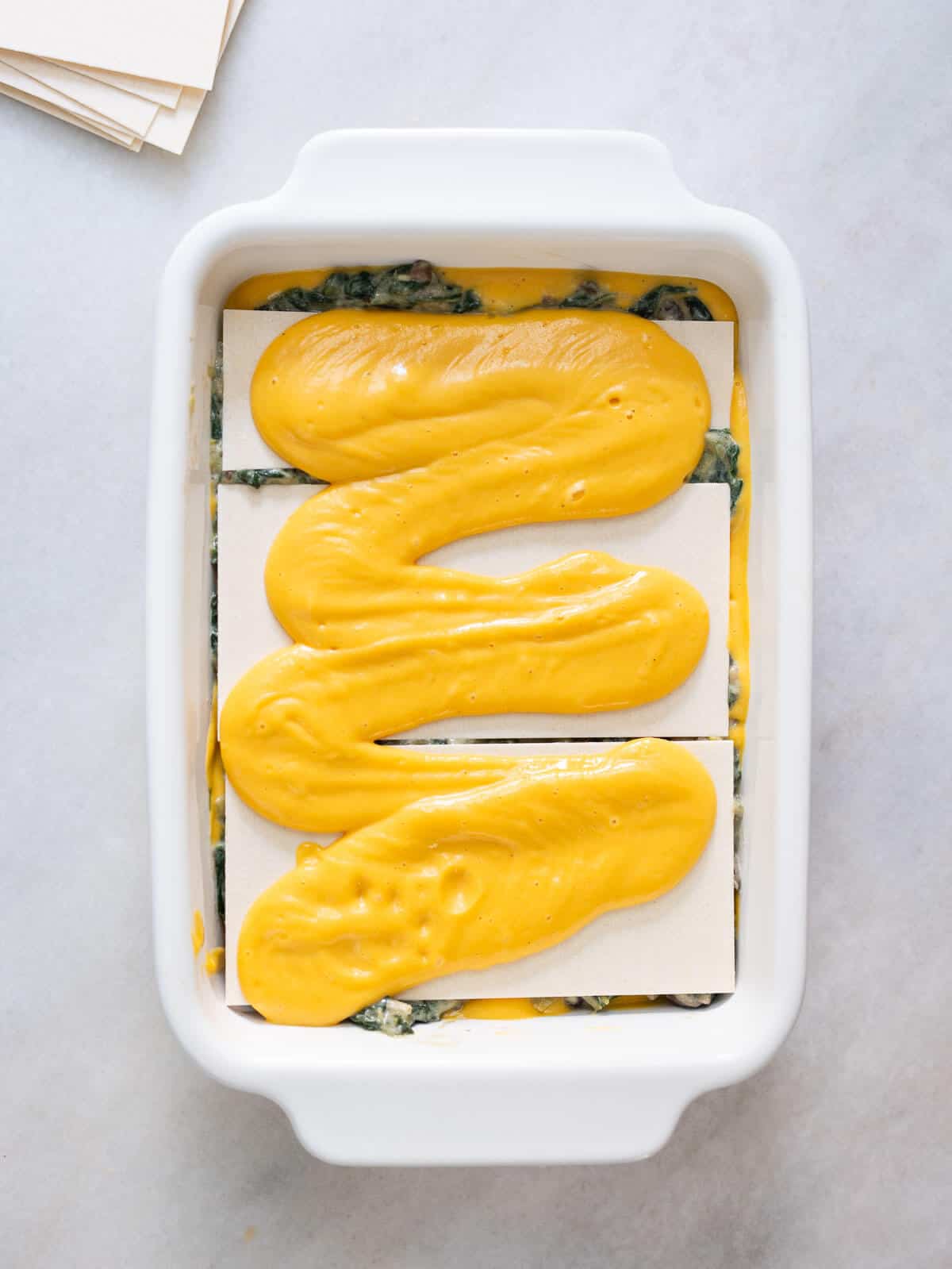 Step 13: add more butternut squash sauce to the lasagna sheets.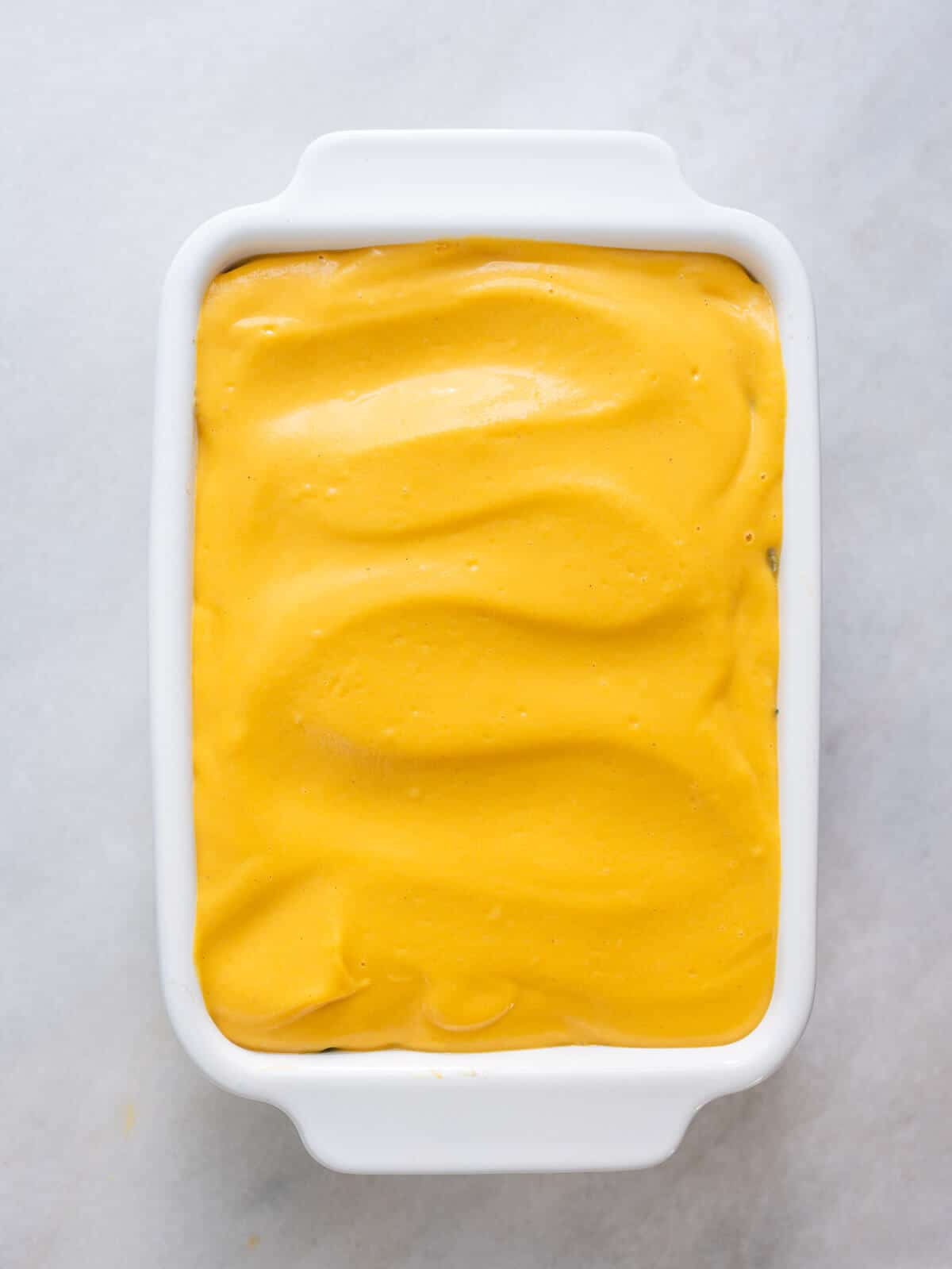 Step 14: spread well until the top is completely covered.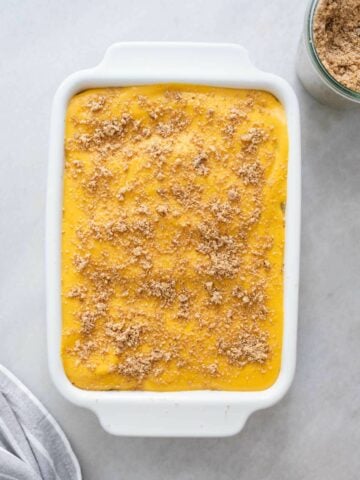 Step 15: Top it off with the remaining sauce and some optional homemade vegan parmesan. Pop it in the oven for 30 minutes.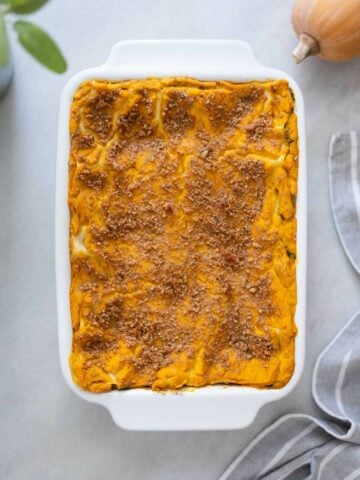 Step 16: Let it chill for a bit, like 5-10 minutes. Garnish with basil and vegan parmesan, and you're ready to feast!
For that golden touch, switch to the grill function for the last 2 minutes.
💡 Expert tip
Let It Set: Trust us on this one—patience is more than a virtue; it's the secret ingredient to lasagna greatness. After baking, let your Butternut Squash Mushroom Lasagna sit for at least 15-30 minutes or even a couple of hours before diving in.
This allows the flavors to meld together and the layers to set, making each slice a cohesive, mouthwatering experience.
The result? A lasagna that tastes even better and holds its shape perfectly. It's like fine wine; it just gets better with time.
While warm, the flavor of this wholesome lasagna is even sharper than when it is still hot.
📖 Variations
This squash and spinach lasagna is highly customizable. Here are some variations we have tried:
Spicy Kick: We loved adding double the freshly ground pepper; it is not super spicy and gave it a very interesting kick! You can also add some red pepper flakes to the spinach and mushroom sauté for a bit of heat. You can also drizzle a spicy chili oil on top before serving to really turn up the heat.
Seasonal Twist: Add roasted chestnuts to the butternut squash filling for a winter version. It'll give your lasagna a festive, nutty flavor that's perfect for the holiday season.
🥢 How to serve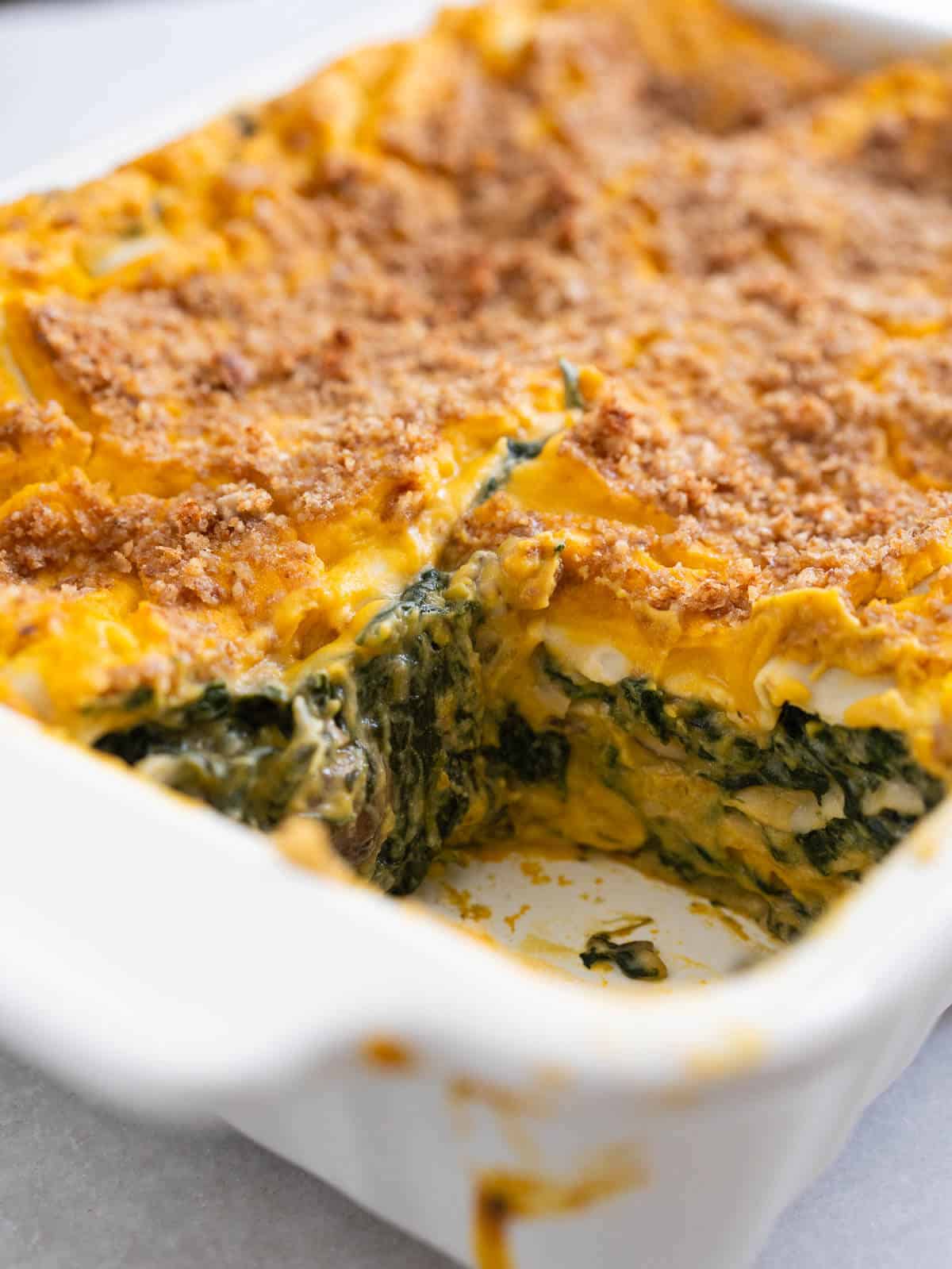 Classic Italian: Pair your Butternut Squash Mushroom Lasagna with a simple side salad featuring a spinach and arugula salad with cherry tomatoes and a balsamic blueberry vinaigrette.
Add some vegan garlic bread, made with Italian artisan bread, and you've got yourself an Italian feast.
Comfort Food Vibes: Serve the lasagna alongside some green beans with toasted almonds, steamed healthy Brussels sprouts, or roasted balsamic lemon marinated Brussels sprouts for a comforting, homey Thanksgiving feast.
❓ FAQ
Can I use frozen spinach?
Absolutely, frozen spinach is a convenient and totally acceptable alternative to fresh spinach. Just make sure to thaw it completely and squeeze out any excess water before adding it to your sauté pan. This will prevent your lasagna from getting soggy. Once it's prepped, you can sauté it along with the mushrooms just like you would with fresh spinach. It's a time-saving hack that doesn't sacrifice flavor or nutrition.
Can I use any mushrooms?
Aim to use fresh mushrooms like button, cremini, or portobello mushrooms. Dried mushrooms can be used, but you first need to hydrate them for 15 minutes and chop them finely so they don't drastically affect the texture of the spinach filling.
Taste-wise, you would have a more earthy and intense mushroom flavor.
Can I use other types of squash?
Absolutely! Any sweet squash like acorn, pumpkin, and delicata squash work.
🥡 Storage & Meal prep
In the Fridge:
Cool Down: Allow the lasagna to cool to room temperature.
Wrap It Up: Cover the lasagna dish tightly with plastic wrap or transfer individual slices to airtight containers.
Fridge Time: Store in the fridge for up to 4-5 days.
Reheating from the Fridge:
Oven Method: Preheat your oven to 350°F (177°C). Place the lasagna in an oven-safe dish and cover with aluminum foil. Bake for 20-25 minutes or until heated through.
Microwave Method: Place a slice in a microwave-safe dish and heat on medium power for 2-3 minutes, checking halfway to ensure even heating.
Freezing and Reheating:
Freezing:
Cool & Slice: Allow the lasagna to cool completely and slice into portions.
Wrap: Wrap each slice tightly in plastic wrap, then place them in a zip-top bag or airtight container.
Freeze: Store in the freezer for up to 2-3 months.
Reheating from Frozen:
Thaw: For best results, thaw the lasagna in the fridge overnight.
Oven Reheat: Preheat your oven to 350°F (177°C). Place the lasagna in an oven-safe dish, cover with foil, and bake for 30-35 minutes or until hot and bubbly.
📚 More Butternut Squash recipes you'll enjoy
Don't forget to check out our sweet butternut squash casserole! As a show stopper for your Thanksgiving table!
⭐ If you try this meatless vegetable lasagna recipe, let us know! 💬 Leave a comment, rate it, and don't forget to tag us @ourplantbasedworld on Instagram. Cheers!
🎥 Video
📋 Recipe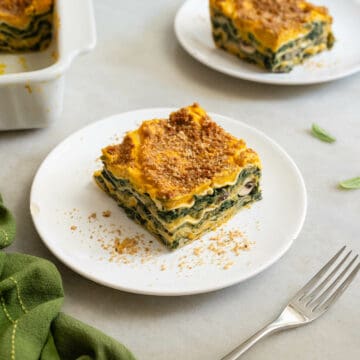 Vegan Butternut Squash Lasagna
Ready to elevate your fall comfort food game? Dive into our Butternut Squash Spinach Lasagna, a cozy, plant-based twist on an Italian classic that's perfect for crisp autumn nights.
Equipment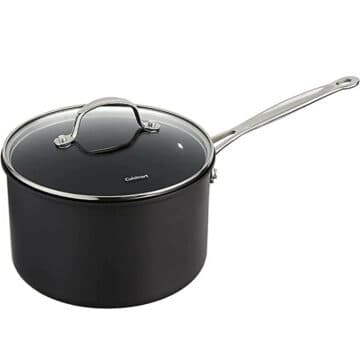 (affiliate link)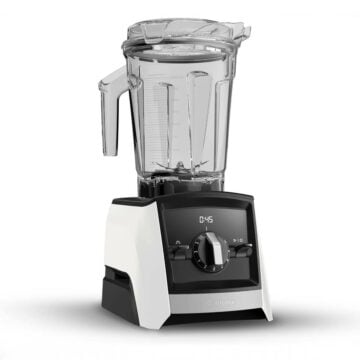 (affiliate link)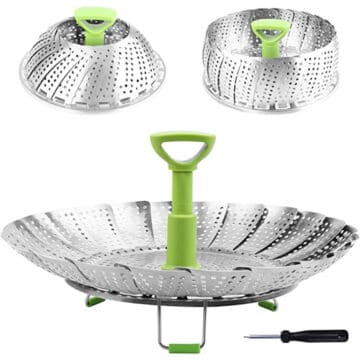 (affiliate link)
Ingredients
BUTTERNUT SQUASH SAUCE
2

cups

butternut squash

1 small squash yields ~2 cups or 480 g purée

1

cup

vegan mozzarella

or store-bought or homemade vegan bechamel sauce

3

leaves

sage

or 1 teaspoon dry

1

tablespoon

nutritional yeast

¼

teaspoon

sea salt

plus more to taste + pinch black pepper

1 ½

cups

water

plus more as needed to blend
Noodles
8

ounces

oven-ready lasagna noodles

gluten-free as needed
Spinach Filling
16

oz

spinach

8

oz

cremini mushrooms

roughly chopped

1

leeks

diced (1 onion yields ~2 cups chopped)

2

cloves

garlic

minced

1

cup

vegan mozzarella

or store-bought or homemade vegan bechamel sauce

1

tablespoon

nutritional yeast

or vegan parmesan yeast

1

tablespoon

olive oil

extra virgin, omit if WFBP

½

teaspoon

sea salt and black pepper

each
Directions
Prepare squash
Halve squash and remove seeds (save them to make a quick snack).

Either roast or steam the butternut quash (steaming vs. roasting = steamer saves 25 minutes, but roasting gives a deeper flavor).To Roast:

Preheat Oven: Set oven to 425 ºF (220 ºC). Line a baking sheet with parchment paper.

Place garlic on the sheet, top with squash, cut side down on top of garlic cloves and sage. Keep the skin on to facilitate mashing it later. Bake 30-40 minutes until tender.

To Steam:

Cut squash into ¾"-1" inch dice. Place in a large saucepan with the steamer basket, 1 cup water, and a lid. Steam for 15 minutes.

Meanwhile, in the same saucepan where you will cook the veggies, cook the garlic with the skin on with a teaspoon of olive oil, then remove them, let cool, peel, and reserve.
Make fillings
Sauté Veggies: In a large saucepan, sauté leeks- in olive oil until soft. Add minced garlic, chopped mushrooms, then spinach. Wait until it dries out, and add the mozzarella (or bechamel), nutritional yeast, salt, and pepper. Cook until tender and creamy, 2-3 minutes.

Blend Sauce: In a blender, combine 2 cups of cooked squash, cooked garlic, mozzarella,(or bechamel), nutritional yeast, sage leaves, salt, and water. Blend until smooth.
Assemble & Bake
Lower Oven Temp if you roasted the squash, otherwise, preheat oven to 350 ºF (177 ºC).

Assemble: In a 9 x 13-inch dish, layer sauce, noodles, and spinach mushroom filling—repeat layers. Sprinkle optional parmesan cheese.

Bake: At 350 ºF (177 ºC), bake lasagna for 30 minutes until the top is slightly dry. Set the grill function for the last 2 minutes to give the lasagna a golden finish.

Cool & Serve: Remove from oven and let cool for 5-10 mins. Garnish with basil and vegan parmesan.
Notes
To store leftovers:
Cool Down: Allow the lasagna to cool to room temperature.
Wrap It Up: Cover the lasagna dish tightly with plastic wrap or transfer individual slices to airtight containers.
Fridge Time: Store in the fridge for up to 4-5 days.
Nutrition Facts
Calories:
345
kcal
Carbohydrates:
52
g
Protein:
11
g
Fat:
12
g
Saturated Fat:
3
g
Polyunsaturated Fat:
0.4
g
Monounsaturated Fat:
2
g
Cholesterol:
17
mg
Sodium:
541
mg
Potassium:
935
mg
Fiber:
6
g
Sugar:
3
g
Vitamin A:
12297
IU
Vitamin C:
34
mg
Calcium:
147
mg
Iron:
4
mg
Nutritional Disclaimer
The information shown is an estimate provided by an online nutrition calculator. It should not be considered a substitute for a professional nutritionist's advice. See our full Nutritional Disclosure here.
Affiliate Disclaimer
Please note that some of the links here are affiliate links, and I will earn a commission if you purchase through those links. I recommend all of the products listed because they are companies I have found helpful and trustworthy.